Let Khruangbin soothe your soul with their Face Mix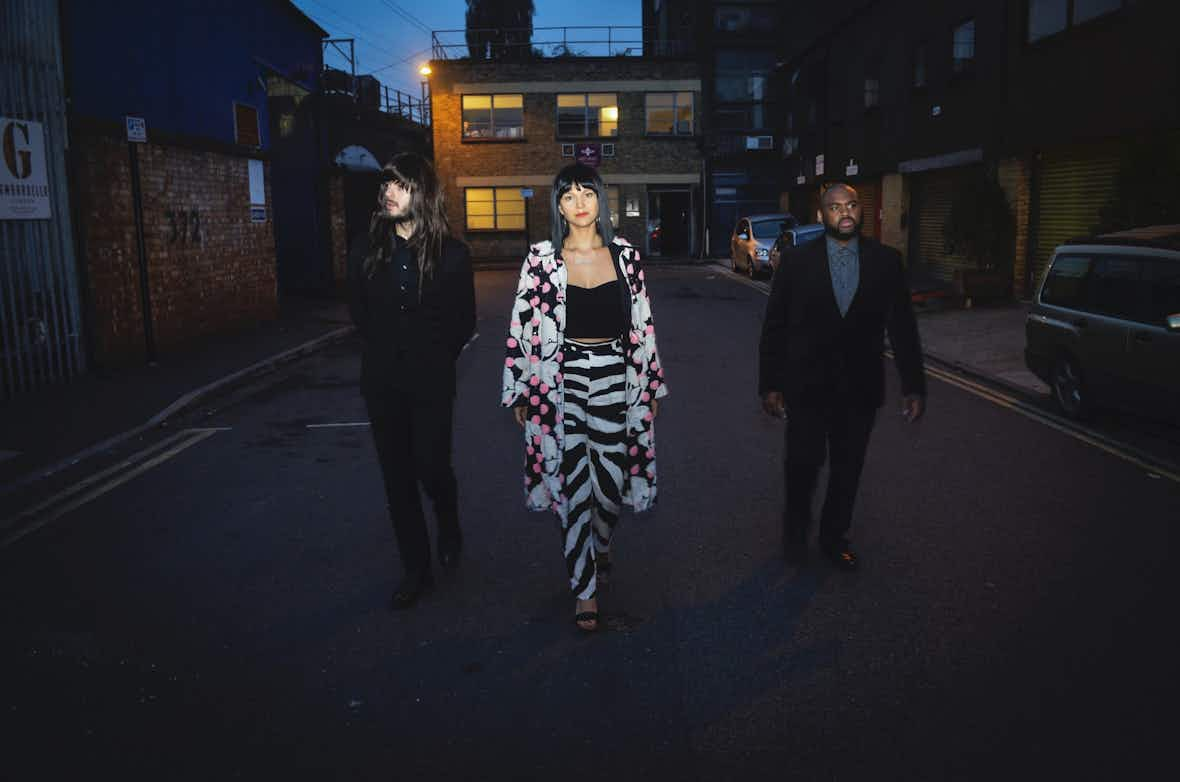 Ahead of their new album Mordechai, the trio's singer/bassist Laura Lee Ochoa sets the tone with warm grooves and sunny psychedelia.

Khruangbin were about to drop their long-awaited third album when The End Of The World smacked us all in the solar plexus.
Recorded in the heat of last May in their Texas farm-studio, Mordechai was meant to be their first ​"summer album": their 2015 debut, The Universe Smiles Upon You, and 2018 follow-up, Con Todo El Mundo, were recorded in the dead of winter.
Now – as well as being another exquisitely crafted trinity of Laura Lee Ochoa's soulful funk basslines, Mark Steer's outlaw guitar melodies and Donald ​"DJ" Johnson's propulsive percussion, shot through with sunshine and a microdose of psychedelia – the album feels more like a portal to summers gone by.
It seems apt that khruangbin means ​"airplane" in Thai – this is time travel at its finest. You can hear everything: that sunrise jam in a stranger's bell tent, an ethereal voice coming from the woods, wistful conversations by the fire. That floating-in-a-field feeling – remember that?
Now, at last, emerging from the chaos of lockdown, Mordechai – which is their first record to feature vocals on most tracks – is imminent, set for release on 26th June. In the meantime, Ochoa has curated this stunning Face Mix of warm, soulful tunes to give you that Khruangbin feeling. Listen and check out at Q&A with Ocha below.
Your recent single, Time (You and I), is all about what we would do ​"if we had more time". Well, now we do. What have you been doing with it?
After the first week of shock, I set up the Laura Lee Summer Camp. I had all these activities planned: bass techniques, learn a new song every day, still play dress-up! Start drawing again.
But then I got back into a love of cooking. [Usually] I'm on the road all the time so I don't even get to cook – avocado-toast is the extent of what I can make. So I got a cookbook and it's amazing. It's creative. It's nurturing. You're doing something for yourself every day. It ticks a lot of boxes for me. I dropped off the Summer Camp vibe because I didn't need it – I felt really fulfilled just cooking, sleeping in and taking care of myself in a way that I haven't in a while.
What's it like promoting an album in the middle of lockdown?
It's weird. Obviously we imagined putting it out in a very different world. For me it was definitely a summer album – these are summer songs. Then the coronavirus hit and I was like: ​"Should we still put these songs out? Is it still going to work?" But when I listen to it now it [sounds] like somewhere you can transport yourself to. And that's just as important.
Mark [Speer] was like, everybody has time now, but not everybody has the time they want. The sentiment of Time is [about] being with someone, having this moment and being present. I still think it makes you wanna go there.
Where did the idea for Mordechai – and for singing – come from?
We were on one of the biggest tours we've ever been on and I felt really broken by the end of it. Sometimes you're on the hamster wheel for so long, you forget why you're on it. I hadn't stopped to ask myself very basic questions, like: ​"Are you happy? Why are you doing this? What do you want in 10 years?" It doesn't mean you change your mind when you think about it – I still wanted all the things that were happening – but I just needed to take stock.
At the end of the tour, I went camping with a group of friends [including] a new friend, Mordechai. I think he could see that I was spinning out a bit. He called me [afterwards] and was like: ​"Hey, come hang out with me and my family. Let's just have a day."
So I did. I had been in Vegas to see Elton John, so I drove to LA to meet Mordechai and his 11-year-old twin sons and we went on this beautiful hike to a waterfall. His wife made us this amazing packed lunch, made by a mom, you know?
On the walk the kids were saying all these beautiful things in this childlike way. One of them asked: ​"Are we there yet?" and Mordechai was like: ​"It's about the journey, not the destination, son. What does that mean?" The other twin replied: ​"Well, the journey's life, and the destination's death." It was dark, but it was spot on.
In my head, it was going to be this really romantic waterfall where you go underneath it and take a little shower – that sort of vibe. When we got there it was like, oh no: we're at the top of the waterfall and you [have to] jump down. And I looked at [Mordechai] and said: ​"this is like some weird baptism." There's something spiritual about submerging yourself in water and taking a leap of faith.
And how did that experience feed back into your music?
It meant a lot to me. My family's all split up around the world and I hadn't had that simple, nurturing feeling – hiking with a family, jumping off a cliff – in so long. That day helped me ask and answer all of these questions that I hadn't been able to. I felt renewed and connected to the things that I want outside of music. Then, when I sat down to write, I felt fresh and new and like I had stories to tell. It was beautiful, and I came back [to the band] really wide-eyed, very woman-under-a-full-moon, [saying:] ​"I've got it all! We're gonna use words, we're gonna call it Mordechai, it makes sense."
The only other time I've heard that name is the pet hawk in The Royal Tenenbaums. That's one of the only movies we have at the farm; the director, Wes Anderson, is from Houston. In the movie two twin boys set the bird free, and then the bird comes home. In my story there were two twin boys, and they sort of set me free, and then I came back home. All the signs pointed towards it: it had to be Mordechai. Now it couldn't be called anything else.
Tell us something about your Face Mix.

We always try to represent as much of the globe as possible, and I'm feeling pretty chilled vibes in quarantine overall. So it reflects that – and not the Laura Lee Summer Camp!
Tracklist:
1. (clip) Johnny ​"Hammond" Smith – Los Conquistadores Chocolates
2. The Fabulous Three – No Names Bar
3. Cortex – I Heard a Sigh
4. Gloria Ann Taylor – World That's Not Real
5. The RH Factor (ft. D'Angelo) – I'll Stay
6. HNNY – Sunday
7. Esther Phillips – That's Alright With Me
8. Nu Guinea – Nuova Napoli
9. Betty Wright & The Roots – Old Songs
10. Mocky – Music Save Me (One More Time)
11. Yusef Lateef – Like it Is
12. Knxwledge – makeitliveforever
13. The Clark Sisters – You Brought the Sunshine
Share

More like this