100% Maeve: the seductive and haunting songwriter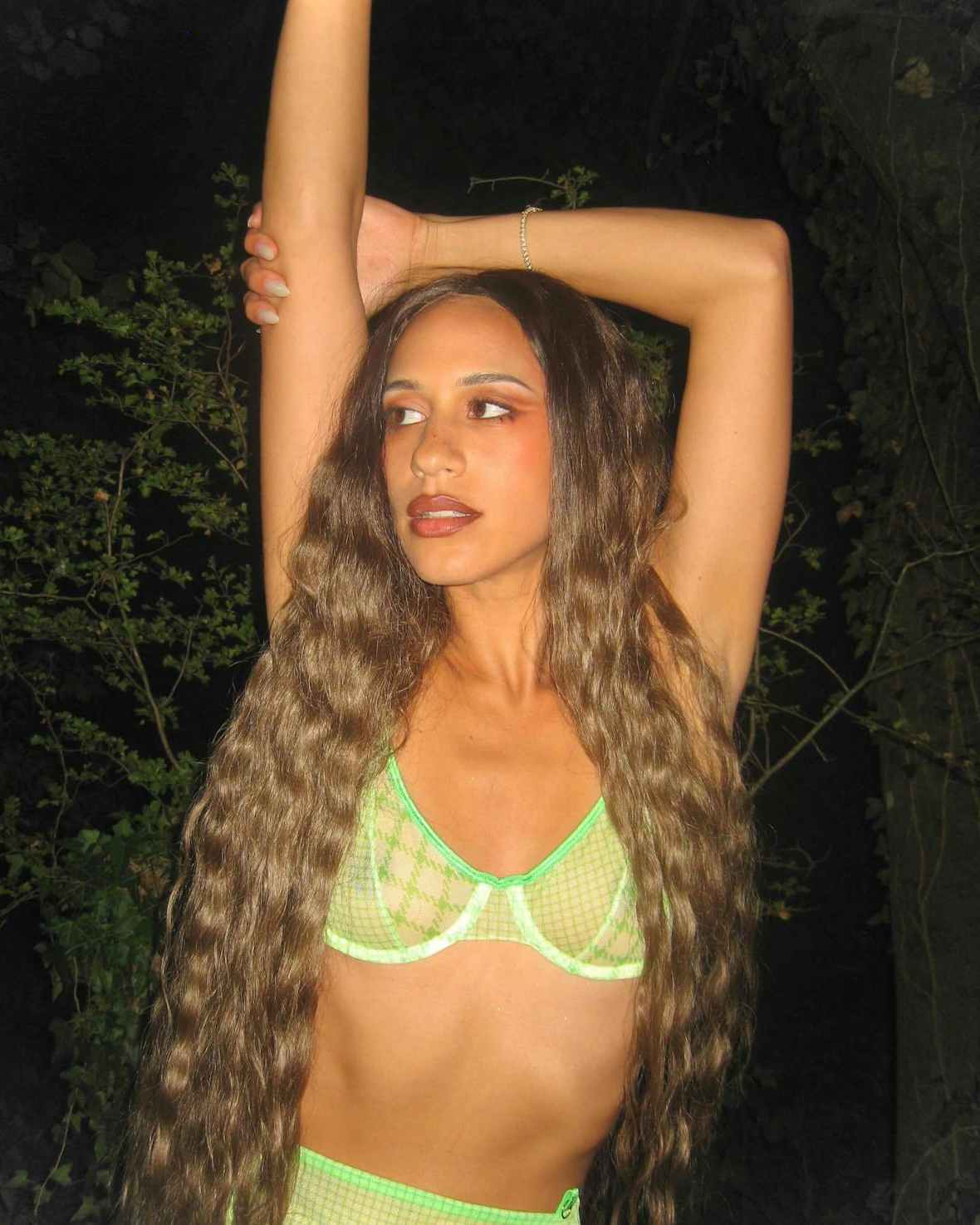 Following the success of her 2021 EP, the Cayman Islands-born musician has a fresh project up her sleeve. We sat down with her to talk Aretha Franklin, lentil dahl and digging for vintage finds.

When musician Maeve Zooms in from her home-slash-recording studio in Shoreditch, East London, she immediately apologises for the mess in the background. ​"Sorry, this is my studio space at home, where I record most of my music," she says. ​"It's very chaotic at the moment and not super user-friendly.
This is where the singer-songwriter, whose real name is Arianna Broderick, has been fine-tuning her sound over the last few years. Her 2021 EP Caravaggio in a Corner Store featured Maeve's breakout song Bleach – dark, industrial and matched by hauntingly playful lyrics like ​"No need to panic/​The blood never stains/​Just take a Xanax/​To wash it away".
The five-track project, at times, sounds like bad guy-era Billie Eilish with extra seduction, both unsettling and ethereal in equal measure. This is a mood that's become Maeve's trademark and it imbues much of her upcoming, as-yet-unnamed EP, which is packed with emotion and drama. ​"It's probably my most honest and autobiographical work yet," she says, not wanting to give too much away. ​"It's very lyric-based and I'm not hiding behind a character."
Maeve's decision to shift towards writing from her own perspective comes from building up confidence in her craft. ​"And it came naturally, to be honest," she continues. ​"It wasn't a conscious decision. Most of that music was written alone in my room. I never thought it'd come out one day."
Born in the Cayman Islands before relocating to London, Maeve describes her entire family as being ​"super into music", so much so that all of them played an instrument, inspiring her younger self to make her own. ​"I've always loved singing and storytelling," she says. ​"Then it all came together when I got my first guitar!"
As Maeve's fans wait with bated breath for fresh material, what would she like for them take away from her new music? ​"I want them to relate and I want them to escape," she says. ​"I've always been drawn to artists who are good at creating a world. I see writing an EP like writing a movie, I want people to be fully immersed in it." Get your 100% fill below.

10% Where were you born, where were you raised and where are you now based?
I was born in the Cayman Islands and grew up there until I was 10. Then I moved to the UK and I'm now based in London.

20% What kind of emotions and experiences influence your work?

My personal experiences and anything that I'm feeling at that time. I'm constantly writing music, whether it's lyrics on my phone, voicenotes, on the piano or guitar. My life seeps into that.

30% If you're cooking food to impress someone, what will you make?
I actually had friends over last night! I made an amazing lentil dahl. It was nice and spicy.

40% What's your secret?
I pop the sauce in a blender and then put it back in the pan before adding the lentils. It makes the texture really nice.

50% What's a piece of advice that changed your life?
To trust your gut and your intuition. I'm at my most creative when I listen to myself and don't let other opinions sway me. I also think that I care about what I'm doing more than anyone else and I've lived it, so preserving that integrity is super important.

60% You rule the world for a day. What's going down?
I would try to end all of the world's injustices. I'd try and sort out, you know, world hunger, climate change. Might be tough to do in a day, though…

70% Love, like, hate?
I love my family and I like finding really special vintage pieces of clothing that I can keep forever. I hate bullies.

80% What was the last great vintage item you bought?
I found an amazing marching band jacket. The lady who sold it to me had crystals sewn into it, which looks incredible.

90% If you could go back and watch an iconic music act perform, who would it be and why?
Aretha Franklin in the ​'60s, in a smoky bar.

100% What can artists do to help save the world?
Artists that got me through my worst times – every single artist does that for their fans. That's really important and, even though it's a small thing, I think it kind of adds up to saving the world, right?


More like this