…and on the sixth day, God created Manchester

Set up by 24-year-old mogul Michael Adex – and fuelled by the success of chart-busting rapper Aitch – talent and entertainment company, NQ, embodies the same Mancunian spirit that's been pulsing through the city since Factory Records.
Taken from the new print issue of THE FACE. Order your copy here.
The NQ House, a tall building at the end of Ashton Old Road, sits in an otherwise unassuming red-brick residential area three miles east of Manchester's city centre. On this wet and grey December afternoon, The House doesn't stand out as anything spectacular at first. But inside, there are plans being hatched which could shake up the UK music scene.
NQ (formerly called Northern Quarterz) is a fast-expanding ​"360 talent and entertainment company" which is re-energising Manchester's rap scene and reinvesting its success into the local community. Powered by Mancunian swagger, its ambitions are limitless. ​"Our roots may be Northern, but they stretch into the core of the Earth," the website declares.



The company's biggest star is Aitch, 21, who's signed to its in-house label. The chart-busting rapper, born Harrison Armstrong, has become a national treasure, balancing his wholesome, local-lad charisma with a cheeky sense of I‑could-steal-your-girl humour that you'll hear in a lot of today's UK rap hits. His manager and close friend is NQ's founder and CEO, Michael Adex, who everyone just calls Adex. He used to prefer to keep his head down, concentrating on the business of looking after the nine artists signed to NQ. But for a number of important reasons, he's now stepping into a spotlight of his own.
"There is no celebrity quite as powerful as the local, homegrown celebrity," said Anthony H. Wilson. The late, great co-founder of Factory Records and The Haçienda nightclub earned his reputation putting punk on tea-time TV, discovering bands like Joy Division and the Happy Mondays and helping immortalise Manchester's rave scene. In the Uber ride to The NQ House, Wilson's quote bounces around my head as Morris, my chatty driver, proudly tells me he lives in the same area Aitch is from, New Moston, and that his daughter went to school with him.

Adex, 24, was born in Germany and lived there until he was 10, but you wouldn't have guessed that from his accent. Greeting me inside the massive white-walled headquarters of The NQ House, a socially-distanced head nod in place of a firm handshake, he's modestly dressed in a black tracksuit, though the jewels in his ears hint at recent fortunes. He carries himself with calm confidence, but there's a glint in his eye when I ask about a recent stint in Dubai with Aitch. The 10-day writing trip stretched into three weeks, overlapping with a hectic period when it seemed like most of the UK's rap stars and influencers had flocked there for luxury getaways, providing gossip sites like The Shade Borough with plenty of scandalous material (including, infamously, phone footage of North London rappers Headie One and Tion Wayne scrapping on their flight home).
"It was definitely time to get out," Adex says, with a slightly nervous chuckle. ​"Depending on how you roll, you might be spending a thousand pound a night there, man."
When Adex first posted photos of himself stood outside The NQ House in August last year, the tweet generated more than 2,500 likes and a tsunami of support from music industry types in his replies. As he tells me now: ​"I probably wouldn't be doing this if what transpired [in 2020] didn't transpire."
Since the Black Lives Matter movement gained new momentum after the killing of George Floyd in May, the global music industry – which is largely sustained by the talent of Black artists and genres of Black origin – has focused on long-overdue conversations about how it urgently needs to improve. Alongside discussions around issues such as the fairness of record contracts, most labels recognise that they need to employ more Black staff and that, more often than not, those employees haven't had a fair shot at landing the top jobs.
"It's important that people can understand that, you know, it's a Black kid from Manchester [who's] 24 who's doing this," Adex says of his motivation behind posting that photo on his socials. ​"And it shows that it doesn't matter how old you are, what race you are. You can get into stuff like this and do it at a high level."

Before Adex got the keys, the Ashton Old Road building was a recording studio where the public could make their own karaoke cover versions. Before that, it was a drinking club for Conservative Party members. On my visit, its transformation into the three-storey NQ House is still in progress, with bubble-wrapped recording equipment piled up in every corner. After we're introduced, Adex jumps out of his chair and takes me on a tour.
On the bottom floor, there's the future press room for interviews, and a huge area that will house three recording spaces, as well as a bar for artists and staff. Adex is keen to show me the back door, accessed by a side road, which will come in handy for major artists who've come to NQ for sessions without the distractions of London, and who might need to be discreet.
Today a few staff are working among the cardboard boxes, including NQ's general manager Louis Brown, who drives up from the capital a couple of times a week. There will be desks that local businesses can hire out and Adex envisions a creative networking hub, with photographers sitting next to influencer marketing companies. ​"We're going to be working with everyone from the bottom to the top," he says, talking me through The NQ House's well-rehearsed mission statement. ​"Because everybody's got that potential, [and] it's about helping them and extracting that out of them." NQ plans to work with local colleges and universities, and Adex is in the process of setting up another company, NQ Legacy, as a CIC (Community Interest Company). The plan is that it will sit somewhere between a regular business and a social enterprise, meaning profits are reinvested locally and, importantly, it will be eligible for various government grants.

NQ has already shared CGI-rendered images of how they think The NQ House will look when it's open. With pool tables, squishy sofas, plants and hanging light rigs, the vision is an upmarket headquarters that sits somewhere between a WeWork office and an Ace Hotel. If everything goes to plan, it'll be up and running by early summer. Adex is hoping his friend Andy Burnham, the mayor of Greater Manchester, will come down to cut the ribbon.
The space is absolutely massive, I point out. ​"It looks big to you, does it?" he replies, nodding to himself. ​"That's good."

You can confidently argue that Manchester has one of the most famous musical legacies of any city on the planet. Cultural juggernauts from the past – Buzzcocks, Joy Division, New Order, The Smiths, Happy Mondays, The Stone Roses, Oasis, The Haçienda – are still key to Mancunians' indefatigable civic pride. So much so that new scenes are sometimes overshadowed by the city's legacy.
If NQ really is the next Factory Records, then Adex has big shoes to fill. Is he comfortable with the comparisons? ​"One hundred per cent, man," he shoots back without blinking. ​"You have to pay respects to what's come before you, innit? And it gives people a reference point for what we're trying to do. But we're going to do things differently. That was all about bands back then. Now, it's a different situation."

Tony Wilson's infamously risky approach to business – apparently part-inspired by radical literature he'd read during his years at Cambridge – is the basis of much music industry folklore, including the time he signed Joy Division's contract with his own blood and granted them the freedom to ​"fuck off" whenever they like. This eccentricity couldn't be further from the level-headed hustle of Adex, who's applied the strategic thinking of his experience as a semi-professional footballer to NQ management (he's played for Championship club Blackburn FC, Greater Manchester teams Hyde FC and Droylsden and, during his childhood, Aachen in Germany). While Wilson would reel off quotes by Sid Vicious and Voltaire with self-aware pomp, Adex speaks in nuggets of aspirational wisdom which can be passed on via Instagram captions and Clubhouse chat rooms.
The cultural tension between London and the rest of the country plays heavily on the minds of any artist, or pretty much anyone in the creative industries who lives outside the capital. But while Wilson was eager to position Factory as the edgy underdog against the London-centric music scene, Adex believes that NQ's success will be enhanced by strengthening connections outside the 0161 dial code (the company's slogan is: ​"Northern roots. Global influence"). He cites Manchester's international airport, its huge student population and its sprouting skyscrapers as sources of inspiration. When a letter came through the letterbox of his mum's house in Longsight, South Manchester, explaining that the property could be knocked down to make way for the High Speed 2 train link – the gargantuan, not to mention controversial, £150 billion railway project which will eventually connect London, Birmingham, Manchester and Leeds – he was buzzing at the thought of the opportunities coming for his city.

NQ has struck a deal with Universal Records, which serves as the distributor for NQ Records, and has set up NQ Publishing as a joint venture. Adex's years of networking (in his teens he made a name for himself as a regular at local rap events, later acting as a chaperone to rappers on the Manchester date of their tours) appear to have paid off for the rest of the NQ roster. Mastermind has a track with gravellyvoiced Tottenham rapper Abra Cadabra as well as OFB heavyweight Bandokay; Ayo Britain's collaborated with masked emcee SL; LiTek and WhyJay – the NQ producer tag-team behind many of Aitch's biggest tunes – have helped London drill stars Blanco and DigDat expand their sonic palettes. Poundz, the London rapper whose meme-inspiring hit, TikTok has five and a half million YouTube views, has signed with NQ Management.
NQ began to take shape in 2017, by which point English rap was a couple of years deep into a commercial and cultural renaissance that's still peaking. In the early-mid ​'10s, the second wave of grime had put MCs back in the charts, on magazine covers and in festival slots which would have been mostly filled by skinny-jeaned indie bands in the previous decade. When grime's mainstream revival lost its momentum, the emerging waves of Afro-influenced rap and UK drill carried the torch. So while it would be inaccurate to say this movement killed off guitar music in the UK (Manchester bands like The Courteeners and Blossoms still climb the charts and fill massive venues – despite not getting much coverage from the trendier ends of the press), it doesn't take a cultural expert to recognise that rap has been the beating heart of British youth culture for at least five years.
In the early days of NQ, there were two artists on the books, Aitch and fellow rapper Samurai. From 2016 – 17, the pair would freestyle together over grime and drill instrumentals for YouTube and radio platforms across the UK, with Samurai often stealing the show. ​"He was the guy in Manchester at the time," Aitch tells me over Zoom from his mum's house. ​"If we're talking views or popularity, he was number one. Do you know what I'm saying? He was about to blow, literally… Unfortunately certain things just got in the way of it."

Samurai had a track with Headie One's close collaborator RV, and he was going to be on a remix of SL's 2017 track Gentleman. But he was reluctant to take Adex's advice. ​"Coming from football, where you're the talent, to [music] management, where you have to persuade someone that this is the right thing to do, was very difficult," Adex admits. ​"I was going through a lot of stress." In 2018, Samurai's life took a dark turn: he was sentenced to 24 years in jail for attempted murder, as well as drug and robbery charges.
Adex saw plenty of potential in Aitch. But aside from the well-respected North Manchester rapper Bugzy Malone, who was enjoying a belated taste of commercial success with King of the North, which reached No4 in the UK album charts in 2017, Aitch hadn't seen many rappers from his city make it big.

At first, Adex says Aitch lacked the focus and ambition required to make music his career. But having scored him a meeting with an A&R at Sony Music Group, he managed to convince Aitch and his parents that a trip to London would be worthwhile.
Once inside the Sony offices in Kensington, West London, with its framed plaques on the wall, cordially-mannered receptionists and huge plasma screens playing hit music videos on rotation, Aitch and Adex had a spring in their step. The track they played for the A&R was Trust Me, an ice-cold trap tune boosted with trunk-rattling bass and packed with plenty of cocky Aitch-isms ("nah, fuck violence, tell your gyal to follow me on social") delivered in his thick Mancunian accent. The A&R man listened to around 20 seconds of the track, turned it off, insisted that his boss wouldn't like this kind of thing and thanked them for coming down. The meeting lasted about five minutes in total. Adex, Aitch and his manager drove straight back to Manchester.


Listen now:

Aitch on Straight Rhymez
A few months later, in May 2018, Aitch dropped the video for Straight Rhymez. A slick tune showcasing the rapper's dextrous skill, it was accompanied by an unpretentious video, filmed outside his family home in New Moston, in which mates ad-lib and gas him up while Adex leans nonchalantly on his Volkswagen Golf in the background.
"I was sat in that house behind me on the video and my phone just started going crazy," Aitch remembers of the video's reaction. ​"I think it was maybe three, four days after the video dropped and it was, like, from then I thought: ​'Ohhhh shit, this is real.' And then maybe, like, two days after that, Adex was phoning me saying people are trying to get hold of us and whatnot, and we needed to go to London and make some friends."
Straight Rhymez – which now sits on 22.9 million YouTube views – was the beginning of Aitch's rapid upward trajectory, during which he's hit the Top 10 of the UK chart five times, become a widely-loved public personality, a cocky-but-charming chatshow guest, all while remaining seemingly unchanged by fame. Aitch and Adex were invited back for a second meeting with Sony and this time the label was notably more hospitable. At this point, there were a number of deals on the table so Aitch decided to pack in his day job of labouring on a building site with his grandad. Sony won the fight, snapping him up for its Since ​'93 imprint. But after 2019's AitcH20 EP (which reached No3 in the Albums Chart), he returned to NQ Records.
With Aitch now a bona fide star, Adex doubled down on his intent to build the NQ empire. ​"When people like Aitch, or people from outside London, are achieving great things, it gives people the idea that it's possible," he says.
Ayo Britain is a 20-year-old rapper/​singer who, since signing to NQ in April 2020, has developed a soulful take on a melodic rap style similar to D Block Europe and M Huncho, while channelling his love for Erykah Badu and UB40. The South Manchester native praises NQ for raising the self-esteem of the city's music scene. ​"With all these establishments, with all these labels, it seems like everybody who is doing something in the UK is from London," Ayo says over the phone. "[But] I still stick with my opinion of Manchester being a better place. And once it gets the attention it deserves, everybody will see that."

Another rapper on the roster, Mastermind, 26 and raised in Rusholme, makes self-described ​"wavy pain" music and cites the struggle raps of early Nipsey Hussle and Meek Mill mixtapes as his inspiration. He'd lost his love for making music but picked it back up thanks to encouragement from Adex, and now has a handful of tracks which have generated millions of streams and 220,500 monthly listeners on Spotify. He sees Aitch's loyalty to Manchester as a principle to follow and admire. ​"He really carried it for Manchester. He brought a lot of people from Manchester through, which other artists didn't really do," he says, remembering the AitcH20 pool party in Ayia Napa, for which Aitch flew him and Ayo out to perform. ​"I respect him highly."
With the bulk of his business in the capital, Aitch admits the temptation to make the permanent move to London has nagged at him. But his personal life comes before his professional one. ​"I'm a mummy's boy, I'm trying to see my family all the time. I come and stay at my mum's all the time, still. I'm not just staying here because I want people to think I'm loyal to my city. It's more because I just genuinely am, do you know what I'm saying? I just don't want to leave!"
In November 2020, I watch Adex on a Zoom panel discussion organised by Rose Marley. A former music industry executive much admired by the NQ co-founder, she now connects co-operative businesses in Manchester. The talk is in conjunction with Our Pass, an initiative set up by Marley and Andy Burnham to give free bus travel to young people in Manchester, as well as free tickets for pre-Covid-19 things like the football, the theatre, the ballet and Aitch's gigs. There are more than a hundred Zoom windows showing teenagers in their bedrooms ready to take notes on Adex's advice. ​"We're going to hear from somebody who's just smashed down the barriers in the music industry," Burnham enthuses, "[who's become] a massive success."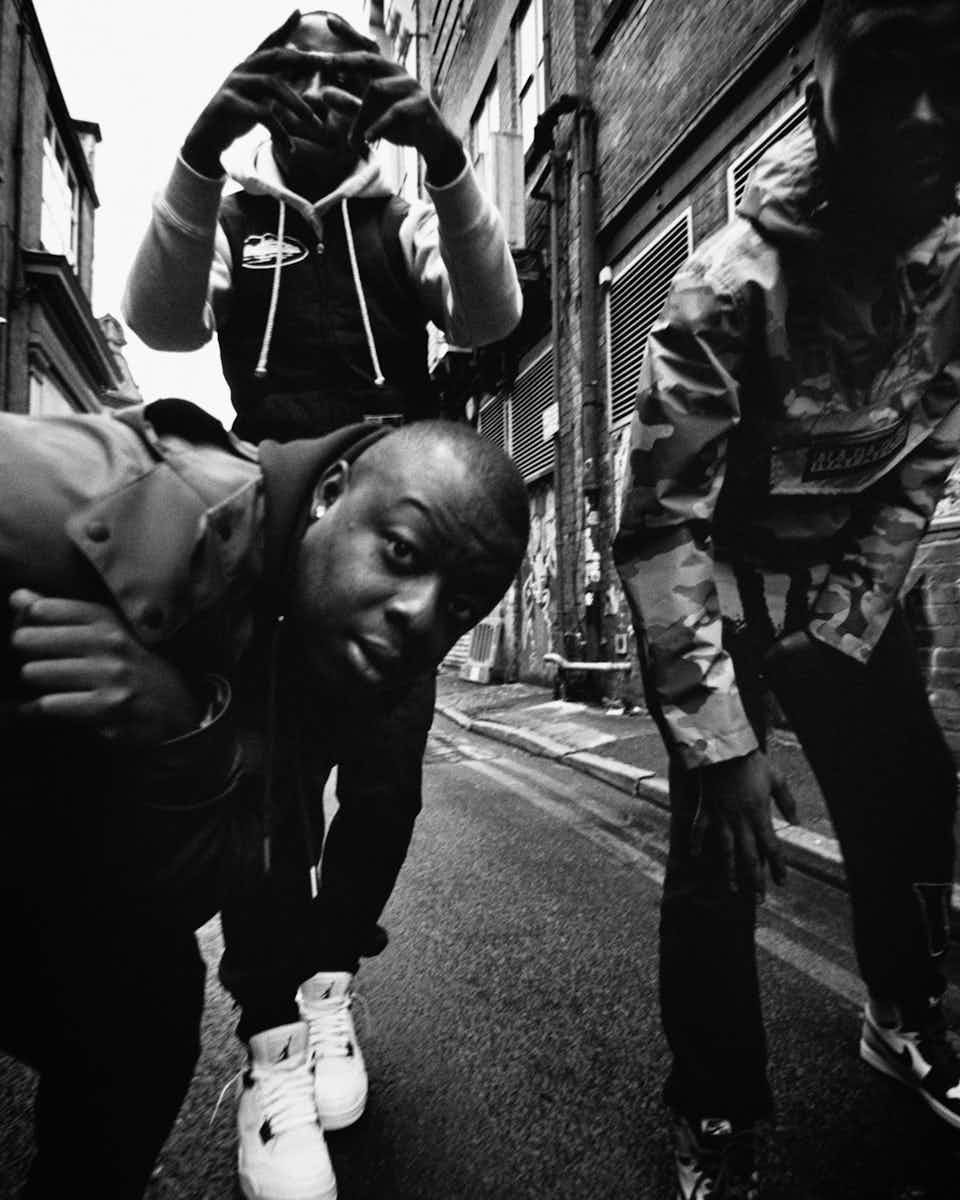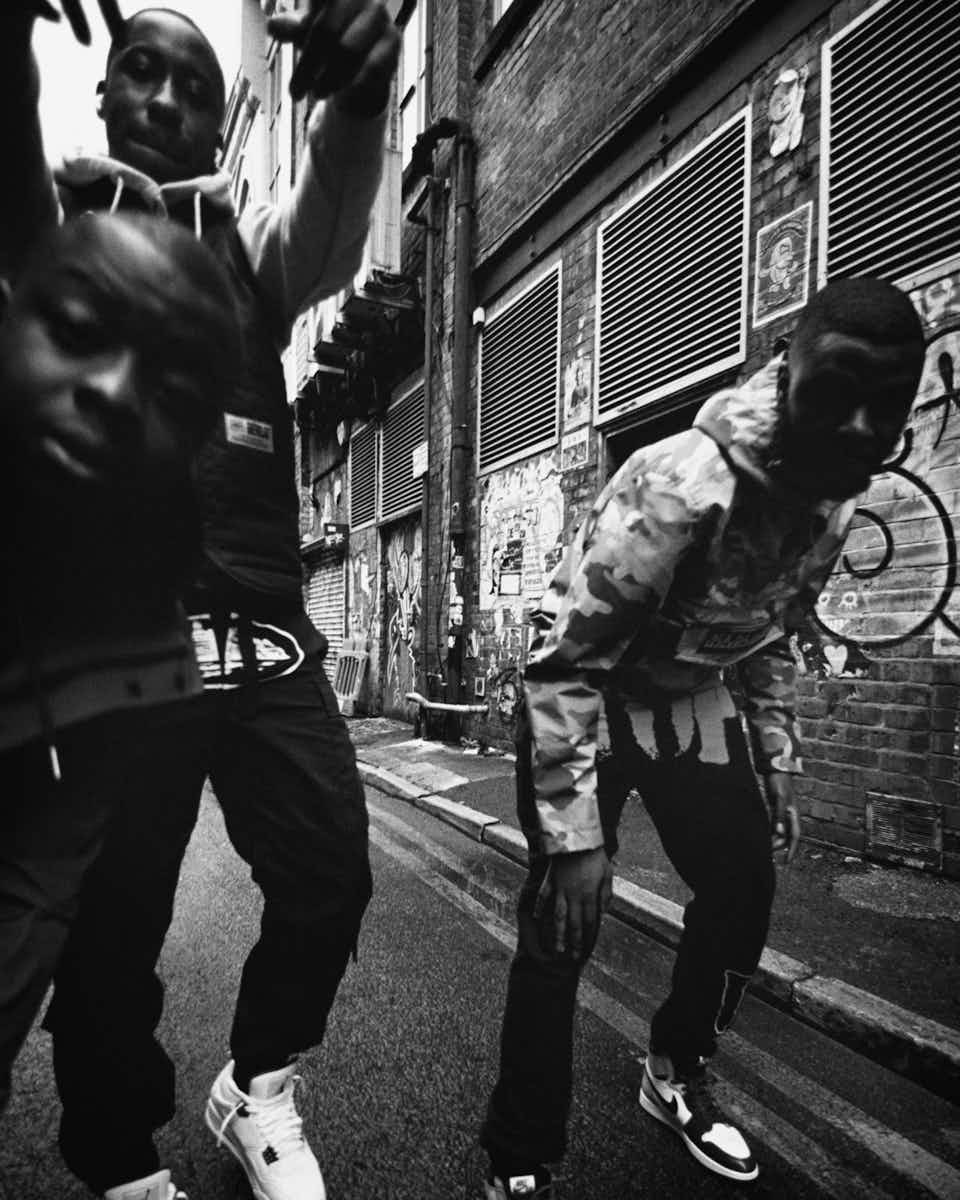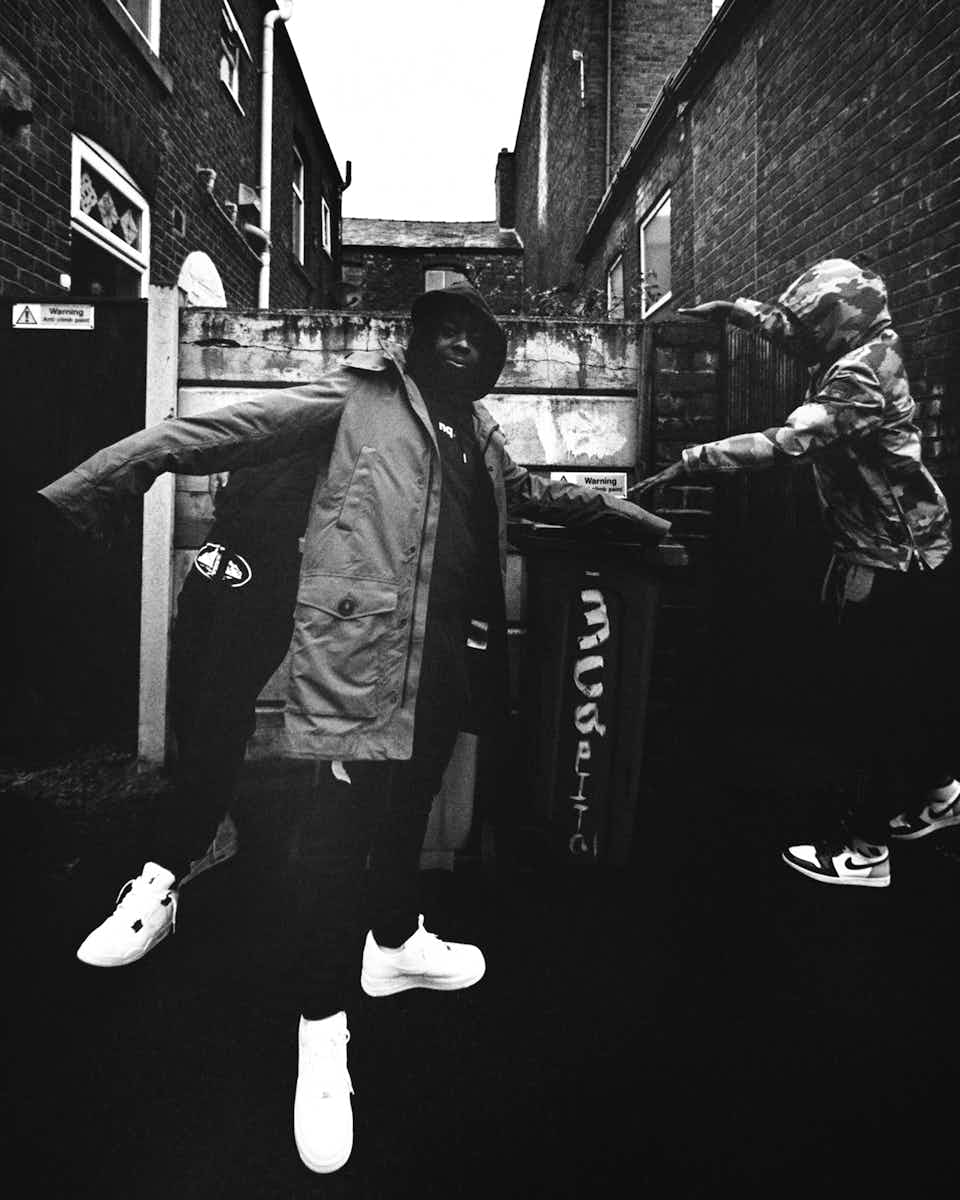 At this point, we're in peak Burnhammania, following the mayor's loud and clear message to Westminster that the government had provided insubstantial financial relief to Manchester (which was then under Tier 3 level pandemic restrictions and had been for months, while London remained in Tier 2). ​"The North is fed up of being pushed around," Burnham declared during a now-famous press conference. ​"We aren't going to be pushed around anymore." The speech went down so well it inspired Vogue to run an article titled Suddenly, Inexplicably, We All Fancy Andy Burnham.
"I feel in life sometimes – and certainly when you have a working-class background – we do ourselves down too much," Burnham says on the panel. Aside from looking a bit embarrassed when he admits he's been listening to the beardy indie-folk band Fleet Foxes, for a major politician Burnham seems surprisingly appealing to a teenage audience. ​"We think: ​'Well, I couldn't do that…' And what happens is, when you grow up in the posher parts of the country, you grow up believing that you're destined to be, I don't know, Prime Minister or running Universal Music, or whatever it is. And you don't get the same sort of feeling when you grow up in the North West.

"That's what makes us, in many ways, more likeable people," he continues, ​"because we're not arrogant and we don't just think that we're going to do all these things. But the truth is, we need to be a bit more confident because you can do all of these things. And actually, maybe my experience and Adex's experience tells you that, if you just believe in yourself, you can walk through those doors when they open for you."
For NQ, there are tall obstacles ahead. But already, the sheer ambition of this project is sending a ripple of inspiration across the North. As Adex told me when we first met: ​"It's crazy what happens when you switch your mindset to believe that you can do it. If you believe in something, go out there and try and do it, because you attract what you think. I really think I'm literally a testament to that."
A pause, as his eyes dart around The NQ House, a brick-and-mortar symbol of optimism in an era of adversity. ​"This is a testament to that."

Main image: Litek wears jacket PALACE. Mastermind wears jacket STONE ISLAND and hoodie and hat TALENT'S OWN. Ayo wears jacket CANADA GOOSE. DJ Win wears jacket CANADA GOOSE. Whyjay wears jacket STONE ISLAND and hat GUCCI. Aitch wears jacket STONE ISLAND and hoodie ARMANI EXCHANGE. Adex wears jacket VIVIENNE WESTWOOD and watch TALENT'S OWN

Head of production Rosanna Gouldman, Lighting technician AJ Numan, Videographer Jake Erland. Photographer's assistant Jay Johnson. Stylist's assistants Borys Korban and Hollie Williamson. Production assistant Sami Ambrose, Camera assistant Bella Sporle. Thanks to Sophie Brocklehurst and Paul Flynn. Car courtesy of ROLLS ROYCE

More like this