Close Up: Olivia Rodrigo

When she released her first single, drivers license, in January, Olivia Rodrigo immediately became the world's biggest pop star. Ahead of her debut album, Sour, the 18-year-old discusses how her sound captured the hearts of teens the world over.
In January, Olivia Rodrigo launched her solo music career with drivers license. It quickly became the biggest song in the world.
A soaring pop ballad that details a fairytale romance gone wrong, its pleading lyrics and cathartic chorus captured the type of heartbreak intrinsic to being a teenager. The song shot to number one in 48 countries on Apple Music, 31 countries on Spotify and 14 countries on YouTube.
"It just ballooned into this monster […] unlike anything anyone's seen before," Jeremy Erlich, co-head of music at Spotify, told The New York Times. It became the fastest song to surpass 100 million streams in Spotify history and was streamed more than 76.1 million times in the US during the first week of its release – beating Cardi B and Megan Thee Stallion's record for their thumping, sex-positive anthem, WAP.

But making music history isn't the only milestone Rodrigo's reached in 2021. She turned 18 just two months ago and moved from the suburbs of Temecula, California to Los Angeles.
"It's the first big girl place that I pay for!" she says gleefully via Zoom, propped up on her sofa in front of a brimming bookshelf. Next month, she'll travel to the UK for the first time to perform at the BRIT Awards. And on the 21st of May, she'll release her highly-anticipated debut album, Sour.


Rodrigo's journey is the age-old tale of child-actor-turned-pop-sensation writ large. At 12 years old, she starred as the clumsy and kind Paige in Disney Channel's series Bizaardvark, which followed two best friends as they made video blogs for their online comedy channel. From there, she went straight into playing the lead role of Nini in Disney Plus' High School Musical reboot series, which got meta by telling the story of students in a high-school production of the original film. Naturally, Nini gets cast as Gabriella, a role originated by Vanessa Hudgens.
When Rodrigo wrote the pining song All I Want – which she performed in character as Nini – for the series last year, it suddenly clicked that solo songwriting was a viable career option for her.

We've seen this kind of phenomenon before. Stars like Ariana Grande and Selena Gomez were gradually embraced by the music industry after stints on Nickelodeon and the Disney Channel, respectively. Rodrigo's industry acclaim happened overnight. Sure, drivers license​'s success was spurred on by gossip around her will-they-won't‑they relationship with HSM co-star Joshua Bassett and his rumoured new girlfriend Sabrina Carpenter, but receiving praise from Taylor Swift? That's purely down to Rodrigo's talent. Almost instantly, hundreds of TikTokers rushed to put their own spin on drivers license.
April's bittersweet follow-up single deja vu proved to anyone in doubt that Rodrigo's more than a one-hit wonder. It's a tongue-in-cheek track about an ex doing all the things you used to do together – watching reruns of Glee, going on trips to Malibu and, um, listening to Billy Joel's Uptown Girl – but with someone new. Harshness creeps up in the track's glossy indie-pop sound palette, with ice-cream van jingles giving way to crashing drums and distorted vocals.

On her debut album, Rodrigo promises to showcase more versatility. ​"I feel like music is becoming increasingly genreless," she says, thoughtfully. ​"I suppose I'm considered a pop artist, but I've never felt like one. This album is full of stuff that I like, which is so diverse. There are elements of alternative rock in there, alt-pop, some country and definitely a lot of folk. I think anyone can find something they like hidden in one of the songs."
Rodrigo's songwriting is coupled with discerning musical references. She smiles from ear to ear as she gushes over how Taylor Swift​'s artful storytelling, Lorde's impeccable production and Phoebe Bridgers' brutal honesty have all coalesced to inform her musical trajectory. Sour, she tells me, nods to the ​"pouty" and ​"angsty" sounds of Gwen Stefani's ska-pop band No Doubt and punky blues-rock duo The White Stripes. She poses for the album's cover accordingly: cutesy stickers all over her face, sticking her tongue out, giving off the distinct impression she couldn't give a shit.
"I'm obsessed with the concept of awesome things in my life – like my relationship with myself and with others – progressively going sour as I get older," Rodrigo says of the album's title. ​"It's a very visceral word, one that captures the sounds that I'm inspired by and a specific slice of my life at 17. Plus it has my initials in it, which is a bonus!"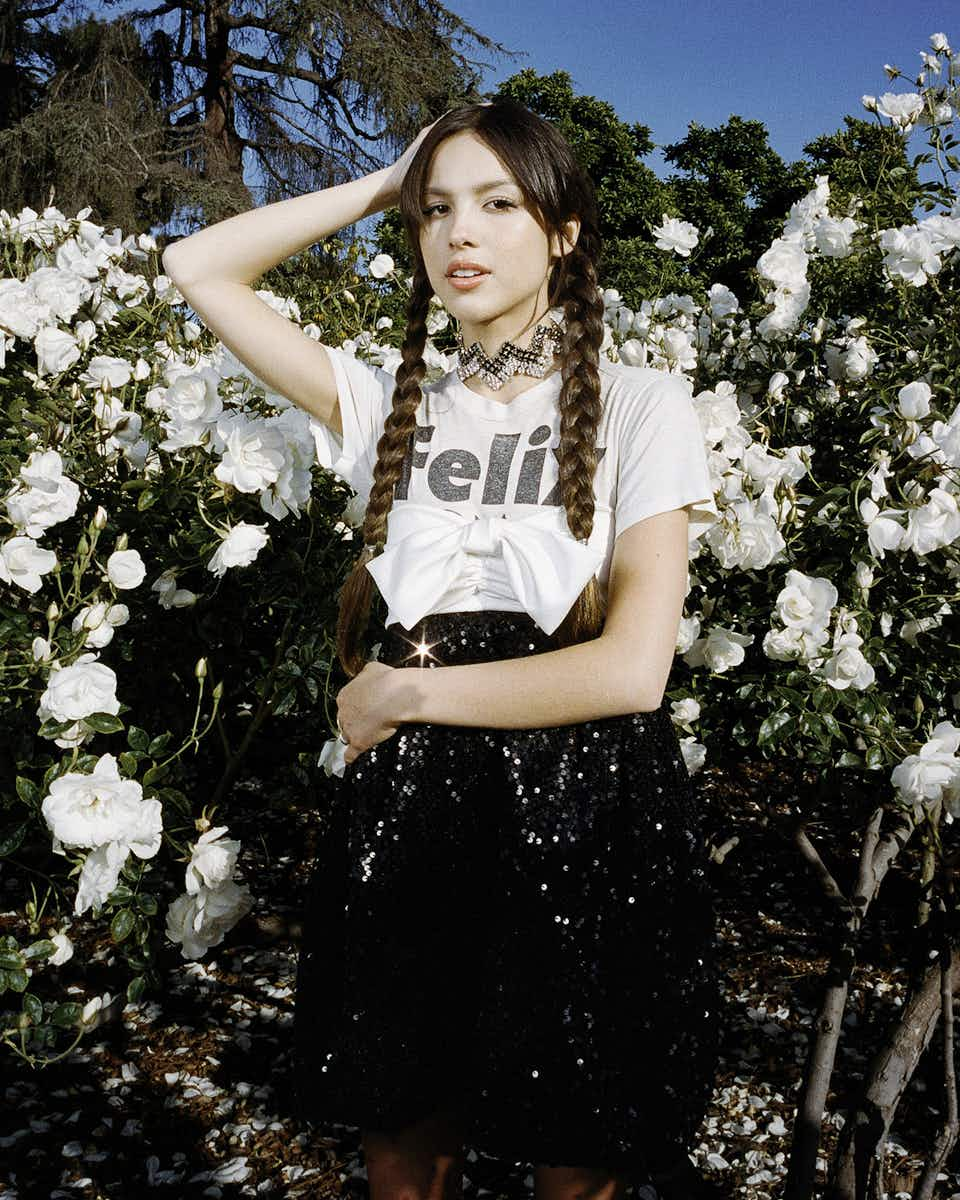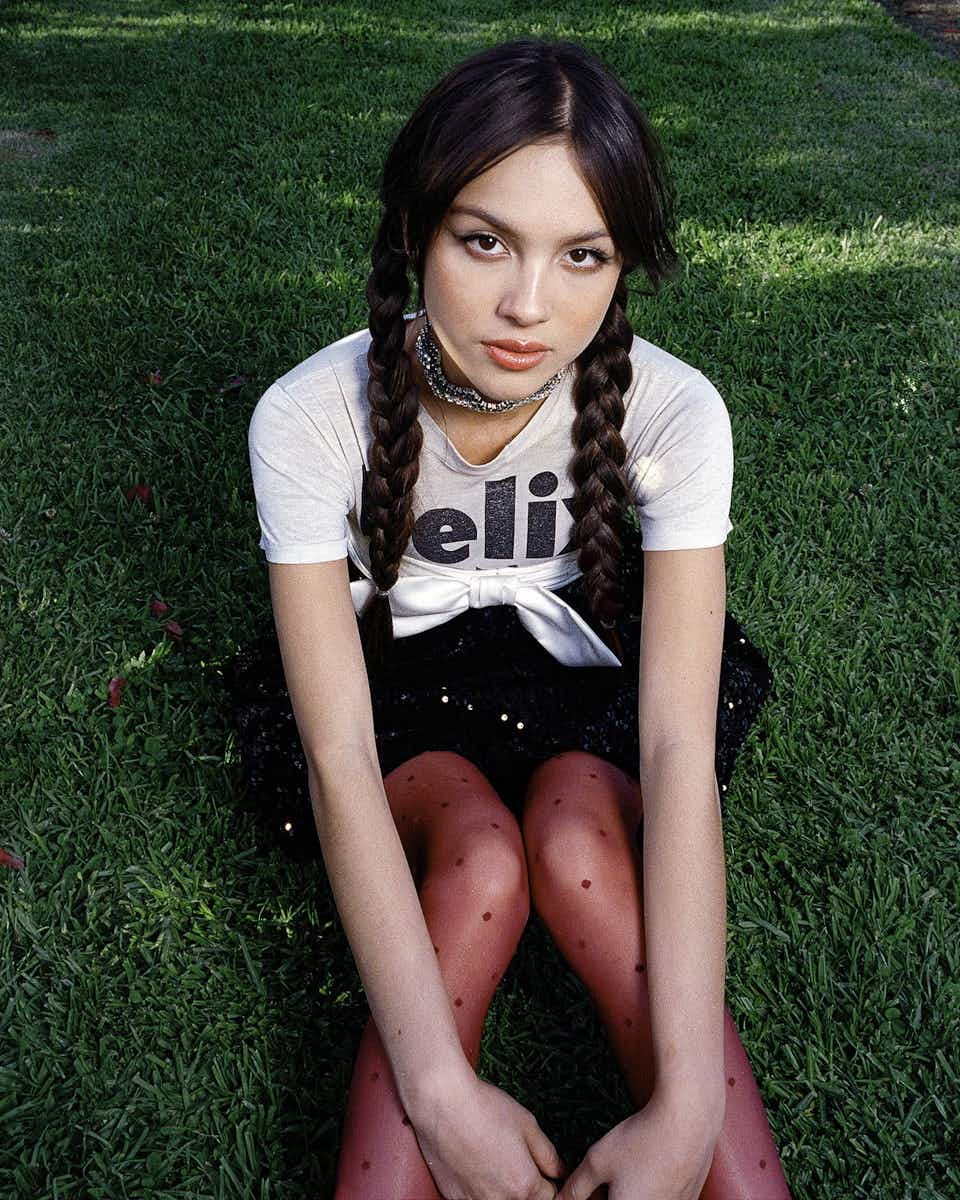 Sour, however, is far from a one-woman show. It was made almost entirely with producer and songwriter Dan Nigro, 38, who's previously collaborated with the likes of Lewis Capaldi, Carly Rae Jespen and Sky Ferreira. He contacted Rodrigo via DM after watching a video of her singing on Instagram and the pair have worked together ever since – mostly in his garage, although there were periods where Rodrigo had to send intermittent vocal samples to Nigro via iPhone while filming a TV show in Utah.
"It's been difficult, learning to become comfortable enough with somebody to be like, ​'Hi, here's all my insecurity and heartbreak, let's make a song out of it!'" Rodrigo says of finding her musical partner.

It's easy to understand why Rodrigo might be a little coy when sharing her songs for the first time. Her lyricism offers a window into her life. Usually, she starts with a concept or poem hastily jotted down in her notes app, before expanding it into a full, vivid narrative arc. ​"For me, a song isn't good if the lyrics aren't," she shrugs.
Rodrigo wrote the majority of the songs on Sour when she was 17 and, as such, each one reflects the shape-shifting nature of her youth, its unending growing pains and surprising discoveries.
"It's a really strange age where you're figuring out so many things: how you want to be treated, love and heartbreak, how you fit into the world and how you relate to other people," she says. "[Sour] is me grappling with all of them. It wasn't something I wrote in hindsight. It's very much how I was feeling at that time. I needed to write those songs to process those emotions."

Rodrigo also found inspiration while tumbling down a TikTok rabbit hole, where she ended up knee-deep in the app's #breakup subsection. Faced with countless motivational speeches and affirmations ("It's going to be OK! He still loves you!"), for a moment Rodrigo was pretty much convinced that these heartbroken users were talking directly to her.
"This one girl was being really helpful and sweet, like, ​'Someday, you're going to find a partner who's absolutely in love and obsessed with you and is going to treat you right, and this will all be a distant memory'," she says, between bouts of laughter. ​"I remember being really affected by that and I wrote a lyric with that sentiment in the [Sour song] Enough For You. So anytime someone tells you that being on TikTok isn't productive, you can tell them that story!"
"Being angry, jealous, overly emotional or sad can often be framed as being bitchy or moany," Rodrigo says of her motivation to explore the emotions that young women are often shamed for. ​"I decided to shine a light on those feelings, even though that was uncomfortable to talk about. I've done all I can do. Everything else is out of my hands."
Touching millions with a mere two singles is no small feat. In fact, it's monumental, soul-stirring, take-over-the-world type stuff.
"Feeling seen is the most important feeling and it's hard to find sometimes," Rodrigo says, speculating on how her music has struck such a powerful chord. ​"I hope people resonate with this album in those ways. That's my biggest dream as a songwriter."


More like this