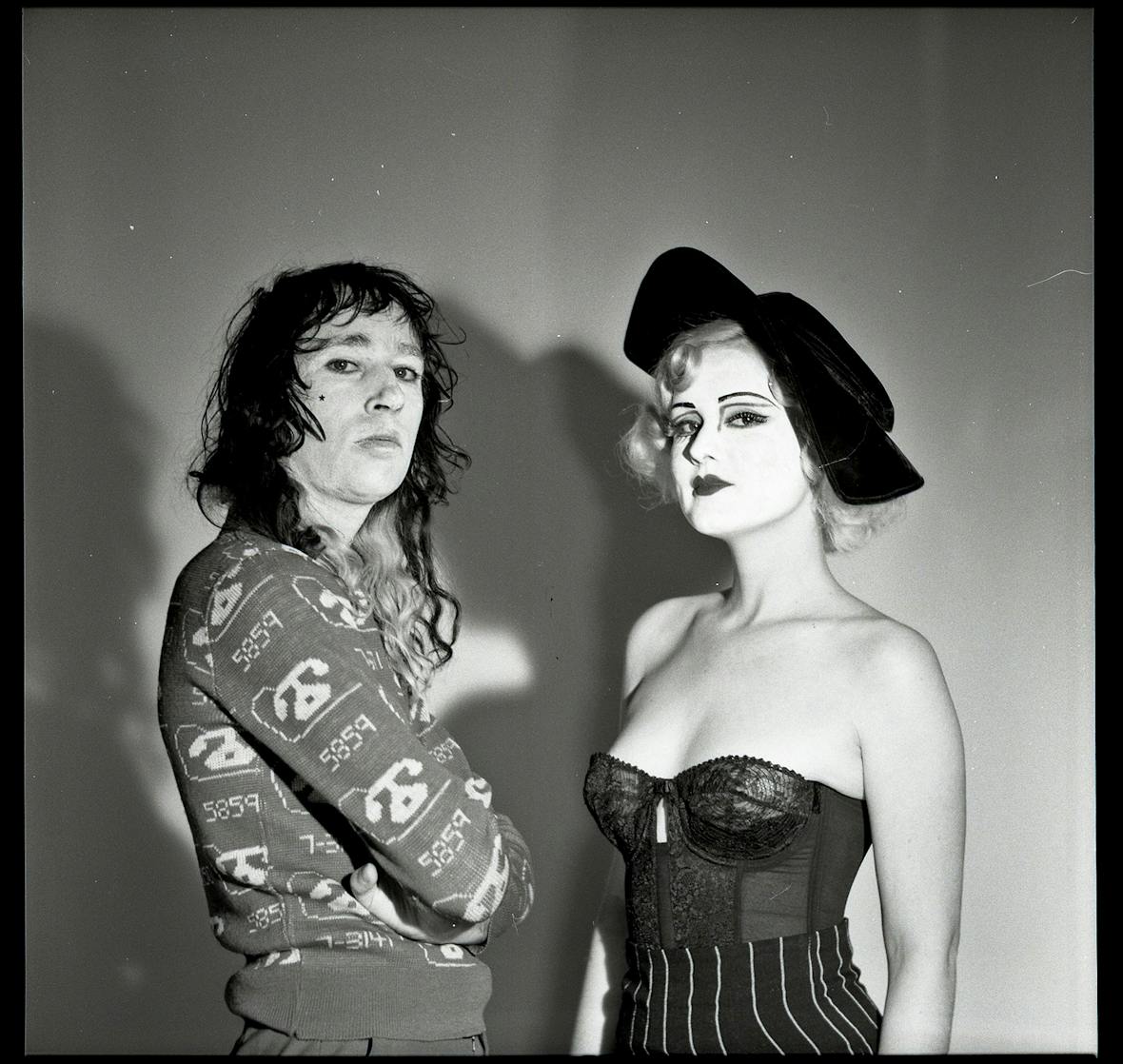 POW

! are the synth punks escap­ing San Francisco
"At first, when that was going down, it was a shock. And it was too bad because we start­ed to see the effect of what had hap­pened to the com­mu­ni­ty." Byron Blum, vocal­ist and gui­tarist of the duo POW!, is reflect­ing on the San Fran­cis­co garage-punk scene's mass exo­dus to LA. ​"Every­body just had to move."
Before tech indus­try-dri­ven gen­tri­fi­ca­tion drove a lot of the crowd out of town, San Fran­cis­co was a wel­com­ing hotbed of raw punk, grit­ty psy­che­delia and scuzzy garage. There was a DIY com­mu­ni­ty of jean jack­et-strapped music fanat­ics who were obsessed with punk authen­tic­i­ty and defy­ing the rock­star egos of ​'00s groups like The Strokes.
Blum spent years immers­ing him­self in the scene. He would fre­quent an infa­mous leather dad­dy bar called The Eagle Tav­ern that had shows of this nature – quirky, queer, and inclu­sive – every Thurs­day night. It was there that he saw bands like Shan­non and the Clams, Ty Segall, and Oh Sees before they were inter­na­tion­al­ly adored for their exhil­a­rat­ing takes on the rock ​'n' roll template.
Blum met POW! drum­mer Melis­sa Blue (who would switch to synths after their first album) at an LA garage rock fes­ti­val in 2010 called Par­ty Out West (POW). Once Blum returned to San Fran­cis­co, where he had resided his entire life, he end­ed up spon­ta­neous­ly run­ning into Blue two times in one evening. The mag­ic of their paths cross­ing felt too good to pass up on, so they decid­ed to start a band togeth­er and name them­selves POW!; an ode to their place of ori­gin, and a fit­ting ono­matopoeia for the hard-hit­ting music they'd end up making.

Blum remem­bers the SF scene's ear­ly years fond­ly. ​"Ty [Segall] was just start­ing out as a one-man-band and there was just, like, three peo­ple in the room," he tells me. ​"And Oh Sees were just start­ing to fill the rooms, they were half emp­ty… It felt like a moment, and now look­ing back, it was a moment." This was in the late ​'00s, just as Cas­tle Face Records, the label of Oh Sees front­man and SF vet John Dwyer, was begin­ning to estab­lish itself. ​"I was, like, damn if I was to make an album I would love it to come out on Cas­tle Face, just to be a part of that fam­i­ly tree."
He got his wish. The label released POW!'s 2014 debut Hi-Tech Boom, an iron­ic ref­er­ence to their decid­ed­ly lo-fi sound (the album was record­ed on a Tas­cam 388 cas­sette recorder) and a play on the Sil­i­con Val­ley tech boom that was hap­pen­ing in their neigh­bour­hoods at the same time.
As com­pa­nies like Google, Apple, and Face­book began attract­ing swaths of young pro­fes­sion­als to San Fran­cis­co in order to be close to their head­quar­ters, rent prices soared astro­nom­i­cal­ly through­out the entire city. In the SOMA neigh­bour­hood, which is where The Eagle Tav­ern was locat­ed (it's since closed and reopened but is no longer the garage-rock hub it once was), rent climbed rough­ly 25% between 2011 and 2013. As prices con­tin­ued to rise through­out the next few years, many of POW!'s musi­cal peers had to relo­cate to LA, where Blum says the price of a three-bed­room is rough­ly equiv­a­lent to that of a stu­dio in SF.
POW!'s addi­tion of noisy, indus­tri­al synths to the tra­di­tion­al garage-rock for­mu­la felt dis­tinc­tive in the gui­tar-cen­tric scene, and it con­ve­nient­ly sound­ed like a musi­cal inter­pre­ta­tion of the area's weirdo art com­mu­ni­ty being infil­trat­ed by new-age tech. In the record's press bio, Dwyer even dubbed the album, ​"a punk eulo­gy to our fair city." How­ev­er, in hind­sight, Blum has isn't entire­ly com­fort­able about the way the record was framed.
"At first when the album came out, I feel like a lot of peo­ple kind of went with that angle of, like, ​'oh these guys hate tech and shit'. Where­as, I actu­al­ly real­ly love tech­nol­o­gy," he says. ​"I see the sil­ver lin­ing and maybe some of these new tech­nolo­gies are super inspir­ing and could be amaz­ing for artists. For exam­ple, like, blockchain tech­nolo­gies. [I'm] total­ly excit­ed about that future. More equal­i­ty and pros­per­i­ty for every­one, ver­sus just a select few."

POW!'s new album Shift– also released via Cas­tle Face – isn't nec­es­sar­i­ly a response to their phys­i­cal trans­plant, but a reflec­tion on the inevitabil­i­ty of trans­for­ma­tion. This was echoed in the record's process itself, as it was a return to POW!'s raw and unin­hib­it­ed cre­ative form. ​"I def­i­nite­ly want­ed to bring it back to the way we record­ed our first one," he says, com­ment­ing that their 2017 album Crack an Egg felt bogged down by his own per­fec­tion­ism. ​"I want­ed to get back to more of a punk rock way of record­ing. Which is the lim­i­ta­tions. Only hav­ing X amount of tracks to work with, and just leav­ing it up to the moment and what's hap­pen­ing to give that a guide for where to go, ver­sus hav­ing a pre­con­ceived idea beforehand."
Although Blum still feels a strong kin­ship with his beloved birth­place of SF, he says he's for­tu­nate to live in an afford­able spot in Mt. Wash­ing­ton in north­east LA, just up the road from Blue. The main dif­fer­ence between LA and the tight-knit SF scene, Blum notes, is that you have to dri­ve to get around. But he opti­misti­cal­ly points out to the sprawl­ing scope lends itself to ware­house venues and oth­er DIY spots that aren't fea­si­ble in SF anymore.
Dwyer him­self moved out to LA a few years back, so hav­ing the Oh Sees gang and their litany of side-projects around, as well as Blum's girlfriend's band Auto­mat­ic, makes it feel clos­er to home. POW!'s loud and wonky music is by the fringes and for the fringes, so to him, being priced out by the pre­sid­ing cap­i­tal­ist class isn't unex­pect­ed. ​"There's no fuckin' per­fect place," he shrugs. And Shift, a record about adap­ta­tion, is proud­ly aware of that.
---