Raf-Saperra is carrying the torch for British Punjabi music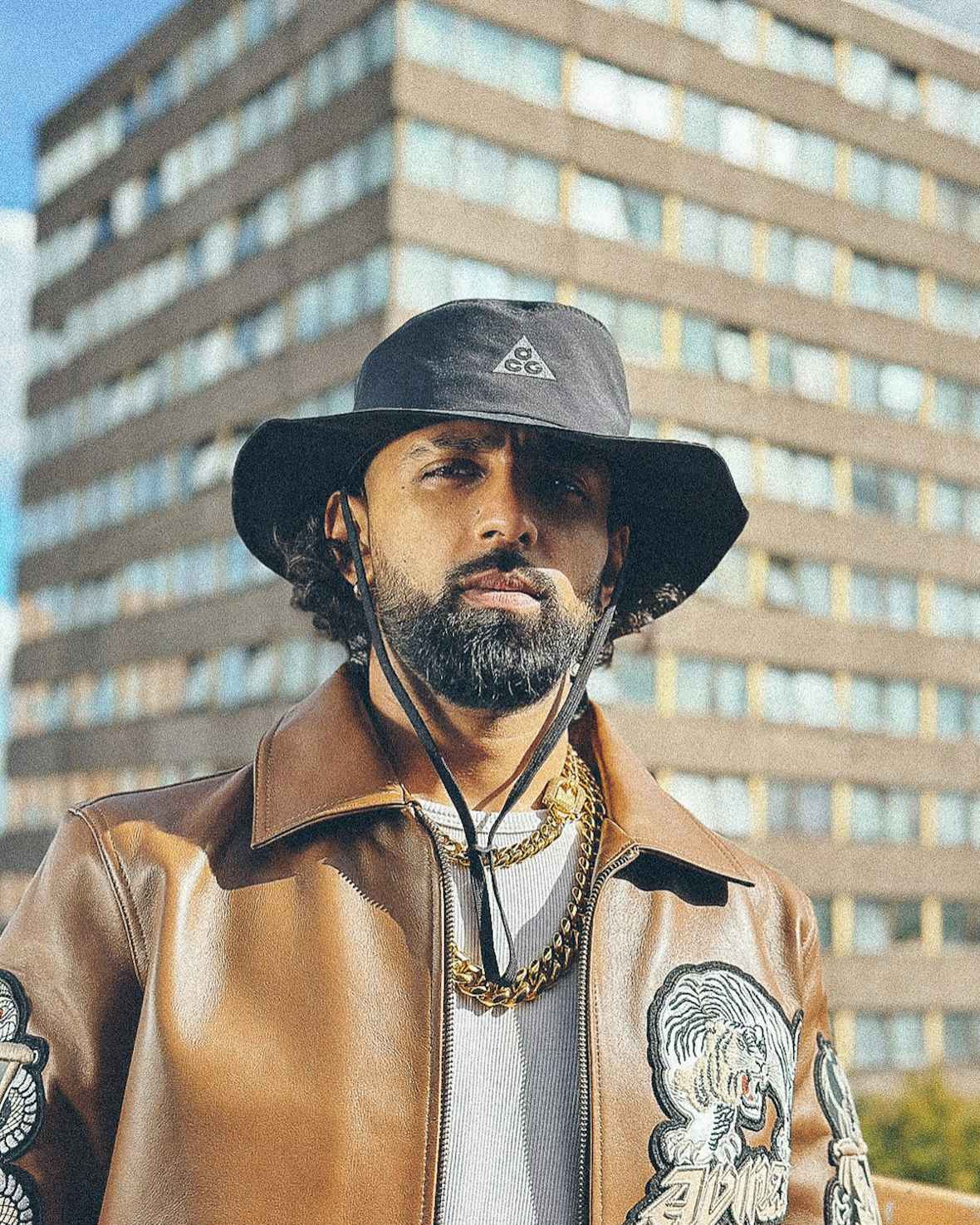 The South Londoner blends bhangra, UKG and drill. Having generated a buzz among the South Asian underground, Saperra's tracks have been going off at Berghain and Glastonbury.
"There is a big cultural movement that is taking place in the South Asian underground music scene right now, especially through dance and electronic music," says Raf-Saperra. ​"It is about time for representation."

Saperra's new single N.L.S. (Nach Le Soniye) is a sugary, addictive UK garage anthem produced by his longtime sound engineer, The Culprit, and it looks set to sustain his buzz as one of the most exciting British Punjabi artists in a generation. The track twinkles like a poppy Artful Dodger hit and thumps with an Oxide & Neutrino-esque bassline, and plugs into a long history of Punjabi garage, a subgenre dating back to the early 2000s. The scene's origins are explained in the 2021 Ministry of Sound documentary, The Birth of Punjabi Garage, which was co-produced by the DJ Yung Singh. A vital supporter of Saperra's rise, Singh has been dropping Saperra during coveted sets like Glastonbury and Berghain, and he also makes an appearance in the video for N.L.S.

When he was a teenager, Saperra (real name Adeel Kureshii) began taking classical Hindustani singing lessons and learning a range of South Asian instruments, including the wind-pumped keys of the harmonium, the double-sided barrel drum of the dhol, and the high-pitched, single-string, four-noted tumbi. Before Covid struck, Saperra spent his mid-twenties building a network of collaborators from across UK desi music and London rap as a video director. Then across the summer of 2020, Saperra blew up on Instagram.
When Saperra started posting weekly videos singing his favourite Punjabi folk songs, his humble couple-of-hundred followers grew into thousands of onlookers. Lockdowned audiences flocked to his precise pronunciation and vocal depth — delicate skills usually refined via training under an ustaad (master teacher) and a lived experience of the pind (rural village). Building confidence, he soon started channelling this rustic purism through self-directed videography with a hip-hop aesthetic, reflecting the perspective of a young man born-and-raised in Lambeth borough, inner-city south London, the birthplace of UK drill and among the densest urban areas in the United Kingdom.

Since his boisterous, bassy debut bhangra singles Glassy Riddim and Milli‑1 first put him on the map, last year, Saperra recorded Snake Charmer over veteran Sukshinder Shinda's production and directed an accompanying video, which sees him dancing in traditional wear in the courtyard of a south London housing estate. He directed the east London-set video for the late Sidhu Moose Wala's drill-inflected anthem Celebrity Killer, a collaboration with rap super-producer Steel Banglez and driller Tion Wayne, after receiving an Instagram DM of appreciation from Moose Wala — the most prominent Punjabi singer on the planet, before he was tragically shot dead in May 2022. Earlier this month, at Birmingham's Soho Road Diwali mela, he was invited up on stage by one of the most celebrated Bollywood playback and Sufi devotional singers on the international circuit, Master Saleem.
Raf-Saperra's music belongs, and pays constant homage, to a deep and rich artistic lineage. Bhangra started as a folk harvest dance in the farmlands of Punjab, ​'land of the five rivers', which now straddles the fierce border between India and Pakistan. It evolved into a music genre once it fused with electronic production, following the region's painful partition in 1947 and the subsequent mass migration of Sikh, Hindu and Muslim Punjabis to the United Kingdom. Bhangra bands emerged in the 1970s and 1980s in places like Southall, in west London, and cities and towns across the Midlands. They would perform at weddings, desi pubs and community melas, recording their music live, marketing it on vinyl and later cassette tape. Fans would blare it from the bassy speakers of collectible classic cars alongside dub music at multicultural protests.
Approaching the millennium, new sampling technologies, the cross-pollination of sound system mechanics from the Caribbean, hip-hop culture from the US and bubbling melting pot genres like reggae, acid house and jungle would take Punjabi music further away from its folk roots and deeper into nightclubs. ​'Daytimer' raves in diaspora hubs like London, Birmingham and Bradford gave second and third generation British South Asians who weren't allowed out at night a thrilling safe space to dance and socialise to ​'Asian Underground' music. Against this backdrop, British Punjabi artists like Bally Sagoo, Apache Indian, Panjabi MC and Dr Zeus, among many others, emerged as pioneers of UK bhangra's evolution, fusing the traditions, techniques and scales of the music enjoyed by their parents with a modern touch.

Raf-Saperra builds bravely upon this golden era, prioritising a return to Punjabi music's raw origins. ​"Raf wants to keep it folk," said UK bhangra legend, Panjabi MC when I interviewed him earlier this year, weeks before he had collaborated with Saperra to make their trap-infused single, Barood. ​"I'm not an expert on voices, but the crowd are, and the crowd like him a lot… he sounds natural."

I caught up with Raf-Saperra to hear about his journey so far, his vision for modern British Punjabi music and the story behind how N.L.S. — his biggest crossover track yet — came to be.
Yes Raf! Let's get into it. How did you start out in music?

I'll keep it real, man. I come from a very orthodox Pakistani home environment. There ain't nobody involved in music in my family. There is a taboo around even learning music. Even an instrument coming into my house was a big thing. But I was lucky enough to come up during a time of YouTube, so I could sit in my bedroom and watch dhol tutorials. I had a little monkey drum, called a damaru, which you'll recognise from Lord Shiva – he holds it in his hands horizontally, it's got two beads on each side. On this tiny little drum, with pencil sticks, I'd be watching these dhol drum tutorials and laying down the patterns. I asked my parents about buying a drum… they said no, but my sister spent her own money on it.

How old were you at this time?

I was 16. So then it was about trying to find a dhol class. But in south London, that was like finding a needle in a haystack! It's not a thing. Maybe in west London, around Southall, or maybe parts of east London, where there is a big Asian community, it would have been easier. We don't really have that in south London. So when I did find one it was a very small, tight group of people. The passion was more concentrated. One time, after a lesson, everyone was having a jam, and the olders would encourage people to sing. And by singing, I mean couplets – we call them ​'boliyan', from folk songs. But nobody ever sang. Until one day I built up the confidence to just go for it. And I remember all their jaws were on the ground.

So you started singing more?

Yeah. Since day one I've had a very ​'fuck it' attitude. Whether I'm good or bad, I'll give it a go. But around that time I took it a bit more seriously. In Indian classical music you have different houses of music, called gharanas, like in kung fu there might be different styles. In Indian classical music there are four singing gharanas of Punjab. I started formal lessons with a teacher in the lineage of Patiala gharana. That's how the classical singing side of things started. Now, I'm under the tutelage of the Shaam Chaurasi gharana and Ustaad Latafat Ali Khan, son of the late legend Salamat Ali Khan. It's a huge co-sign to be under this family's tutelage. Anyway, I was still also looking for a Punjabi folk teacher, but I was told that folk vocalists don't really ​'learn' like that. Whatever that is in their voice, it's in them already, they're built like that.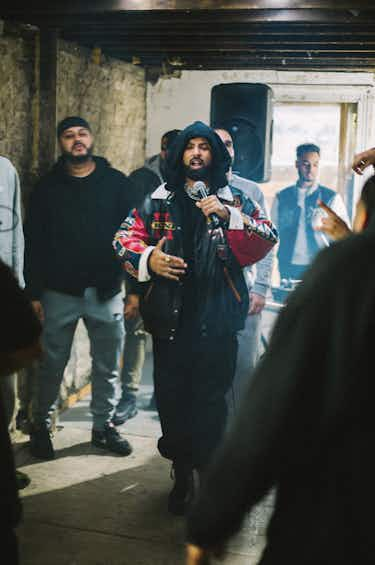 How do you fit into the wider British South Asian music scene?

There is a big cultural movement that is taking place in the South Asian underground music scene right now, especially through dance and electronic music. You've got personalities like Yung Singh doing his bit as a selector, or groups like Daytimers, or events like Dialled In… there is a lot going on. And I feel like it is about time for representation. There shouldn't be one leading voice, there should be loads, like it used to be back in the day, when you had [Canadian Punjabi singer] Jazzy B, Panjabi MC, Sukshinder Shinda, B21 and so many others. There was a whole catalogue of music. That doesn't exist any more.

How would you summarise Punjabi folk music?

It's by the people, for the people. The legendary singer Shaukat Ali Khan said that folk is like a raw plant that has no origin. All we know is that it has grown. Punjabi language itself starts changing in different regions of Punjab. The Punjabi spoken in somewhere like Jhelum, which is near Kashmir, is different to the Punjabi spoken in Lahore or Faisalabad. It is such a big place and it covers so many different cultures and subcultures, and mixed within that are people's religions and ideologies. I think folk covers that. You might get something devotional in folk, or something romantic in folk. You have a lot of stuff to do with bravery and warriors. There are wedding traditions, songs that people sing when someone is getting married. And a lot of the time, these songs will be sung regardless of religion, whether you're Hindu, Sikh or Muslim. The music is almost its own religion.

How does it differentiate from ​'bhangra' as a label?

I would say bhangra is more centred around celebration and joy. Punjabi folk is already a niche, but within that there is another niche called bhangra, and that's more dance-orientated. The history behind that is from farmers, who would celebrate when the harvest was coming in through the use of the dhol drum and dancing. Bhangra as a folk dance and celebration is its own thing. But then when we start looking at bhangra as a music genre… that is a separate thing altogether. That came from immigrants moving from Punjab to this country, working as labourers, finding solace in the brotherhood and the companionship of other immigrant people. Fusion is the best word to describe bhangra music. It is when non-folk instruments started getting introduced. You know, keyboards and synths, electronics.
Why is representing Punjabi culture so important to you?

I've had people say to me, oh you're Muslim, so you're not Punjabi. But how does that make sense? How can we educate the masses? There is a whole West Punjab which gets unexplored… my thing has always been: ​'if Punjab was a country by itself, would I move there?' When people ask if I'm Indian or Pakistani, I say I'm Punjabi. I don't bring attention to the fact I'm from West Punjab, which happens to fall in Pakistan. When we look at the most famous folk music, whether it's from East Punjab or West Punjab, the folk tales that legends like Kuldeep Manak or Alam Lohar have sung, they belong to Punjab as a whole. Due to political reasons there is now a border through the state. But our traditions are the same, our cultures are the same, our people, history, folklore is the same.

I also feel with today's modern music scene, for a lot of people, especially in London, there is an insecurity about being brown. But I'm gonna keep it real, bro: I don't have that experience. A lot of my immediate friends, they're from African and Caribbean backgrounds, but I've unapologetically shared my music with them. Why don't we see that more in the younger generation? So another reason for rocking it all so proudly is because I want to address this insecurity. I hate to say it as bluntly as this, but sometimes I feel like a mongrel. If I go back to Punjab, they're like, nah, you're a Brit. And when I'm in Britain, sometimes people make you feel like you're just Asian. So where do we fit? Raf-Saperra addresses that. I was speaking to some of my boys recently about whether we're patriotic, and my honest answer is that I am proud of having the ancestry that I do, but I am also proud of being a brudda from the ends. This is my city, man's from London, man's from Streatham. You get me? I feel like a lot of that has been shown in my new song, N.L.S.

Let's talk about that. How did the song come about?

The Culprit, who produced it, has been my sound engineer since the start. He said he wanted to make a UK garage song, so I heard him out, and we started making it in September 2021. He was talking about making a song that was laid back, but still had big b‑lines. I was like, what will be the tarz? Which means the melody, the composition. He wanted to speak to a composer called Baldev Mastana, who wrote the melody, so we went and sat with him and got his blessings to sing with it.

So you are singing fresh lyrics to an existing melody?

Yeah. Punjabi melodies get handed down. Many of them come from Sikh devotional songs. There is a rooted feeling to the melodies because they've been with us for so many generations. But this one for N.L.S. was an original composition – it wasn't too folk-orientated. You can actually track back the composition of this. Once we got Baldev Mastana on board for the melody, the lyrics were written by Gurminder Maddoke, who has written for legendary singers like Sardool Sikander, Soni Pabla and Jazzy B. The Culprit wanted this sweet, melodic sound to be blanketed within a very British, UK garage sound. And when he presented the idea to me I said there is no way I'm not jumping on this! I knew what I could breathe into this composition, from my soul. We started working on the audio, which was more Culprit's department, and then the video direction was my department.

What was the vision for the video?

When you visit the roots of UK garage as a genre, you can see how vast and unique the different MCing styles were across different towns and boroughs of inner-city London. Culprit and I are from two different sites of this city: east and south. So we put our own experiences into the song and our respective departments… I directed this as a proud south Londoner by shooting this video around the Winstanley [housing estate] and York Road in Battersea, because these bits made a contribution to the UK garage music scene, they were the hub of So Solid Crew and the infamous pirate radio station Delight FM, 103.0… there would be ​'So Solid Sundays' where MCs would be spitting bars all day. For heads who understand the history of UK garage, they understand the significance of this particular block.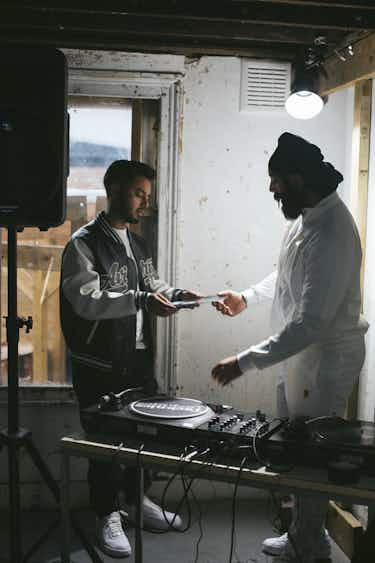 What is the song about?

The hook means: ​"Come dance, beautiful." We worked with Gurminder, the writer, to be like: genre-wise, this is dance music, 2‑step, and we want to put that dance element into the hook. We want to make it catchy, somewhat easy to understand and digest for modern day Punjabis who are living outside of India and Pakistan. I am fortunate enough to have had a very desi upbringing where I can speak the Punjabi that I speak, but not a lot of people can. That meant making a song that was accessible to everyone across the globe. It's celebrating womanhood. ​'Soniye' means beautiful. The song is serenading and glorifying the beauty of this gyal! It all comes down to the hook. Hopefully all my dancing queens and kings can hold a vibe to this ting here…

Yung Singh was the first person to play N.L.S. publicly, at his Glastonbury set this summer, before it was released. Singh features on the decks in the video. He's been a big promoter of your music, right?

After what me and Yung Singh done at Fabric in London last year, which was completely spontaneous – I jumped on stage to sing the vocals to Panjabi MC's garage classic, GT Road, which are actually inspired by an old Kuldeep Manak folk song — I had faith in him to present N.L.S. to a wider audience at Glasto. And it was iconic, a big moment for the culture. It was an honour to be involved. Also, I wasn't there to see it, and they weren't allowed to record it, but Singh dropped [my song] Snake Charmer at Berghain in Berlin earlier this year and it got a replay. Apparently it went mad!

Any final words?

Whether I'm speaking to the UK music industry or the South Asian music industry, heads need to realise that UK bhangra has not only been a big part of Punjabi culture, it's a big part of UK culture, and this scene has not had its moment for a couple of decades. It is important to realise that my voice has now echoed in places like Fabric, Berghain, Glastonbury and in the history of UK born Punjabi acts, never have I heard this happen. So I'm not trying to hear things like, ​'Raf-Saperra is the future'. I appreciate that, but we're not living in the future. We're living in the present. Raf-Saperra is happening in the present, which is shaping the future. Everyone needs to tune in and pay attention to what is going on. Yung Singh played at [Brixton club] Phonox on the same day that N.L.S. was released. When it came on, to see a whole army of people, men and women, singing at the top of their lungs, it was like, what is happening!? There is a big moment going on right now.

More like this