Review:

FKA

twigs live in Los Angeles
Rat­ing: 5/5

It ends with a stand­ing ova­tion. It begins with a tap dance.
FKA twigs is stand­ing in front of the red vel­vet cur­tains of the Los Ange­les Palace The­ater dressed in a black and white jester out­fit by design­er Ed Mar­ler, impos­si­bly cool sun­glass­es, with hair pulled back in corn­rows. She's cap­ti­vat­ing the audi­ence with the rhyth­mic clack of her feet on the wood­en stage.
This is the first date of the con­sis­tent­ly sur­pris­ing artist's new tour, and there's a feel­ing of antic­i­pa­tion. Over the course of 90 min­utes or so, twigs deliv­ers a per­for­mance that could be described as oper­at­ic, evok­ing ref­er­ences like Egypt­ian opera Aida and kabu­ki the­atre (com­plete with a sword dance) with an avant-garde twist. At one point, the long cur­tains, on which blue skies with thick white clouds are pro­ject­ed, fall to reveal the skele­ton of her back­drop: a scaf­fold­ing, illu­mi­nat­ed by LED strobes, that holds four dancers as well as twigs' three piece band, which includes accom­plished cel­list Lucin­da Chua.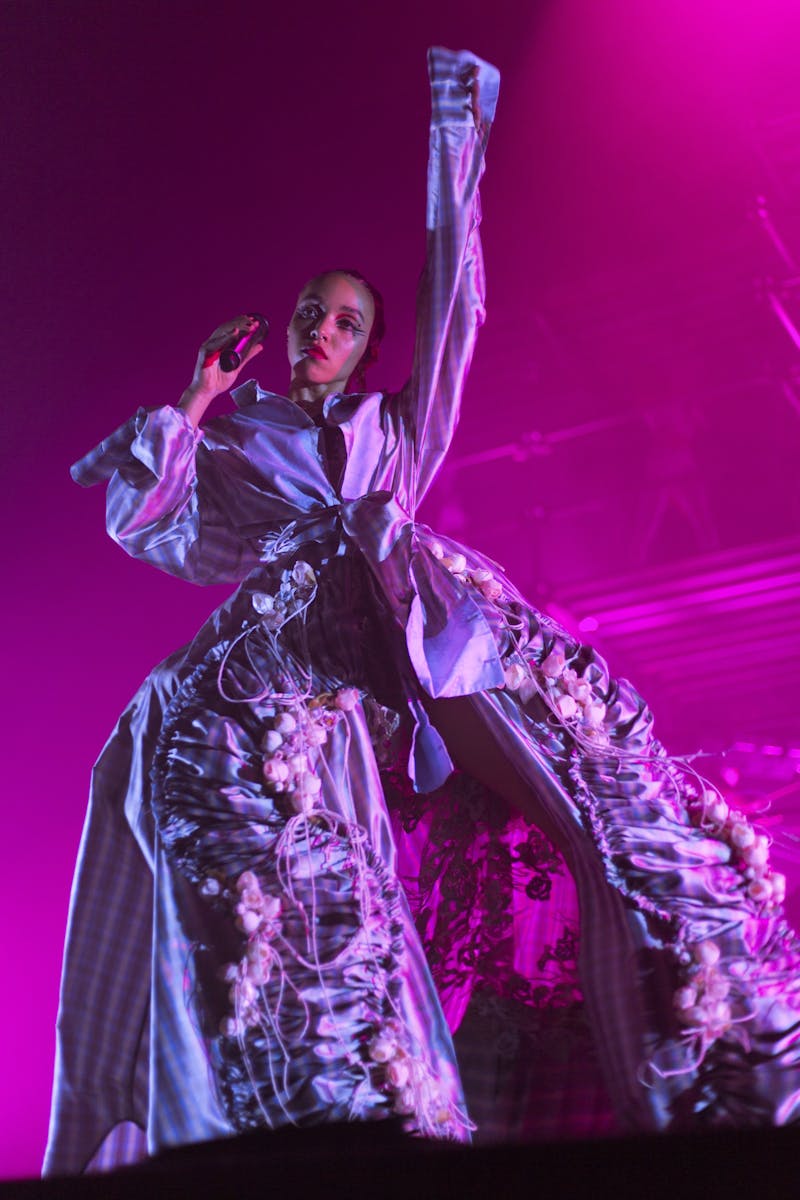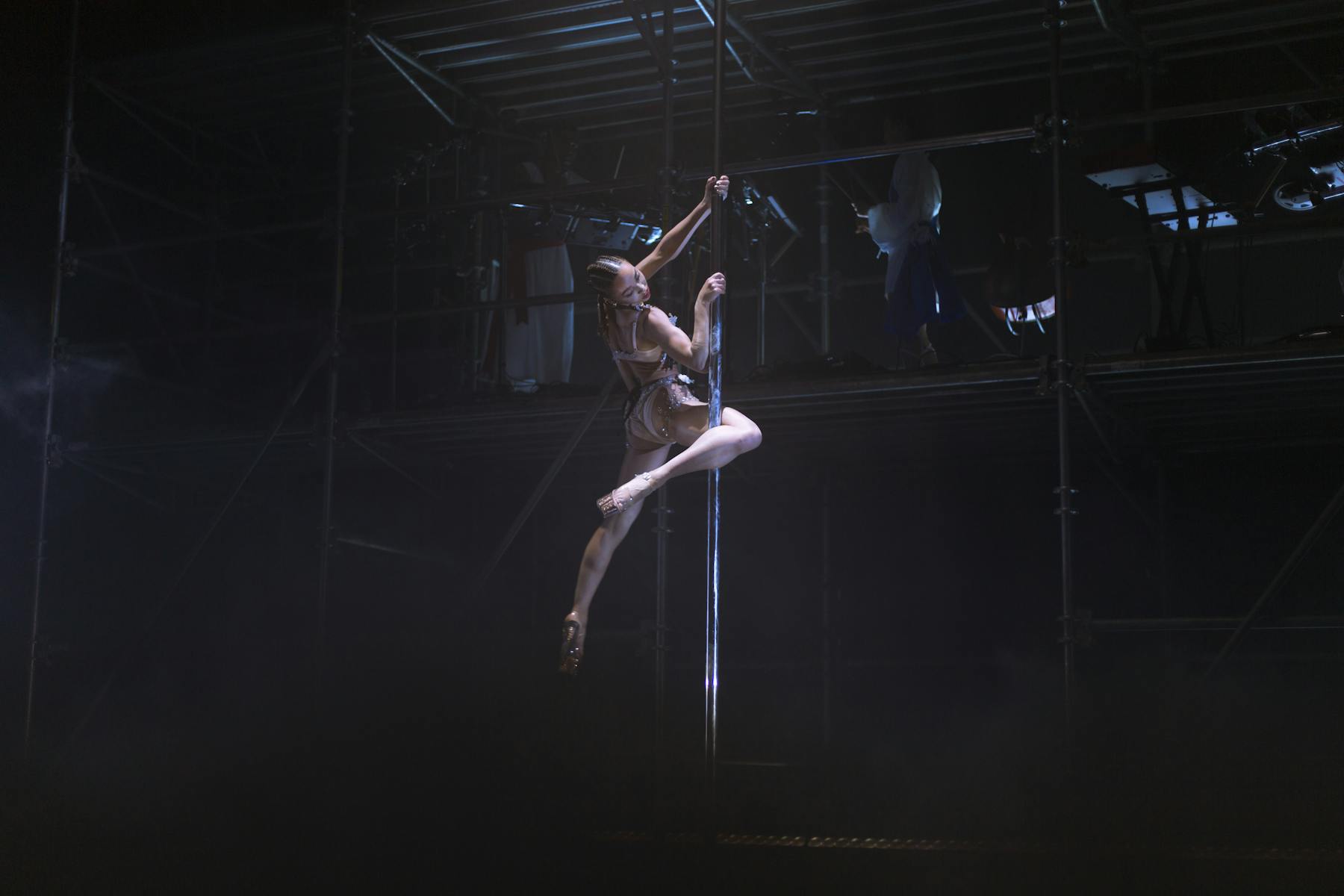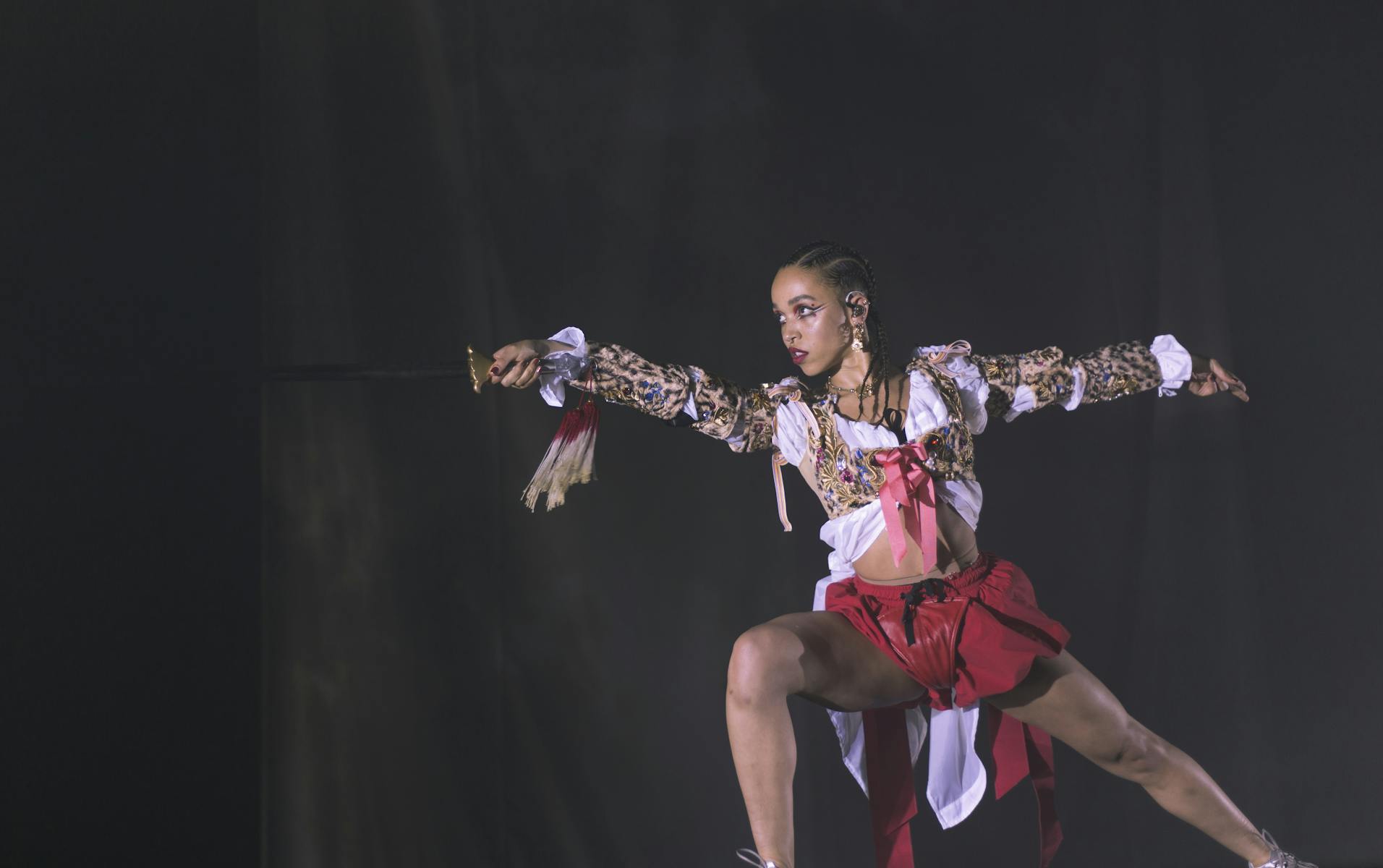 Direct­ed by twigs and per­for­mance artist Theo Adams, the chore­og­ra­phy includes an incred­i­ble pole danc­ing rou­tine and cos­tumes which seem­ing­ly tell a sto­ry of growth and empow­er­ment, mov­ing from jester to baby pirate to gyp­sy to queen.
Famil­iar songs like Two Weeks, Video Girl, Fig­ure 8, Lights On and twigs' A$AP Rocky col­lab­o­ra­tion Fukk Sleep draw loud cheers from the crowds, with one con­cert­go­er yelling ​"Get it girl!" dur­ing an inter­im moment of rel­a­tive silence, dur­ing which twigs mas­ter­ful­ly con­torts her body.
New mate­r­i­al seems to draw on the strings of a bro­ken heart and twigs' jour­ney of piec­ing her­self back togeth­er. One new song, which is met with loud yeses from the crowd, pon­ders on ​"a woman's worth" and ​"a woman's pre­rog­a­tive", while on anoth­er, slow­er bal­lad, twigs croons: ​"It reminds me I'm not with you."
As the show comes to an end, FKA twigs goes back to where she start­ed – sin­gle-hand­ed­ly daz­zling the audi­ence in front of those red cur­tains – while per­form­ing her stun­ning new bal­lad Cel­lo­phane. She is mul­ti-dimen­sion­al: a once-upon-a-time video girl who is too big for any screen, an oth­er­world­ly tal­ent who has suf­fered and been shaped by heartache like the rest of us, a woman on the quest of what being a woman means, and a per­former who is find­ing artis­tic answers.
---