Review: FKA twigs live in Los Angeles

On the first night of the avant-pop performer's new tour at LA's Palace Theater, twigs unveiled a hypnotic new show.
Rating: 5/​5

It ends with a standing ovation. It begins with a tap dance.
FKA twigs is standing in front of the red velvet curtains of the Los Angeles Palace Theater dressed in a black and white jester outfit by designer Ed Marler, impossibly cool sunglasses, with hair pulled back in cornrows. She's captivating the audience with the rhythmic clack of her feet on the wooden stage.
This is the first date of the consistently surprising artist's new tour, and there's a feeling of anticipation. Over the course of 90 minutes or so, twigs delivers a performance that could be described as operatic, evoking references like Egyptian opera Aida and kabuki theatre (complete with a sword dance) with an avant-garde twist. At one point, the long curtains, on which blue skies with thick white clouds are projected, fall to reveal the skeleton of her backdrop: a scaffolding, illuminated by LED strobes, that holds four dancers as well as twigs' three piece band, which includes accomplished cellist Lucinda Chua.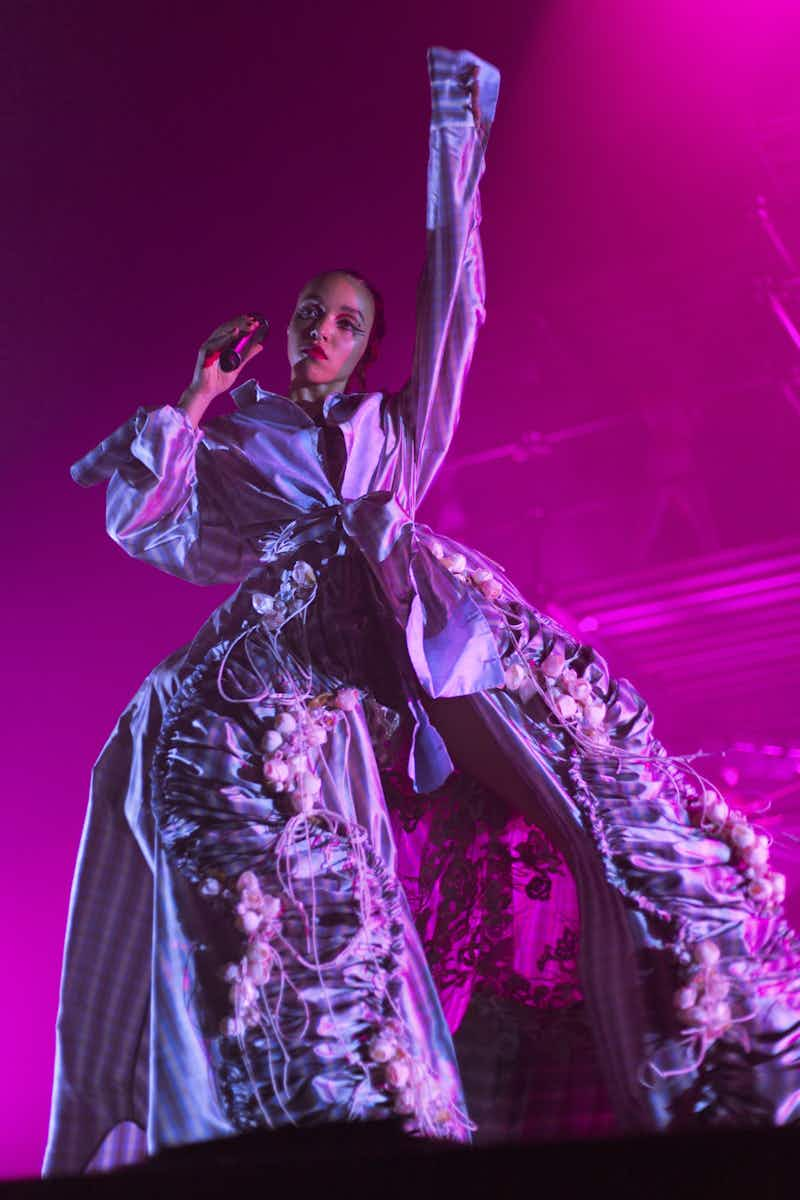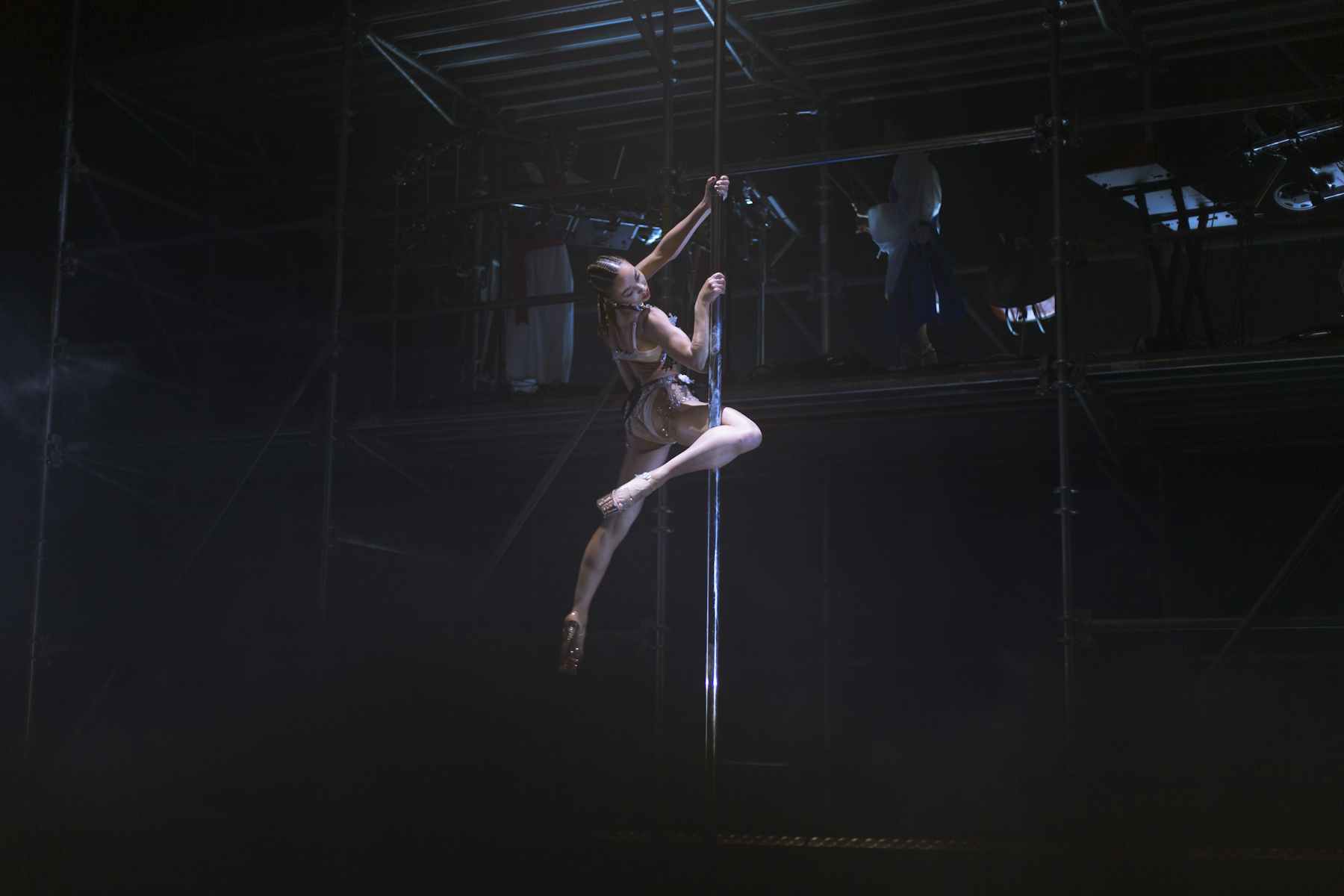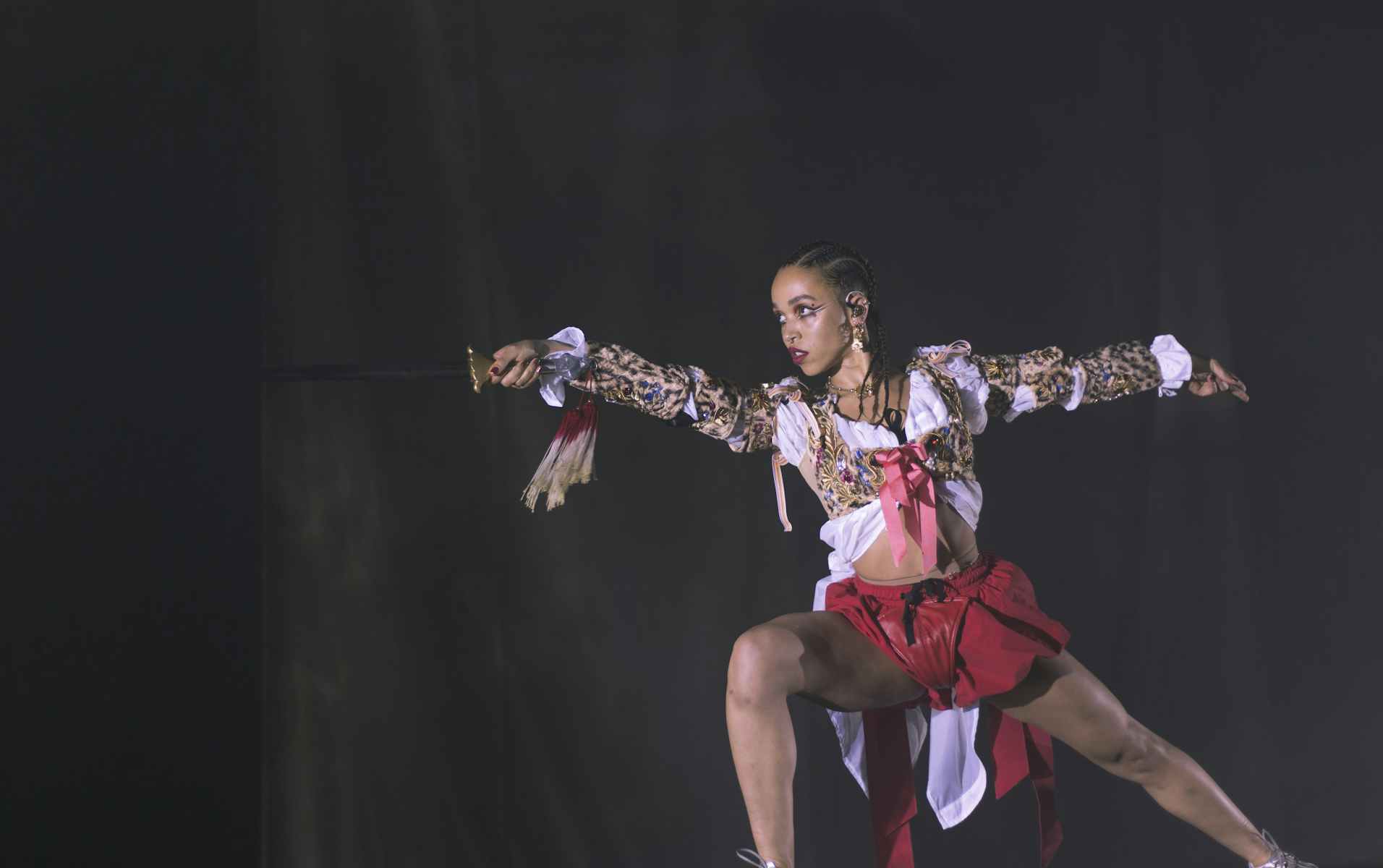 Directed by twigs and performance artist Theo Adams, the choreography includes an incredible pole dancing routine and costumes which seemingly tell a story of growth and empowerment, moving from jester to baby pirate to gypsy to queen.
Familiar songs like Two Weeks, Video Girl, Figure 8, Lights On and twigs' A$AP Rocky collaboration Fukk Sleep draw loud cheers from the crowds, with one concertgoer yelling ​"Get it girl!" during an interim moment of relative silence, during which twigs masterfully contorts her body.
New material seems to draw on the strings of a broken heart and twigs' journey of piecing herself back together. One new song, which is met with loud yeses from the crowd, ponders on ​"a woman's worth" and ​"a woman's prerogative", while on another, slower ballad, twigs croons: ​"It reminds me I'm not with you."
As the show comes to an end, FKA twigs goes back to where she started – single-handedly dazzling the audience in front of those red curtains – while performing her stunning new ballad Cellophane. She is multi-dimensional: a once-upon-a-time video girl who is too big for any screen, an otherworldly talent who has suffered and been shaped by heartache like the rest of us, a woman on the quest of what being a woman means, and a performer who is finding artistic answers.

More like this