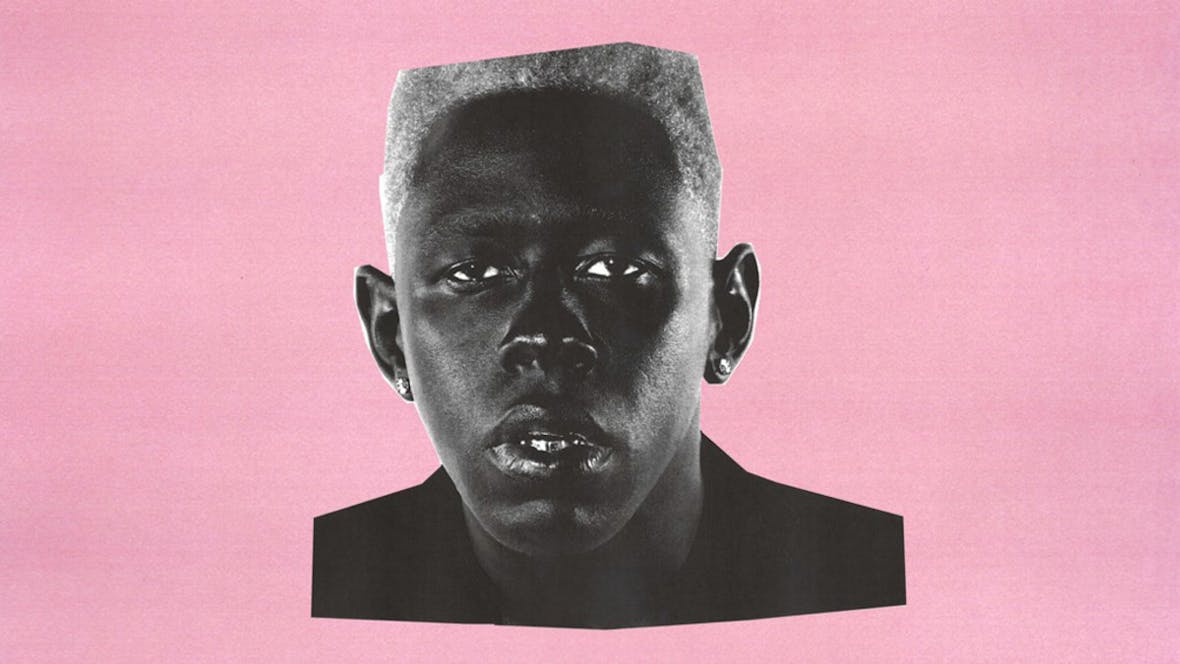 Tyler, The Creator's

IGOR
RAT­ING: 3⁄5
Before Tyler claimed him for his own, Igor was a stock char­ac­ter who cap­tured the imag­i­na­tion of cult cre­ators from goth-rock icon Bela Lugosi to Tim Bur­ton. Igor is a mon­strous yet piti­ful fig­ure, with his deformed body rep­re­sent­ing a sym­bol­ic threat to stuffy, polite soci­ety. In the cov­er art for his sixth album IGOR, Tyler, The Cre­ator glow­ers with a jut­ting under­bite, lop­sided eyes, his face ren­dered in grainy mono­chrome as if the image had been run through a pho­to­copi­er on the wrong setting.
It makes sense that Tyler Okon­ma would take Igor as an avatar at some point, but it's a more per­plex­ing choice in 2019. Tyler's ear­ly music was pep­pered with homo­pho­bic slurs and ref­er­ences to sex­u­al abuse, cement­ing him as a divi­sive fig­ure who was, at best, a Gen-Z anti­hero (and at worst a head­line-hun­gry troll). But IGOR is the eas­i­ly-acces­si­ble end­point of a decade of music in which Tyler has grad­u­al­ly soft­ened his image and music, most notably in his career-realign­ing 2017 album Flower Boy, which was per­me­at­ed with soul and slack­er rock tex­tures and cast him as an empa­thet­ic, lone­ly fig­ure. When asked last year if he'd ever been in love, Tyler replied: ​"I don't want to talk about that […] that's the next record."
Over gleam­ing elec­tro-soul, IGOR loose­ly describes one gay rela­tion­ship from star­ry-eyed incep­tion (I Think) to the anx­i­ety of get­ting hurt (Boy is a Gun), to even­tu­al heart­break. On the spry, soul­ful ​"Gone Gone/​Thank You," he sings about his part­ner being on the DL. ​"I hope you know she can't com­pete with me," he sings. Lat­er, he warns ​"I know your secrets." It fig­ures that it took Tyler until age 28 to make a record about gay love. As LGBTQ+ peo­ple, our teenage years can be wrapped up in try­ing to fig­ure out who we are, shut­ting out the pos­si­bil­i­ty of moony first love ​'til lat­er. Yet the album is also imbued with the knowl­edge that there's no upper age lim­it to con­fu­sion about sexuality.
Tyler real­ly sings on this record, but an abun­dance of pitch shift­ing can some­times feel unwel­come on songs that pay trib­ute to soul greats like Don­ny Hath­away and Ste­vie Won­der. At times, the effect veers uncom­fort­ably close to pas­tiche, and sounds can get samey. Melod­ic mas­ter­minds like Solange and La Roux are fea­tured on the record, but their con­tri­bu­tions feel less than the sum of their parts. Odd­ly for an album which is the clos­est Tyler has come to pop, few­er than half of IGOR​'s songs have true ear­worm poten­cy – most notably Ear­fquake, the album's de fac­to sin­gle, with a campy video fea­tur­ing Tracee Ellis Ross.
IGOR cen­tres Tyler's own increas­ing­ly trans­par­ent nar­ra­tive as a queer per­son. There is a clutch of musi­cal bright spots here, but at times the album priv­i­leges his own sto­ry over cre­at­ing the most com­pelling music pos­si­ble. And, giv­en that Tyler has talked of Solange's March-released When I Get Home as a key influ­ence on IGOR, it's worth won­der­ing how rushed the cre­ation of this album was. IGOR marks a per­son­al win for Tyler, The Cre­ator, even if not quite a ful­ly-fledged artis­tic triumph.
---