SamRecks on love, pounded yam and Tamagotchis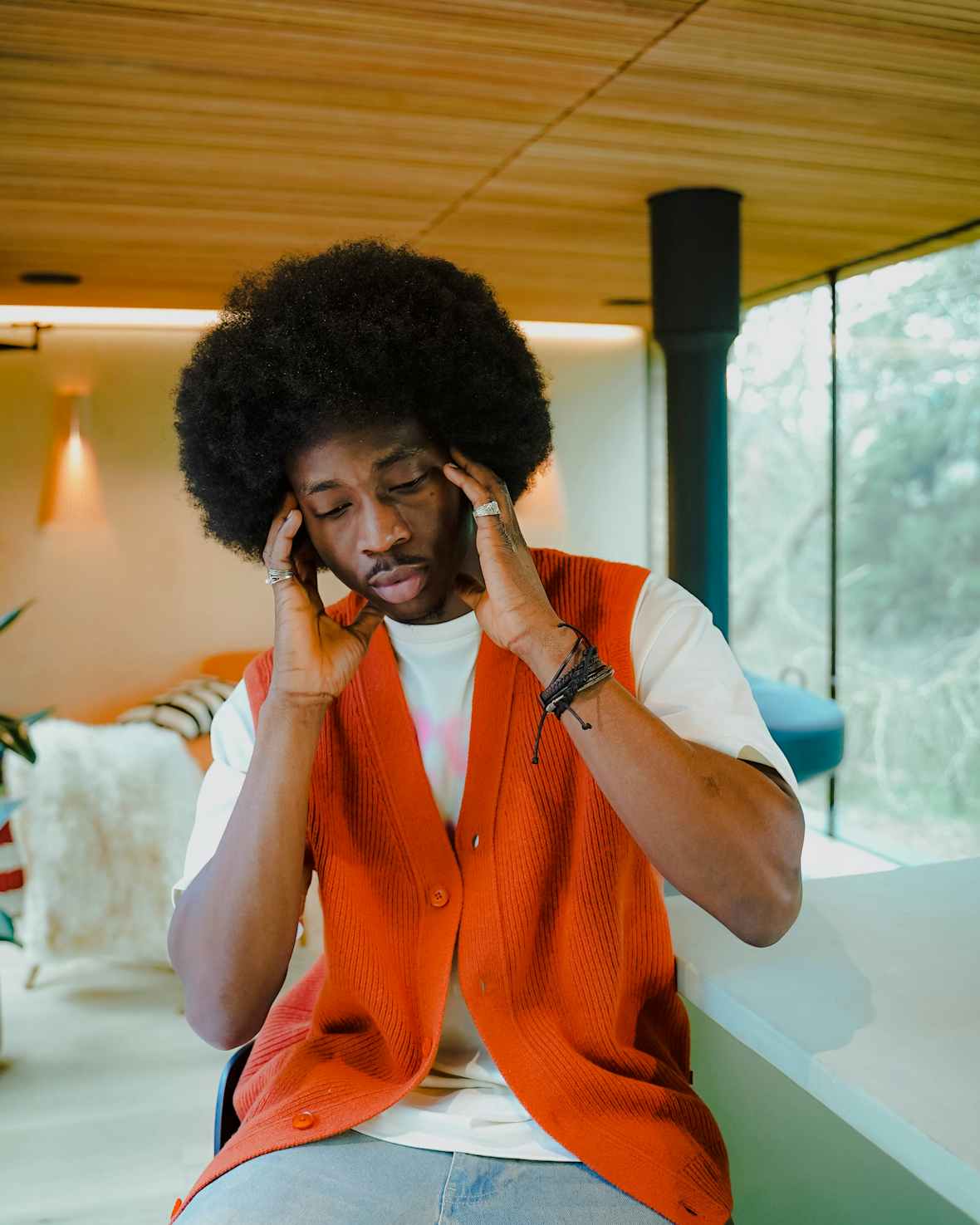 100%: The London rapper's EP Easier Said Than Done is as sexy as it is personal and introspective. We asked him all about it, and his eight (eight!) digital pets.

Over the last two and a half years, SamRecks has established himself as one of South East London's most quietly seductive rappers.
Blending introspective lyricism with lo-fi instrumentals, his debut EP, Easier Said Than Done, is ​"basically about me juggling work, music and relationships. Meeting the right girl at the wrong time, and how that was clashing with my goals and ambitions," he says, Zooming in from his home in the city of London (Sam was born in Nigeria and moved to the city as a kid). ​"It's all about that journey, and how everything in life is easier said than done. Actually doing stuff is the hard part that no one talks about!"
Since its release, Easier Said… has amassed hundreds of thousands of streams. BACK PACK, one of the EP's standout tracks, is a slow jam set against a backdrop of sexy guitar riffs: ​"She B A D call me D A D /​Some of my girls come thick baby /​Sometimes I'm loving them slim baby /​One thing they all got they a freak for me". Meanwhile, on SUMO, he spits languidly: ​"Dinner dates might go on a bender /​If she down I'll go on and bend her".
Sam's hustled hard since he started officially releasing music in 2021. ​"I'm completely self-taught," he says. ​"I'd just try to find equipment and record songs on a webcam mic with some free software I found online. No headphones, just shouting with the beat playing."
Now, it feels good that his commitment paid off. But most of all, he wants his listeners to relate to what he's putting out into the world. ​"I want them to hear it and be like, ​'Oh, I'm going through this as well.' Then they can move onto the next chapter, like I have."

10% What kind of emotions and experiences influence your work?
Day to day things. If something happens like an argument, I might go to the studio and speak about how I'm feeling. It's like therapy.
20% If you're cooking food to impress someone, what will you make?
Probably pounded yam.

30% You rule the world for a day. What goes down?
Everything would be care-free. You can do whatever you want.

40% No laws or rules?
Nothing. Do whatever makes you happy.
50% Love, like, hate?
I love magazines – I'm really into them right now. I hate fast fashion. I like Tamagotchis.

60% Tamagotchis? Tell us more…
When I was younger, I really wanted a Tamagotchi. I think it was the way they were marketed. I never got one, so now I've got bare.

70% How many have you got?
Eight. I don't need eight, but I do have that many.
80% Isn't it quite hard to keep them alive?
I keep like four fed and I'll leave the others for dead.

90% If you could travel back in time to see an iconic music act perform, who would it be?

Michael Jackson.

100% What can artists do to help save the world?
Be a good influence. When you make it in music, people expect you to do that, but you might not be a good person. If you try to be a better person, you'll pass that onto others.

More like this