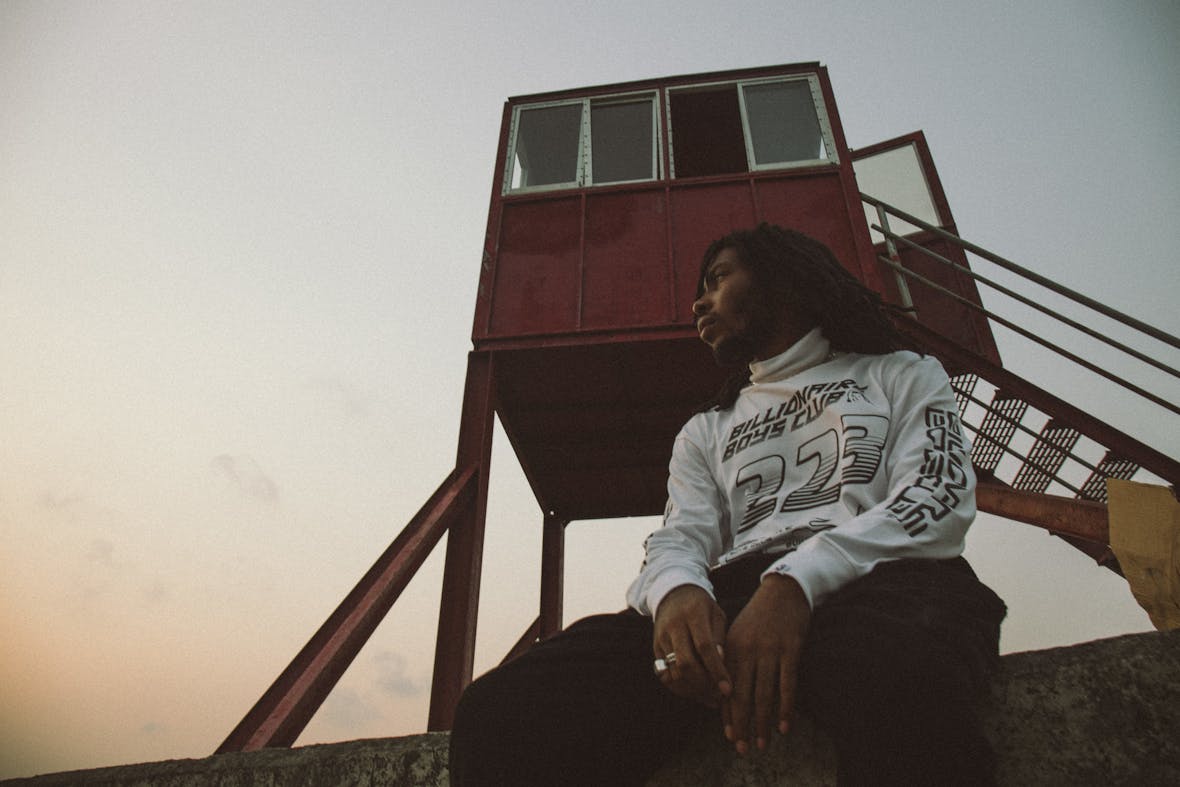 San­ti on Nigeria's cul­tur­al rebirth
Nige­ria is in the midst of a cul­tur­al rebirth. The world is begin­ning to stand up and take notice of a bur­geon­ing group of poten­tial game-chang­ers – also known as the alté scene. The cur­rent crop of home­grown tal­ent is gain­ing a sig­nif­i­cant amount of expo­sure thanks to young cre­atives who are fus­ing their African tra­di­tions with west­ern influ­ences in music and style.
San­ti is one of the artists at the fore­front of this par­a­digm shift. Strong­ly inspired by the ​'90s Nol­ly­wood hor­ror genre and direc­tors like Mar­tin Scors­ese and Quentin Taran­ti­no, he has man­aged to merge these aes­thet­ics to form the per­fect accom­pa­ni­ment for his sooth­ing lo-fi melodies.
The 26-year-old has already gained a cult fol­low­ing since the release of his self-direct­ed visu­als for Rapid Fire and Sparky, and now as San­ti gets set to release his high­ly antic­i­pat­ed debut album – Mandy and the Jun­gle, he hopes to push the bound­aries even further.
"All of the peo­ple in the alté move­ment are sole­ly dri­ven by a strong desire to cre­ate with­out lim­its, that's all that mat­ters to us," San­ti explains. ​"I want to use that free­dom to give peo­ple an insight into what real­ly goes on inside my mind." Ahead of the release, the Lagos native talks us through some of the influ­ences behind his most recent offering.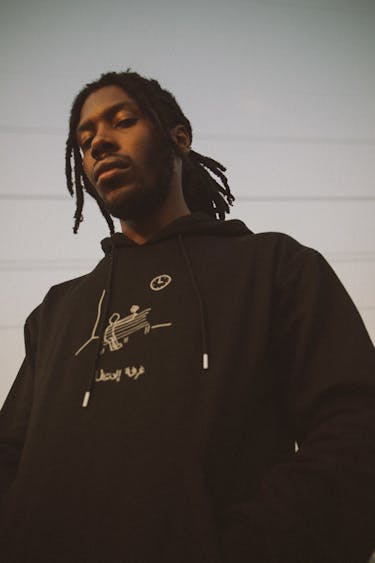 "The video for Sparky is rep­re­sen­ta­tive of how I grew up and the things I have been exposed to. The sto­ry cen­tres around three girls, one guy and a trau­mat­ic event. A pact has been made between each of them fol­low­ing the death of a young boy – whose funer­al you see dur­ing the open­ing scene. The visu­als explore the after­math and how they deal with the guilt, grief and rage and the con­se­quences of their actions. I enjoy the intri­ca­cies of sto­ry­telling, it's a great way to explore emo­tions and it's some­thing I would like to explore further."
"The album is about the pow­er of thought. Mandy is a fic­tion­al char­ac­ter I cre­at­ed after I had just fin­ished uni­ver­si­ty. At the time I was com­ing up with the con­cept for the album and I was uncer­tain as to what I want­ed to do. I was coast­ing through life, I felt like my mind was a jun­gle. Mandy rep­re­sents the dif­fer­ent expe­ri­ences we go through men­tal­ly. She is unsure of her pur­pose and goes through life wait­ing to die, she thinks she is los­ing her mind because she keeps on hear­ing voic­es chant­i­ng her name wher­ev­er she goes. She doesn't realise the pow­er she pos­sess­es and I think a lot of peo­ple can iden­ti­fy with that feel­ing. Mandy is a metaphor for emo­tion, pow­er and influ­ence – she is actu­al­ly depict­ed on the cov­er of the album but remains faceless."
THE INFLUENCE OF '90S NOLLYWOOD HORROR FILMS
"I was raised in a Niger­ian house­hold where Nol­ly­wood was a huge part of the cul­ture. I devel­oped a fas­ci­na­tion for the hor­ror genre and Helen Ukpabio movies in par­tic­u­lar. She's a con­tro­ver­sial preach­er who was also one of the most pop­u­lar direc­tors in Nige­ria dur­ing the ​'90s. She direct­ed End of the Wicked – one of my favourite films. Par­ents would warn their kids about accept­ing gifts or food from strangers, as the film was about witch­es ini­ti­at­ing chil­dren into cults by lur­ing them dur­ing their lunch breaks. There were a lot of kid­nap­pings and blood sac­ri­fices going on at the time so peo­ple would take these films quite literally."
THE NEW WAVE OF NIGERIAN CREATIVES
"I strong­ly believe in divine tim­ing and I believe the time for us is now. We feel like there are no rules, we are cre­at­ing exact­ly what we want. Some­times when we shoot videos we may have to go to places that are dan­ger­ous, but the sat­is­fac­tion that comes from the fin­ished result is worth it. There are so many gift­ed indi­vid­u­als in the alté scene and it's great that we sup­port one anoth­er. We all have one thing in com­mon – we are just going for it. It can be quite daunt­ing to show the raw emo­tion behind your work but it's not about com­pro­mis­ing your art or play­ing it safe. We believe in com­plete free­dom of expres­sion, so it's a risk we are will­ing to take."
---