Sexyy Red doesn't get the controversy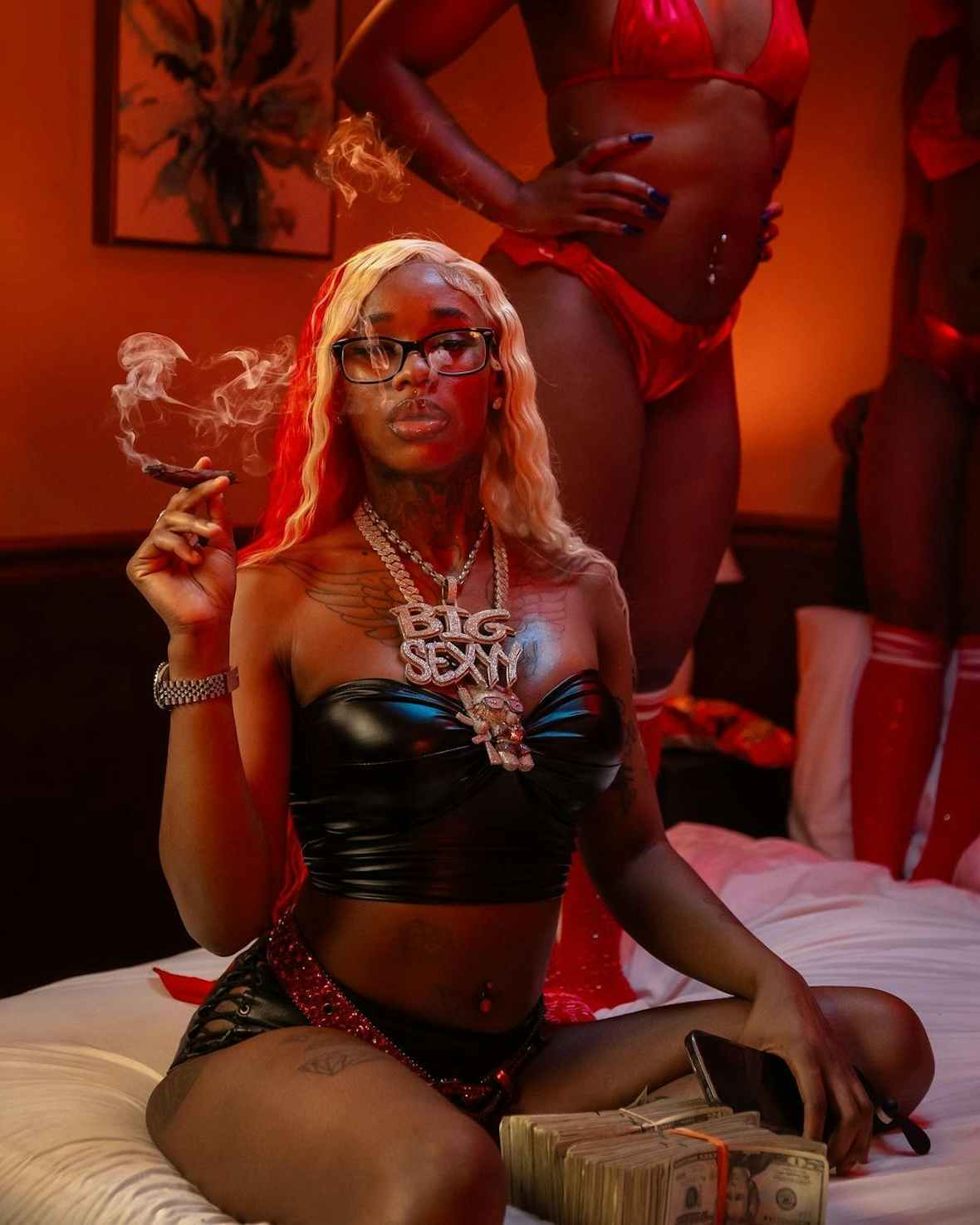 The St. Louisian rapper laughs at critics and her own jokes. With the viral success of Pound Town and a raucous appearance at the BET Awards, she's bringing "raw shit" back into the rap game.
Once every few years, there's a song that angers prudes and delights the freaks – take Cardi B and Megan thee Stallion's WAP, Nicki Minaj's Anaconda and Rihanna's S&M, to name just a few. Shockingly brazen lyrics make their rounds on the apps, op-eds pop up heralding the song as a 21st-century anthem of women's sexual liberation and, just as things are winding down, a geriatric conservative pundit scapegoats the artist as everything that's wrong with the world.

"I ain't know I said nothing crazy when I said ​'my coochie pink, my booty hole brown,'" says a puzzled Sexyy Red, reflecting on the uproar surrounding her viral hit Pound Town. ​"It's real! I didn't think that was a wow factor." The track was released this January, but social media and celebrity co-signs skyrocketed its reach over four to five months, just in time to soundtrack the summer.

A few days before our interview, the 25-year-old St. Louisian rapper attended her first BET Awards show. ​"It was supposed to be classy, but it was the most fun event I've ever been to like that," she says, Zooming in from her apartment in Missouri while chilling with her son. And it was Red's presence, in part, that kept the event light-hearted. Although she wasn't slated to perform, she delivered a raucous a capella performance of Pound Town from the audience, a stack of money in her hand, surrounded by mates providing backup vocals. Wherever she is, you can almost always guarantee that a pregnant woman is twerking without a care in the world.
Take, for example, Summer Walker in her Sense dat God gave you music video featuring Red. Over the course of her career, Walker's artistry had become defined by melancholic musings on toxic relationships. With Red by her side, you wouldn't be able to tell. She raps about being a ​"bald head, scallywag" while dancing on a car hood, with an unbothered, playful spirit clearly inspired by her collaborator. Whether you're a cameraman working a Beyoncé concert or a rap veteran, Red's lyrics have a way of burrowing themselves deep into your hippocampus. Nicki Minaj, who hopped on the Pound Town remix, said it best during an Instagram live after their collab: ​"Mothafuckas really want to hear that raw shit."
It's become cliché for artists to proclaim that they came out of the womb with a pen in their hand, but sometimes it's kind of true – give or take a few years. Red's knack for linguistics made itself known at the age of five. She remembers demolishing her white classmates during primary school journaling sessions. So great was her elementary penmanship that once, her teacher even accused her of plagiarism.
"They was racist as fuck. One day, everybody had to describe the candy that they came up with. I remember saying it was a gooey green feeling. I was being real descriptive. I was like, you bite the outside and it crunches," she says. ​"Then a white teacher came to my classroom. She was like, ​'Who wrote this paper?' I'm thinking this was something bad, but she was like, ​'You did really good. Did somebody help you write this?' She didn't even want to believe that it was me that wrote this.'"

The 25-year-old has always been 10 steps ahead of her peers. By 15, she had become a regular patron at her local strip clubs. ​"My older sister gave me her ID and we just used to be outside every night for no reason," she says. ​"It'd be funny because I'd come back to school and everybody just was on some lame stuff. But me, I was already going to the club, going out of town for the weekend. Even on school nights, my mom couldn't keep me in the house. I used to be coming in at three, four o'clock in the morning on a school night, and wake up and go right to school."
Louisiana rappers Webbie and Boosie's songs were staples in St. Louis' clubs, while T.I., Project Pat and Gucci Mane soundtracked Red's rides to school. ​"All ratchet shit, hood shit, ghetto shit," as she puts it. Her family home on the north side, which has been there for countless generations, is where she was exposed to soul and funk. That influence can be heard on Born By the River, on which she interpolates Sam Cooke's A Change is Gonna Come. By adding hints of raunchy Miami rap legend Trina, she and Miami rapper Sukihana transform Cooke's sentimental track into a wild twerk anthem.
Red didn't set out to be a symbol or a provocateur. She didn't even originally set out to be a rapper. What changed? Her now ex cheated. Positive reactions to a 2019 diss track about her adulterous boyfriend, the ​"lame ass bitch" he was cheating on her with and the ​"lame ass bitch" in question's friends convinced her to take rap seriously. And even though the song was filled with brutal jabs against him, her ex thought it was so smart, tough and funny that he constantly begged her to rap it to his friends.

You can't deny her humour. ​"This pussy hittin' something like Will Smith," she raps on her 2023 mixtape Hood Hottest Princess. Often, the gags are accidental. ​"I say some shit and I won't even think I'm being funny. I was being for real," she says. But sometimes Red even cracks herself up during freestyles. ​"I be making myself laugh, I ain't gonna lie." Her in-track chuckles are audible in Pound Town when she says, ​"I can't say his name ​'cause he be cheating /​And I'm the reason".

Red isn't planning to change her eclectic ways anytime soon. Aside from music, she wants to channel her captivating persona into a show like Flavor of Love, the noughties reality series that introduced the world to Tiffany Pollard. Red's version, she says, would feature hoochie daddies galore.
For now, though, she'll keep giggling on her songs and upsetting disciples of respectability politics. ​"I don't understand it because they'd be saying they need real bitches in the game and hoochie mama stuff," she says, setting me down on her counter while she examines her hair in the bathroom mirror. ​"But when I come on that shit, some people don't be taking it in. They be like: ​'she too much.' How is it too much? I'm just like… this me."

More like this