Amapiano is the hottest music genre right now and Sha Sha is the Queen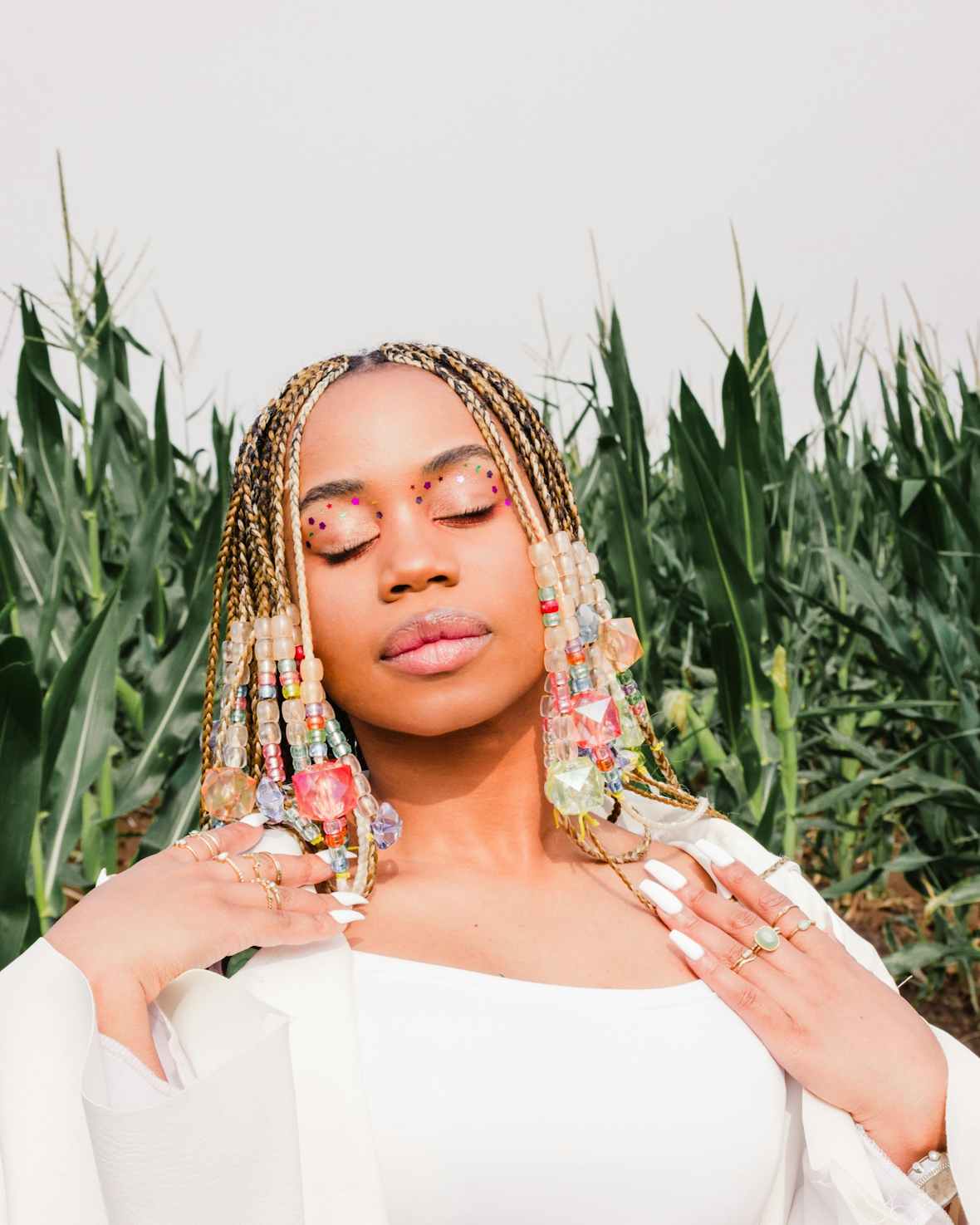 The Zimbabwe-born singer talks South African party culture, Nigerian amapiano and collaborating with the best producers in the scene.
In the melting pot of South African house music, every so often something bubbles to the top with the potential to set the world ablaze. Amapiano has leaped from the belly of the townships in Gauteng – the provincial area which contains Johannesburg – and onto radio airwaves and party playlists across the globe. Right now, it's the coolest genre around.

At the helm of the amapiano scene are powerhouse producers DJ Maphorisa and Kabza de Small, who also team up as duo Scorpion Kings. Kabza is affectionately referred to as the king of amapiano. It's Bulawayo-born singer-songwriter Sha Sha however, who is being hailed as its queen.
Zooming in from her place in sunny Johannesburg, I spy Sha Sha's BET Award on a nearby shelf, propped lovingly between a houseplant and a stack of books. This time last year, she was accepting the Viewer's Choice Best New International Act and making history as the first Zimbabwean artist to do so in the show's 20 years of existence. On screen, her burnt orange box braids and warm peach eyeshadow provide the colourway I never knew I needed. The pop of colour is the perfect window into the incandescent, sweet and fun-loving Sha Sha, real name Charmaine Shamiso Mapimbiro. As are her impressive set of razor-sharp stiletto nails, replete with half-and-half monochrome à la Janelle Monae, which make cameo appearances when she's at her most expressive.
So how does she feel about her crown? ​"Man! I receive it," the 26-year-old says. ​"I take it all in. Some people would say that it might just box you in one type of style. But if people knew me from the time I started to this point, I've been in different sounds: Afropop, R&B, hip-hop. At the end of the day, if someone says I'm the amapiano queen, best believe I'mma own it!"

Sha Sha, who cites family, God and cheesecake as her life essentials, emerged as a major South African artist in 2019. She racked up millions of streams with appearances on MFR Souls' feel-good Love You Tonight, the anthemic hit that is Samthing Soweto's Akulaleki, and her own amapiano ballad Tender Love.
But it took some time for amapiano's listeners to get to know the person behind the voice on these hip-shaking amapiano hits. ​"I was always in the background," Sha Sha says. ​"People didn't know me, but they would hear my voice here and there." Fitting then, that she named her first EP Blossom. ​"For me, the title says it all. It was literally me coming out of hiding, out of my shell. I was and still am a very shy person, but that was my breakout."
Only two years prior, Sha Sha was leaving Zimbabwe behind indefinitely with plans to become a nurse. ​"My parents were obviously pissed but I said hey, you know what? I'm gonna do this music thing and I'm not gonna have any regrets. In Zim, people don't really believe in the arts like that. I had drive. I was hungry. I wanted to break the limits, not just for myself, but for the youth."
In 2017, Sha Sha was en route to the studio in a cab, riding with a driver who happened to be well connected with DJ Maphorisa. ​"He's like ​'Yeah, I know him – I sometimes pick him up, I can make that meeting happen,'" Sha Sha remembers. ​"So one Saturday, I met DJ Maphorisa, played him one of my ballads. The rest is history!
"[DJ Maphorisa] started introducing me to all these amazing artists here in South Africa: Don Laka, Mlindo the Vocalist, Samthing Soweto. He's really a great mentor, he's taught me a lot." Crucially, he also introduced her to producer Kabza de Small. ​"We're all just chilling and Kabza is making these beats that just screamed ​'party', you know? That's where [the track title] Akulaleki – meaning we can't sleep – came from. We're in the vibe, we're having a good time and we ain't going back home."

Amapiano joins distant relatives Afrohouse – the club-controlling style popularised by the likes of Prince Kaybee and Black Coffee – and moodier sister gqom, which was birthed in Durban and pioneered by artists such as DJ Lag and Distruction Boyz. First developed in the early 2010s, the popularity of amapiano has surged since 2019 thanks to a fresh wave of creative energy among key artists in the genre.
Sha Sha walks me through the secret blend to the perfect amapiano recipe: ​"The main thing is the keys. Then there's the lock drum and jazz element. Then, we add onto the sauce with some soulful vocals and nice chords. The fact that it's dancey carries the whole thing together. But it's the vocals that just take it to the top."
Amapiano (literally ​'the pianos' in isiZulu, one of South Africa's myriad mother tongues) is fusionist by nature. It's dance music, but make it soulful. Deep house, but make it Afro. Lounge music, but don't forget the colourful synths, punchy basslines and soul-stirring vocals. For amapiano enthusiasts of the diaspora, it's like having the ancestors on speed dial – a divine intervention of sounds that speak to things greater than yourself: heritage, culture, collective identity.
There is also a clear and direct call to action: move. ​"South Africa is a dancing nation," Sha Sha says. Pre-pandemic snaps from the country's clubbing hotspots paint incredible scenes: bodies bobbing and weaving in rhythmic grooves, random and unexpected jerks of the shoulders, head and neck. Passionate screams of ​"haibo!" ​"yebo!" and ​"woza!" pepper the air, hyping up the crowd and giving all in attendance their marching orders to the dancefloor. There's a personal flair and finesse to every move – from the perfectly timed spring in your step, to the gravity-defying arch of your back.
For Sha Sha, amapiano is greater than the sum of its parts. ​"It's a lifestyle… it's a culture. There's so many elements to it, you know? It has honestly been there for a very long time and evolved into different things." It's also legacy, paying homage to a lineage of dance music forms that illuminated some of South Africa's darkest chapters.
Dance music has a history here: one of resistance against repression and brutal regimes of segregation. Amapiano owes itself to sounds like bubblegum, kwaito and bacardi – local house subgenres that doubled up as homegrown protest music with healing properties, they inspired inter-ethnic pride and connectivity for Black communities. In post-apartheid South Africa, a country still reckoning with its divided past, amapiano steps in to redress historical wrongs.
"Now it's morphing into these different sounds. There's amapiano tech. There's Afro-amapiano – the Nigerians made that literally just now!" she laughs. ​"It's forming into these really cool things. Seeing how people are vibing with it all around the world shows how far this thing is going to go. Getting to where I have as a woman in this space was definitely one of my goals. I feel very fulfilled." The music here never stops evolving, and Sha Sha's reign has only just begun.

More like this