SHY Martin has a billion streams and a breakup anthem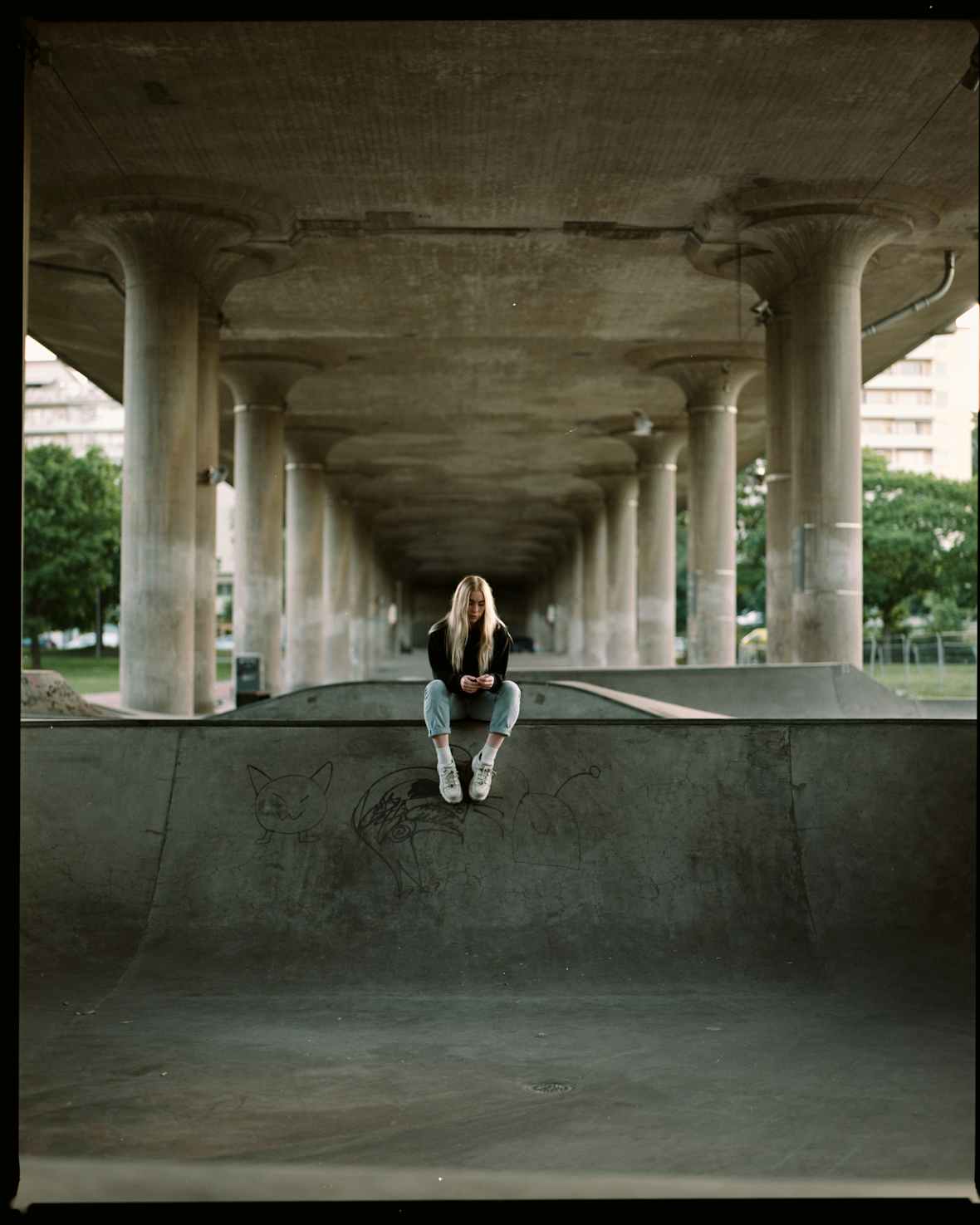 She received a Grammy nom before she even released her first single. And now the Swedish pop singer is moving out on her own.
Swedish singer SHY Martin (real name Sara Hjellström) began her career as a songwriter, having written for Astrid S (Trust Issues), ALMA (Good Vibes), and Ellie Goulding (First Time) – among others, racking up over 2.5 billion streams on Spotify for her tracks. Her proficiency with the pen has finally centred her in the spotlight. The 26-year-old emerged on the other side of a breakup with the anthemic Are You Happy?, which debuts today on her sophomore EP, Sad Songs. Showcasing her vulnerability, she sings: ​"I know I thought that pain's part of love /​but I think it broke me, though you didn't mean to."
A musician for most of her life – she sang in a choir at five, started playing instruments at eight, and joined a band at 12 – her writing on Mike Perry's The Ocean got her a Grammy nomination before she even released a single of her own. Co-written by and featuring Martin's vocals, the successful track instantly launched her career as a singer. In 2017, she released her debut single, Good Together, and has since been in the studio, building towards this melancholic EP. Martin's soulful storytelling coupled with her ethereal vocals have set her apart from the usual Scandipop facsimile.
You've written songs for multiple artists, including yourself. What's your creative process when writing songs?
Each time is different, but it often starts with other people in the studio. We'll talk about what we feel that day, and what we've been through since we last saw each other or if anyone in the room is going through a certain situation at the moment. Then we just start jamming and playing instruments. I often come up with melodies first, then I write the lyrics depending on what feeling I get from the melodies and the chords.
This is your first EP since 2018's Overthinking, what can fans expect to be different on Sad Songs?
I think Sad Songs is more stripped down than the last EP. When I first started writing the songs, I usually only wrote them on my guitar or on the piano, and I wanted to go back to that feeling a bit. So most of the songs start with a guitar and it was either written on my couch or in a very simple setup with friends that I work with very closely. The whole EP is also a bit more personal, which is still a journey for me with songwriting. I always strive to become more personal and more honest in my lyrics. I think I've become better at expressing myself in a more genuine way.
What was your inspiration behind Are You Happy?
I wrote [that song] with two friends and we talked a lot about going through a breakup and appreciating that the relationship happened, even though it didn't turn out the way you wanted it to. I didn't even sing on the demo because it was a pitch song at first. We were supposed to send it around to different artists, but then I listened to it so much and it really stuck with me, and when I showed it to my boyfriend and some friends they were all telling me that I should do the song myself. We thought it would be the perfect second part of Make Us Never Happen, which is similar to this song, but more about the thoughts you have from a breakup. For background, I went through a breakup with a really close friend of mine and sometimes I wished that we never [got together] because I lost him both as a friend and as a partner. But Are You Happy? is more about appreciating the time you had together, so it felt like the perfect way to end this EP.
What effect has quarantine had on your songwriting?
It has had both positive and negative consequences. I was supposed to be on tour this whole year, and it's sad that I can't do that, but it's also been very positive because I've had so much time in the studio. The first two months we were in quarantine in Sweden and I wrote a lot of songs at home with my boyfriend. So it's been actually really positive because last year I didn't really have as much time in the studio as I wanted, and I feel like I'm the most comfortable writing songs in the studio. So overall, I actually really enjoyed this period. I've also been able to write more for other people, which is also something I'm super passionate about. I feel like I've written more songs this year already than I did in the last two years.
Who you would like to most collaborate with and why?
There's so many, but right now I really love Tate McRae. I think she's amazing. She's an upcoming artist. I also love Dominic Fike and Khalid. There are so many artists I would love to work with, like Ed Sheeran is a dream of mine to work with. But yeah, there's just so many.


More like this