The unstoppable rise of Skillibeng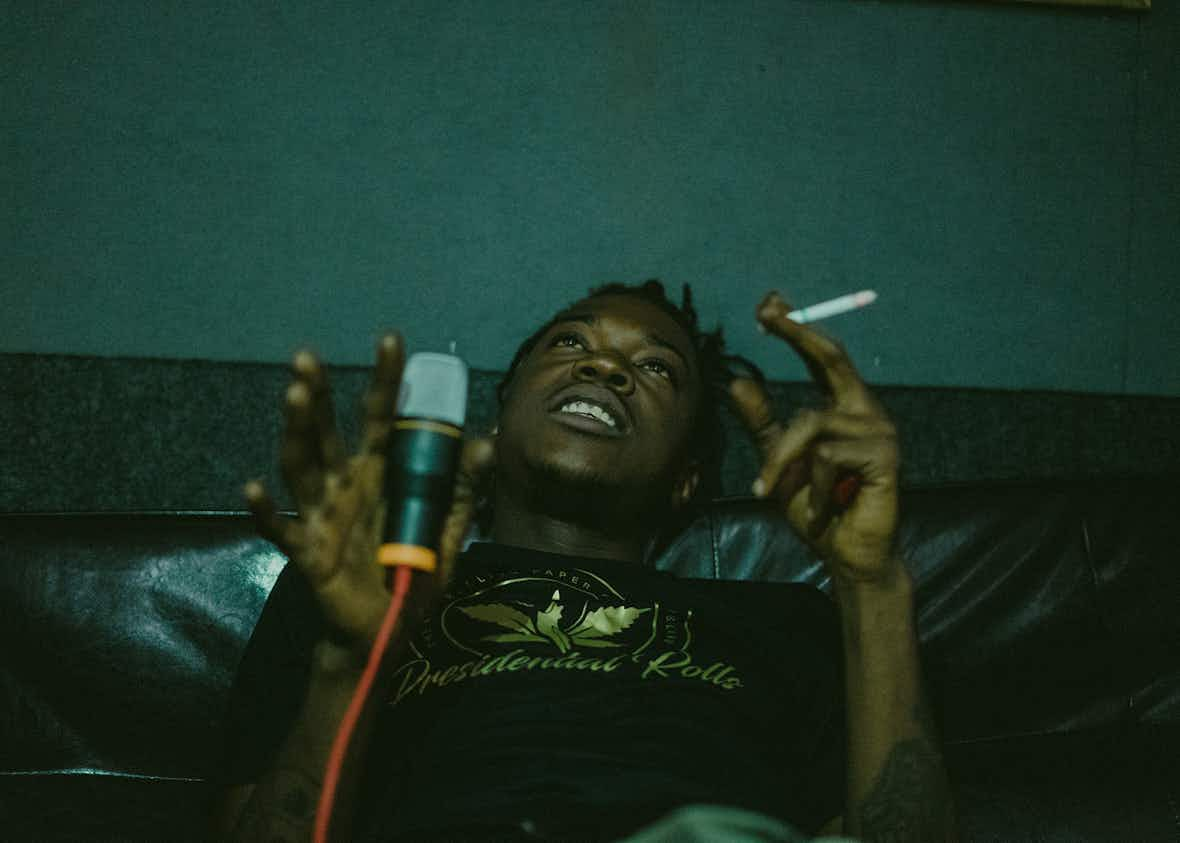 The freewheeling dancehall artist has shot from local notoriety to global fame. THE FACE meets him as he stacks up more hits in Jamaica.
Skillibeng is Jamaica's hottest artist. He's loved by the hardcore dancehall audience, and his famous fans include the likes of Drake and Bobby Shmurda. Right now, the prolific 24-year-old's music can be heard blaring on streets everywhere, from Port Antonio to Peckham.
If you're to judge by YouTube views, Skillibeng is the most popular dancehall artist since Popcaan and even Vybz Kartel. His most-viewed slaps, Crocodile Teeth and Coke, currently have a combined 39 million views. Now promoted to the major league of Jamaican music, last month, Skillibeng appeared on the international, intergenerational superstar Sean Paul's new single, Everest.
It's a swelteringly hot day on the east side of Jamaica when we meet. Running a blazing 28 degrees celsius, the streets of Bull Bay are empty, dry and dusty; no one wants to face the sun. Skilli's studio is tucked away in a gated Bull Bay community with an ocean view. He's the first to greet the photographer and I, despite the apartment attached to the studio being filled with members of his team, who are either occupied with business, or just soaking in the vibe generated by a banging playlist of Skilli's new music.

Skillibeng is the most alert and curious among his crew. ​"Music gets us to where we want to be. It got me to where I am now. It gets results. So my main rule is to always have new music, new projects, new works," he tells me, gesturing forwards with his hands.

After making music during his high school years, Skilli later grinded as an aspiring, independent artist while holding down a job at his father's business. He eventually decided to pursue music with full force after a brush with death made him reevaluate his priorities. ​"One night, I left my 9 – 5 and I had an interview in Portmore with [Jamaican DJ] SupaHype," he remembers. ​"I was on my way driving to Kingston to link up with [manager and lifelong friend] Dippa, so we could go to Portmore for the interview. When I reached Yallahs, I met with an accident."
For a flicker of a second, he seems to freeze. His face is vacant, as though he's been transported back to the moment. ​"A car drove out, my car flipped over, but nothing happened to me." Skilli saw it as a sign. ​"I had to make that choice between music and the 9 – 5, because I knew that I was overworking myself trying to satisfy both career paths."
His big breakthrough came in late 2019 when he droppedBrik Pon Brik via local label Claims Records. The track's infectious beat fuses the dancehall rhythm with sharp trap drums and dramatic strings, while Skilli flaunts his adventurous cadence and flow in the verses before delivering a hook that listeners don't forget.
But what really helped the song pop was the subject matter. ​'Brik Pon Brik' means accruing or stacking bands of cash. The song provoked controversy in its sampling of a national news item about an increase in Jamaica-based scamming activities ('The US trade federation says, Jamaican scammers are still calling unsuspecting people in the US, claiming they've won millions, but of course then asking them to send a fee to release the winnings').
During our final months of freedom before the pandemic, Brik Pon Brik would get played at any good party, street dance or club in Jamaica. The pandemonium would be instant. It's subject matter inspired a surge in dancehall's money pull-up culture, which essentially means paying a DJ to run a track back. Over those few months, countless viral videos surfaced online of people dumping wads of cash on DJs and asking for reups.

Some thought the song was becoming bigger than the artist, until Skilli dropped another smash, Mr Universe, in May 2020. He followed it up with a slew of tracks across the summer, including Torpedo, which showcased his sensitive side by opening with a tender voicemail message from his mother. These releases further familiarised dancehall fans across the world with his inventive melodies and raspy, high-pitched vocal style. Any whispers of him being a one-hit-wonder were quickly silenced.
"It has always been a goal for me to be a household name in dancehall, to be one of the best. Because the way we started, not a lot of people have that," he says, reflecting on the buzz around Brik Pon Brik. ​"I saw a different kind of potential that I have. From very early in my career, I was always serious about my thing."
Now a global star, Skillibeng is still very much himself – aside from a change of address. Born Emwah Warmington in St Thomas, Jamaica, he grew up in the rural community of Lysson on the eastern end of Jamaica, and here he learned to relish the quiet and peace of mind afforded by country life. Nowadays, he lives about an hour away from his hometown in Bull Bay, which is conveniently closer to Kingston, where the bulk of Jamaica's music industry is based.
"All my family are located in St Thomas, so [music] is a thing that really separates me from my family," he says, reflectively. ​"But my family also knows it's for a good cause."

In December 2020, Skillibeng dropped The Prodigy mixtape, a monster of a project that's fully decked with 35 songs. Alongside the trap-influenced dancehall from which he made his name, the tape saw him experiment with different styles on a number of tracks, such as the drill-influenced Not, the smooth R&B of Wonderful, Salsa​'s obvious ode to Spanish culture and Enemy Antidote​'s classic hip-hop sound.
Some fans criticised the project's daunting length, but Skilli saw it as a generous offering. ​"It's good for some and bad for some," he says looking up from his phone, brows visibly scrunched. Not perplexed, rather determined. ​"The world is a mixture of everything. This was just something I wanted to bring across, so that everyone could have at least five or 10 songs they appreciate. You see? I gave them that advantage to choose, because the work, the material is there. There's a lot of options."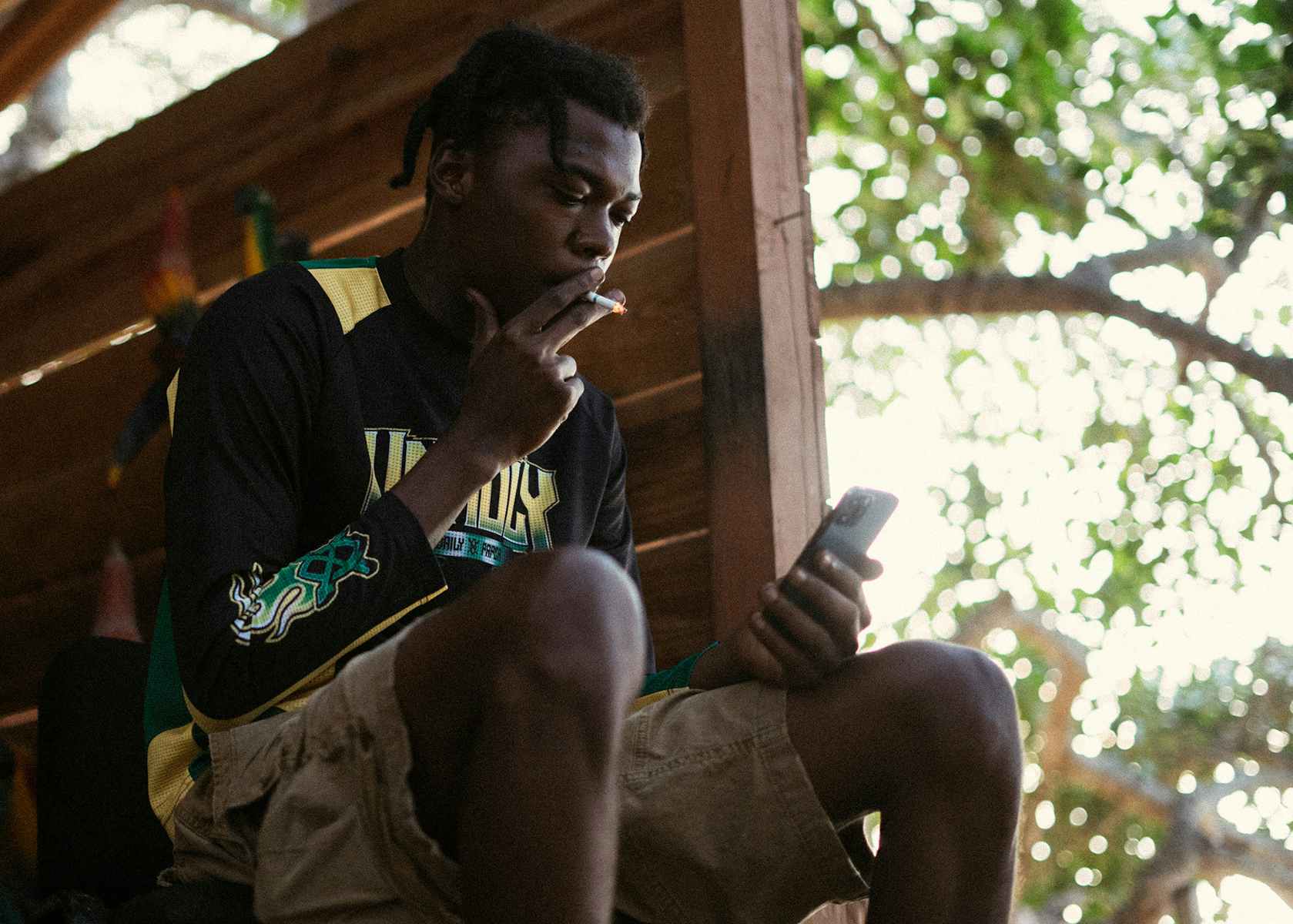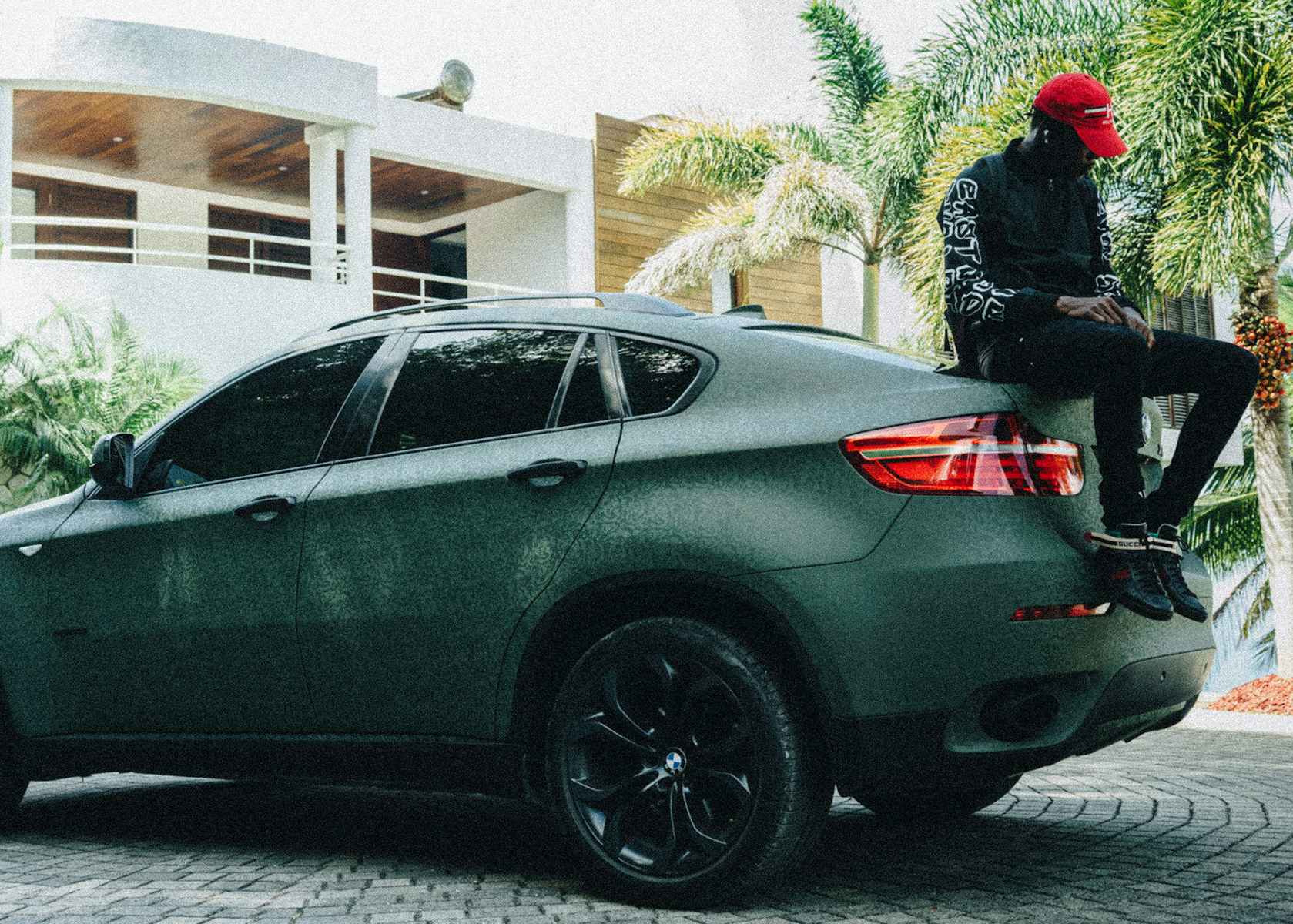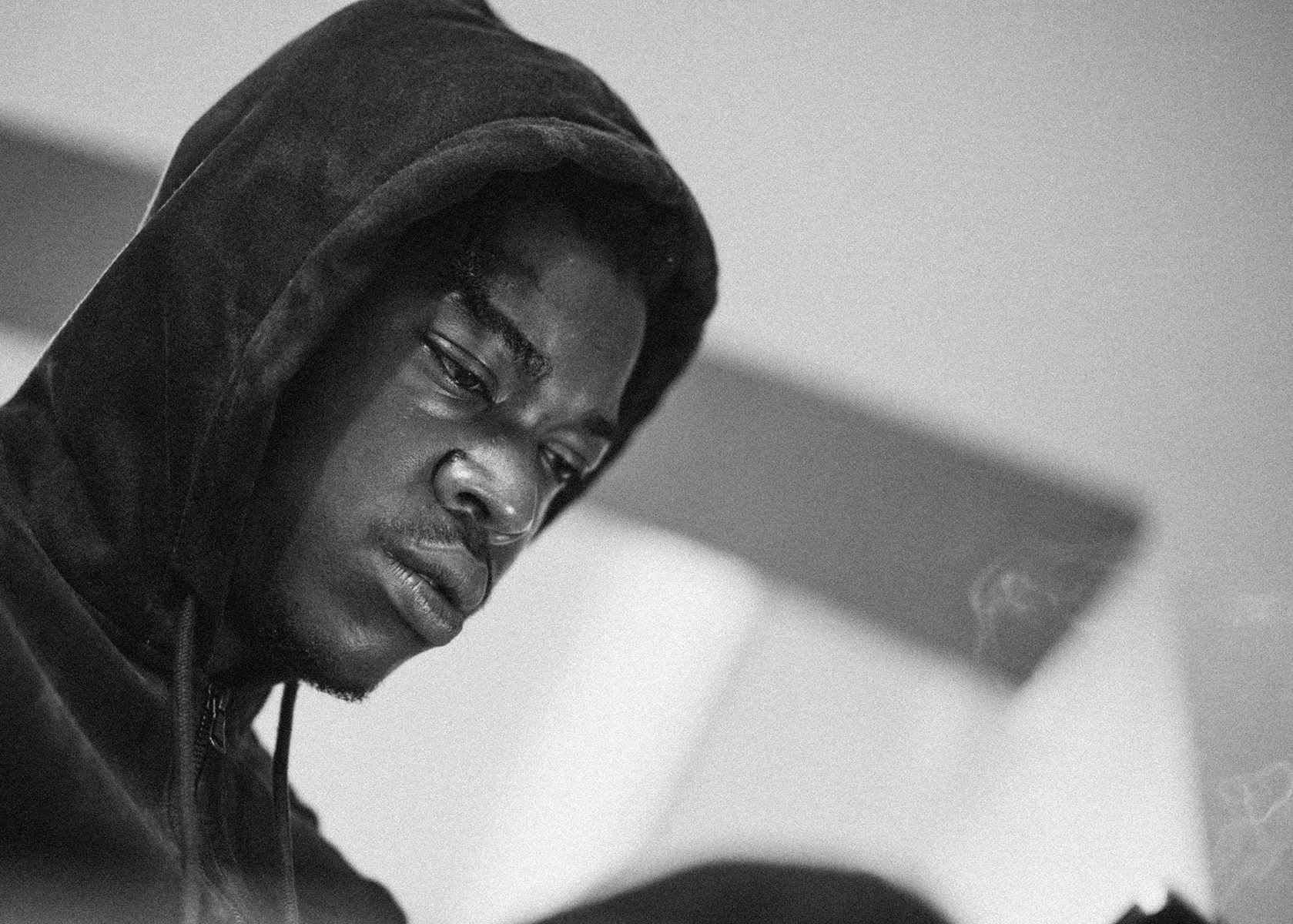 Recently, he's been hanging out with US artist Rich The Kid, who hopped on Skilli's recent single Real Boss while visiting Jamaica. He's also dropped Money Counter with the hard-hitting New York rapper Young M.A. ​"A lot of collaborations in the international space, that's where we've to go to put dancehall on the level of R&B and hip-hop," Skilli says. ​"That's my aim now, to uplift dancehall and put it on that level. As you can see, it's working already. Skillibeng is venturing into the overseas market now."
His new project is touted as a ​"Ladies Only" version of The Prodigy. Set for release on 28 May, it's been made available for pre-order on major streaming services, while a presumably more raw mixtape edit full of DJ Khaled shout outs has been uploaded to Audiomack. Featuring track titles like Slow Motion and Love D Fuck, Ladies Only sees Skillbeng embrace the most lustful side of his lyricsm, often diverting from his trademark trap-dancehall sound to slip into a steamy R&B style.
"It wasn't in the plans," Skill shrugs. ​"I always planned to release a lot of Prodigy mixtapes, but I didn't know that I would put out a ladies only version this quickly." We're talking before the project drops, and he's still tight-lipped about the concept. He insists it's not possible to reveal what else is planned for the rest of 2021 either. ​"Nobody knows that, not even me. I will just get up and record something now, and just release it."
Skillbeng seems entirely unphased by those cautioning quality control or pacing in his career. ​"Everybody has their own opinion, but overall, more music is better," he shrugs, with the calm composure of an artist who's conquering the global music scene by simply following his impulse. ​"That's where music is going, so those who don't want to listen, can listen to something else."

More like this