Grace Wales Bon­ner in con­ver­sa­tion with Solange
Grace Wales Bon­ner is of a new breed of mul­ti-hyphen­ate cre­atives, renowned and respect­ed for her abil­i­ty to explore the themes of iden­ti­ty and self-expres­sion through the vehi­cles of fash­ion, lit­er­a­ture, music and art.
It's the British-Jamaican designer's metic­u­lous, mul­ti-sen­so­ry approach and her abil­i­ty to cross-pol­li­nate ref­er­ences from a mul­ti­tude of sources that sees her stand out as one of the most inno­v­a­tive design­ers of her gen­er­a­tion, some­thing that was evi­dent in her A Time For New Dreams exhi­bi­tion that took place at London's Ser­pen­tine Gal­leries at the start of the year. Titled after Ben Okri's col­lec­tion of essays of the same name, the exhi­bi­tion explored black cul­tur­al and aes­thet­ic prac­tices and the themes of mys­ti­cism and rit­u­al that tran­scend them. Key to the exhi­bi­tion, was the shrine – both its posi­tion as a gate­way to alter­na­tive worlds, beliefs, pos­si­bil­i­ties and mys­ti­cal prac­tices, and its pur­pose as a phys­i­cal enti­ty that influ­ences the activ­i­ties and rit­u­als that occur in the space that might sur­round it.
Key to Grace's prac­tice is col­lab­o­ra­tion – some­thing she incor­po­rat­ed into her A Time For New Dreams exhi­bi­tion, in the shape of ​"Devo­tion­al Sound", an off-site addi­tion to the pro­gramme that fea­tured musi­cian, mys­tic and laugh­ing-med­i­ta­tion teacher Laraa­ji, exper­i­men­tal artist Klein, and singer-song­writer Sam­pha. As a seam­less night-long per­for­mance for­mat, Devo­tion­al Sound cen­tres around med­i­ta­tion and the idea of cre­at­ing a sacred envi­ron­ment in which guests can expe­ri­ence music, one that removes the hier­ar­chy between the audi­ence and the artists.
The sec­ond iter­a­tion of Devo­tion­al Sound took place at the start of the month at St. Peter's Church, a beau­ti­ful min­i­mal­ist church in mid­town Man­hat­tan, New York, that's held memo­ri­als for both Jean-Michel Basquiat and John Coltrane. Revolv­ing around the idea of ​'Ecsta­t­ic Recital' – the name giv­en to the designer's SS19 col­lec­tion, of which some pieces were on show at the church entrance – Grace drew upon the con­cep­tu­al per­for­mance and sculp­tur­al work of the late Amer­i­can mul­ti­dis­ci­pli­nary artist Ter­ry Adkins when curat­ing and con­cept­ing the night, par­tic­u­lar­ly the idea that the rep­e­ti­tion of sounds can open a path­way to uni­ver­sal con­scious­ness. Both a trib­ute to his con­tri­bu­tion as an artist and to his for­mat, the evening saw per­for­mances from Laara­ji, Stand­ing on the Cor­ner and none oth­er than Solange, who Grace had asked to respond to the idea of ecsta­t­ic recital.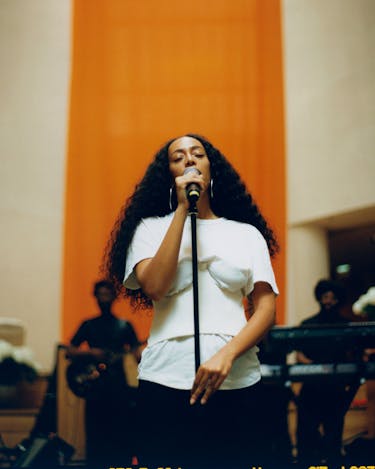 Guests were invit­ed to sip tea while sit­ting on blan­kets, and were instruct­ed to bring flow­ers for a shrine at the feet of Laraa­ji, whose per­for­mance was fol­lowed by poet­ic trib­utes to Adkins, first in words, then on piano with mul­ti-instru­men­tal­ist Bri­an Jack­son – who famous­ly col­lab­o­rat­ed with the late Gil Scott-Heron on 1971's Pieces of a Man. Stand­ing on the Cor­ner – a group of noise­mak­ers led by 23-year-old Gio Esco­bar – ener­gised the crowds into a cacoph­o­n­ic fer­vor with a call-and-response on drums, sax and cello.
As for Solange, she per­formed a de fac­to med­ley from her lat­est album When I Get Home to an audi­ence – that includ­ed design­er Tel­far Clemens, bal­ladeer Zsela Thomp­son and pro­duc­er Dev Hynes – for the very first time. The space deserved her, and her spell­bind­ing per­for­mance elec­tri­fied the audience.
While Grace sees fash­ion as an intu­itive means to under­stand­ing her own her­itage, Solange's music is a son­ic man­i­fes­ta­tion of her per­son­al explo­ration of her own iden­ti­ty and the com­plex­i­ties of the black Amer­i­can expe­ri­ence. Her lat­est release, When I get Home, is a return to her roots, her home, and as Solange explains, ​"devo­tion was real­ly a fun­da­men­tal part of cre­at­ing the album." ​"Devo­tion for self, devo­tion for joy, devo­tion for chas­ing what­ev­er spir­i­tu­al peaks and val­leys you are try­ing to reach and main­tain. For me, that devo­tion tran­scends in so many ways." Grace speaks to Solange.



Grace: I am so grate­ful for your art. I con­nect­ed with When I Get Home on a deep lev­el. To me it was so much about feel­ing, and the music cir­cu­lat­ed around deep emo­tions and phys­i­cal­i­ty. The work feels so essen­tial for these times. What were your inten­tions for the album, and how did you trans­late that kind of ener­gy into sound?
Solange: I am equal­ly grate­ful for your work Grace, in abun­dance! These words and your response to the album mean a hell of a lot and I will for­ev­er hold them close. I guess in the begin­ning there were no inten­tions for mak­ing this record since I real­ly didn't have any inten­tions on mak­ing a new album so soon. I start­ed writ­ing these songs out of a need for an expres­sion of fear and uncer­tain­ty for many things that were hap­pen­ing in my life. I'd say main­ly my health and well­ness, but once I sur­ren­dered to the peace in the unknown, it real­ly did lead me home. I was going through a per­son­al shift and evo­lu­tion after years of being afraid of what I would hear if I real­ly silenced myself. That thought real­ly crip­pled me a bunch. I think when I let go of that I knew exact­ly how the son­ic lan­guage need­ed to be trans­lat­ed. I think to what you've said, so much of my past work was about hav­ing some­thing I felt was real­ly cru­cial to say, and this time it was tru­ly about hav­ing so much to feel. I fear a lot! I can be a real­ly over ana­lyt­i­cal scary ass. And I felt such a sense of cer­tain­ty while cre­at­ing this work. I felt real­ly sure and intu­itive. I wasn't striv­ing for per­fec­tion. I real­ly want­ed to cre­ate a moment in time, a space, a val­ley, an exer­cise, and I just feel so appre­cia­tive for feel­ing that free­dom. I'm so grate­ful for all of the things and expe­ri­ences and hands that helped me to bring it all into fruition and that it's out in the world.
Grace: I can relate to that idea of work­ing intu­itive­ly, and being moti­vat­ed by anoth­er kind of ener­gy. I am inter­est­ed in explor­ing lin­eage, and how those who have come before me inform my work and shape the pos­si­bil­i­ties for future gen­er­a­tions. Who are the artists you feel form your cre­ative lin­eage? And who do you feel are your cre­ative con­tem­po­raries who con­tin­ue the lega­cy from that grounding?
Solange: Oh wow so many! There are so many artists who I feel left the sketch­es for me, you know. Some as writ­ers, some musi­cal­ly, some visu­al­ly, but real­ly just all women who help me to feel seen or to under­stand myself bet­ter. Kelis is so impor­tant to me in terms of a tra­jec­to­ry of a very spe­cial and need­ed voice in the world. Some­one who seemed to always allow them­selves the space to unapolo­get­i­cal­ly evolve, but some­one who holds so much impor­tant space in the way so many black women were are able to see them­selves and under­stand the val­ue in build­ing a com­mu­ni­ty of peo­ple who con­nect and engage in your work and who cel­e­brate in your evo­lu­tion, you know.

But that list is so long! We'd be here all day! [laughs] Deb­bie Allen, Syree­ta Wright, Badu, Alice Coltrane, Lynette Yiadom, Wangechi, Augus­ta Sav­age, Eva Hesse, Kara Walk­er, Lau­ren Ander­son my favorite bal­le­ri­na since I was in 5th grade… Mis­sy Elliot is my queen of queens. I've learned so much from the work of all of these women. I also real­ly con­nect with hav­ing to accept that their work is not and has not been for me, that it's for them! Before I put the album out I thought about the sort of divi­sive­ness that it might bring, and many of these women helped me to feel assur­ance in stand­ing firm in my expres­sions. But yeah, I'm also learn­ing so much from so many who are mak­ing new ter­ri­to­ries for us all you know – Toyin Ojih Odu­to­la, Kelela, Armi­na Mus­sa. I can't get over Son­dra Perry's work – shout out to Hous­ton! Frances Bodoma, Jenn Nikru, Autumn Knight (who's also from Hous­ton and has a piece for Belt­way in my film). Tier­ra Whack and Megan Thee Stal­lion are both so bril­liant! Every­body is just killing shit right now.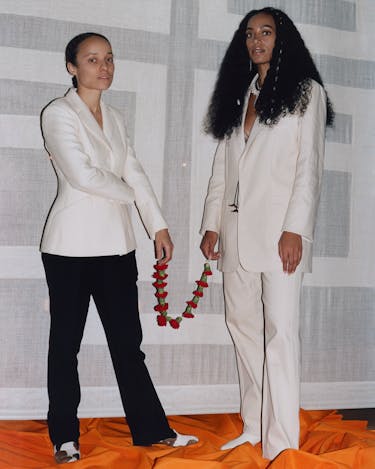 Grace: That's a real­ly gen­er­ous list. I can see you real­ly embrace your peo­ple, and treat your com­mu­ni­ty with ten­der­ness. How do you think we can best sup­port and show love to our com­mu­ni­ties in these times we are liv­ing in?
Solange: I real­ly am not even a thought with­out my peo­ple! I just want to rec­i­p­ro­cate what that means to me.
Grace: Your approach as an artist seems holis­tic in that it draws upon a broad spec­trum of research, I would be inter­est­ed to know what ref­er­ences informed the album – film, sound, move­ment, literature?
Solange: There were so many guides dur­ing the process of this album. I real­ly did try to just carve out new ways and new lan­guages to feel all these things. I played a lot with rep­e­ti­tion as mantra as mantra, and express­ing min­i­mal­ism as a practice…but I guess what's most impor­tant is just like want­i­ng to artic­u­late the feel­ings of what's at the core of what I feel when I'm at home in Hous­ton. Like the pic­tures of all the places and peo­ple who real­ly made me who I am. Like if the album had a tem­per­a­ture, how do I get it to feel the degrees of Kings Flea Mar­ket or the Rothko chapel or the smell of my mama's hair salon.
I held Ste­vie Wonder's Jour­ney Through the Secret Life of Plants and Play­boi Carti's last album real close. I lis­tened to a lot of Steve Reich and Ter­ry Riley. The film The Wiz will always be a fun­da­men­tal part of how I see the world. Like some­body pleeeease let me direct that remake! I watched a lot of Bugs­by Berkley and Heretic, a piece I real­ly relate to by Martha Gra­ham. But also just like clips on you tube of Zyde­co Line Dances, trail rides, and Selena's live per­for­mances. Shit that just feels like home. I start­ed to read this book Crop Cir­cles: Har­bin­gers of World Change by Alick Bartholomew at the start of this album which I would say is equal­ly about crop cir­cles but main­ly about spir­i­tu­al and envi­ron­men­tal con­scious­ness and the mys­ter­ies of sym­bol­ism and ener­getic pull in sacred geom­e­try. I don't real­ly have a real answer for why sym­me­try and geom­e­try make me feel safe. My under­stand­ing is pure­ly a reac­tion to the safe­ty it makes me feel. I think it must have some­thing to do with the feel­ings of not hav­ing a lot of con­trol over my world as a young per­son. The align­ment of things through the expres­sions of time and space. I tried to chan­nel that in the record for sure. I also kept Sun Ra + Ayé Aton: Space, Inte­ri­ors and Exte­ri­ors, 1972 close by. Glenn Ligon wrote the for­ward and there's a part where he writes about Sun Ra's implor­ing of black peo­ple to ​"pay close atten­tion to the pow­er of words, to strive for wis­dom and beau­ty, and to seek immor­tal­i­ty". I payed real close atten­tion to these ideas and they were a guide for sure.






Grace: You seem to have such a com­plete vision, yet you are also open to col­lab­o­ra­tion. How do you open up and let peo­ple into your prac­tice, what is your process when it comes to cre­at­ing like this?
Solange: It can be com­plex but it's ulti­mate­ly so reward­ing and I think at the foun­da­tion of it all I real­ly just love peo­ple! I love human inter­ac­tion and the inti­ma­cy of get­ting to know some­one through their choic­es. I'm also just real­ly inter­est­ed over­all in how our inter­ac­tions with one anoth­er can change the course of our days, sec­ond by sec­ond, minute to minute, day by day. Our lives are all so inter­twined based off of these inter­ac­tions and I just love the idea of apply­ing that to the work. It feels real­ly good in know­ing that I get to cre­ate this a lit­tle land­scape and nar­ra­tive through music and to have peo­ple to share and bring real sin­cer­i­ty to that, there's so much love and trust there. There were some real­ly spe­cial moments too. Like get­ting to comp and edit Play­boi Carti's verse, that shit gave me goose­bumps. All the per­cus­sion sounds he made. Cassie is one of my favorite voic­es, so much puri­ty and air and sensuality…and get­ting to have that ener­gy on Way to the Show just ele­vat­ed the song so much! The Dream is such a genius, it just pours out of him like water. The way Alme­da all came togeth­er was me solo­ing Pharrell's drum loop from anoth­er song we worked on, sam­pling Metro Boomin's Hold Up from Stay Flo and mak­ing loops from a piano rift John Kir­by did.…pitching every­thing down, refor­mat­ting the song back­wards and chop­ping it. That col­lab­o­ra­tive ener­gy and the con­tri­bu­tions that come from it is all in that song and you feel each fin­ger­print so strongly!
Grace: I have been think­ing about Devo­tion­al Sound as a sacred space to expe­ri­ence music. With the New York iter­a­tion I asked you to respond to the idea of ecsta­t­ic recital, how did you con­nect to those vibra­tions with your per­for­mance? How do you con­nect to devo­tion through your performances?
Solange: I real­ly relat­ed to it because devo­tion was real­ly a fun­da­men­tal part of cre­at­ing the album. Devo­tion for self, devo­tion for joy, devo­tion for chas­ing what­ev­er spir­i­tu­al peaks and val­leys you are try­ing to reach and main­tain. For me, that devo­tion tran­scends in so many ways. Med­i­ta­tion, move­ment, silence, son­ic fre­quen­cies, but also just like get­ting my hair done … mak­ing sure the lace isn't show­ing [laughs] that kind of devo­tion to tak­ing care of myself. We deserve to express that devo­tion to our­selves how­ev­er it may look for us. I approach per­for­mance as the­ater, but it is still real­ly impor­tant that I am present as myself. Get­ting to express that through this idea of ecsta­t­ic recital was real­ly about find­ing one or two sounds in each piece that I could inter­pret in a mul­ti­tude of ways and what nat­u­ral­ly hap­pened with that kind of rep­e­ti­tion was a sort of spir­i­tu­al crescen­do by the time we got to the end of the show. So much of my album and the film is about run­ning from the spir­it. I used to be real scared of what it would do to peo­ple in church and if it came after me what would hap­pen. I want­ed that thang far far away. For me the idea of express­ing ecsta­t­ic recital is about sur­ren­der­ing and invit­ing that spir­it to jump into you and being pre­pared to let it take you to places. Count it all joy!




Grace: How does your out­put and approach speak to free­dom? Does the envi­ron­ment you cre­ate in, inform your approach?
Solange: I think so much of my approach is just world build­ing. Just try­ing to build new worlds and spaces for us to feel seen and safe in and to explore. And also to real­ly try and under­stand myself bet­ter. To answer the ques­tions about myself I might even be afraid to think out loud. I feel like cre­at­ing these lit­tle worlds makes me feel less afraid to get to the bot­tom of it.
Grace: I can relate to that. I respect the time and pri­va­cy you seemed to allow your­self while work­ing on this album. How do you resist out­side pres­sures, and hold space and bound­aries around your cre­ative production?
Solange: It can be dif­fi­cult and to be hon­est over time I've become a lot more depen­dent on need­ing to cre­ate iso­la­tion with­in my process. Because I love the inter­net so damn much! So some­times I just got­ta make myself cut that shit out so I can dial in on what I need to hear and speak to that.
Grace: What have you learned from work­ing on this album?
Solange: That to be hon­est I'm still real­ly unsure if joy always comes in the morn­ing but I do know when it does come you got­ta hold on real tight and be real still. I used to be con­tent with moments of hap­pi­ness, which real­ly can change with every sec­ond, but I've been feel­ing a lot of joy late­ly and it's like my whole uni­verse has opened up.

---