Grace Wales Bonner in conversation with Solange
Following the first live performance of When I Get Home documented here, Grace speaks to Solange about devotion, the spectrum of research that informs her work, and the voices that have helped her better understand herself.

Grace Wales Bonner is of a new breed of multi-hyphenate creatives, renowned and respected for her ability to explore the themes of identity and self-expression through the vehicles of fashion, literature, music and art.
It's the British-Jamaican designer's meticulous, multi-sensory approach and her ability to cross-pollinate references from a multitude of sources that sees her stand out as one of the most innovative designers of her generation, something that was evident in her A Time For New Dreams exhibition that took place at London's Serpentine Galleries at the start of the year. Titled after Ben Okri's collection of essays of the same name, the exhibition explored black cultural and aesthetic practices and the themes of mysticism and ritual that transcend them. Key to the exhibition, was the shrine – both its position as a gateway to alternative worlds, beliefs, possibilities and mystical practices, and its purpose as a physical entity that influences the activities and rituals that occur in the space that might surround it.
Key to Grace's practice is collaboration – something she incorporated into her A Time For New Dreams exhibition, in the shape of ​"Devotional Sound", an off-site addition to the programme that featured musician, mystic and laughing-meditation teacher Laraaji, experimental artist Klein, and singer-songwriter Sampha. As a seamless night-long performance format, Devotional Sound centres around meditation and the idea of creating a sacred environment in which guests can experience music, one that removes the hierarchy between the audience and the artists.
The second iteration of Devotional Sound took place at the start of the month at St. Peter's Church, a beautiful minimalist church in midtown Manhattan, New York, that's held memorials for both Jean-Michel Basquiat and John Coltrane. Revolving around the idea of ​'Ecstatic Recital' – the name given to the designer's SS19 collection, of which some pieces were on show at the church entrance – Grace drew upon the conceptual performance and sculptural work of the late American multidisciplinary artist Terry Adkins when curating and concepting the night, particularly the idea that the repetition of sounds can open a pathway to universal consciousness. Both a tribute to his contribution as an artist and to his format, the evening saw performances from Laaraji, Standing on the Corner and none other than Solange, who Grace had asked to respond to the idea of ecstatic recital.


Guests were invited to sip tea while sitting on blankets, and were instructed to bring flowers for a shrine at the feet of Laraaji, whose performance was followed by poetic tributes to Adkins, first in words, then on piano with multi-instrumentalist Brian Jackson – who famously collaborated with the late Gil Scott-Heron on 1971's Pieces of a Man. Standing on the Corner – a group of noisemakers led by 23-year-old Gio Escobar – energised the crowds into a cacophonic fervor with a call-and-response on drums, sax and cello.
As for Solange, she performed a de facto medley from her latest album When I Get Home to an audience – that included designer Telfar Clemens, balladeer Zsela Thompson and producer Dev Hynes – for the very first time. The space deserved her, and her spellbinding performance electrified the audience.
While Grace sees fashion as an intuitive means to understanding her own heritage, Solange's music is a sonic manifestation of her personal exploration of her own identity and the complexities of the black American experience. Her latest release, When I get Home, is a return to her roots, her home, and as Solange explains, ​"devotion was really a fundamental part of creating the album." ​"Devotion for self, devotion for joy, devotion for chasing whatever spiritual peaks and valleys you are trying to reach and maintain. For me, that devotion transcends in so many ways." Grace speaks to Solange.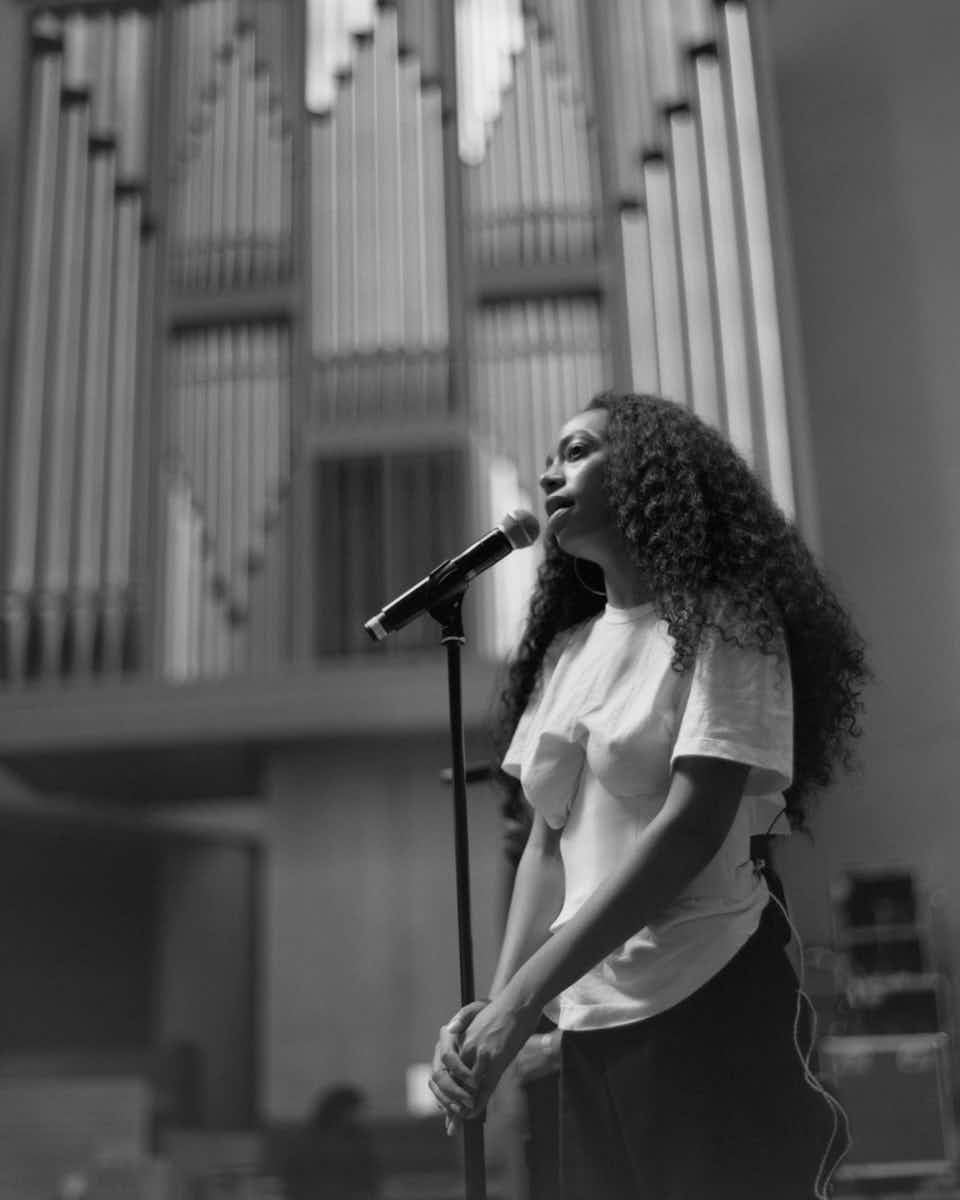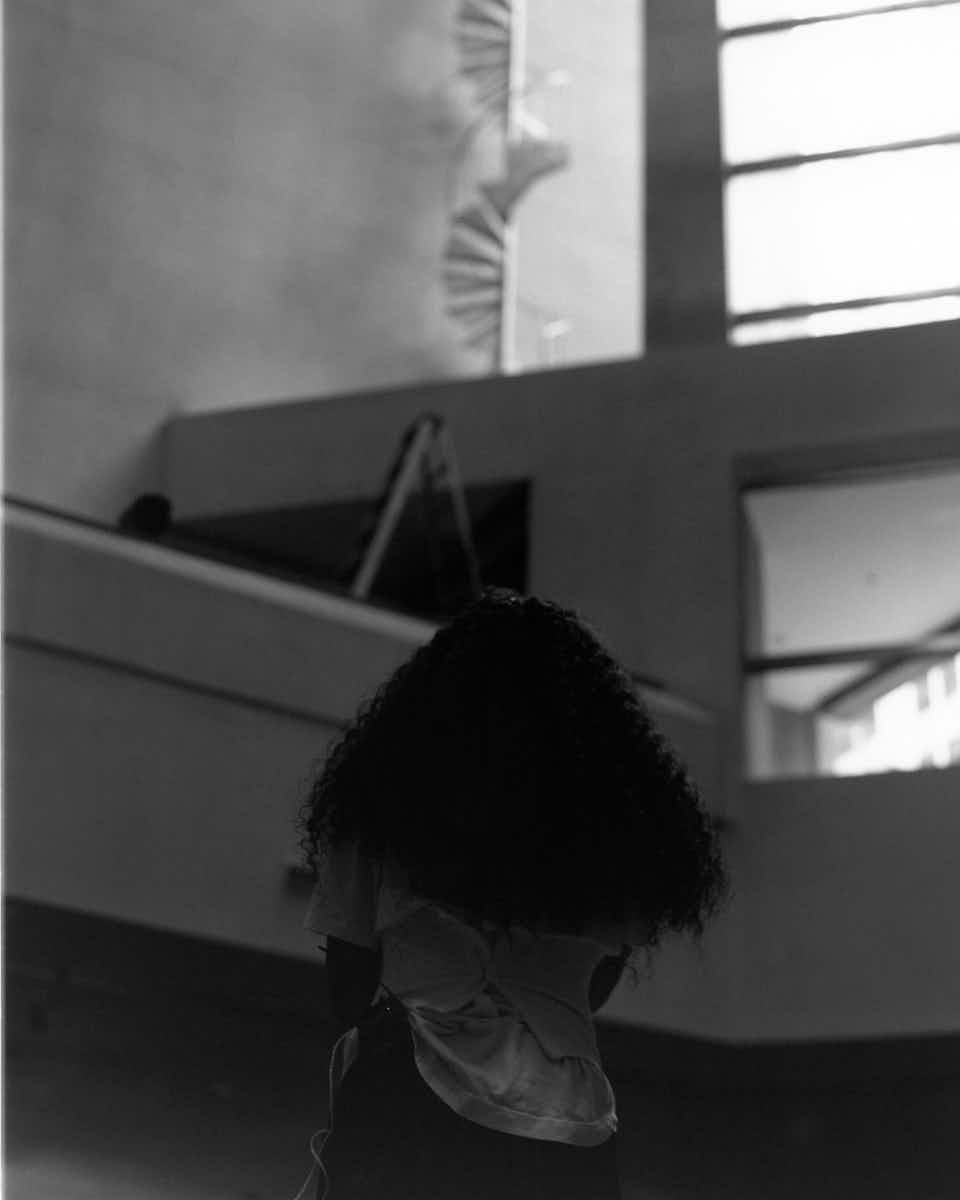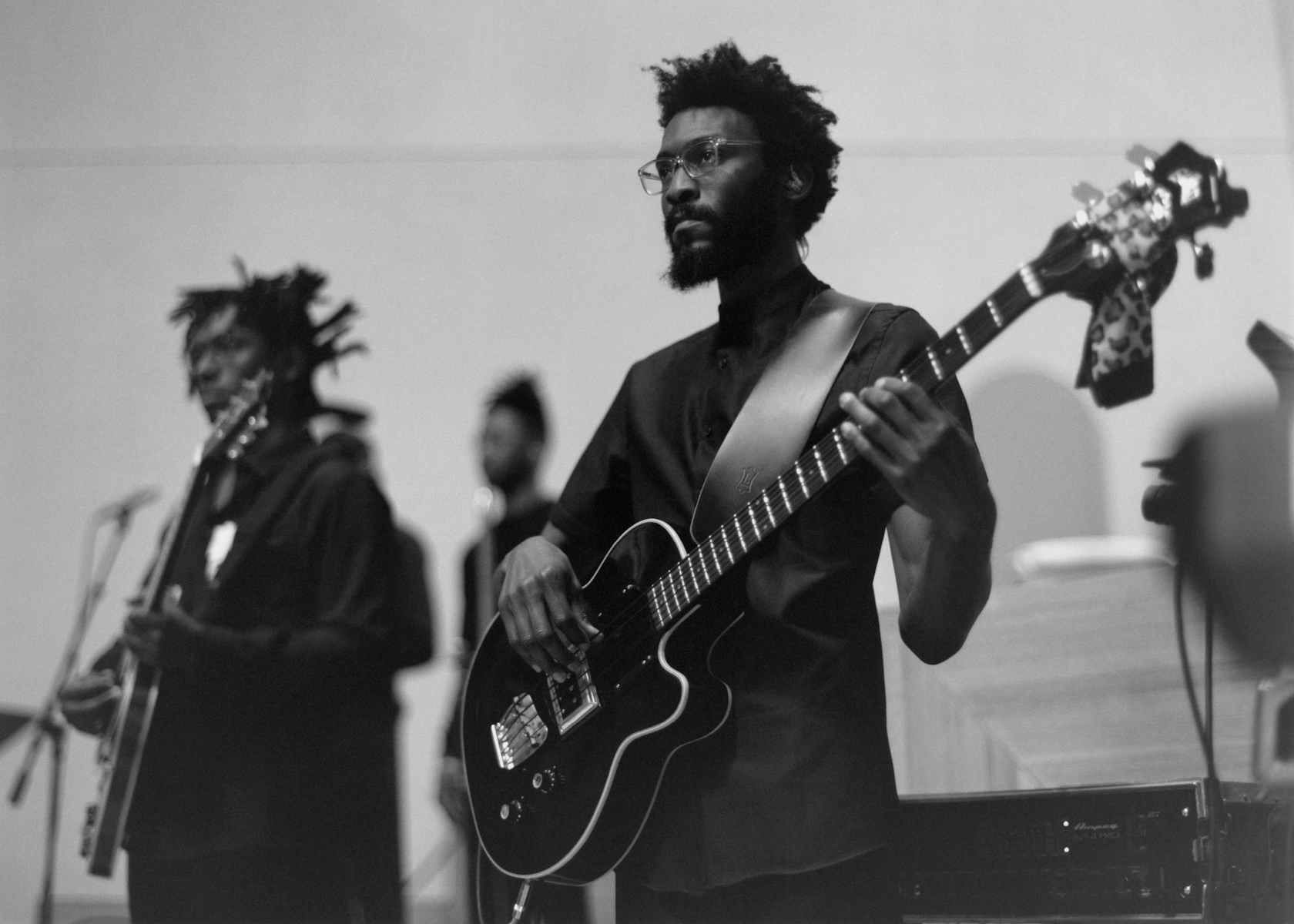 Grace: I am so grateful for your art. I connected with When I Get Home on a deep level. To me it was so much about feeling, and the music circulated around deep emotions and physicality. The work feels so essential for these times. What were your intentions for the album, and how did you translate that kind of energy into sound?
Solange: I am equally grateful for your work Grace, in abundance! These words and your response to the album mean a hell of a lot and I will forever hold them close. I guess in the beginning there were no intentions for making this record since I really didn't have any intentions on making a new album so soon. I started writing these songs out of a need for an expression of fear and uncertainty for many things that were happening in my life. I'd say mainly my health and wellness, but once I surrendered to the peace in the unknown, it really did lead me home. I was going through a personal shift and evolution after years of being afraid of what I would hear if I really silenced myself. That thought really crippled me a bunch. I think when I let go of that I knew exactly how the sonic language needed to be translated. I think to what you've said, so much of my past work was about having something I felt was really crucial to say, and this time it was truly about having so much to feel. I fear a lot! I can be a really over analytical scary ass. And I felt such a sense of certainty while creating this work. I felt really sure and intuitive. I wasn't striving for perfection. I really wanted to create a moment in time, a space, a valley, an exercise, and I just feel so appreciative for feeling that freedom. I'm so grateful for all of the things and experiences and hands that helped me to bring it all into fruition and that it's out in the world.
Grace: I can relate to that idea of working intuitively, and being motivated by another kind of energy. I am interested in exploring lineage, and how those who have come before me inform my work and shape the possibilities for future generations. Who are the artists you feel form your creative lineage? And who do you feel are your creative contemporaries who continue the legacy from that grounding?
Solange: Oh wow so many! There are so many artists who I feel left the sketches for me, you know. Some as writers, some musically, some visually, but really just all women who help me to feel seen or to understand myself better. Kelis is so important to me in terms of a trajectory of a very special and needed voice in the world. Someone who seemed to always allow themselves the space to unapologetically evolve, but someone who holds so much important space in the way so many black women were are able to see themselves and understand the value in building a community of people who connect and engage in your work and who celebrate in your evolution, you know.

But that list is so long! We'd be here all day! [laughs] Debbie Allen, Syreeta Wright, Badu, Alice Coltrane, Lynette Yiadom, Wangechi, Augusta Savage, Eva Hesse, Kara Walker, Lauren Anderson my favorite ballerina since I was in 5th grade… Missy Elliot is my queen of queens. I've learned so much from the work of all of these women. I also really connect with having to accept that their work is not and has not been for me, that it's for them! Before I put the album out I thought about the sort of divisiveness that it might bring, and many of these women helped me to feel assurance in standing firm in my expressions. But yeah, I'm also learning so much from so many who are making new territories for us all you know – Toyin Ojih Odutola, Kelela, Armina Mussa. I can't get over Sondra Perry's work – shout out to Houston! Frances Bodoma, Jenn Nikru, Autumn Knight (who's also from Houston and has a piece for Beltway in my film). Tierra Whack and Megan Thee Stallion are both so brilliant! Everybody is just killing shit right now.


Grace: That's a really generous list. I can see you really embrace your people, and treat your community with tenderness. How do you think we can best support and show love to our communities in these times we are living in?
Solange: I really am not even a thought without my people! I just want to reciprocate what that means to me.
Grace: Your approach as an artist seems holistic in that it draws upon a broad spectrum of research, I would be interested to know what references informed the album – film, sound, movement, literature?
Solange: There were so many guides during the process of this album. I really did try to just carve out new ways and new languages to feel all these things. I played a lot with repetition as mantra as mantra, and expressing minimalism as a practice…but I guess what's most important is just like wanting to articulate the feelings of what's at the core of what I feel when I'm at home in Houston. Like the pictures of all the places and people who really made me who I am. Like if the album had a temperature, how do I get it to feel the degrees of Kings Flea Market or the Rothko chapel or the smell of my mama's hair salon.
I held Stevie Wonder's Journey Through the Secret Life of Plants and Playboi Carti's last album real close. I listened to a lot of Steve Reich and Terry Riley. The film The Wiz will always be a fundamental part of how I see the world. Like somebody pleeeease let me direct that remake! I watched a lot of Bugsby Berkley and Heretic, a piece I really relate to by Martha Graham. But also just like clips on you tube of Zydeco Line Dances, trail rides, and Selena's live performances. Shit that just feels like home. I started to read this book Crop Circles: Harbingers of World Change by Alick Bartholomew at the start of this album which I would say is equally about crop circles but mainly about spiritual and environmental consciousness and the mysteries of symbolism and energetic pull in sacred geometry. I don't really have a real answer for why symmetry and geometry make me feel safe. My understanding is purely a reaction to the safety it makes me feel. I think it must have something to do with the feelings of not having a lot of control over my world as a young person. The alignment of things through the expressions of time and space. I tried to channel that in the record for sure. I also kept Sun Ra + Ayé Aton: Space, Interiors and Exteriors, 1972 close by. Glenn Ligon wrote the forward and there's a part where he writes about Sun Ra's imploring of black people to ​"pay close attention to the power of words, to strive for wisdom and beauty, and to seek immortality". I payed real close attention to these ideas and they were a guide for sure.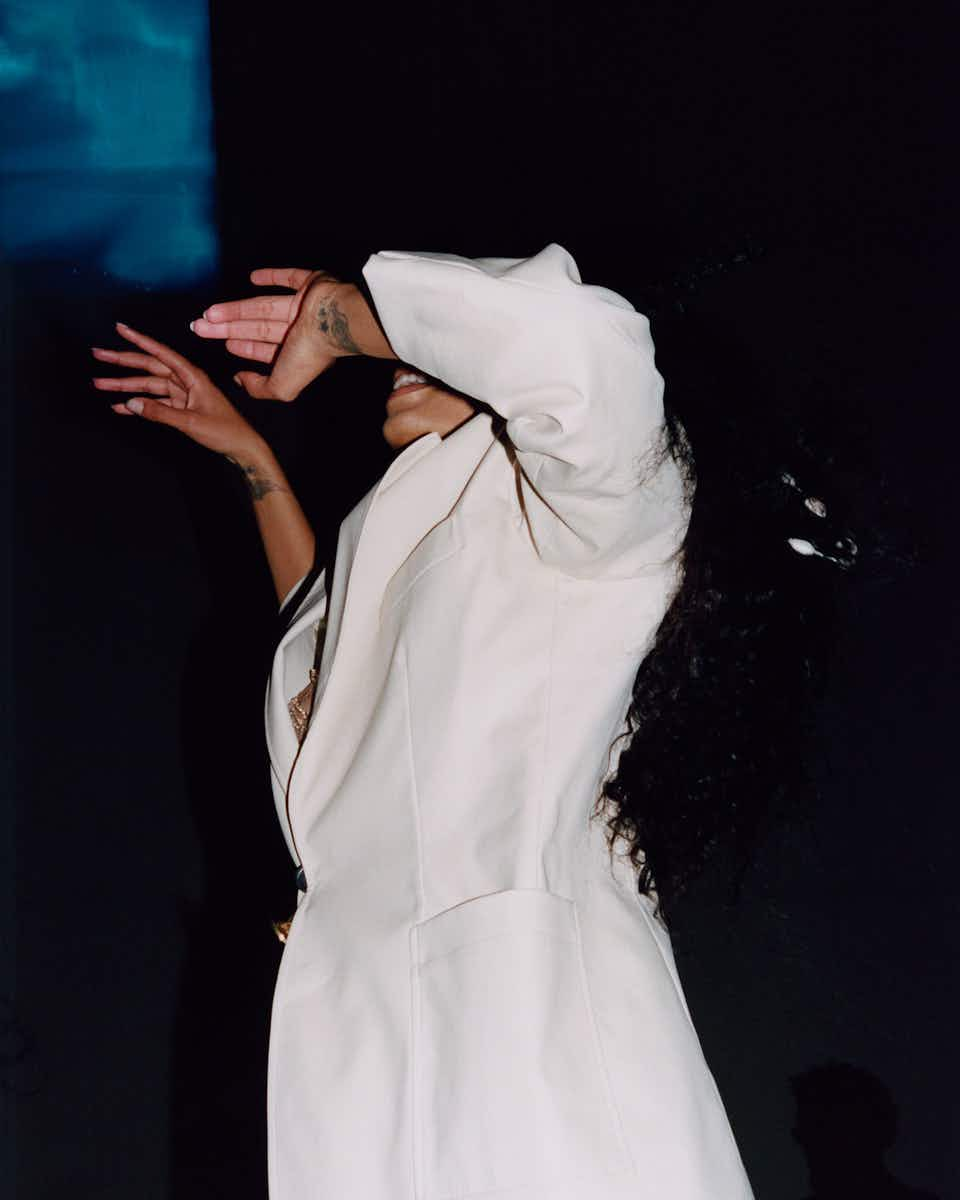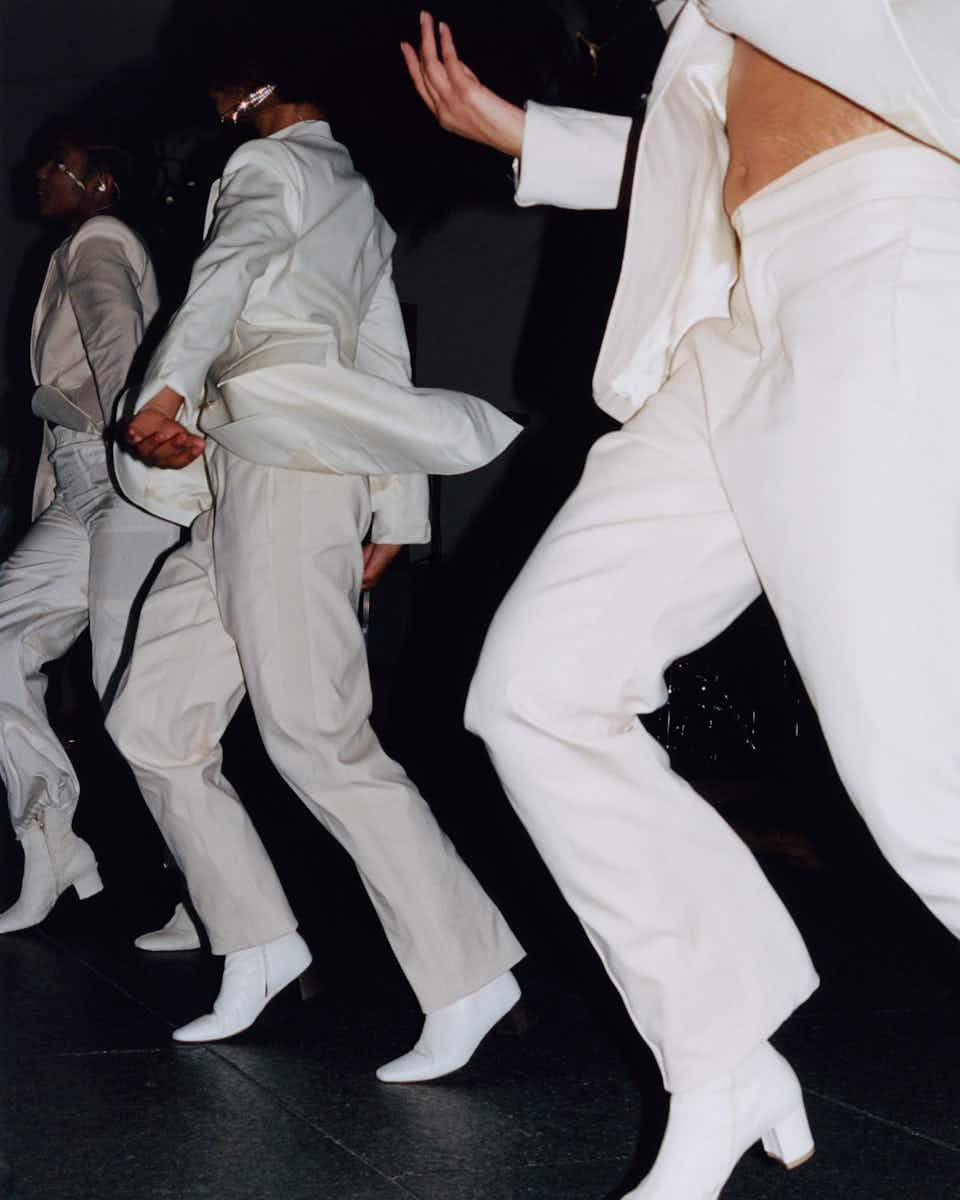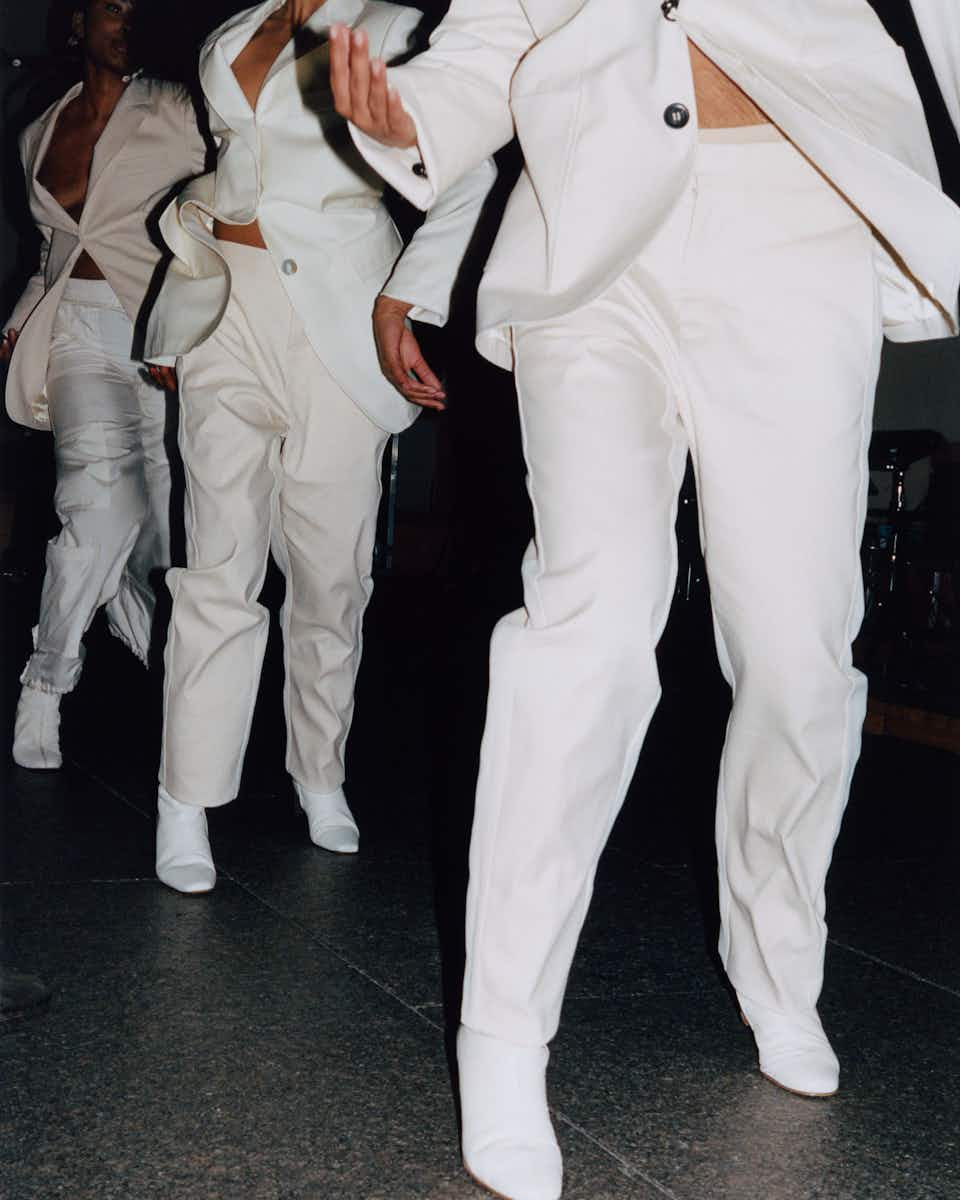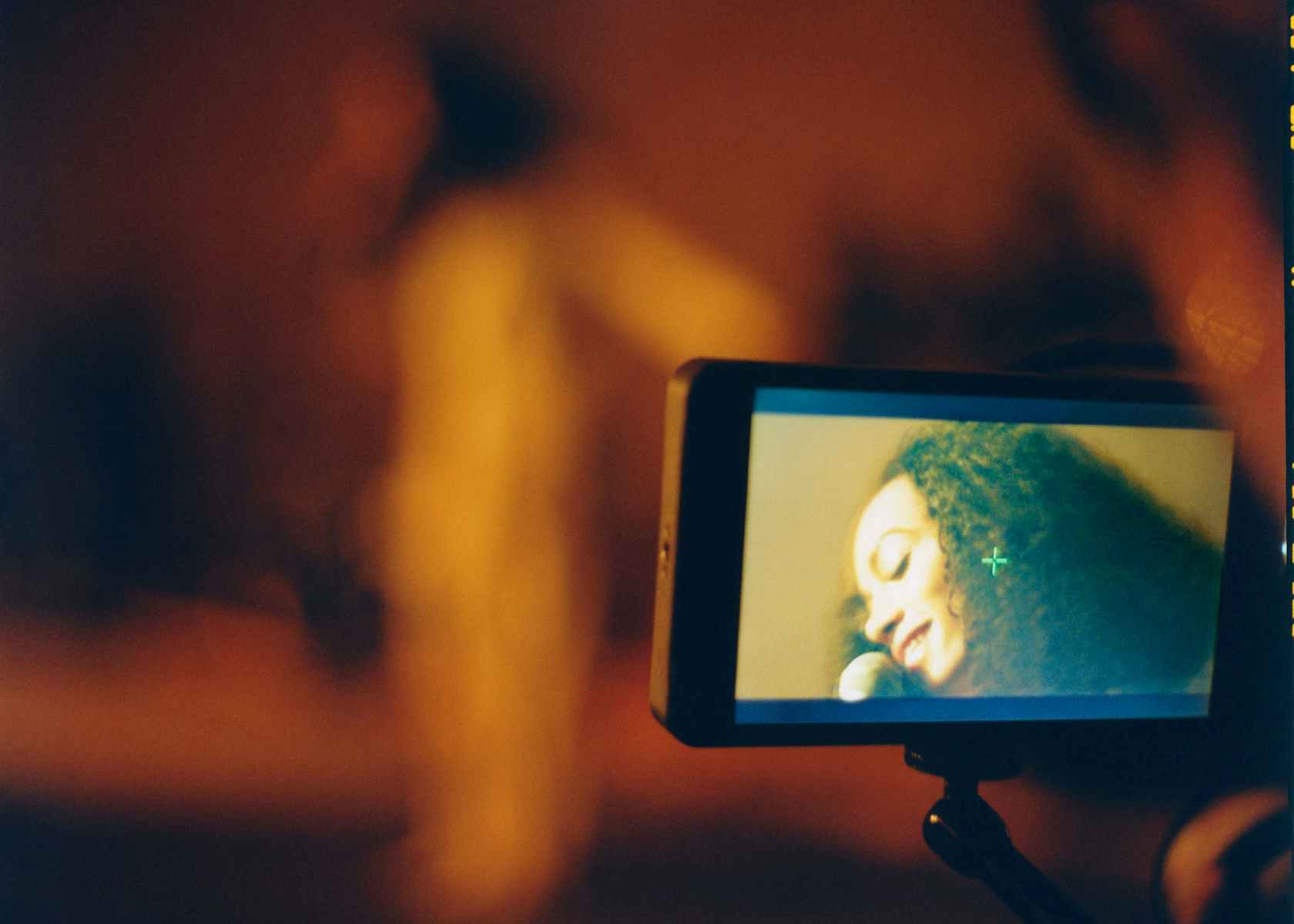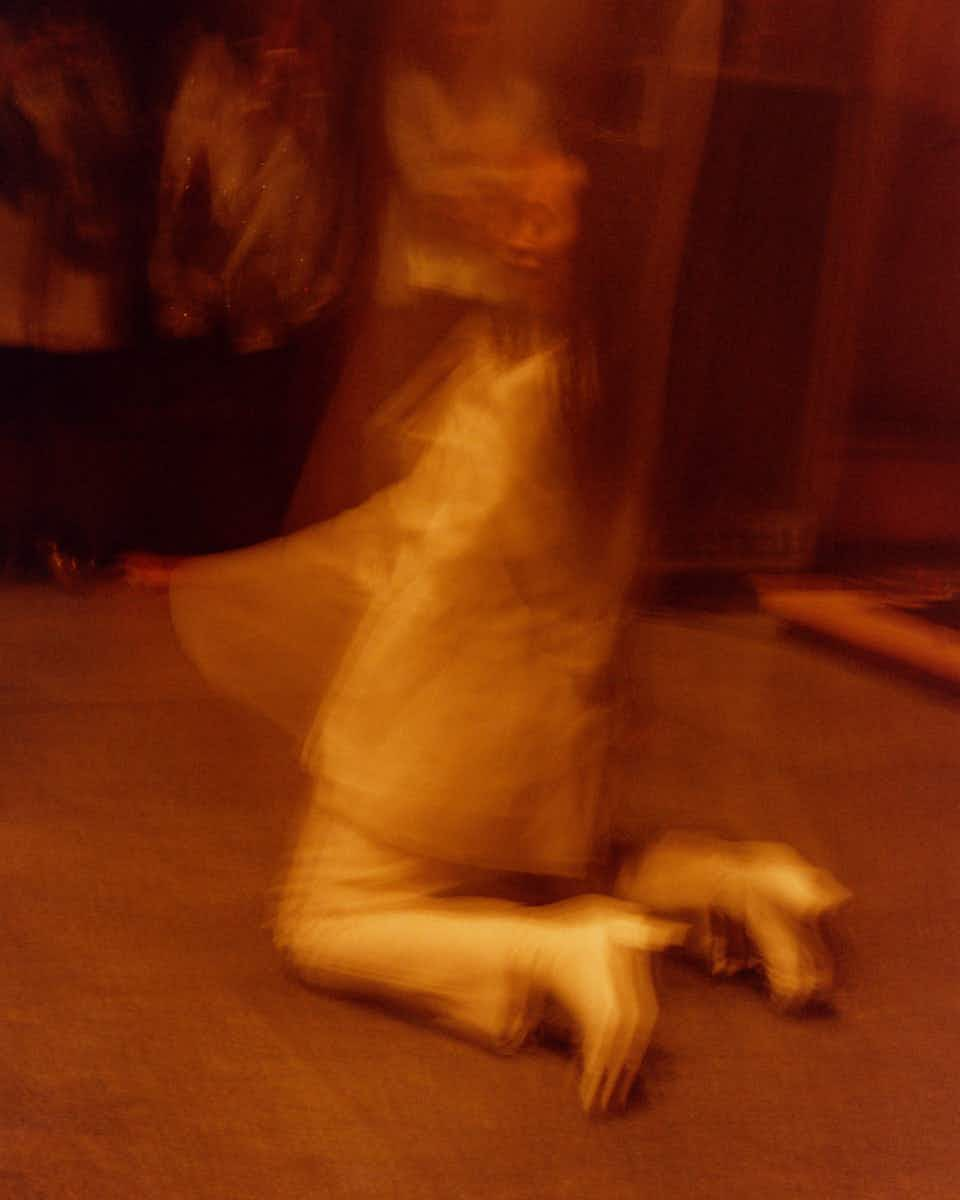 Grace: You seem to have such a complete vision, yet you are also open to collaboration. How do you open up and let people into your practice, what is your process when it comes to creating like this?
Solange: It can be complex but it's ultimately so rewarding and I think at the foundation of it all I really just love people! I love human interaction and the intimacy of getting to know someone through their choices. I'm also just really interested overall in how our interactions with one another can change the course of our days, second by second, minute to minute, day by day. Our lives are all so intertwined based off of these interactions and I just love the idea of applying that to the work. It feels really good in knowing that I get to create this a little landscape and narrative through music and to have people to share and bring real sincerity to that, there's so much love and trust there. There were some really special moments too. Like getting to comp and edit Playboi Carti's verse, that shit gave me goosebumps. All the percussion sounds he made. Cassie is one of my favorite voices, so much purity and air and sensuality…and getting to have that energy on Way to the Show just elevated the song so much! The Dream is such a genius, it just pours out of him like water. The way Almeda all came together was me soloing Pharrell's drum loop from another song we worked on, sampling Metro Boomin's Hold Up from Stay Flo and making loops from a piano rift John Kirby did.…pitching everything down, reformatting the song backwards and chopping it. That collaborative energy and the contributions that come from it is all in that song and you feel each fingerprint so strongly!
Grace: I have been thinking about Devotional Sound as a sacred space to experience music. With the New York iteration I asked you to respond to the idea of ecstatic recital, how did you connect to those vibrations with your performance? How do you connect to devotion through your performances?
Solange: I really related to it because devotion was really a fundamental part of creating the album. Devotion for self, devotion for joy, devotion for chasing whatever spiritual peaks and valleys you are trying to reach and maintain. For me, that devotion transcends in so many ways. Meditation, movement, silence, sonic frequencies, but also just like getting my hair done … making sure the lace isn't showing [laughs] that kind of devotion to taking care of myself. We deserve to express that devotion to ourselves however it may look for us. I approach performance as theater, but it is still really important that I am present as myself. Getting to express that through this idea of ecstatic recital was really about finding one or two sounds in each piece that I could interpret in a multitude of ways and what naturally happened with that kind of repetition was a sort of spiritual crescendo by the time we got to the end of the show. So much of my album and the film is about running from the spirit. I used to be real scared of what it would do to people in church and if it came after me what would happen. I wanted that thang far far away. For me the idea of expressing ecstatic recital is about surrendering and inviting that spirit to jump into you and being prepared to let it take you to places. Count it all joy!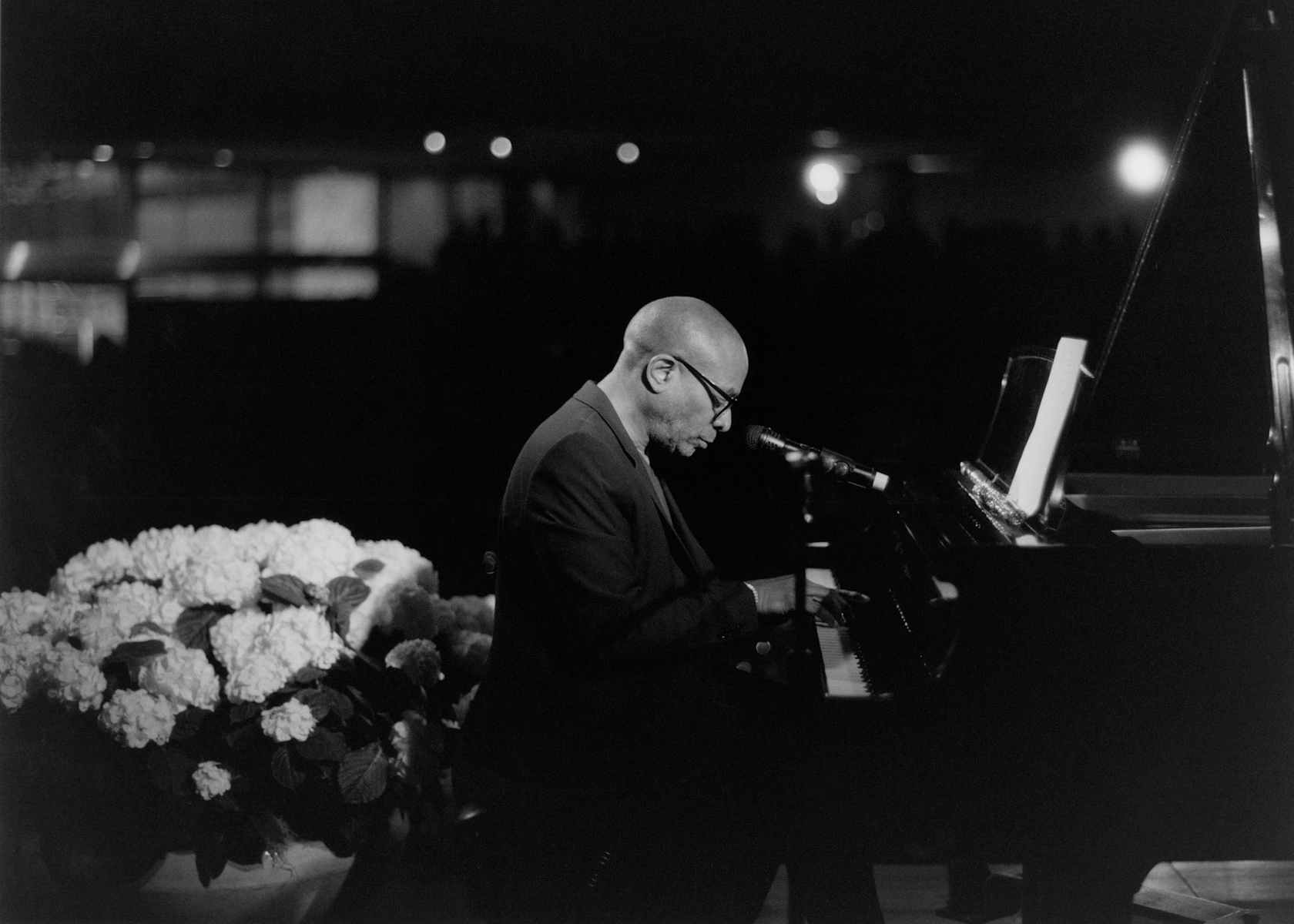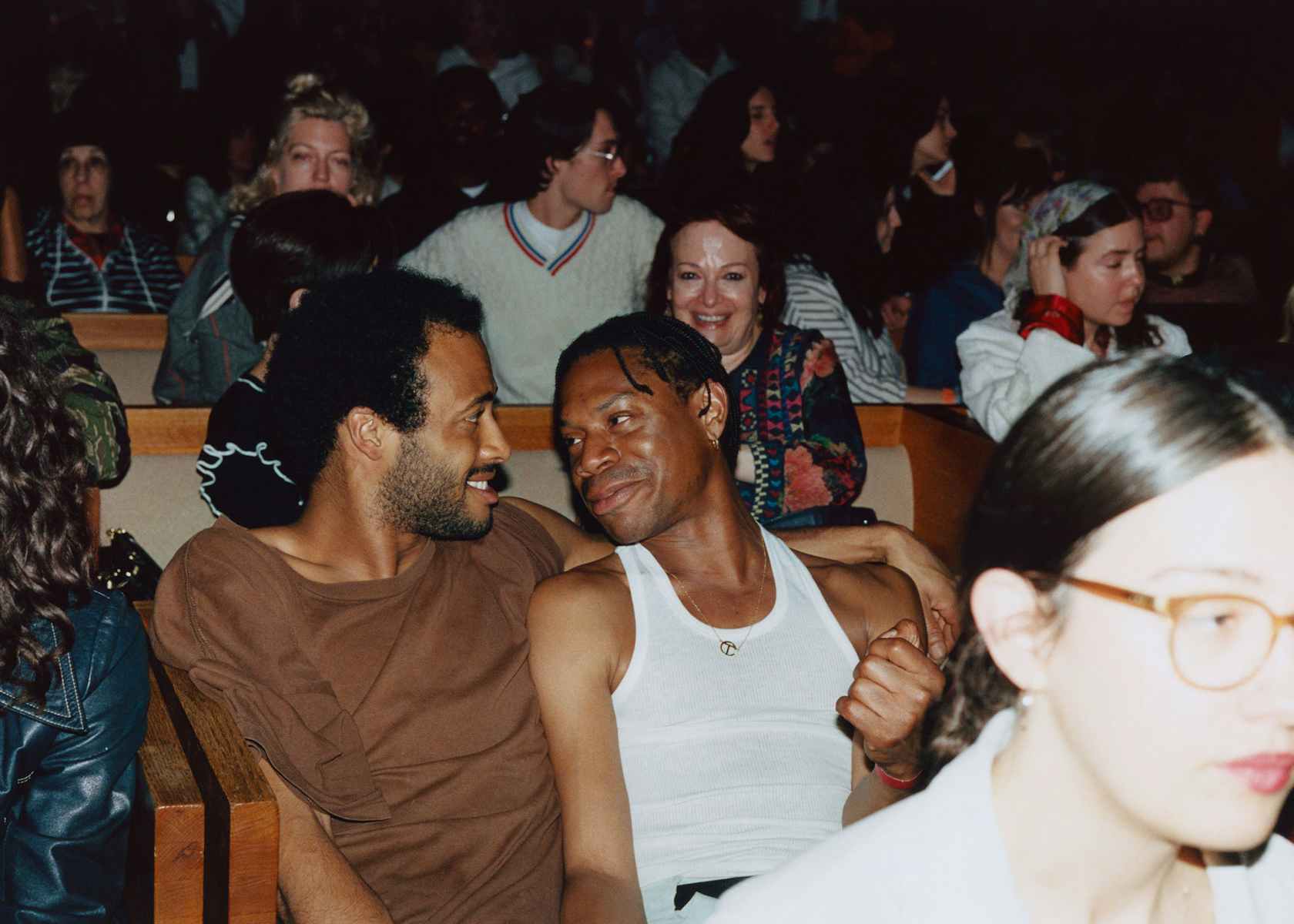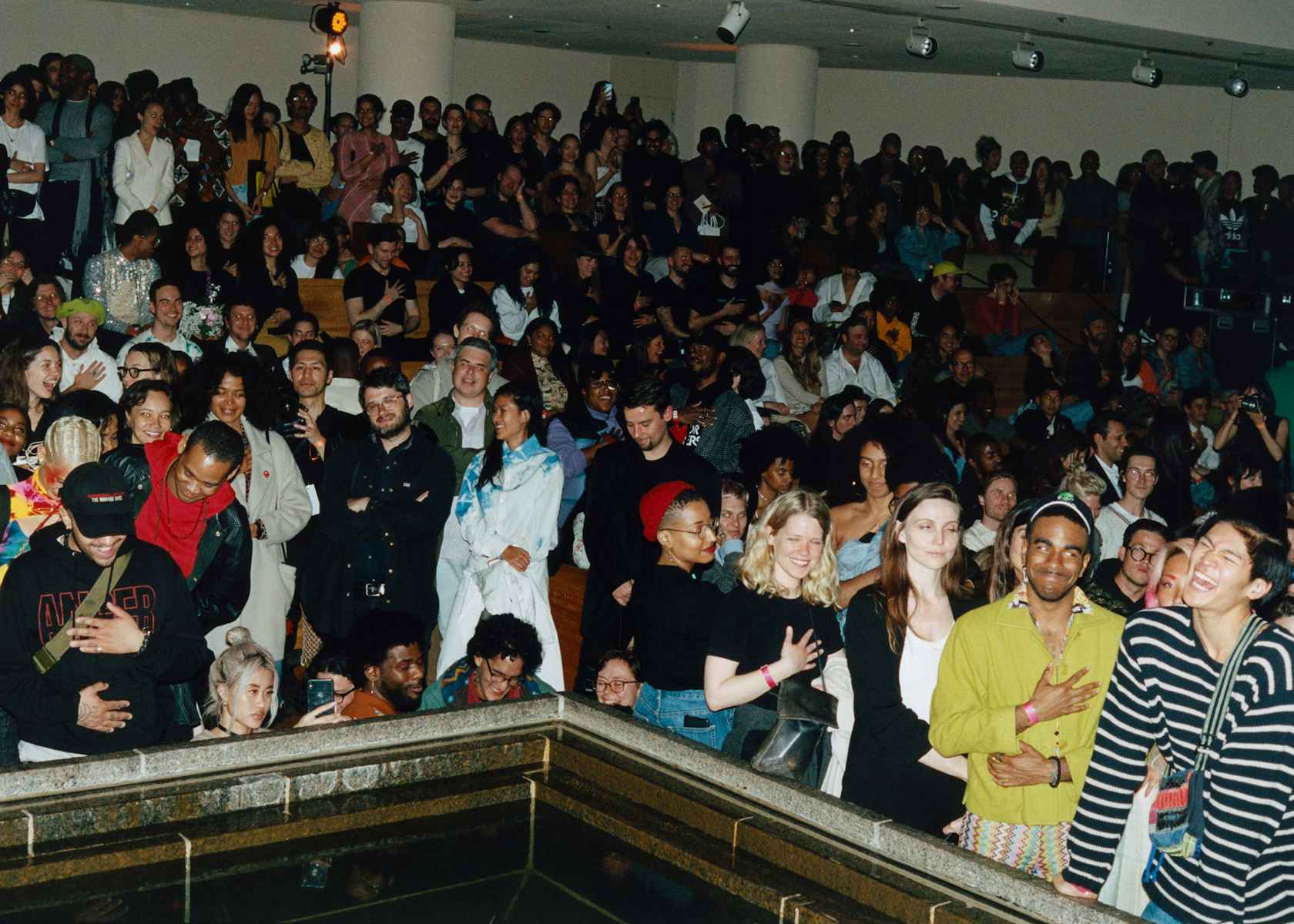 Grace: How does your output and approach speak to freedom? Does the environment you create in, inform your approach?
Solange: I think so much of my approach is just world building. Just trying to build new worlds and spaces for us to feel seen and safe in and to explore. And also to really try and understand myself better. To answer the questions about myself I might even be afraid to think out loud. I feel like creating these little worlds makes me feel less afraid to get to the bottom of it.
Grace: I can relate to that. I respect the time and privacy you seemed to allow yourself while working on this album. How do you resist outside pressures, and hold space and boundaries around your creative production?
Solange: It can be difficult and to be honest over time I've become a lot more dependent on needing to create isolation within my process. Because I love the internet so damn much! So sometimes I just gotta make myself cut that shit out so I can dial in on what I need to hear and speak to that.
Grace: What have you learned from working on this album?
Solange: That to be honest I'm still really unsure if joy always comes in the morning but I do know when it does come you gotta hold on real tight and be real still. I used to be content with moments of happiness, which really can change with every second, but I've been feeling a lot of joy lately and it's like my whole universe has opened up.


More like this