The 1975: dreaming in quarantine

Their epic, new, 22-track album feels like a coincidental soundtrack for isolated living. Beaming in from lockdown in an English countryside hideaway, Matty Healy explains how Greta Thunberg, FKA twigs and Phoebe Bridgers helped him map out Notes on a Conditional Form.
Matty Healy knows he's made some bold claims. Maybe even stupid claims, depending on your perspective.
"I wish sometimes that I'd control myself a little bit," he admits. ​"You do interviews, and it's just a conversation, and then afterwards it becomes this whole other thing. Unfortunately, I've still not learned my lesson."
Healy is slightly sheepish because I've just paraphrased something he said about What Should I Say, a song from The 1975's fourth album Notes on a Conditional Form – a song he previously said could be their biggest yet. Built around an elliptical, fluting melody, and accentuated by a ghostly vocal from FKA twigs, it sounds like a melted version of Justin Bieber's What Do You Mean?: pure dance-pop pleasure that will enchant festival crowds across the world, whenever that kind of thing is allowed again.
But regardless of where What Should I Say lands on the charts, every time Healy talks about his own music, he comes off more like a superfan hyping up his favourite band, and not the actual lead singer of the band. At one point in our conversation, he refers to himself as a ​"rock… star", and the galactic pause between the two words telegraphs how weird it feels to acknowledge that. (This despite the fact that his hair is cut, today, in a very rock star faux hawk-meets-mullet style.)
"I'm just a proper fanboy," he insists. ​"I've always had a good relationship with my fans because I'm like: ​'Bro, I get it. I'm still like that about fucking bands.'"
Besides, the 31-year-old has learned some lessons since the 2013 release of their self-titled debut album. Even he wouldn't be so bold as to call the eerily prescient Notes on a Conditional Form ahead of its time. Partly because he knows the – to put it mildly – chaotic state of modern affairs couldn't have been anticipated by anyone.
Certainly there was no way of predicting in October 2019, when the band released Frail State of Mind, the second single from Notes, that its opening lines (​"Go outside? Seems unlikely") would soon take on a very different meaning beyond the social anxiety it initially described. Same for the lyrics to last August's People (​"I don't like going outside, so bring me everything here") and those of bouncy new single If You're Too Shy (Let Me Know). It chronicles an erotic rendezvous that takes place over FaceTime – the only sexual release that, at present and for the foreseeable, the non-coupled might find.
Those are just the ​"happy" little coincidences that emerge when you're trying to make a record that resonates with the moment, as The 1975 have done for nearly a decade.
The four members – Healy, drummer and producer George Daniel, guitarist Adam Hann and bassist Ross MacDonald – met at Wilmslow High School in small town Cheshire, 11 miles south of Manchester, and began their career as part of what Healy calls a ​"late emo scene". Initially performing under band names like Me and You Versus Them, Forever Drawing Six and Drive Like I Do (a project Healy is perpetually tempted to reprise in some form), they settled on The 1975 after Healy saw ​"1st June. The 1975" scribbled in a copy of Jack Kerouac's On The Road that was given to him by an artist. After arousing a buzz but finding no established record label willing to buy in, they signed to their manager Jamie Oborne's fledgling label Dirty Hit.
They quickly transcended that late emo scene, marrying their widescreen emotions to kaleidoscopic pop on their second album i like it when you sleep for you are so beautiful yet so unaware of it. The carefully titled 2016 release made them international stars, and the band expanded their sonic range even further on 2018's A Brief Inquiry Into Online Relationships. By this point, they were critical darlings too.
Ranking the single Love It If We Made It as the best song of 2018, Pitchfork wrote: ​"Few bands could have attempted something so audacious and made it sound so moving – a prolonged moment of desperate eye contact, shaped into a generational anthem."
Each one of The 1975's albums has hit Number One in the UK, they've played arena shows and festival headline slots around the world, and their fans obsess to a hyperventilating degree over their every movement on social media and message boards.
Perhaps unsurprisingly, somewhere along the way, Healy started making swaggering claims, like this one to Billboard in 2018: ​"There are no big bands who are doing anything as interesting as us right now." It's a sentiment he repeated more matter-of-factly during our interview because, to be fair, by now, few could beg to differ. And that bold self-confidence has been accompanied by Healy lobbing grenades at his peers, beefing with the excessively inoffensive Imagine Dragons, and claiming pop stars didn't stand for anything with the nonchalance of someone describing the colour of the sky.

Notes… was originally teased for a May 2019 release, pegged as the quickfire follow-up to A Brief Inquiry… It was then announced for both February and March this year, before finally settling into its current release date of 22nd May. You can chalk the delays up to Healy's chattiness, as well: ​"I did three or four interviews where I'd said I was going to do an album and by the third interview, they go: ​'Well, is it going to be six months to a year?' By the third interview, I had a fucking proper date."
The state of the world right now is the obvious reason why The 1975 aren't on tour to promote Notes… like they're supposed to be, and also why Healy is FaceTiming me from the driver's seat of a car, instead of talking face-to-face. The car is one of the few places where he can get a decent signal. It looks sunny where he is but that might just be the iffy connection, which intermittently renders his face as a white, light-flared smudge.
Before the UK lockdown formally started in late March, he and George Daniel took a ​"little countryside holiday" to Northamptonshire, where the band recorded much of Notes… and A Brief Inquiry Into Online Relationships. The pair have been there since, living at Angelic Residential Recording Studio, which as the name suggests is set-up for long term guests.
There are silver linings: they're making a lot of new music, and they're now the proud parents of a puppy called Mayhem.


The studio is also where Healy spent his 31st birthday, which was exactly as lively as any birthday happening under social distancing. ​"We cooked and ate," he says when I ask how he celebrated. ​"When we made the record, we used to make jokes about how we didn't go out because we're in a big room for creating and hanging out, and then a studio, and then our bedrooms. So when we're here at night, it is a bit like we're living in our own little world."
He compares his surroundings to those depicted in Alfonso Cuarón's 2016 post-apocalyptic thriller Children of Men, where Michael Caine escapes the dystopian hell of the city by hiding out in what appears to be an idyllic rural estate. (Something neither of us have to mention: he ends up dead.)
While The 1975 don't pretend at prophecy, they swing for the fences in a way their peers do not. Notes… runs to a hefty 22 tracks and begins with a new version of The 1975, the self-titled track that opens all their albums. It takes the form, this time, of a spoken-word missive about our burning planet from Greta Thunberg. It's the type of audacious gesture that most artists would try to avoid altogether. In fact, according to Healy, Thunberg had approached bigger artists ​"who could have a really commercial push supporting the idea, but they weren't really interested".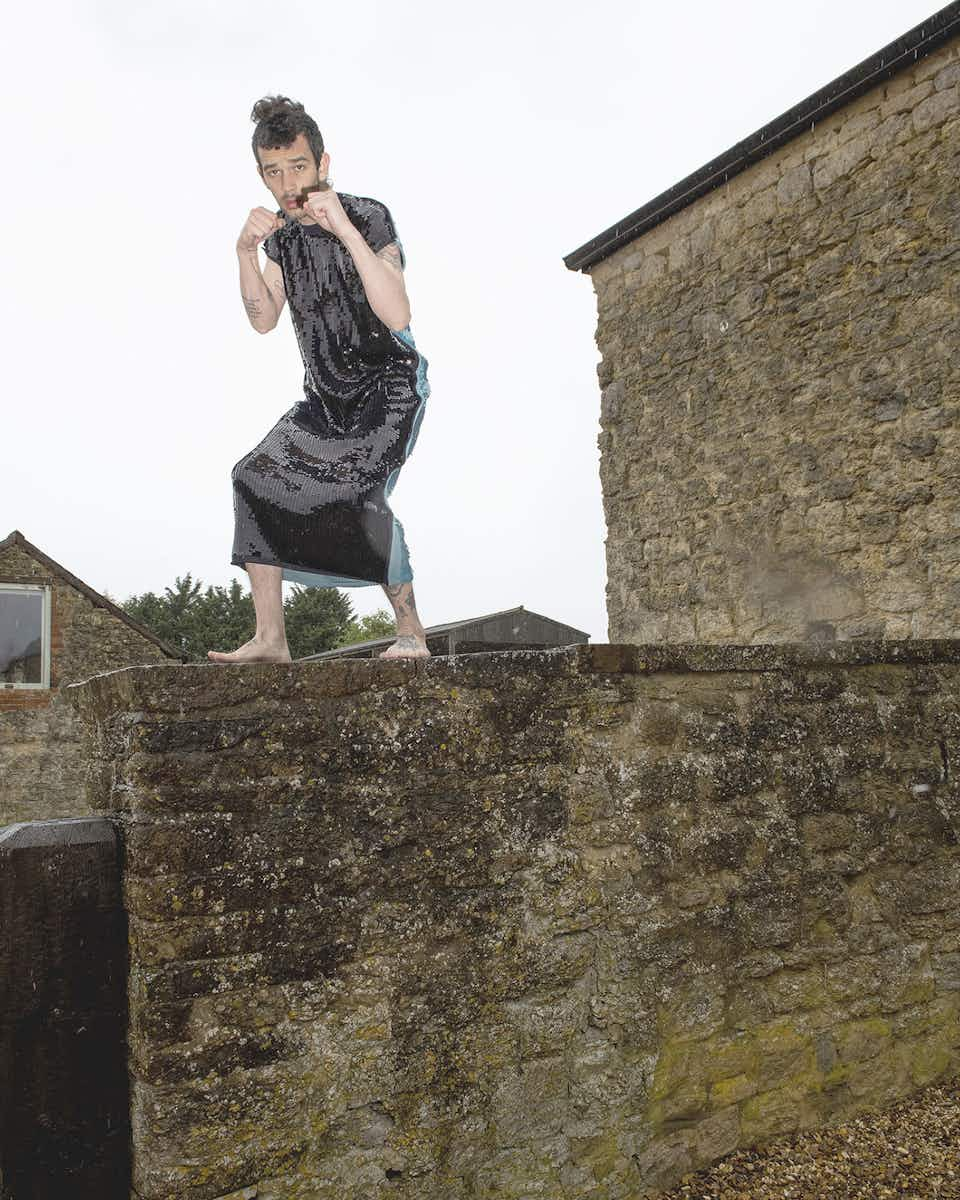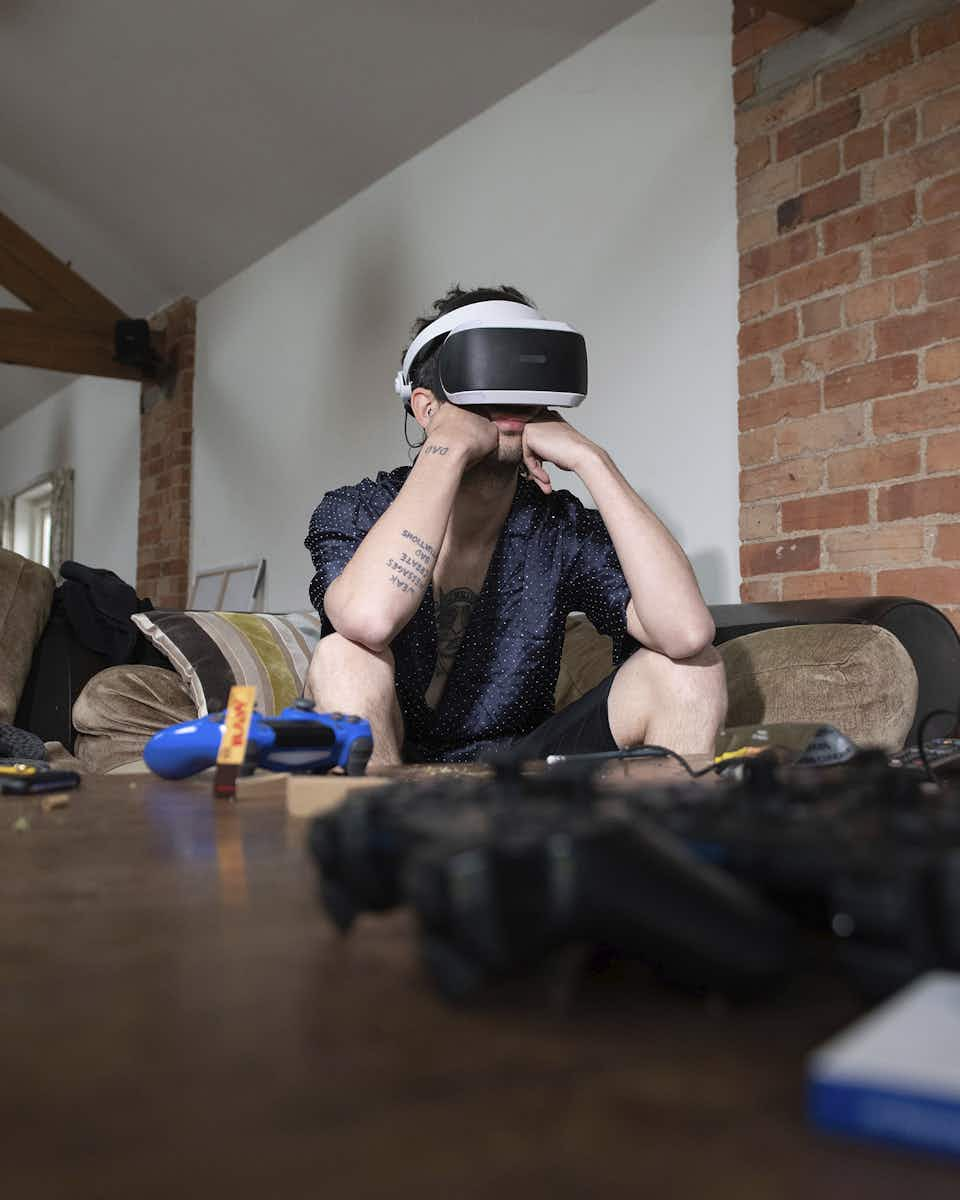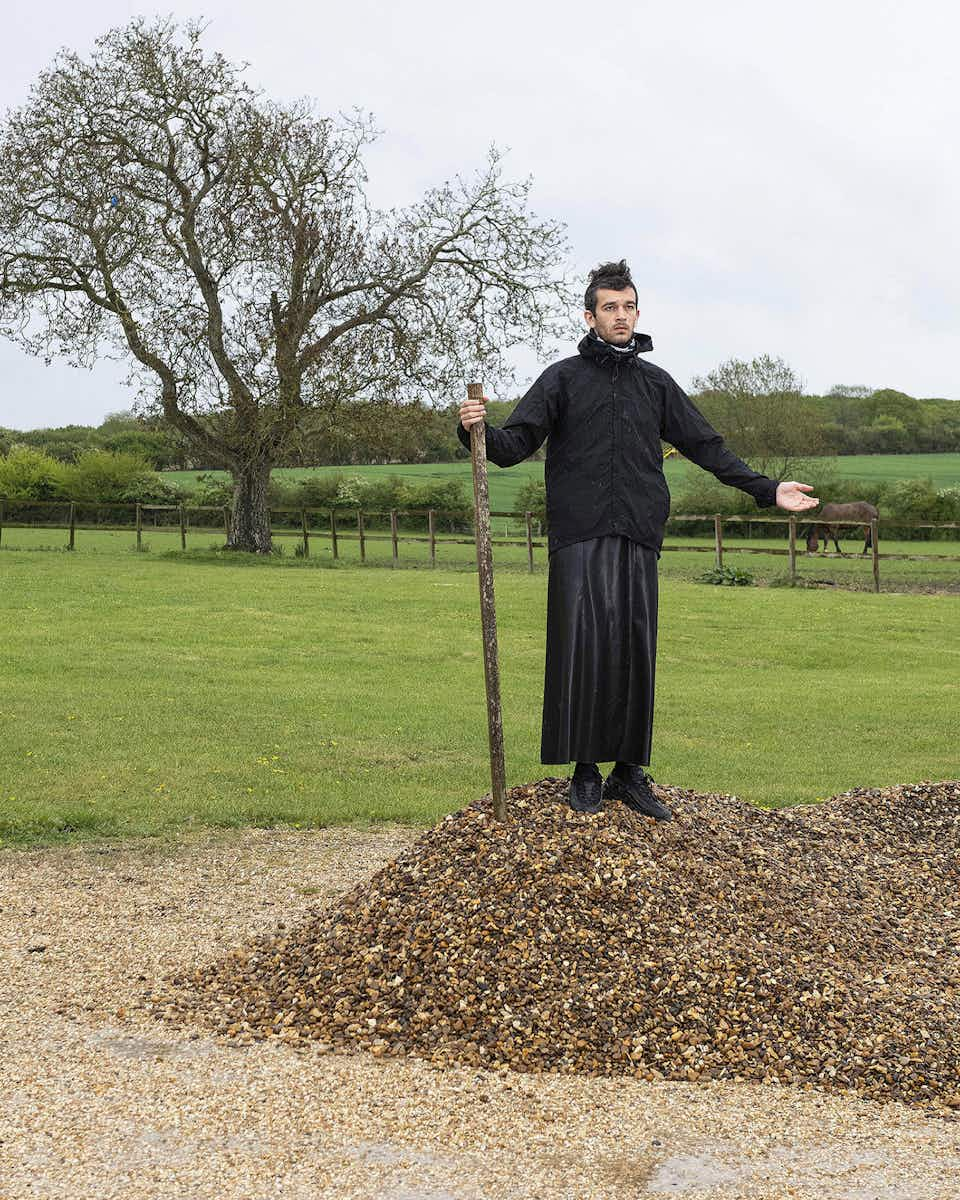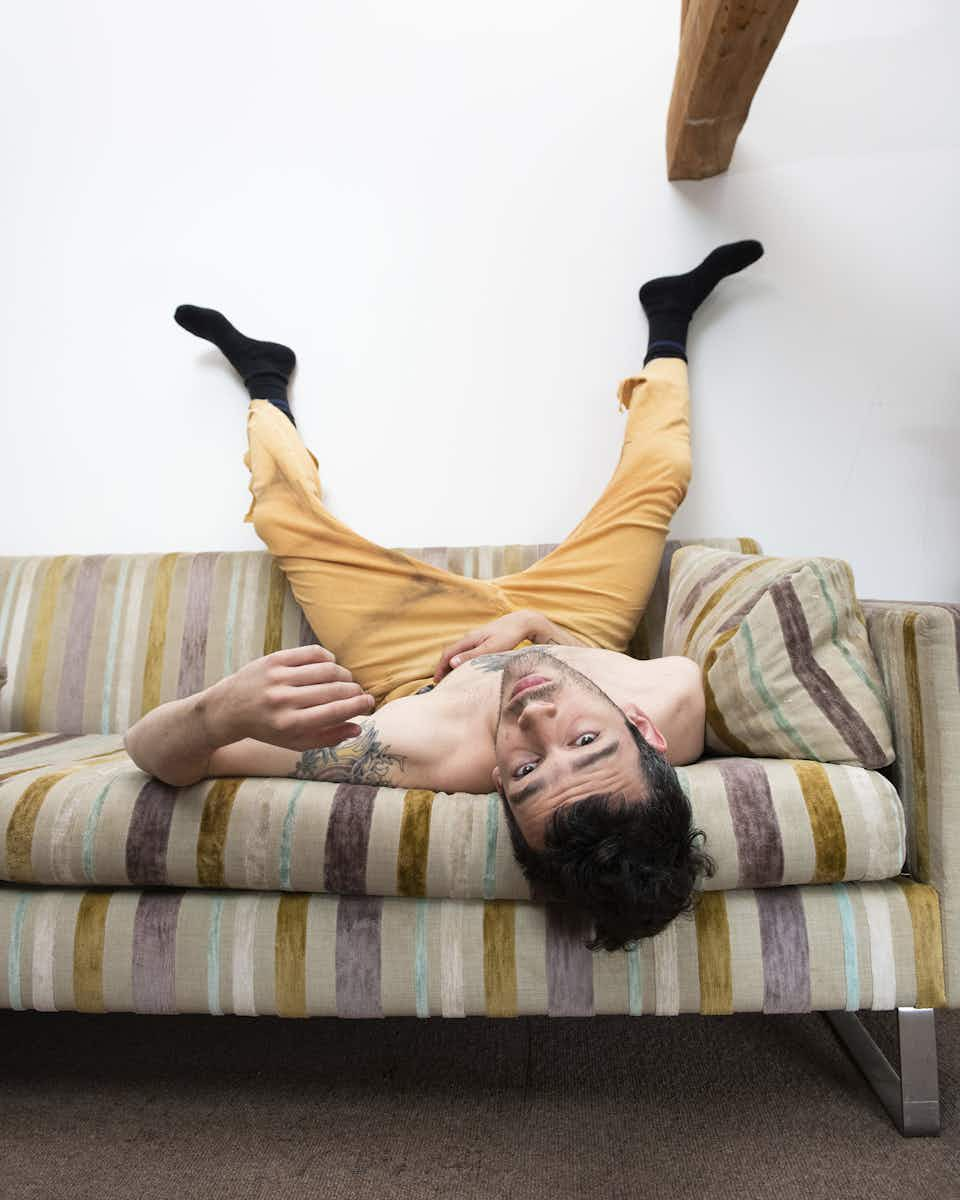 For The 1975, however, Thunberg's contribution served as the first release of music from the album, its July release accompanied the following month by the deliriously anarchic People. In typical attention to detail, the diptych – tracks one and two on the album – form what he describes as the record's ​"primary statement," just as Love Me and Give Yourself a Try did on i like it… and A Brief Inquiry… respectively.
Given the scuzzy punk noise of People – whose video features a ghastly pale Healy bouncing off the walls of an art installation from hell – it might surprise listeners to learn that this curtain-raiser is an outlier: there's no other song on the album that sounds like it. In fact, there are barely any songs that sound like each other.
In the best way, the sprawling Notes… is sequenced like a genre-agnostic playlist, with emotive techno bleeding into jangly indie-pop bleeding into folk and beyond. This reflects what Healy dryly calls a tendency ​"to make these records all over the place and super long and kind of meandering". Meditative ambient pieces give way to neon-bright synth-pop anthems like If You're Too Shy (Let Me Know), which has already charted as their highest single.
The lack of a unified sound exemplifies their creative curiosity, but it also mirrors our fractured contemporary state.
"I think that the question on this record is: can the centre hold with all of this shit? Politically, economically, climate-wise – it feels like we're getting under a lot of pressure," Healy states. ​"So there's that on the record. And there's also just a lot of personal stuff about me."

Despite being a ​"rock… star", Healy's personal concerns are still recognisably down to earth. He finds himself trapped in awkward conversations at dreary parties. He blows off those parties altogether after realising he'd rather stay in. He pines after crushes and wonders if his life will follow the same track forever.
"I sometimes feel: how do I make myself exciting enough to even bother writing about?" he muses. While tabloid-minded listeners might note that his high-profile relationship with model Gabriella Brooks ended last year, and that songs with titles like Tonight (I Wish I Was Your Boy) and Then Because She Goes (sample lyric: ​"When you leave I cry on the inside") might blur the lines between life and art, the specifics of his romantic life are the one subject he tactfully avoids discussing.
"I tend not to talk about it, not because I want to be clandestine, but because I do talk so much in interviews that it can get me into trouble. That's fine on Twitter and stuff like that. But you do not want that shit in your personal life" – he interrupts himself with a knowing laugh – ​"because then that's a nightmare."

There are also, for the first time in The 1975's history, guest collaborators. Aside from Thunberg, there's FKA twigs, who Healy calls ​"the best operatic voice in pop music" (and who he's rumoured to be in a new relationship with, though his face doesn't betray anything when I bring her up). She appears on two songs. His dad, the actor Timothy Healy, sings on the hopeful Don't Worry, a decades-old composition that Matty calls ​"the first song I ever knew".
But the most prominent non-band contributions come from singer-songwriter Phoebe Bridgers. She sings on four songs, most notably Jesus Christ 2005 God Bless America. A delicately plucked queer ballad with lyrics like ​"I'm in love but I'm feeling low/​For I am just a footprint in the snow", it might be the band's most tender track yet. Healy, who met Bridgers after they exchanged mutually appreciative Instagram DMs, says she lent a ​"country-emo Americana element" to the record, filling in every time there was ​"a texture or a harmony vocal that I didn't want to do".
Bridgers started listening to The 1975's music when she was still in high school. She tells me that the transition from fan to collaborator was surprisingly seamless.
"Culture has led me to believe, rightfully so, that handsome fucking rock stars are going to be dicks. Not that I thought they were going to be assholes, but I was so pleasantly surprised by the degree that they are just human beings," says the Los Angeles-based singer-songwriter. ​"They're the least jaded, most famous people I know, by far." She also highlights how organic the band's existence is, in contrast to their now-high-end celebrity. ​"There's no mechanism behind it. They signed themselves. They have their own label. There's no evil genius hiding behind a curtain like fucking Oz, creating their music."
That freedom explains why Healy has walked back another thing he said in interviews that ended up turning into a big thing: that the band might be approaching its end. As the frontman puts it, Notes… wasn't even going to exist, until it suddenly became necessary.
Towards the end of our conversation, I start to ask what the future holds for the band, but our connection starts glitching out. That would be a fitting conclusion – a fade into the digital ether, just as so many of their songs end – but we manage to pick things back up on the third try.
"There's always so many creative projects that we want to do," he says. ​"We kind of talk about, like: ​'Are we going to do another album after this, or will it be something slightly different?'
"I think that what's really lucky for me is that The 1975 has become quite a broad idea, creatively. It wouldn't surprise people for me and George to do other types of media within the context of it being still The 1975. I don't know whether it'll be like a 10-track record or it will be a fucking movie or if there'll be a… VR game."
"There's lots of things that I want to do," he continues, before I can ask what The 1975's virtual reality game would look like. ​"But I think that to be honest with you, the way that I feel better about stuff is by making music about it. It'll always pile up, you know what I mean? I know I'll always feel the need to move on from it, which normally means I put it out."
He pauses, as I imagine the headlines that will follow whatever he's about to say.
"You know, you can't stay on ship forever."
It's not quite a viral statement, but it'll have to tide over 1975 fans until whatever happens next. Then, his face all but entirely bleached out in the glare of the sun, and the signal fading once again, Matty Healy signs off.
Notes on a Conditional Form (Dirty Hit) is released 22nd May


More like this