The Chemical World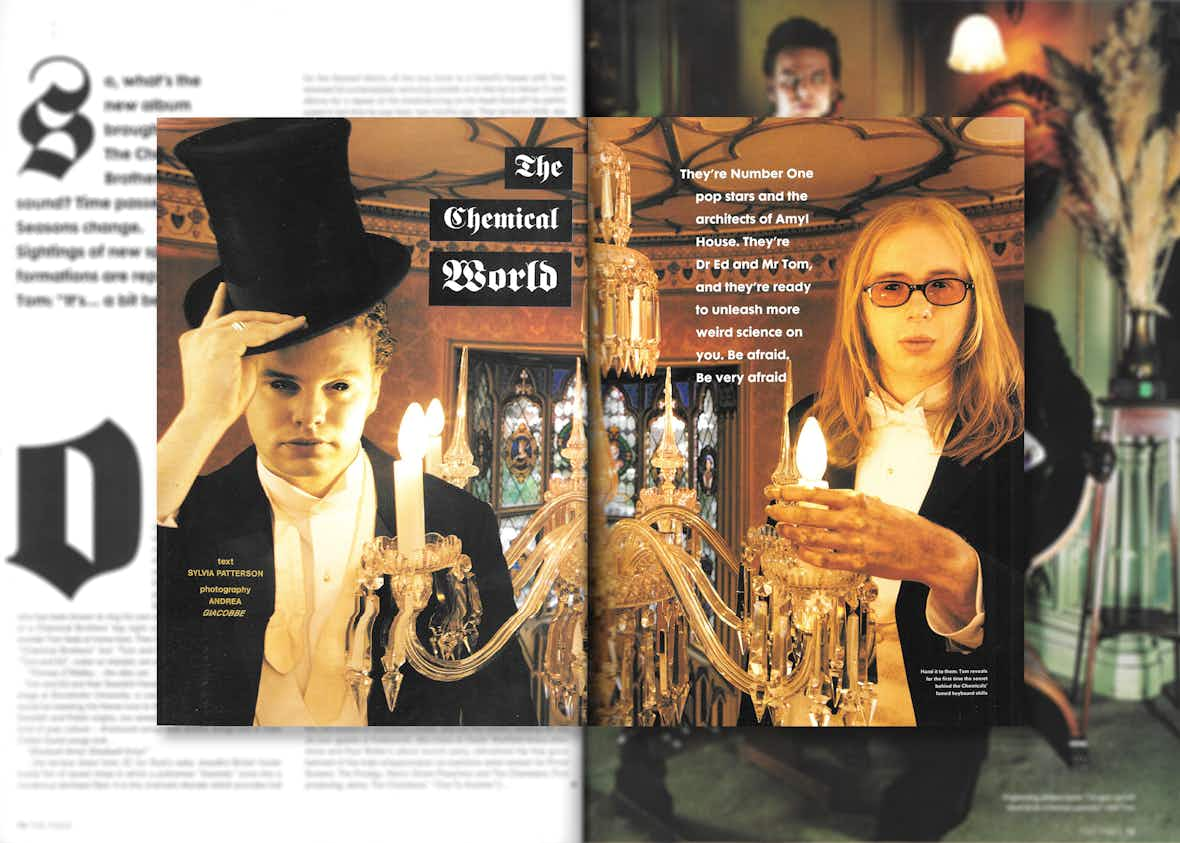 1997: They're Number One pop stars and the architects of Amyl House. They're Dr. Ed and Mr. Tom, and they're ready to unleash more weird science on you. Be afraid. Be very afraid.
IT IS EARLY 1997, and two former history students at Manchester Uni are the most exciting noise in British dance music. The Chemical Brothers have, under their belts, a momentous debut (Exit Planet Dust), a Peak Britpop chart-topping collab (Setting Sun, with Noel Gallagher) and a brace of brilliant remixes (for The Stone Roses, Primal Scream, The Charlatans). Now they're poised to release their second album, Dig Your Own Hole. Already it sounds like a classic.
Of course they had to be on the cover of The Face.
But for all their musical eloquence, the actual eloquence of Tom Rowlands and Ed Simon is rather wanting. There was only one solution: to despatch star writer Sylvia Patterson. If anyone could winkle out from the otherwise lovely Tom'n'Ed some personality and excitement, it would be the brilliant journalist and music nut who would later document her adventures in rock'n'roll in the bestselling 2016 memoir I'm Not With The Band (do yourself a lockdown favour and buy it now).
Still, it would take multiple sitdowns for even an interviewer as skilled as Sylvia to get to the core of ​"the Chems". ("What's the new album brought to the patented CBs' sound? Time passes. Seasons change. Sightings of evolutionary new spore formations are reported in Wrexham.") But get there she did.
Photographer (and painter and director) Andrea Giacobbe applied similar inventive flair to present the duo as they'd never been seen before and – in the teeth of stiff competition – create an iconic ​'90s Face cover.
IT IS EARLY 2020 and Tom'n'Ed are supposed to be the omega of 20th and 21st century dance music, with the alpha coming in the shape of Kraftwerk.
Scheduled to open at London's Design Museum next month was Electronic: From Kraftwerk to The Chemical Brothers. This multimedia, multi-sensory exhibition was set to ​"explor[e] the hypnotic world of electronic music, from its origins to its futuristic dreams". For obvious reasons, it's been postponed.
But being stuck at home doesn't mean the music has to stop. In fact, arguably, we need to do the opposite.
So, in honour of Tom'n'Ed, and of the Design Museum's to-be-rescheduled ​"spotlight on UK electronic and rave culture", and of Sylvia's excellent, entertaining reporting, please enjoy this deep cut from our archive. And whack on Dig Your Own Hole. With a little help from The Chemical Brothers' block rockin' beats, self-isolation might feel a little less isolated.
Out on the floor, in London, no one waves Day-Glo sticks in the air anymore. Sometimes, in New York, they do. Here in Stockholm, it's mobile phones. Tom Rowlands and Ed Simons know only one British person who does this: Tom's brother Huw – Welsh for ​"Hugh" – who has been known to ring his own answering machine out on the floor of a Chemical Brothers' big night out and tape the atmosphere. No wonder Tom feels at home here. Then there are the fliers, which don't say ​"Chemical Brothers" but ​"Tom and Ed", as do the t‑shirts, because ​'Tom and Ed', make no mistake, are among friends here.
"Thomas O'Malley… the alley cat…"
Tom and Ed and their Swedish friends are singing their heads off backstage at Stockholm University: a complex which, if it could sing itself, would be tweeting the theme tune to the Ikea ethos; friends who, despite Swedish and Polish origins, are versed in the minutiae of the Chemicals' kind of pop culture – Aristocats songs and Smiths songs and A Tribe Called Quest songs and…
"Shadwell Army! Shadwell Army!"
… the terrace chant from ID, for God's sake, dreadful British footer hoolie film of recent times in which a policeman ​"bizarrely" turns into a murderous skinhead Nazi. It is this cinematic blunder which provides fuel for the themed hilarity all the way back to a friend's house until 7am, whereat Ed contemplates venturing outside onto the ice in minus 11 conditions for a repeat of the breakdancing-on-his-head face-off he participated in last time he was here, two months ago. They've had a drink, see, something called Sim Selabim.
Which, according to Ed, ​"is Swedish for abracadabra…" but possibly means ​"hospitalised" in English. They've forgotten about the pear Schnapps already, pints of it, up there on stage earlier as they hosted the launch party for Sweden's celebrated Lollipop festival with another night of hair-singein' breakbeat psycho-funkin' sound-clash celebration for the human soul. With their ​"mobes" in the air. Like they care about this more than anything else in the world. As big nights out go it was, says Ed at 1pm the next day in the Strand Hotel bar, ​"Y'know, the usual."
"They can't get enough of us in Sweden," says Tom, cheerily, perked by the ​"restorative powers" of Coca-Cola. ​"They love the whole Heavenly Social myth so we're a part of that. We've some good friends here so we get a bit excited. We were very excited last night, weren't we, Ed?"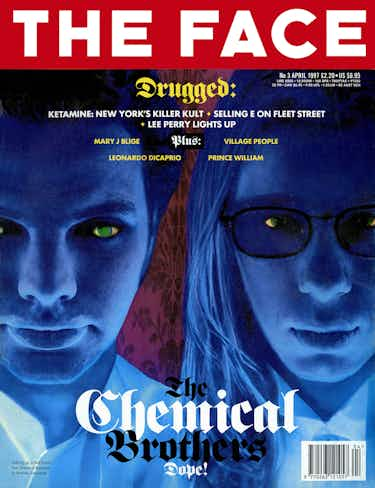 Ed: ​"We were Carl Cox in the sky."

Tom: ​"It's just being in Sweden… The whole nation is based around drinking, not like pub drinking, but… alcohol. Or maybe that's just the people we know."
Something croaks, alarmingly, at their side. And they burst into song. ​"Stop! Playin' games! With ma heeeaart!" It's Eva, the Virgin Sweden official who attended the nearby Backstreet Boys show before rejoining the Chemicals' ​"abracadabra" calamity until she contracted ​"a grated throat".
"And you," blurts Tom, ​"touched [Backstreet Boy] AJ's hand!"

"Perfect night!" husks Eva, ​"and now I can't talk. If you're going to do it you have to do it aaall the way."
Tom approves. Before leaving he scrawls on the hotel's visitors' book, alongside ​"best wishes" entries from Phil Collins, The Fugees and Def Leppard: ​"Let's… all go down The Strand! Have a banana."
The Chemical Brothers are The Most Boring Men On Earth. Everybody says so. And Everybody, as usual, knows nothing. They just don't like talking about themselves because it's embarrassing, that's all. Talking about their music, however… Well, that's even more embarrassing because of all that stuff about talking about music being like dancing to architecture.
So! What's the new album brought to the patented CBs' sound? Time passes. Seasons change. Sightings of evolutionary new spore formations are reported in Wrexham.
Tom: ​"It's… a bit better." It was a rubbish question anyway.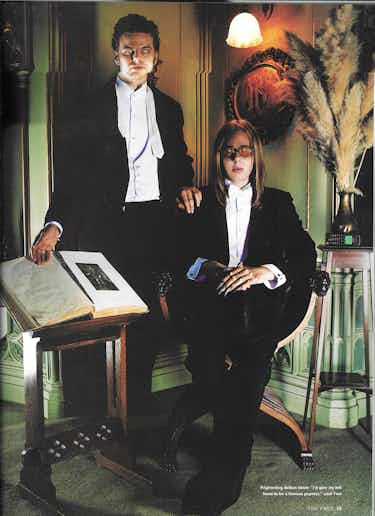 The remarkable bone-crusher breakbeat dynamic of the Chemical Brothers sound – pioneered via the Weatherall-endorsed, Junior Boy's Own-licenced Song To The Siren in 1992, currently hijacked by the rest of the world in ​'97 – is made only more so by its conception in the minds of two mild-mannered history graduates from southern England. They are legendary for three things: That Sound, funny hair and the profound inability to eulogise over and/​or serenade their own unique, spectacular contribution to the sonic revolution.
Tom: tall, tinted of lens, languid of hair, weirdly upturned of nose, genial and gentle of disposition. Ed: taller than you'd think, coiled of coiff, gappy laughs like Dick Dastardly, shy, nervy, effusive and jovial. Both are unassuming to the point of invisibility, wear fashion-free hooded tops, speak in the non-accent of suburban London, and are the world's leading VIP DJs du jour:
Guests at Knebworth, disc-hosts at Oasis' Sheffield Arena aftershow and Paul Weller's album launch party, old-school hip-hop gurus beloved of the indie whippersnipes via explosive remix renown for Primal Scream, The Prodigy, Manic Street Preachers and The Charlatans (Tom producing, alone, The Charlatans' One To Another)… All of which they do ​"just because we're fans". And they made a number one record with Noel Gallagher. Which makes them, in actual fact, The Coolest Men On Earth. And they can talk about that even less than they can talk about everything else because that is the most embarrassing thing in the world.
"Govinda pie an' chips an'… Govinda pie an' chips an'… Govinda pie an' chips an'… maaaybe a bhaaaji!"
Tom is singing a tune he made up earlier. He does this a lot, and the above is his homage to Kula Shaker. ​"Kind of sums them up, I think."
The day after Sweden, we are ​"on-set", deep inside the cavernous stone-walled arches of the Camden Stables in north London. Plans for the video for staggering sirenised hip-hop ​"get the party going" single Block Rockin' Beats (the vocal lifted from Schooly D's Gucci Again) have, naturally, gone askew.
The £500,000 camera's acting wonky. Worse, there's been a tube derailment and hordes of Saturday Social regulars, shipped in for a simulated club-scene freak-out, are marooned in the wrong sort of underground. Plan B: dart round the streets and record shops and student halls of Camden and press-gang the real Kids On The Street to an impromptu appearance.
Tom and Ed are standing at a just-constructed mint-blue bar area, waiting to be filmed. They have been approached for obligatory autograph duties once in five hours. We find them midway through their ​"three-second cameo – three more than the last one! We can do this, though, ​'cause that's all we ever do, stand at the bar with our girlfriends and gossip."
Naturally, they are camera-phobic, Ed requiring a confidence-bolstering bottle of beer even to manage this much. Their biggest on-screen performance to date lasted a daunting three hours: their own show on the Swedish TV presenting their favourite videos.
"We were all right until the camera was on and then it was, ​'er, right, so here's another video…" Highlights included: ​"Paul Simon's You Can Call Me Al ('for the bit where he plays the bongos on Chevy Chase's head'), Ace of Bass' It's A Beautiful Life ('terrible stuff, but a good friend of ours was in it'), The Stone Roses' Love Spreads ('total outlaws, fantastic spirit'), The Stones' Waiting On A Friend ('really funny'), New Order's Confusion ('that was the proper one'), and Lionel Ritchie's Hello ('that was the worst one')."
"A real VH1 selection," chortles Tom. ​"We love all the funny things about pop music. We're just a couple of pop kids, really."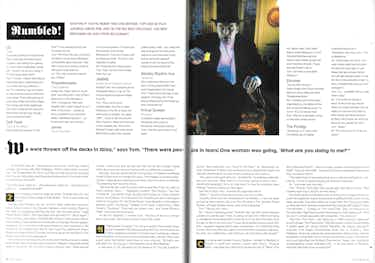 At Manchester University, Tom, Ed and another friend were known as The Three Blind Mice because they didn't do what students do ("drink snakebite and black in the union bar") preferring, instead, the combination of Chaucer's tomes and Eastern Bloc records. They made a pact once, that neither could shave or have a haircut. ​"Ed had a very admirable ​'fro. Like the guy in Jimi Hendrix's band, Noel Redding."
A year later, in ​'92, dismayed by the absence of ​"hip-hop headfuck techno" they made their own, Song To The Siren, as ​"discovered" by Andy Weatherall. Thrilled, they borrowed Huw's clapped-out Saab and followed Weatherall all over the country waiting for him to play it.
"We used to wind each other up," chuckles Ed, ​"something would happen and we'd say: ​'Well, that's it, he's never going to play it now… ohmiGodhe'splayingit!' He's my total hero. I'm sure he must have been thinking: ​'Those two idiots are here again.'"
Had they a vision, then, of where this might lead them?
"Never," says Ed and ponders the issue for four months. ​"Actually, there was one conversation!" he decides, ​"it was the week we had all these phone calls from The Charlatans, The Sandals, Primal Scream, all these remixes and we were in the pub going…"
Tom: "'Bloody hell, mate…'"
Ed: "'What's happening here?' Probably the only time we've stepped outside of it and thought: ​'Yeah, it's going all right, this.' We're not trying to change the world particularly; what we do is not that important. Even though we take it very seriously. It's just about people having a good time and… weeeell, I suppose that's quite revolutionary – it's a good life force to have, that every Saturday night you're involved in someone's night out. So, yeah. It's a celebration. And I think you can hear that on the records."
On a stone wall outside Orinoco Studios – located in Elephant & Castle in south-east London, named after Enya's Orinoco Flow, eulogised as a result of its production link to What's The Story (Morning Glory)? – there's a hasty, amateur scrawl of graffiti which reads ​"Dig your own hole". Tom and Ed were so impressed they named their new album after it.
"The sheer force of someone going up to a wall and writing that," marvels Ed, ​"for us it's about freedom, be what you wanna be." Or: ​"You made your own bed…"
Tom: ​"Exactly. That might help people with their album review: ​'They certainly have dug it. And it's six feet deep!'"
The studio space the Brothers rent at Orinoco is a meagre 10-by-10 room, the equipment therein is insured for a piffling £50,000, and it is more state, generally, than state-of-the-art. It suits them fine. There are posters on the walls and a chummy missive from Boy George which begins: ​"Dear Cunt Brothers…" Outside, in ​"The Youth Club" area, Jon Kahuna is on the pool table. Right here is where they bring us music pulsing with ​"stuff you don't normally associate with computers – like emotions".
Dig Your Own Hole, the follow-up to 1995's (mostly) celebrated sound odyssey Exit Planet Dust (200,000 copies in Britain alone), boasts a quality guest list: Grand Wizard Theodore, the original old-school scratcher ("he taught Grandmaster Flash how to scratch"), Noel Gallagher, American indie-brass experimentalists Mercury Rev and the exquisitely voiced Beth Orton. Orton recorded her vocal in the shower room and describes the Brothers Chemical as ​"sweet, shy, wonderful, knowledgeable, surreal. Definitely odd – in the best sense of the word. And they play their drums fucking loud."
Where Exit Planet Dust launched the heroic good ship soundclash against a sea of featureless techno noodles, Dig Your Own Hole is a mighty armada manned by the, ahem, pirates of dance somewhere off the coast of America.
The frenetic bonbast of Elektro Bank spins round a holler of ​"who is this doing this synthetic outdated alpha-beta funkin?", introduced on Dig Your Own Hole by Kool Herc and sampled from a bootleg American freestyle record. Similarly, It Doesn't Matter features the robo-chant of – strangely enough – ​"it duzznt matter", lifted from a track by Luther and the Hand People that the Brothers found in a second-hand store in Florida ("quite nihilistic that one," offers Tom).
Throw in the psychedelic hip-hop of Piku, the heads-off, four-on-the-floor Quincy Jones-sampling techno of Get Up On It Like This (from the Loops Of Fury EP), and the dream dub melancholy of Beth Orton's Where Do I Begin?, and Dig Your Own Hole becomes The Chemical Brothers' roundest trip yet to the world of crossbreed possibilities. That, and a benchmark great dance album.
This is everything Tom and Ed have ever done fused with many things they have always loved, a ​"this-is-us" exhibition of ​'70s, ​'80s and ​'90s dance distilled in a bullet-shaped bottle. A collusion of psychedelic hip-hop trance-melt-space-bombed electro ‑techno rock'n'roll with extra superfly funk. And a bit of guitar. And a sitar. And the siren which signifies the end of the world. An LP by a band at its creative pinnacle rather than a groove by the graphic equaliser.
"We freed our minds," drolls Tom, ​"and our arses followed." Or, as Ed has it, ​"It's the widescreen version of what we do. We've gone Technicolour." For the record, they haven't discovered ketamine – the hypnotoned Lost In The K‑Hole is a reference to the American fellow they read about building Bedouin tents out of duvets and blankets in top hotels and cocooning himself in there on ketamine. ​"We'd never take elephant tranquilisers," they say.
Nor have they ​"gone" Kula Shaker – despite the sitar-bestrewn luxury of the album's closing ten-minute escapade The Private Psychedelic Reel. ​"It's our attempt at the big psychedelic freak-out," beams Ed. ​"we love ​'60s psychedelia. We've just never had the confidence before."

And you have now?
"Yeah, I think we do. So, y'know, we're excited about the whole thing."
"We're always excited about everything we do!" hollers Tom.
A pause.
"Sort of."
They were all round Huw's when the call came in, about 40 of them. They were drunk, jostling around the radio, knee-deep in Marks & Spencer's mushroom vol-au-vents, with Noel shouting down the line to be heard above the din: ​"Anyway!" he was bawling, ​"congratulations!" But Tom and Ed would not be hasty ​'cause, like, you never know. They'd take proof of triumph from one source only.
Mark Goodier: ​"And at this week's number two… Deep Bl…"
Yesssss!!
"To this day," says Tom, ​"I can't hear the opening chords of Deep Blue Something's Breakfast At Tiffany's without feeling that rush of excitement. That meant…"
Ed (bizarre Stockholm flashback scenario): ​"Shadweeeuull!!"
"…Setting Sun was straight in the UK charts at Number One."
"And then straight back out again," notes Ed, ​"which I really liked. It reminded me of one of those heavy metal records when you were younger… like Iron Maiden."
Terrorised the pop tots too, probably.
Tom: ​"The parents, more like. We don't mean to terrorise people."

Yes you do.
"We like music that makes you listen to it," he concurs, ​"whether you like it or not, rather than some seamless techno noodle. We are, it has to be said, not masters of the subtle art."
There must, surely, lurk within you some demonic rawk beast dribbling: ​"nyeheheh, this one'll really do their heads in."
"Oh, there's a bit of that as well. It's not a facade, though," muses Tom. ​"Keith from The Prodigy is very mild-mannered as well. When you see him in his dressing-gown eating his cornflakes after his gig you don't think: ​'He's the firestarter.' You think: ​'He's the cornflake-eater.'"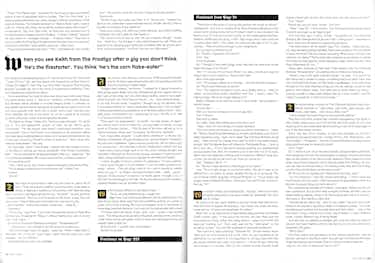 From horror, more than joy, come many of life's pivotal moments, and for Ed there were several which sent him springing evermore from the confines of dread reality.
"Straight after college," he frowns, ​"I worked for a lawyer involved in child-abuse cases. Really hard, the unfiltered things that happen that you don't get on the news, real raw child abuse, terrible, used to have nightmares and stuff. So I think that put me off… um… ever doing anything to do with the real world, I suppose."

Brought up by his barrister mum and an absent father, he ​"wasn't particularly happy when I was younger", a feeling exacerbated by attendance at an all-boys public school. ​"Grim, really harsh. I've blocked it out. I used to get hit a lot." He left, at 17, with 11 O‑levels and three A‑Levels.
"That wasn't an achievement," he scoffs. ​"It costs money, an expensive school, that's what it's there for, you pay loads of money, you get loads of O‑levels. Dunno…" This Ed says to the floor, reliving as he is painful memories. Music was ​"the solace, the life force, definitely".
Tom, meanwhile, enjoyed ​"a quite idyllic childhood" in Henley-on-Thames, Oxfordshire. He was brought up by ​"groovy parents" involved in film, but was nonetheless ​"quite a serious young man, still am quite a serious young man". He attended a liberal independent school and has ​"never done a proper day's work in my life, which I always thought was inevitable". Although he did narrowly escape, courtesy of incoming remix offers, being employed as a sound engineer for the National Theatre.
"I never quite thought it would happen: it was for other people to do, totally. I dunno… The only thing I want to do – and it sounds so rubbish when you say it – is (feigns unconsciousness) make… really… good… records. All the money I've earned I've hardly spent. I bought a car. A VW Golf. And Ed bought a VW Polo. So we can drive around in formation, hahaha! Sensible cars for sensible chaps."
"We find it pretty difficult to talk about drugs…"
This is, as understatements go, a large one. Right now, Tom's face is smothered in his hair, head buried in the dials of his mixing desk, hand furiously scribbling nothing on a scrap of paper. Ed is chainsmoking Silk Cuts and appears to be in the throes of some deep intestinal implosion. You could cut the atmosphere with a shed.
"I'd never advocate taking drugs, never, ever," comes a hair-muffled voice. ​"This thing about drugs being this great, amazing aid to creativity, I think those are the rare cases. Most of those who use drugs end up sad people, totally fucked up."
Ed (puff puff): ​"I wouldn't say most people."
Several hours pass.
"There are whole areas of young kids getting into drugs at school," manages Ed, ​"and that's a terrible thing. But a thousand people at a club where we're playing doing half an E doesn't seem to be a problem. So there's a lot of missing the point going on with these generalisations. People's childhoods are going. I didn't take drugs when I was a kid and I'm pretty glad I didn't. That makes me really sad, the idea of 13‑, 14-year-old kids… There should be enough in your imagination."

Do you have a preferred drug?

Ed: ​"Alcohol. Cigarettes and alcohol."
Tom: ​"Tea."
A month passes.
Ed: ​"I thought it was really dodgy when they said we were amyl nitrate freaks because of The Social."

Tom: ​"It was just the punters! Wasn't our idea, people just used to bring it down and it caught on. Those crazy kids!"
Next winter approaches.
Tom: ​"It's strange: neither of us smokes… (mouths silently) marijuana."
Ed: ​"We're quite laidback as we are."
Tom: ​"Our engineer smokes so much we probably would have a… what's it called, second-hand smoke inhalation from him. I dunno, when I'm making music I like to be (snaps fingers) on it."
Bobby Gillespie once said he couldn't have made Screamadelica without drugs.
Tom and Ed: ".….….…."
Well, you two are obviously on inner drugs, then.
Tom: ​"Hmmm."
Men land on Mars.
You really, really hate talking about this don't you?
"Yeah," says Tom and clangs on a stray keyboard. ​"Our own personal choices on drugs are private, between us," states Ed. ​"Bands characterise themselves by cocaine and Ecstasy and I think it takes something away. Yeah, we're called The Chemical Brothers (small grin)… When we had to change it we used to think it was pretty stupid, actually, like The Beastie Boys will always be The Beastie Boys… I kind of like it now. But… it's not like we're denying anything, but (exasperated) young people have died, it's knocked a lot of the wind out of its sails, taken away the celebratory feeling and it's become a different thing. But, y'know, you should just be free to do what you wanna do."
Tom: ​"Freedom ​'96. Er, ​'7."
Ed: ​"We don't want anyone to take drugs on our behalf, either. We don't want to be defined by it, for better or worse, people coming up to us saying: ​'Oh, you're those totally drug-free Chemical Brothers', or: ​'You're those real druggy nutter Chemical Brothers.' We're just Tom and Ed. So. Just do it. Just say ​'Yo.'"

"We wouldn't really call ourselves DJs," says Ed. ​"We're not worthy of being mentioned in the same breath as Weatherall. We can't mix for toffee."
Ed puff on his tab, grins ruefully at his own words read back to him from THE FACE in August ​'94 and says: ​"Our mate, who wrote the story, made that up. I'd never use the phrase ​'for toffee.'"
Back then, in the backrooms of Manchester pubs and their own Naked Under Leather night, ​"it was about the records, the vibe, they were the most important thing, rather than being smooth, ​'cause a lot of the DJs were just trancing out". They were seen as the ​"alternative" to the po-faced ​"proper" DJs and their emphasis on technical proficiency.
"We found that really upsetting," blanches Ed, ​"all that rhetoric about ​'them and us' and changing the world. Yeah, we saw ourselves as an alternative, but we weren't in any opposition to the big clubs with their big sound systems and really loud techno – I loved all that. What we were doing on a Sunday night [at the original Sunday Social] could always coexist with all that. We would never say that, would we Tom?"
Tom: ​"Never."
Would you say you were ​"proper" DJs now?

"Yeah," says Ed, ​"I think we are. Two thousand people going wild at Cream is as proper as we need to get."
Two summers ago, in Ibiza, Cream – equipped with The Chemical Brothers, Boy George and the sound of the ​"underground" – were sent to ​"save" Ibiza from its decline in status and popularity.
"We were thrown off the decks!" says Tom, cheerily. ​"Upset the owners, they wanted pumping Morales! There were people on the dancefloor in tears! Ha ha ha! This one woman was going: ​'What are you doing to me, what are you doing?' We've never seen someone so physically moved by the music we were playing. Quite impressive, really. Ibiza's just shit. They threw Weatherall off, too…"
These days, because of their look, Tricky always calls The Chemical Brothers ​"the scientists". Ed understands but thinks it's misleading. ​"Music's one of the least scientific things," he says. ​"It's one of the few things that's closest to magic, something that's not really there, that can't be empirically shown. It's like being a goalkeeper. If you take away the ball it's the most ridiculous thing you can do, pelting yourself on the ground. And without music, look what you're doing when you dance – putting yourself in these weird shapes that you never would in real life. I think it's wonderful. In that way it's magic."
The extraordinary triumph of The Chemical Brothers they themselves attribute to ​"right place, right time, right people, right music, right ideas… What do you think, Tom?"
"I think the exact same thing you just said with bells on."
They howl with mirth. Another day, another interrogation in the Tardis of their studio engine-room, and Tom and Ed, this time, really do not have anything left to say whatsoever about anything in any of the languages of any of the discovered universe.
Soon, they are off to America, to tour and capitalise on the MTV-sponsored success of their own Loops Of Fury and Setting Sun, and The Prodigy's Firestarter. Are The Chemical Brothers bringing something good and new to America's youth?

Tom: ​"Yeah."
Ed: ​"I think we are. Of all the dance bands. Doing something different. And interesting. We're in this weird position of being in America and being seen as the leaders of the dance music explosion that's happening there when most of the inspiration we've had has come from America, as anyone can hear on the new album. It's ridiculous that they see The Prodigy and the Chemical Brothers as the dance music."
Ah. But you're not denying your importance any more, right?
"It's not important," says Ed, ruining everything. ​"I would never put much import into our music. I think the sound we popularised, which is a big one, is a good thing, but that's about it." The cumbersome shackles of modesty, once again, clamp shut around their conscience. So you blow their trumpets for them, tell them they are epoch-defining artistes, titans of all that is good and vital and visionary. And mean it. And feel like a right berk.
"Sometimes you get a real… glow in your chest," says Ed, and somewhere in his psyche a leg-clamp rattles in indignant protest. ​"You hear something you've done and you step back and think: ​'Jesus…' Like on the first album, it was a sound you'd never heard before, a totally different noise, a totally different way of doing things."
And with that, he radiates an almighty grin, puts the rolled up piece of artwork he's been fiddling with for the last hour to his lips and blows, twice fold, with gusto.
"Pthrt! Pthrt!"
And that, ladies and gentlemen of the jubilant generation, was Ed Simons, one half of the block rockin' duo we call The Chemical Brothers, finally blowing his own trumpet. Even if it did sound like a kazoo.

More like this