Velvet Negroni: the music's all that matters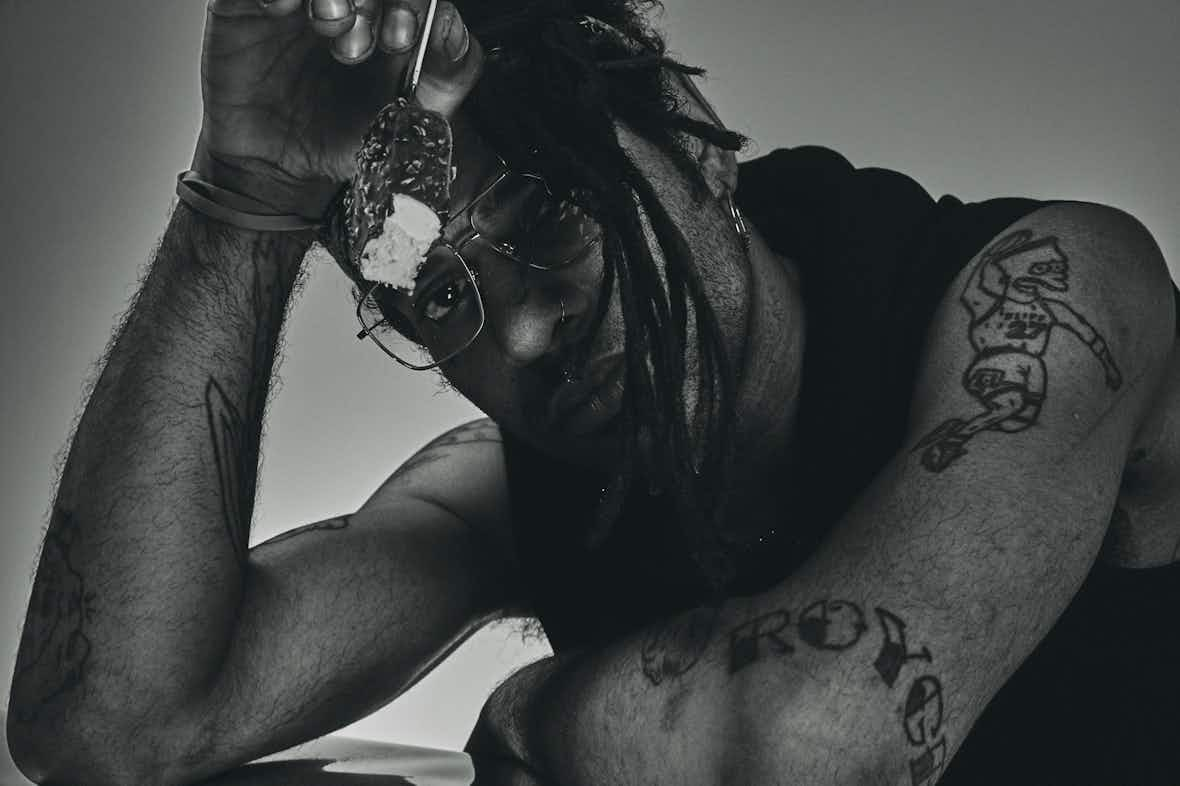 Having shrugged off cosigns from the likes of Justin Vernon and GOOD Music and signed to 4AD, the Minneapolis artist is creating something he truly believes in.
Jeremy Nutzman has spent most of his life finding a creative persona that fits. Now that he's got one, figuring out the complicated route to artistic gratification is his sole focus.
I meet with the artist now known as Velvet Negroni in a bougie east London eaterie. You could describe him as an honest interviewee."I won't read this," he'll admit, shortly before our conversation ends. ​"Whether I'm being praised or torn to shreds, either way I'm gonna try my best not to acknowledge its existence. It isn't necessary to move forward."
Considering how long he's been toiling at his craft, it's no surprise that he doesn't think criticism should get in the way of the music he's making. An outsider's approval means nothing to him. Free from the burden of expectation, he's creating boundless R&B that flirts with obscurity while still offering lyrical intimacy.
"I feel like I'm beginning to reach more of a balance between the bullshit [and] what I believe to be good poetry," he tells me, struggling to make prolonged eye contact. I sense this is more out of awkwardness than an attempt to be aloof. He's tentative, bookending his sentences with thoughtful pauses. ​"It's a better reflection of me without being sarcastic or tongue-in-cheek… more bare."
Nutzman's had three different aliases during his time on the Minneapolis DIY scene, but has never released music under his birth name. Those monikers – first Spyder Baybie Raw Dog, then Pony Bwoy and now Velvet Negroni, he says, are all ​"shields".
Born in Minneapolis and adopted by a family of Evangelical Christians as an infant, Jeremy's life path was altered right from the start. His innate creative streak manifested inside the rigid confines of classical piano training and competitive figure skating – a strait-laced path to a pious existence his parents set him on. It was only when he was 18, when he dropped out of his art degree at a nearby church college ("I wasn't into the idea of a suit telling me how to draw"), that his future started to make sense. The dank smell of rebellious metal, rock and rap was emanating through Minneapolis and into his bedroom window. He left, ​"and from there I just kept on hopping couches and playing metal."
Those conflicting influences have led Jeremy to mess with R&B and rap's commercial properties: his songs float on traditional synths and basslines, but are interpolated with groans and creaks. In a sea of sameness he's a truly original talent; although at this point he's an old hat at originality, having made art outside of the ​'industry' (still an alien concept to him) for the best part of a decade.
Now signed to 4AD, that unpredictable DIY approach is built into the fabric of his impending debut LP Neon Brown: the product of six months of endless exchanges with producers PSYMUN (who co-produced Future and Juice WRLD's track Fine China) and Elliott Kozel, two fellow Minneapolis natives. It's a fast turnaround for a full length record but doesn't sound like it. The lead single Confetti came in a moment of complete creative clarity, he says. The song is harnessed by a metronome-tight rhythm while Velvet runs riot over it with his esoteric lyrics: ​"I won't glide over love /​Levitate before the freefall /​Set sail everyday". Meanwhile, the pangs of love that imbue FEEL LET are built on borrowed melodies from Adina Howard's Freak Like Me, which are layered over a bluesy bass and erratic steel drums. If it sounds complex and unpredictable, that's because it is. It's also excellent.
Nutzman found the sketch that graces Neon Brown​'s cover, of an amorphous nude figure eating its own hands, years ago in a trash can. A friend had disposed of it but he saw its beauty. As for its title? ​"It's right and wrong. It doesn't make sense, but it could," Jeremy explains, aware now of how elusive that sounds. ​"It cancels itself out. It's nothing and everything." I ask him to elaborate on the descriptor he gives the record in his press release, where he refers to Neon Brown as ​'the prelude to the second act of a life lived on borrowed time'. He pauses for a second as if mustering up a worthy answer, before shaking his head. ​"No," he retorts. ​"That's there."
Considering its strange flitting between cacophonous and harmonious, it's no surprise that fellow left-field creator Justin Vernon counts himself as a fan of Velvet Negroni's work, inviting him on a Bon Iver track last year. Meanwhile. Kanye and Kid Cudi – exposed to the track through Vernon in a studio session – sampled his track Waves on the opening track of the Kids See Ghosts record. Later this year, he'll head on tour with Tame Impala. They're impressive co-signs, but you can tell he's been asked about them countless times before. ​"It means a lot to me in the moment, but it can be more of an annoyance than anything after that. It helps for people in this day and age to see name drops."
Those coastal industry bubbles in NYC and LA mean little to a man who's so tied to his home city. Minneapolis might harbour both bad memories and good, but it's a key reason why the Velvet Negroni sound isn't clouded by bullshit. After London, he's heading to Paris for a couple of days – for press, he shrugs – but he's hoping to find the time to catch up with an old friend of his there, Macaulay Culkin, before heading home to Minneapolis. He talks about it in the way most outsiders do of their hometowns.
Is he happy there? ​"I'm satisfied," he says, politely correcting me one last time. Happiness is far more sentient than Velvet Negroni would like it to be, but you get the impression he has something more important on his mind right now. That's the music.

More like this