Are the Wu-Tang Clan relat­ed to a Native Amer­i­can tribe?

10

myths busted
As soon as they grouped togeth­er in the ear­ly ​'90s, the Wu-Tang Clan began to write their own mythol­o­gy. Hun­dreds of hip-hop acts surged on both the West and East coasts of Amer­i­ca dur­ing this era, but the Wu-Tang Clan stood out with their art­ful­ly hard­core sound and ref­er­ences to kung-fu phi­los­o­phy, Mafioso cul­ture and the reli­gious teach­ings of the Five Per­cent Nation.
Com­prised of nine intense­ly charis­mat­ic MCs with clash­ing egos, over the last 25 years the group have also earned noto­ri­ety for their reg­u­lar inter­nal beefs and run-ins with the law (ahead of this inter­view, their pub­li­cists request that I don't bring up Once Upon a Time in Shaolin – the ​"one of a kind" album which end­ed up in the pos­ses­sion of the incar­cer­at­ed phar­ma bro Mar­tin Shkre­li – and I respect it).
To dis­cuss some of the stranger-than-fic­tion sto­ries which have cir­cu­lat­ed over the years, I meet with approx­i­mate­ly half the Clan at the opu­lent Kimp­ton Fitzroy hotel in Cen­tral Lon­don. They're in good spir­its. RZA and Young Dirty Bas­tard – who tours with the group to per­form his late father's vers­es – freestyle right up in my face, throw­ing ran­dom ques­tions at me and rhyming off the back of my answers. That evening, Wu-Tang head­line a sold-out show at Wem­b­ley Are­na as part of the Gods of Rap tour with fel­low rap vets Pub­lic Ene­my, De La Soul and DJ Pre­miere. Despite Method Man's absence, the Wu put on an excel­lent show; the group's sound rugged but ener­gised as they run through an arse­nal of grit­ty rap clas­sic along­side a few deep solo cuts. It feels appro­pri­ate when RZA when sprays bot­tles of cham­pagne over the front rows.
I have the hon­our of join­ing RZA, Ghost­face Kil­lah, Capadon­na, Inspec­tah Deck and Young Dirty at a round table as they dine on gnoc­chi, ten­der­stem broc­coli and parme­san fries. They chuck­le, smile weari­ly and shake their heads in dis­be­lief as they revis­it mem­o­ries from their wilder years, and Young Dirty Bas­tard lis­tens in like a keen stu­dent. So here are 10 myths about the Wu-Tang Clan – clar­i­fied by the group themselves.

MYTH #1: BJÖRK FLEW TO NEW YORK TO MAKE SONGS WITH RZA IN THE ​'90S.

RZA: Yeah, me and Björk record­ed about five songs togeth­er. We record­ed them on ADATs, I got the tapes some­where. Me mak­ing the beats and her doin' some singing.
The Face: Will they ever see the light of day?
RZA: I don't even have an ADAT machine no more!
MYTH #2: MEM­BERS OF THE WU-TANG CLAN ARE RELAT­ED TO A NATIVE AMER­I­CAN TRIBE IN NEW YORK.

RZA: [On Reunit­ed] ODB says ​"the Indi­an who sold Man­hat­tan to the white man – my grand­fa­ther!" It's true. His grand­fa­ther was Chief Cuf­fey of the Shin­necock [Indi­an Nation].
MYTH #3: INSPEC­TAH DECK ORIG­I­NAL­LY HAD A VERSE ON TUPAC'S TRACK GOT MY MIND MADE UP.
Inspec­tah Deck: Method Man was doing a video out [in LA] for a song [with Dru Hill] called This is How We do it. Some shit hap­pened out there with Nate Dogg, BG Knocc Out… all types of wild shit.
RZA: [Laughs]
We go to Daz' house. Me, Lady of Rage, Red­man, Daz, Kur­rupt – their whole squad, some Dogg Pound shit – was on the record. Suge Knight bailed Tupac out [of prison] and Tupac went to Death Row, took all that shit from Daz for his album. Tupac didn't want every­one on the record, so a lot of peo­ple came off – me being one of them. But they for­got to take my adlibs off.
RZA: [Laughs]
Inspec­tach Deck: My adlibs are rock­ing on the record by them­selves. But they could have just left the verse on! It just had me laugh­ing. But some­body must have found the real song and put it out there. You can go on the inter­net and find the song with my verse on it.
Capadon­na: Same thing with [Noto­ri­ous BIG track] A Long Kiss Good­night. I jumped on that song with Big­gie and shit. It was me and Big­gie at first. The ver­sion is out there.
RZA: The ver­sion is out there?! Wow. Motherfuckers.
Capadon­na: Yeah, some kid in Indi­anapo­lis. These young dudes have copies.
MYTH #4: OL' DIRTY BAS­TARD ONCE SAVED A YOUNG GIRL FROM A BURN­ING CAR.
Elder mem­ber of the group's entourage: I was there. Me and Mur­doc was walk­ing down 14th Street [Brook­lyn] and Dirty and [rapper/ODB's cousin] 12 O'Clock came out the fish mar­ket. And there's some traf­fic, some noise, some­body got hit – like ​'oh my god the girl's under the car!'. And peo­ple just stand around, nobody's help­ing the girl. Then Ol' Dirty's like ​'nah pick the car up' and he start­ed lift­ing the car, then sev­en peo­ple are help­ing him.
And then he went to the hos­pi­tal and did not tell the fam­i­ly who he was, and then her uncle came in about a week lat­er – [ODB] had been sit­ting with her every day – and her uncle was like ​'that's Ol' Dirty Bas­tard!' and made a big scene in the hos­pi­tal. The fam­i­ly nev­er knew, he'd just told them he was a reg­u­lar guy, a good Samar­i­tan. [This was] ​'97. That was when Dirty was in the news every time I turned around.
MYTH #5: GHOST­FACE KIL­LAH AND RAEK­WON WERE INTRO­DUCED TO NAS' MUSIC BY TWO BRITISH GIRLS.
Ghost­face: True. They was French. Remem­ber them girls? They had a lit­tle van and shit. They put us on to Nas' joint.
RZA: What song was it?
Ghost­face: There was five of them – they had One Love…
RZA: Oh, they had the [Ill­mat­ic] demo early?
Ghost­face: Yeah, they had the joints, like five songs… This must have been ​'93.
The Face: Where do you think those girls are now?
Inspec­tah Deck: They're some­where eat­ing those Chu­pa Chups lol­lipops. Remem­ber the Chu­pa Chups lol­lipops? They always used to have those things. They used to have bags of those shits.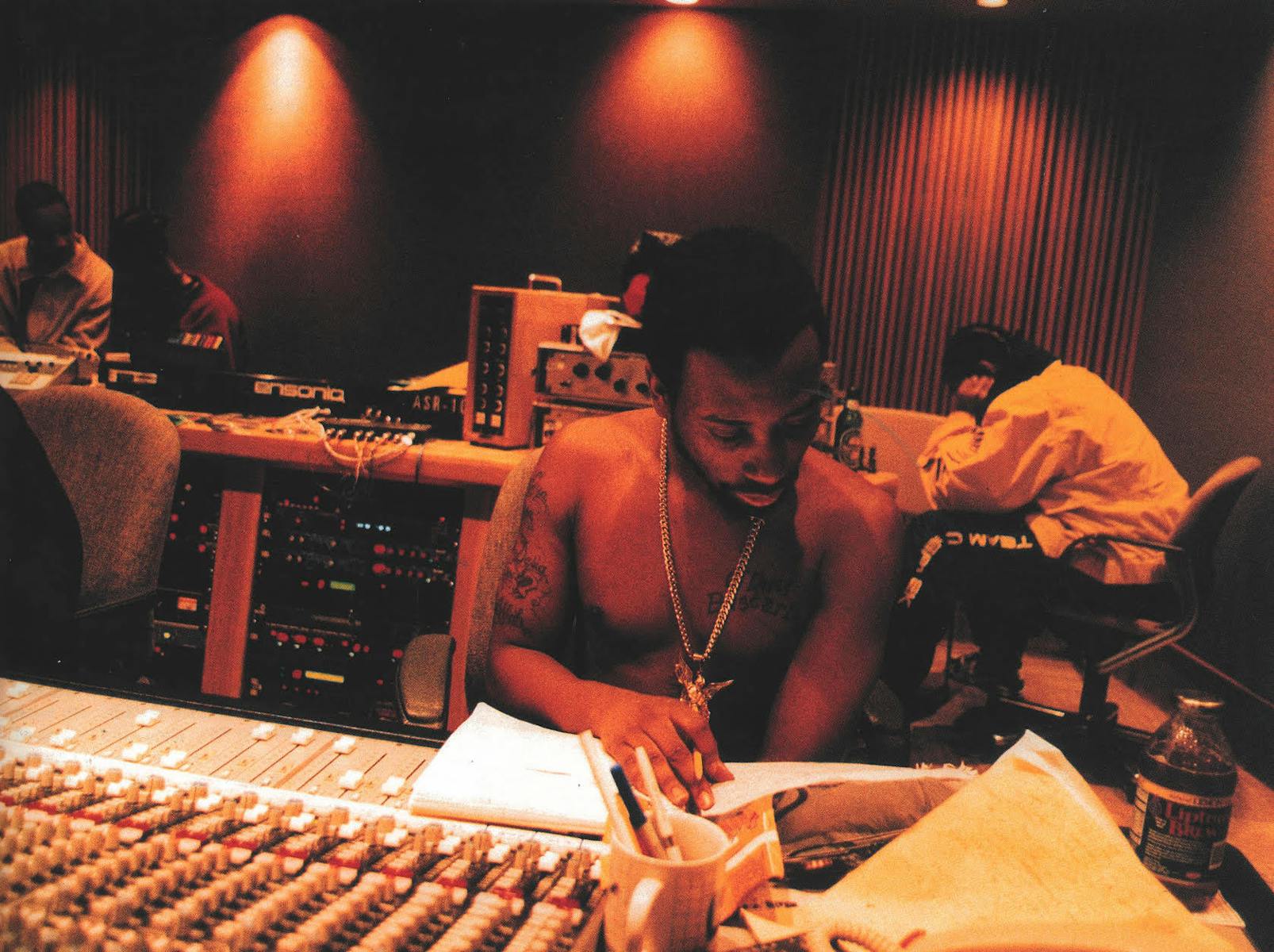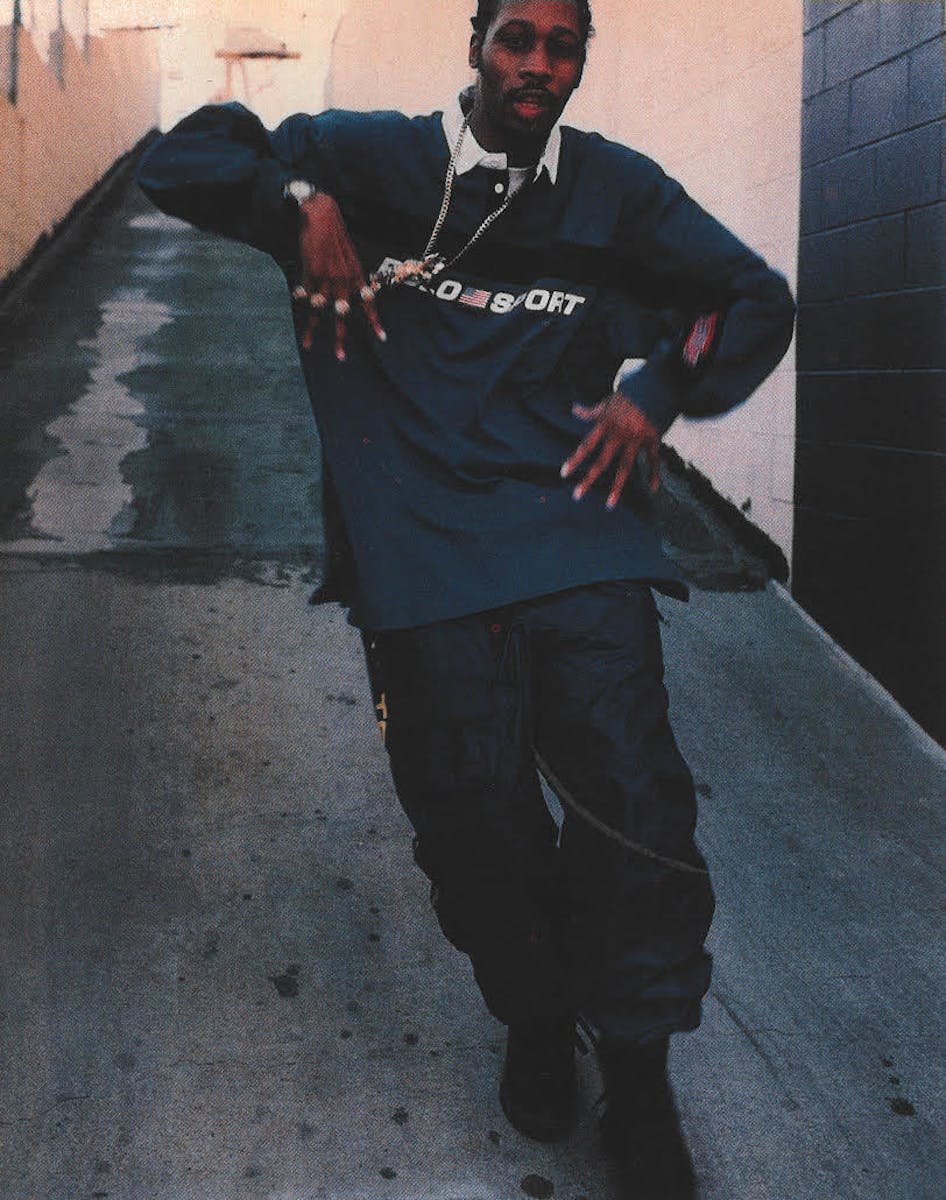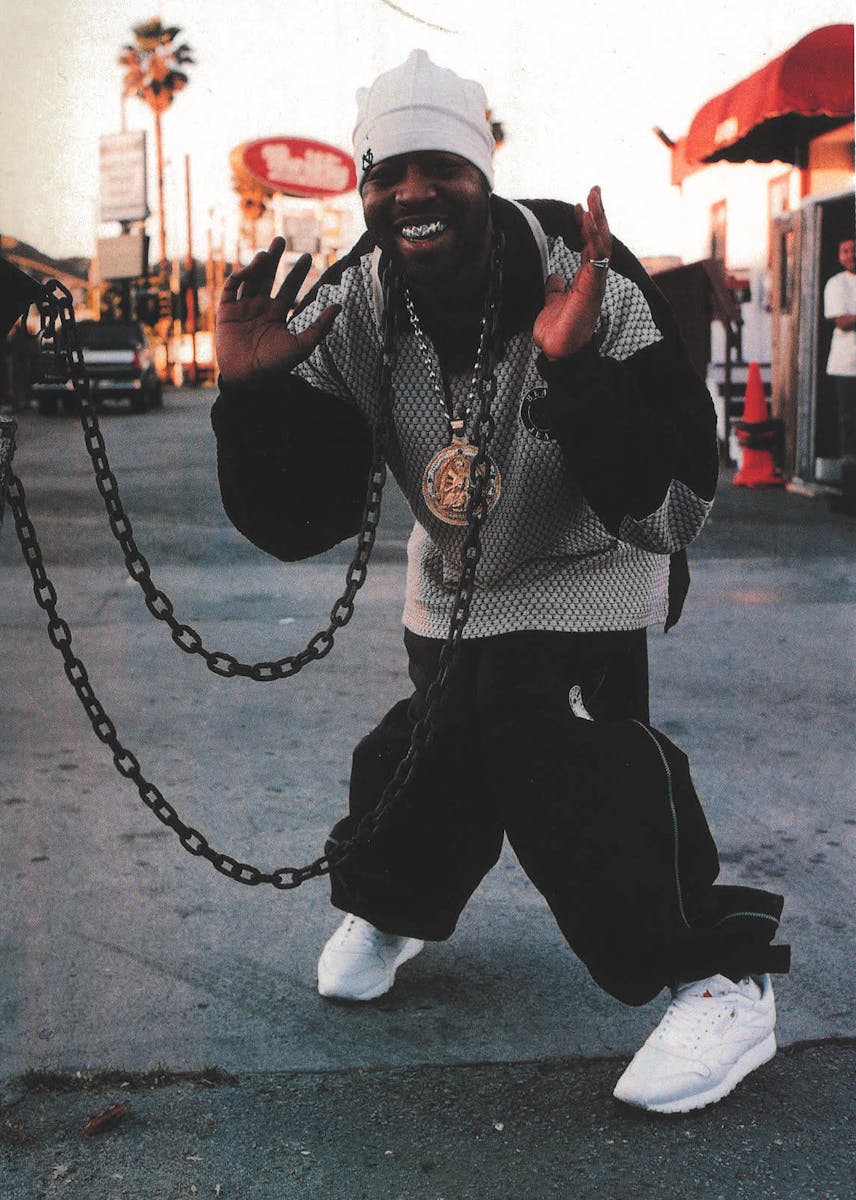 MYTH #6: OL' DIRTY BAS­TARD BROKE OUT OF JAIL TO PER­FORM WITH WU-TANG CLAN IN NEW YORK.
RZA: Yeah, he showed up.
Capadon­na: We did a show in Rik­ers Island for Ol' Dirty.
RZA: Oh yeah, that's dif­fer­ent. We all went to the jail, and per­formed for Dirty in the jail.
Capadon­na: That was real. And we had 40s in there!
RZA: We had 40oz, Dirty's eat­ing mad burg­ers in there too, fuck all that veg­e­tar­i­an shit!
The Face: When was this?
RZA: I don't know, ​'99? Maybe ​'99 or 2000, when they first locked him up and shit.
The Face: So where exact­ly did you per­form in Rik­ers Island?
Capadon­na: In the yard, I think it was C-76.
RZA: It was bugged out.
Capadon­na: The inmates was in the yard with us. They wasn't locked up, they was stand­ing right there!
[Every­one laughs]
RZA: But as far as ODB break­ing out of jail [to play a show] – in Amer­i­ca, they've got jails where like, you're in jail but they want to put you in for like eval­u­a­tion, or a drug eval­u­a­tion. But you can't leave there. You're locked up there, but it ain't like there's bars. You can sneak out of there.
Capadon­na: Like I was on a work release up in Lin­coln House [Cor­rec­tion­al Facil­i­ty] in Man­hat­tan on 110th street. We had to come back every day work day, then we had the week­ends off.
RZA: Sort of like a halfway house.
Capadon­na: So I got fired from a job, if you get fired they're gonna lock you back up. So I was like ​'fuck that' and I skat­ed on ​'em for like a year and a half. When they let me out to go for that job, I just nev­er came back.
RZA: Yo, but they got you.
Capadon­na: Yeah they sent me straight to [max­i­mum secu­ri­ty prison] Sing Sing!
RZA: But Dirty did it, the same thing like that. He showed up to a Wu-Tang show in disguise.
[Every­one laughs]
RZA: He was dis­guised. He was like ​'yo, I got to go' and I was like ​'one more song!'
The Face: The leg­end goes that he signed an auto­graph for an under­cov­er police offi­cer in McDonald's after the show.
RZA: What hap­pened was after the show, he went to Philly. Because a lot of his Brook­lyn Zu crew dudes was in Philadel­phia. At a McDon­alds, he signed an auto­graph for some lady cops. And every­one was like ​'yo that's Ol' Dirty Bas­tard, he's a fugi­tive'. You know what I mean? Then he's back up in the box and shit. Lady cops call for backup.
Capadon­na: [Shakes head] Set him up…
RZA: They didn't set him up, it was just like ​'we got him, he's right here!'
Capadon­na: ​'Just sign this right before we take you!'
Ghost­face: They got that auto­graph though.
Inspec­tah Deck: ​'Can I get an auto­graph before we throw you in the slam?' Man.

MYTH #7: CAPADON­NA TAUGHT METHOD MAN HOW TO RAP.
Capadon­na: Method Man said that?
The Face: I remem­ber it from a YouTube interview.
Capadon­na: We basi­cal­ly just taught each oth­er. We just been ping-pon­gin' off each oth­er. [Meth] was def­i­nite­ly one of the most intrigu­ing MCs I'd come across at that time. Every day he car­ried his rap book in his back pock­et. And we went to high school togeth­er, we didn't have no music class but some­times the teacher used to let us have a room and do what­ev­er we want­ed to do all day.
RZA: Capadon­na was one of the first MCs to have pop­u­lar tapes, from Park Hill, that inspired oth­er nig­gas to have their [own] tapes.
Capadon­na: I wasn't ever record­ing them though [laughs] some­body else was.
The Face: Bootlegs?
Capadon­na: It wasn't no CDs, we had to press play and record on the box and do it like that.
Inspec­tah Deck: And make a tape, the tape would cir­cu­late through the hood. Some­body would dri­ve around with a boom­box, like ​'this that new Cap­pa shit!'
Capadon­na: There was no mon­ey, just doing it. I didn't even know this type of hype was hap­pen­ing. That's why I thank all my broth­ers for inspir­ing me and push­ing me like this. I didn't even want to do it at first.
MYTH #8: THE SNARE DRUM ON BRING DA RUCKUS IS ACTU­AL­LY A TIN OF PAINT.
RZA: That par­tic­u­lar snare… yeah, there's some sounds on that song which come from bang­ing on garbage cans, buck­ets, nah mean? And our engi­neer Car­los [Bess] took the drum set and put it in the ele­va­tor shaft. But [our engi­neers] were also try­ing to be our pro­duc­ers. In the ses­sions, they'd do all types of shit on our dime, then give it to me, then charge me for it. [This guy] record­ed all these drums, put them all on DAT and that bank of drums – three of them became my drums for a lot of the Wu stuff. Lat­er on he released it as a vinyl on a record label, and the guy came back and sued me for it. Uh-huh. I payed my 30 grand.

MYTH #9: A BIG BATCH OF WU-TANG MUSIC – INCLUD­ING INSPEC­TAH DECK'S FIRST ALBUM – WAS LOST IN A FLOOD.
RZA: What hap­pened back then was we had flop­py disks in those cas­es. So Inspec­tah Deck had like 12 to 15 disks in his sec­tion. Every­body [in the group] had their sec­tion, these were going to be the beats for their albums. Then I think I lost about 100 flop­py disks or more. If you're a pro­duc­er, you have records and shit on the floor. My stu­dio is in the base­ment. The plumb­ing is bad in that place. And when it rains, it floods, but you don't know that. Now life is get­ting good for us, everything's going right, we've got a deal, we're going to get rich, I'm ready. Come home from one of those fuckin' shows we did – a fuckin' flood. So then I start­ed putting my shit up high­er. Then we had anoth­er flood, right after we fin­ished [GZA's ​'95 debut album] Liq­uid Swords. After that I moved [the stu­dio] to the Wu Man­sion, where we record­ed Tri­umph at.
Inspec­tah Deck: I tried to save that bag of disks many times man. I brought that shit to the White­house, my peo­ple in DC, to use their clean room. This dust free room for sen­si­tive data and mate­r­i­al, white suits and gloves and shit. They tried to recov­er the data. It cost me ten grand. But if I could have got that batch of disks back? It would have been worth it. But the water dam­age was too severe. It had sat and mar­i­nat­ed. Some kind of corrosion.
RZA: That shit was sew­er water, it wasn't like it was healthy.
Inspec­tah Deck: All types of ele­ments in there that fuck the data up.
MYTH #10: THERE HAD TO BE NINE MEM­BERS OF THE WU-TANG CLAN BECAUSE THERE ARE FOUR CHAM­BERS IN THE HEART, AND 9 X 4 = 36.
RZA: That's right. But it wasn't a total moti­va­tion for adding Mas­ta Kil­la to the group, he earned that position.
The Face: It was a toss up between him and Kil­lah Priest right? That's what's wide­ly believed.
RZA: You know what? I don't know. It's hard to say that. Because RZA is GZA's first stu­dent. Kil­lah Priest is his sec­ond stu­dent. And Mas­ta Kil­la is his third stu­dent. You know what I mean? So they're my class­mates basi­cal­ly. But Kil­lah Priest is a dif­fer­ent type of dude than Mas­ta Kil­la, and so I don't think he was going to be a Wu-Tang Clan mem­ber. And Mas­ta Kil­la and GZA were so bond­ed. And Mas­ta Kil­la was so unique and hon­ourable. Da Mys­tery of Chess­box­in' became his offi­cial stamp.
---