Inside a drug consumption room
As the UK heads towards an opioid crisis, Scotland has announced it will be opening drug consumption rooms. Here's what happens inside a facility like that.

The UK is heading towards an opioid crisis. We've seen record drug overdose deaths in recent years, but it's predicted to get much worse, especially if you take opiods (like heroin) or street benzos (like Valium or Xanax). These drugs are increasingly missold in the UK, and have been found to contain really dangerous synthetic opioids like fentanyl or drugs from the nitrazine class. These substances can be a hundred times stronger than heroin and have led to a major rise in accidental overdoses.
Covering the UK's looming opioid crisis, THE FACE has spoken to experts who called for the nationwide roll-out of drug consumption rooms, also known as overdose prevention centres. These are clinical settings where users can take their drugs under medical supervision. In Scotland, which has the worst drug death rate in Europe, the government recently announced their intention to trial these facilities.
The UK government has blocked attempts to set up consumption rooms in Glasgow before, but this time it was different. Alister Jack, who is Secretary of State for Scotland which is a position in the UK government representing Scotland, said the UK government would not intervene to stop the initiative this time. He gave no reason for the change in policy. Then Dorothy Bain KC, Scotland's lord advocate, also said that they would not prosecute people using the consumption rooms for possession of drugs as that would ​"not be in the public interest". So it looks like it's happening, and people are already scouting potential locations.
When you take someone injecting heroin in a filthy alleyway and relocate them to a medical setting, a number of good things can happen. Drug consumption rooms have already been operating across Europe and in parts of North America for three decades, and research has found they reduce overdoses, reduce the transmission of HIV and connect high-risk drug users to addiction services. The drugs can be tested and sterile injection equipment is provided before being disposed of safely. No drug paraphernalia is discarded and nobody overdoses alone without help.

Sounds great, but what actually happens when someone enters a drug consumption room? Peter Krykant, Campaign Lead at drug harm reduction service Cranstoun, has visited consumption rooms in Denmark, Australia, Portugal and Spain.
"Most places are pretty similar," he told THE FACE. ​"People come in and if they'd never been before they would register with the service like registering with a GP. Depending on the types of drugs they are taking, they'd have access to a range of different injection equipment or be able to go into the inhalation rooms where safer smoking kits are provided." Safer smoking kits can include mouth pieces to prevent lip burns, alcohol wipes to clean hands and pipes, and lip balm to prevent cracking – items that can reduce the transmission of HIV and hepatitis C. Inhalation rooms also have heavy-duty vents that clean the air four times every minute, reducing the risks of secondhand smoke.
When someone comes to a consumption room for the first time, they must become acquainted with the rules. These can range from ​"no passing of money" and ​"only inject at your assigned table" to the more benign ​"don't leave your belongings unattended". In some consumption rooms visited by Krykant, users are given the life-saving opportunity to have their drugs tested before they consume them. Once the results are in, which only takes minutes with the right equipment, the service user can receive professional advice about dosing and the potential dangers.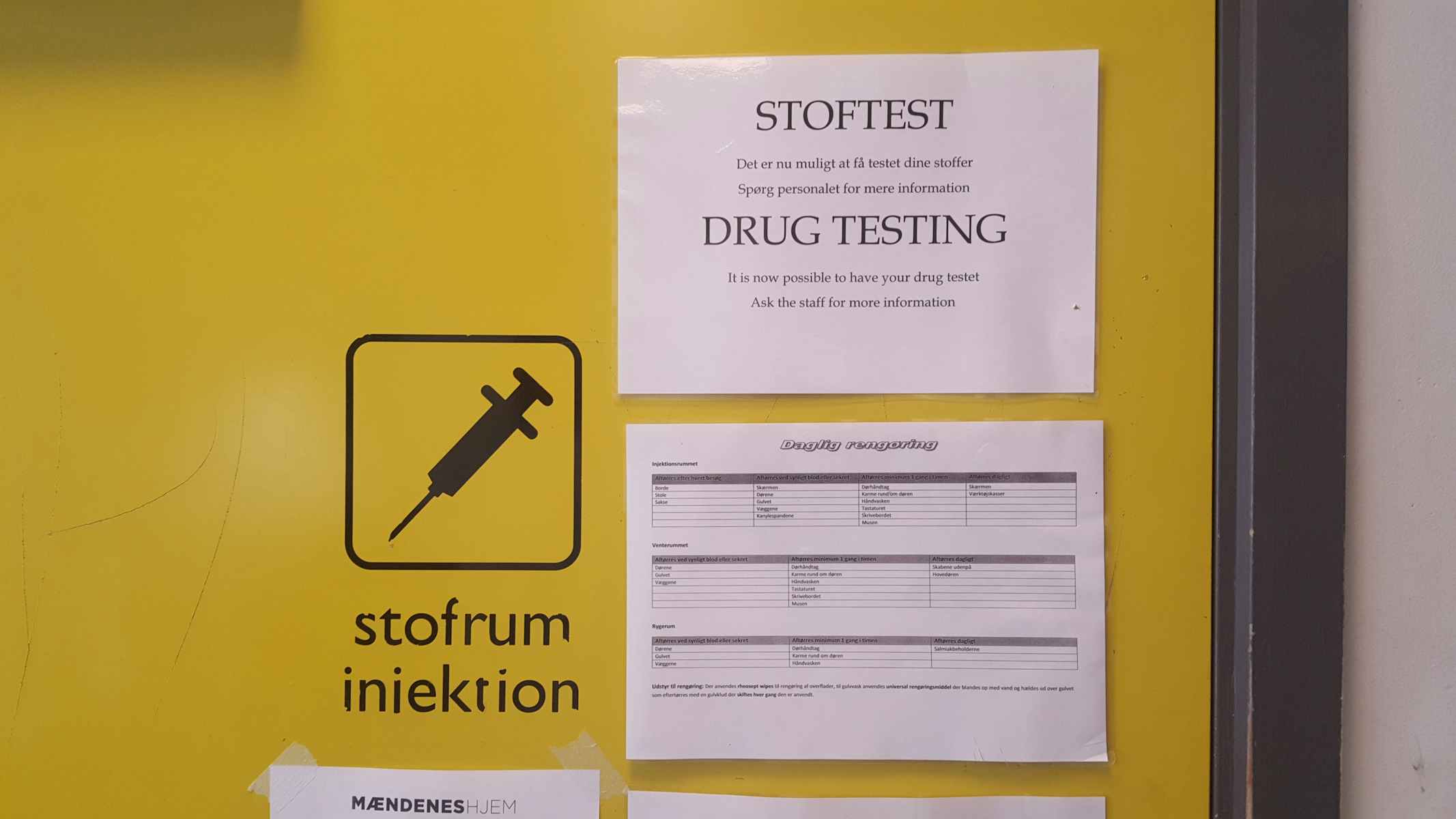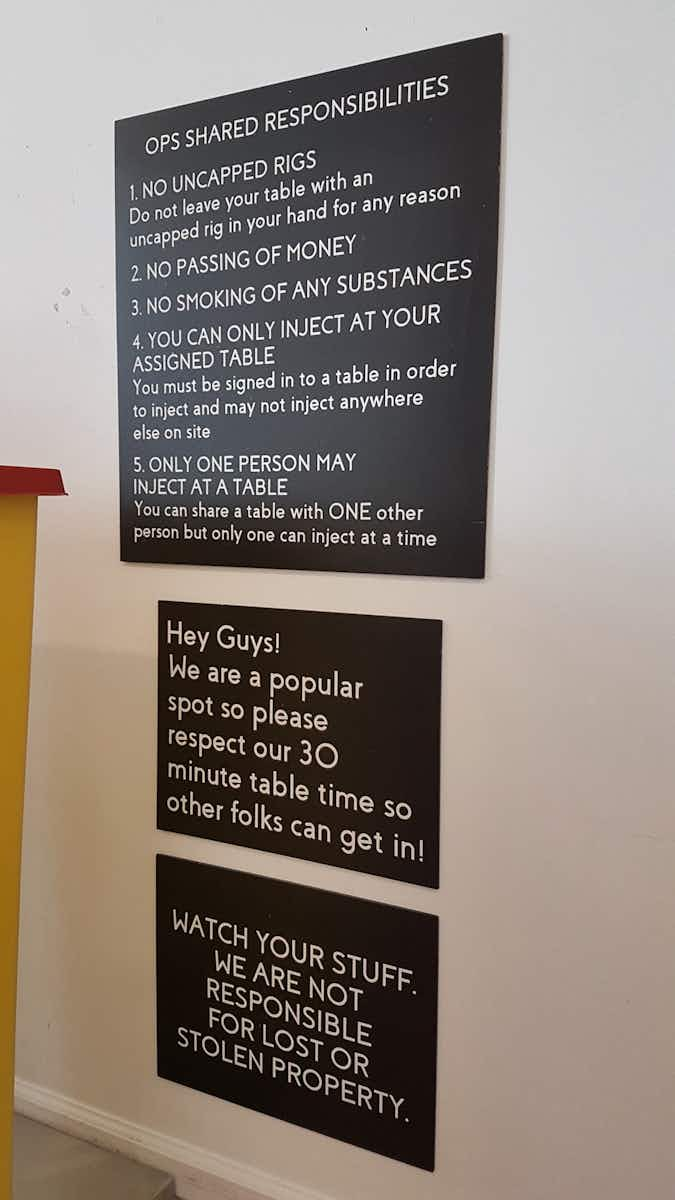 Then people are free to use their drugs. ​"They usually have a timeframe in each area," Krykant explains. ​"In Copenhagen, where I recently visited, I think it was 35 minutes in the smoking area and 40 minutes in the injection area." He added: ​"The staff on site will check in to make sure that everybody's OK and can administer oxygen immediately in the event of an overdose."
The staff in consumption rooms are not only trained in hazardous waste disposal, they also offer drug and alcohol treatment services. ​"That is built into these sites," Krykant says. ​"You can't engage with somebody in terms of support or [give them the] help that they need if they are hiding behind a bin in an alleyway." In Copenhagen, people visiting the facility have access to legal support, welfare services and even just an area with comfy chairs to have a rest if needed.
It's good news that the UK is embracing drug consumption rooms. It's a decision that benefits everyone as we brace ourselves for a vicious onslaught of drug overdoses driven by the rise in synthetic opioids. It's only one piece of the puzzle, though. We still need government-funded drug testing services in England and Scotland, we also need as many people as possible to carry the drug naloxone which can reverse an opioid overdose. We desperately need more drug treatment, including prescribing some people their heroin, to help mitigate the impact of the crisis.

But let's take the wins while we can, eh? Having drug consumption rooms in Scotland is a step in the right direction that will help save lives.


More like this