Audio: From Europe with Love, Joe Sweeney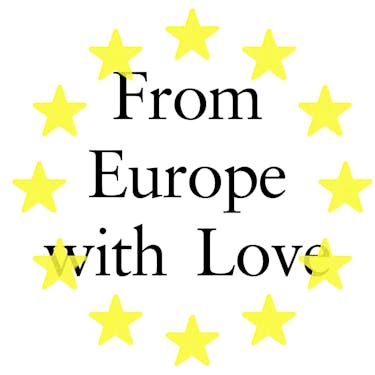 Listen now:

Joe Sweeney
Audio tran­scrip­tion:

01. Please don't leave. We need you with us. We love Europe. Bye. Stama­tis. — Anonymous
02. — Suzanne Watts
03. Vivi­enne West­wood. Brex­it is a crime. A long time ago. I was once on a jury about the police vs. two lit­tle rock­ers walk­ing home late one night, who got pulled in because a motor­bike had been stolen, and the judge said he want­ed a major­i­ty of at least 10. He didn't say sev­en out of twelve, nor even 6.1. Brex­it sta­tis­tics were 51.9% Ver­sus 48.1%. On these grounds, There­sa May, a respon­si­ble gov­ern­ment would now admit the crime and can­cel it. — Vivi­enne Westwood
04. Eng­land eats Lon­don. Dream­ing of an Eng­land that nev­er exist­ed, but a place and time that can't be delet­ed. A sore on the psy­che that was nev­er phys­i­cal. A dream like state of and for the delu­sion­al. But I remem­ber Lon­don not so long ago, where we thought we were invin­ci­ble. A Lon­don that was tru­ly incred­i­ble. I can taste it. It was near­ly edi­ble. That has gone now. It too may nev­er have been real. But I remem­ber it, I was there. It was a real deal. So Eng­land, you're hav­ing your last meal. Are you enjoy­ing it? It's Lon­don you fuck­whit. Looks to me like you'll choke on it. — Gary Fairfull
05. Hel­lo you, remem­ber me? I'm the island on a clear day that you can see. You see we're sep­a­rat­ed by the small­est sea. Fifty two per­cent of peo­ple angri­ly agree. But a lot still here believe in the uni­ty of the Euro­pean com­mu­ni­ty. There's com­pas­sion and kind­ness. I swear, I swear to God some peo­ple still care. My grunts of despair go unheard. The slaves vot­ed for more chains. Lads lads lads hol­i­day in the south of Spain. Club 18 – 30 fucked us once again. — Hay­den Kays
06. Trace your DNA back far enough, you'll find we're all relat­ed some­how, but how dif­fer­ent our lives are. I wish I could say some­thing pro­found about Brex­it and Europe and Britain but it's hard to know what to say any­more. I'm tired of the dis­trac­tion, tired of being caught up in the deci­sions of the rich, tired of feel­ing like my life is incon­se­quen­tial. We've had three years of this media storm all the while avoid­ing the life-threat­en­ing deci­sions of our gov­ern­ment. We have big­ger prob­lems than Brex­it. We have food banks, pri­vati­sa­tion of pub­lic assets, peo­ple dying on the streets, uni­ver­sal cred­it, vul­ner­a­ble chil­dren, Home Office depor­ta­tions, ris­ing racism, huge rifts in our soci­ety and the loom­ing eco­log­i­cal cri­sis which isn't going any­where. Brex­it was engi­neered by the rich for the rich and a vast num­ber of leavers were duped into think­ing this would ben­e­fit them too. Some believed that they would get their coun­try back. Why don't they direct these sen­ti­ments towards those in pow­er? Brex­it has exposed, exploit­ed and ben­e­fit­ed from the pre-exist­ing class divides: racism, islam­o­pho­bia, anti-semi­tism, sex­ism and xeno­pho­bia in our soci­ety. The more we buy into the nar­ra­tive that the oth­er is here to take from us the more these creepy silent pow­ers can take from us. This shad­owy elite wants to take our rights so we're eas­i­er to con­trol. They want to reduce us to war­ring fac­tions whilst they prof­it from tax havens and trade deals with Amer­i­ca. Europe, you must think that we're real­ly stu­pid for all of this and that's okay. I guess we kind of are, but you're not per­fect either. You might have bet­ter rights for work­ers and a more favourable envi­ron­men­tal pol­i­cy. But there are still thou­sands of peo­ple stuck out­side the walls of fortress Europe. Thou­sands of peo­ple whose lives have been lost to the seas that sur­round this con­ti­nent. A pass­port is an acci­dent of birth and we are for­tu­nate to ben­e­fit from a British one despite all of this. It's not that I don't care any­more because leav­ing you will obvi­ous­ly be very detri­men­tal to the men­tal health of our coun­try, to our econ­o­my, to the deep­en­ing rifts in ide­olo­gies, but I have to move on. How can we go for­ward if we keep lament­ing this deci­sion? My main pri­or­i­ty now is for a gen­er­al elec­tion. - Luisa Couyet
07. Europe I want to say thank you. You've pushed the U.K. for­ward on work­ers rights social and envi­ron­men­tal pro­tec­tions and giv­en us the remark­able gift of free move­ment, and for all its flaws the EU is the great­est inter­na­tion­al ven­ture for peace pros­per­i­ty and free­dom in his­to­ry. But it's true we've become a con­ti­nent of grotesque inequal­i­ties, between nations, regions, cities and towns old and young, and so in 2016 peo­ple in the UK demand­ed change. They gave the estab­lish­ment a well-deserved kick­ing and peo­ple all across Europe have right­ly had enough of the sta­tus quo. Every sin­gle one of the UK's 30 worst cold spots for social mobil­i­ty vot­ed for Brex­it, and I can't believe that's a coin­ci­dence. Peo­ple know the social con­tract is bro­ken and that the polit­i­cal sys­tem is rigged, they know there has to be some­thing bet­ter. So what­ev­er hap­pens with Brex­it, politi­cians across Europe must give the peo­ple a voice. We should admit the EU isn't per­fect and deliv­er bold demo­c­ra­t­ic reform. We must trans­form our economies so peo­ple can live more ful­fill­ing lives with bold changes to end inequal­i­ty, empow­er work­ers and bring the oppor­tu­ni­ties of free move­ment with­in the reach of every­one. It's time to build a Europe that puts peo­ple first and we can only do that by work­ing togeth­er. - Car­o­line Lucas
Joe Sweeney is cur­rent­ly work­ing on an upcom­ing exhi­bi­tion in Bridge­point, Rye this summer.
---