Meet the Amazon UK workers fighting back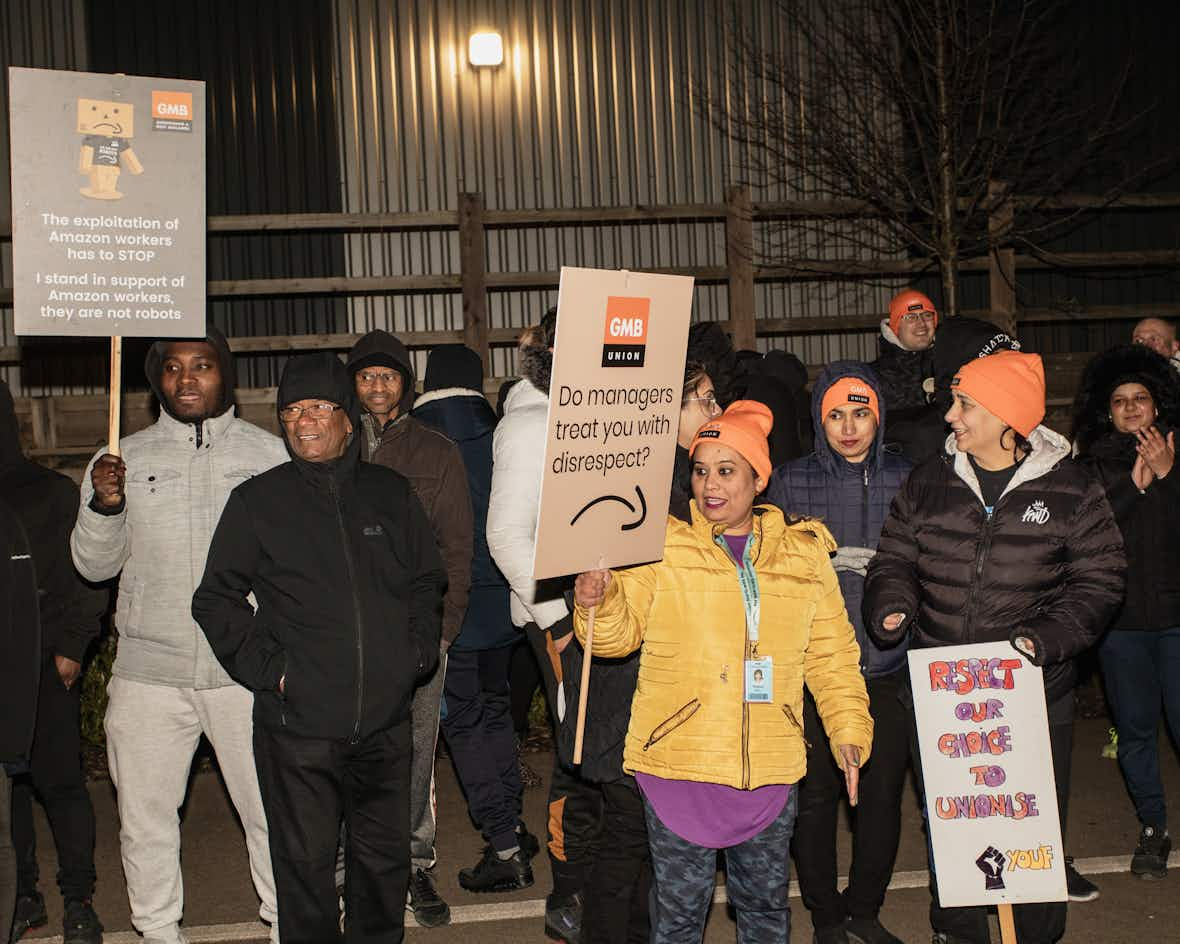 Twenty-five years since Amazon arrived in the UK, hundreds of warehouse workers in Coventry are on strike, doubling down on the GMB union's historic action. We headed to Cov to meet them.
"Cashier, number three, please!" a GMB steward jokes through a megaphone, galvanising a sea of orange hi-vis jackets in a factory car park like some sort of MC at a warehouse rave.

This is serious, though. While spirits might be high, the stakes are, too. It's half past seven in the evening on 2nd March and we're at Coventry's Amazon fulfilment centre huddling in the bitter cold, witnessing a new wave of direct action. ​"It's the first strike in the UK in an Amazon warehouse in the UK, so it's a milestone. It feels very historic," says Stuart Richards, GMB Senior Organiser, as workers driving in to start night shifts are encouraged to join the resistance.

Coventry South MP Zarah Sultana is at a makeshift refreshments stand (she ​"taste tests" the samosa and gives it two thumbs up). ​"It's a historical moment where they're taking on one of the biggest, richest, most powerful companies in the world with one of the wealthiest men leading it," she tells me.

That ​"taking on" of one of the Big Five Tech behemoths boils down to this: the workers are demanding an increase in the base rate of pay from £10 to £15 an hour. This week's picket line is the second official strike, following in the footsteps of informal walkouts in Essex and Coventry last summer and the historic 25th January action.

In 1998, when Amazon launched in the UK, it was a relatively small operation, only selling books and with annual global turnover at ​"just" $610 million. That's 820 times less than the $500 billion revenue it makes now. If you want an even more emetic statistic, it's equivalent to what CEO Jeff Bezos makes in three days of work.
Perhaps unsurprisingly, its first British fulfilment centre was built in well-oiled machine city Milton Keynes. It's almost impossible to find any news stories from the time, but there's a quick mention of it in a 2001 Amazon report: ​"We believe our properties are suitable and adequate for our present and anticipated near term needs," it states. By the time the company opened its second UK facility in Gourock in 2004, it had diversified into electronics, music, DVDs and toys. ​"The leading online retailer is looking for recruits with drive, ambition and a passion for ensuring that customers receive a first-class shopping experience," reads a job advert posted at the time.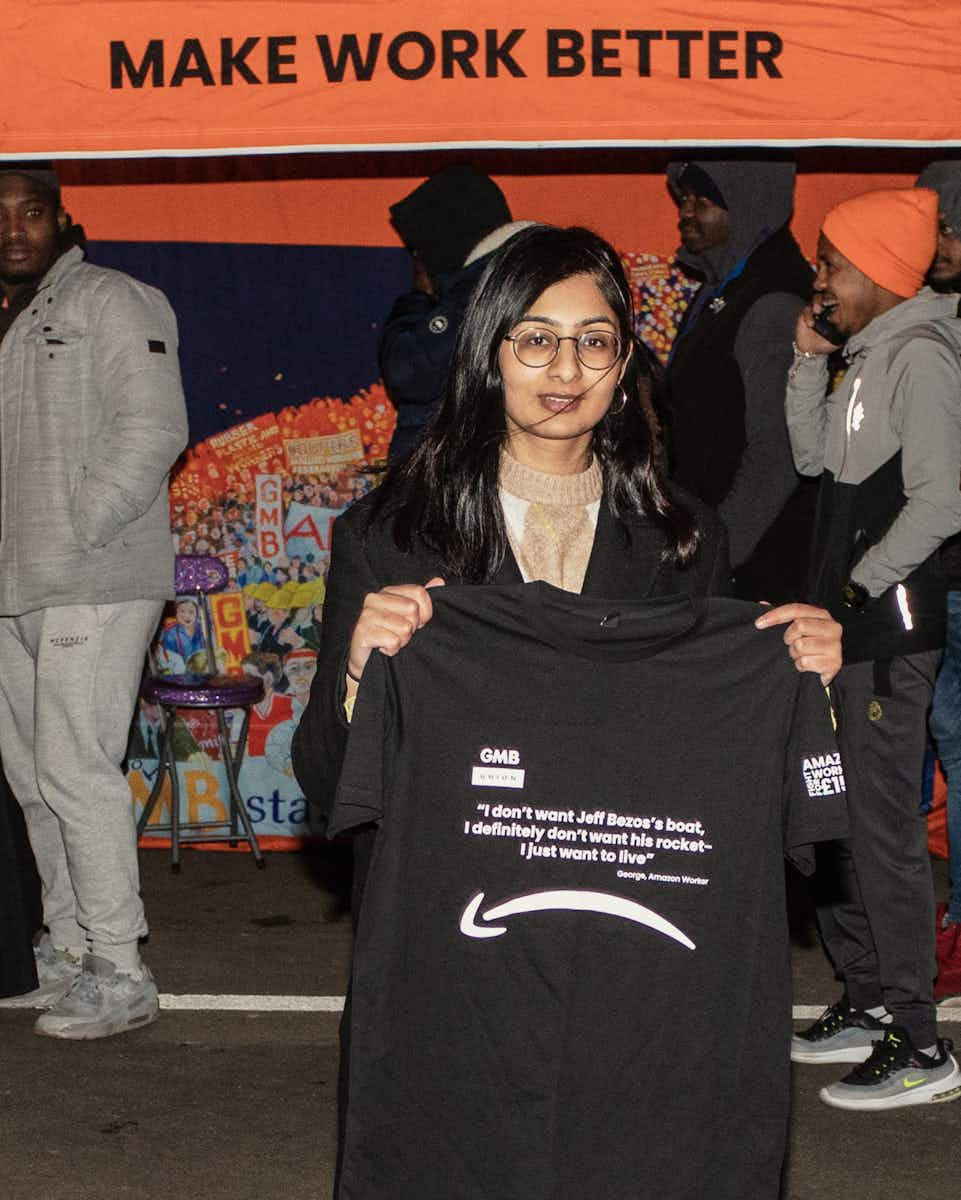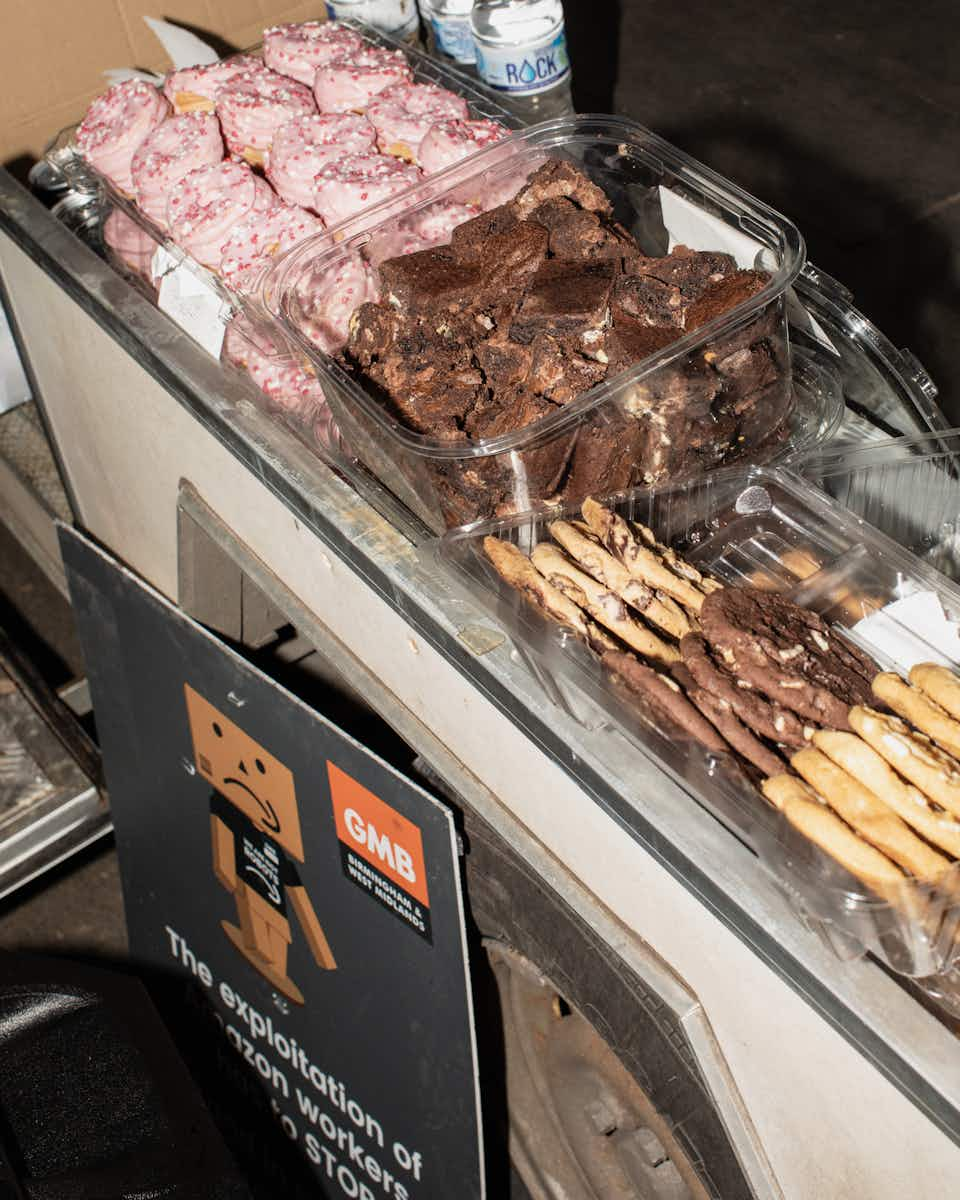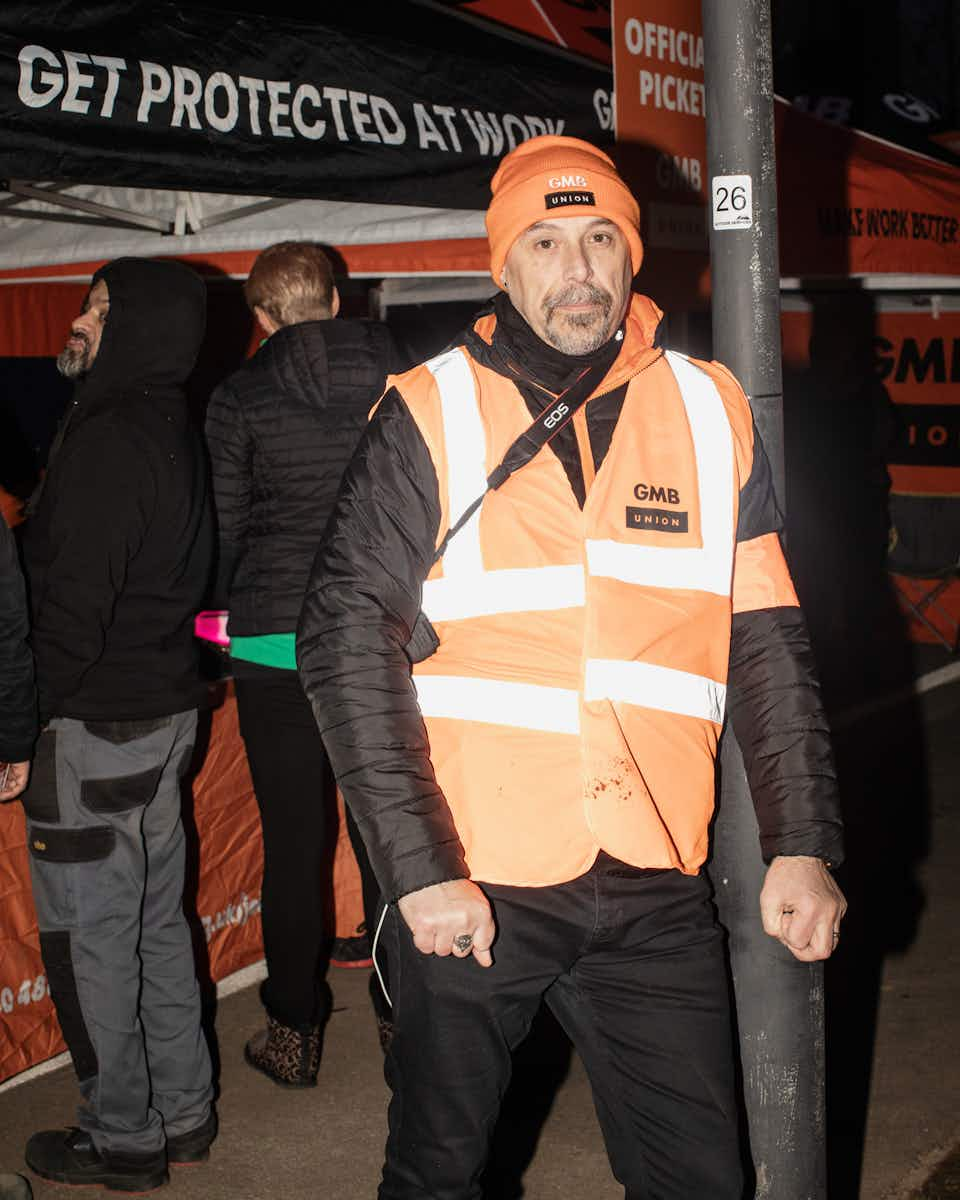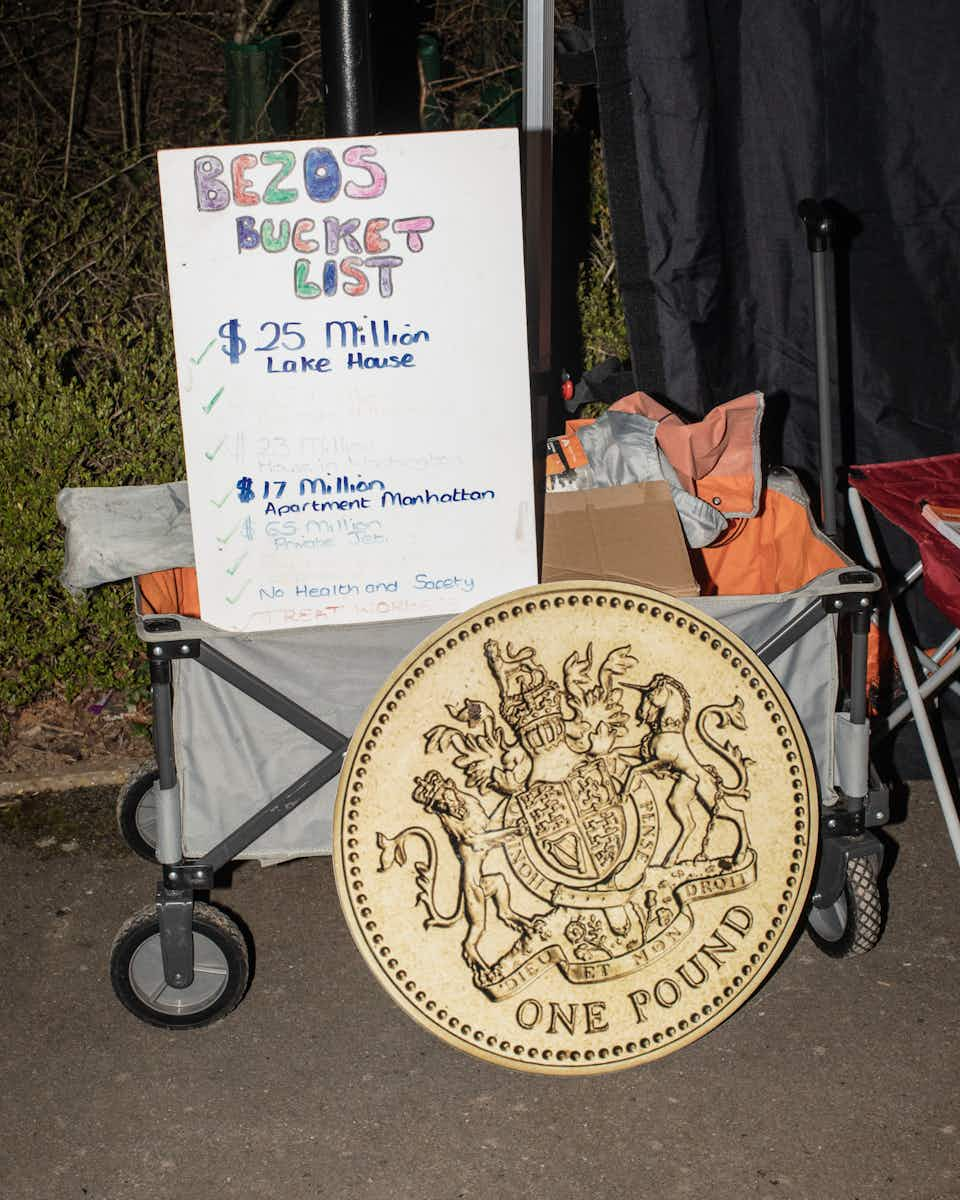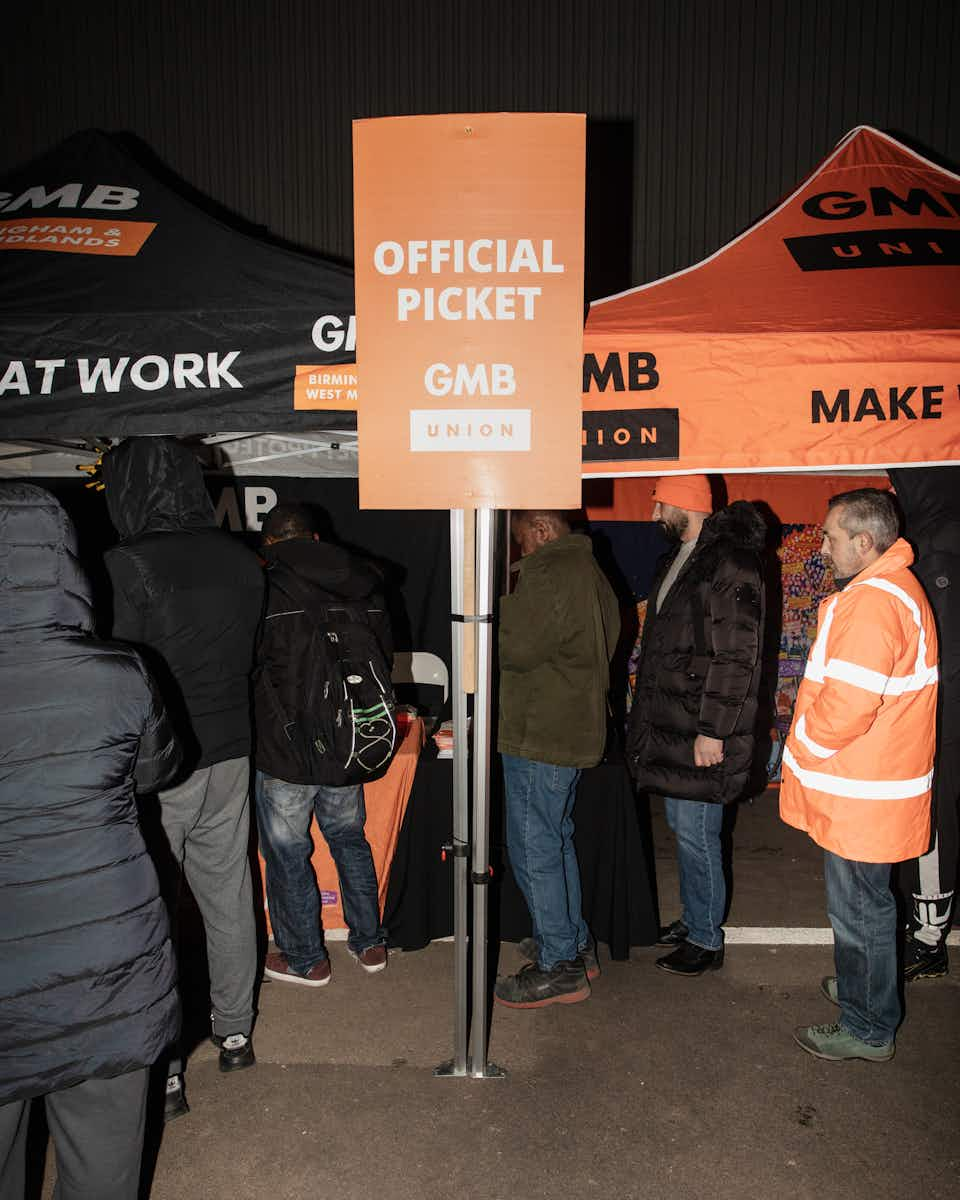 Nearly 20 years and the same number of new warehouses across the UK later, a simple truth has emerged: fulfilment centres aren't fulfilling. Instead, they fill their workers with dread. The virtual bookshop has become, according to employees, a physical sweatshop. Amazon's 70,000 employees contend with poor pay, being locked in cages for entire shifts, insidious robots, impossible productivity targets and the risk of serious injury.
"We already know of some of the very difficult conditions they're having to work in," says Sultana, "[like] not getting adequate toilet breaks, having to urinate in bottles, and the health and safety concerns."

We have, of course, collectively created this monster. Prime, which a third of all people over the age of 16 in the UK subscribe to, has created working conditions that are anything but. How dangerously fast do you have to work to fulfil two million parcels a day? Meanwhile, as members of the public we're offered warehouse tours to try to neutralise our concerns. ​"No other business thinks this is a good idea," points out Richards. ​"We can't even get into the warehouse!" he says, referring to GMB not being allowed to see inside. ​"It's absolutely wild that they'll take you on a guided tour."

For years, Amazon's UK workers felt powerless, facing union busting and the threat of losing their job. Little wonder that, in 2001, four-fifths of employees voted against unionising with the GPMU. Now, though, the fight is on as members are starting to sign up to general trade union GMB, which is organising this industrial action.

This week's action also lays the groundwork for five more consecutive strike days, from 13th to 17th March. Of course, Jeff won't go in a jiffy: in total, just 350 members of the 1400 workforce are participating in the walkouts. But that number is on the uptick, trending upwards like Amazon's warped smile logo.

​"We've been trying to support Amazon workers to organise for about 10 years," says Richards. ​"When they were protesting, we were able to touch base with them and it snowballed… We've given them a legal framework to take that process forward.

​"We started to develop a group of activists, some of [whom] are going to be here today," the union rep continues as we talk by the GMB information stand. ​"They came up with a payframe that we submitted for this site. That £15 [demand] has now gone national with GMB and all Amazon workers." But with Amazon not budging and offering just 50p extra per hour, the members decided to escalate things. ​"They're actually running the picket lines as well," Richards says of the newly signed up local workers, ​"which is an amazing experience." Estimated cost of the industrial action to Amazon: £2 million. That's a pound per parcel.

The movement is undoubtedly inspired by Chris Smalls in the USA, who was profiled in the Summer 2022 issue of THE FACE. Smalls, a warehouse worker who had been fired for a walkout, began the Amazon Labor Union with his friend Derrick Palmer in 2021 and saw scores of fulfilment centres across the world contact him for advice. Last week, he flew to Coventry to show his support, telling The Observer that the city will become ​"the stronghold and the catalyst for the UK" for future actions.
"Chris had a meeting with two of our strikers," says Richards, ​"and he's doing an online meeting this Friday. And we're hoping him and Derrick Palmer can come out for the weeklong strike."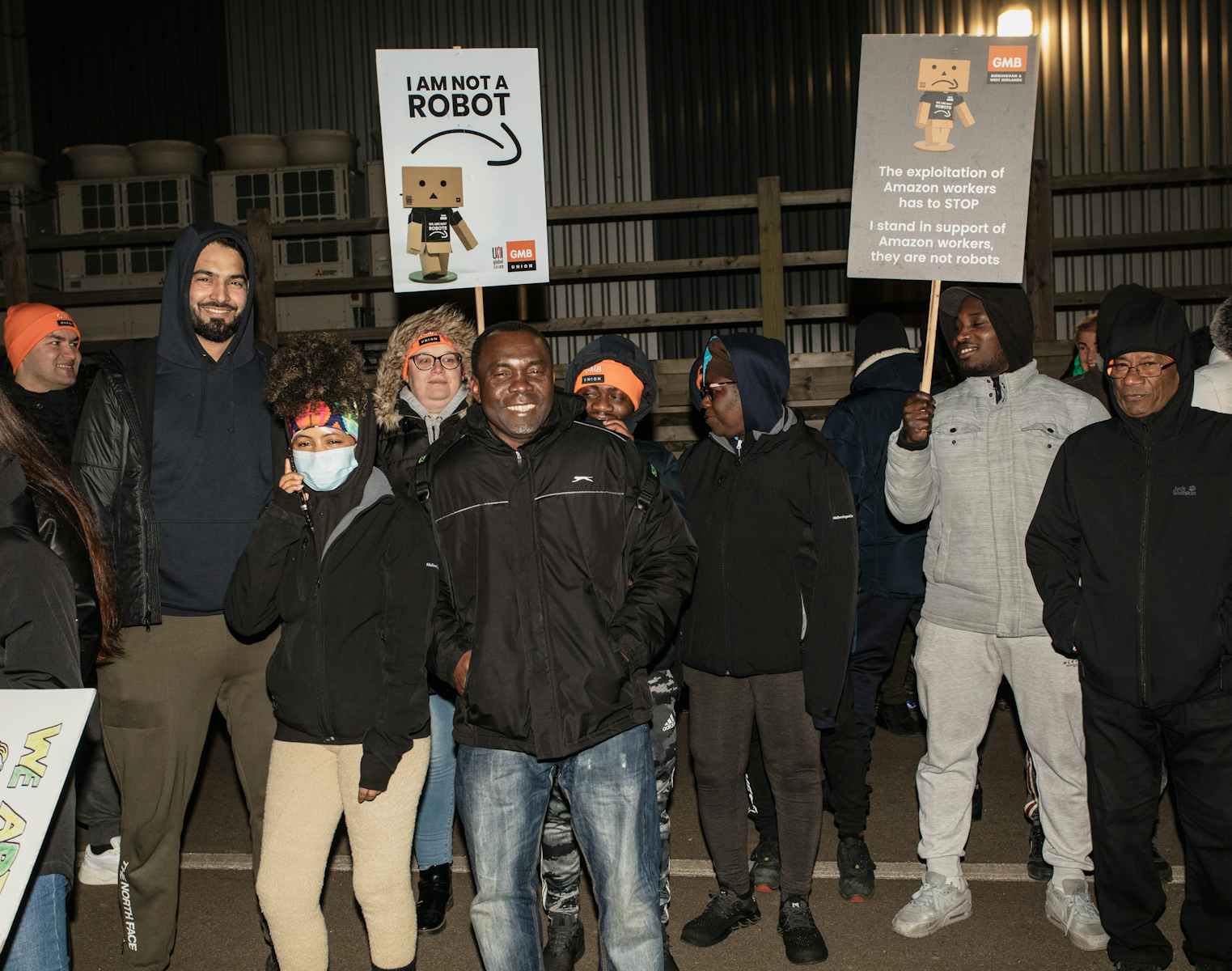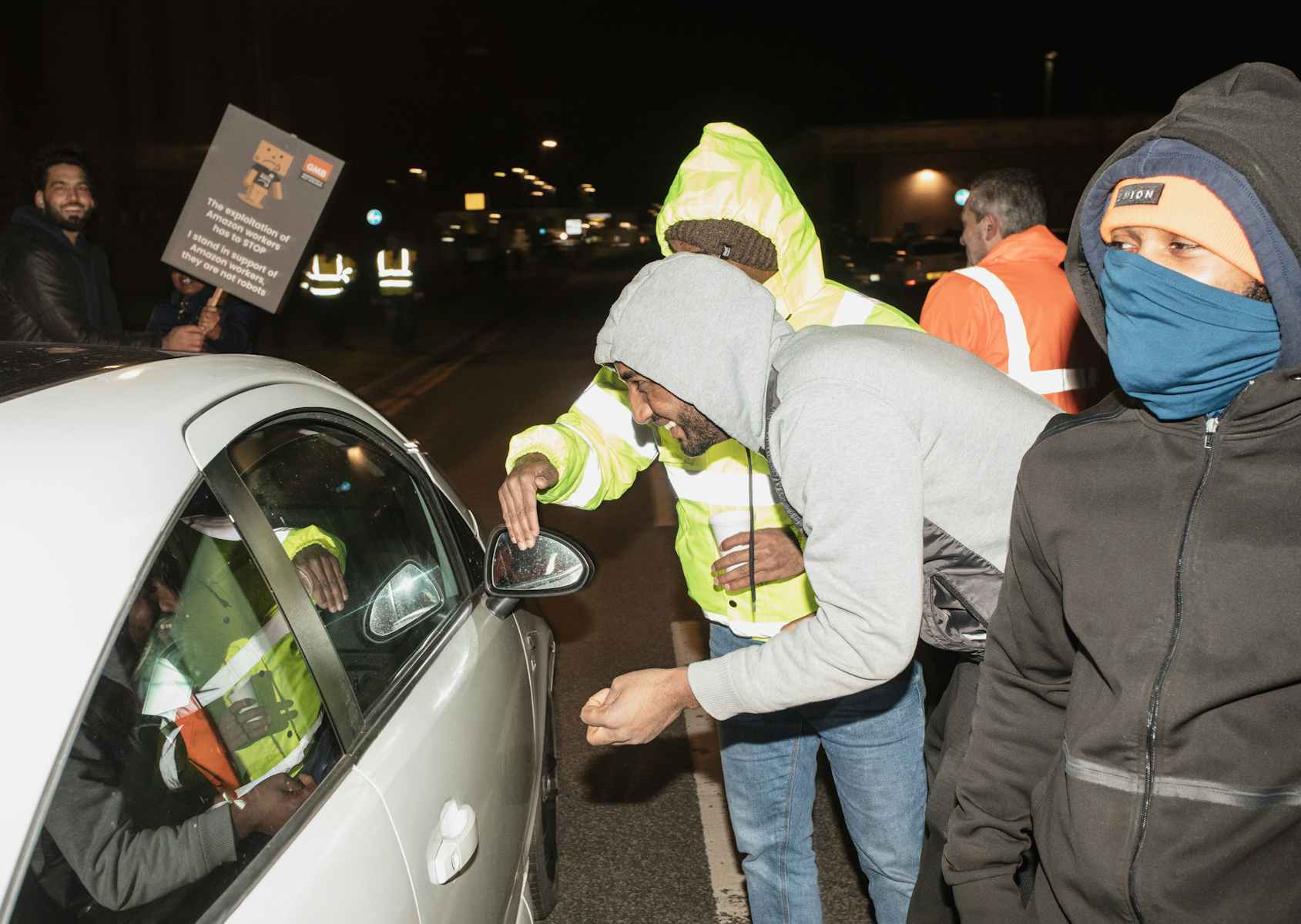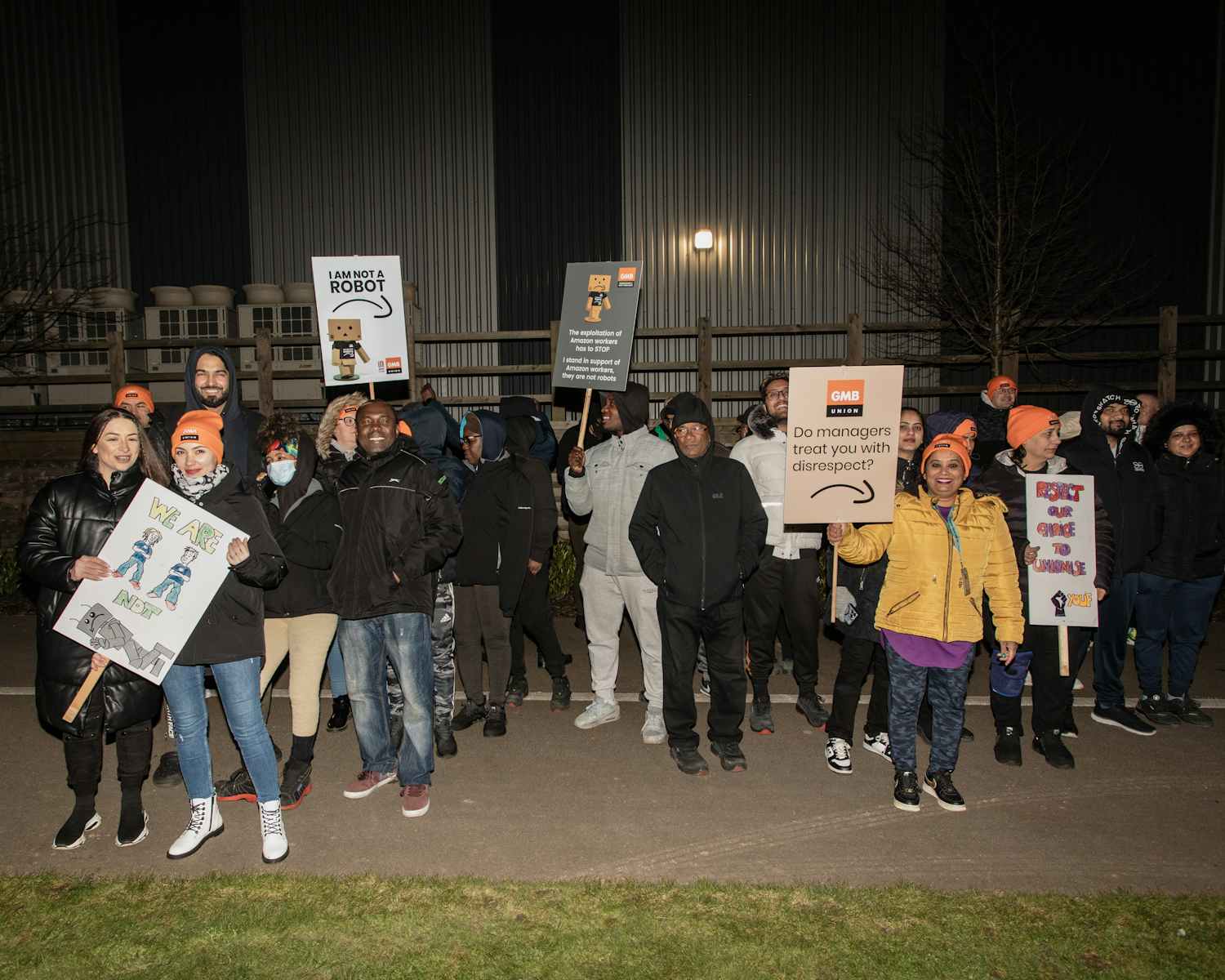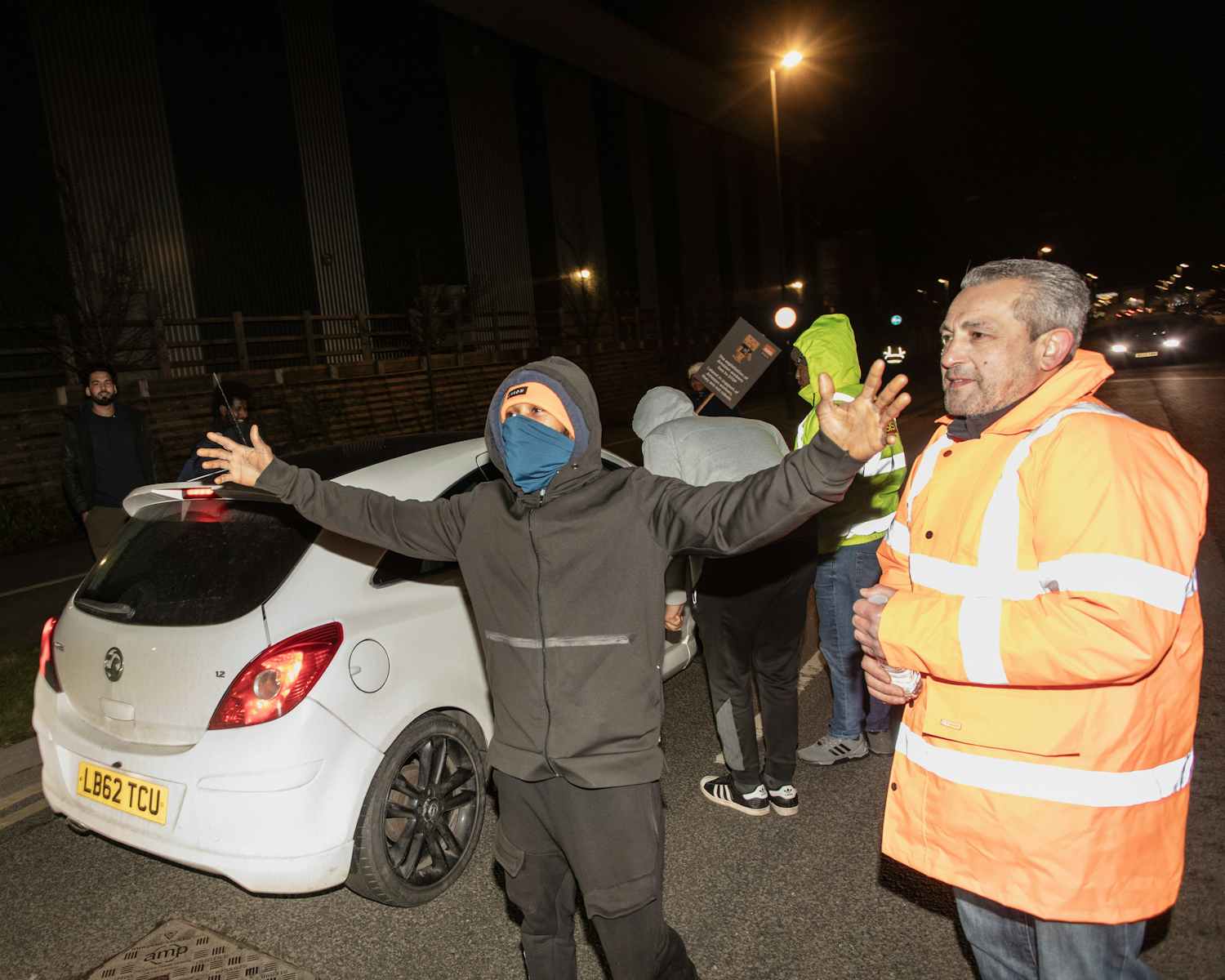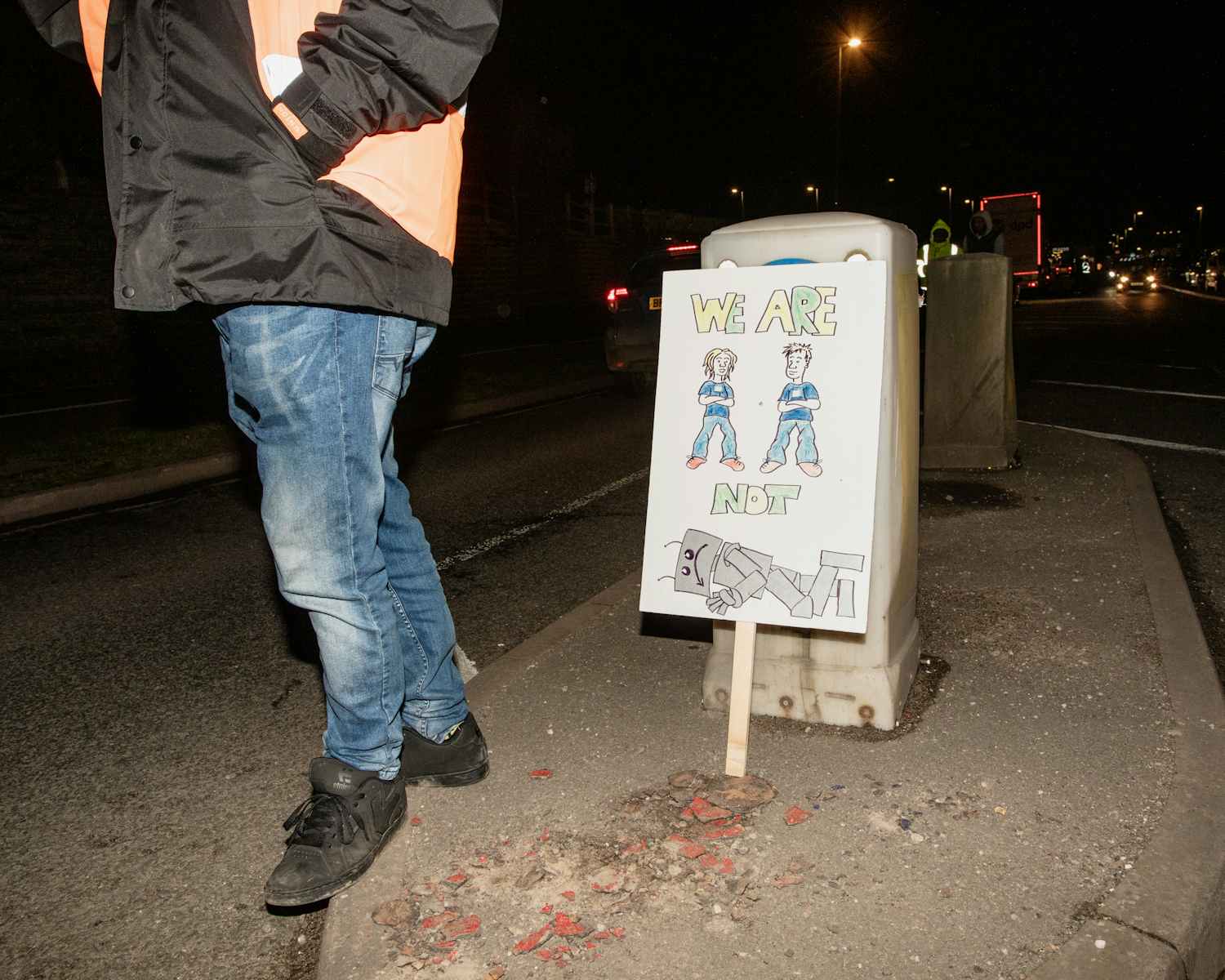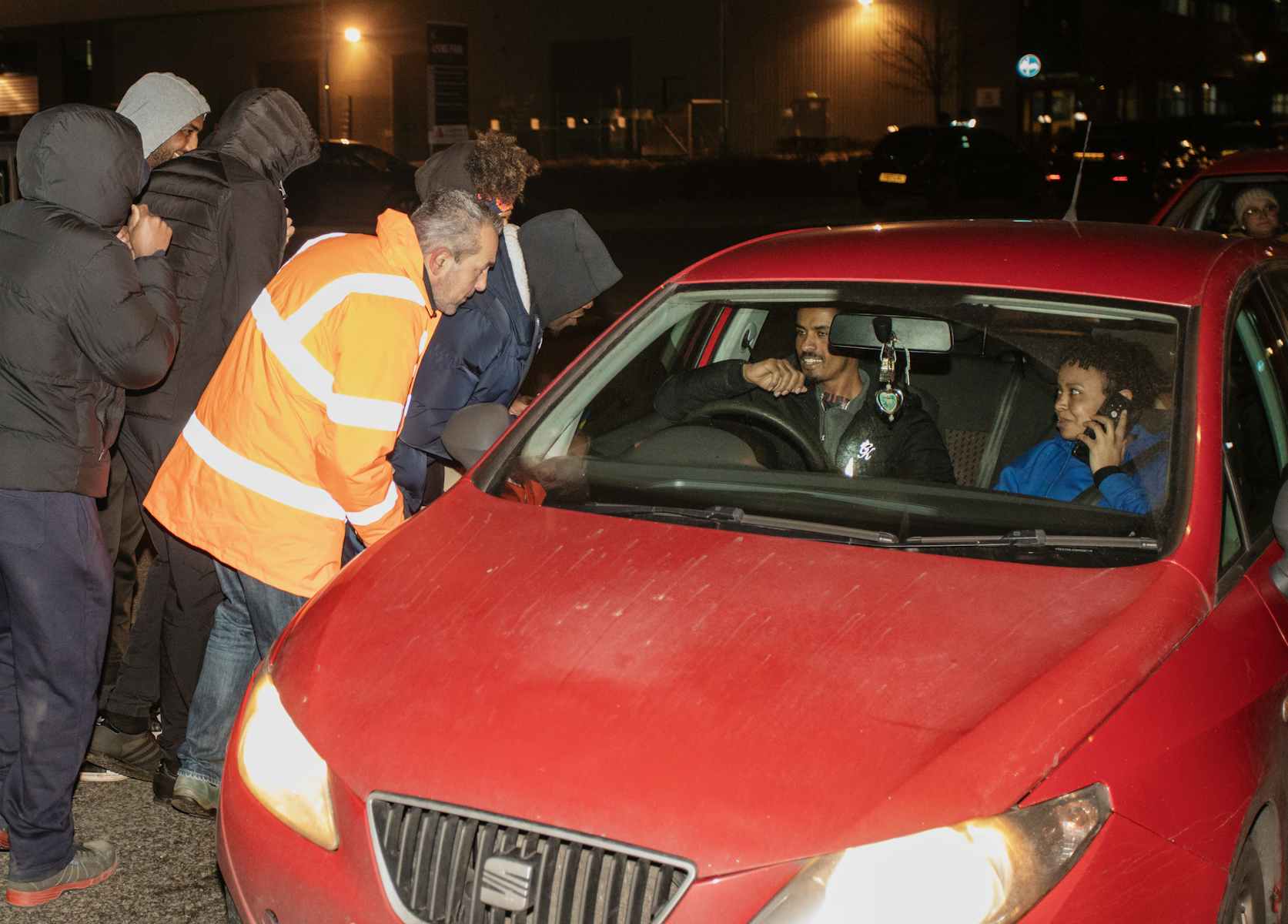 As a City of Culture that's currently enjoying a newfound energy, from Binley Mega Chip Shop to hosting the Turner Prize 2021, it somehow makes sense that its fulfilment centre is at the epicentre of anti-Amazon action. And as their MP points out, there are deeper resonances, too.

"It's really exciting because Coventry has a history of union militancy," says Sultana, pointing out that the West Midlands city is where the Indian Workers Association was founded in 1939. And, she adds, as ​"we're seeing a renewed militancy across the working class across the country, I'm really proud this is happening on my patch."

For those of us elsewhere, what's the best way to show our support? ​"The best thing we can do is support working people who are taking industrial action wherever they are," the MP replies. ​"Attacks on the right to protest is what we have to be centring on because that is fundamentally threatened by government legislation."

Richards suggests donating to the strike fund, but also has an ingenious form of action from the comfort of your sofa. ​"Every time you get an Amazon product, leave a review and say that it's great – but that you'd love it more if you paid and treated your workers with dignity and respect. It's that kind of stuff publicity wise that really hurts."
Keeping toasty with more samosas, THE FACE spoke to some of the warehouse workers on strike to hear what they're fighting for and whether they're hopeful of change.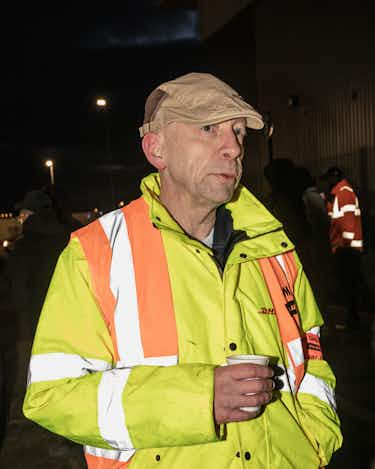 How long have you been working at Amazon?
Three-and-a-half years. I started in September [2019], just before the pandemic. I sort of got stuck here because there was nowhere else to go.
Why did you first get involved with the disputes?
They gave us a 50p increase. At the time, I thought it was just disgusting. These people worked two years through the pandemic, grafting. We were given masks and social distancing was implied, but not stuck to – we've got pictures of managers 30 inches apart. We deserve more money.
You were expecting a £2 increase, right?
Yes, there were whispers. We were told what they were going to do was do away with time-and-a-half and double time, and just make it up to [an extra] £2 an hour, which would've suited everyone. But they're too greedy and don't think about us at all.
Do you think Amazon is rattled?
I think they're hoping we'll go away, [that we're] not going to speak and that it'll fizzle out. We've got the five days coming up and we're going to sign up so many members – there will probably be 75 per cent of the workforce [taking part]. It's been fantastic because although GMB organisers are here, they haven't really had to get too involved. It's the boys and the girls [from the warehouse] out here.

How fast is it growing?
It's growing and growing and growing. Back in July there were 30 people – I was the 25th – and now I have no idea how many we're on. We've been signing up about 30 or 40 people over the last couple of days. We're flying. This is a movement.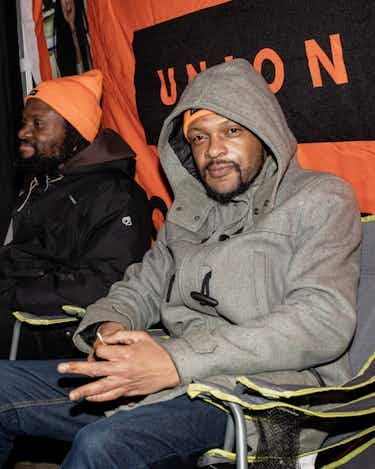 What was it like working during the pandemic?
Obviously there were adjustments around not being able to see friends or family. There was a lot of overtime as a lot of companies were closed down, so everything was coming through Amazon. We were very busy and working six days a week.
Why did you get involved with the strikes?
Because, like, come on, man! Just look at those two years we worked. I already had discontent.
Do you think it's gaining momentum?
I'm not too sure because right now I don't see a lot of my colleagues. It kind of [frustrates me] – at the end of the day we're here to support [everyone].

Are you hopeful?
In life you have to be optimistic about everything – so I'm optimistic!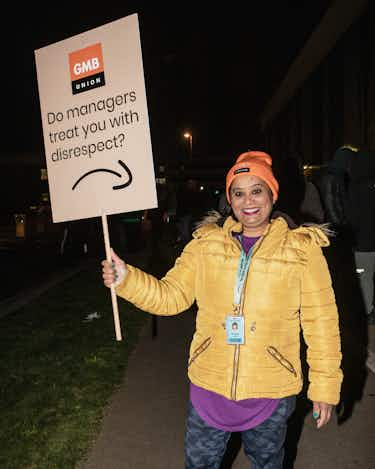 What was it like working during the pandemic?
If you stop for a few seconds, or if they see you talking even though you're working hard all day, they [tell you off] and say your target is low. This happens all day. And sometimes when you're working hard, they don't say your target is good. They don't appreciate you.

Does it affect your morale?
It's so annoying. As ladies, we do work at home as well and have kids. Then you come here and do hard work and they don't appreciate you. It's not good.

How did you feel about the 50p offer?
It's ridiculous. It's better to go on Universal Credit – they're paying more money!

Are you trying to recruit more of your colleagues?
Yes, we're telling everyone to join. Because it's not only for us, it's for everybody. Hopefully we'll set an example.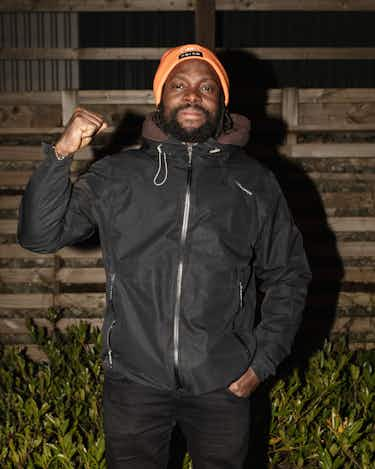 When did you start at Amazon?
Just under three years [ago] now – I started in the middle of the pandemic. We all know it was a very beneficiary time for them, because they were one of the only companies that delivered. I was still carrying on working and satisfying customers. They should show appreciation to the people who put in that work.
Do the workers in the fulfilment centre have a bond?
We all work collectively as one. We are all hard-working people. I haven't seen anyone who is refusing to work or doesn't want to work. When we are working for a trillion dollar company like Amazon, we should [at least] be getting paid as well as the places with decent pay.

What do you think of Jeff Bezos?
If you can spend that huge amount of money just to go to space, [you should help us]. I mean, he should live a decent life, he's worked hard. But the people who are really putting in the hard work should be appreciated as well. Why don't you give something to the people who are earning you this huge amount of money?

How does Amazon get away with it?
With Prime, Amazon make[s] it look very easy for customers to go online and order a package. But they're not aware of the physicality that's behind those fast, one-day deliveries. Working here, it's almost like animals in a zoo, with cuffs on our hands and pressure from the manager.
What's it like for your mental health?
It's draining. My mental health hasn't really been stable. Everyone was advised to stay at home during the pandemic. But we weren't getting enough from the government so we had to work. We were courageous because we have families to take care of. I'm so exhausted when I get home.

How does it impact your physical health?
Working here, you're lifting boxes [all day]. In the long run you're [likely] going to get injured and your body is not going to be functional. Amazon is not paying attention to that and pressuring us to hit targets within a certain period of time. That pressure is what wears people out. If we had a decent wage, we'd feel valued. Valid.
Is this just the beginning?
This is definitely gonna create momentum. We watched it happen in America. Amazon has really been pushing the unions out and doesn't want associates to know their rights. I'm very optimistic and think it'll make a difference. America encouraged us. We're going to approach it a whole different way, though. Amazon is telling people not to join the union as [they say] they're harassing [the workers]. But who is actually doing the harassing?
And how optimistic are you about this fight?
With you, me, all of us in solidarity, we're definitely going to win this battle.


More like this