How to protest safely during the coronavirus pandemic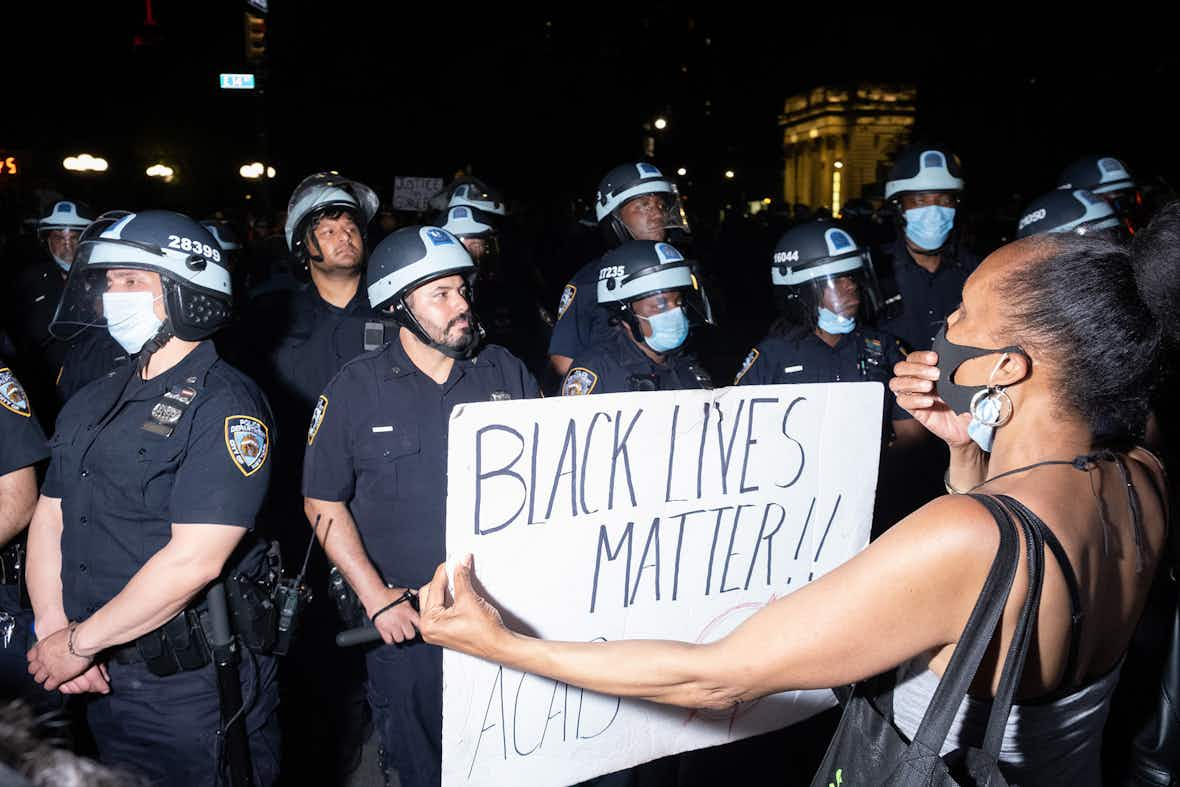 With BAME people in the UK 10-50% more likely to die from coronavirus than white people, it is vital to protect yourself and others while showing solidarity.

Protests have taken place all over the world since George Floyd, a black man, died at the hands of police in Minnesota nine days ago.
Today, protestors will gather in London's Hyde park for the Justice For Black Lives demonstration – organised as part of the Black Lives Matter movement to demand justice for George Floyd and to protest against the rights of black people being abused globally.
However, while the protest will serve as a symbol of unity and solidarity with those protesting in the US, it also comes at a time when BAME people are disproportionately affected by the Covid-19 pandemic.
As reported by HuffPost yesterday, BAME people are 10 – 50% more likely to die from the disease than white people, causing a moral quandary for members of the BAME community wanting to show their support for their peers, yet knowing that they are higher-risk.
If you decide not to protest, there are still numerous ways to take action, including donations, signing petitions and educating yourself and the people around you.
However, if you do wish to protest, it is vital to protect yourself and others by maintaining social distancing when possible, regularly disinfecting your hands using sanitiser, and wearing a facemask covering your mouth and nose at all times.
Here's how to stay safe.

WHERE TO GO
Today's demonstration (Wednesday 3rd June) will meet at Speaker's Corner (located in the North East corner of London's Hyde Park near Marble Arch tube station) at 1PM BST.

WHAT TO BRING

Whether you're choosing to protest for an hour or the whole day, it's important to come well-equipped with the essentials to stay hydrated, safe and well. Bring a bottle of water, lunch, and a bit of cash, just in case. The organisers of the Justice For Black Lives demonstration have requested that protestors wear red clothing. Make sure to dress comfortably, with your hair tied up.
WHAT NOT TO BRING

Your priority is fighting to end institutional racism. There is no need to bring along an expensive bag, jewellery, or anything you would not like to get caught with – like a bit of weed (same applies for other drugs, too).
HOW TO STAY SAFE
Safety should be a top priority for yourself and your fellow protestors, so pack first aid supplies like plasters and bandages, too. Remember, we are still living through the coronavirus pandemic so it's essential that you wear PPE (mask and, ideally, gloves) to protect yourself and others.
BAME people have been disproportionately affected by the Covid-19 pandemic in the UK – please keep this in mind by planning your route there and back, keeping a two metre distance from those around you, and regularly disinfecting your hands. Keep your mask on at all times – shout your anti-racist message louder because of it.
WHAT TO DO AFTER THE PROTEST
Still, with thousands expected to join the protest the risk of being exposed to the virus is high. Do not put society at danger of a second peak, especially for its most vulnerable members. We advise you self-isolate for two weeks after the demonstration. Stay at home and avoid public transport for the following fourteen days, to the best of your abilities.

If you or anyone from your household are displaying Covid-19 symptoms, or are at high risk from the virus, there are other ways you can still support the movement. Take action here.


More like this