A closer look at the regeneration of Hackney, London
Historian and local Richard Yeboah took lockdown by the horns to pursue his passion project. The Regeneration of Hackney: Transforming Modern Utopias is a detailed examination of gentrification in one of London's most populated areas.

Hackney, one of London's best-loved boroughs – home to Broadway Market, Clissold Park and Chatsworth Road to name a few familiar places – has been the subject of a slow-but-steady housing regeneration project over the last forty years.
Gentrification in the area has also been a long-standing, salient point of debate. Hackney was revealed to be one of the top five areas in the country for social mobility and saw the largest increase in average housing prices per square metre in 2018. A far cry, then, from the housing estates inhabited by Hackney residents before it became a hub for middle-class settlers.
As a born, bred and a current resident, these points piqued historian Richard Yeboah's interest. The Regeneration of Hackney: Transforming Modern Utopias is his illuminating, ongoing research project into the borough's post-war council estates, highlighting the effect gentrification has had there from the 1980s all the way through to the 2000s.

It was while working for Homes England, a government housing branch which seeks to help improve neighbourhoods and grow communities, that the 28-year-old was inspired to start his research. ​"Recognising the shift Hackney has gone through in the last ten years enticed me to find out more about how regeneration works, particularly within inner city boroughs," he says.
Indeed, Hackney went through a mega-regeneration of sorts, that was accelerated off the back of the 2012 Olympics in London: ​"I wanted to explore that as well as the influx and changes in class structures and ethnicity," Yeboah continues.
While he was concentrating on his master's in public policy at Queen Mary University, Modern Utopias remained on the backburner for the best part of seven years. Lockdown finally gave Yeboah the opportunity to revisit places from his childhood and examine what remained of these estates in detail, to better understand their impact on local communities.
He supplemented his research with brilliant before and after images, including one of himself as a teen outside Star Value Supermarket (which is still standing, by the way) and of the Hackney skyline, once populated by tower blocks that have long since been demolished.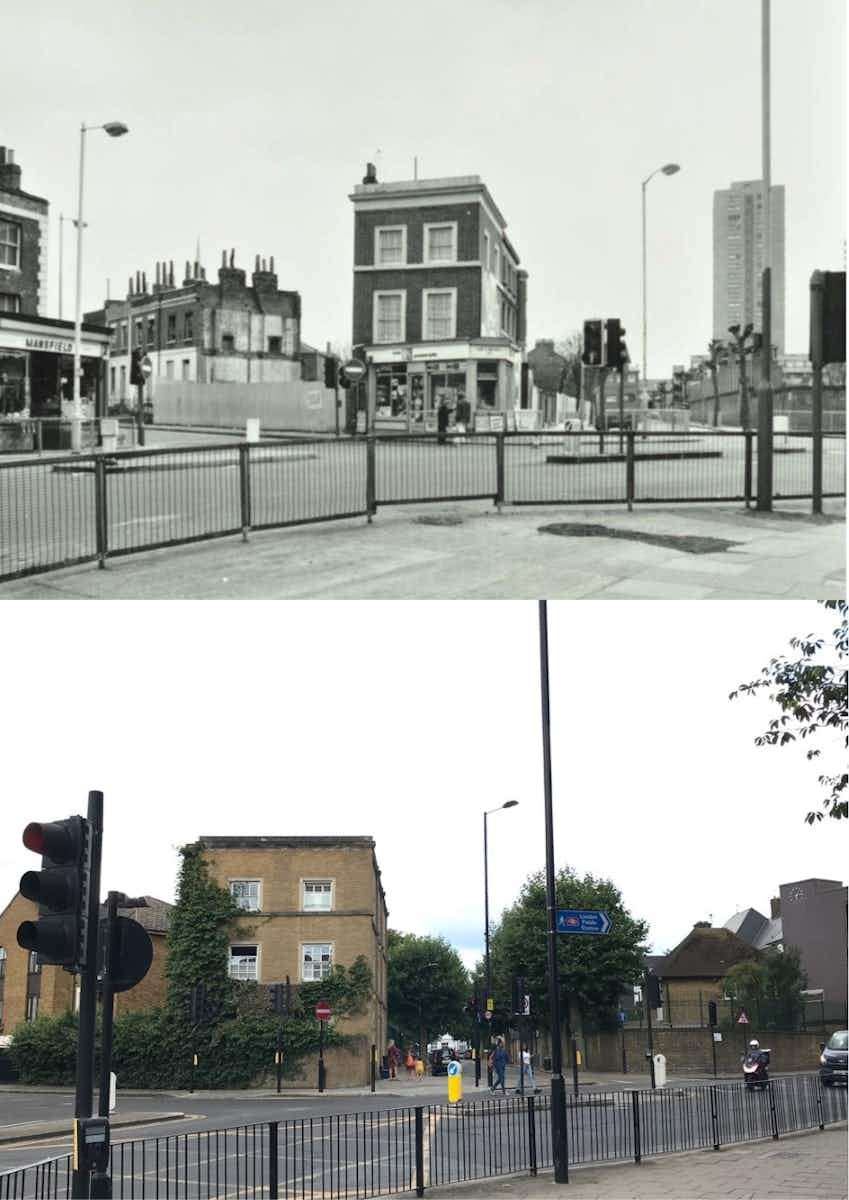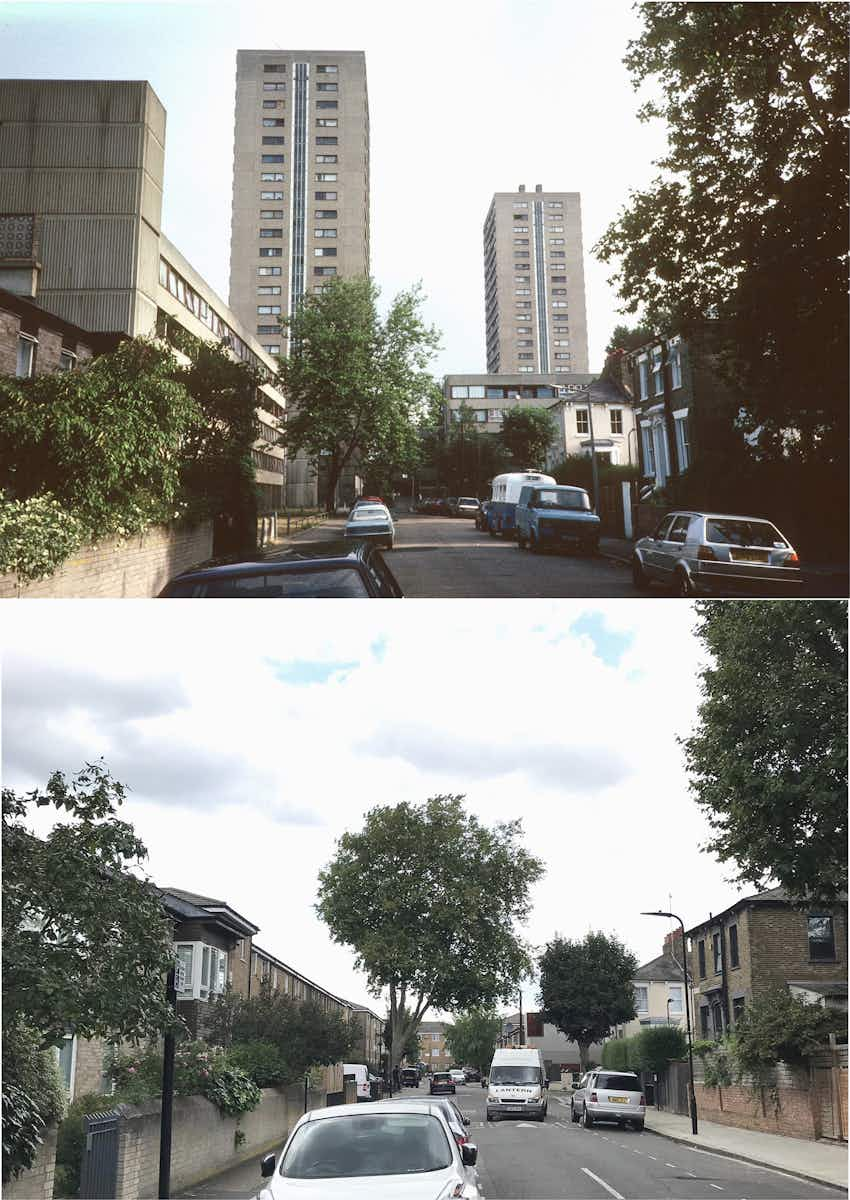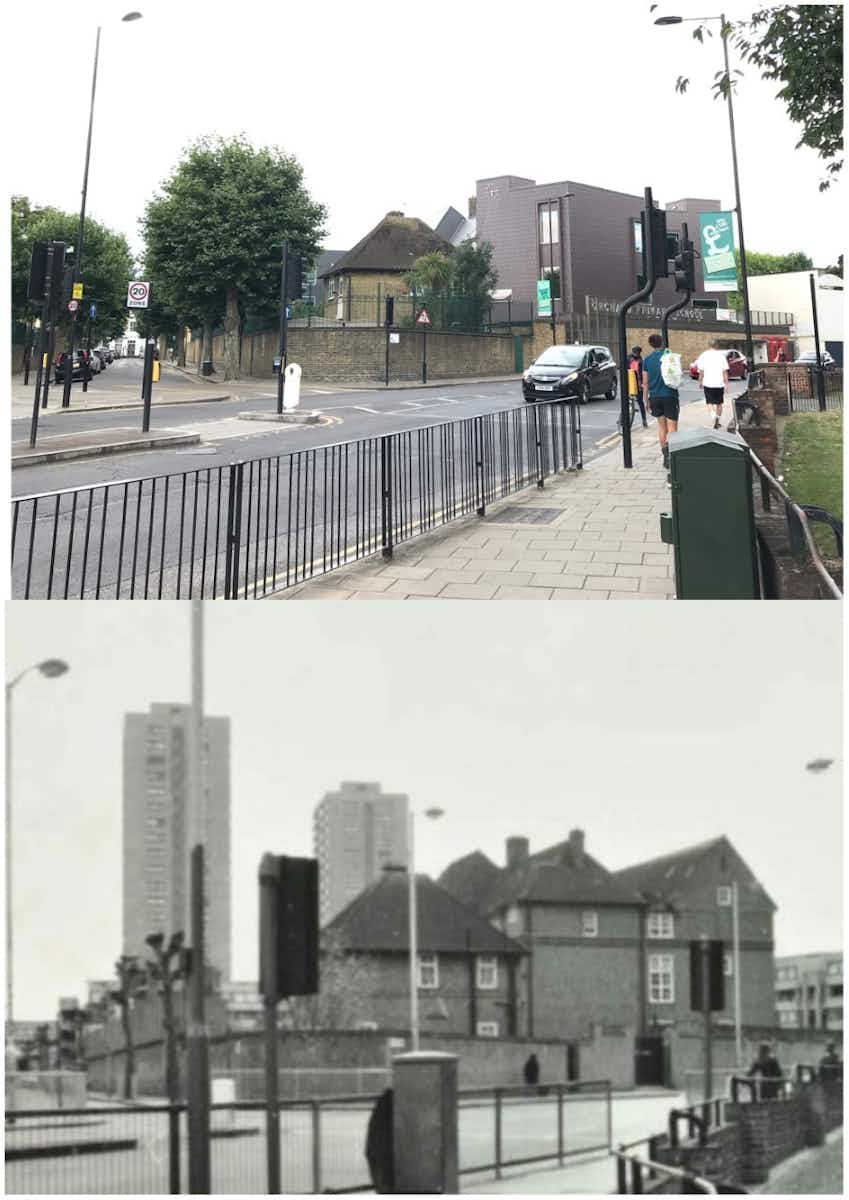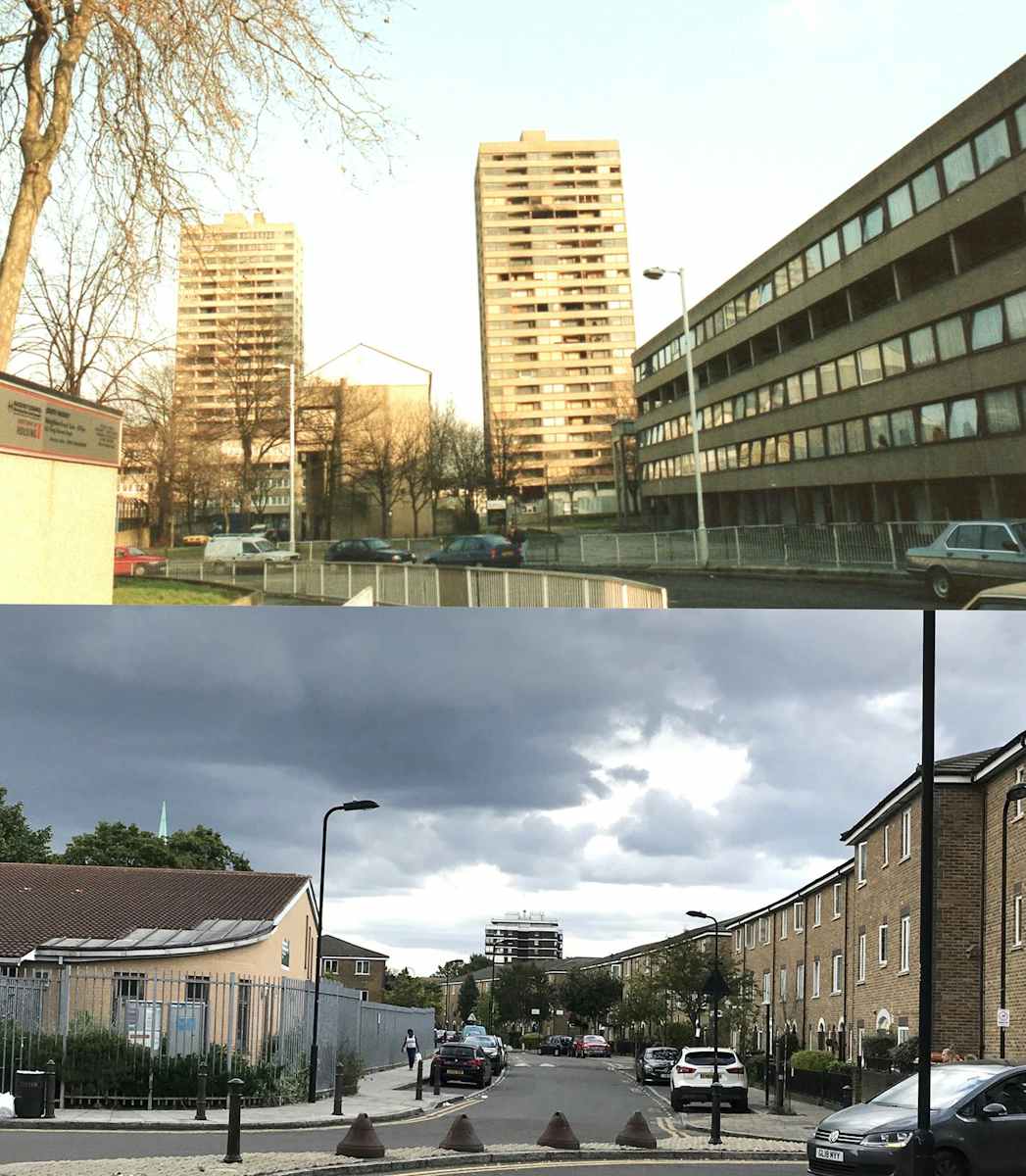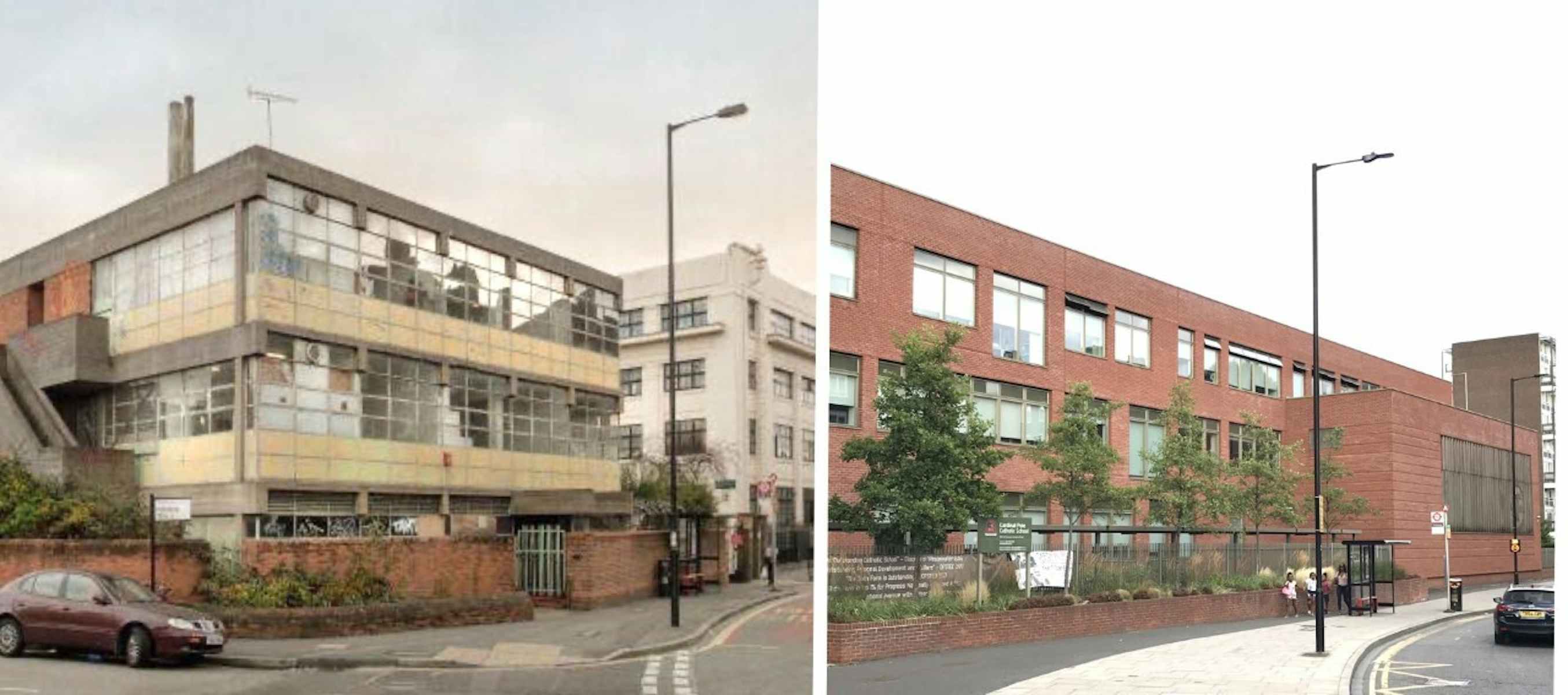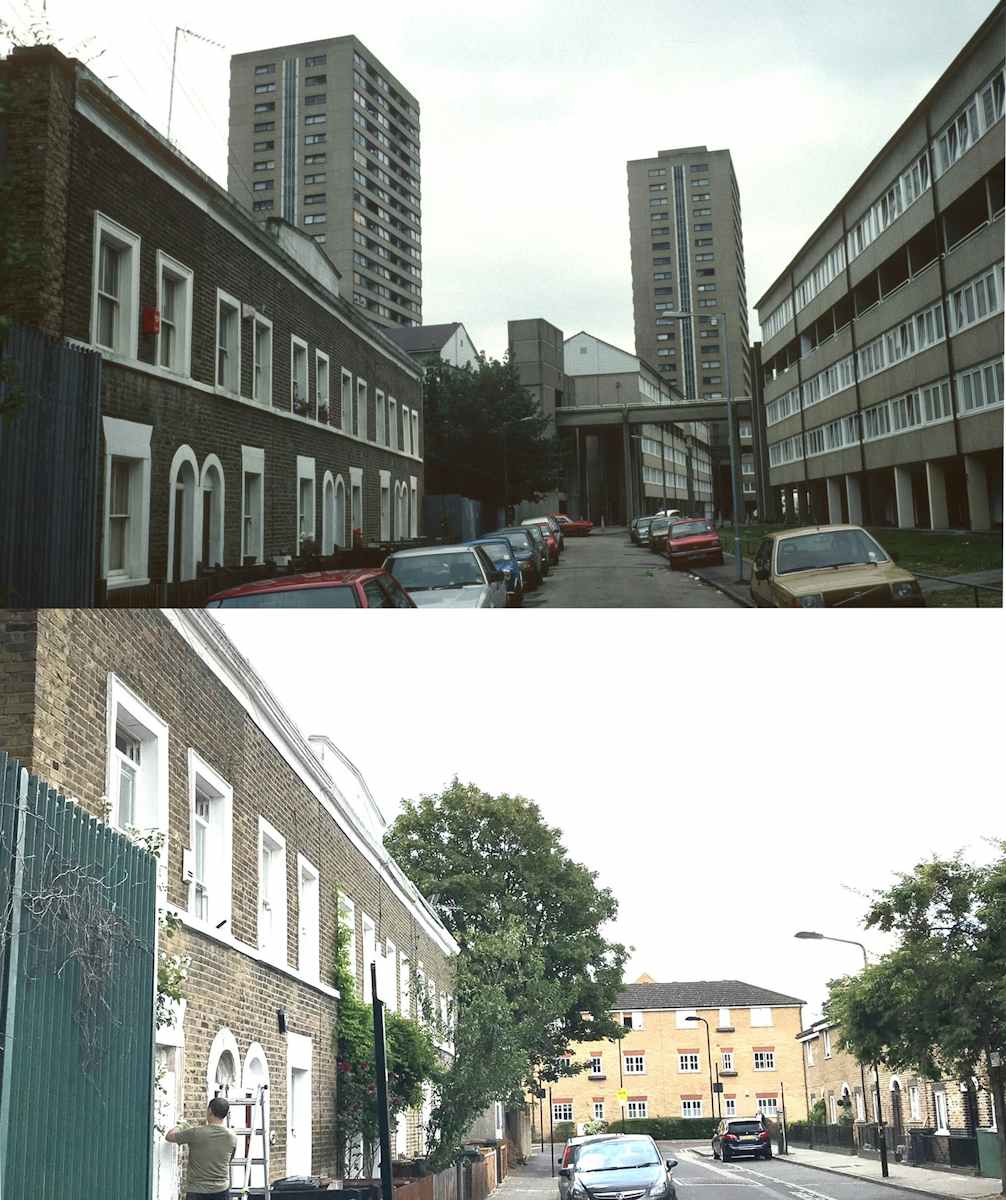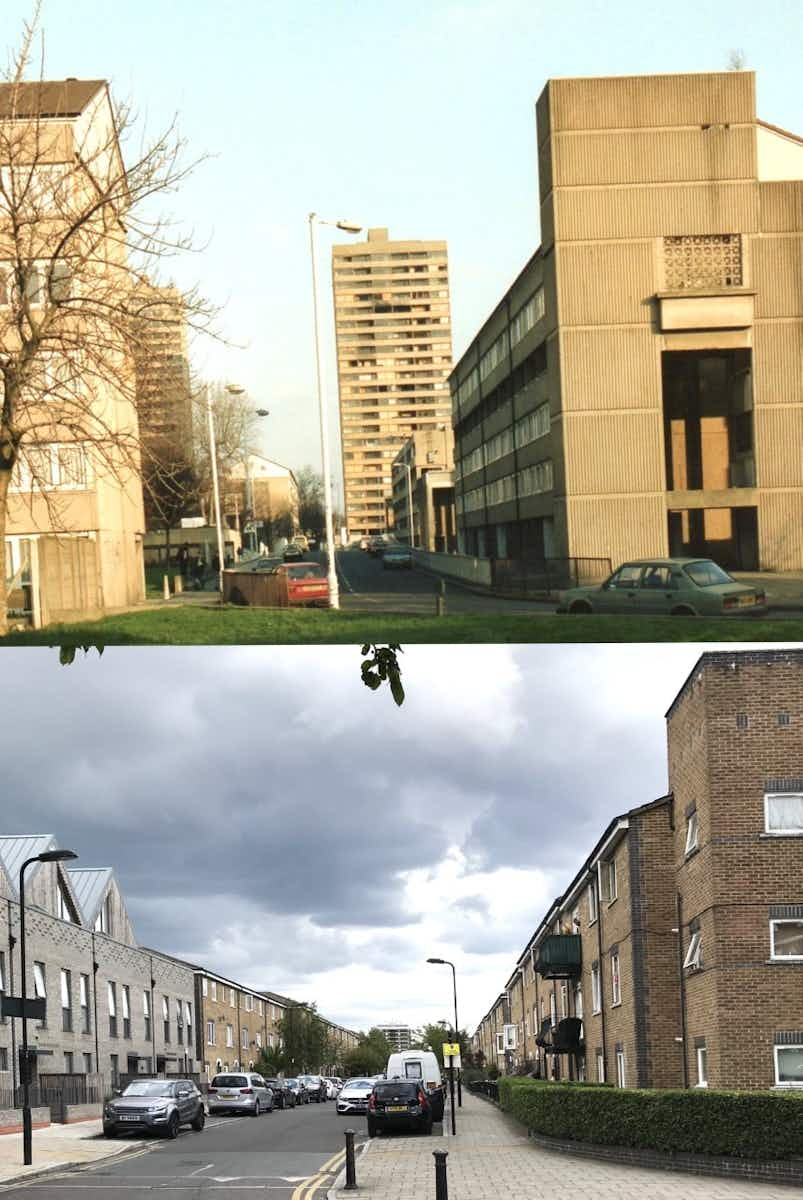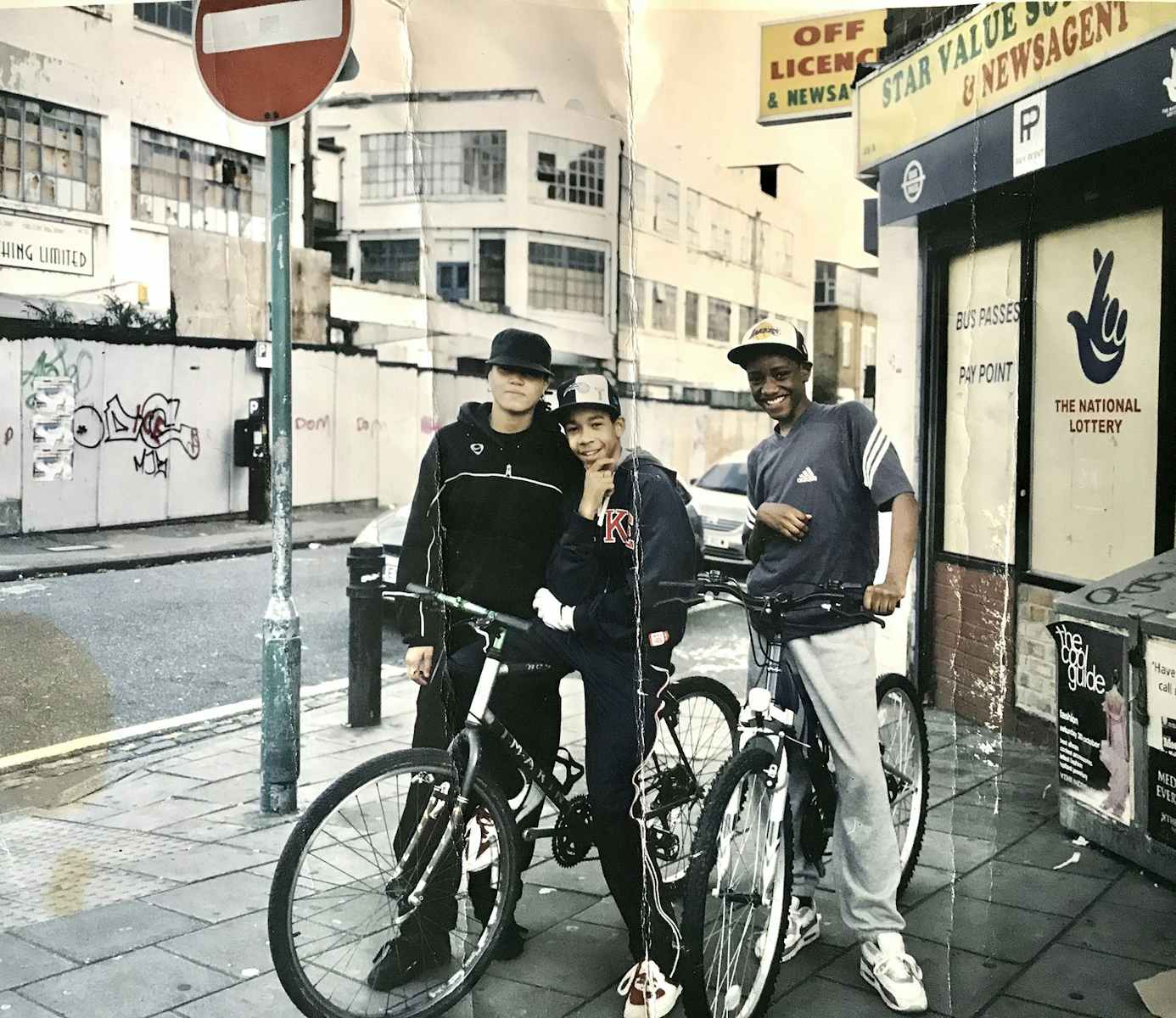 "I'd say [Covid-19] has increased my focus on this project," Yeboah says. ​"Communities are much more engaged with each other, yet there's a real sense of people feeling quite isolated in their homes. Estates once provided that community feeling, which has somewhat disappeared as we've moved towards regeneration and gentrification."
So what does Yeboah hope to accomplish with his project, and what does he want people to take away from it?
"I'm trying to move away from the idea that gentrification is just this bad thing," he explains. ​"I want to move that conversation to a much more nuanced perception of Hackney – it has always been a mix of middle and lower class communities, of opulence and poverty. Its history is multifaceted, and I'd like to represent that."
Yeboah argues that regeneration and gentrification in Hackney is a part of the area's evolution, a gradual change that ​"in many respects, has been needed". Still, that doesn't take away from how people have felt about this process in the past.
The Trowbridge Estate, for instance, was built in the 1960s. ​"Only twenty years later, some of the buildings were falling apart. You had rat infestations, asbestos, this real sense of poverty," Yeboah stresses. ​"I think about 70 per cent of the residents wanted to leave, and this wasn't isolated. We need to learn more about these experiences and how gentrification has changed our perception of them.
"People just want their voices heard and I'm hoping this research can give residents, communities, the council and developers the opportunity to present a very balanced view of what's going on in the borough," – and ultimately make properties genuinely affordable for local residents, so they aren't displaced to other parts of London.
Yeboah's completed research project won't be published until 2021. For now, he reflects on what Hackney means to him.
"It's home," he smiles. ​"But there's so much more to being from Hackney than any other place, I think, in London. It's the culture, the schools, the people, the housing, the markets. There are so many different things that come together to create this cultural picture which I think is only shared amongst its residents."

More like this