Age of the cosmic scally

Since the pandemic began, Sine Missione aka "Scouse Banksy" has split Liverpool in two with his anti-lockdown rhetoric. Kieran Morris went in pursuit of the man himself, to find out how lockdown Liverpool lost its head.

Taken from the new print issue of THE FACE. Order your copy here.
It took me a while to pick out my first Sine Missione.
Going by the battles raging on social media, I thought I'd be coming home to a war zone. But when I visited Liverpool last November, the Covid-19 testing zones were quiet. I couldn't find any soldiers, jackbooted or otherwise. The city was, for all intents and purposes, wearing lockdown well. The first bit of anti-vax propaganda I found was a sticker outside a GP's office in Chinatown: ​"DRUG FREE. CHOOSE YOURSELF", with a crossed-out needle in the centre. You'd think it was smack from a distance, but if you pressed your face into it, you could make out ​"COVID-19 VACCINE" stencilled on the needle shaft.
After about an hour's walking, I finally found an original Sine, stuck on a phone box near the arts centre of the City of Liverpool College. At head height, a boy points a pistol over my right shoulder, slack-jawed. Beneath him, in stubborn vinyl, a slogan: ​"UNLESS WE TEACH OUR CHILDREN PEACE, SOMEBODY ELSE WILL TEACH THEM VIOLENCE".
Nobody can quite place the moment they started noticing his name. In fact, most can't even agree on how to say ​"Sine Missione". Sign me-joan? Sin mish-yon? Seen mishy-oney?
But in the time of the pandemic, this nameless electrician-turned-street artist has acquired pariah status in a city that doesn't easily forgive. Missione embodies the latest incarnation of a Liverpudlian trope nearly half a century in the making: the Cosmic Scally. But whereas that term was previously a benign and somewhat obscure bit of scouse trivia, in lockdown Liverpool Cosmic Scally is now spat. A byword for a pothead, conspiracist, cultist, domestic terrorist, it's become a lightning rod for division in a city that has been cleaved by coronavirus – one in which the separation isn't as simple as left versus right, or pro-versus anti-state.

On the weekends, so they say, it's the Cosmic Scallies, not the far-right or the Brexit libertarians, leading the charge for lockdown liberation. Arm-in-arm with a ragtag congregation of personal trainers, shop owners and yoga mums, the Cosmic Scallies have been designing flyers, organising meet-ups and – on testier weekends – battling coppers in the city centre.
Locations for their rallies are usually kept schtum until the day, but more often than not they're at Paddy's Wigwam, the Catholic cathedral dubbed one of the 10 ugliest buildings in the world by CNN, or the Bombed Out Church, the former Anglican parish badly damaged during the Blitz (one of the world's most beautiful). Protests tend to start peaceful before turning ugly, with the arrest tally nearly doubling week on week. One recent flyer even advised bringing an umbrella to avoid the gaze of spy planes. Yes, spy planes.
But on the other side – the side of ​"normalcy" in a time when that concept is as dead as disco – is the city's conscientious youth. They don't support the government, or the council, or the police, or even the opposition party in its current form. They're not into pearl-clutching histrionics and they're not browbeaters. And yet they don't want the city to look stupid in the national spotlight either. They want to take the hard medicine, keep their heads down and do their bit to keep Liverpool out of the headlines.
So when they see Cosmic Scallies in the park with their boomboxes, singing along to Bob Marley's Three Little Birds with no masks in sight, they flip their lids. Both sides are fighting over the same vision of Liverpool: a city free from lockdown, free from Covid-19, free from mockery and free from Boris. The pre-lockdown Liverpool of February 2020. The Liverpool they don't want to let go of.

At the centre of this battle is Sine Missione. He hasn't made any secret of his stance on the so-called ​"plandemic", a conspiracy theory in which shadowy global powers have either concocted or exploited the virus to bring about a ​"great reset" in the world economy. His Instagram Stories are a rolling stone of conspiracies from all corners of the internet, be it face masks, freemasons or the apparently regenerative powers of consuming Shilajit, a jet-black mineral resin found in the foothills of the Himalayas.
For years he had no voice beyond his artwork, which was found on old BT phone and power boxes. They were mostly colourful, printed, stencilled slogans – ​"Have a boss day"; ​"Believe in yourself"; ​"We rise by lifting others" – or inspirational quotes by everyone from Emmeline Pankhurst to Tupac Shakur. His presence was just one of the city's little quirks. But now his relentless dedication to railing against every aspect of lockdown life, to an audience of nearly 20,000 trusting Instagram followers, has made his own voice loud and clear. He even has a shop in the city centre, where you can buy T‑shirts and hoodies with Nikola Tesla or Che Guevara on them.
Sine Missione is seen by many as a menacing puppet master – Liverpool's cult leader, Liverpool's Jim Jones, using the language of peace and love to lead his band of Cosmic Scallies into the abyss. And as dozens of council's street cleaners have already found out, he's going to be stubbornly hard to get rid of.
Liverpool's relationship with the cosmic side of life runs deep. Spiritually, the city's implacable character is grounded in the millions of immigrants who passed through the docks during the period when Liverpool was one of the wealthiest ports of the 19th century. Confucius, Martin Luther King and the Prophet Muhammad had footholds in the city long before anywhere else in the UK – not to mention migrants who arrived escaping famine or looking for work from within the British Isles.
"We inherited everything: Irish Catholicism, Welsh mysticism, sailor superstitions and those mad Celtic sunsets over a city cut off from the Anglo-Saxon mainland," says Paul Du Noyer, Liverpool-born author and founding editor of Mojo. ​"Surrealism and psychedelia were baked into the city before those words were ever coined."
This nascent weirdness sprung to life, as it did elsewhere in the Sixties, as peace and love with a side order of trippy psychedelia, became the order of the day. Liverpool's Sixties were noticeably more transatlantic than London's, owing a debt to the port and the relative availability of LPs straight off the boat from New York.
With Merseybeat running riot, the city's bohemian scene became the envy of the world. Pioneering artists like Adrian Henri, psychedelic bands like The 23rd Turnoff (named for the exit off the M6 that brings you into the city), as well as a local act named The Beatles, drew inspiration from the city's decaying Victorian splendour – a decay so surreal in its speed that most would've watched it happen in real time, as jobs and money drained from the docks due to the decline of Britain's export industry.
Throughout the Eighties, another era of terminal joblessness, the city continued to incubate world-historic weirdos like Julian Cope, Pete Burns, Ian McCulloch and The KLF's Bill Drummond (a Scot who would go on to, among other things, set fire to a million quid). But in this time came the first proper Cosmic Scallies: The La's, who embodied ​"young Liverpudlian men with a drug-enhanced tendency to dreaminess", in the words of Du Noyer.
"Scallydelia", as the La's‑led trend became known, was a lot less about acid and amphetamines, as its forerunners had been, and a lot more about heroin and ecstasy – drugs that, thanks to that pesky port again, you could get in greater volume and higher quality than anywhere else in the country. The La's set the model for the Cosmic Scally as the scene renewed itself – at a stoned and leisurely pace – over and again for 20 years.
Echo and the Bunnymen and The Pale Fountains were followed by Shack and The La's, then Cast (formed by La's bassist John Power), The Coral, The Zutons and a scrum of boys and girls who'd follow those bands from The Cavern to the Kazimier and back again, with pints in The Grapes in between. Everybody knew a Cosmic Scally, or had got chatting to one in a smoking area, and they were harmless: vaguely creative idlers with slightly odd hobbies and the occasional allotment.
Over the last 10 years, however, the city has changed immeasurably, driven in equal measure by Tory austerity, the return of unemployment and the rule of now-disgraced ex-Mayor, Joe Anderson (currently on bail for bribery and witness intimidation). Liverpool has opened its arms wide, perhaps too wide, to the student economy, bringing in an influx of new, adopted scousers so numerous that it quadrupled the city's rate of population growth after years of stagnation.
While that's no bad thing in itself – we are the country's oldest melting pot, after all – students mean nightlife, and nightlife, often, means drugs. The city's psychedelic side has seen itself revived with weed from Amsterdam, pills from Ibiza and all manner of heavy hallucinogens snapped up off the dark web, on hand for you to explore the cosmos between lectures and seminars. For some, that meant realigning their chakras and projecting dreams while rolling double-skinners. For others, it meant dropping acid and disappearing down YouTube rabbit holes at all hours of the night.
New Age thinking isn't just limited to the young and tripped-out these days, either. ​"Scouse spiritualism" is its own entity, too – you can find countless reiki practitioners, meditation coaches and tarot readers up and down the city on hand to assist any scouser searching, through Facebook nine-times-out-of-10, for some kind of deeper meaning to life.
I caught up with one such coach, the self-dubbed ​"Scouse Guru" Martin Bone, who didn't hesitate in diagnosing why. ​"People these days are anxious," he told me. ​"Right now more than ever. They're longing for some form of connection, to feel part of something bigger than themselves."
That belonging can now be found online, amid a cornucopia of memes and quotes, star-sign readings and adverts for crystals and CBD oil. But like everywhere else, Liverpool has become a more politicised place, turbo-charged by the pervasiveness of social media and its capacity to misinform.
Through common interests in spirituality or alternative medicine, people are now banded together in Facebook groups, reading each other's updates and sharing each other's outrage like never before. (An example of this phenomenon came in 2018 with the ​"Alfie's Army" Facebook group, who vehemently protested outside Alder Hey Children's Hospital when doctors applied to the High Court to have two-year-old Alfie Evans' life support machine switched off against his parents' wishes. With its mobilising and skepticism towards doctors, Alfie's Army were, in many ways, the forerunners of today's pandemic protesters.)
Put simply, the Cosmic Scally tag is broader than ever now, and accessible through all manner of ways, whether you come at it through youthful naivety, psychedelics, meditation, loneliness, or simply because of what you've seen shared online. They've become more spiritual, more meditative, cleaner, healthier. Some have even kicked the weed and gone straight-edge. But above all else, they've started to look upon the world not with blithe, hazy optimism but with anger and skittish paranoia, fuelled by the online feedback loops they keep themselves within.
Liverpool's cosmic worldview has never been more dystopian.

Sine Missione was an unlikely candidate to become one of the main characters of Liverpool in lockdown. In December 2018 he had been profiled in the Echo as the ​"Scouse Banksy", although the story gave scant detail on a figure next-to-nobody knew the identity of, despite seeing his work dotted all across the city.
"Sine Missione," they wrote, glowingly, ​"is on a one-man mission to clean up the city, to try and make people smile and to encourage them to broaden their horizons." They acknowledged that he was an electrician from Anfield, and that he posed as a workman to put his art together – details he was happy to share so long as his name and his face were not.
However, close followers of his Instagram account quickly began to see a different side to him. In August 2019 he was reposting fantastical stories about chemicals turning animals gay (a pet theory of the permanently angry InfoWars host Alex Jones, who was sued for spreading conspiracy theories about the Sandy Hook school shooting). In September of that year, the target was climate change. By October, flat-earth theories. By the start of the pandemic, his focus was on 5G, then the dangers of vaccinations, abortion, Bill Gates, the influence of George Soros (an anti-Semitic conspiracy theory first popularised in Hungary), and so on.
Everybody is already aware of Covid-19's impact on daily life and on our relationships with one another. But in Liverpool, it shook up a core value of the city's identity fairly rapidly. Far from being the Independent Republic of Liverpool which every scouser secretly dreams of, the city had no choice but to fall in line with the government's rule – and not just any government: a Boris Johnson government.
The first anti-lockdown protest came on 16th May, two months after the first UK lockdown and a month after the virus's first peak. A couple of dozen protesters, who seemed to take their stand out of boredom and a desire to make use of the nice weather, sat around in Newsham Park until a few too many policemen on horseback rushed them off.
The city went another month on its best behaviour until a night that simply could not be struck off from the calendar came about: Liverpool FC's first league title win in 30 years. The city centre heaved, and the clouds above the Mersey turned red with gunpowder smoke. People took risks, because of course they did. Some had waited their entire lives, and others worried they would never see another chance to celebrate a title in their lifetime.
Sine Missione was there. He'd played quite a big part in encouraging people to head out, publicising the street parties and posting out invitations to particular spots. The Echo even featured him again the day after, for helping organise a postparty litter-pick – one of Sine's favourite hobbies, and one of the activities that made him something of a folk hero in the first place.

It was around the tail end of June, however, that the anti-lockdown movement really picked up pace, coalescing around Sine Missione, with some defending him and some attacking. The first big flare-up came off the back of him conning his way around the recently-imposed bylaw about mask-wearing: he asked someone behind a supermarket till for a particular lanyard, one which signals a hidden disability.
"Just got my sunflower lanyard for hidden disabilities so I don't have to wear a mask in shops and public transport: my disability is Iv [sic] got a strong case of Loving freedom," he wrote on one of his Instagram Stories.
For Rhys Roberts, a 21-year-old student from the North Liverpool suburb of Netherton, this was a prompt to publicly lambast the Anfield electrician.
"The first time we argued, in the comments of one of his posts, he called me a ​'communist' and told me how communism has killed millions," Roberts says. ​"When I told him that Che Guevara – who's all over his shirts – was a communist, he blocked me."
Shortly after, Roberts' posts about the lanyards racked up thousands of likes on both Twitter and Instagram. ​"People were on board with me speaking out," he adds. ​"They understood that, as a city, this wasn't something we could allow to get out of control."
This was the turning point, by all accounts, where people began to recognise that Sine Missione – and the Cosmic Scallies more broadly – were about more than ​"positive vibes only". The reaction against Sine Missione this time around was so vociferous that he was forced into what Roberts calls ​"a statement – not an apology", explaining his intent and acknowledging how it may have looked bad.
As the second wave swept through Liverpool, the figures of Sine Missione and the Cosmic Scallies continued to grow in the city's popular imagination. Toilet graffiti – one of the most effective ways to read the city's mood – started dubbing Sine Missione the ​"Ketamine Gandhi". Some of his artworks were struck through with spray paint in the city centre.
One Instagram account, SineOnMission, was set up to mock his artwork, replacing the faces of Che Guevara and Muhammad Ali with dafter, more absurdist choices, like Fred West and Optimus Prime. The person (who chose to remain anonymous) running the account (which no longer exists at time of writing) told me that, beyond just being funny, they were helping to give people a voice against the city's increasingly noisy conspiracy theorists. ​"We think people understood that the best way to counter an absurd message is with something equally absurd."
The situation became more febrile when Liverpool became the first city to be locked down under Tier 3 restrictions on 14th October 2020, before becoming the government's trial city for an army-led mass testing program at the start of November. The eyes of the nation turned towards what appeared to be a city completely overrun by Covid-19, and nobody had any more time to play along with the joke.
Sine Missione began to organise and publicise weekly marches in the city centre. This latest move from the government, placing soldiers and state power at the forefront of the testing effort, sent paranoid minds racing.
Shortly after the lockdown started, Roberts was passed screenshots of Sine Missione arguing viciously with a nurse who had confronted him about the kind of information he had doled out to his followers. This time around, when Roberts made them public, he received a far more abusive and threatening response from those defending Sine Missione.
"I knew that it might happen. Someone else who had called him out in the past had warned me about the level of abuse," Roberts tells me. ​"They had been scared into taking their post down. Many people were scared of what could happen if you spoke out against him."
For days, Roberts was swarmed with attacks from Cosmic Scallies: in his DMs, in the Instagram comments, on Twitter. Some were death threats, suggesting in vague terms that he would be ​"hurt" if the post wasn't taken down, or that someone would find his address and he would be ​"dealt with" and ​"no longer be here" afterwards. Roberts shut off his accounts for a short while after.
The people behind SineOnMission took their account down around the same time, having picked up a lot of popularity quite quickly – something that didn't go unnoticed.
"We got a few threats," they told me, ​"but aside from us, others were being accused of running the account and getting the same treatment – people totally removed from what we were doing. After that, we just decided to walk away." By the end of November, Sine Missione wasn't a joke anymore: he was the city's dividing line.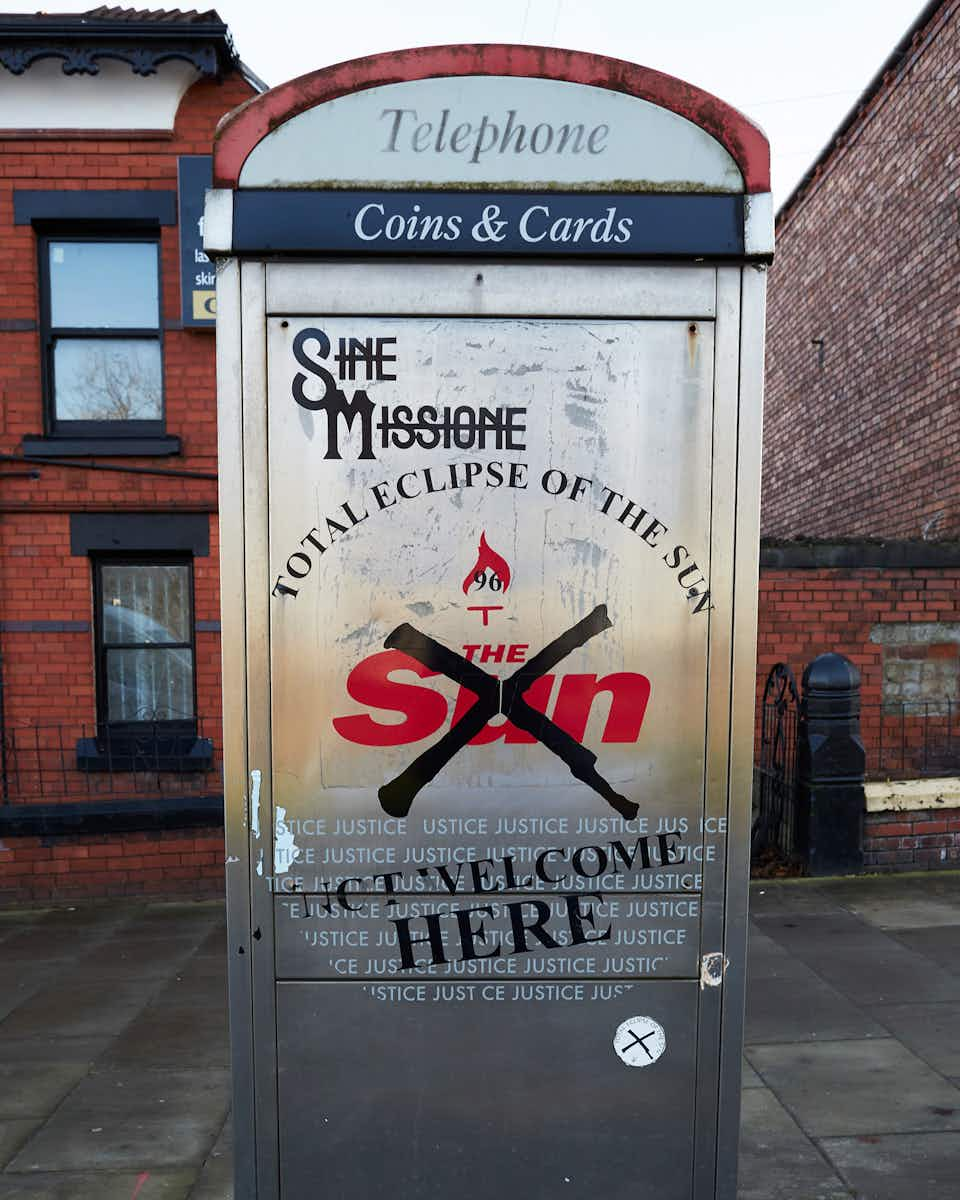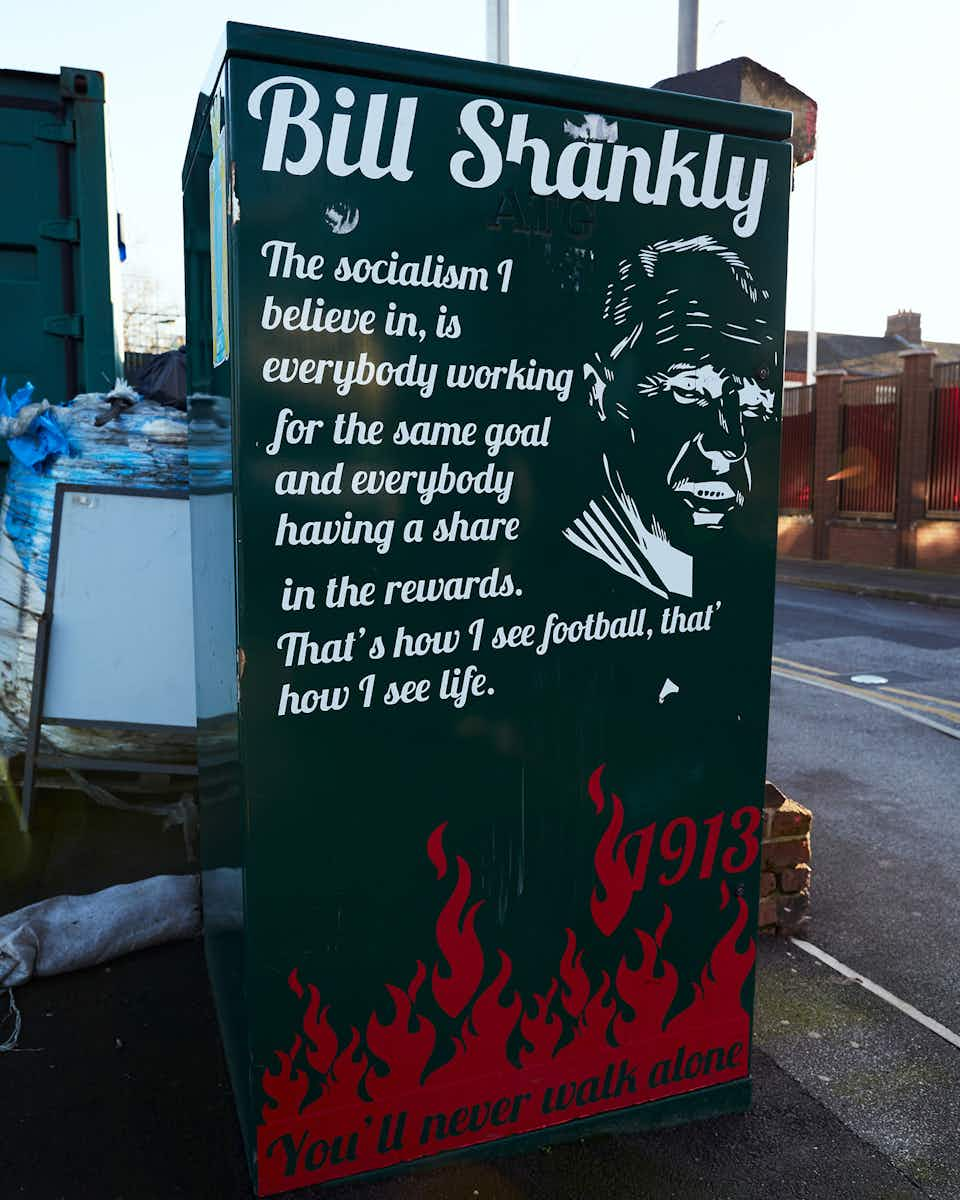 The man behind the mask – or, indeed, without a mask – agreed to meet me in a café on the docks. Who would I be dealing with? Was he one man or a team of 10? Would he be a ranting, raving prophet of the rapture? Would he have a troupe of holy soldiers sat on the table across, primed and ready if the interview went down the wrong avenue?
Far from it. He had just finished up a rice bowl and a can of Whole Earth cola, and was more kagouled up than tooled up, looking like just about any other scouse lad in his late twenties. He was friendly and unassuming. We got on.
"I never wanted to be an electrician," he told me. ​"I was always creative when I was younger, and that side of me disappeared completely when I picked up the trade." When he broke his arm on the job in 2013, he was able to win a personal injury claim that landed him with a bit of cash. Looking for something to do, he did a bit of soul-searching and realised what he wanted to do was design, based around the subject he loved most: history.
He started off doing shin-pads for Thai boxing, then MMA shorts, before settling on T‑shirts, all with designs tying into the meaning of ​"Sine Missione": the gladiatorial term for a fight to the death (it's Latin for ​"without mercy"). More designs followed: ones featuring Spitfires, or shadow plays of the Boer War's Battle of Spion Kop, which gave the name to Anfield's most famous stand.
One day, while he was putting his T‑shirts together, a mate showed him how to design and print vinyl stickers. Opting to try out a bit of guerrilla marketing, he printed off an outline of Christ the Redeemer and stuck it on a fuse box on Larkhill Lane in Clubmoor. ​"And the rest," as he says, ​"is history.
"I want to make people's lives a bit better," he continues, ​"change their day by putting a smile on their face." To do that, he picks quotes strategically – putting more bolshy, revolutionary words in poorer parts of the city and more hippydippy quotes in the posher areas. He paints in broad daylight, sticking on a hi-vis jacket and going about it like it's the most normal thing in the world. ​"The area manager from Virgin Media caught me once and he was just puzzled by it. I think he liked it though, and after that he just left me to it."
We drifted off-topic to chat about World War One and the nice parts of Glasgow. But we had to talk about the real stuff now: the pandemic and the posting and the pot-stirring and the fear-mongering. And the thing is… we didn't spend half the time in violent disagreement.
The government has lied and botched things. Pharmaceutical companies are bad. There has been a near-absence of support for many kept at home and lives have been ruined by lockdown as much as they have by the virus. These are things that regular people all over the world believe. You might, too, if I asked you. But he isn't saying that online. Or, rather, he isn't saying just that. ​"9/​11 broke the illusion for me," he says.
"I used to just believe the news before then, but finding out how the American government brought down the towers – something I 100 per cent believe – transformed how I saw the world, and who is really in control. I saw 9/​11, Iraq, the credit crunch, Libya, Syria, and they just did it for me. I couldn't believe the media or the government ever again."
What he exercises now is, he would say, the logical endpoint of that view. That, I think, is why he seems to subscribe to literally every conspiracy theory known to man and 10 others you haven't heard of yet. He describes himself, more than anything else, as anti-establishment, and if the establishment is telling you to wear a mask and stay indoors for months on end, then he can't believe it. And that's fine – if you're doing your ​"not believing" at a safe enough (social) distance.
What's less fine is when you post around the clock, to nearly 20,000 followers, theories and snippets that trade off racism, anti-Semitism and callous self-absorption, not to mention just sheer bollocks, posted by sites with an active interest in misleading you. The enemy of your enemy is not your friend, and through boosting these tall tales and falsities, he has angered and upset countless people.
"I don't hate them," he said of those who've had a pop at him. ​"I pity them, I feel sorry for them. Because they have so much hate for me." Until this point, everything we had spoken about had been straight down the line. Now he said that anger and fear had ​"lowered [his detractors'] IQ", and made them unable to hear his uncomfortable truths. Unsurprisingly, he hates the term ​"Cosmic Scally", picking up that – guess what? – it isn't exactly being used as a term of endearment.
Without a trace of irony, he talked about people ​"who believe things online that have no basis in fact, not knowing that they're just taking on another person's bitter view". It wasn't grief or outrage driving his opponents, he said, it was another case of government divide-and-rule. ​"They" were the ones swarming him; ​"they" were the ones who couldn't see how they'd been played. I asked him about how he spots truth from fiction. He replied that he just has good common sense.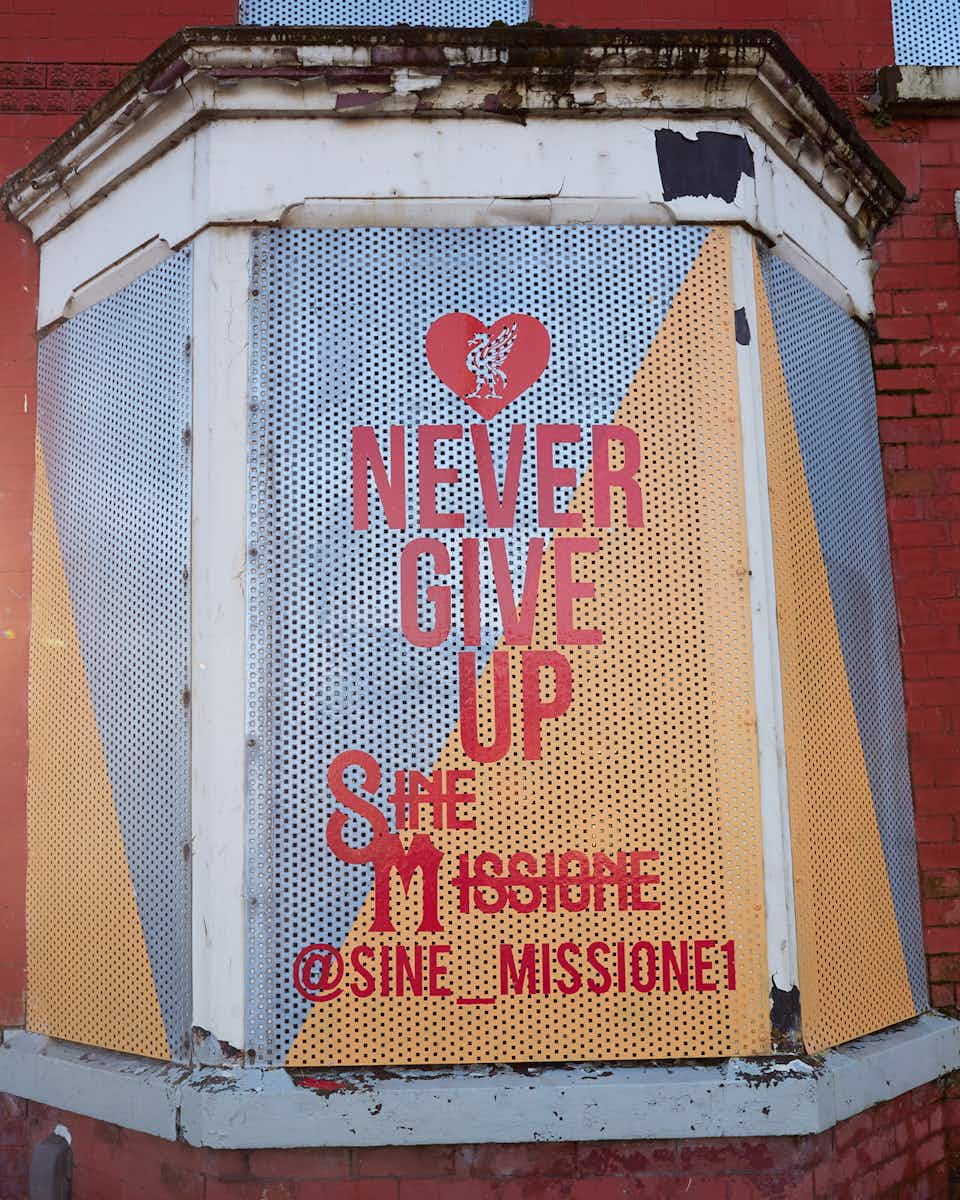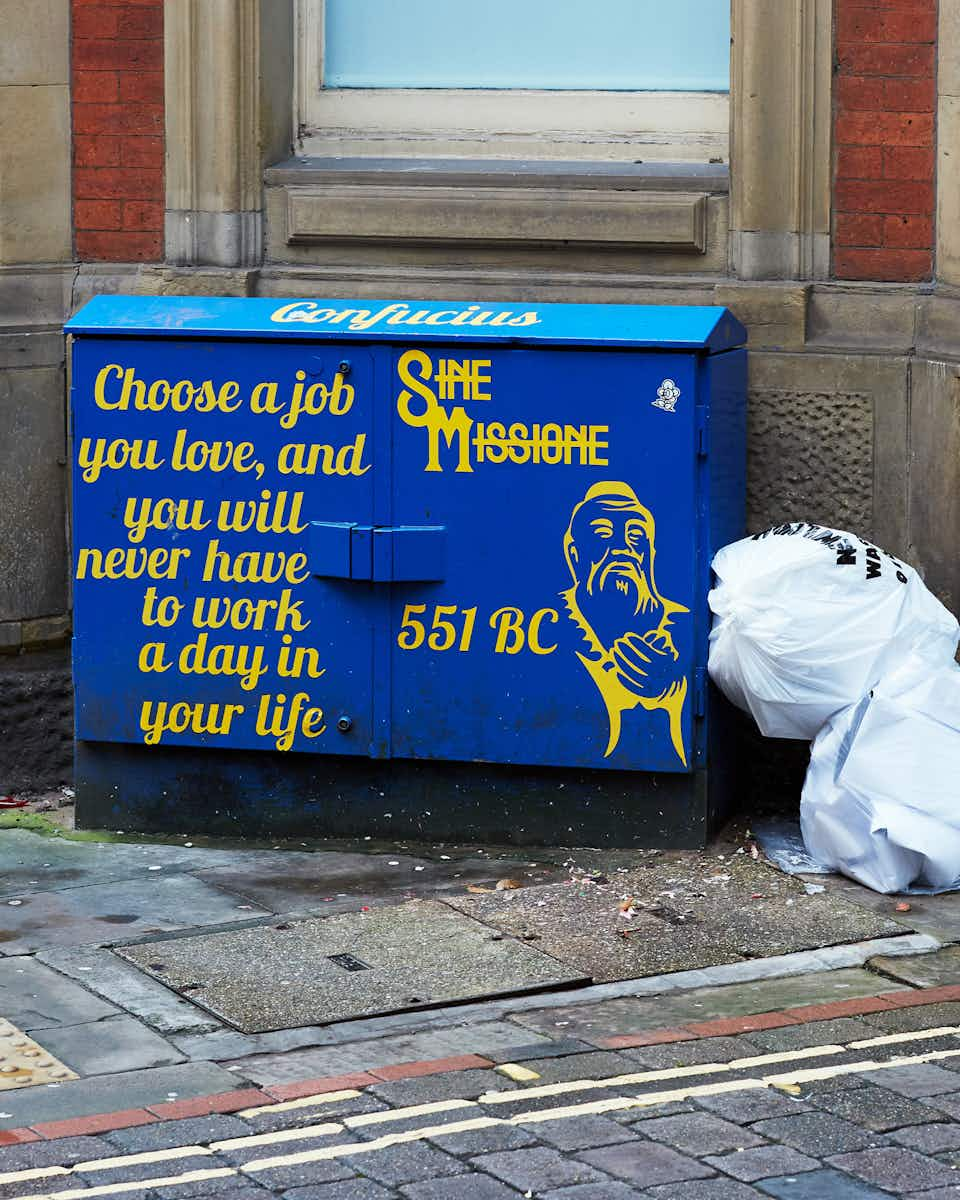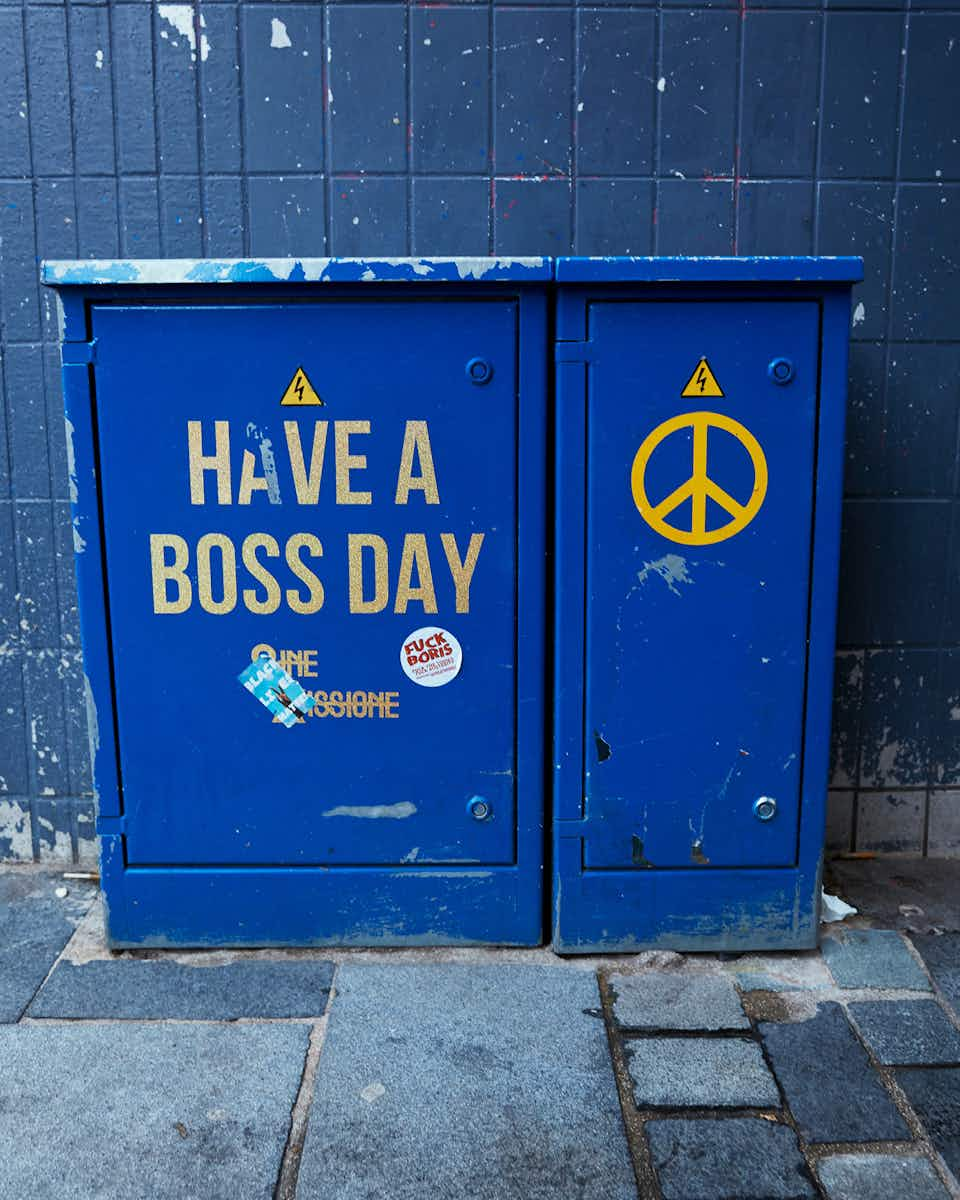 How did it get this bad? Nurses have been abused, Covid-19 hoaxers have picketed hospitals as ambulances pile up outside, test centres have been ambushed. Even the poor sods in their queues have got an earful from angry passers-by. And for many, Sine Missione's online dogwhistling is the root cause.
Families are bitterly divided – still – on the issue of the pandemic, and outright mask refusal is fairly commonplace, with cabbies finding themselves turning down the few fares they get because customers won't stick one on before getting in the car. Rhys Roberts was keen to point my attention to a bit of graffiti on Vauxhall Road, screaming out clear as day, ​"NHS = MURDERERS". The city is, to put it bluntly, losing its head.
Roberts considers Sine Missione and the pandemic protestors to be an articulation of the same forces we're seeing all over Europe and the US – the same powers behind QAnon and MAGA marches storming the Capitol, organised furtively on Telegram and Parler (the latter, at the time of writing, shut down for inciting violence) as rightwing chaos for its own sake. The people behind SineOnMission are a bit more generous and think that maybe the man himself has just been manipulated by what he's read and seen.
Is Sine Missione right or wrong? He's certainly no cult leader. No puppet master either – not intentionally, anyway. He takes genuine pride in doing good deeds, through art and litter-picking and working with the homeless, and if he just kept to that, I doubt people would have any kind of strong opinion about him.
But in looking to distinguish himself against the common consensus, he has swallowed oceanic quantities of bullshit, and is as responsible as anyone else in the city for sharing it around and misleading people, like he himself has been misled. He's playing a dangerous game with other people's lives – and we're all the losers for it.
"I'm going to try and sort out the way I am online," Sine admitted to me when we met, sounding wearied by the whole thing. ​"Because this is all people know me for now."
He talked about upping sticks and doing it all again in Manchester – just the nice, happy quotes and stickers, and none of the politics.
"Seven years of good work – litter-picking, helping the homeless, planting trees, making people happy. Now I think I'm too far gone in the city."
Where all the chaos and division will lead still remains to be seen. For Liverpool, it might not be as easy as starting over.

More like this