DIY posters are popping up around the country depicting harrowing stories of life under Tory rule. Here are the most powerful ones...
In their ten years in power, the Tory government has brought the nation to a standstill with Brexit and allegedly caused 130,000 preventable deaths, thanks to the severity of its austerity cuts. We've had three prime ministers, two of which were originally elected by just 160,000 Conservative Party members and, just when we thought it couldn't get any messier, a General Election was announced earlier this month.
Taking place on the 12th December, it will be the nation's third election since 2015. With the fate of Brexit, the NHS and even the welfare state resting on the outcome, the left is staging a final push to dethrone the Conservative Party. Enter: the grassroots campaign #ToryStory.
First noticed by @Prolapsarian on 4th November, people have been pinning handwritten signs to bus stops, detailing how the Tory government has impacted their life over the past decade.
"Found on a bus stop. What an amazing idea. Gonna go home and make some of my own about my own life and put some up [a]round my area. Imagine if everyone starts doing this — every bus stop in the country plastered with 100 stories of how the Tories have screwed our lives." @Prolapsarian tweeted, garnering nearly 15,500 likes and over 5,000 retweets.
"Brilliant idea. So powerful." @Kennnny9595 replied. ​"Creative and brilliant way to get our message across." @Kittymost agreed. @ReisingAlma also weighed in:


With over 350,000 tweets sent per minute social media can be a great platform to build movements (as proven with #ToryStory); but an individual's personal experiences can easily get lost in the Twitter abyss. By writing out these stories and posting them IRL, the authors create a more tangible testament to the misery they've suffered under the current government.
"My 5‑year-old son has read every book in the book corner in his classroom already after only 2 months at school. The school has no money for new books due to Tory cuts."
"I'm an NHS GP. My community is sick from air pollution, damp overcrowded housing, the stress of zero hours contracts + rejected benefits. We are all that's left to support them but have to do more and more on ever stretched budgets, fewer staff and a decimated NHS. We won't survive 5 more years of this. Vote labour for the NHS #ToryStory."
"I should have been provided with an interview room & specialist worker at a job centre interview. I was forced to disclose my history of violence & assaults in a public space. I went home, cut my hair off & decided to end my life. I had 2 months psychiatric care. #ToryStory #VoteLabour"
Beginning in London, the guerilla campaign has reached further afield, with @EdnaClue sharing this #ToryStory from a bus stop in Glasgow Southside:
@DeadBitBabe shared this heartbreaking tale from Brighton Kemptown:
However, not everyone is convinced by the movement. Slamming the inability to verify the stories and subsequently, asking whether it's just an elaborate publicity stunt by the Labour party…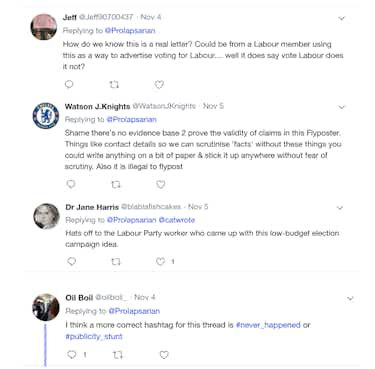 Then again, as @HelenLovatt2 points out, if Labour is behind the campaign and merely trying to capture voters from the Cons, maybe they should consider whether they're reaching the right demographic…


Regardless of what you think of the #ToryStory movement, make sure you register to vote before the deadline on 12th December.

More like this