"

We keep going because we're Ukrainian": Kyivians on the missile attacks
After the capital city centre was hit by Russian missiles, we speak to some of the young people living in Kyiv about their experiences.

On Monday, central Kyiv was hit with a barrage of Russian missiles – the first attacks on the Ukrainian capital in months and the worst since the war began on 24th February. Explosions were seen in almost every other major Ukrainian city that day, including Lviv, Kharkiv, Dnipro and Zaporizhzhia. President Vladimir Putin said the wave of strikes on Ukraine was a response to an attack on the Kerch Bridge linking Russia and Crimea.
I was in the area throughout and spent most of the morning sheltering in an underpass on Maidan Square. After getting the all-clear and leaving, I spoke to some young Kyiv residents about their experiences of the day and their thoughts on the continuation of Putin's attack on the Ukrainian people.

Polina Pastukhova, 25, IT project manager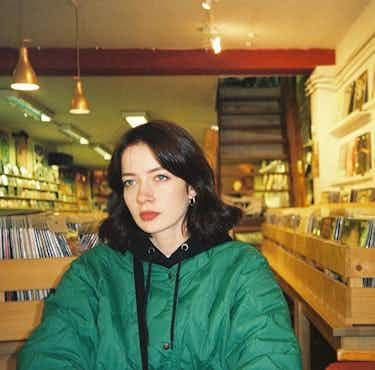 "I'm recording this voice note on Tuesday in the corridor of my apartment, because today we had the air raid siren on from 8am and this is the safest part of my home. We live in the centre of Kyiv. Yesterday, [as] I woke up and was getting ready for work, the air siren had been on for 90 minutes and my boyfriend was sleeping. I heard a whooshing sound and realised it was a missile. I shouted to my boyfriend to wake up and we heard the explosion, then a second whoosh and another explosion.

We heard glass breaking and I saw all the vases of flowers I had near the windows had fallen and broken. We were very scared, and decided to run with our dog and backpacks to a shelter. We got to the nearest one, which is an underground car park. There were a lot of people there already with their kids, cats and dogs. We stayed there for about three hours and learned that the last missile had fallen about 500m from our apartment. Our windows aren't broken, but a lot of our neighbours' windows are and the street was strewn with glass. Many people were injured nearby.

The siren came on again two hours later. This time we went to the subway station, because it's the safest place of all, and again, a lot of people were there. Today we are staying in the apartment for now. We know that a few missiles have been hit by our missile defences and are hoping for the best.

I don't know what Russia wanted to achieve with this, but if they wanted to scare us or make us surrender they should know that's never going to happen. We are not scared any more. We are just very angry for all the dead people and the damage to our cities. I think what Putin did yesterday was only for his internal audience, to be able to show some ​'great' pictures on TV because a lot of his supporters are saying ​'hit Kyiv, kill them all', and so on. It was just a very expensive way to produce some TV footage.

I'm sure we will win, but we really need the whole world to not forget about us, because we are alone fighting a big terrorist state. We need weapons and support and for people to keep talking about it. Don't forget that every day we are living in a different reality. But we will never surrender because we are Ukrainians and we have no other choice. The only way we can exist is by fighting and beating Russia."

Andrii Siguntsov, 30, curator-in-chief of the Museum of Contemporary Art, Odesa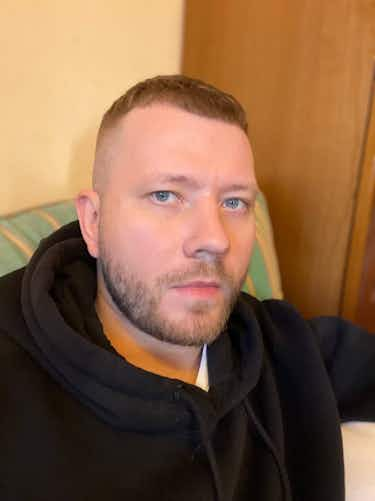 "I returned to Kyiv from a business trip and felt inspired by the news about the [explosion of the] Crimean bridge – a symbol of Putin's expansion. On Saturday and Sunday, the weather was great, there were a lot of people on the streets. There was a holiday atmosphere. Naturally, we waited for a [retaliation]. The first siren I heard was very persistent and did not stop, and after a few minutes, I heard a familiar whistle and explosion. It was around 500m from my house. The second one was even louder and more powerful – the windows of my neighbours were blown out. Then more explosions. But this does not cause fear [for us] at all. The president of the Russian Federation doesn't understand that he has made a big mistake that will destroy the under-developed territory under his control. People died, which was terrible. But everything else will be restored, or has already been repaired. Universities, museums, book publishers, pedestrian and bicycle bridges, playgrounds. These are the things Russia bombs while its soldiers flee in terror from the battlefield."

Anja Kisirija, 29, project manager
"Monday was a mix of different events. On one hand, it was [another in] the continuous chain of horrible acts by Russia, and on the other, a pretty mundane hiccup in everyday life. I woke up around 8am and heard a distant bang. Right afterwards I heard a massive explosion. It was pretty close and sounded like the real thing. I took my dog to the hallway with her doggy bed and toy. My partner and I packed a backpack – I always have my ID and medical cards in there, and I added dog food, two tourniquets and my laptop.

We started to charge our devices. I made coffee and my partner made himself oatmeal. I was too stressed to eat, so I laid half on the floor and half on the doggy bed, scrolling through Telegram channels trying to understand what had happened. My emotions were different to 24th February, when explosions also happened in Kyiv. I was calmer, less angry. At the beginning of the war, you didn't know what was happening – will you die? Will your relatives die? What will happen to your country? It's not that I wasn't scared this time, but there was this feeling that you just need to wait. Like, even if something happens to you, your country will still win this war. Because of this knowledge I guess the situation was more bearable.

Then it got scarier. There was a huge explosion that sounded so close I thought if I left my home and looked back at it, half of it would not be there. From this moment it was a countdown until the wave of explosions ended. Strangely we became calmer: we looked at memes, I started to respond to work chats. I know it sounds pretty crazy, but somehow your brain just adapts to everything. We were in our hallway until the air alarm stopped. Then we went to look at the damage and buy a cappuccino.

People returned back from the shelters with backpacks, somebody started to sweep up the broken glass, and our favourite vendors opened their shops. Everybody was moving a bit wildly and people looked very stunned. A lot of windows were shattered but it didn't look like serious damage, more like a big waste of money [for Russia]. I was worried about whether there had been people in an office building nearby, because it seemed to me that [Russia] chose a time when everyone was going to work. It is a 116m-tall building and the whole facade of it was shattered. It looked defenceless, like a naked skeleton. You could see office tables and blinds inside, even plants, scattered across the floor.

Then the mundane part of the day started. I picked up a parcel for a friend who is in the army and we came back home. I thought about whether I could use this as an excuse not to work. We were laughing about it, saying ​"hey, a bomb fell two minutes from our house, sounds like a pretty reasonable excuse not to work!" But I decided I should do something and started to chat with my clients and my team to check how everybody was doing. Some of my colleagues are in Lviv and 90 per cent of the city was without electricity or phone network. My clients are from the US. They were very supportive and kept telling us that our safety is the top priority. But we worked nevertheless and even released an update for users which we had planned before it all happened.

Could I imagine something like this when I watched war movies in the past? Definitely not. What can I add? I'm impressed by the bravery, sense of humour and devotion of our people. When the explosions happened, people immediately donated around $3 million to help us, and I raised additional funding for my initiative to buy walkie-talkies for the military. Our city services repaired the hole in one of our roads almost immediately. We are not scared. We know why we keep fighting. And how everything will end."

Vladyslav Shast, 27, before the war: queer performer and commercial stylist. Since the beginning of the war: volunteer and member of a charity fund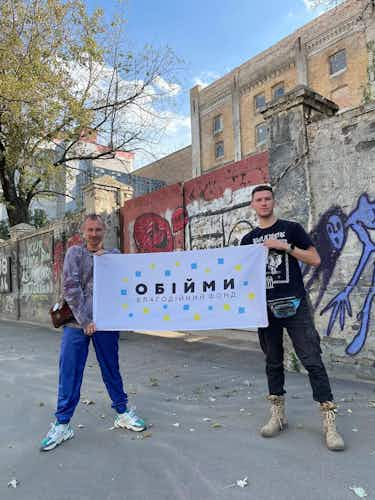 "I woke up early in the morning to go to work. I heard about the first explosions from my mum and then I heard the next set of explosions myself. The windows shook like fuck but I wasn't terrified. I have spent every day since the beginning of the war in Kyiv. I started to volunteer alongside my mum on the third day of the war and now all our fear is in the past. We just have anger and the motivation to do more. Russia can't break us, we are fearless now. This country has already lost so much and we have already moved through fear, pain and sadness. Now there is only the passion to support our soldiers as much as possible. We are united in this."

Kostiantyn Khudov, 37, producer and fixer for the Washington Post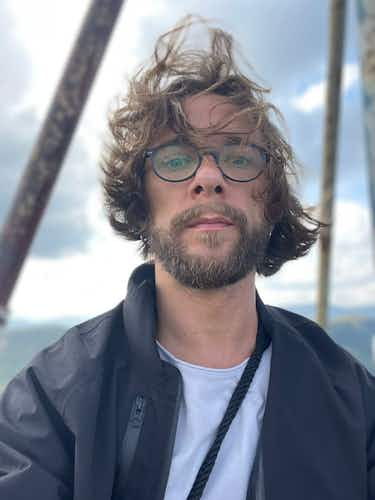 "I woke up and jumped from my bed when the first missile hit, despite having earplugs in. I realised straight away what it was, and checked the news and Telegram channels. Then, weirdly enough, I did the same thing I did the day Russia invaded: I went for a shower. Then I had calls from family and the [Washington] Post about how we would cover it. I shut my dog in the bathroom because it's safest there – I live on the 15th floor and I didn't know how things were going to go.

I went out and picked up the Post​'s correspondent from the hotel and went to see the blast sites at Taras Shevchenko Park. I don't know what they were trying to hit there, but [the missiles] hit a playground and an intersection in the road. Then we went to a metro station to interview some people who were sheltering there. That was quite emotional because we interviewed two mothers who had just arrived back in Kyiv with their kids from Georgia and Poland, after being out of Ukraine since the start of the war. It was their first day back in the city, having come back thinking it was safe. One of them was crying because they didn't know what to do, whether they should leave again. We also interviewed a 70-year-old woman whose son is in the army. He had called her and shouted at her to shelter immediately, because Russia had launched so many missiles that the air defences wouldn't be able to shoot them all down.

Then we transcribed and wrote up the coverage and had our first meal at about 7pm – everything was closed in the city but luckily we could order from the hotel. I came back home and realised there was no water or power, and no one knew when it would come back on. I'm not sure what will happen tonight or tomorrow."

Vladislav, a barista at the Ulitka Coffee stand on Maidan Square, speaking moments after the all-clear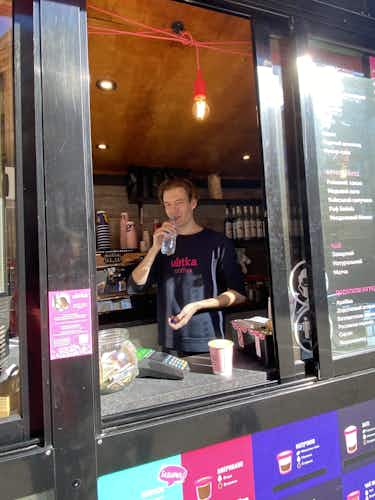 "I've been working for 20 hours straight. I closed the stand for five minutes when the first strikes hit but then decided to open up again, because people need coffee even if there are bombs. We have another stand in Taras Shevchenko Park where they just bombed the playground. I just talked to my colleague over there and she has already opened up again. We keep going because we are Ukrainian. I don't mean that I think we are unique in being able to do this, though. I hope this never happens to your country, but if it does you will see the same from your people. Now I have to get back to work."


More like this