"

No one wants to hear us": young Parisians on police brutality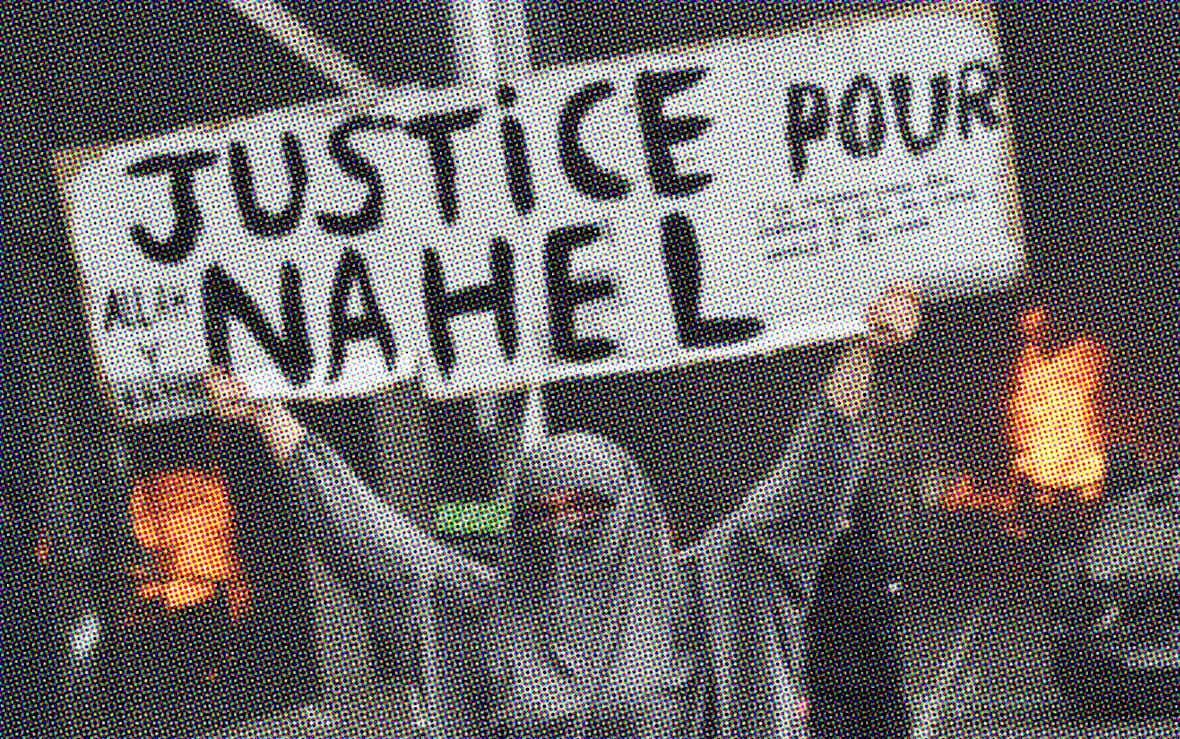 As the country prepares to celebrate Bastille Day, THE FACE speaks to young Parisians still reeling from the killing of Nahel Merzouk, the 17-year-old shot at close range by police last month.
On evening of the 27th June, the whole of France watched in shock at a video showing Nahel Merzouk, a 17-year-old French-Algerian boy, being shot dead at point-blank range by Florian M, a policeman from Hauts-de-Seine.

The shooting triggered a week of riots and looting across the country which set the poorer neighbourhoods on fire – again – with Merzouk's death seen as a direct result of the French government's decades of neglect, stigmatisation, marginalisation and humiliation of its working-class districts. Almost 20 years after the controversial deaths of the teenagers Zyed Benna and Bouna Traore in another Paris suburb – following a police chase in 2005, leading to three weeks of riots – it seems the government and law enforcement have learned nothing. Nahel is the third person in France to be fatally shot by police during a traffic stop this year, while 13 people died under similar circumstances in 2022.

But it isn't just young people on the streets of France who are outraged. The excessive force and brutality used by French police on protestors has been condemned by the UN and human rights body the Council of Europe. ​"This is a moment for the country to seriously address the deep issues of racism and racial discrimination in law enforcement," said UN spokesperson Ravina Shamdasani. ​"We also emphasise the importance of peaceful assembly. We call on the authorities to ensure use of force by police to address violent elements in demonstrations always respects the principles of legality, necessity, proportionality, non-discrimination, precaution and accountability."
The debris from the protests may have been swept away, but the underlying resentments have not. Ahead of Bastille Day (14th July), France's national holiday, THE FACE went out in Paris to gauge the feelings of la jeunesse française.
I work in République, in the heart of Paris, but I come from Grigny. There – and I'm not joking – it's getting serious. Frankly, it's war. On one hand, it's sad to see how far we've come. I don't incite anyone to hatred, and especially not the little ones, especially since they were the ones who were outside these last nights… We all know these riots are a mess.

But after it's all died down, no one hears us here. In fact, no one wants to hear us. You don't want to hear us? You want to keep silencing us? Treat us like animals? And now you're shooting at us when you're supposed to protect us?

And yes, once again, we all heard about this crime thanks to a compromising police video. But in real life, how many Nahels have not been filmed?

So deal with the consequences. All the working-class districts of France have become a sounding board demanding justice for Nahel. Put it this way: peace won't be here for a while.

Listen, I seriously understand the anger – the riots and clashes that followed Nahel's killing. This isn't the first time the police have murdered a kid from the suburbs. It's the same old story. Police violence has been going on for generations in France – it's unthinkable.

Basically, the story keeps on repeating; except that with Nahel, what with the horror of the video and the way it was shared on socials, it's as if we reached a sort of terrible new peak, hence these shocking reactions. And then on the second day of the riots, you saw Macron dancing at the Elton John concert! I think that says a lot about his awareness of how serious things are.

And then, to top it all, there was the fundraiser!* The message there is super-destructive too. What does it ultimately mean? That the death of a child, from an immigrant background, who was killed by an adult working for the state, can make the guy who shot him a millionaire? What kind of message are we trying to get across here? In terms of legitimising institutional racism, we can't do any better. And what about the kid's mother – did anyone think of her? Or his relatives? We can't call for calm when there's so much indignity out there. Not one member of the government came to meet Nahel's family.**
No justice for Nahel? OK, so no peace in the districts.

* Shortly after Nahel's death, French far-right figure Jean Messiha started a crowdfunding campaign to ​"support" the family of the police officer charged with intentional homicide. More than 1.6 million euros has been collected – an amount more than four times higher than that of the fundraiser launched for Nahel's family.

** The day after the murder, France's Interior Minister Gérald Darmanin, allowed the offending police officer to continue to be paid in his job, despite being indicted for intentional homicide and placed in pre-trial detention.
Have you ever walked into a police station? I did recently – it was to do with a driving licence. These buildings are supposed to be places of protection, but they're disgusting. The walls are yellow, the floor is sticky – you don't want to know why. Dude, when I went into that office, I was asked to sit on a garden chair!
The staff only reflect this collapse in standards. The civil servants who work there are exhausted, it shows. Because of this, they don't welcome you, they speak to you badly. Whatever you come to ask about, it's always a negative response. In fact, it won't go well because these people in front of you are too worn out and knackered to provide a basic public service. I think a big part of the broader problem comes from there, too. Obviously, that doesn't justify shooting a kid at close range, but if everyone hates the police, then the government also hates its own officials. Why keep them in these sensitive professional positions when they can't work with dignity? Believe me, this isn't the first drama and it sure won't be the last.

More like this