24-hour party people: the new crews taking over the club scene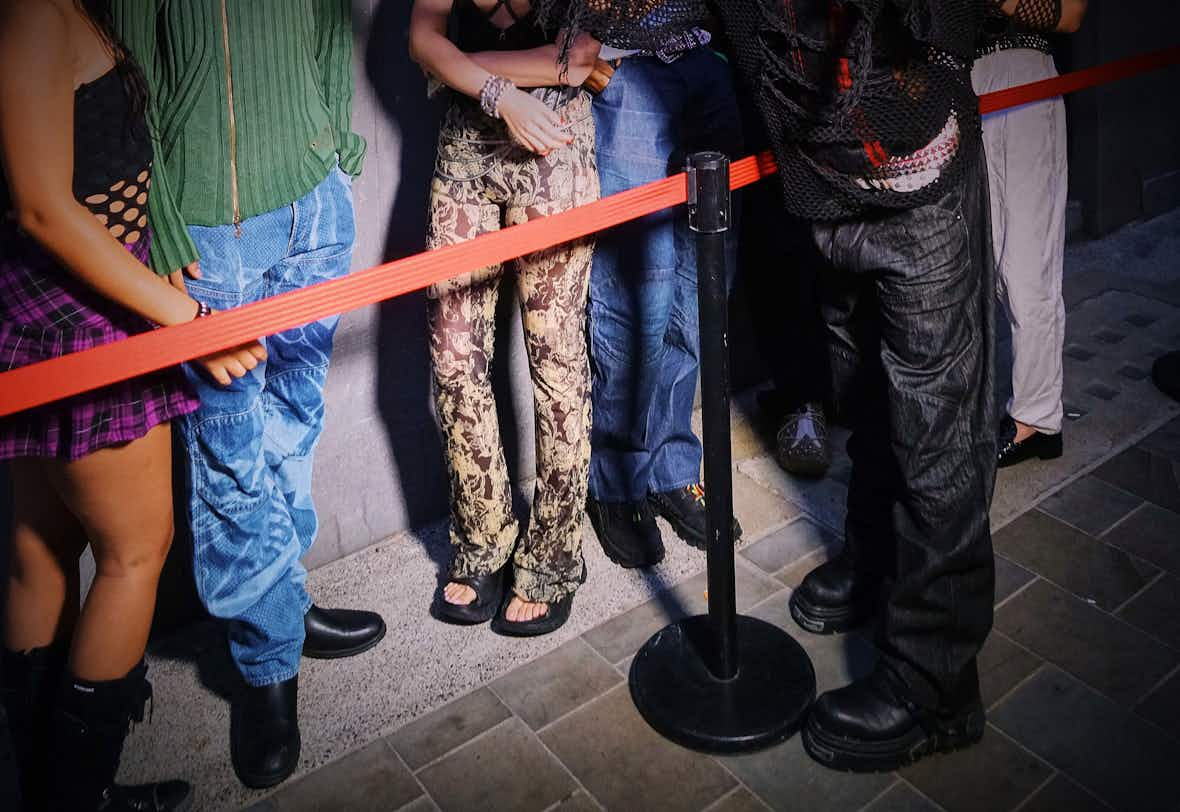 To celebrate the return of the G-Star Elwood jean, a cult club classic, we take a look at the subcultures dominating the dancefloor and breathing new life into nightlife.

Whoever said nightlife was dead clearly has an 11pm curfew. Okay, yeah, stats might suggest that young people are drinking less and, yes, nightlife institutions may be facing a bit of an existential crisis thanks to the binds of overbearing councils, overzealous developers and the cozzie livs. But that's no reason to overlook the fact that today's youth are more than ready to gather arms – and elaborate garms – to fight for their right to party.
On that note; back in the heady days of the early​'00s, no dancefloor was complete without a pair or ten of G‑Star Elwood jeans, the ultimate clubber clobber. G‑Star RAW's cult classic denim pants were first released in 1996, pioneering a Three-Dimensional Denim approach. This saw designer Pierre Morisset reimagine the jean to mould to the wearer's legs rather than seeing them as a flat piece of fabric. While he had motorcyclists in mind, they're also a perfect, hard-wearing fit for two-stepping ravers. Now, it's making a comeback, a 3D sequel you won't want to miss.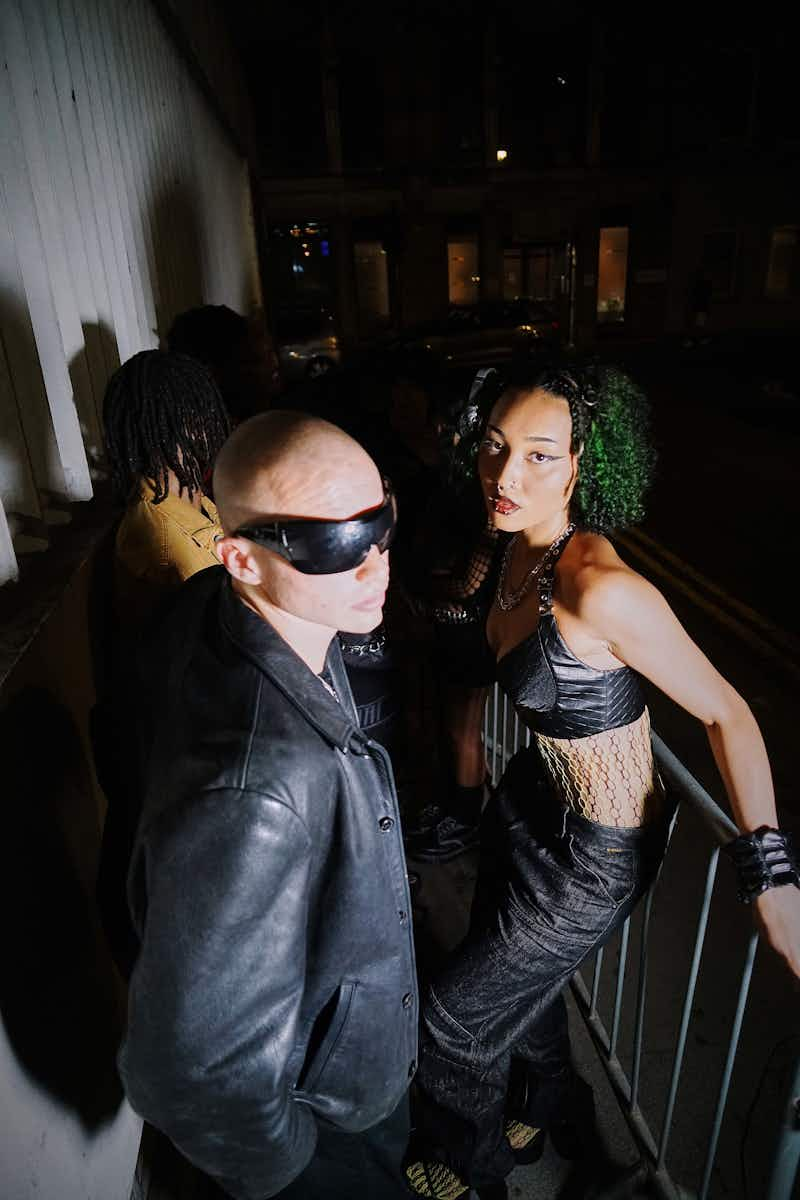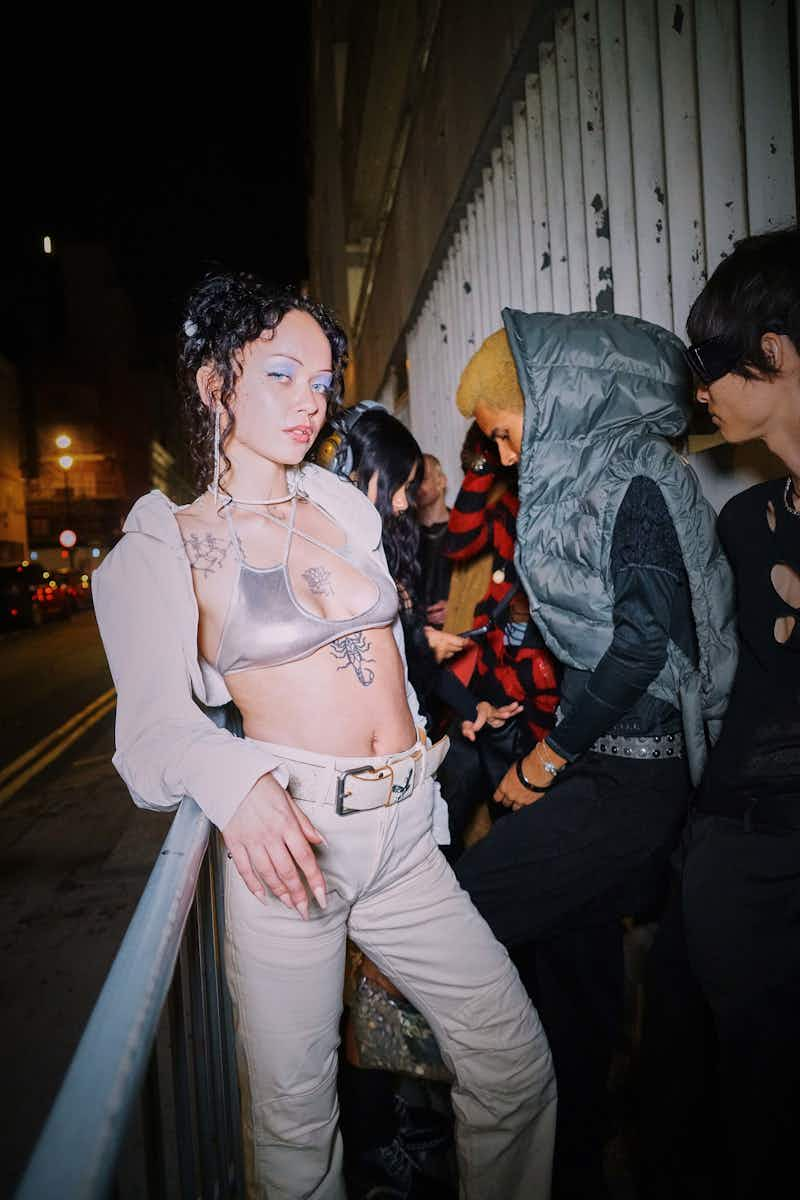 If anyone's going to embrace this denim revival, it's today's club kids. Scores of them are keeping the UK's nightlife alive, flocking en masse to warehouses, one-day-only pop-ups, fields, forests and all manner of revealed-on-the-night-via-Telegram spaces. Clubs might be shuttering, but 2023's dance music heads can turn up to a squat rave and make it seem like Studio 54 with nothing but an impeccable taste in tunes and an array of avant-garde outfits.

To celebrate the return of the G‑Star Elwood and the equal resilience of the UK club scene, we got to know three of the sonic subcultures pushing the nightlife scene forward, giving the relaunched 3D denim a spin at the same time.

If God is a DJ, the devil is the dancefloor: meet the paganistic cyber goths finding, not losing, their religion in front of the decks.
Cybergoths might conjure up visions of tutus, fishnets and steampunk goggles, low-quality crowd clips from Love Parade circa 2002 and dodgy neon wigs. Subculture, though, has grown in new, more esoteric directions to take root in the swampy, spooky undergrowth of East London since the pandemic years. The result? A hodge-podge of sounds – from EBM and gabber, to hardcore and hyperpop – spun in service of the city's newest wave of rave-ready goths, emo rawr revivalists and hyper-online Twitch streamers.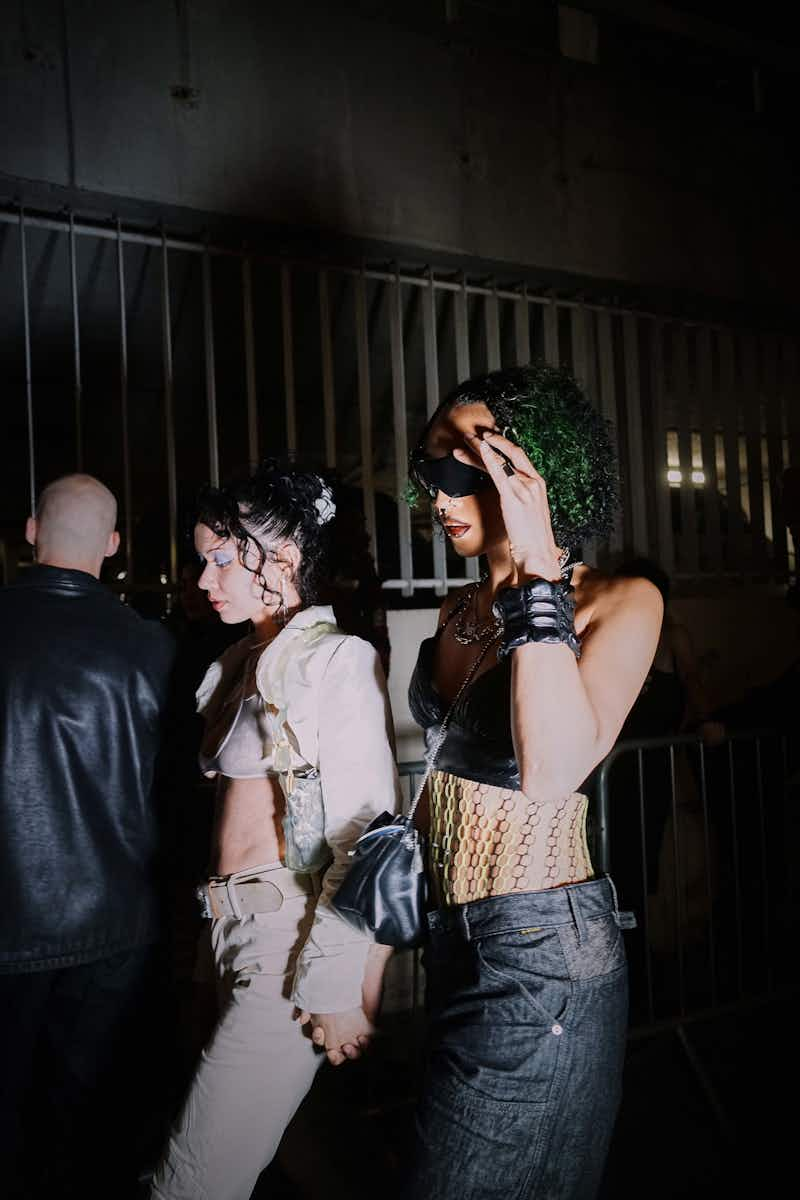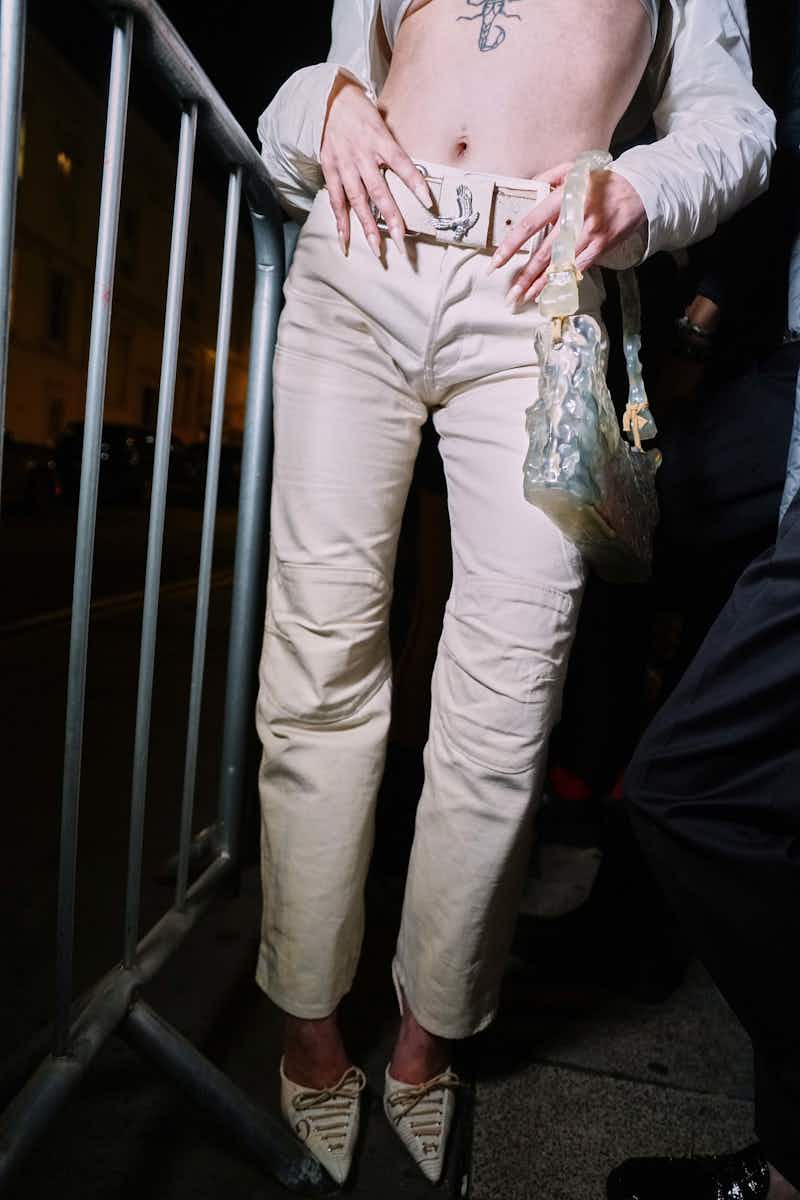 Working their dark magic like it's a London reboot of The Craft, this lot like to serve a dollop of feel-bad superstition alongside their party-hard habits: from referencing witchcraft and celebrating the Pagan calendar to even indulging in club rituals, such as GR1N's cult initiations that blur the boundaries between party and performance. Not for the faint of heart: but lots of fun.
Catchphrase: ​"I've just come back from Berlin"
Find them at: The Glove That Fits and Electrowerkz (non-ironically); Camden (ironically)
Likes: Monster energy drink, smoke machines
Dislikes: Beige, influencer apartment tours
Key fashion signifiers: Face paint, fishnets, side fringes and multi-coloured highlights
Shazam found dead: this new wave of taste-makers know their tunes, no app needed.
Quite probably the best thing to happen to radio since pirate stations first stormed the scene, there's a new wave of taste-making selectors taking over the airwaves at community stations like NTS, Rinse FM, Reprezent, Noods, Balamii and Netil (to name but a few). But then again, you knew that, didn't you? After all, the influence of these DJs and presenters is hard to miss: repackaging radio for a younger generation, their fearless crate-digging leaves commute-friendly, AM crooners in the dust.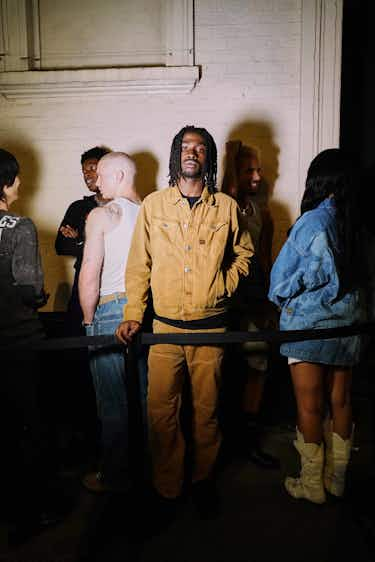 Queuing tracks across sounds as disparate as amapiano, alté, jungle, dancehall and soca from the African and Caribbean diasporas, as well as Afro-futurist and Black avant-garde sensibilities explored via the slow-burn worlds of jazz and IDM, these artists take a truly explorative approach to their tracklists, no matter their preferred genre. IRL, you can find these curators pretty much anywhere that you can find good music: whether in the intimate surroundings of Cafe Oto, ensconced in the jazz bars of Dalston and South London, or filling the floor at an underground warehouse party.
Catchphrase: ​"Send MP3s only — no .WAVs"
Find them at: Cafe Oto, Colour Factory, Venue MOT, Jazz Cafe, Gillett Square
Likes: Discogs grails
Dislikes: Creaky acoustics in the club, requests
Key fashion signifiers: cargo skirts, trousers, shorts, everything; Teflar mini crossbody bags for the rave and Telfar maxi bags for business; tooth gems; Mowalola baby tees; NTS tote bags
Harder, better, faster, stronger: the queer collectives turning nightlife into a thumping theatre of the absurd.
One thing about London is that it's got queer nightlife on lock. While more regional cities might have that one queer club where you can sip a G&T listening to Liberty X, the capital boasts a seriously sprawling network of DIY nightlife collectives pushing against the cis-heterosexual agenda. Whether it's techno ragers for poreless gym gays, pounding donk with a side of dark room antics for the most chaotic bisexual you know, or an LGBTQIA+ Latine collective taking over Tottenham warehouses for fast and furious perreo, no queer need ever step a pedicured foot over the threshold of a straight party (or the male, pale, stale gay clubs of Soho) ever again.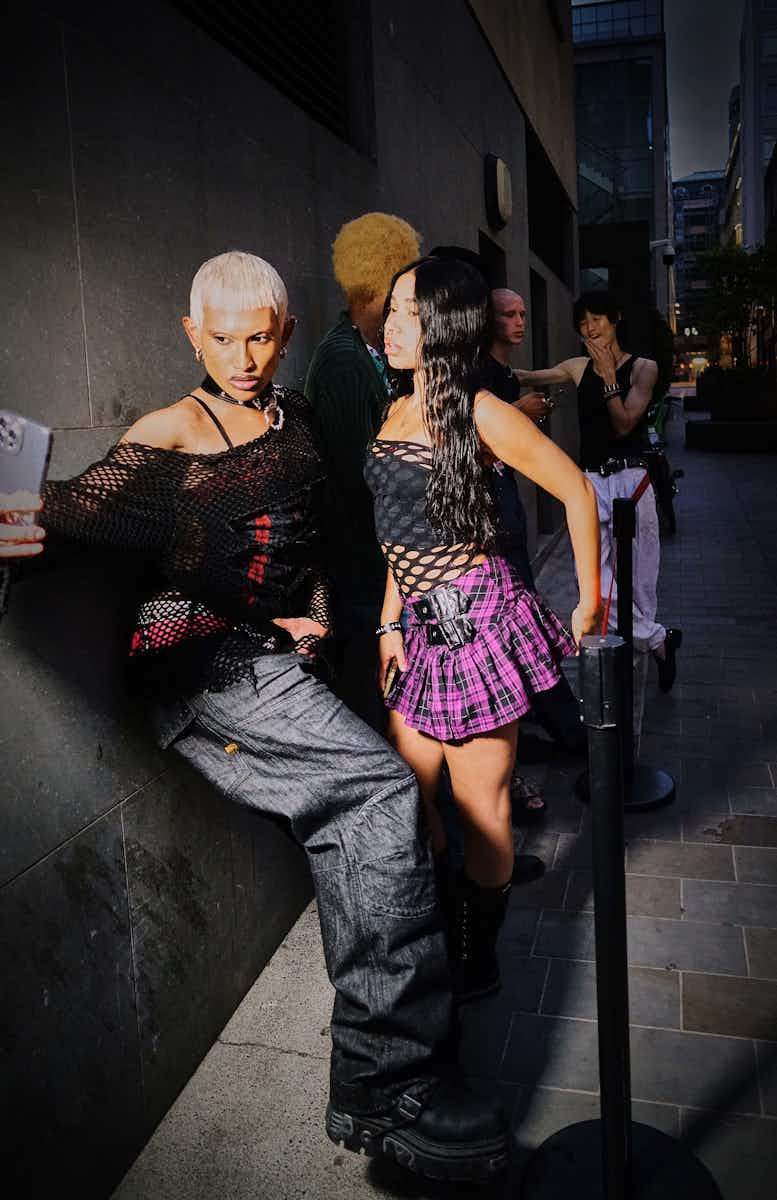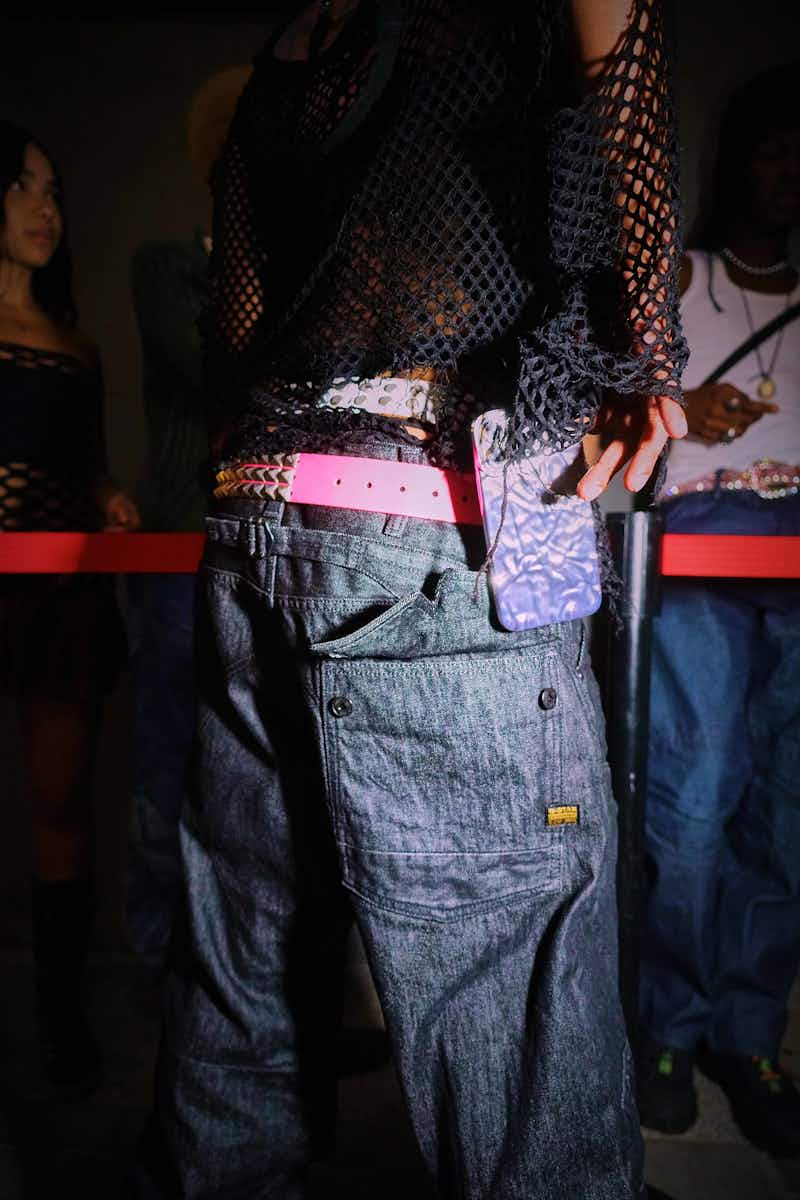 We all know that the club can offer spaces of community and togetherness that a lot of queer folk don't get in the day-to-day but it can also be a space to raise a finger to the straighty norms which dominate the wider world. The resulting mood for today's LGBTQIA+ party goers? All-out escapism: with hemlines reaching heaven, barely-able-to-keep-up BPMs and outrageous smoking area chirpsing. In these parties, Pride isn't a date in the calendar – it's a year-long state of mind.

Catchphrase: ​"Where's the afterparty?"
Find them at: Dalston superstore, an undisclosed Tottenham warehouse, the invite-only fetish party of your nastiest dreams
Likes: Shades in the club, u‑hauling
Dislikes: Curfews
Key fashion signifiers: Leather harnesses, Chema Diaz's ​"J'adore Hardcore" tee, the hanky code, mesh t‑shirts, bejewelled trucker hats and bra tops