Angelo Plessas x Acne Studios' collection merges technology and spirituality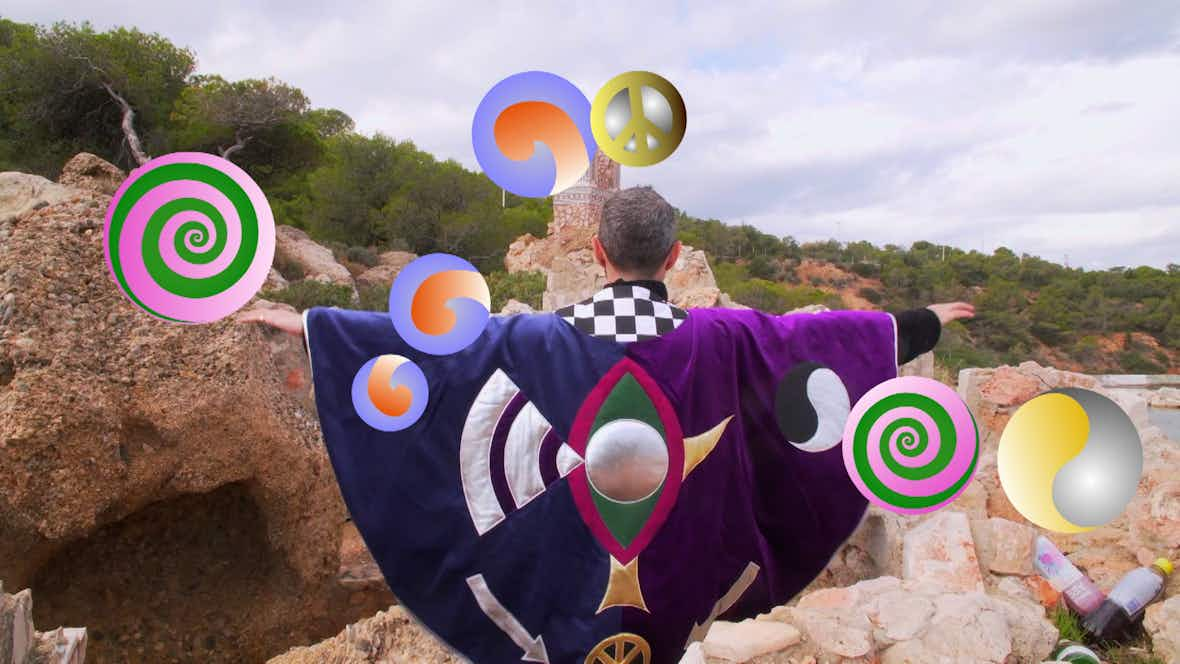 The Greek artist and technoshaman (you read correctly) talks us through the collaboration celebrated at a Malibu sunset ceremony attended by LA's coolest kids – and THE FACE – last week.

It's not everyday you meet a technoshaman. But that's exactly what Acne Studios' newest collaborator, Greek artist Angelo Plessas describes himself as.
Naturally, we had some questions. Namely, what on earth does that really mean?
Here it goes: having spent a period of time in Korea in the early ​'00s observing the coexistence of spirituality and technology, Plessas found himself fascinated with the way in which technology and shamanism have developed in tandem over the last 50 years.
"Somehow shamanism is a technology of the soul," he explains. ​"And in contemporary life, like in places such as Korea, there's a new wave of art, a new wave of lifestyle, that's technoshamanism. There are these young people driven to do magical things with technology in a way a shaman does something with their tools."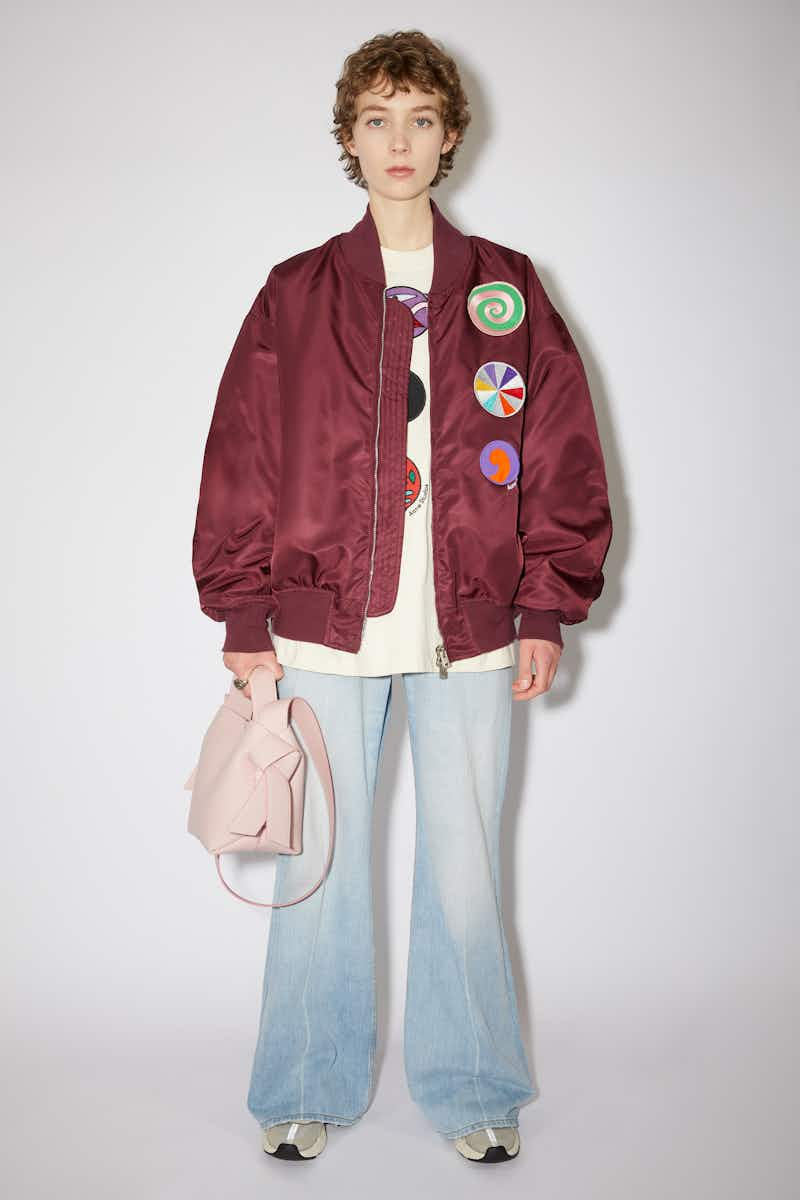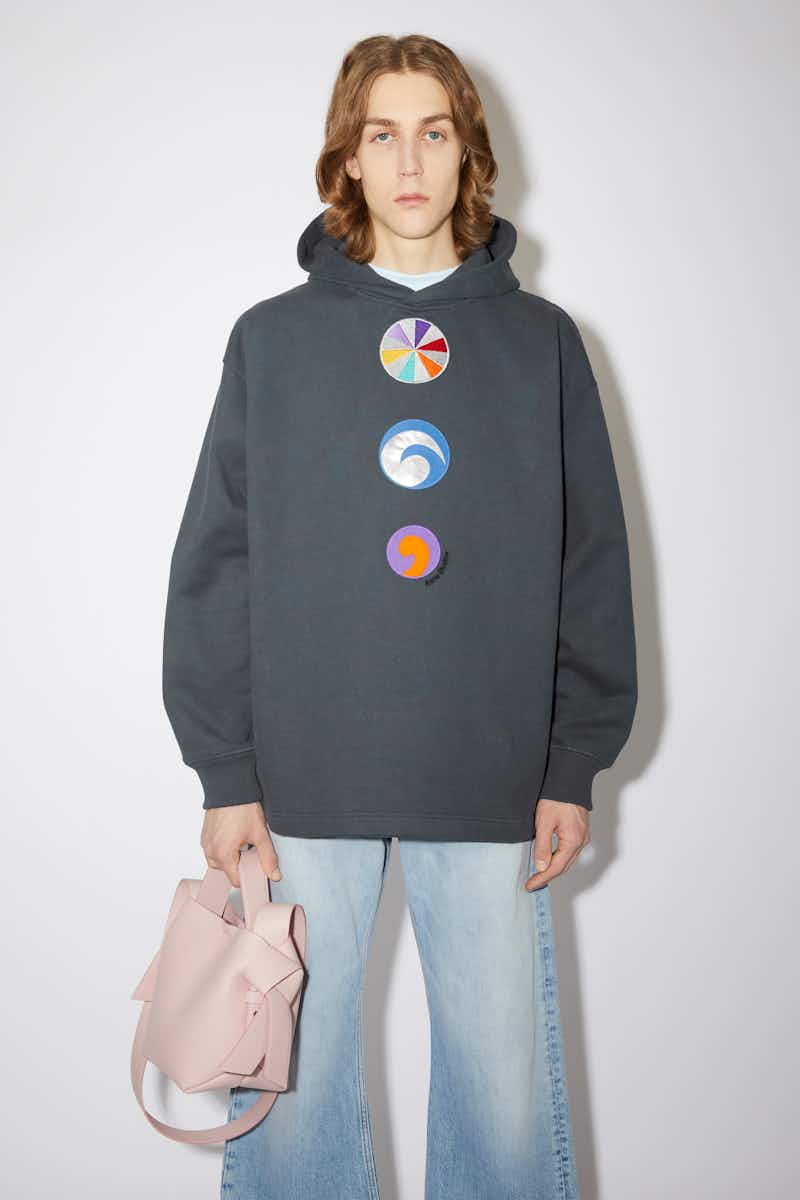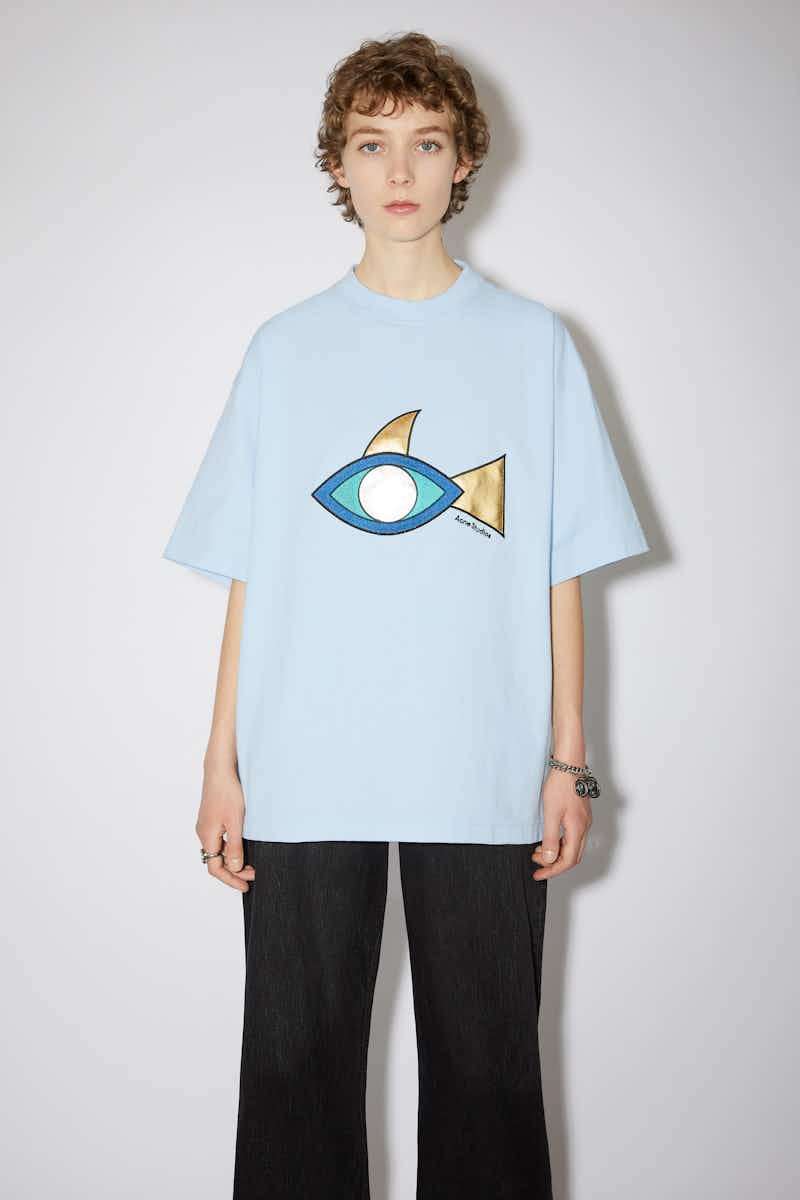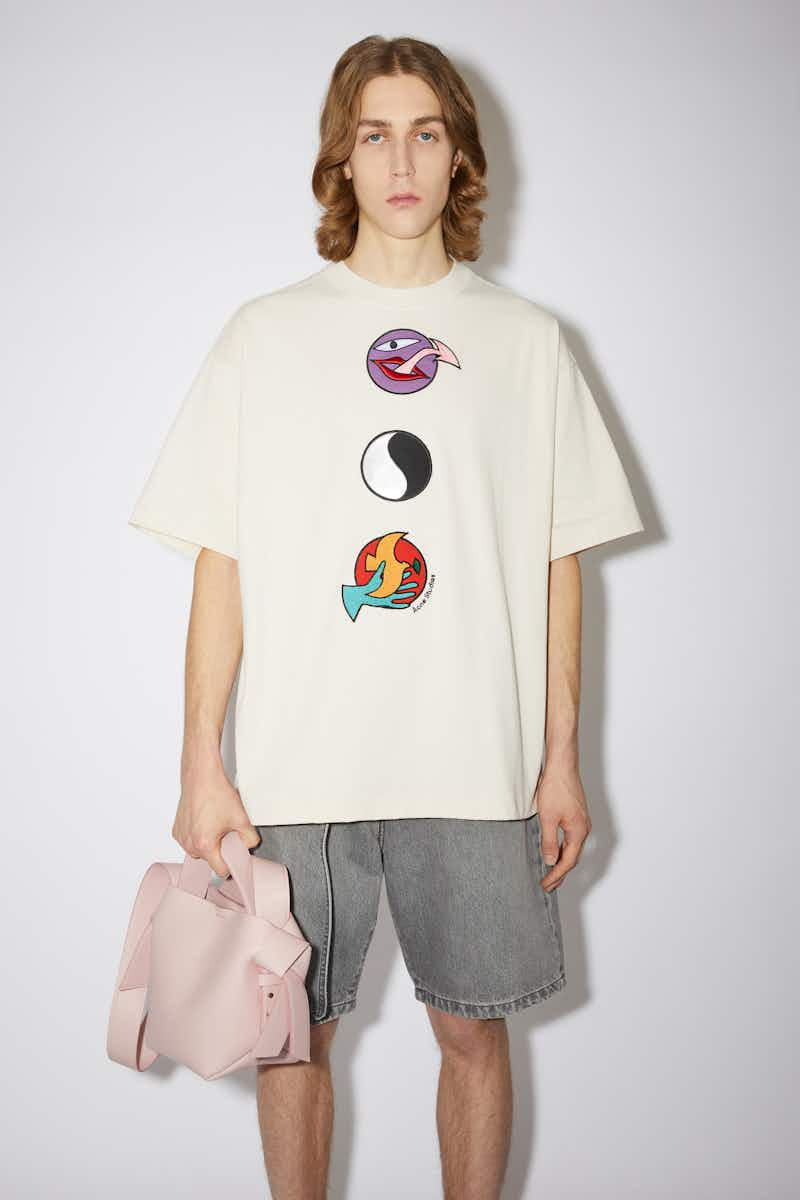 Born in Athens in 1974, Plessas makes works on and around the internet. Initially seeing the web as a tool for discovery, as well as a way in which to expand his understanding of sexuality as a young gay man stuck behind a computer in Greece, Plessas soon found himself exploring the void between the digital and physical worlds, experimenting with art presented in social domains.
Fast forward to 2022, and Plessas' artistic pursuits span performance, artist residencies, interactive websites, sculpture, educational events, quilting and a gallery space in Athens that platforms emerging artists. Titled the Noospheric Society (the ​"noosphere" being the ​"human consciousness and mental activity especially in regard to its influence on the biosphere and in relation to evolution" according to Merriam-Webster), Plessas and his artists in residence explore issues born from our hyper-connected state of being via art, shamanic rituals, wearable quilts, sound meditation or, most recently, the clothing in his debut Acne Studios collaboration.
It was during a visit to his studio that Thomas Persson, editor and creative director of Acne Paper – Acne Studios in-house magazine – first encountered a series of striking quilted capes that Plessas was preparing. Immediately hooked, Persson featured Plessas in Acne Paper and Acne Studios made it their mission to incorporate the Plessas' work into their ecosystem, inviting him to collaborate with them on a limited-edition collection inspired by modern-day talismans.


In it, you'll find pastel and sand-hued tees stitched with circular badges, a maroon bomber jacket peppered with patches and a black hoodie with uncuffed hems. Elaborating on the symbols, Plessas explains: ​"There's a fish that represents prosperity, a dragon for immortality and power, an ancient Greek symbol of progress and evolution, a horn that represents fertility, and a serpent-like symbol that centres around health and well-being."
Then there's the series of signature, hand-crafted capes in the collection, now on display at Acne Studios' outposts around the world, for which Plessas has a specific wearer in mind: ​"It's someone with good spiritual values, who's pan-sexual, who treats the environment right, is open to all religions, inviting to extra-terrestrials and very open-minded." We're on the lookout.
To mark the launch of the collection, Plessas and Acne Studios took to Los Angeles to host a celebratory ceremony in the mesmerising Malibu mountains.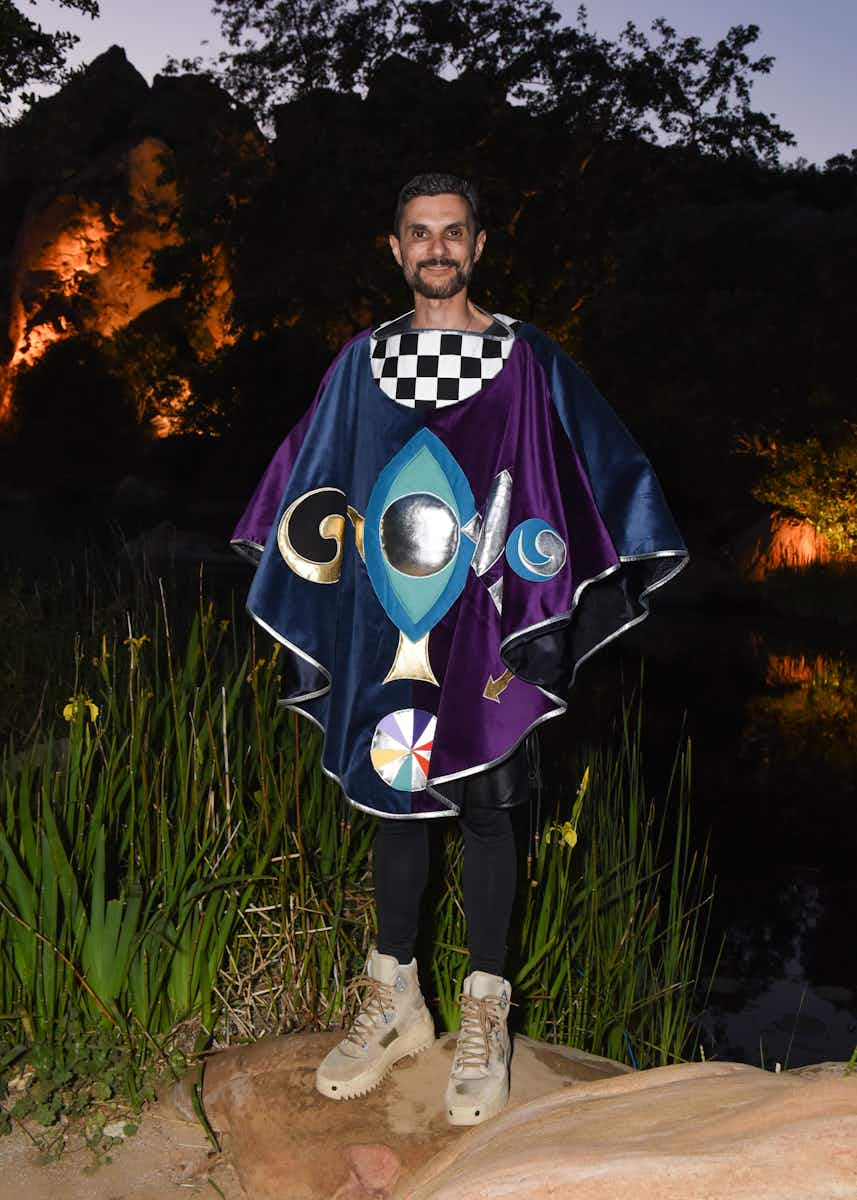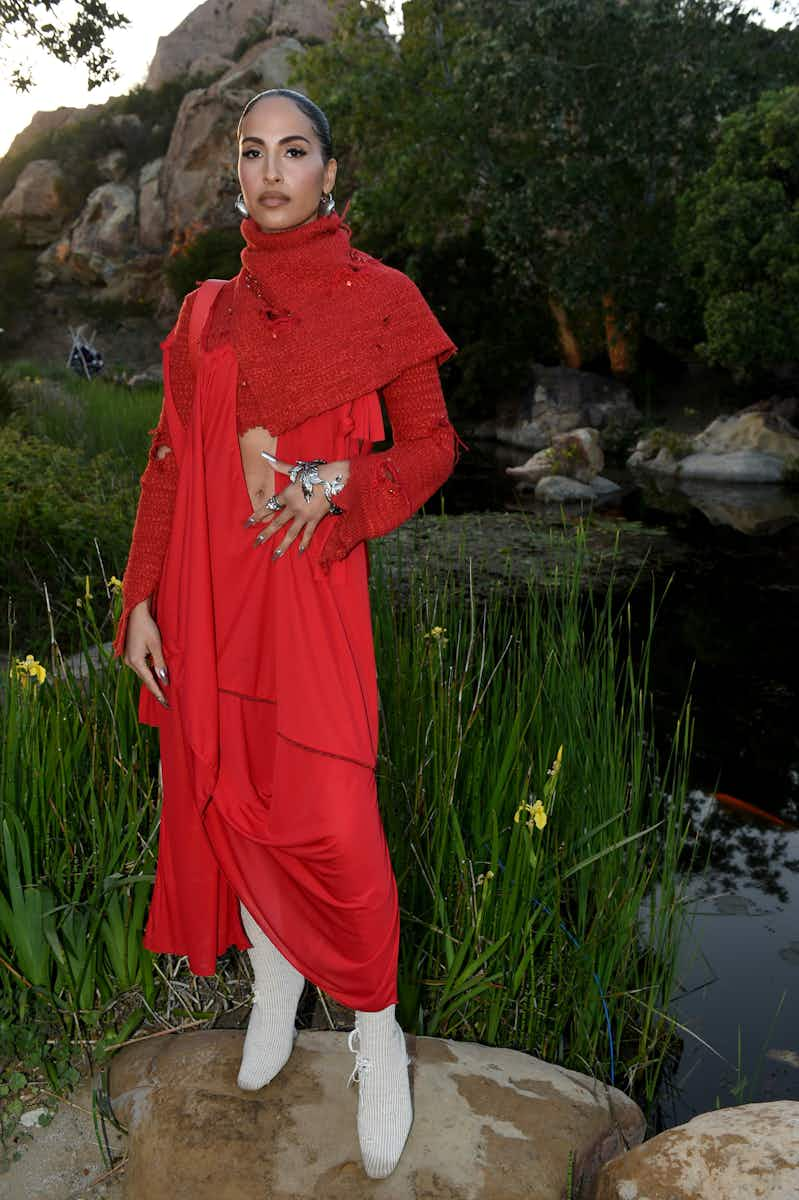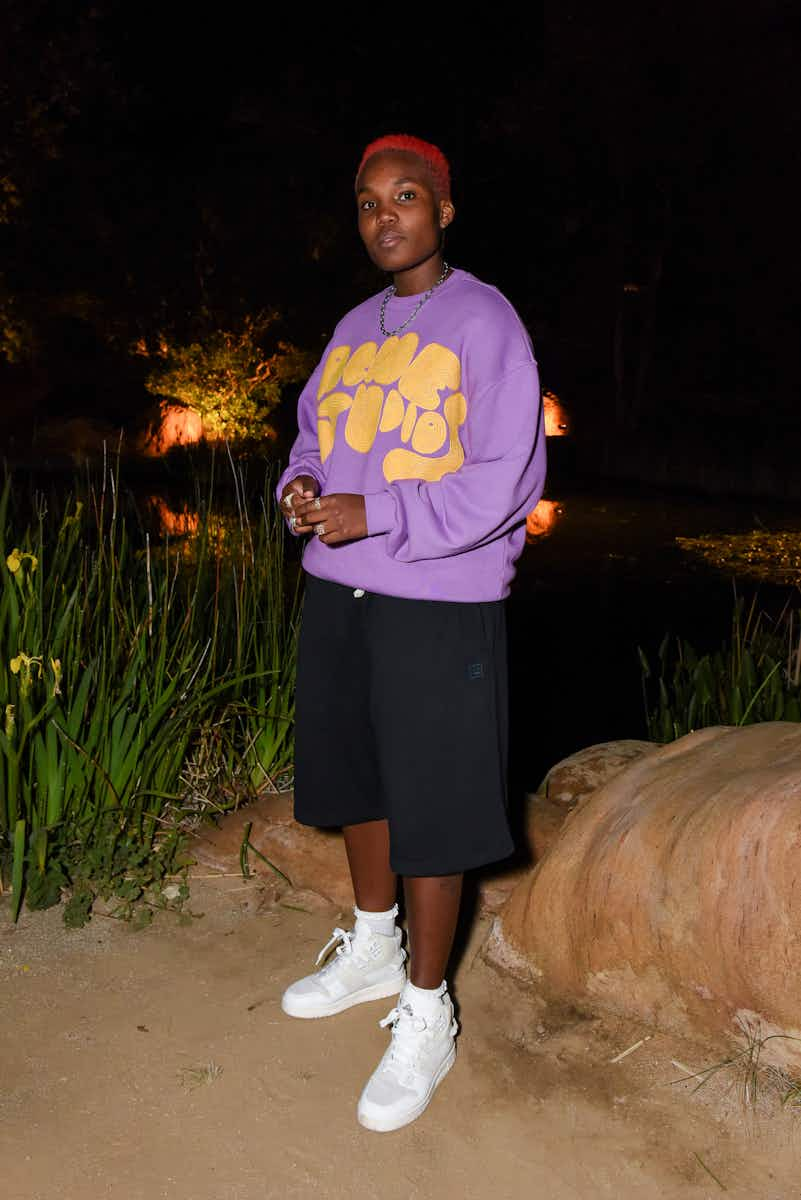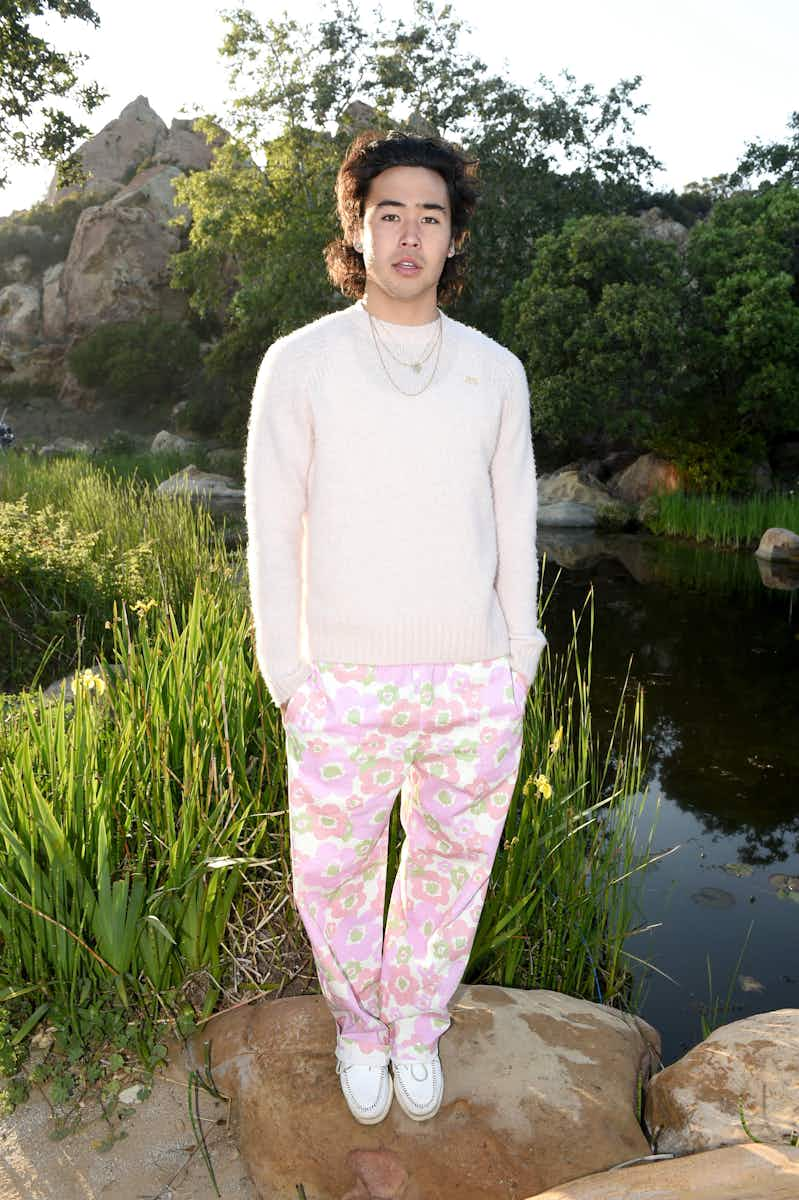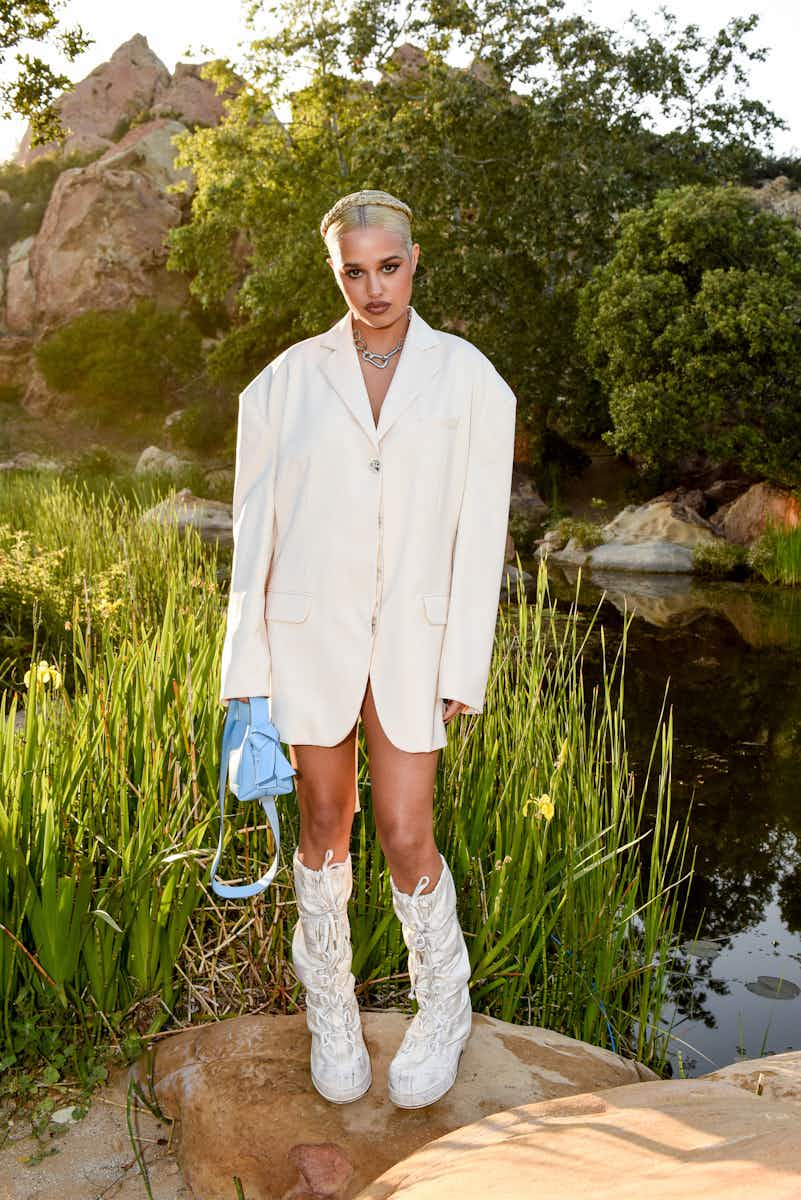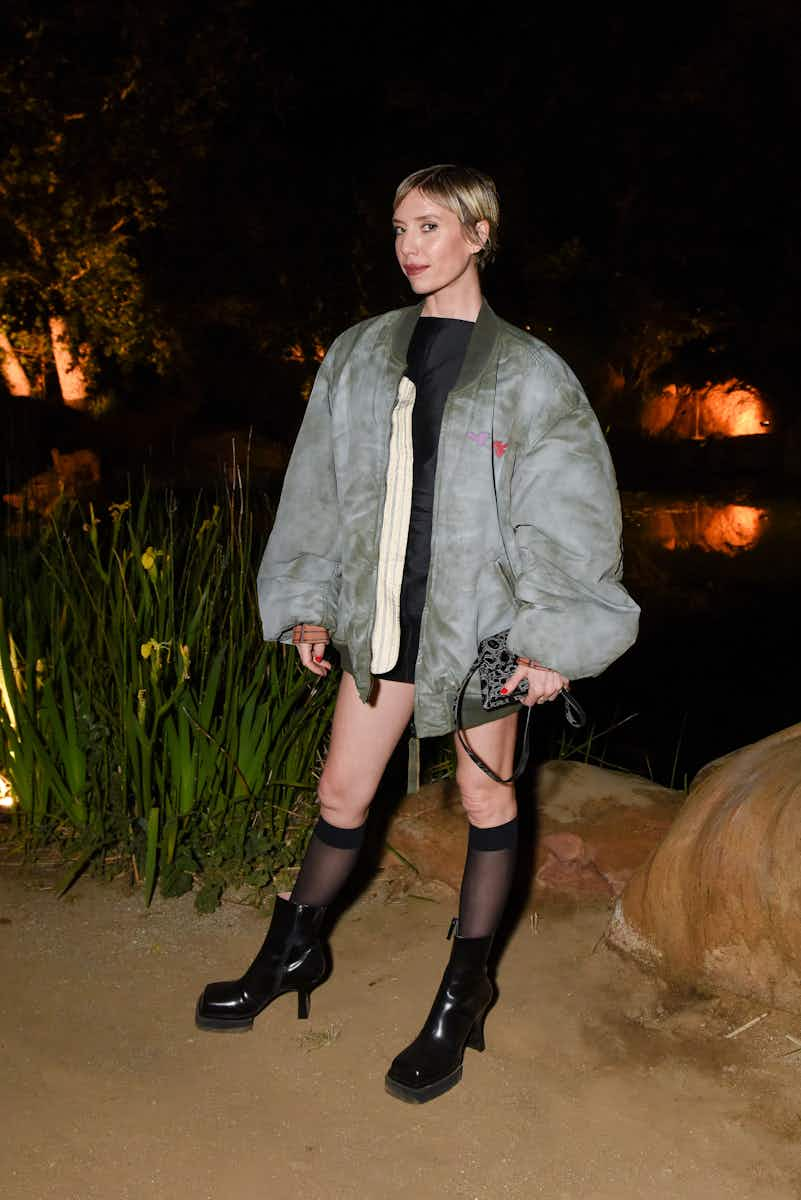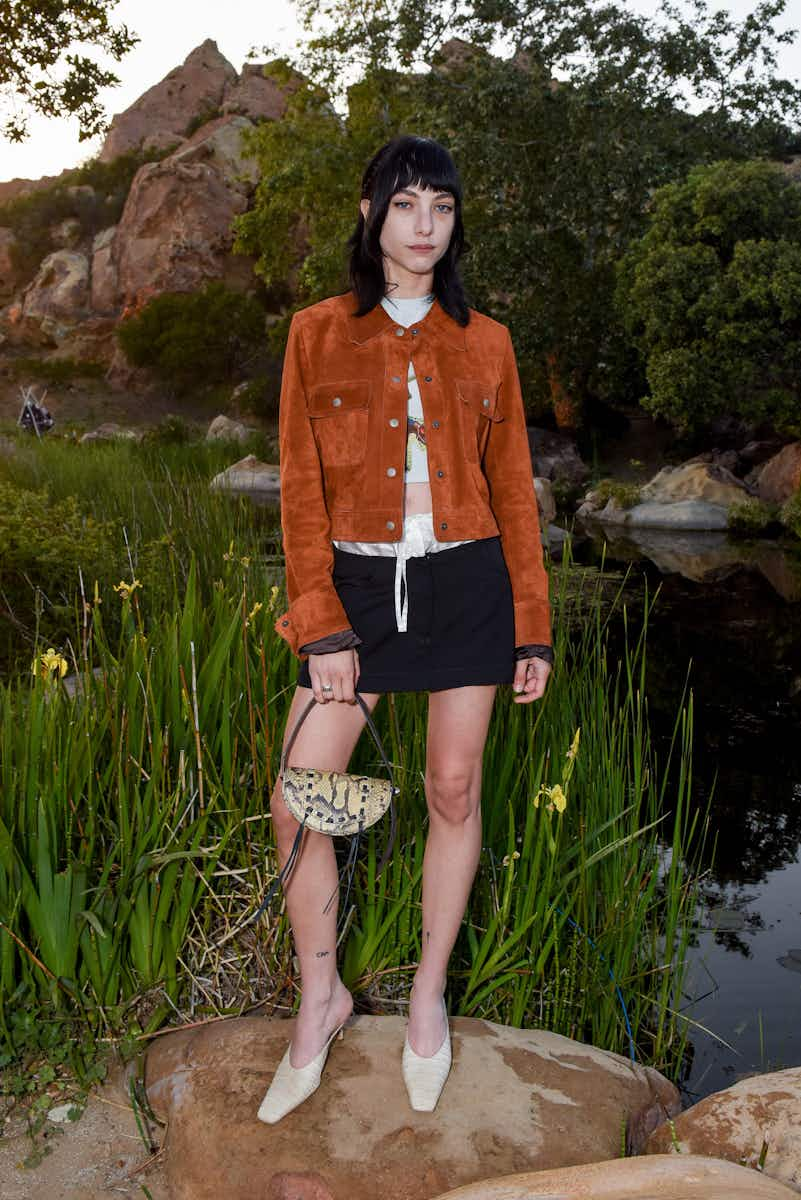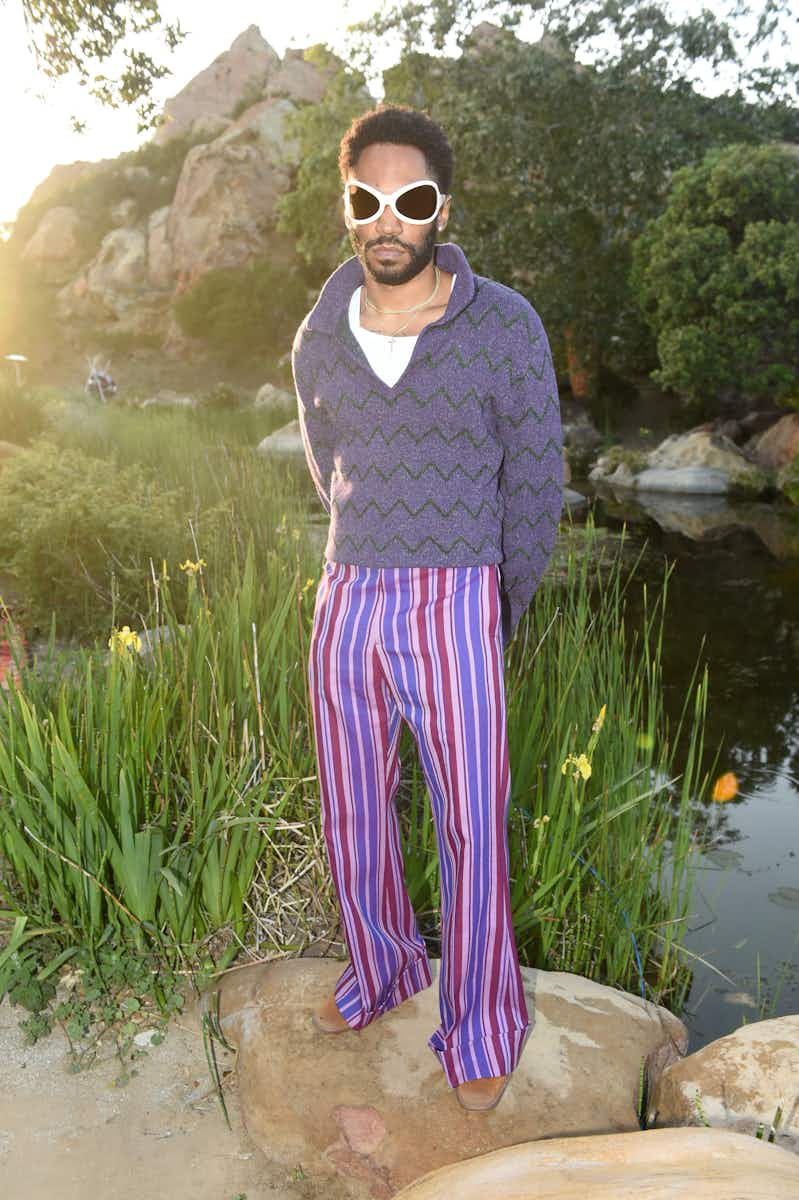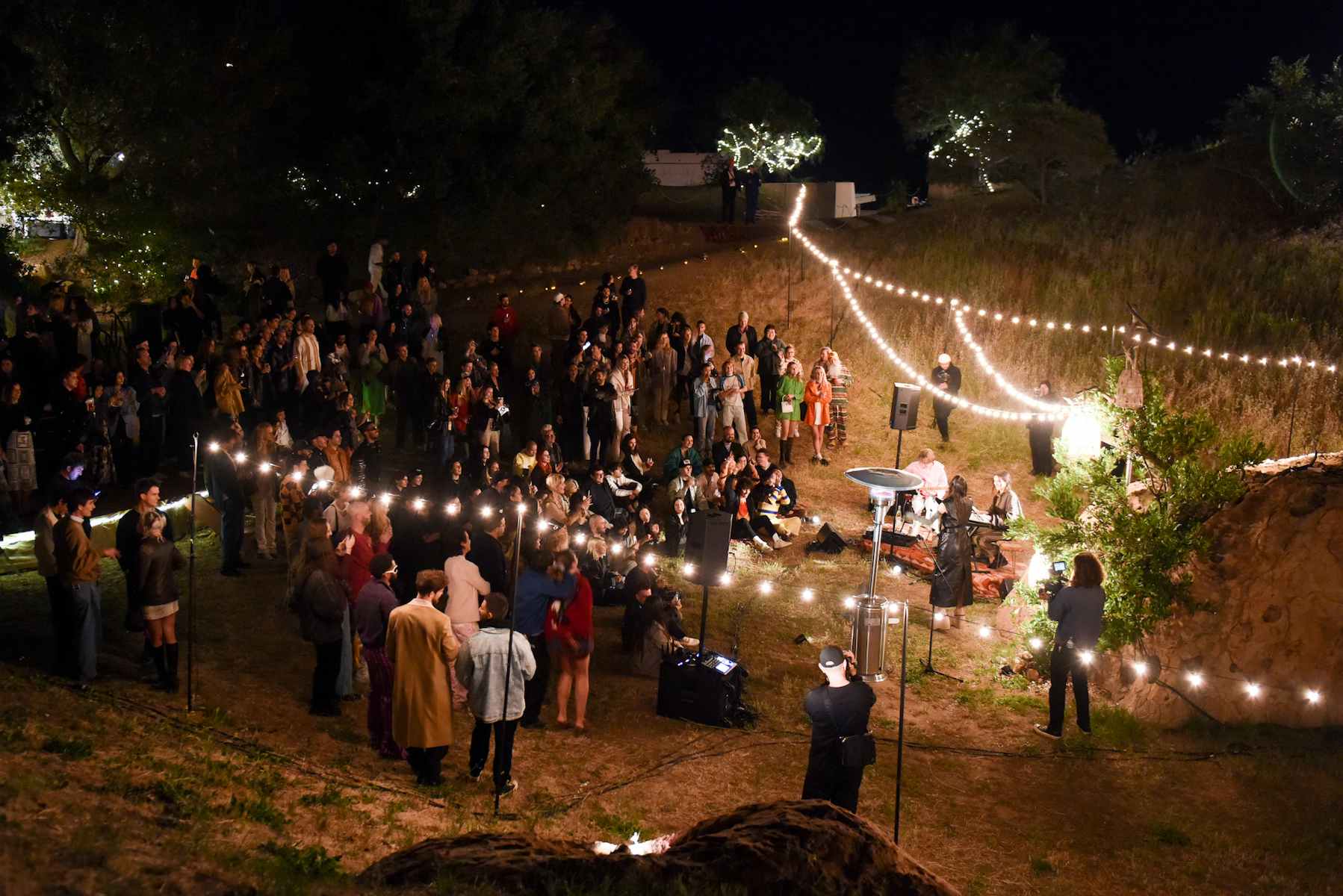 Hidden in the hills, high above cloud level, sits an unfinished house designed by American architect Eric Lloyd Wright, grandson of the esteemed Frank Lloyd Wright. As the sun set on the Wright Residence, overlooking Malibu's rugged coastline, Acne-clad guests – including Snoh Aalegra, Arlo Parks, Nico Hiraga, Tommy Genesis, Lykke Li, Devon Ross and Kaytranada – enjoyed food, drinks, a live lantern-lit performance by Caroline Polachek, and a special sunset ceremony led by Plessas himself. Rituals are a huge part of his practice, so it was fitting, then, that the technoshaman took guests on a journey via a series of meditations that focussed on wellbeing, friendship, and generosity – toasted with an elixir of natural wine and herbs (naturally).
"It was about connecting in a very physical and sensual way, in a beautiful setting, away from screens," Plessas explained on the night. ​"For me, Los Angeles is very similar to Greece in its nature and latitude. As an artist, I feel I have a very strong connection to the counterculture on the West Coast of America, particularly the way the artists connect with nature here. So for me, Los Angeles had the right energy for this – it's the perfect fit."
The Acne Studios x Angelo Plessas collection is available to shop online and in select stores worldwide.

More like this