All the best bits from Milan Fashion Week AW23

The clothes, the sounds, the romance, the chatter from the likes of Diesel, Ferragamo, Bottega Veneta, Gucci, Prada, Moschino and many more.
Milan Fashion Week has come to a close and there's plenty to write home about. The Autumn/​Winter schedule was busier than ever, featuring collections from Prada, Diesel, Fendi, Blumarine, Bottega Veneta and rising designer Tomo Koizumi, along with the first Gucci show since the departure of Alessandro Michele, and Maximilian Davis' sophomore collection for Ferragamo. The mood? Sexy. From Glenn Martens' condom-packed Diesel show space, to Gucci's seductive ​'90s and Y2K-leaning interim collection packed with cult archive hits. Here's everything you need to know.

What?
The Japanese designer's Milan Fashion Week debut, supported by Dolce & Gabbana and taking place at their Milanese headquarters.
What was it like?
Absolutely fabulous. Known for his three-dimensional ruffles and extravagant tulle dresses, Koizumi went full throttle with his vision presenting a parade of supersized silhouettes, silk ribbon corsets (a nod to Domenico Dolce and Stefano Gabbana's archive cult classic) and capes with extra-long trains.
Of note:
The closing look or, more specifically, the fashion centipede. Five models sashayed down the runway all wearing one rainbow striped ruffled dress with five neck holes. Guests were quick to press record on their phones to capture Milan Fashion Week's fantastic final look.
In a song:
Soulsearcher – Can't Get Enough!
In a word:
Bonkers.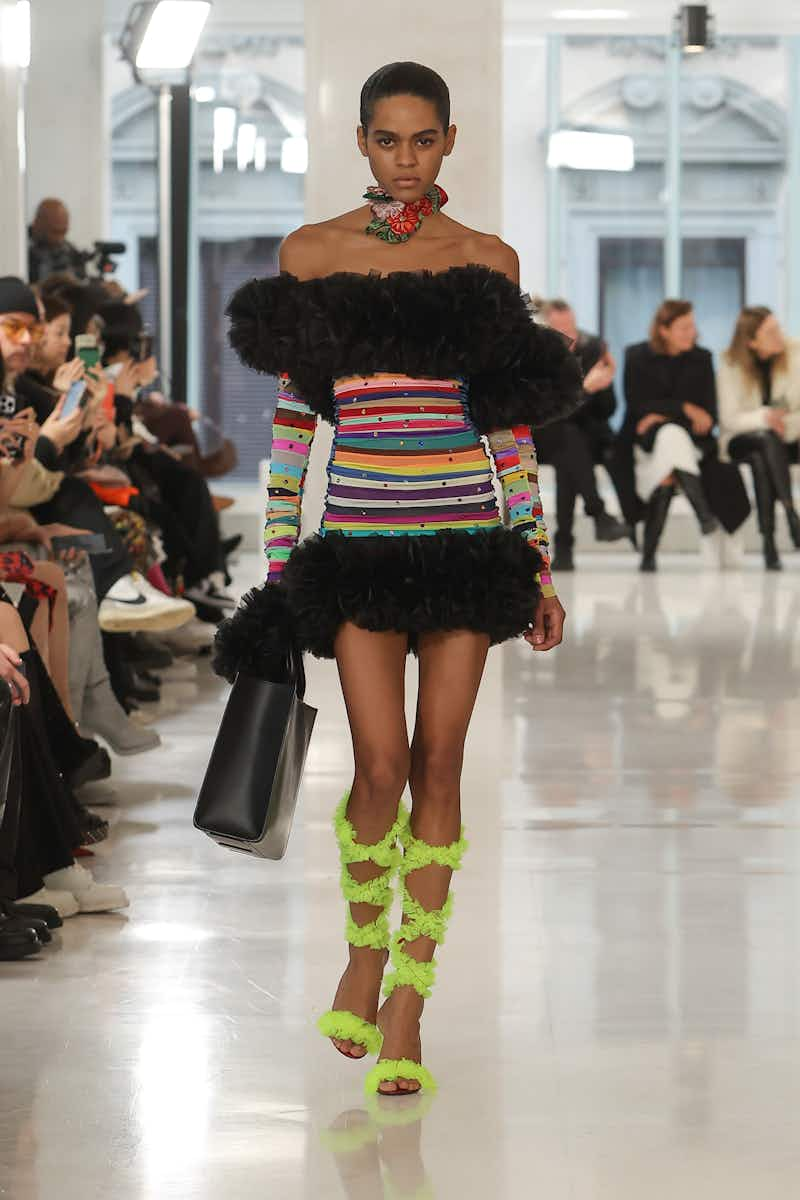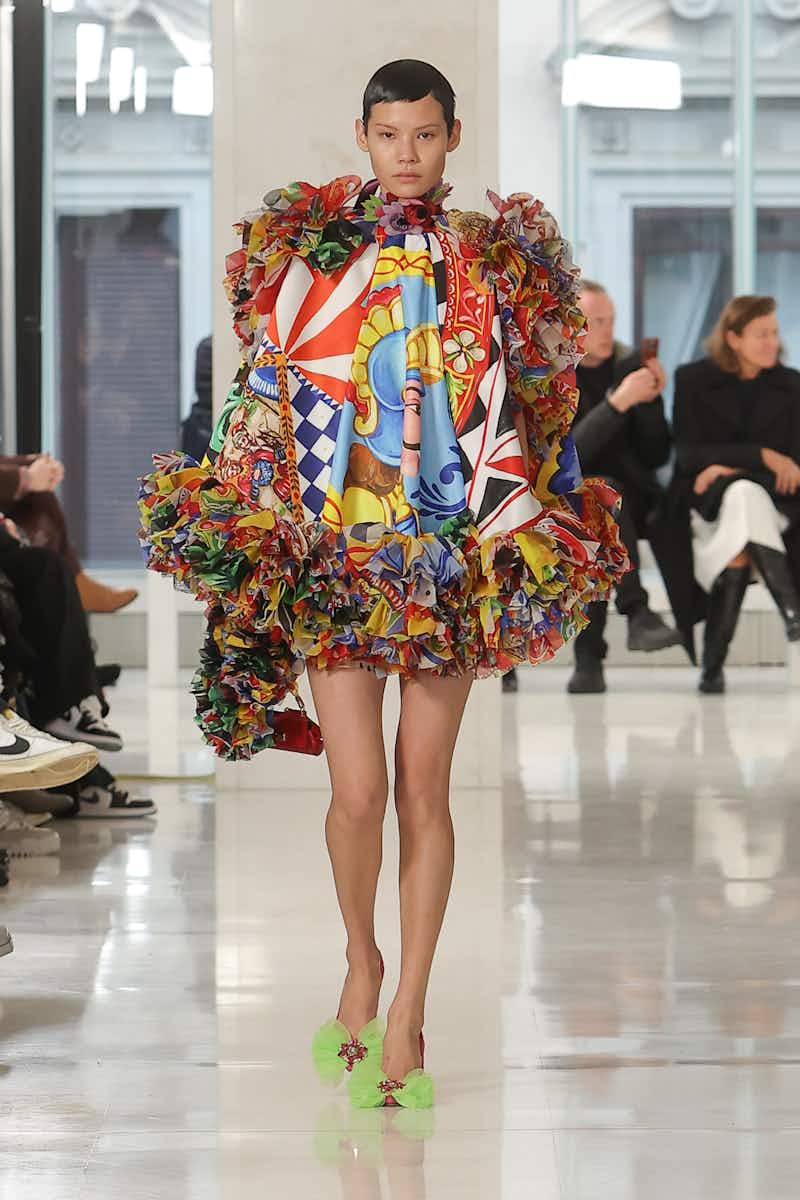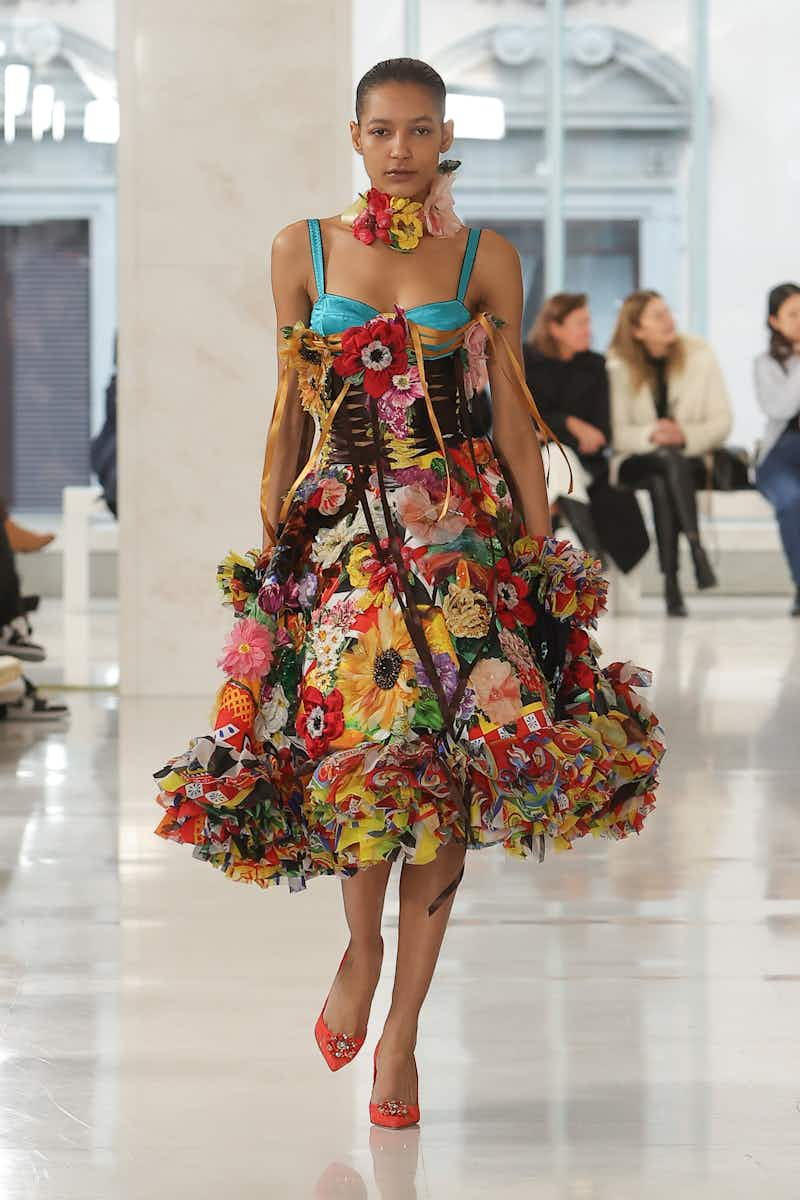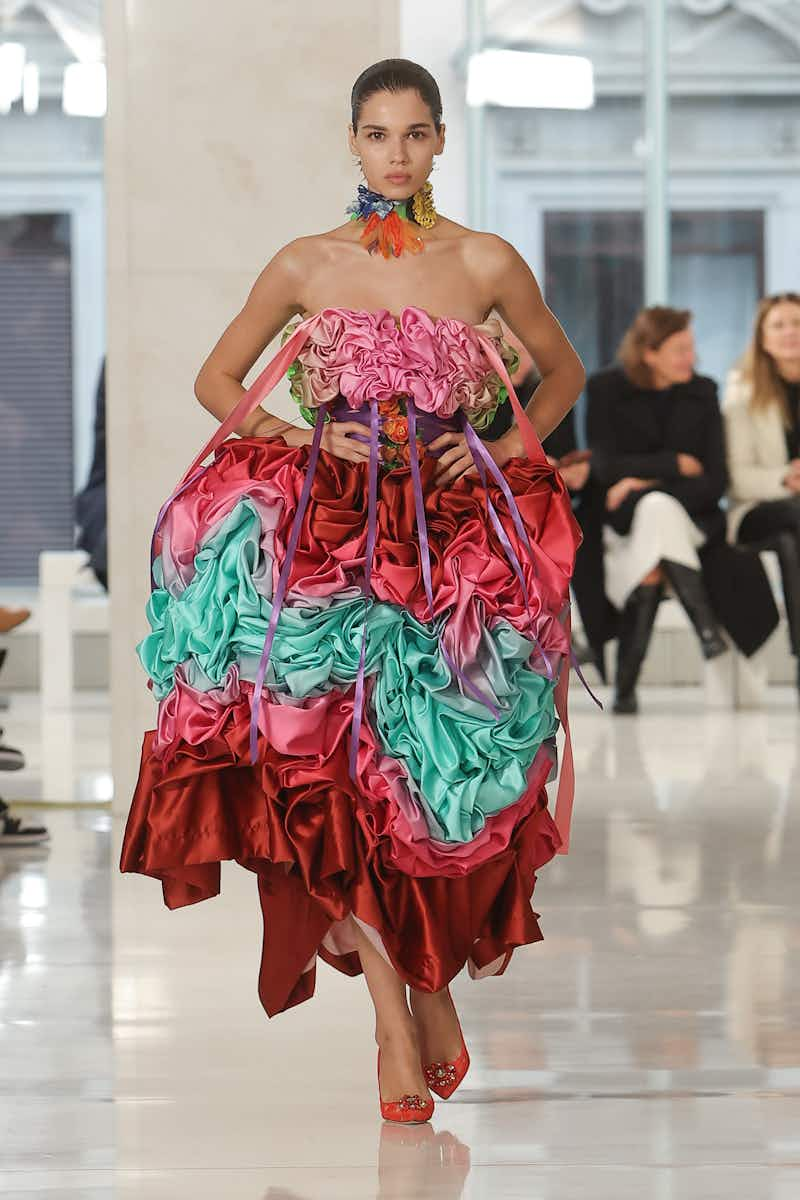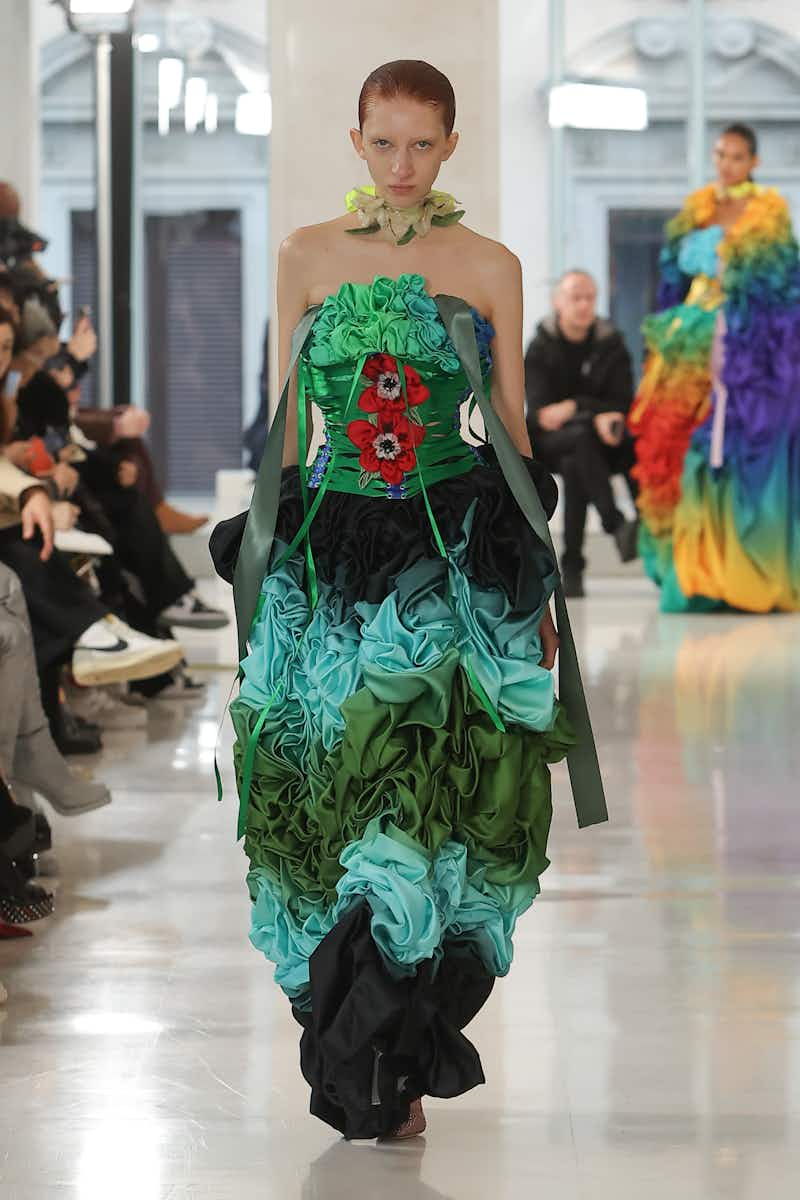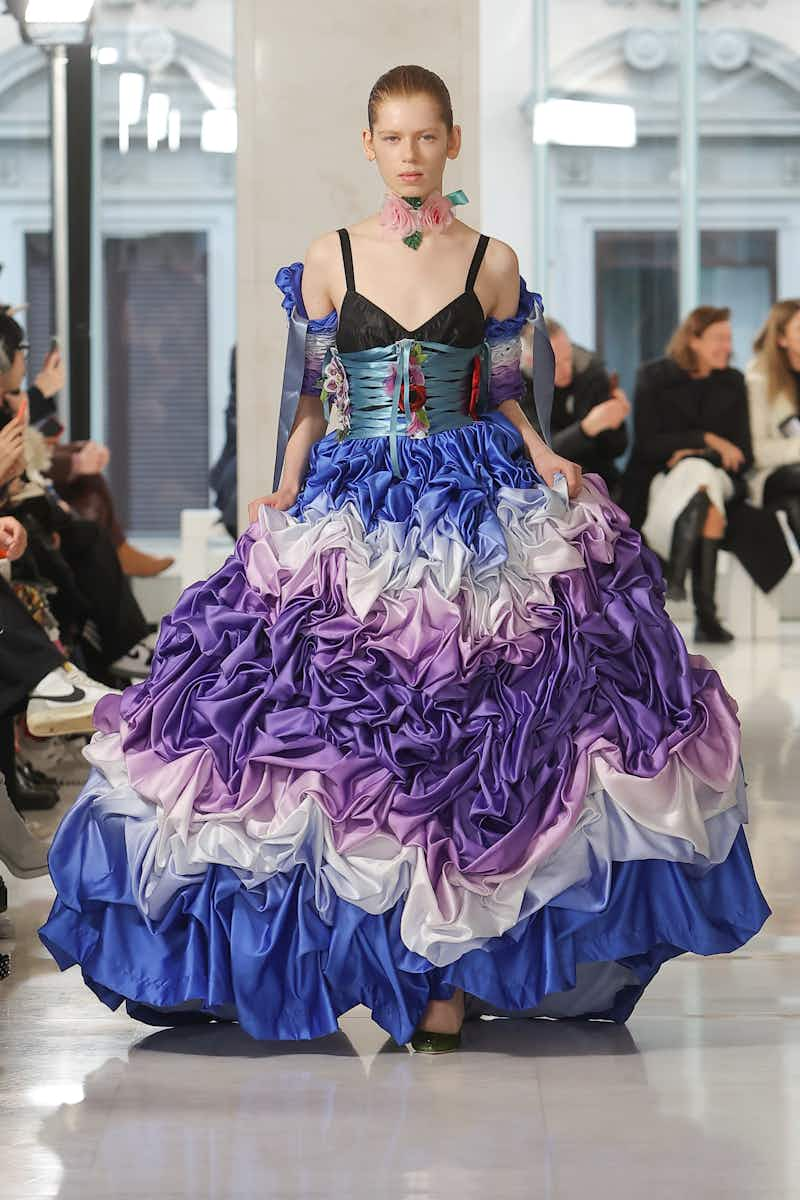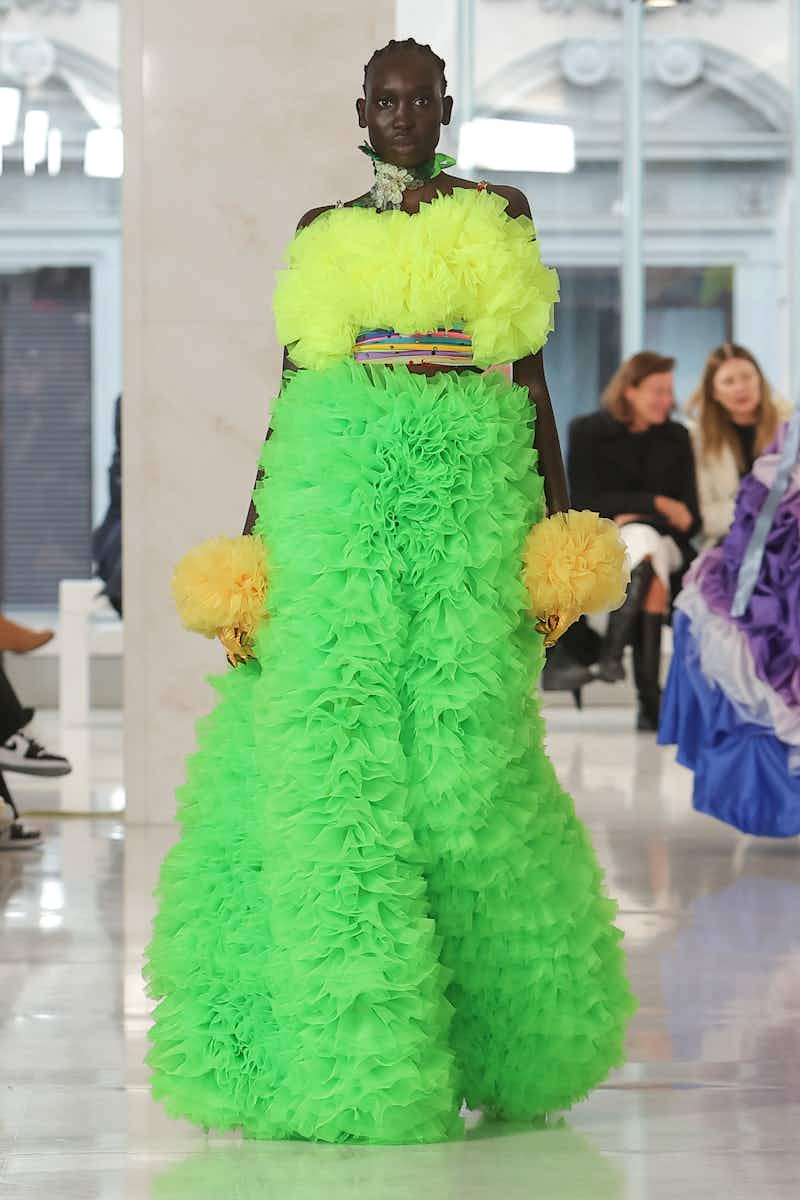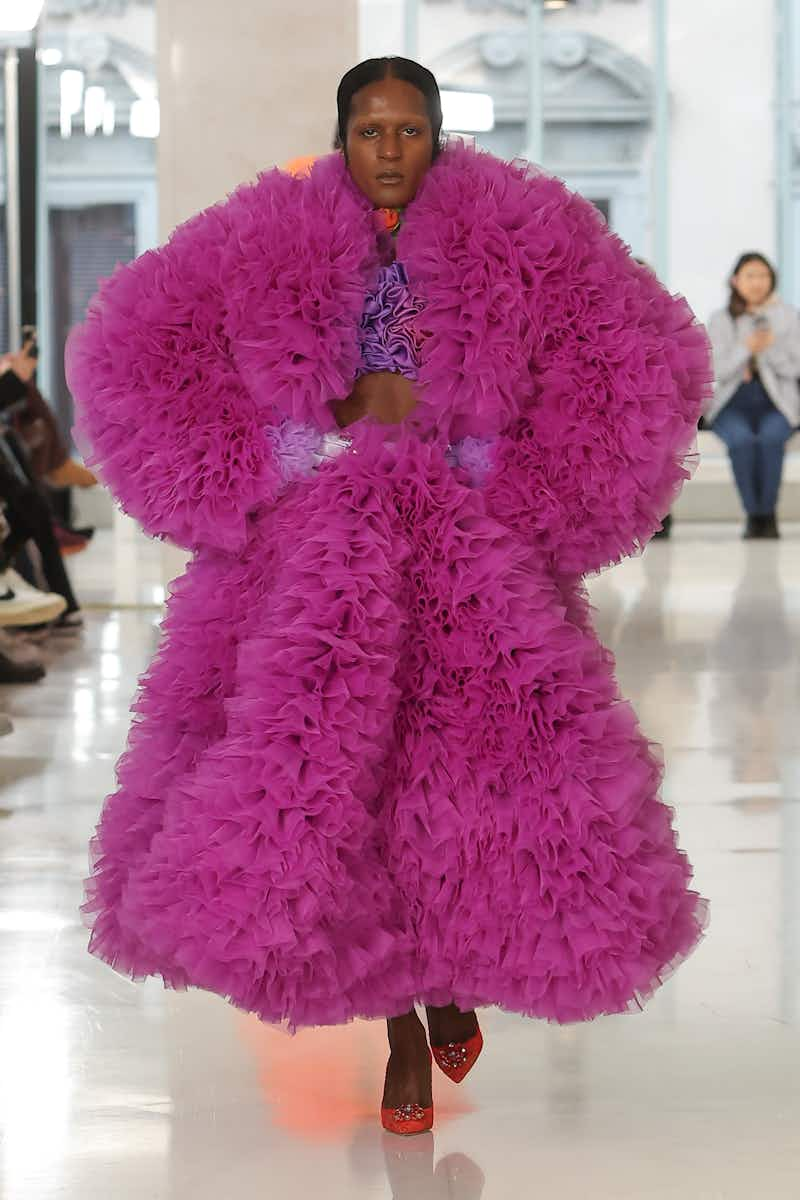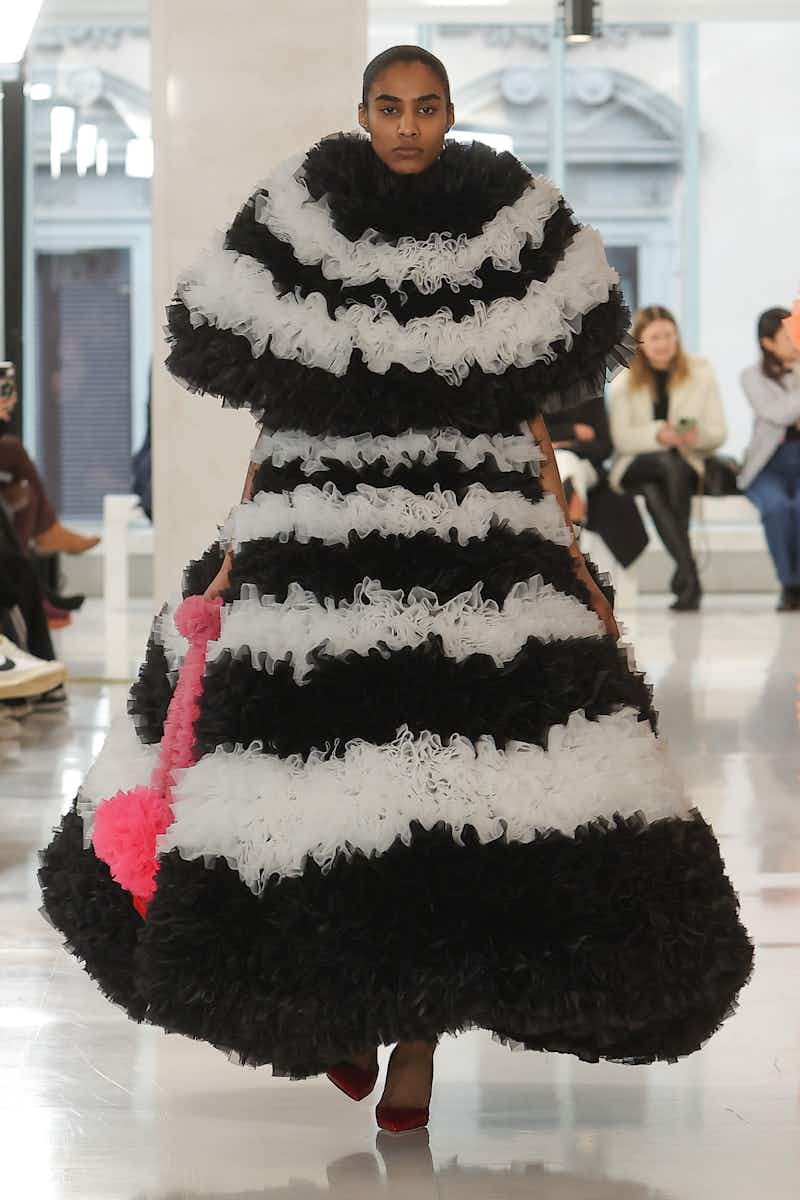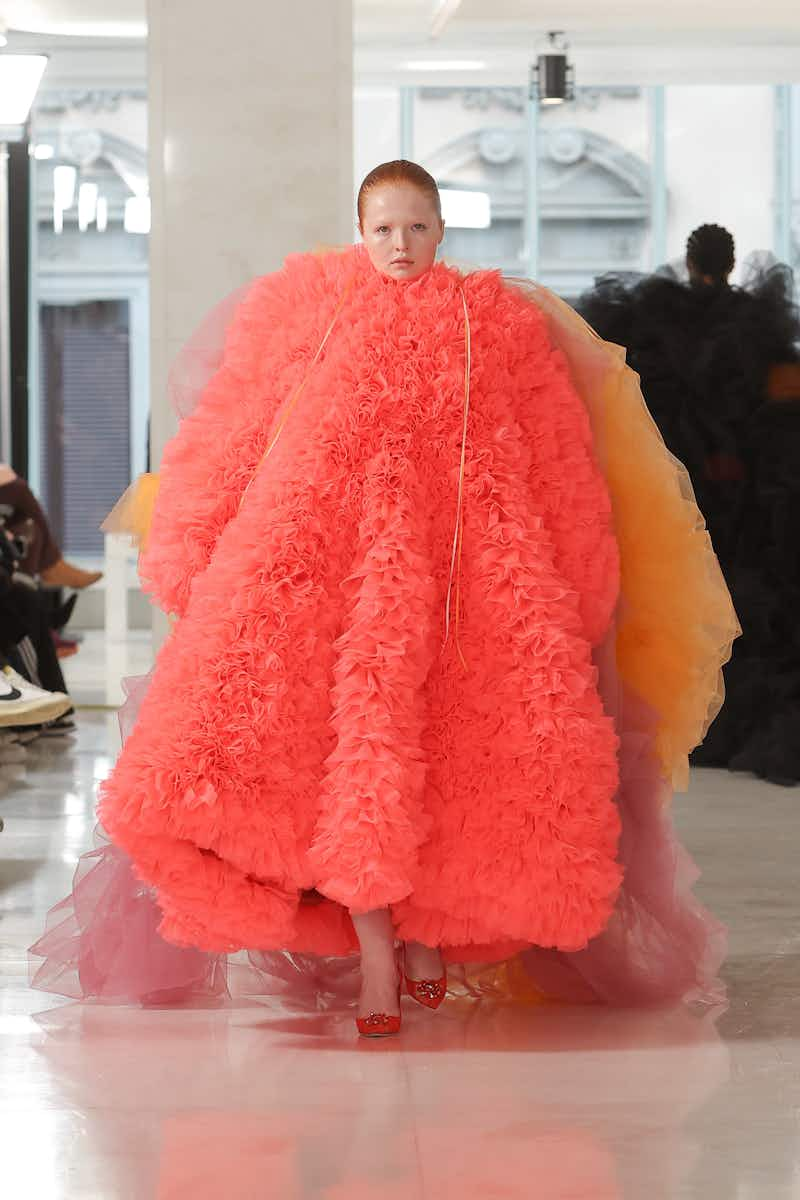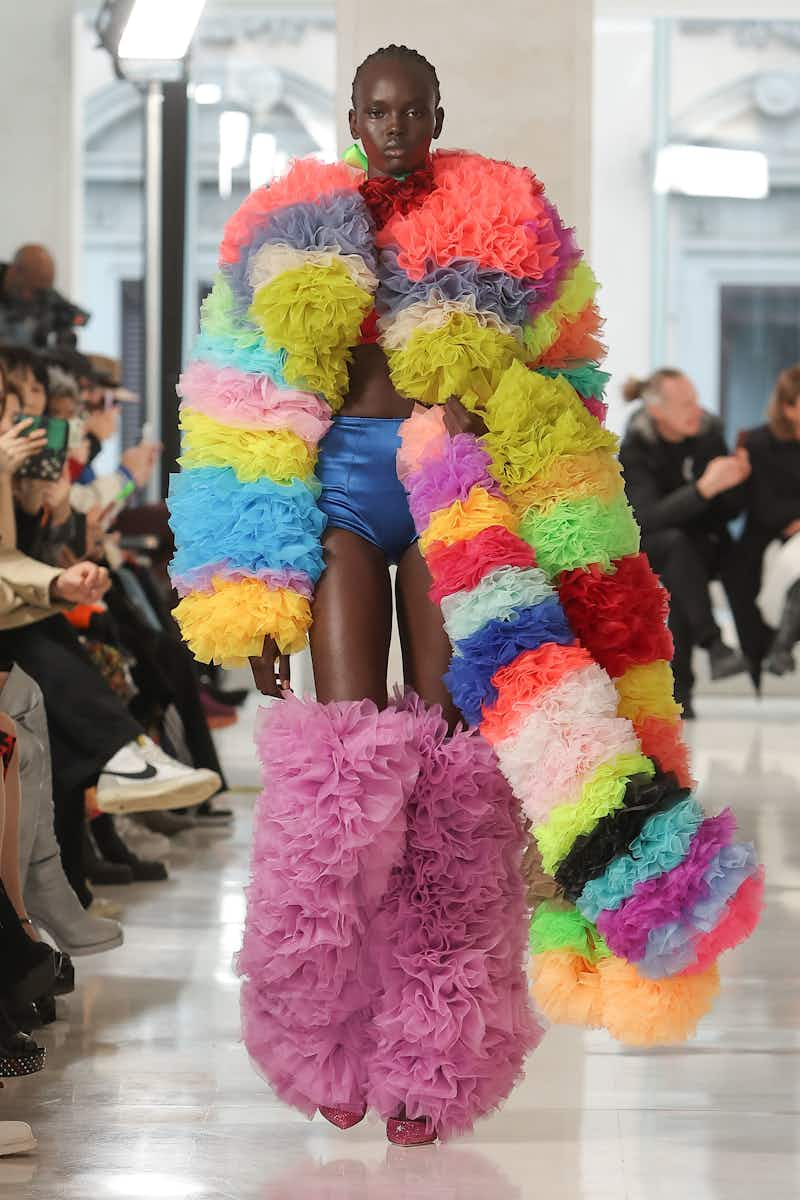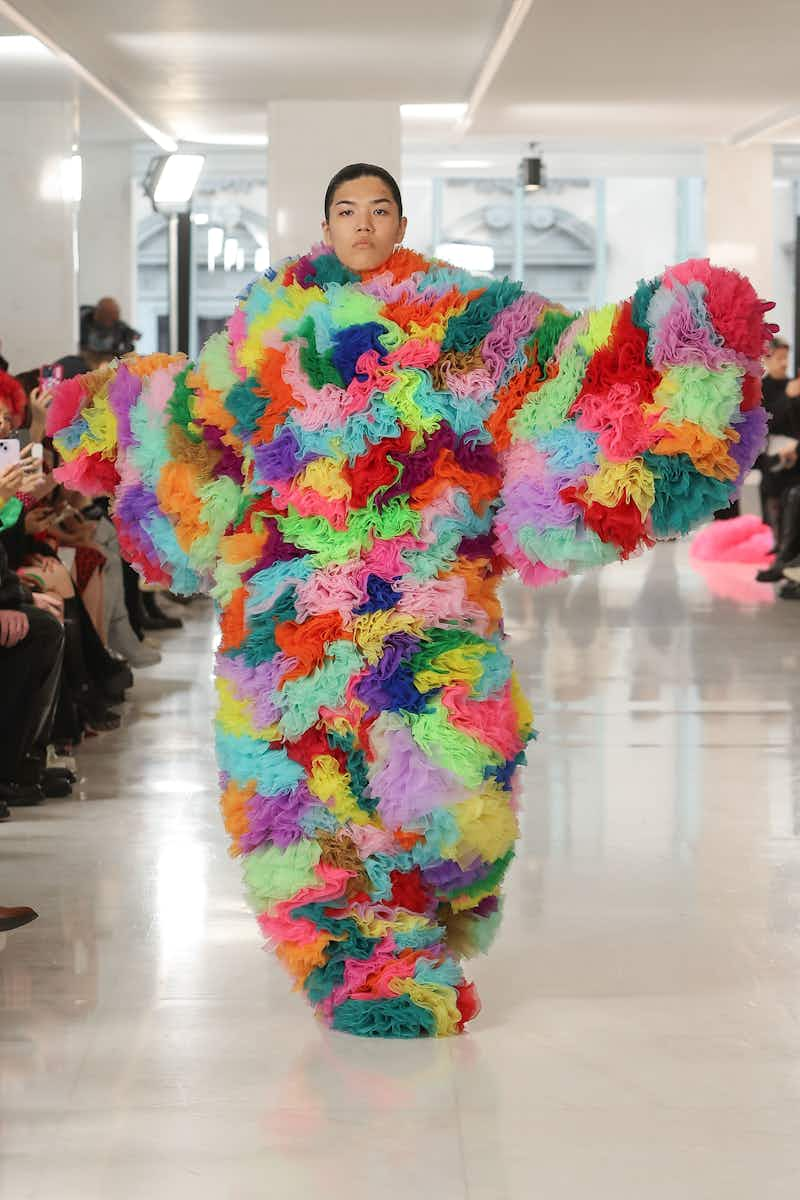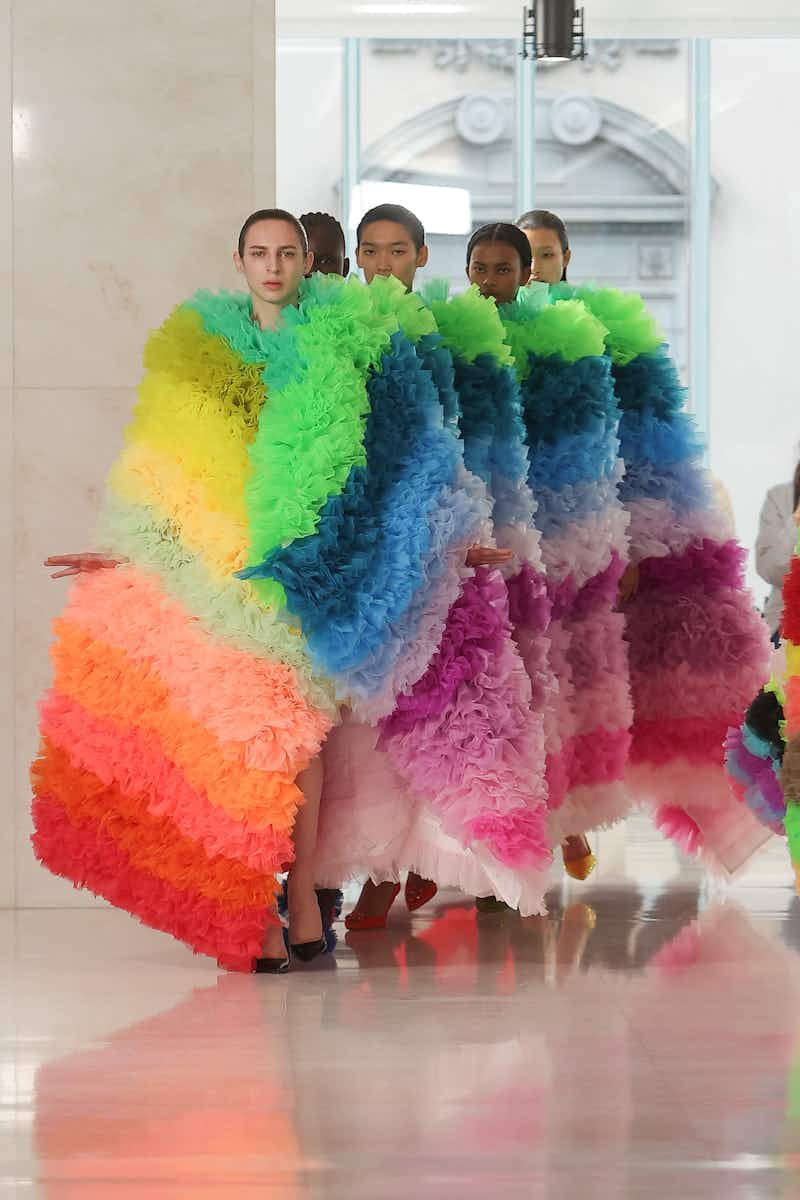 What?
Matthieu Blazy's third Bottega Veneta collection since he took the reins following the departure of former creative director Daniel Lee (who showed his first collection for Burberry last week).
Where?
The show took place in a dilapidated warehouse space on the outskirts of the city which was dressed for the occasion with a mint green and black cow-print carpet and bronze sculptures by Italian artist Umberto Boccioni.
How was it?
A huge hit – Blazy has really found his feet and his extensive, 81 look collection proved it from the off. Backstage, he explained that he made a conscious decision not to cut any looks from the collection which was born from the intriguing and surprising encounters he has with characters on the streets day-to-day. And so it was packed with ensembles that traversed from everyday staples (his viral Bottega white vest, shirt and jeans combination bookended the show), to proper fanfare ​'fits, all of which showed off Blazy's range as a designer.
What about the accessories?
It's no secret that Bottega's known for its accessories, and this season's selection was top of the pops. The ones that left a lasting impression were over-the-knee boots using the house's intrecciato weave, bulbous jelly-like pumps, knife-point metallic stilettos, oversized oblong shaped clutch bags and extra-large woven bucket bags. Unlikely styling inspo came courtesy of the bag lady – many models were seen sporting two handbags in contrasting sizes at once. If in doubt, double up.
In a song:
Dua Lipa – Hotter Than Hell
In a word:
Irresistible.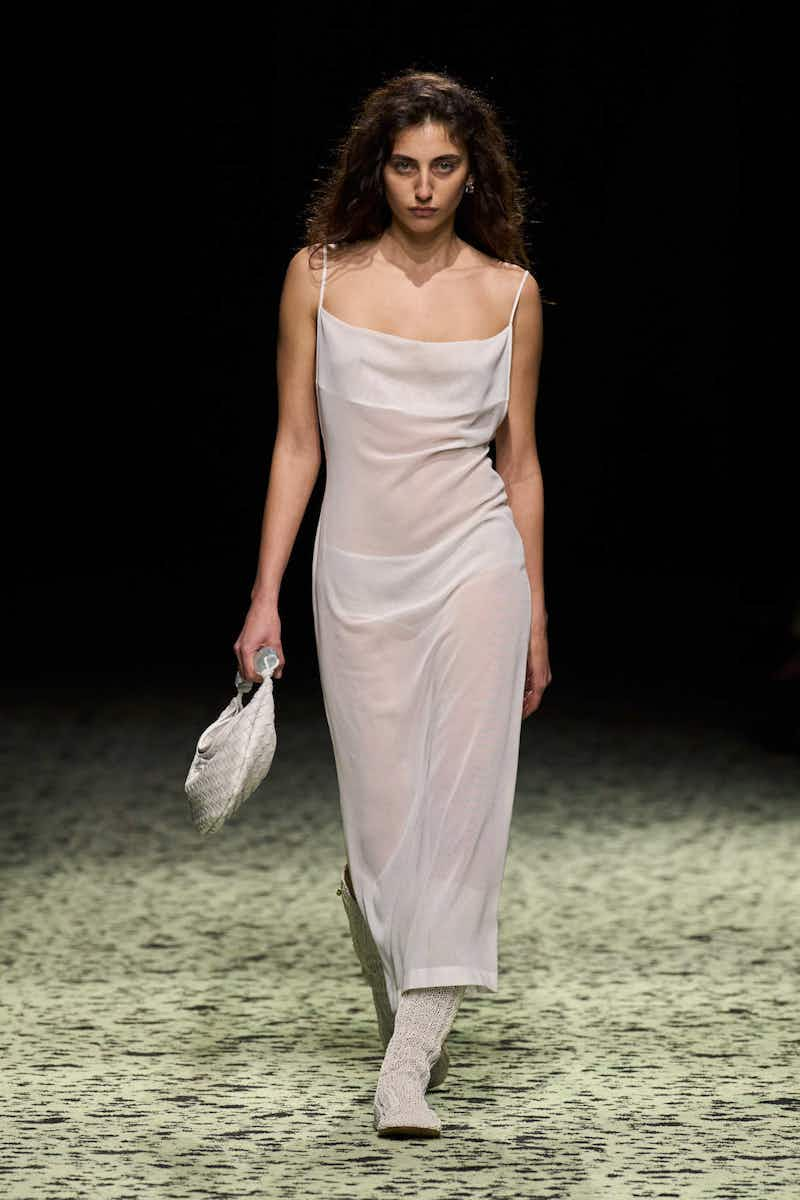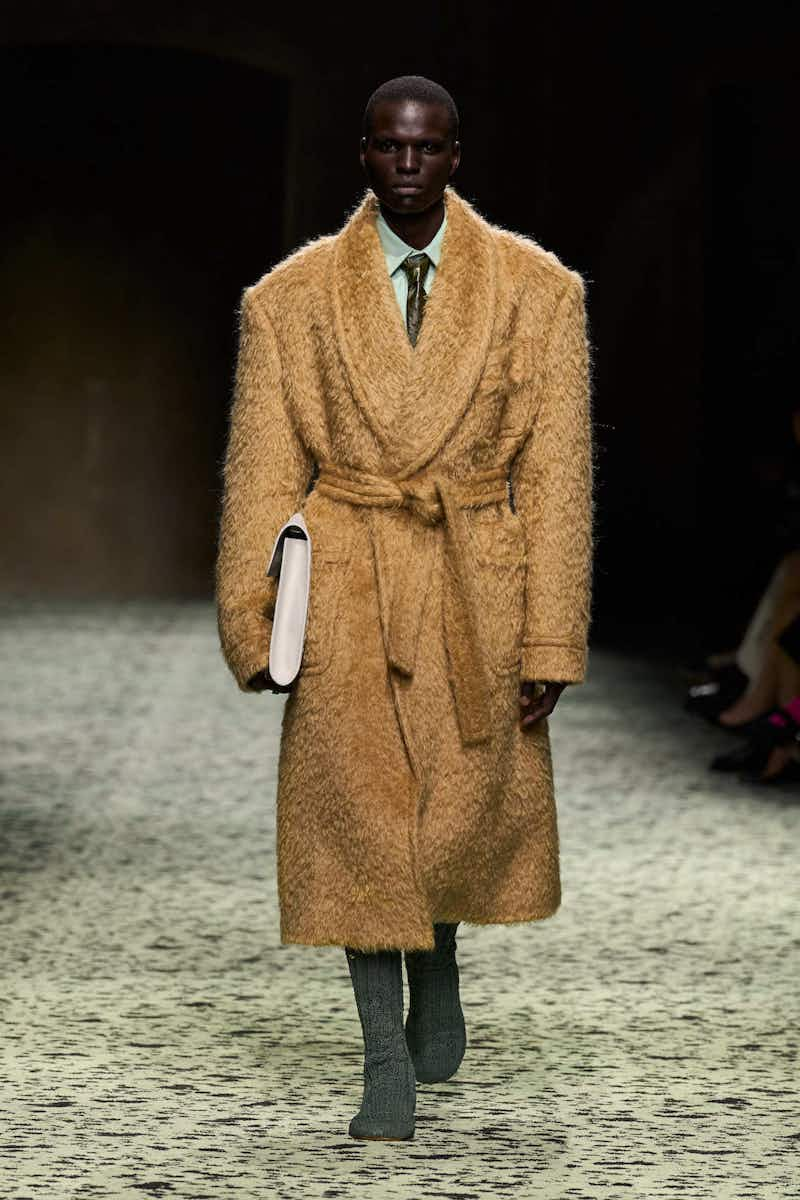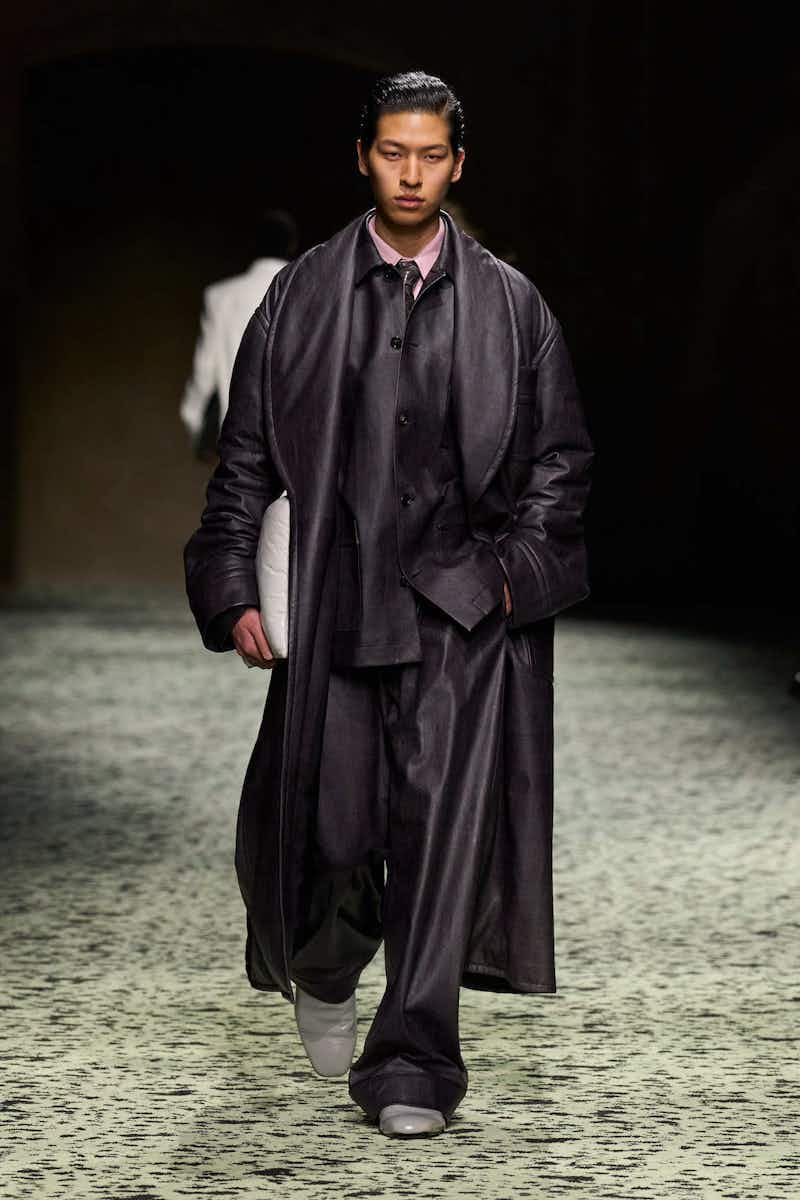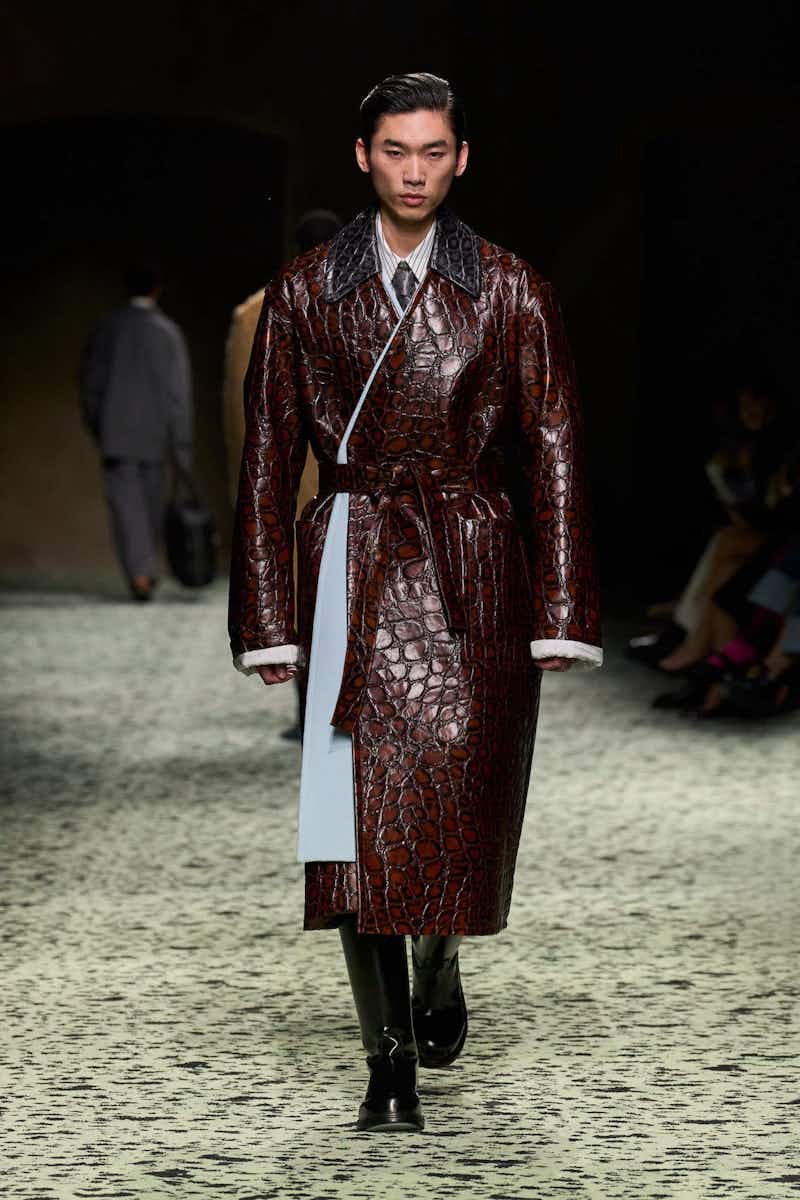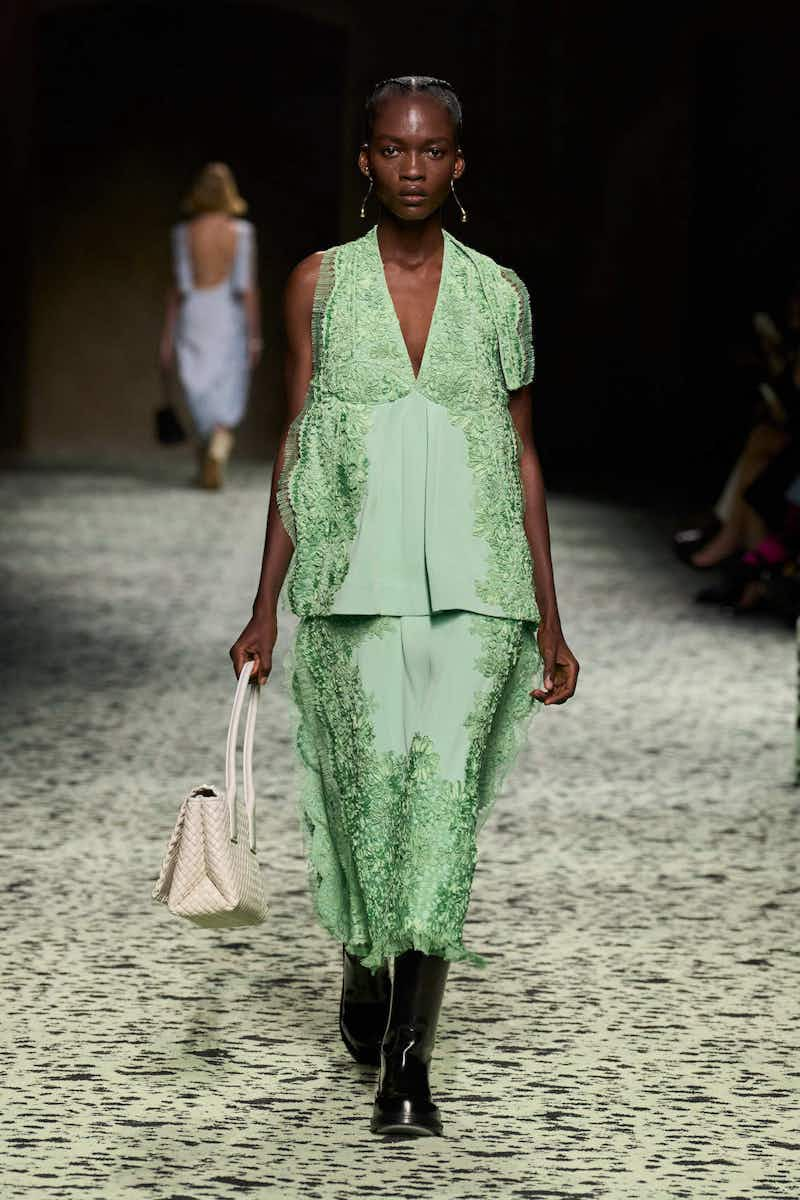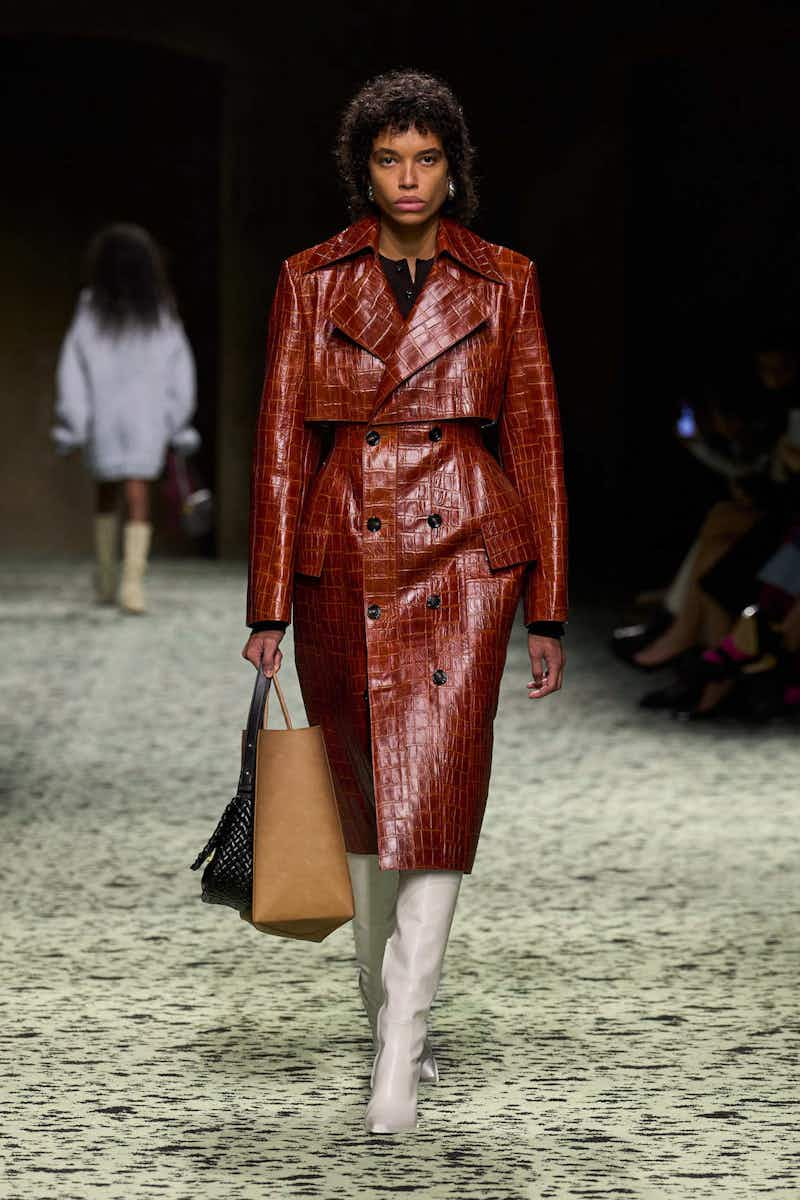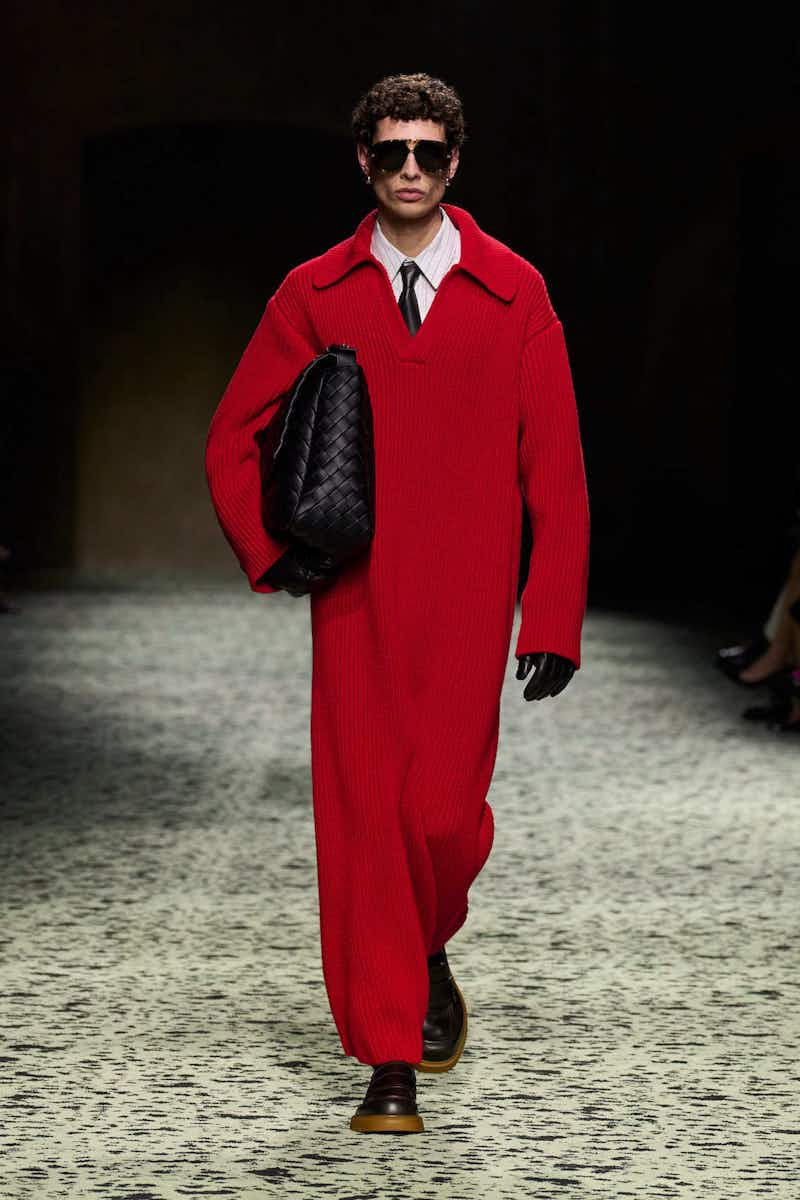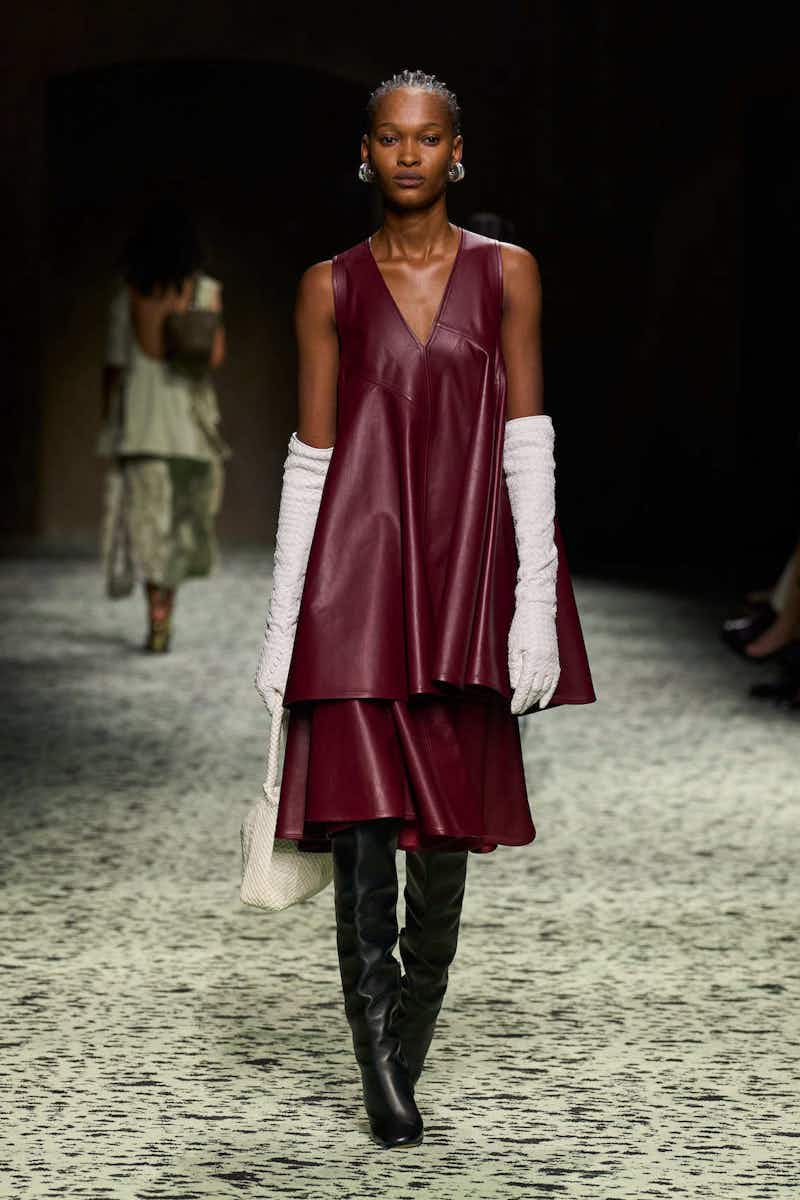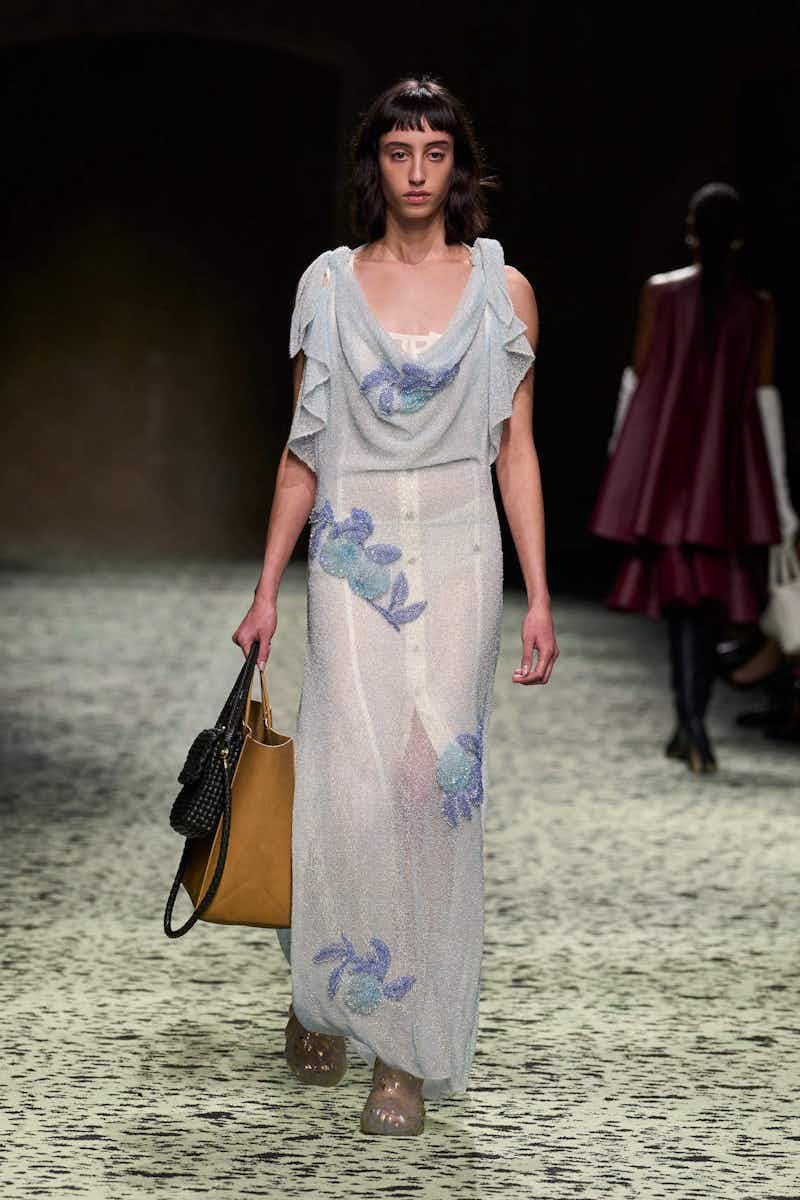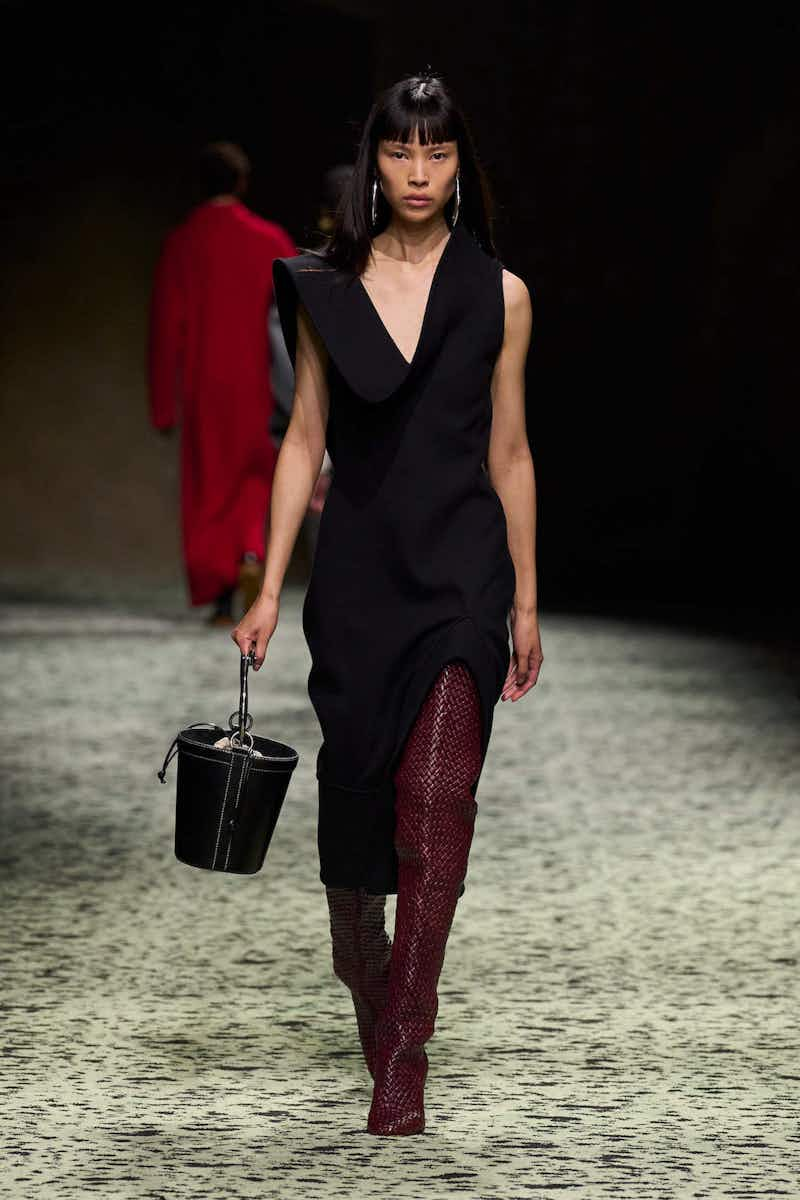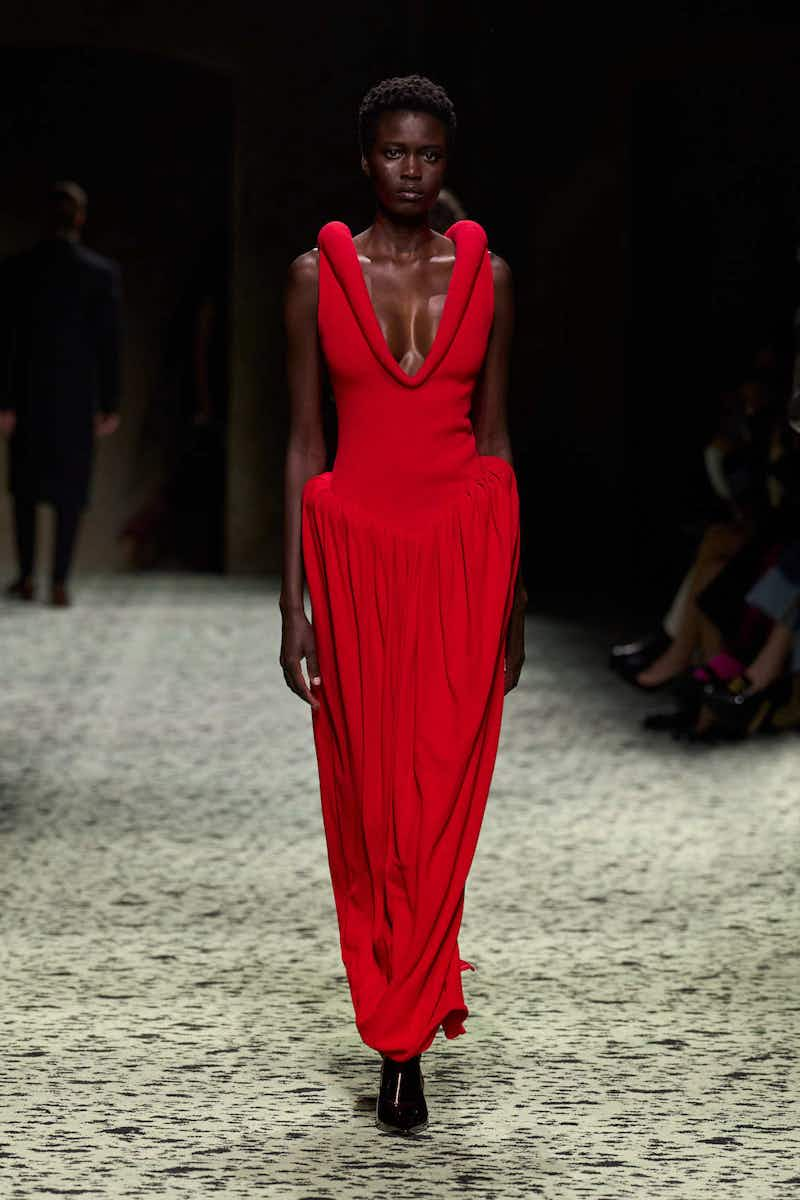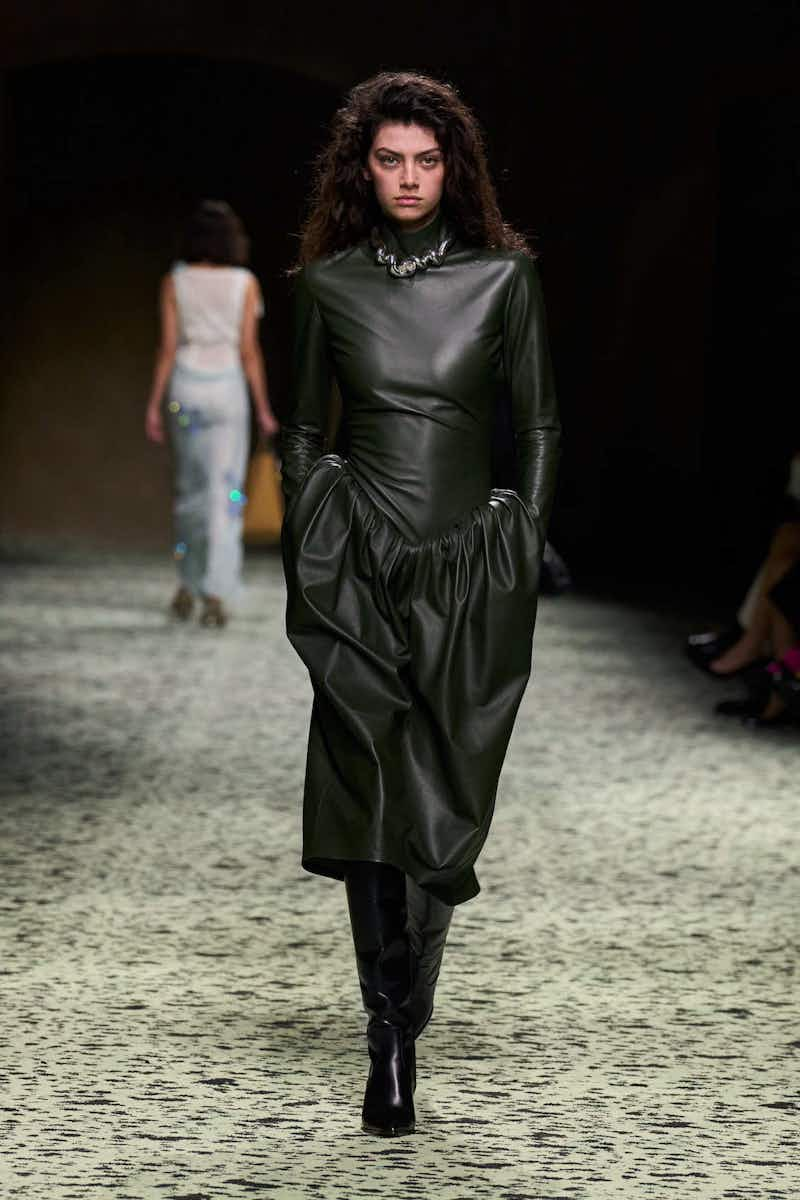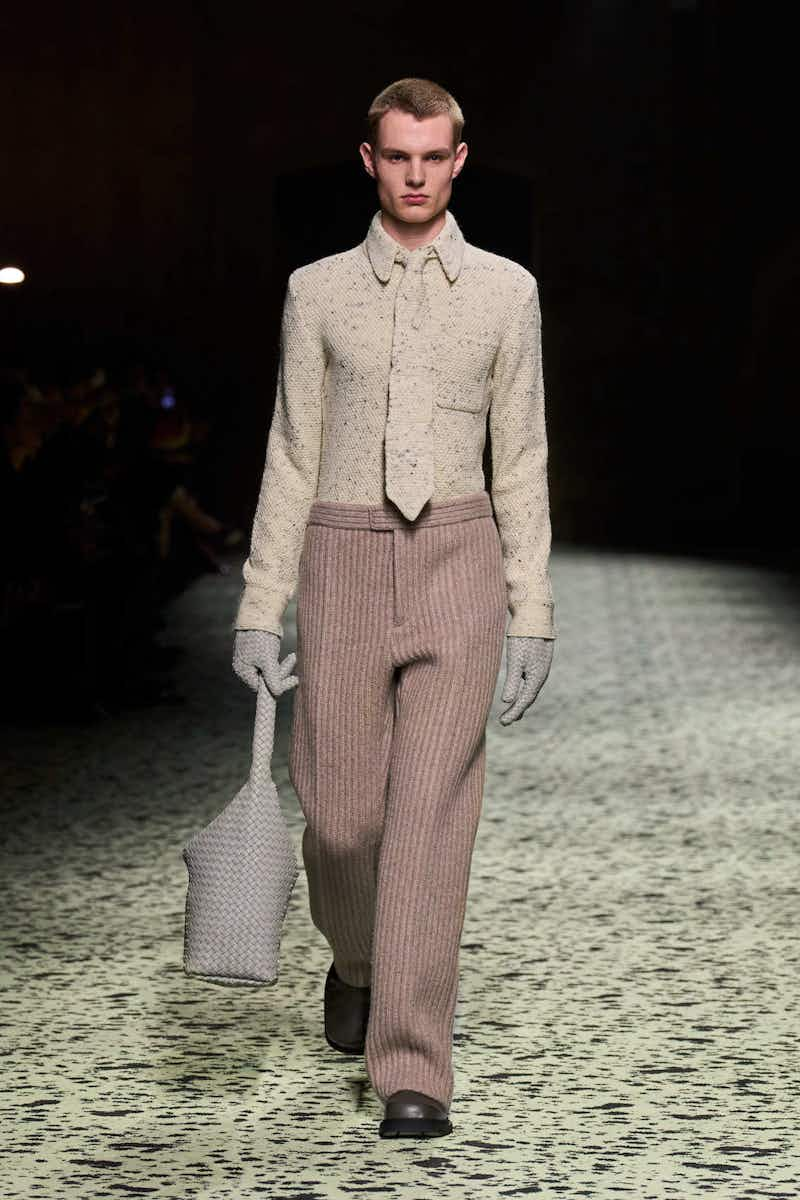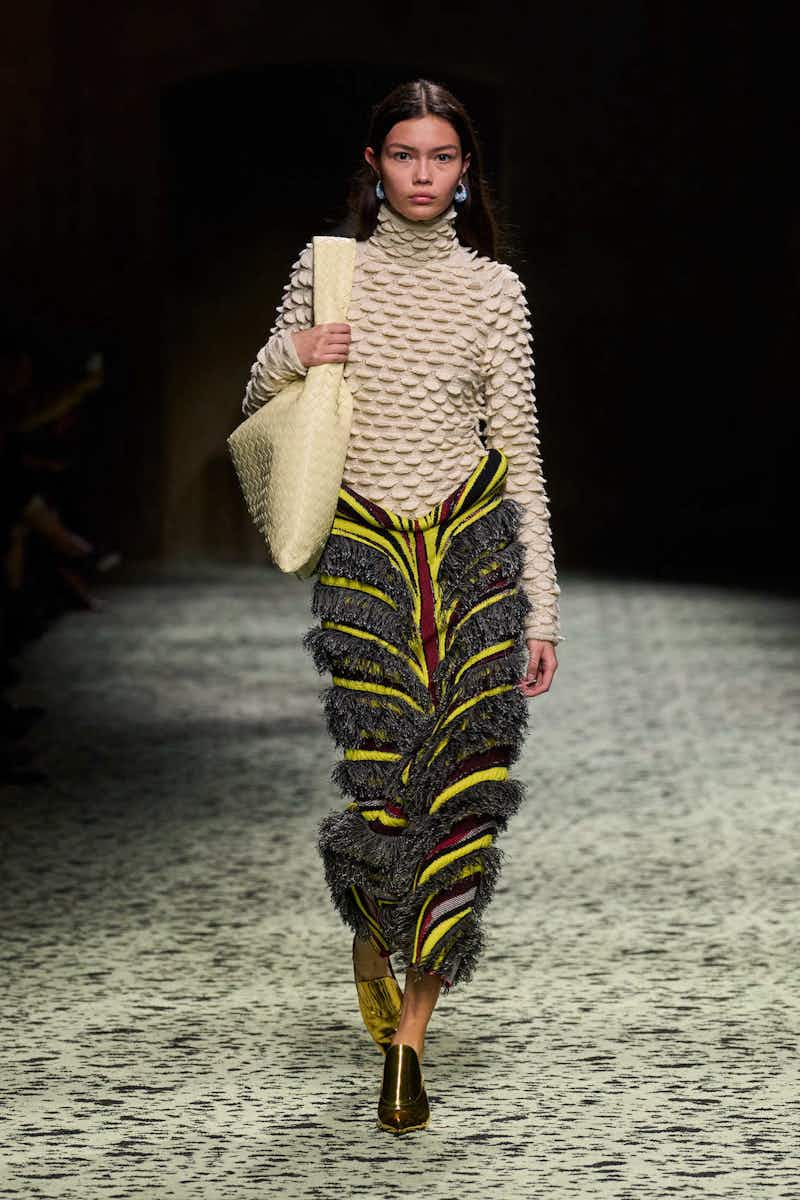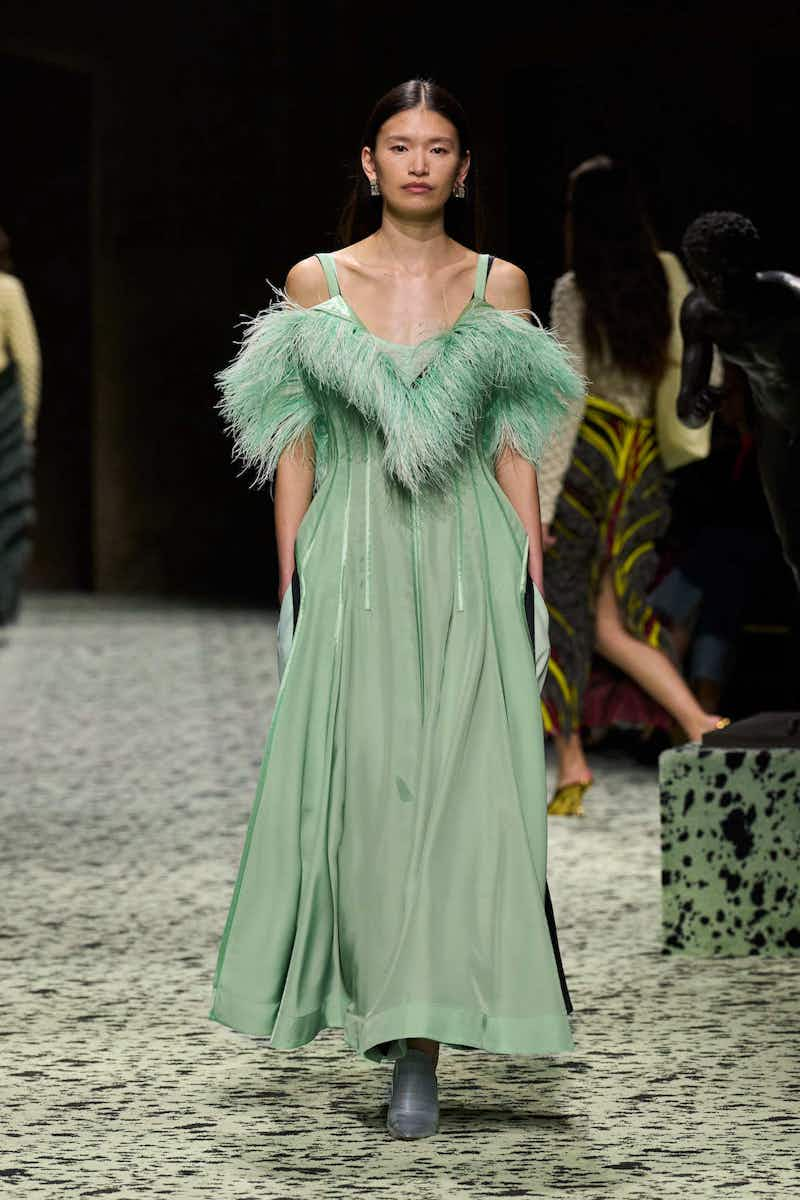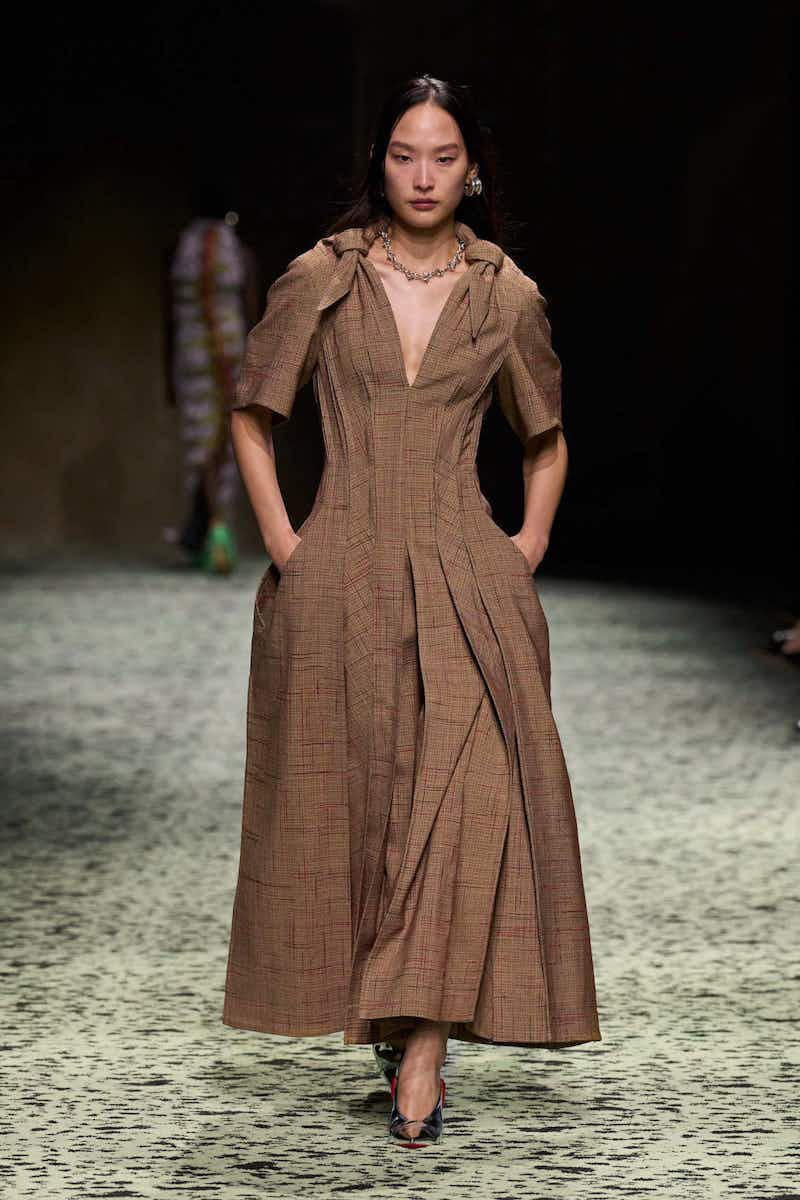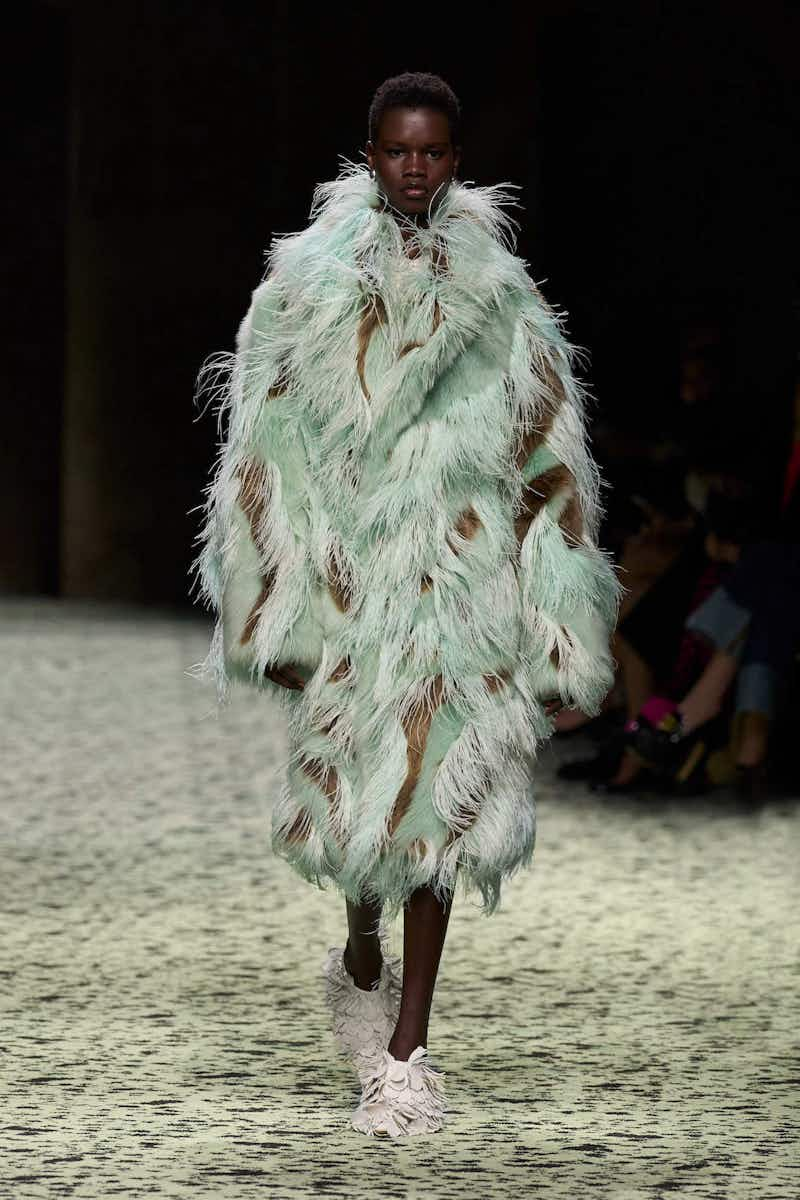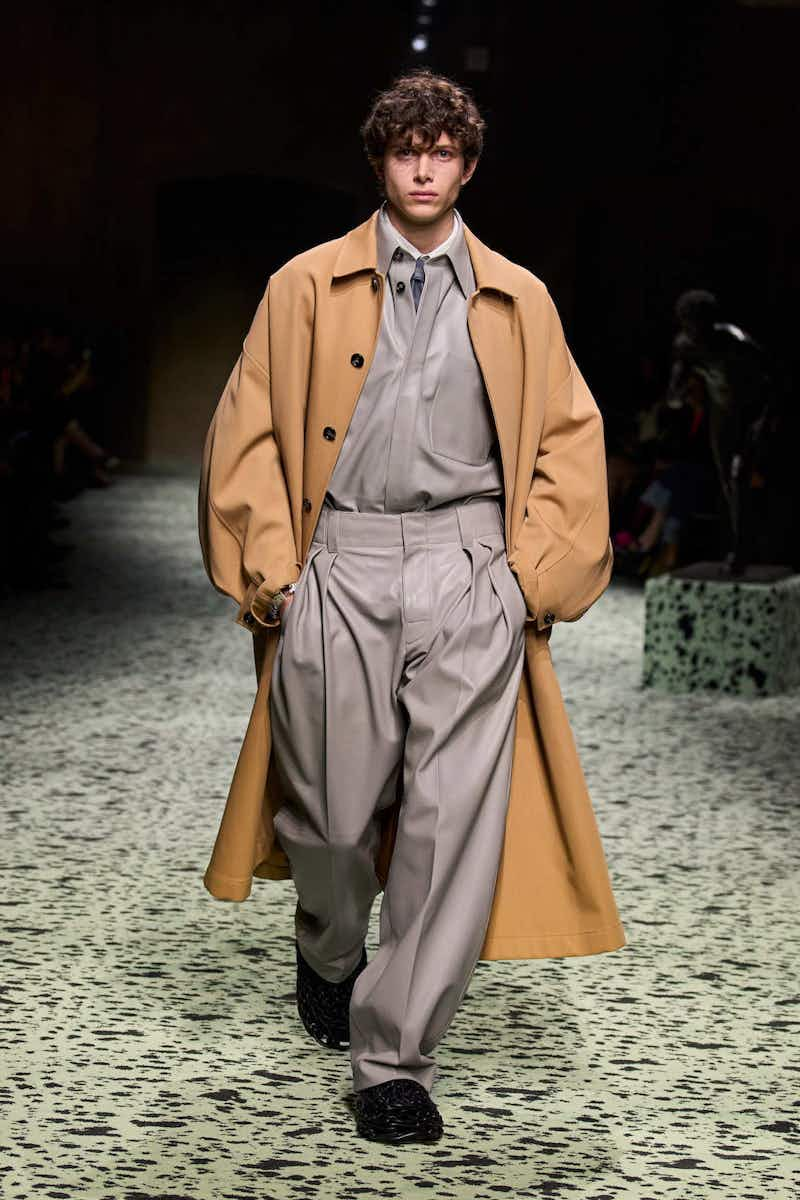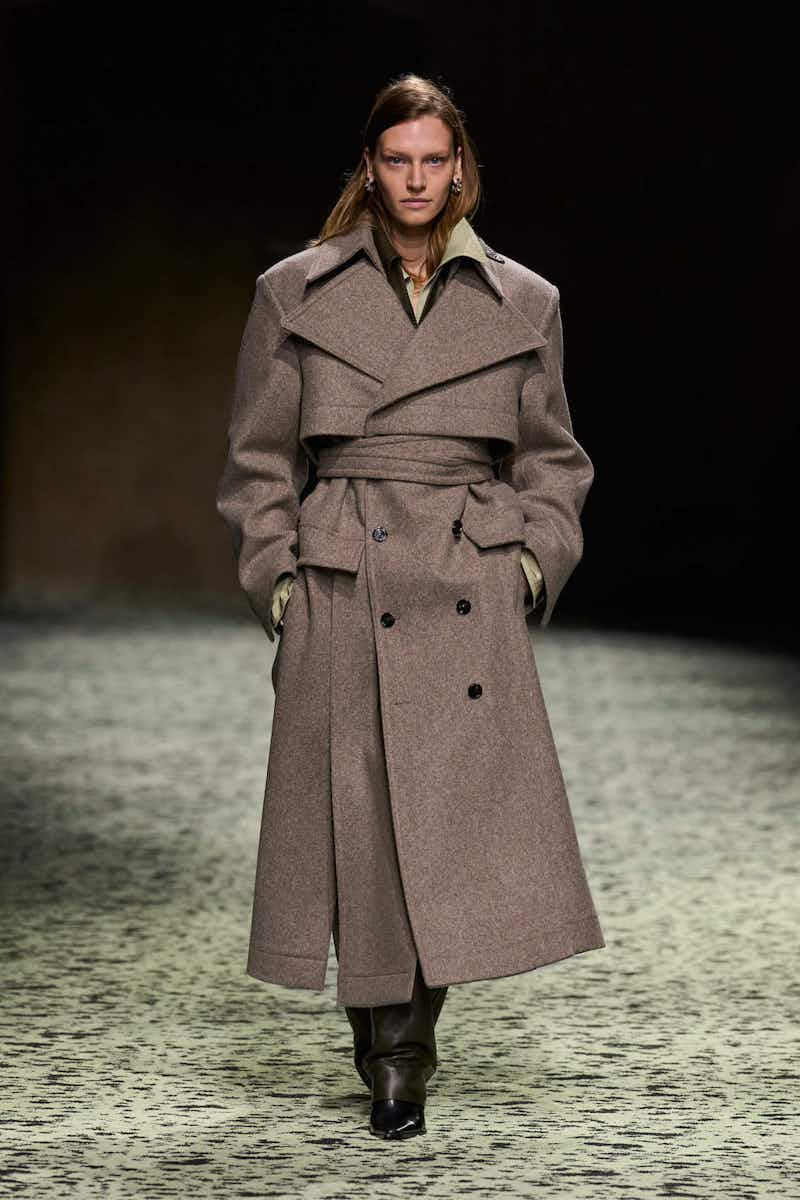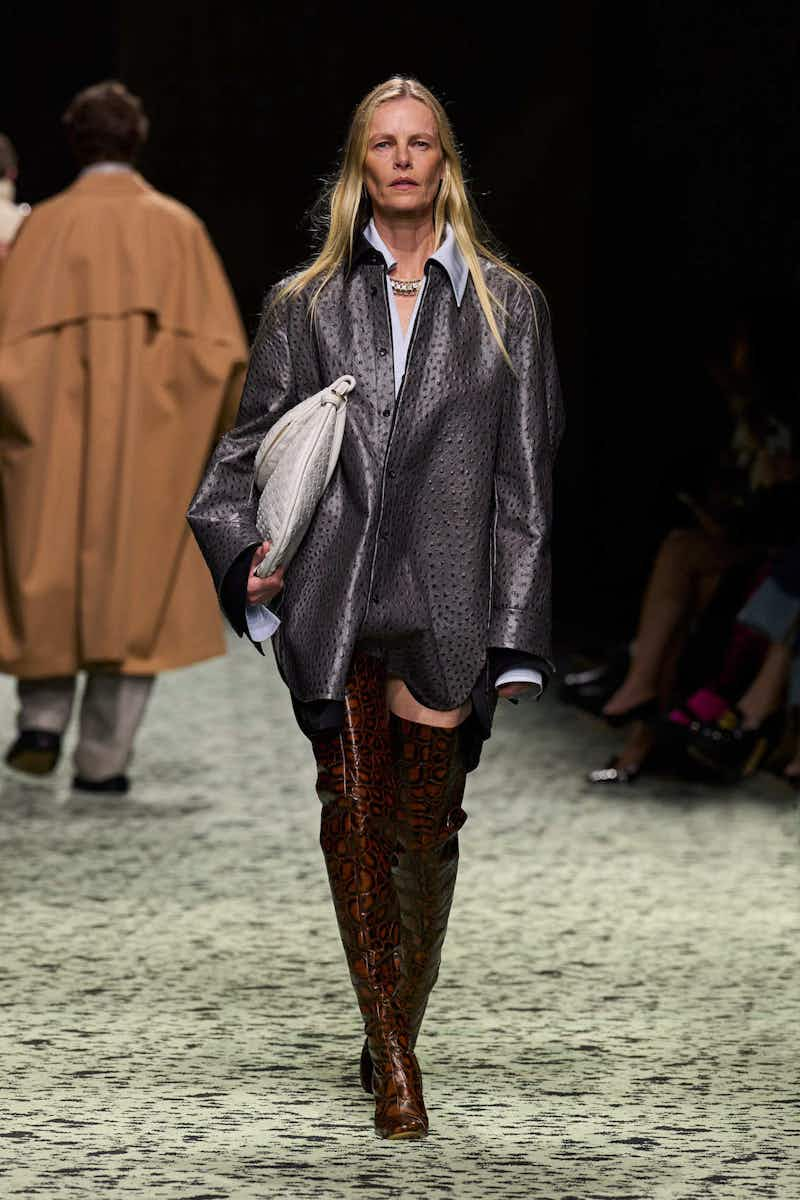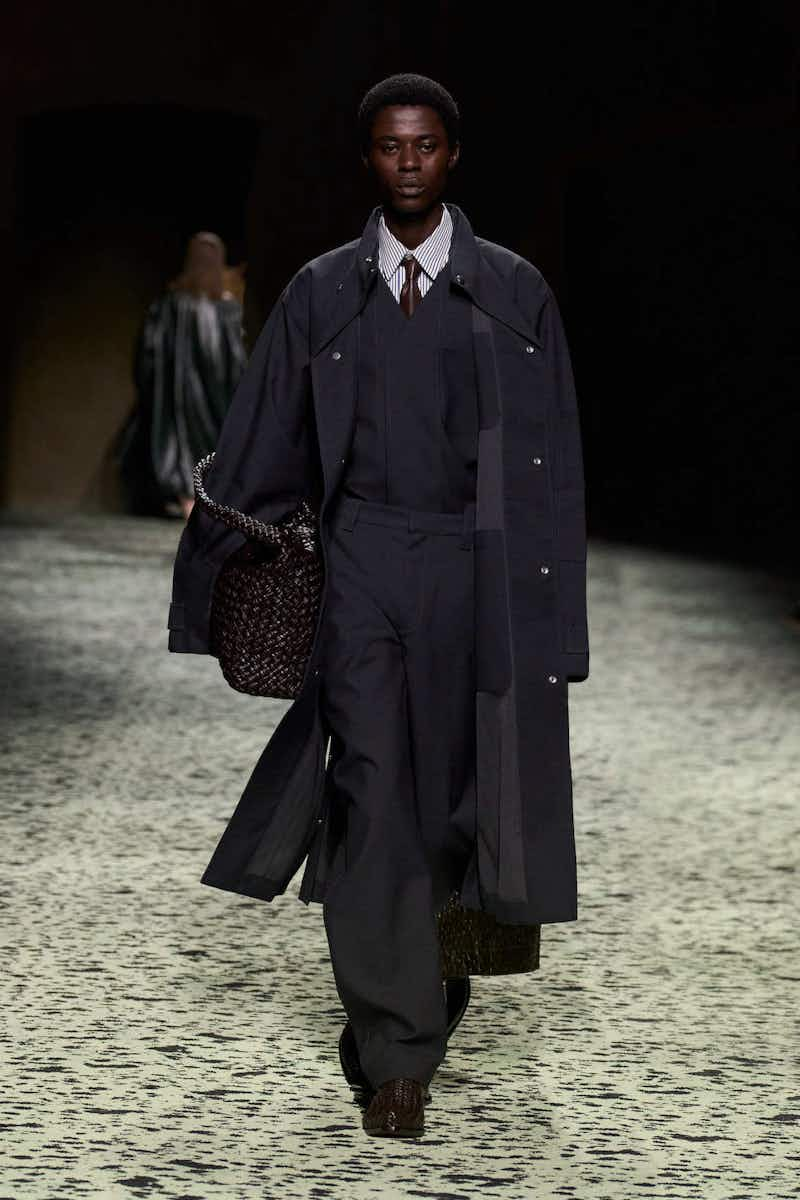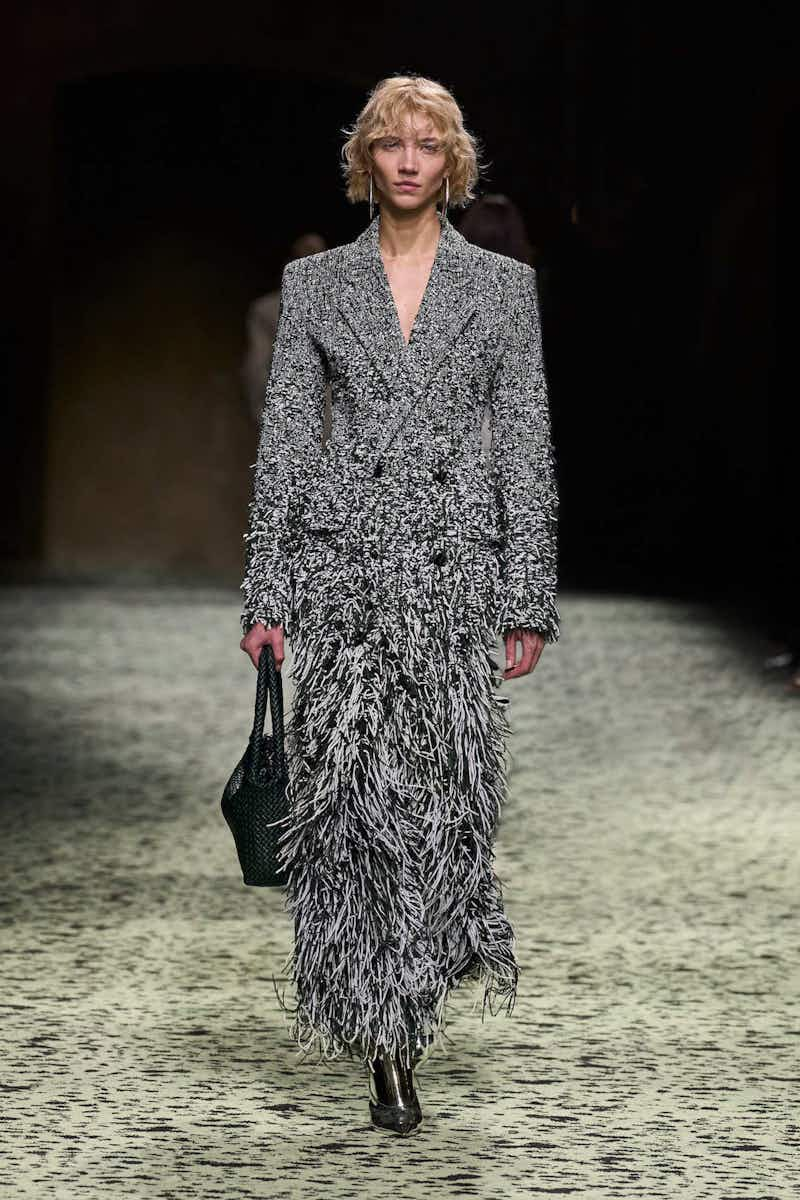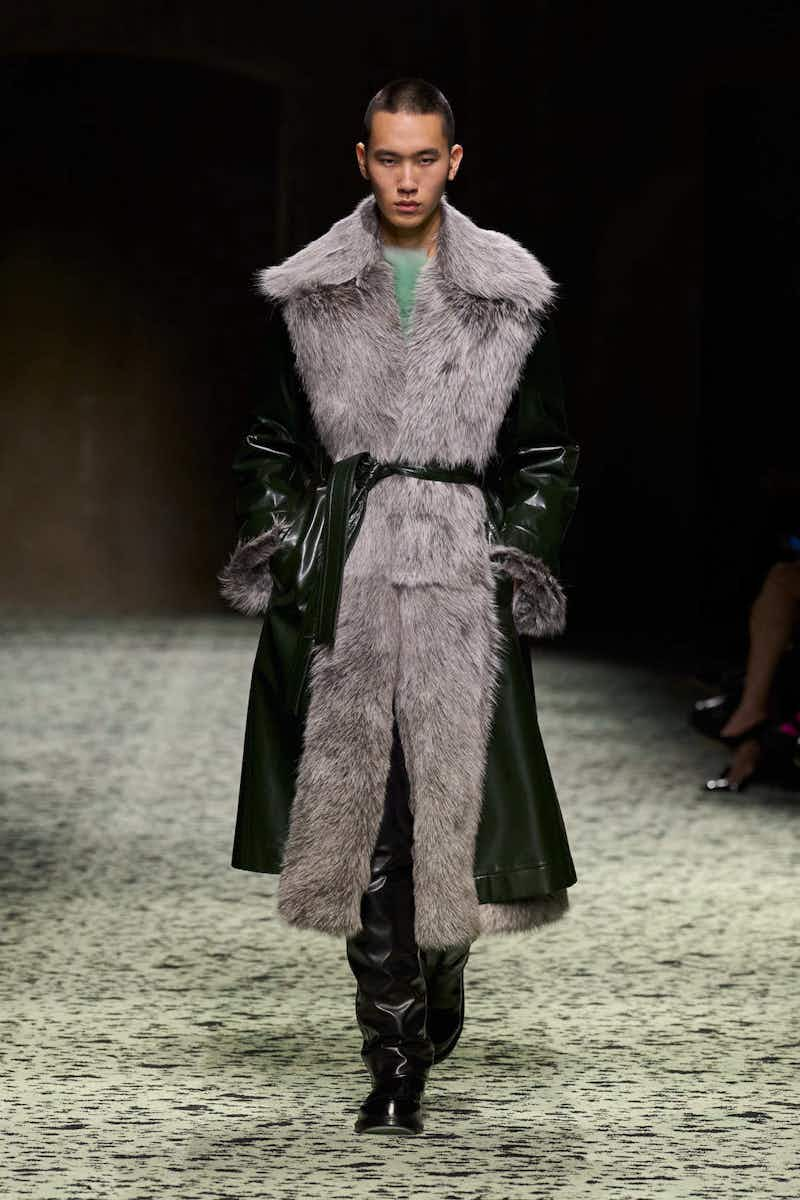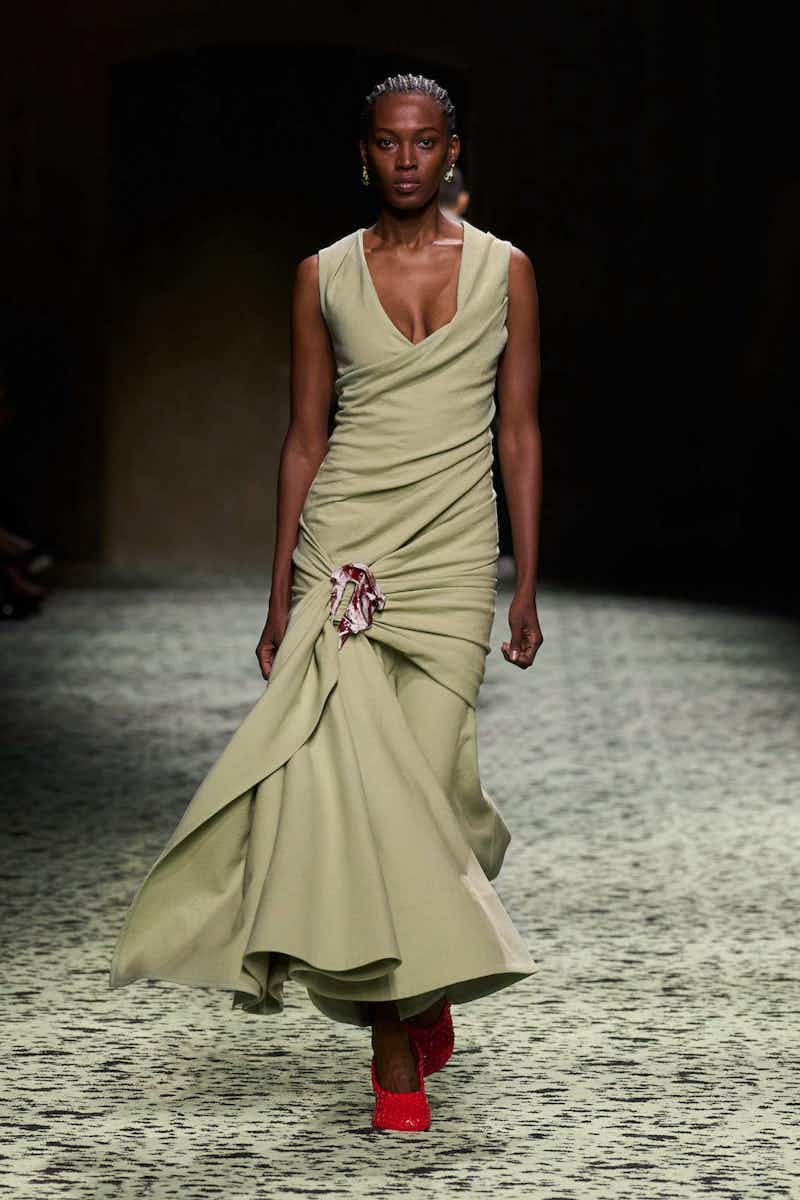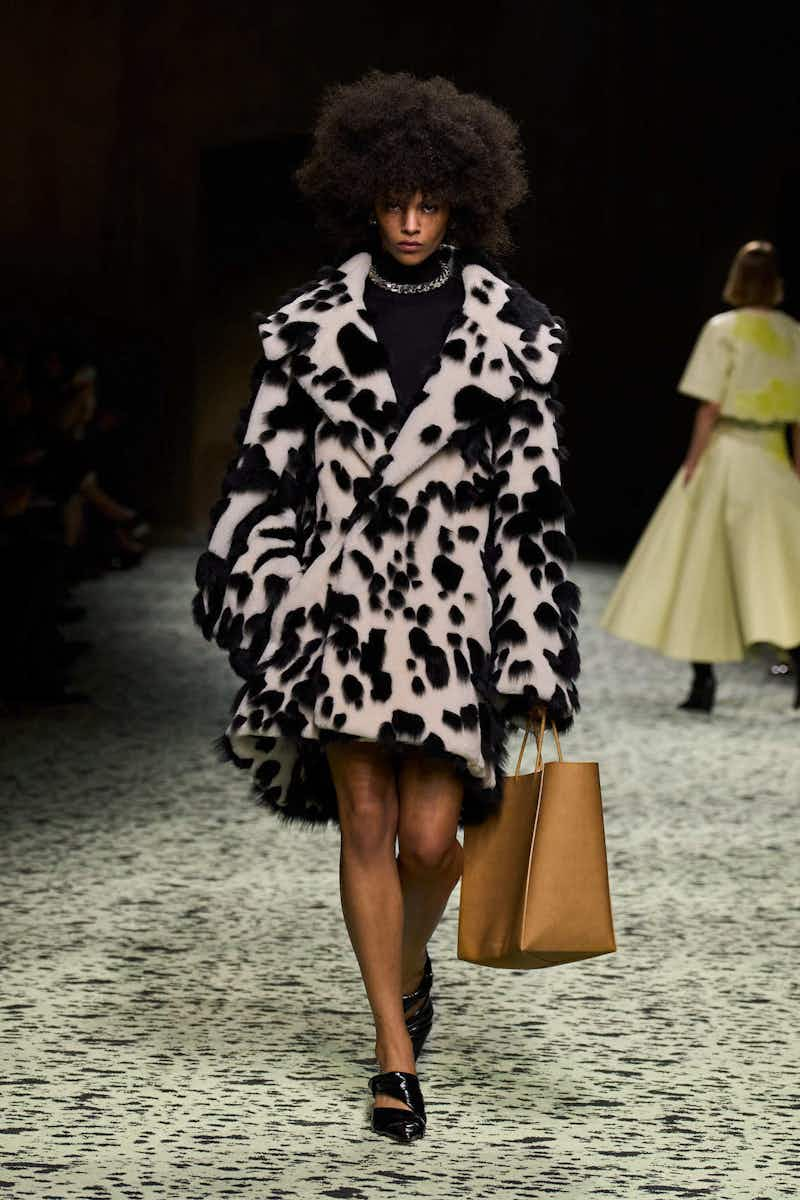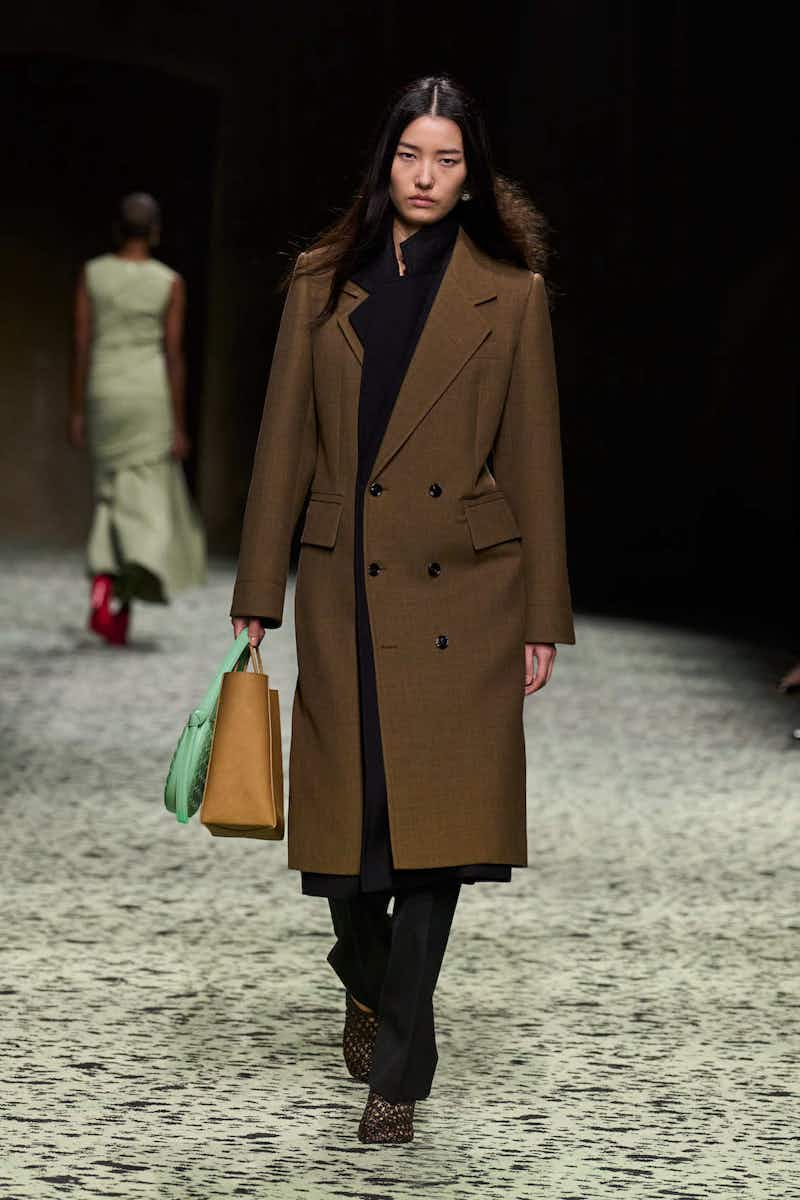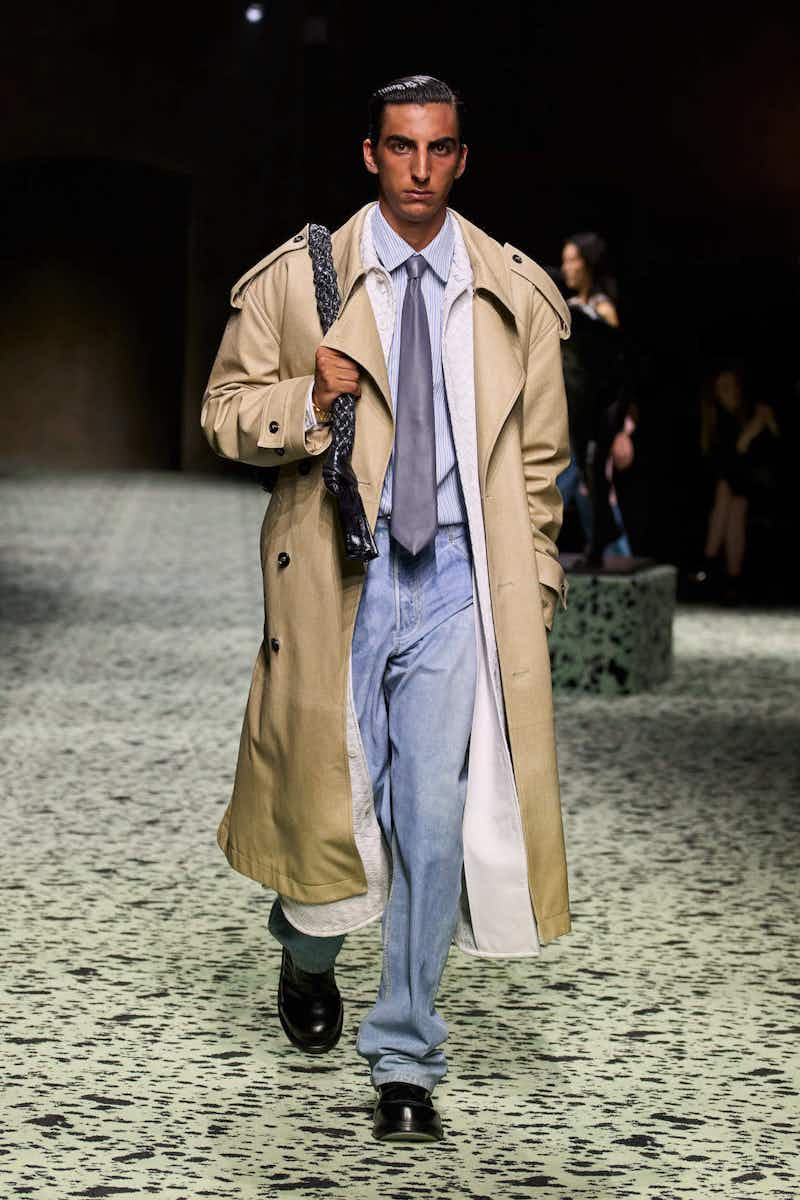 What?
​"The Ultimate Illusion" – the latest collection from Massimo Giorgetti's luxury Italian brand.
Where?
In a clinical white space that was instantly transformed by MSGM's typically vibrant clothes and a soundtrack that included a mash-up of The Chemical Brothers' biggest tracks.
What was it like?
A hallucinogenic trip. The collection featured kaleidoscopic prints, acid-bright colours and a plethora of textures, from distressed velvet, boucle wool and flocked denim, to regal, metallic brocades. There was faux fur aplenty, as seen on everything from fuzzy, bear-like coats and hooded sweatshirts, to clutch bags, oversized floppy headwear and rave-ready boots.
In a song:
Talking Heads – Psycho Killer
In two words:
Cocaine Bear.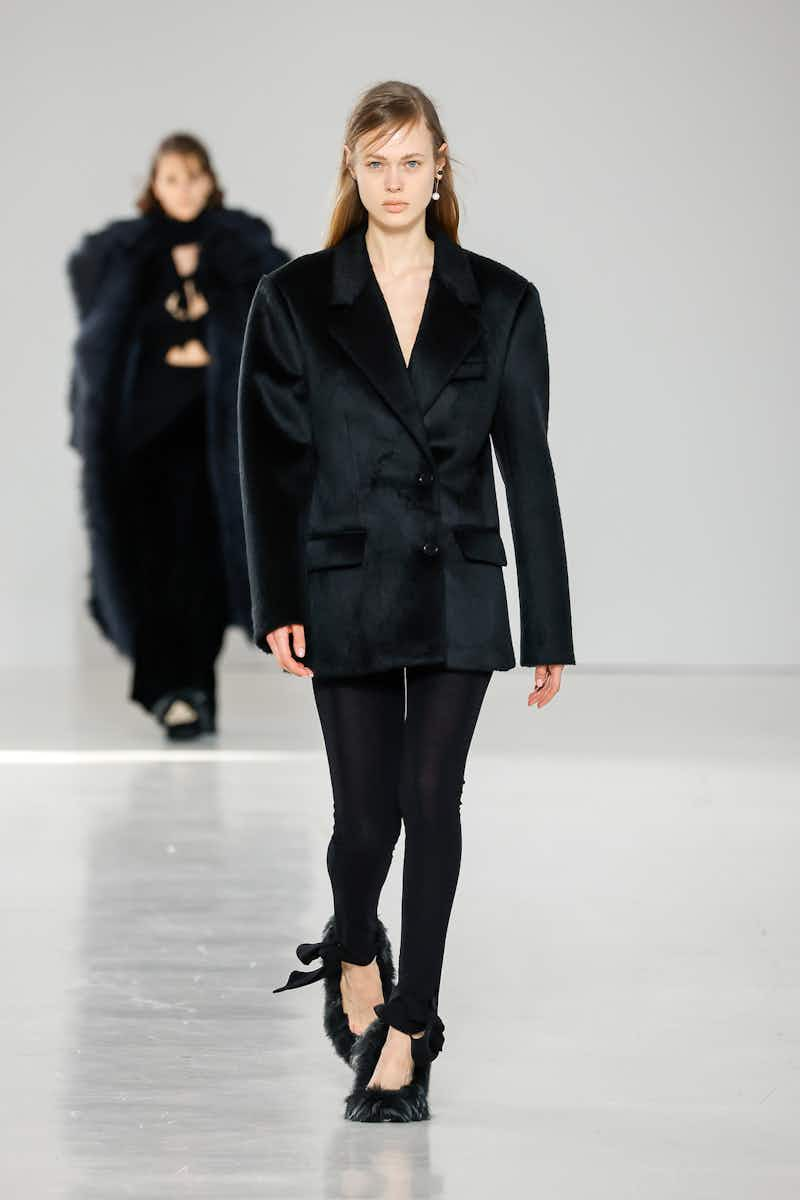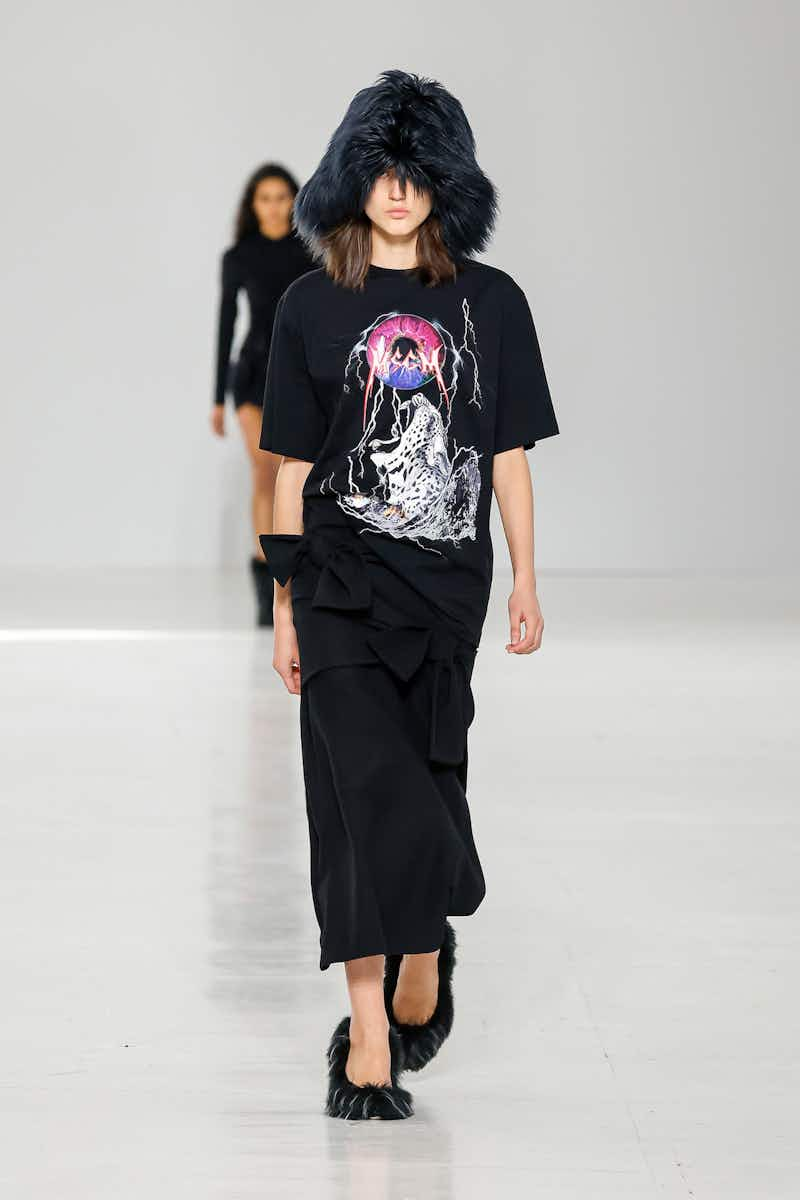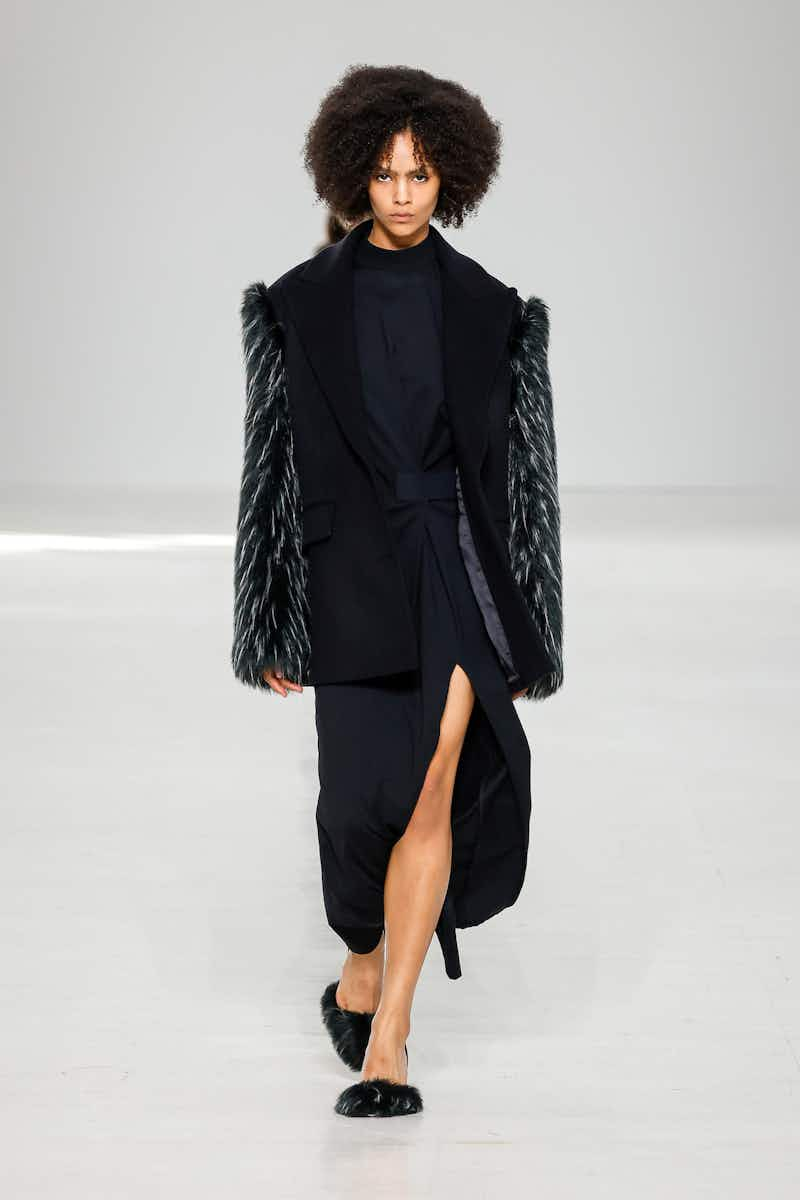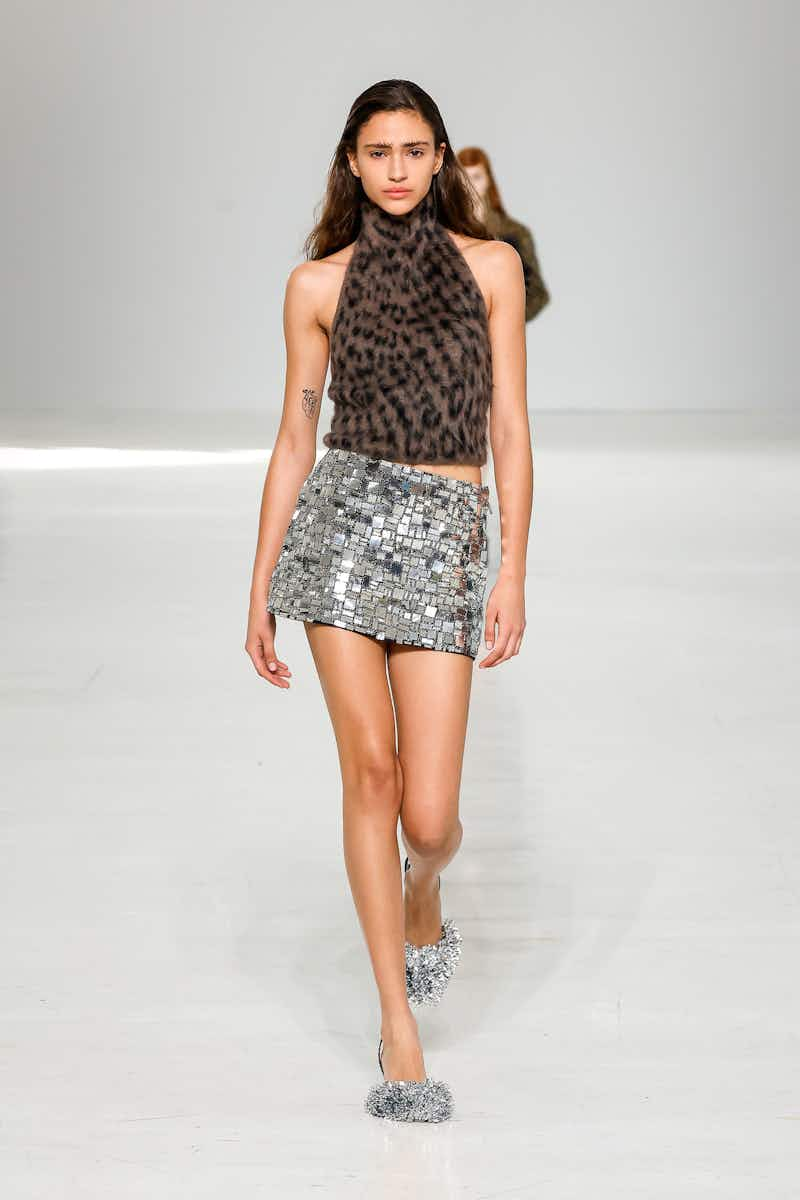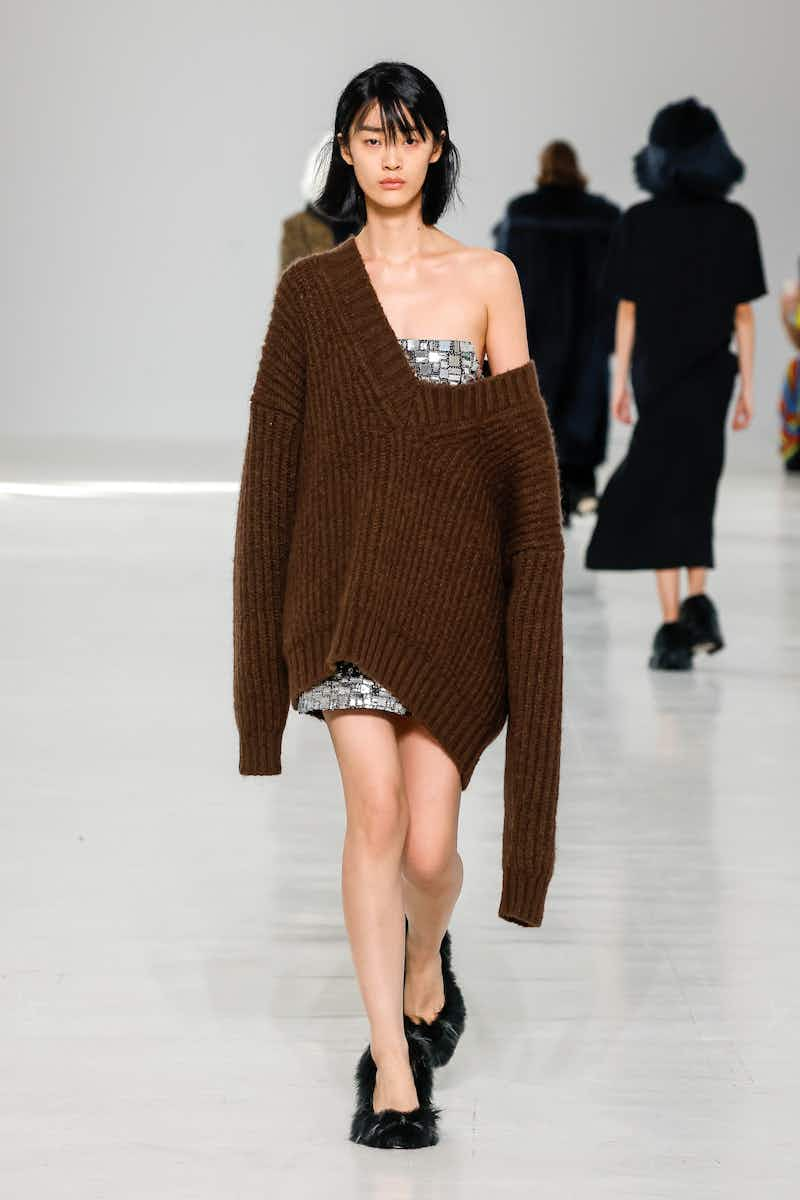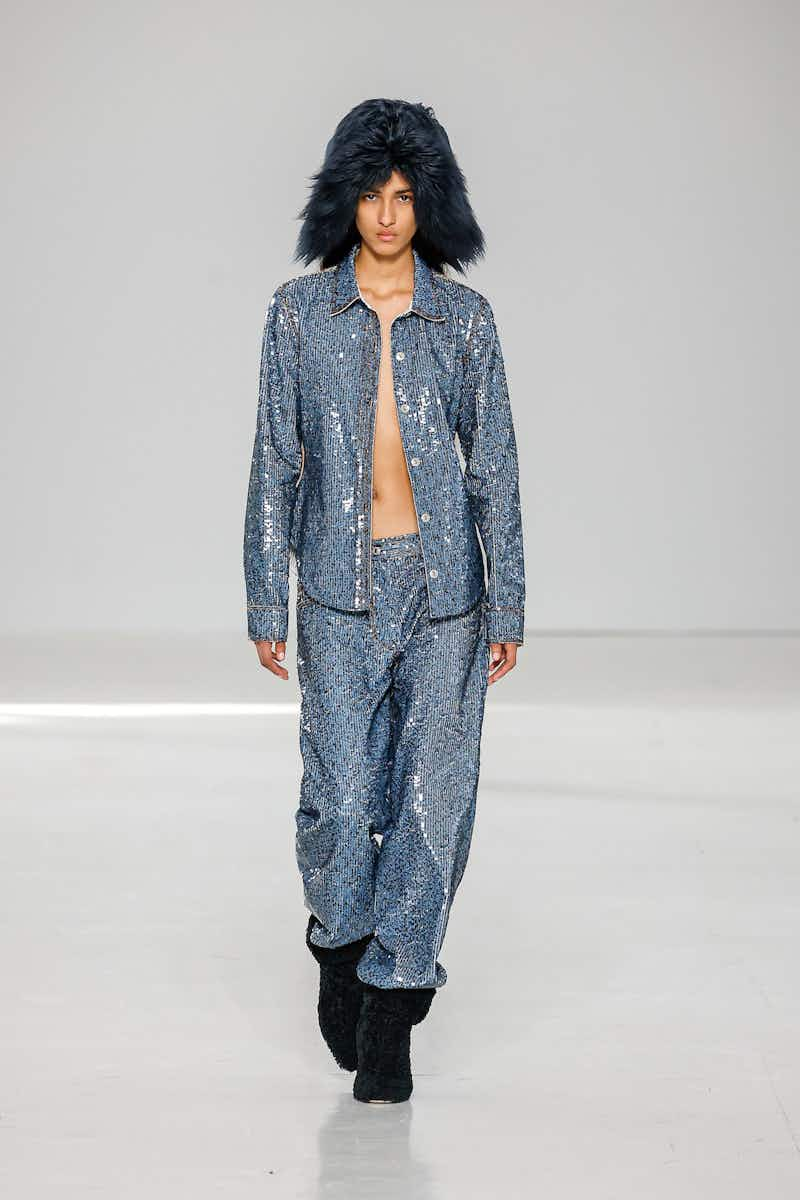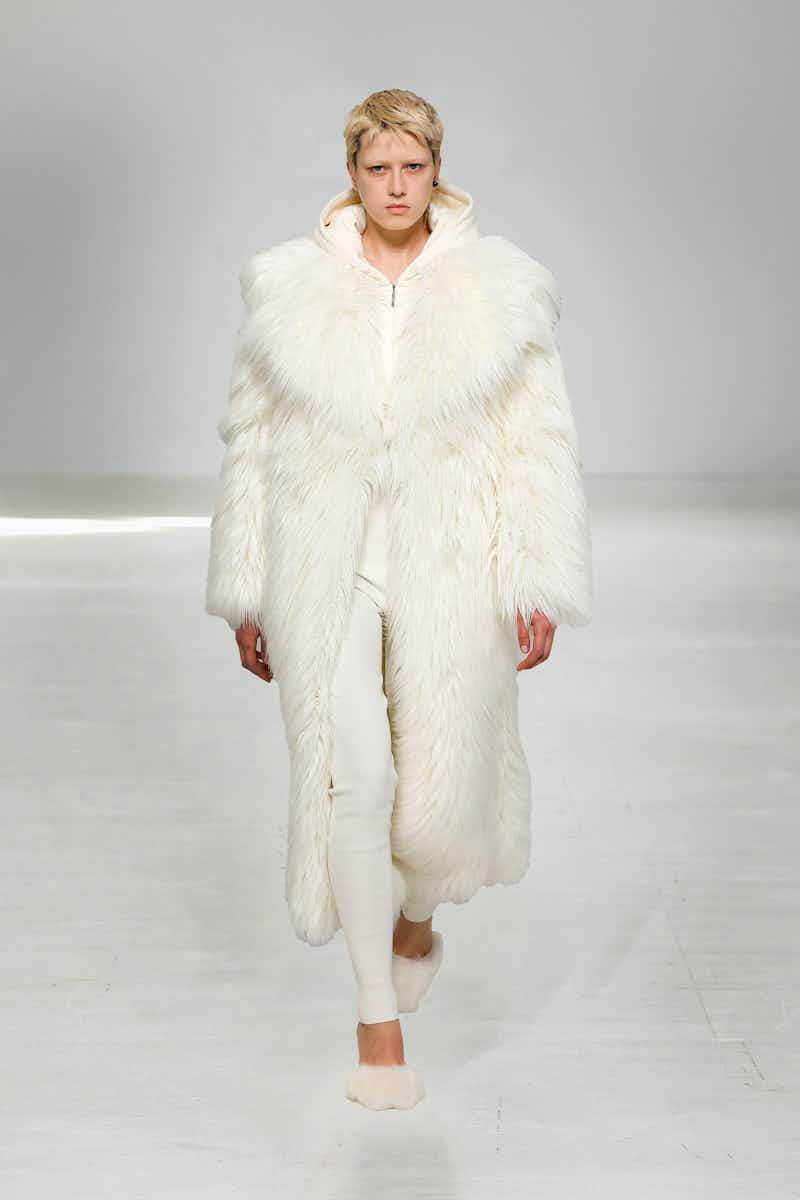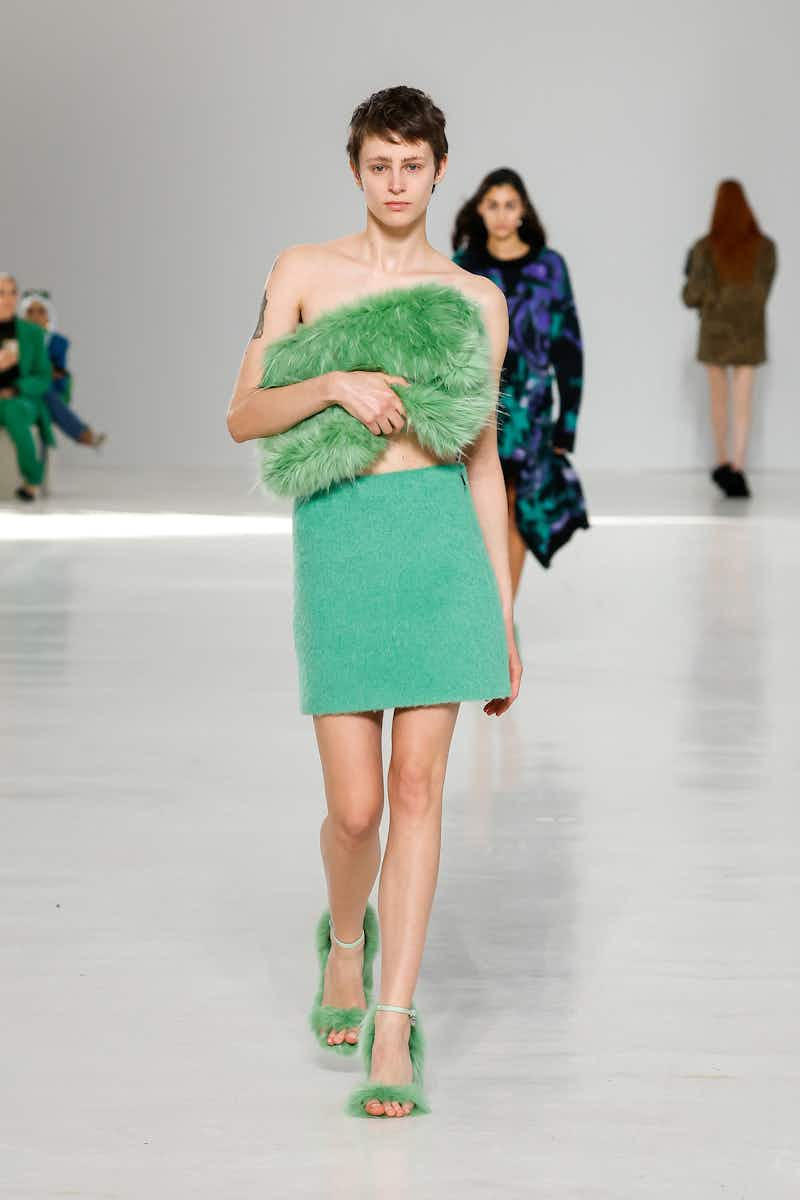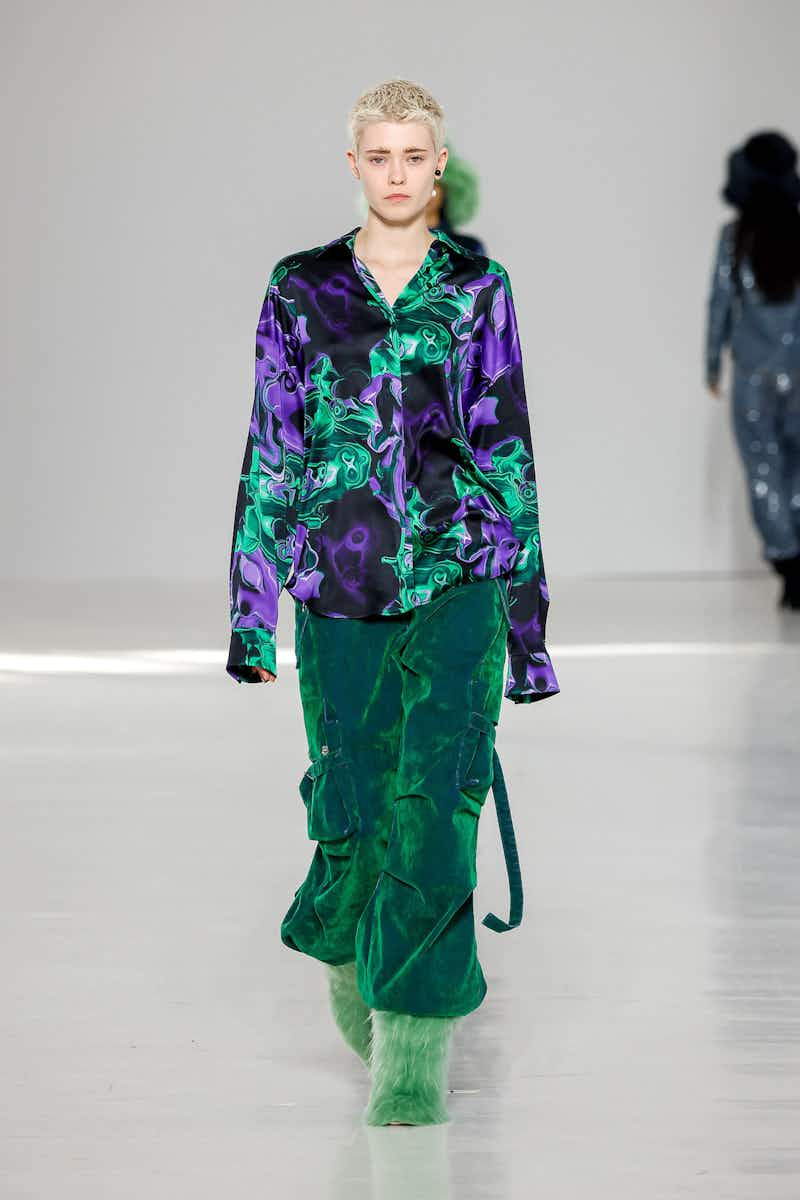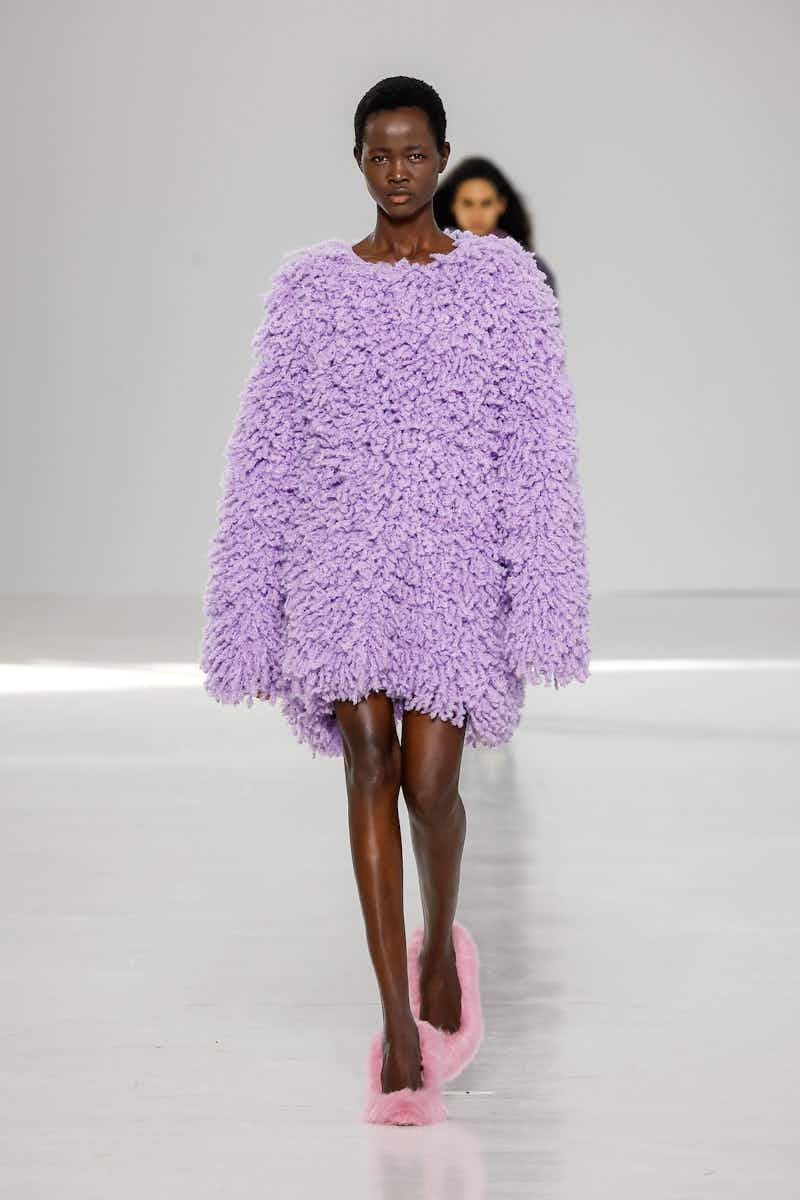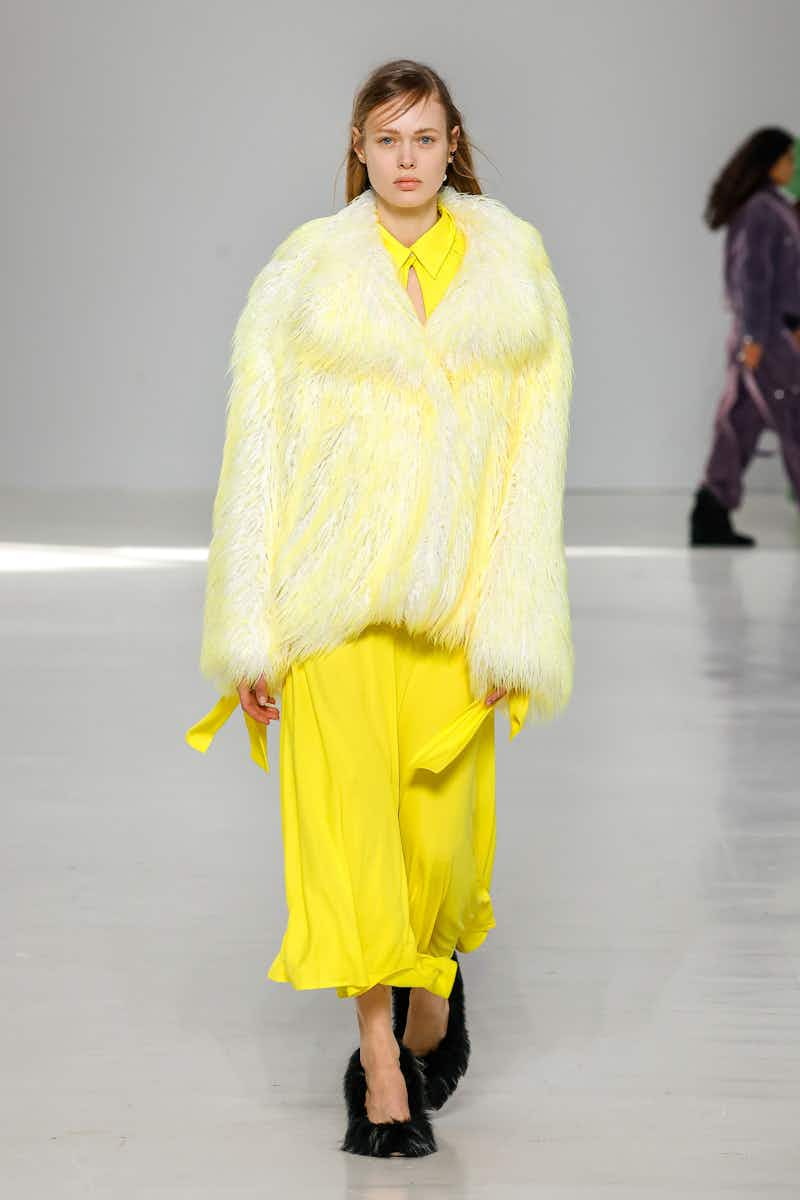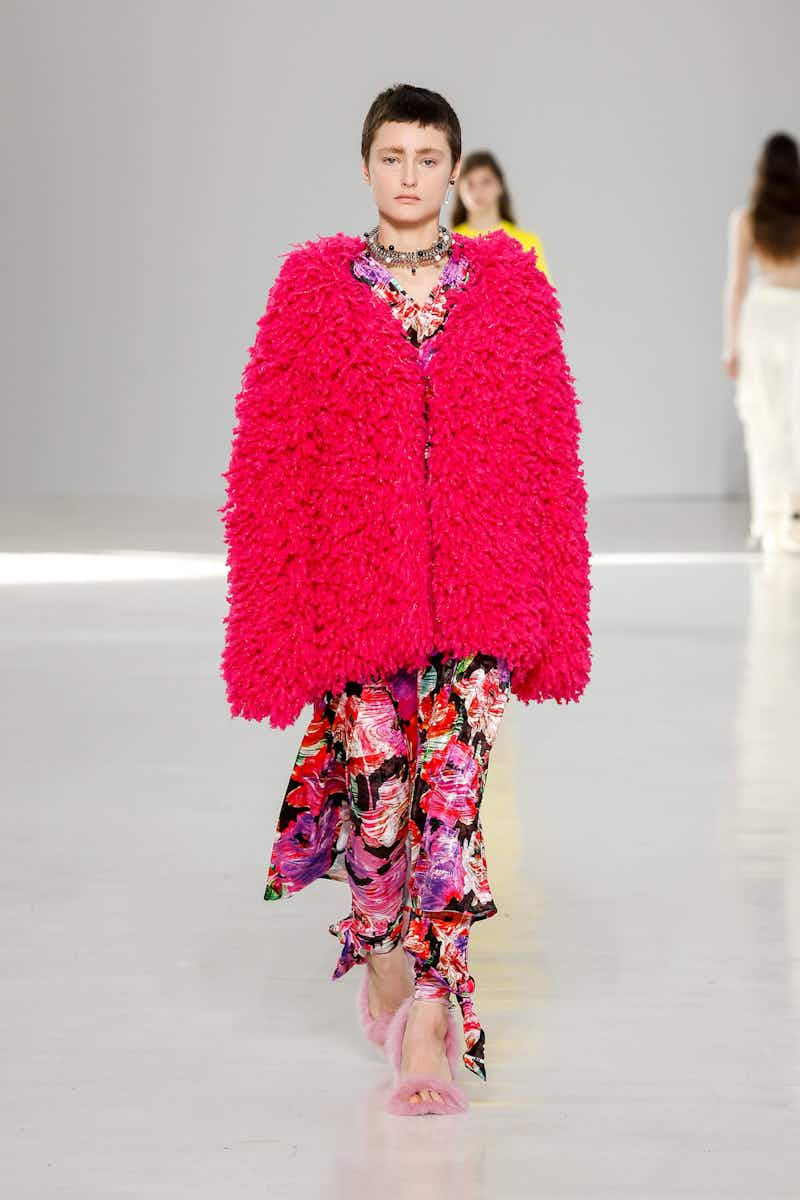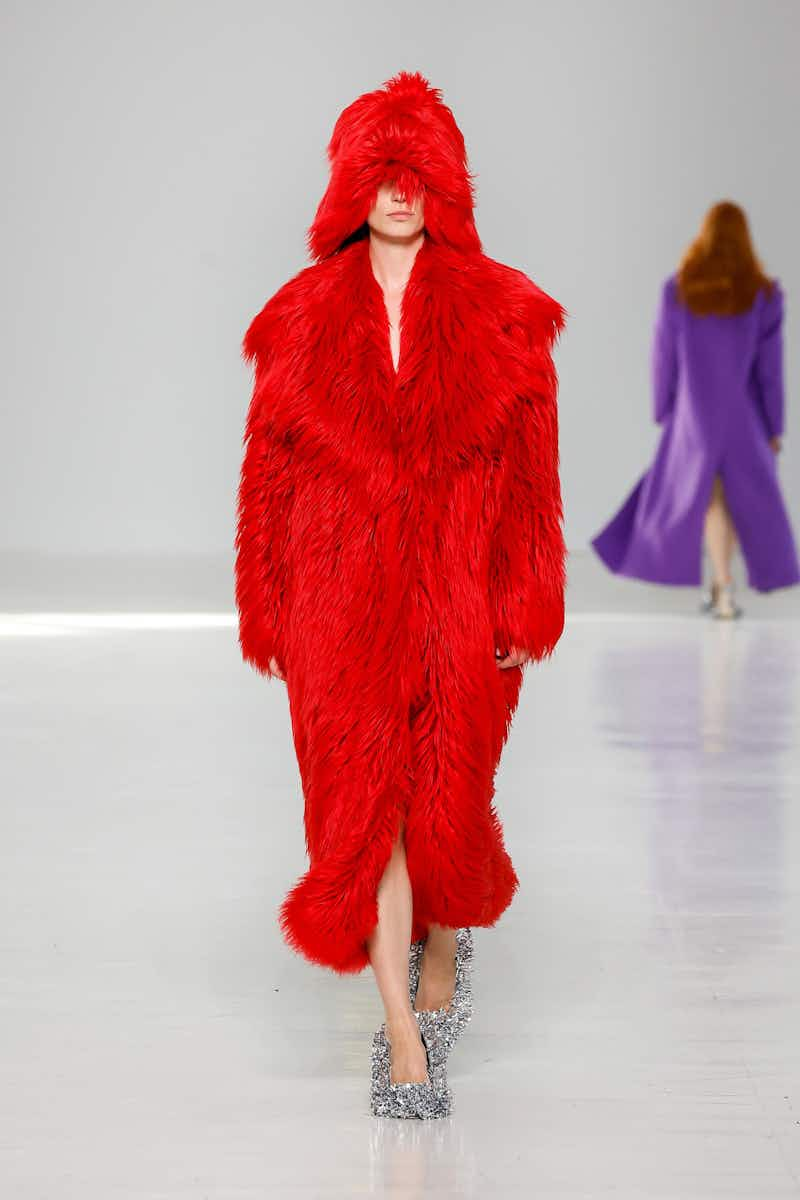 What?
Maximilian Davis' sophomore Ferragamo show which took inspiration from the Hollywood starlets (the likes of Sophia Loren, Audrey Hepburn and Marilyn Monroe) that the almost 100 year old Italian fashion house dressed in the ​'50s.
Who was there?
Model of the moment Mona Tougaard was amongst the first to hit the runway, with FACE family member Zainab Jama following shortly after. Meanwhile, the likes of Shygirl, Hunter Schafer and Uma Thurman watched from the front row.
What about the clothes?
It was glamourous in every sense of the word, yet there was no need for theatrics. Despite referencing ​'50s silhouettes – nipped waists, circular skirts, sweetheart necklines, puffed sleeves – the mood was anything but nostalgic. Instead, Davis had his sights set firmly on the future, communing the era through a fresh lens. Think: draped dresses that hugged the body in all the right places, voluminous knits paired with teeny shorts, precision cut tailoring, cocoon-shaped coats and shell suit-esque suits cut from technical fabrics. Elsewhere, Ferragamo's increasingly recognisable red crept into the collection via a scarlet pantsuit and a textured leather trench.
Of note:
A space-age stiletto with an angular heel, which referenced a 1956 shoe that Davis was drawn to when trawling the Ferragamo archives. If the success of the Wanda bag, which Davis reissued in his debut collection, is anything to go by, this will be an instant hit.
In a song:
Inner City – Good Life
In a word:
Powerful.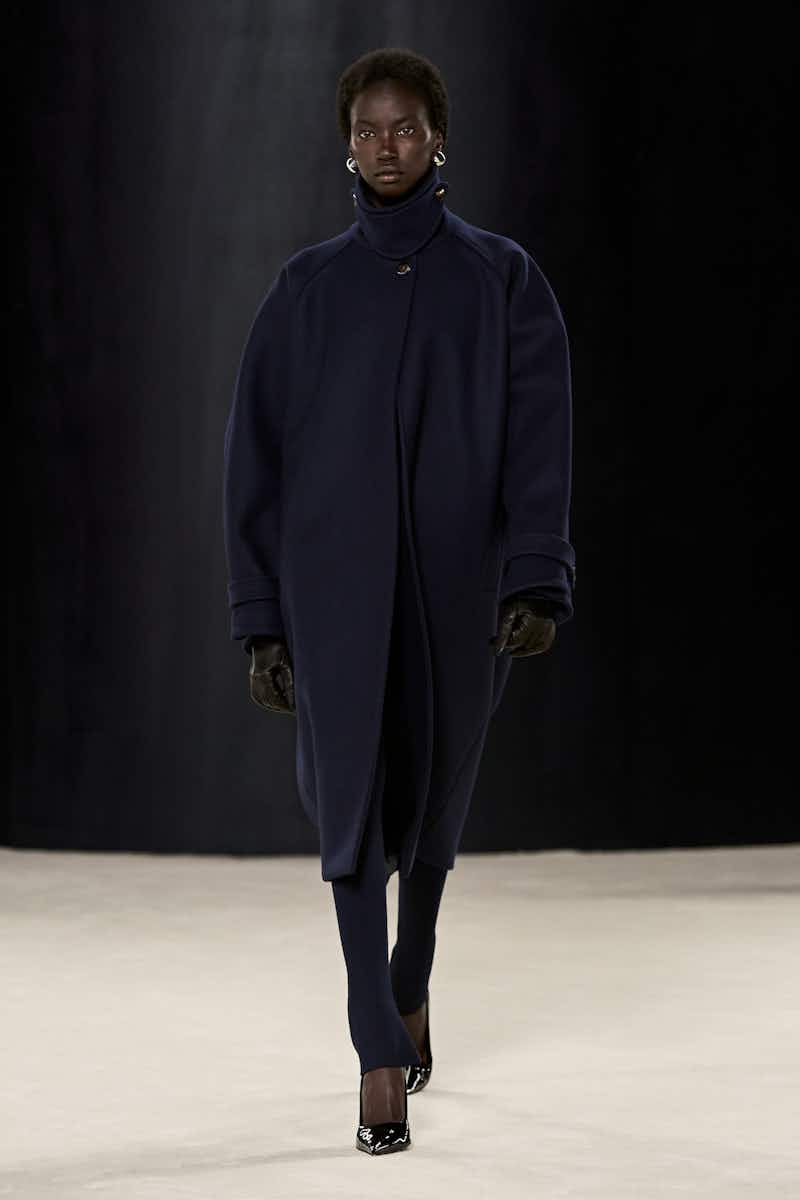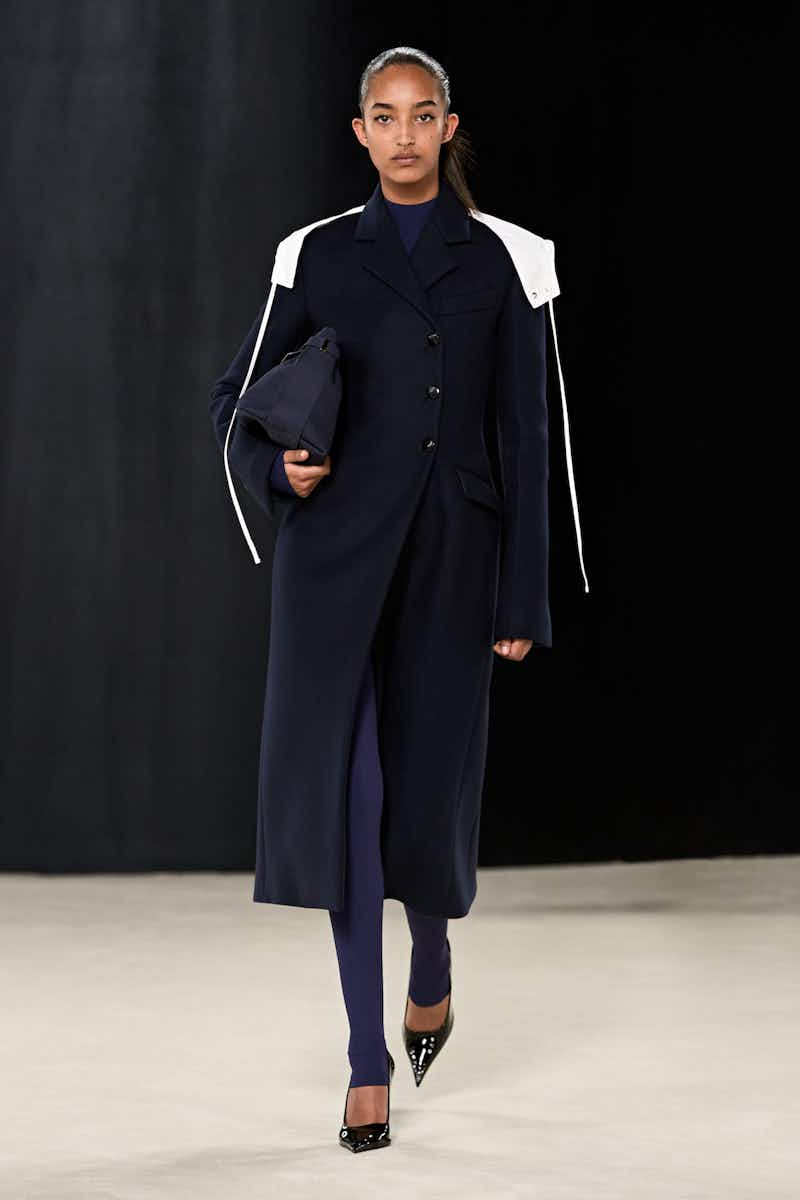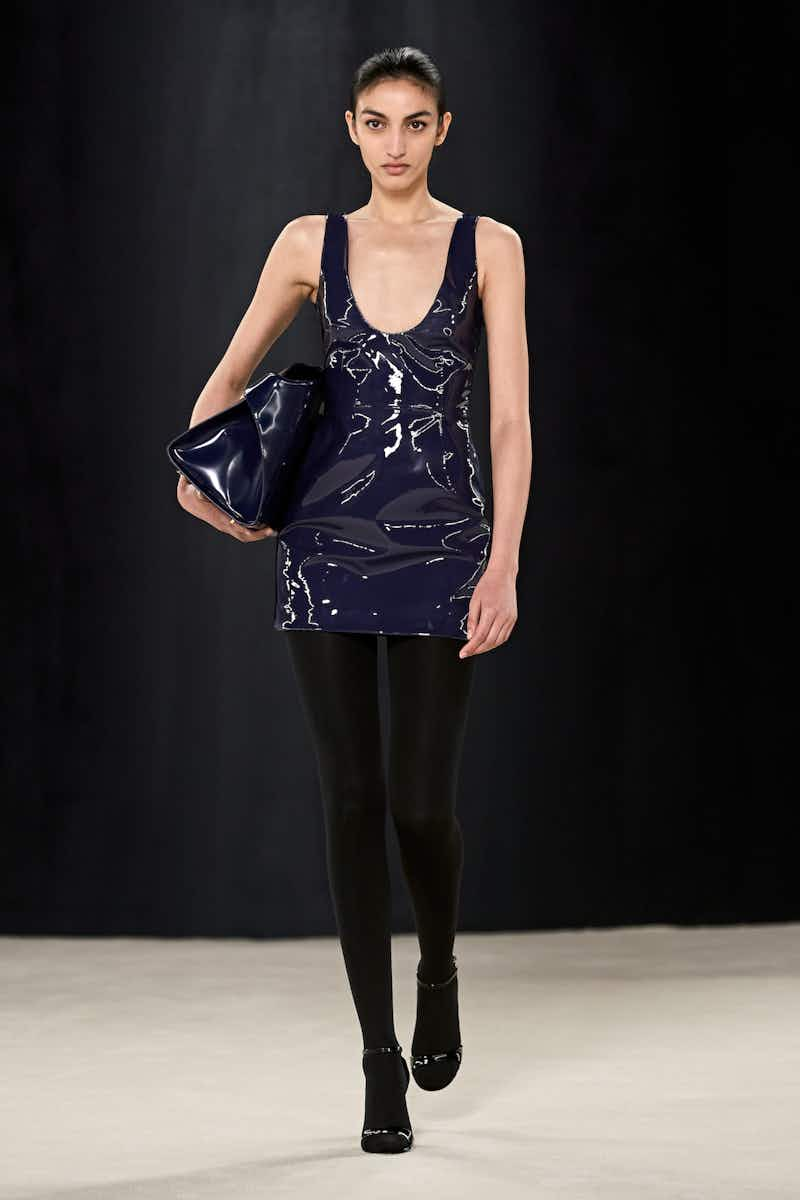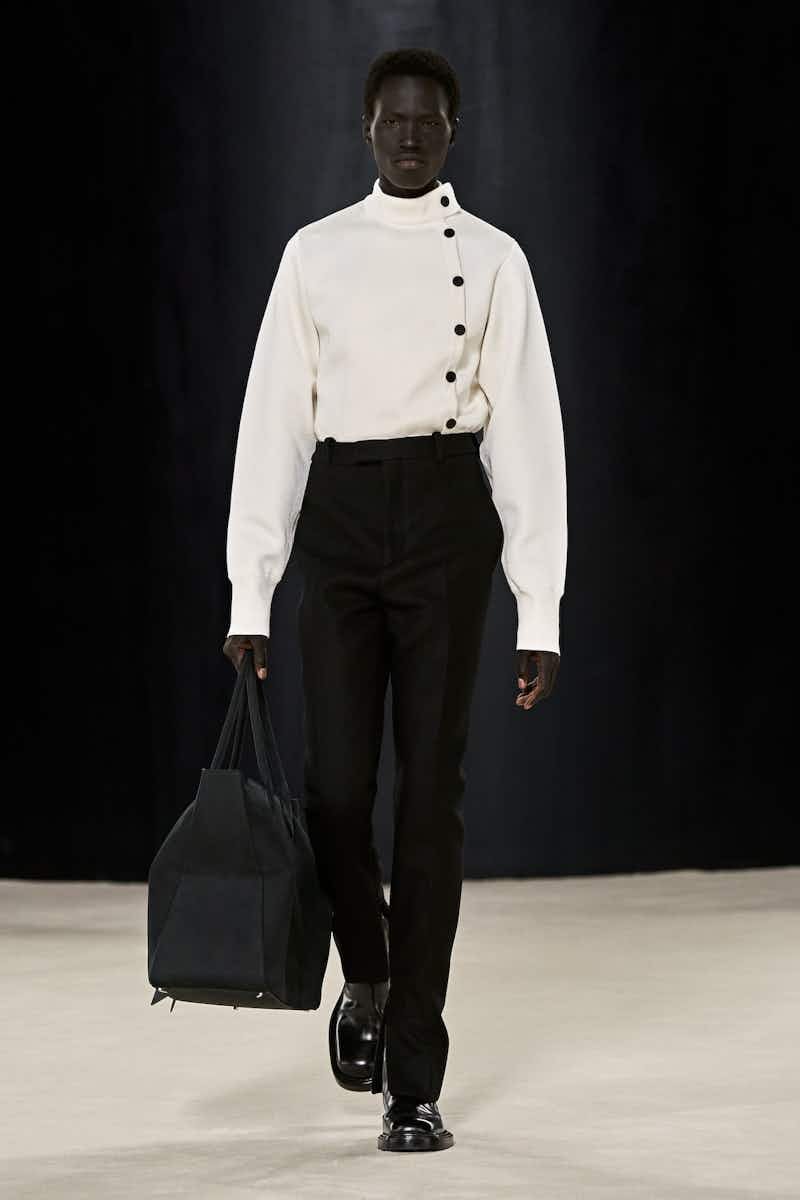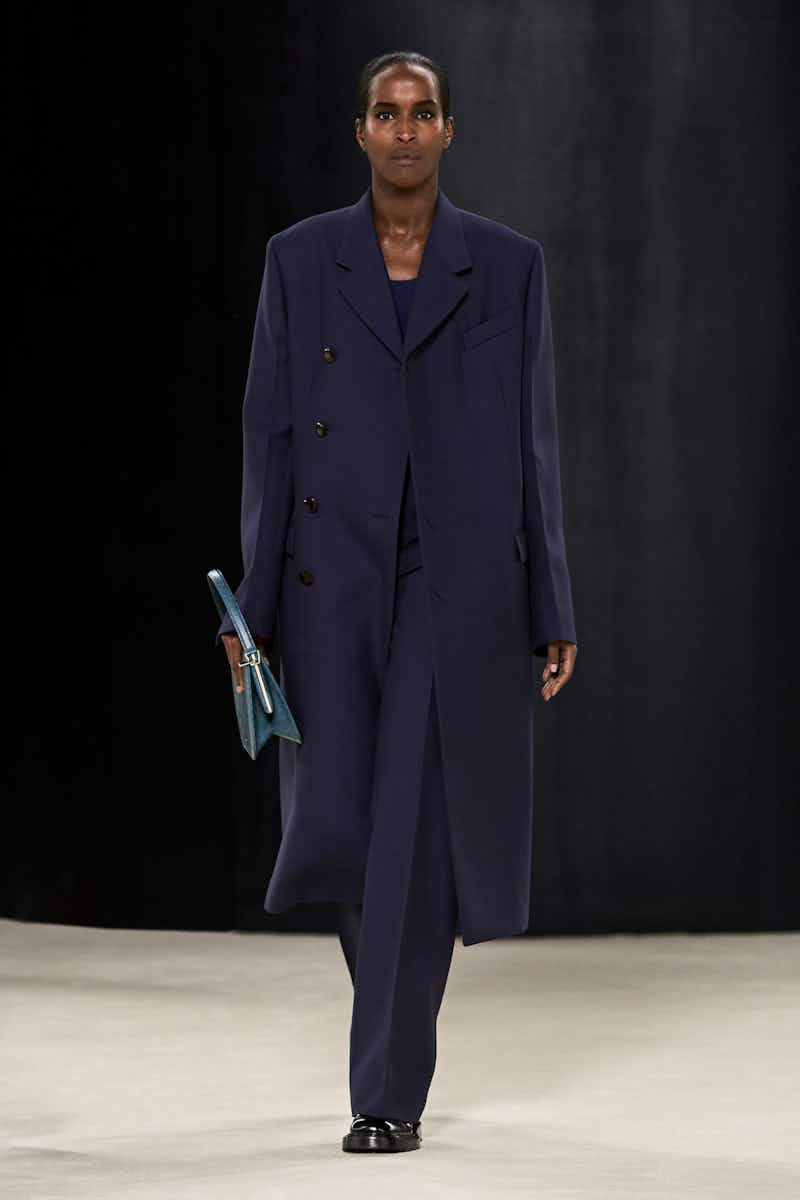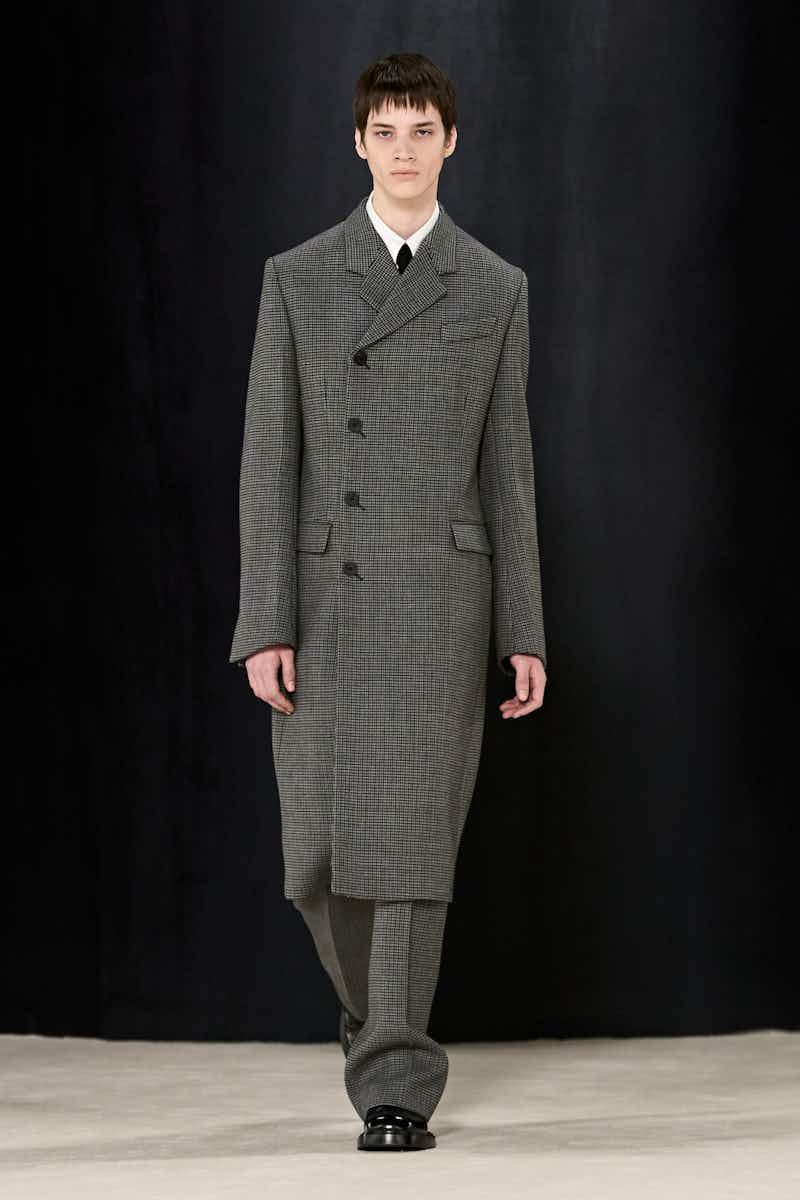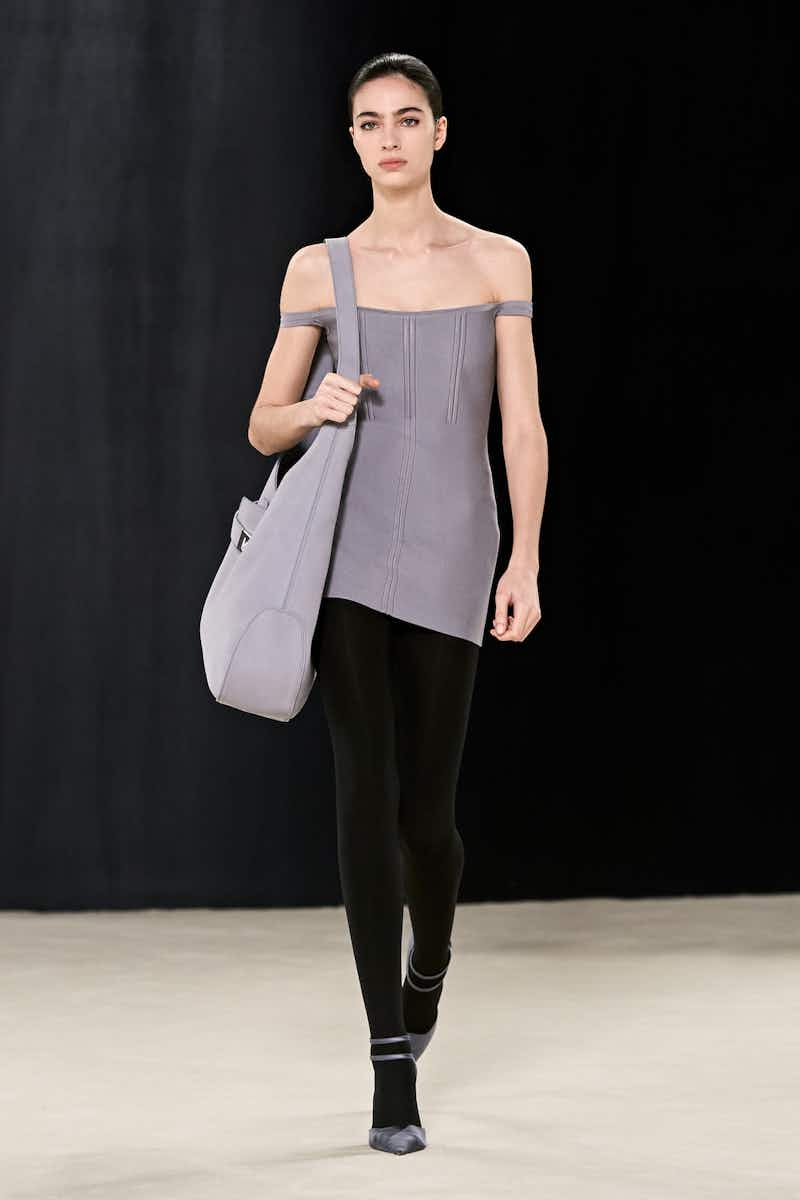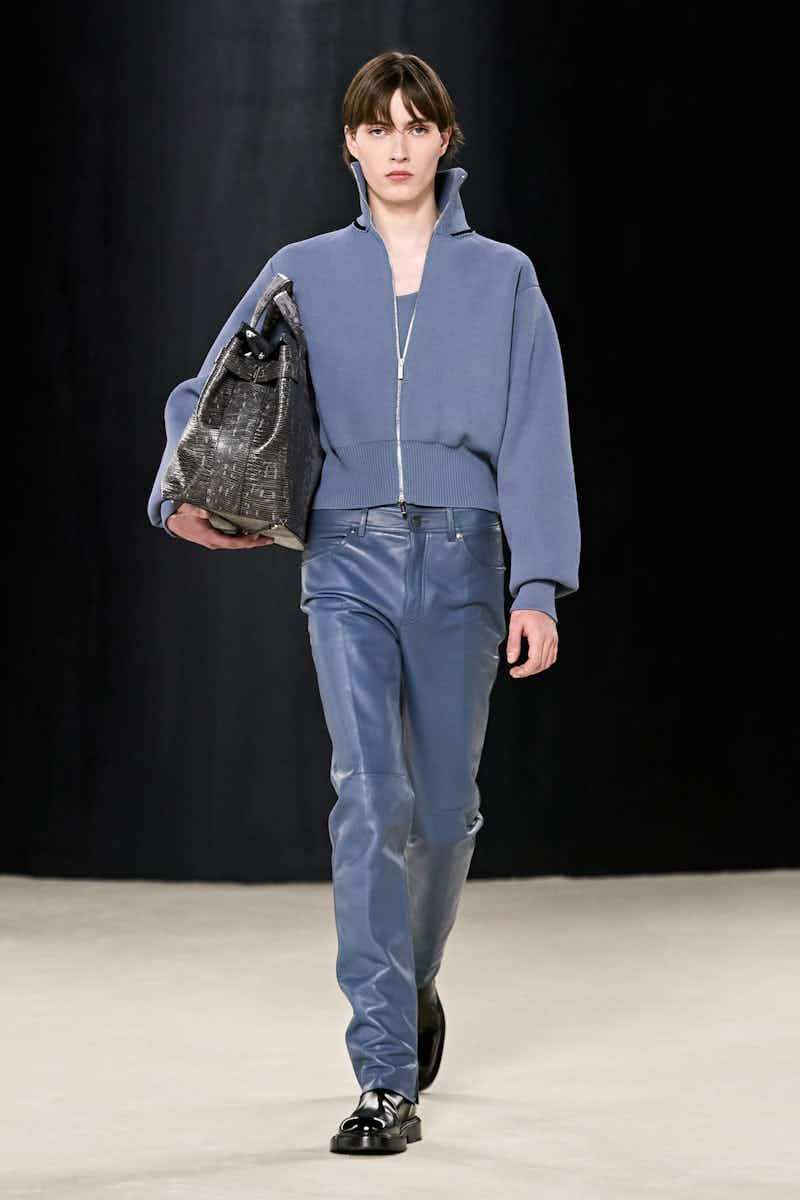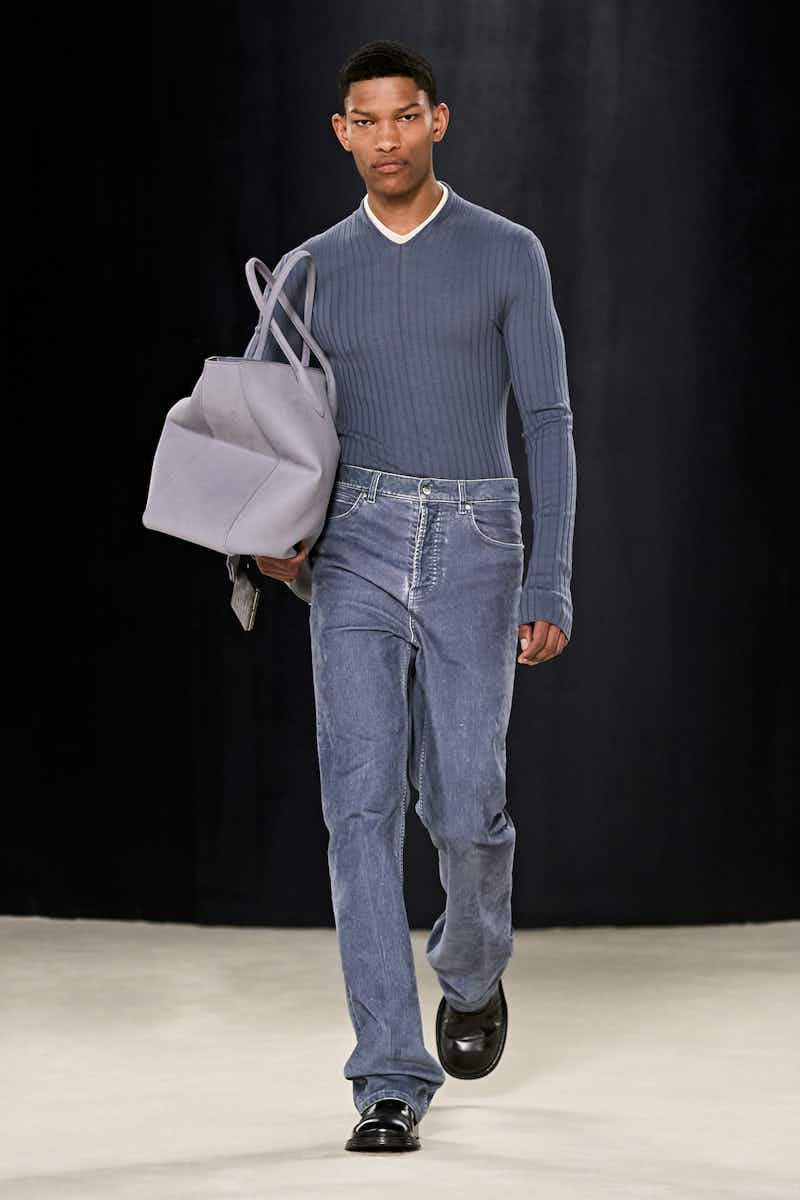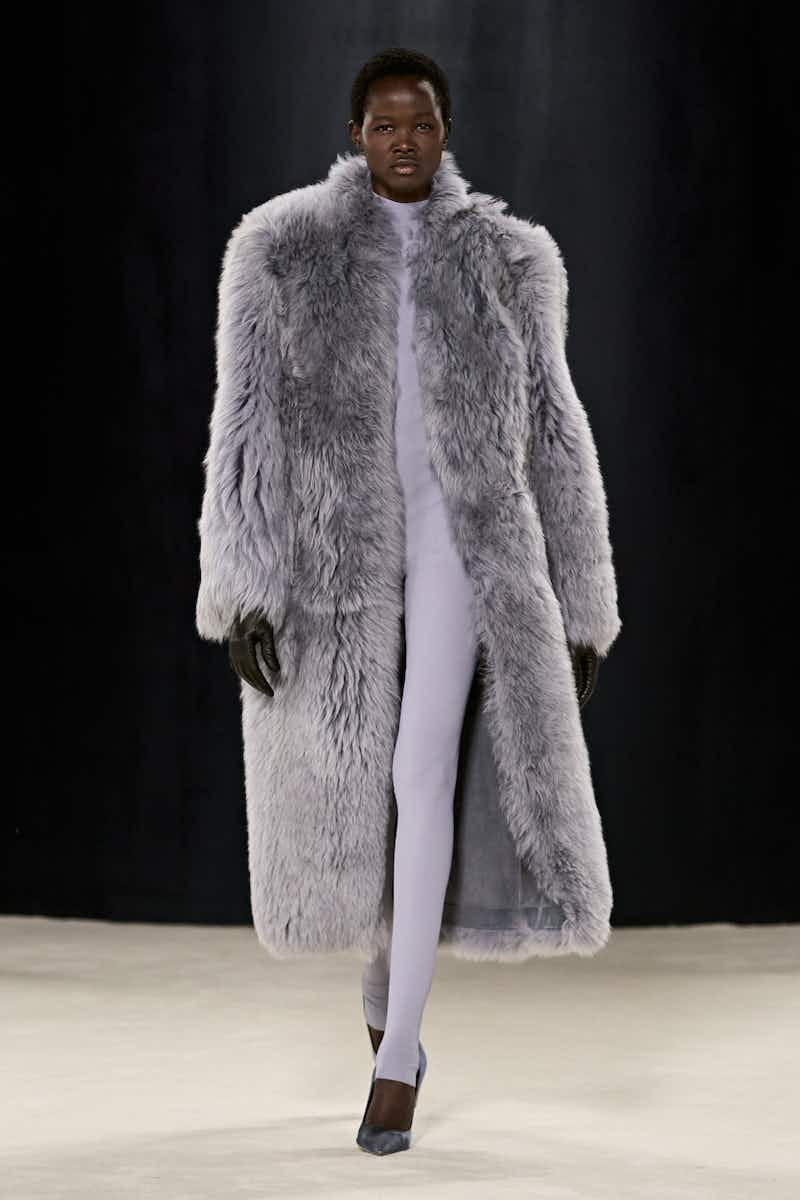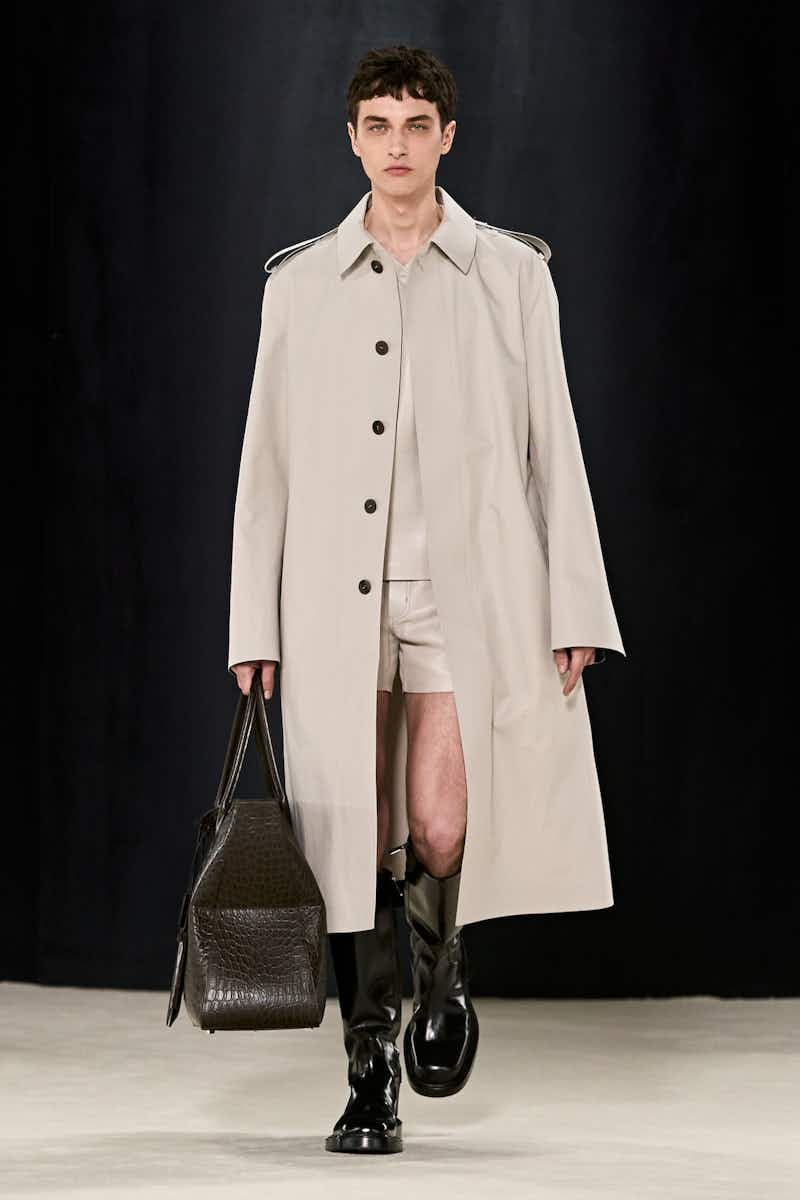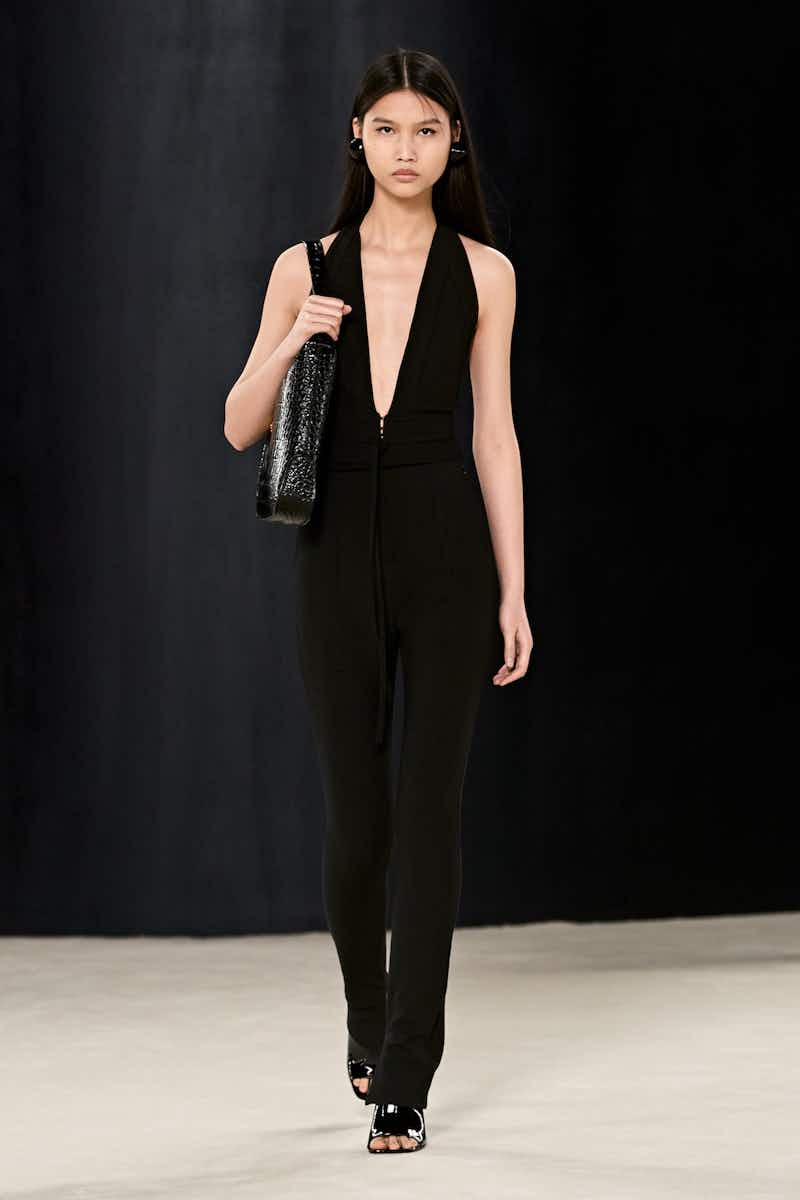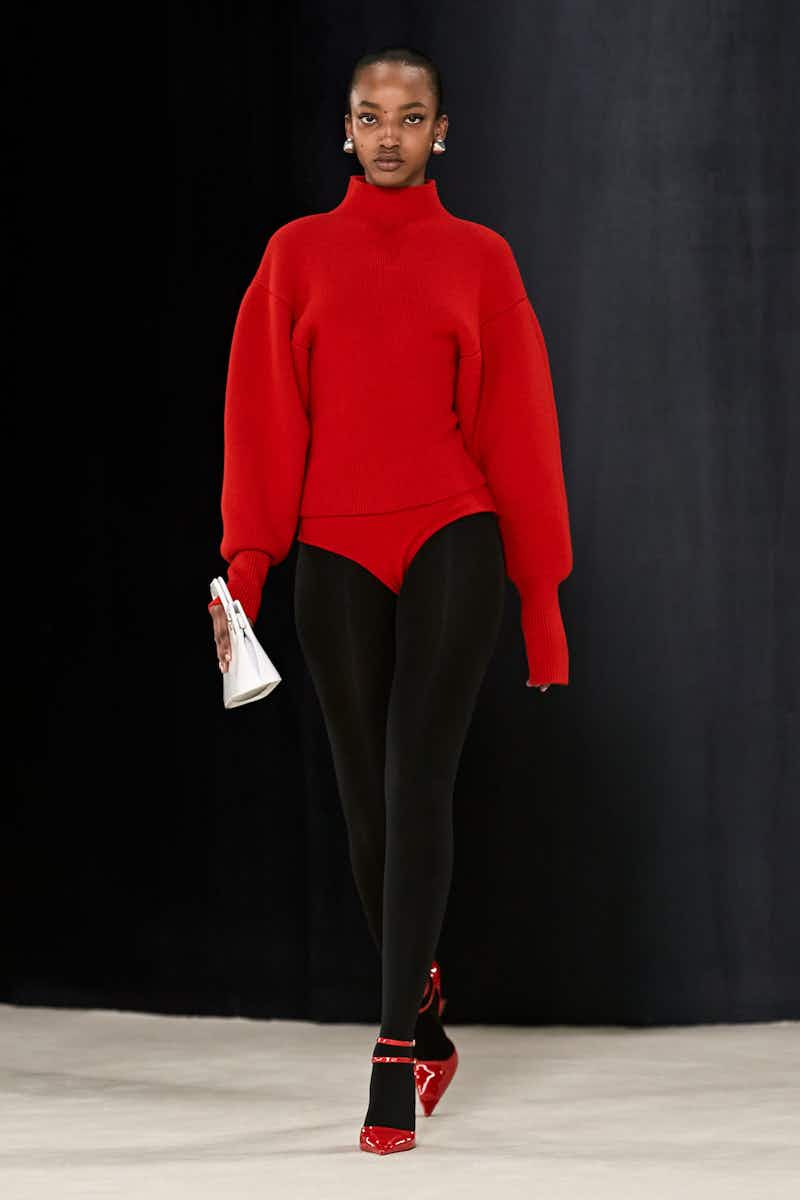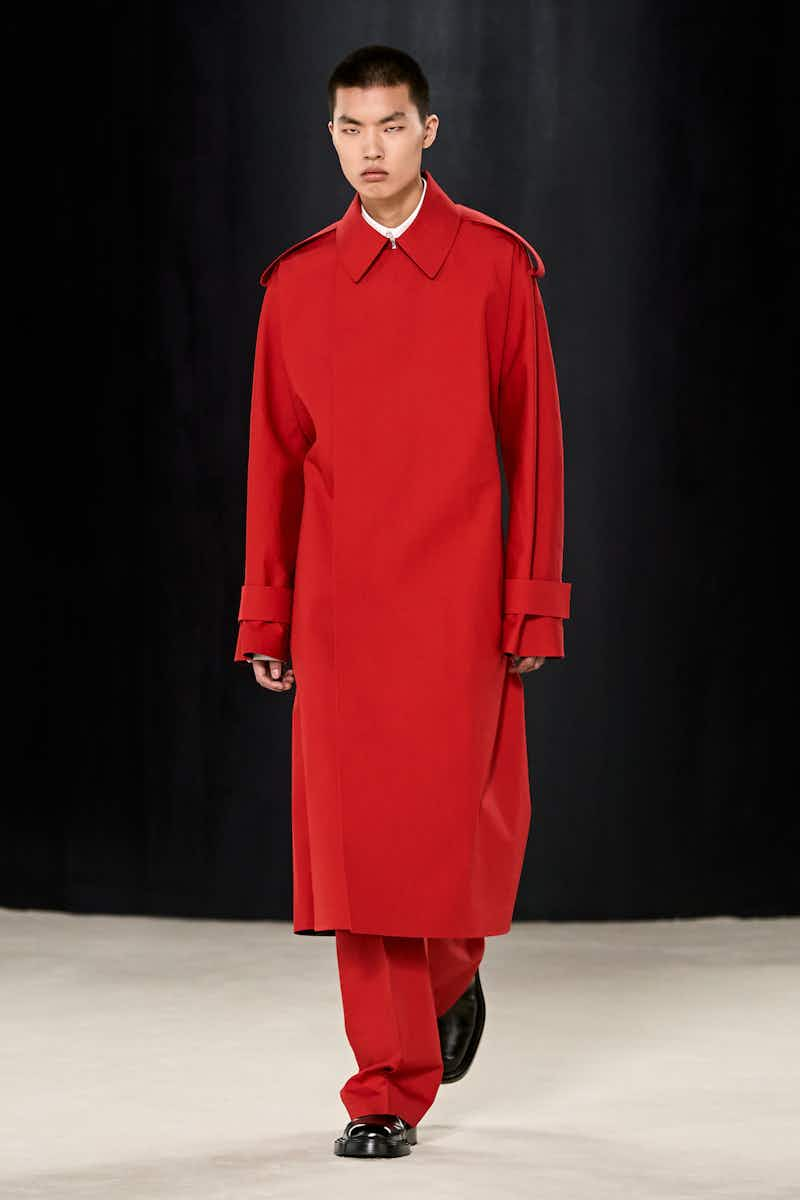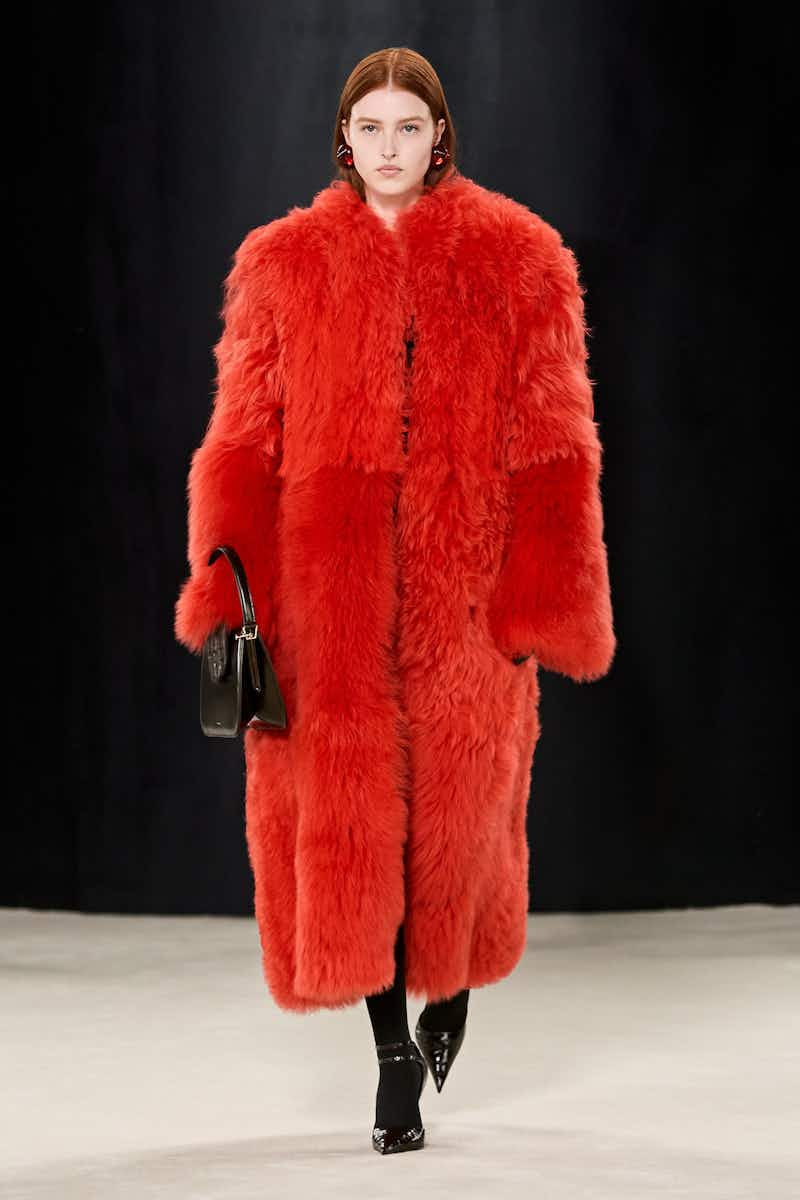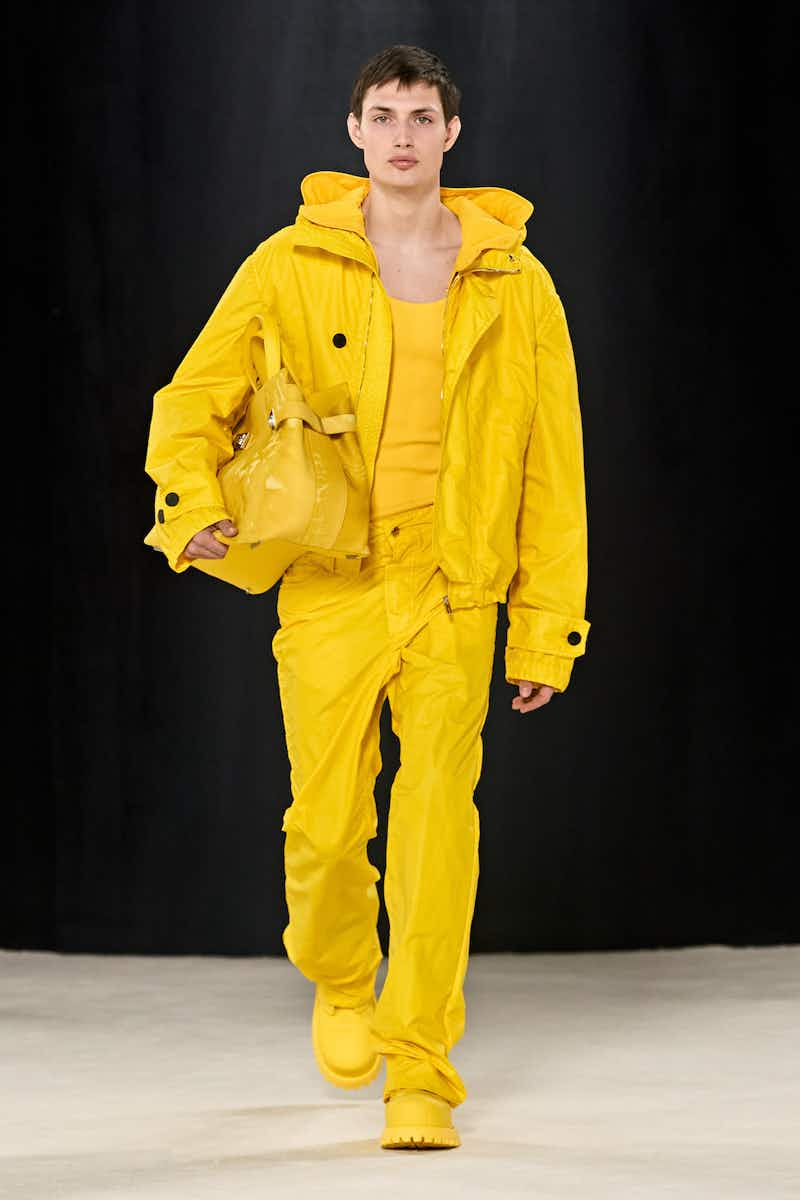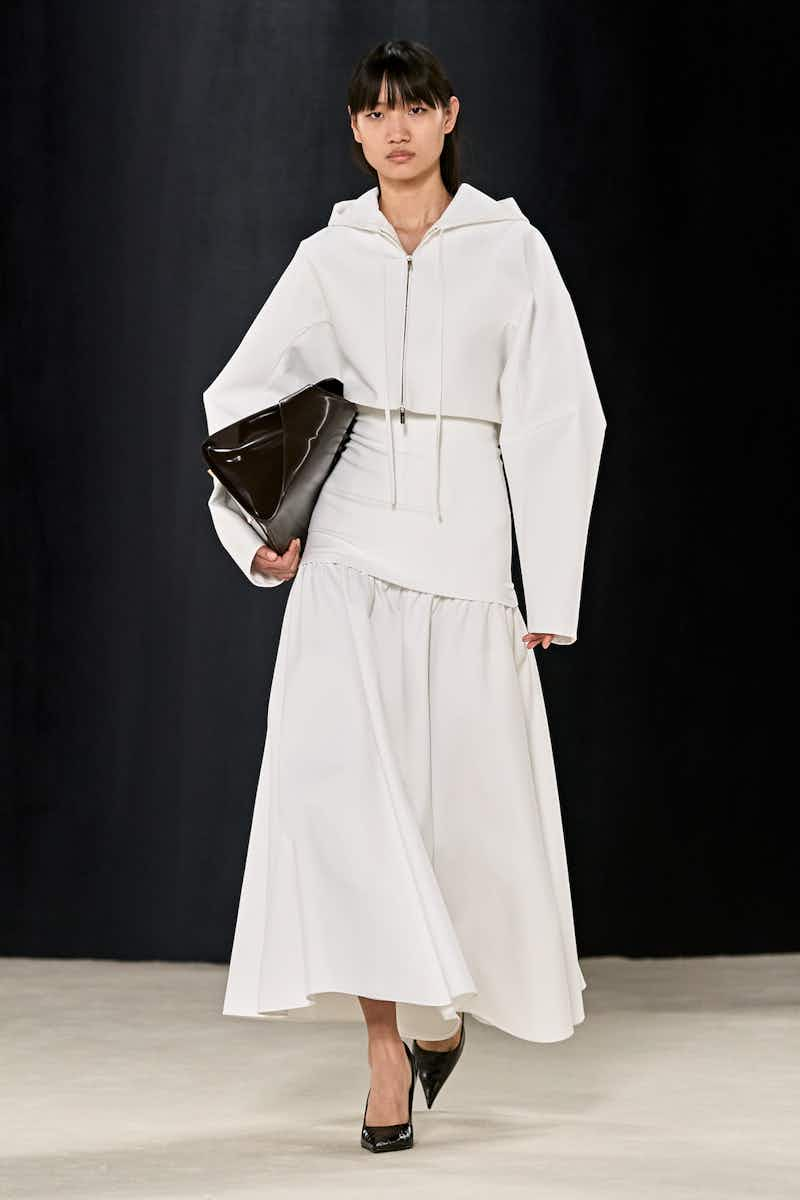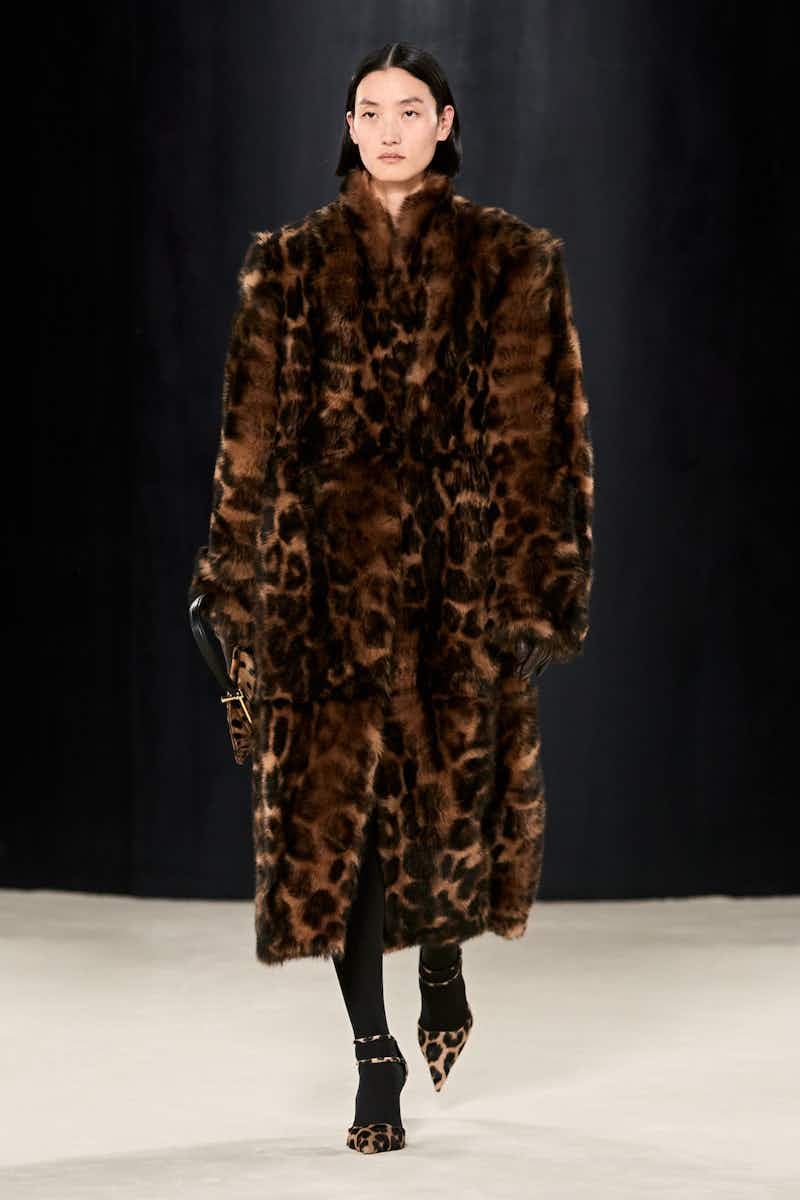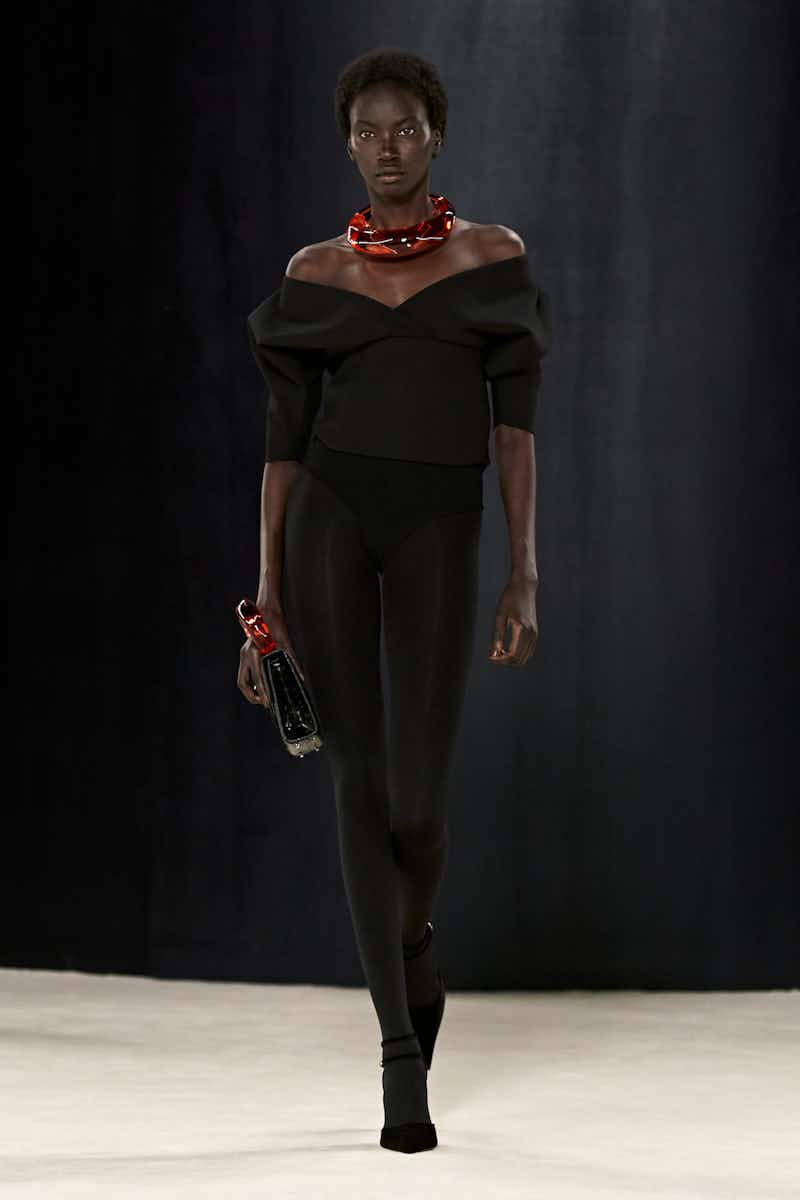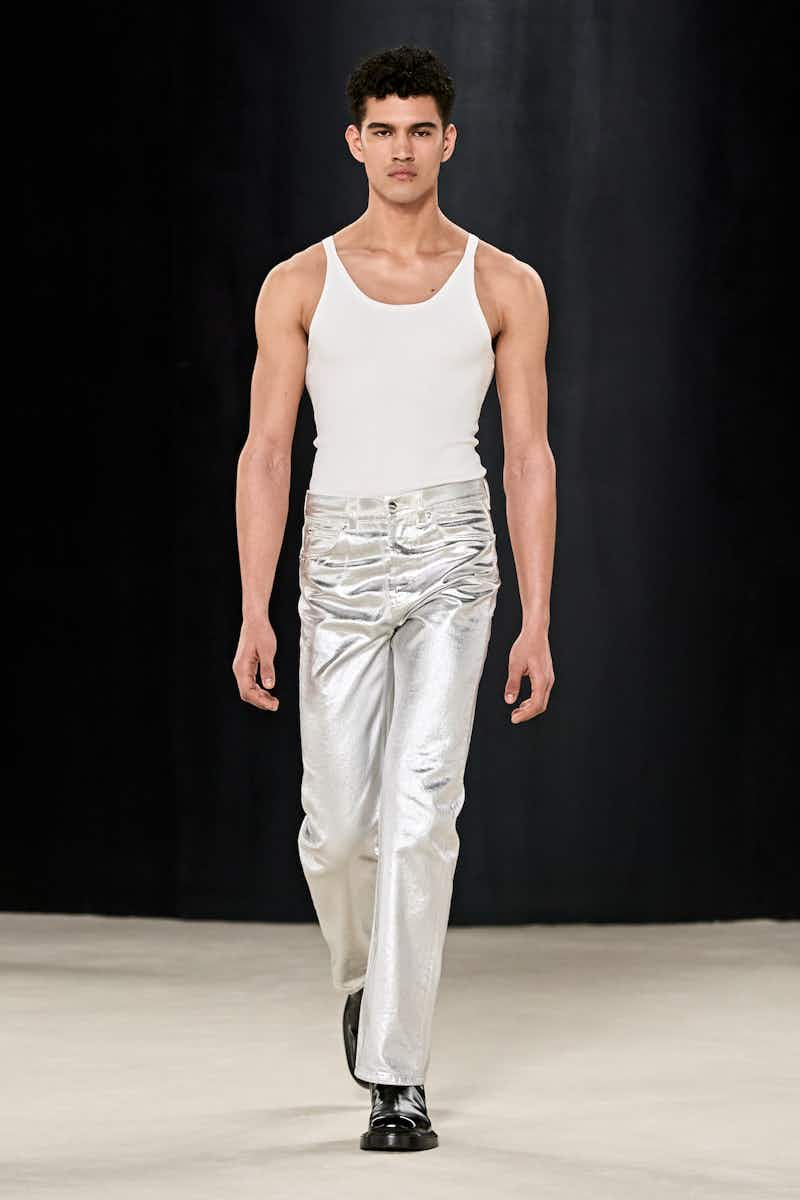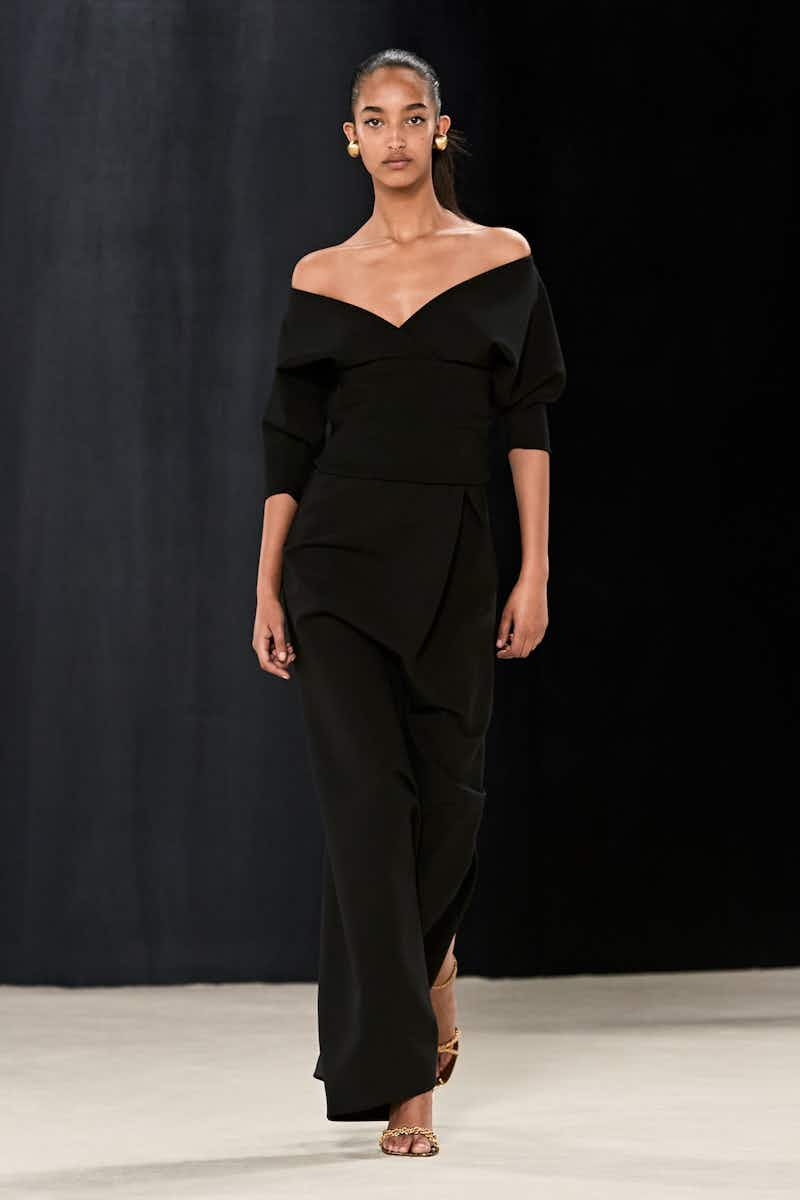 What?
The first show since Alessandro Michele's departure, led by Gucci's in-house design team before Sabato De Sarn steps in as creative director, who will make his debut in September.
Where?
In a chartreuse carpeted room fitted with conversation pit-style seating and elevators on the outside walls – said to be representative of the journey of the creative process – which the models used to enter and exit the space.
Who was there?
THE FACE cover star Halle Bailey, Julia Garner and A$AP Rocky, who was seen sipping from a glass of his own whiskey, Mercer + Prince™, front row as the show closed.
What was it like?
For an interim show staged in limbo between creative directors, it packed a mighty punch. Heavily leaning into ​'90s and early-'00s nostalgia, the design team took guests on a trip through Gucci's archives, landing reiterations of some of the brand's greatest hits with a particular nod to the sexually-charged, erotic codes of Tom Ford's tenure. It was a big departure from Michele's theatrical merriment, instead positioning itself as a seductive (and somewhat skimpy) antidote. Most of all, it was what kids want to wear, packed with fur coats, A‑line dresses, pencil skirts and sharp tailored pieces not dissimilar to the Gucci gems reselling for a fortune on Depop and Vestiaire.
Of note:
The accessories were a big talking point, from the chain bag reinterpreted in statement colours with an oversized horsebit, and a softer iteration of the Jackie bag, to a pair of fuzzy snow boots originally designed for a ​'60s ski collection. The sunglasses were killer, too, particularly a pair of red-tinted visors which mirror Gucci's iconic ​'90s Rush perfume bottle.
In a song:
Britney Spears – I'm a Slave 4 U
In a word:
Hot.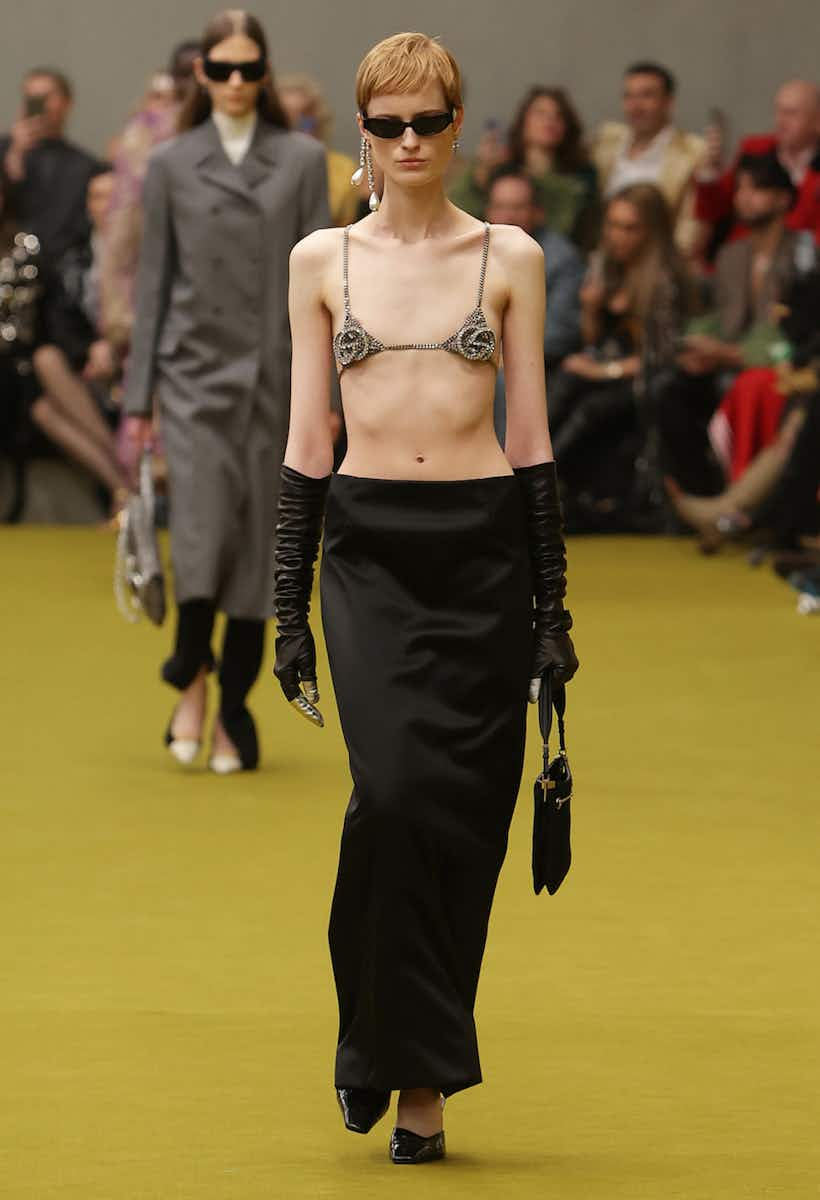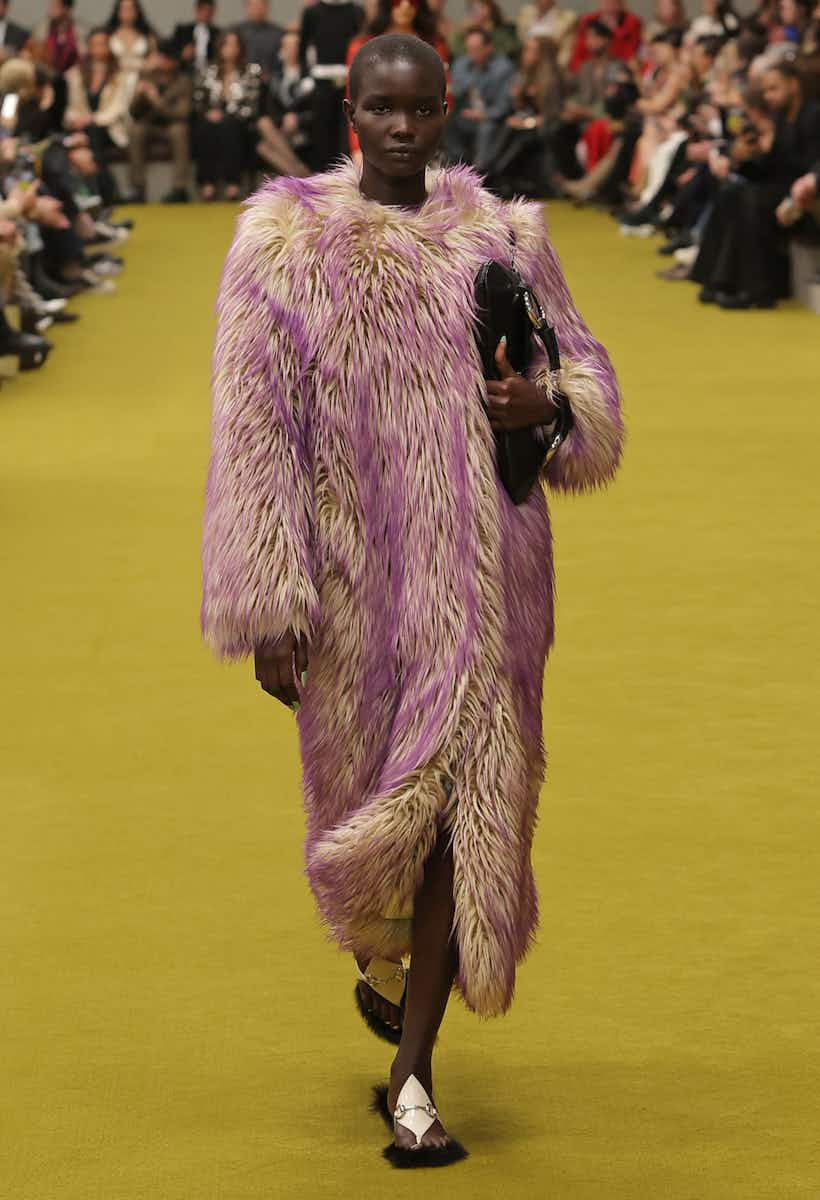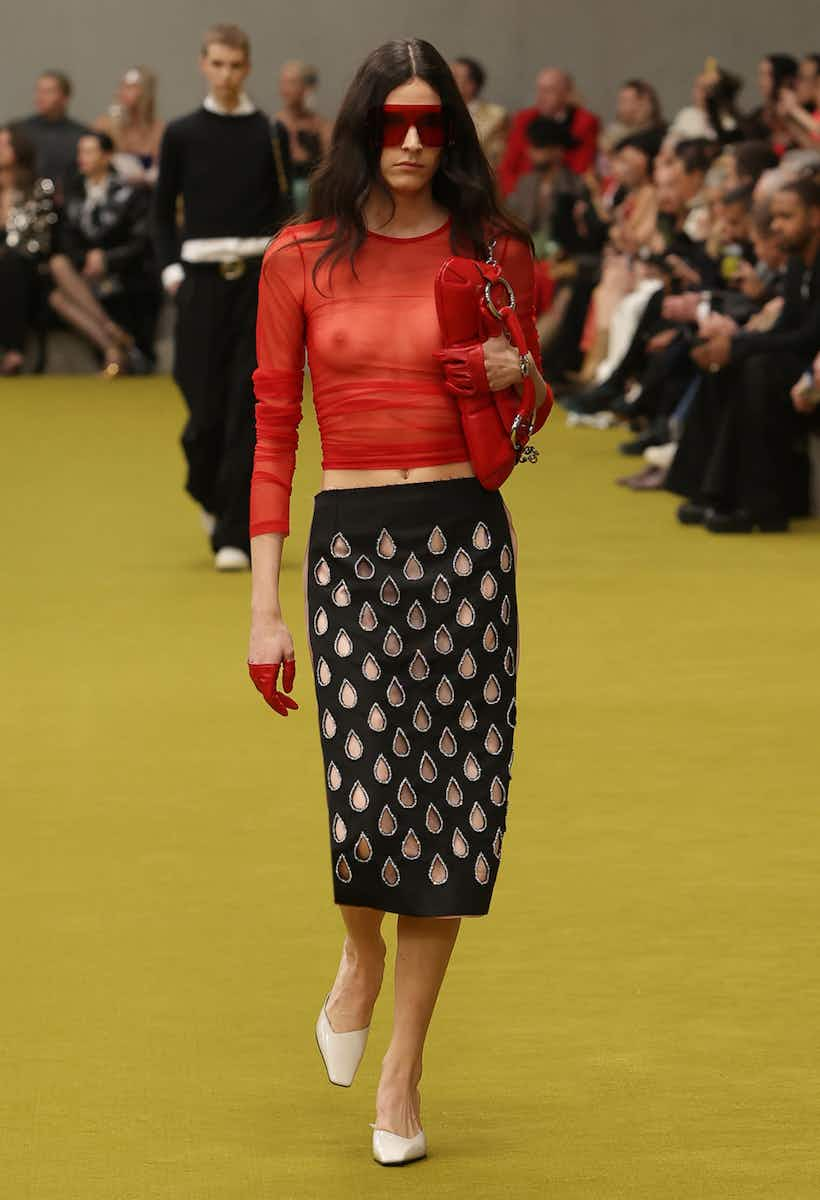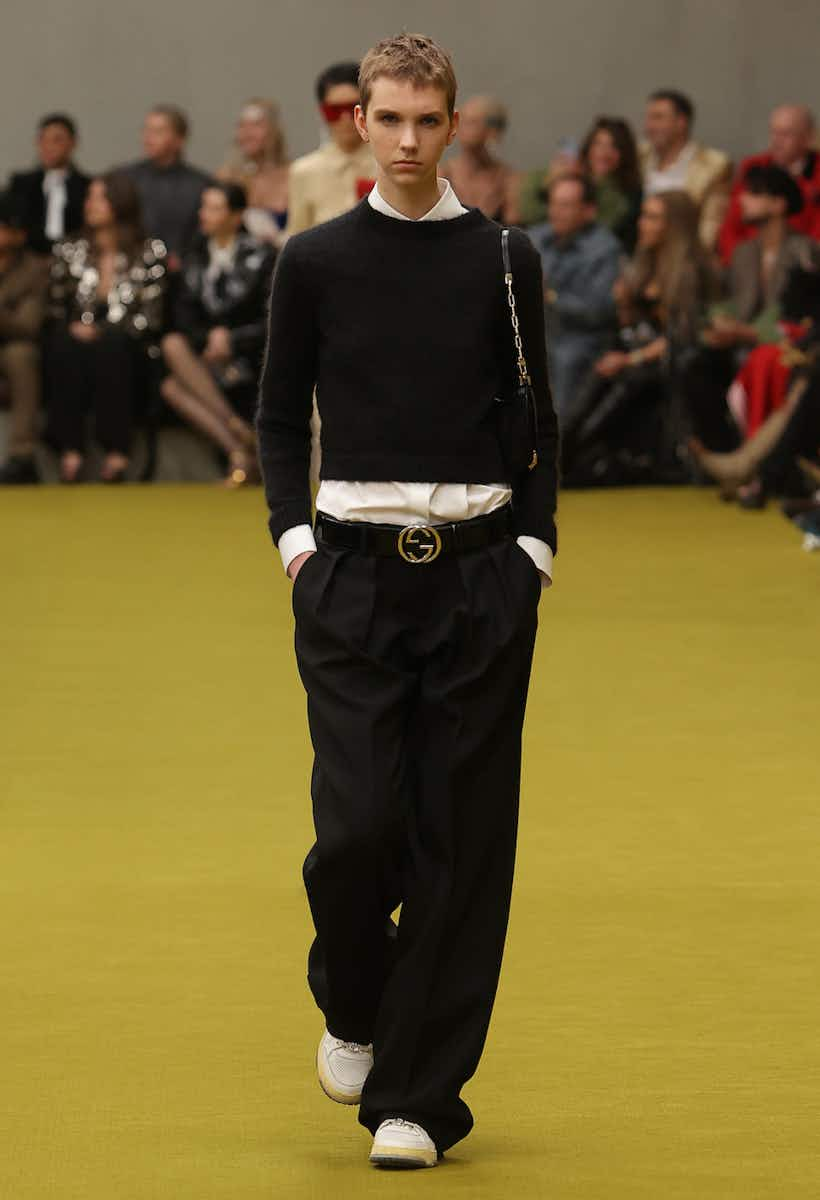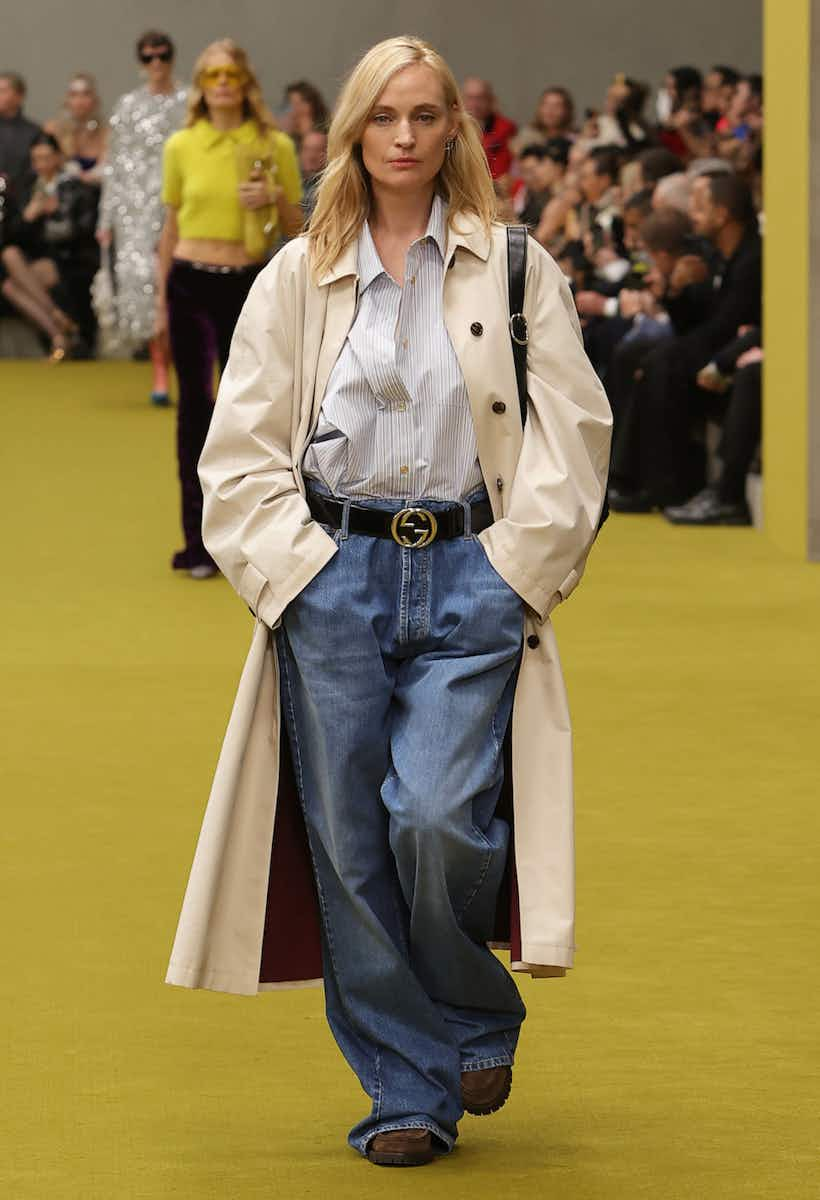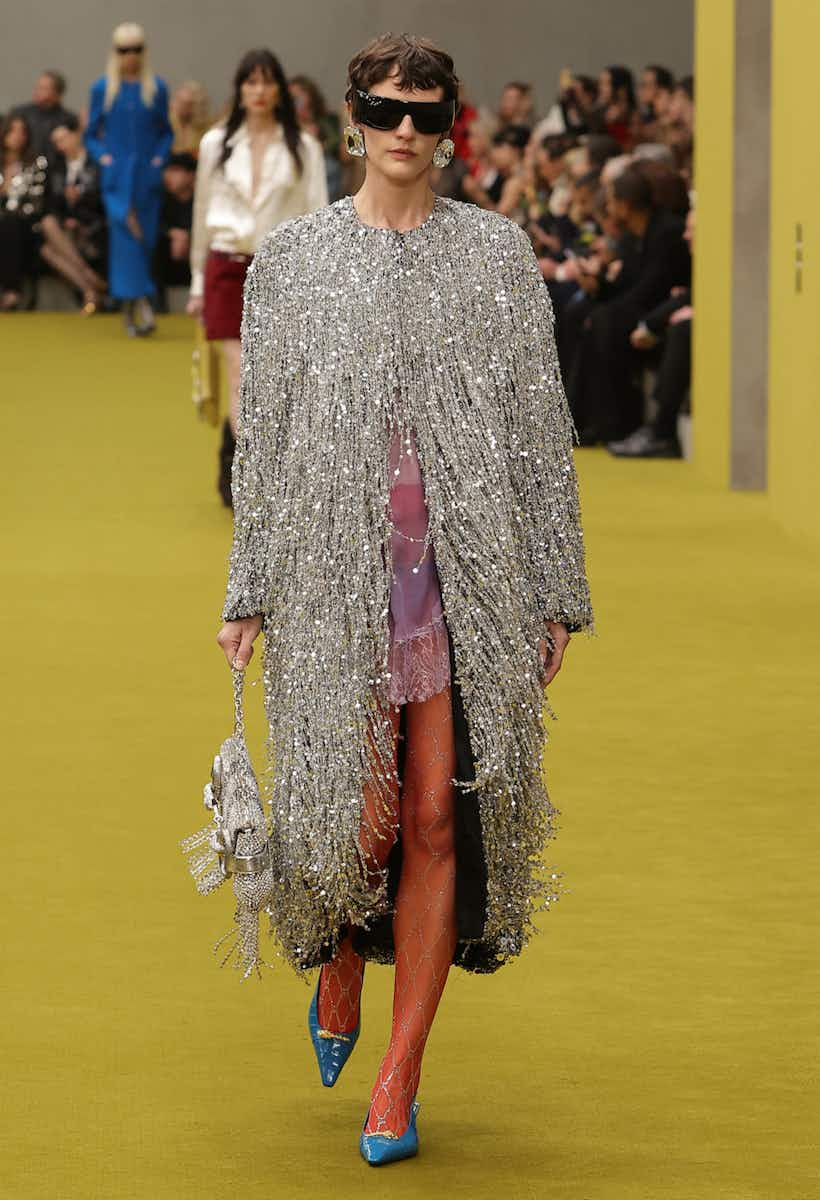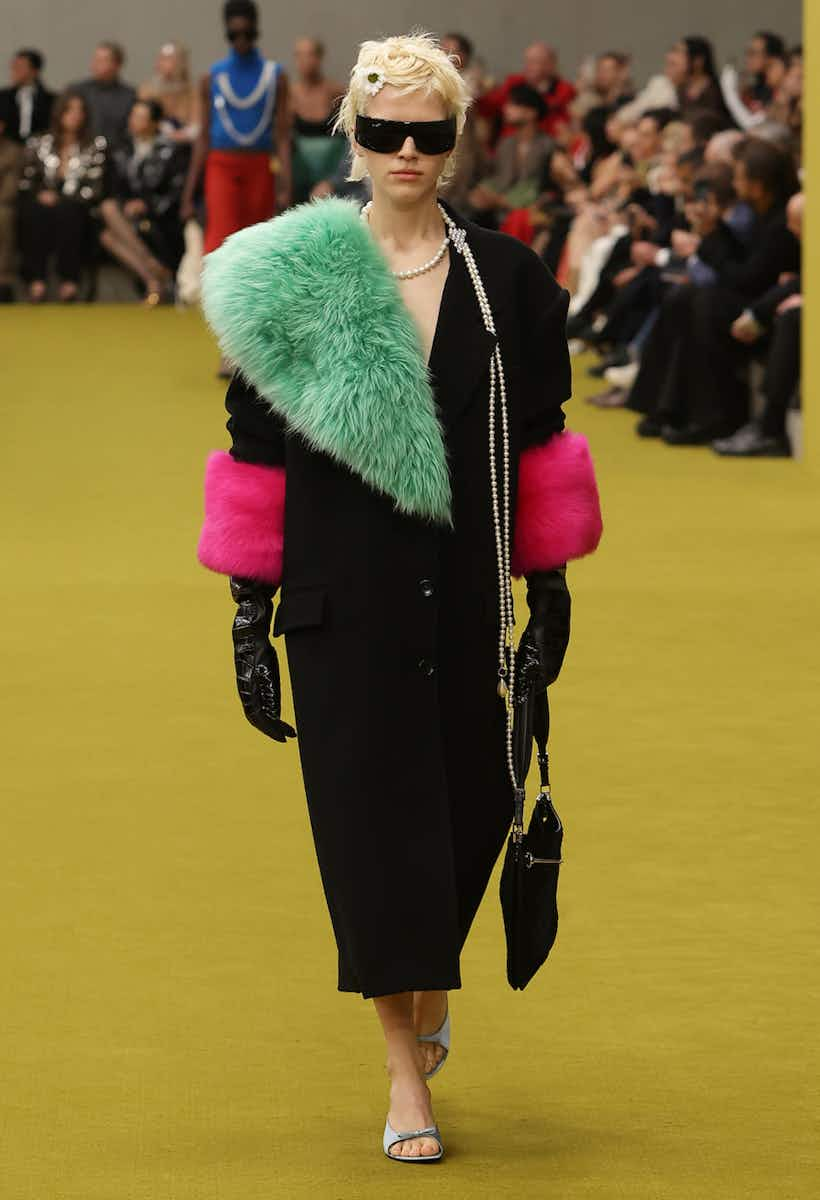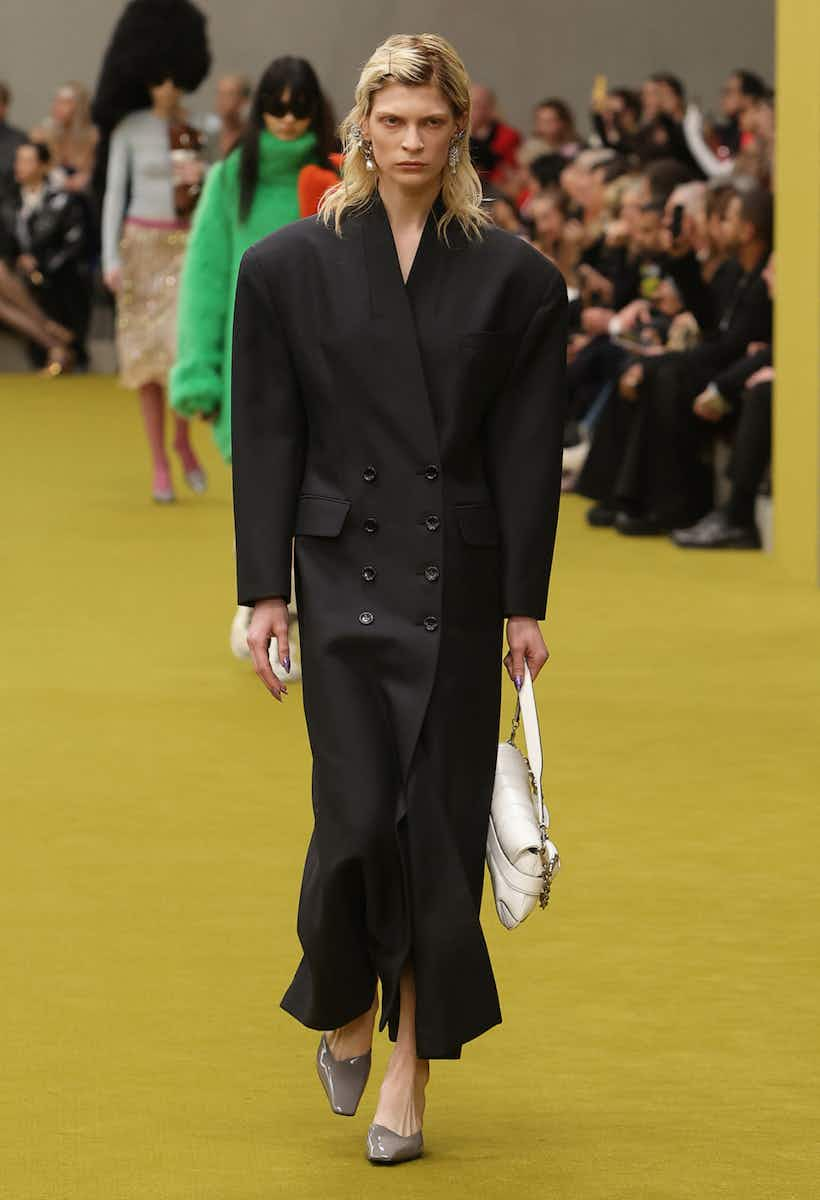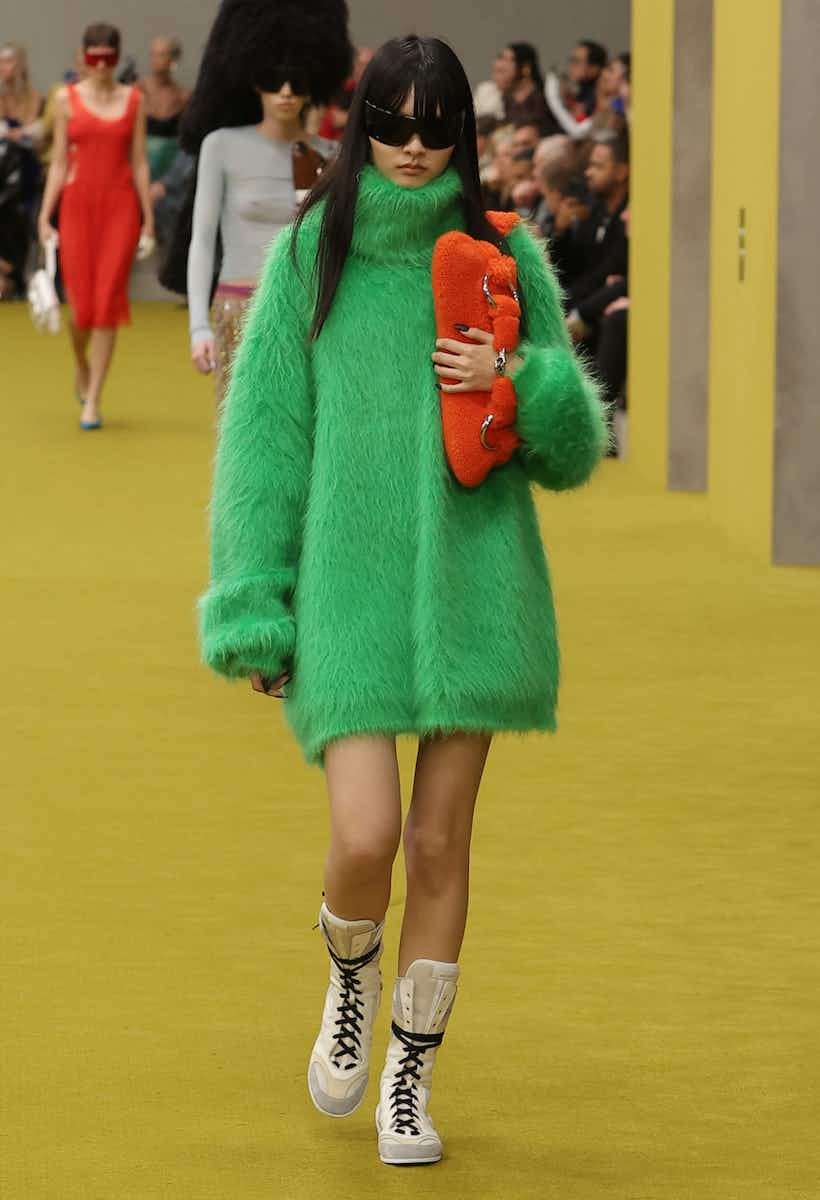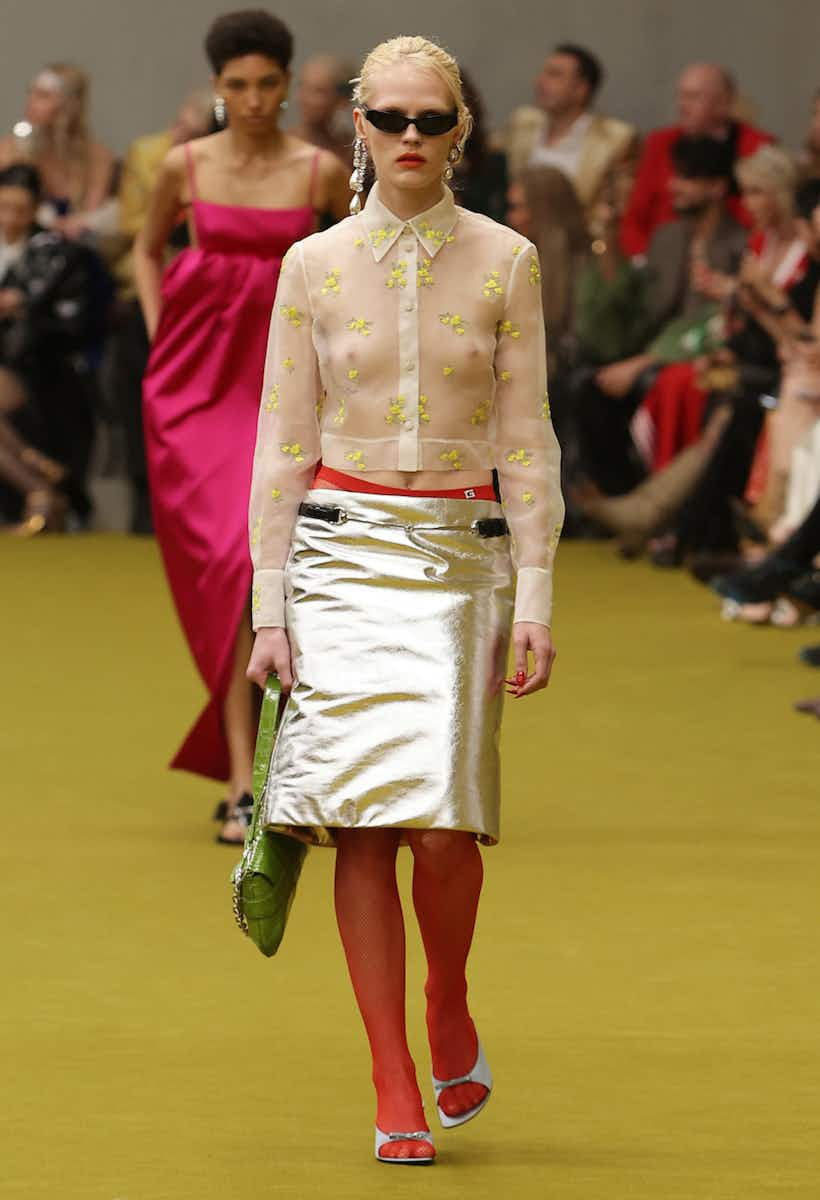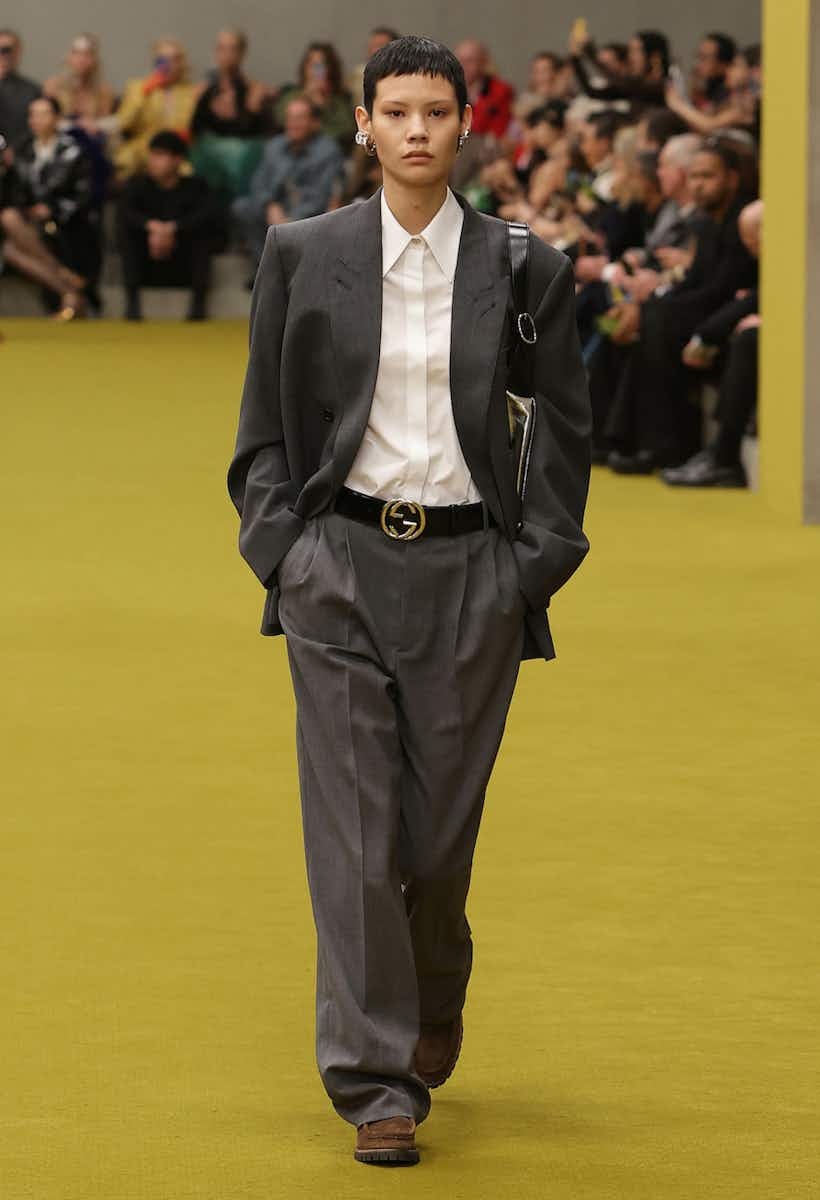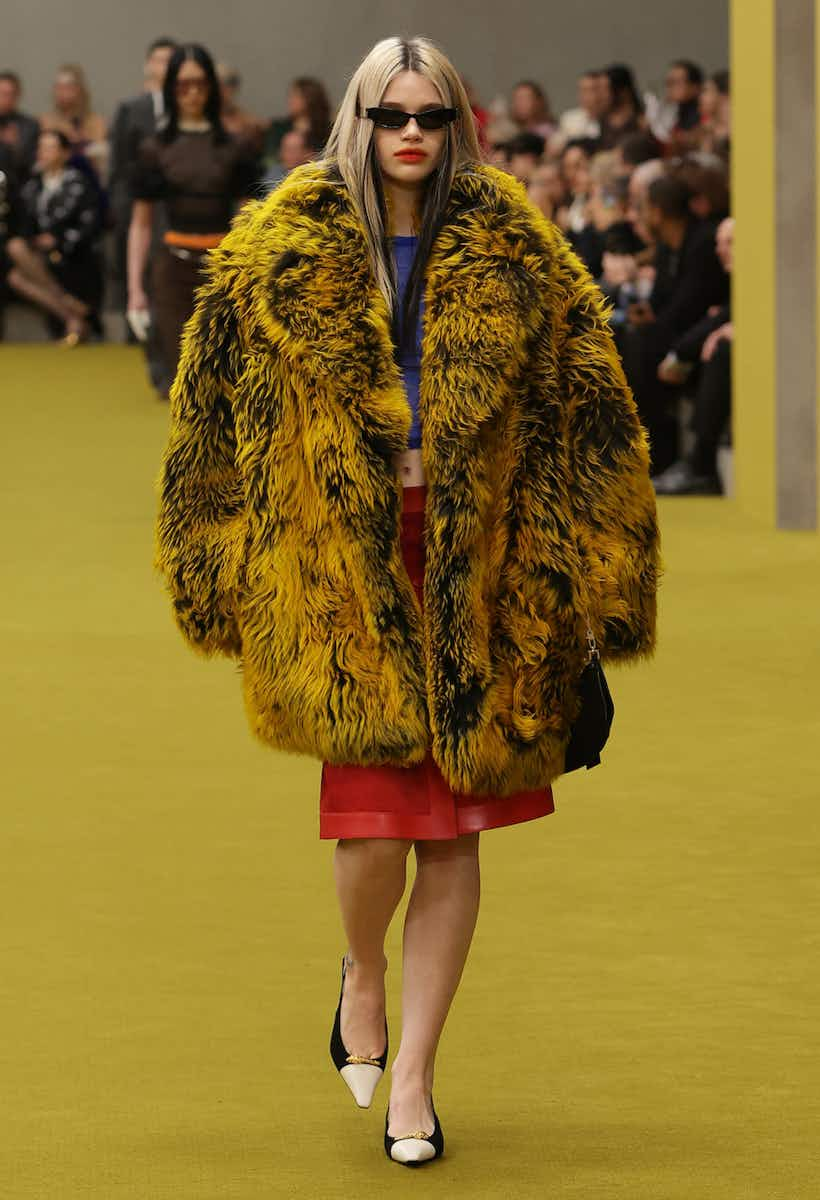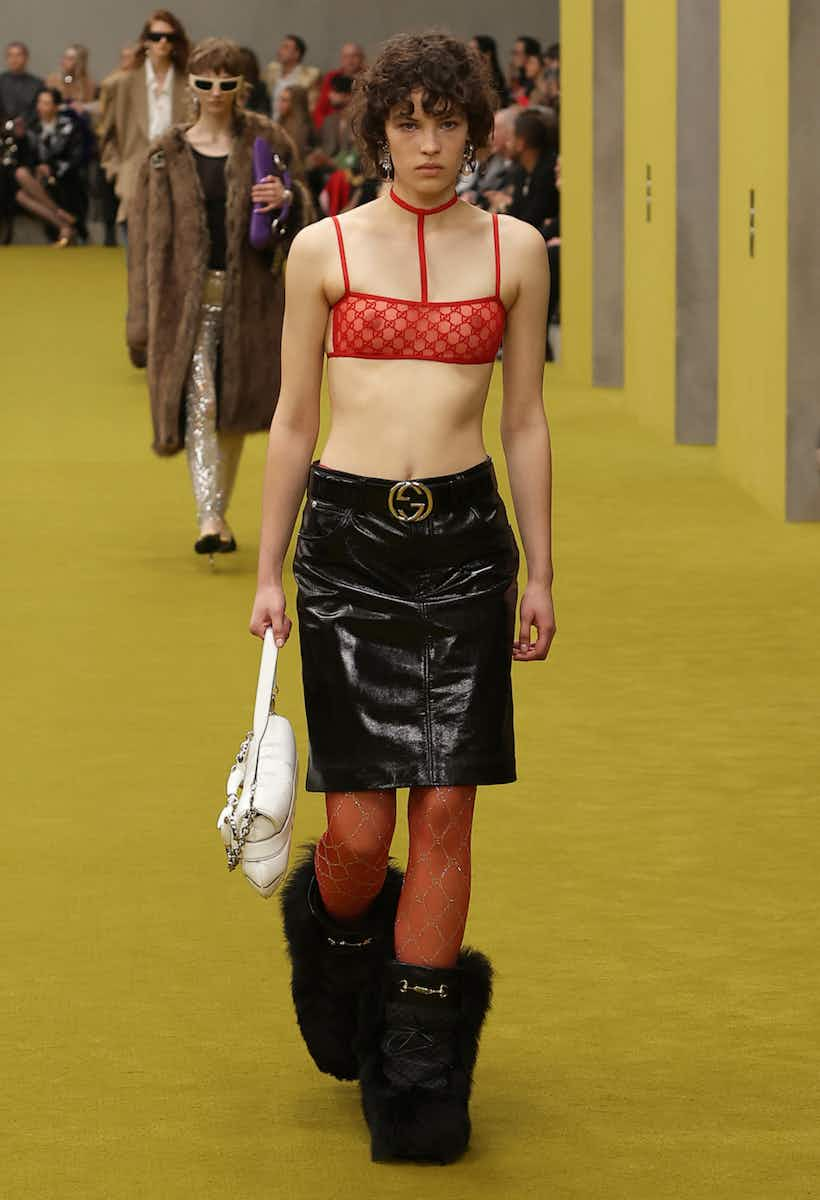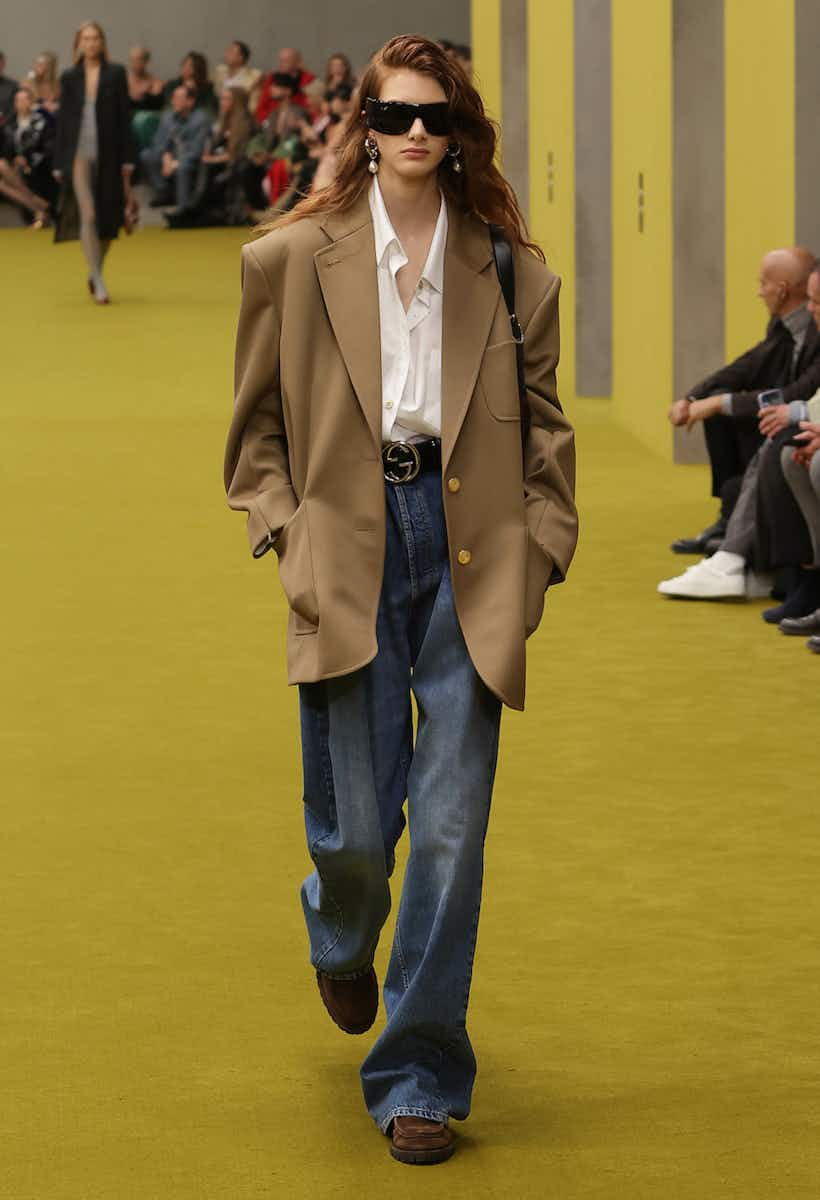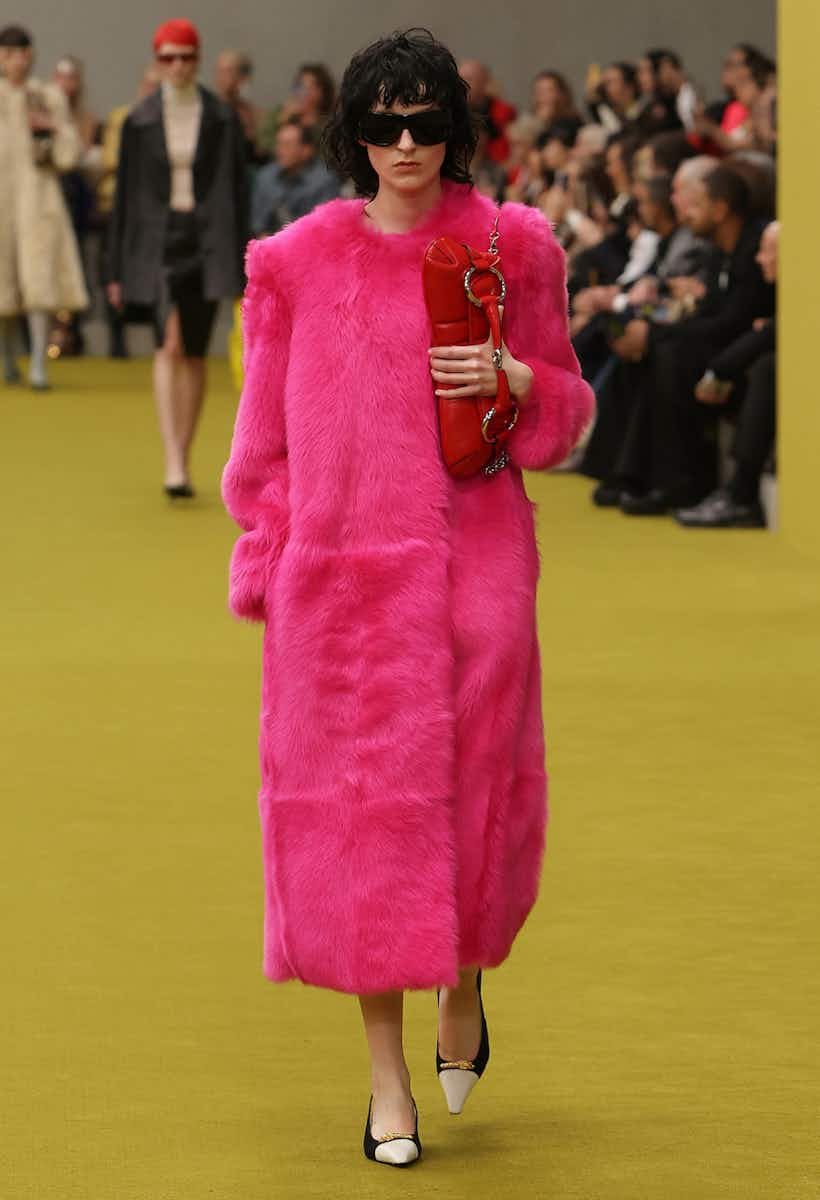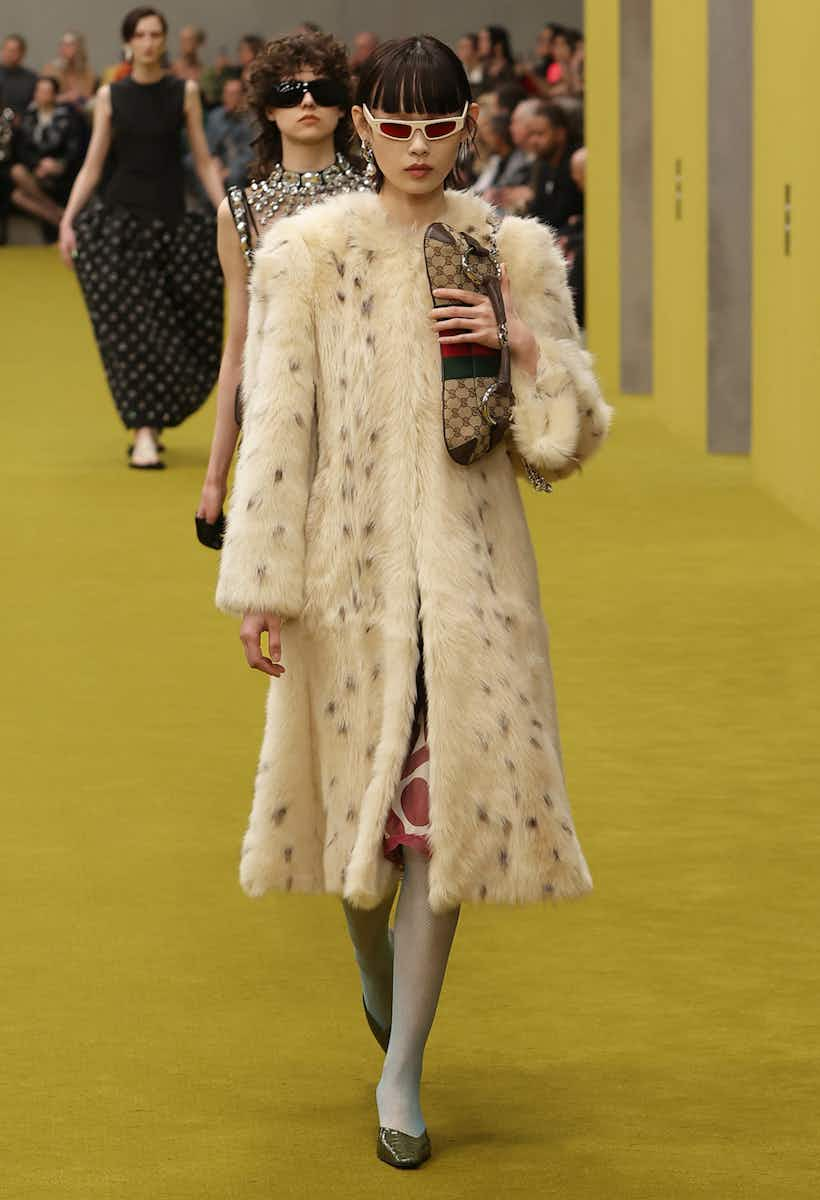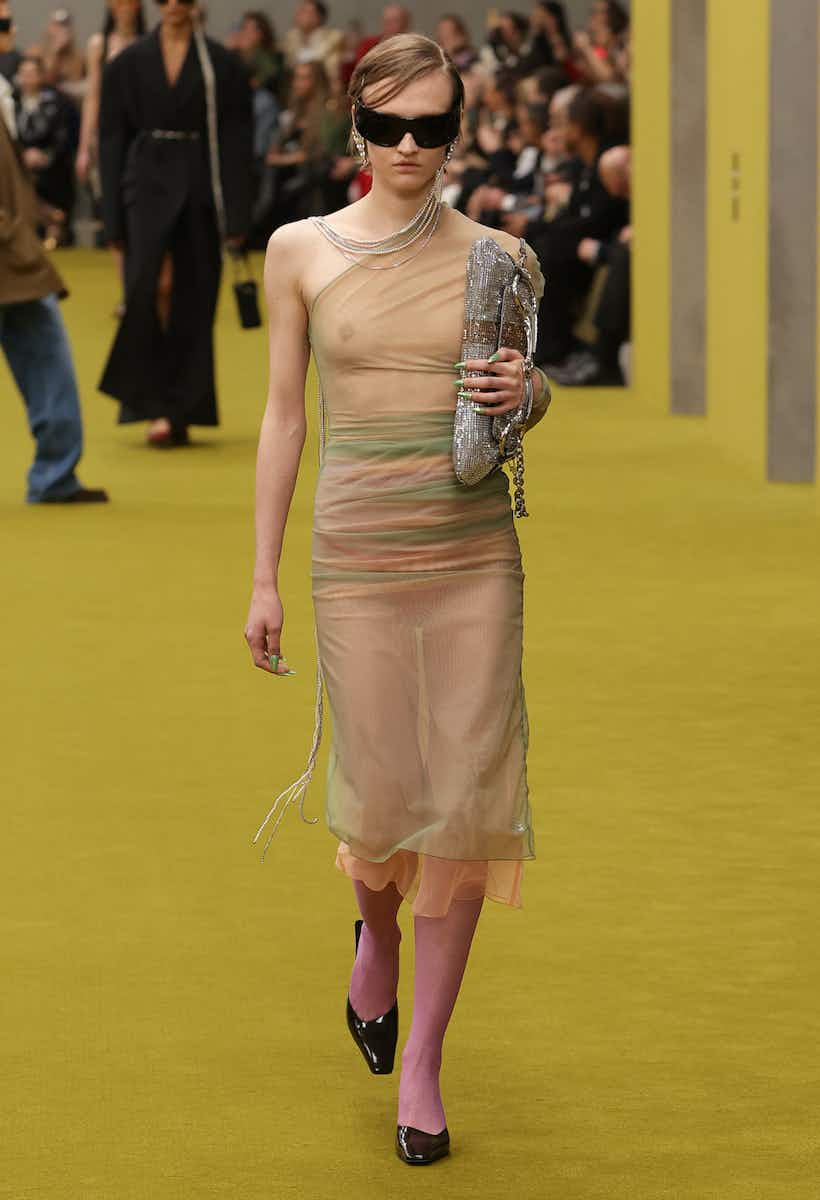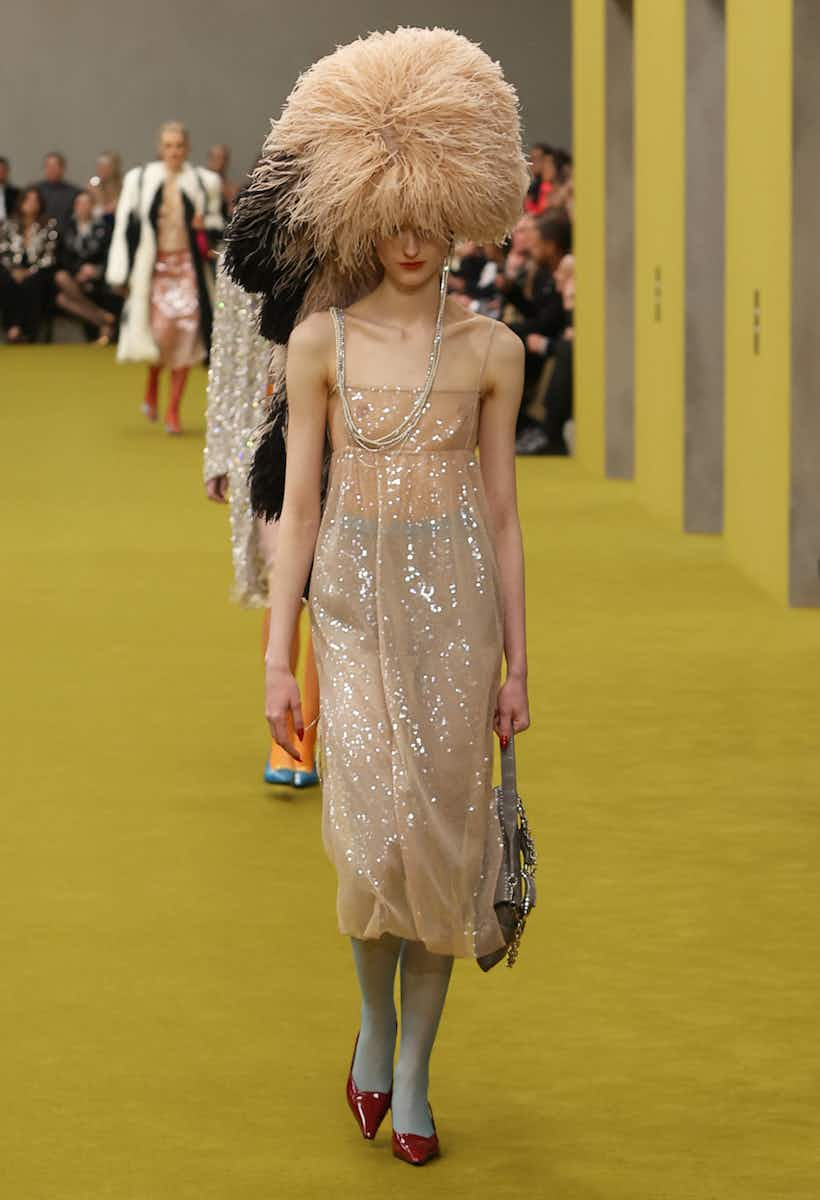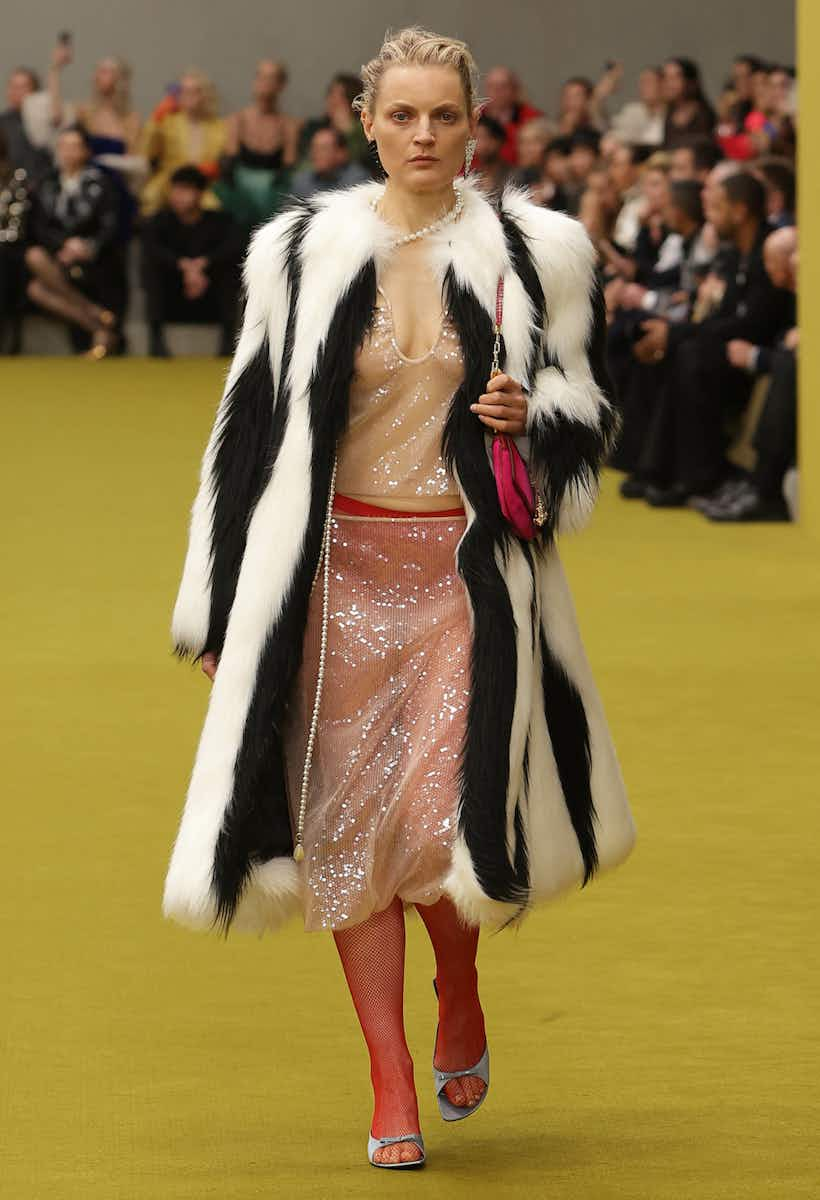 What?
Master of fun, frivolity and all round spectacle, Jeremy Scott's wildly imaginative Moschino show.
What was it like?
An aristo-punk extravaganza. Inspired by surrealist artist Salvador Dalí's melting clocks, the lavish lives of aristocrats and Vivienne Westwood-era punk, Scott's latest collection was quite the riot. He put a new twist on the house's most recognisable codes by morphing hemlines via dips (or drips), melting the buttons of biker jackets, and warping Moschino's signature nameplate metal accessories. Elsewhere, tulle ball gowns came dripping in jewels.
What did it sound like?
The distorted and decadent collection was met by a similarly contorted soundtrack, a trippy, slo-mo mash-up of Frankie Goes to Hollywood's Relax and Corey Hart's Sunglasses at Night, courtesy of fashion's favourite sound director Michel Gaubert.
Of note:
The hair! Models rocked mega spiked mohawks – a nod to Westwood, no doubt – created by hair stylist Paul Hanlon, which were almost weapon-like in appearance.
In a song:
Peaches – Fuck the Pain Away
In a quote:
​"Sex, bitch, aristo, punk, whore, bitch, prossie, lezza, punk, tart, slut. But with lovely shoes."
– Patsy Stone, Absolutely Fabulous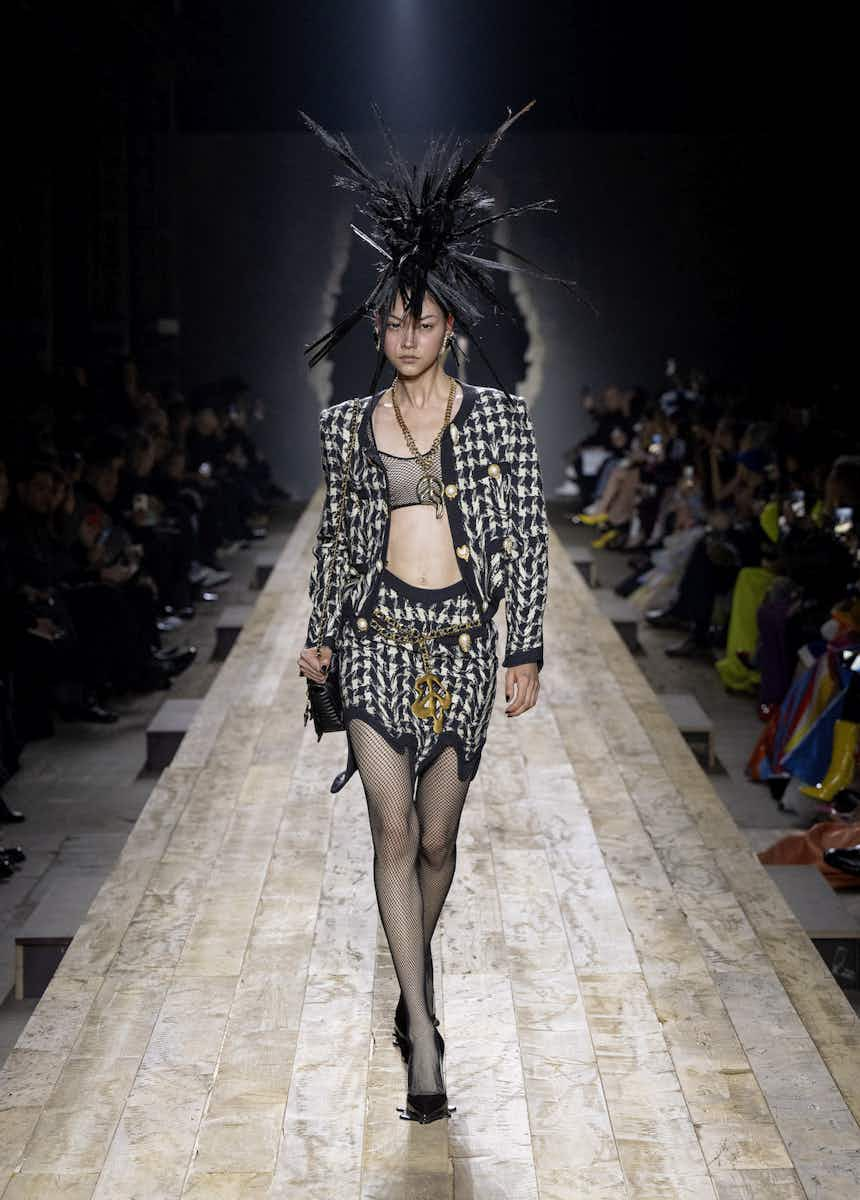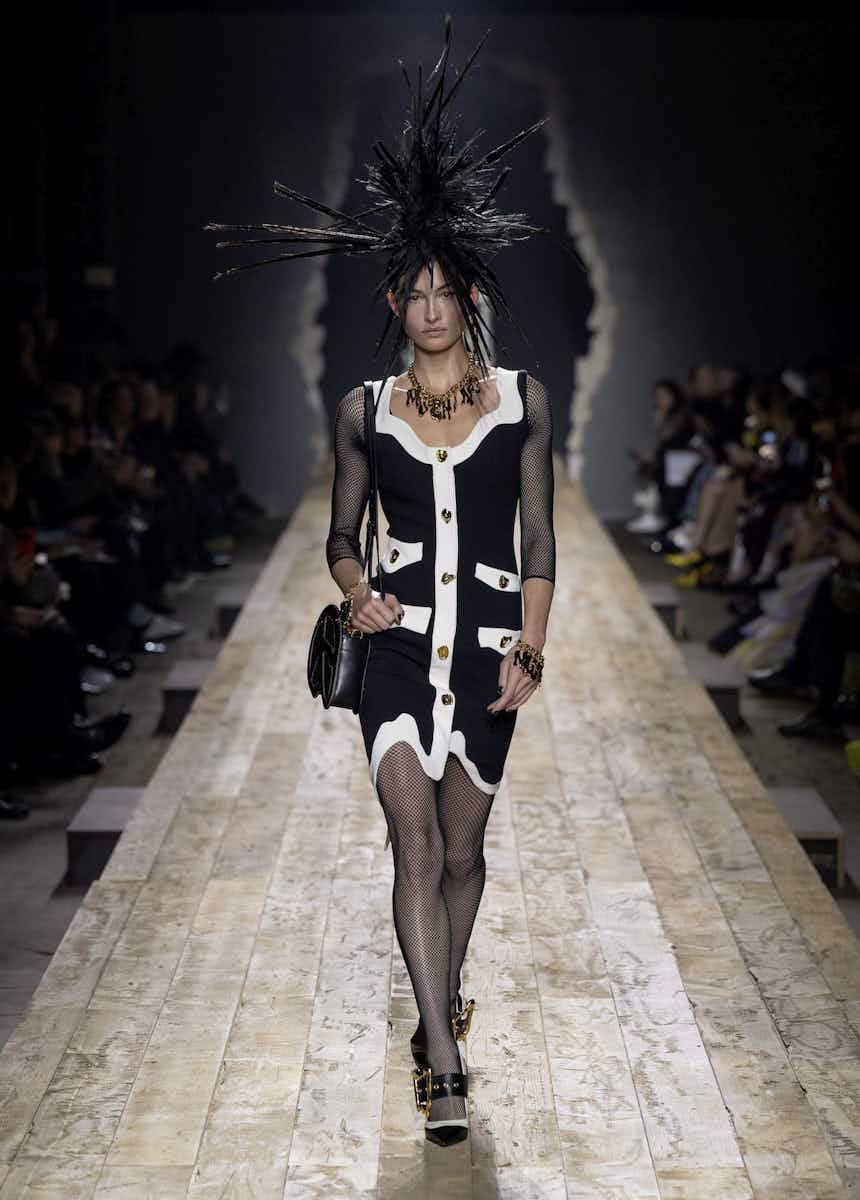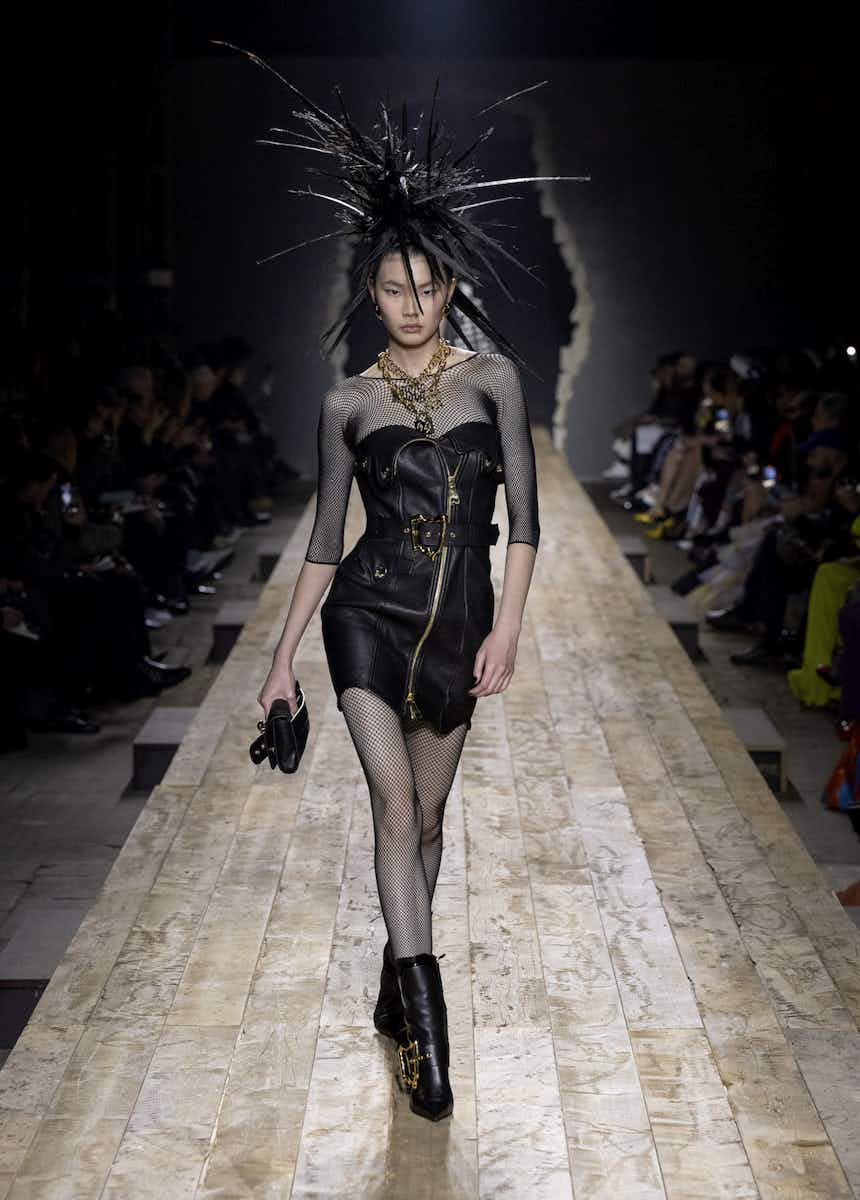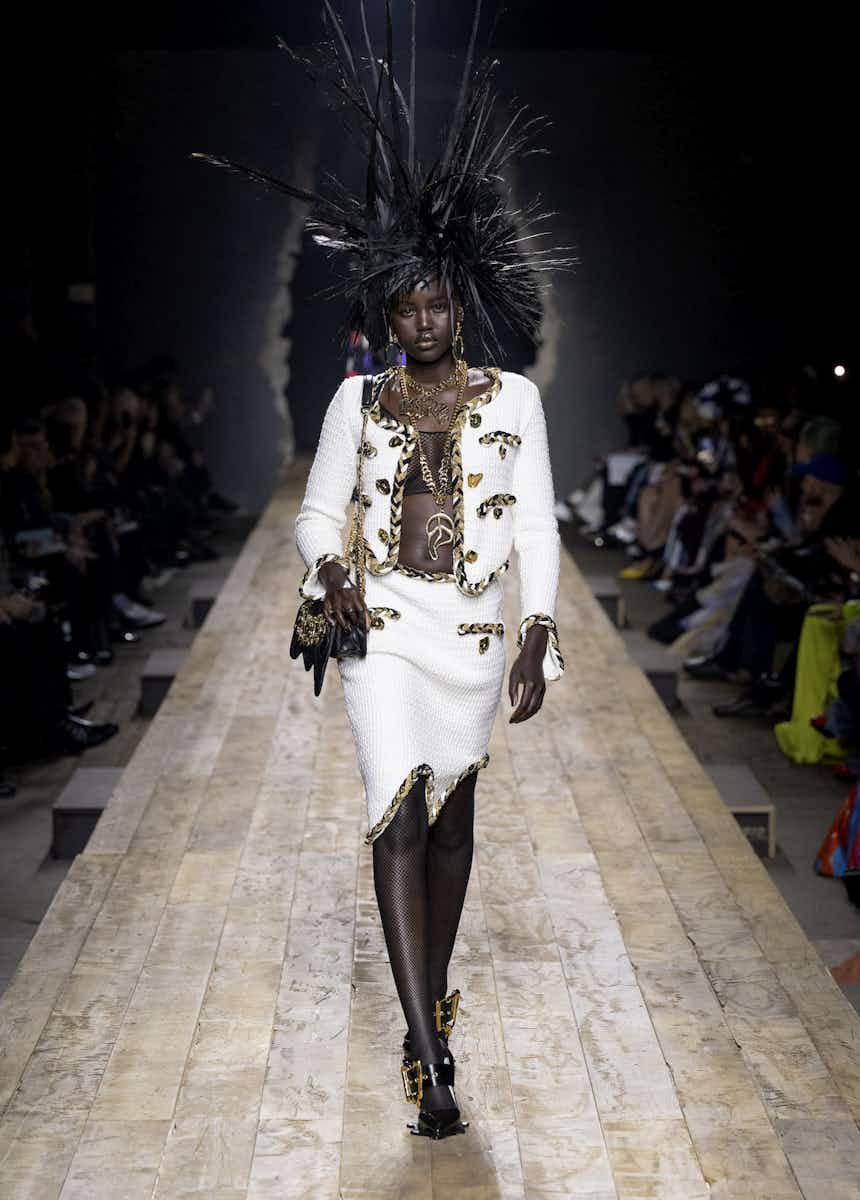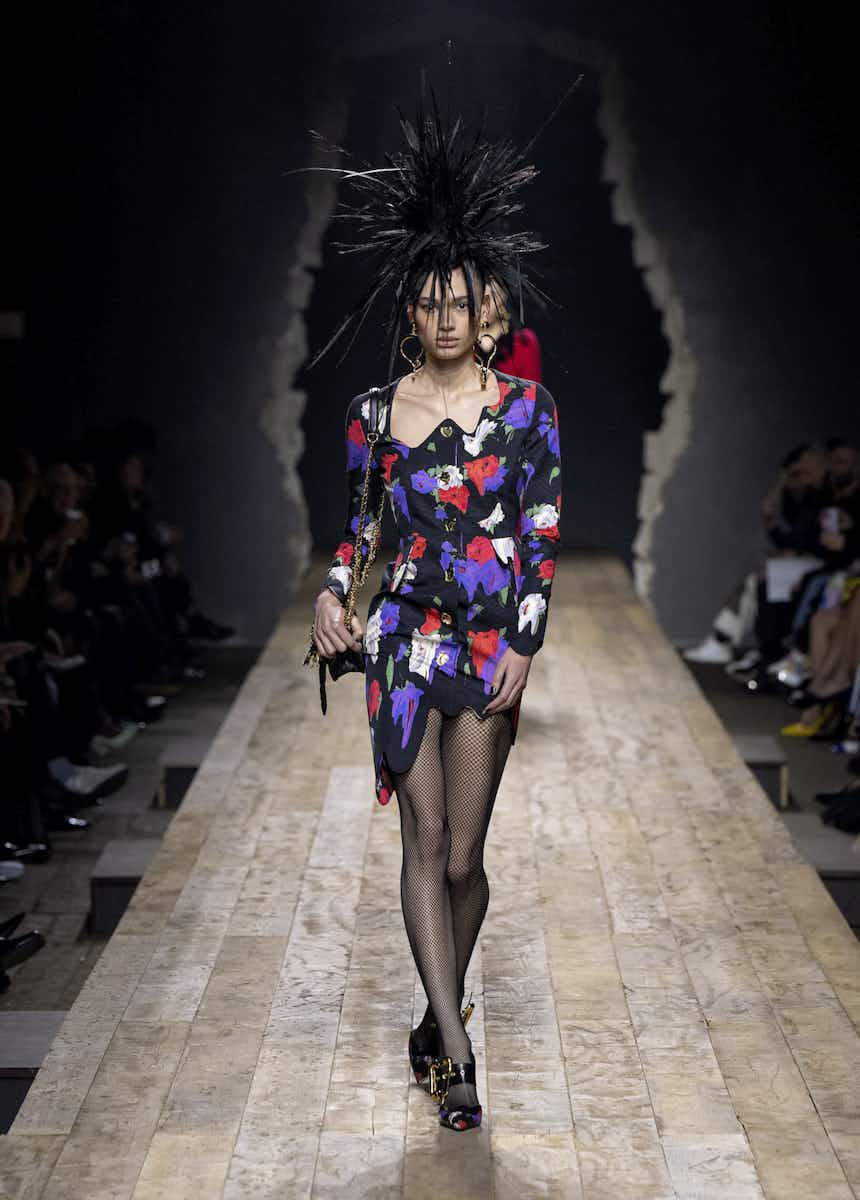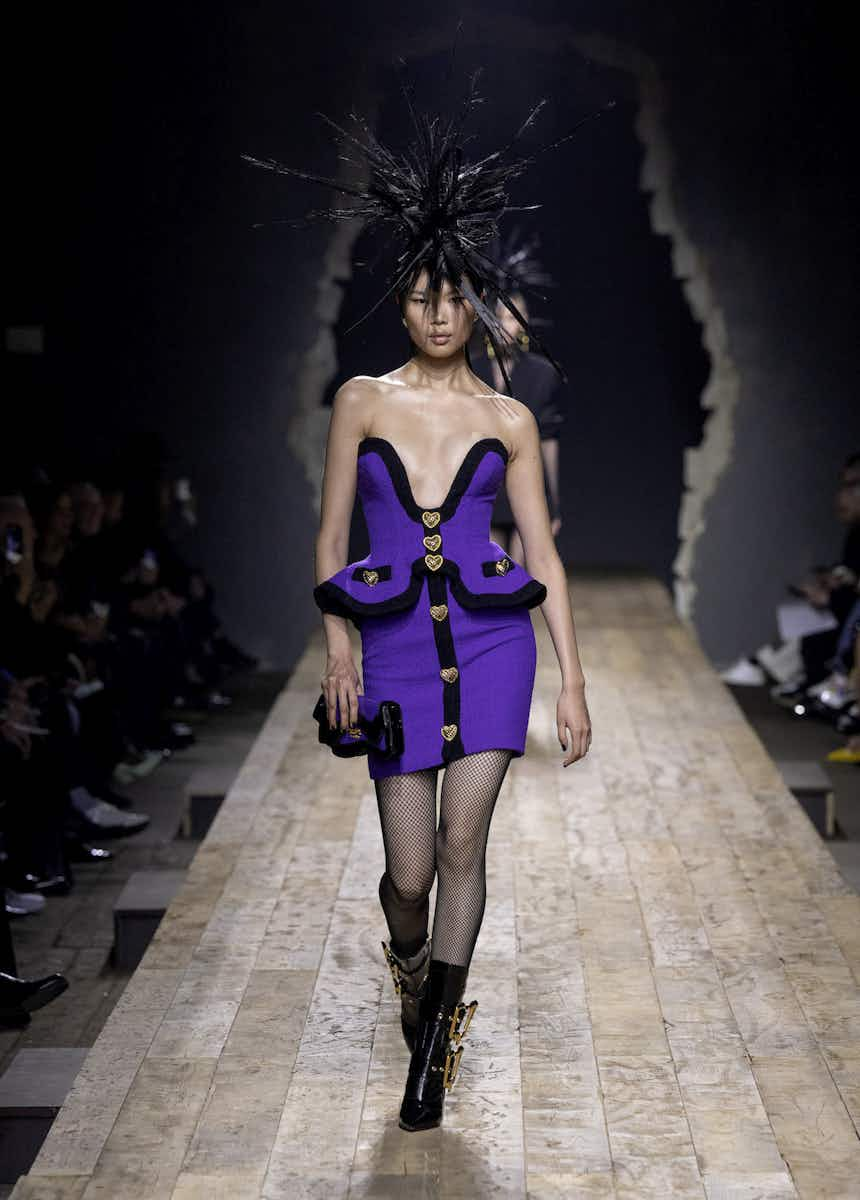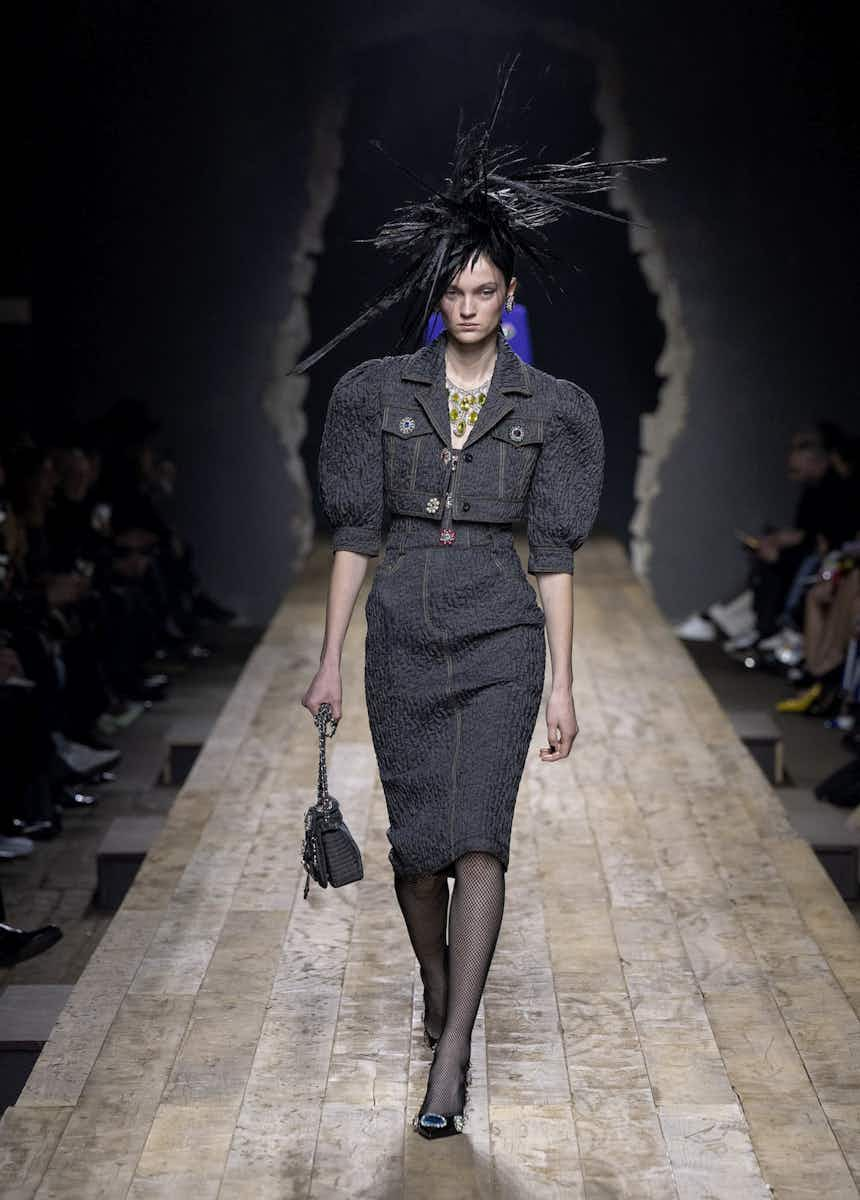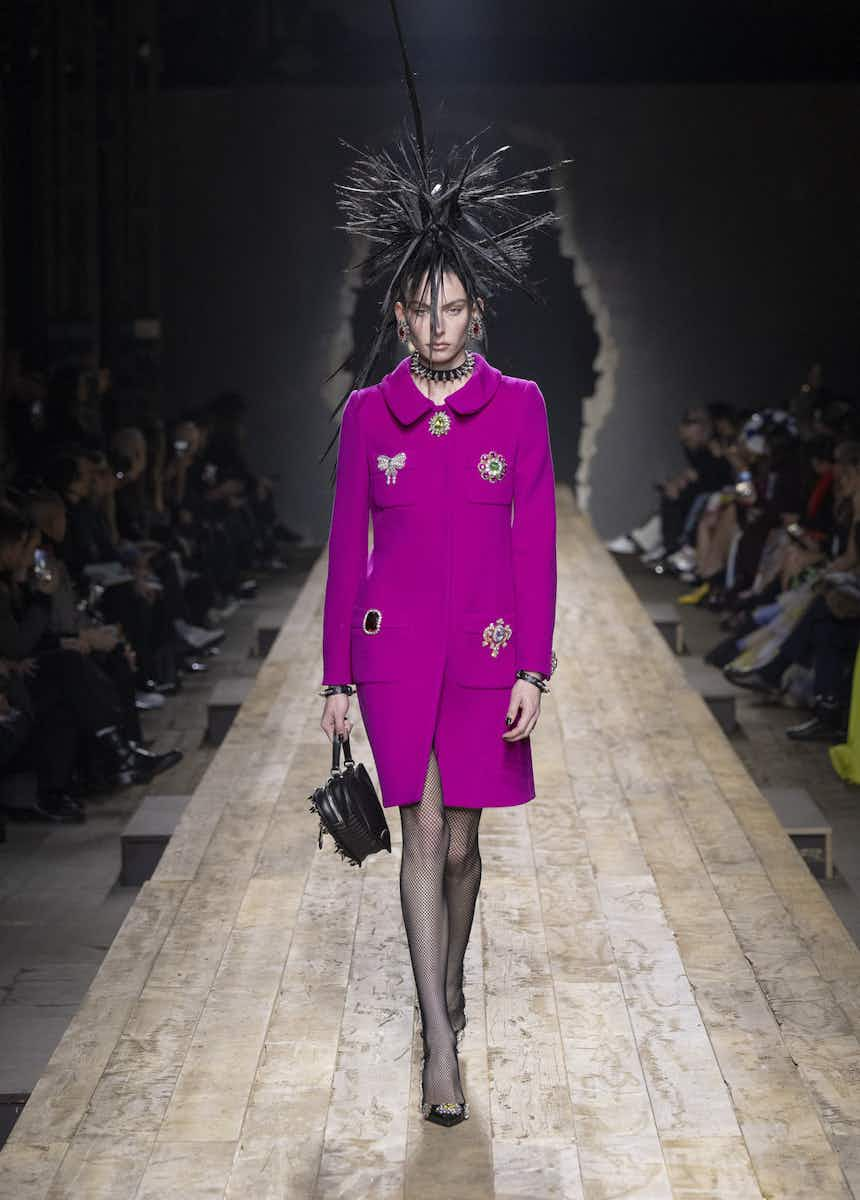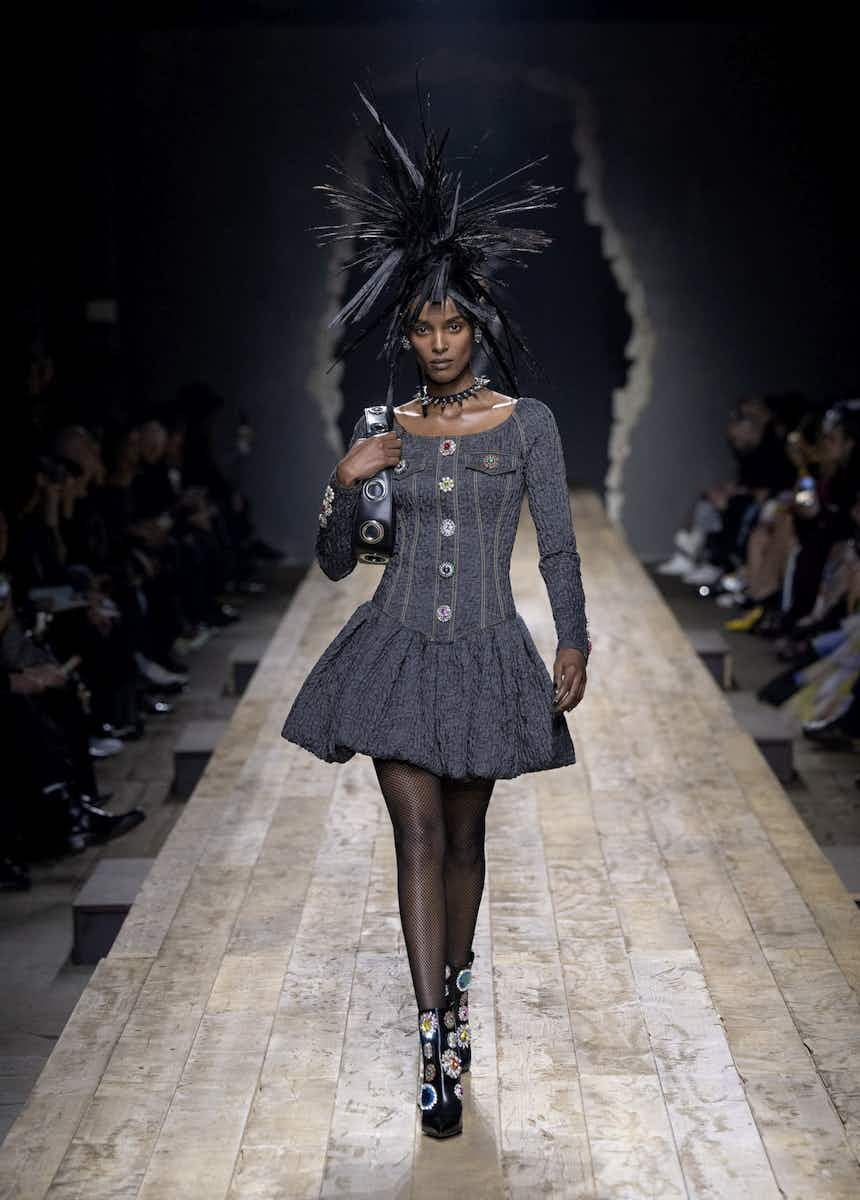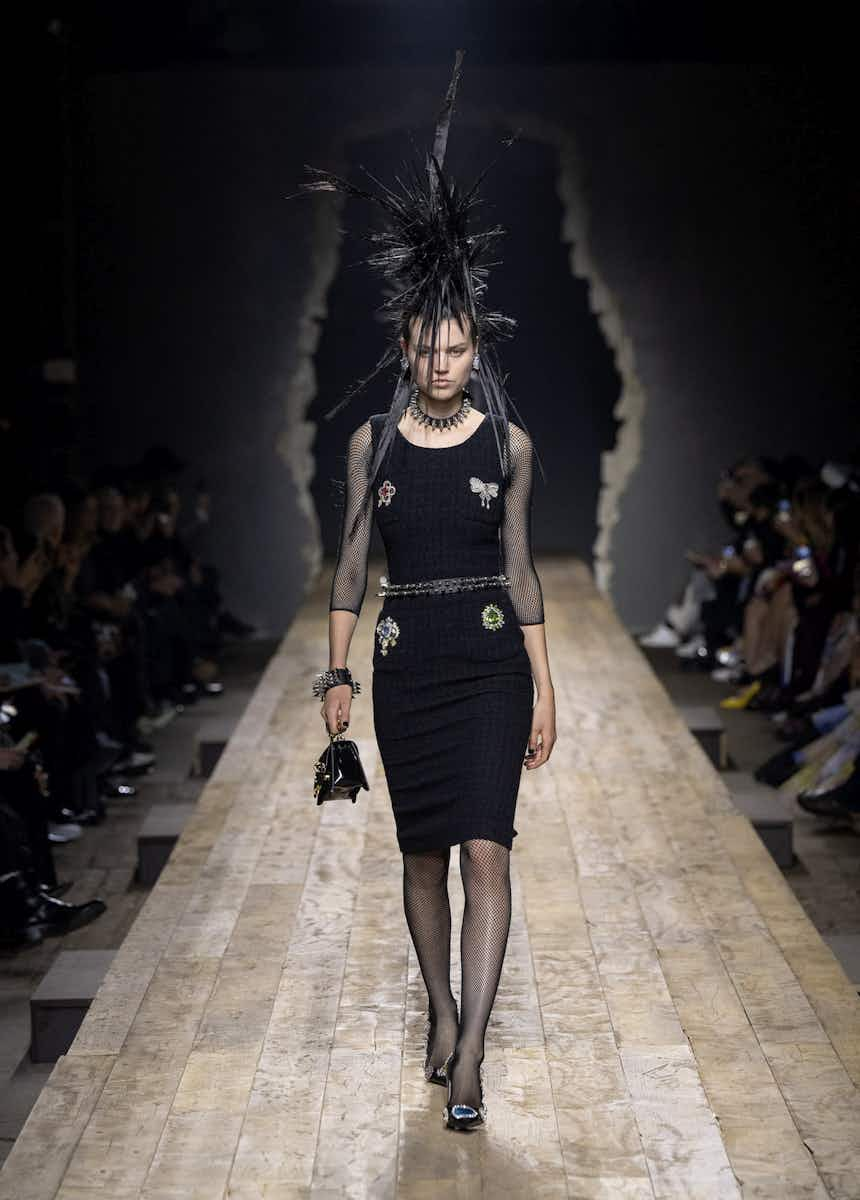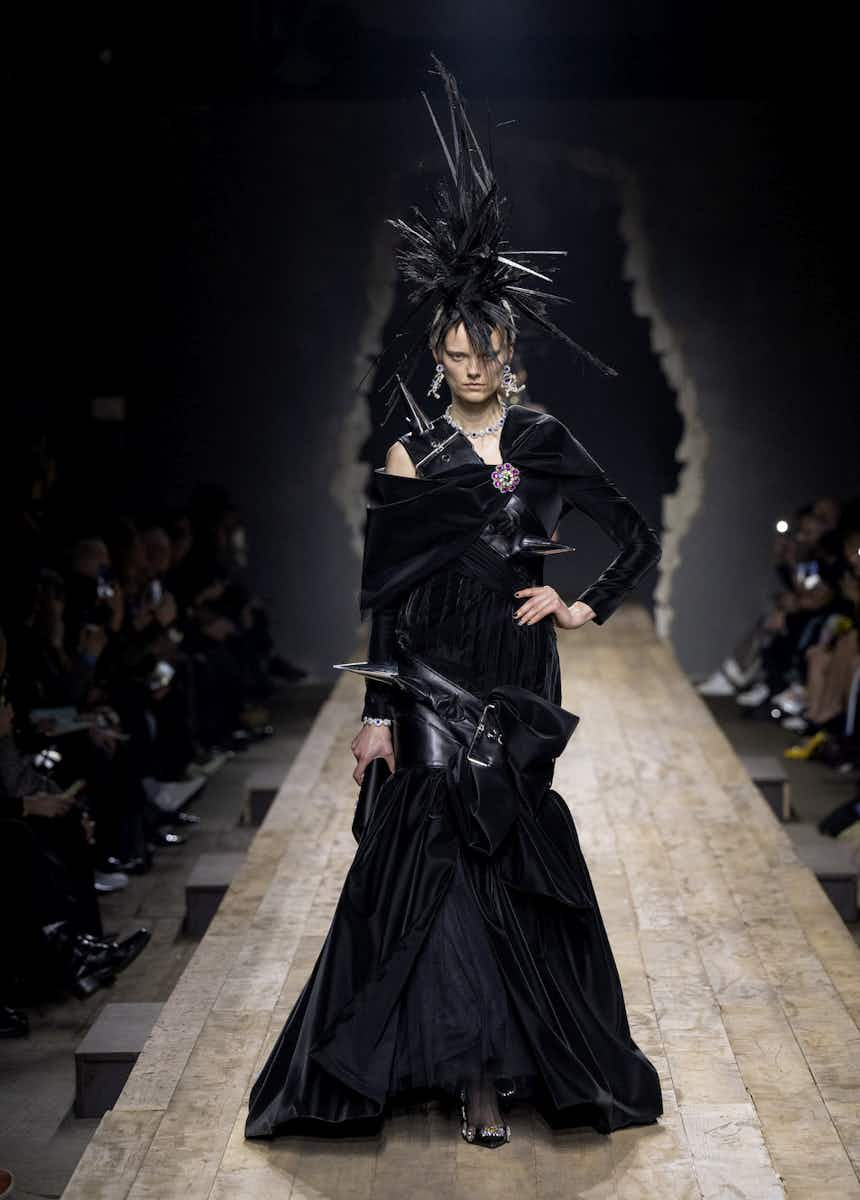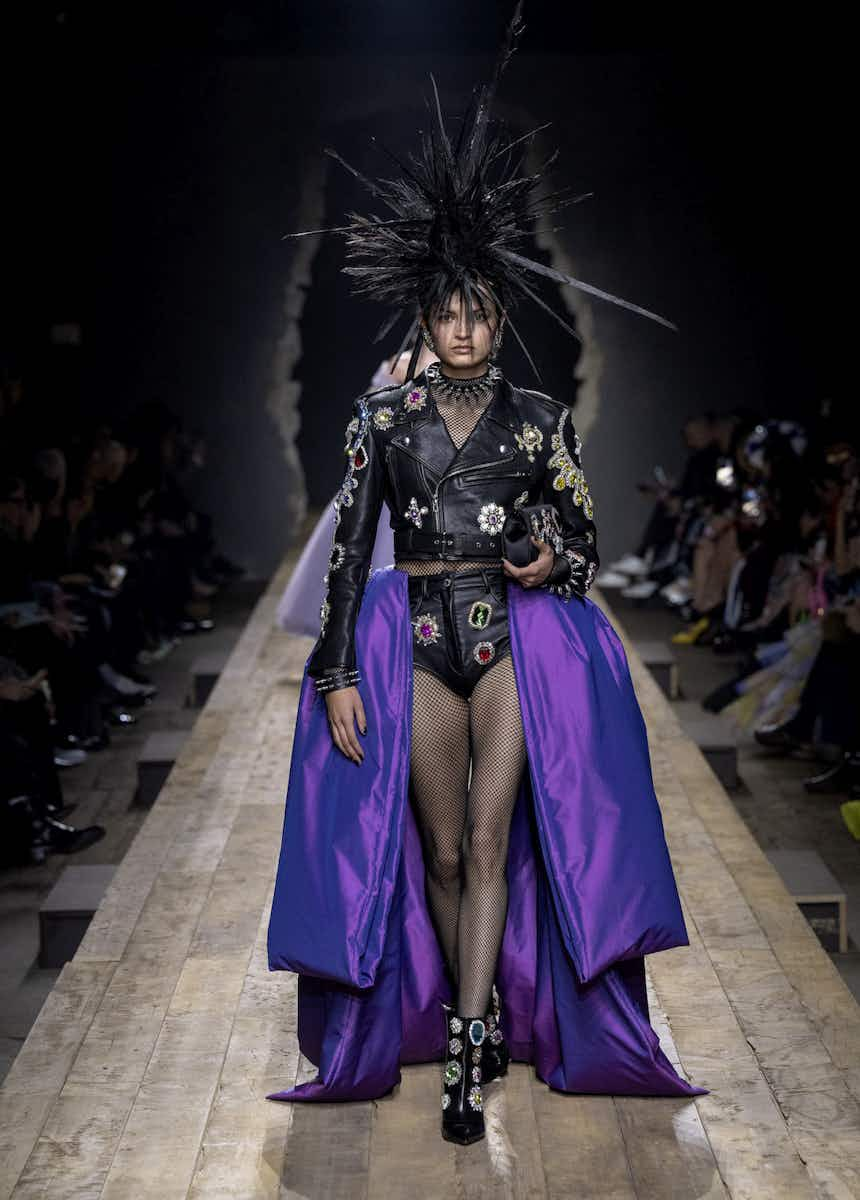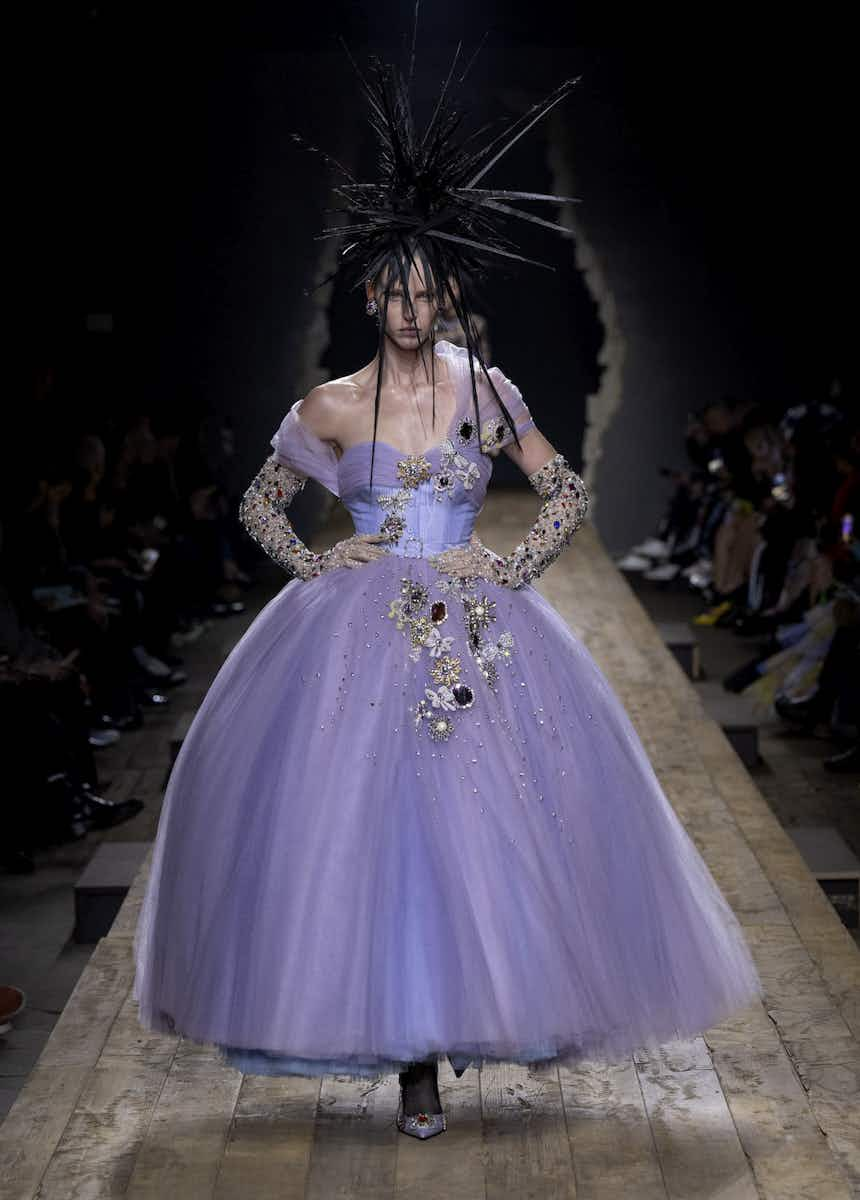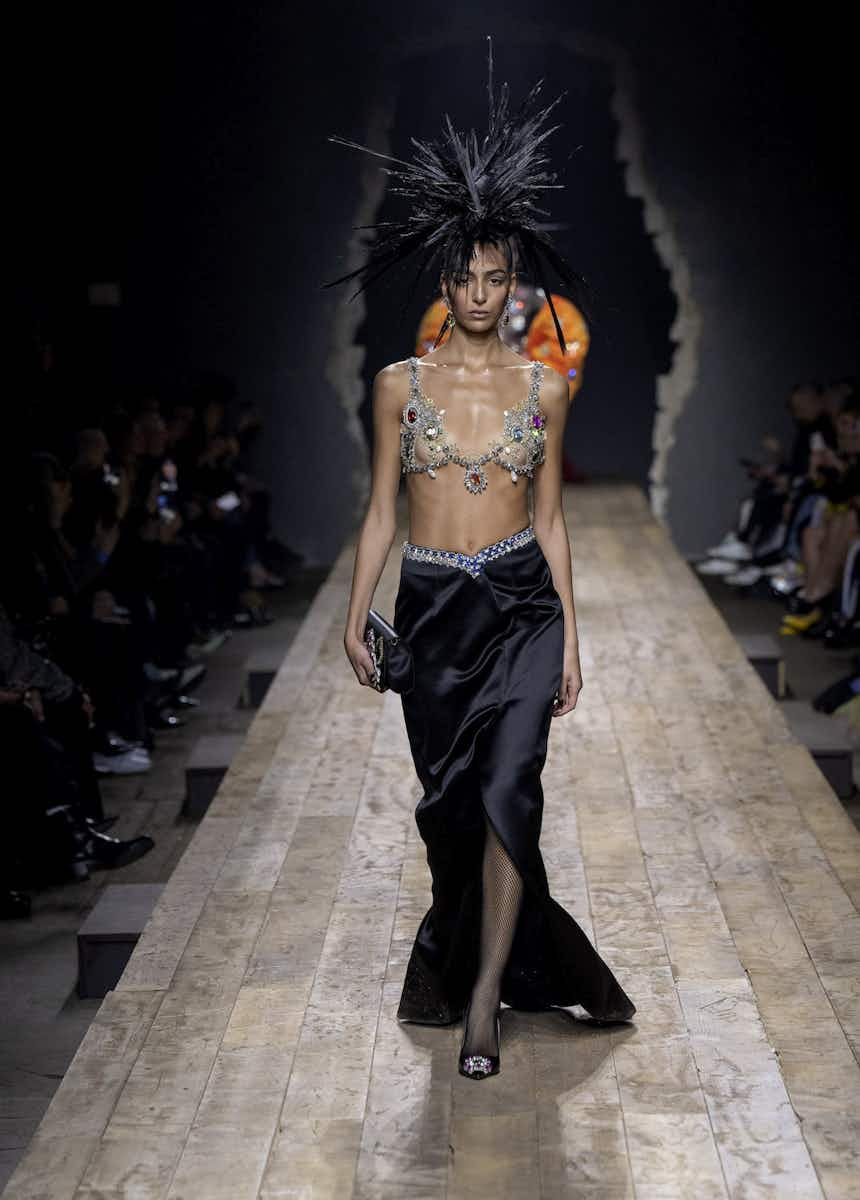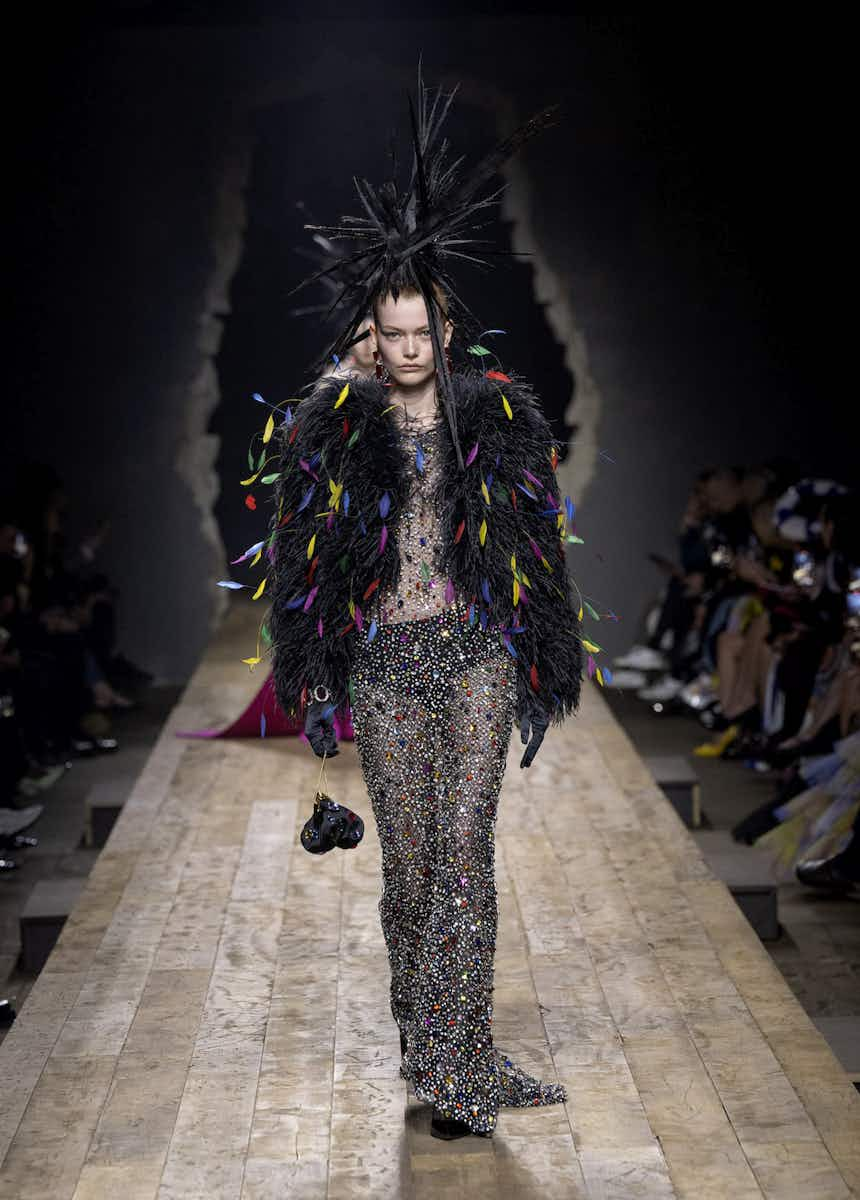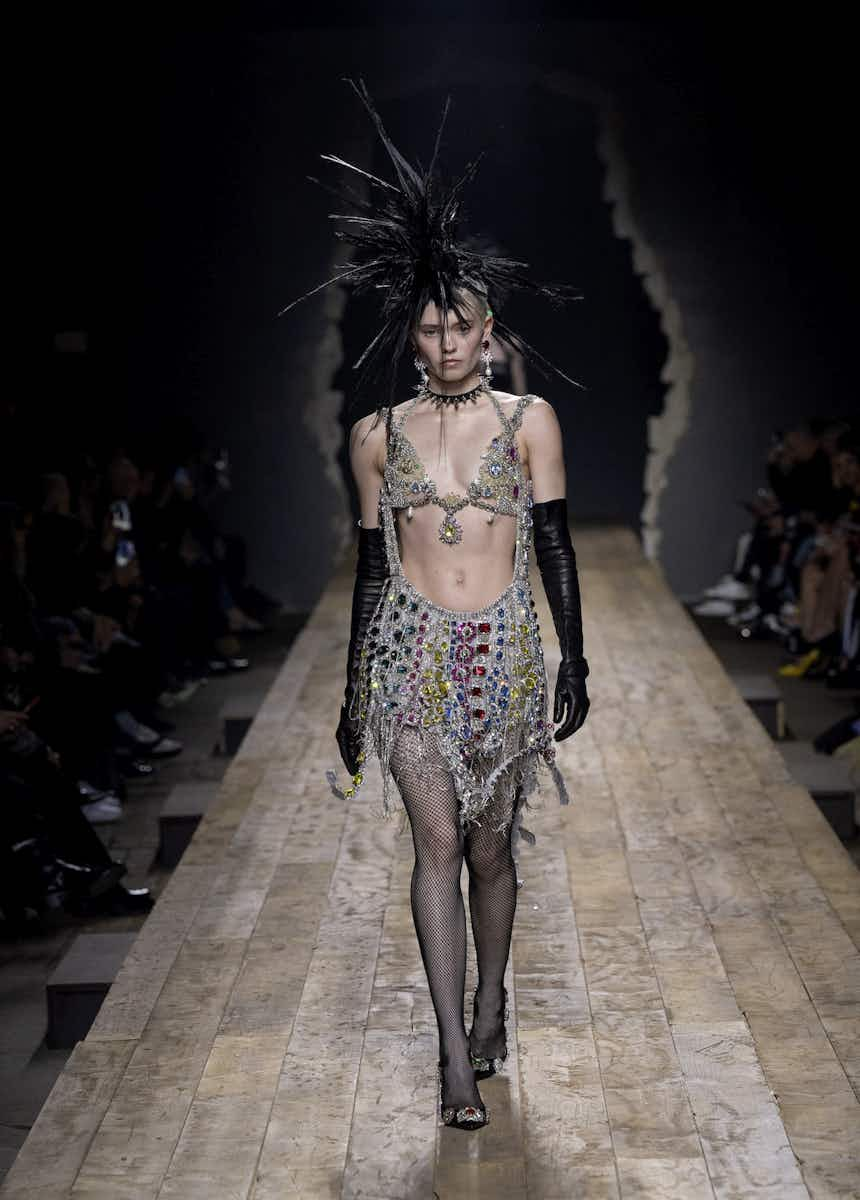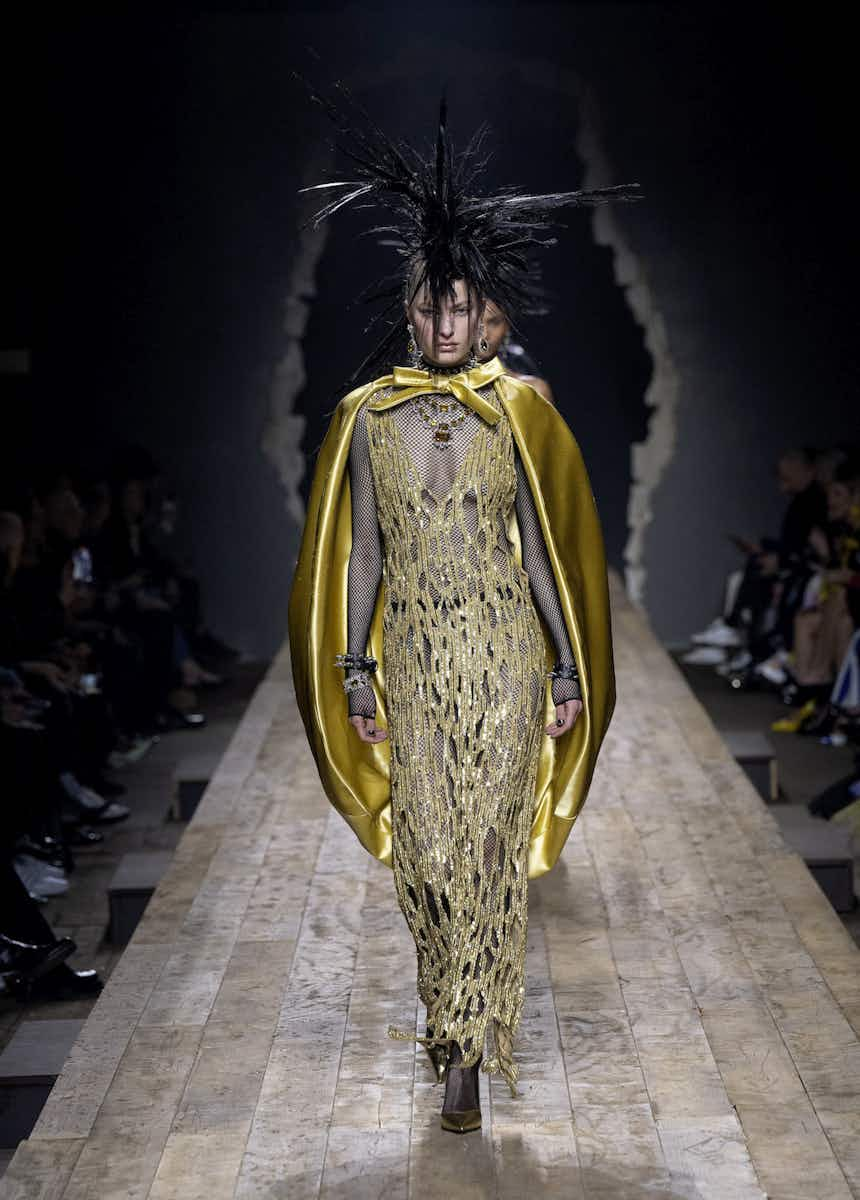 What?
The latest instalment in creative director Nicola Brognano's Gen Z‑friendly reboot of Italian fashion house Blumarine.
Where?
A Bluemarine battlefield: models stomped slowly around a runway covered with earth and moss, which featured a central flaming sculpture of Blumarine's ​"B" logo, in time with a downtempo rendition of Fugees' Ready or Not.
What about the clothes?
Blumarine is still pushing its glam Y2K agenda, but this time it wasn't about viral butterfly tops, diamanté-clad crops and Tumblr-era references. Instead, the collection honed in on shape, silhouette and attitude, all flavoured with an unexpected mediaeval twist. It was a little less Paris and Britney, a little more Xtina and Shakira. This season's Blumarine fighters were dressed in silver and gold chainmail tops and tunic dresses, tough motocross-inspired leathers, low-slung dirtied and distressed denim pants, tightly buckled-up bustier tops and protective shearling jackets. She was strapped in and ready to ride.
In a song:
Christina Aguilera — Dirrty
In a word:
Fierce.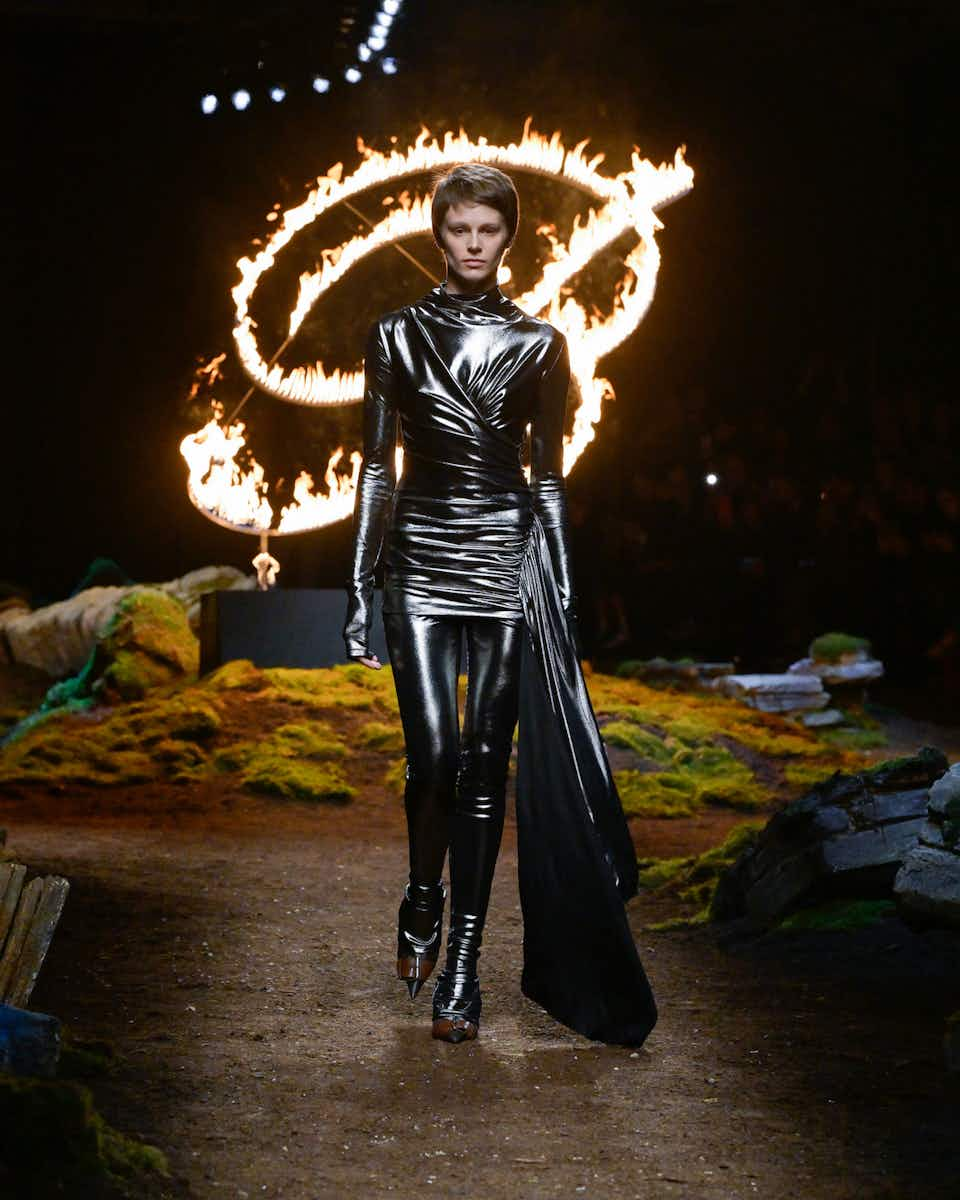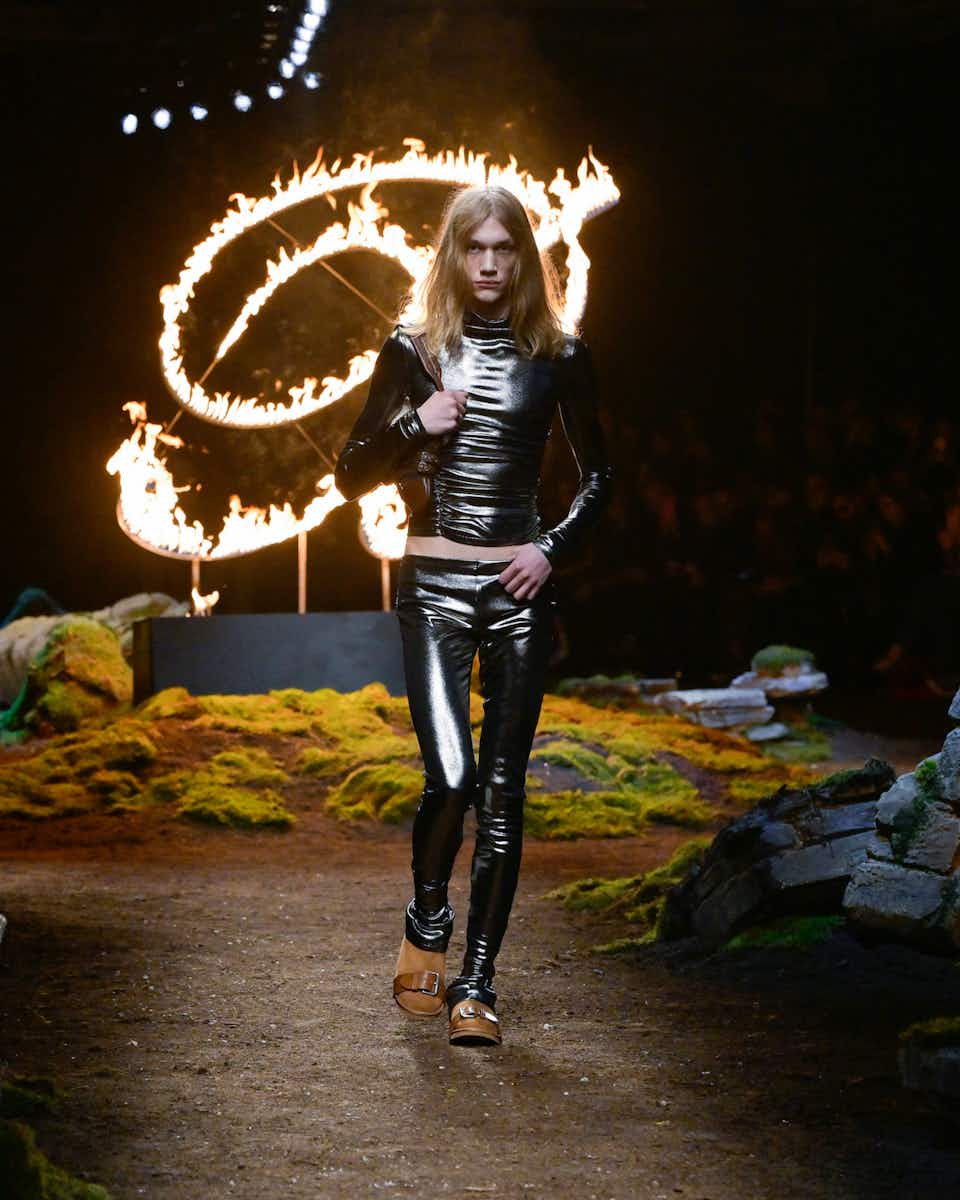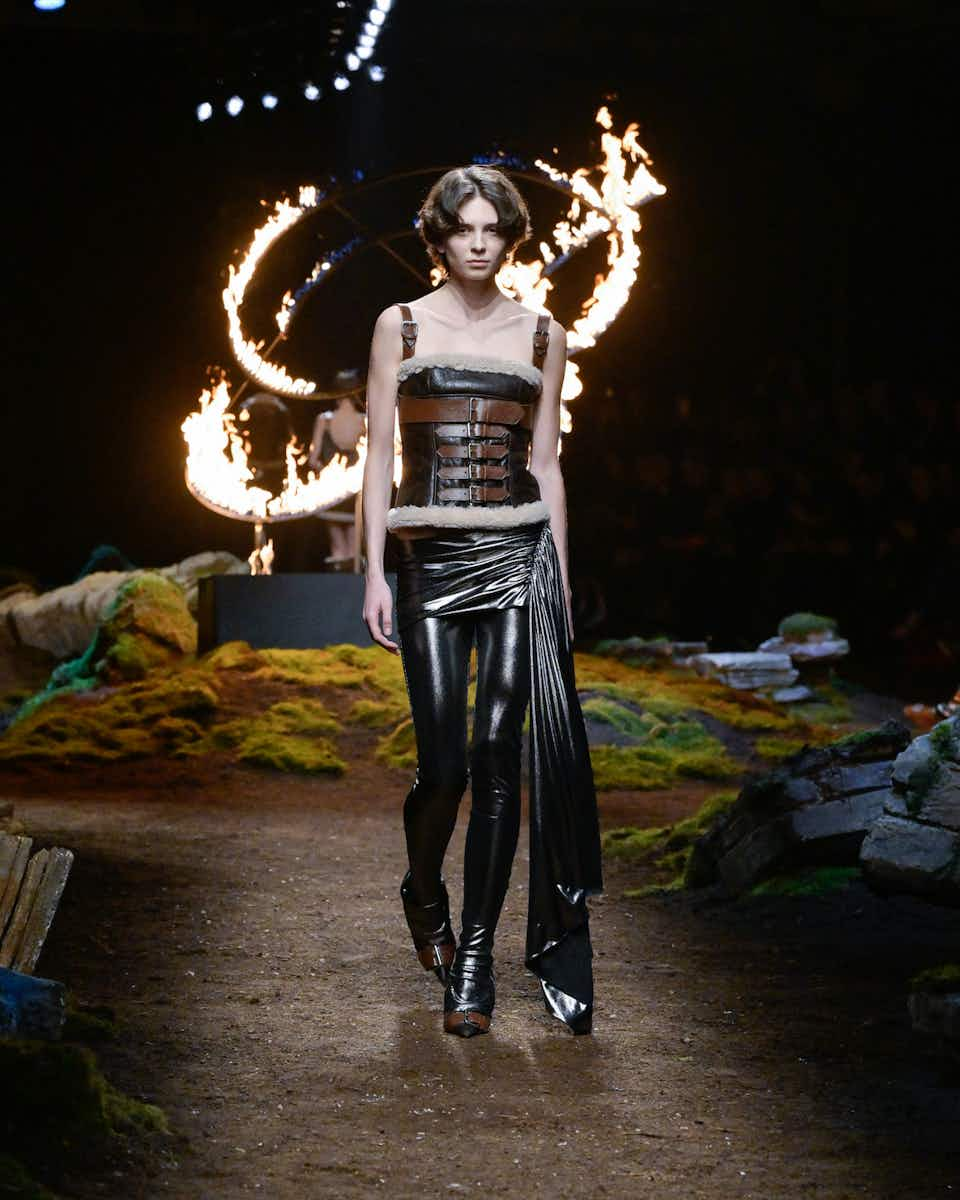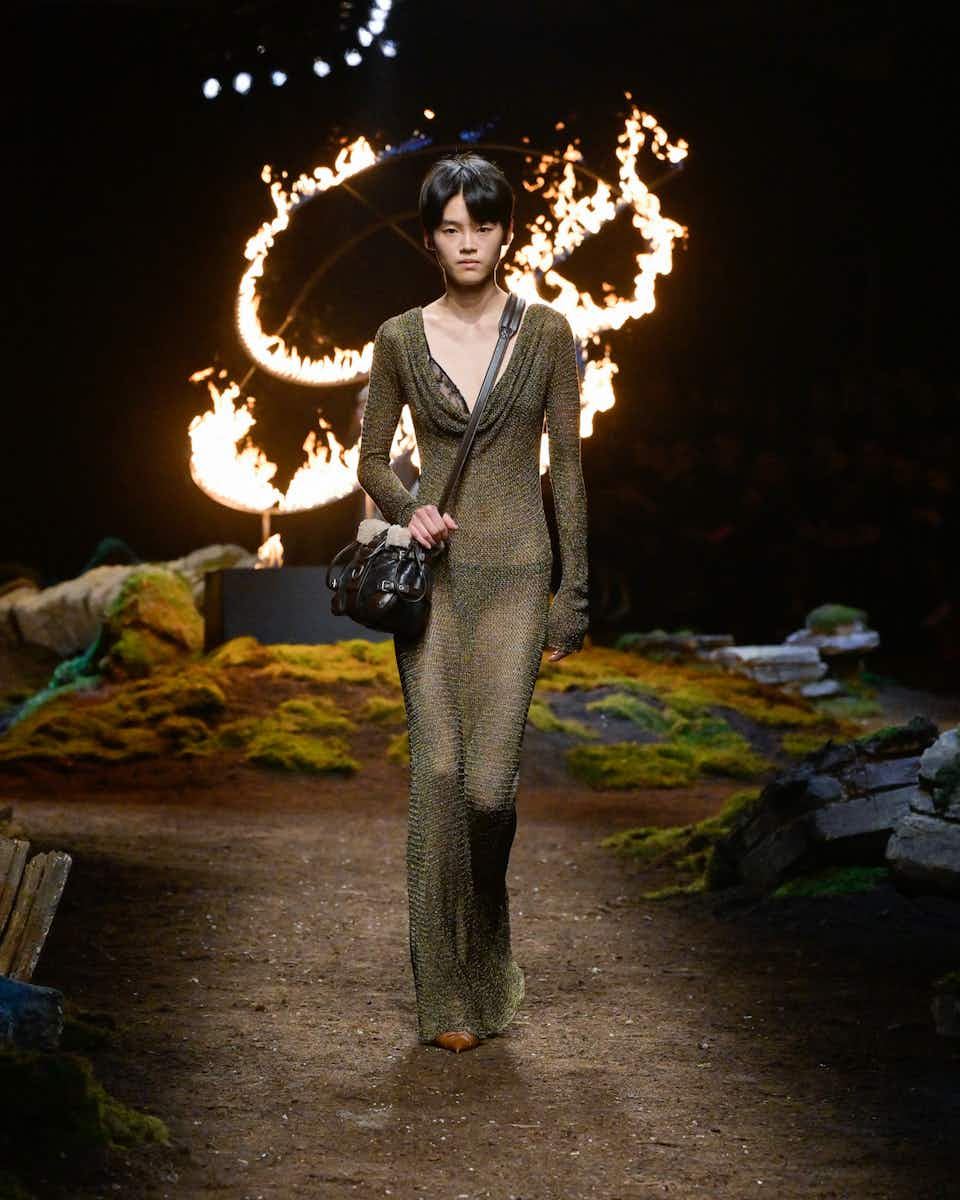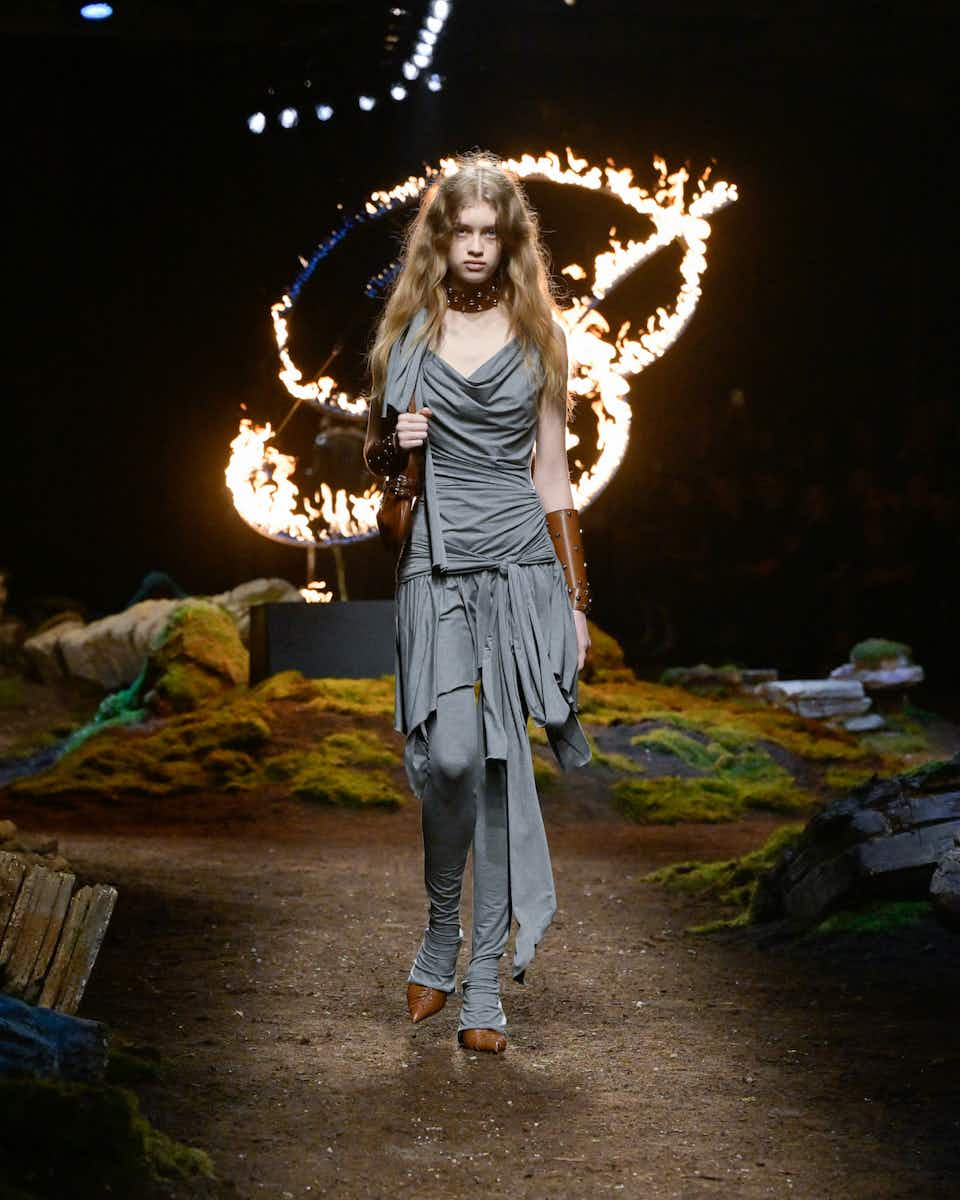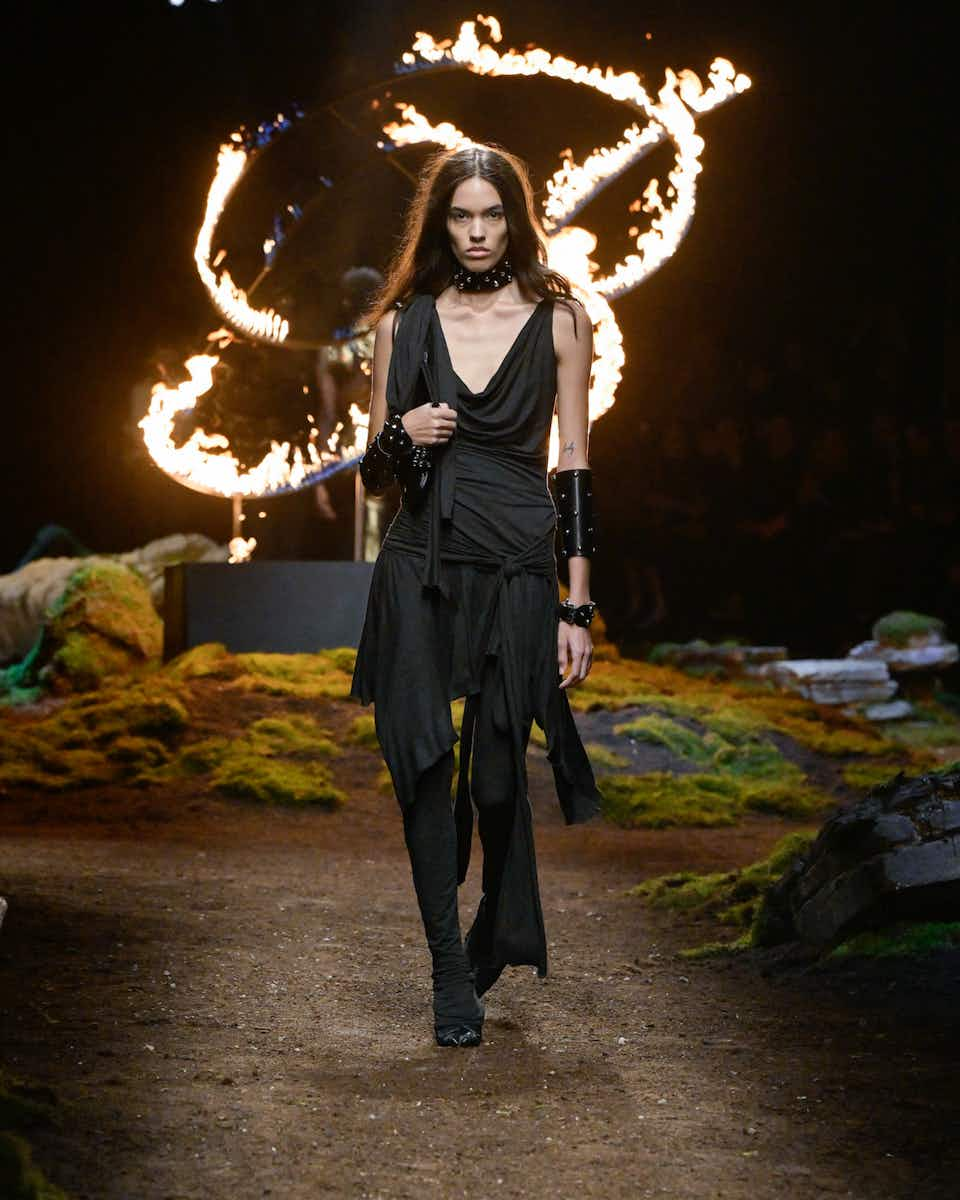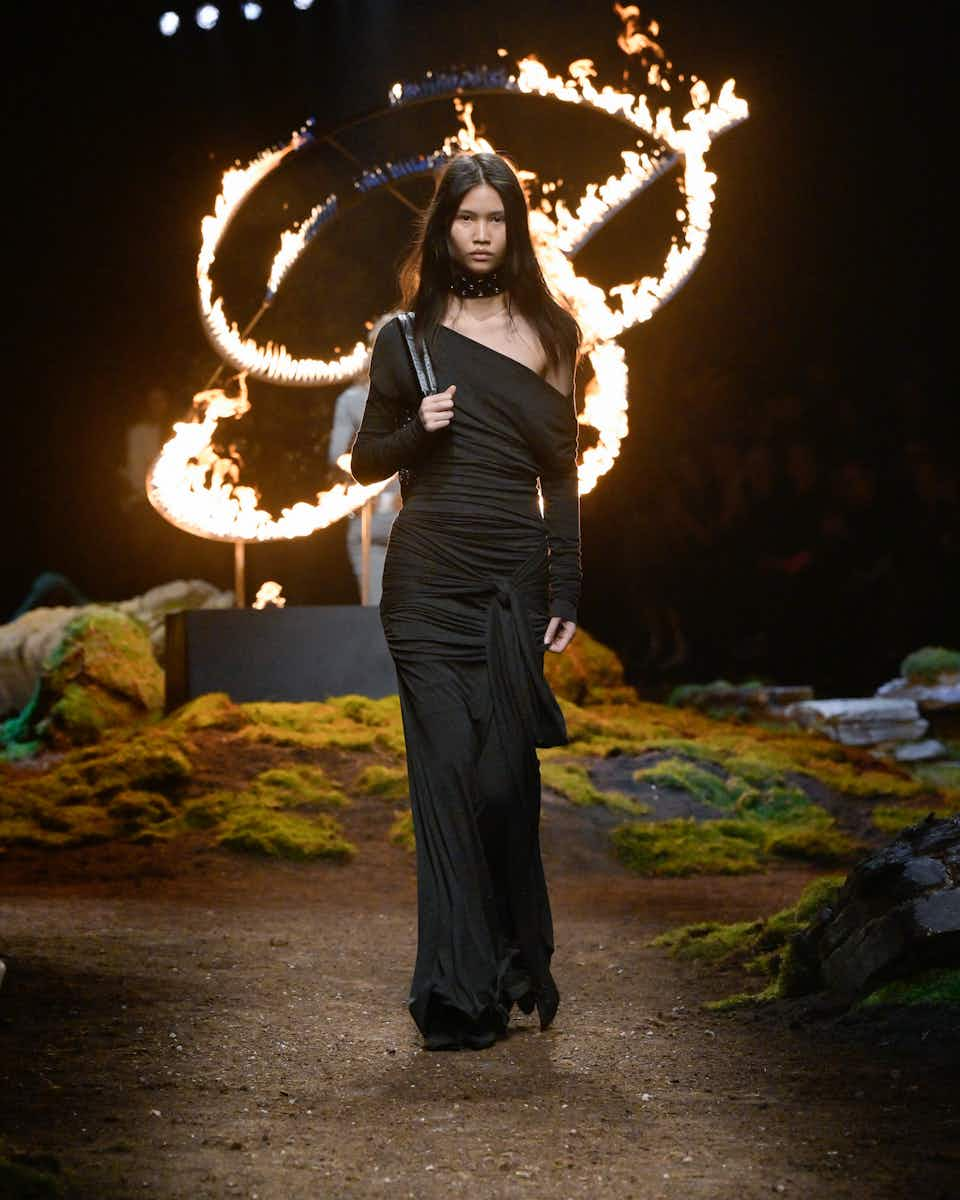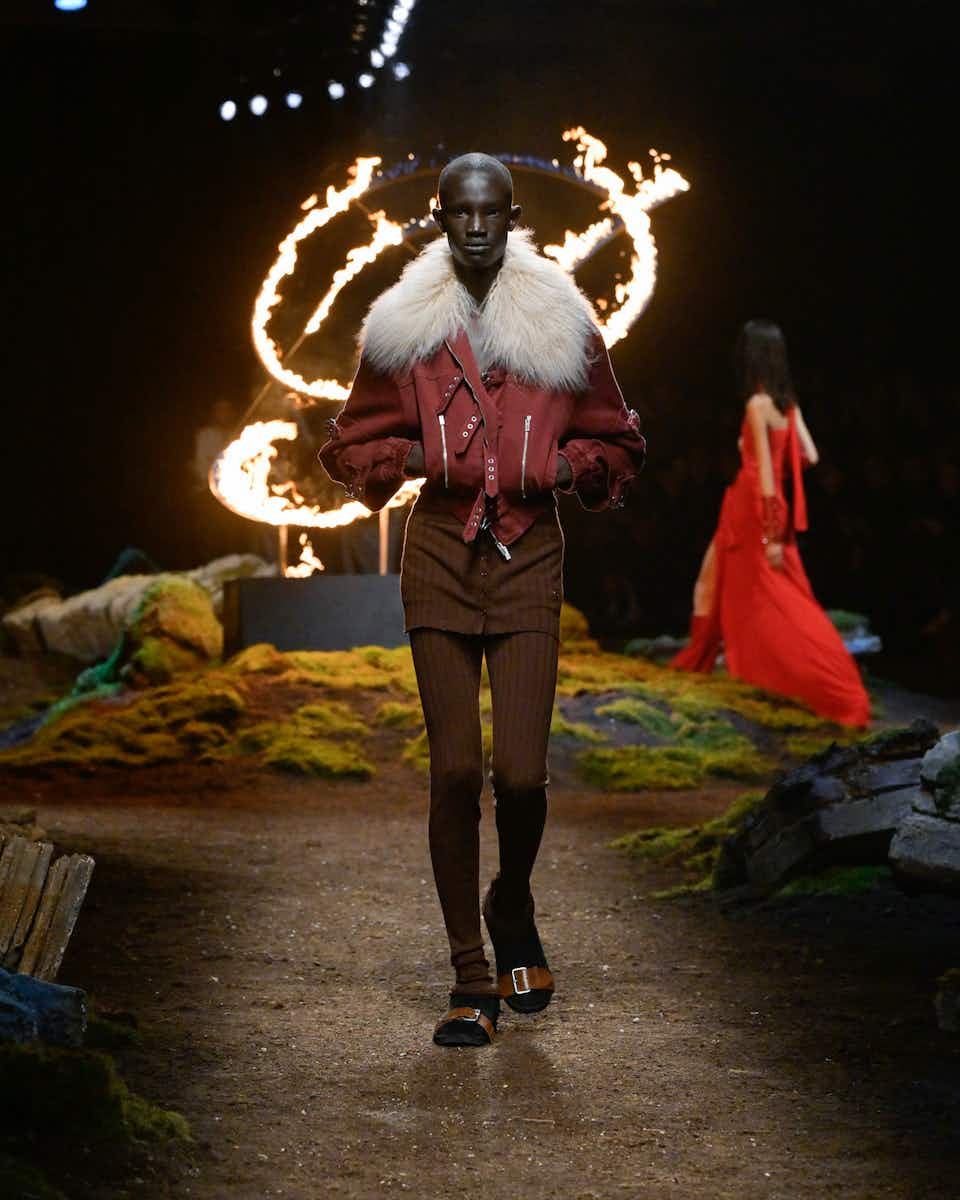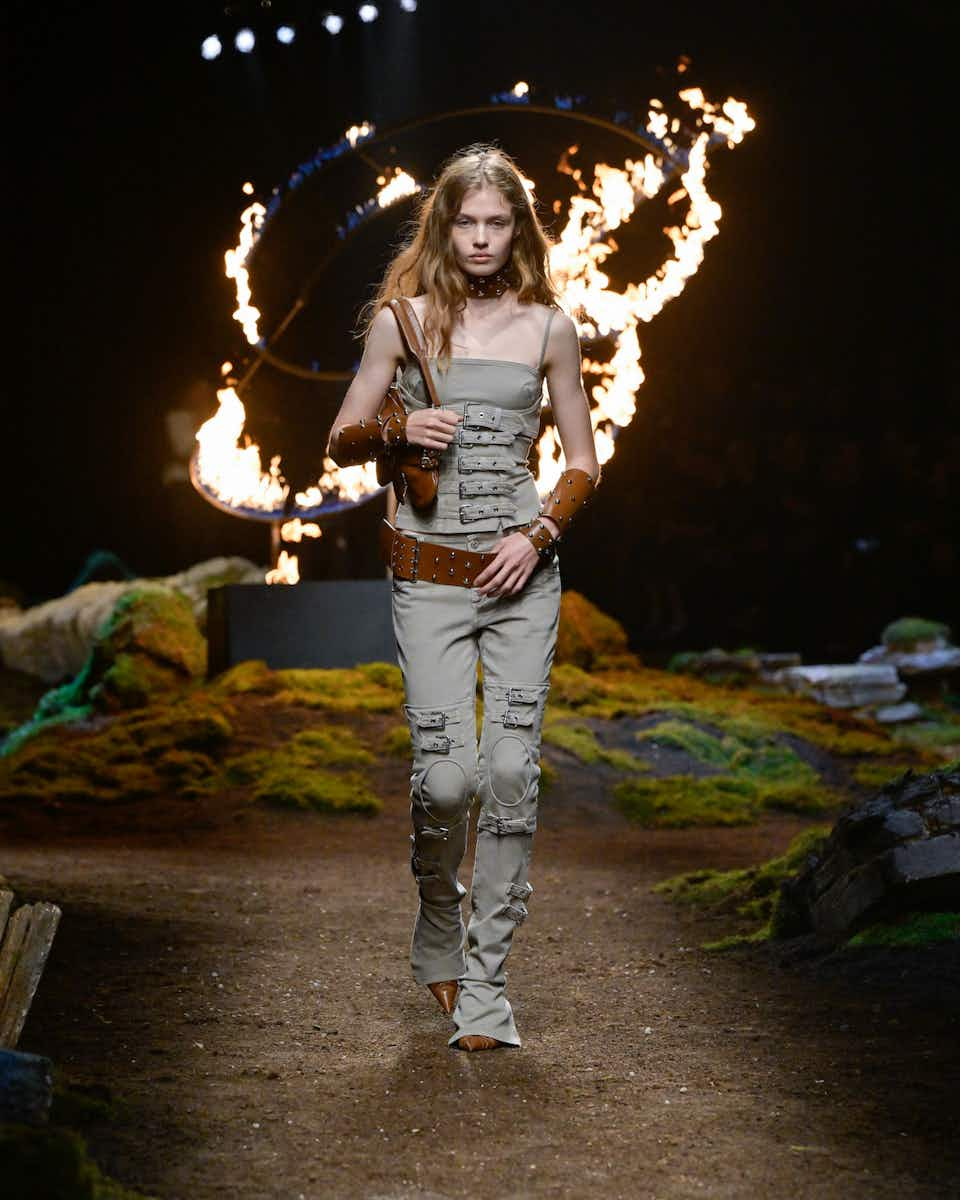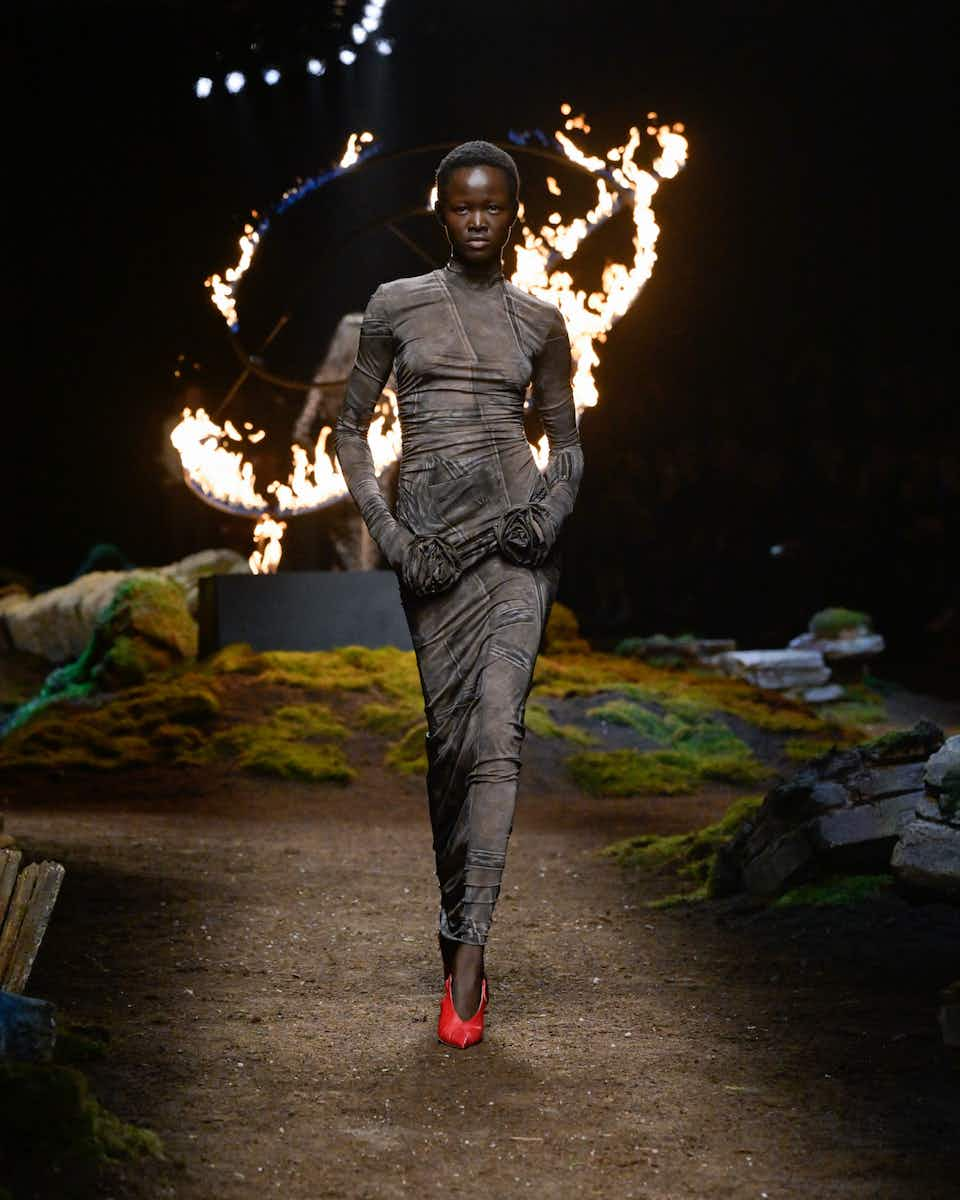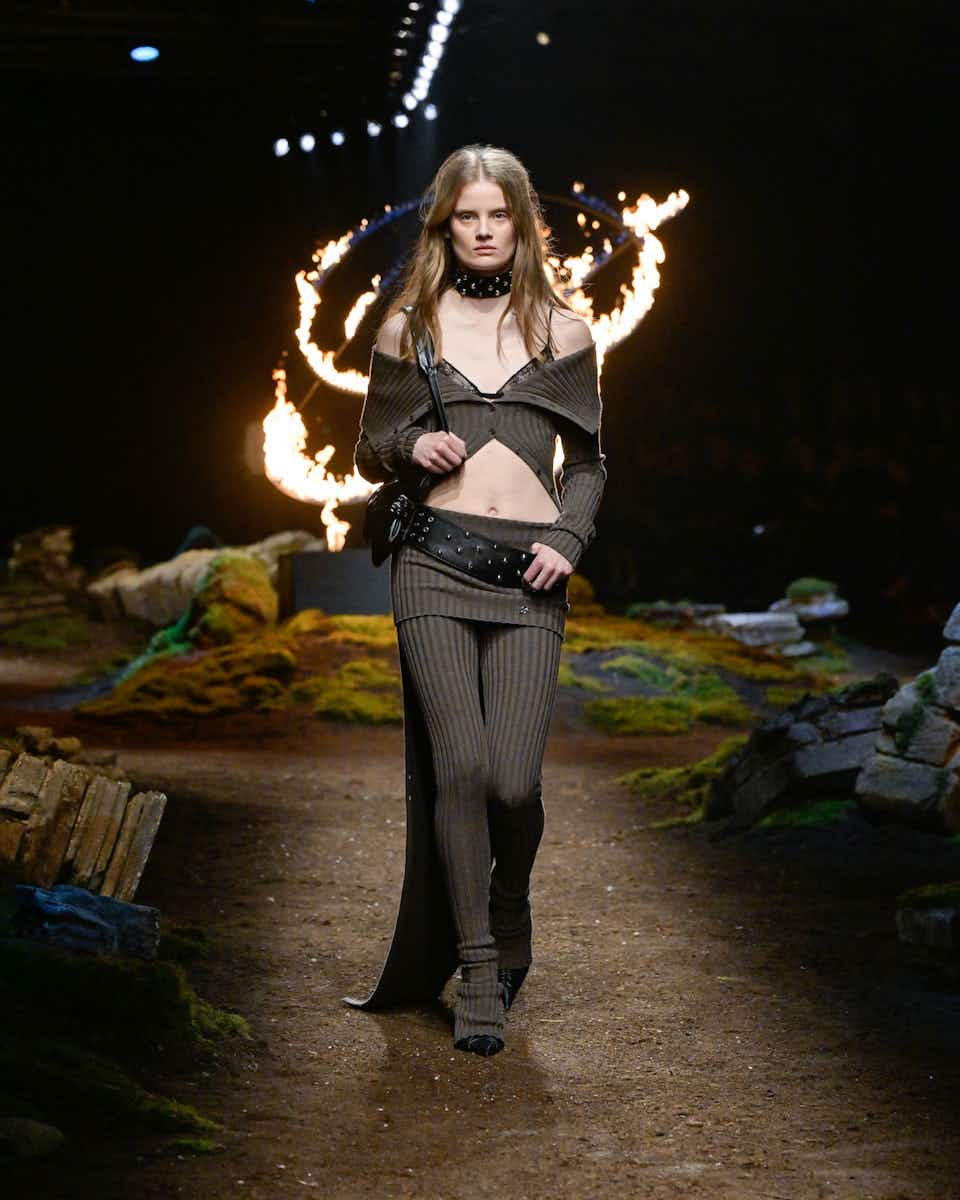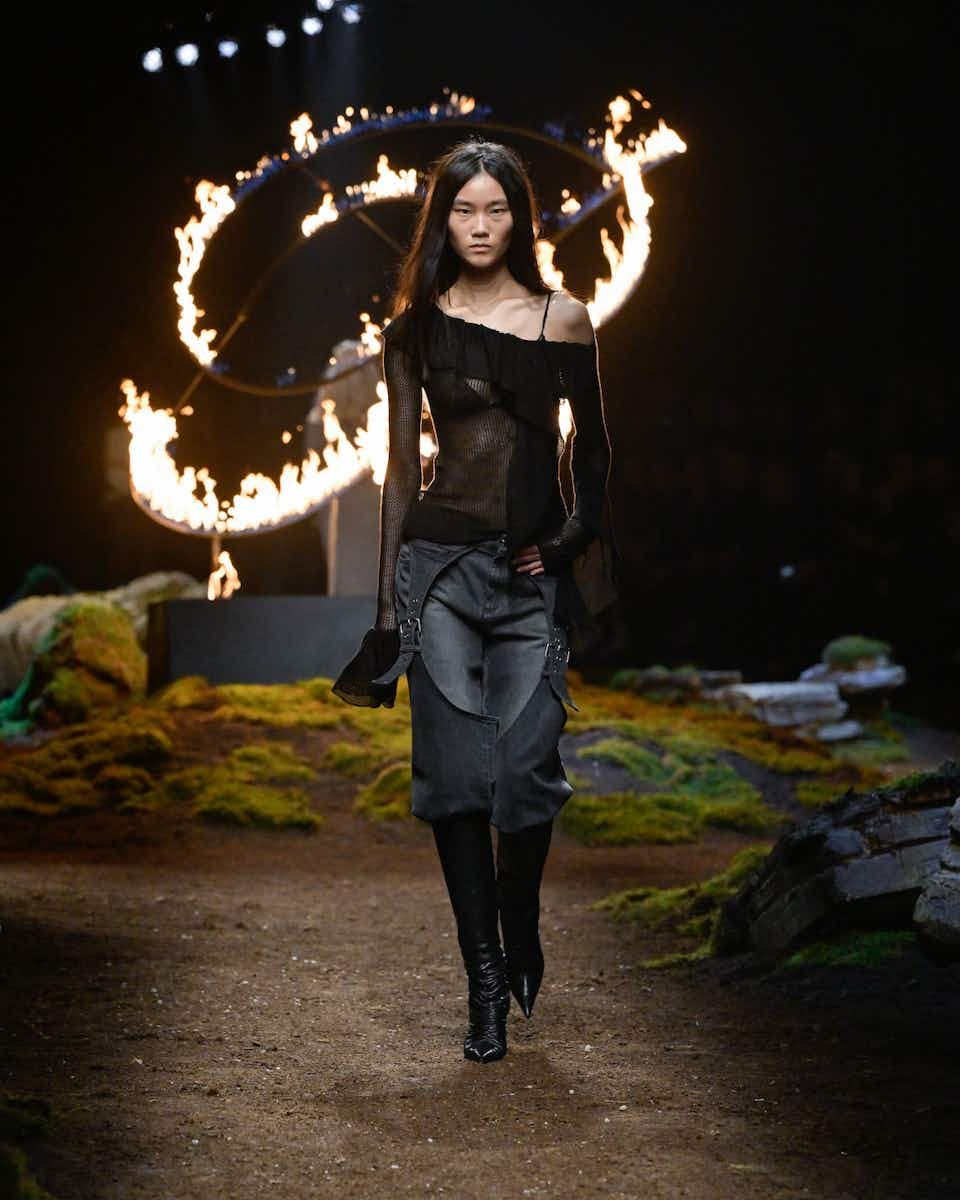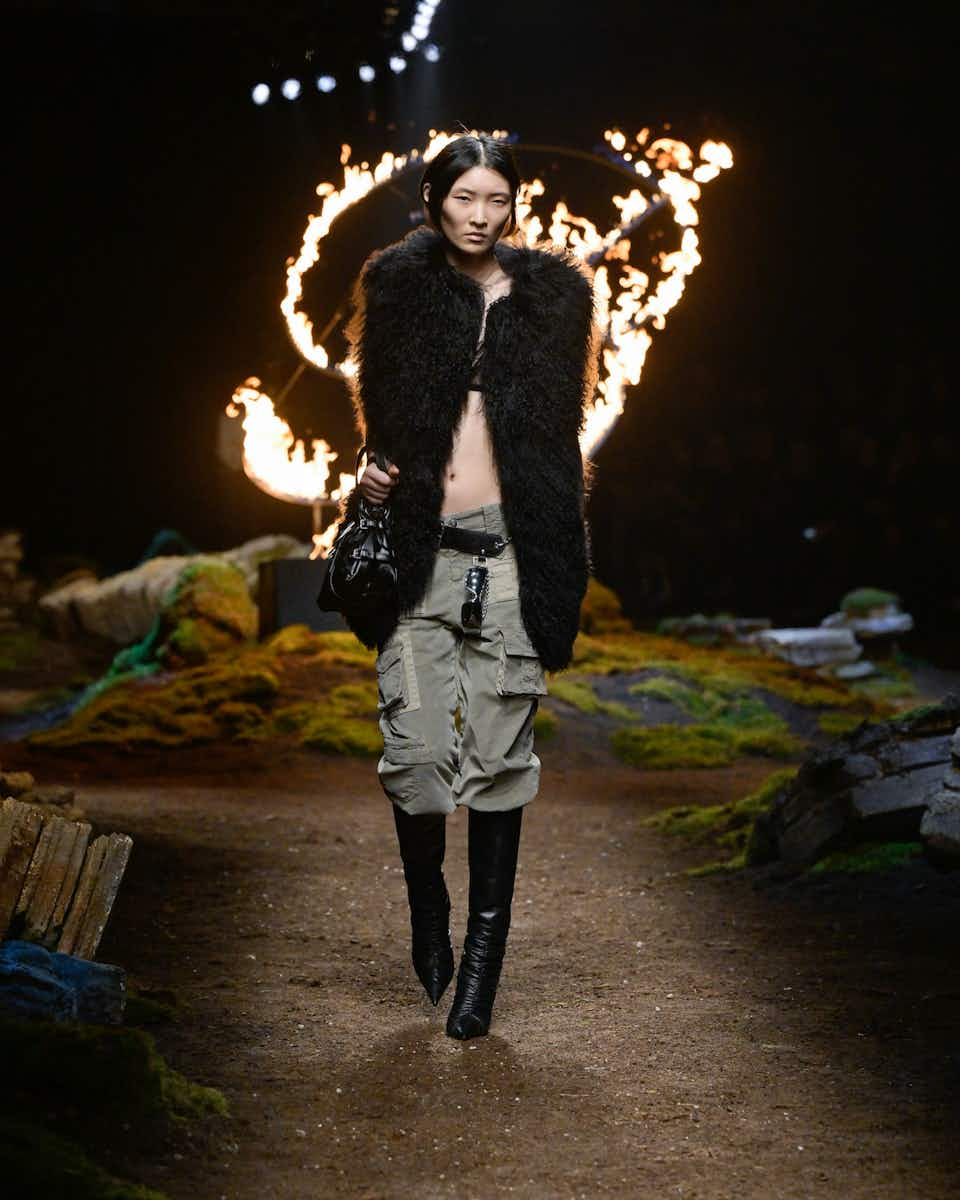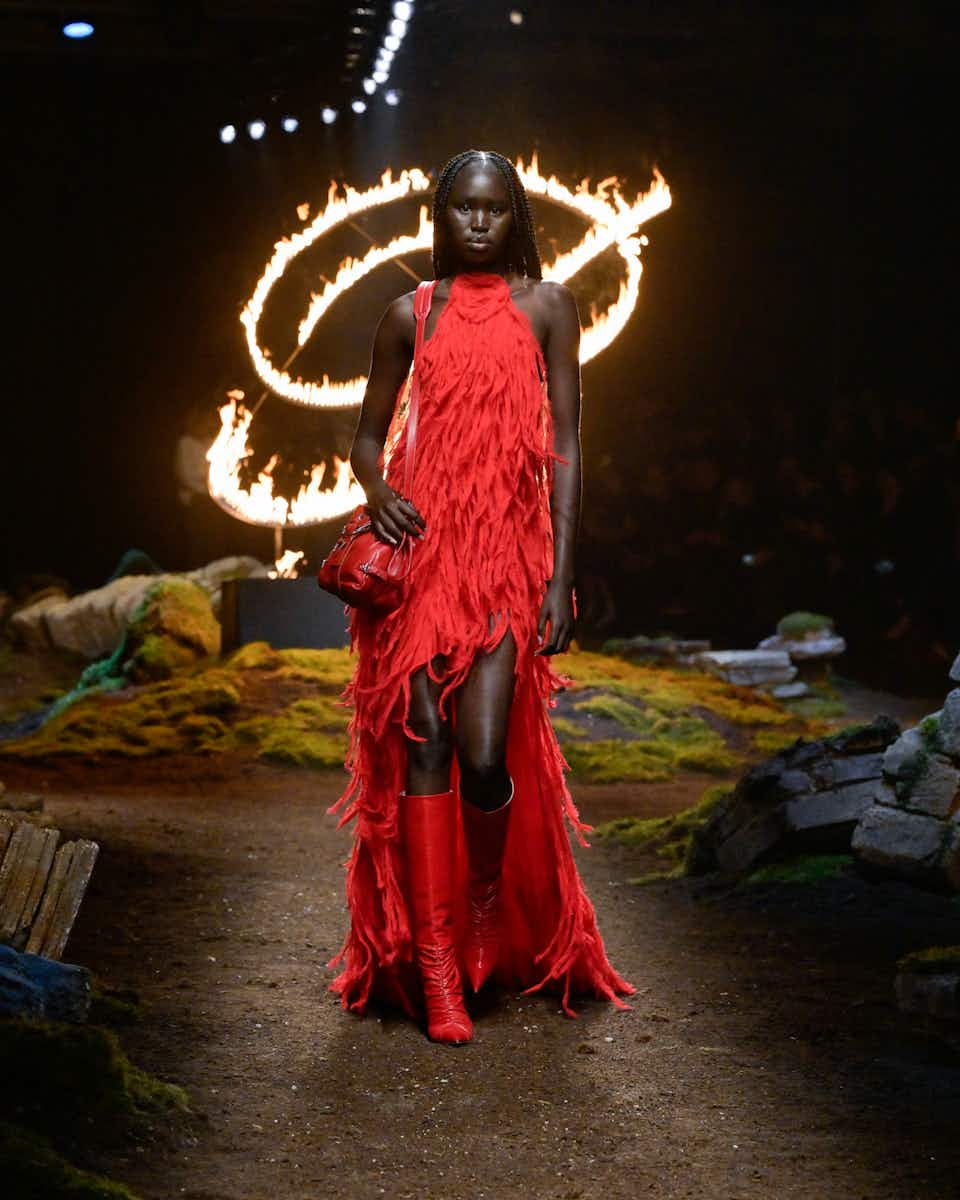 What?
Miuccia Prada and Raf Simons' AW23 collection which took place at the Fondazione Prada, this time set within a brutalist, grey concrete block (a reiteration of the décor of the January menswear show) complete with structural pillars and a mechanical ceiling which had guests looking up when it raised during the show to reveal white lilies which clung to the top of each pillar.
What did it smell like?
What do hundreds of fresh lilies smell like? Sweet, fresh, familiar and clean – words which also feel relevant when describing the clothes within this collection.
Who was there?
Little Simz, Maya Hawke, Emma Roberts and Charli D'Amelio sat front row, as did Prada favourite Hunter Schafer, who was later seen excitedly hugging Raf and Mrs Prada backstage.
What about the clothes?
It's no secret that both Simons and Prada love uniforms, and their endless appeal is nothing new. It's something that the design duo explored within their first collaborative collection for SS21. But while that collection was firmly footed around the idea of a ​"personal uniform" or the regiment of personal style, this one looks at real jobs, real lives and real politics, as Miuccia Prada pointed out backstage. ​"There is the notion in fashion that only glamour is important, I hate that, I have always fought against that," she continued. From the crispness of nurses uniforms to the ceremonial aspects of wedding attire, and the familiarity and protection of a wool duffle coat (perhaps once slung over a school uniform), it was a collection grounded by reality which seeked, and succeeded, to find the beauty in the banal.
In a song:
The Kinks – I Go to Sleep
In two words:
Quiet luxury.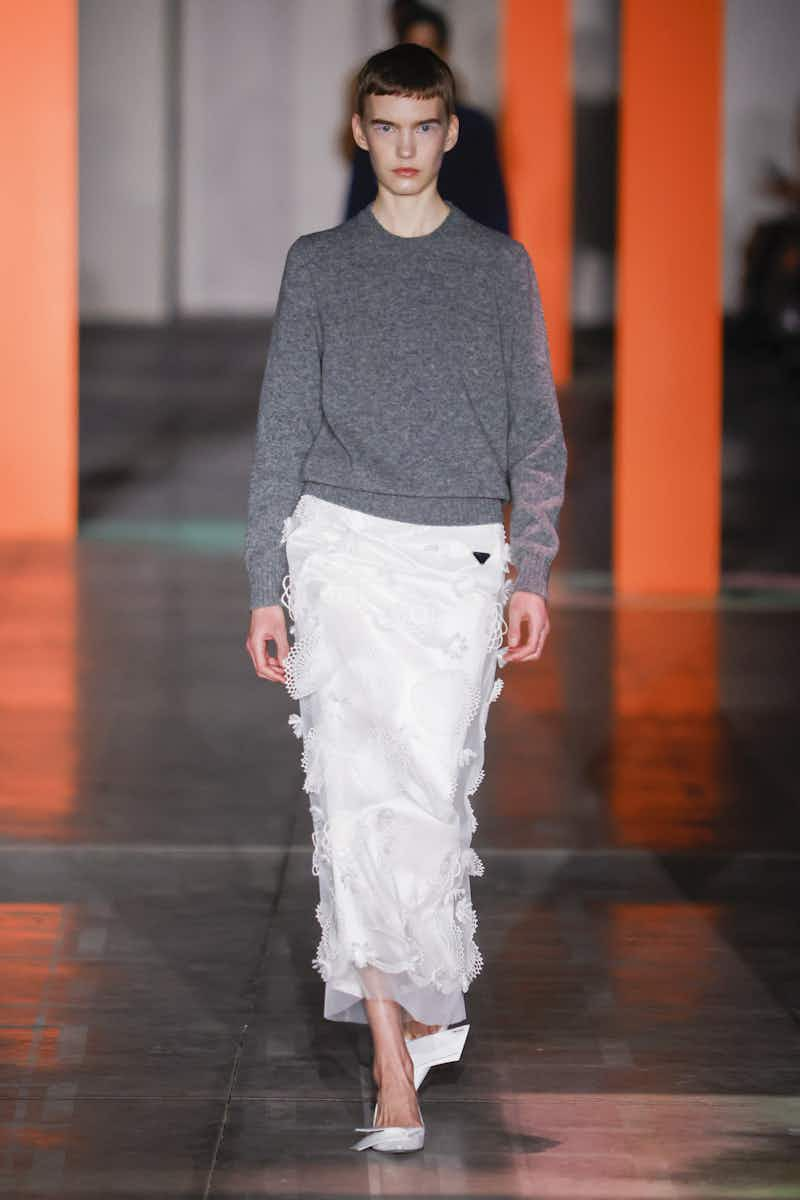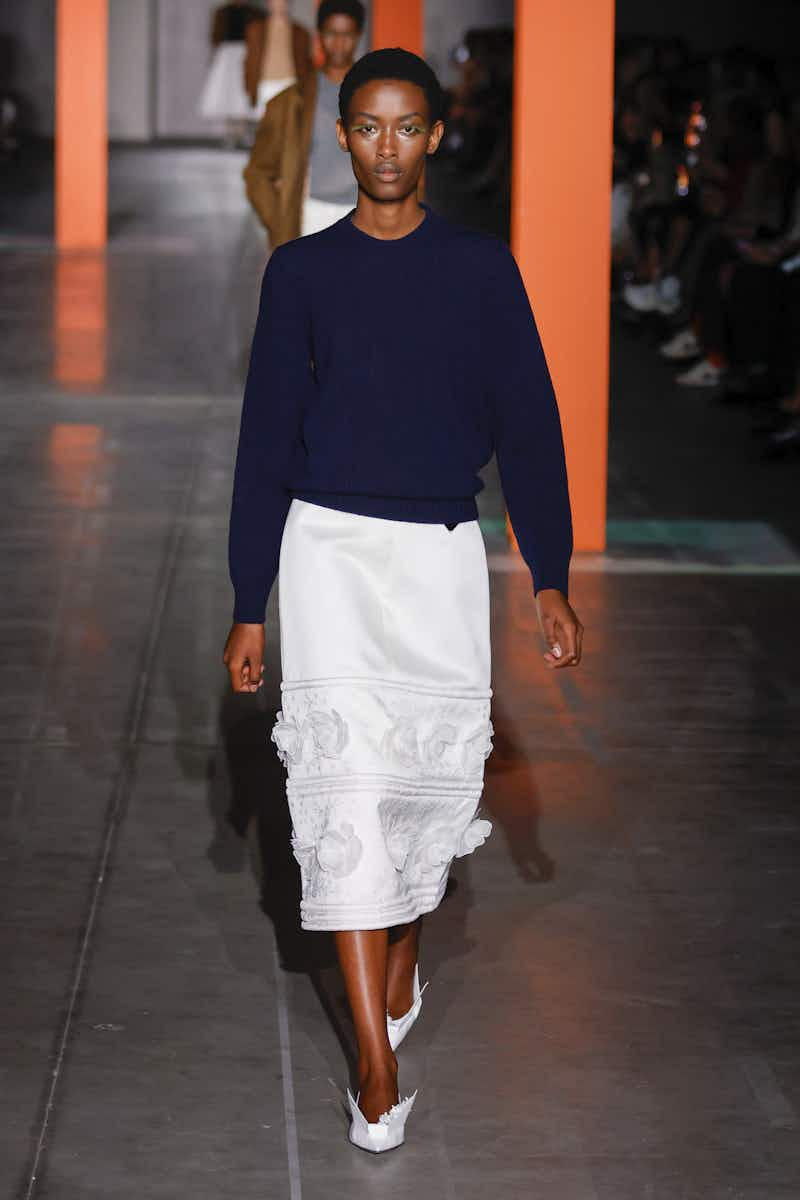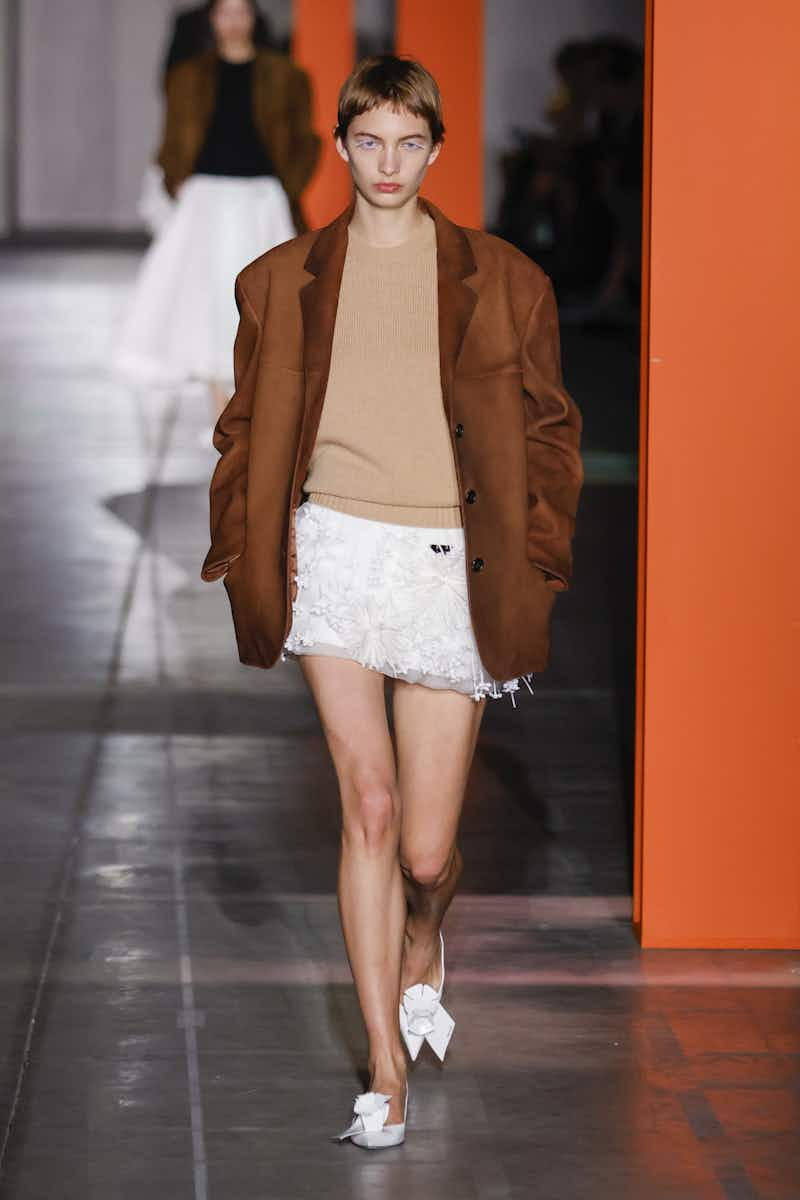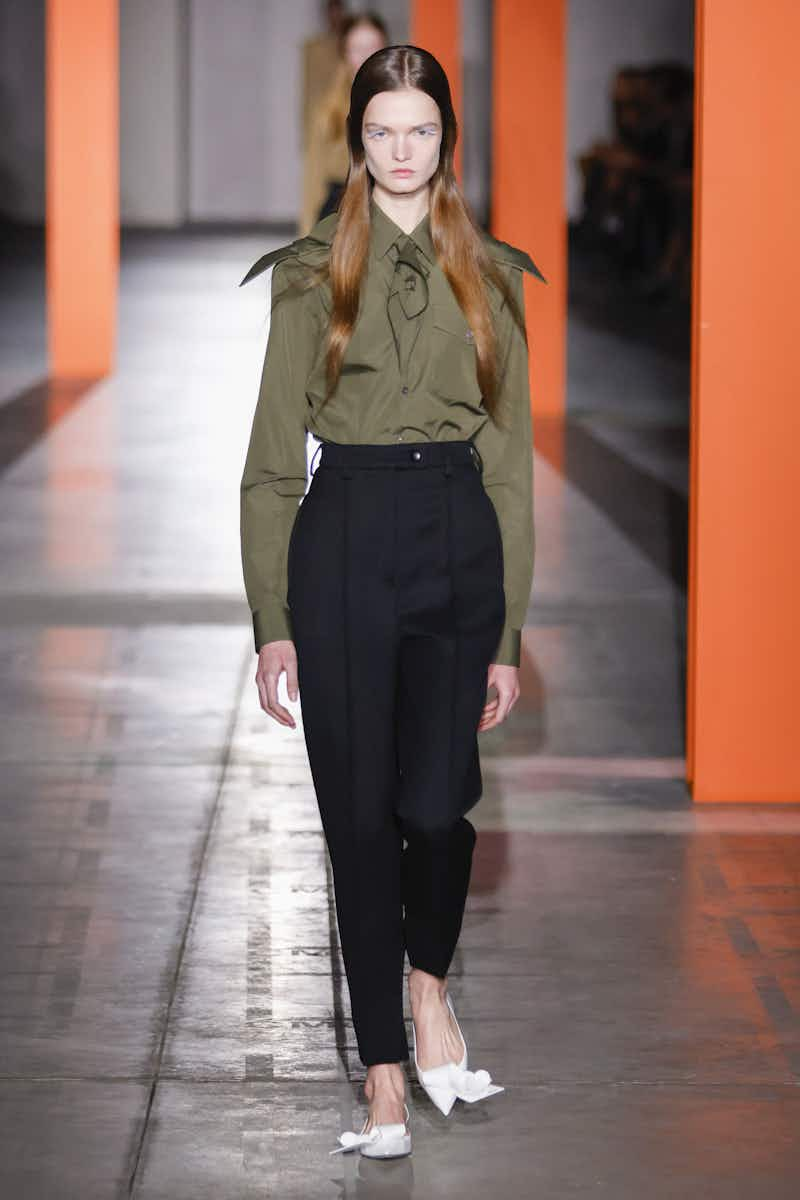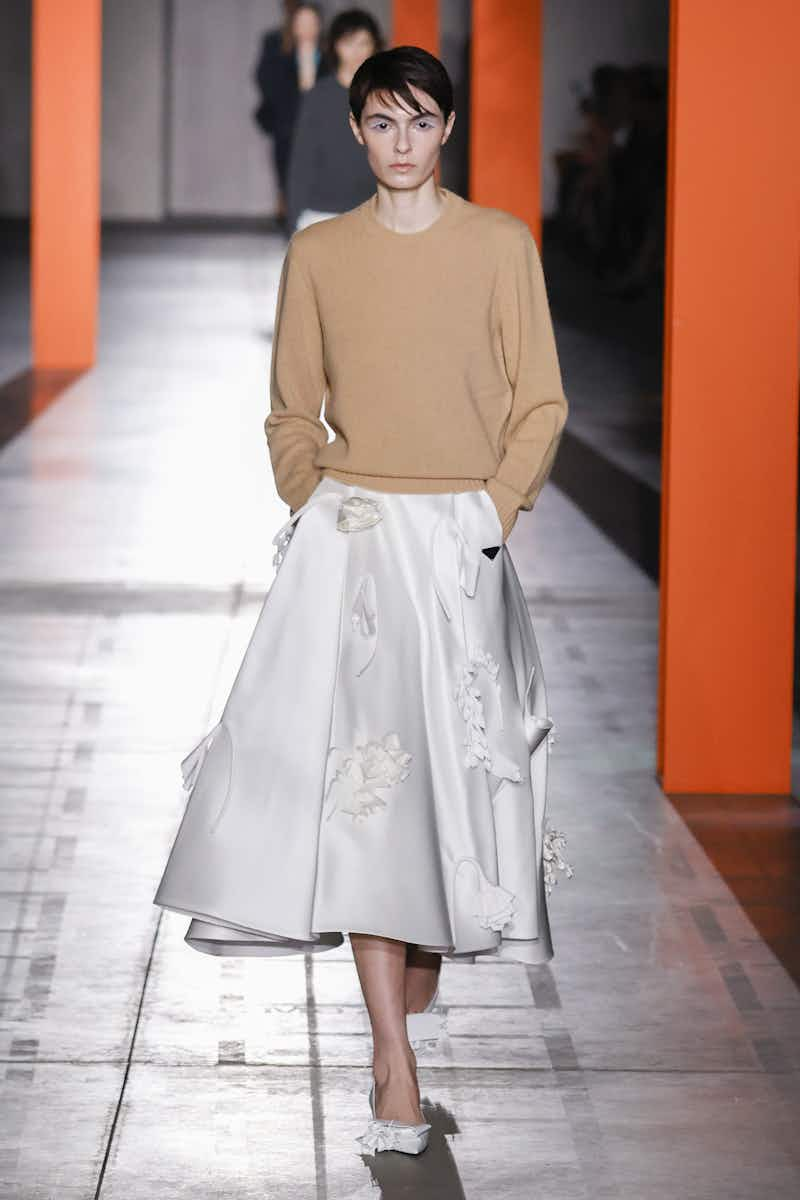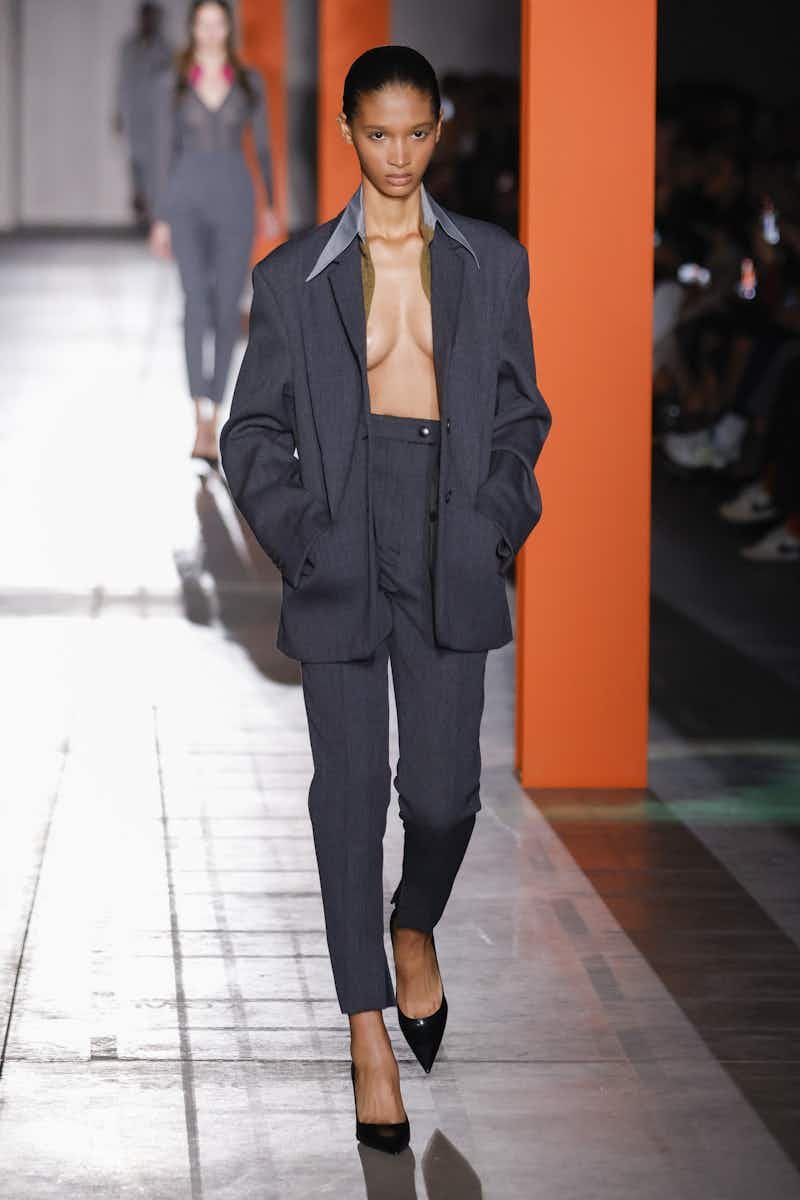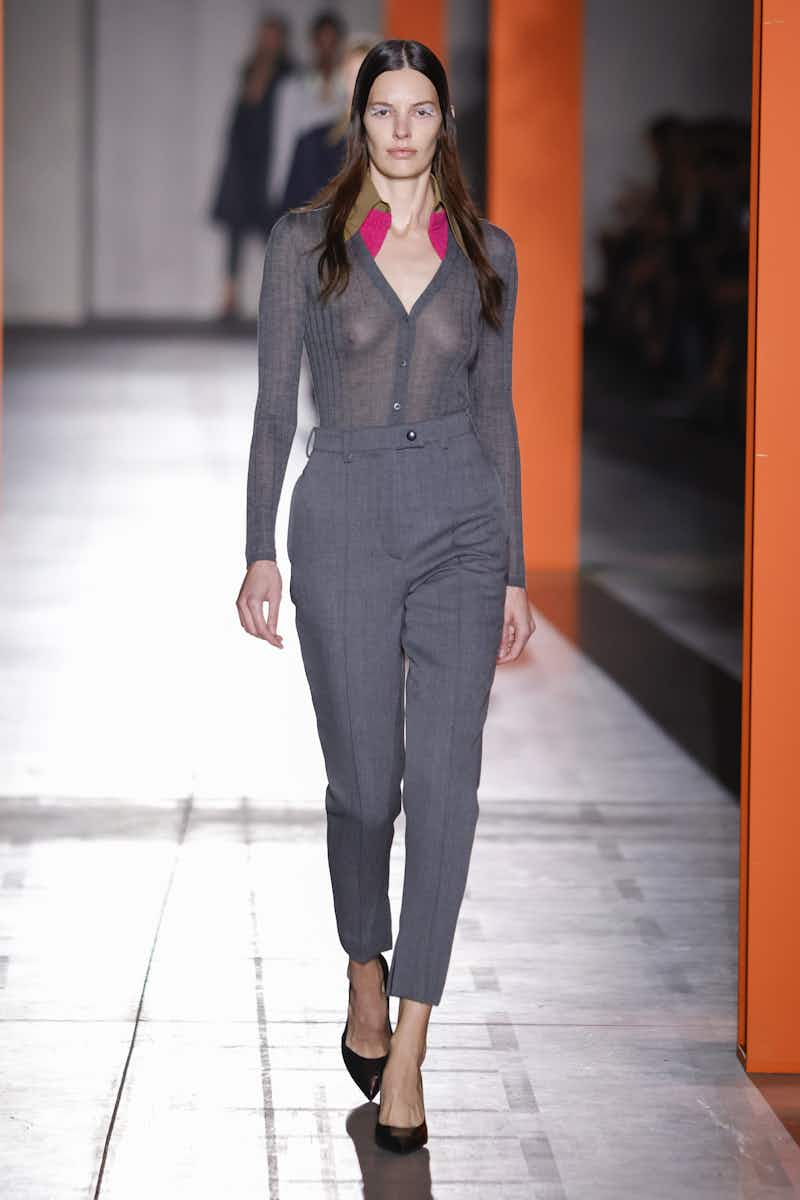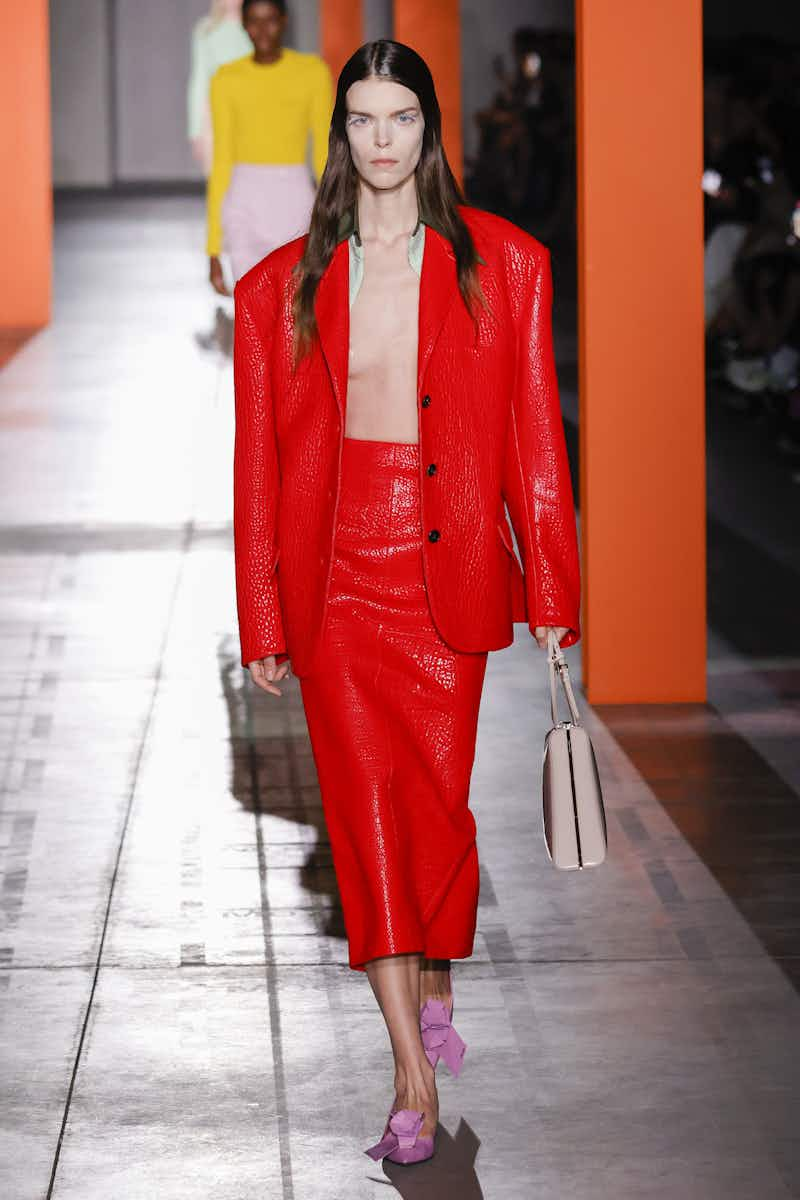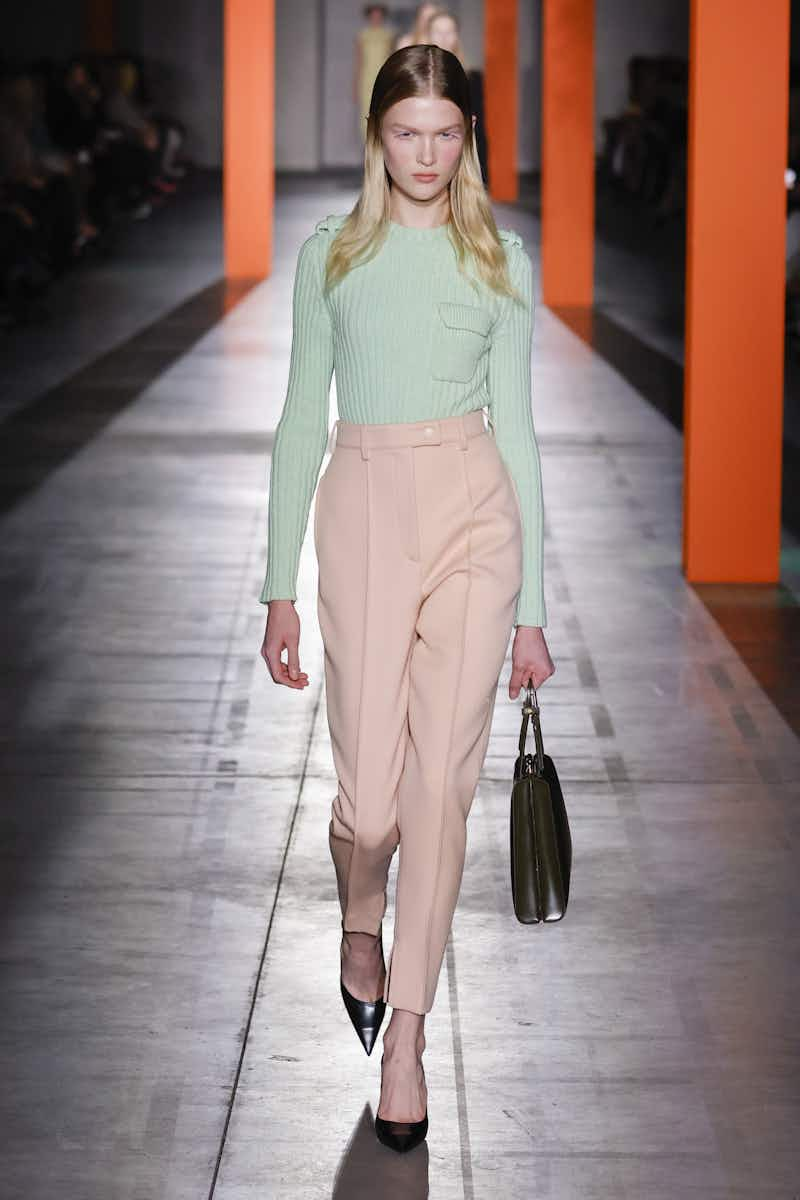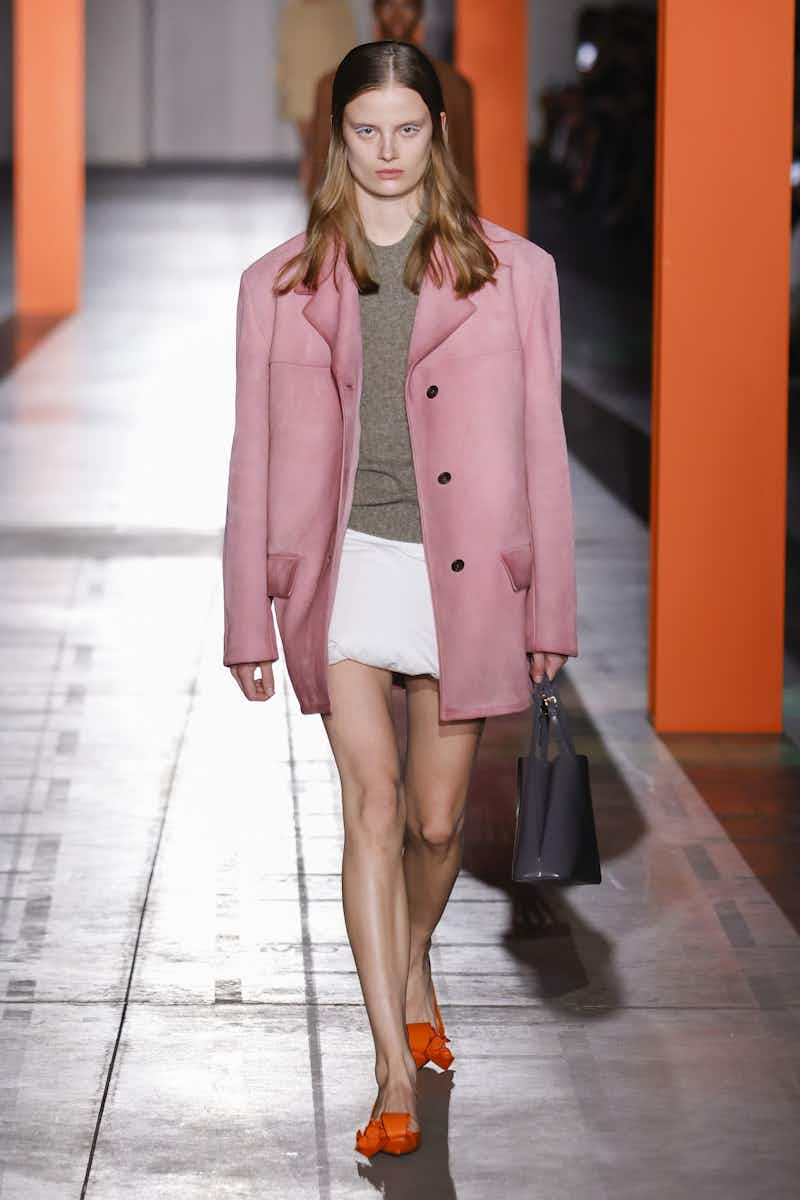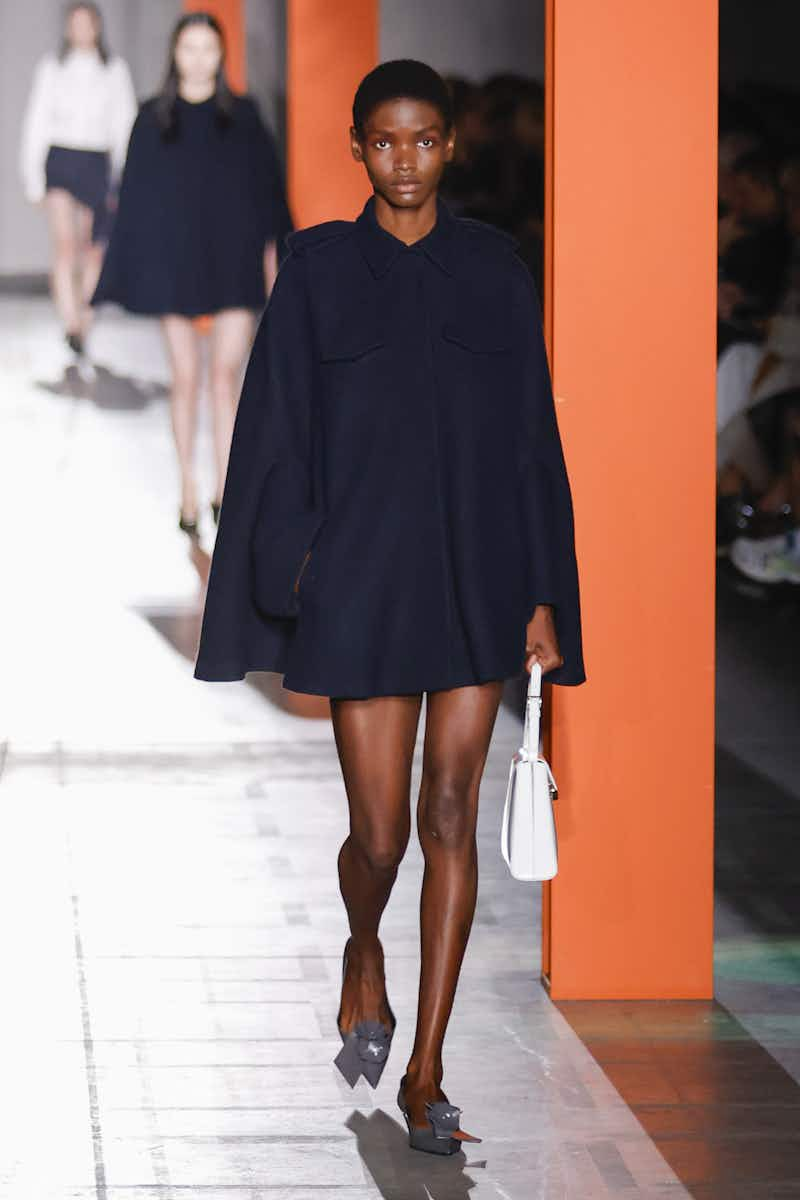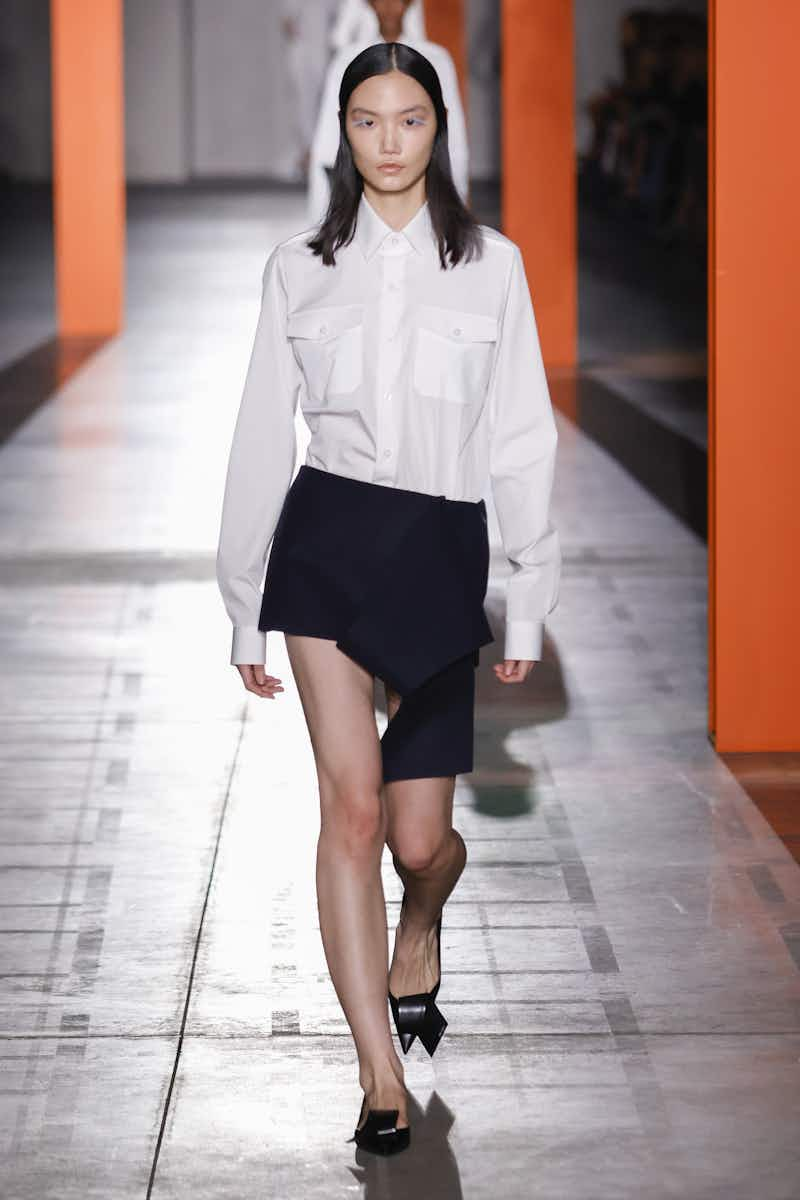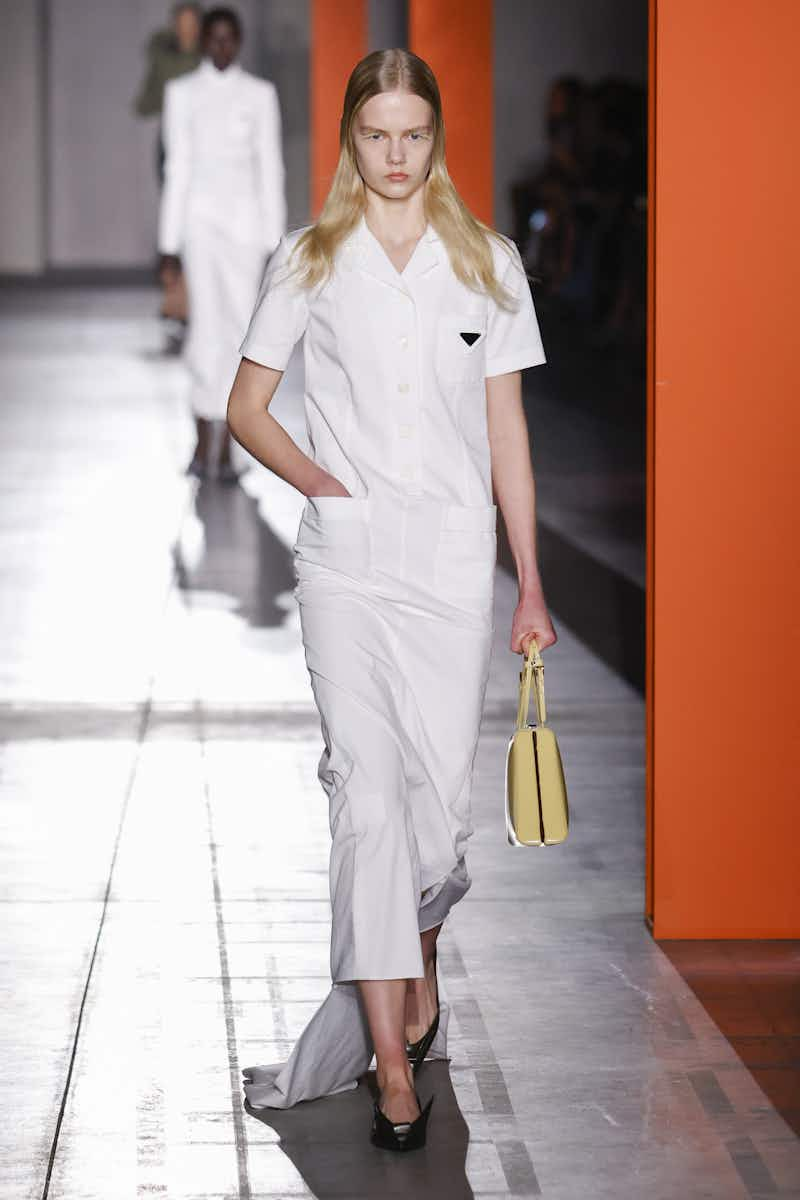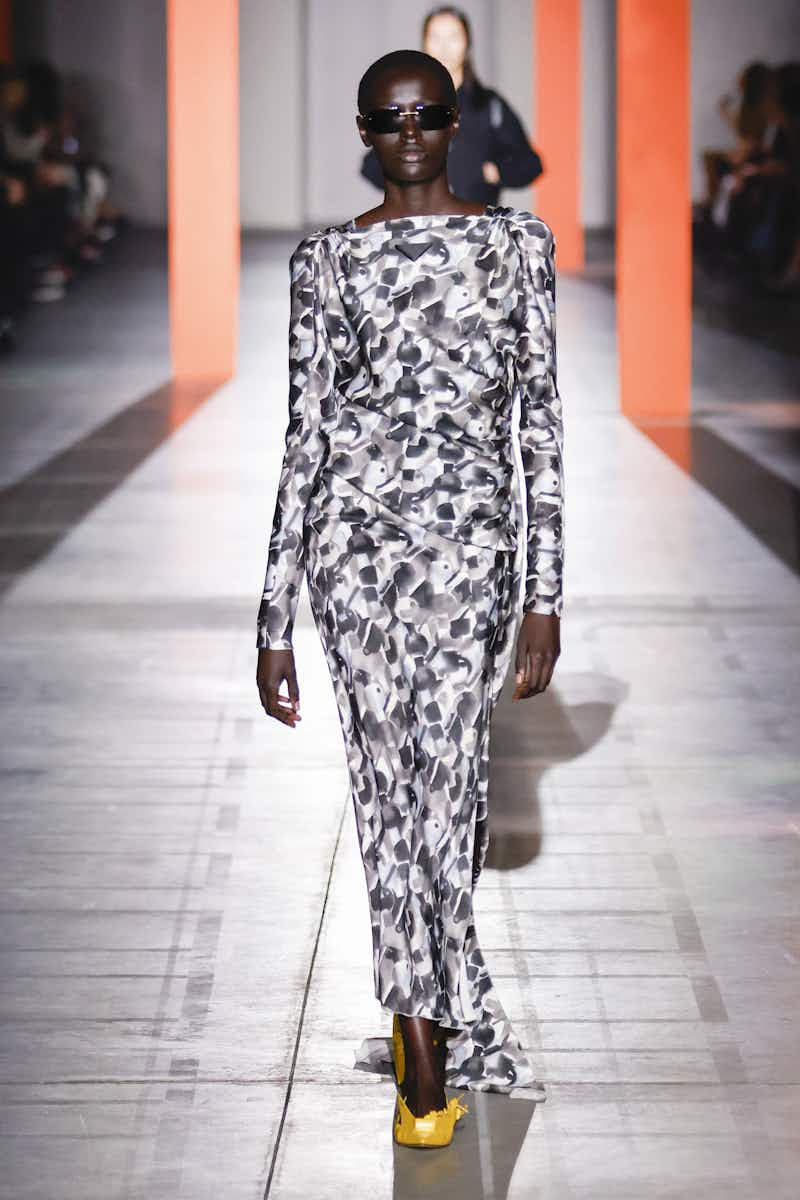 What?
MM6 Maison Margiela's tearing up of the traditional fashion week formula, true to the Parisian fashion house's rebellious spirit, and the ​"deconstruct to reconstruct" ethos which saw Martin Margiela himself rise to fame.

How did it work?
The show's backstage area – an often chaotic space usually used for dressing and styling models pre-show – was exposed to the audience who sat watching each individual's look come together before they walked the runway, demonstrating the process, consideration and attention to detail that goes into the collection and the production of a show.
What about the clothes?
Silhouettes were supersized: baggy trousers, long loose overcoats, jumpers with extra long sleeves peeking beneath. It's the kind of wardrobe that's comfy to slip into, but looks effortlessly cool. It's real, refreshing and wearable. And if editors and trend analysts are right about a collective return to timeless clothes that are built to last, then pop MM6 to the top of your shopping list.
In a song:
Lasgo – Something
In a word:
Realness.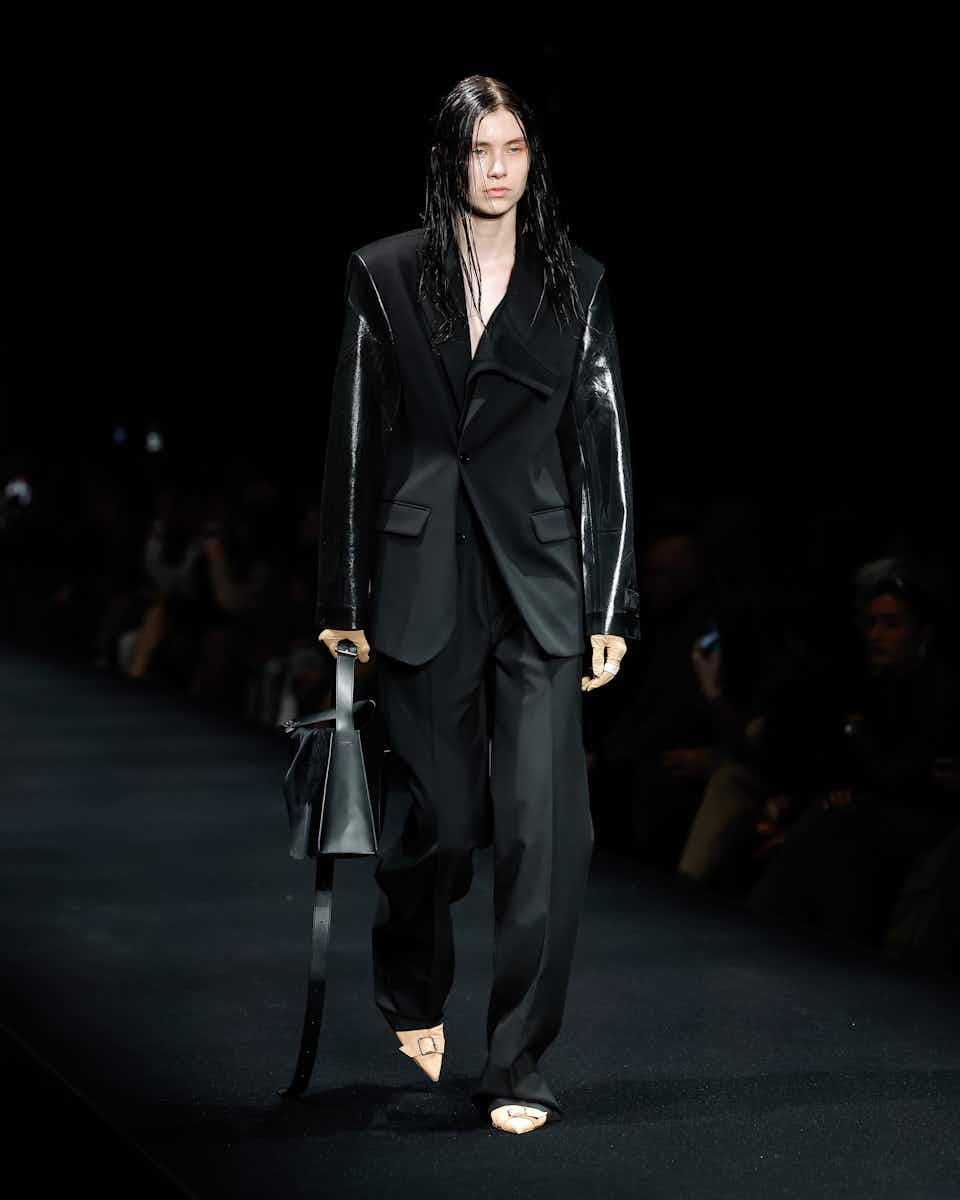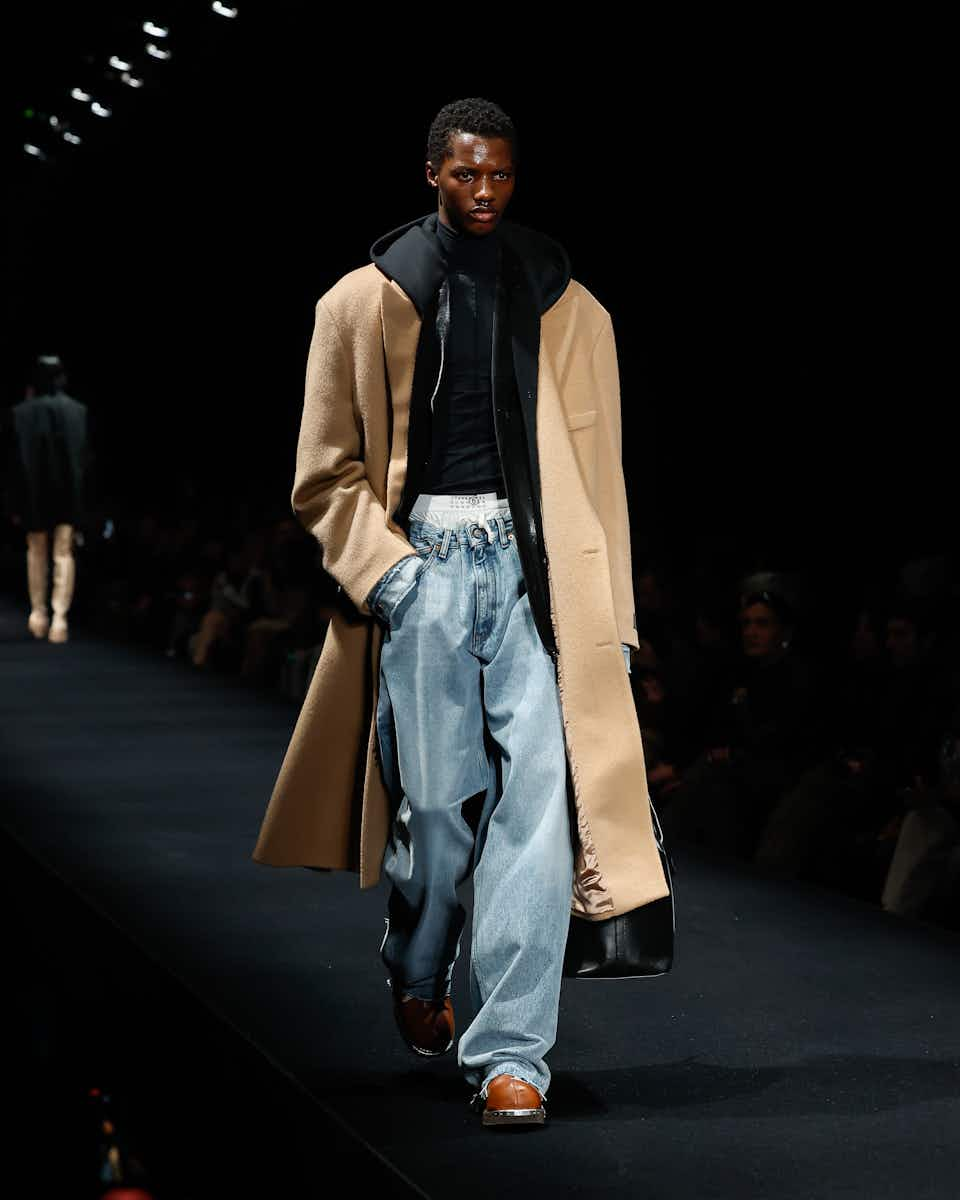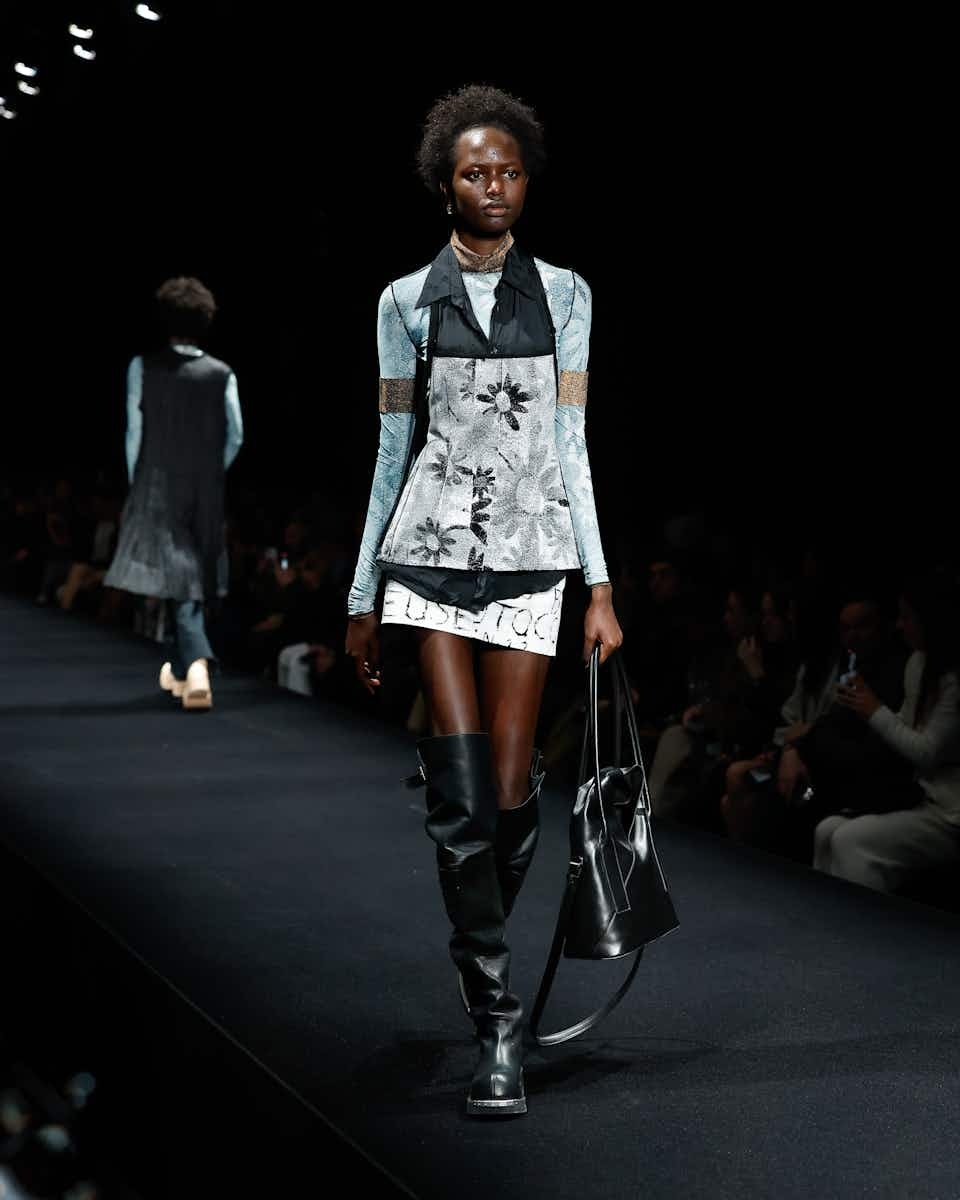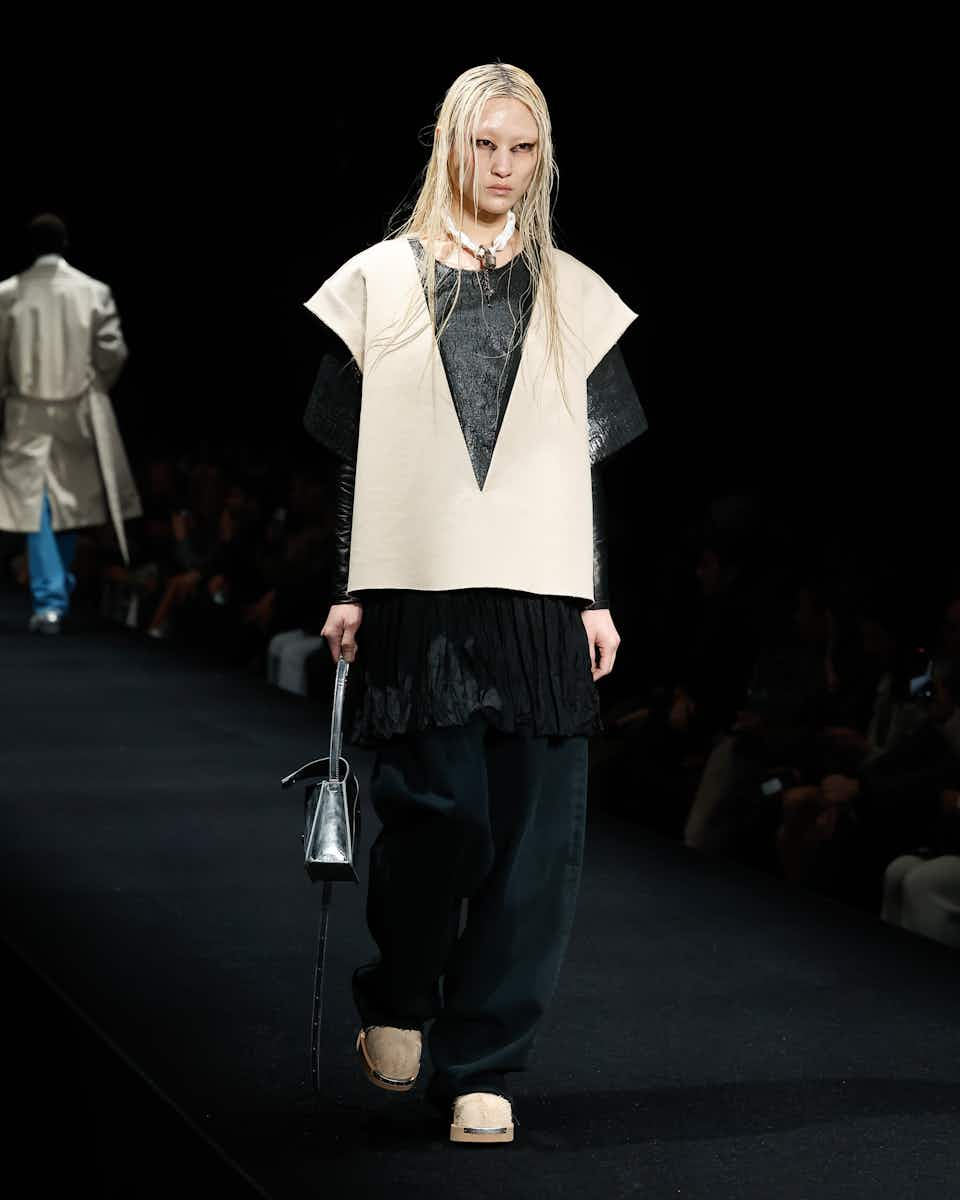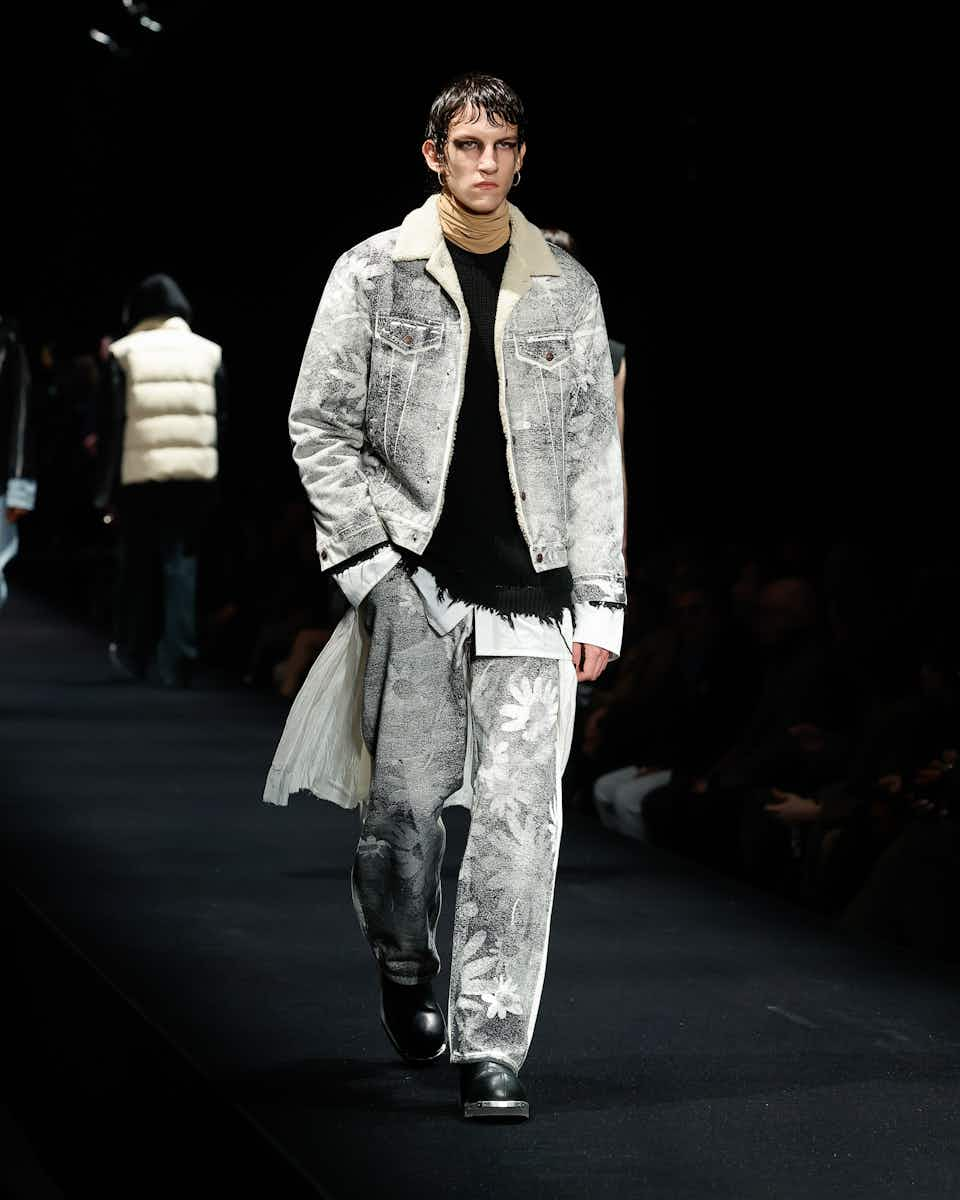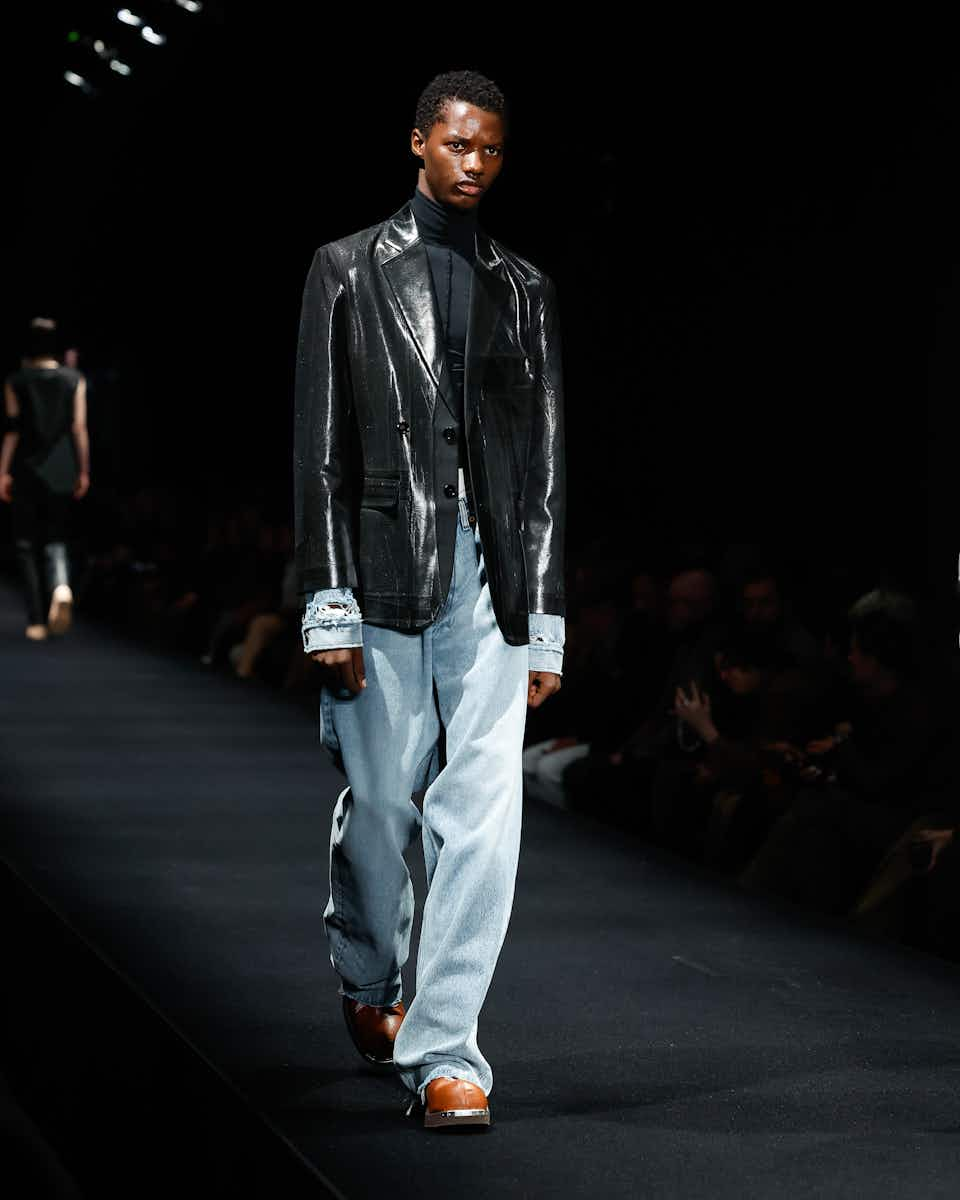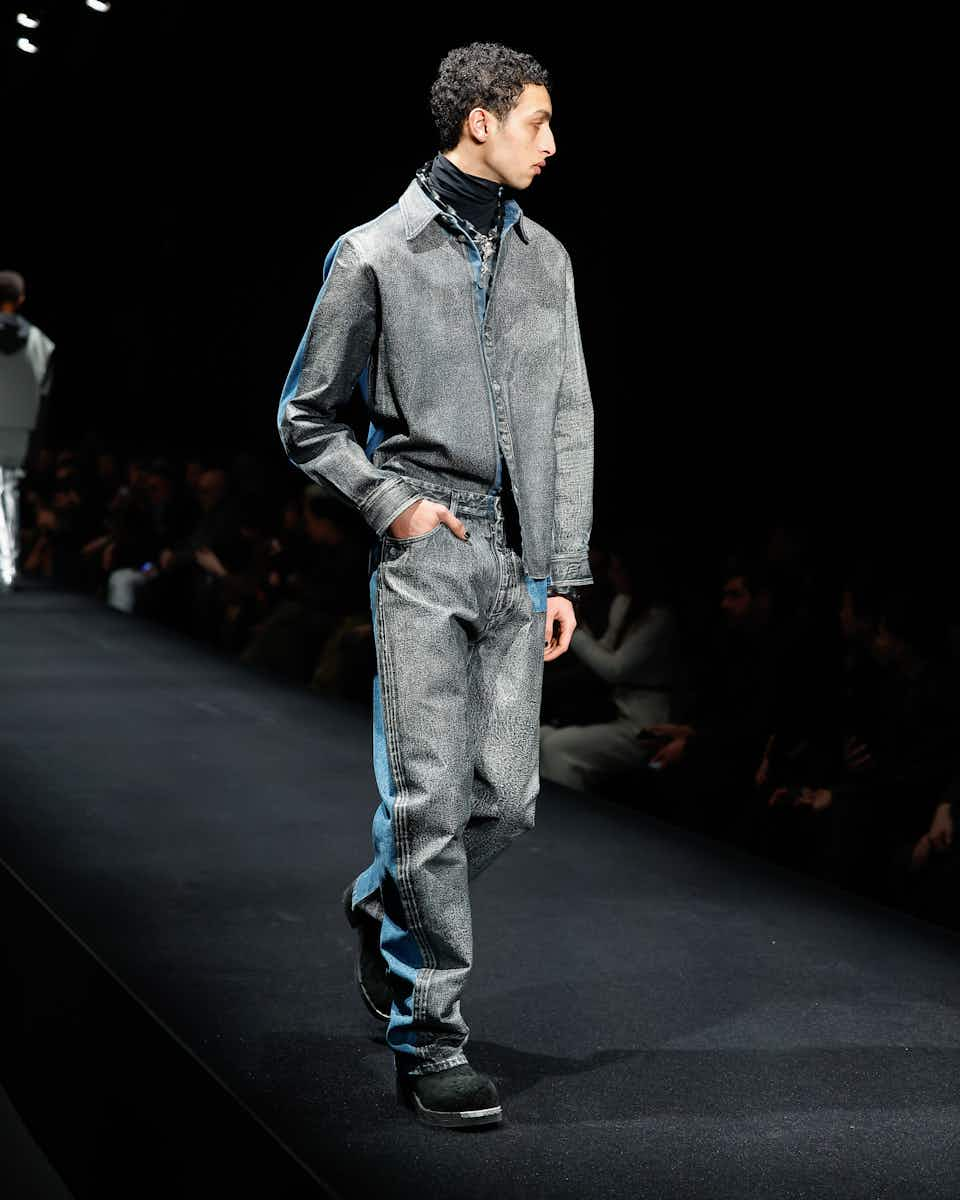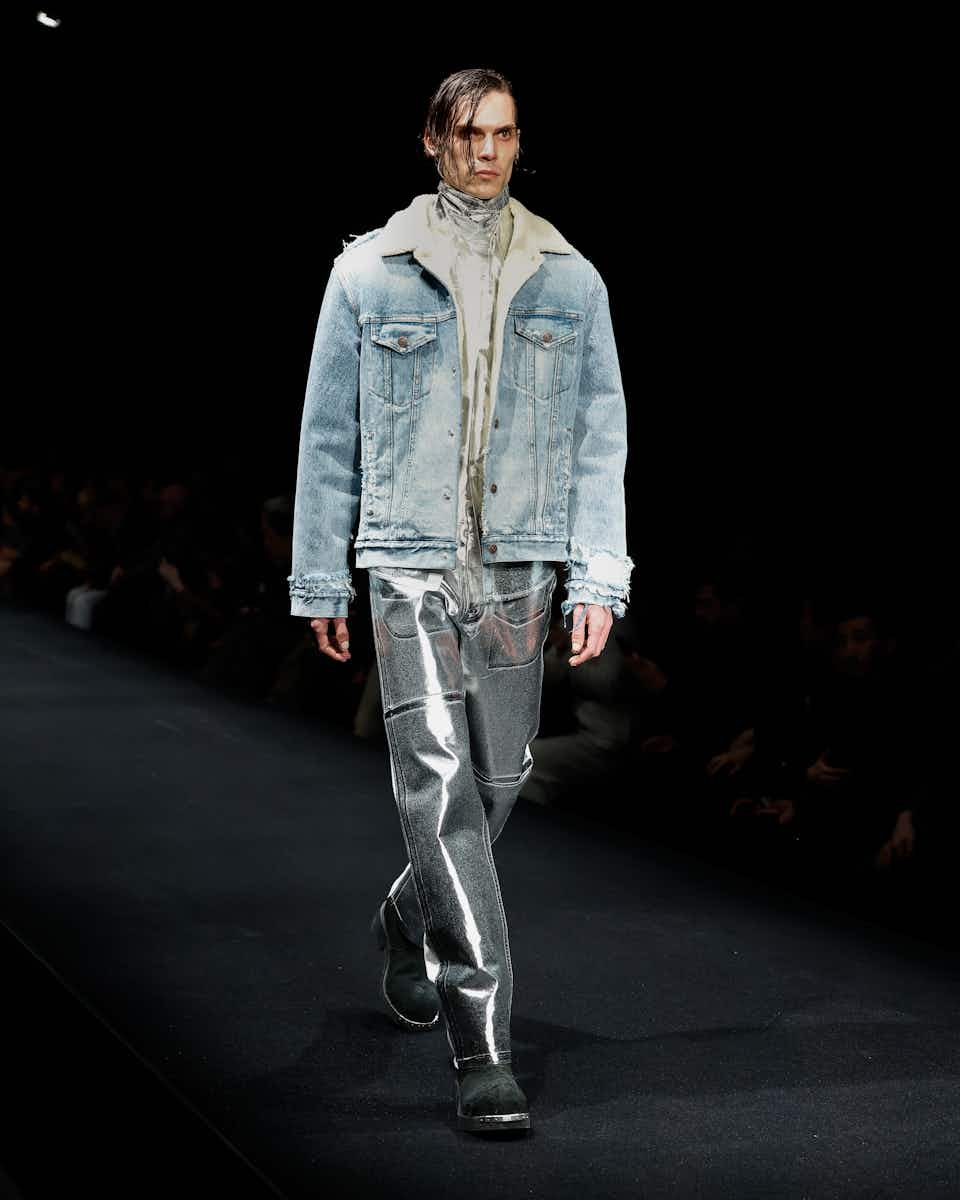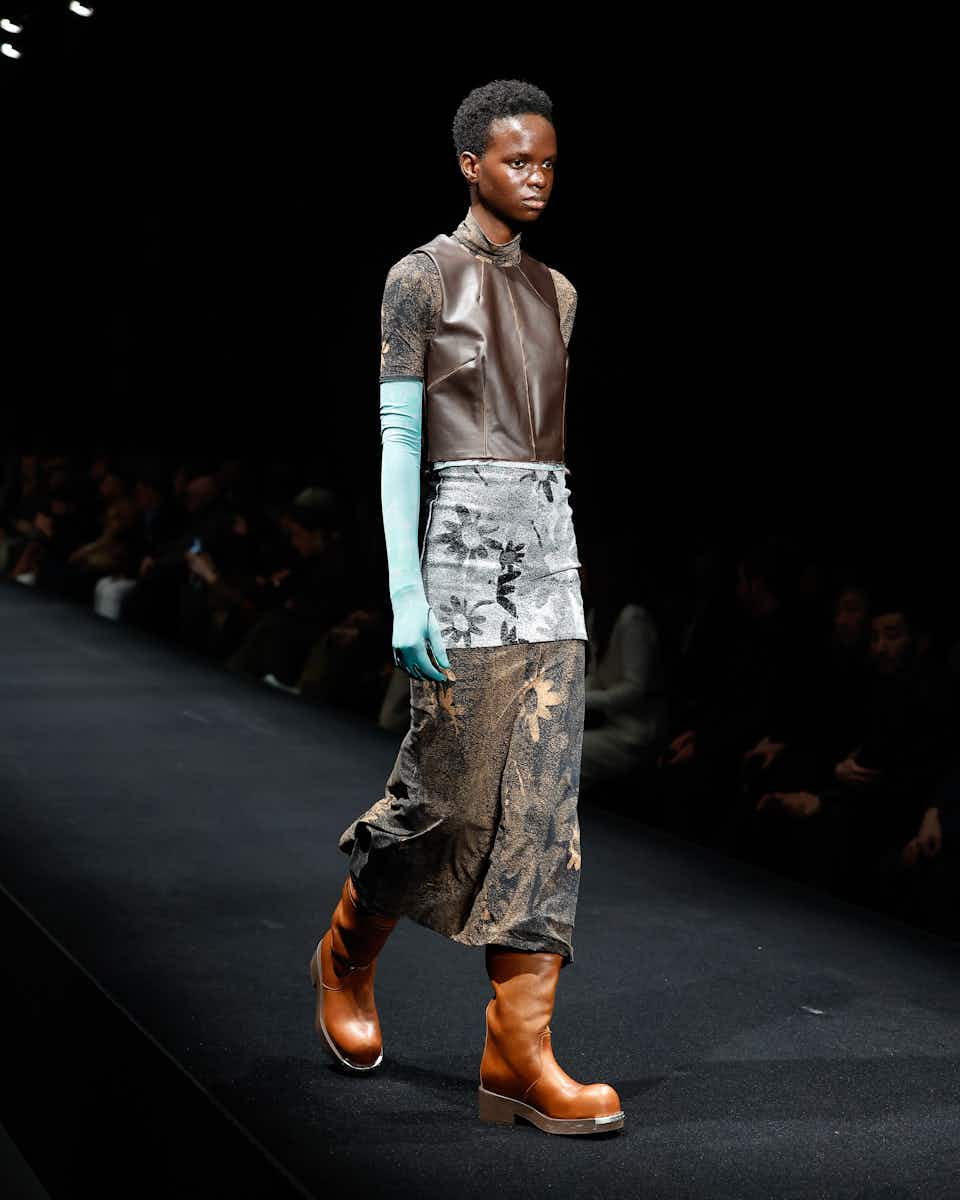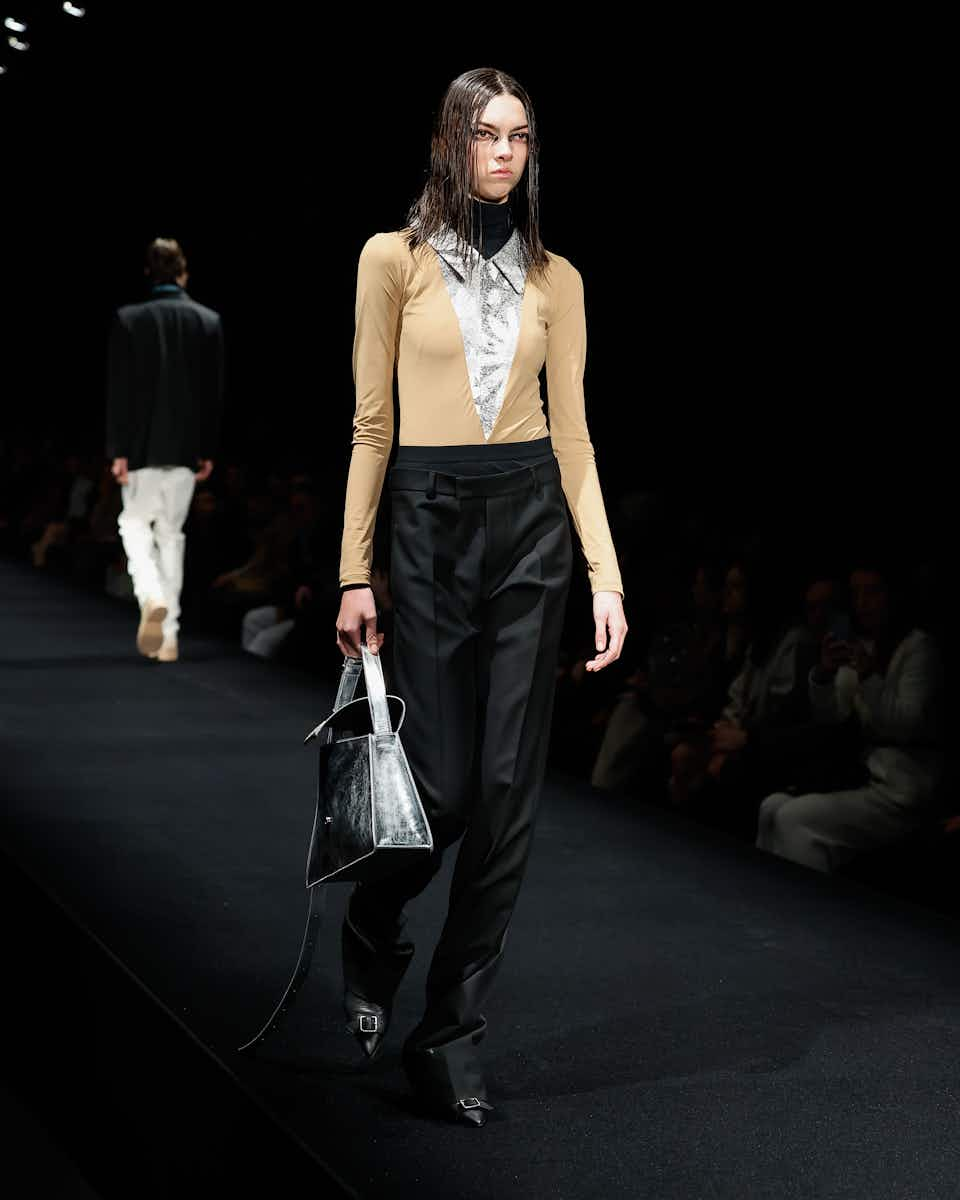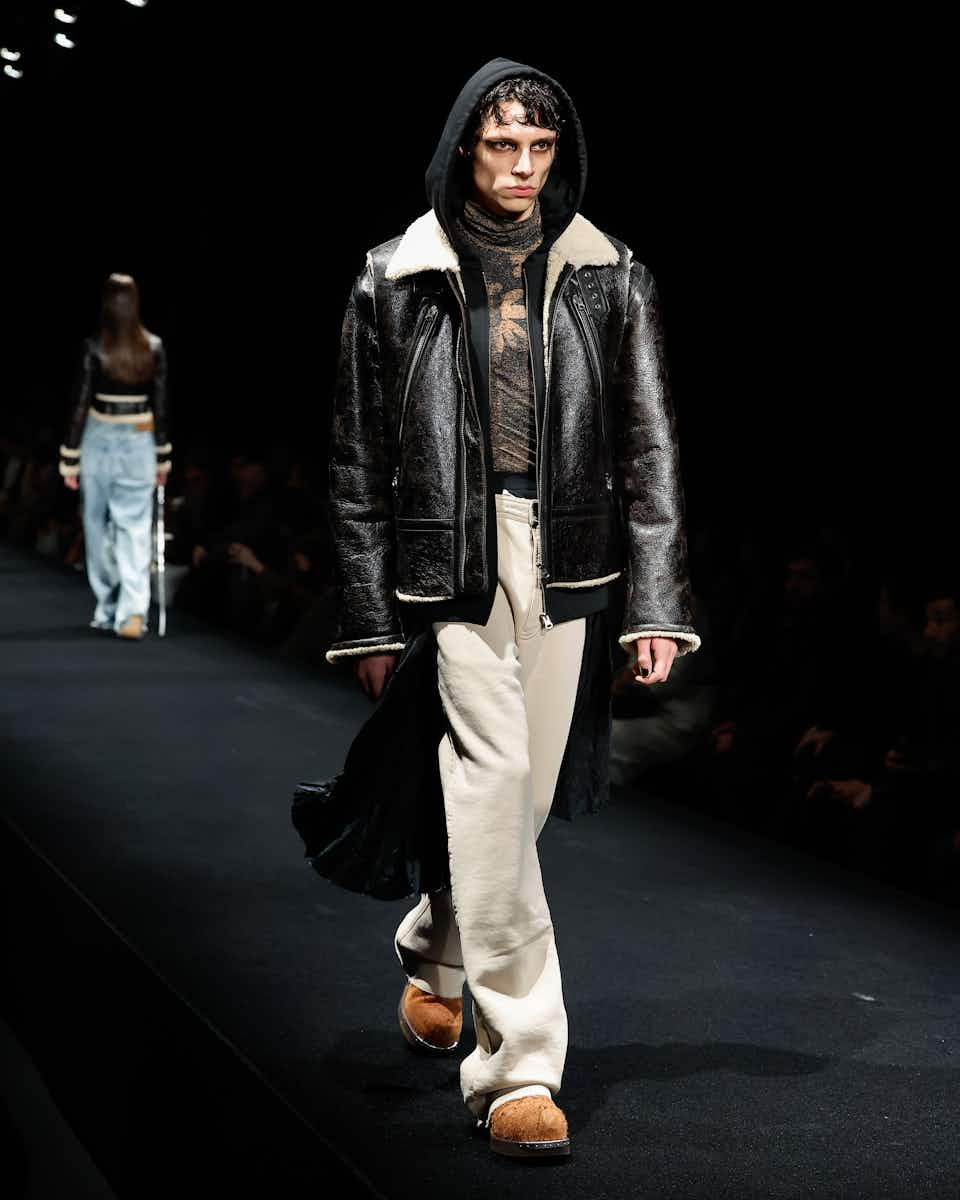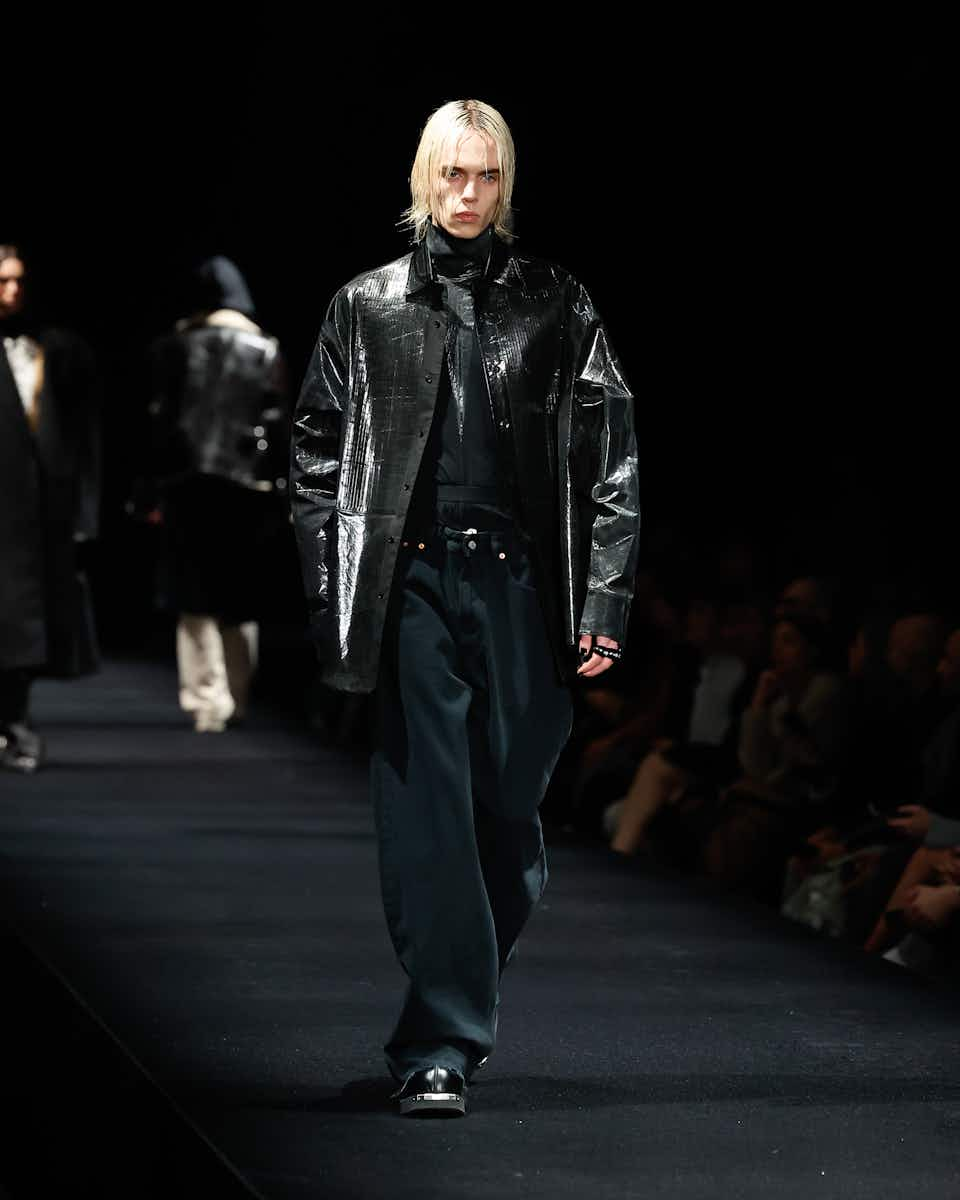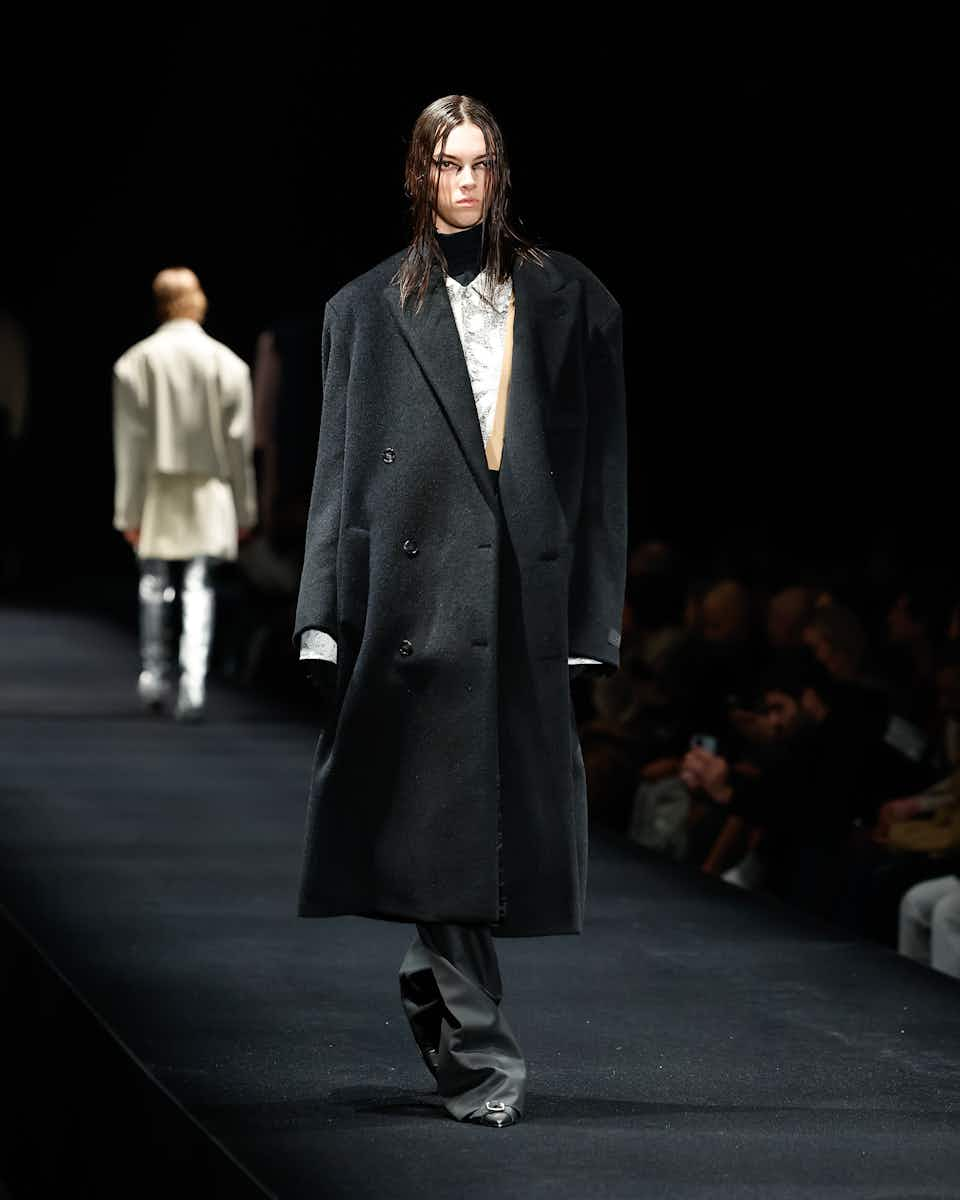 What?
Kim Jones' subtle subversion of the Italian house's tried and tested codes of luxury and sophistication, with an emphasis on self-expression and the nuances of personal style. The way that Delfina Delettrez Fendi wears the pieces in her own archive, and her love of blue and brown, proved to be a particular reference point for Jones this season, evident in both the colour palette and styling.
Where?
The show took place at Fendi's Milanese HQ on a long, tunnel-like runway illuminated by extreme beams of light, soundtracked by an arrangement of Lost Bliss by Chris & Cosey (Fanni Tutti).
What about the clothes?
Masculine tailoring and utilitarian pieces – like boiler suits and aprons – were juxtaposed with influences that felt a bit fetish: dresses overlaid with harness straps, silk slips with sheer lace panelling, shirts with lingerie details pressed into them and thigh-high lace-up boots with cut-out knees – destined to be a fan favourite when the collection hits stores.
Any stand out pieces?
A classic beige mac with a fully sequined lining that's surely made to be worn with barely anything beneath.
In a song:
Madonna – Ray of Light
In a word:
Swanky.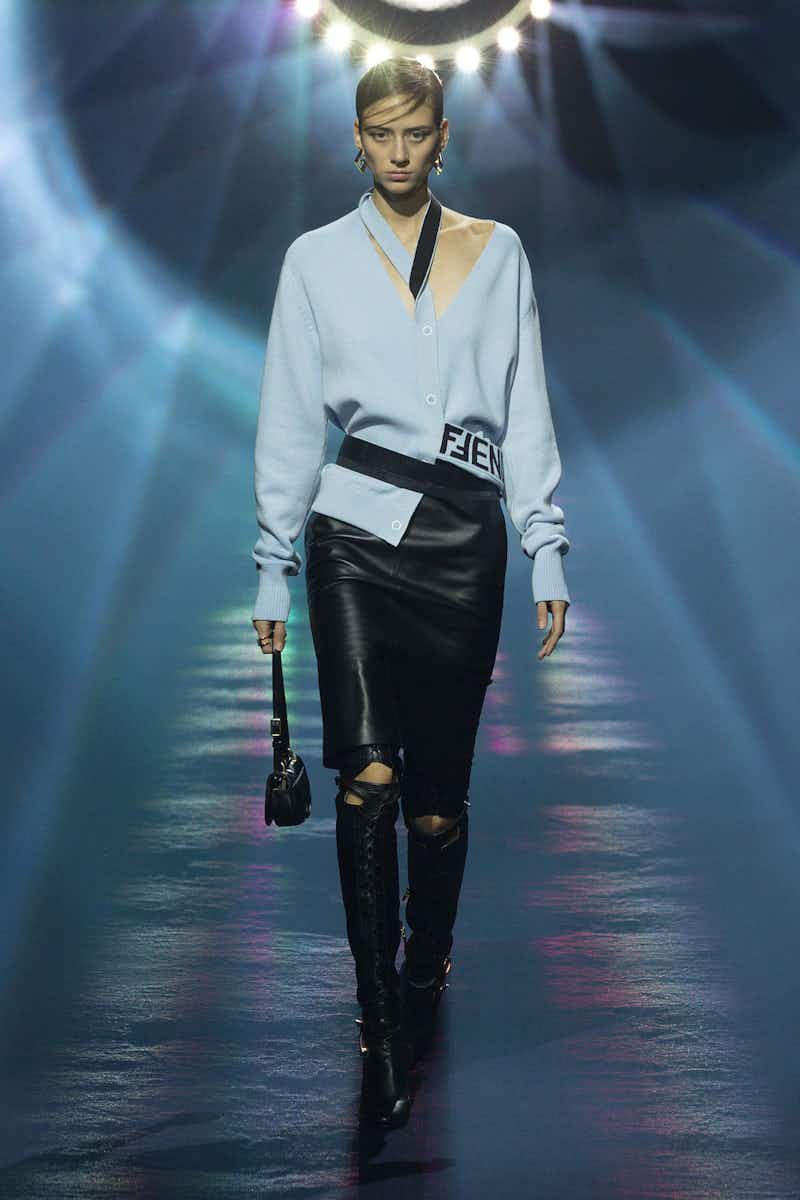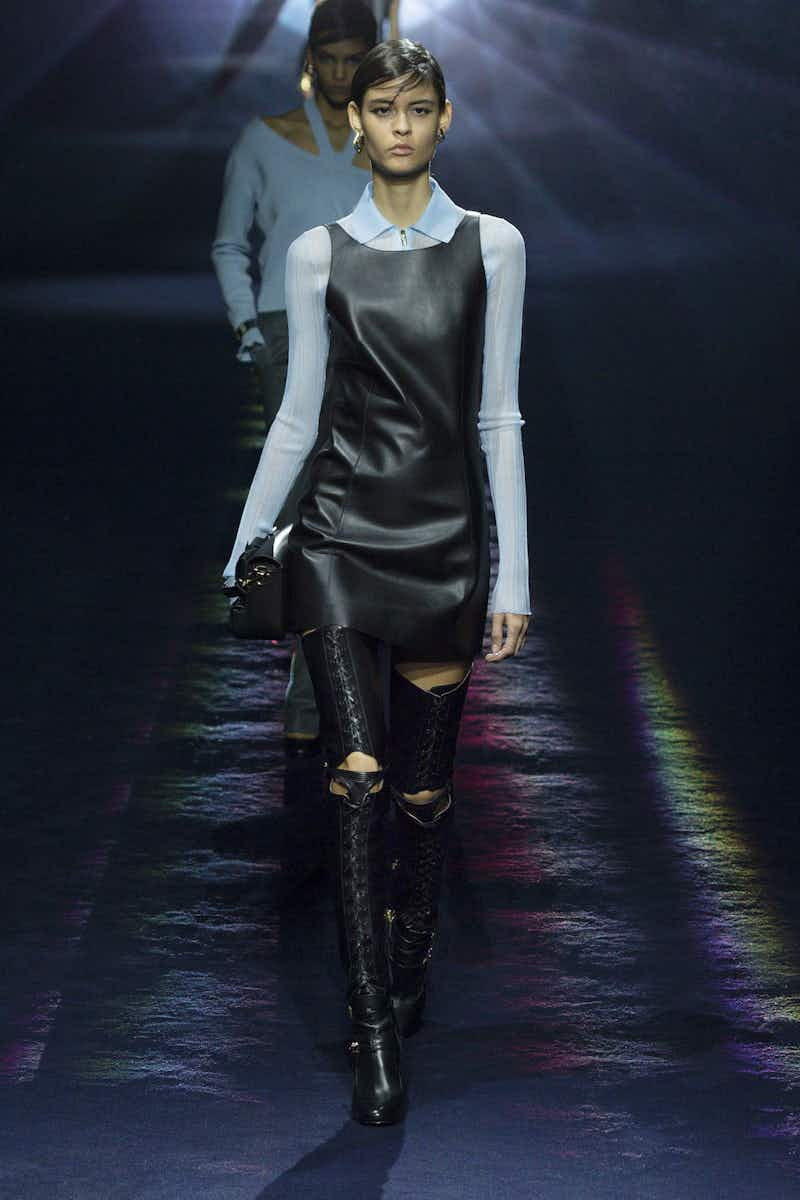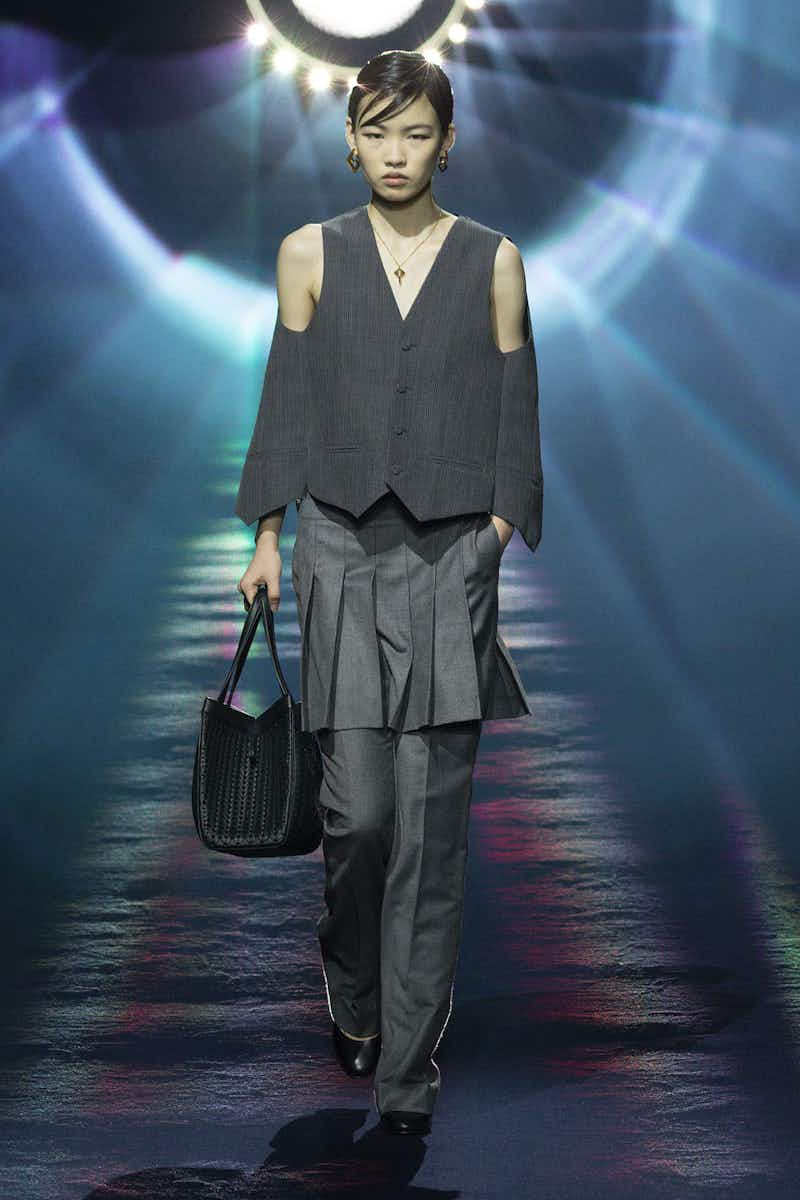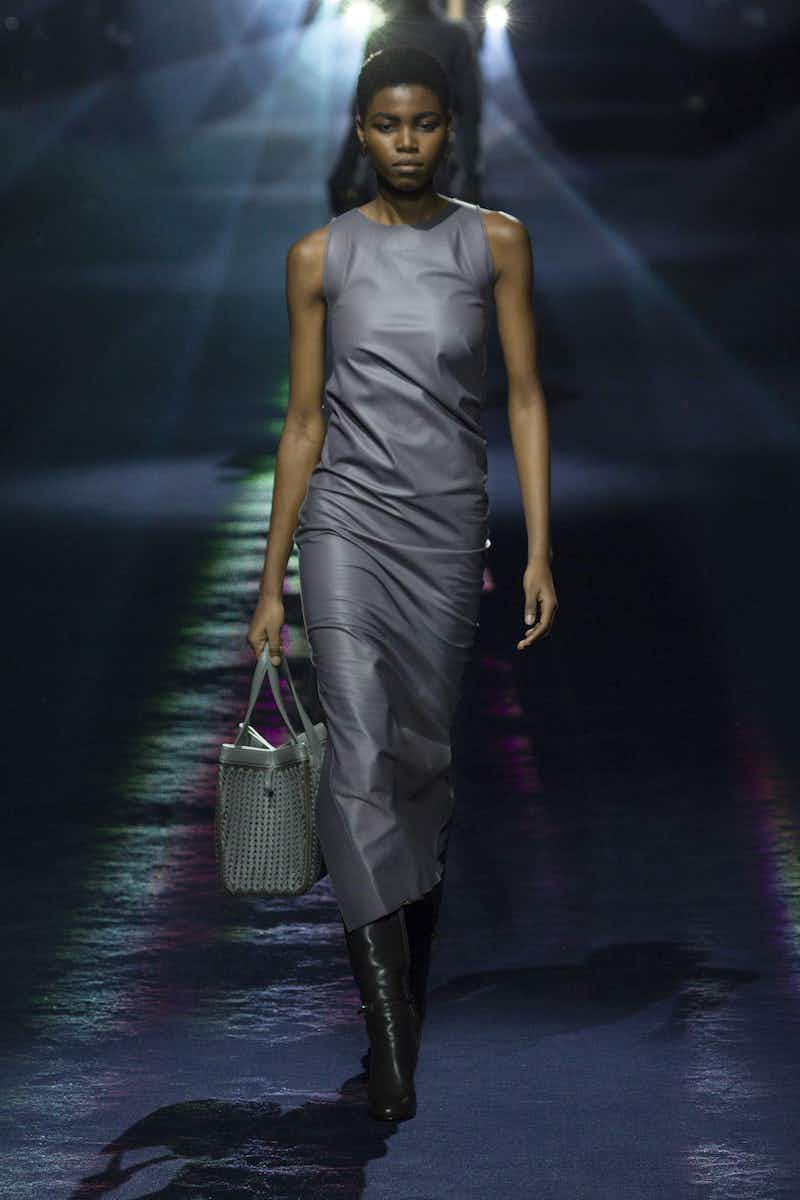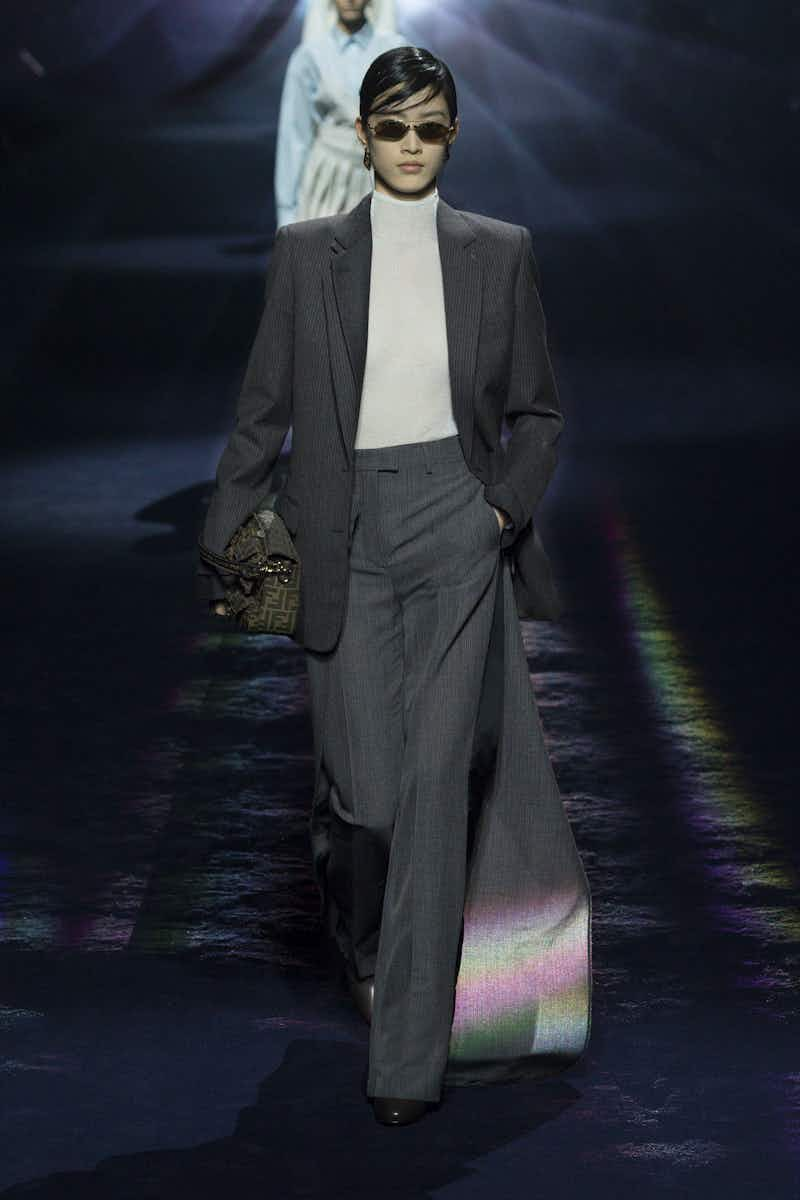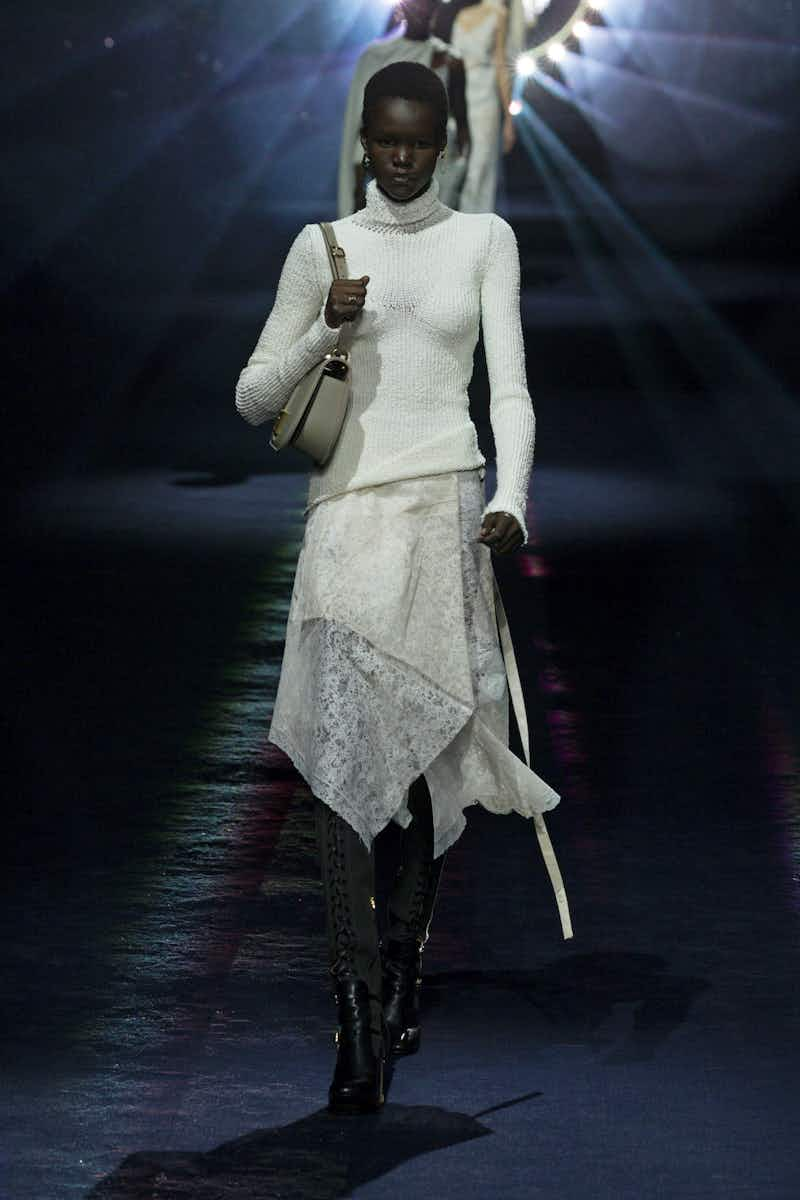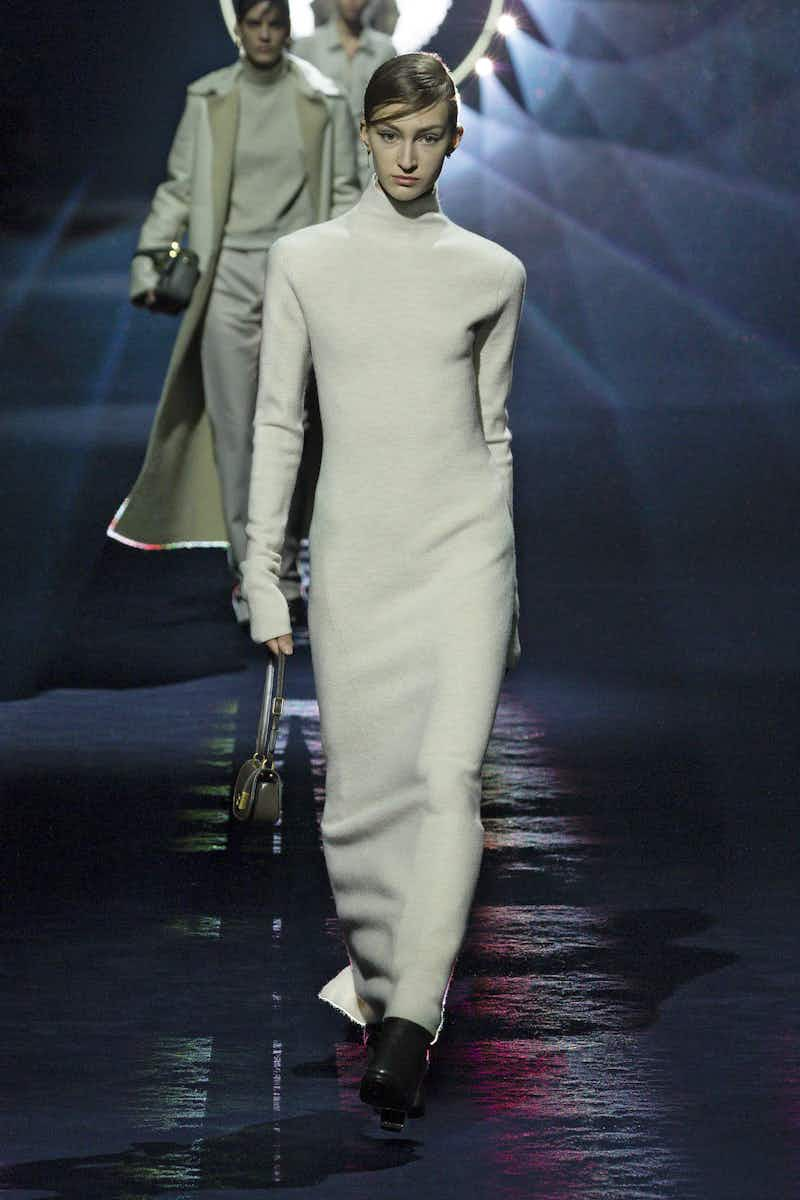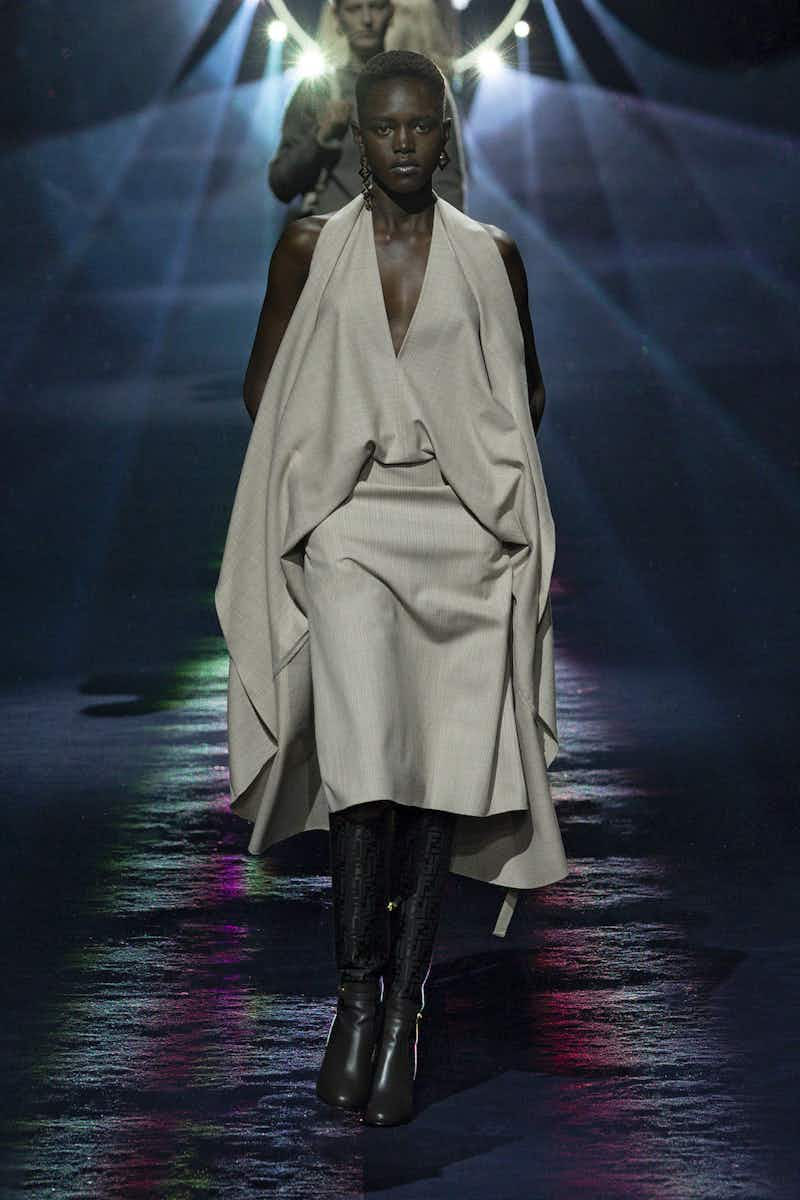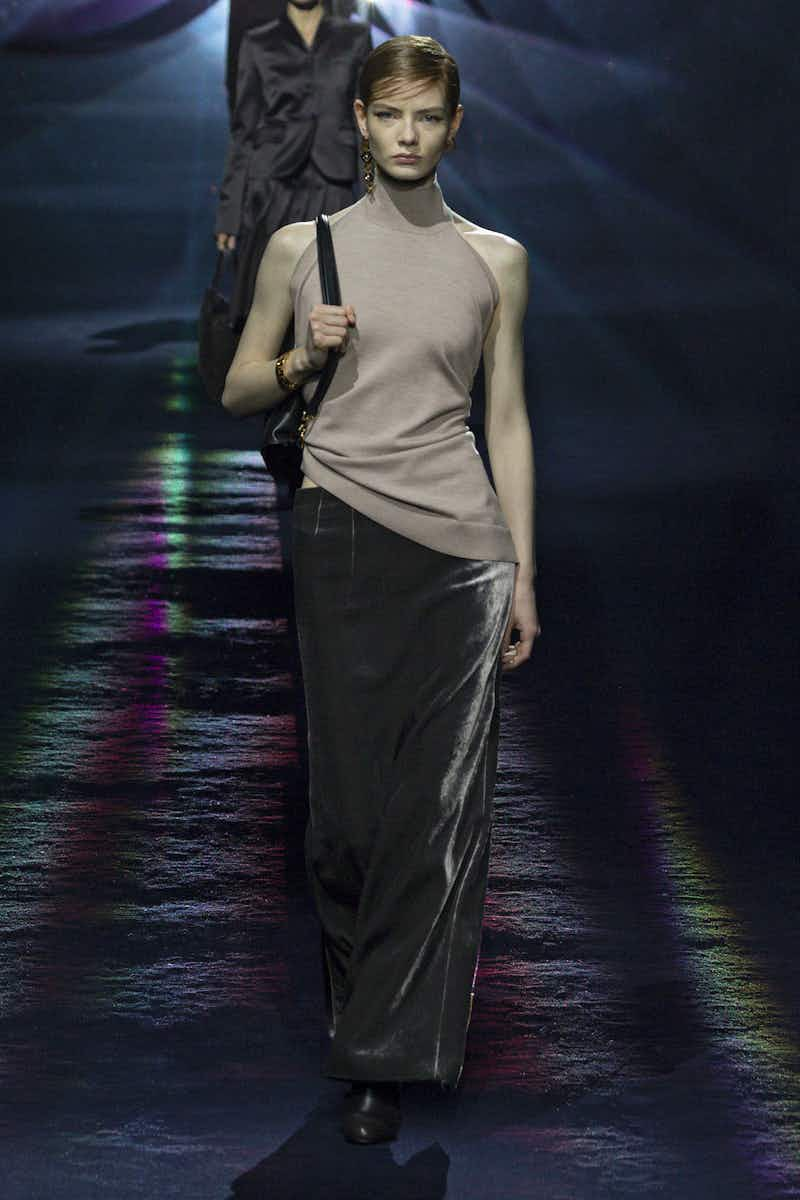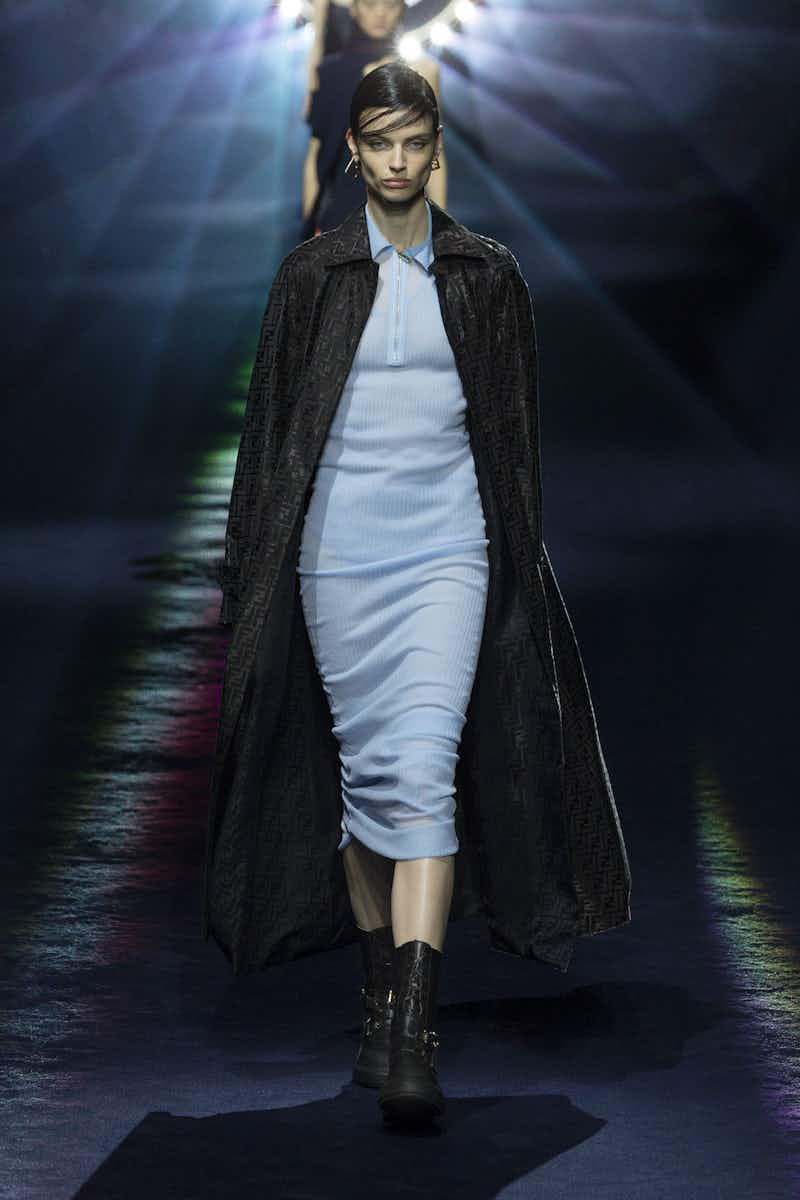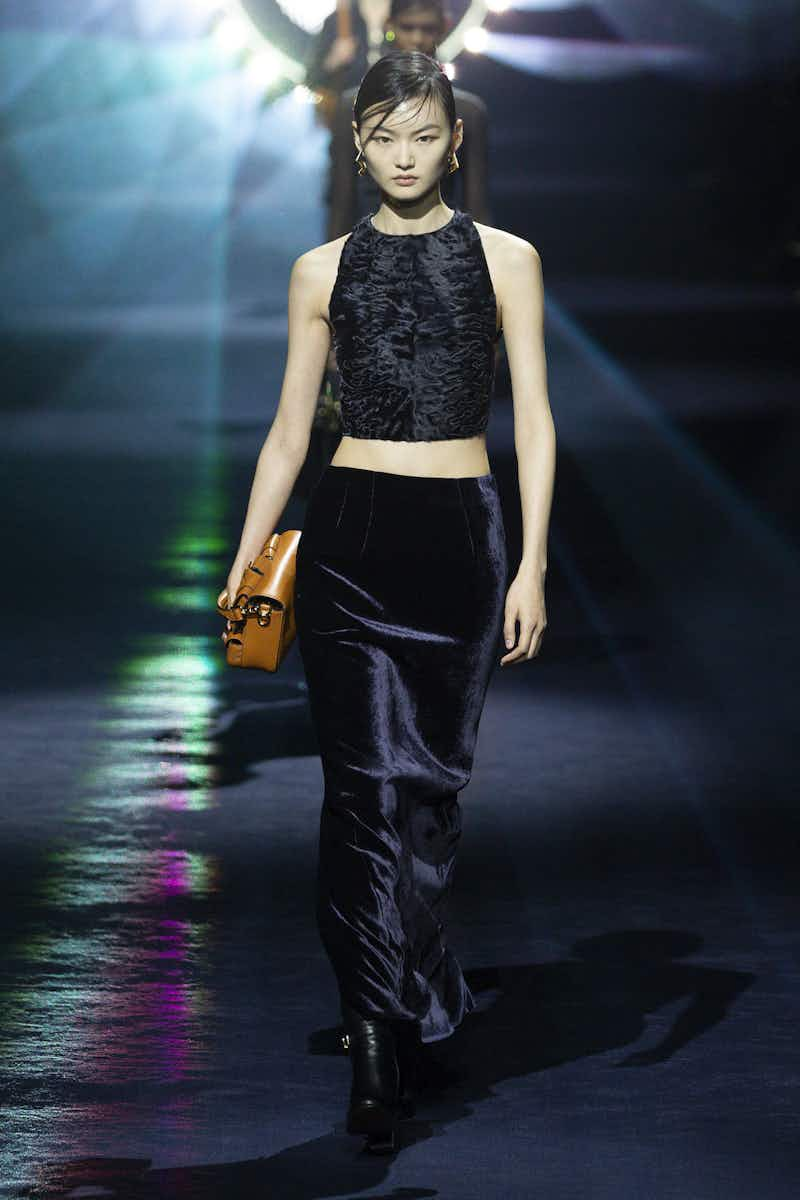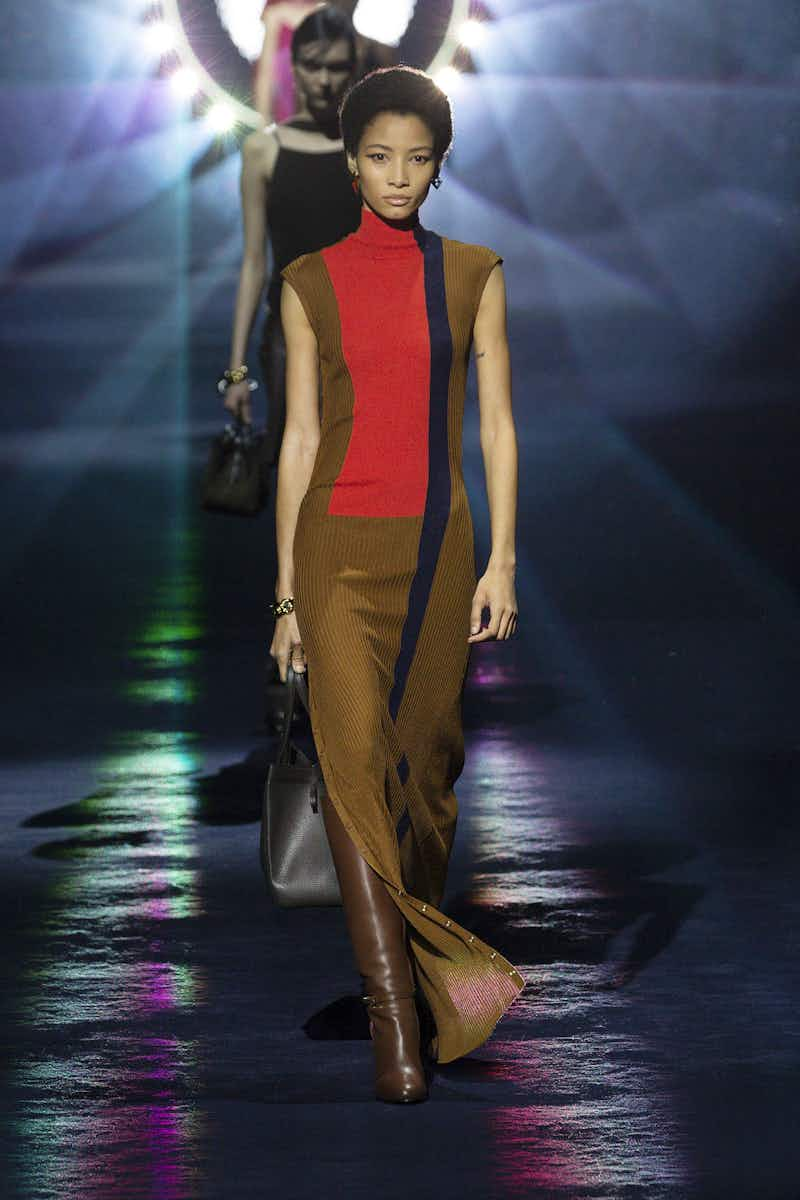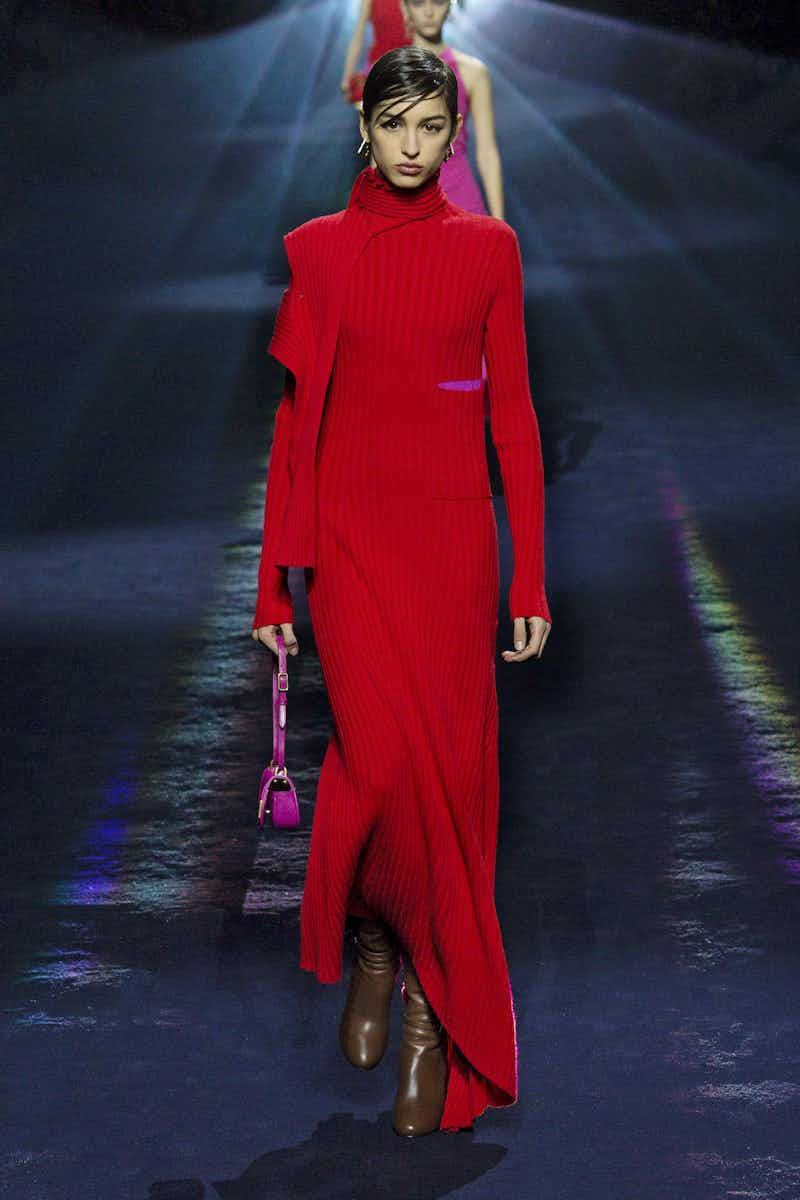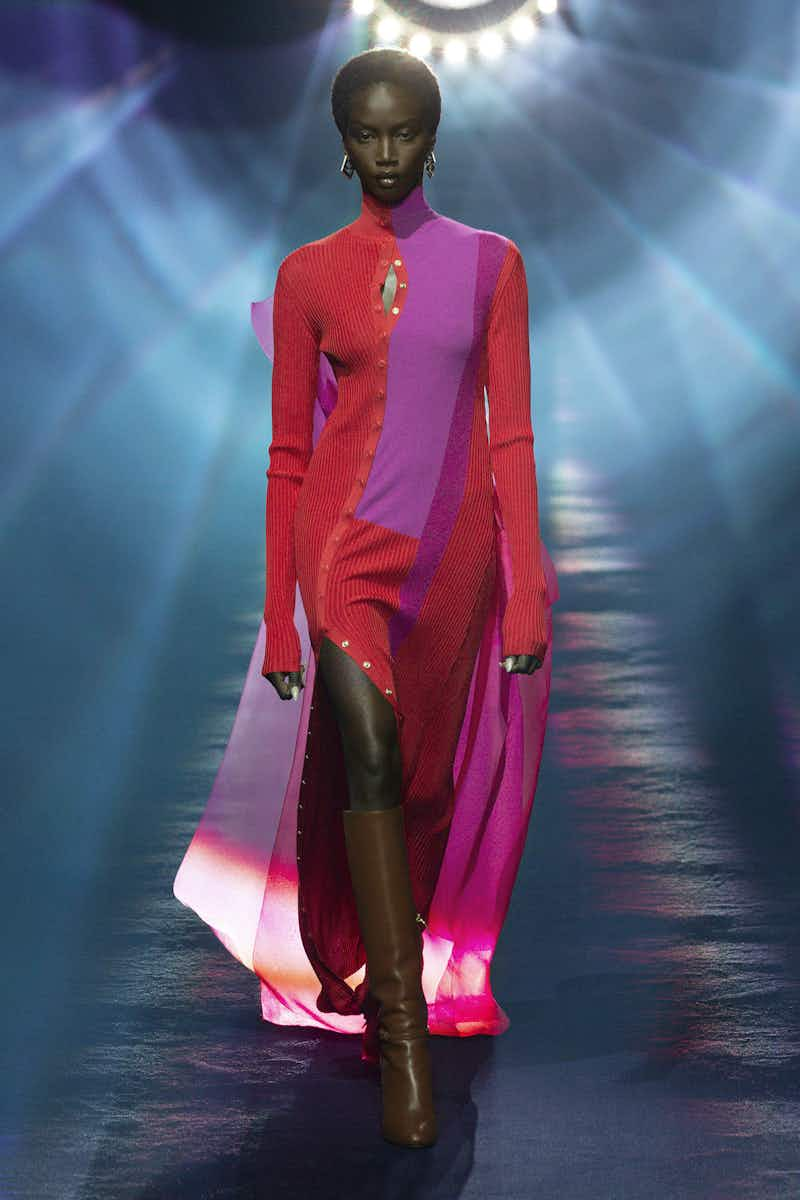 What?
Glenn Martens' sex-positive, condom-packed Diesel show on day one of Milan Fashion Week. Guests in attendance included Beabadoobee, White Lotus' Haley Lu Richardson and Jennifer Coolidge impersonator Alexis Stone.
Where?
In a warehouse on the outskirts of the city. The showspace was filled with 200,000 Diesel x Durex condoms (the invite was a box of Diesel-branded condoms). The mountain of contraceptives will be distributed for free in Diesel stores around the world from April to coincide with a D by Diesel x Durex clothing collab aimed at promoting safe sex, freedom, pleasure, play and positivity. Who could argue with that? The soundtrack further enhanced the mood: ecstatic moaning over a pounding techno baseline brought things to a thrilling climax.
What about the clothes?
The collection certainly wasn't safe, but it was sexy: lip-print skirts, distressed crystal-embellished dresses, shredded low-rise jeans, Y2K-adjacent silk slips and thigh-high sparkly boots made a case for clothing that forefronts fun and experimentation. As ever, fabric innovation was key to the collection, from twisted, torn and faded denim, to a series of artisan outerwear pieces crafted from what looked like multiple layers of melted or liquified materials, which closed the show.
In a song:
Benny Benassi – Satisfaction
In a word:
Sexy.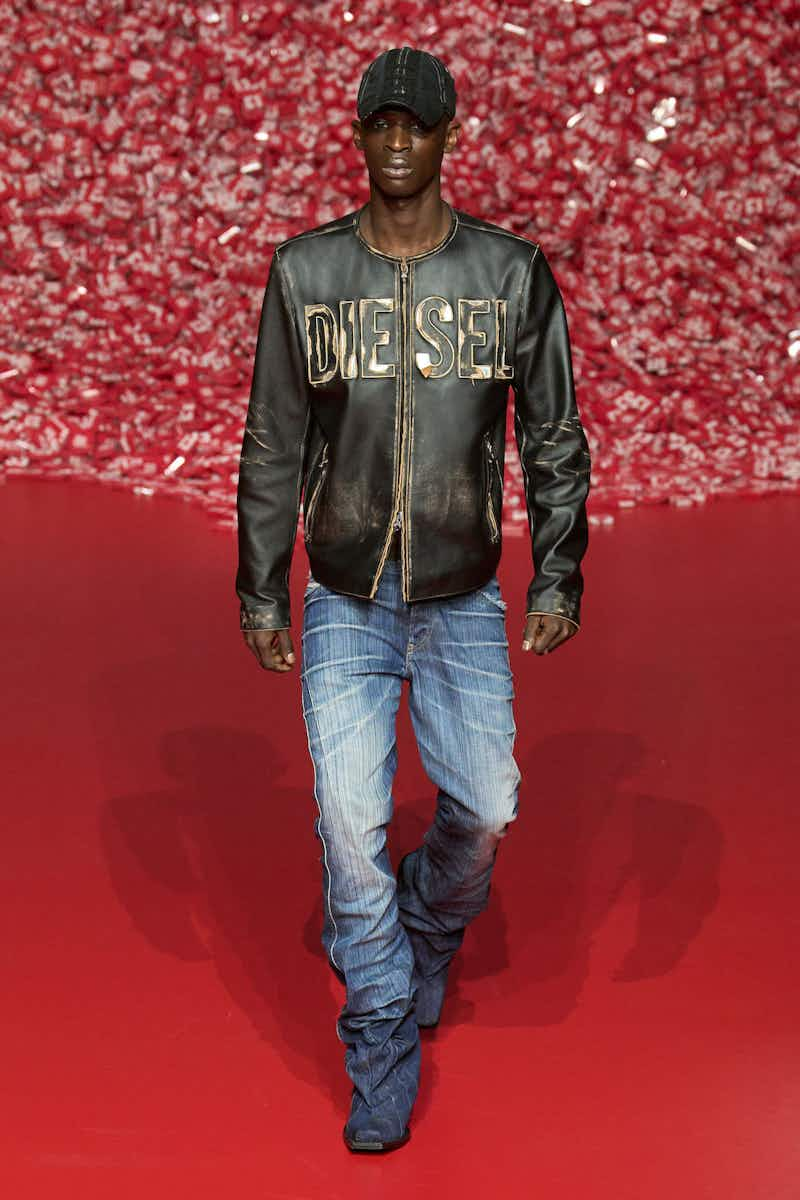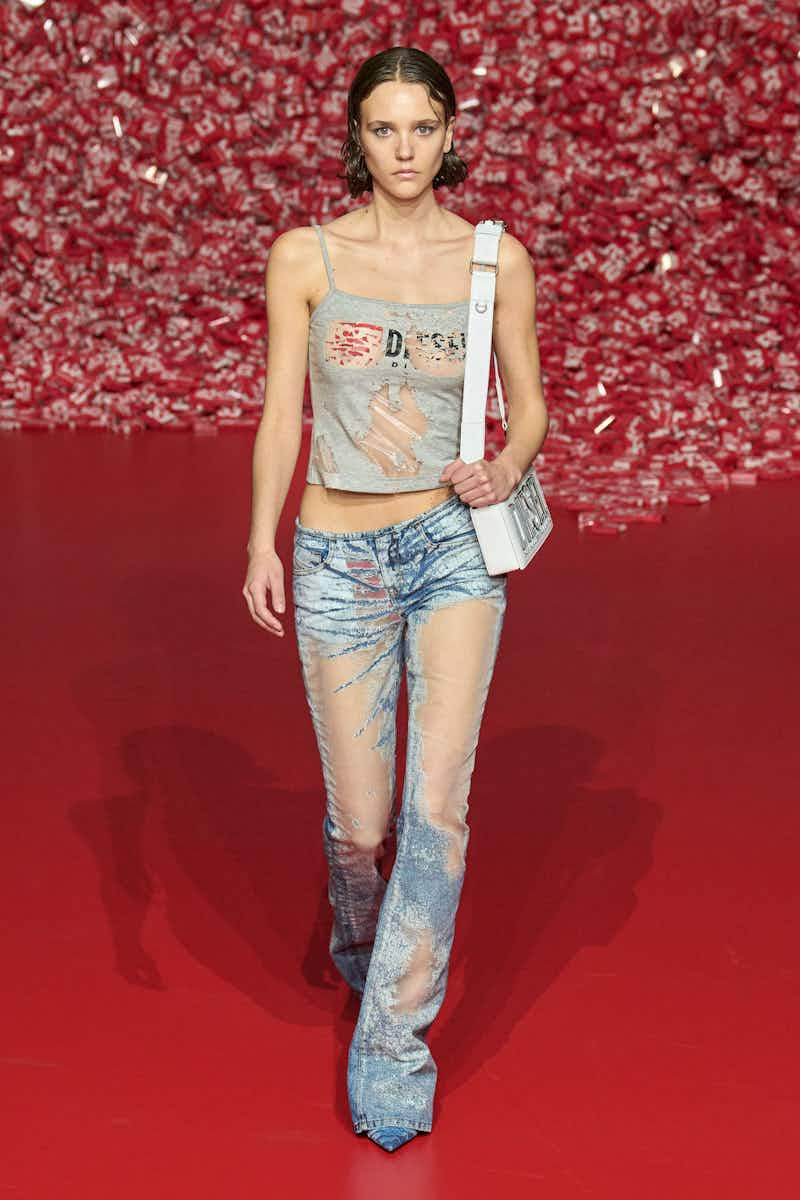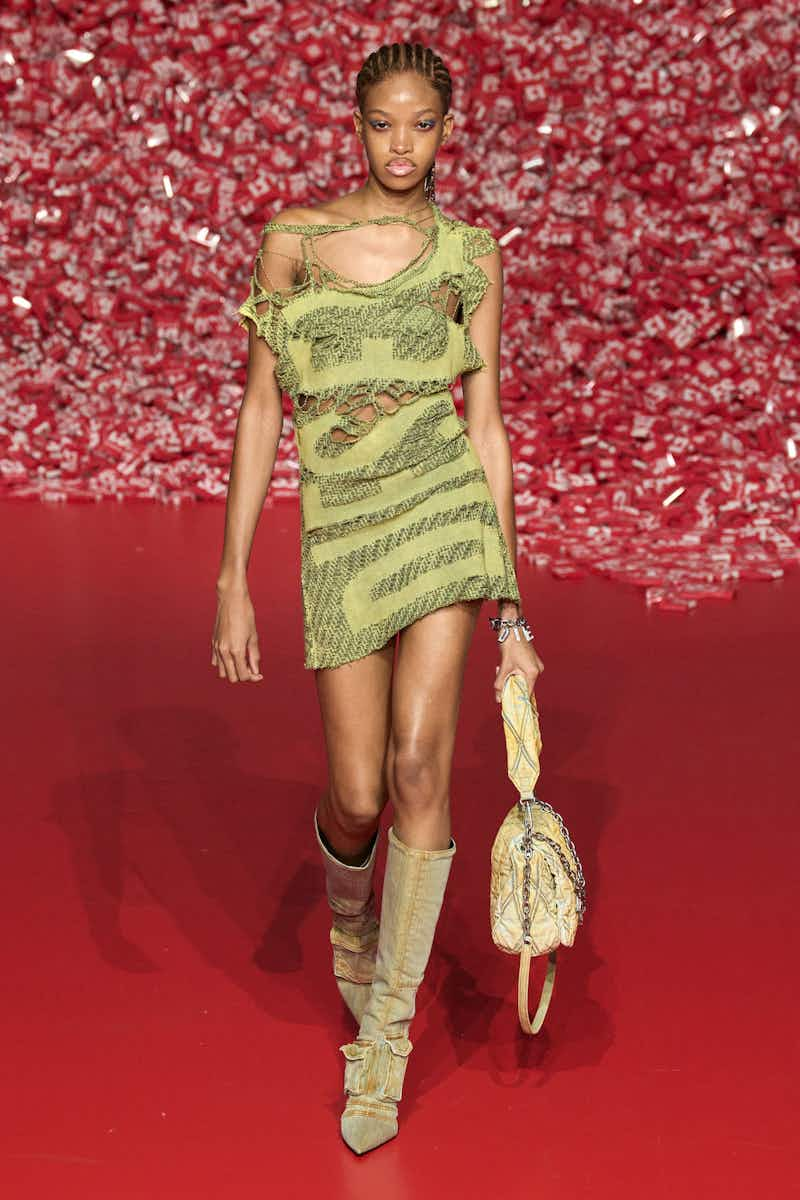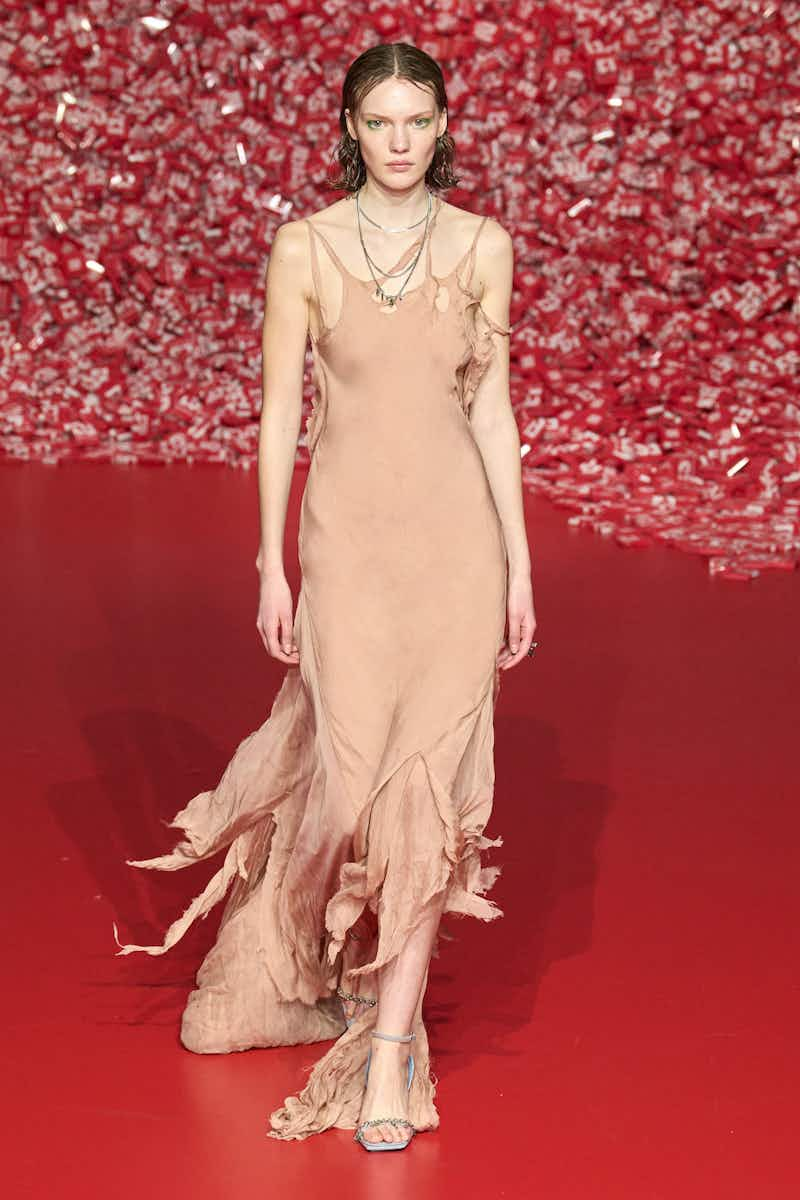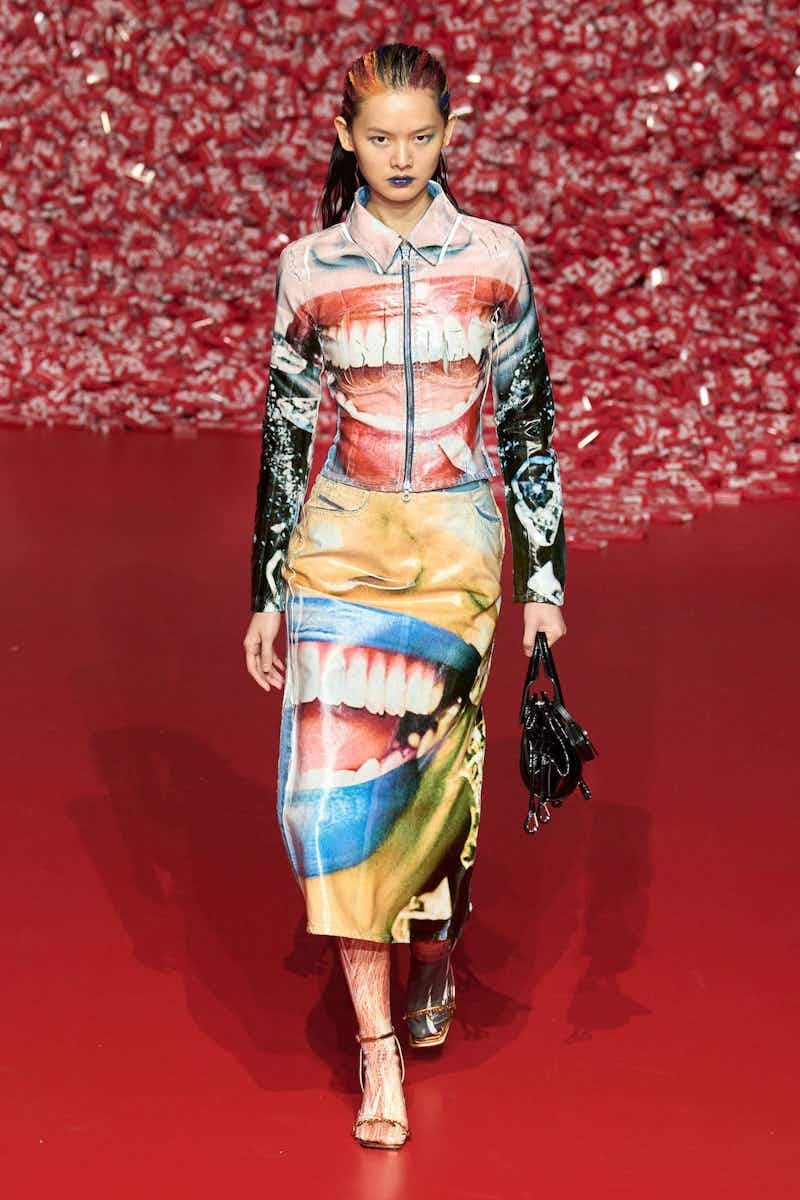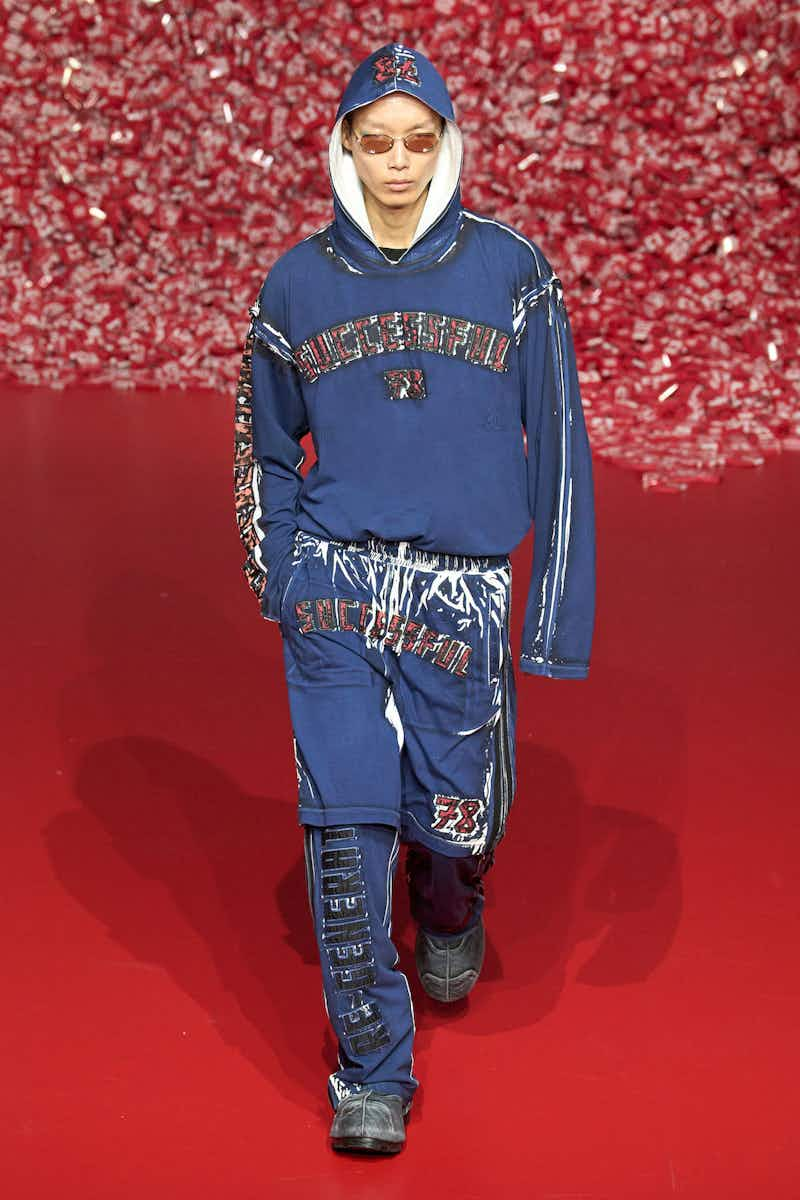 More like this