Heels over head with Ancuta Sarca
Her last collection sold out in its entirety in two days, then Cher gave her a shoutout on Twitter. Her approach to sustainability has been praised as nothing short of innovative. Now, the designer is back with her SS21 collection.
It's been a bonkers year for footwear designer and Fashion East alumni Ancuta Sarca. Besides the obvious [insert pandemic], Romanian-born, London-based Sarca sold out her entire last collection in two days. Two days! And that's after having only shown twice at London Fashion Week under Fashion East, Lulu Kennedy's talent incubator. Then in September, Cher gave Sarca a whopping shoutout to her 3.8mil megafan followers. ​"Isn't The First Time, Nor Will it Be The Last, That I March To My Own 🥁" [sic].
You'd better Believe.
"That was a bit surprising!" the 29-year-old admits, with a laugh. ​"Not only was it Cher, but also she's an ​'older woman'. That opened my mind to our future clients not just being for young people."
Since bursting onto the scene in 2019, Sarca's footwear has been lauded for its innovative approach to sustainability. Each shoe is made using deadstock fabrics, with the past two seasons reappropriating an assortment of Nike trainers, elevated with kitten heels, straps and pointed toes to offer a proper take on day-to-night.
Each shoe is original, using an array of upcycled materials and, prior to her upcoming SS21 collection, everything was handmade by Sarca herself. These days, though, given the overnight success of her namesake brand so far, the designer is working with an Italian atelier to produce at speed. But never compromising on sheer quality.
Pre-pandemic, Sarca would trawl through vintage shops, markets and charity bargain bins for trainers needing a new lease of life. But the unpredictability of this year has made things a little trickier for the designer. With shops closed for months on end and wholesalers booked beyond capacity, Sarca found supplies on eBay and Depop, which proved a little tricker than usual.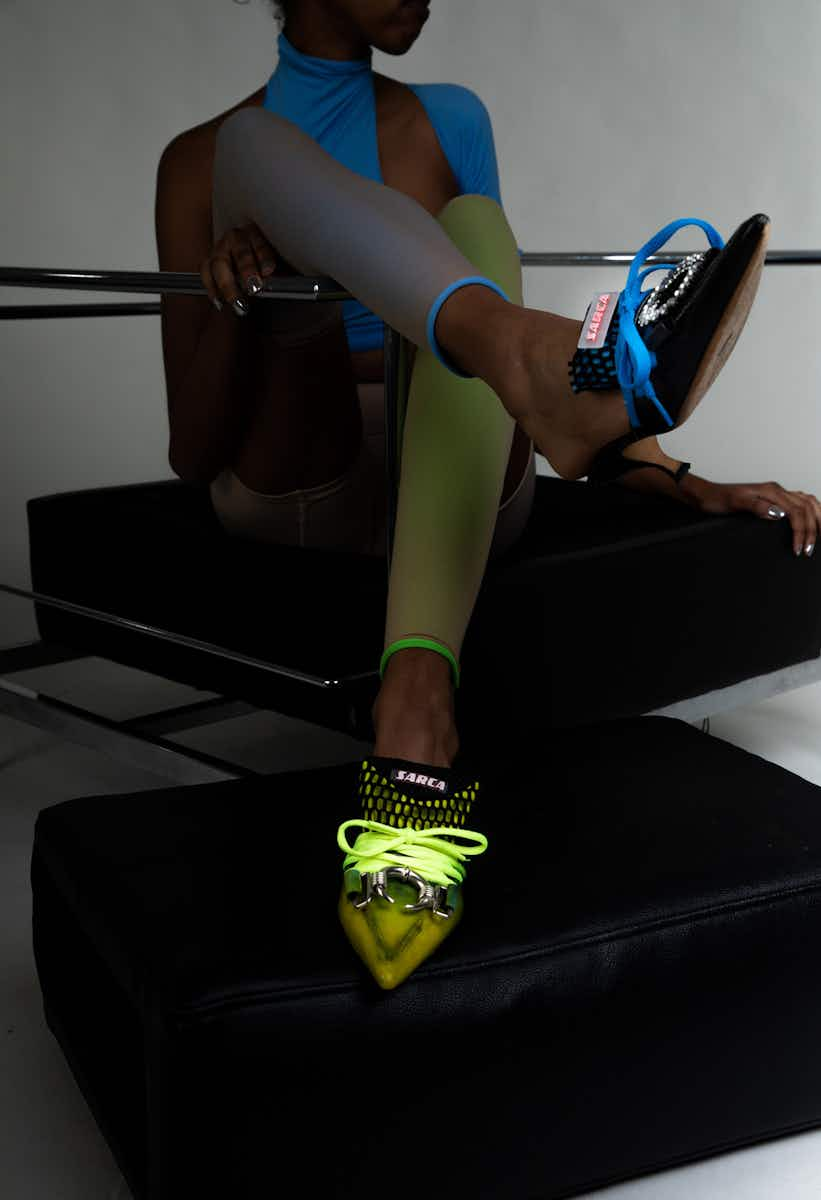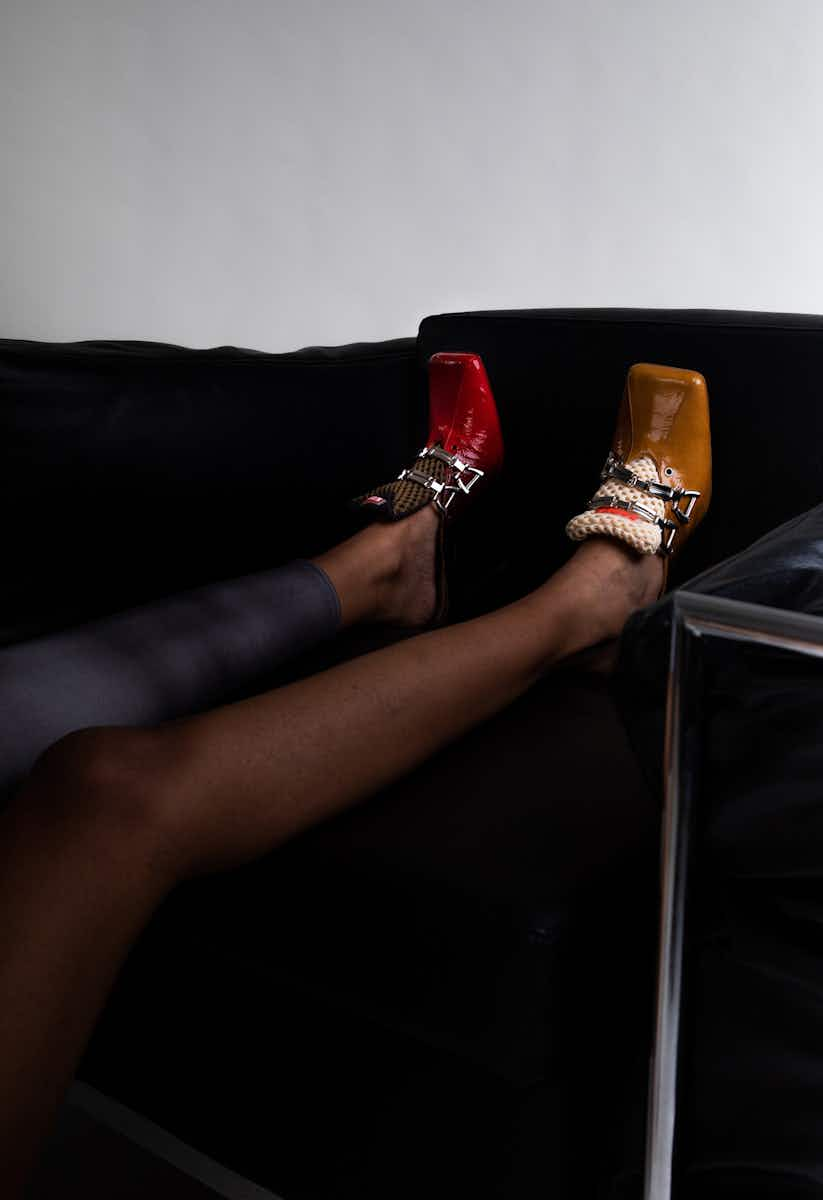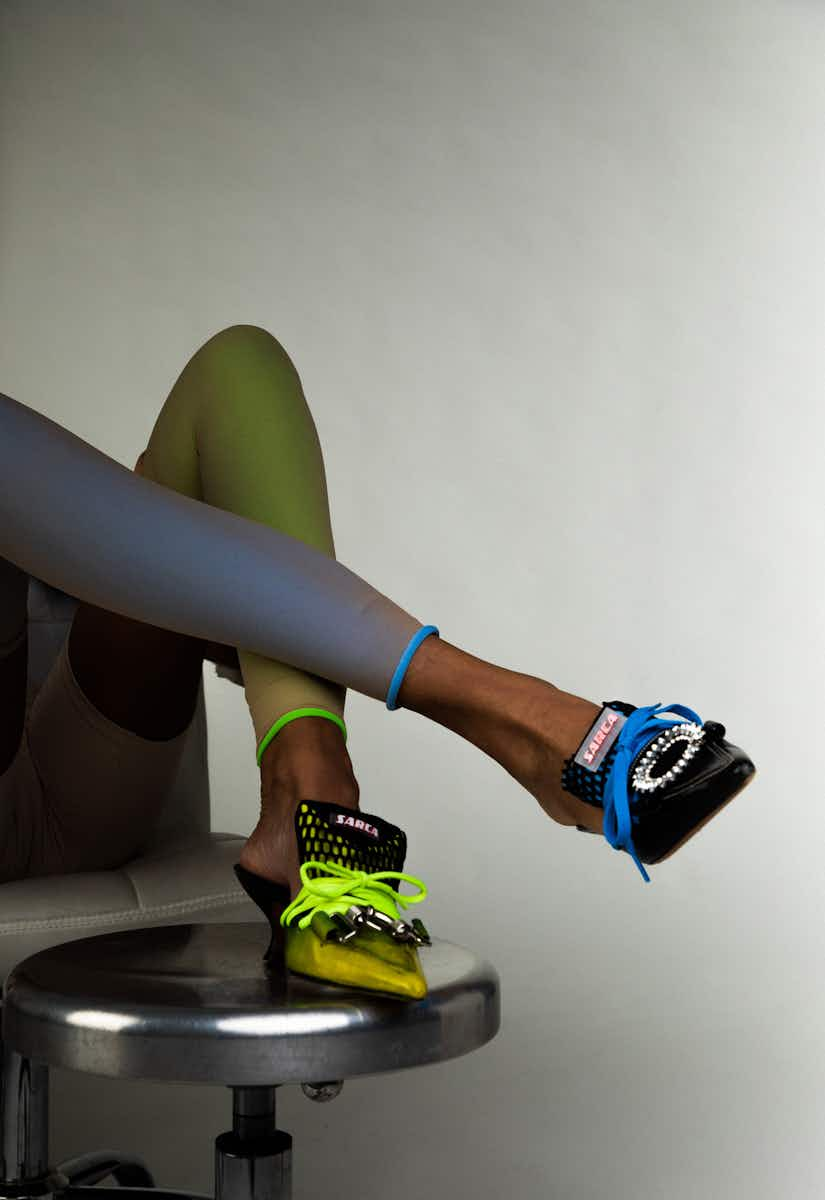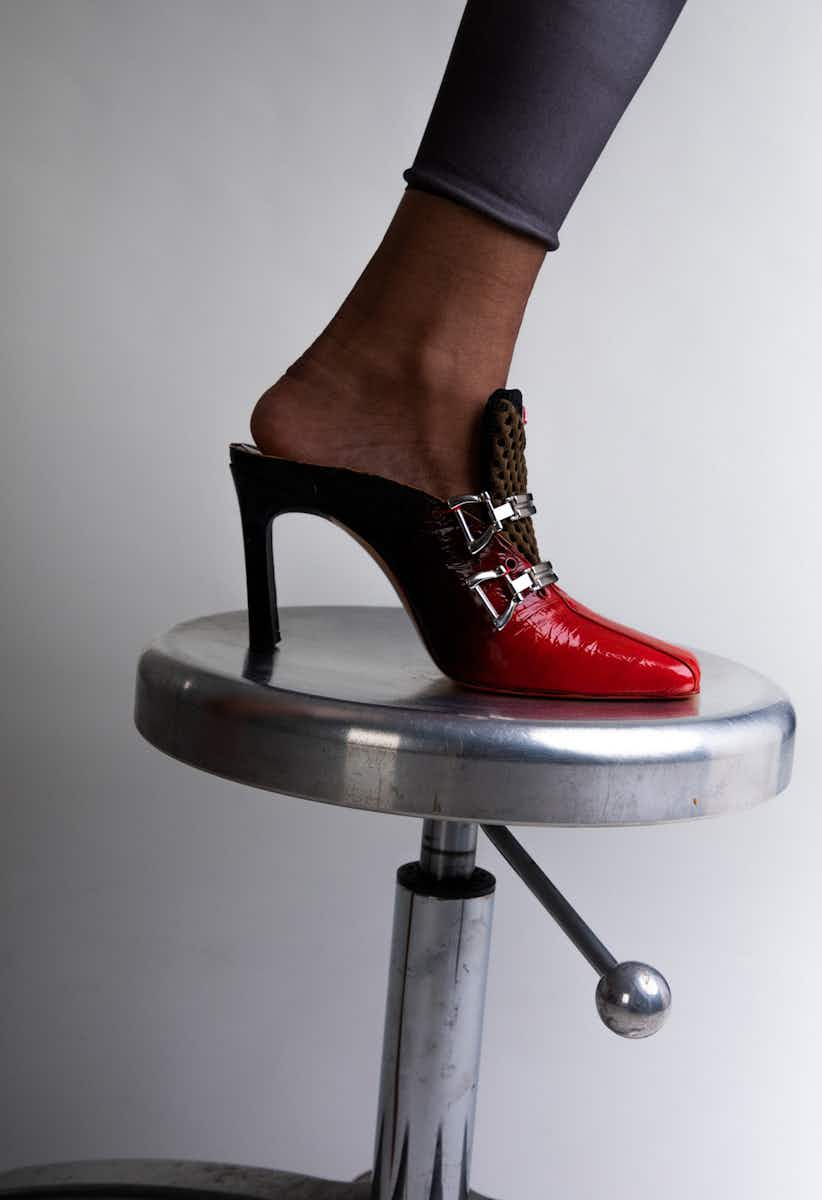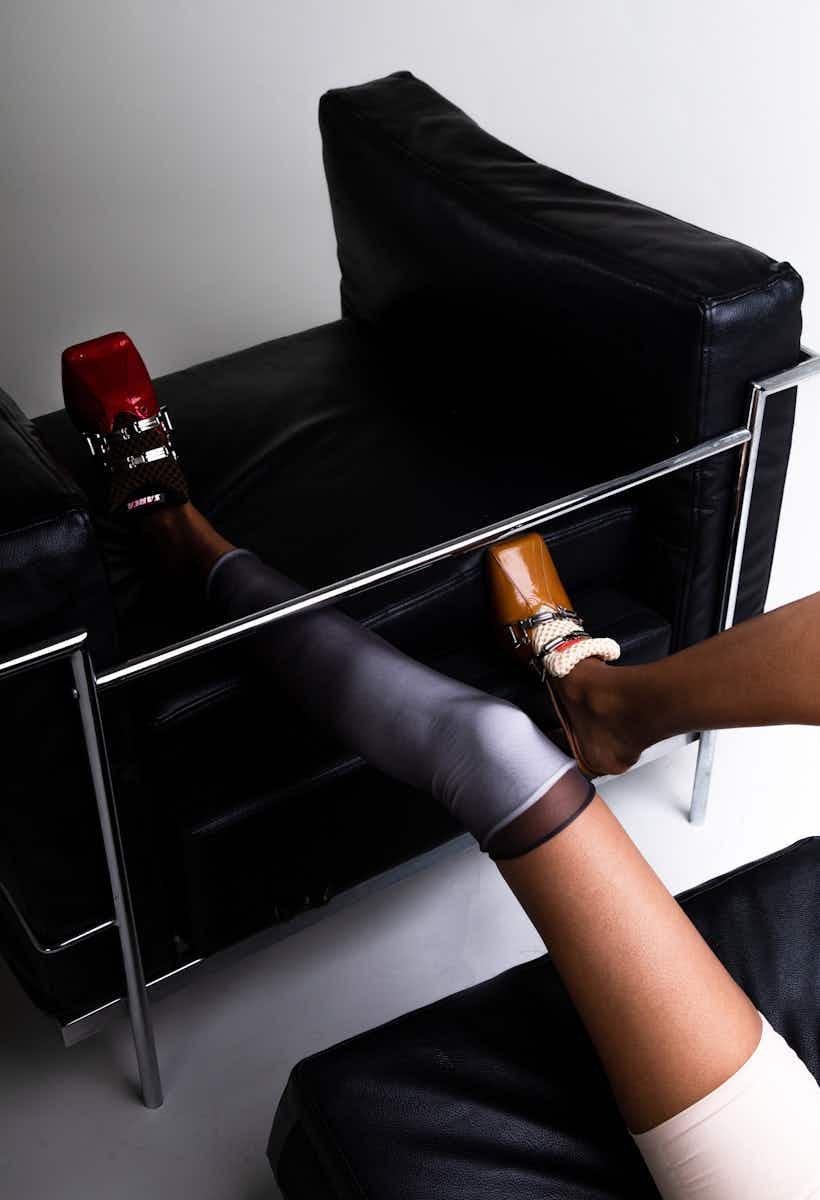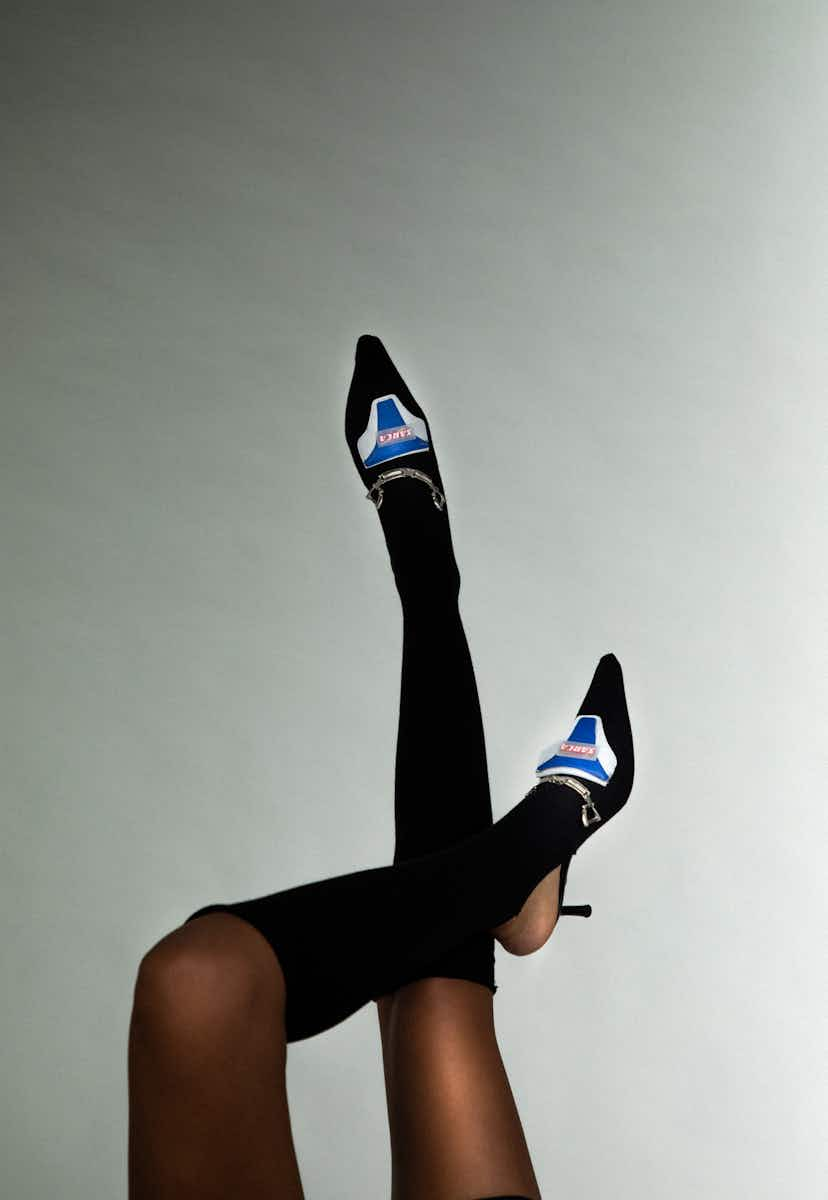 "That was my main problem this year, sourcing everything," she explains. ​"When you're a sustainable brand, you have many restrictions by not having unlimited resources."
But still, Sarca has put her best foot forward with her SS21 collection, SARCA ​'Edition': a mash-up of fancy, square-toed nine-to-five-wear, that doesn't stray too far from the luxury-meets-sport hybrid she's become known for. Breathable fabrics in blood orange, lime green and creamy yellow are presented as open-toed sandals, adorned with sparkly brooches, or strapped together with metal buckles. Where before it was Nike's swoosh slapped onto the side, now it's SARCA.
While this year has proven difficult, the comradery the designer has experienced has become a source of inspiration. ​"I think a lot of this [collection] is about helping one another, helping the small businesses around us and the factories that have plenty of unsold materials because of cancelled orders," she says, referencing a shoe shop near her home in north London, which has recently closed its doors, but often sells her offcuts.
Two years in and Sarca is still designing with herself in mind. But her attitude towards Ancuta Sarca Inc. remains the same – it's open to anyone. And with a flurry of emerging designers opting for a more inclusive target market, her design approach is as futuristic as popping a four inch heel on a pair of Air Max.
"I make them for myself, what I would like to wear," the designer says. ​"But I would love to know that everyone is welcome to buy!"

More like this