Your definitive guide to AW22 at London Fashion Week
With the likes of Molly Goddard, Conner Ives, Nensi Dojaka, Ahluwalia and Fashion East, this is your one-stop fashion week spot for the London collections.

Fashion week is back, baby. Less digital, more physical: this time around we're attending runway shows in London, Paris and Milan to cast a beady eye over collections, trends and must-have pieces that you will, or won't, be caught dead wearing by the time autumn/​winter 2022 comes rolling in.

From Priya Ahluwalia's simultaneously dreamy and dramatic runway debut and Matty Bovan's chaotic, very American dream, to Conner Ives' Y2K nostalgia trip, here you'll find all of the action distilled into a handy, information-packed cheat sheet of the season ahead.
LONDON!

LONDON!

LONDON!

LONDON!

LONDON!

LONDON!

LONDON!

LONDON!

LONDON!

LONDON!

LONDON!

LONDON!

LONDON!

LONDON!

LONDON!

LONDON!

LONDON!

LONDON!

LONDON!

LONDON!
Richard Malone's not averse to setting a scene. Last season he went so far as to frame several models with swathes of fabric rearing up and out from their shoulders, like stage curtains or the plush interiors of a ​'50s couture salon. This time there were no such theatrics, but the sense of grandeur remained. There is something of the grand dame about Malone's designs. They're still cutting edge – not only in their execution and shapes, but also their sustainable approach to deadstock fabrics and making pieces to order or in limited edition – but there's a worldly sensibility to them. Some of these recycled jersey pieces wouldn't look out of place on a modern-day Greta Garbo. There's a playfulness to it too: two-tone candy-coloured separates; purple, yellow and burnt orange ribboned stockings that seem both entirely modern and straight out of the 16th Century; and a trio of trench coats with huge lapels, seductive in their simplicity and tantalising in their suggestion of slinking down the street in punchy, powder blue leather.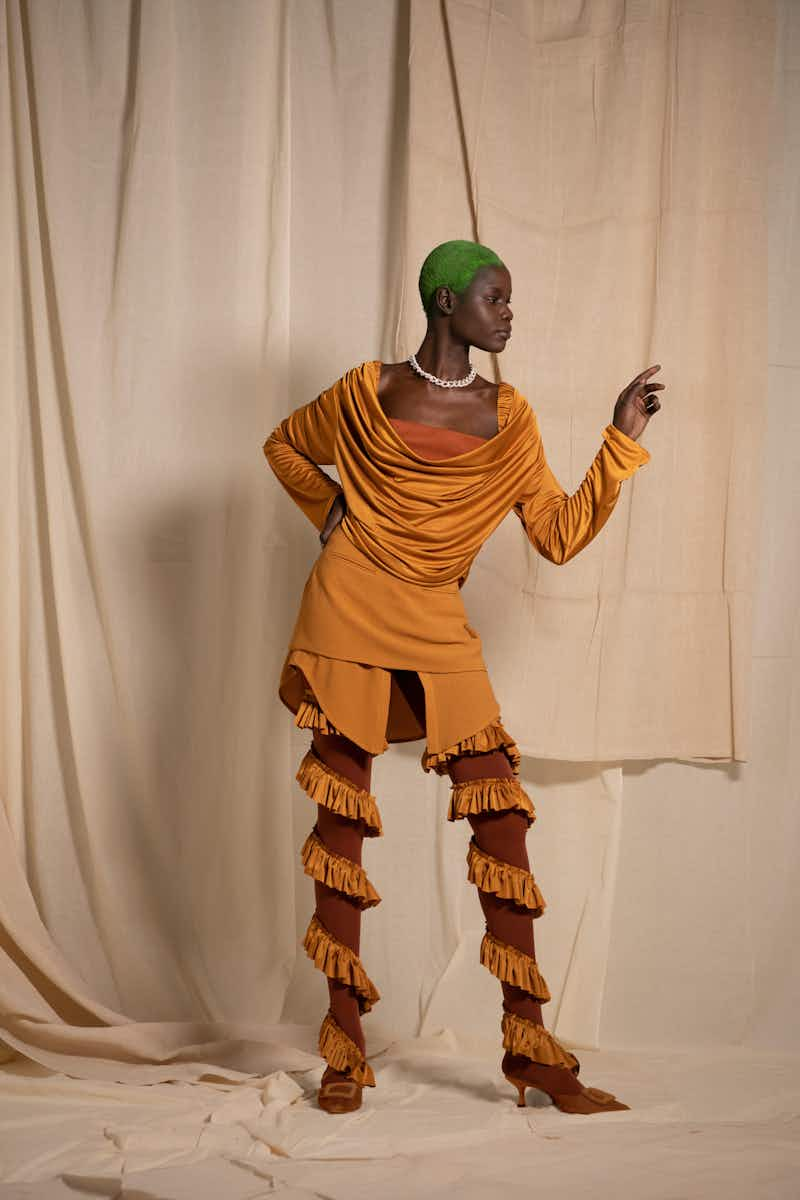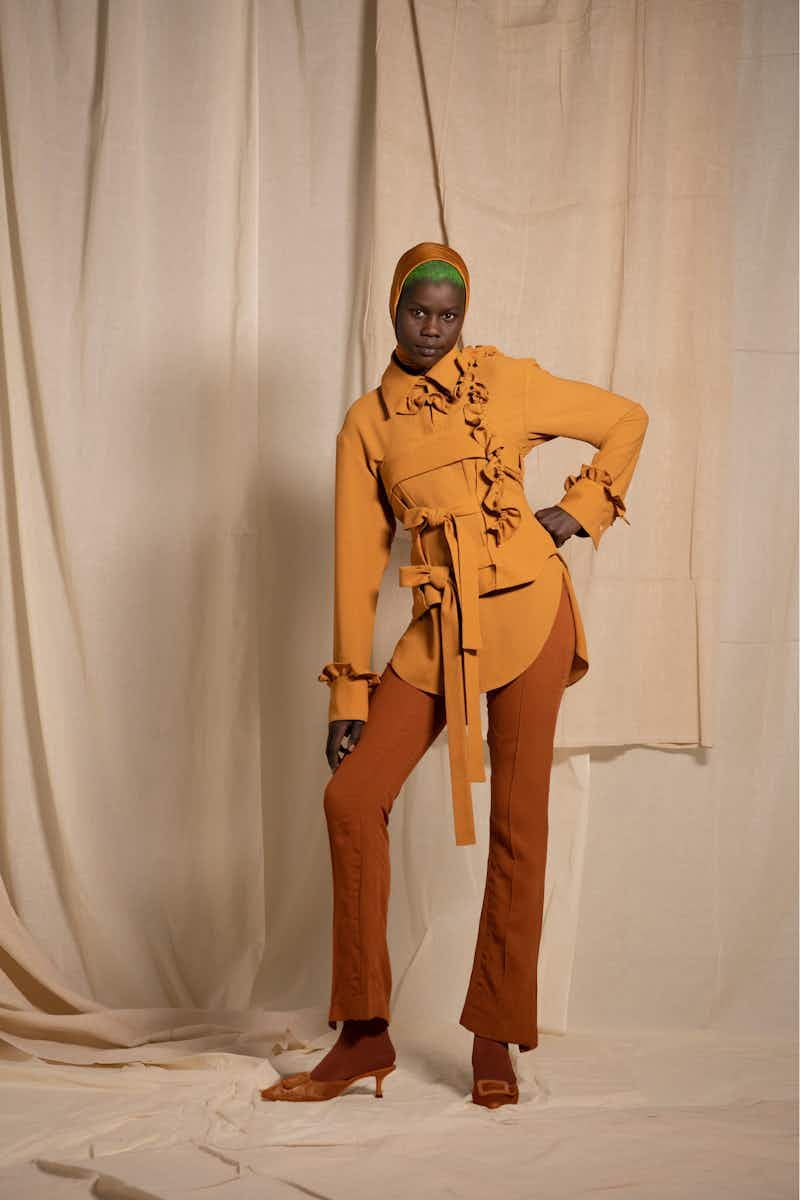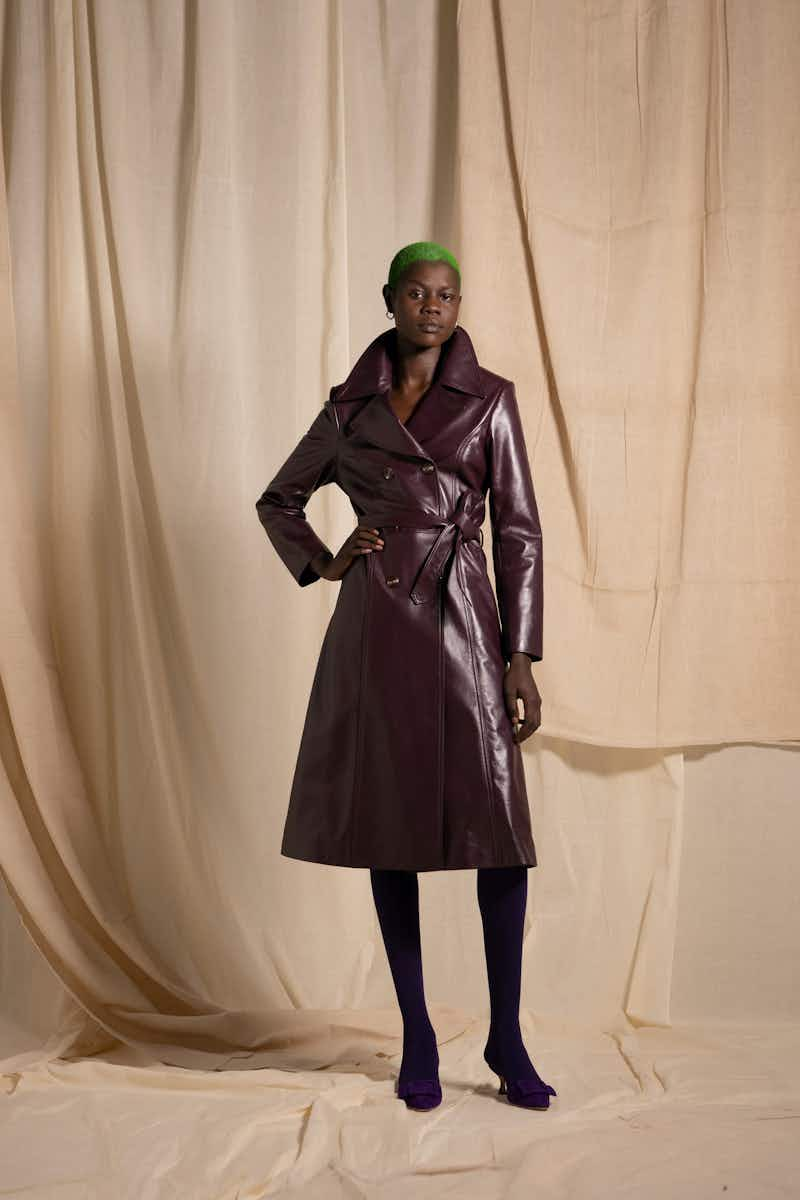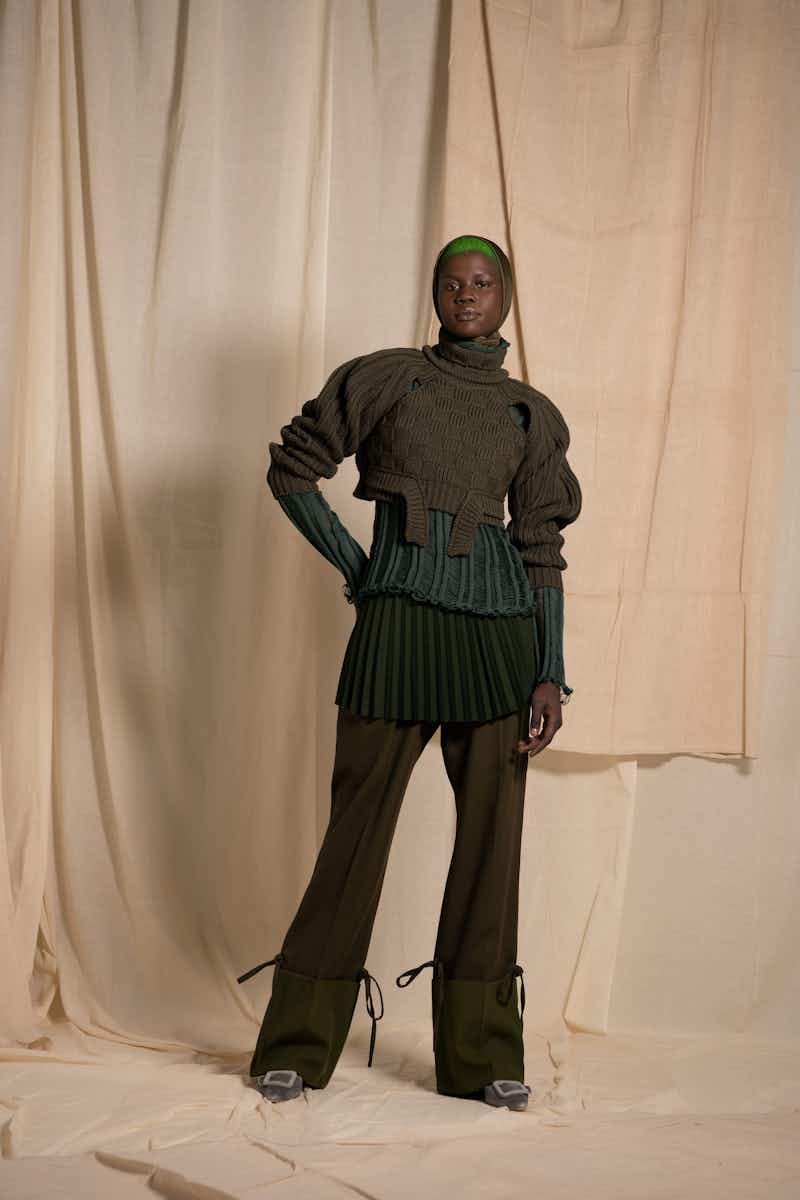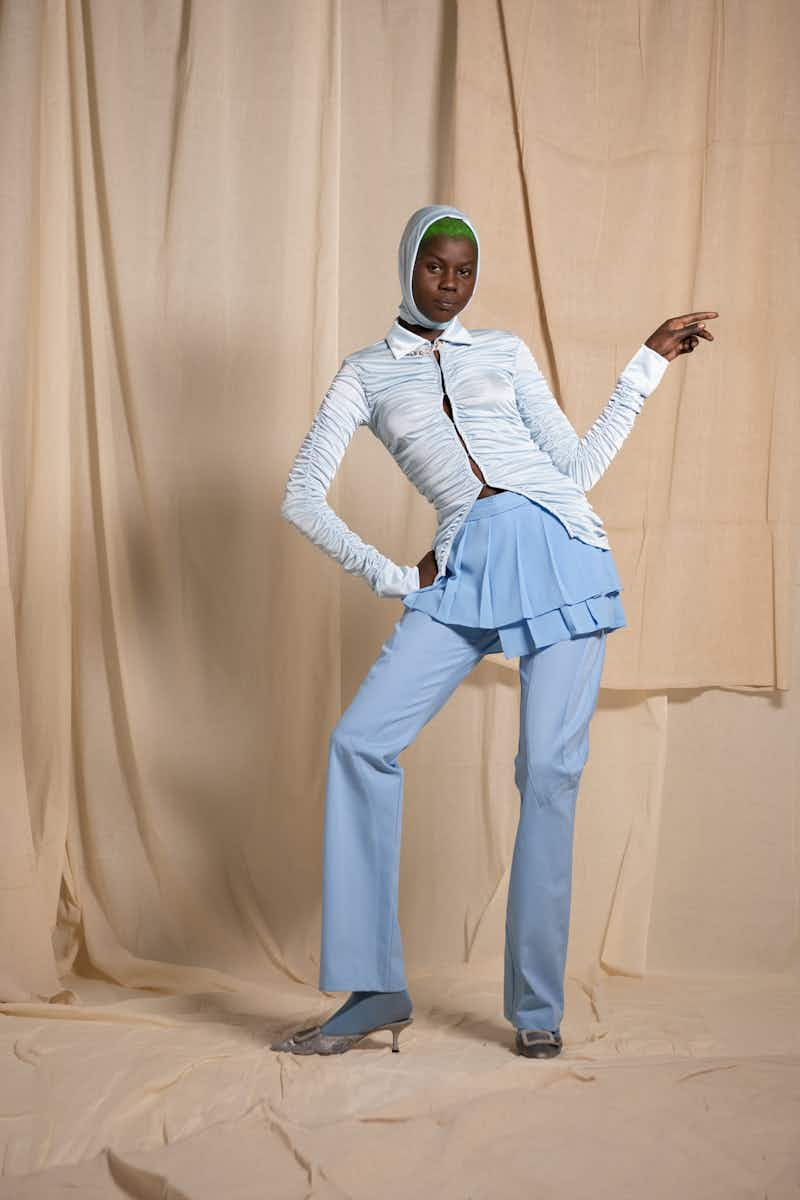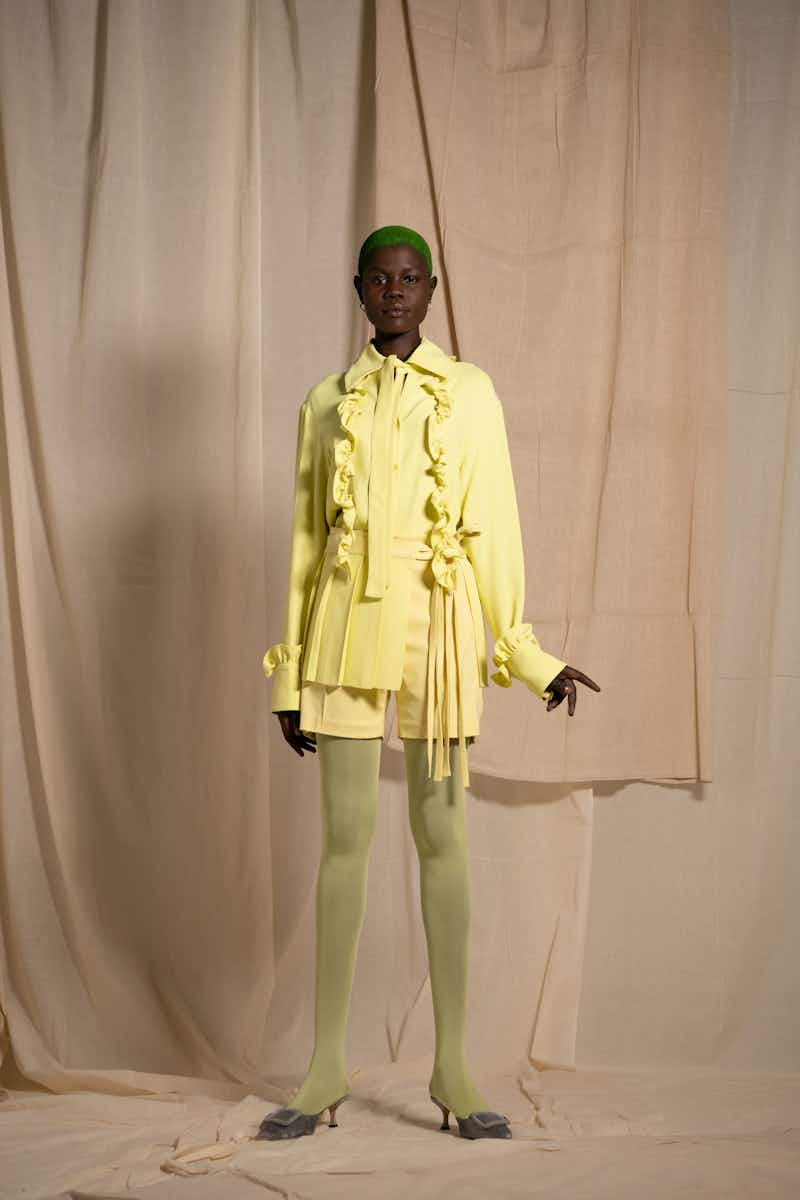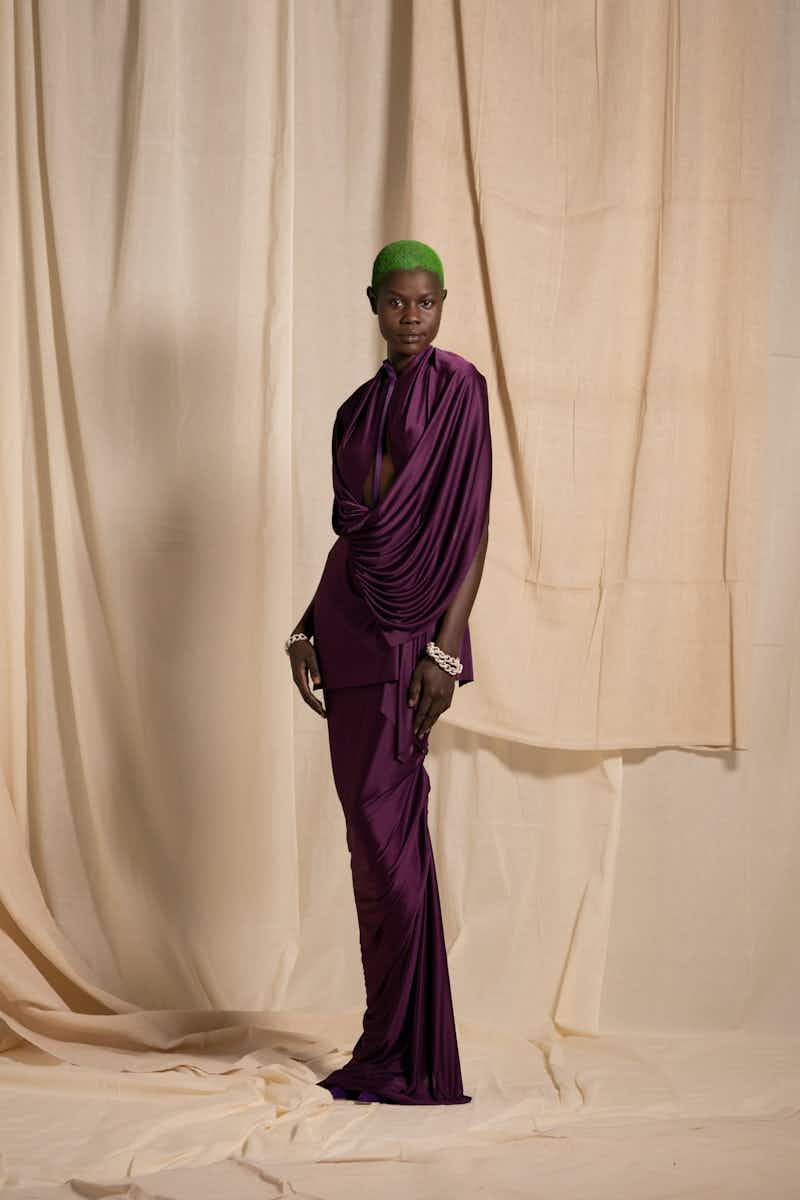 Christopher Kane is always knowingly naughty. Or maybe he's just quite frank. He wants to create clothes with sex appeal that still have a satisfyingly weird edge. Showing this season in digital format, his serious-faced models marching to a slowly throbbing beat, Kane riffs on design details seen elsewhere – cut outs are the (drafty) trend du jour, with everything from hips to elbows suddenly an erogenous zone – but makes them fully his own. The theme for AW22 is sexual selection: invoking the image of male animals attempting to attract a mate by putting on a good show. The chosen plumage? Tulle and silk jersey, pulled together by snaking gold chains. It's hard, especially now, to bridge the gap between having a singular vision or aesthetic and being able to offer something new each season. His collections always have a strong sense of cohesion to them though, pulled together by fresh motifs (here, that new riff on chains) while retaining those sexy, wipe clean Kane-isms that make his designs so distinctive and irresistible.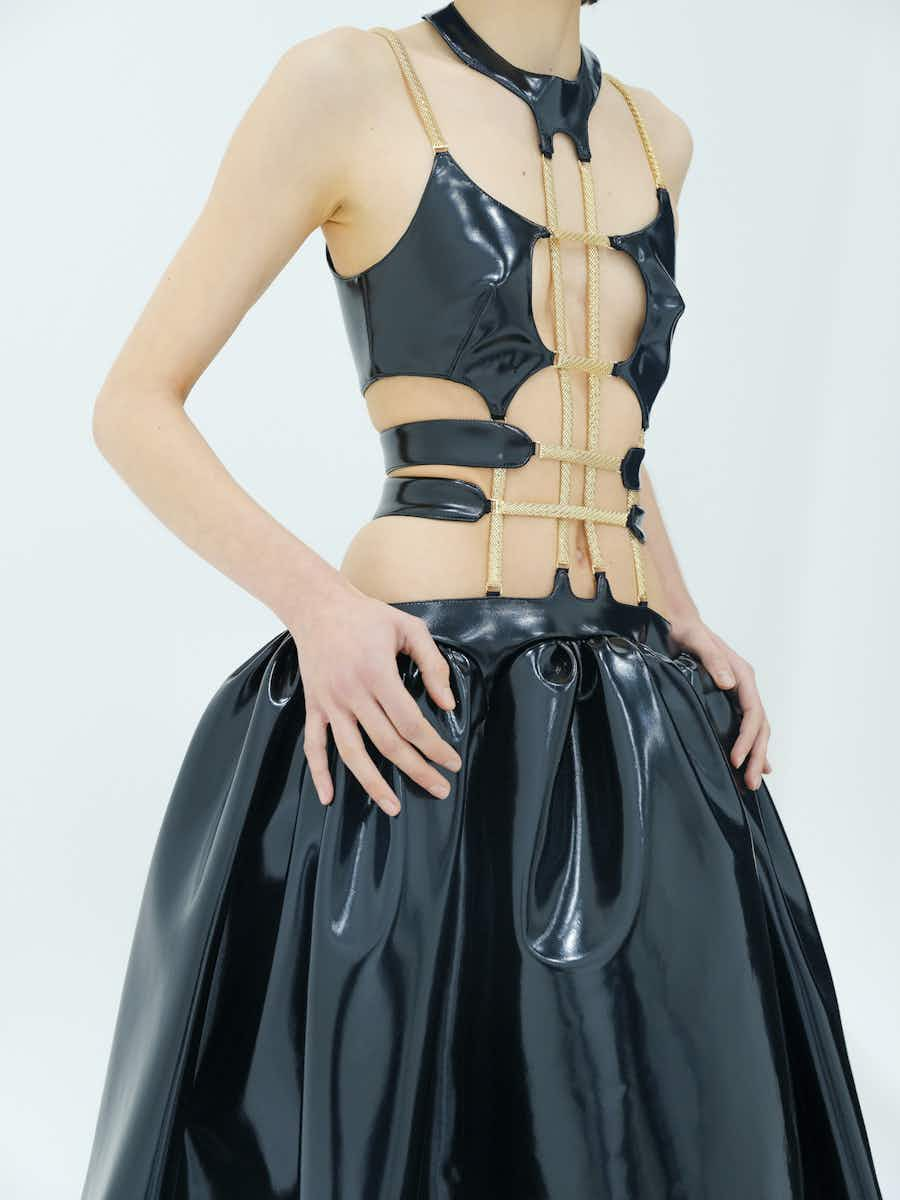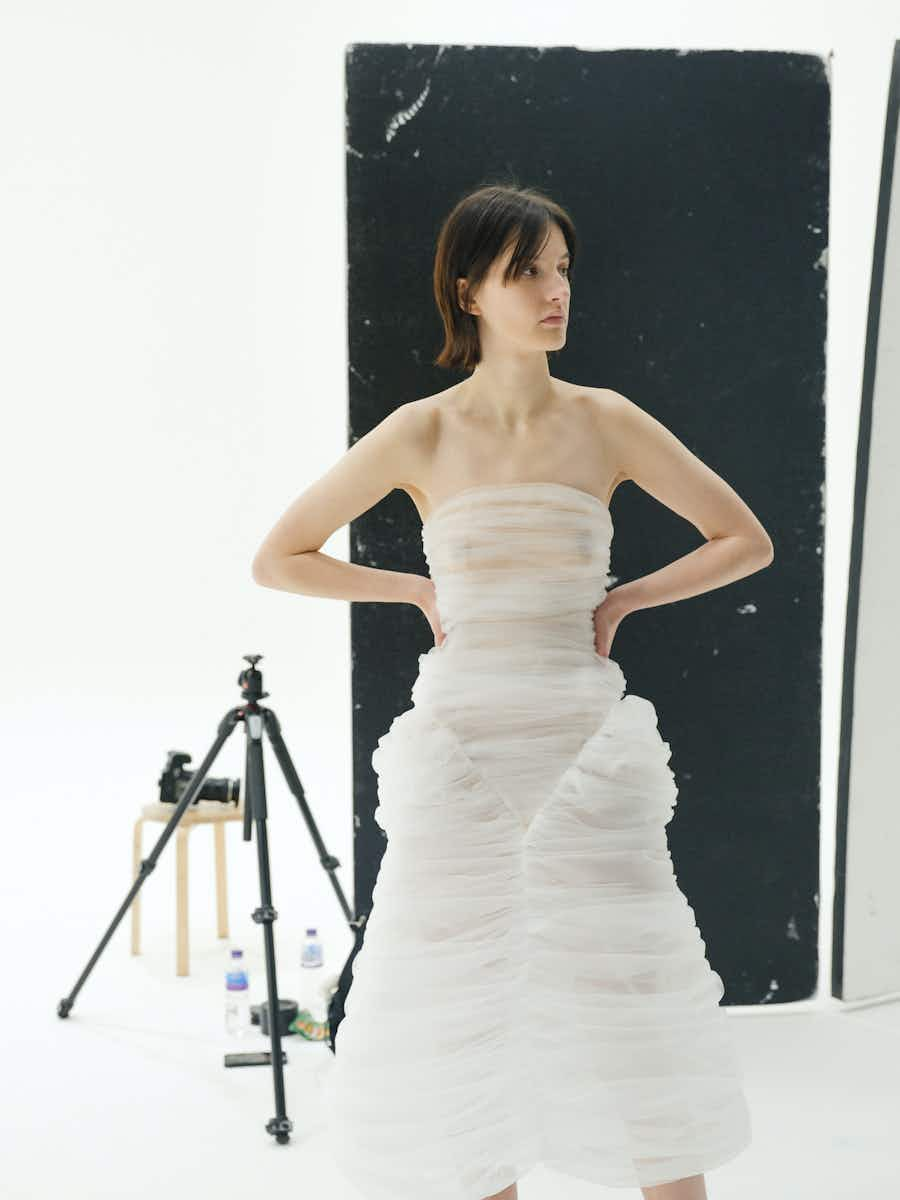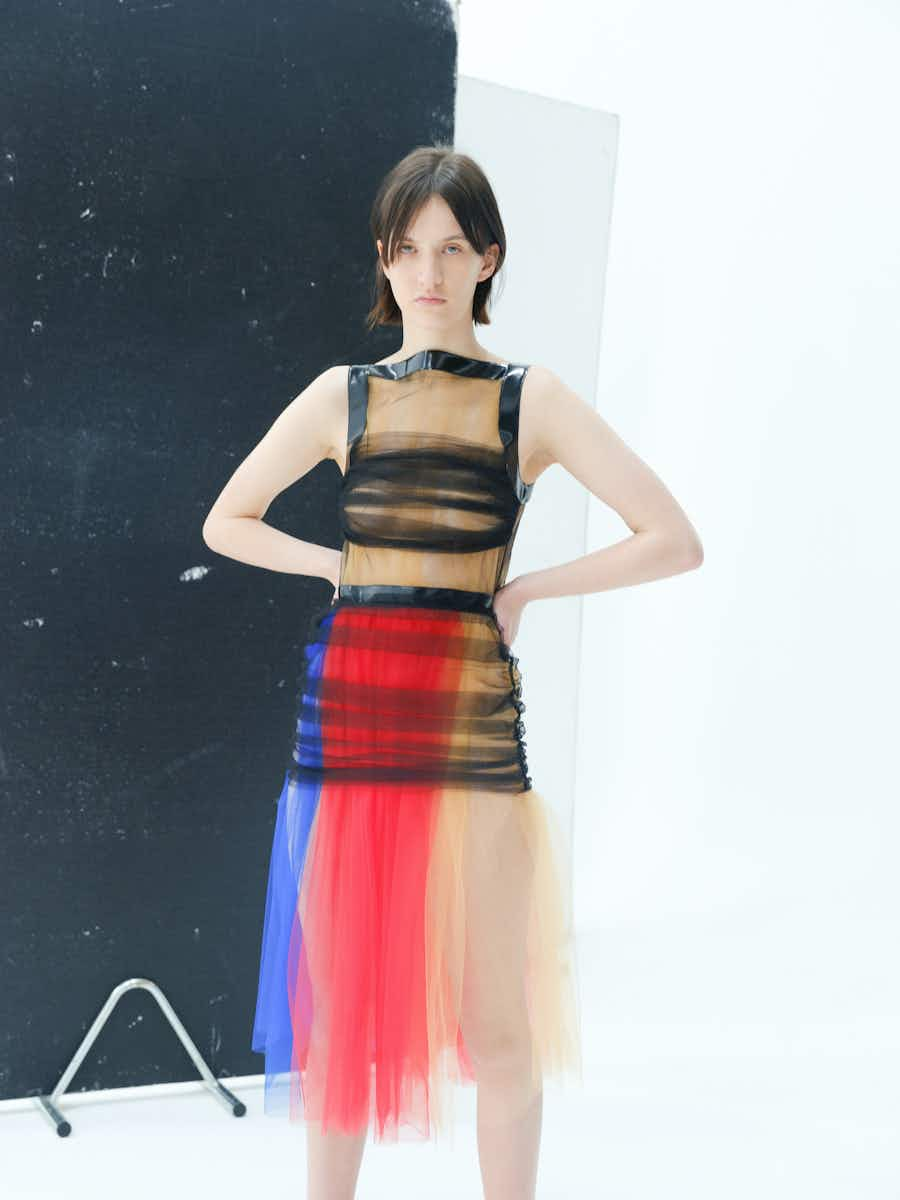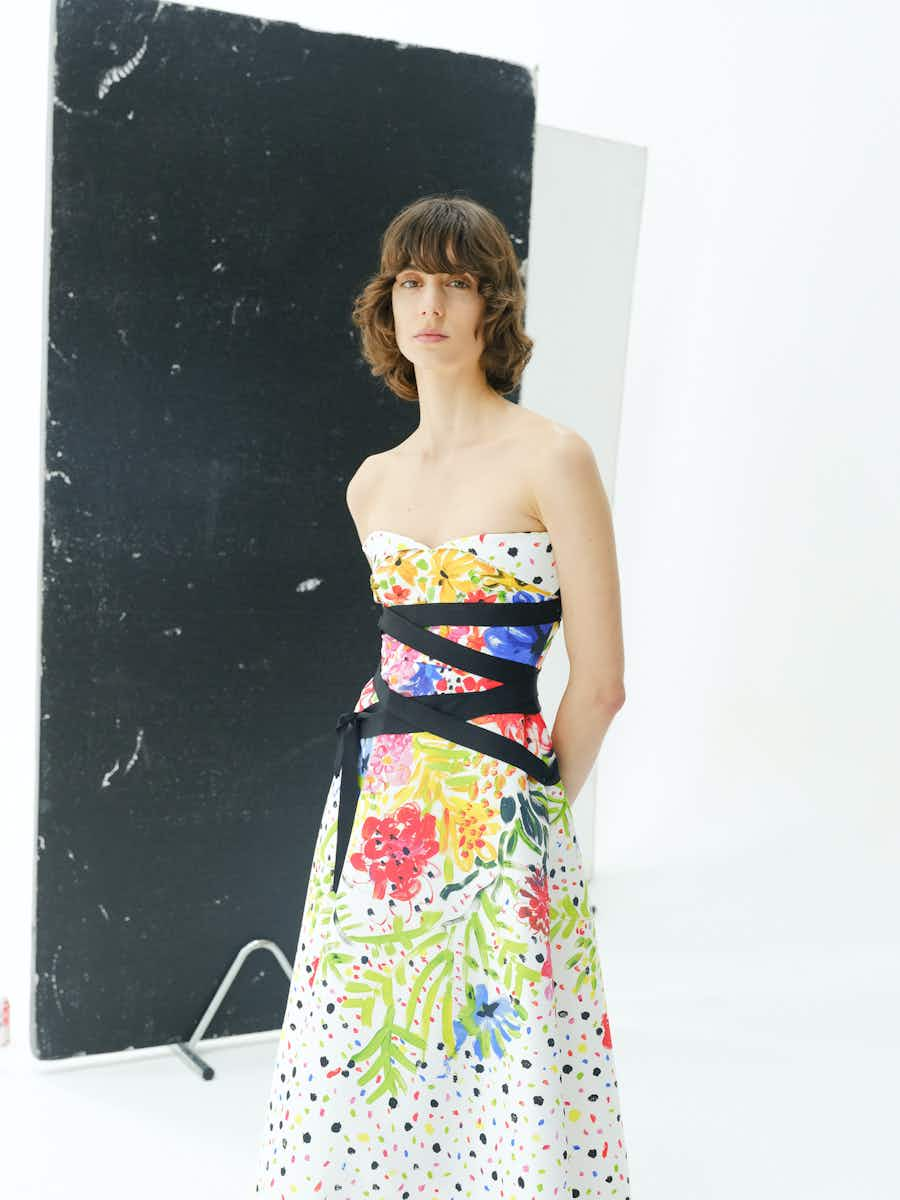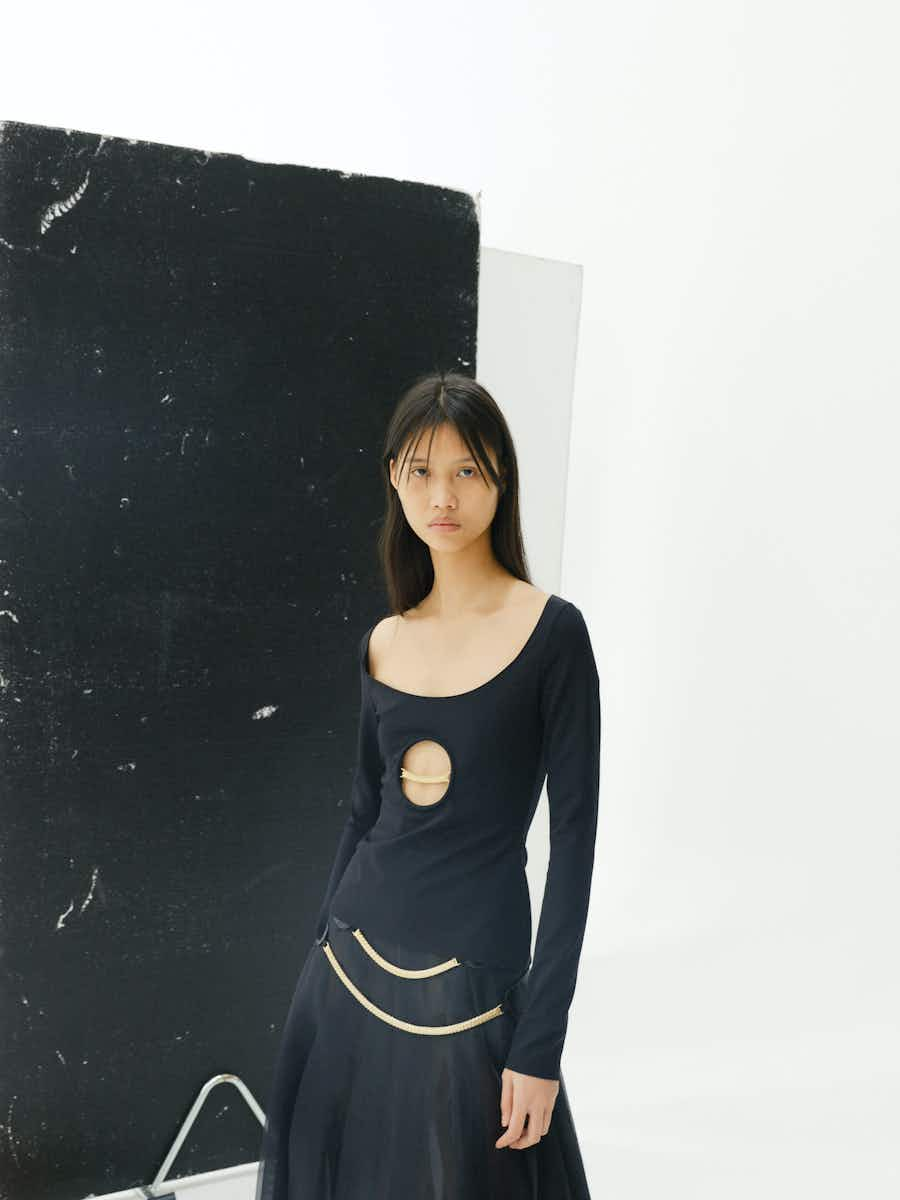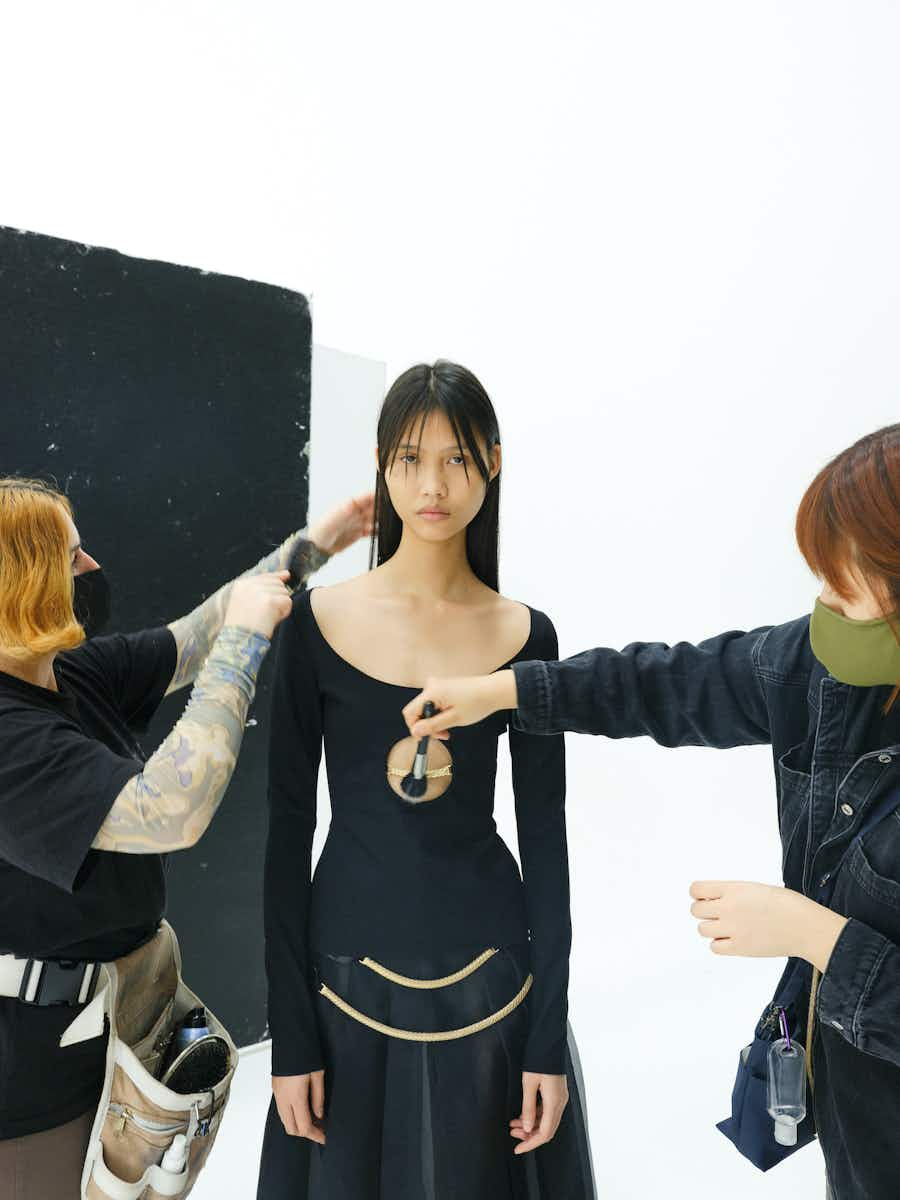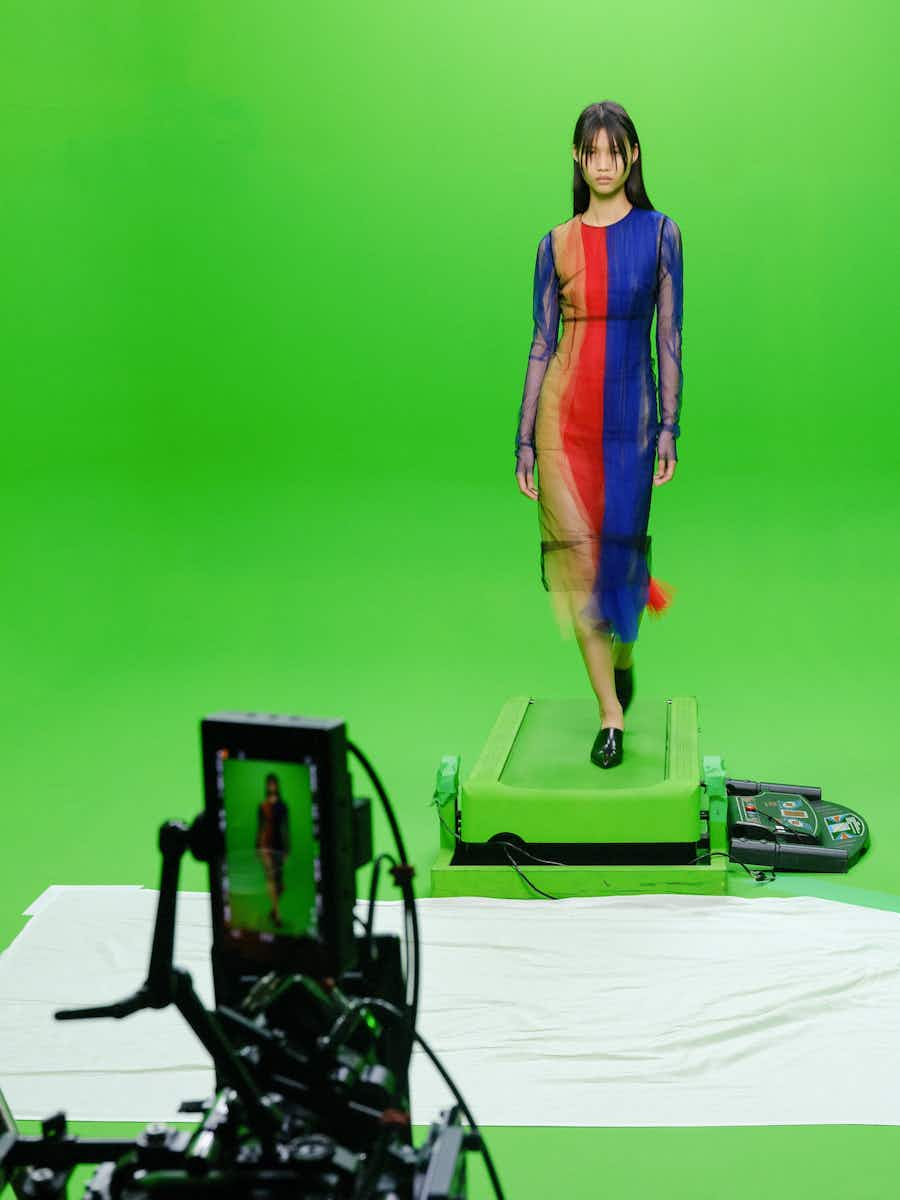 Step into Simone Rocha's fairytale land. Children of Lir, to be specific: an Irish myth about a set of siblings turned into swans for 900 years by their wicked stepmother. Swans feel like a curiously Rocha-ish bird. Majestic and serene, yes, but not to be messed with either. Rocha's attraction to the story's mournful, gorgeous atmosphere, alongside its central idea of metamorphosis, is equally fitting. Showing in the gloom of Lincoln's Inn, this season her sculptural pieces came in royal blue velvets, white cottons, padded nylons, and a shocking flash of scarlet patent leather. The socks and gloves glittered, as did the balaclavas. The suggestion of ​"crushed taffeta wings" in the show notes suggested flight potential everywhere. Seen away from the catwalk, Rocha's pieces often have a sweetness and light to them. Witnessed in situ, there's a welcome darkness that lingers.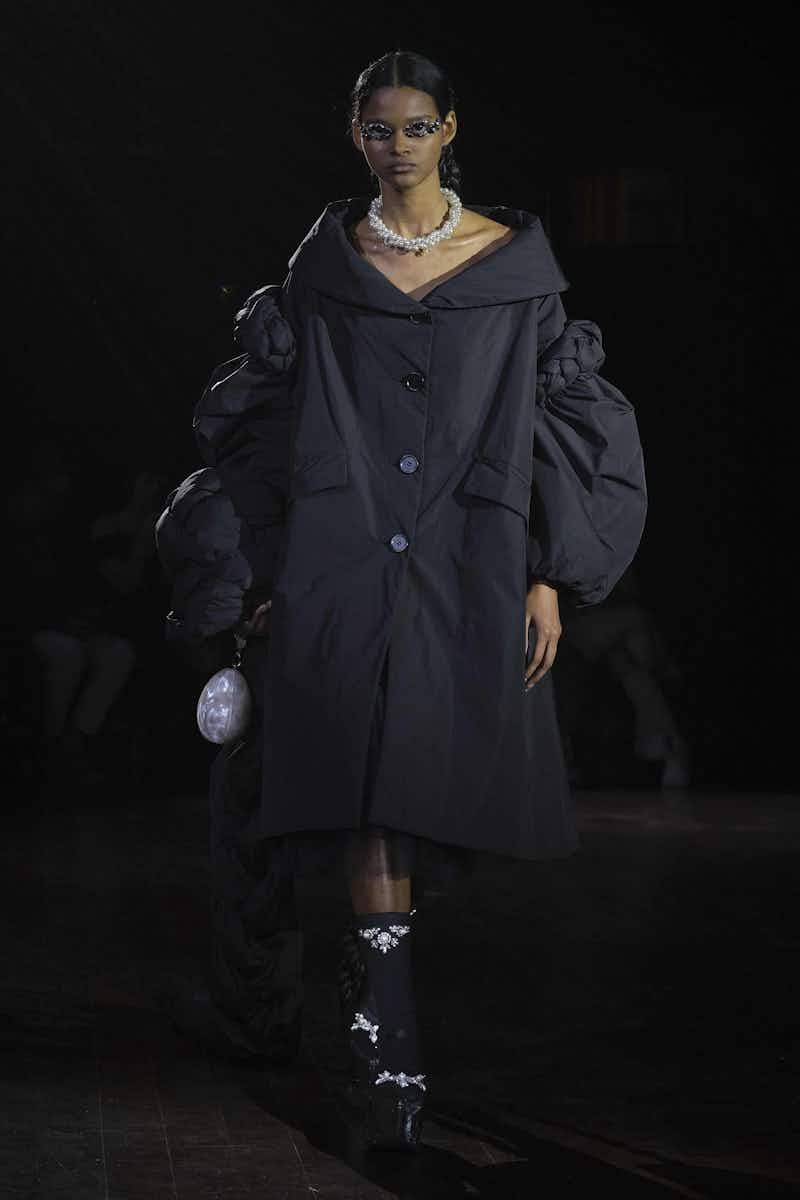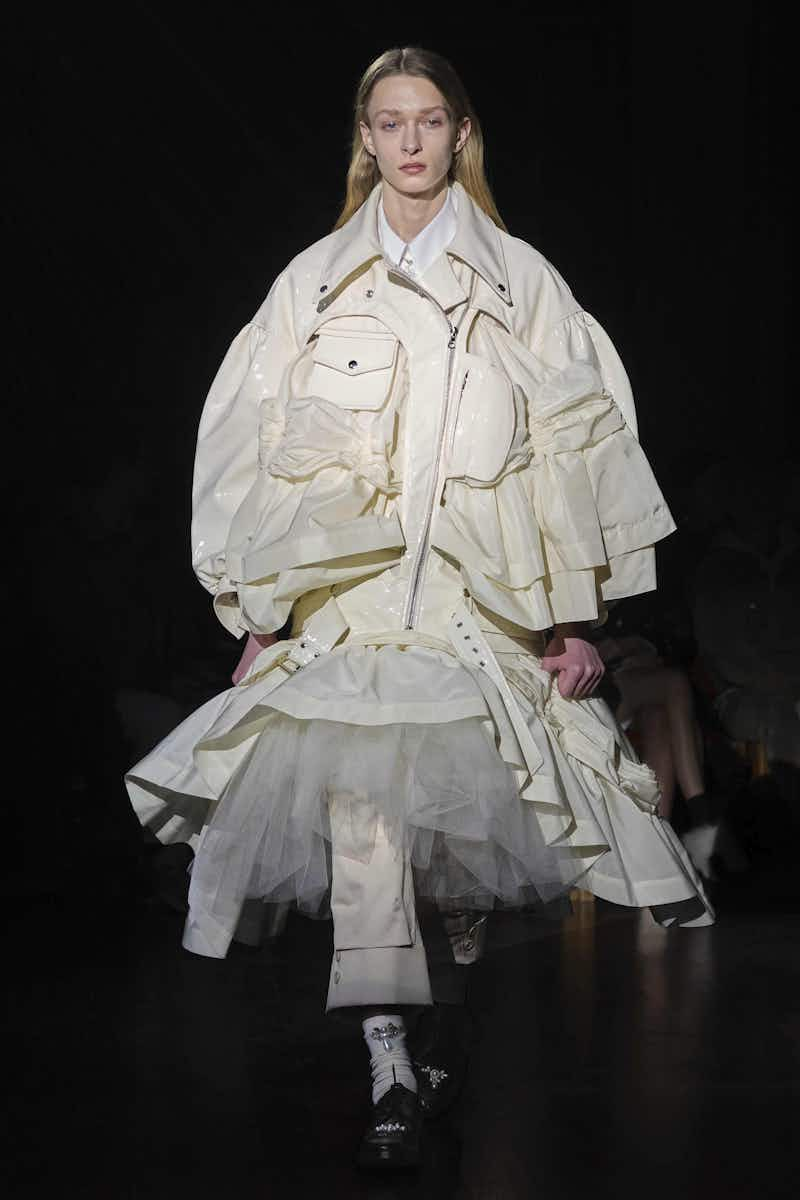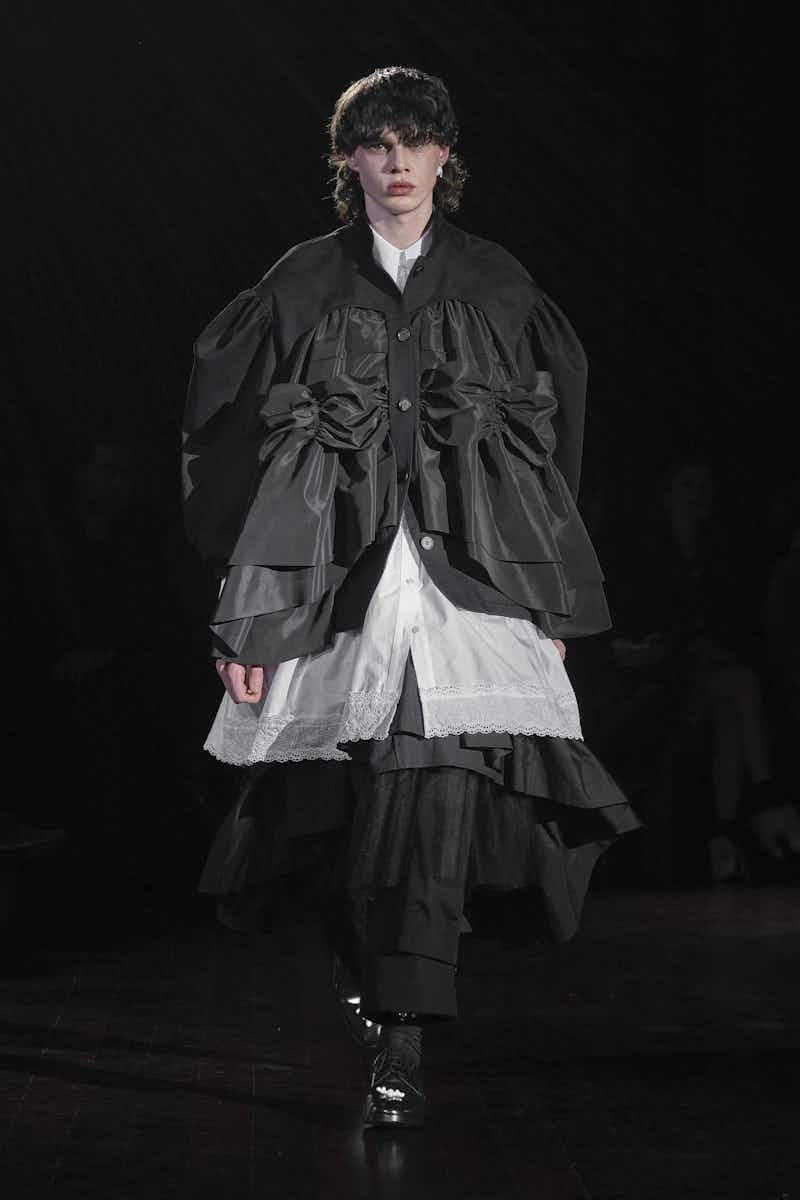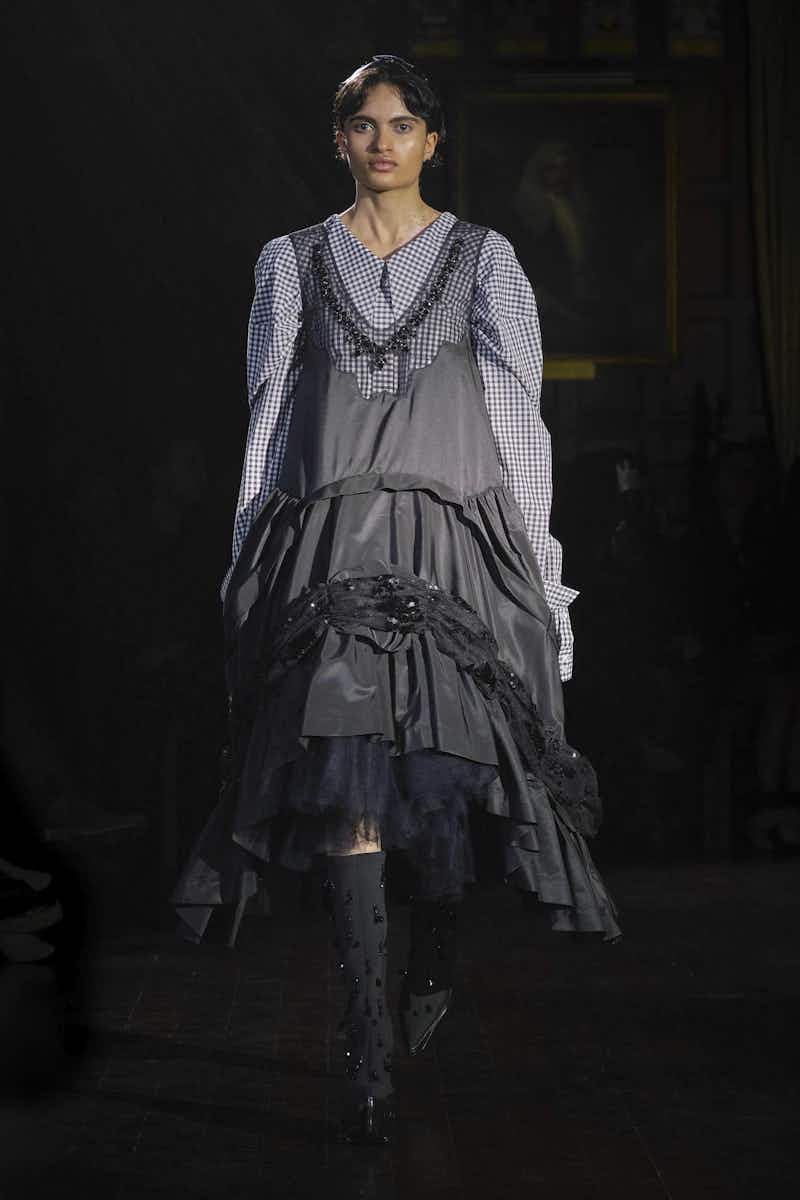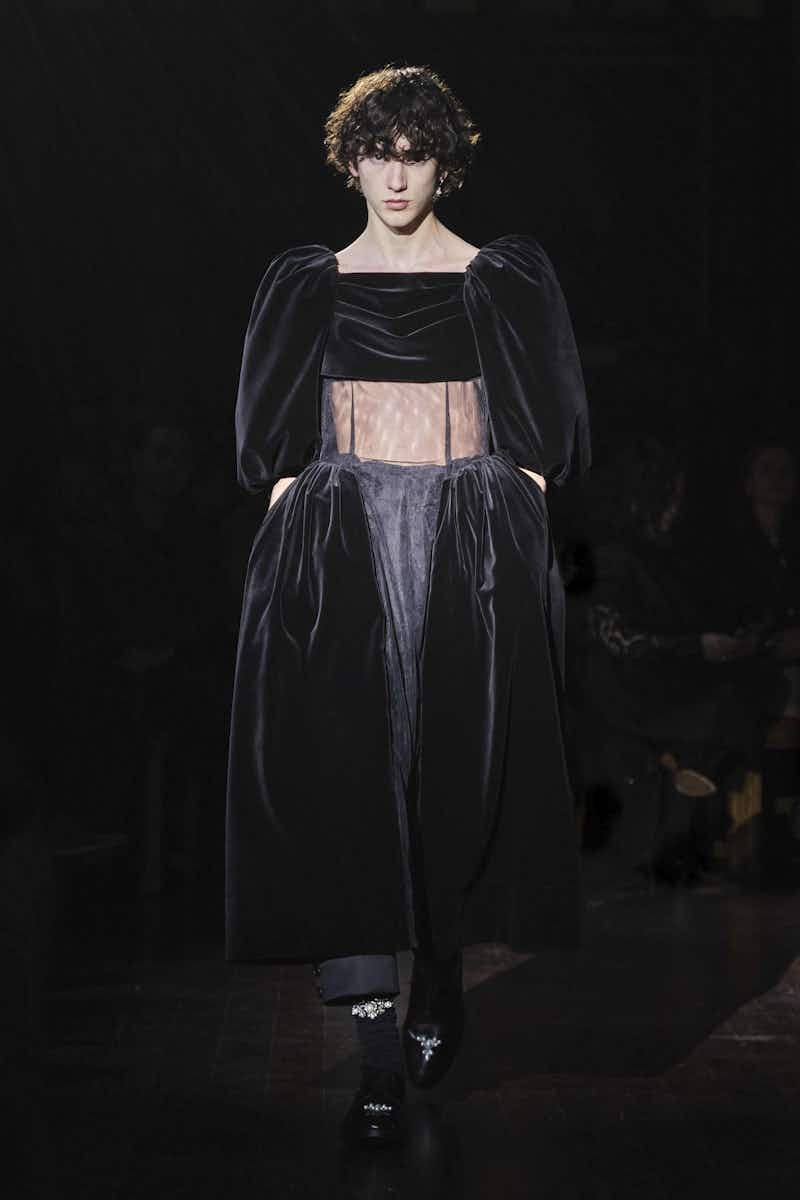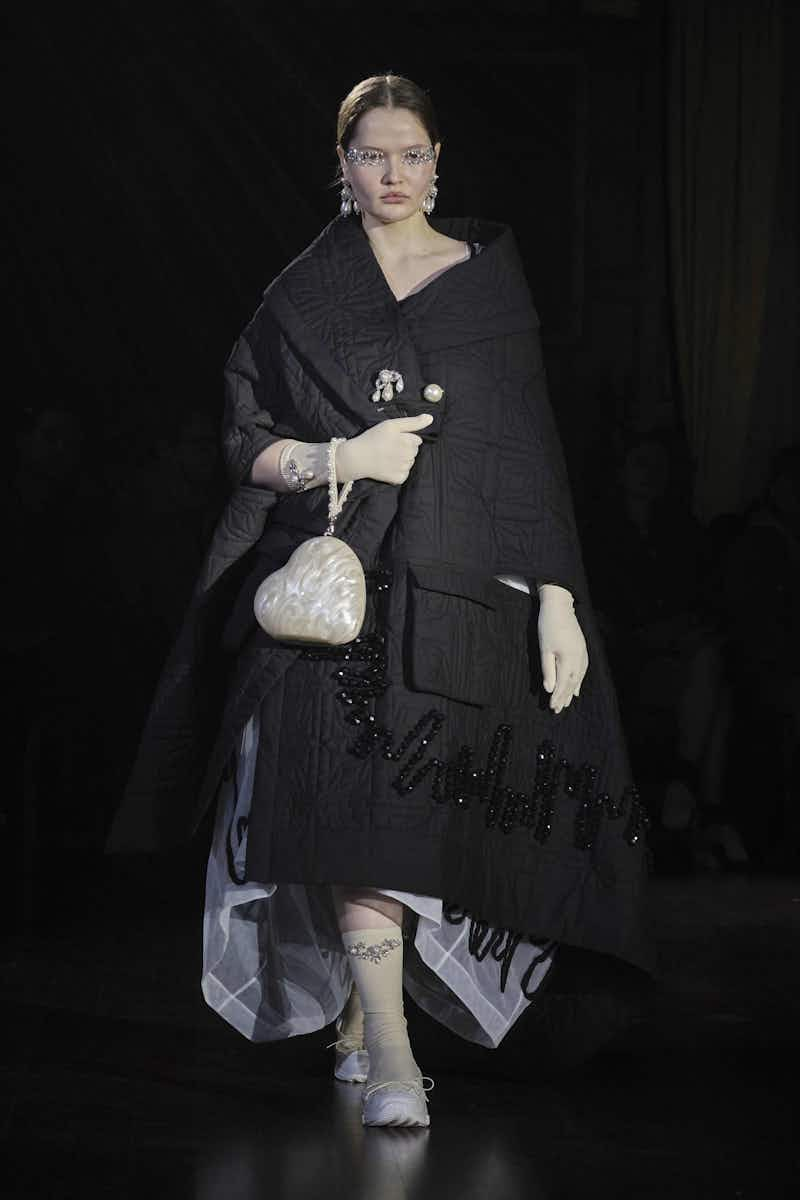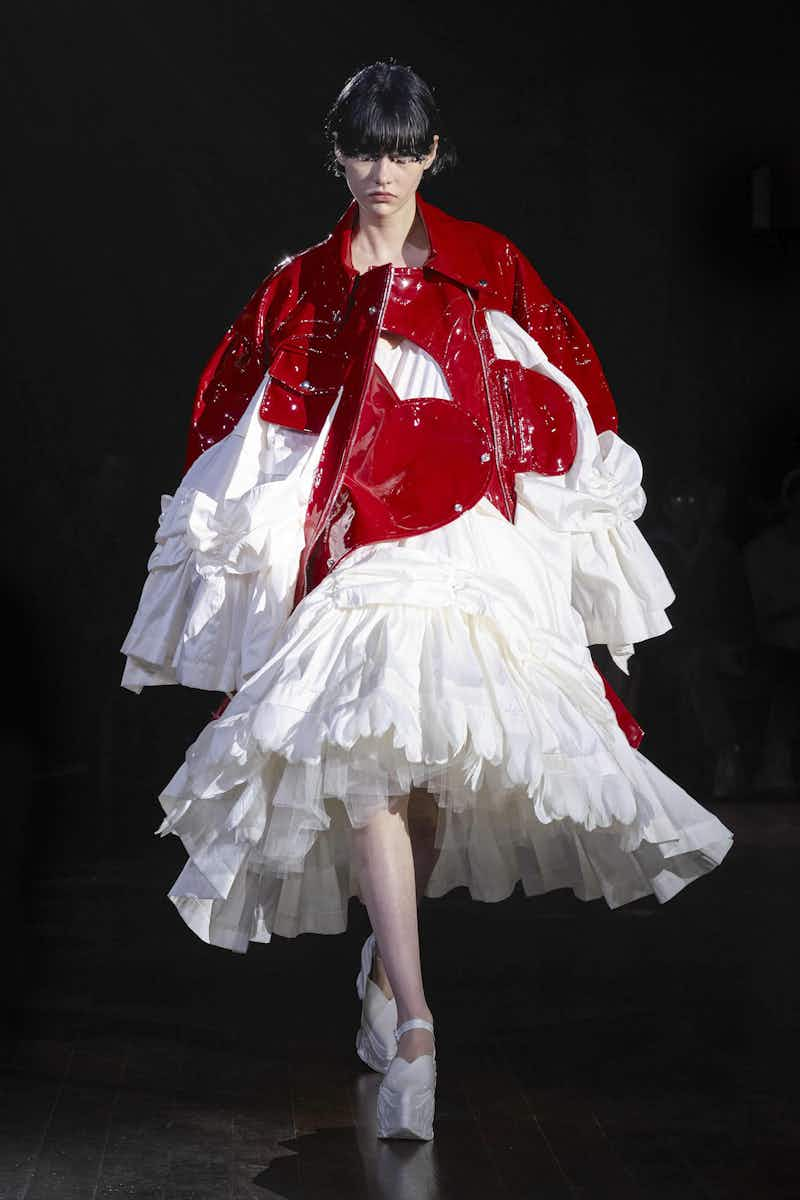 For AW22, Martine Rose's models took to swanky office spaces, showing off wares as fit for the 9 – 5 as they are for going out-out, or even slipping into bed after hours. After all, the boundaries between the two have all but disappeared over the last two years, which is exactly what Rose sought to reflect. Traditionally sporty silhouettes are subverted and sharpened up into more professional attire, like wide-shouldered suits and signature heavy set knits, offset by quilted granny ponchos. There are oversized leather coats, logoed tees, scarves so big they'd give Lenny Kravtiz a run for his money, and even an apron thrown in for good measure. But make no mistake: each detail has been carefully thought through, down to Japanese pleated denim and use of deadstock fabric such as power mesh, made over decades and now discontinued. Inspired by the haphazardness of searching through a pile of clothes before making it to work or frantically getting yourself dressed for a job interview on a hangover, this collection is anything but unintentional – and that's just what Rose was going for.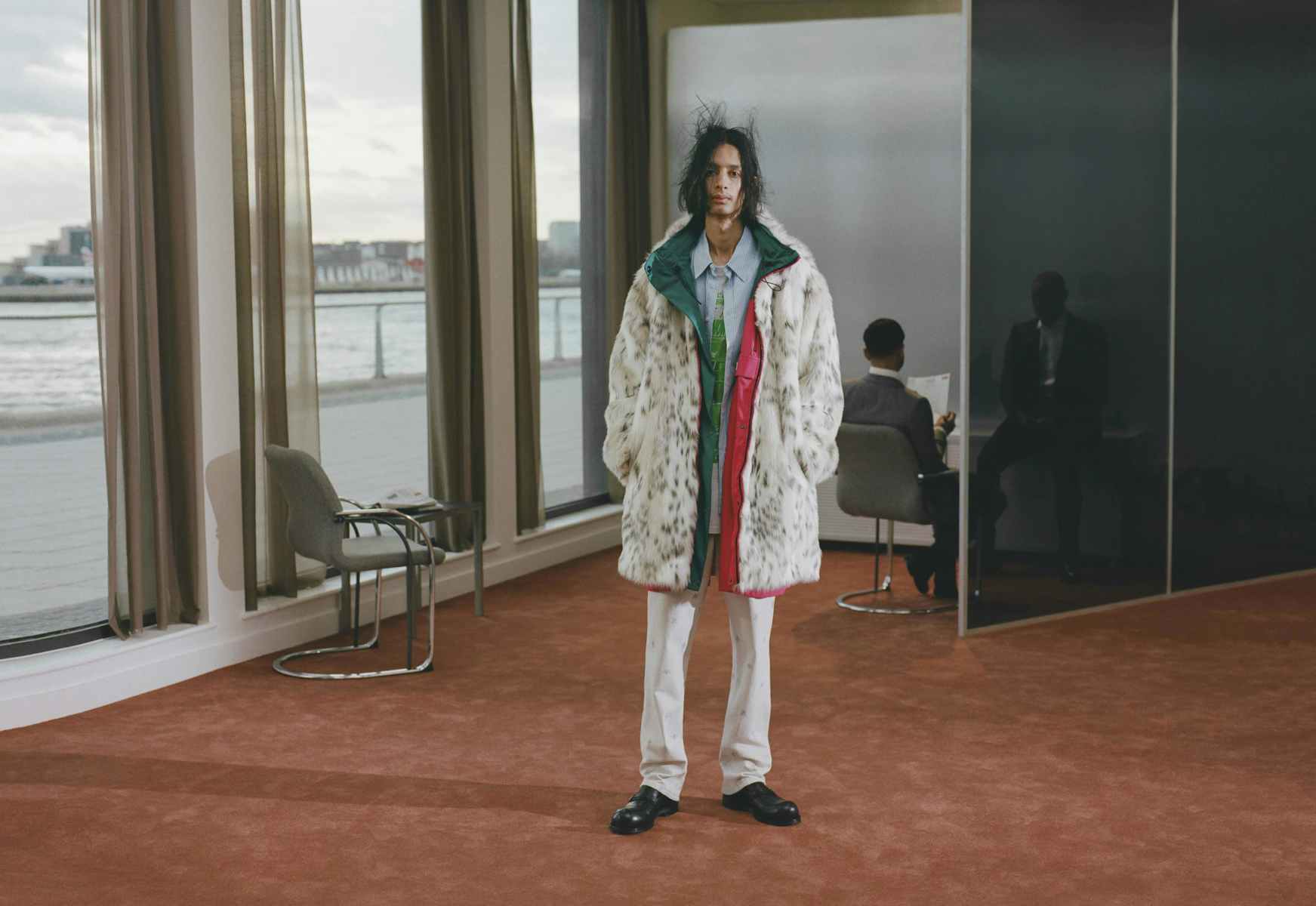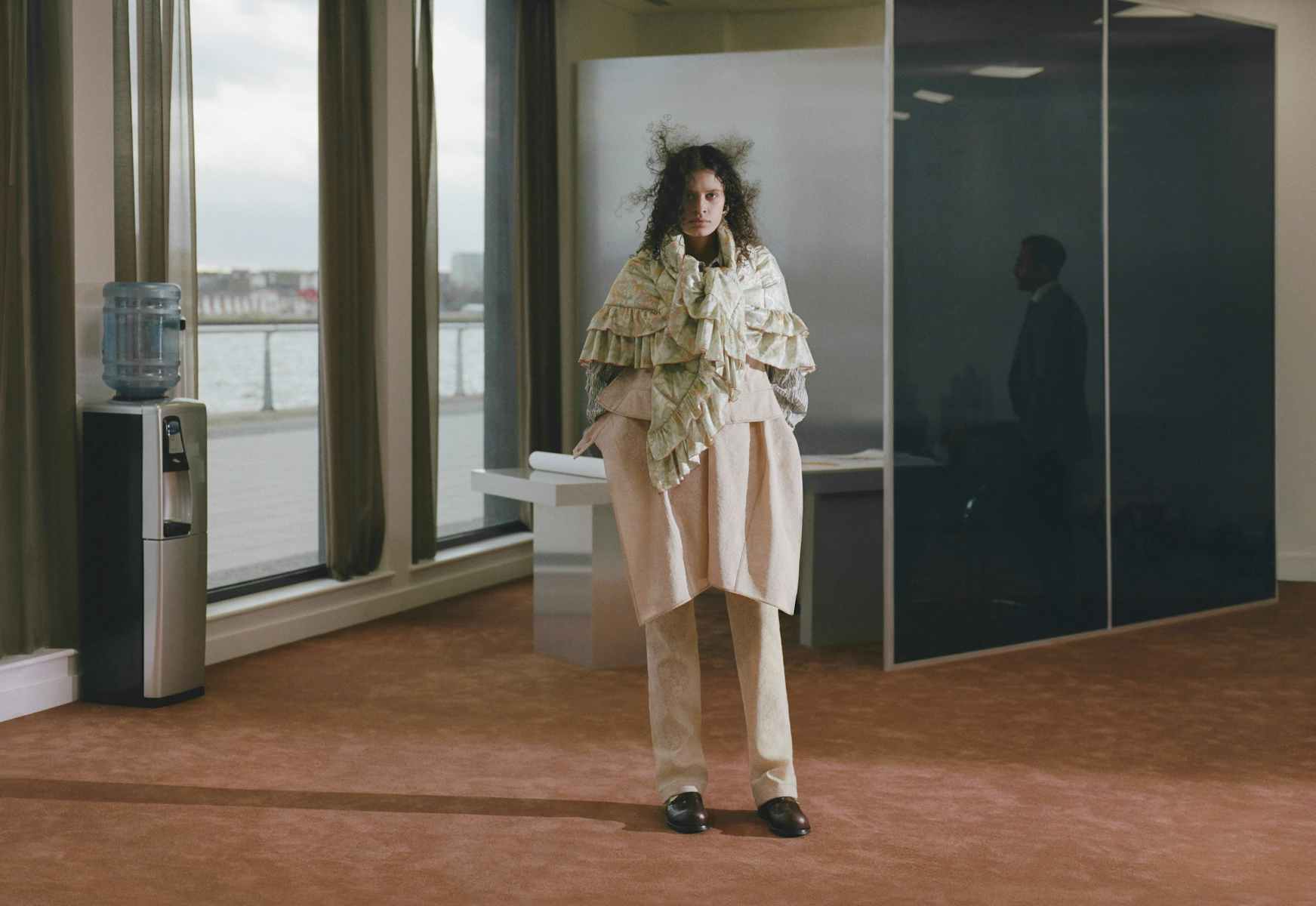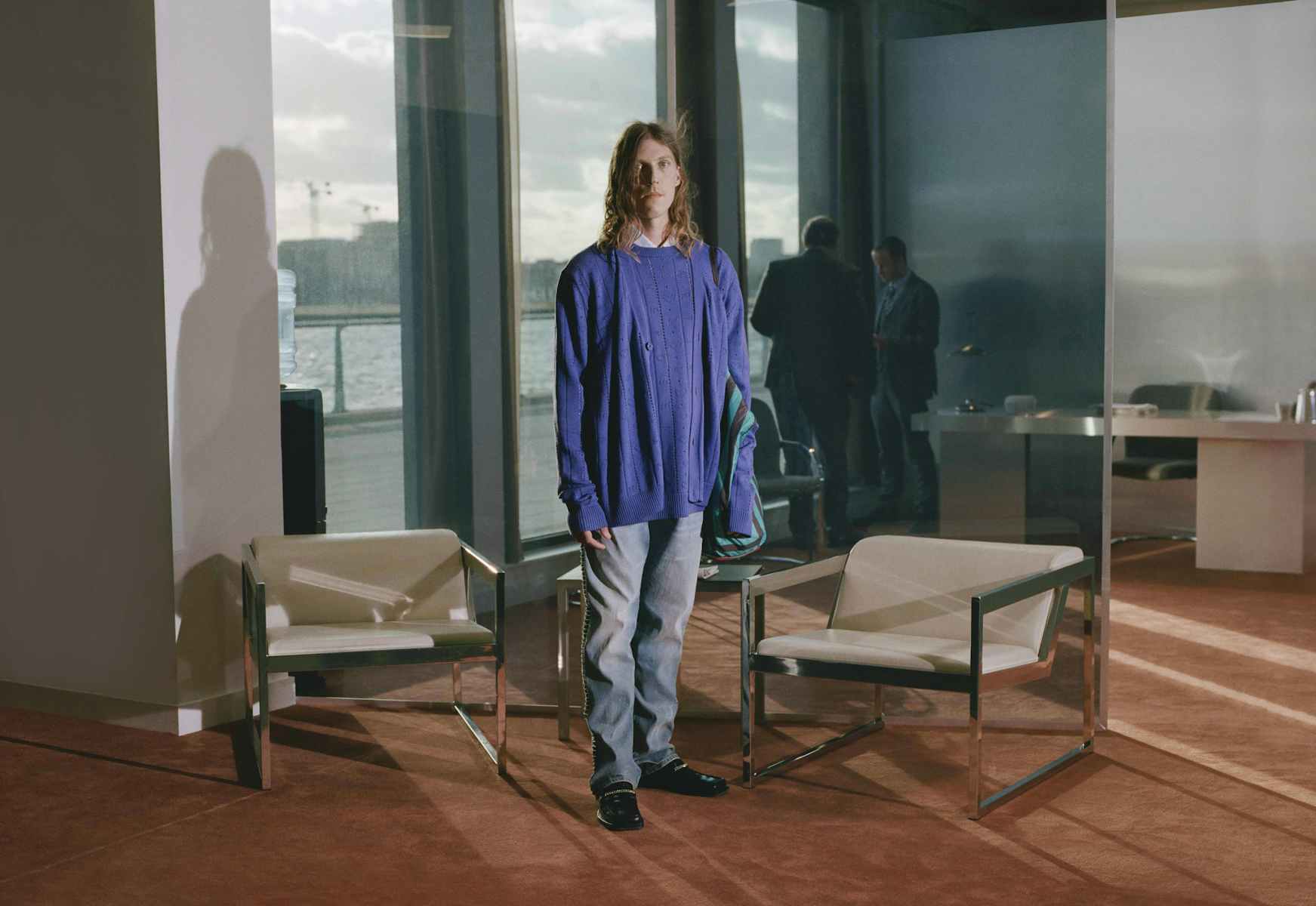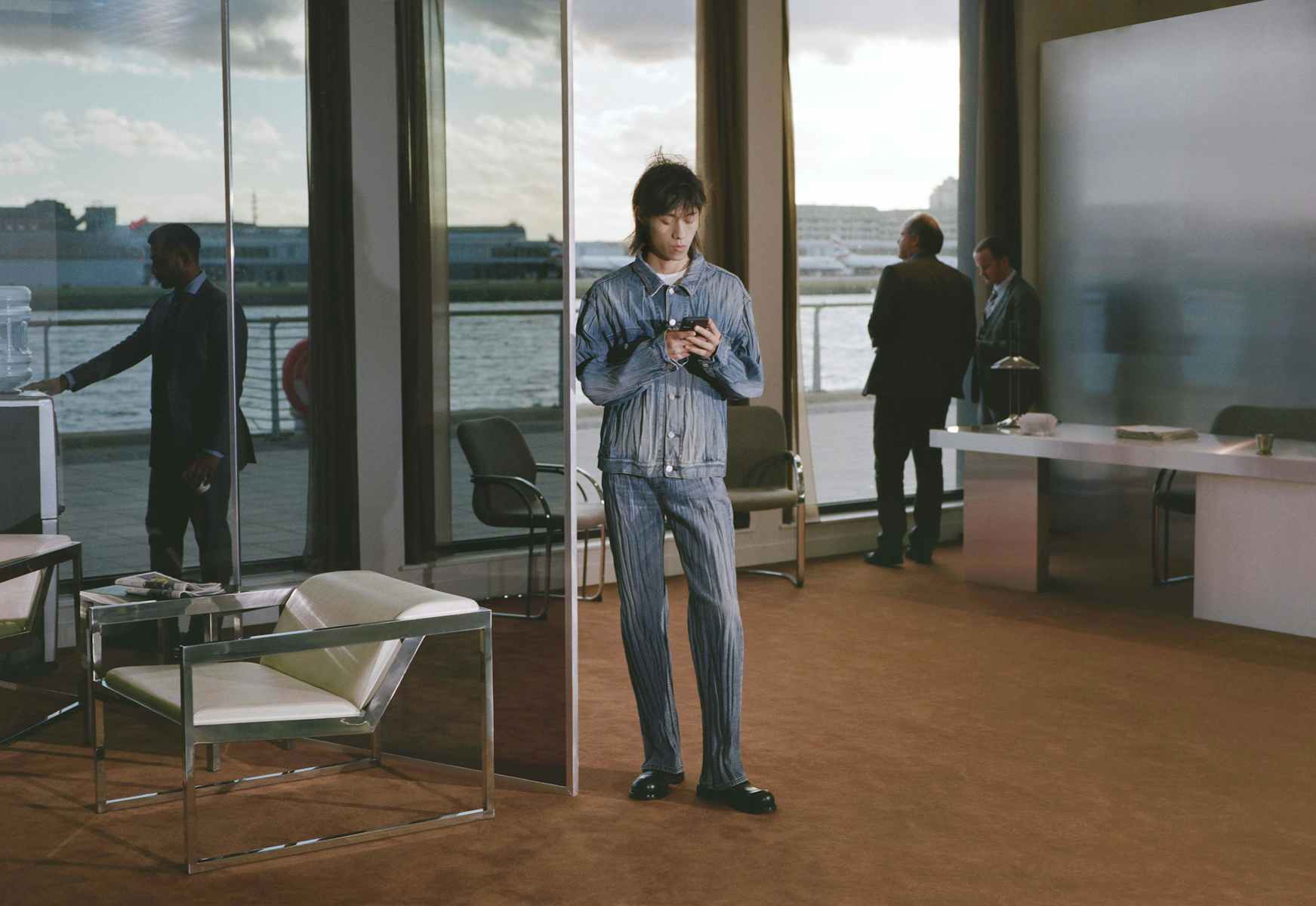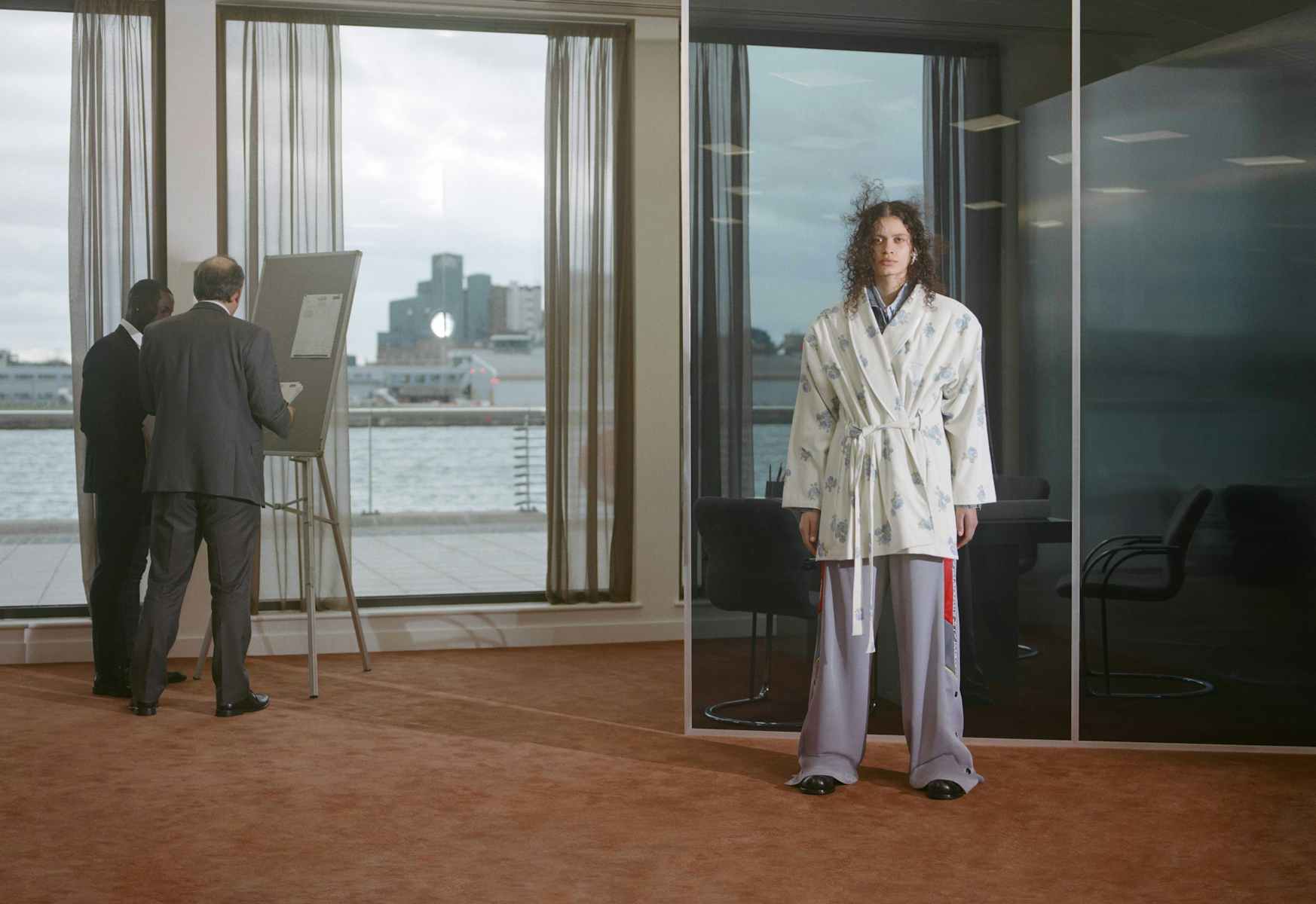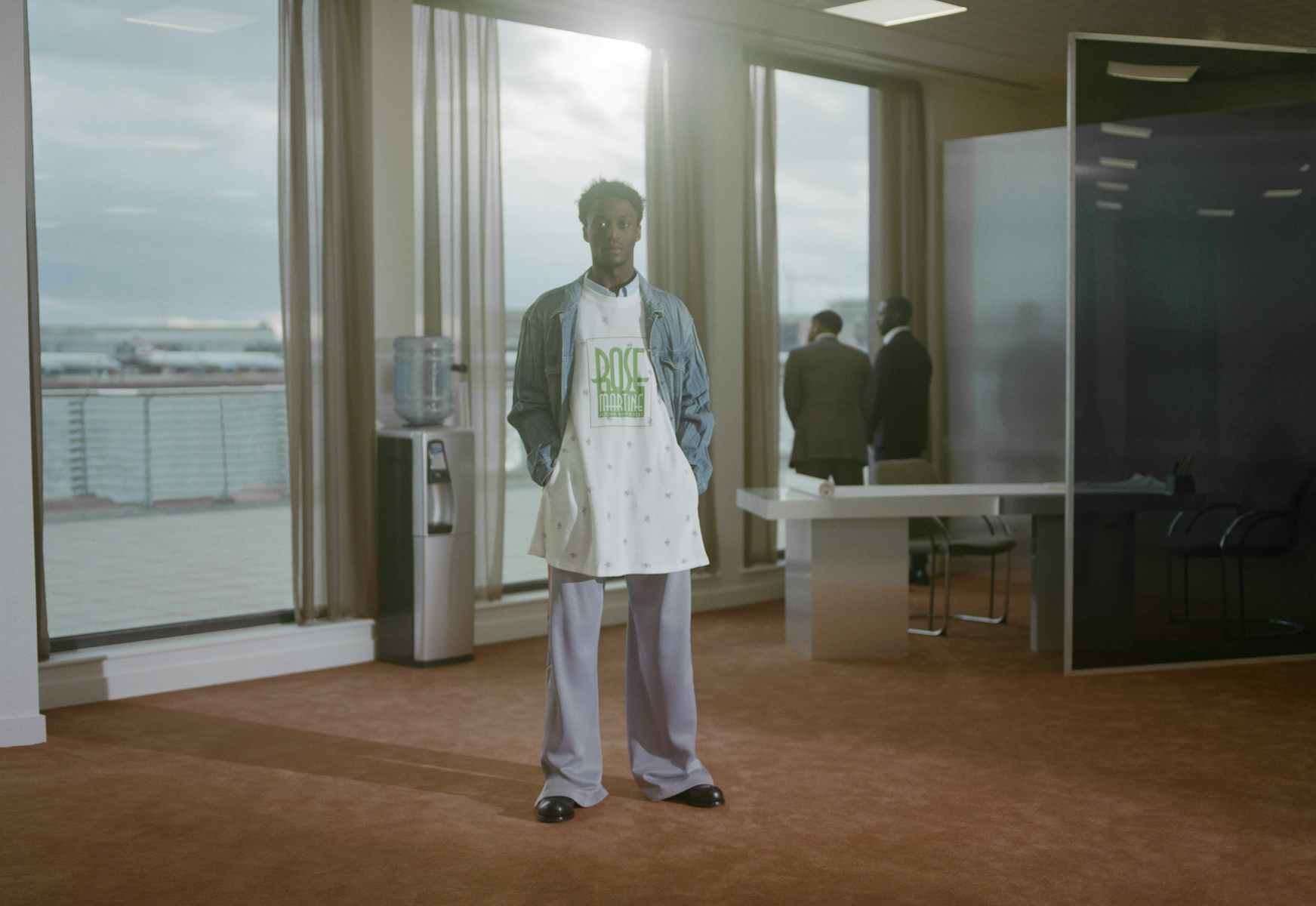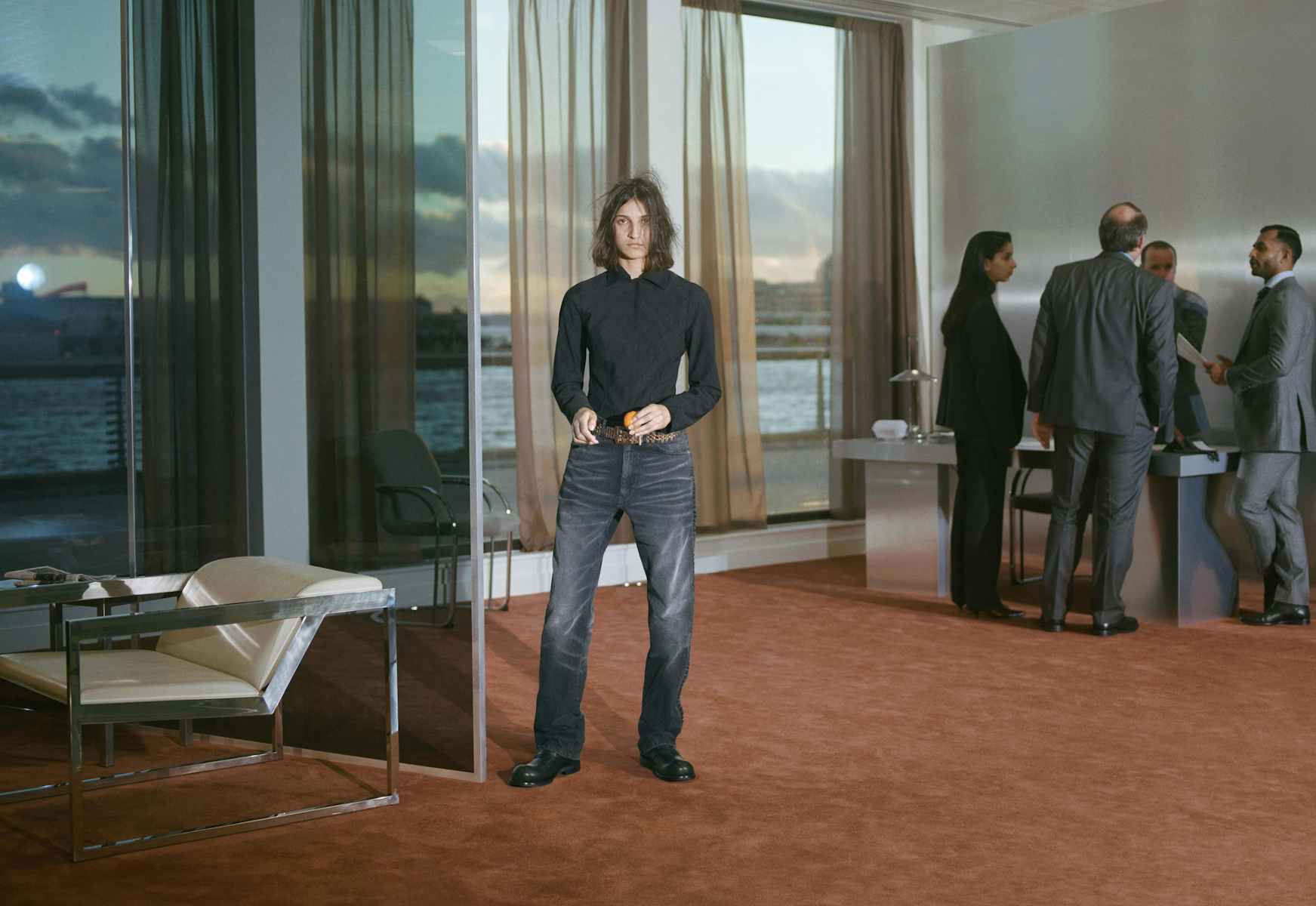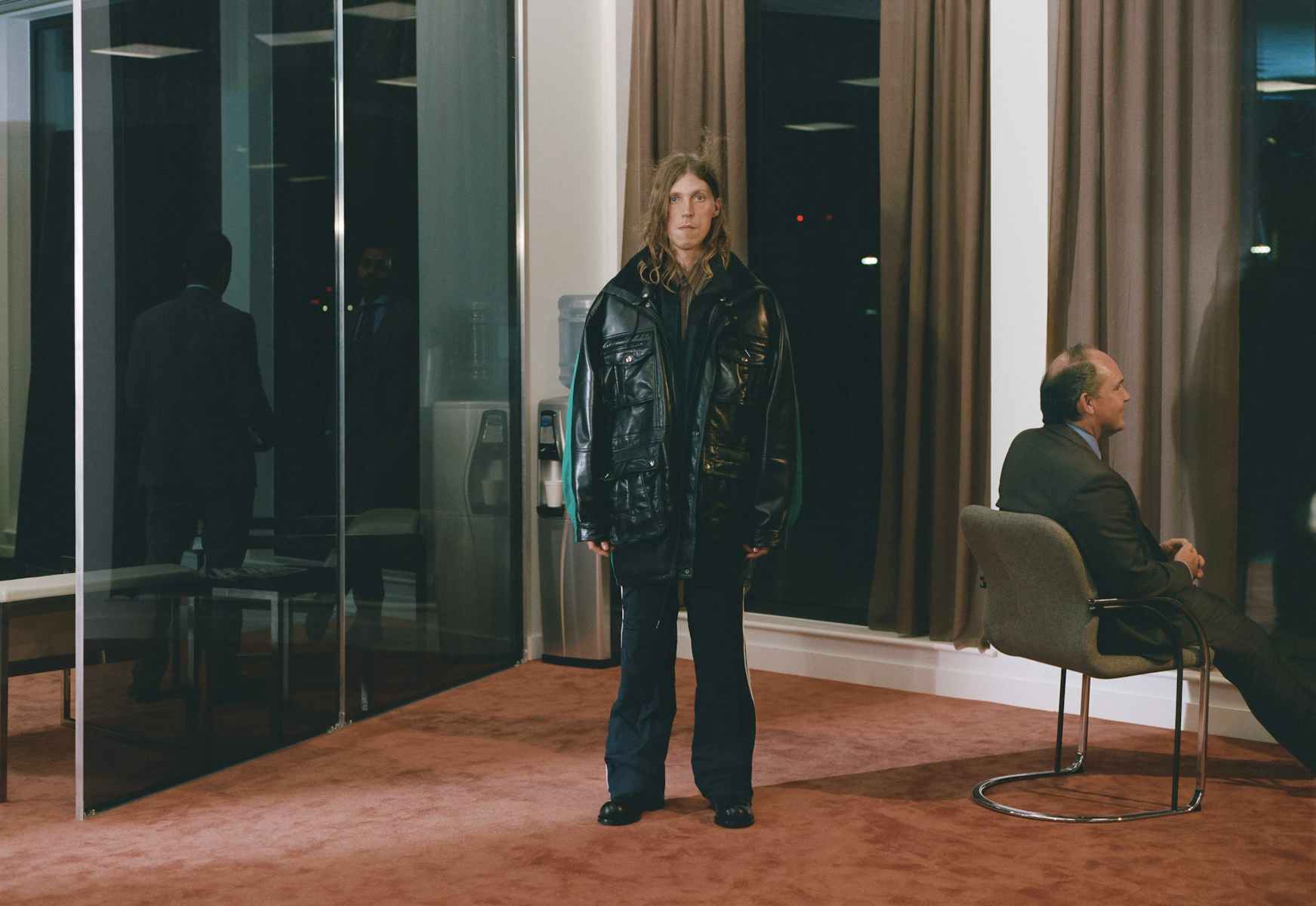 There's a defining silhouette in fashion right now. It's slashed, draped, tied and full of keyholes. It exposes triangles of midriff and a lot of collar bone. The fabrics are shiny or diaphanous, as if a Greek goddess who chopped off her dress hem fell into a timehole and staggered out at the turn of the millennium. Supriya Lele is a key proponent of this flesh-emphasising, body-exposing look. She's part of a cohort of designers mixing autobiography (in Lele's case, vivid memories of watching female relatives help each other arrange their saris) with a yen for the style – and, perhaps more importantly, the aura – of the Nineties and Noughties. Lele's latest collection refines these preoccupations in a palette of dusky browns, cool blues, and bright yellows and reds. Designs are focused on the hip rather than the waist, mini-skirts and trousers slung low. It's knowingly cool, and likely to furnish a lot of nights out this year.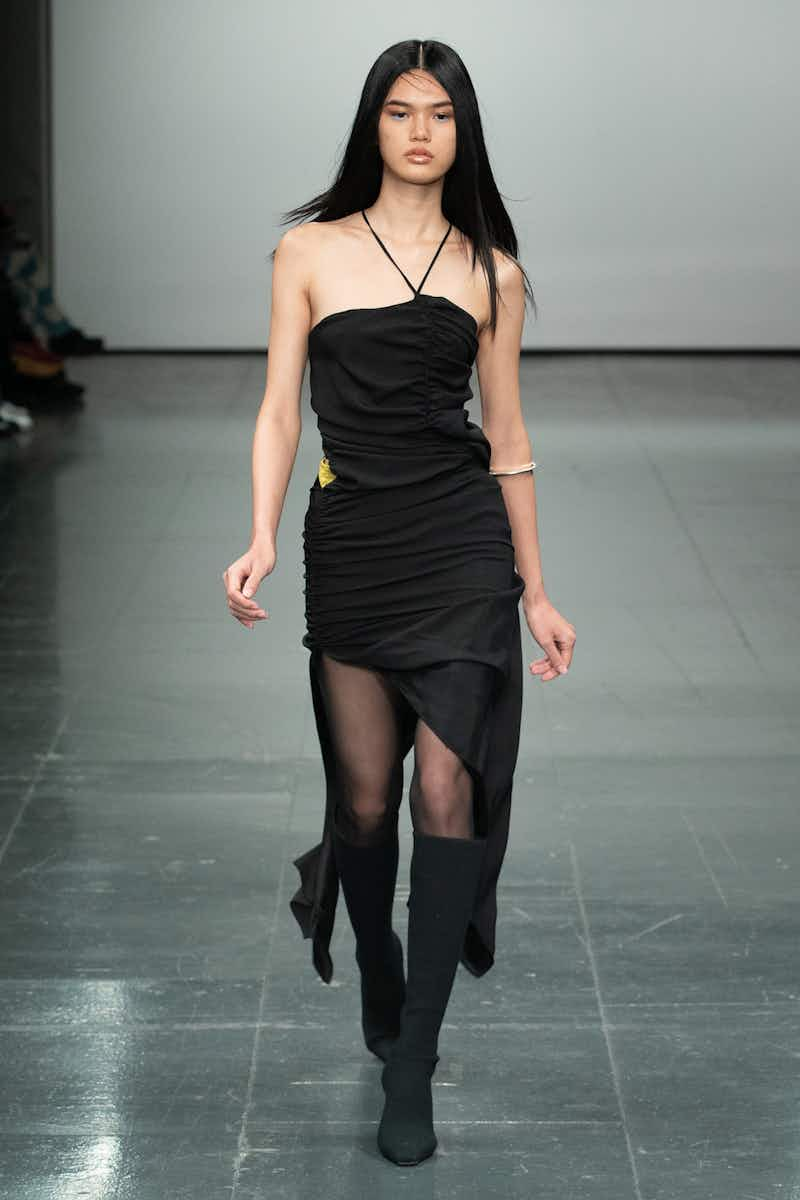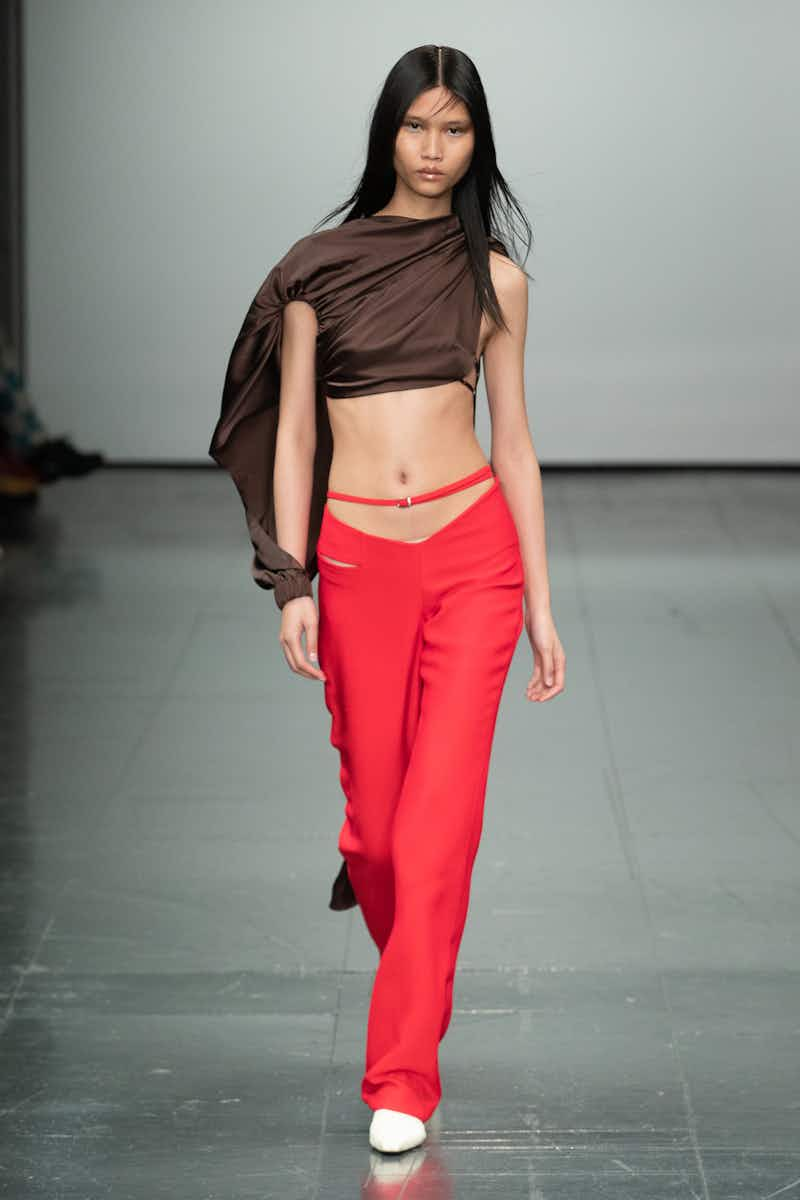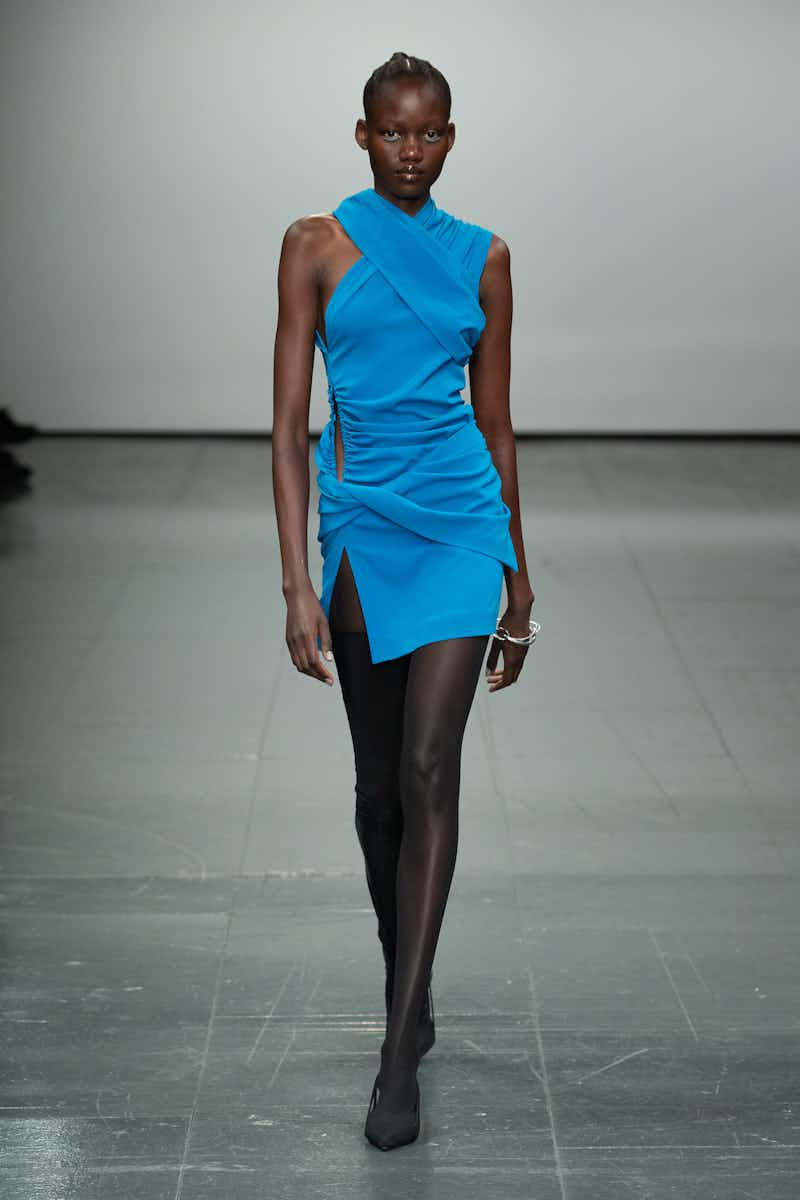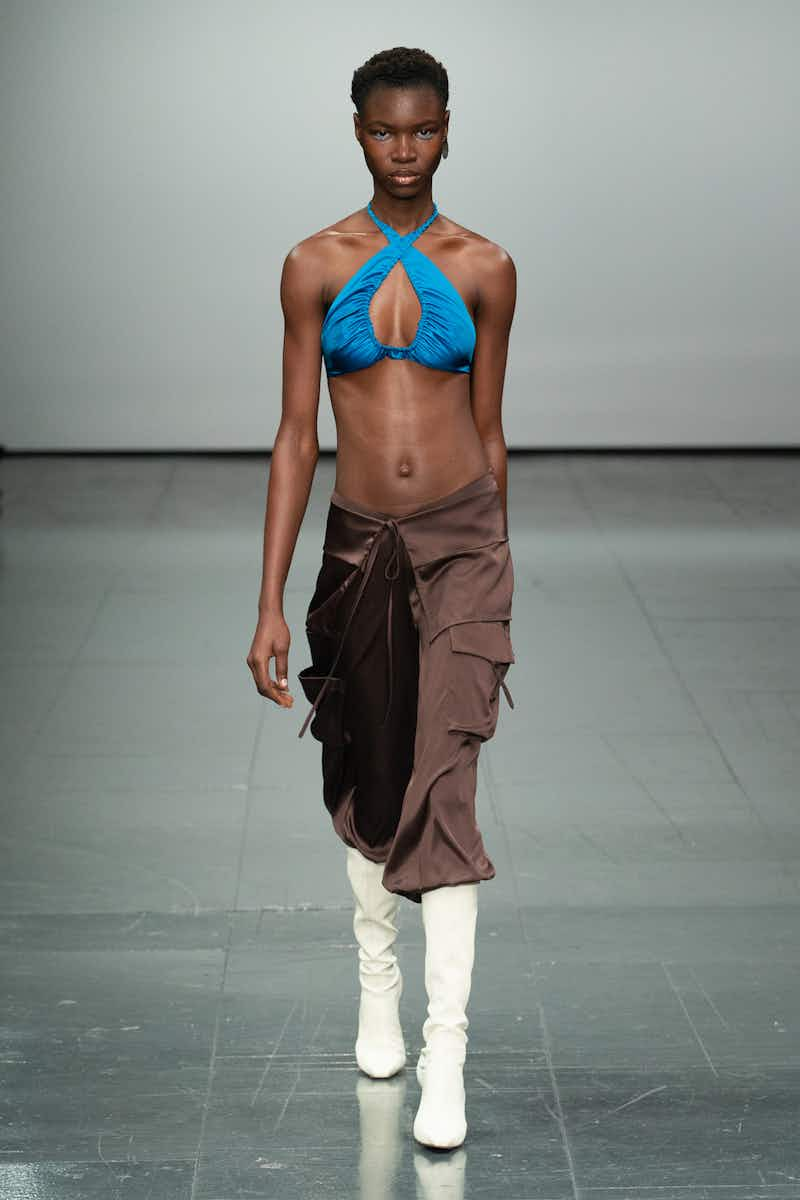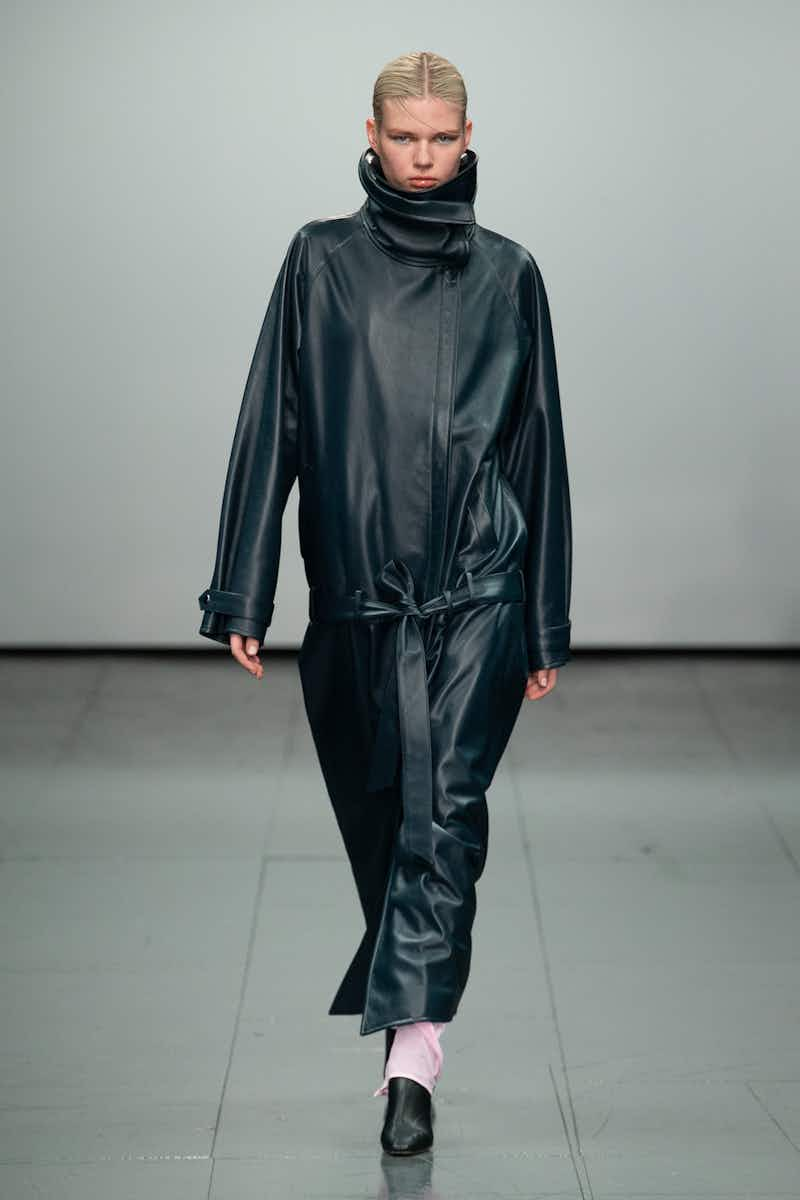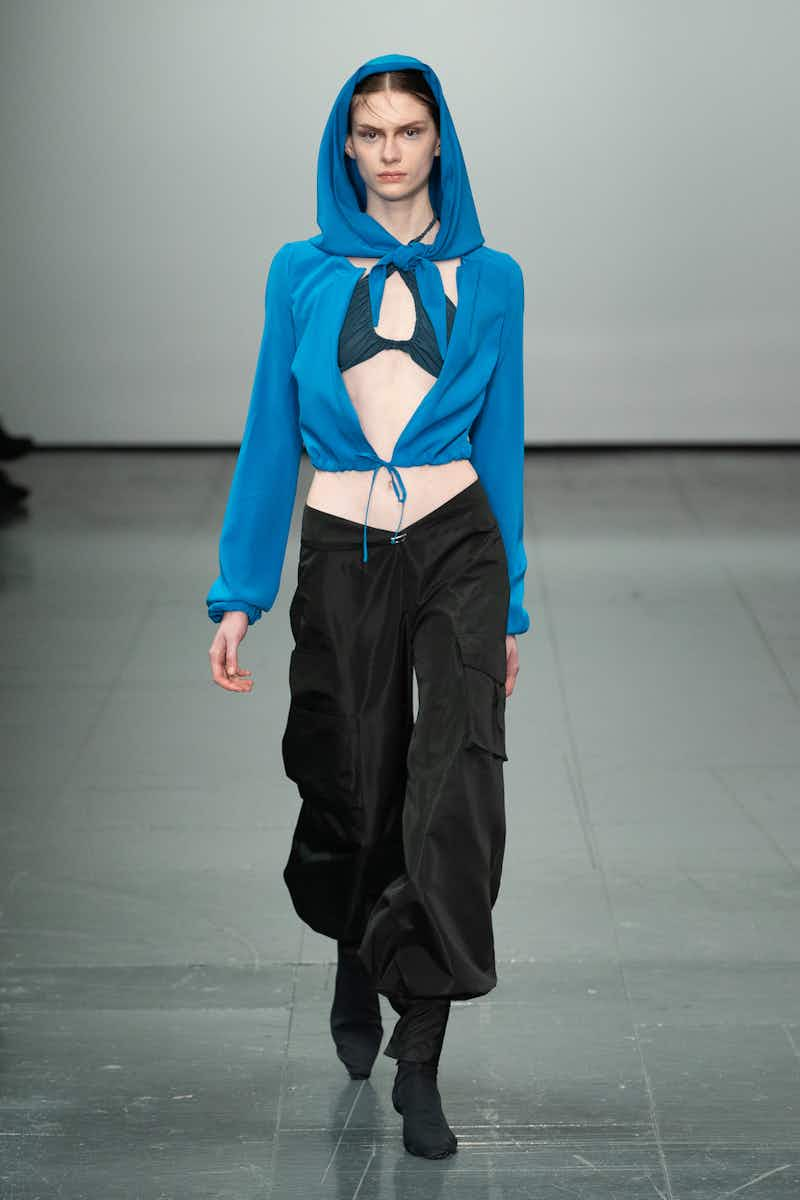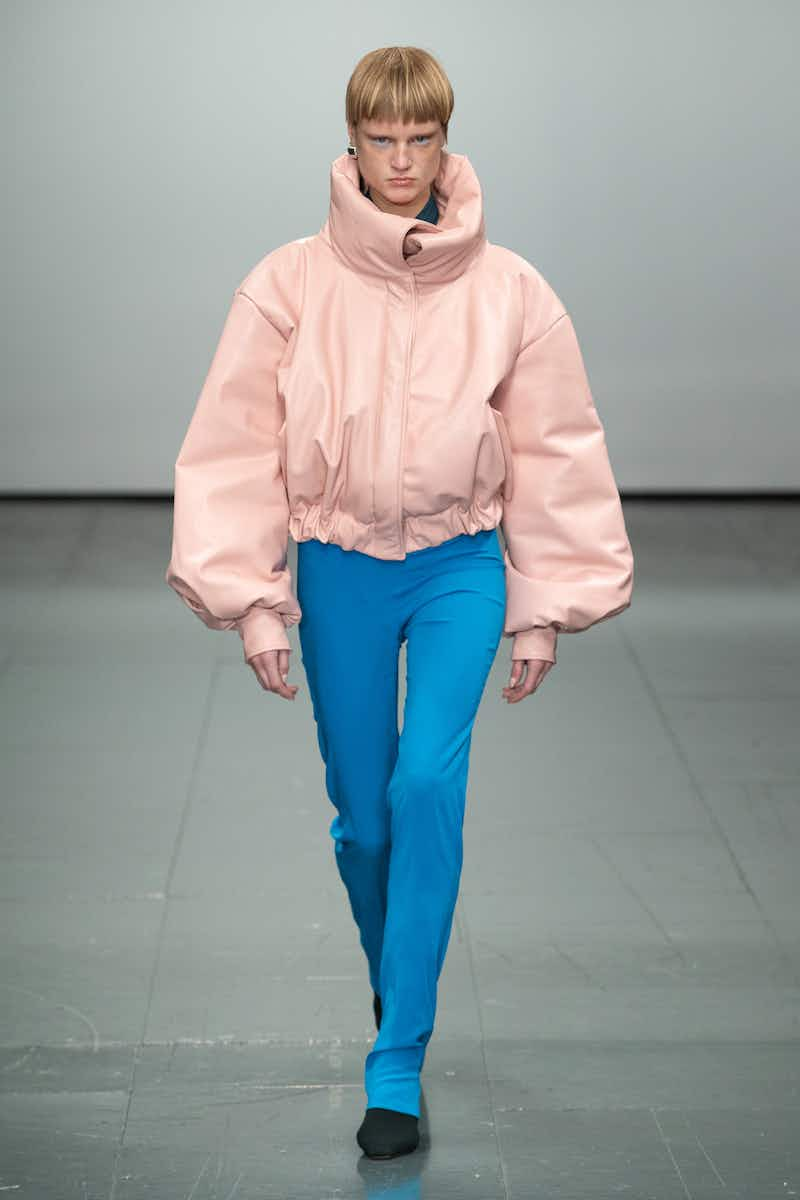 If there's anything you can expect from Vivienne Westwood, it's a reference, most probably to a painting or an objet d'art, or most likely, these days, to one of her own previous collections. Wild Beauty is no exception. The title is borrowed from Westwood's Gold Label AW01 collection, brought back in this Chinese zodiac Year of the Tiger with a similar array of animal prints. Here, the tiger stripes were accompanied by tartans and hand-painted eyes inspired by Matisse. Brueghel makes an appearance too, The Fight Between Carnival and Lent (1559) getting a nod for representing ​"the human condition, teeming with life", its busy crowds appearing on various coats and bags. Westwood's label always teems with life too, packed with ideas and sly touches. Although looking back can sometimes limit a brand's vision, her use of deadstock fabrics from previous seasons (which allowed for the house's most sustainable collection to date) suggests a more concrete engagement with the past – reinventing the old to minimise the waste of the new.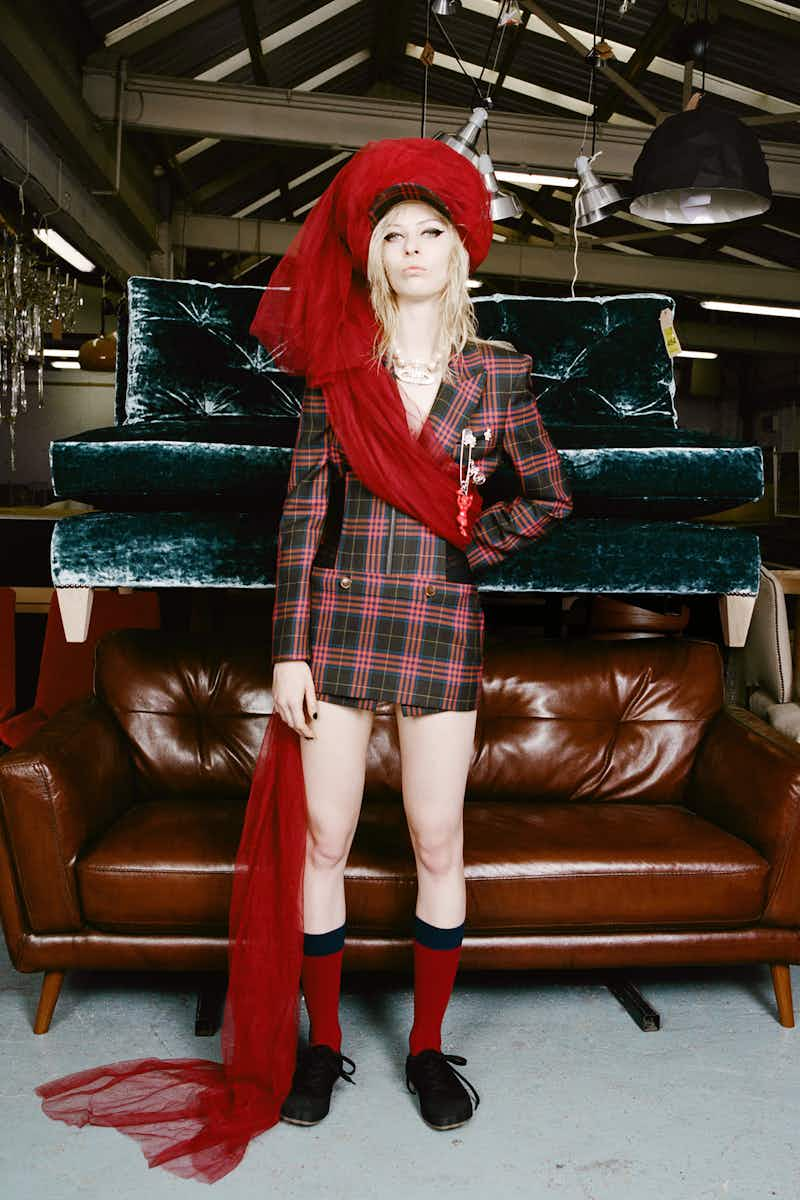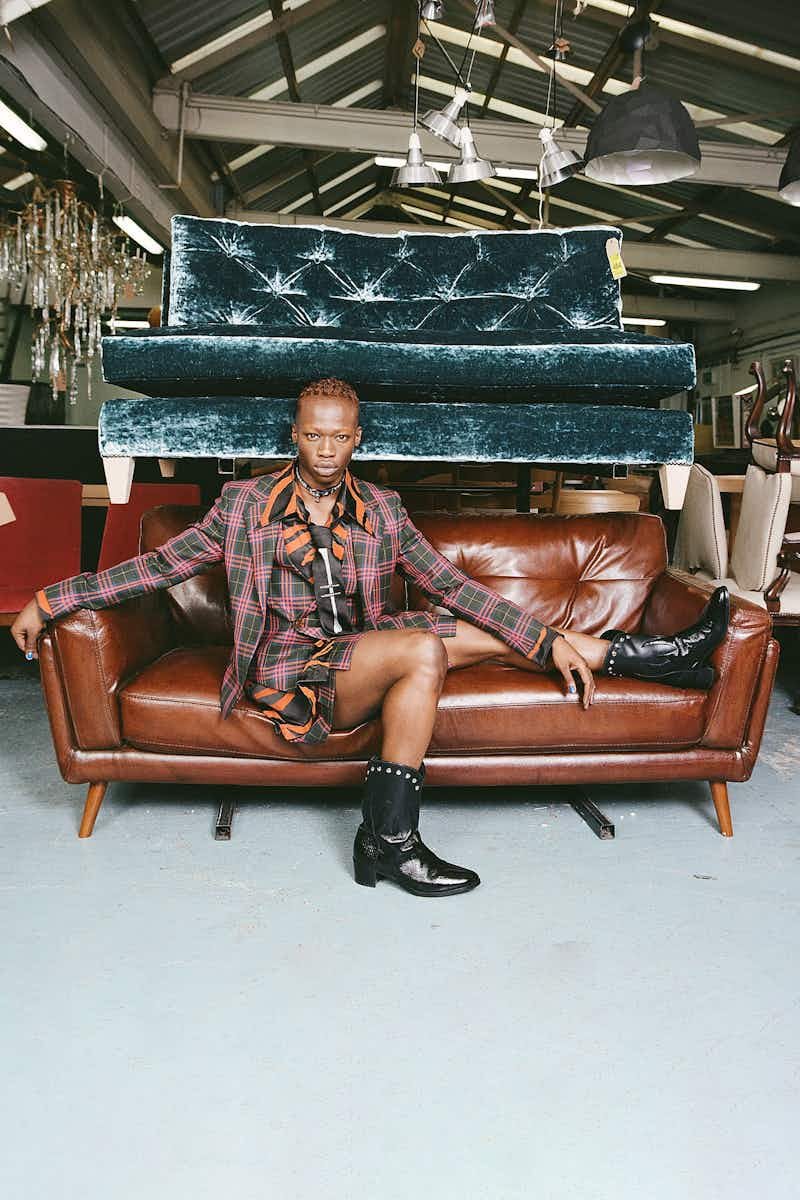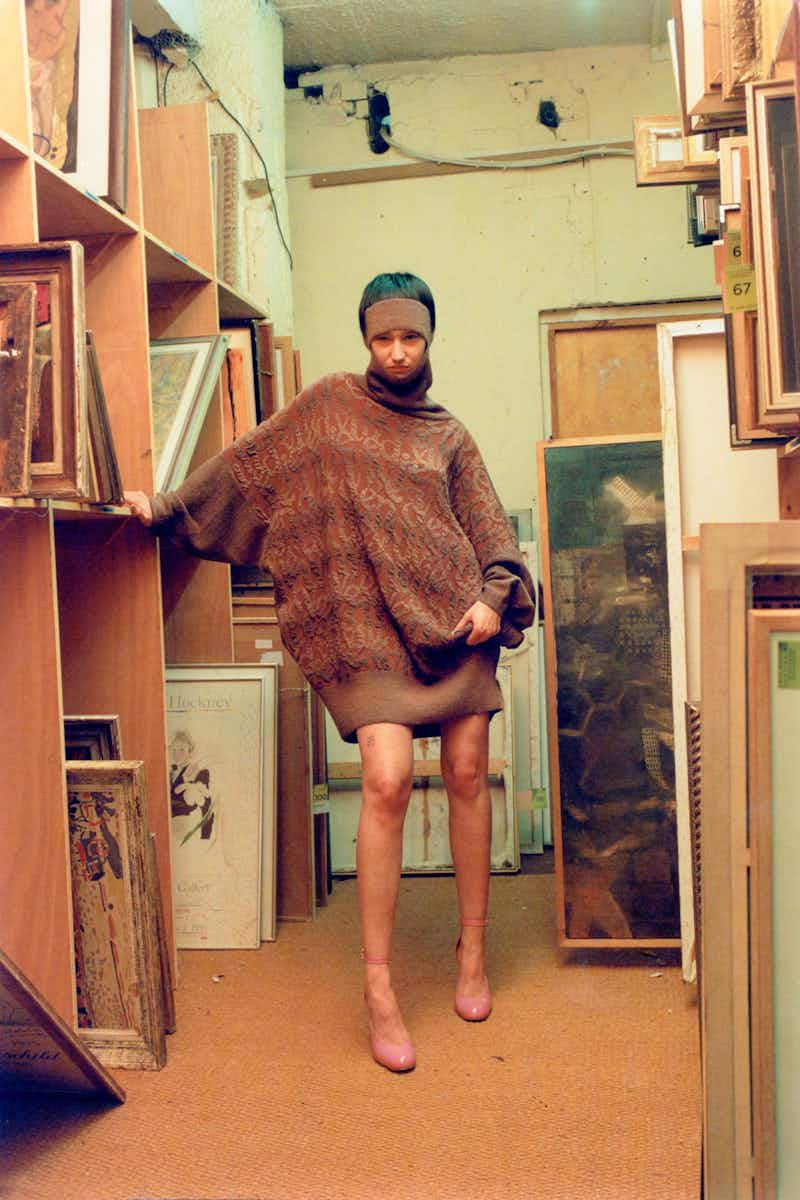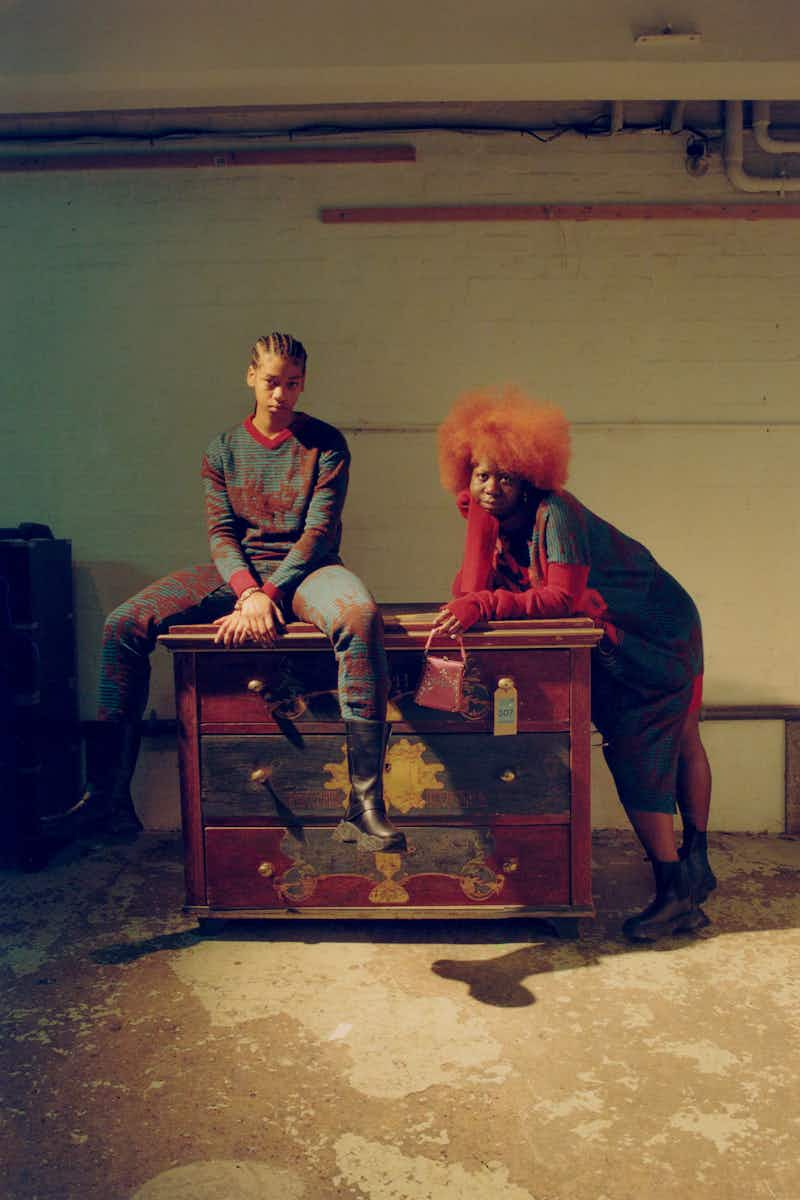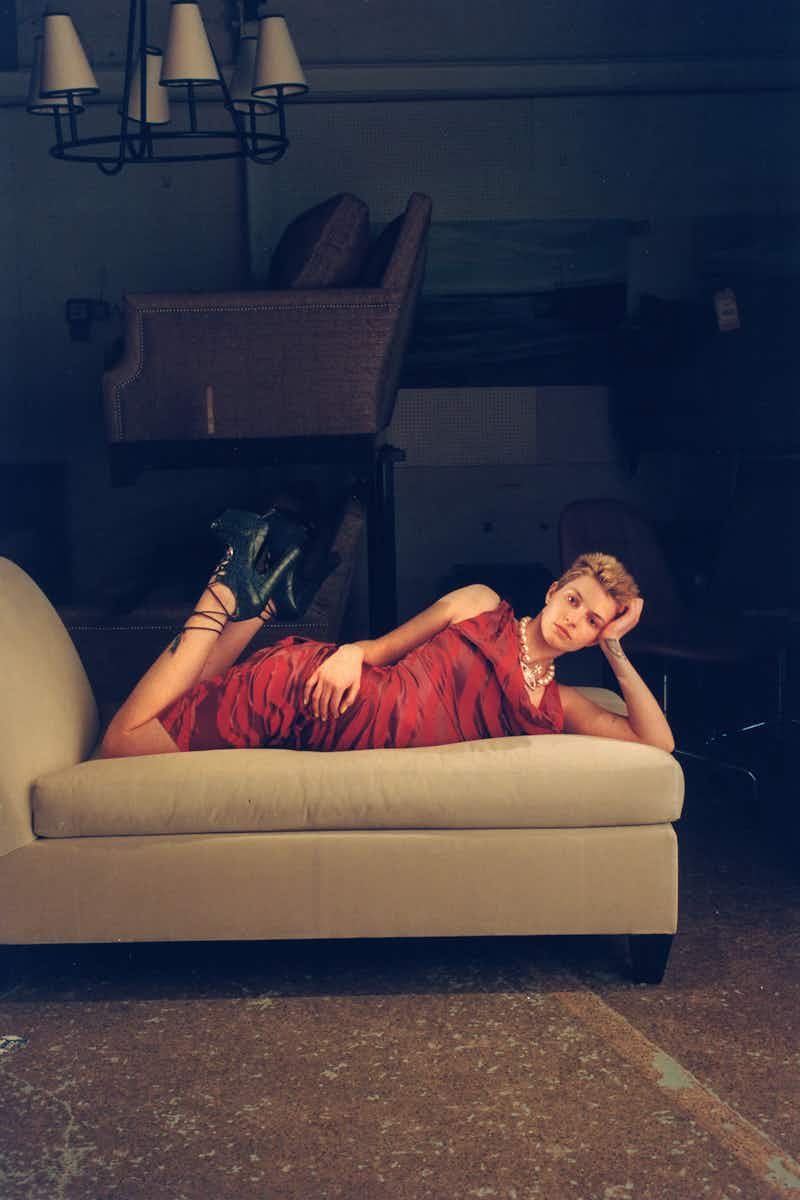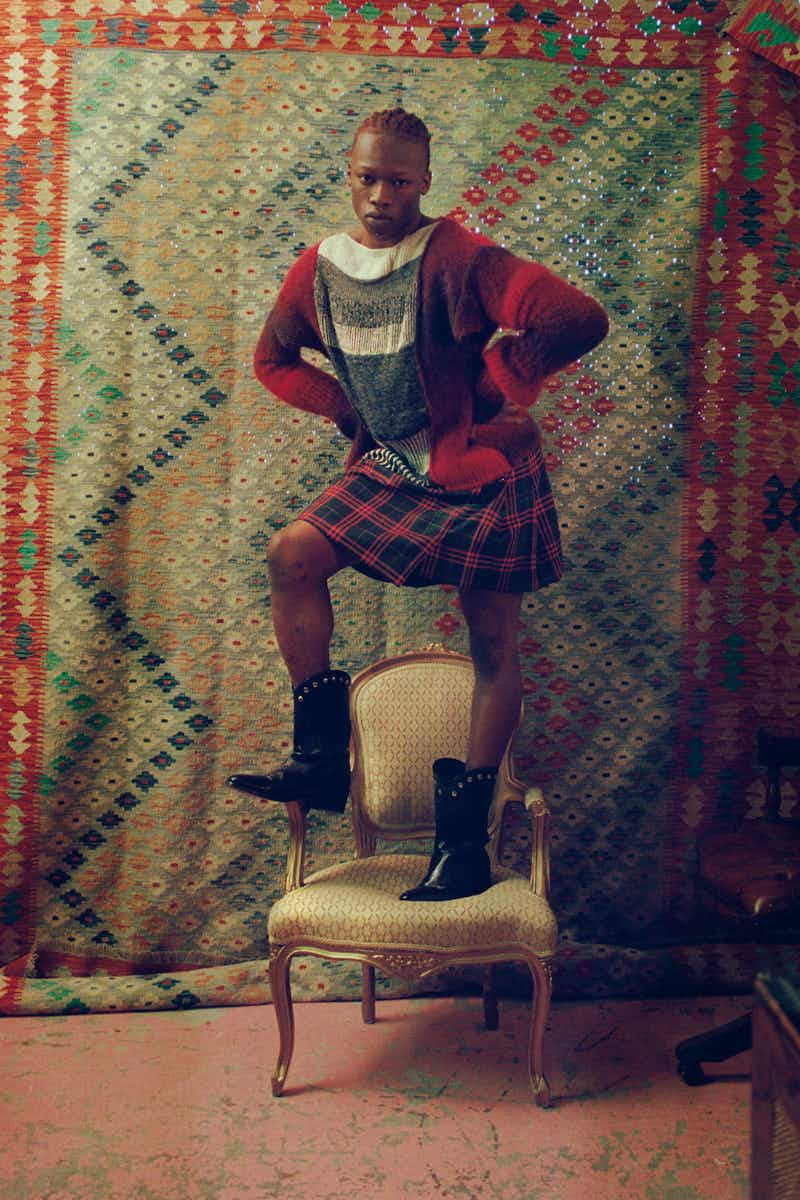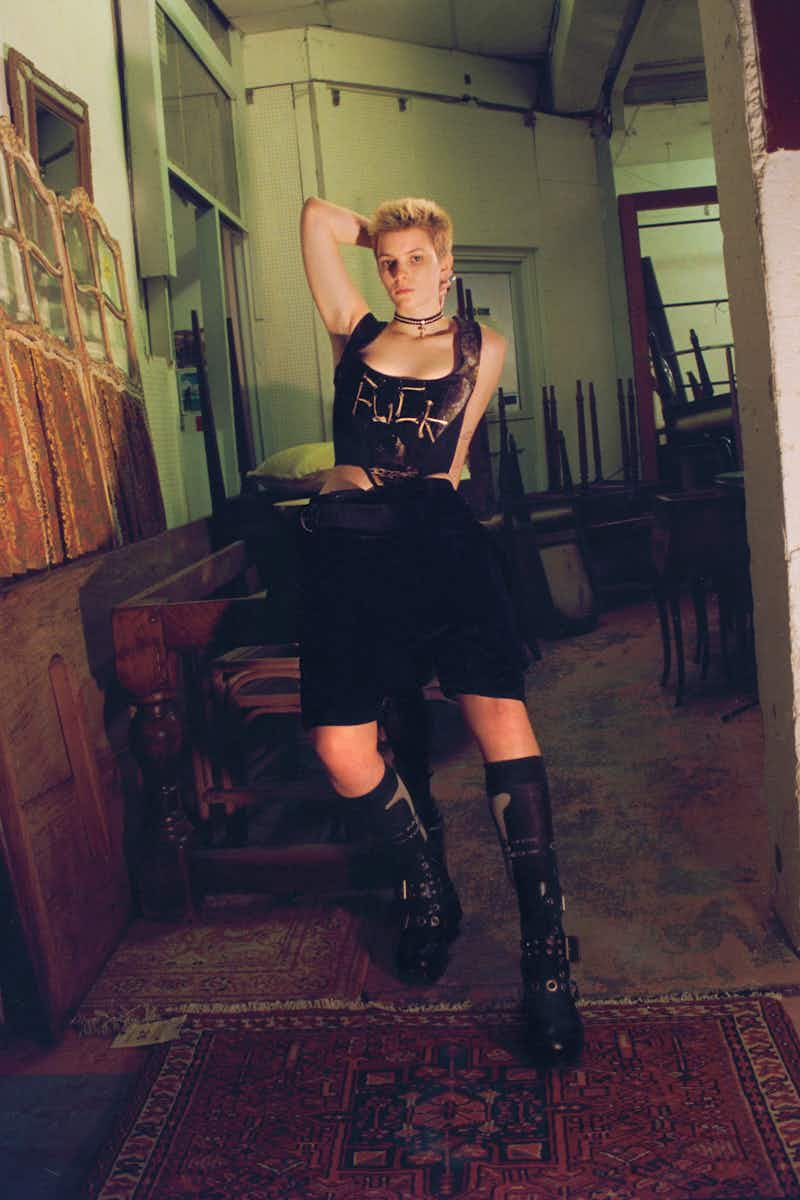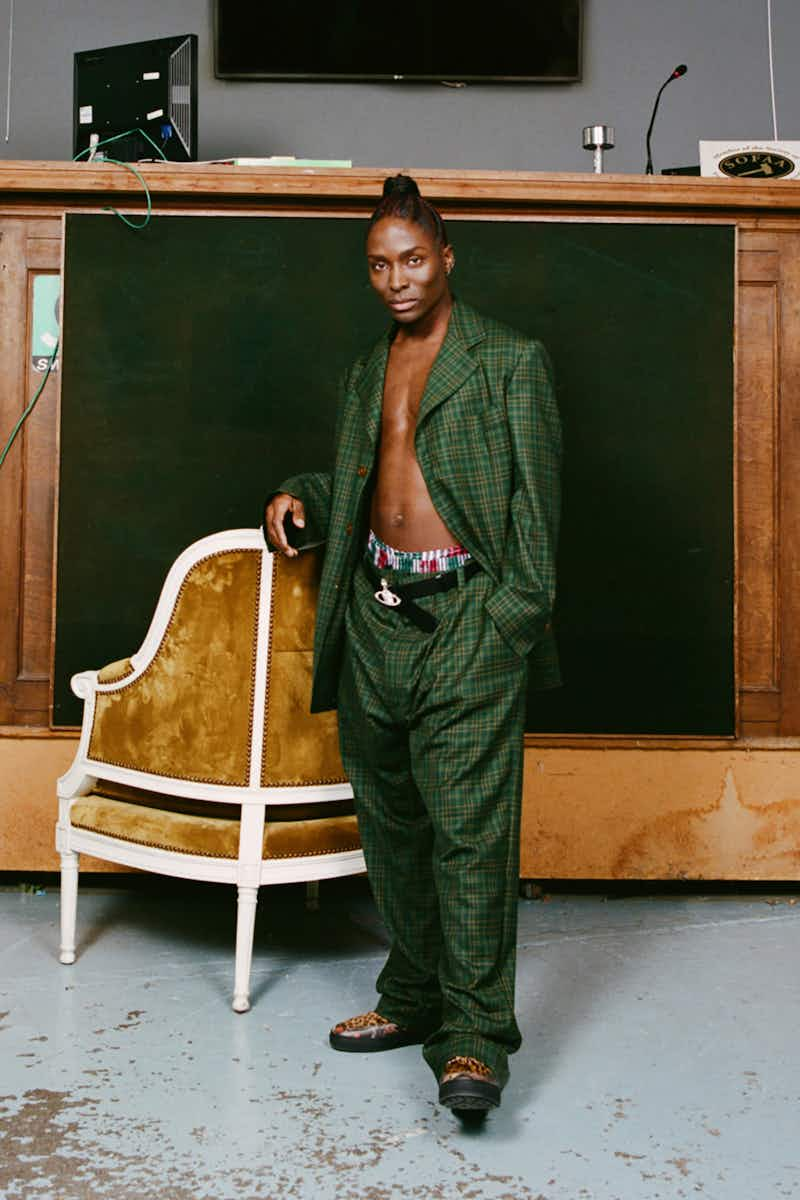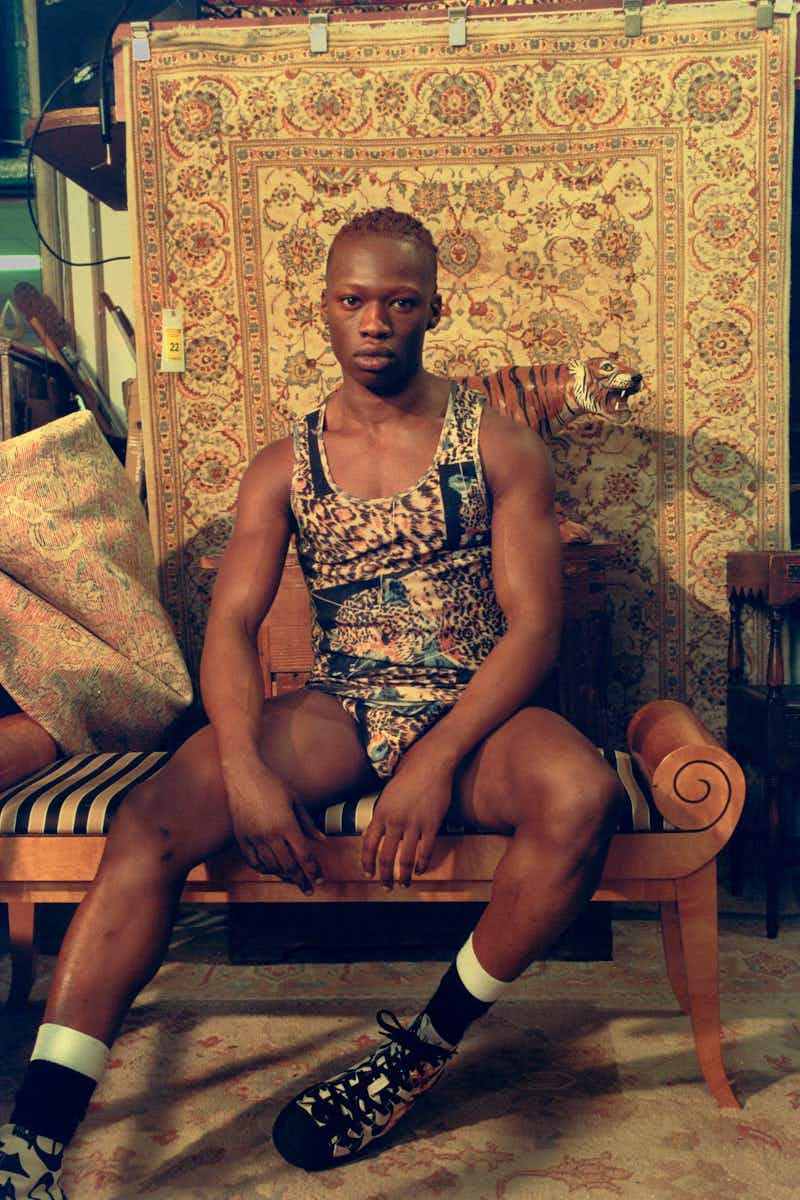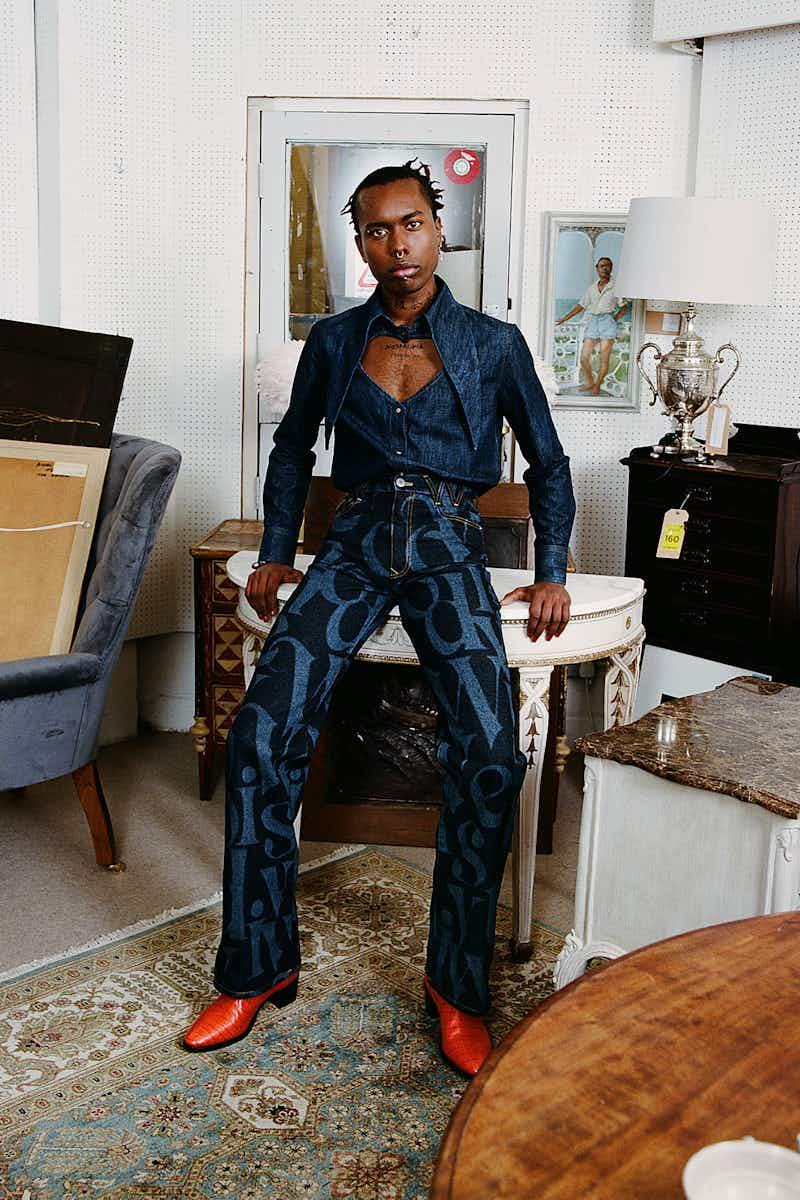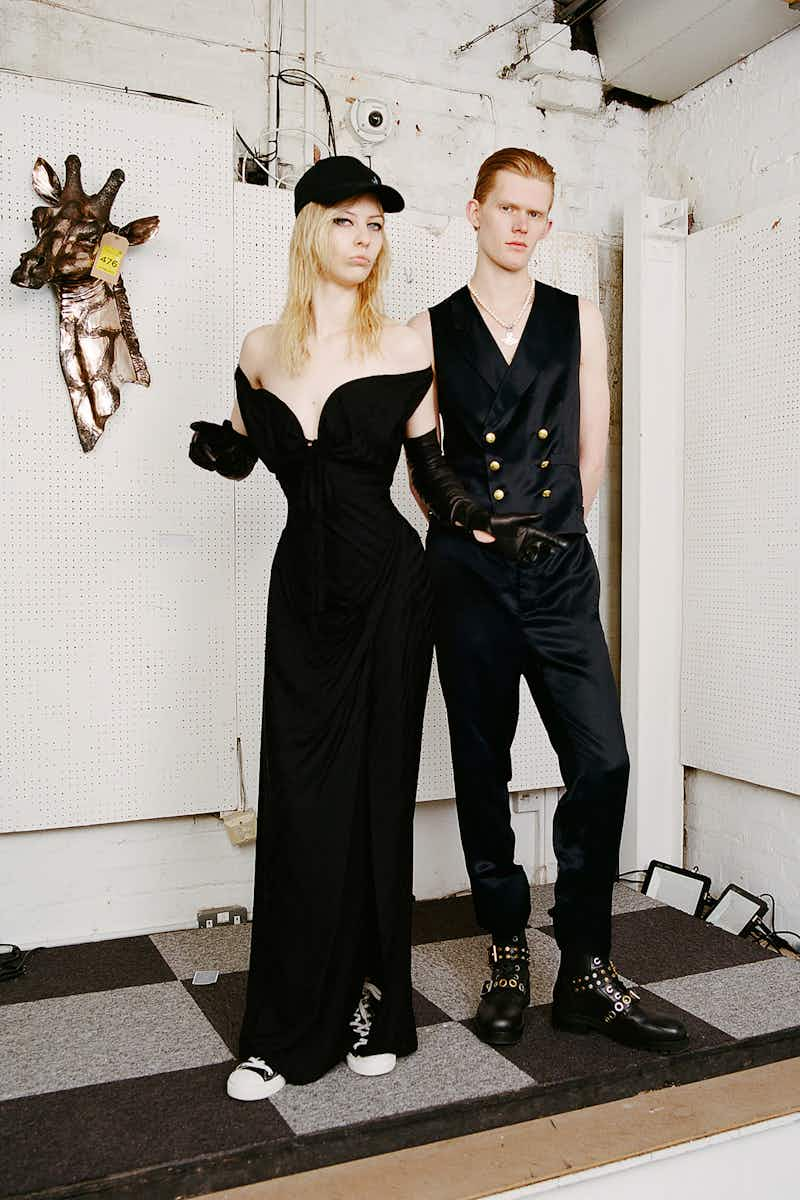 "My work is a lot about storytelling, but for this collection I felt I needed to present something where you understand the clothes themselves, so I had to strip everything back like the printing and the storytelling, to focus on the cut and the shapes." So says Jawara Alleyne, one of the trio of designers showing under Lulu Kennedy's Fashion East incubator this season, which also includes Chet Lo and Maximilian – and each of them have a different relationship with the balance between narrative and design process. In Alleyne's case, this newly claimed focus yielded drapery aplenty and enough safety pins to make a young Sex Pistol happy.
For Chet Lo, already well-known for his tactile fishing wire knits, the mood was ​"very après-ski, very yeti! It's giving a cold brrr because I really wanted to be in a jacuzzi, mountain-side, drinking a bottle of champagne." That cold brr came through in spiked earmuffs and snow boots (both accessories that, despite their chilly weather implications, have become rather hot of late), as well as pastel faux fur fits for the kitschest of snow bunnies.
The most thoughtful show of the night, though, went to Maximilian. Rooted in his childhood move to Shropshire aged seven, Maximilian Davis' designs riffed on themes both rural and religious. Alongside tailoring that paid its dues to equestrian-wear, he reflected on other changes brought about by the countryside: "[My family] really turned to God, or to find Christ. It was a bit overpowering. I went to Catholic school too, so I was surrounded by a lot of religious and renaissance paintings." He also noted the leather-clad bikers he'd see on the way to school. ​"Obviously leather is one of the main materials used for fetish wear, but I wanted it to feel elevated and luxurious." This clash of influences (nothing better than a combination of risqué and reverent), yielded some beautifully understated pieces, as well as a show-stopping, completely sheer lilac gown that closed the show.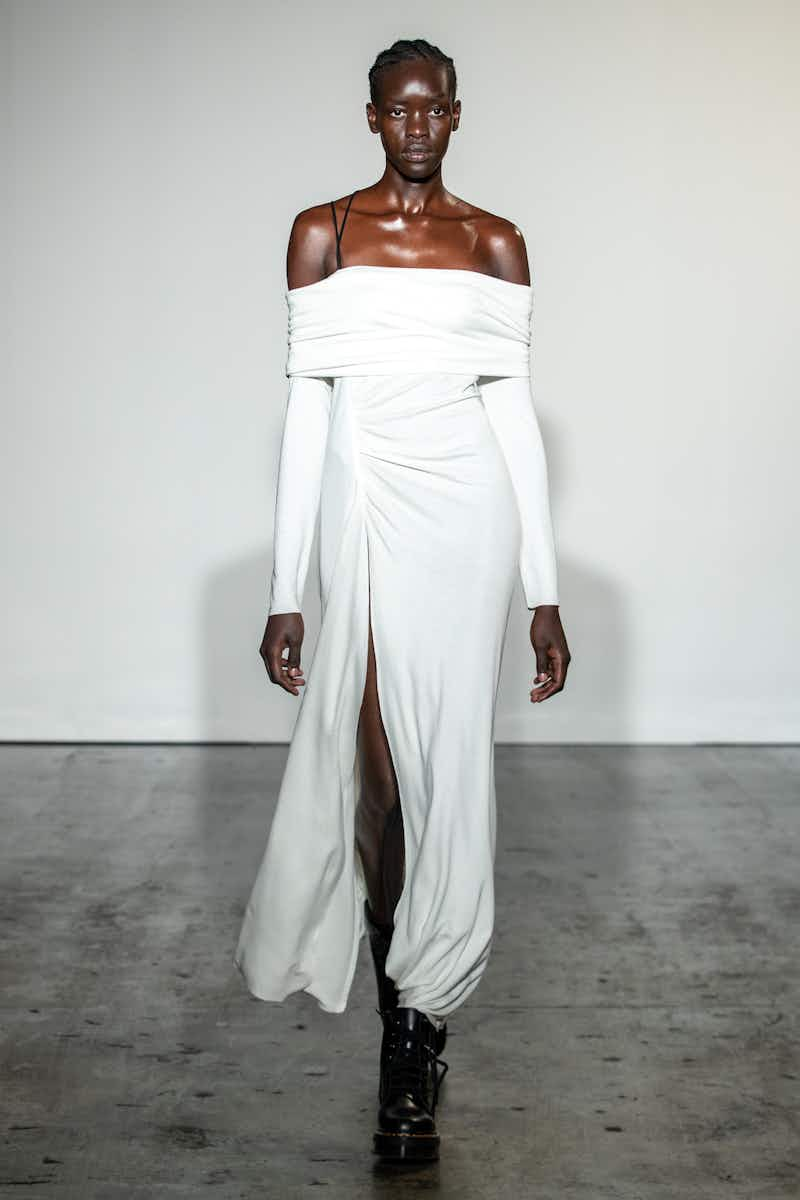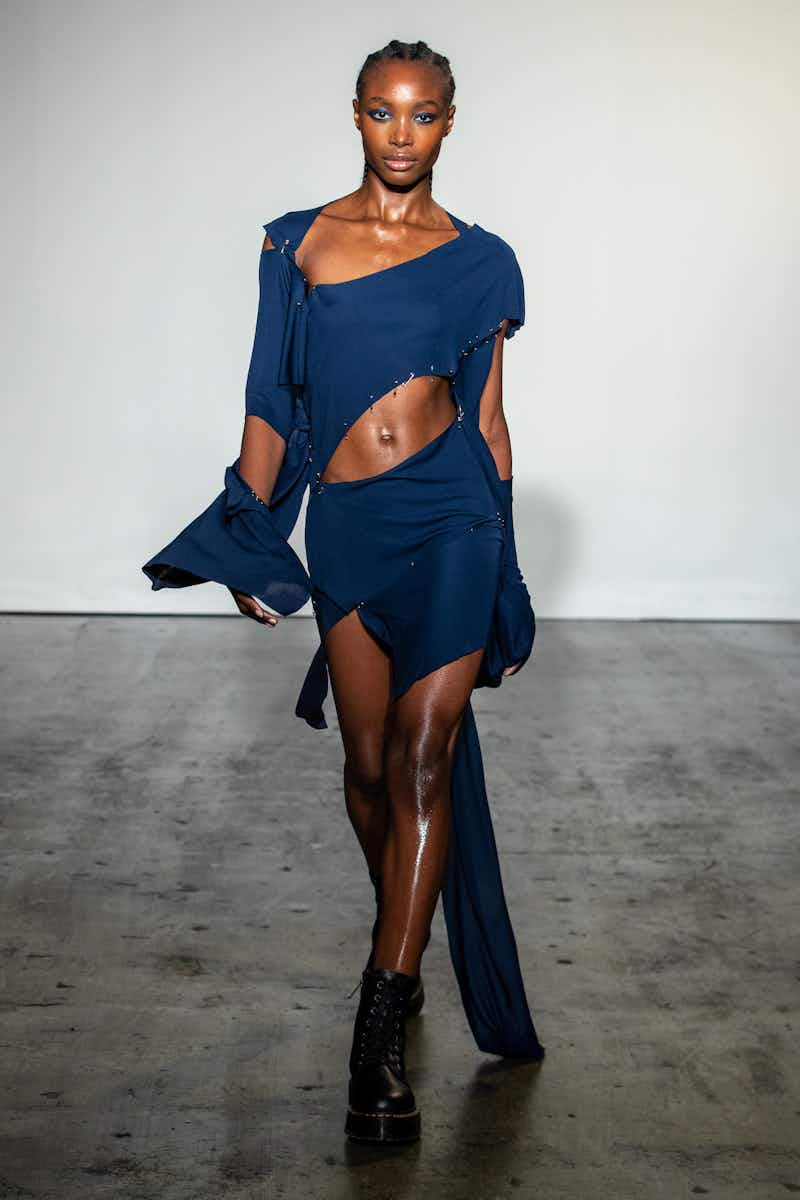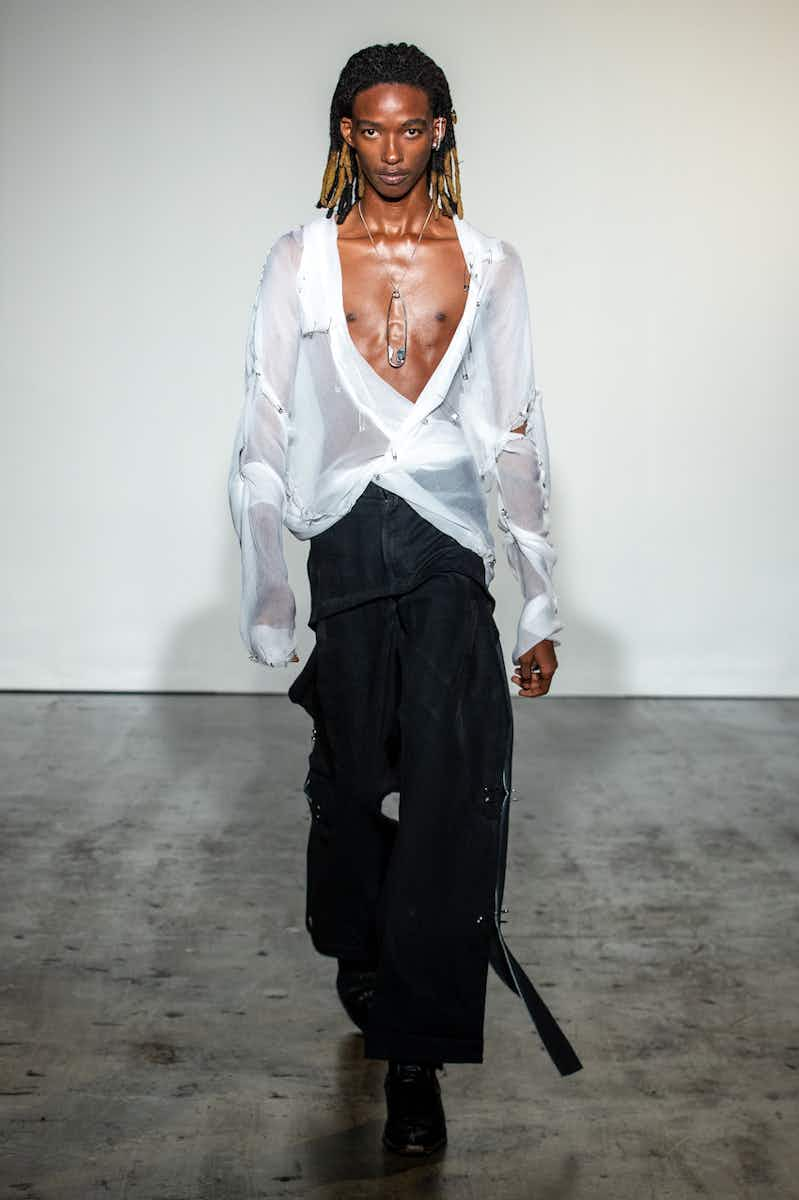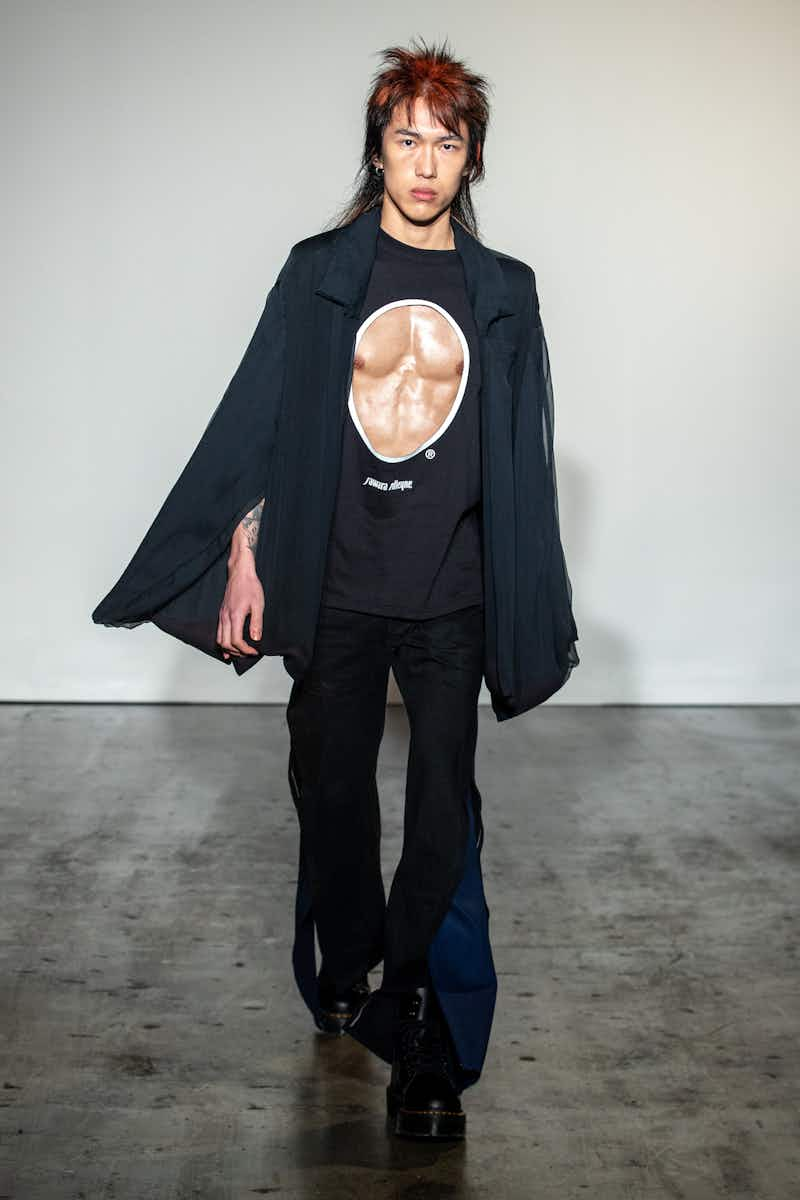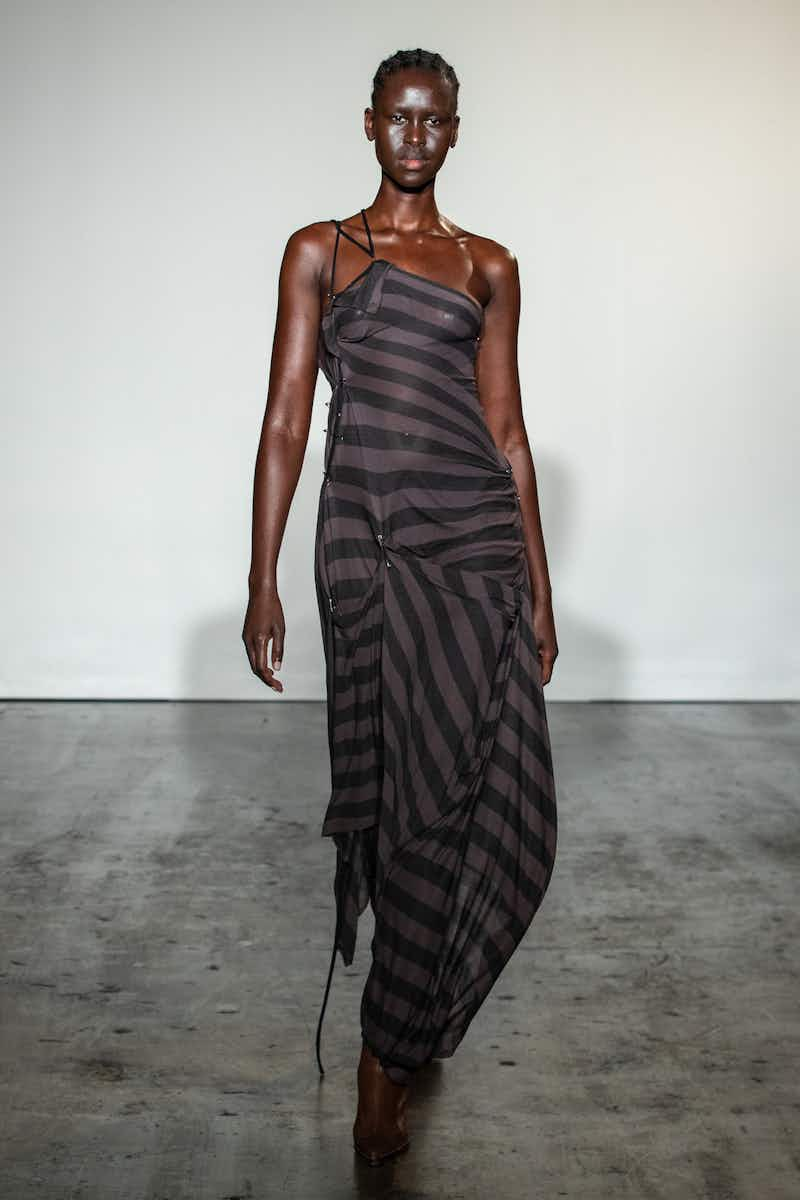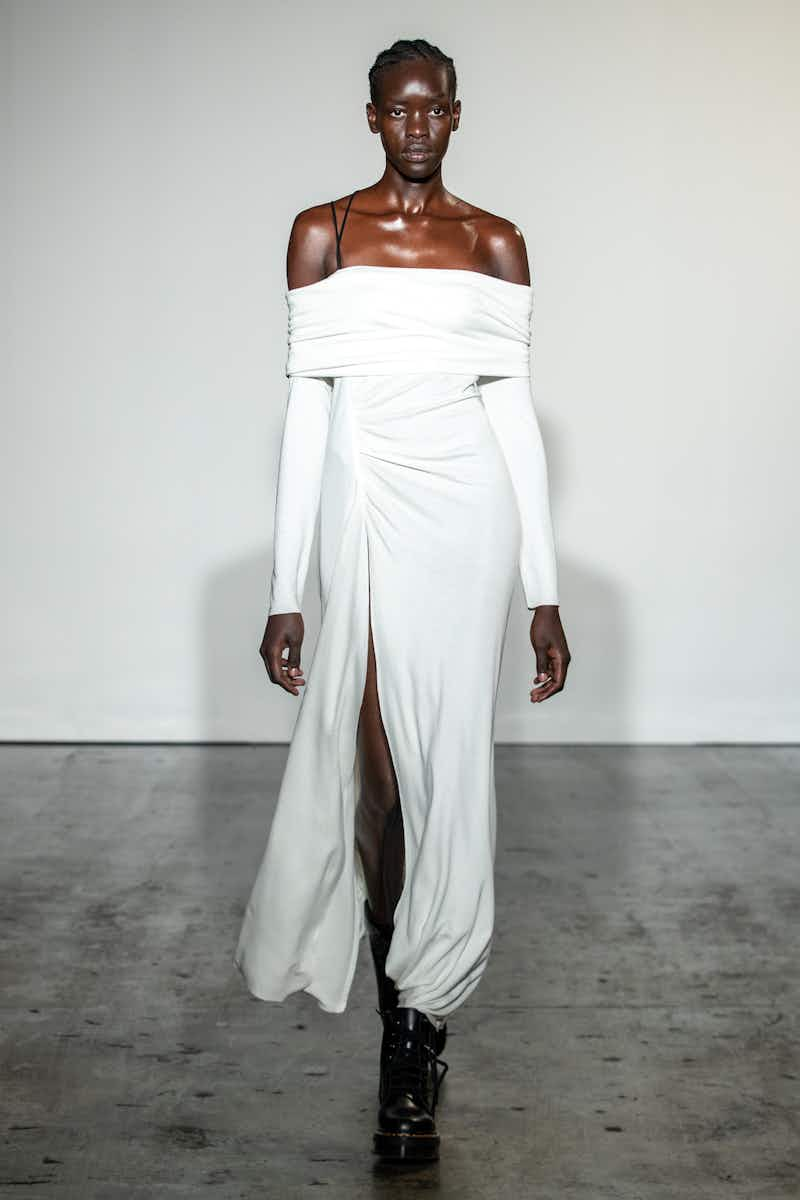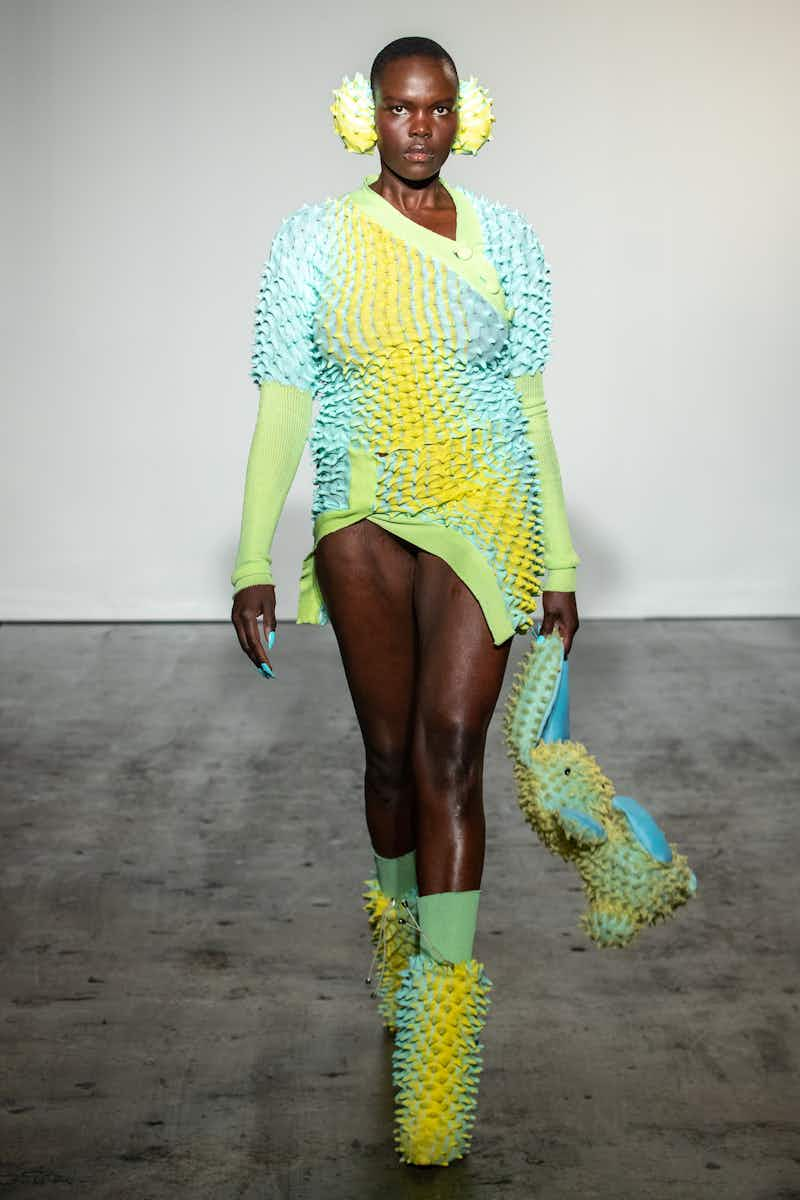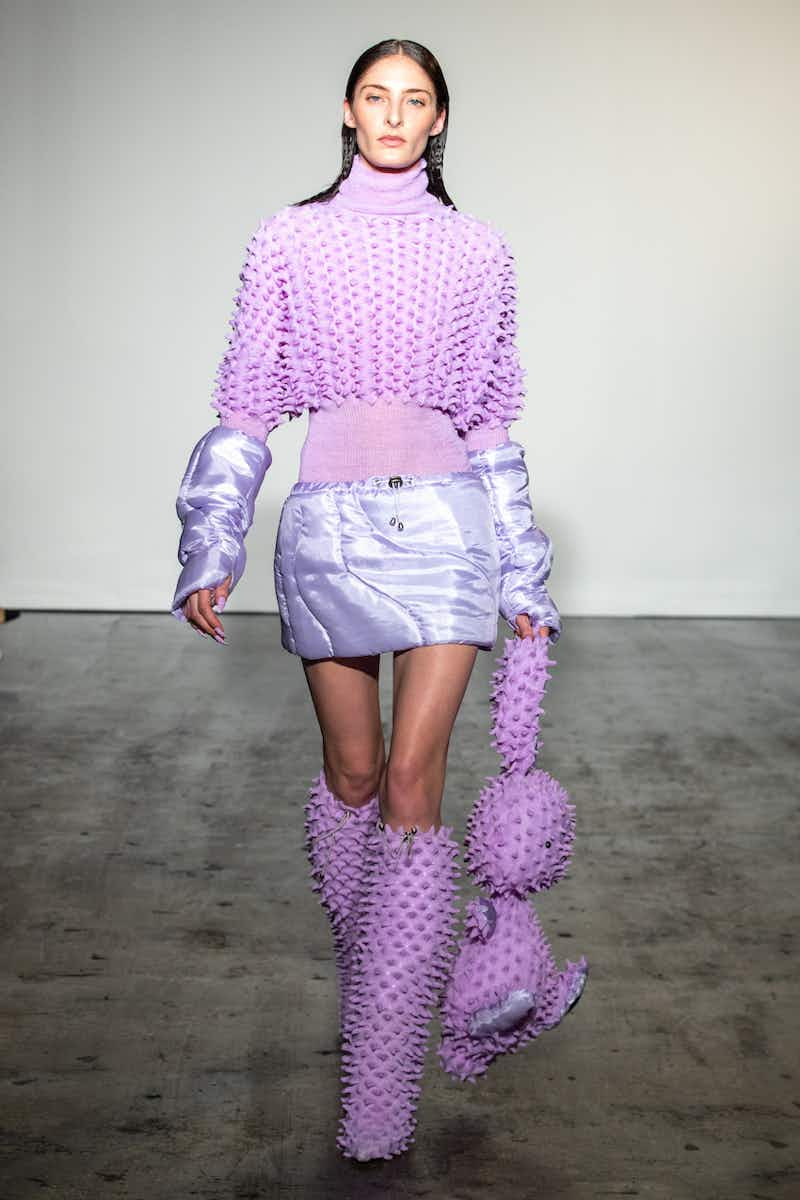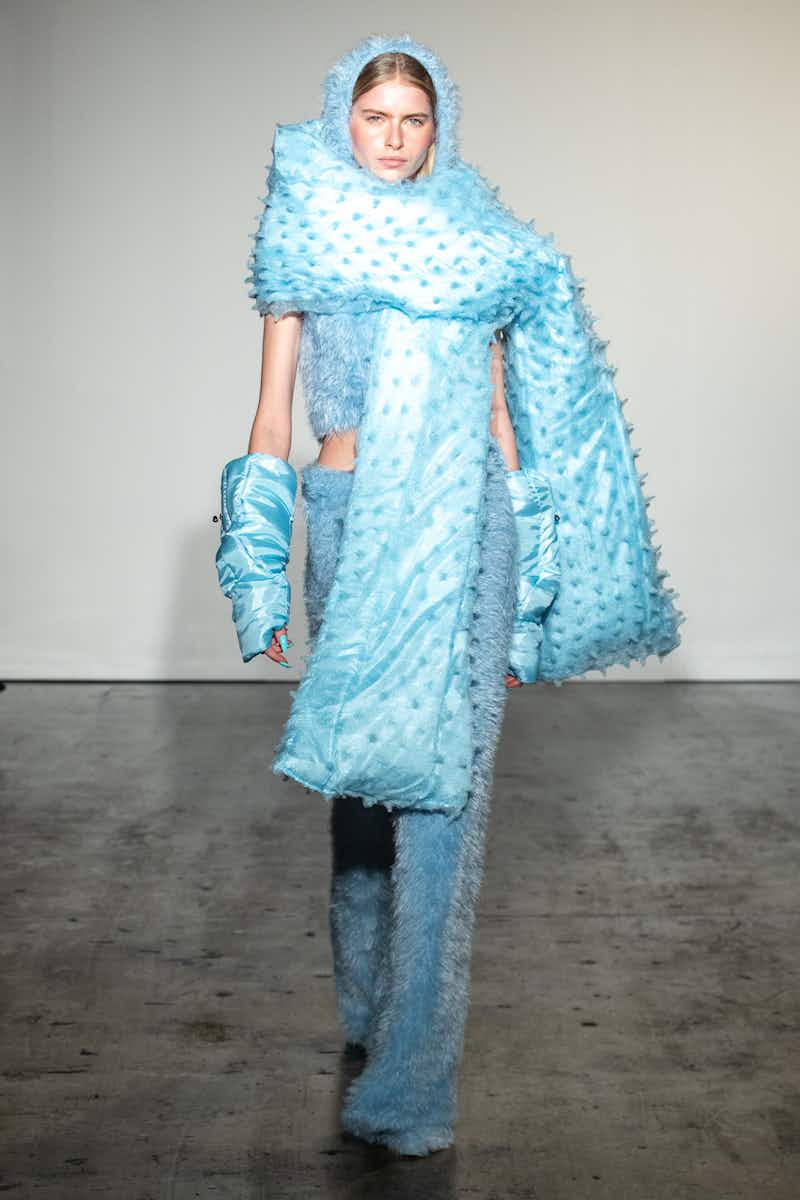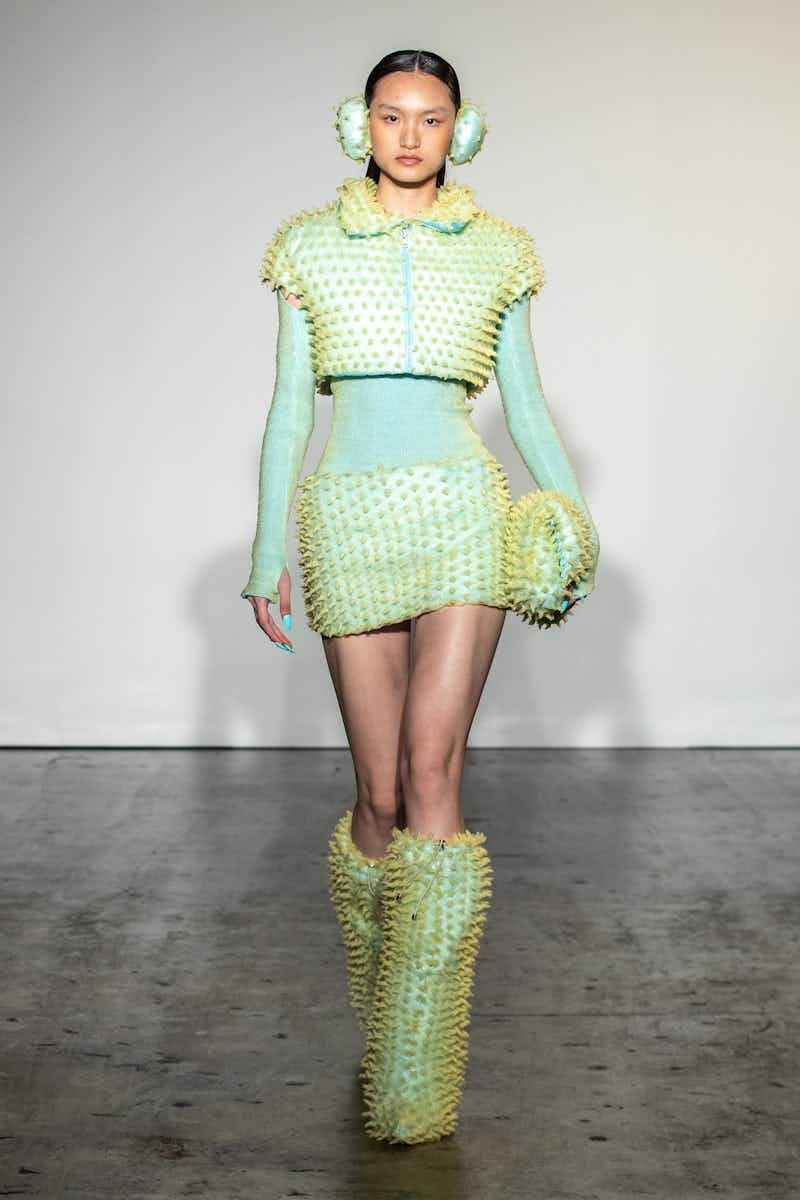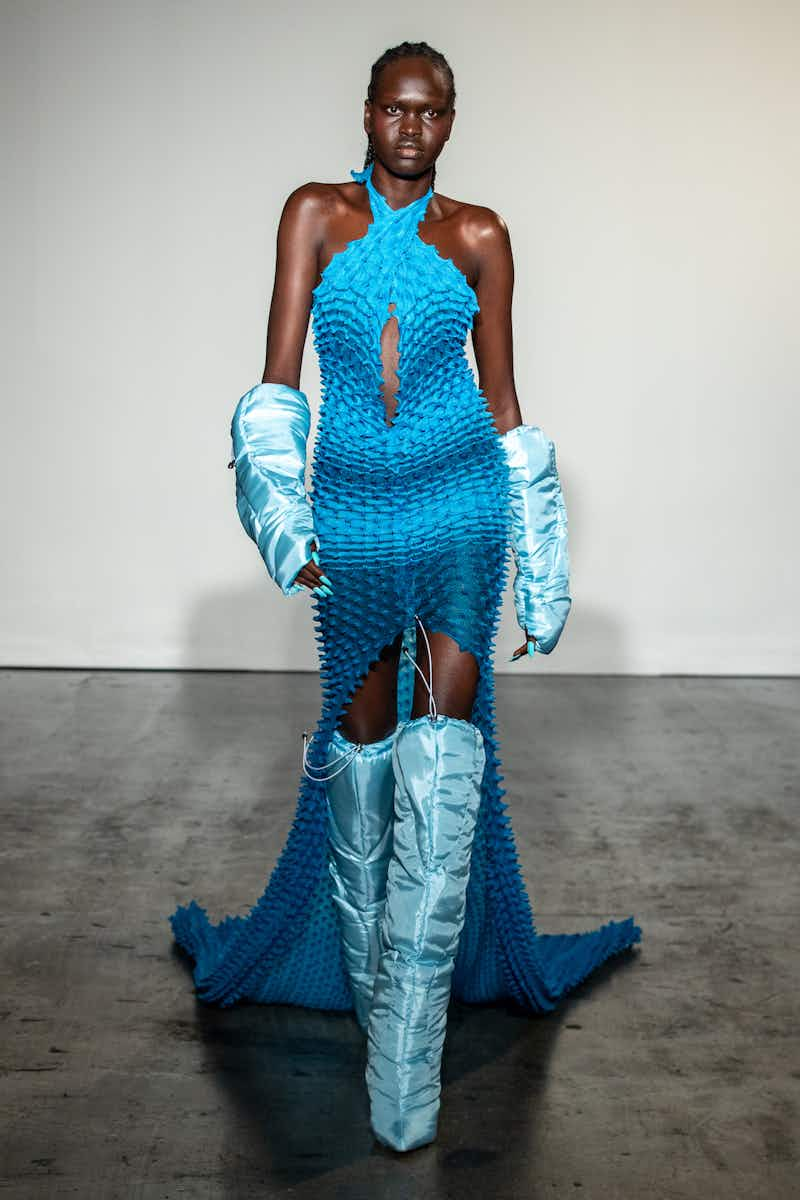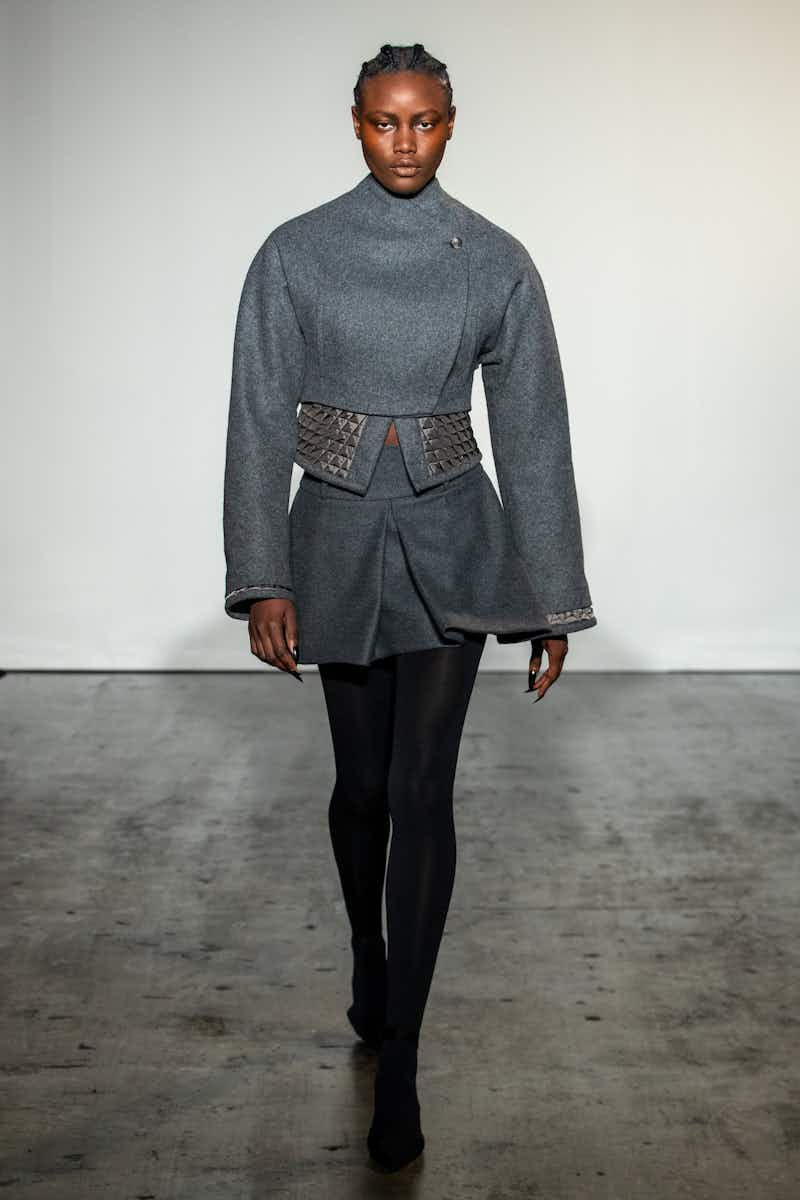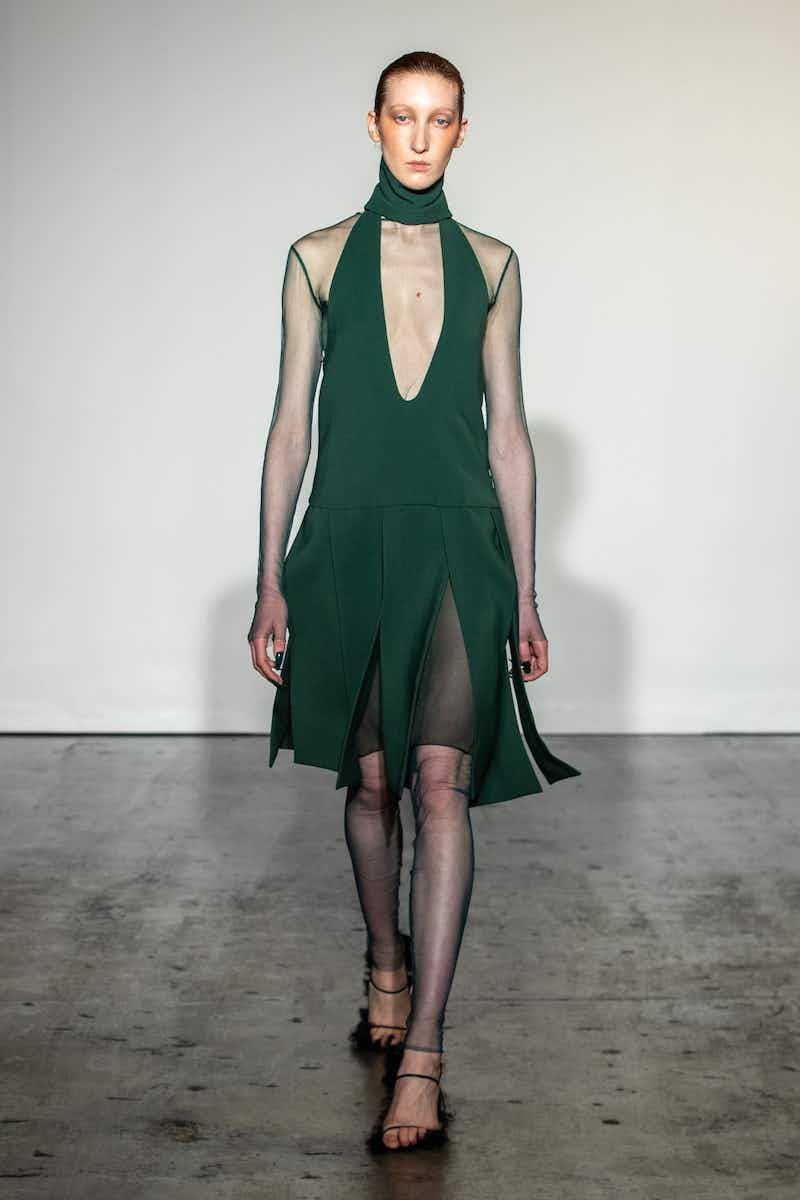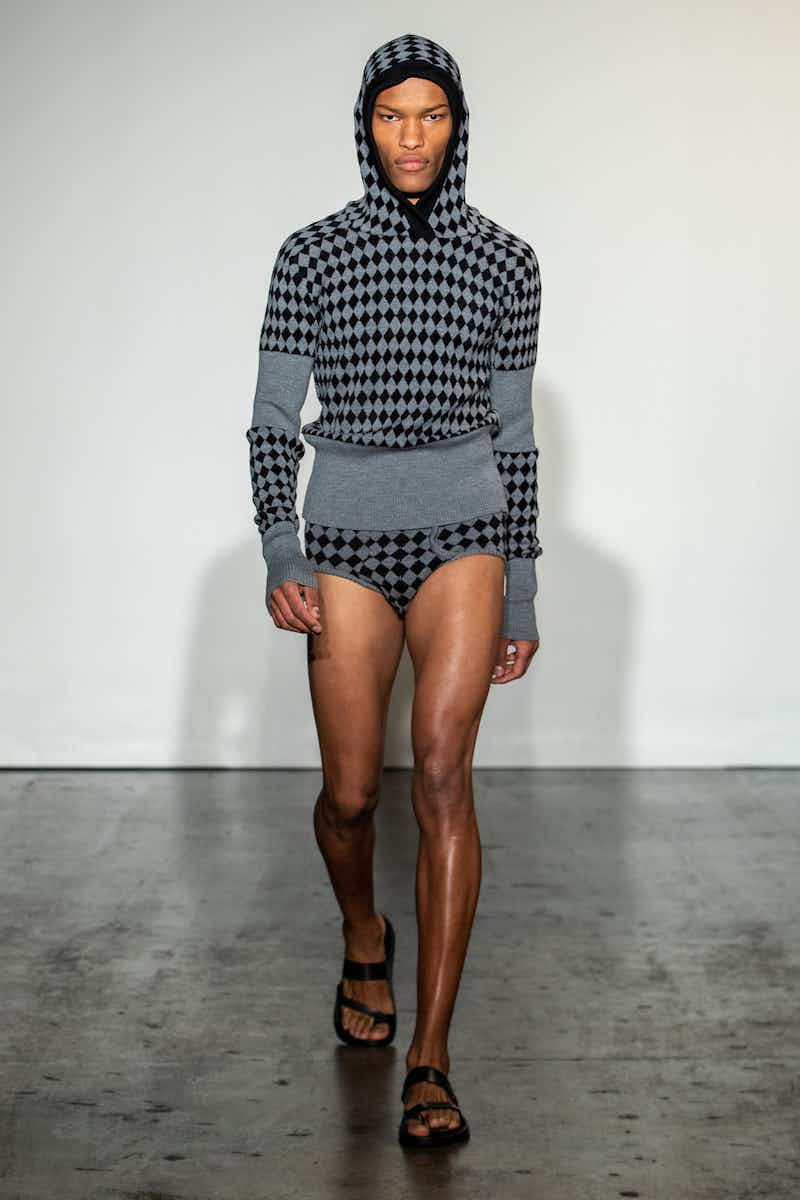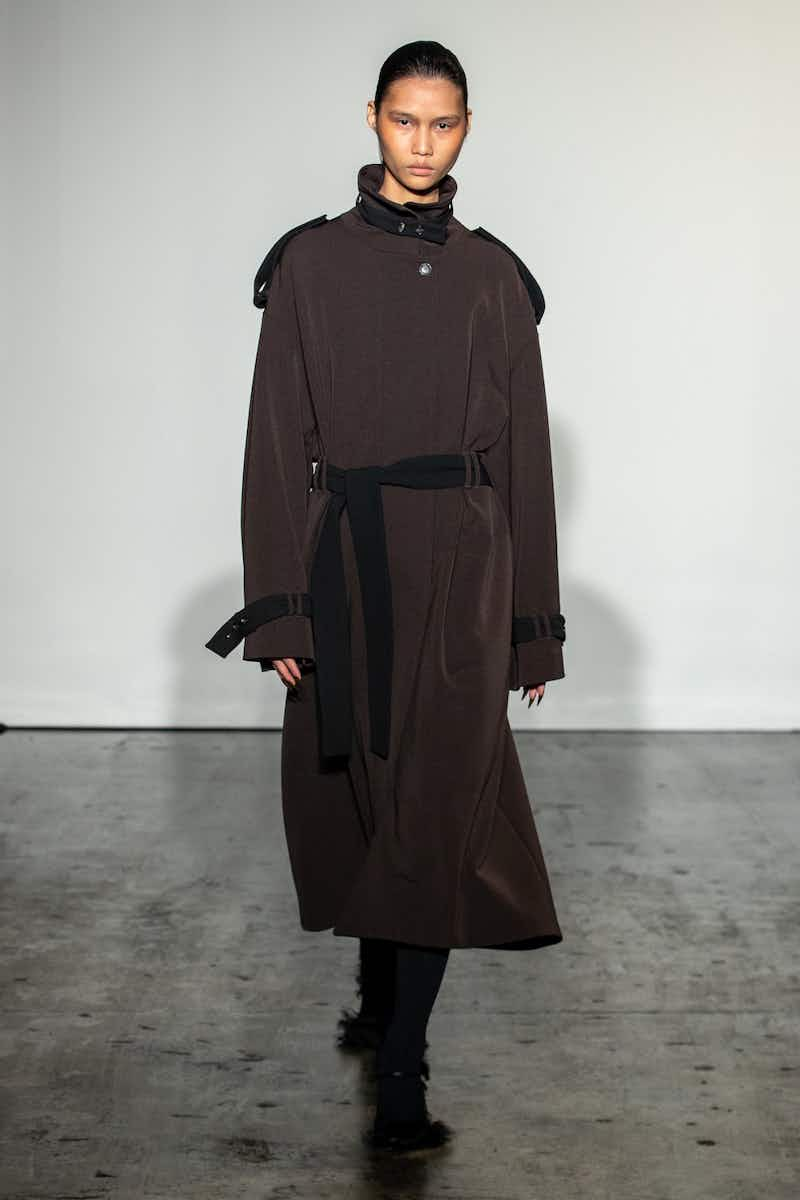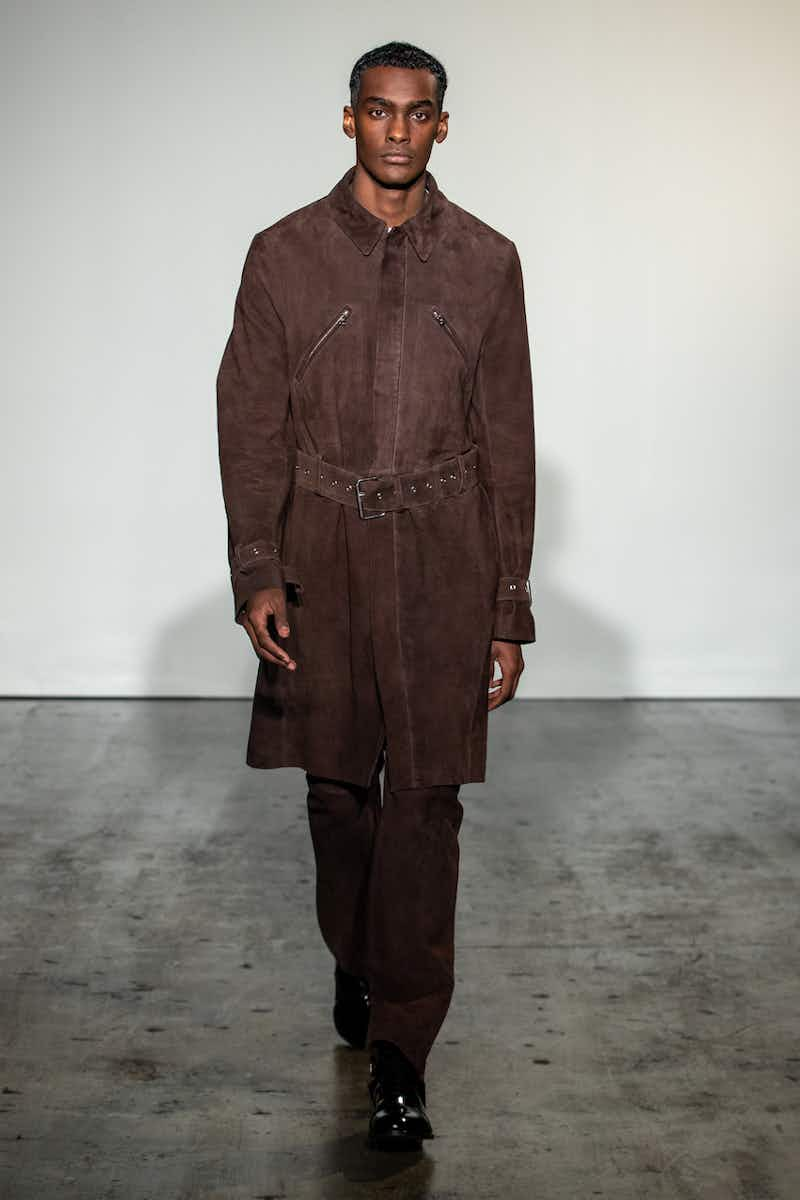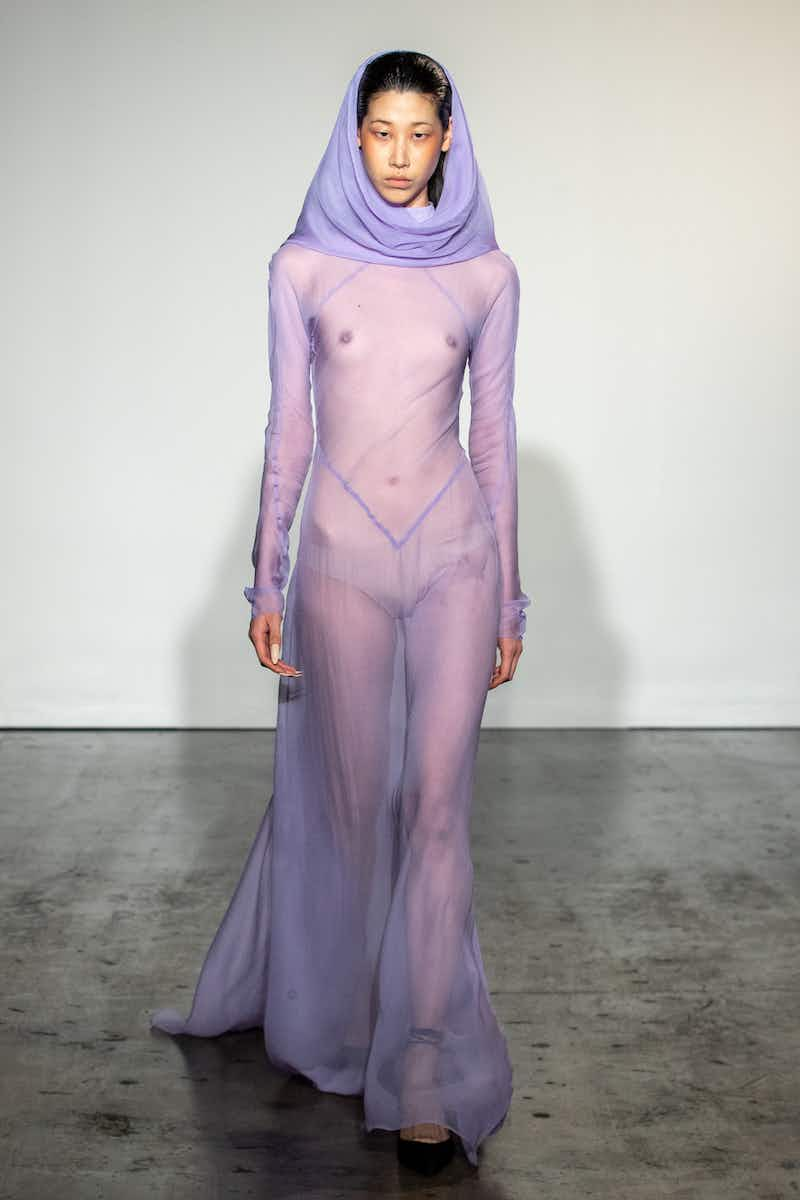 The word ​"theatrical" tends to be levelled at the kind of shows that pull out all the stops: dramatic gowns, elaborate sets, hats large enough to send and receive flight data. For Stefan Cooke and Jake Burt, this has taken on a quieter meaning. Their latest collection has its origins in theatre costume archives, the pair plundering the West End for choice details. Ruffs (or are they tutus?) linger around the hips in an Easter bunny palette of pinks and yellows. Paco Rabanne-esque chainmail takes inspiration from a medieval tabard. Of course, it wouldn't be Stefan Cooke without some experimental textiles: pleats with the complexity of origami; denim with looped details like Celtic knots, achieved by stitching over rope; the same slashed knitwear they've presented before, other colours peeping through beneath. There's a particular kind of vigour to Cooke and Burt's work, but they wear their references – and their preoccupation with craft – lightly. This season, they deserve a standing ovation.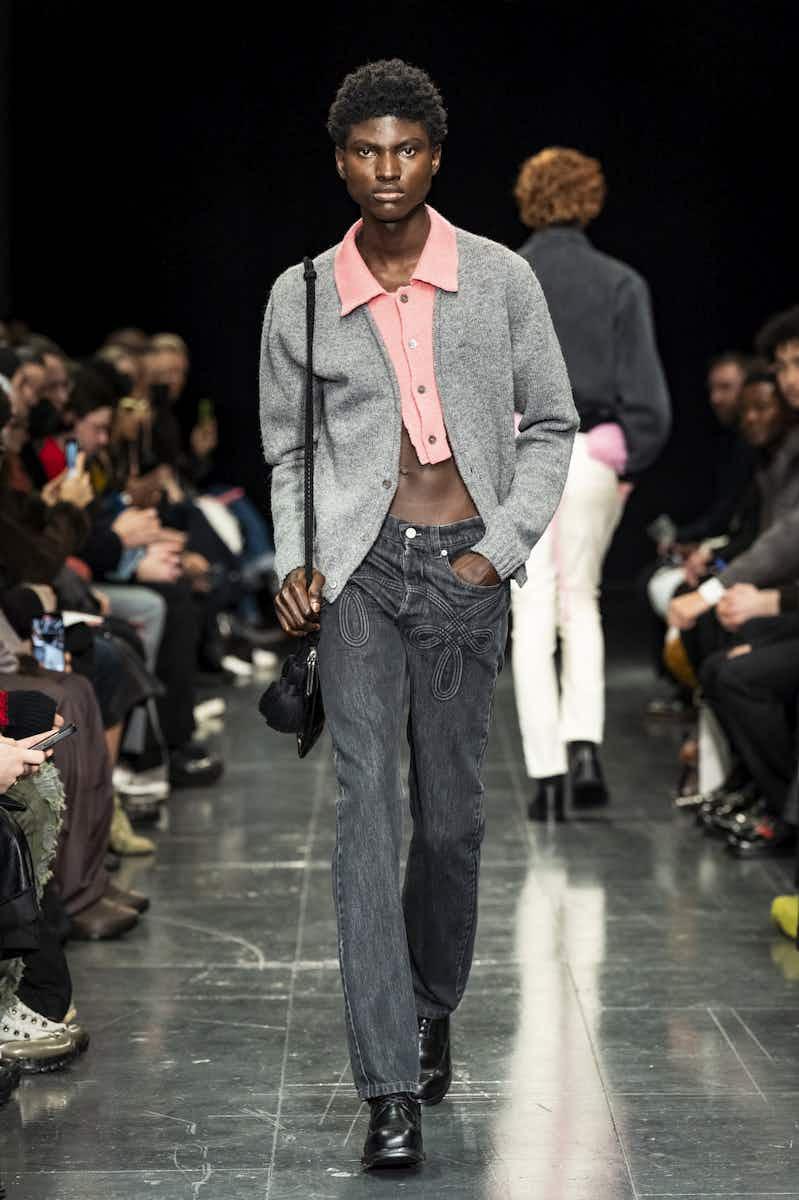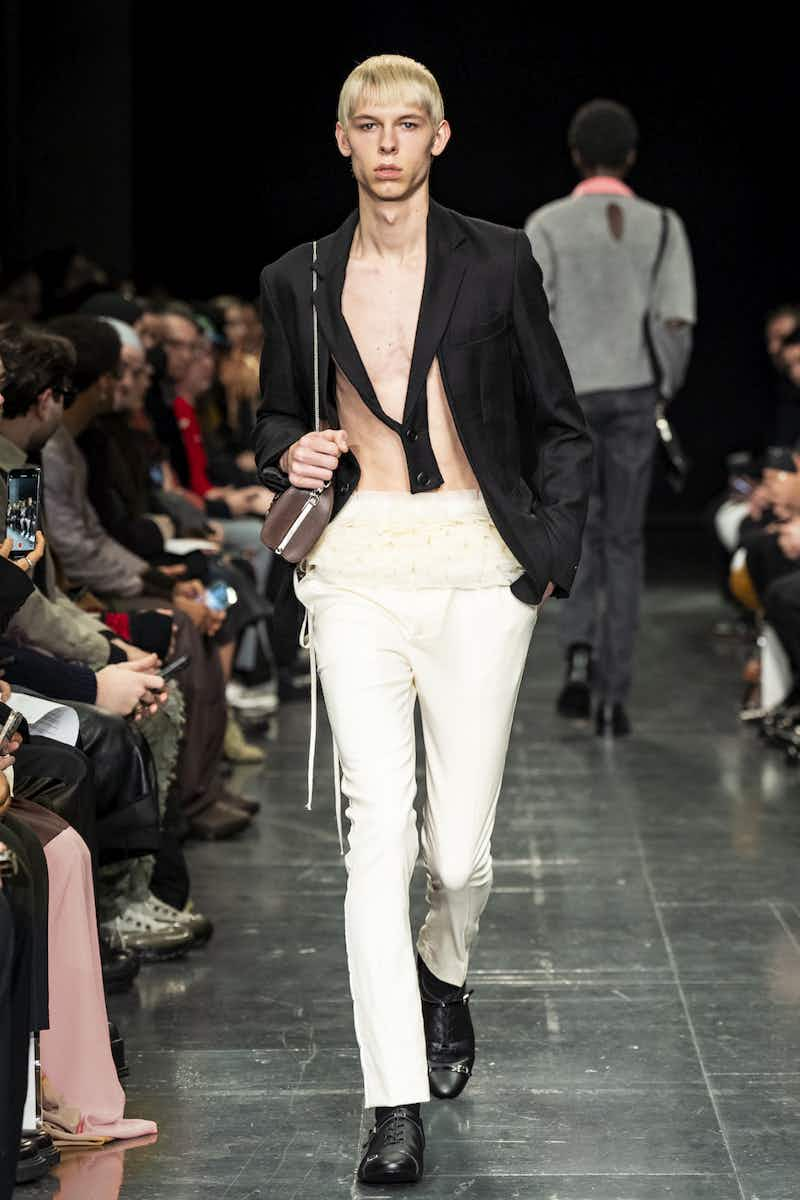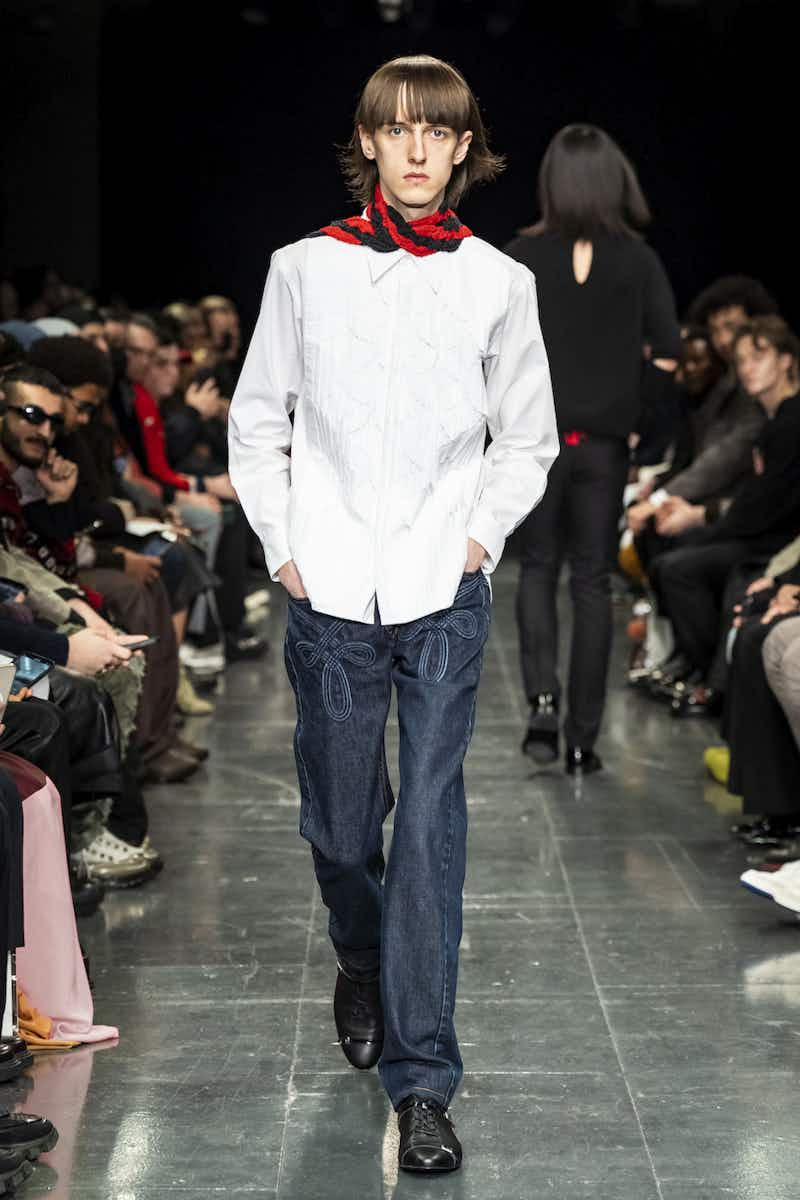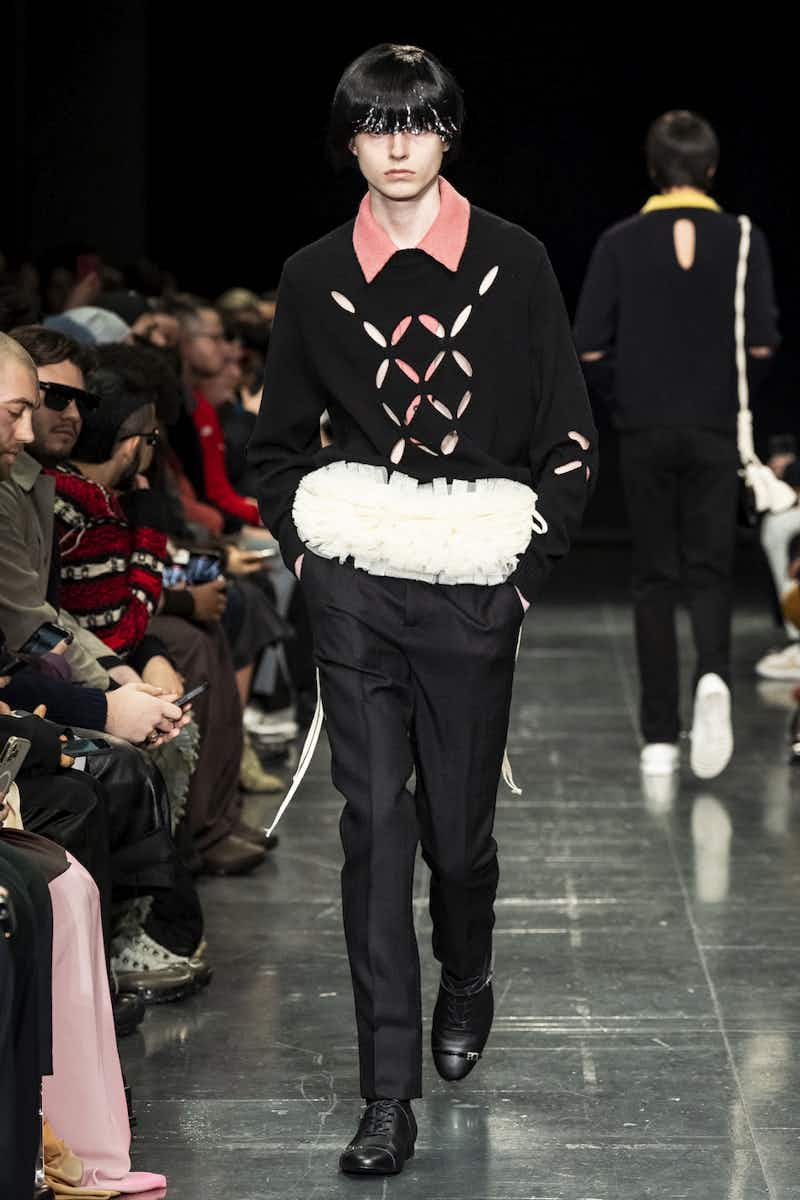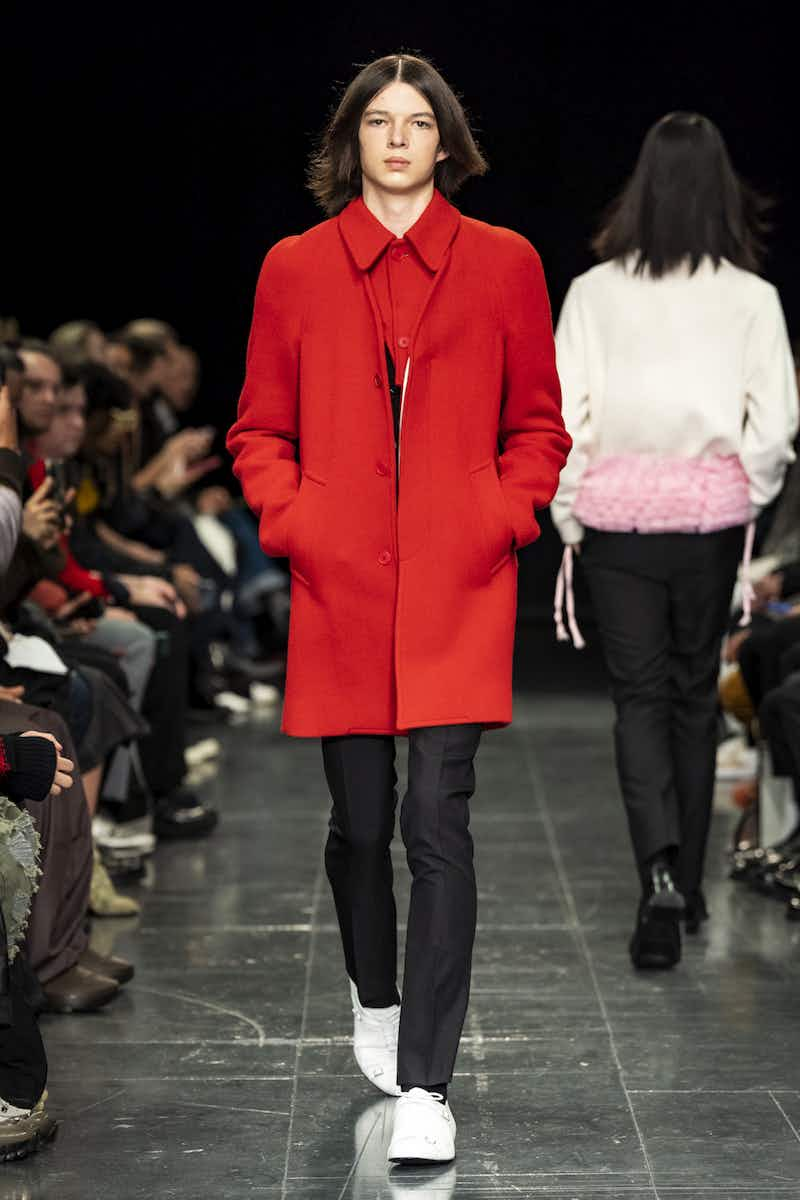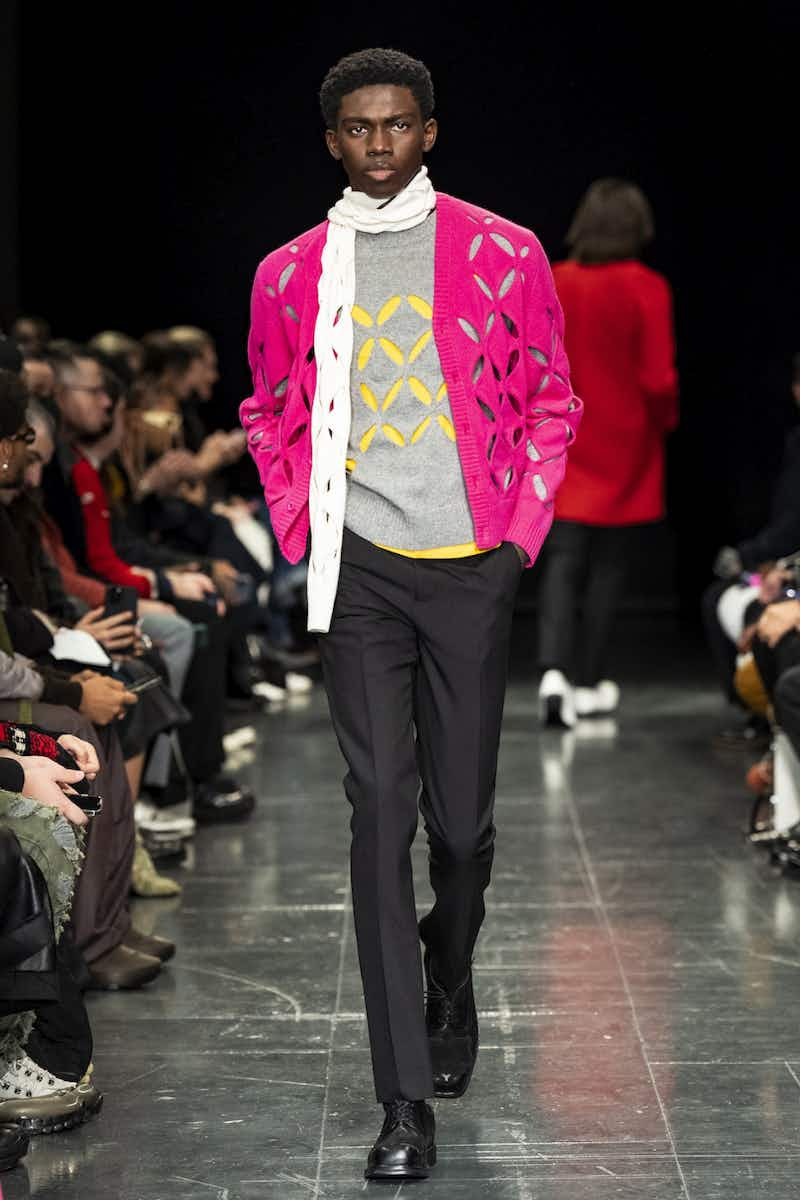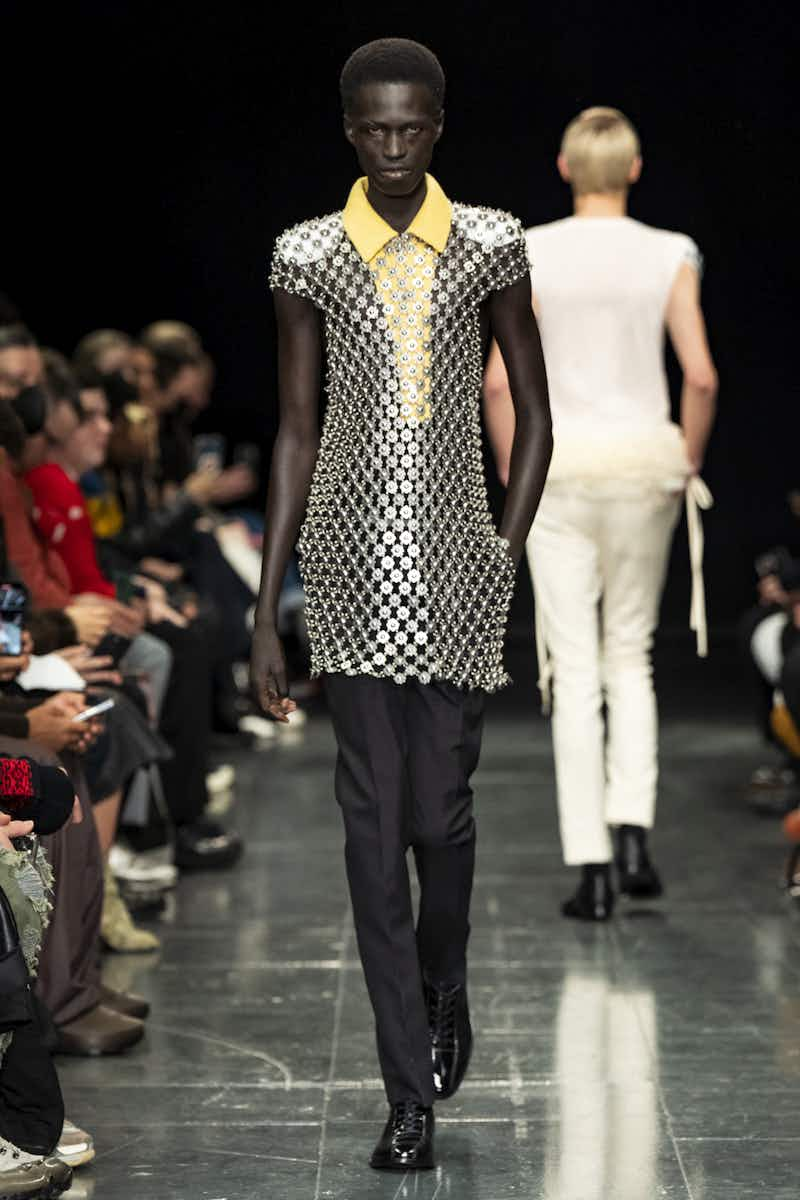 Fashion designers love to talk about designing for a certain type of woman. A sexy woman. A sophisticated woman. A woman who reminds them of their mother putting on lipstick before an evening out. Bright young thing Conner Ives pushes this one step further, by centring each collection around a series of pop culture archetypes. For his first, buzzy runway show, the New York-born designer debuted ​"The Vogue Girl", a Devil Wears Prada homage complete with page boy cap and buttercup yellow pea coat crafted from military Polish blankets; and ​"Devil in a Red Dress", a Cruella de Vil vision in crimson crystals. Other namechecks went to Jackie O, Sharon Tate, Adriana la Cerva, and Ives' cowgirl Aunt Marilee from New Mexico. Featuring a mishmash of reconstituted fabrics, bias cuts, sexy silk fringing and kitsch Americana, Ives reveals his age in his preoccupations – the interest in reality TV and ​"Y2k girlies" suggests a real keenness to flag his formative influences – but the results are impressively assured.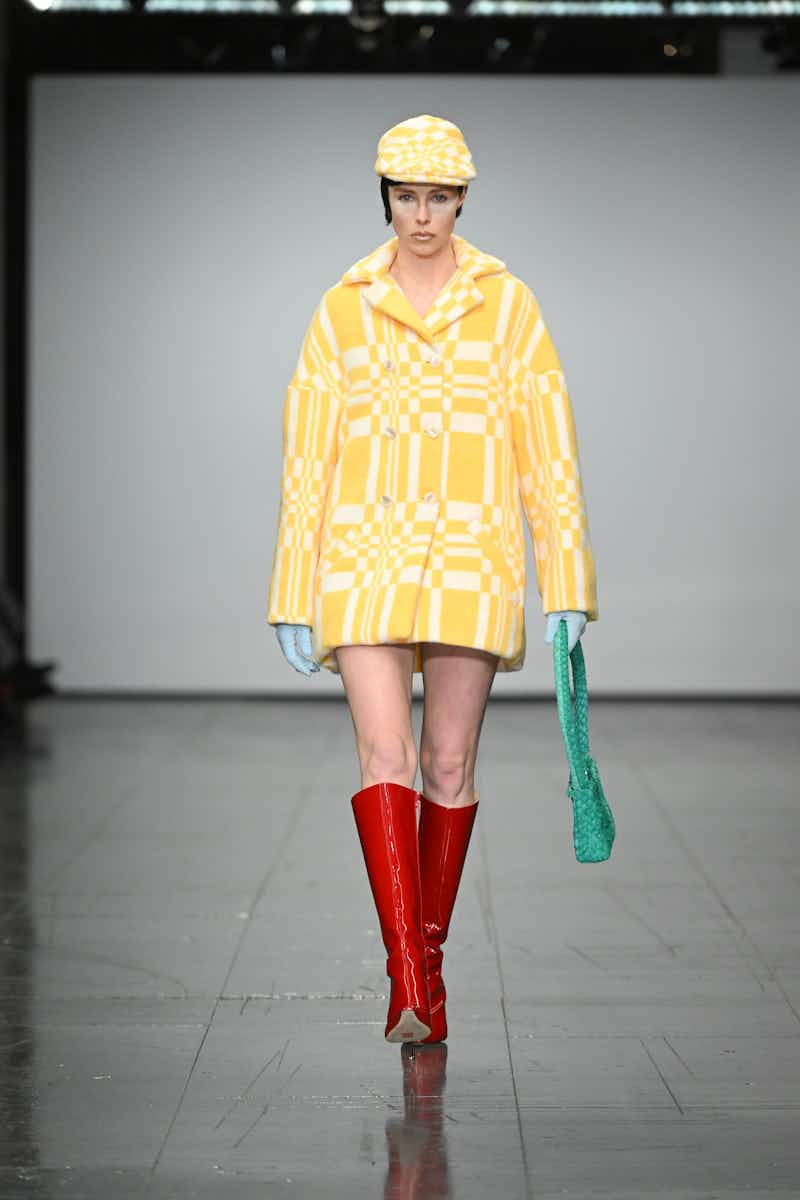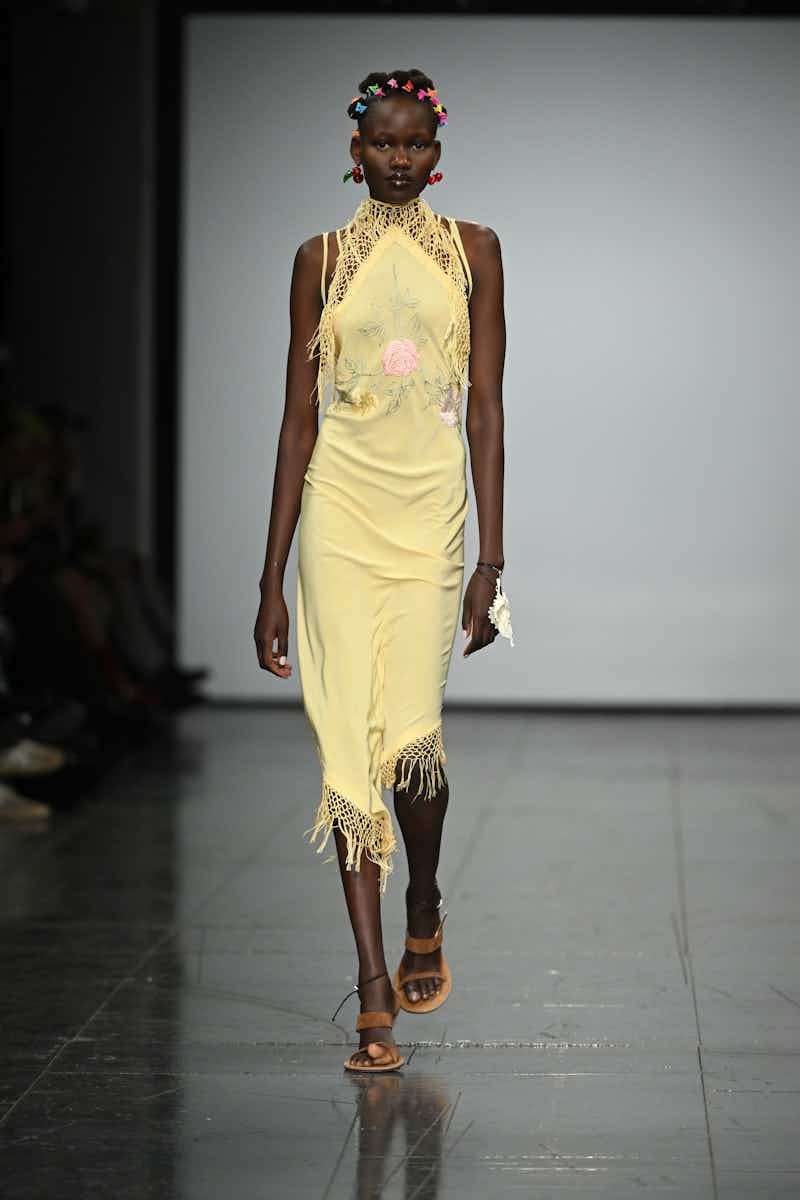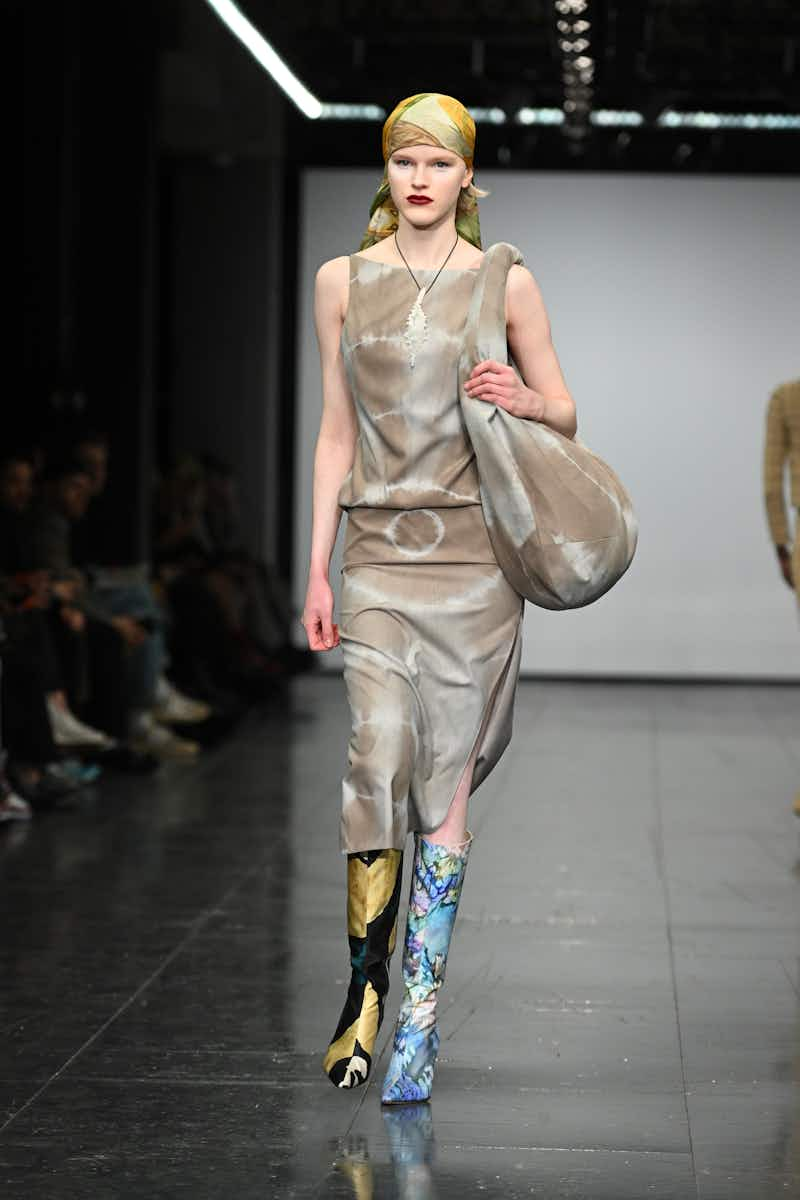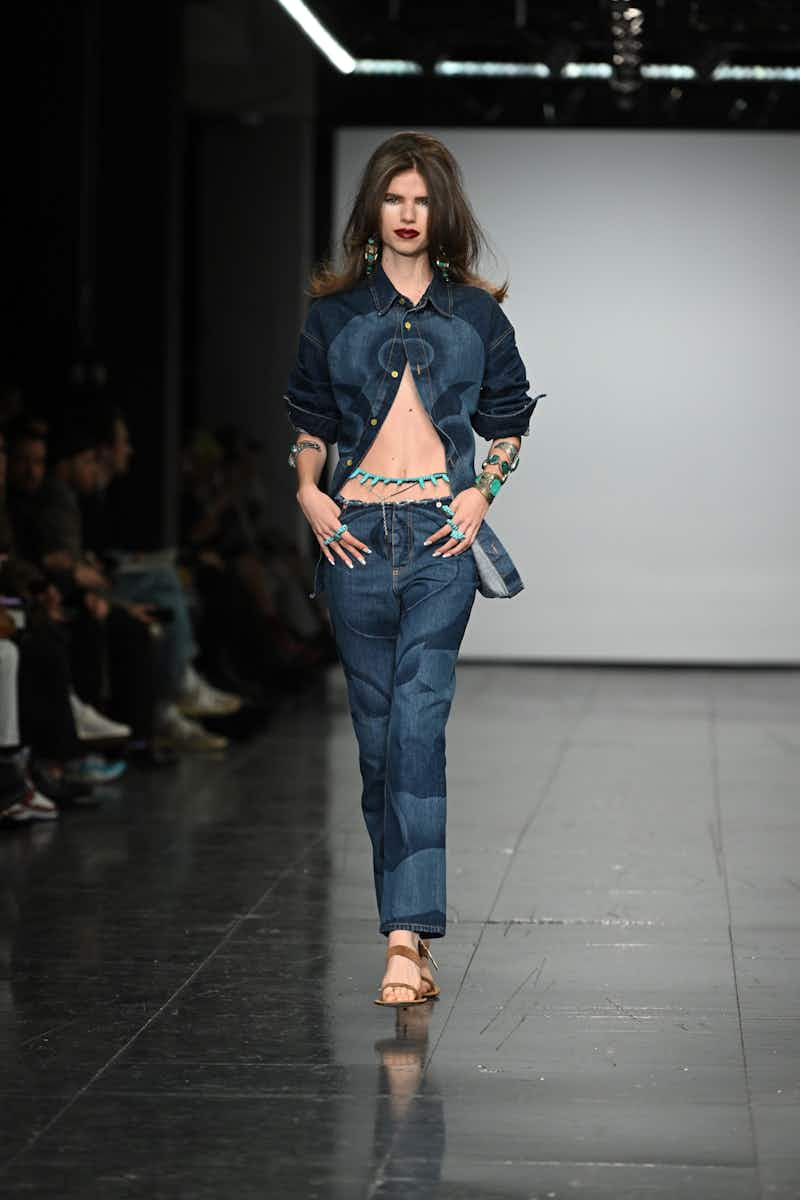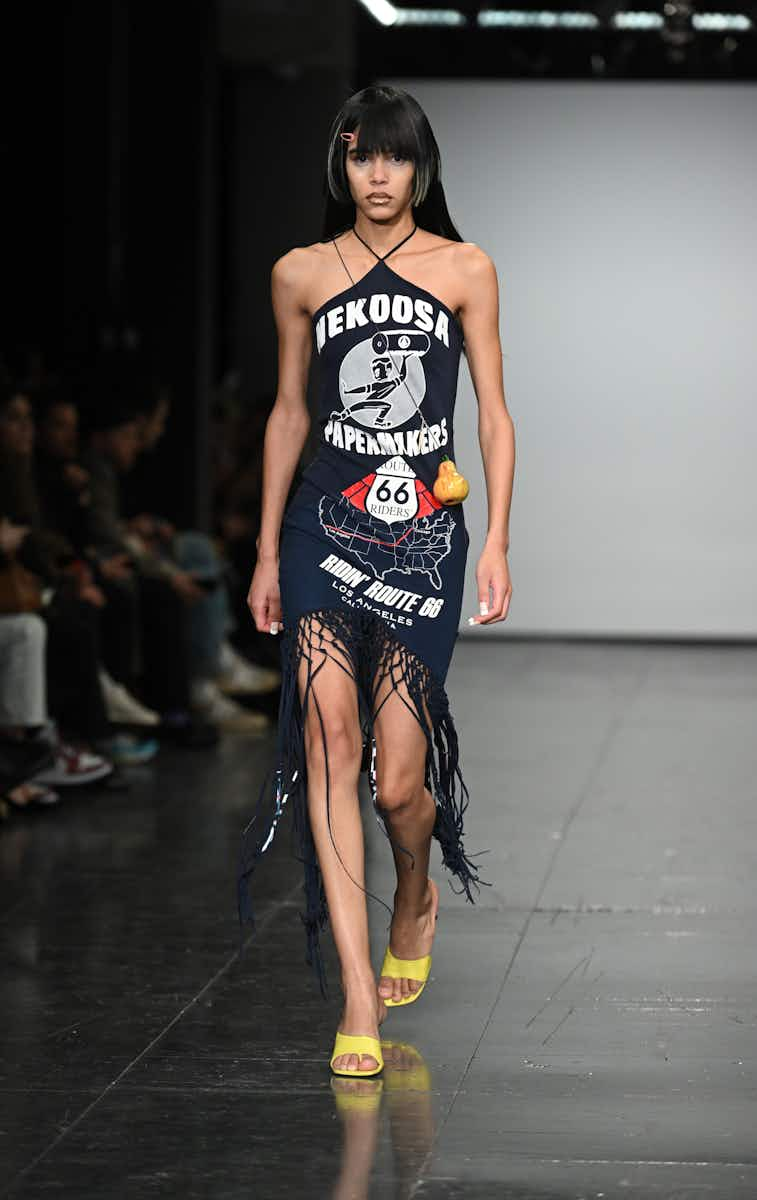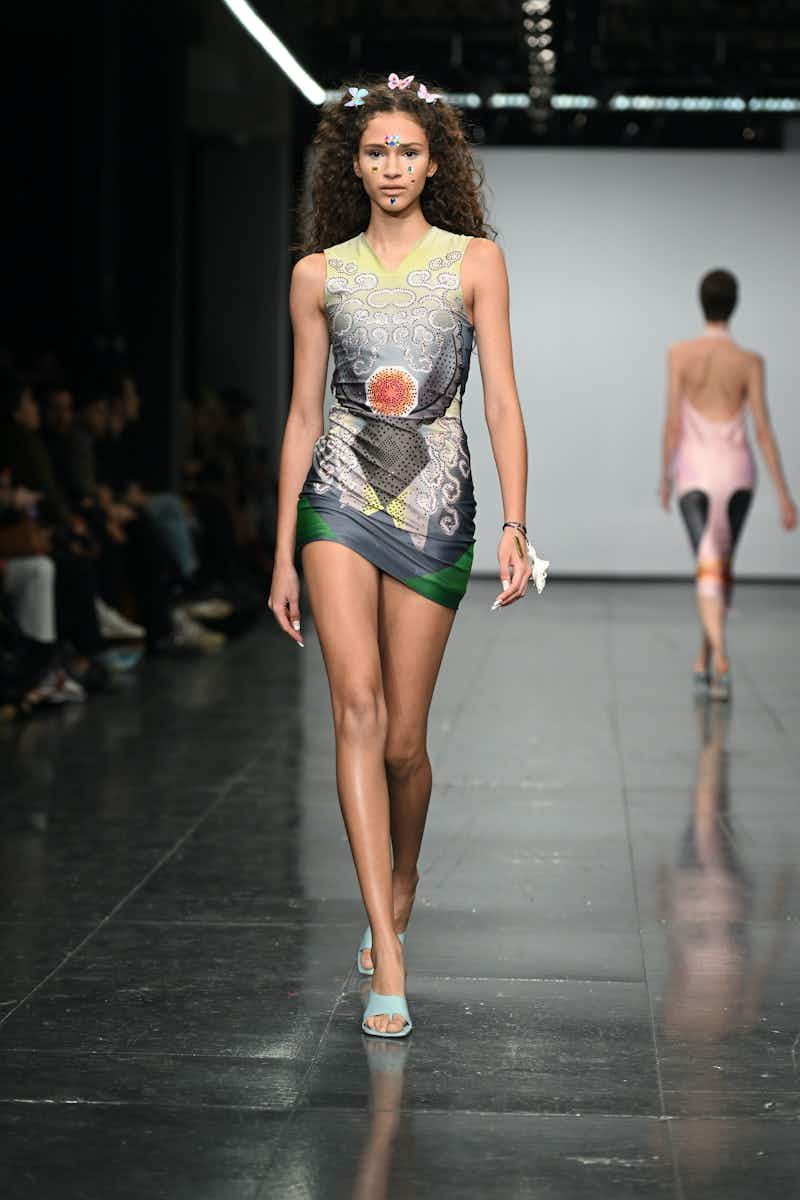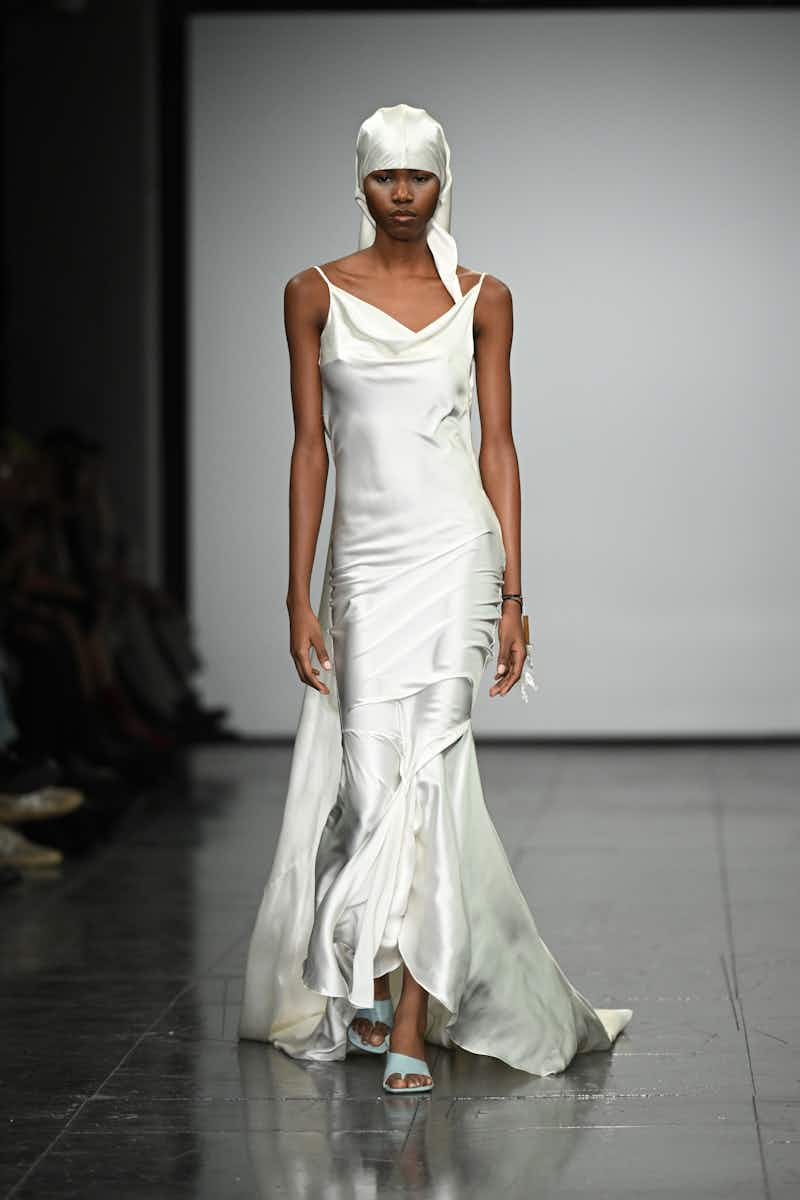 First things first, the casting at Nensi Dojaka was on point this season. The LVMH prize winner was in danger – striking as her designs were – of looking like she catered only to the very thin and minimally breasted, so it was a relief this season to see Dojaka hit her stride with a collection that featured her trademark details – cut-outs, sheer fabrics, delicate shapes and panels straight out of the lingerie world – while suggesting a much greater willingness to think about potential wearers. Taking her cue from Irving Penn's flower photos, colours ranged from blushing pinks to deepest blacks and incorporated new materials including velvet and stretch jersey. Dojaka's vision of femininity is sensual and sexy, now ready to wrap around a multitude of women — those ready to shimmy themselves into her body contoured creations, and a pair of Lucite strappy shows, with cool confidence and ease.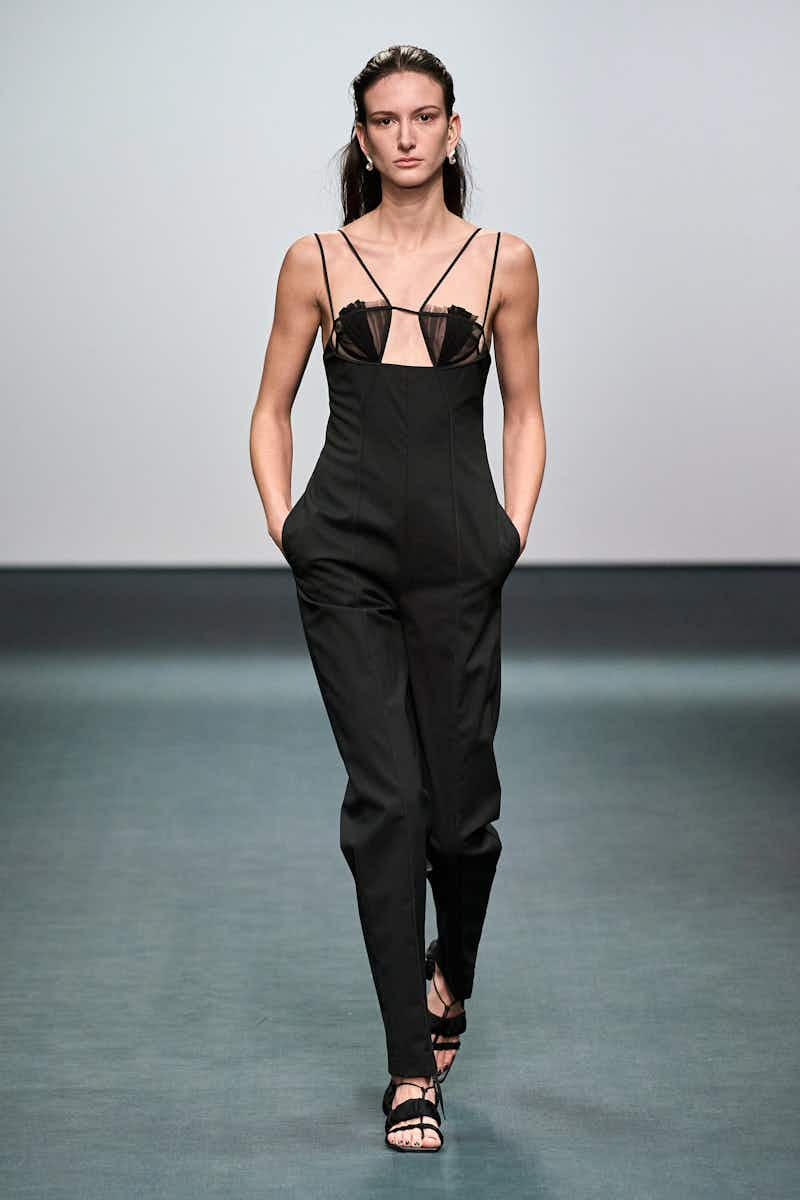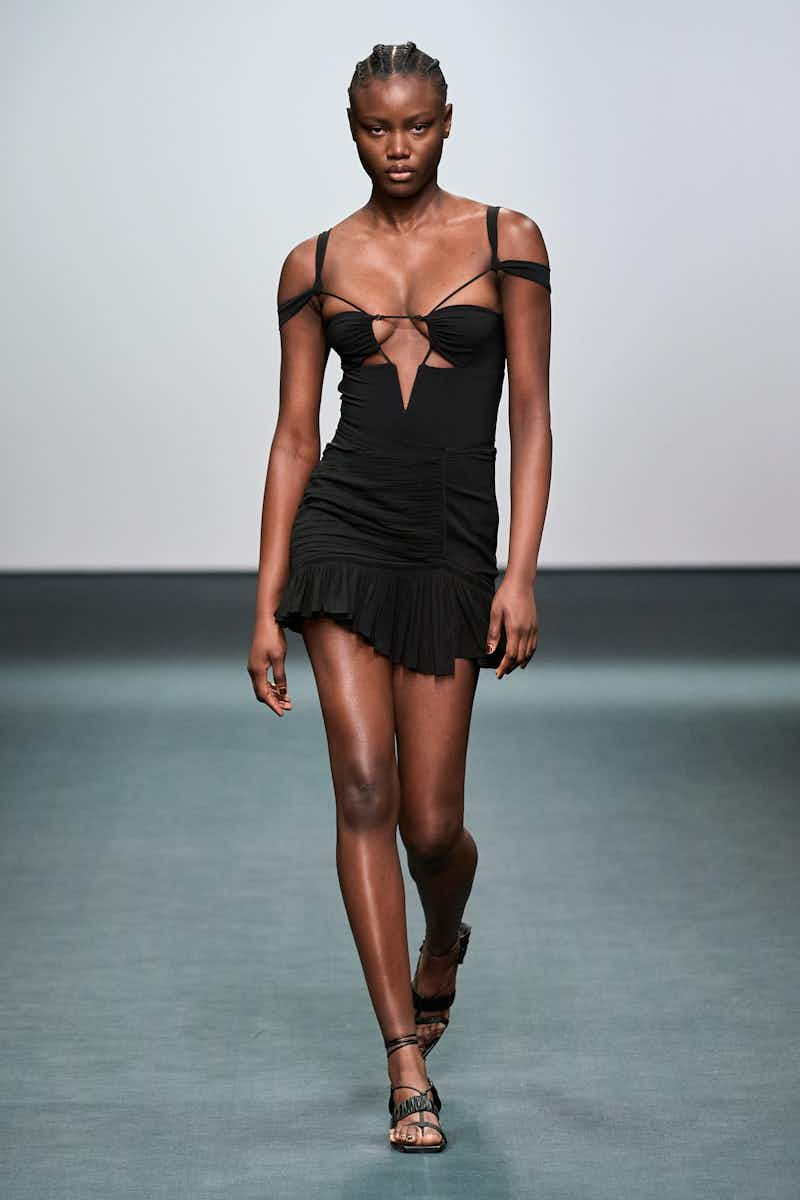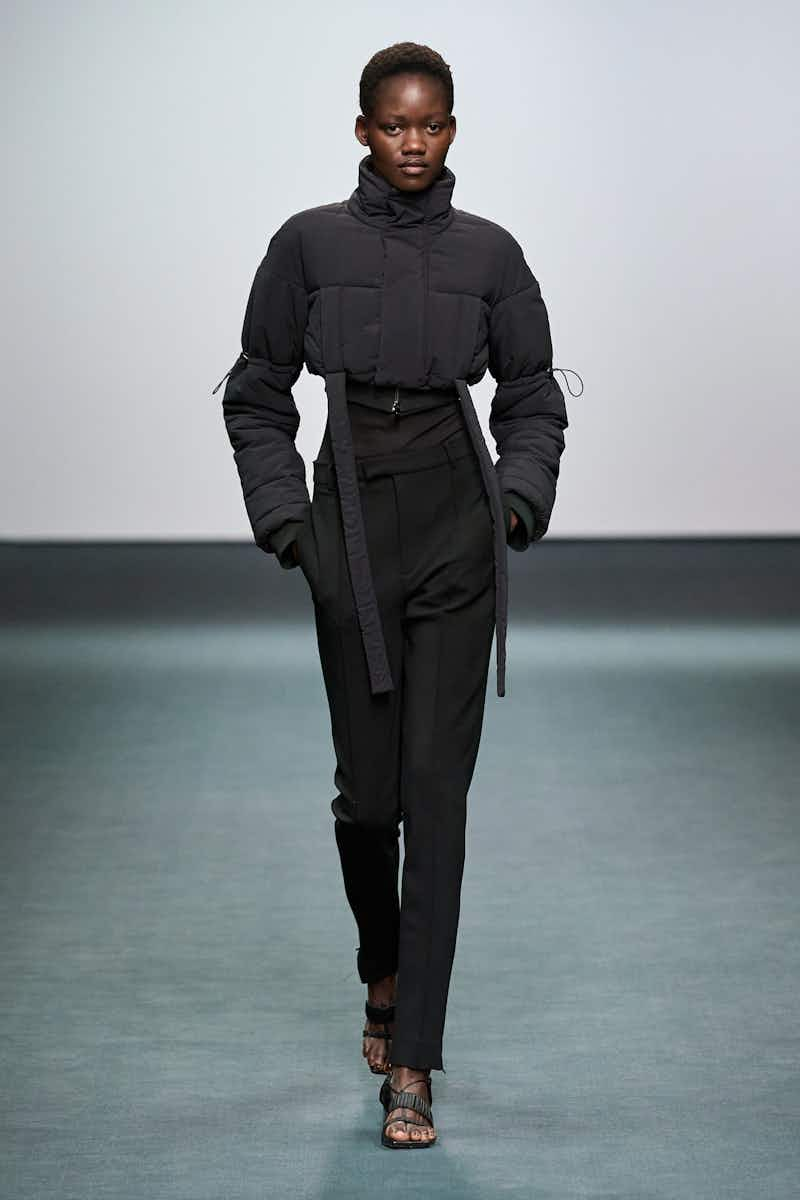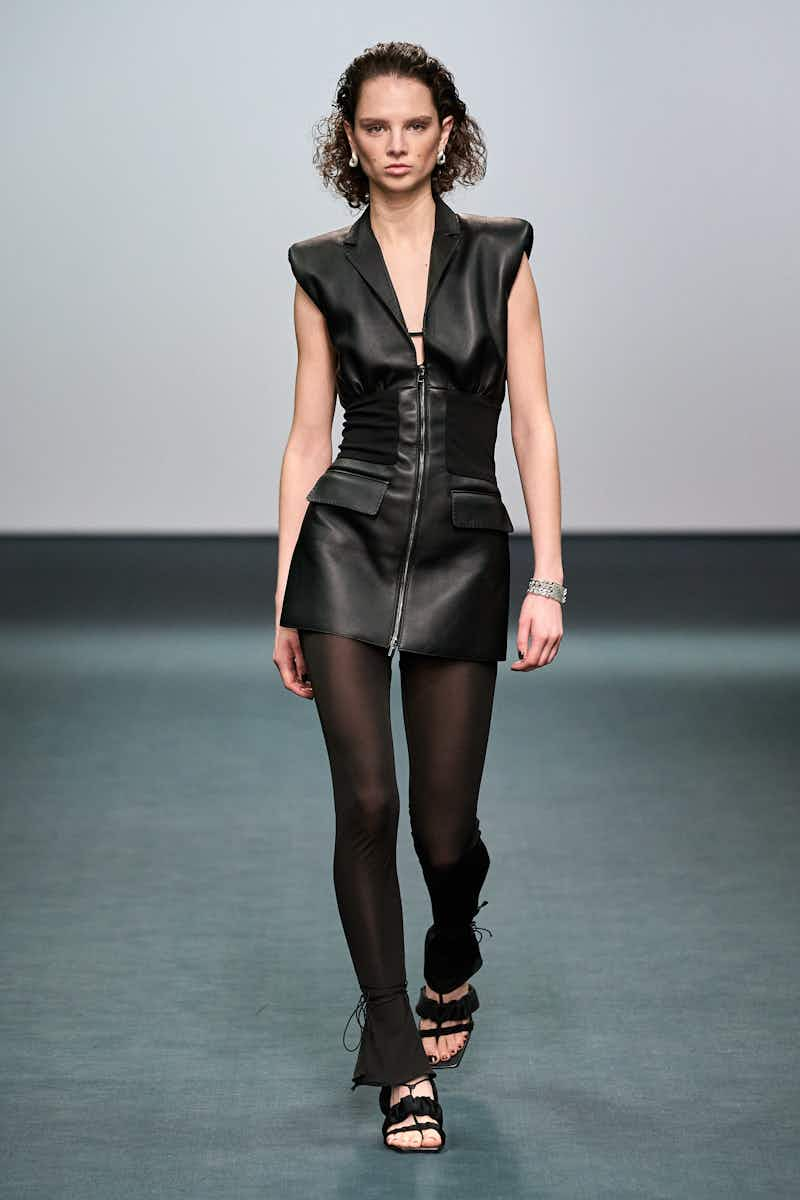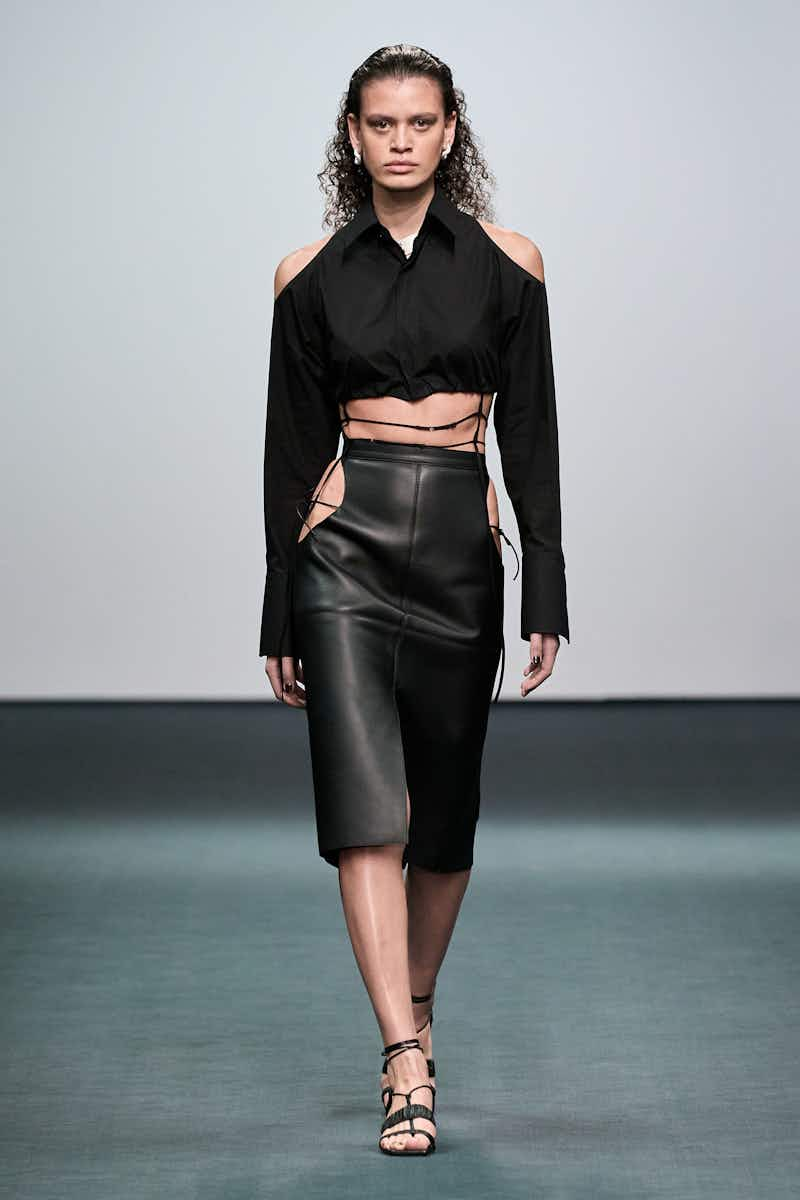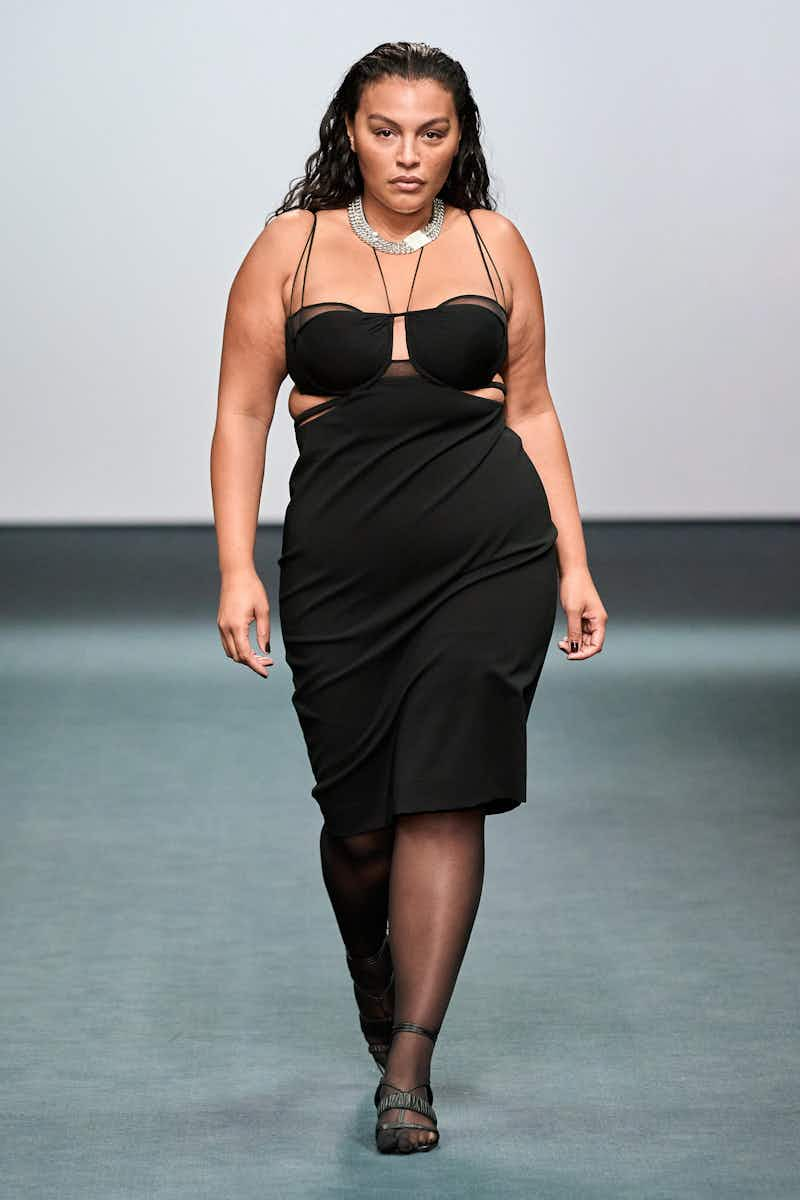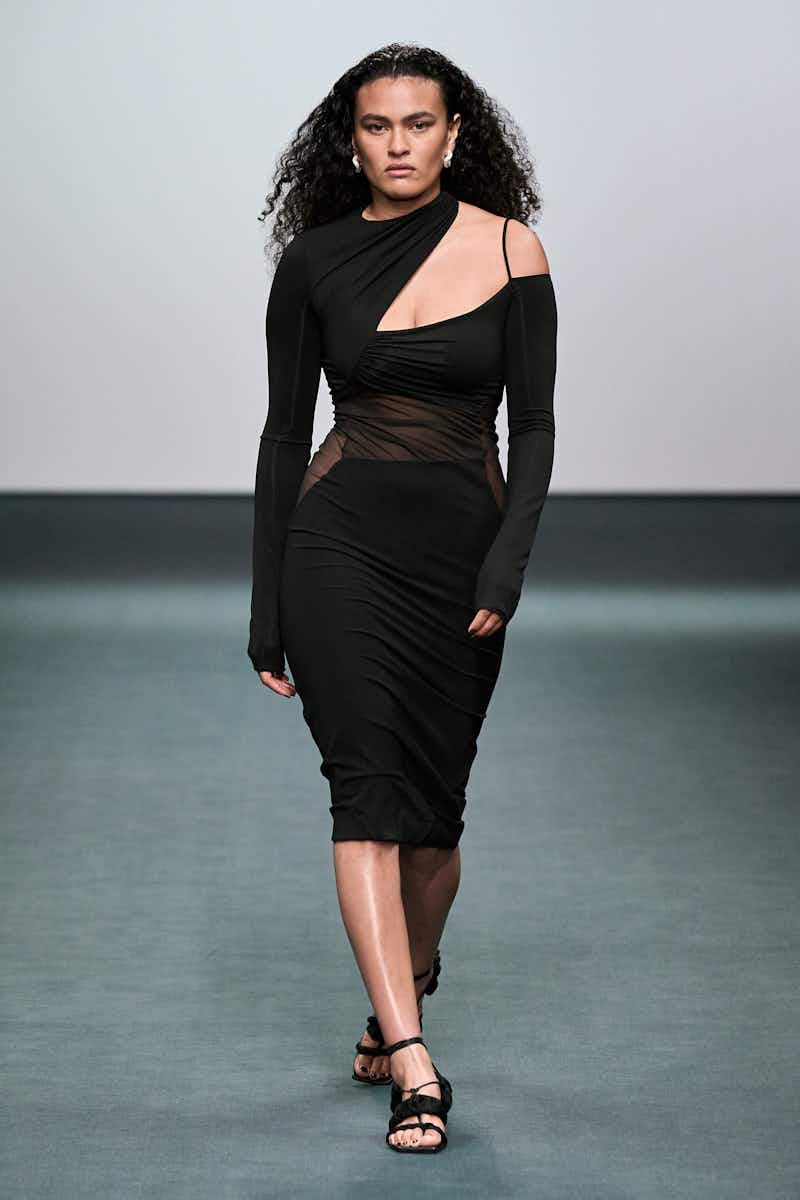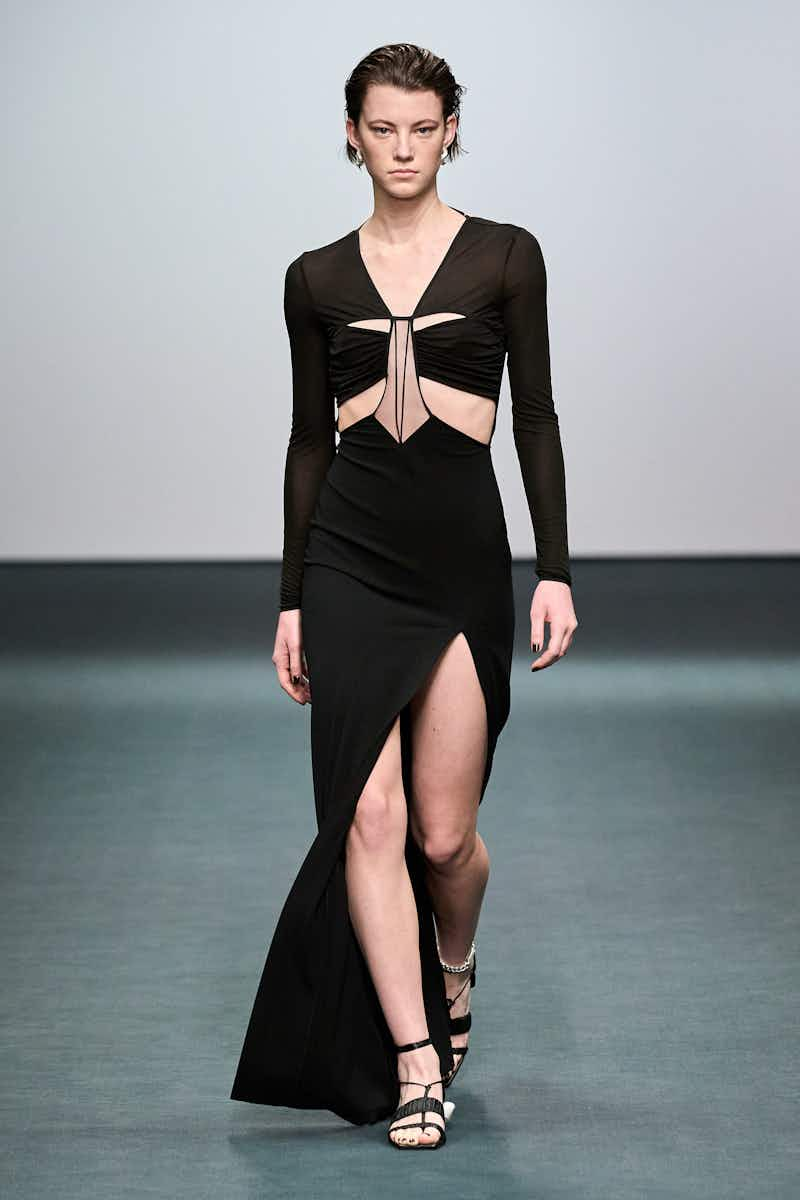 Is the cardigan over the ballgown a peculiarly British institution? Reminiscent of draughty stately homes and kids playing dress up, it seems to speak to the tattily aristocratic notions of eclecticism and eccentricity that LFW used to hold so dear. In Molly Goddard's case, this season's mix of knitwear, slouchy overcoats, stomping boots, frayed floral denim and signature confections of tulle and taffeta in palest cream and brightest fuschia, complete with topsy-turvy topknots, was inspired by one of her mum's glam friends who was a fixture at Portobello Market in the ​'80s. Taking over the Seymour Leisure Centre while Storm Eunice made a good argument for those practical outer layers, Goddard's show wore its high-low mix of slouch and fuss with studied ease.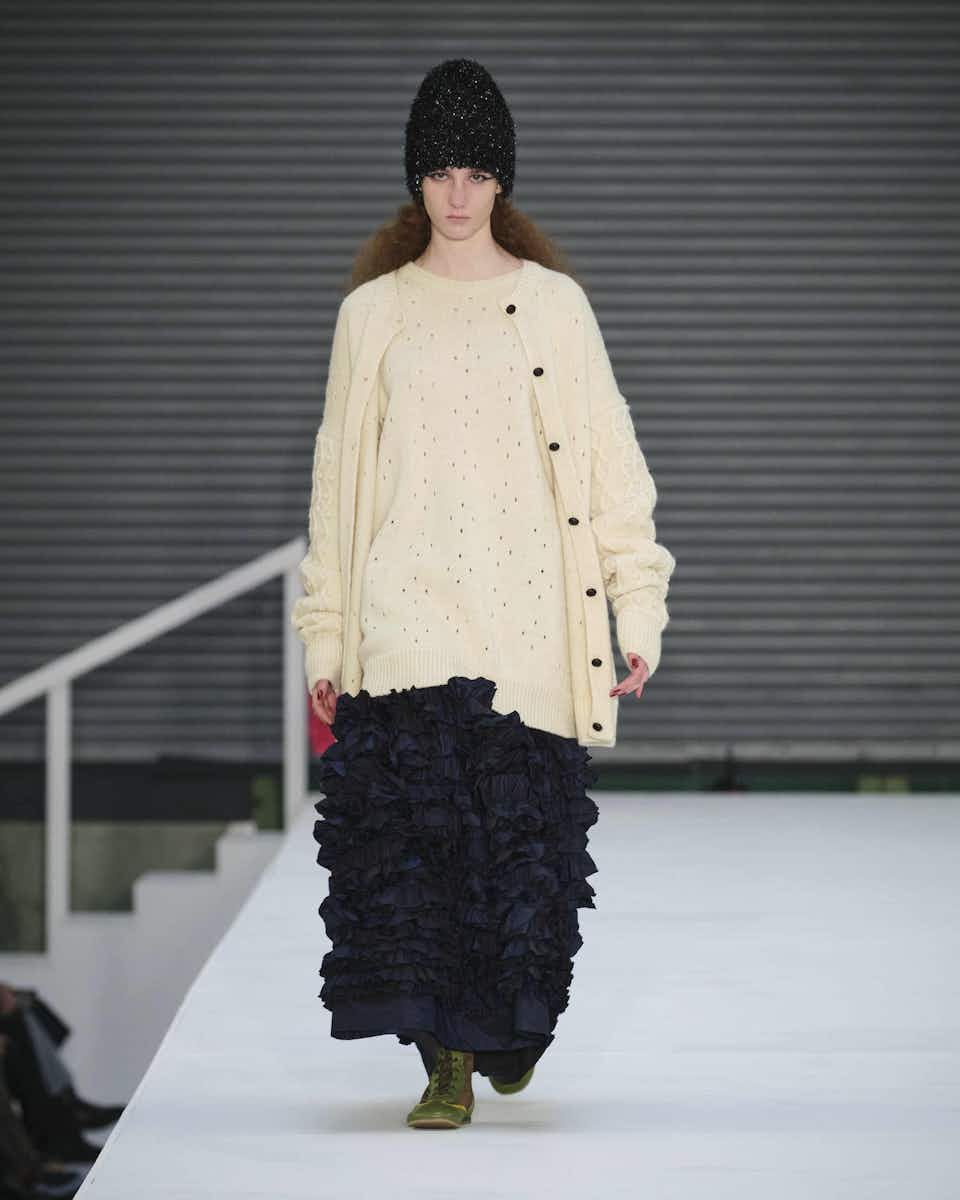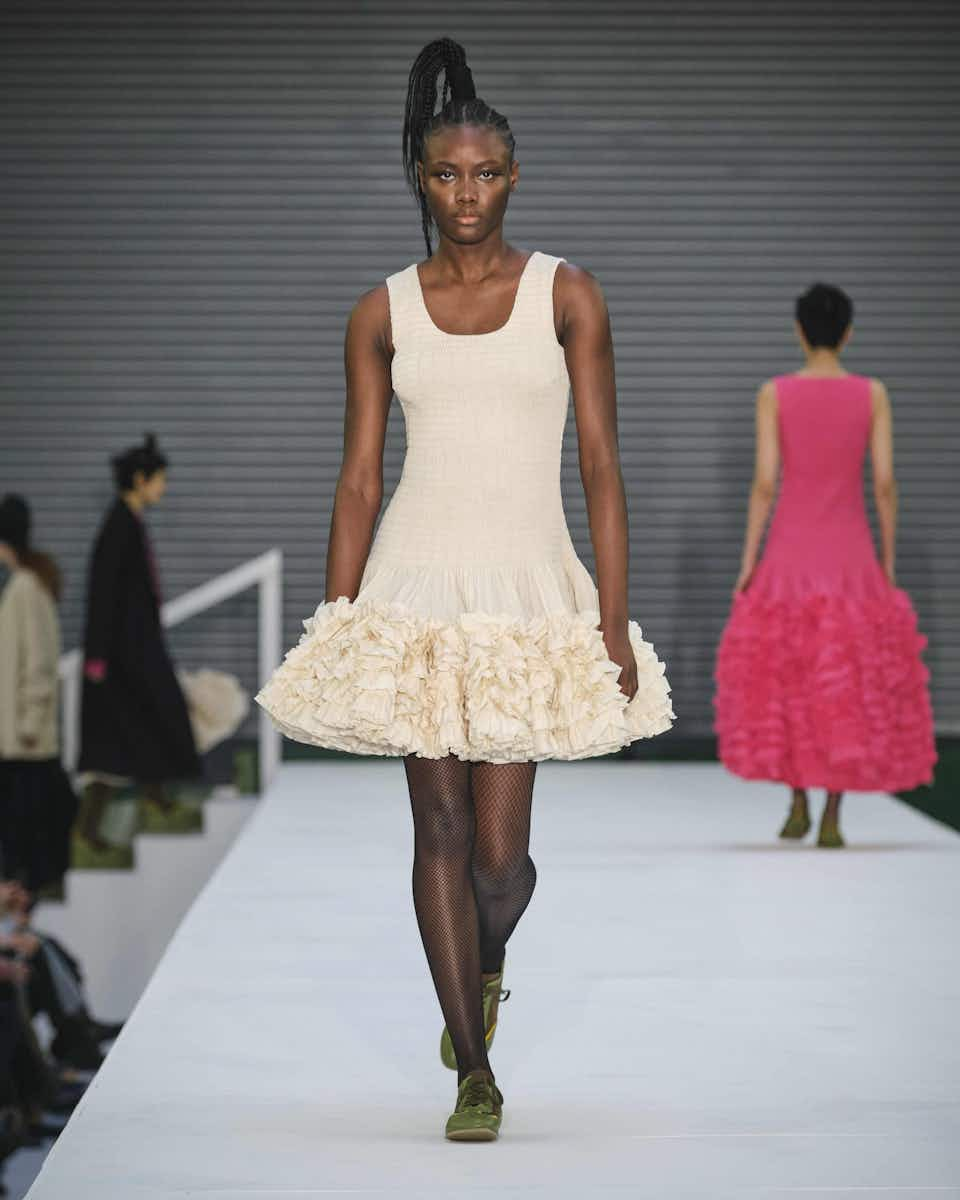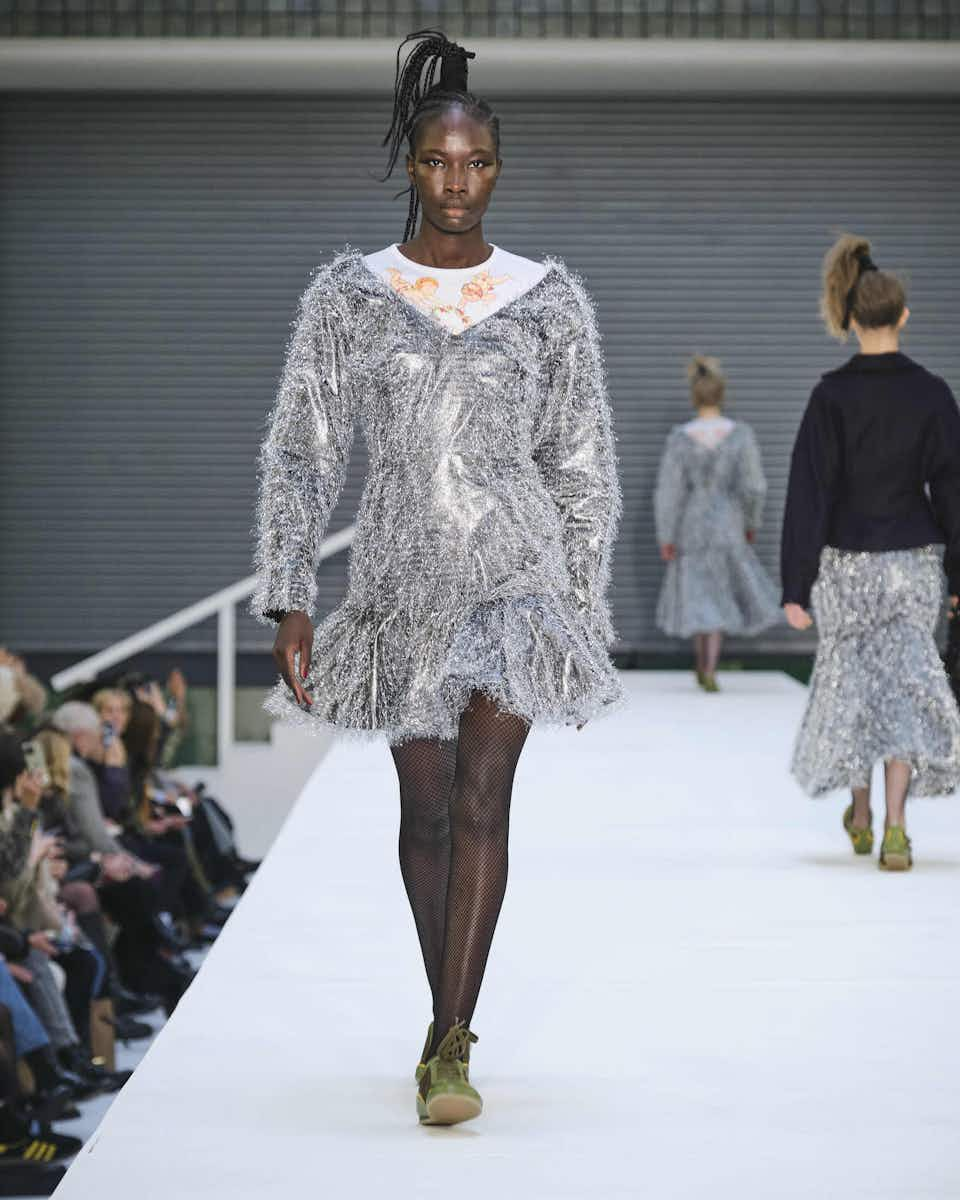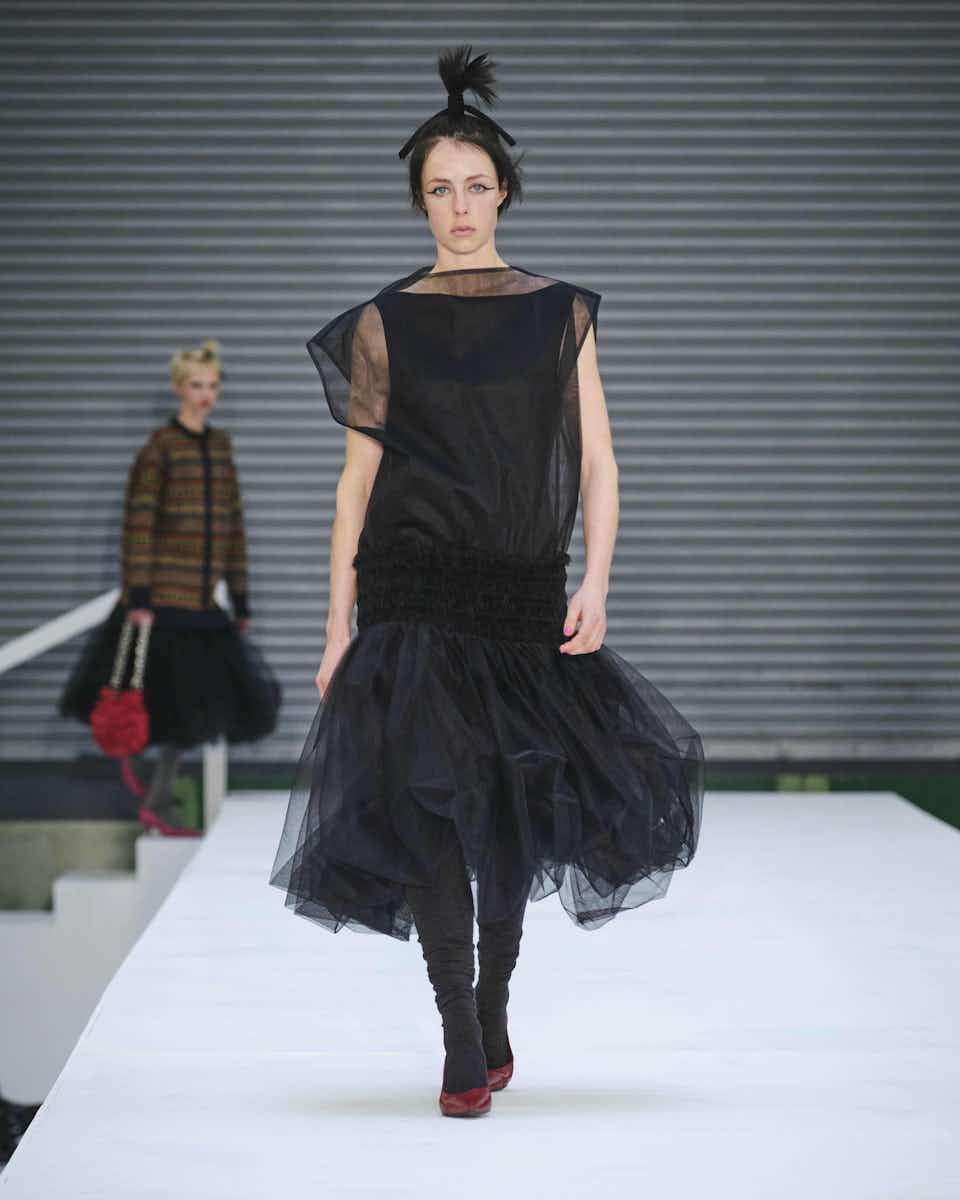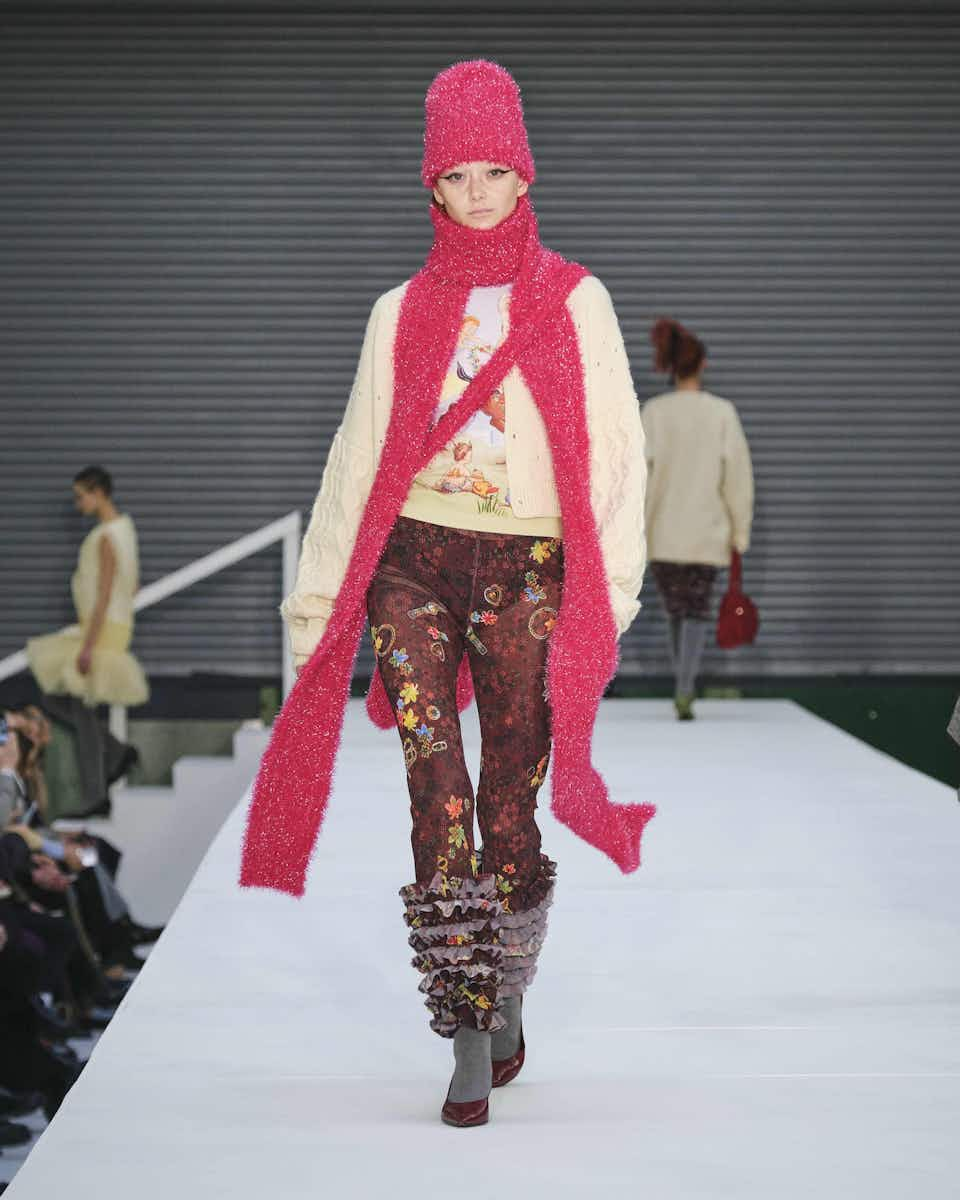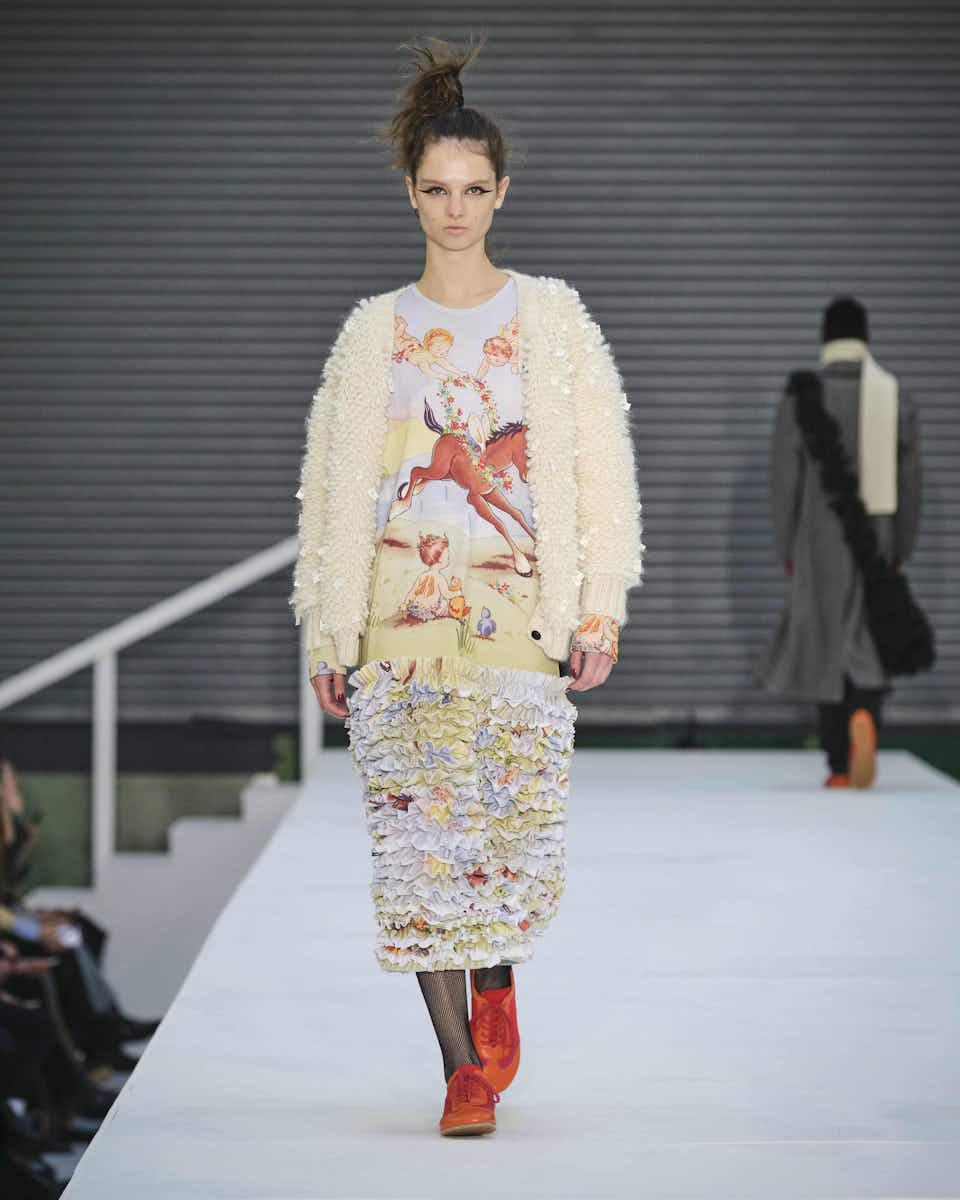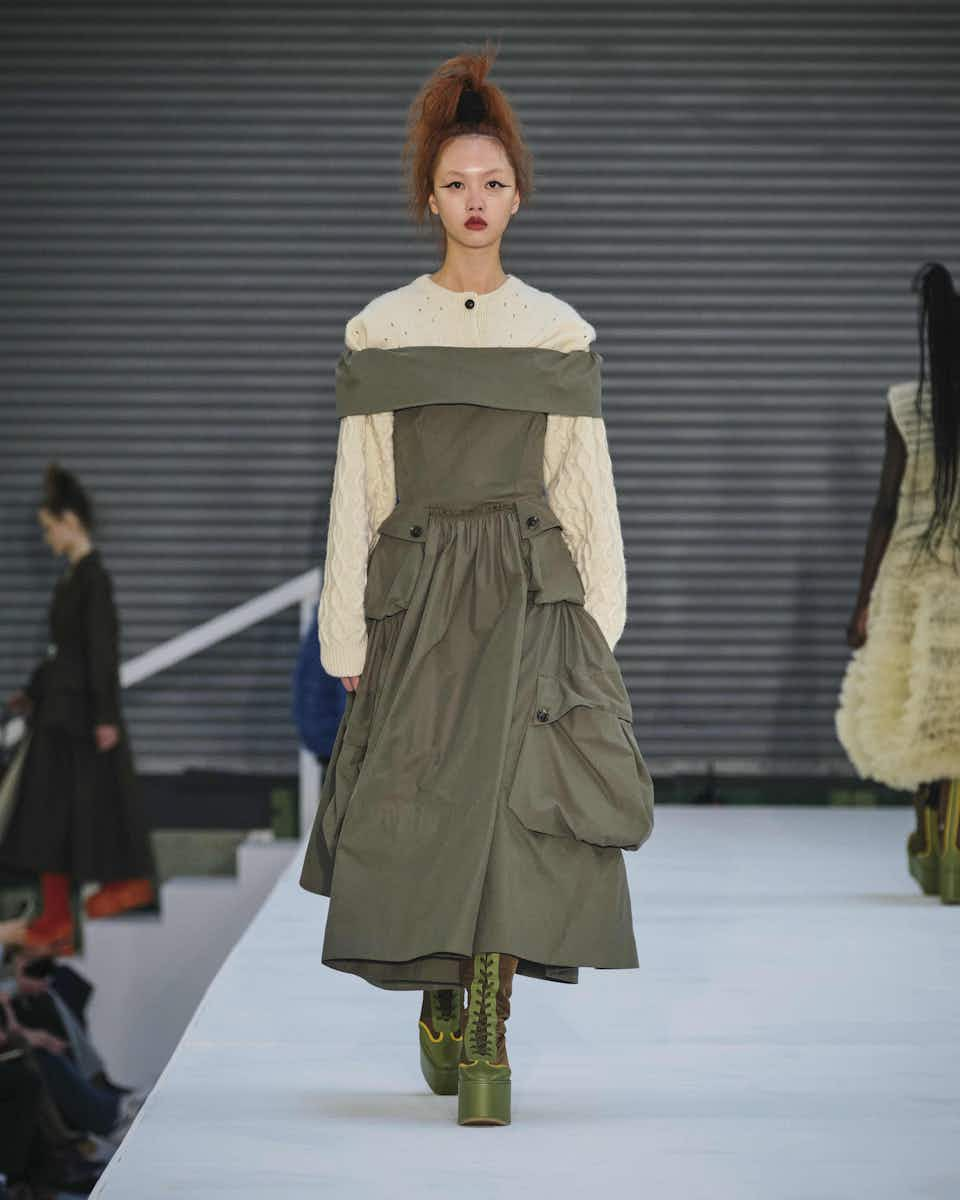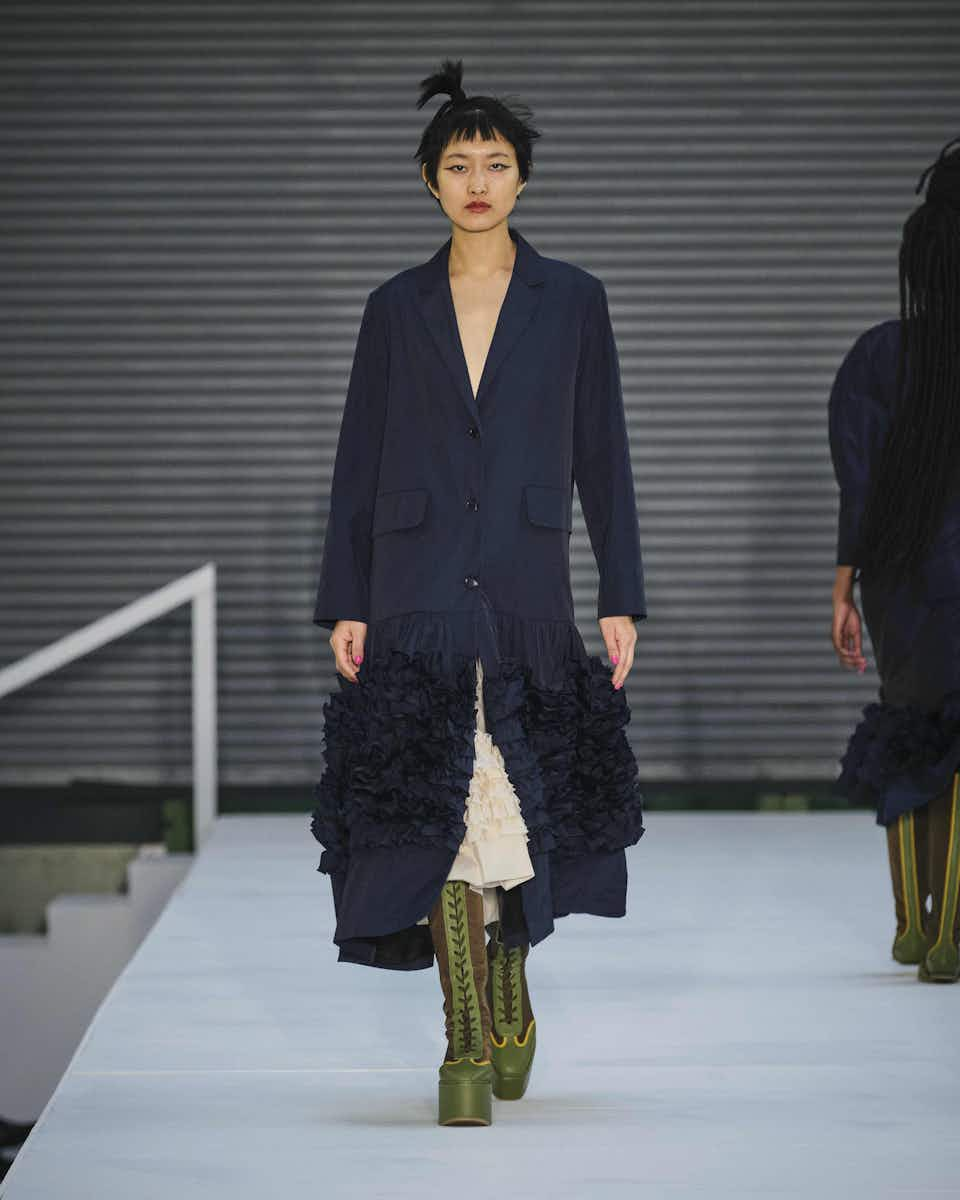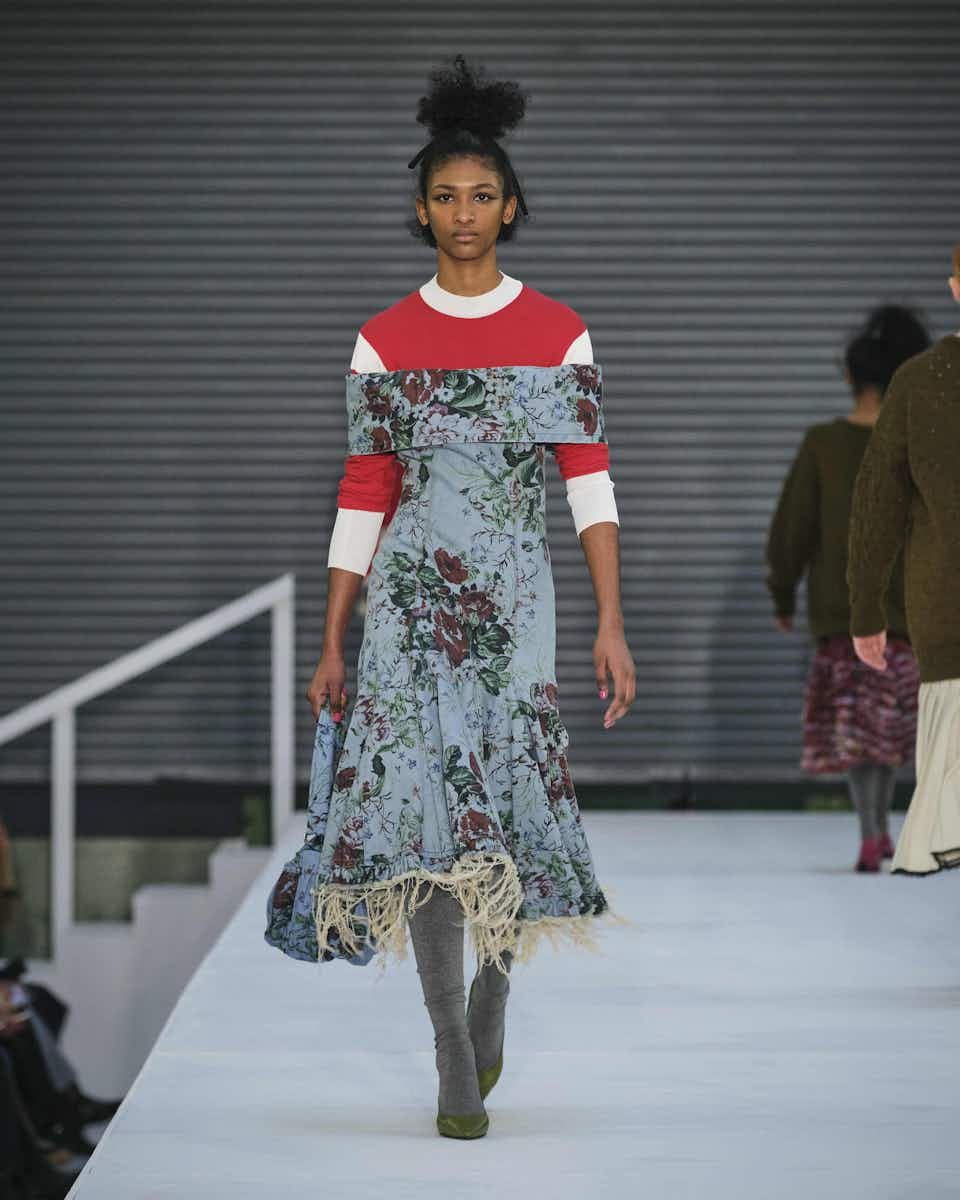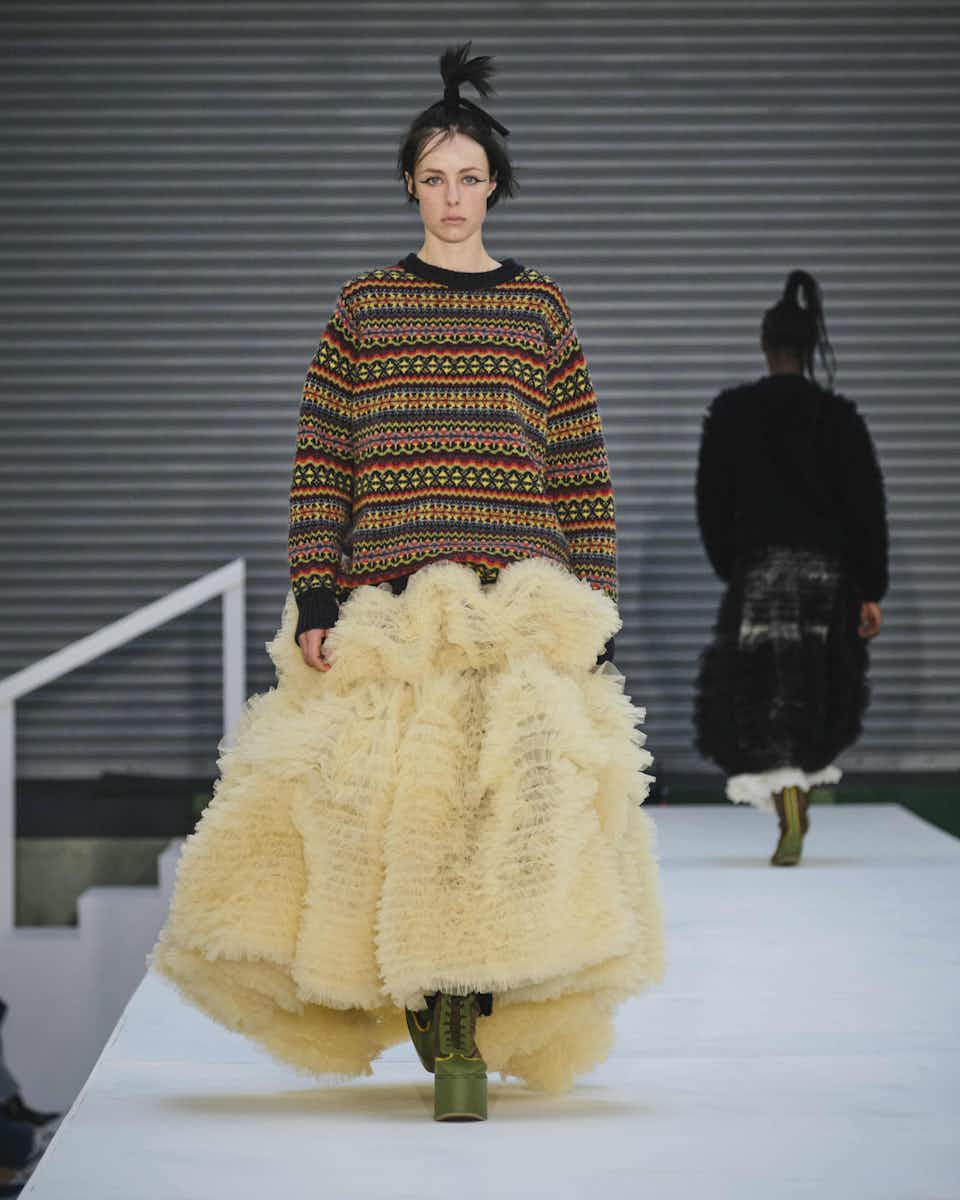 Rippling, curving motifs ran through Priya Ahluwalia's debut runway show, and the excitement was palpable in the packed, sand-covered basement of London's 180 Strand. Unexpected (see: undulations of colour cutting through a classic pin-striped suit) and mesmerising (look to the layers of pink and navy fabric wrapped around the body like ribbons), these free-flowing shapes are familiar territory for Ahluwalia. This season's twin influences were Nollywood and Bollywood: both holding strong childhood memories for the designer. The drama of the former and dreaminess of the latter came together through vintage film poster T‑shirts, high-octane patterns and an irresistible partywear line-up. Not to mention Ahluwalia took to the catwalk with an LVMH Prize, a GQ/​BFC Fashion Fund win and an appearance at Guccifest already under her belt – impressive. Anticipation was high, and she most certainly delivered. In Ahluwalia, everyone's ready for their close-up.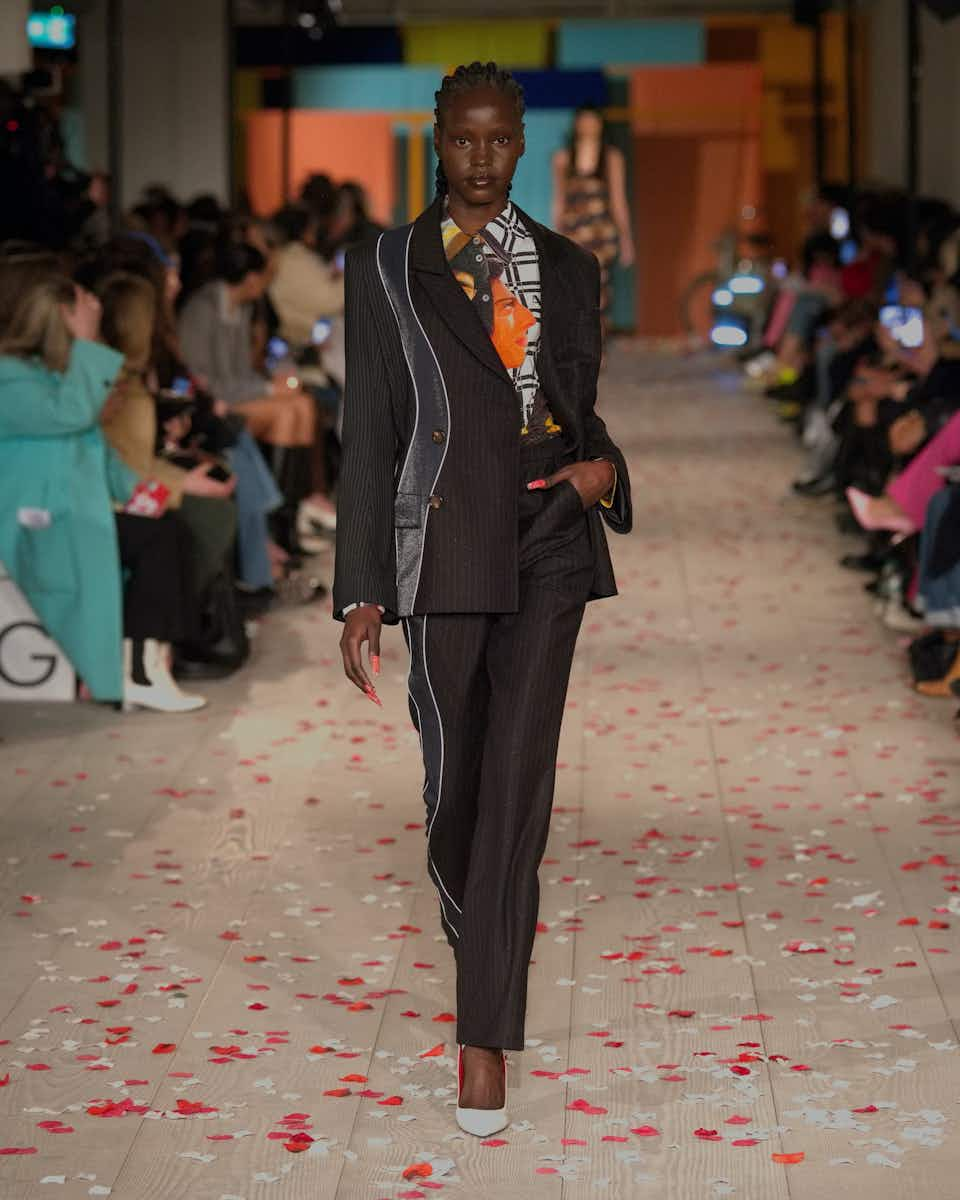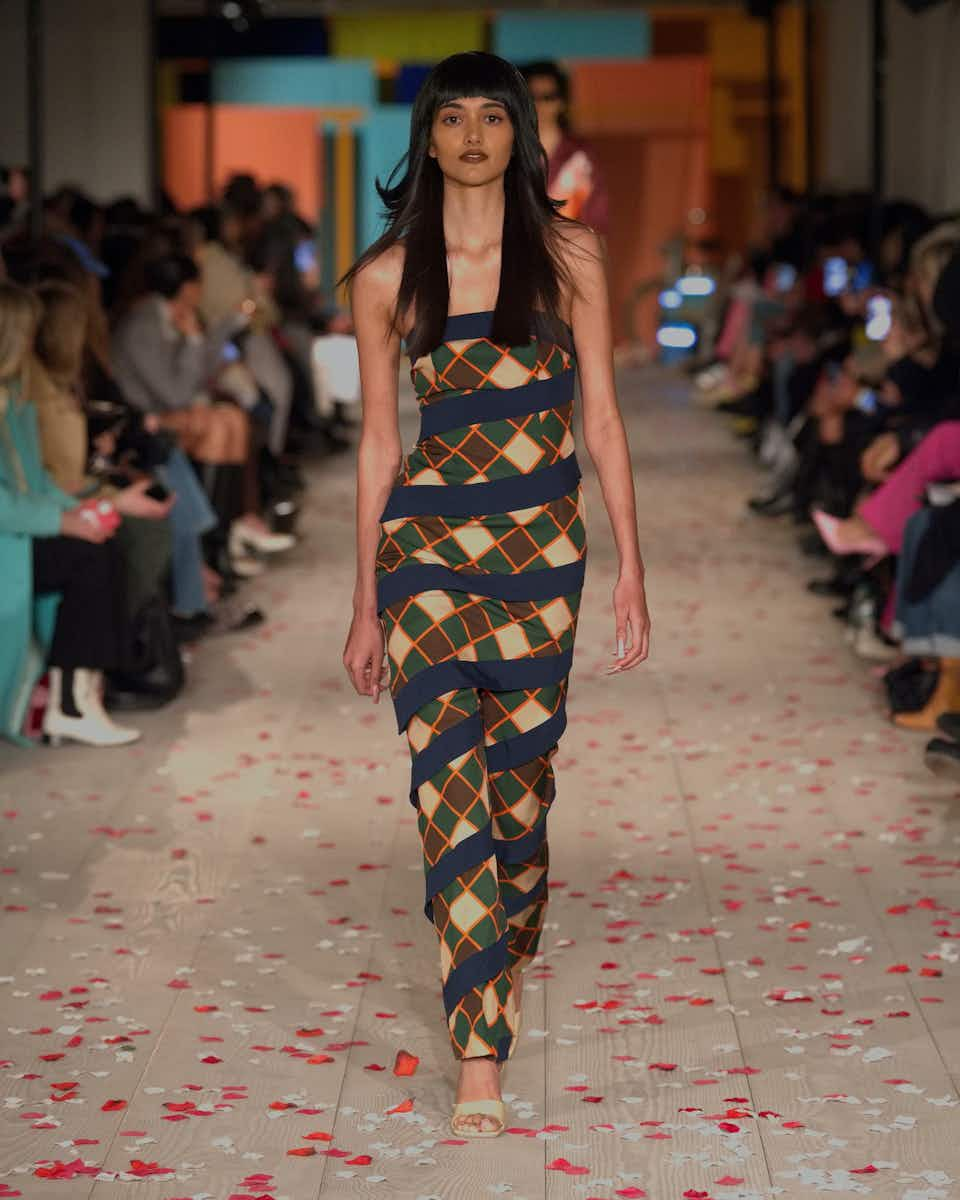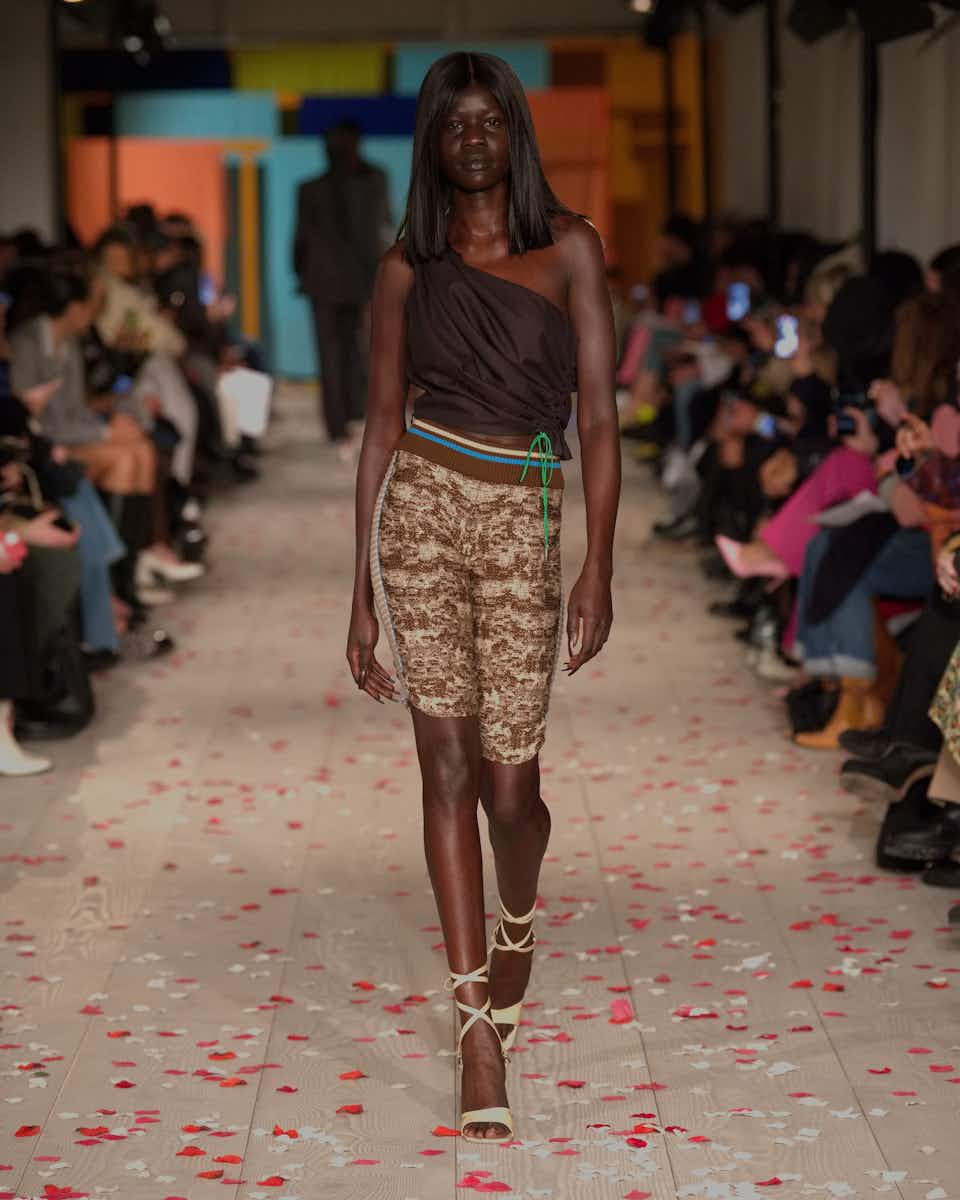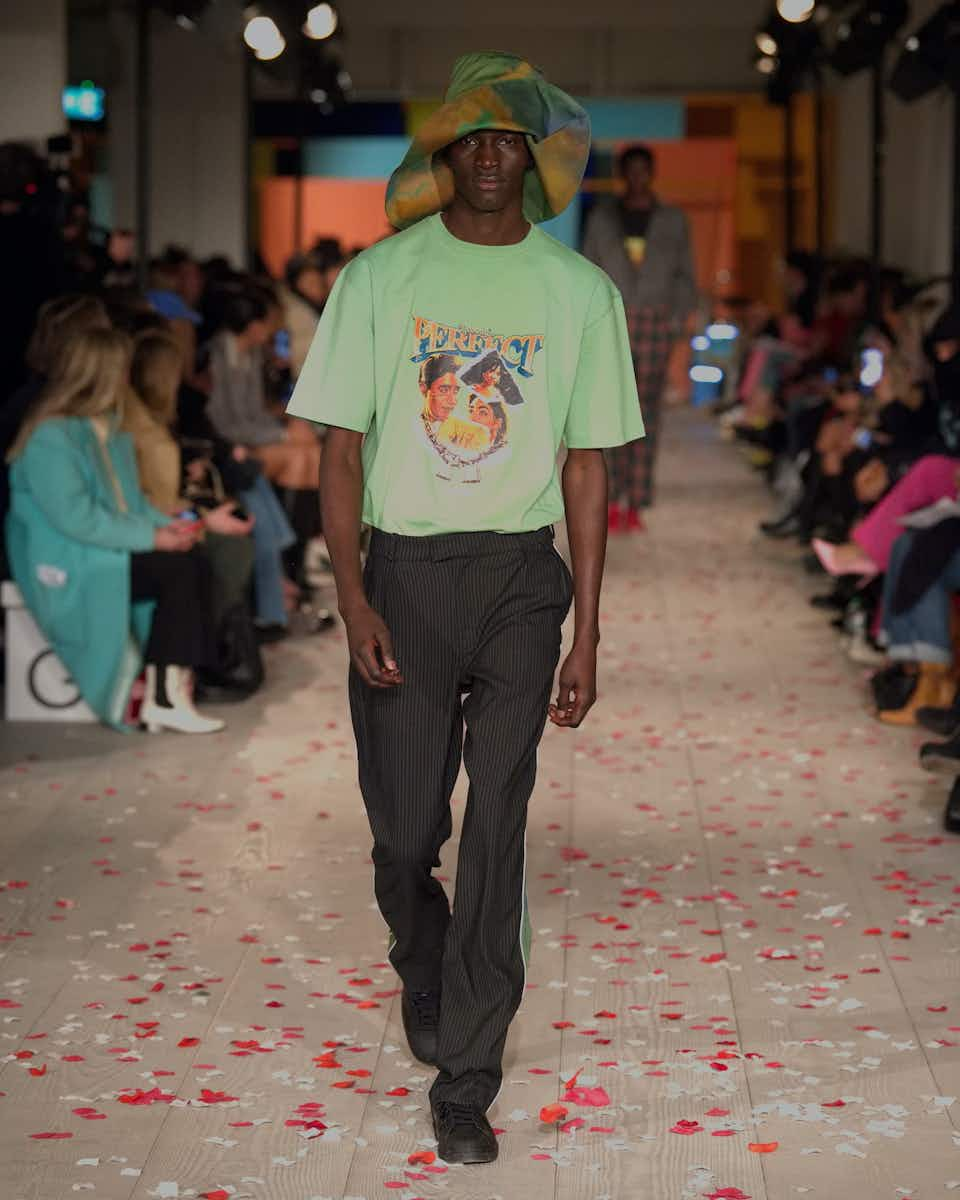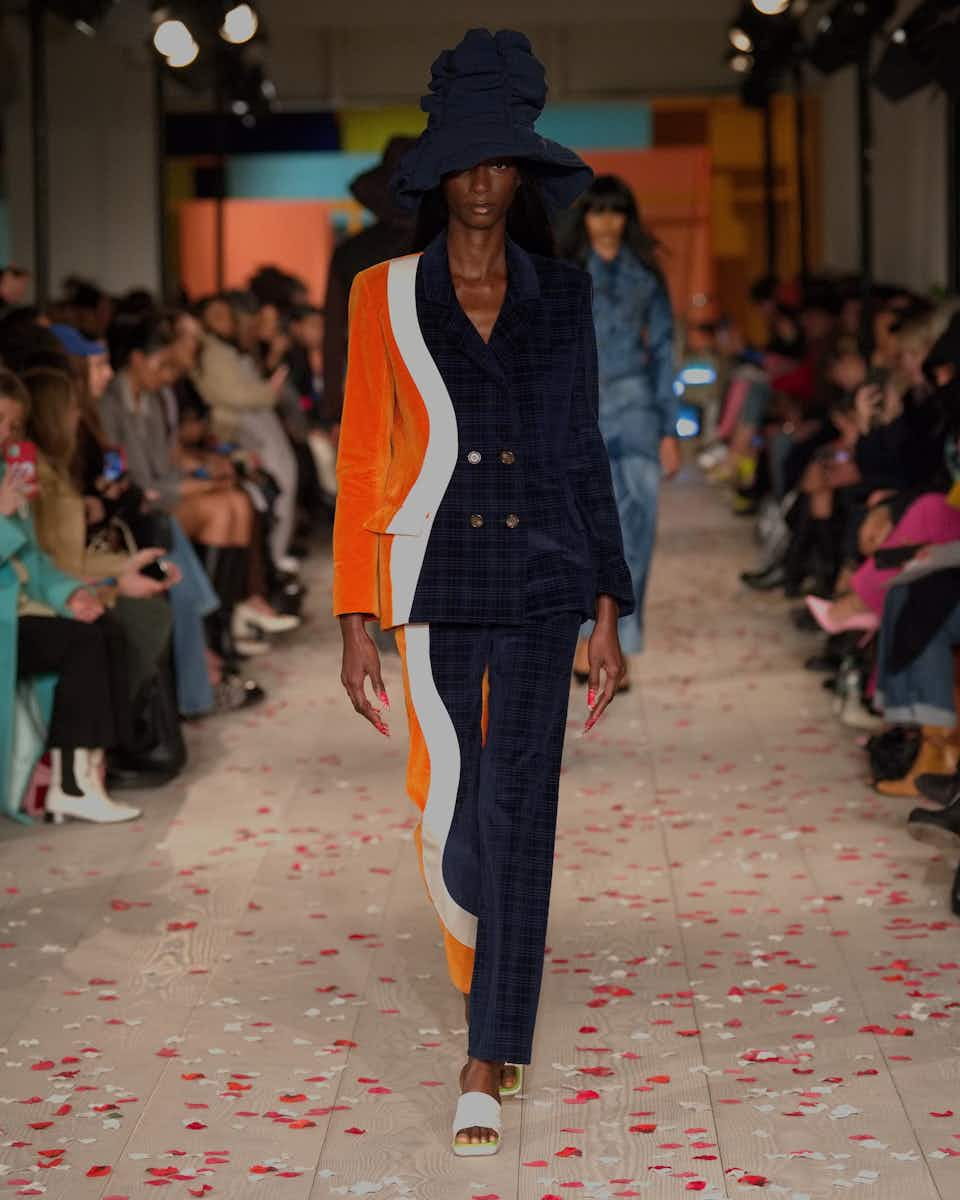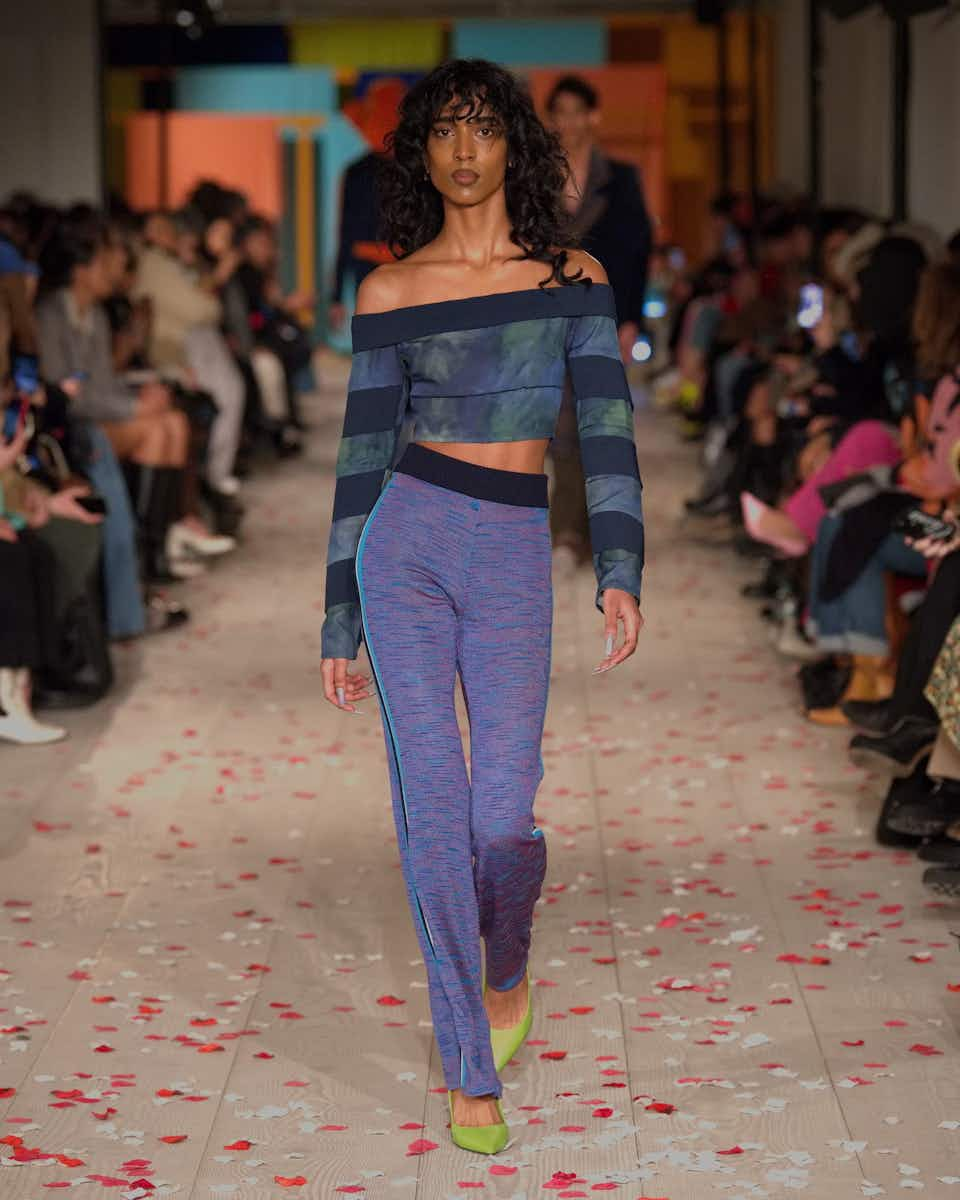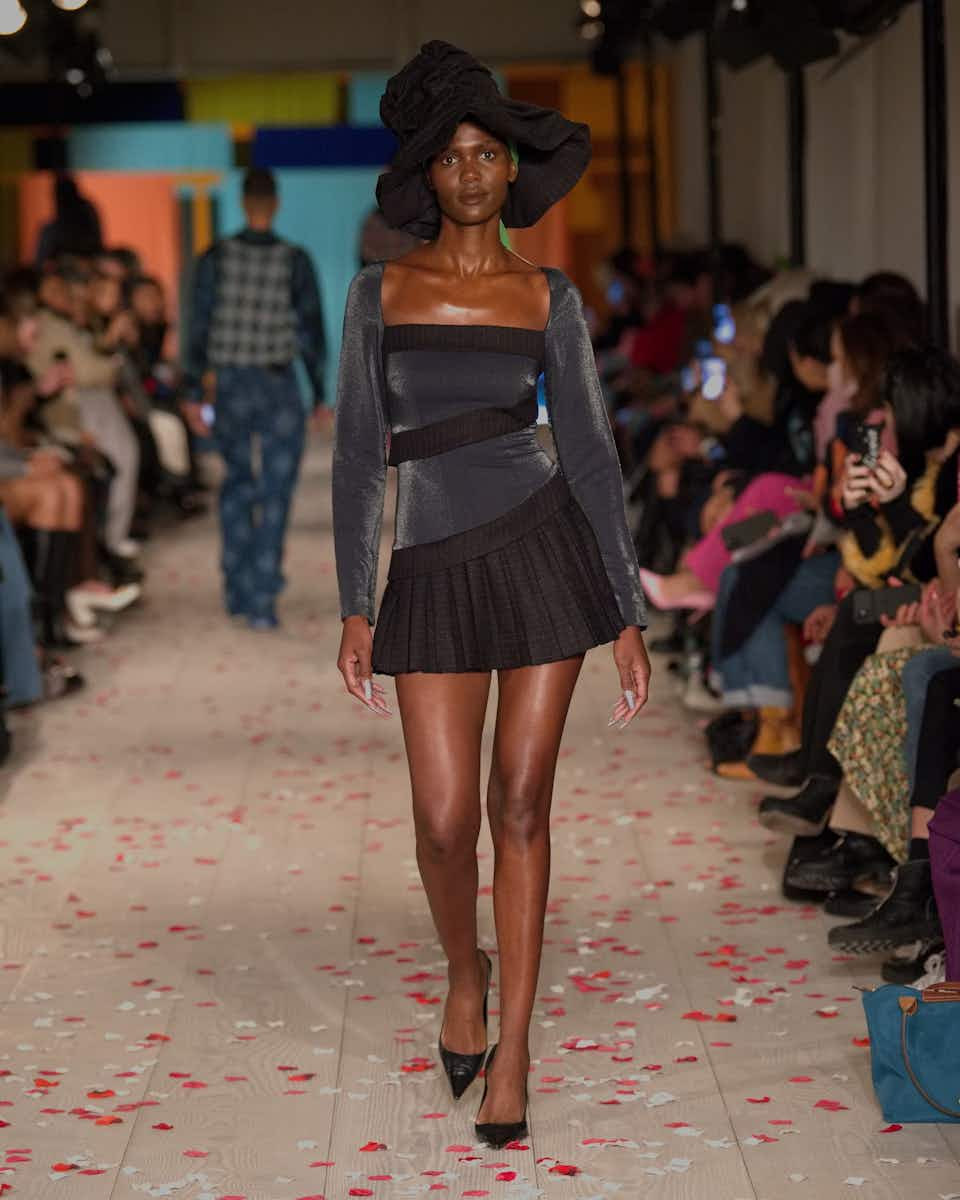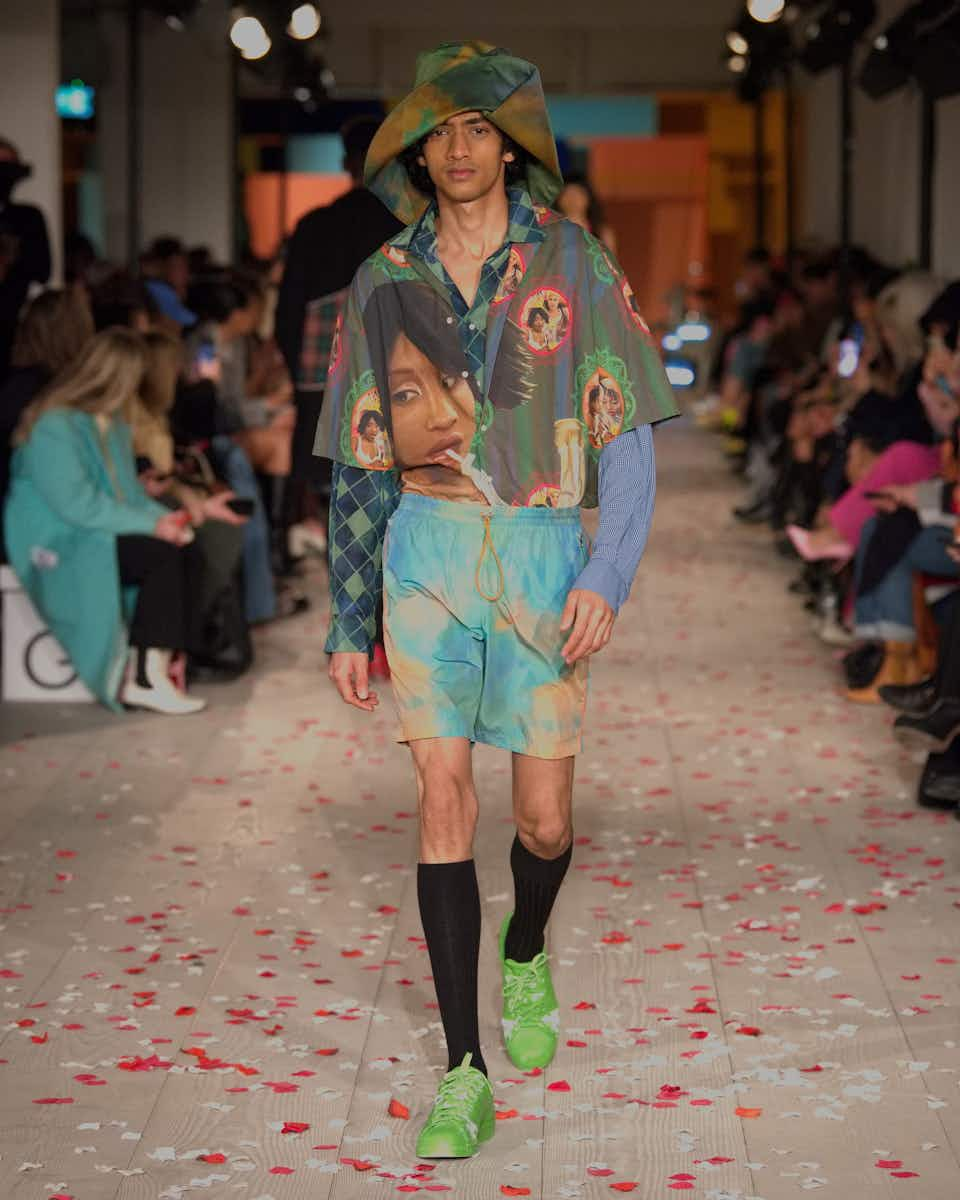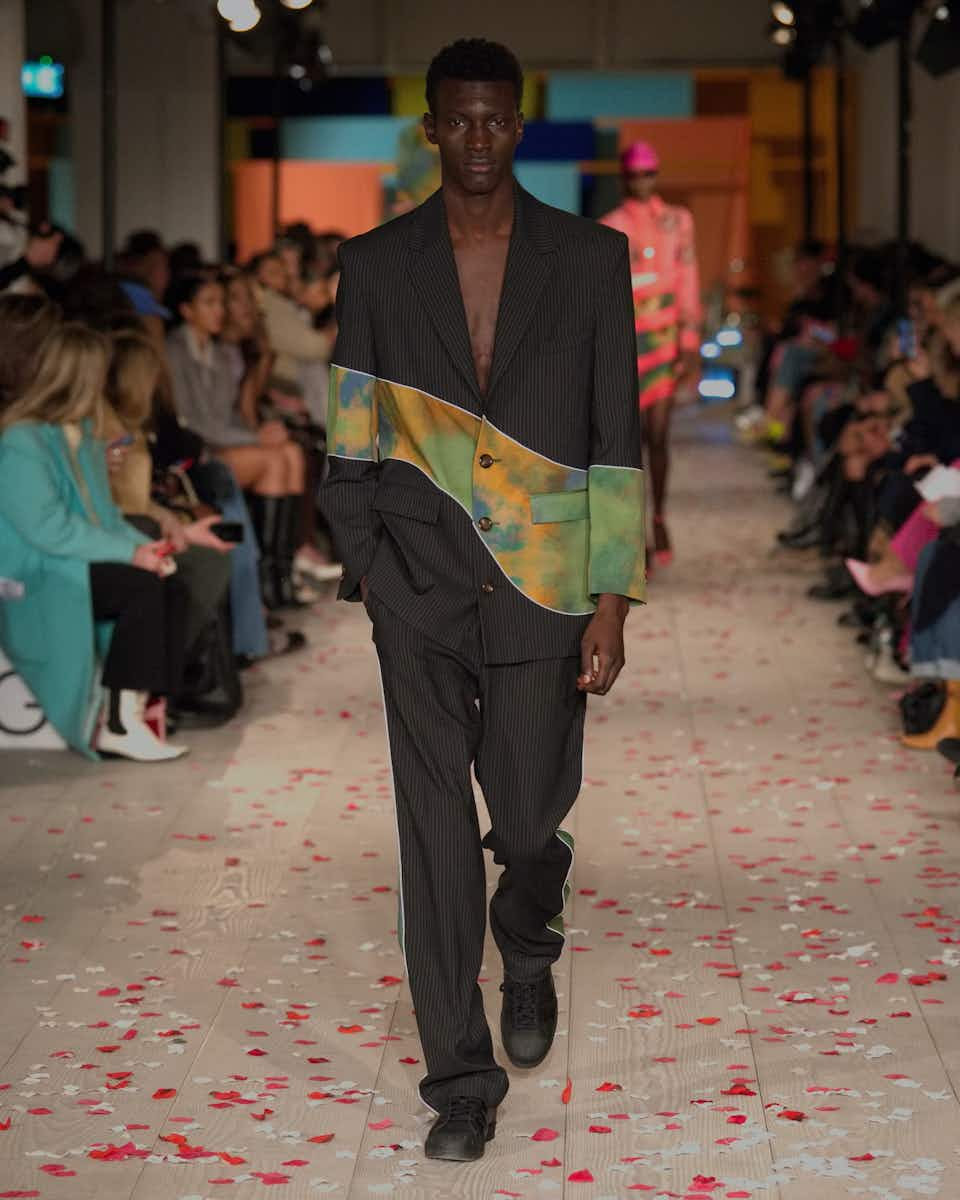 There's obviously a breeze blowing over the Atlantic, because Matty Bovan's first physical show in two years also had a strong American twang. Bovan, whose designs look like the lovechild between Vivienne Westwood, Bodymap, and a particularly fruitful jumble sale, developed this collection during a two-month stay in Connecticut with his boyfriend. The result, titled Cyclone (Bovan loves a reference to weathering the elements), invokes chaos and a very American kind of dream in patchworked plaids and hulking linebacker shoulders, not to mention that staple of punk – a much destroyed and distorted star-spangled banner. In a bid for radical re-use, the collection also borrowed heavily from other brands. Calvin Klein jeans, Adidas sportswear and a puffball gown by Roksanda Ilincic all got the Matty Bovan treatment, broken down and rebuilt into something wonderful and strange: a chorus line of tracksuit jacket arms swinging around one model's legs in skirt form.
Listen to Matty Bovan and composer Derek Piotr's AMERICAN MIX: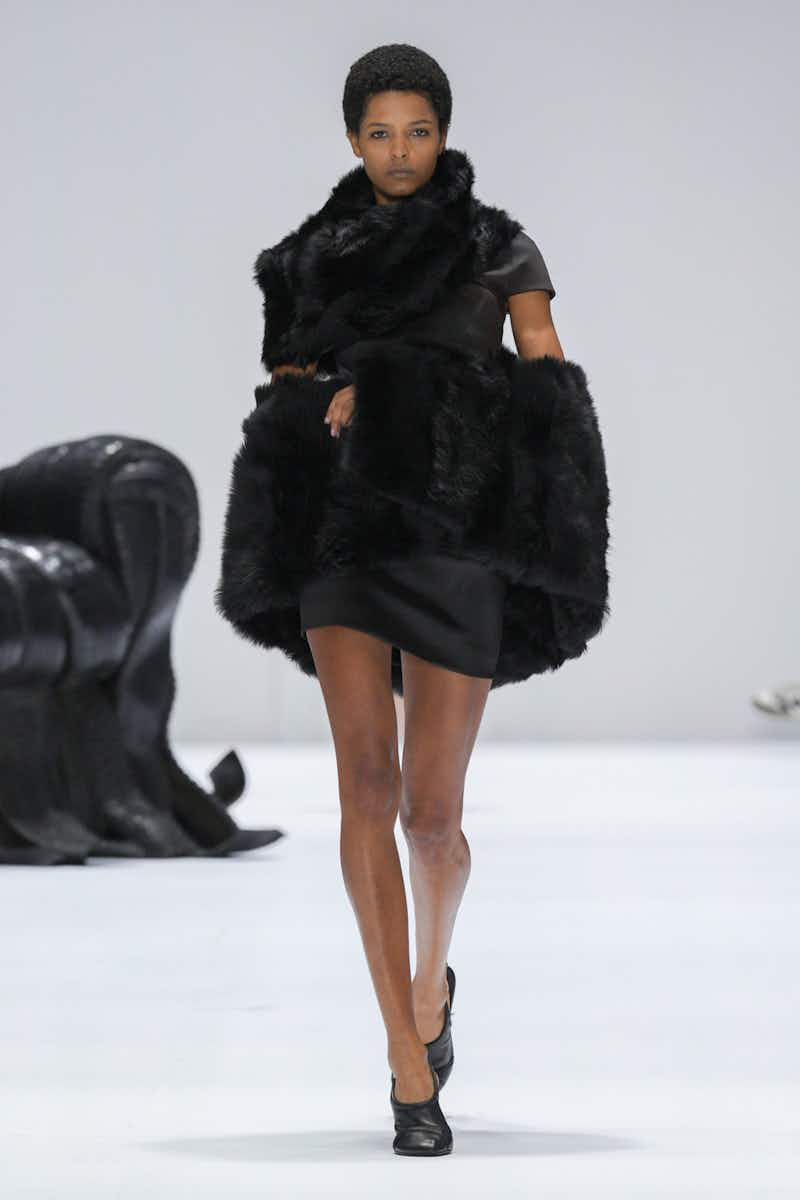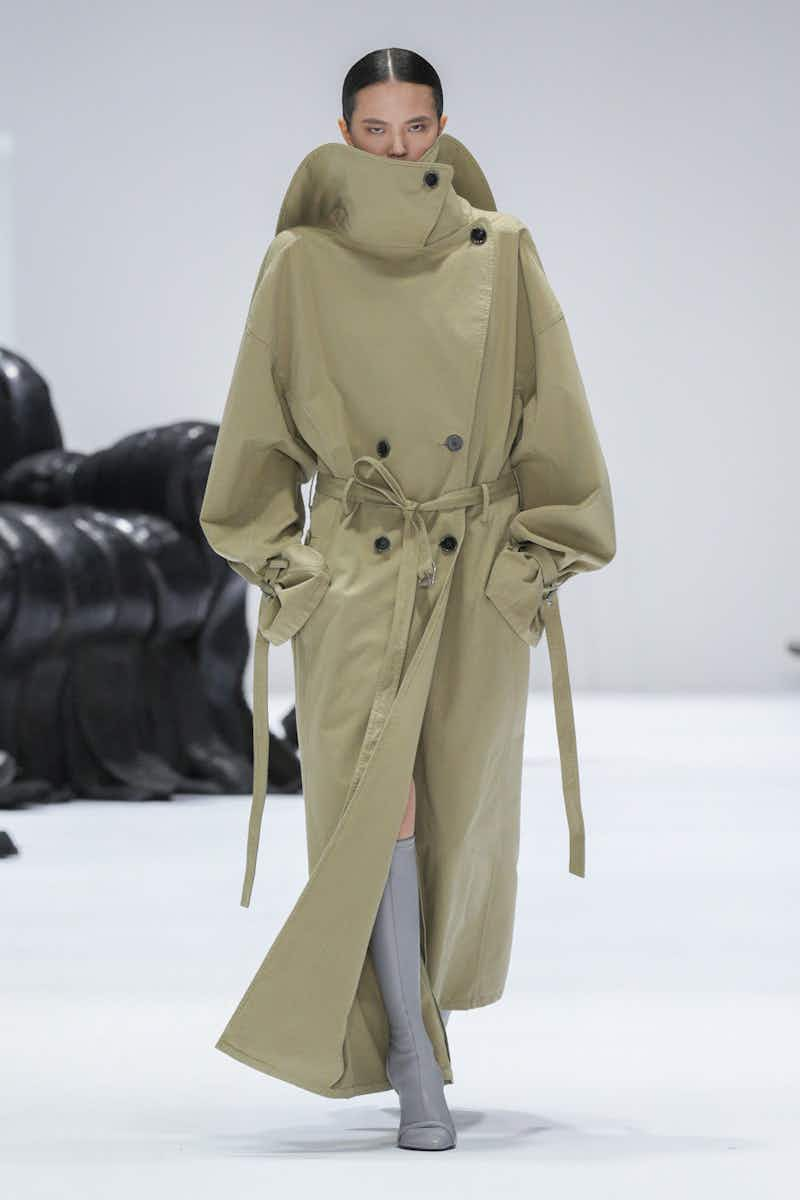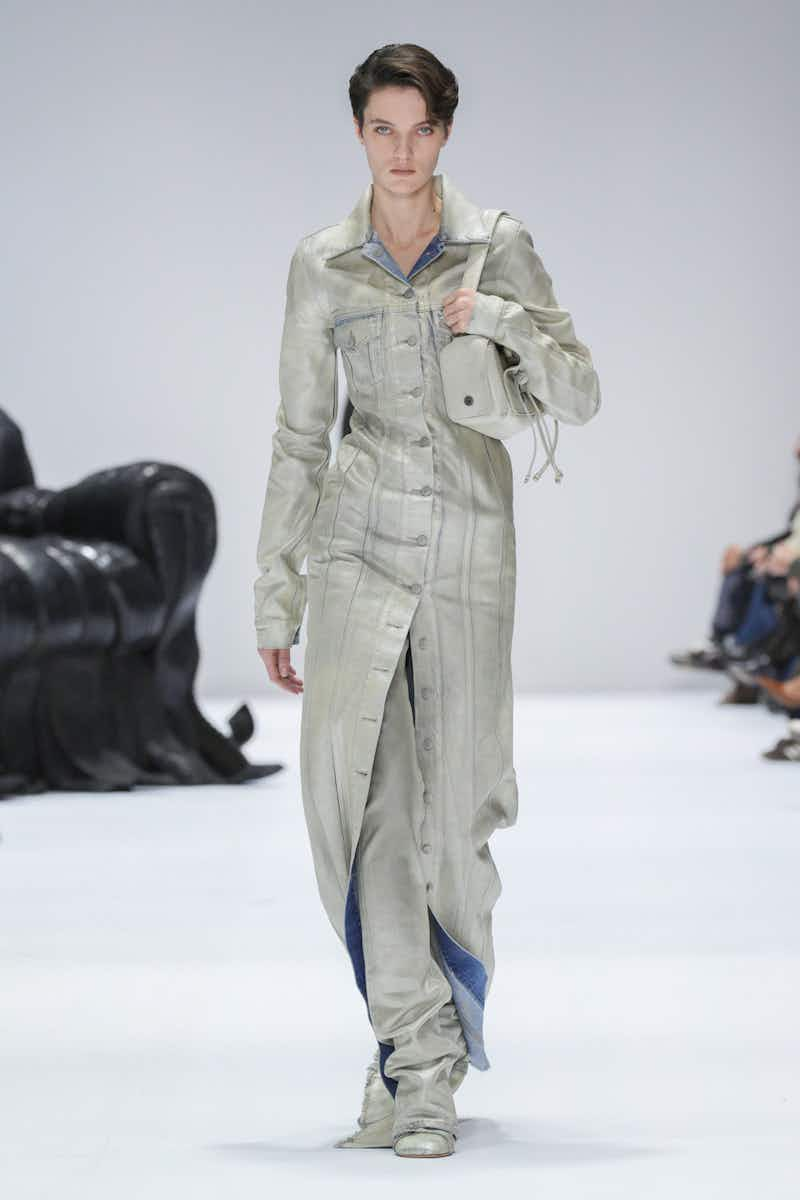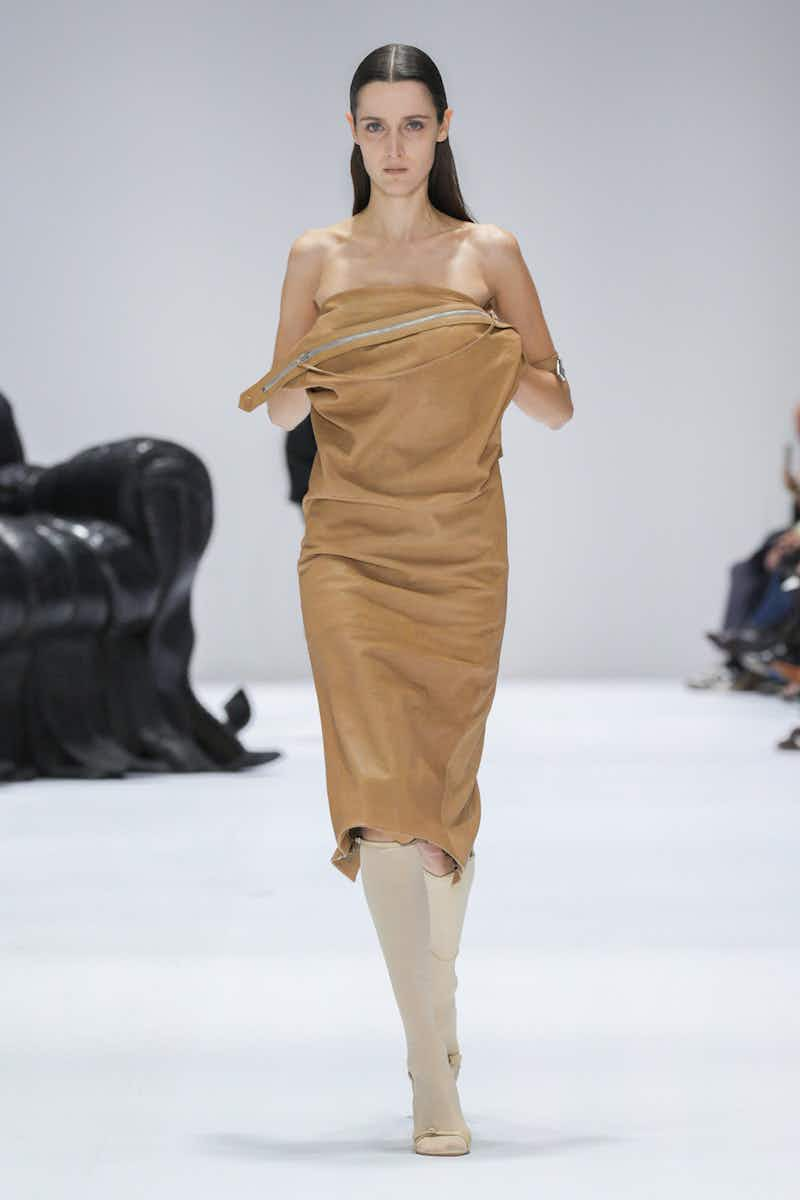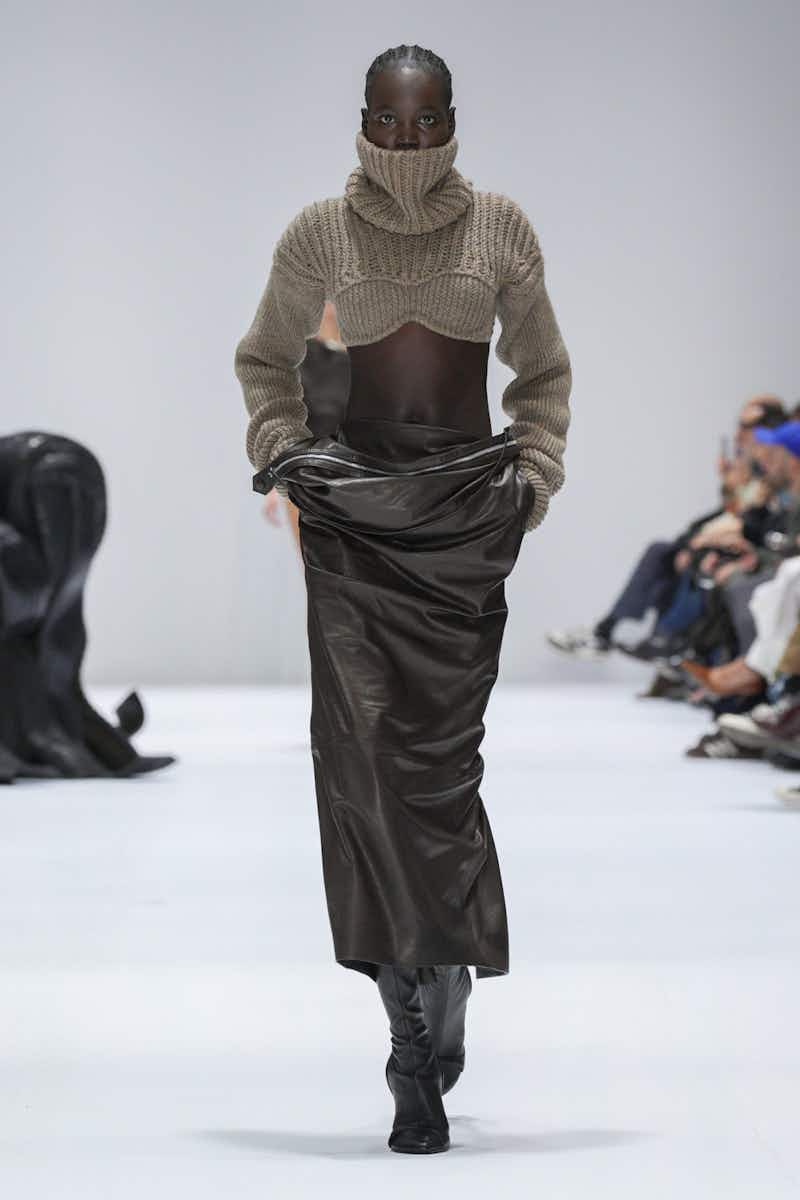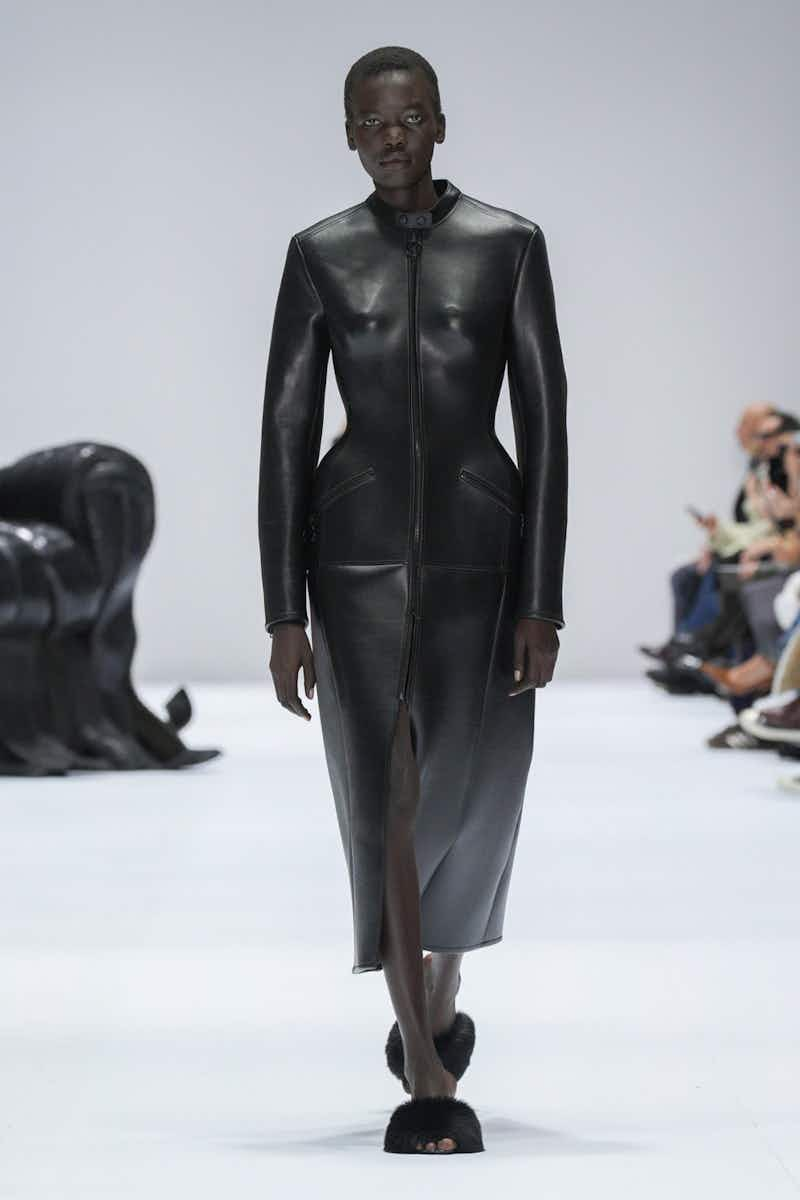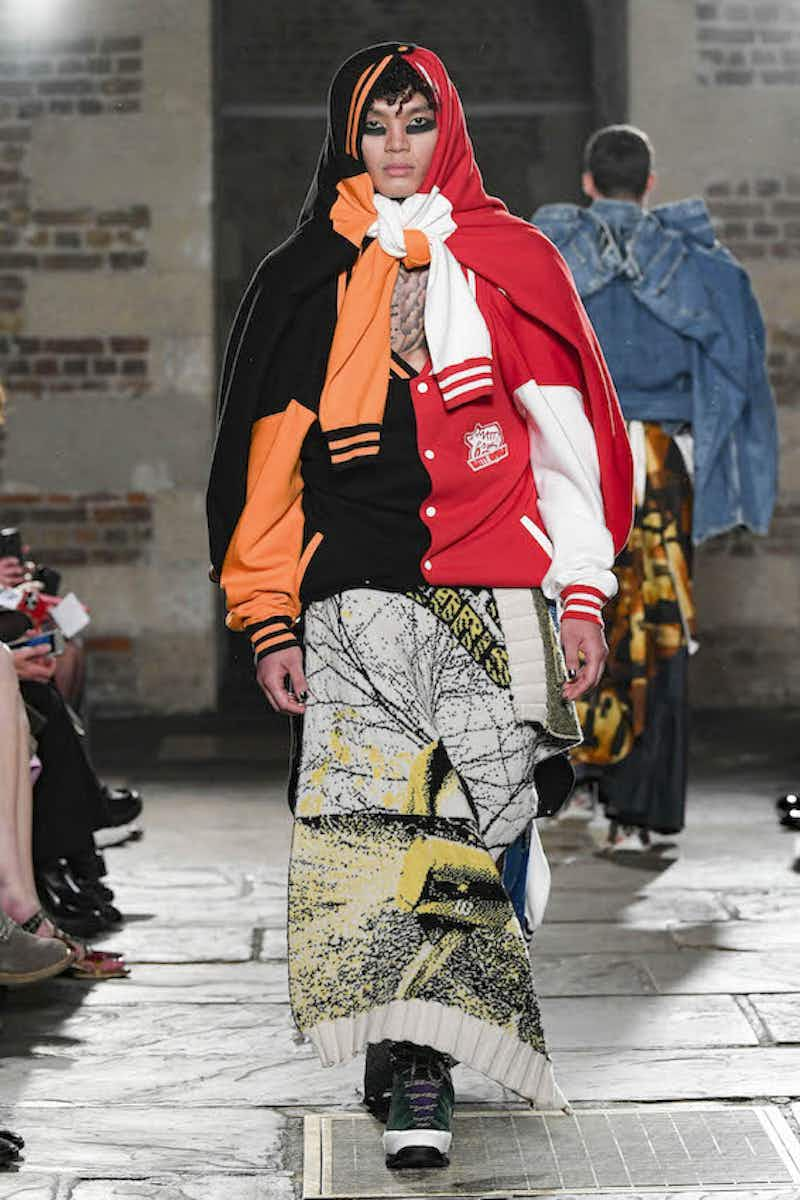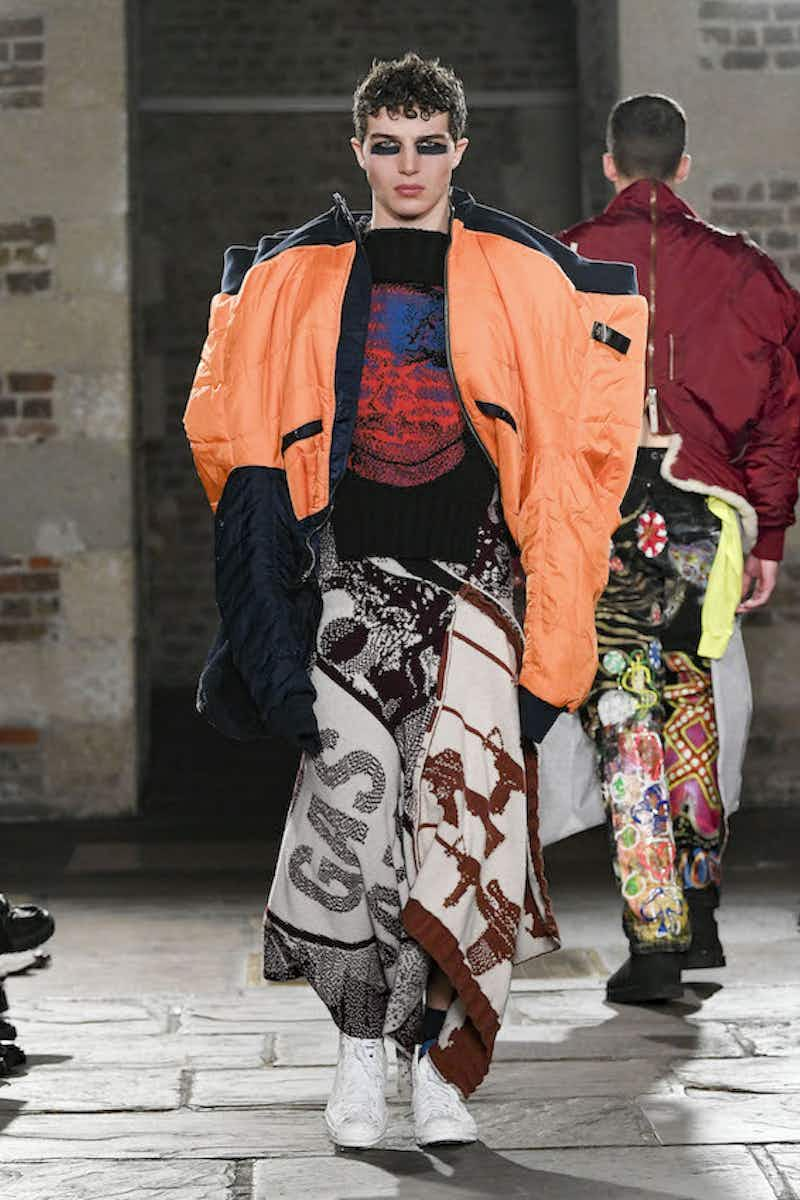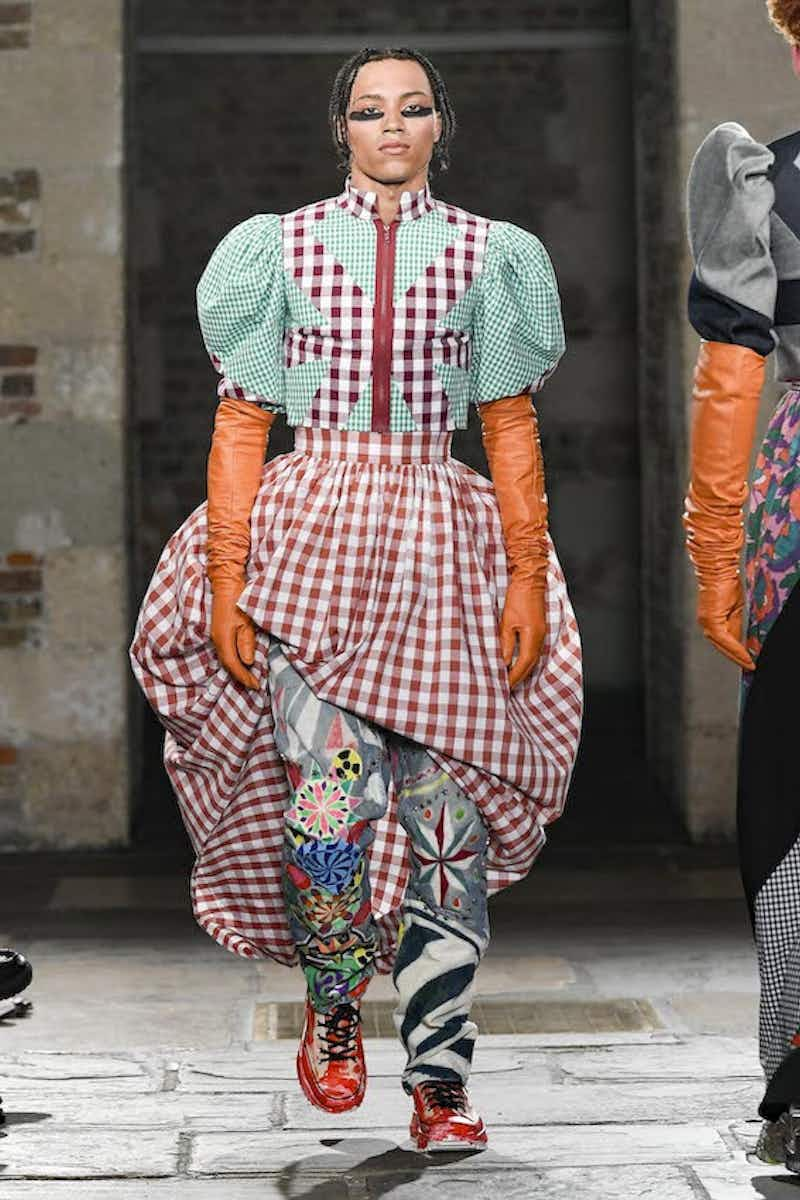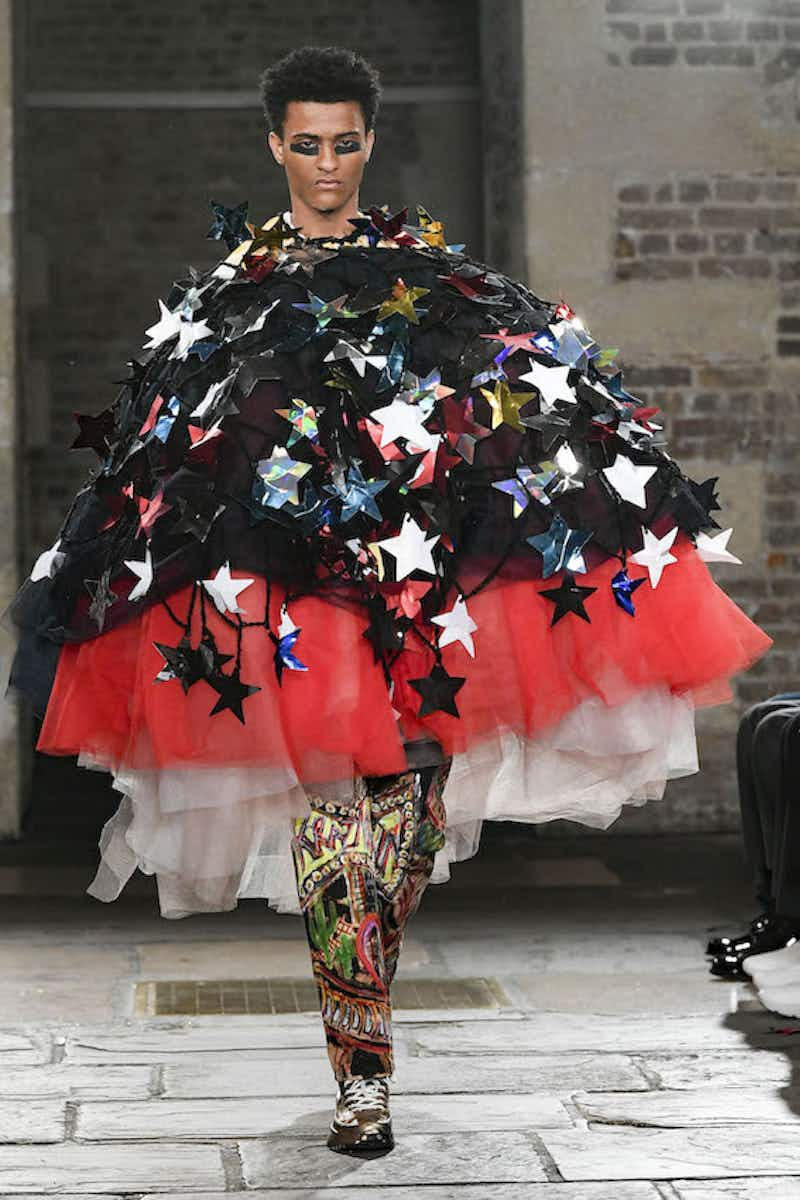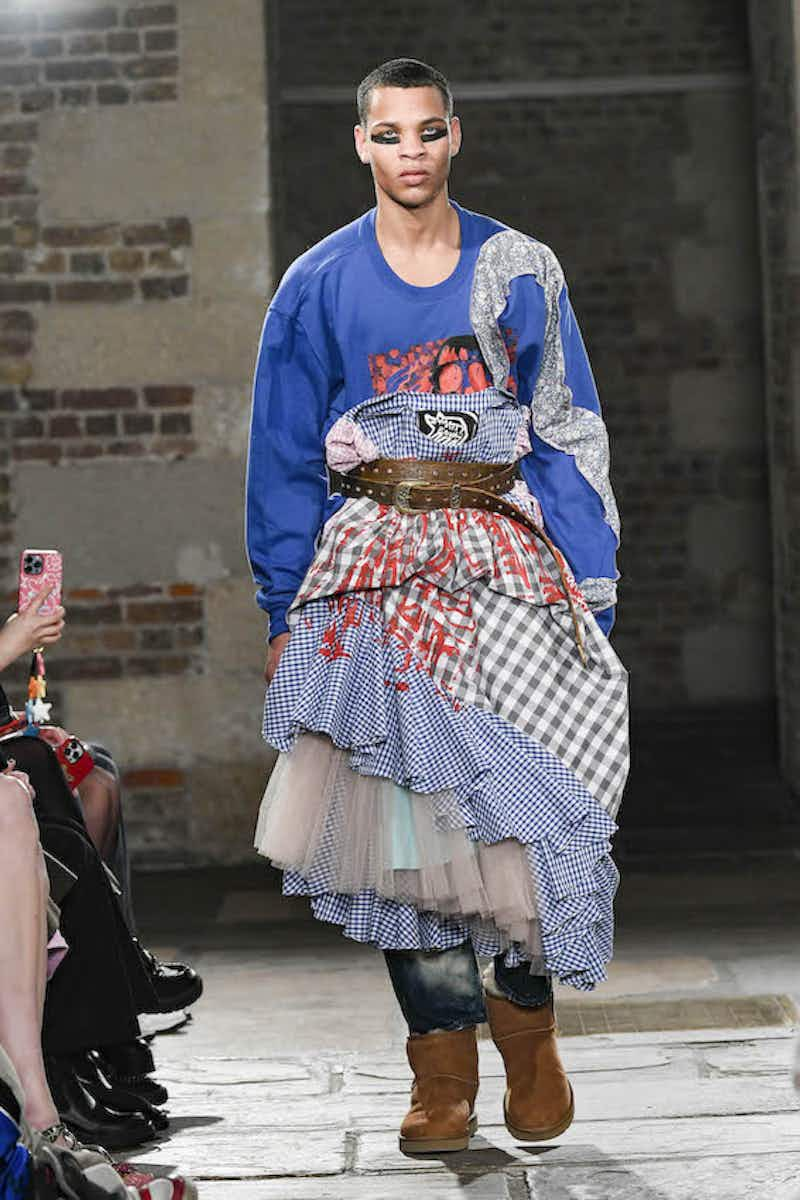 Saul Nash's designs always suggest a pleasing balance between high tech precision and fluidity. Nash, a trained dancer, cares about making clothes that feel good to move in, and his collection that opened London Fashion Week this season was no exception. Accompanying the runway showcase was a video shot by Nash's partner and collaborator Fx Goby which pays homage to Gee Artrey, one of London's first Black barbers. In it, one can almost hear the quiet swish and slide of fabric beneath the music. These long standing interests in movement and community legacy come with a new folkloric twist (mermaid prints referencing water spirits present throughout African, Caribbean and Latin American mythology) and autobiographical details like a baseball shirt emblazoned with the word ​"GUYANA". The oblique green and yellow prints, somewhere between a landscape and a ripple of oil, are a real stand out, as are the punchy red merino wool separates. Breathable, flexible, thoughtful: this is Nash at his best.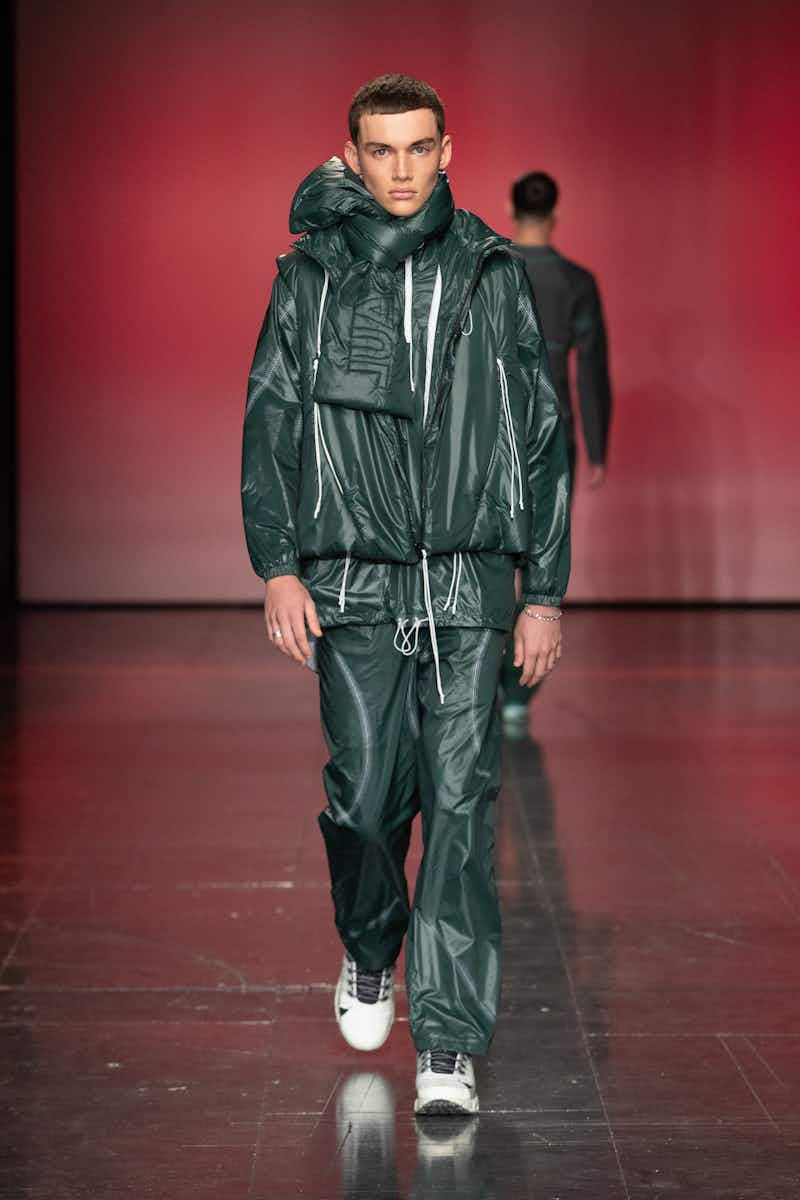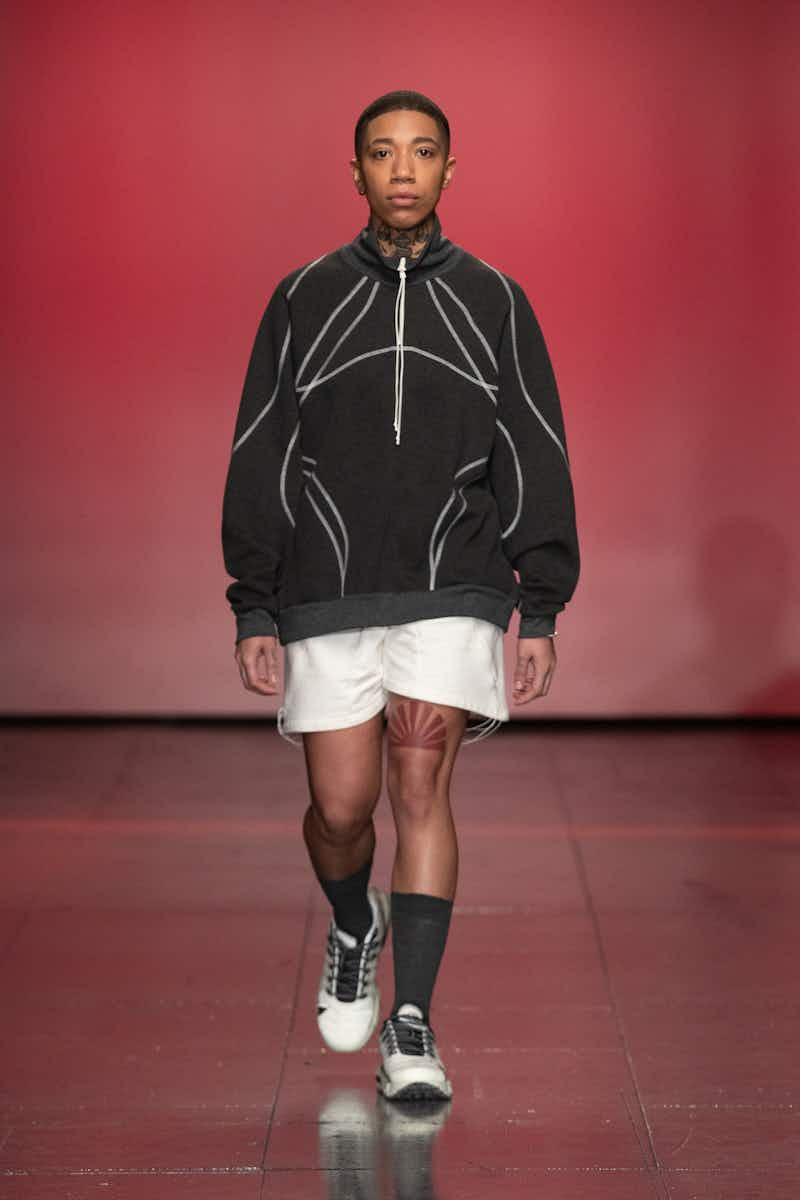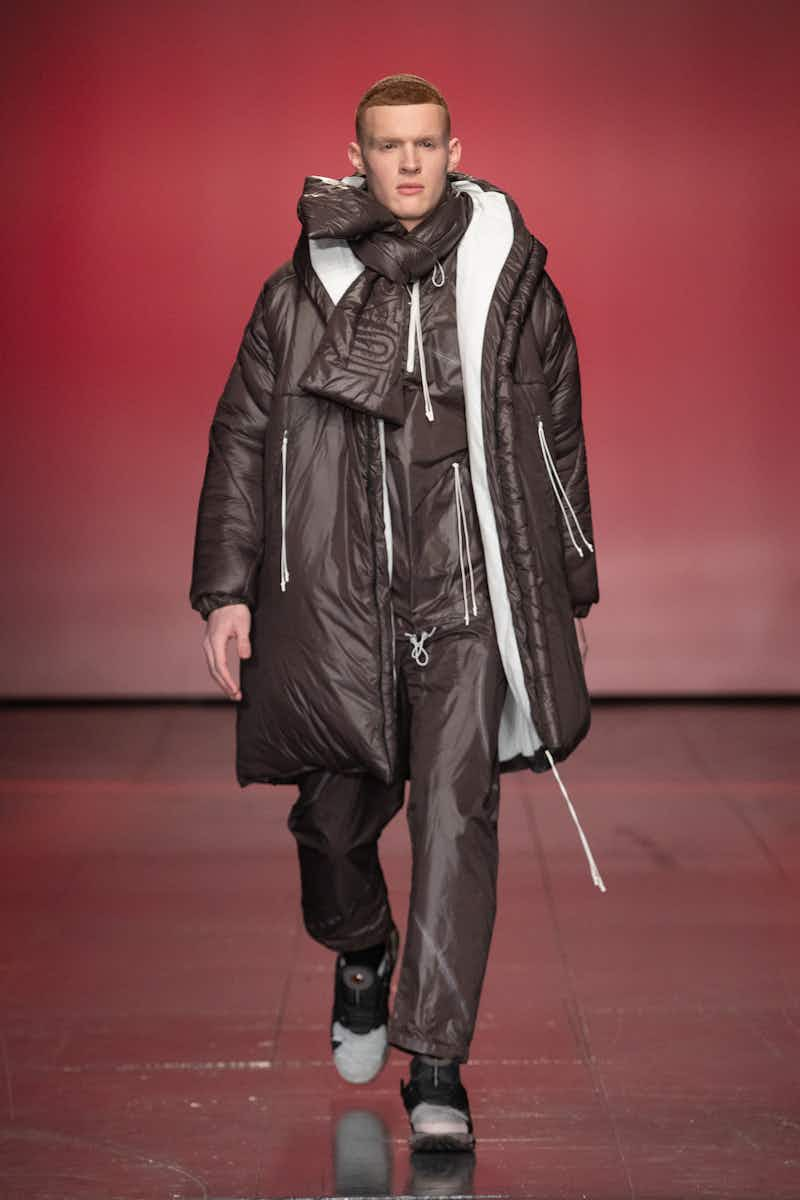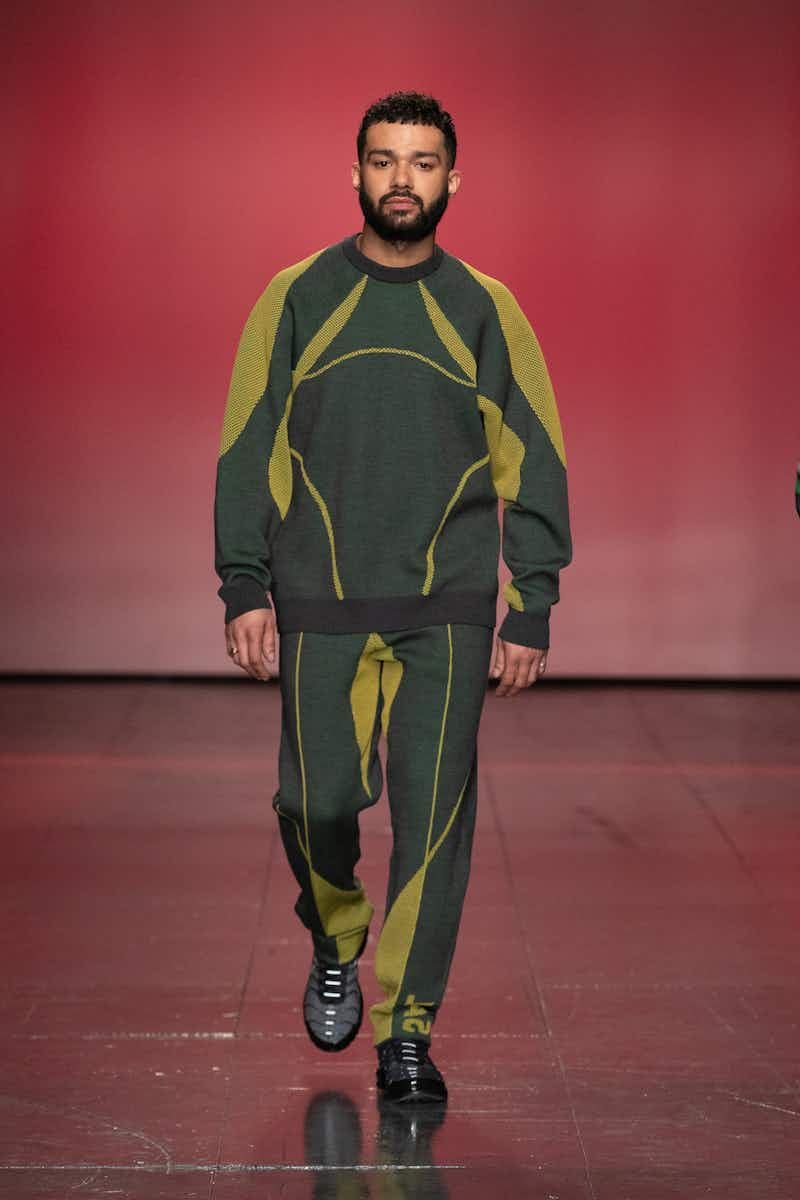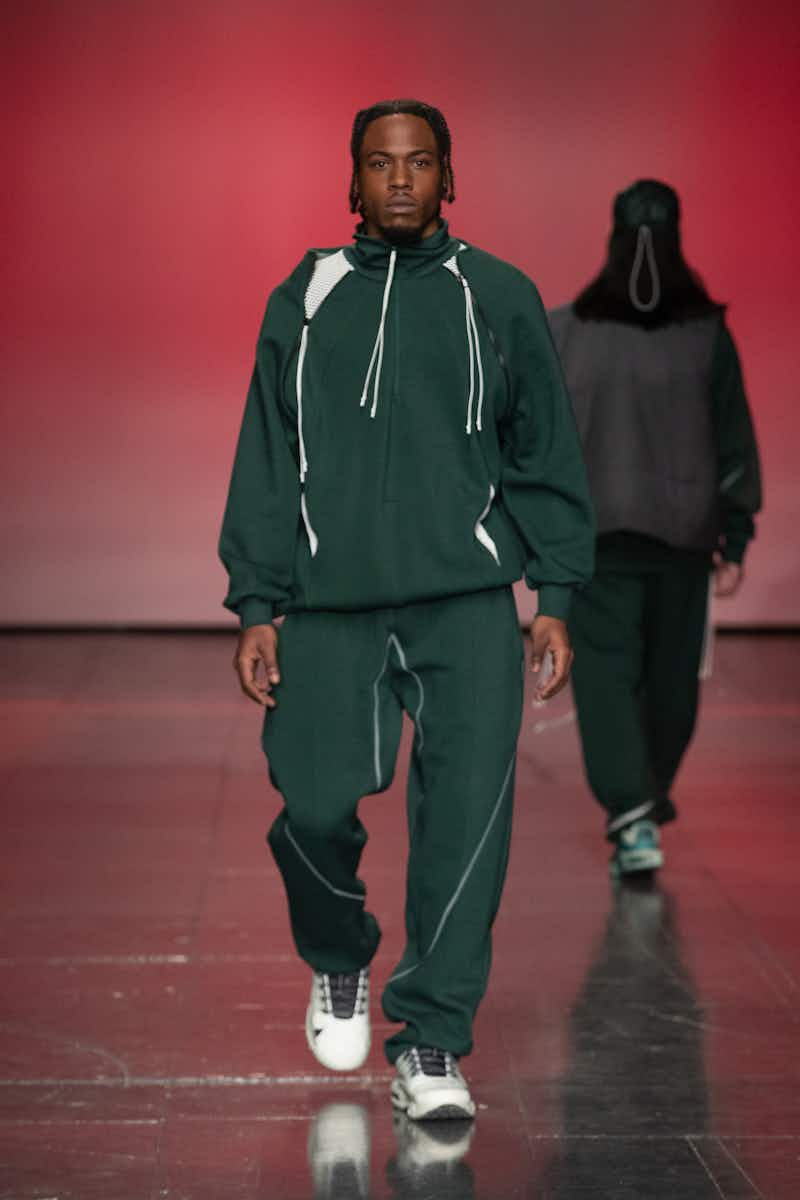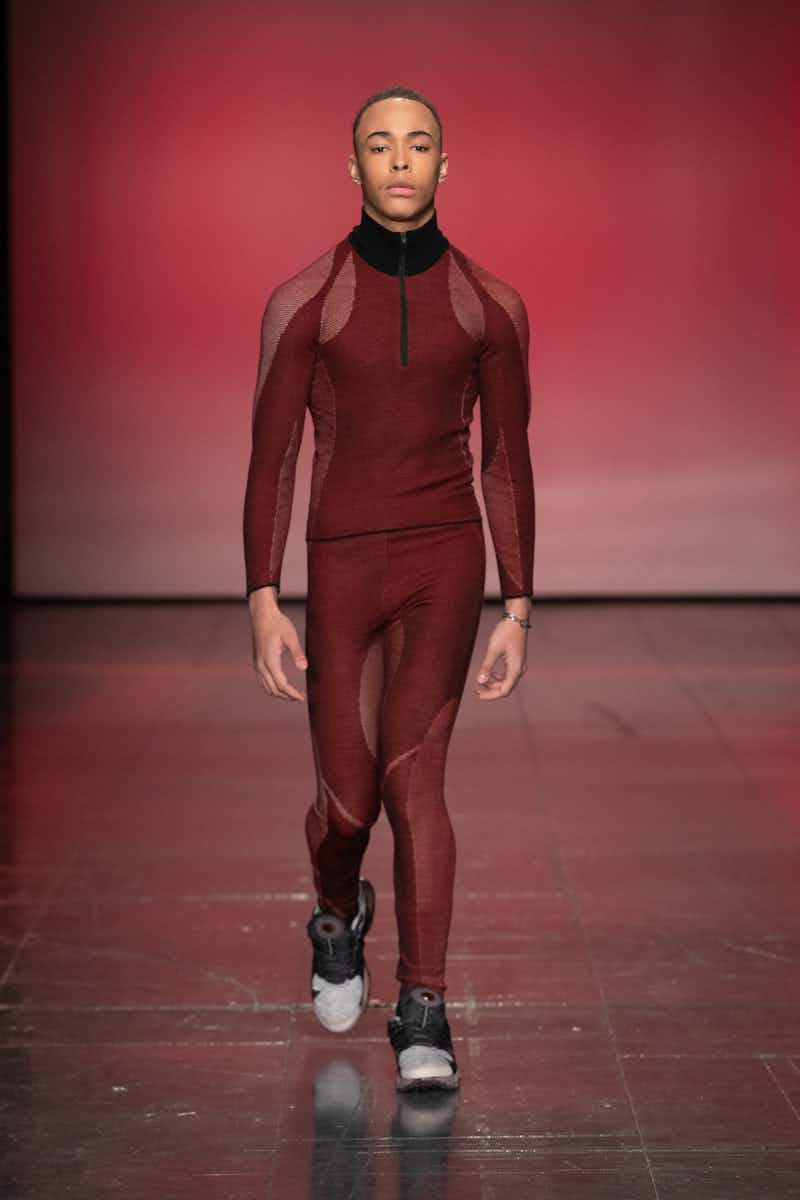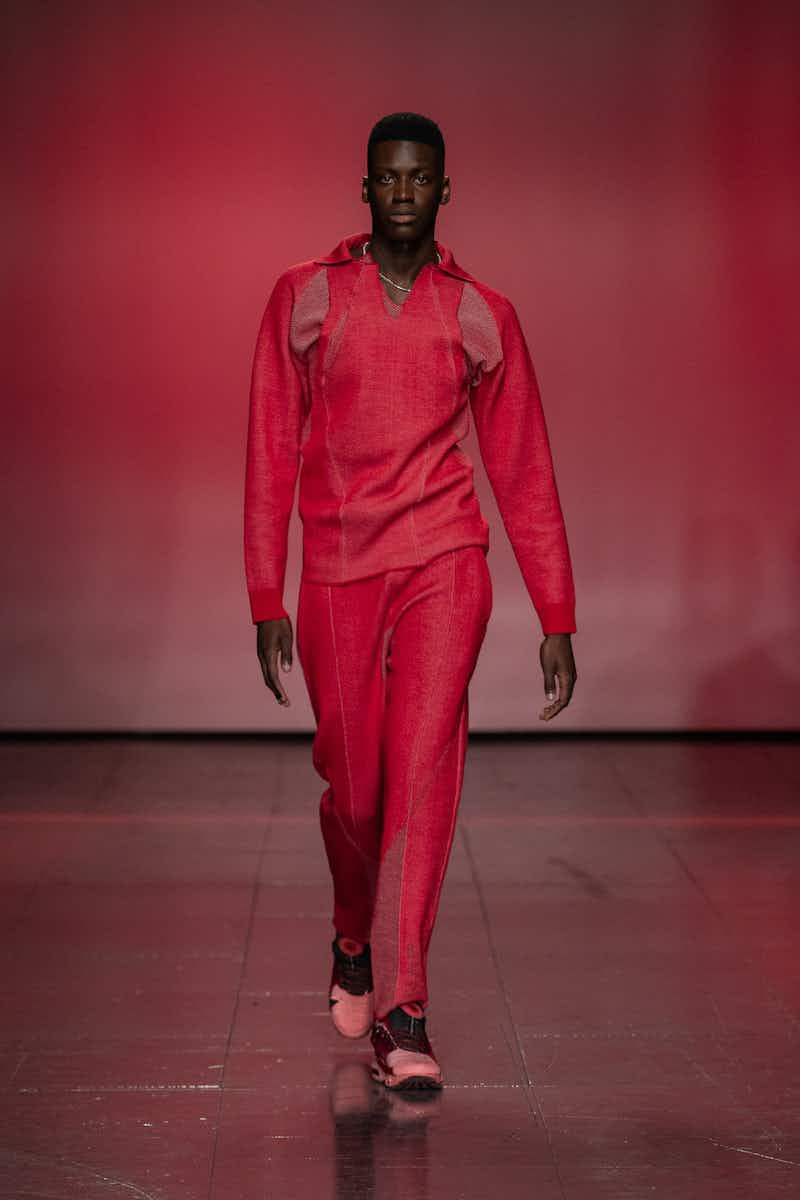 More like this