(b).stroy wants to destroy (to make things even better)
Following the release of their hyped concrete-dipped Nike trainers, the Atlanta duo spill their fashion fill.
For (b).stroy, it's all about the future. Inspired by designers like Rick Owens and Raf Simons, their forward-thinking collections are created for the post-apocalypse generation – or ​"neo-natives" as they've so rightly coined them.
But what does one wear to the dystopian after-party? The world has been destroyed and resources are sparse – you've got to recycle, reuse and make do with what you got. Cue the (b).stroy's onslaught of intriguing reconstructed garments, raw materials and out-there silhouettes.
The brainchild of Brick Owens and Dieter Grams, the two started the label back in 2012 before the mass influx of streetwear in luxury fashion – making good on their future-predicting design approach. Now with streetwear having firmly found its place in the mainstream, (b).stroy is an organic voice within the community. Just look at their last New York pop-up, that saw industry big dogs Heron Preston, Aleali May and Matthew Henson all pop their heads in.
And who can blame them? Despite only being 21-years-old at the time, their first collection made national news after they held a fully-fledged fashion show in a subway station. They sent models dressed in deconstructed garms up and down Atlanta's Lindbergh Marta Station in the middle of the day completely uninterrupted. An elaborate ruse to call out the under-developed transit network, which they attribute to the Republican state's desire to keep black people in the inner city.
Other catwalks have been just as conceptual, too. Their Artful Silent SS19 show saw half the onlookers receive headphones to listen to music whilst the others sat in bleak silence – a statement about ​"elitism and exclusivity" according to the pair.
For their latest pop-up, the duo headed back to their hometown and teamed up with ​"interactive vintage retailer" No Signal. The first of its kind, the lifestyle store hopes to create a space for young creatives to express themselves – something the designers also feel is extremely important for the city's youth. However, there was one item that had locals flocking to the two-day event: the attention-stealing concrete-dipped Nike shoes.
Aside from being a massively impressive design feat, the sneakers share a deeper meaning – a message that centres around solidarity. Read on to learn more…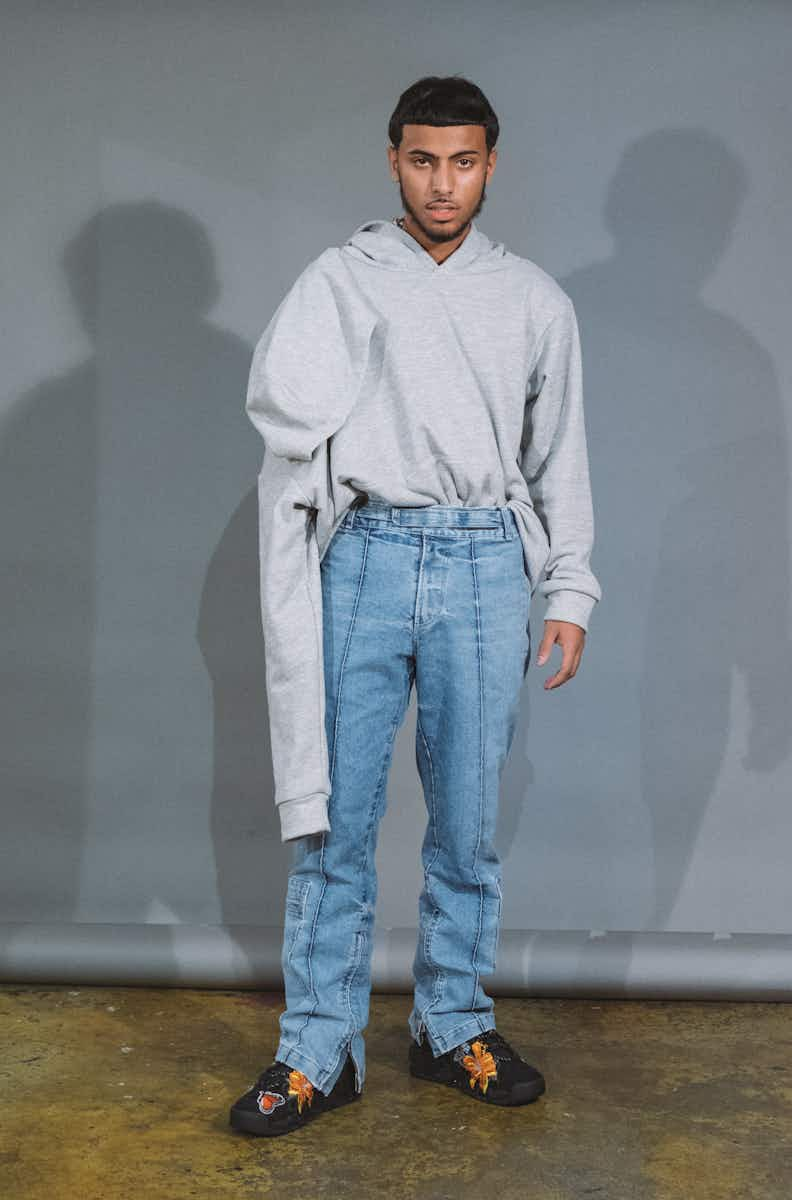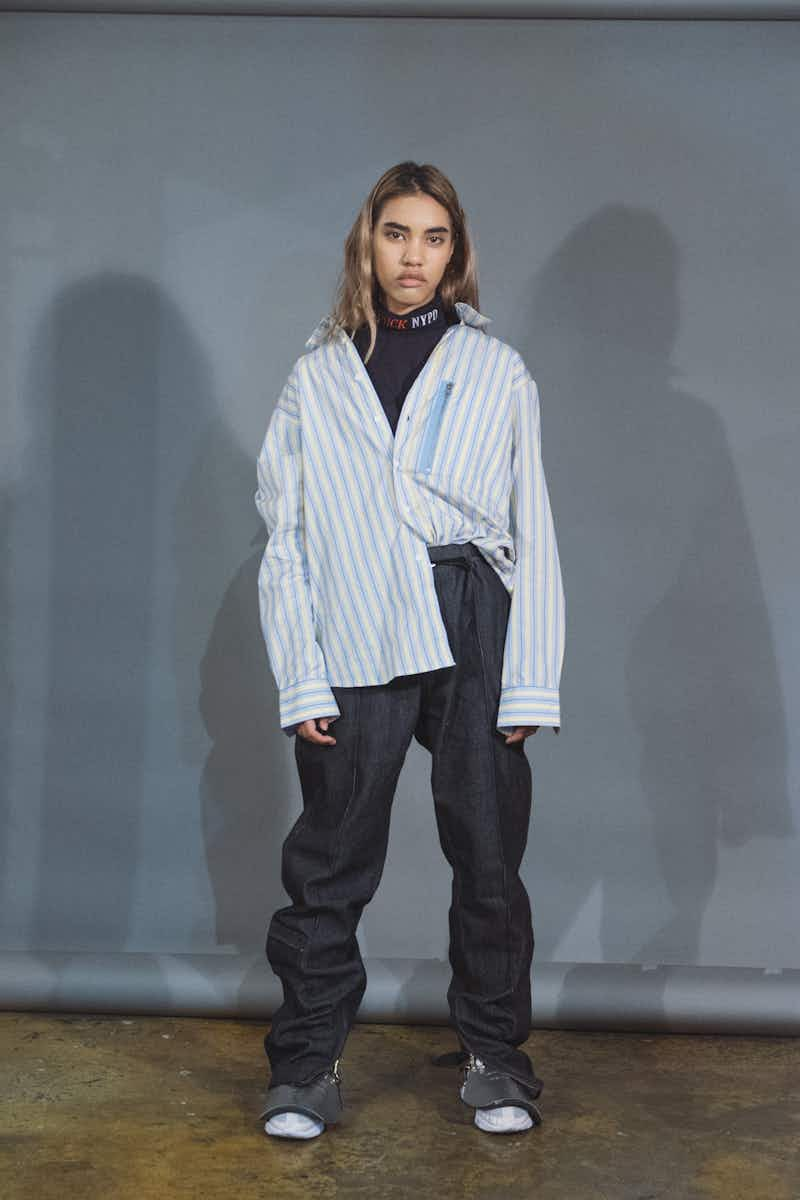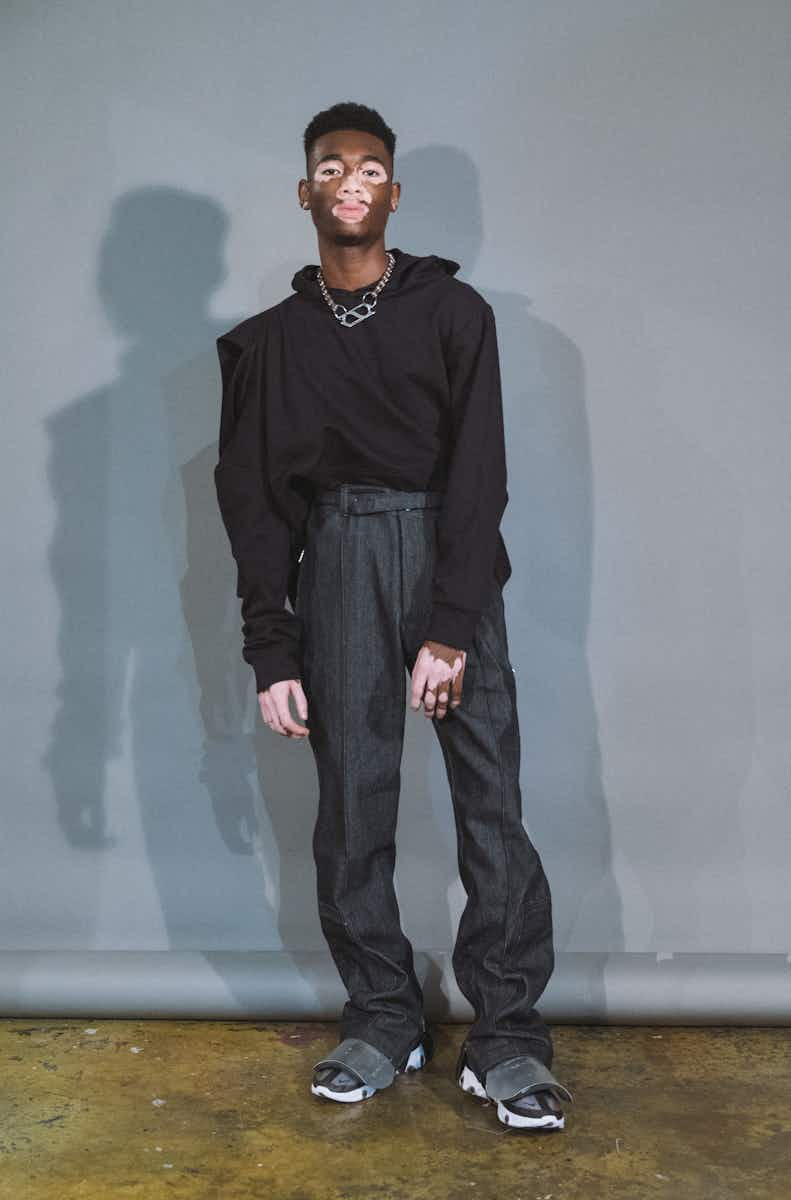 How did the two of you meet?
Dieter Grams: We met in Atlanta. We grew up in the same city but on the opposite sides. Typically we're not supposed to get along ​'cos our city is East versus West. We were pushed together because we were just weird in a similar way. We would meet each other halfway, just to get away from the people who didn't get us in our home town and plot on how to make something of ourselves.
Brick Owens: And world domination.
How did (b).stroy come about?
D: We wanted an outlet for ourselves and for our friends. Other people who were creative in a similar way. We were considered weird and now it's mainstream to be into fashion and to not be gay. But at that time it was like, you like clothes – you're gay. We don't fit into the boxes that were made for us so we wanted to make a platform for people like us who also don't fit.
B: We figured that if we were to put on shows and to make clothes, there's enough room for us to express ourselves and prove our ability to express our creativity.

What does (b).stroy stand for?

Listen now:

What does (b).stroy stand for?
So you kind of predicted the mainstream appeal of streetwear in luxury fashion?
D: Fashion as a sport has become really popular, so we've kind of annoyed at everyone ​'cos they're just finding it. We've been here, so it's kind of like our world of it being an obscure thing has been destroyed. Now that everyone is here, it's a new world that we have to live in with everyone, which is fine but we just want our place in.
What informs your design approach?

Tell us about your recent pop-up in Atlanta.

Listen now:

(b).stroy x No Signal pop-up

And what about the concrete-dipped Nike trainers that you were showcasing?
D: As it's art, we obviously want people to give their own meaning but for us, it's about solidarity. There's nothing more solid than concrete. We're always thinking about the impossible. We want to look at the most difficult thing to bring to life, ​'cos then we know there are going to be less people there. That's kind of how we assure ourselves that we're doing something new and exciting – something that hasn't been done before, that seems almost impossible. Concrete shoes seem like an impossible thing to do. When Brick first said concrete, I said it was perfect because if we were able to pull it off, that would be what was impressive about it.
B: It's also because of problem-solving abilities. Design is about today's problem-solving. So concrete shoes is a statement about solidarity and having your feet on solid ground from an aesthetic point of view. And also about construction – about destroying and creating.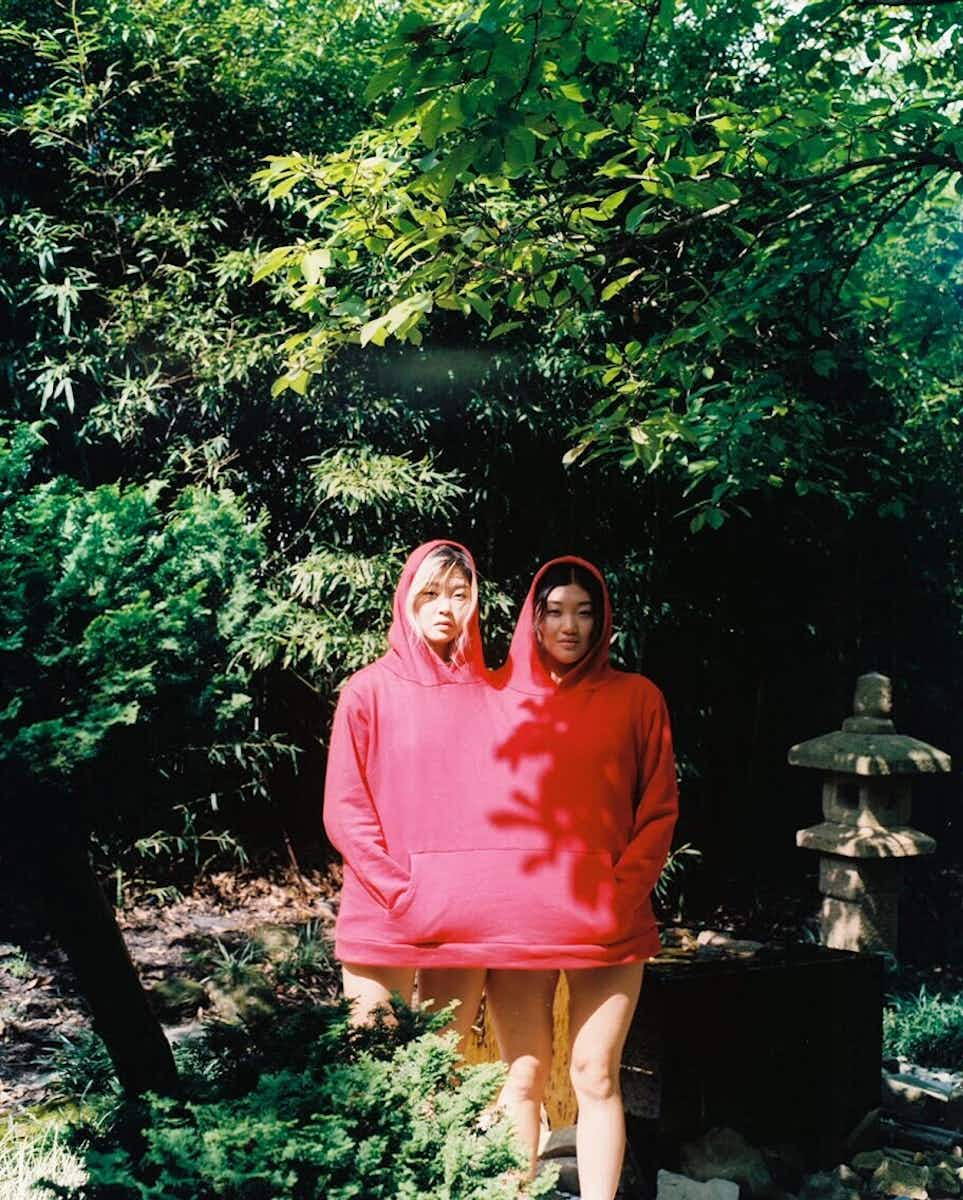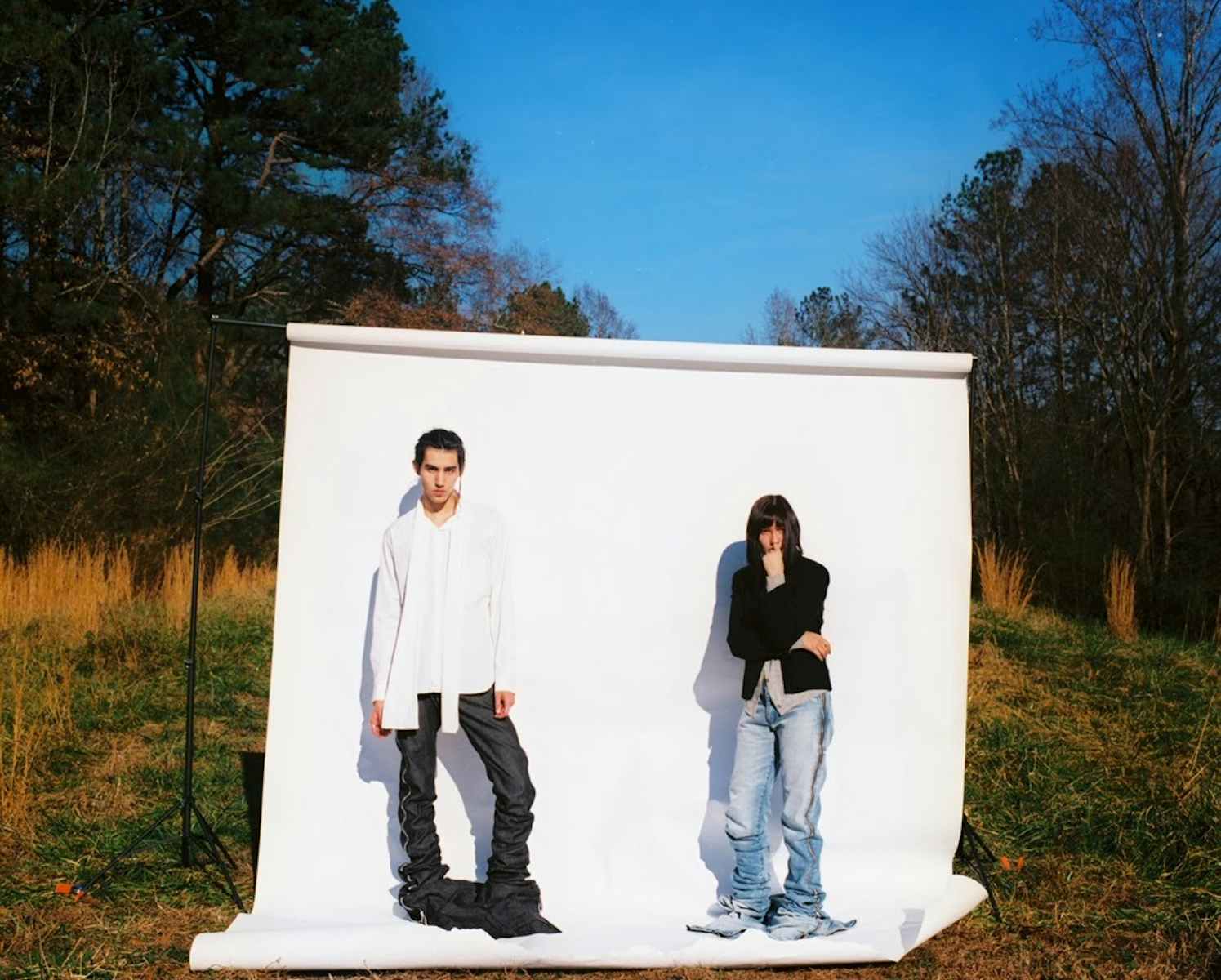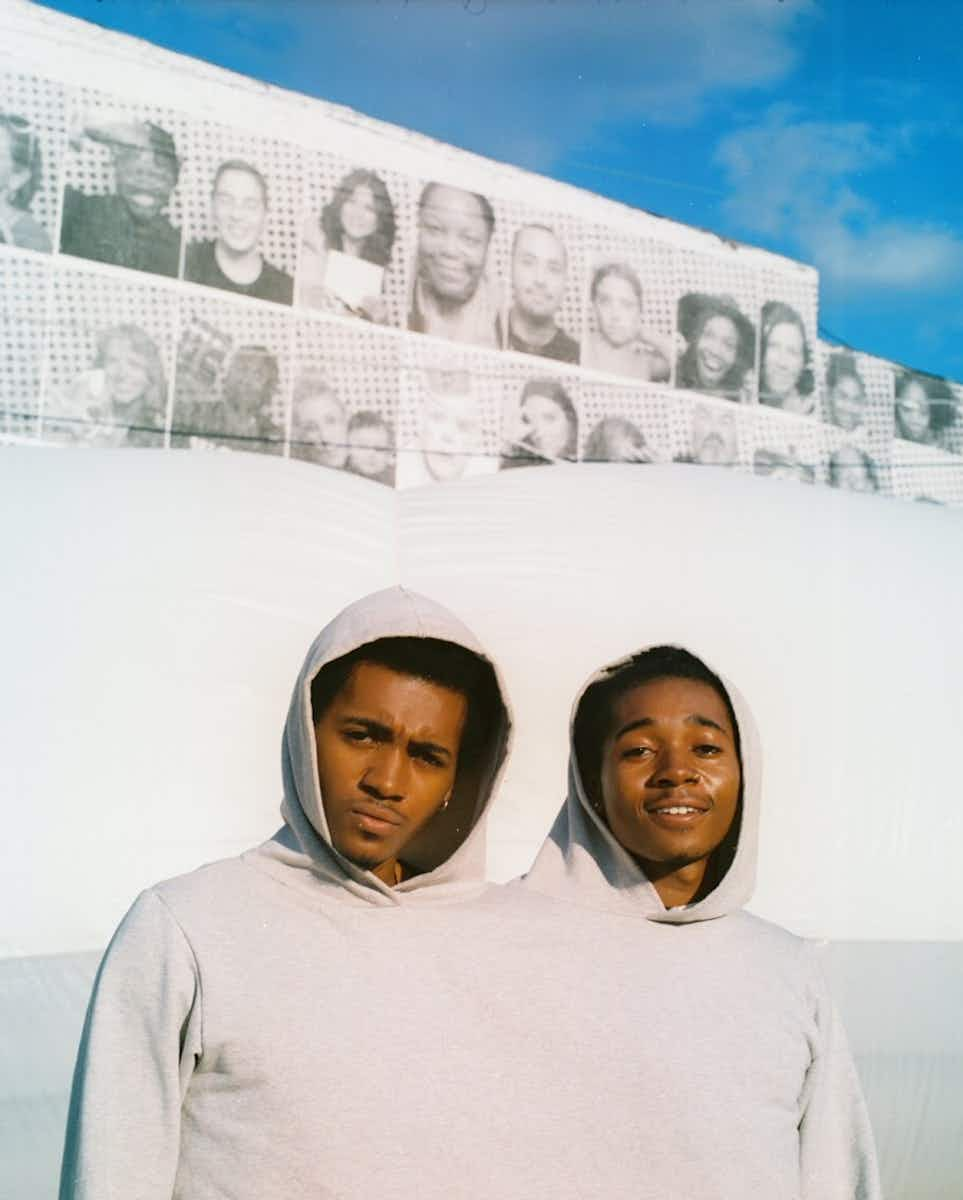 What's the creative scene in Atlanta like?
B: It's interesting. There's a lot of creativity coming out of Atlanta but as far as making clothes and building a sustainable business of making clothes, Atlanta is a little tricky because it's not a place with great resources in as far as making clothes like New York or LA.
So what's next for (b).stroy?
D: We have another pop-up in LA at the end of August. Then we have another show in New York in September. We're working on new silhouettes, new cuts for denim and T‑shirts – just things that put us more in a signature space so people can recognise us a lot more easily moving forward. Obviously, we have some crazy things like the double-edge jeans, but we're going to be making more subtle things that are as equally recognisable just through the small details.

More like this