Step inside the cosmic world of Kelsey Lu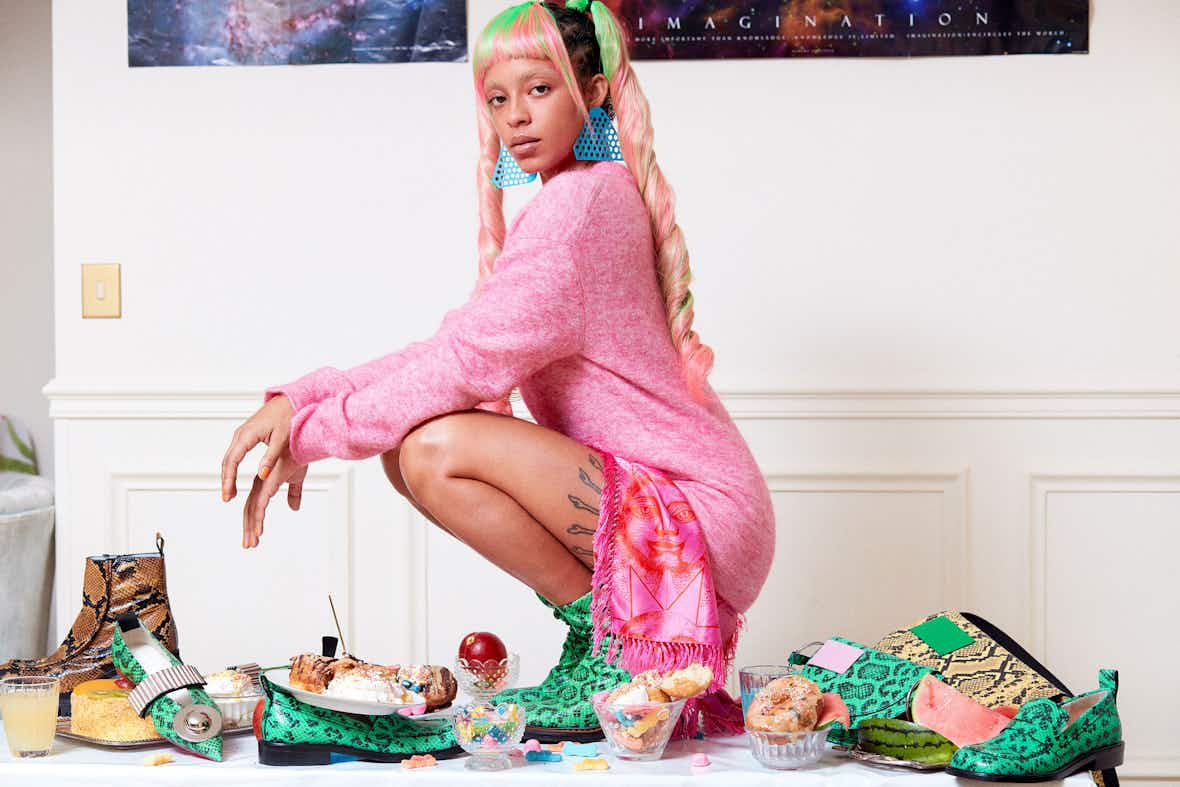 Wander through the musician's very own humorous, bizarre, extra-terrestrial realm via her new collaboration with Bimba Y Lola.
In the weird, weird world we're currently existing in, it comes as no surprise that LA-based musician Kelsey Lu has reimagined themselves as a new species of alien, and they've just landed on earth. Or have they been here the whole time?
As Lu comes crashing down from outer-space, lockdown rituals – reading, snacking, having a bath – having taken on a whole new meaning. Have you ever had a bubble bath fully clothed? Flicked through the pages of a book with a fork? Or summoned your 4pm snack tumbling out of the sky to land perfectly on your plate? In her collaboration with Spanish-based label Bimba Y Lola, Lu certainly has.
Fittingly, the campaign comes straight off the back of the artist's latest project Hydroharmonia: a series of longform music and visuals, self-described as a ​"meditational sound bath". Designed for our heightened senses, the Bimba Y Lola capsule collection is a futuristic, otherworldly mashup of time periods heavily influenced by sci-fi and all things weird.
Styled by earthling Georgia Pendlebury, a bejewelled Lu clomps through their own version of the cosmos wearing a selection of oversized, animal printed and bright neon boots and loafers. Is there life on other planets, we ask? ​"Most definitely," Lu says. ​"It has arrived here, some of us just can't see it."
Luckily Lu can, probably with the help of the third eye which adorns the collection's handbags. If you stare at it long and hard enough, you may just discover inner realms and spaces of higher consciousness, or even reach a state of enlightenment. We live in hope.
Lu tells us that they prefer to wear Bimba Y Lola ​"with nothing underneath", and their alien self embodies unrestrained extravagance in all its glory – heavy on glam, humour, weird and wonderful. There is surely no finer way to clomp through life as an extra-terrestrial.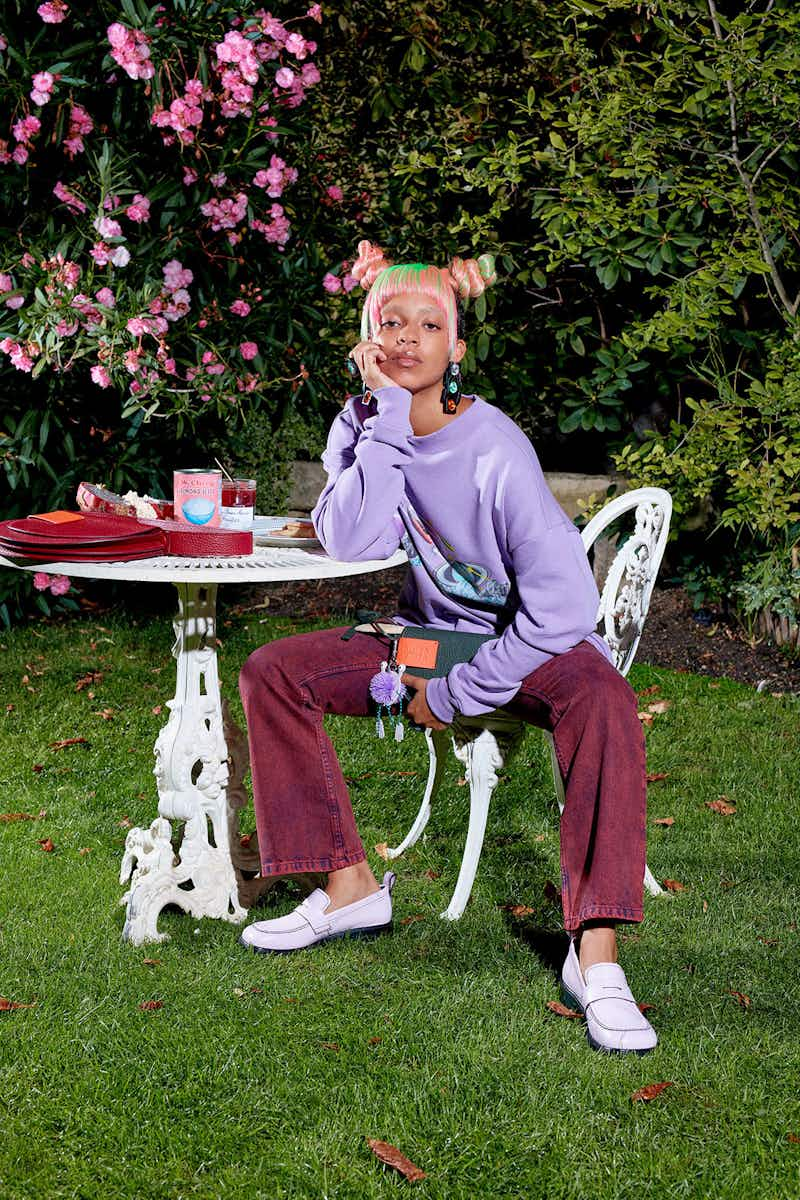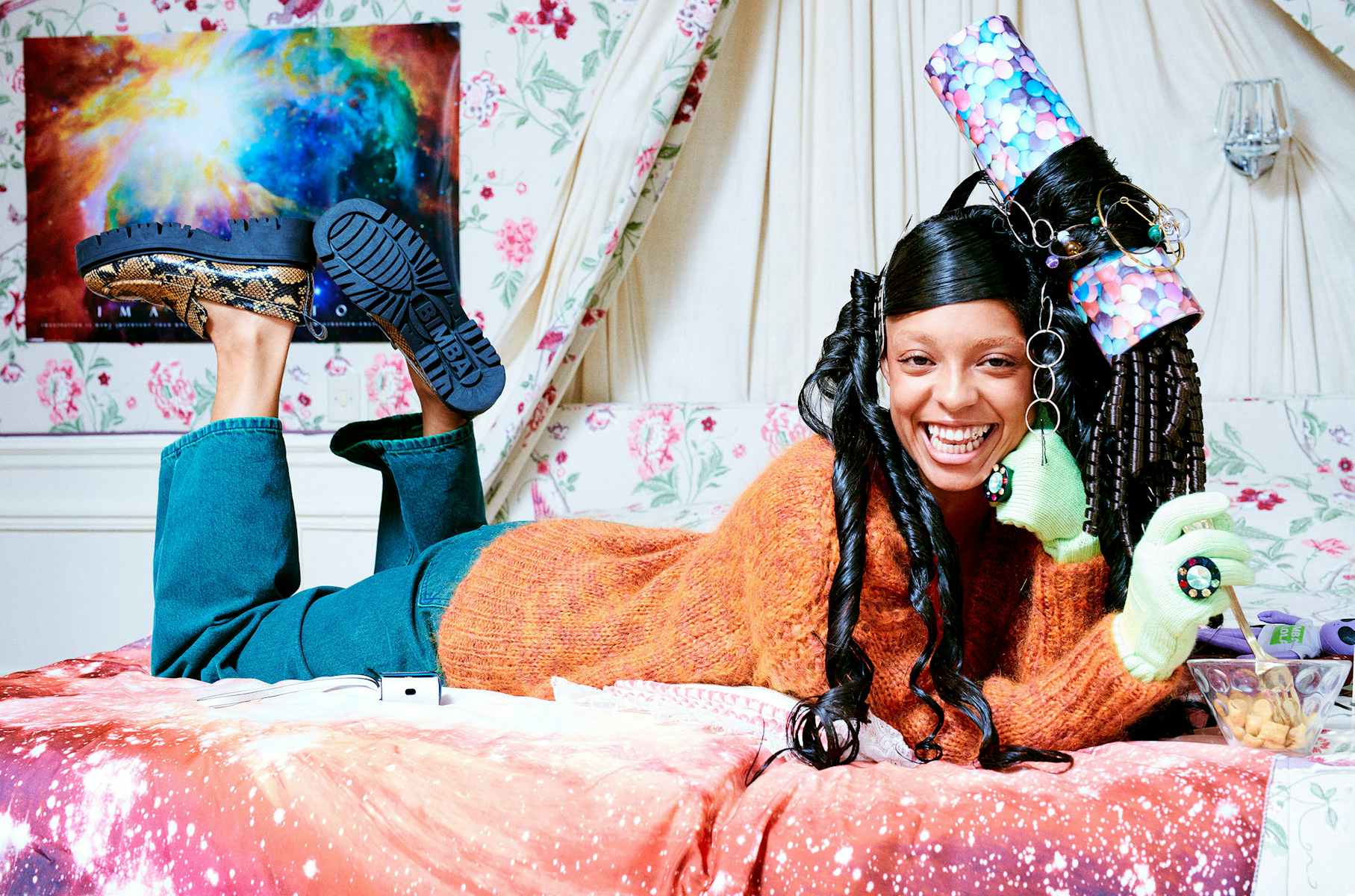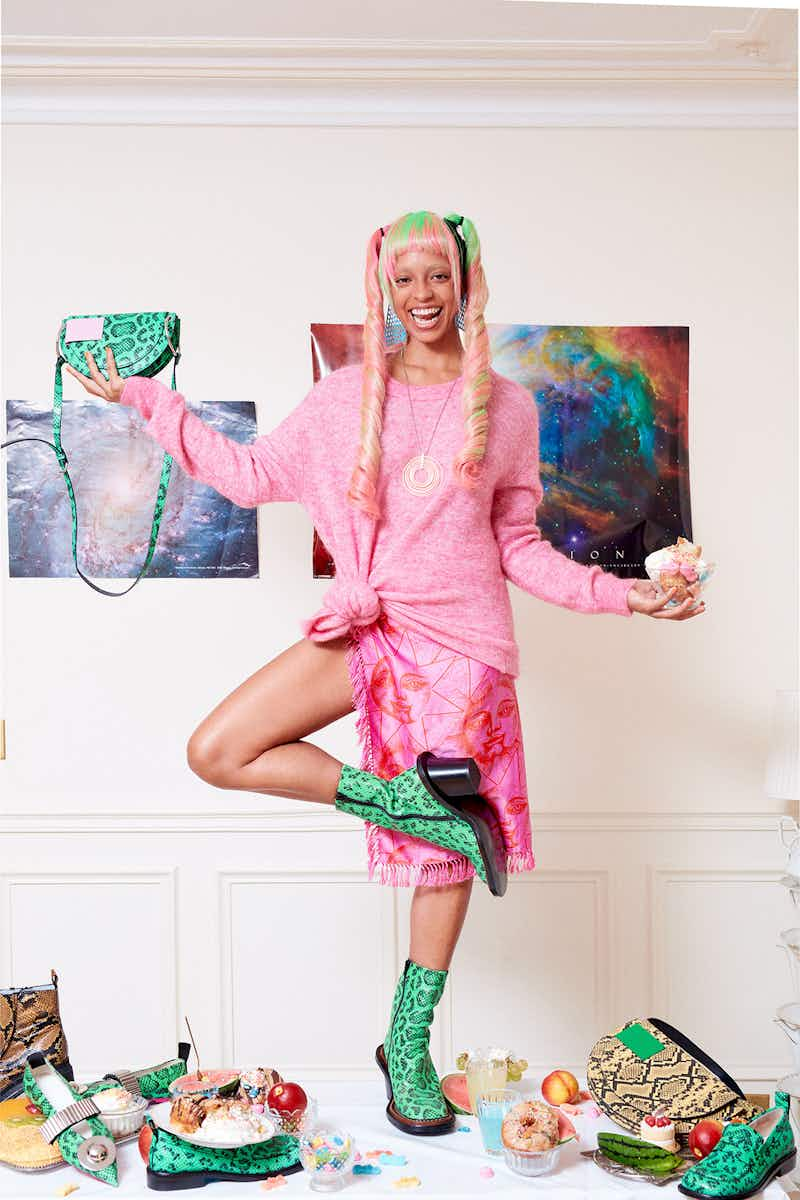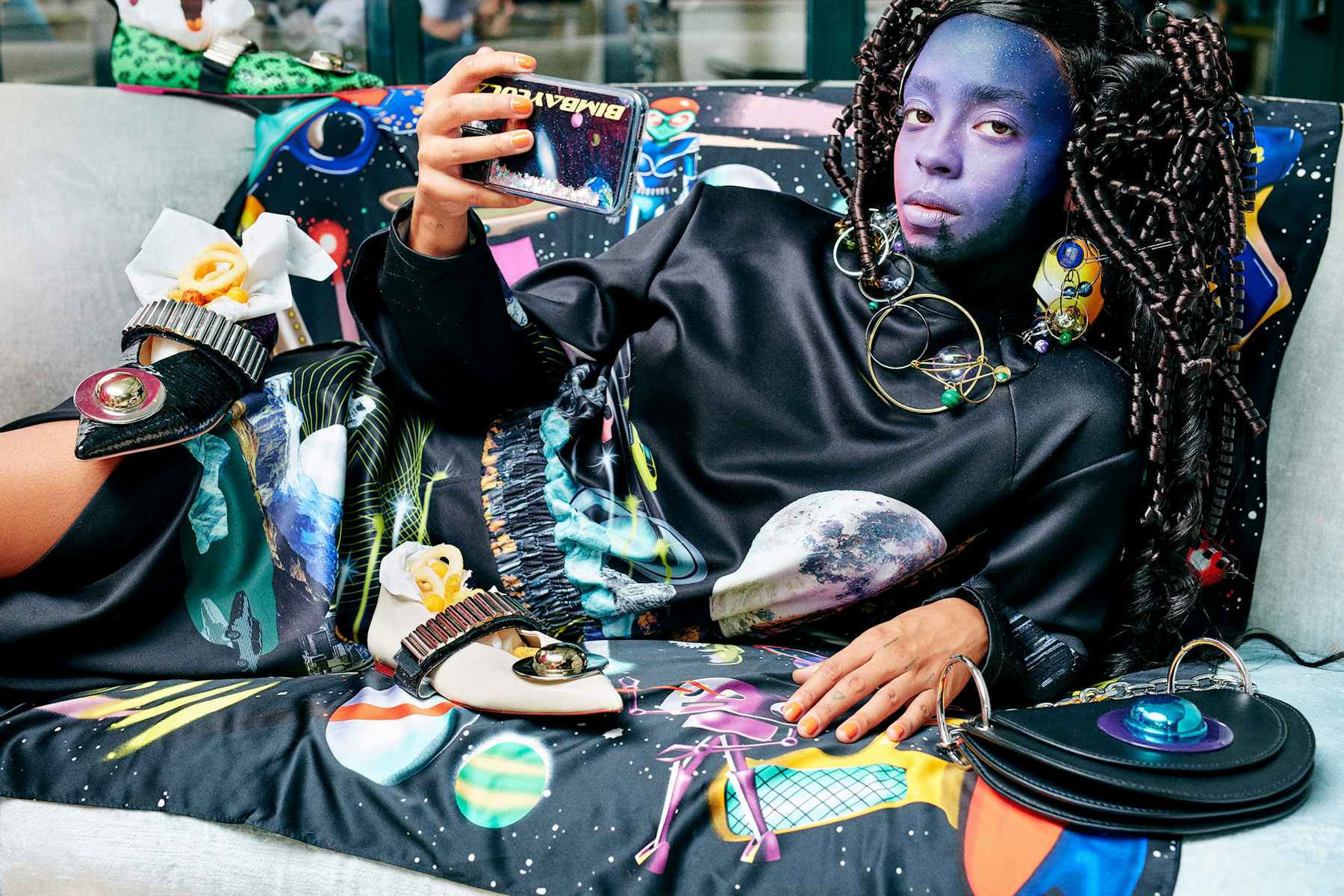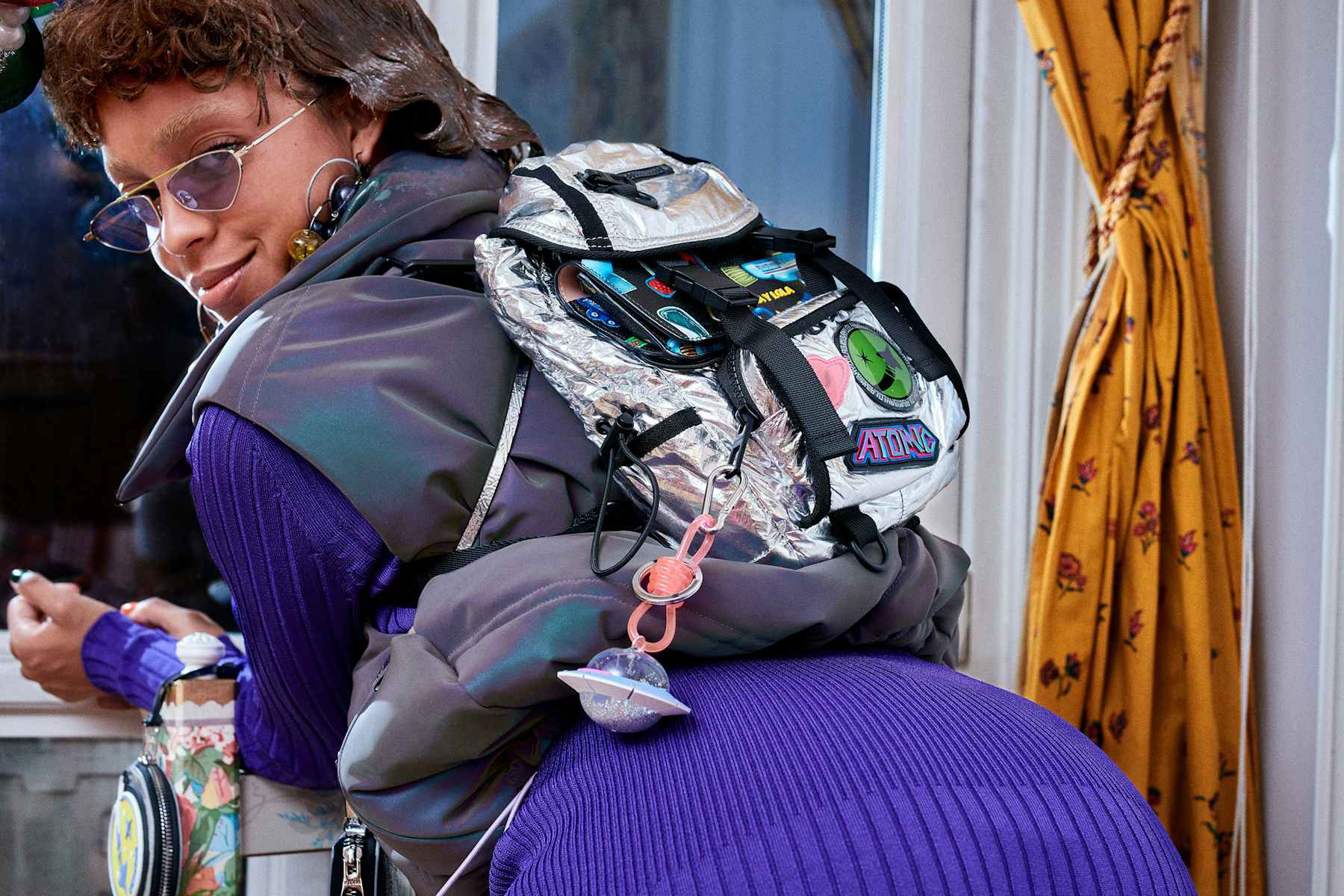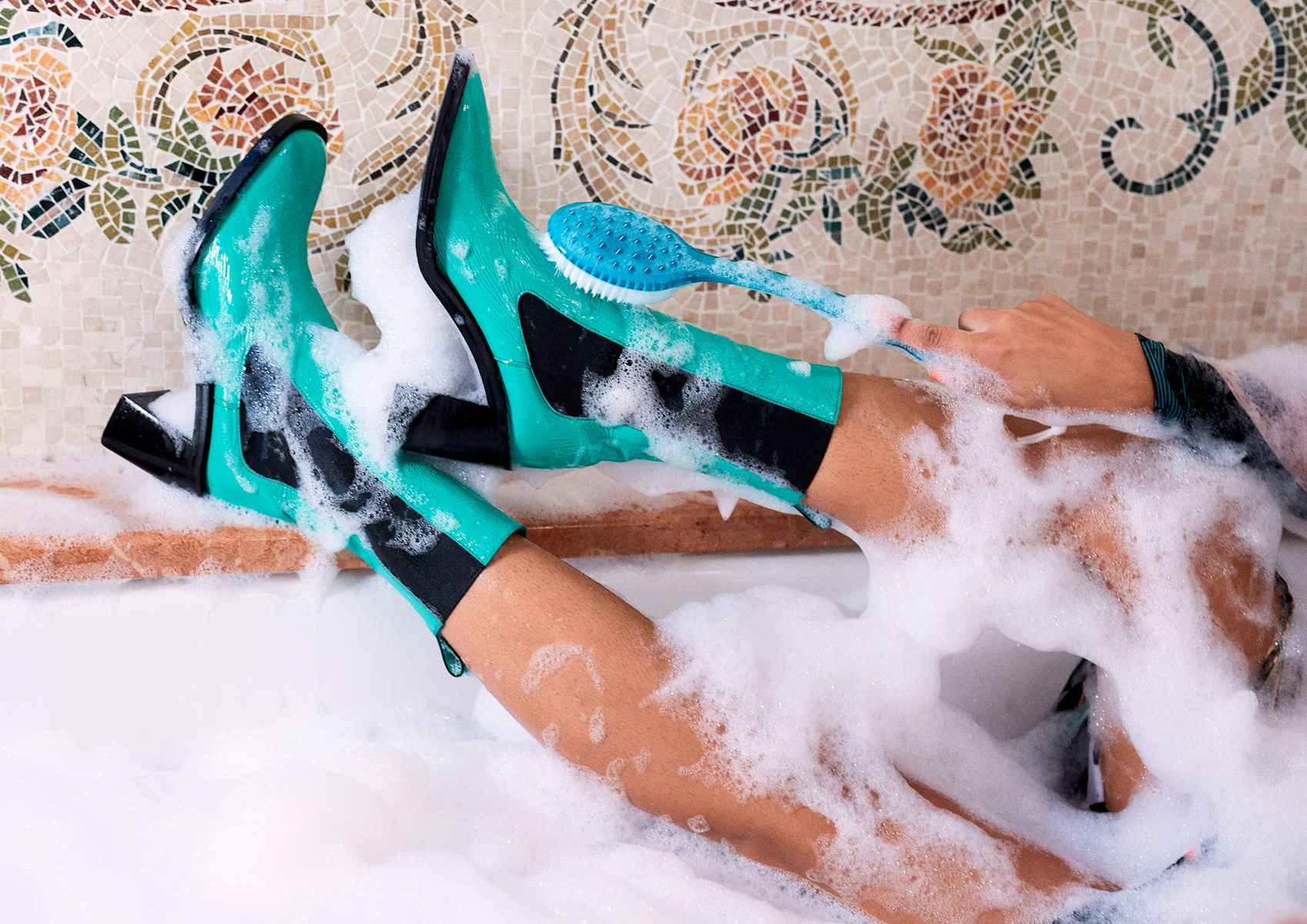 Lu are aliens who have just landed in this earthly realm. Who are they?
They come from a place where bugs are houses and people move like flowers blowing in the wind, because the land is made up entirely of community gardens. The ocean is vast and there are consistent seasons.
And where do we find them today? What time is it where they are?
We find Lu on Earth. They are in a place with a giant clock that has hands of time on its side, near to the giant wheel of movement that looks over the river. It splits the North from the South.
What's for breakfast, lunch and dinner?
Flour, sugar, water, strawberry jam and lots of love.
What are they wearing for their intergalactic trip through the cosmos?
Everything, with nothing underneath.

Why would a cow want to go to space?
A cow would want to go to space because it is tired of being mistreated on Earth. It heard that there was a planet somewhere that is only made up of grass and cows – they all live to be 27 and then start the cycle again.
Is there life on other planets?
Most definitely. It has arrived here, some of us just can't see it.
Who does Lu spy on when no-one is watching?
On birds and butts, because they're both fascinating to me.
"Pure joy and happiness is the message, and meditation can get us there." Tell us more…
Close your eyes and take three long slow deep breaths. With each exhale, imagine your muscles becoming more and more relaxed. Imagine a beam of light coming into the crown of your head, shooting out of your third eye. Then, shoot that light of pure love energy into the universe.
Some would say that the key to success is focusing on long-term goals. What's Lu​'s key to success?
My goals are secret, but I can tell you that I'd like for my music to be played on Venus.