Carhartt WIP and Toogood go XL on new capsule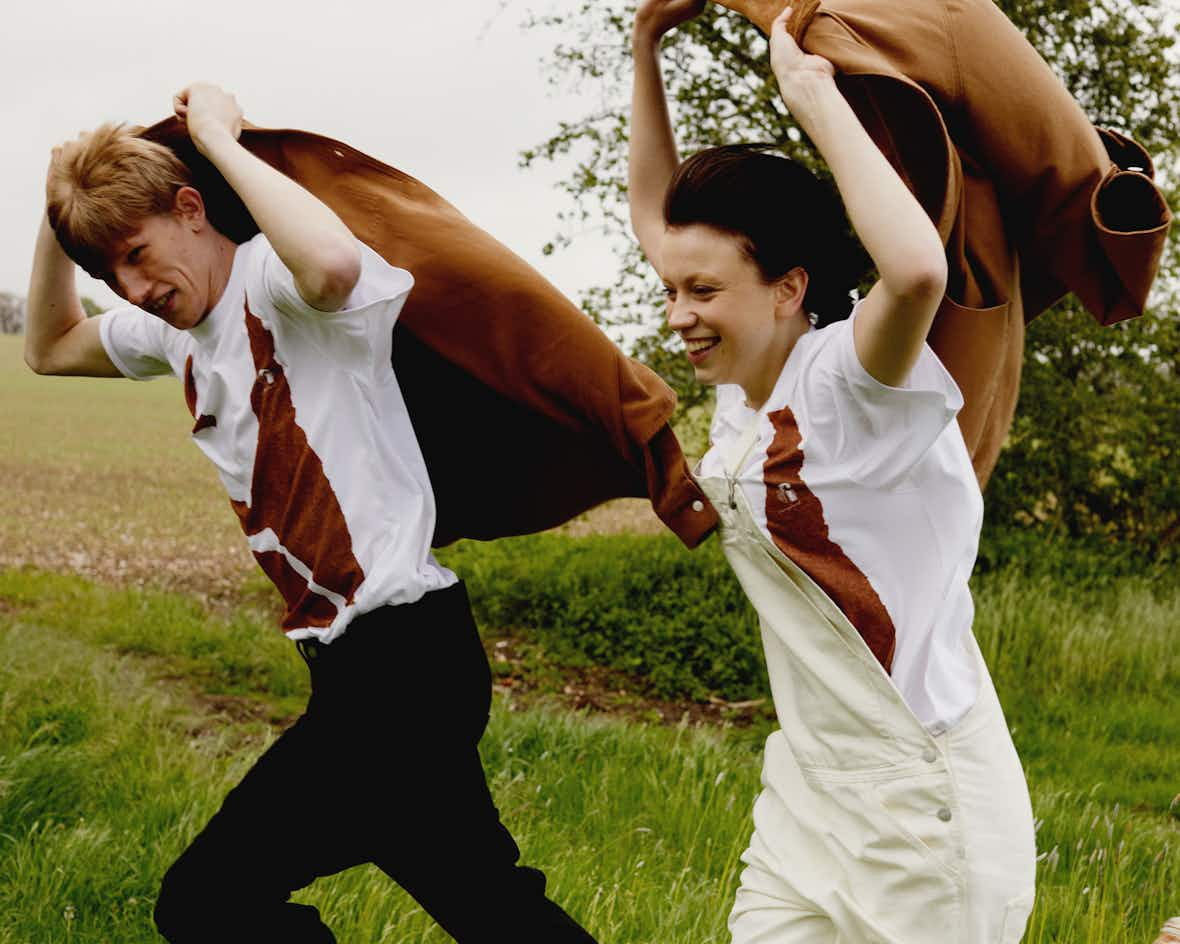 Size matters in this latest pairing where classic shapes make for a brand new ensemble, turning the volume up to the max.
Is oversized over? We obviously don't mean that people have stopped wearing baggy, billowing fits, but actually quite the opposite; now that pretty much everything out there is oversized, is it just normal? If so, Carhartt WIP's new collaboration with Toogood defines the new oversized, recutting and reinterpreting Carhartt WIP's classic shapes for a slice of generous proportions. Shrinkflation might be real when it comes to food (see: Toblerone's pyramid schemes), but Toogood is giving us even more bang for our buck.

The brands' experiments have resulted in a new unisex capsule titled Recut, featuring two jackets, a shirt, trousers, overalls and a tee. All have been labelled as ​"hacks", hybrid pieces that unpick classic archetypes from both labels and rebuild them, bigger and better.
The stand-out piece is a mash-up of Carhartt WIP's Michigan jacket and Toogood's Photographer jacket, creating a sculptural outer layer influenced by trades and workwear. The tee, meanwhile, features the collaboration's Recut motif, symbolising the snipped strips of fabric used to extend existing styles. Special mention to the overalls, too, the kind of dungas you could wear for a weekend's DIY, or starting a DIY band.

The hacks are backed by an installation of three gigantic sculptural puppets, all wearing even bigger versions of the capsule's pieces (think buttons the size of dinner plates). It'll be on display at the Spazio Maiocchi in Milan on June 6 – 12th during Salone del Mobile, celebrating the capsule's launch. To find out more, we spoke to Erica and Faye Toogood about the capsule; read below and, if you're feeling bold, buy a size up…
What's the appeal of representing trades and crafts in Toogood's work? Is it something about its honesty?
Erica: Trades are an alternative to defining our role within society, providing a never-ending source of inspiration. They are mostly void of gender or age, they are indeed honest, but also real. There are trades that have been around for centuries, and also ones that evolve or disappear as humans change habits. We have taken a sometimes poetic and sculptural approach on them, trying to avoid pastiche.
Faye: When we started Toogood, we wanted to dress everyone and anyone. I decided that every garment needed a reason to exist and to have a function, so assigning a trade to each piece meant we could make sense of the shape making and the detailing – a photographer, say, needs oversized pockets to keep their lenses. Capturing the identity of modern and nostalgic trades helps to provide meaning to the clothes but also allows the wearer to play with their own identity. We may be all grown up but we all still need a dressing-up box to play with. Clothes are a powerful way of expressing and playing with our identity.
Why do you think workwear has become so universal in the last decade? Does it remind us of the functionality of clothes?
Erica: Uniforms and functional clothing has been a place to lean on, particularly in the last century. Often as a consequence of wars, this utilitarian mode would kick in as our daily roles as lifestyles have changed, particularly led by the development of women in society in the early 20th century. Uniforms and functional wear unify gender, race, and age; with a very relevant questioning of that ​'categorisation', the last decade has seen an important shift in attitude.
Faye: Universal is the important word here. We strive to ensure our work is universal but also robust and functional. We like the idea that you can play and work in our clothes, that they are sturdy enough and comfortable enough to move in. Lots of brands have taken old workwear and tweaked it but Erica starts every pattern from scratch. This way, we can make something completely unique and relevant today.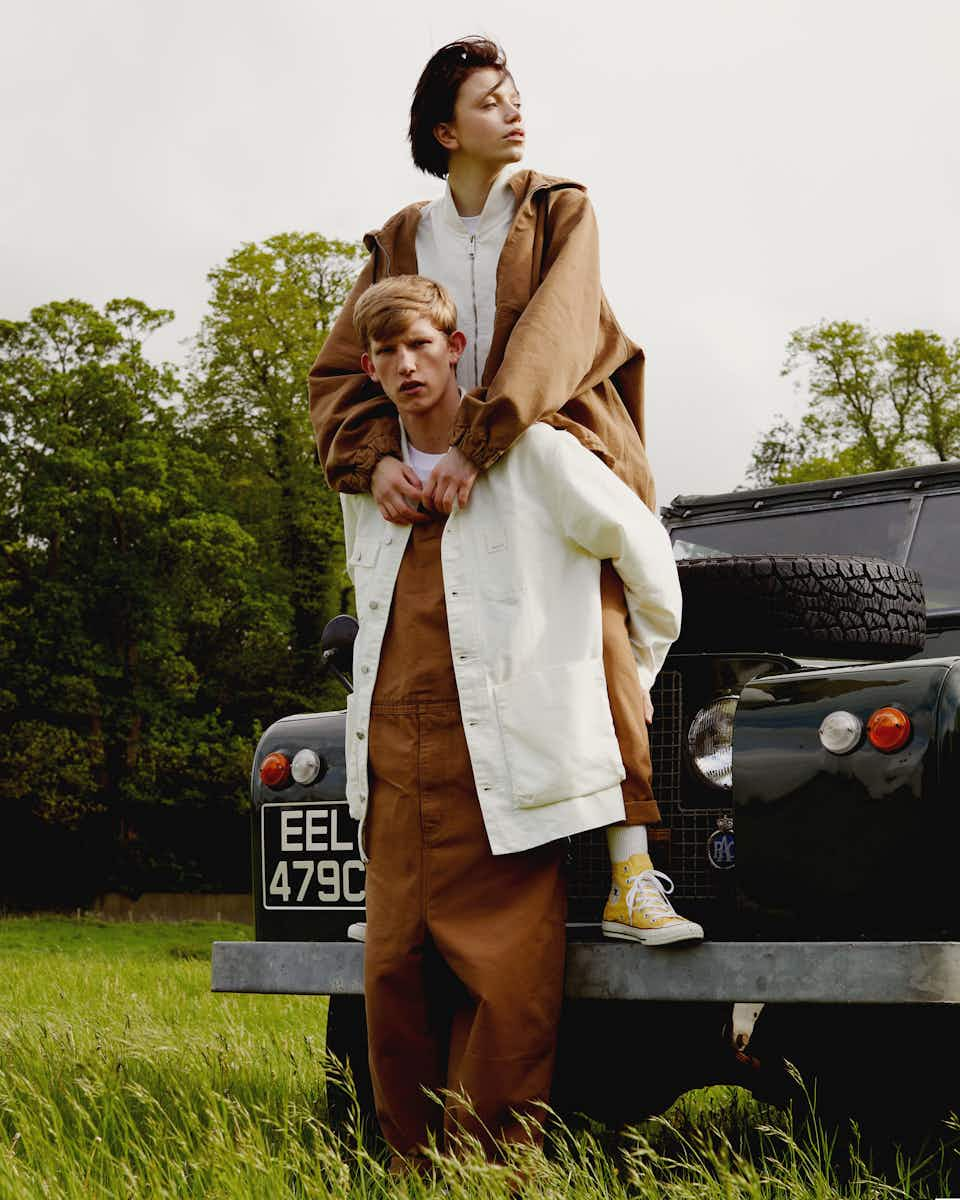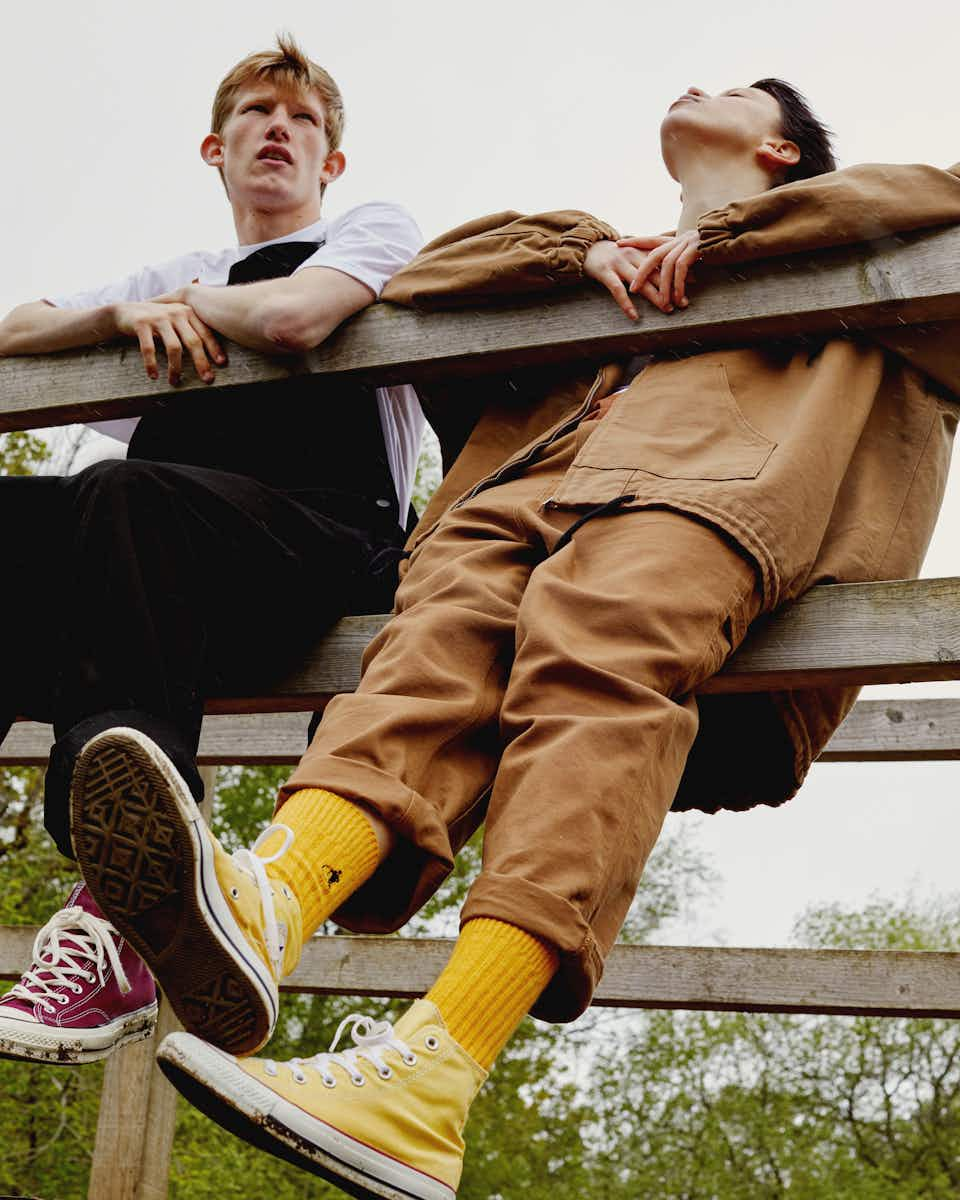 How does Carhartt WIP fit into this, and how does it connect with Toogood's world?
Erica: Both Toogood and Carhartt WIP share a common ground of approach to design. Toogood takes a modern, sculptural view on archetypes and universal clothing, alongside Carhartt WIP who has built a fundamentally considered perspective on durable garments. Both brands align in wanting our clothing to allow the customer to use this as their blank canvas – to enable them to be who they wish to be. Not to cloud them in noise and brand, but to elevate their life and how they move within their own space.
Faye: Working with Carhartt WIP for us was not simply about recutting everything or sticking a pattern all over the originals but collaborating on a deeper level. This meant fundamentally and viscerally marrying both our shapes and patterns together – the most honest and pure collaboration we could create.

Which original pieces did you choose to cut up into hacks and why?
Erica: Sitting down to work out our shared classics and fuse them together was probably the quickest part of the process! The Toogood pieces we chose are the backbone of the early work we did – those early fundamental wardrobe pieces have proven to be totally timeless. Evolving in different fabrications and being refined in pattern and make over years – it was a really big moment to join the brand's key pieces together, realising they have such similar attributes.
Faye: Showing honesty and exposing vulnerability are important ways to connect with the world, so revealing our process, the raw hack, allows us to show you how fundamental this collaboration is. The patterns of our iconic pieces combined perfectly.

What did you change about the silhouettes or form of the pieces? And why did you choose to extend them?
Erica: To fuse the sculpturally-cut shapes of Toogood with Carhartt WIP's well-known modern utilitarian cuts combines our aesthetics in the ultimate way. Carhartt WIP's fabrication, detailing and finish is an extremely refined process – specialist machinery and industrial methods that Toogood doesn't have access to. We have worked intensely with the Carhartt WIP's expert team to push the approach through fit and finish, questioning form with the function. Within this journey working with both teams, we have taught each other different methods and approaches that have opened our eyes up to the wider perspective on these garments. Ultimately for me, that is the marker of a successful collection, and one that results in a strong product that will be timeless and will also physically last.

Toogood x Carhartt WIP will launch online at t‑o-o-g-o-o‑d.com and carhartt​-wip​.com on June 7th as well as at select Carhartt WIP stores. The collection will also be sold by select retailers worldwide, including Mr Porter, Selfridges and Dover Street Market London, Ginza and Singapore