Celine makes a case for consistency

Hedi Slimane does androgyny and irreverence with a side of stage swagger for his SS24 collection.
In Hedi Slimane's well-curated world of indie rock and skinny jeans, consistency has always been king.

Since his ascent as a menswear designer in the late-'90s – bouncing from Yves Saint Laurent to Dior Homme, then back to Saint Laurent – Slimane has built his very own subculture, an army of floppy-haired boys wearing razor-sharp silhouettes, influenced by the starry-eyed stage swagger of the likes of Mick Jagger, Pete Doherty and David Bowie.
Over at Celine, where he has been creative director since 2018, Slimane's collections have often felt like a riotous mash-up of his greatest hits. Amongst Slimane's beloved sartorial pillars – blazers, drainpipe trousers, dark sunglasses, casual shirts – he's also long-established a streak of androgyny. Men's collections borrow from feminine romance in silky blouses and fur coats, while womenswear collections pair lace slip dresses and hand-embroidered embellishments with structured leather jackets and exquisitely tailored suiting.
The house's latest collection, La Collection De La Bibliothèque Nationale, was showcased last Friday in the historic Parisian library, home to 16 million books and, handily, a stone's throw from Celine's HQ in the French capital.
Presented as a film directed by Slimane (a diplomatic show format that Celine has enjoyed since the pandemic), SS24 was a reminder of Slimane's commitment to the classic and his affinity for the flâneur – the collection took place in a library, after all.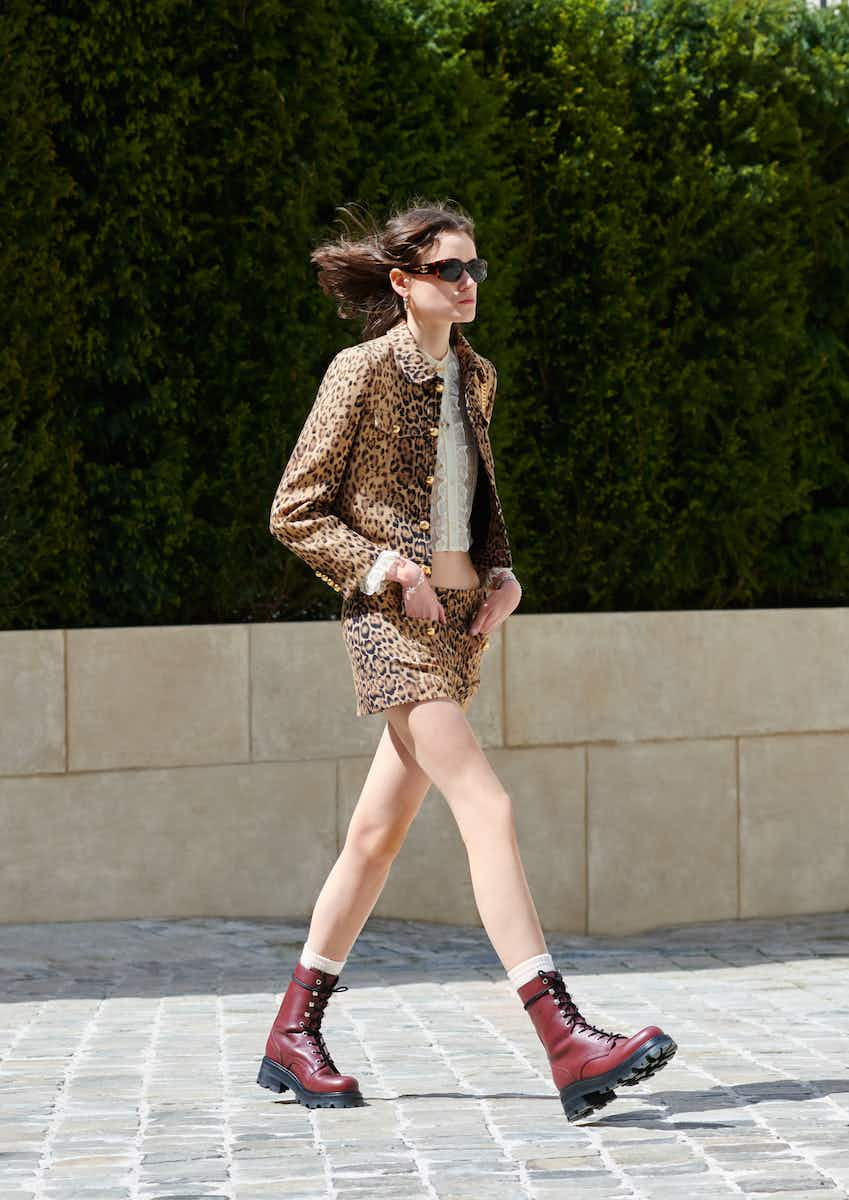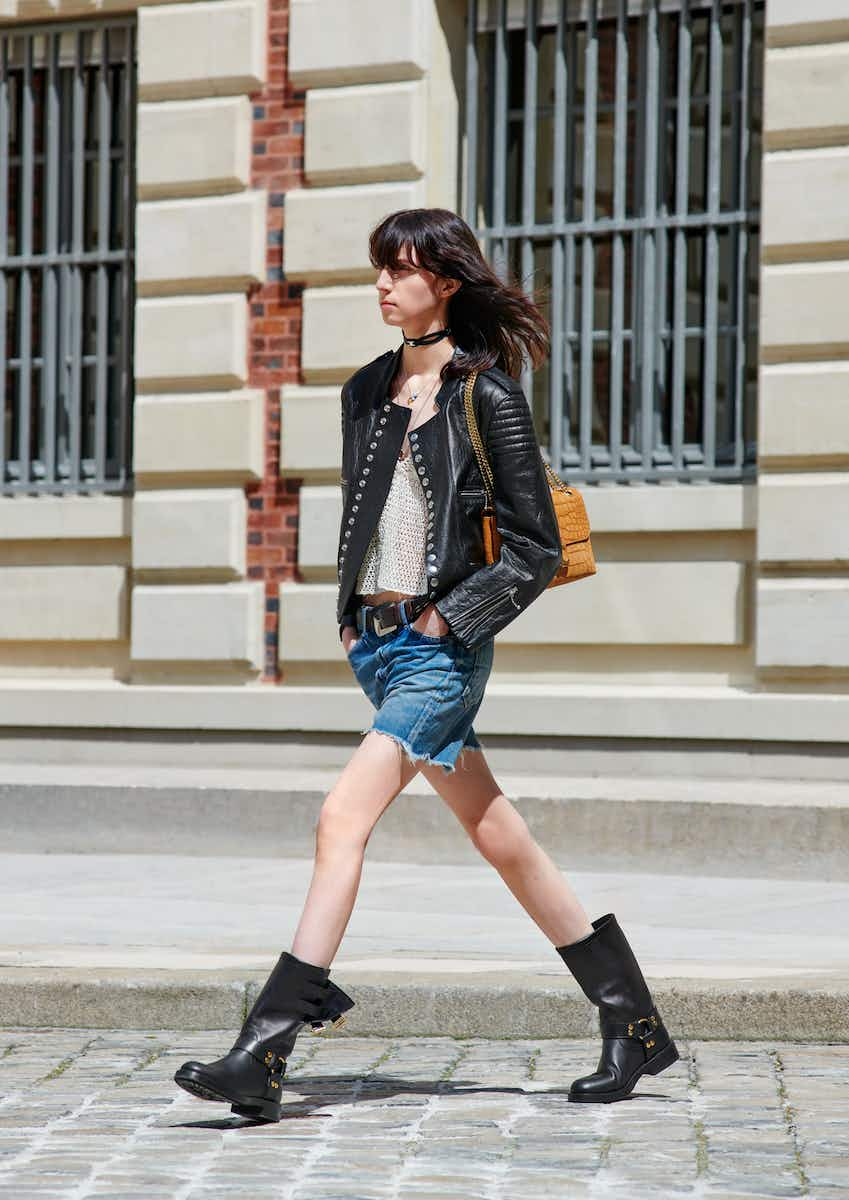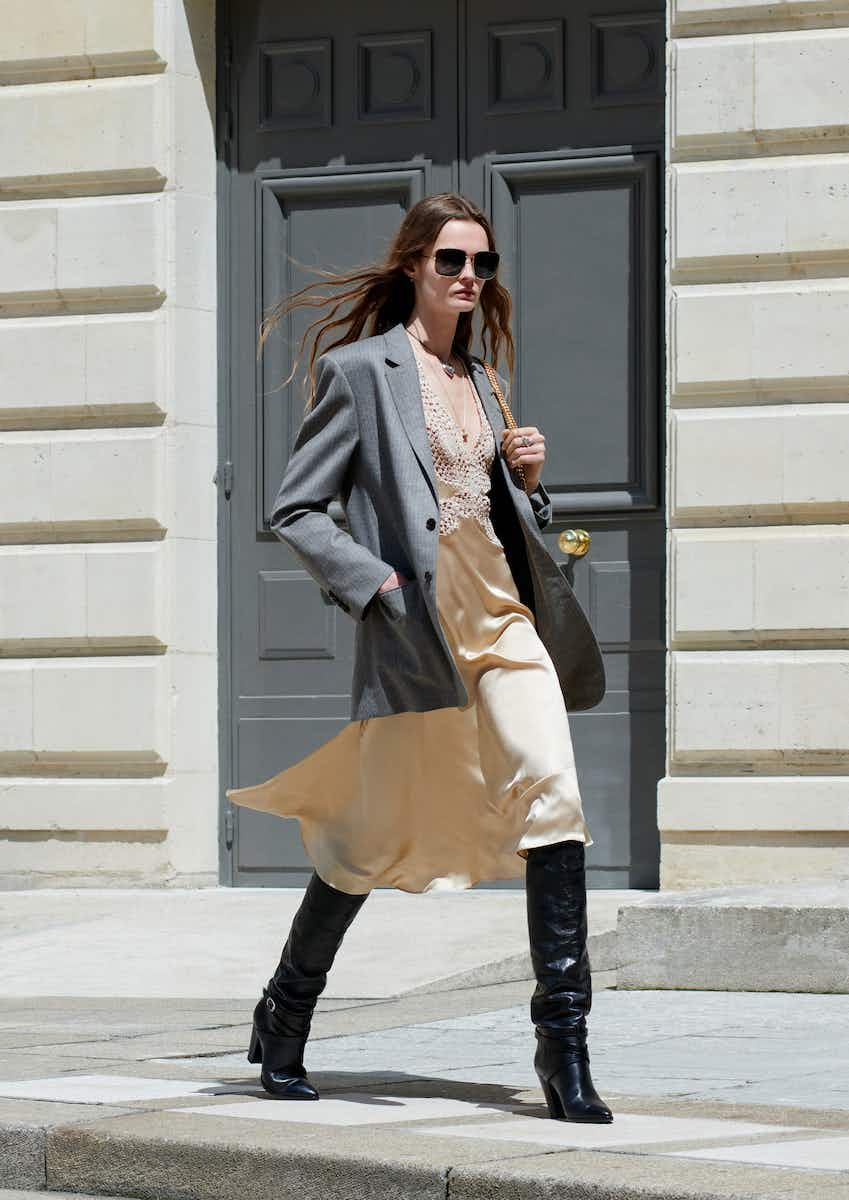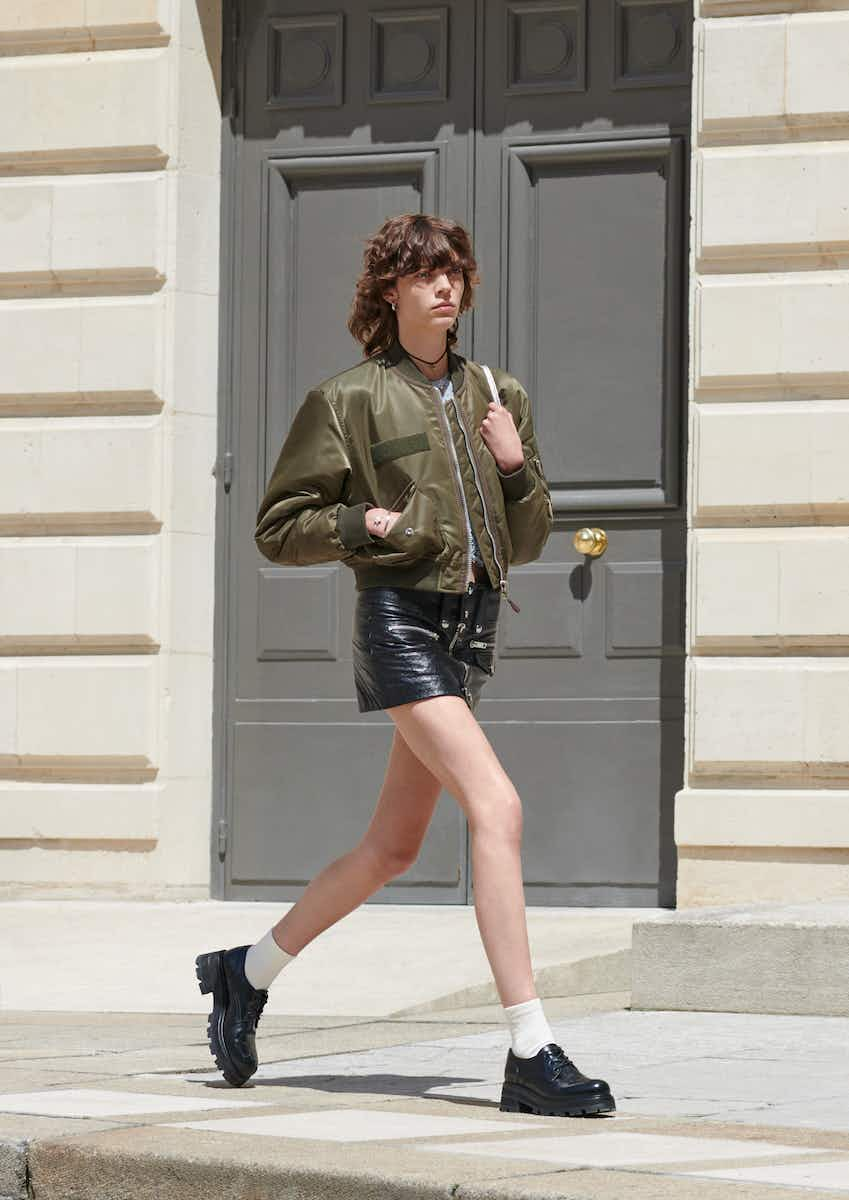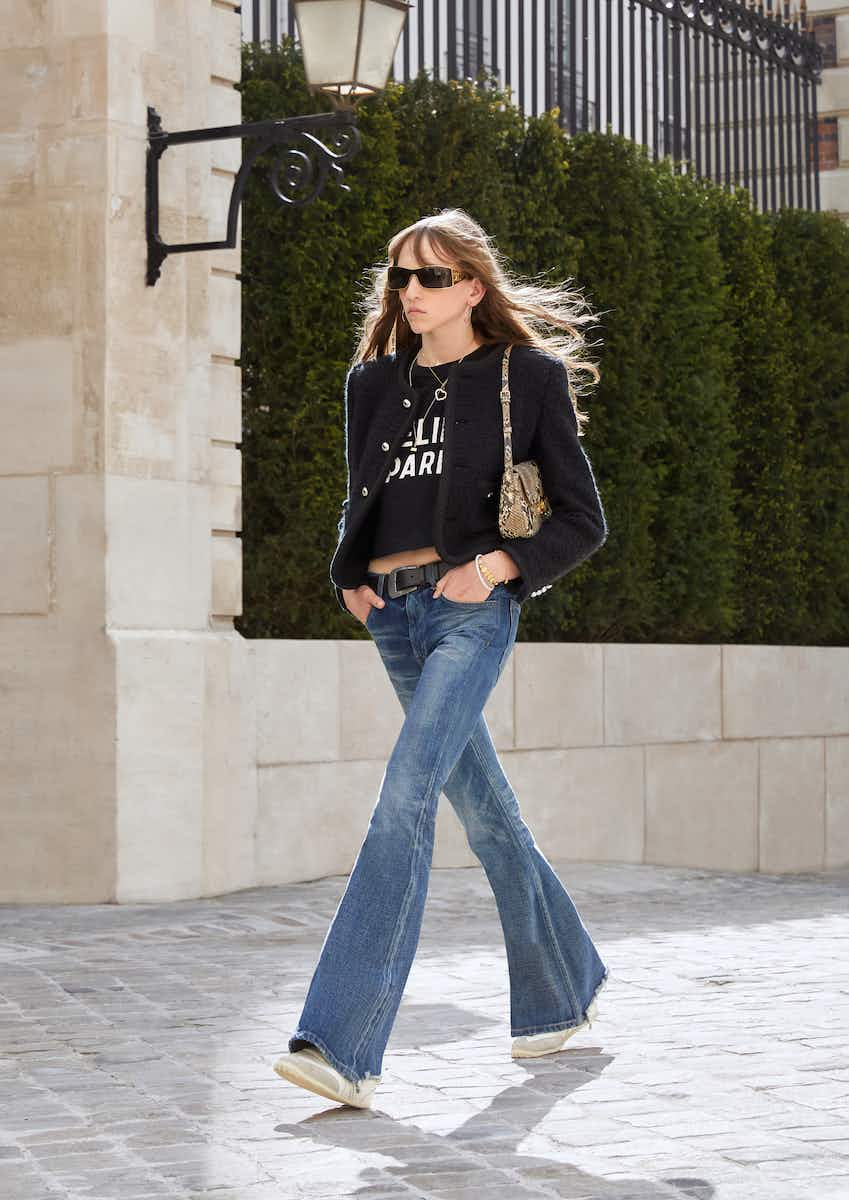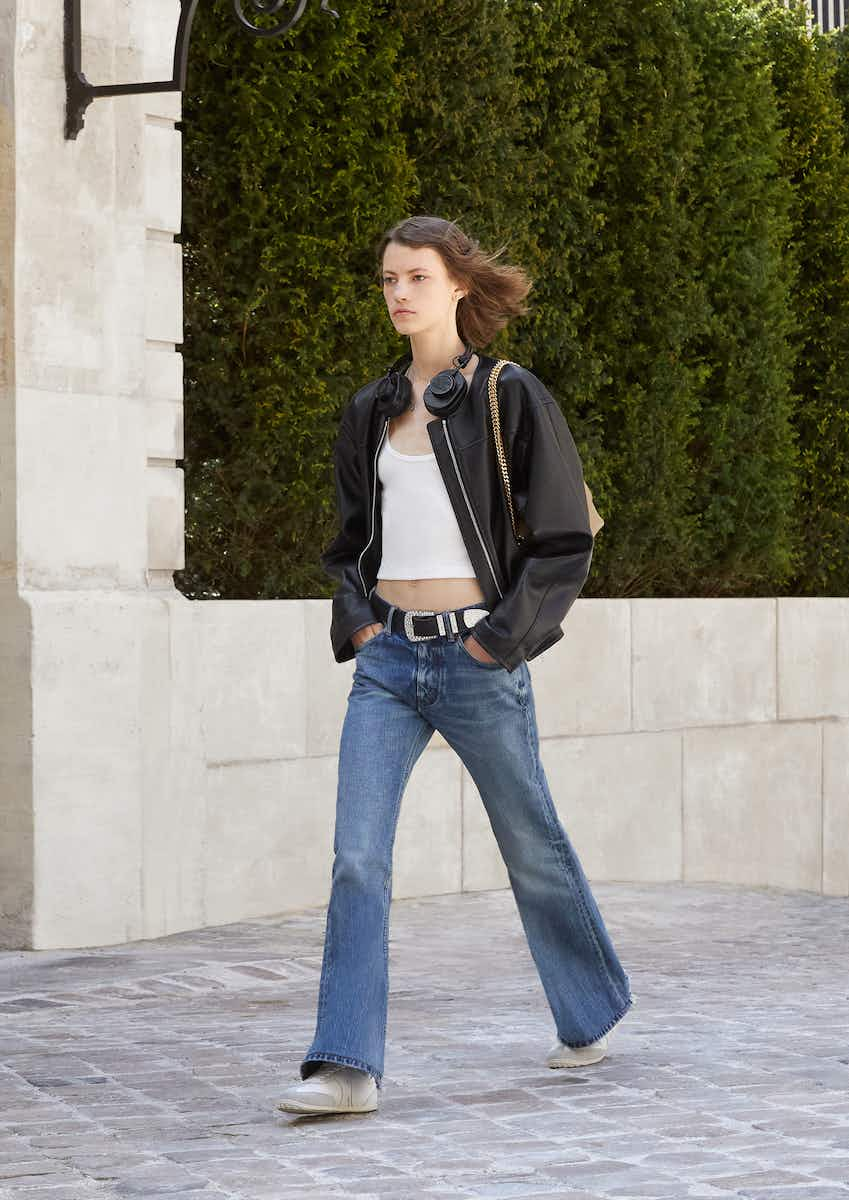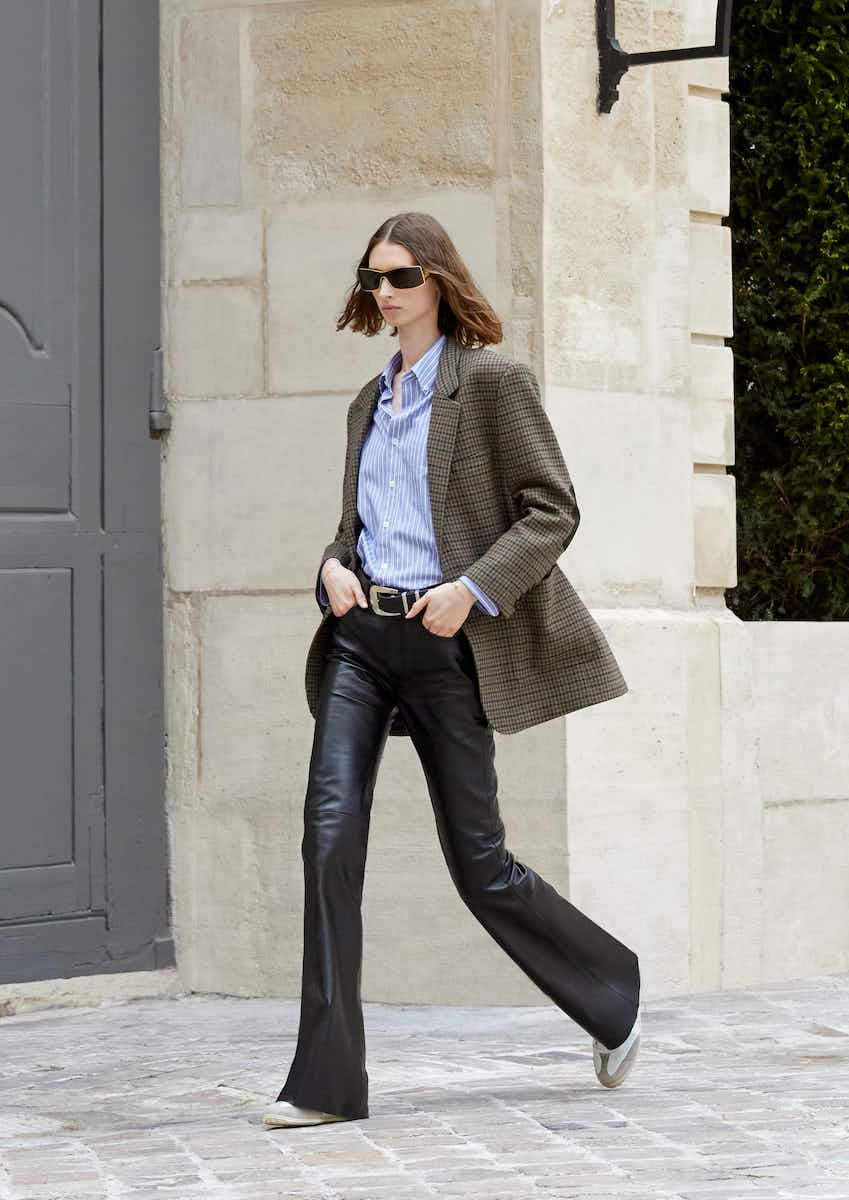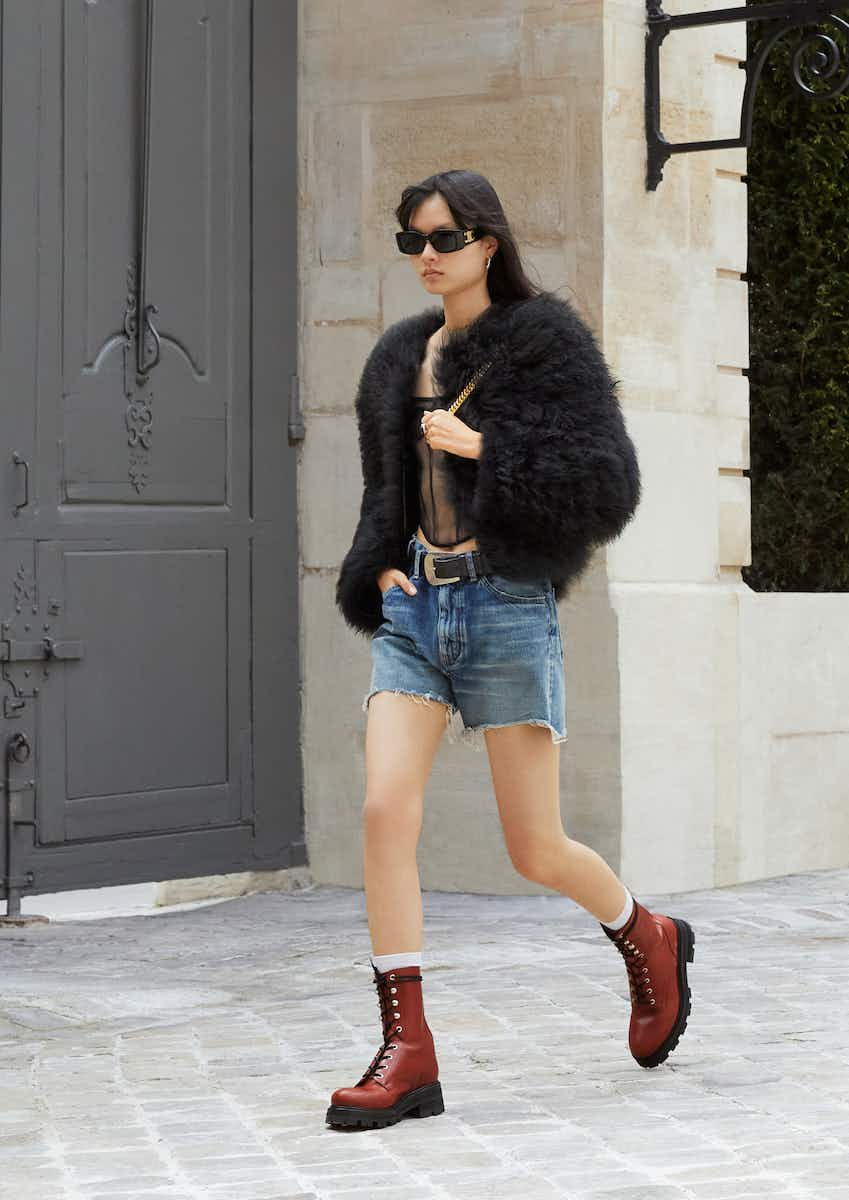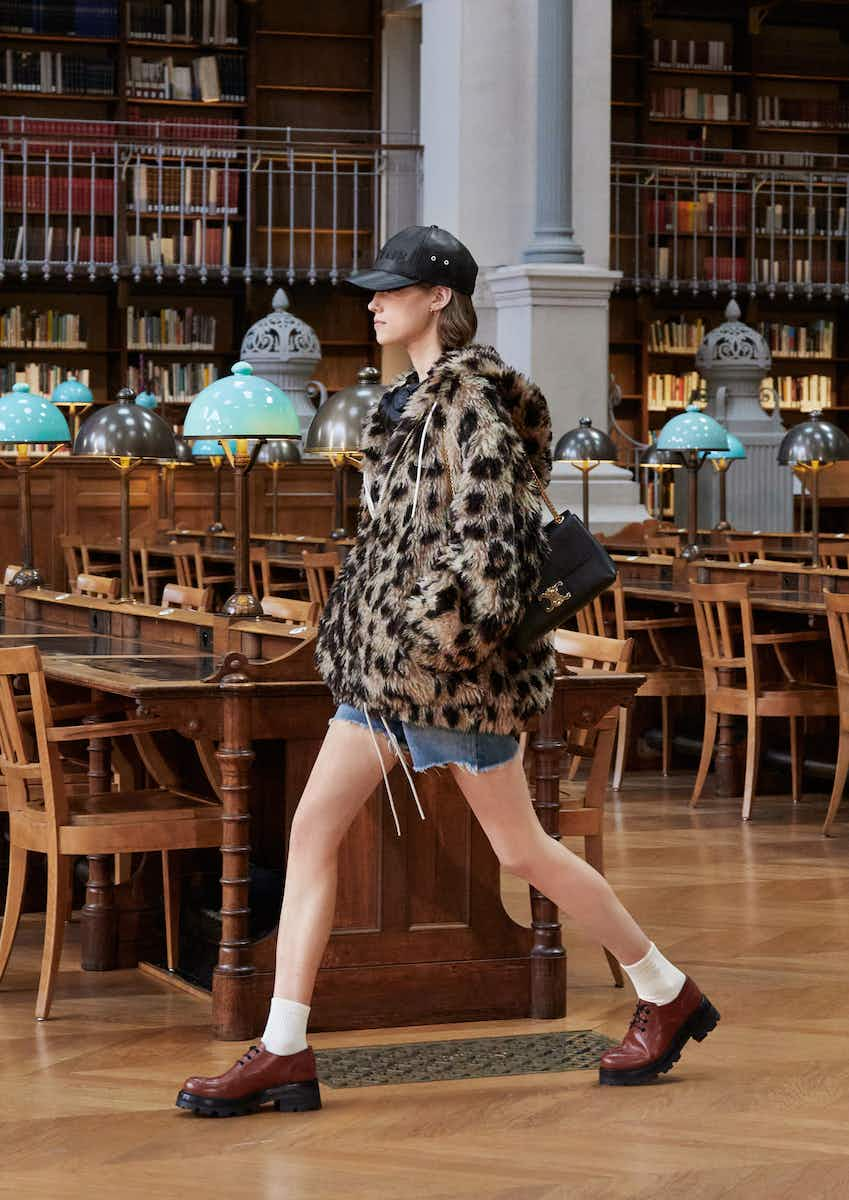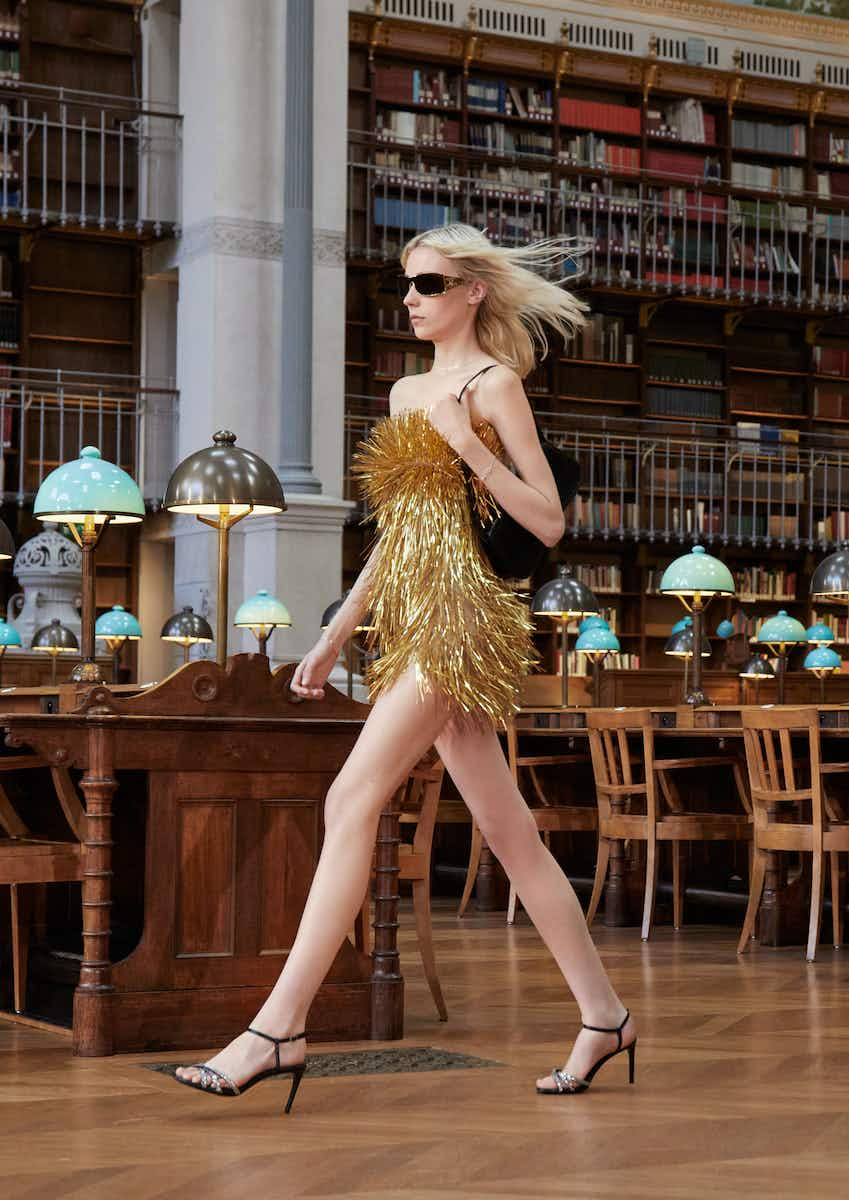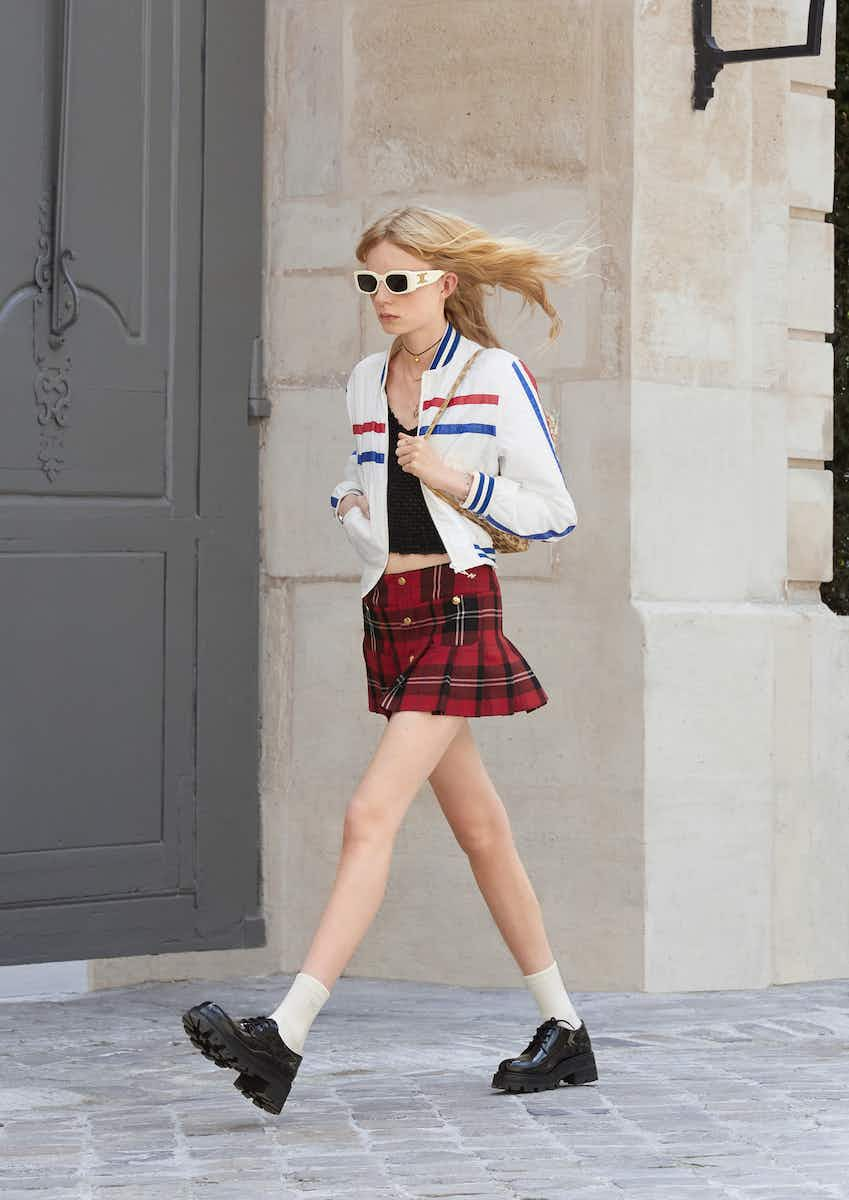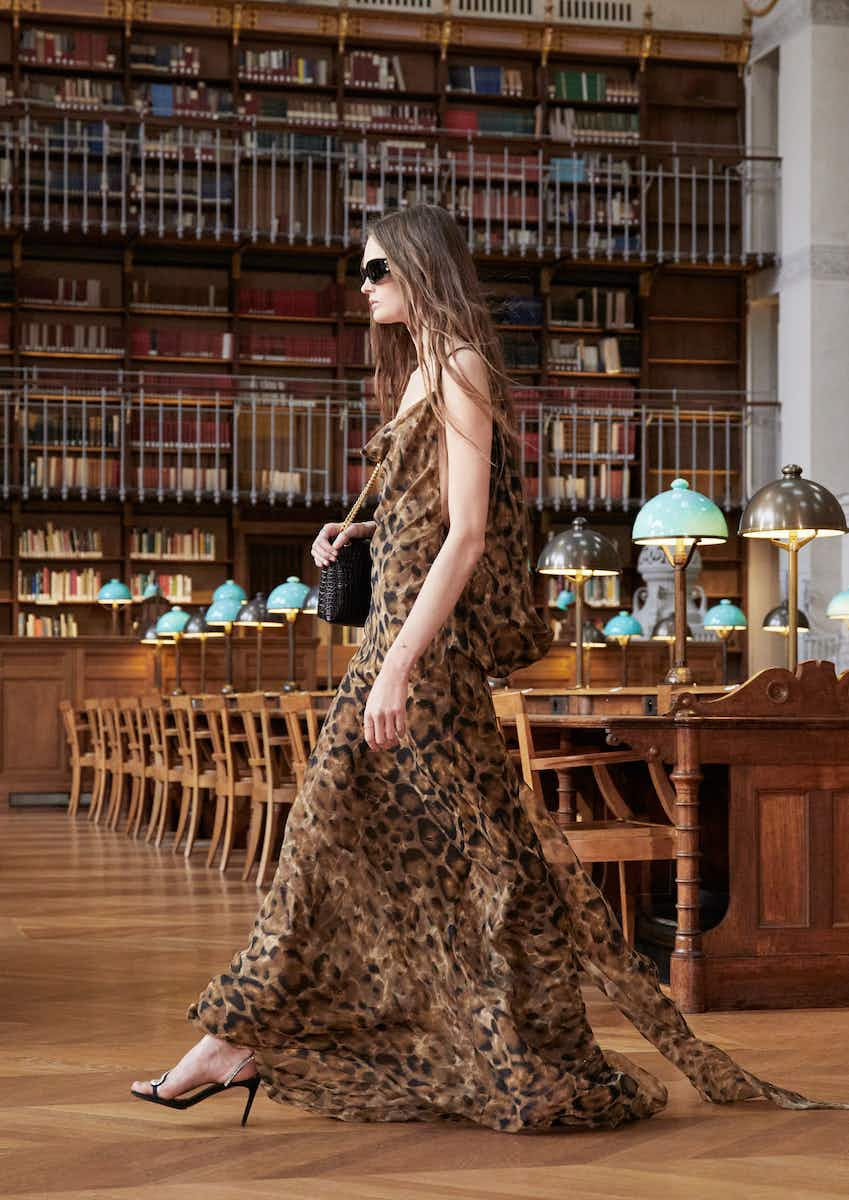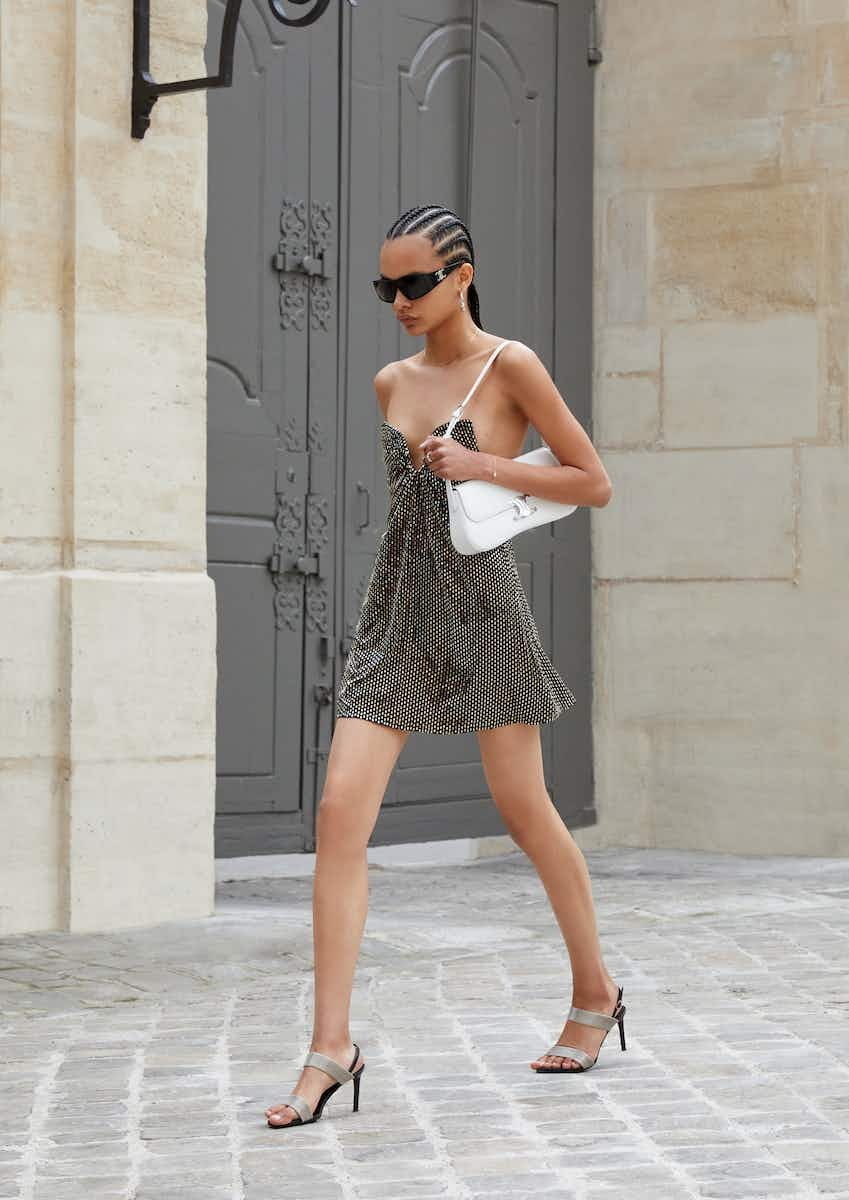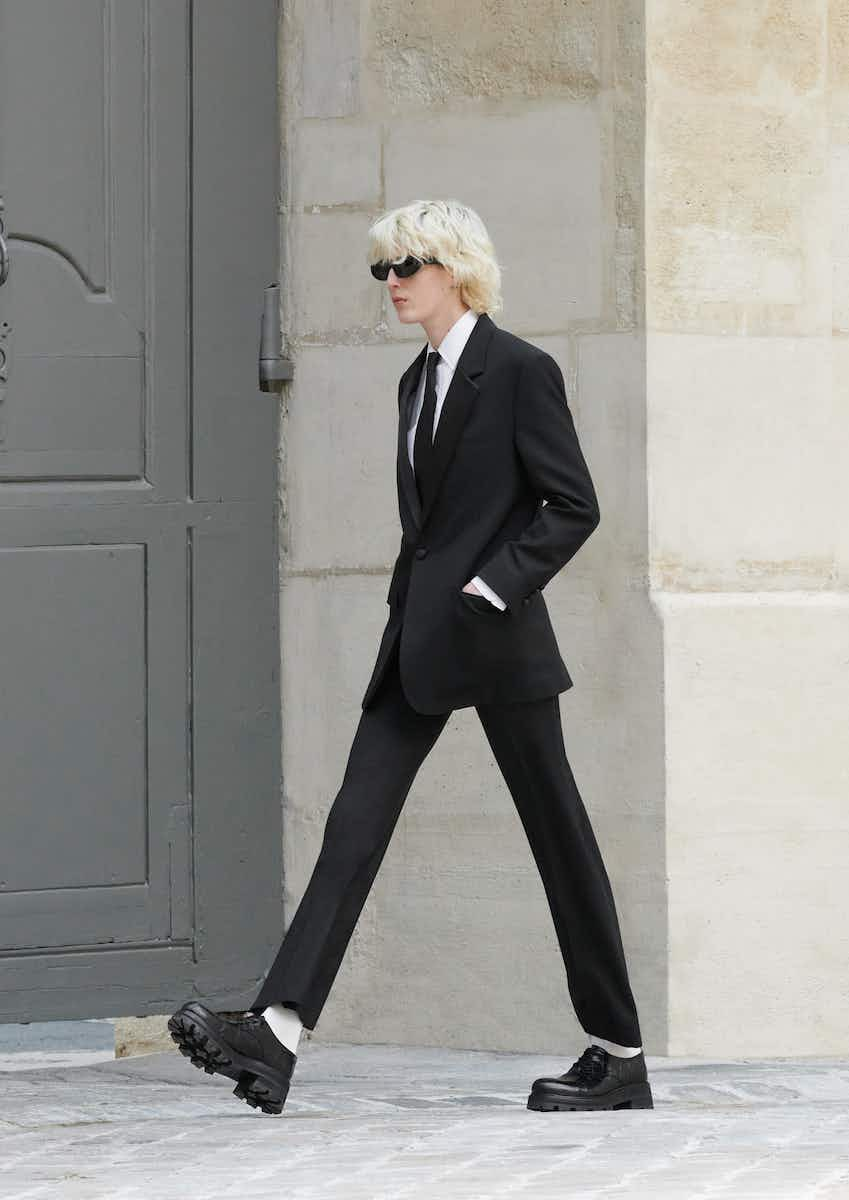 Its overarching statement came via this season's bomber jackets, in leather and military khaki, low-slung, wide blue jeans and updated iterations of the designer's beloved blazer, an emblem of casual cool worn over anything from an embellished evening gown to a plain white T‑shirt. Or, in this season's case, a ​"CELINE PARIS" emblazoned tee.

Each model also carried a bag, ranging from the brand's minuscule nighttime companion the Mini Chain Claude, only big enough for a lipstick, ID and a lighter, to the more day-to-night-minded Victoire, introduced this season. Celine under Slimane has long been big on accessories, with slick bags and sunglasses adding to the smoky glamour. This season, the house took things a step further and collaborated with Master & Dynamic for a pair of Celine-branded headphones. Given the creative director's enduring love for music – having collaborated with The Strokes, The Libertines and Iggy Pop in the past – it makes sense.
But the collection's sweet-spot came through the styling – Slimane's irreverent eclecticism that makes the Celine wearer look as though they've borrowed an item of clothing from a friend or a lover the morning after a night out, before rushing out of the door.
This season, that borrowed item is a mismatched woolly fairisle jumper layered under a great big fur coat, worn with a hand-embellished knee-length skirt and, of course, sunglasses. Elsewhere, there was a woolly hat paired with a brown leather jacket and blush pink slip dress, and a sparkly, strapless top with track shorts and shearling-lined boots.
It sounds a little mad, but it works to brilliant effect when traipsing through a lavish library in Paris. And only adds to Celine's too-cool-to-care approach.

More like this