Coronavirus-themed jewellery – yes, you read that right
Immie Spilsbury's wash-your-hands tap signet rings are a sign of the times.
Creativity isn't suffering in the time of COVID-19 – quite the opposite. Jewellery designer Immie Spilsbury has harnessed her imaginative powers to immortalise a dark and confusing moment, casting it in bronze, silver and gold.
In response to the world's battle against this pandemic, Spilsbury has created bold, irreverent pieces that demand attention (something she's no stranger to: see her Fuck Boris signet ring, as photographed by Harley Weir).
There's a bathroom-tap shaped signet ring imploring us to wash our hands, a chain with a virus shaped pendant (reminiscent of a medieval mace and Gogo Yubari's weapon in her legendary fight against Beatrix Kiddo, Kill Bill: Vol.1) and another spelling out the name of the global enemy we find ourselves fighting: Coronavirus.
Bath-born, London-based Spilsbury has been honing her craft since she was 13-years-old. She used to study hallmarks and collect jewellery from charity shops, selling some of her altered pieces to stall holders on Portobello Market (still one of her favourite places to find rings and pendants).
Now 21 and studying jewellery design at Central Saint Martins (whose sister short course has produced the likes of Ellie Mercer), Spilsbury has continued to push boundaries and knock up ballsy, idiosyncratic work.
From her live-in studio in east London, she chats to The Face about how she's been putting her time in lockdown to good use.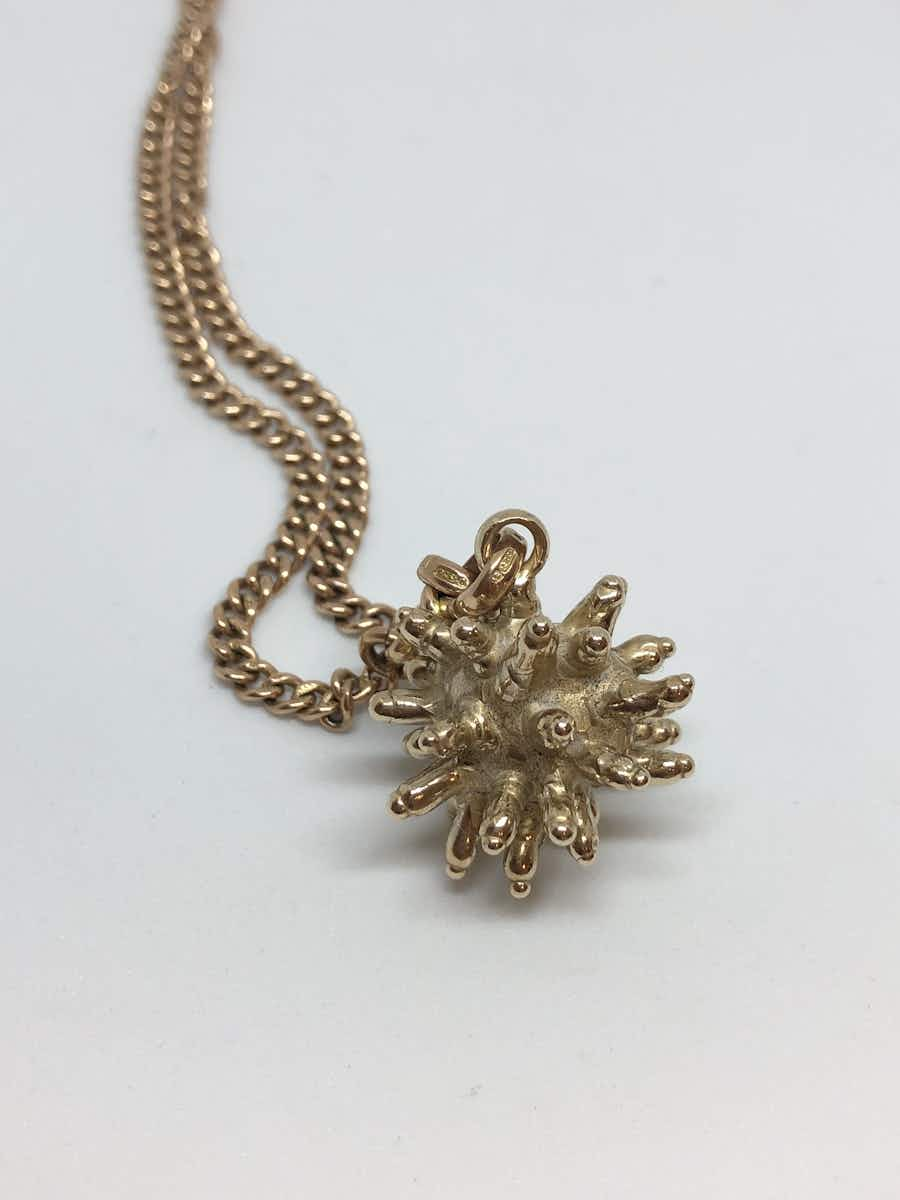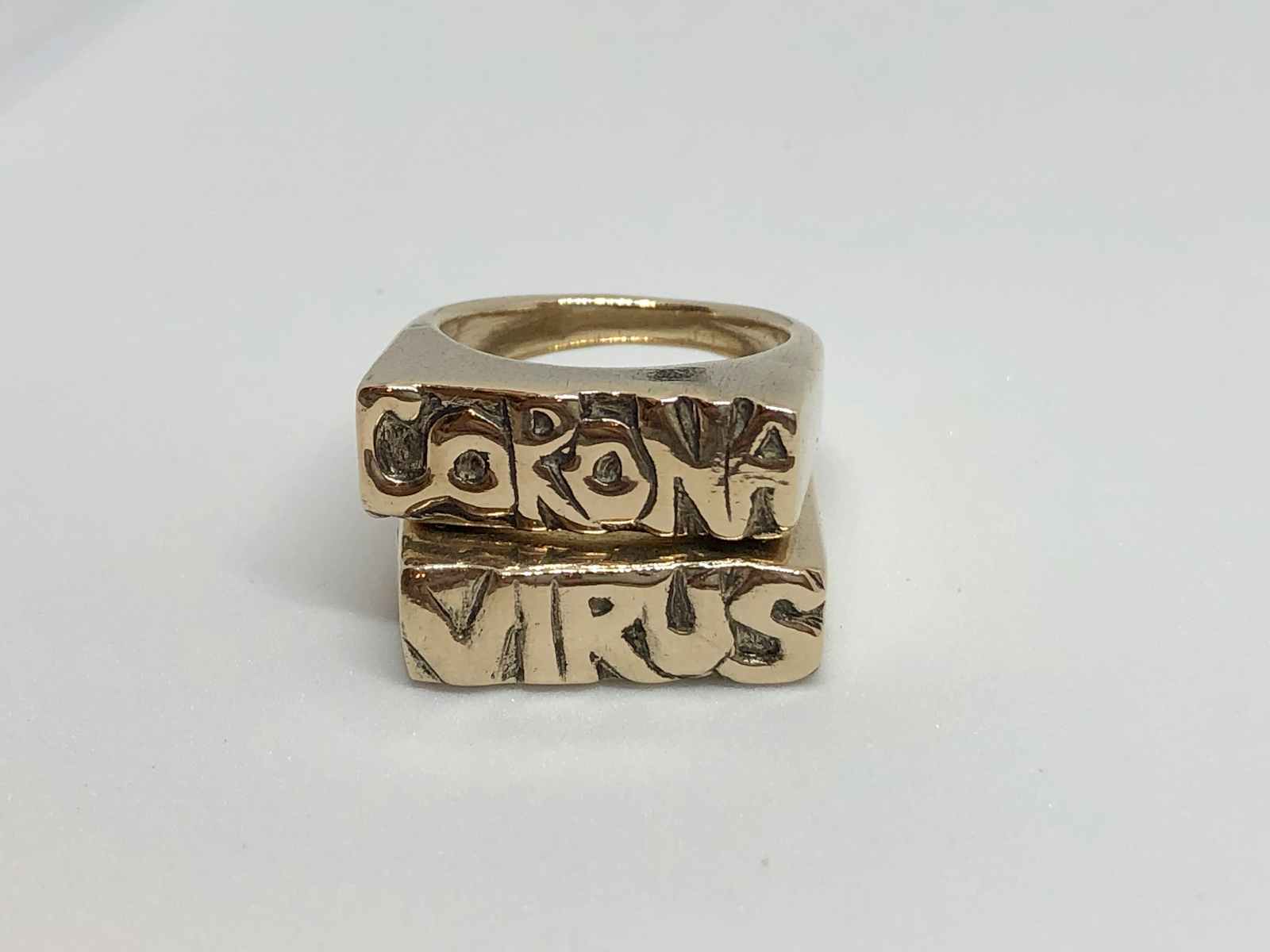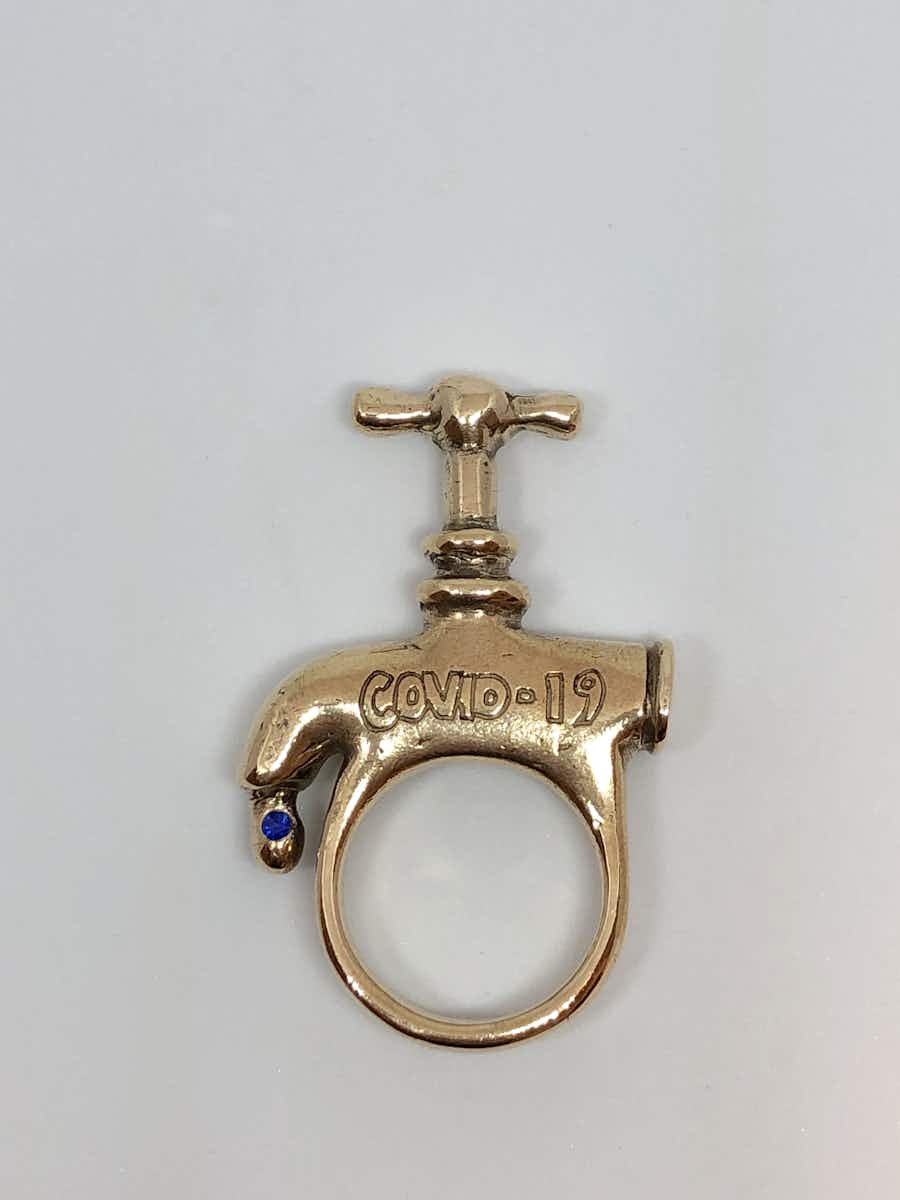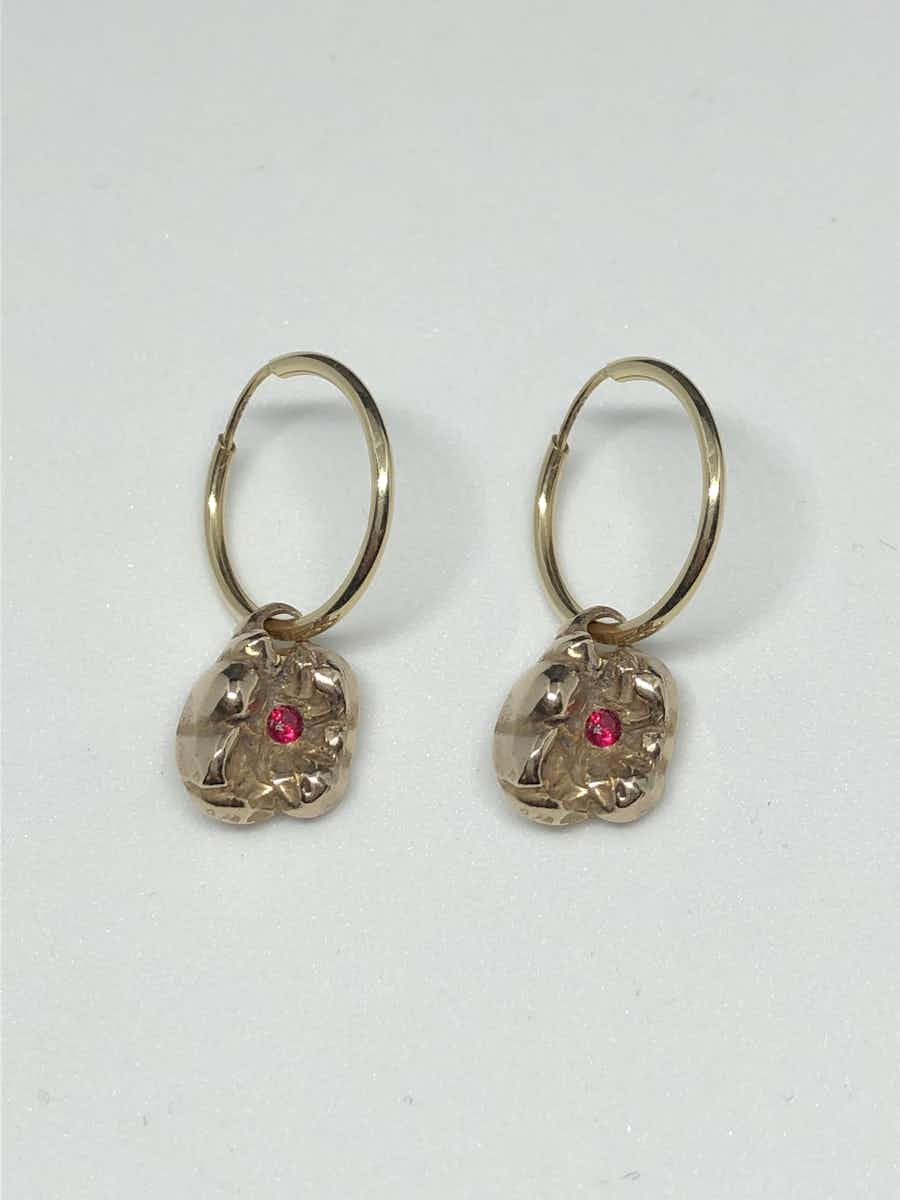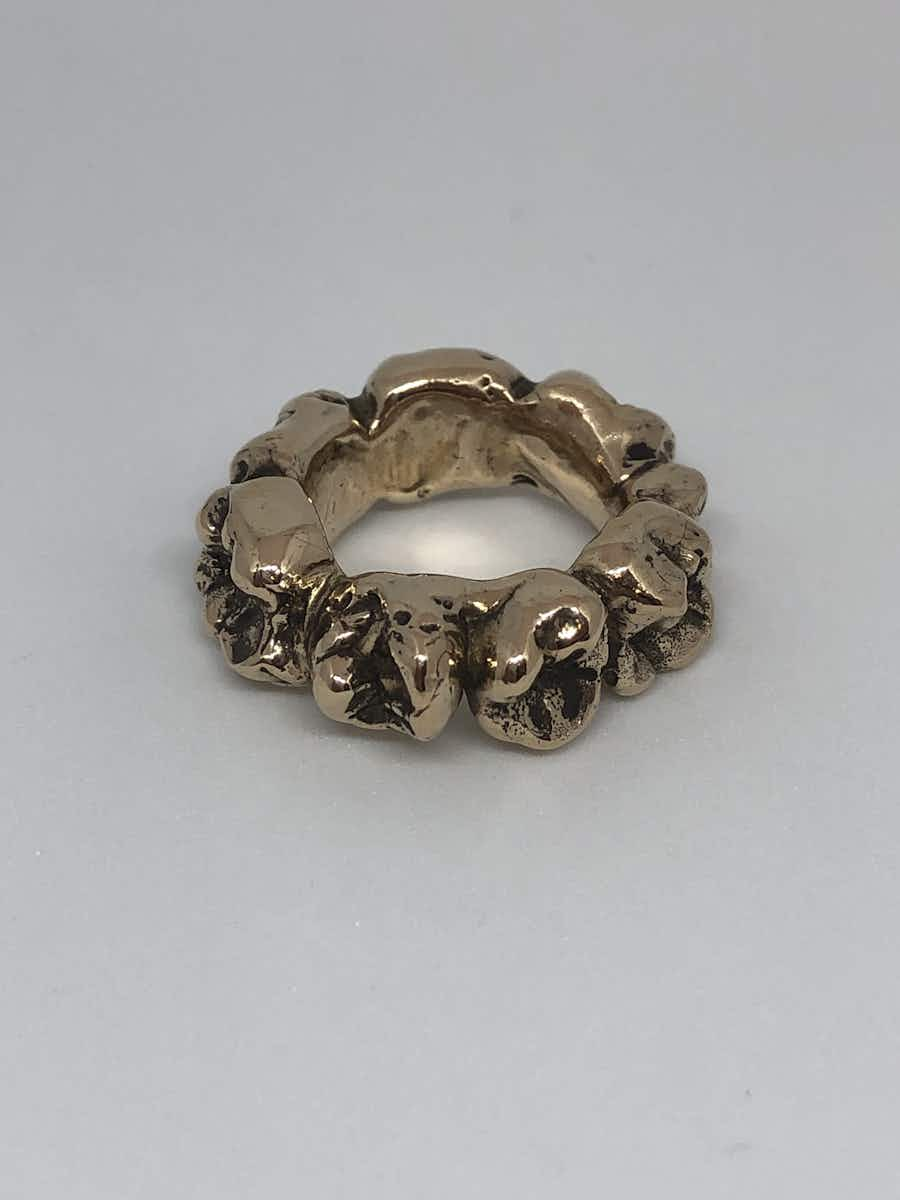 What compelled you to respond to the coronavirus crisis with your jewellery?
My work is often inspired by the changes in the human condition, and the adversity we are confronted with. I react to current issues that are sometimes controversial or uncomfortable to deal with but cannot be ignored. I like my jewellery to evoke emotion.
Before all the madness, what was your main source of inspiration?
My main source of inspiration is creating jewellery that excites, like unconventional rings and pendants. I love my jewellery to stand out and be a talking point, so most pieces I make are chunky and large-scale. Sometimes I add words too.
What is your most treasured item from your collection?
Probably my chunky tooth ring. I make it in bronze, silver and gold. It's a timeless piece – I design lots of teeth jewellery and keep developing my range by making small alterations. Recently I've started adding gemstone fillings into the teeth in a variety of colours.
Talk me through your isolation routine.
Luckily I live in a large building, so staying indoors during this crisis doesn't make me feel too trapped. My daily routine involves creating stock for my website, which will be launching soon, and also learning how to use 3D software so I can digitally sculpt jewellery designs. I also have a piano in my studio – I love learning new pieces.
What's on your quarantine playlist?
I don't have one – the music I listen to depends on my mood. When I'm making jewellery, I often have TV or radio in the background, especially in the morning.
Any advice for staying sane right now?
I think the best way to get through the self-isolation period is to keep yourself busy. Make stuff, cook good food and FaceTime friends and family.
What's the first thing you're going to do once this is over?
When quarantine is over and if the weather's still hot, the first thing I'll do is go swimming outside and spend the day eating and drinking with my friends.

More like this