Noth­ing is what it seems at

CRAIG

GREEN
WHERE WAS THE SHOW?
In the dim­ly lit vaults beneath 1 Old Billings­gate Walk, London.
WHAT DID IT SOUND LIKE?
The show start­ed with tra­di­tion­al Amer­i­can folk­lore chants by exper­i­men­tal elec­tron­ic com­pos­er Hol­ly Hear­den, before erupt­ing into futur­is­tic sound­scape over­laid with pas­sages on space nar­rat­ed by a child, and fin­ish­ing with Q Laz­zarus' Good­bye Hors­es. Lis­ten to a sound­bite below.

Listen now:

The sound of Craig Green SS20
WHAT ABOUT THE CLOTHES?
Back­stage, Craig explained that he'd been down a rab­bit hole watch­ing YouTube mys­tery videos (you know, the ​'5 Unsolved Mys­ter­ies' type) while work­ing on SS20, many of which were focussed on Egypt, a theme that was sub­tly woven into the col­lec­tion. He was also think­ing about skin and the idea of pro­tec­tion. The show opened with two all black, all leather looks (with mul­ti­ple pock­ets and dou­ble waist belts), before mov­ing into a series of intri­cate­ly embroi­dered ​'dream suits' (more on these lat­er), sig­na­ture padded work­wear-inspired uni­forms in del­i­cate silks, four loose­ly tai­lored ging­ham looks and end­ing with a rain­bow of eight ​'lantern men' wear­ing laser-cut paper doll-like looks inspired by Mex­i­can East­er flags, which Craig explains are a nod to trans­for­ma­tion, and the idea of a mir­ror being ​"full of possibilities".










WHAT DID THE DESIGN­ER SAY ABOUT THE COLLECTION?
"In the begin­ning we were think­ing a lot about skin – as a pro­tec­tor and as a lay­er that you can take off. I always feel like leather is a weird thing that you would wear to pro­tect your­self when you're motor­cy­cling, but actu­al­ly it's skin and there's some­thing kin­da dis­gust­ing about it. So the first sec­tion was leather and rib, and then it changed to a brown paper bag kind of mate­r­i­al. I was also think­ing about how in Ancient Egypt peo­ple were buried with their world­ly pos­ses­sions, which I think is such a strange thing, that when you pass you get put into a tomb or a cof­fin or a box to pro­tect you, but [for your] whole life you're nev­er that pro­tect­ed.  I think it's such a strange thing. So it was about light­ness and skin."
ANY STAND OUT LOOKS?
Yes – Craig's ​'dream suits', com­plete with exter­nal fab­ric hands sus­pend­ed via string. As he explains, ​"We want­ed to make a suit that looked like some­thing you would wear to dream in. They're hand-embroi­dered on padded silk bod­i­ly shapes and inspired by anatom­i­cal draw­ings of bod­ies where the mus­cles almost look like flow­ers. I saw an image on the BBC that showed what a woman looks like when you strip back her skin (which is an image you nev­er see) – it's almost like the mus­cles and the glands inside the breast are like flow­ers. It was tak­en from that idea."



FUN FACT:
The prints that appeared on the ging­ham pieces were inspired by Marie Kon­do, tak­en from those used by machin­ery designed to fold clothes. ​"I like the idea that you fold away your body," explains Craig. ​"With­out sound­ing too dark, I like the way that they look like recy­cling bags. Recy­cling bags for your body."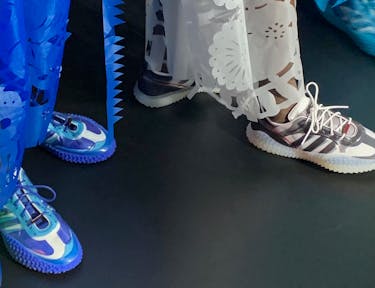 OF NOTE:
Craig col­lab­o­rat­ed with adi­das Orig­i­nals, rein­ter­pret­ing their Kaman­da sil­hou­ette (what Craig refers to as the ​'Armour Kaman­da') in acid colours to match the afore­men­tioned laser-cut paper doll-like looks. As he explains, ​"We took the tex­ture of the sole and used it to cov­er the top. I like that they look lizard-like."
---