Dolly Milkes: ultimate streetwear for the alt-heads
Off the Rails: Over the years, she's worked for Ashley Williams, done bits for Nike ACG, started her own label and is now designing for Glen Luchford's weed brand. Wheeeew.

The best of British design is irreverent, riotous, noisy, a little DIY. Dolly Milkes is just that, referencing surfing, nightlife and counterculture for a slick take on modern casuals that are just as at home on the beach as they are the South London clubs she's often dancing in on the weekends.
Growing up in a small town in Surrey, Milkes was a crafty, outdoorsy, self-confessed ​"horse girl". After doing a ​"pretty random" BTEC in fashion,", she applied to London College of Fashion to study womenswear – but the course was mainly a reason for her to move to the capital (and go out-out). During a placement year, she ended up at Ashley Williams' studio, where Milkes was exposed to the subversive styles and references of the womenswear designer: furry bikini tops with pentagon motifs, dollar print dresses and Jesus iconography. A favourite of London's cool girls, Williams offered Milkes a job as studio manager, so she sacked off her final year and took the job, before going back to graduate a year later.
"I felt like I learnt loads there compared to what I learned at uni," she says. ​"Uni's a bit shit, to be honest – I only really went so I could move to London. I ended up working at Ashley Williams for five years doing studio management, then I was a sales manager for two years, did a bit of design…"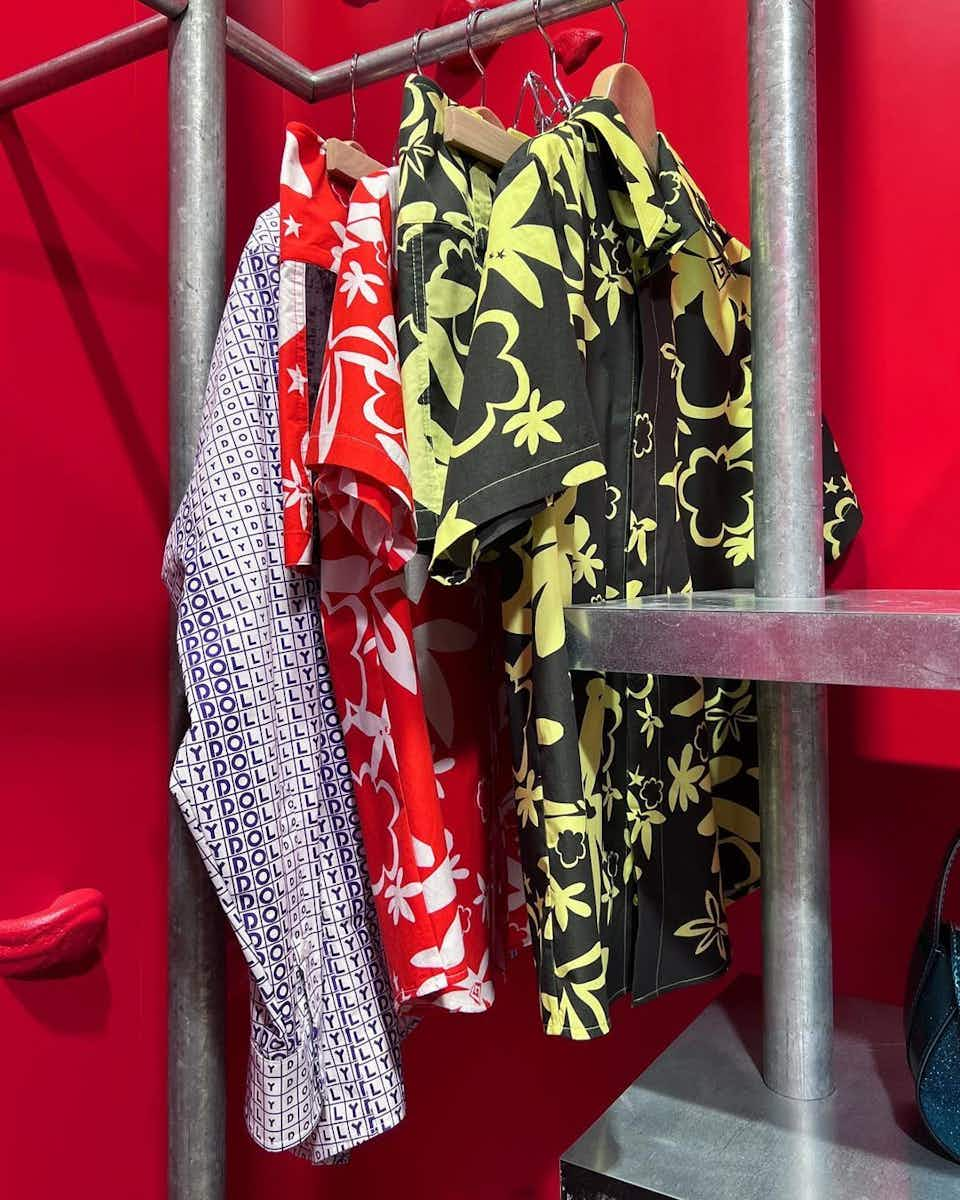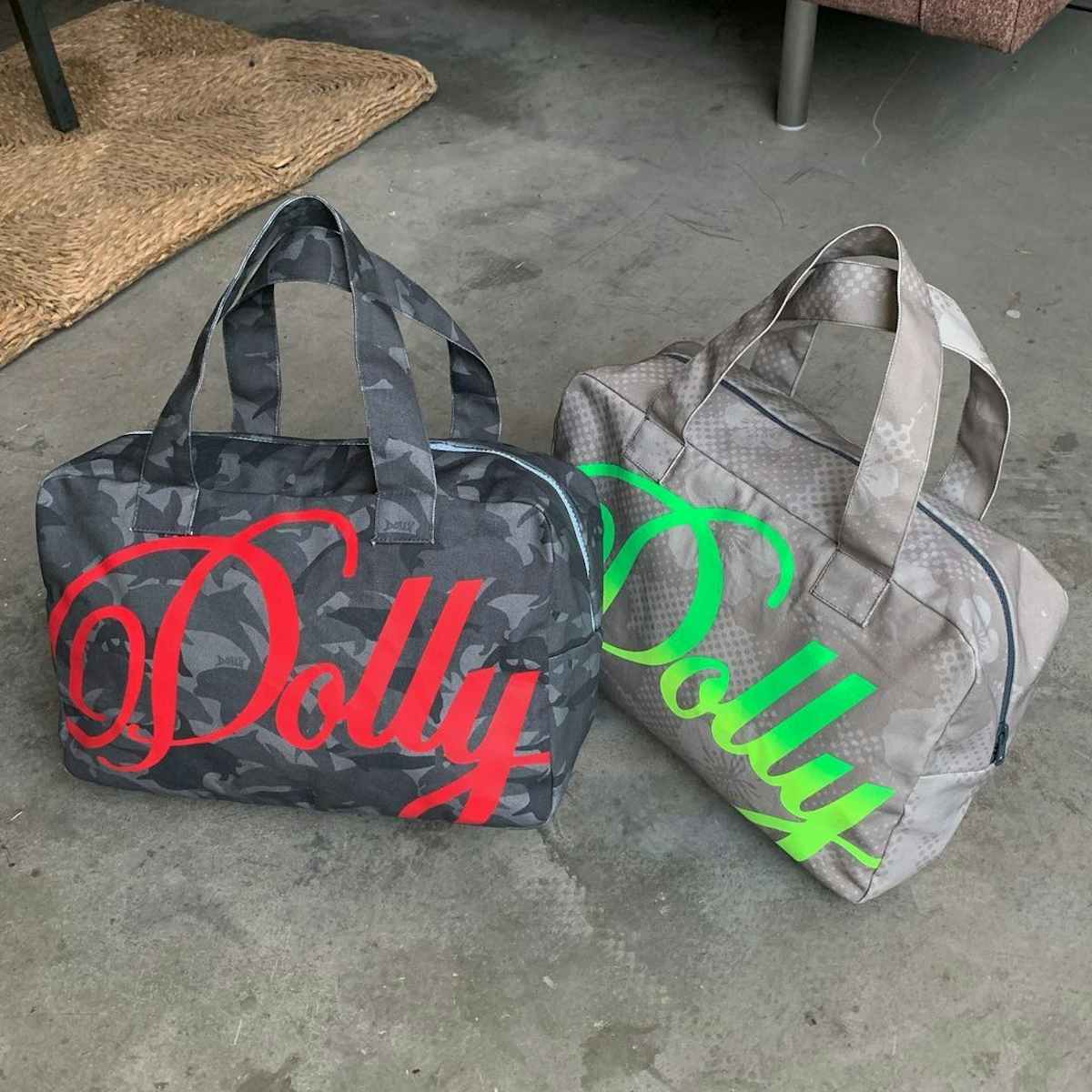 Like the horse girl of her teen years, she's still well into the outdoors. Most of the time, you'll catch Milkes posting Insta snaps of her rock climbing, hiking up a mountain, trekking through some nondescript fields, or braving extreme conditions abroad – sometimes to unwind, other times for a fun new project. Since going freelance in January 2021, she's been styling, designing and making graphics for Nike ACG, the line that produces gear for all conditions (or All Conditions Gear). Back in summer, she even made Nike T‑shirts for the England team's Euros final.
In between all that, Milkes launched her very own brand, Dolly, in February this year. A proper clash of cultures, its shirts with lime green tropical motifs, brown typeface graphics, cargo mini skirts and bowling bags are feel-good pieces that take streetwear on a backwards spin. ​"I find streetwear is super male-dominated, I felt like it lacked a female perspective," she says. ​"Doing my own brand always felt like a natural thing, and I try to keep it that way." Before long, Dolly was picked up by Dover Street Market, stocked in its London stores and online.

More recently, she's been designing for something a little more left-field. ​"I've been working on this weed brand that [photographer] Glen Luchford has started, which [stylist] Fran Burns got me on – she's consulting on it," she says. ​"It's also owned by an ex pro snowboarder, this guy called Josh. It was so much fun." They pulled Milkes in from a design perspective, which was ​"really banging," she says, giving her free reign on a load of the upcoming merch.
Never one to stay in the same spot for too long, the designer was about to board a flight to New York when she answered our call. But not before we could ask her the most important questions of her life. It's time to go Off the Rails.
What's your favourite four letter word?
Swag.
If you could swap pants with anyone, who'd it be?
Adam Driver.
What was the last film you watched?
I actually don't watch many films, but it was Elvis.
Would you rather be filthy rich or find true love?
True love. Does anyone actually say filthy rich?
What gets you out of bed in the morning?
Probably the stress of getting shit done. But also, I share a studio with my mates Steph, Sam, Clem and Ed. It's such a nice vibe there, so I think getting up to go there, too.
What would your last meal one earth be?
The main thing would be smacked cucumber. It's the best thing to ever exist. That and a margherita.
What is your most-played song on Spotify?
At the minute, it's Sunshine by Steve Lacy and Fousheé.
What did you want to be when you were 10 years old?
A vet.
Do you have any party tricks?
I can do a really good goat sound.
Who would you invite around for dinner?
Snoop Dogg, Pharrell and this Instagram dog that I'm really obsessed with called Eris the Borzoi.


More like this