Dr. Martens presents its vision for a new future in NYC

As part of its new Made Strong campaign, Dr. Martens welcomed Kelsey Lu, Venus X and Hank K to the New York stage for a full-on rager.

Stepping into the role of Dr. Martens' creative director was never going to be a walk in the park.
The brand has a rich, 63-year history of kitting out Britain's best and loudest subcultures, and a diehard fanbase ranging from angsty teens to old-school rockers. But in our fast-changing world, where youth styles shapeshift quicker than you can upload a TikTok, it's imperative to keep evolving.
So when, in 2022, designer Darren McKoy (whose CV includes stints at adidas, The North Face and Onitsuka Tiger) took the helm as global creative director, he laid out his vision for Dr. Martens in pretty simple terms. ​"Balancing the [old and new] is critical to ensure our past inspires the future," he told us last year. So, has McKoy stuck to his word?
"As I always say, our past continues to inspire what we do," he tells us, 18 months later, from a warehouse building in Brooklyn. ​"The world has changed quite significantly over the last 63 years. We live in this digital world and things are moving fast."
While he usually works from Dr. Martens' HQ in Camden in North London, McKoy's in New York for two events toasting the brand's new Made Strong campaign. To help the brand launch its new attitude and embody this ​"visual identity" based around what strength means in today's ever-moving, ever-trying climate, Dr. Martens has enlisted an army of recruits personifying that spirit in 2023.
It's a good excuse for a party, too. Over last Thursday and Friday, Dr. Martens invited hundreds of guests (mostly New York's well-dressed youth) to pack out an industrial-sized warehouse for performances from Kelsey Lu, Goth Jafar, Venus X, Pedrose and Hank K. Alongside those dancefloor stalwarts, there was also a special performance by emerging musician Mijita, who won the gig through a Dr. Martens' TikTok competition.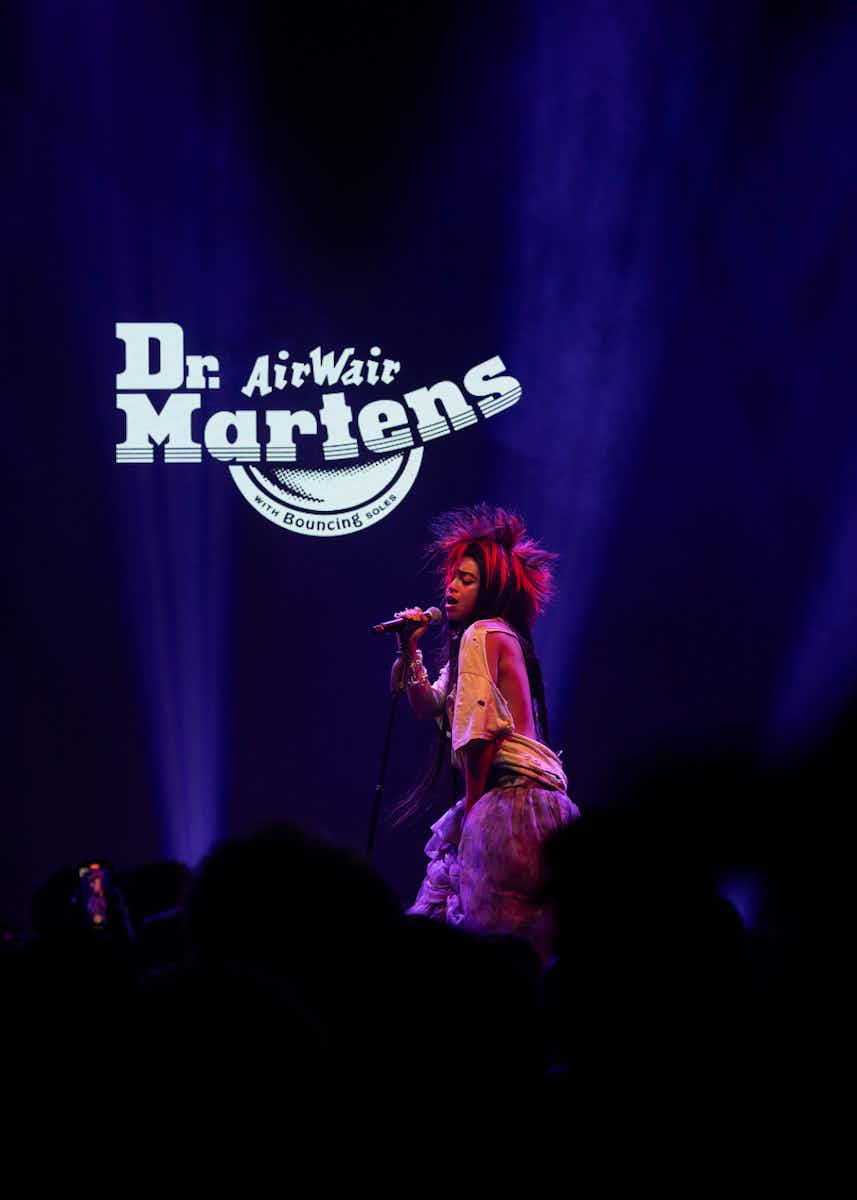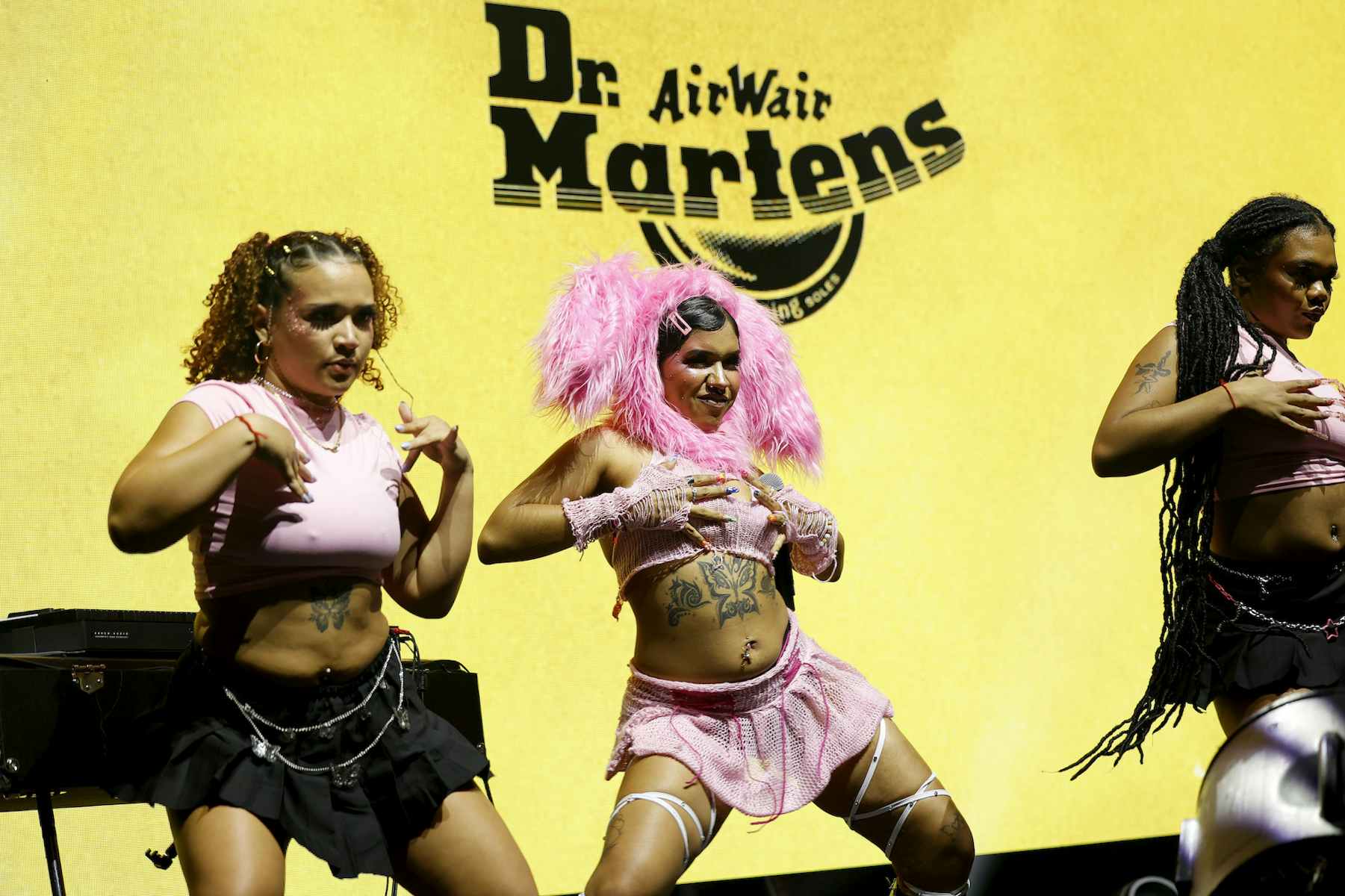 Last week, Dr. Martens also launched a stellar campaign to go with its new look, featuring changemakers such as actor Geethika, environmental activist and hip-hop artist Xiuhtezcatl and Saskia, a dancer and the director of arts-access initiative Sensoria. But whether they're making music or dancing to it, each individual featured in the campaign is spotlit for their ability to find strength in their own ways, rooted in their lived-experiences and working to make the world a better place.
Dr. Martens has also collaborated with creative platform Digital Fairy, conducting a hefty survey that asked Gen Z to share their thoughts on the state of the world, the tensions they are dealing with and – the bit at the crux of Made Strong – how they'd like to see the world evolve.
"We're in a moment now where the brand has an opportunity to talk to new consumers that are moving into new spaces," McKoy says. ​"There's an opportunity for the brand to re-contextualise its history for today's wearers. From my perspective, that's what the challenge always is: how do you create something that is instantly recognisable as a Dr. Martens product, but with the subtle detailing and nuances that puts it into a new space without alienating consumers?"
With that in mind, here comes the big reveal: alongside Made Strong, Dr. Martens is also launching the more tangible 14XX, a new product platform that, as McKoy mentioned, will shake up the classic designs of the brand's archive.

While there's no official release date for the collection yet, a walk-around the warehouse showspace with McKoy revealed some pretty bold ideas. A range of shoes and boots that take its silhouette from the instantly recognisable 1460 and 1461 boots, Dr. Martens' upcoming collection feels a little more dystopian – made for the unexpected.
The new shoes are also much lighter than the OGs, with an added springy cushion on their soles for comfort and a ​"self-cleaning" feature that prevents dirt from getting into grooves. There's major workwear influences in the toe cap, evolved from Dr. Martens' steely design while also taking it up a notch with a harder, front-facing feature.
One style is completely modular, with a removable waterproof upper section that transforms it from an ankle boot to a shoe, in what McKoy calls ​"the most technical product ever". Coupled with Dr. Martens' new Made Strong statement, these are boots to – literally and figuratively – weather any storm.
"When it came to designing some of these products, it was about making sure that we give freedom within a creative framework, but we don't go too far out of it. It should still feel like Dr. Martens," McKoy says. While it's certainly a new look for the brand, 14XX still upholds the brand's attitude of rebellion and individuality.
"I think we've got to a good place," he concludes. ​"We have the opportunity to be involved in all conversations. And Dr. Martens has an opportunity to continue to champion in moments of rebellion and self-expression."


More like this