Dsquared2 says shine on, and on
For AW21, Dean and Dan Caten use the party as a conduit to spur themes of love, liberation and shared community rooted in the brand's DNA.

Dean and Dan Caten, twin-duo and creative directors of Dsquared2, were in the mood to party this season. And it's a serious matter for them, but that's not to be confused with taking oneself too seriously – which the Italian house's AW21, co-ed collection urges you not to. Presented as a short film, the buoyant boys and girls of Dsquared2 are liberated, and not just because they were all Covid-approved – its final credits assure us – as they point to an all-frills future that could be lurking somewhere in the distance. A nod to the insatiable feeling that someday soon, the ongoing pandemic will be one for the history books, and not a bleak reality.
Let's start with the moveable home – a concept proposed by the fashion house as the living, breathing object thrust at the core of the collection. A symbol of carefree nomadism, it moves with the times as a safe space to ​"be your true self and possibly explore being something else entirely," as the press notes mention.
The brand's DNA is rooted in freedom of expression – and sexy – since the mid-'90s. But more than that, the brothers have proven an on-going dedication to rallying against bullying and their desire for individualism regardless of the status quo. Fuelled by their early experiences of bullying while in foster care, they have long-explored ways of emancipating their wearers from the constraints of side-eyed onlookers, often working with anti-bullying charity, Be Cool Be Nice. And don't let the bastards get you down.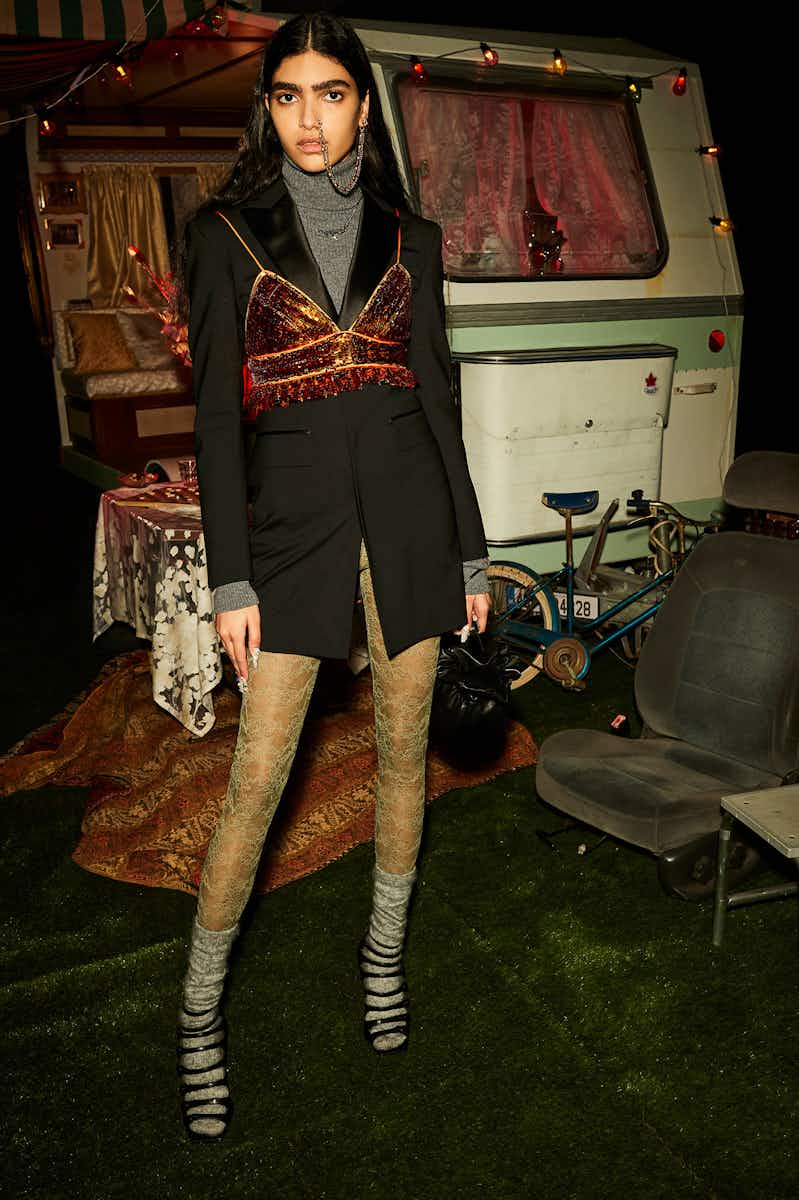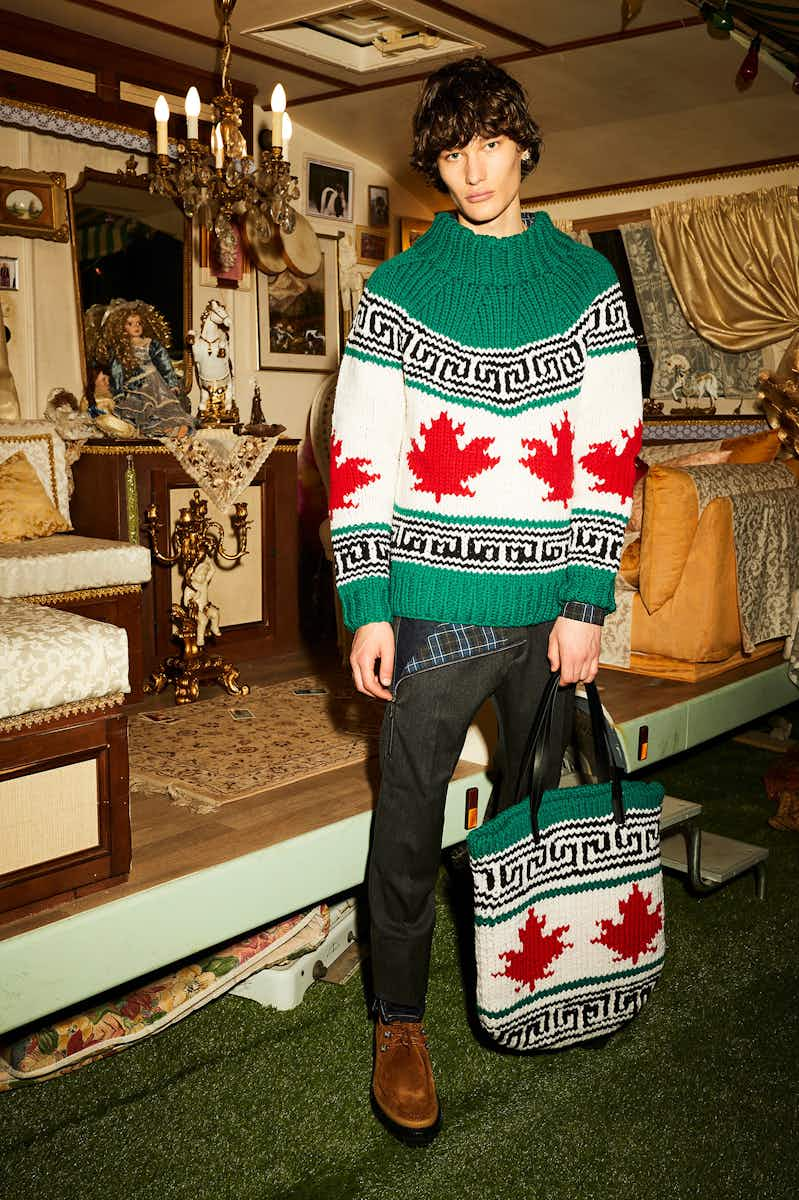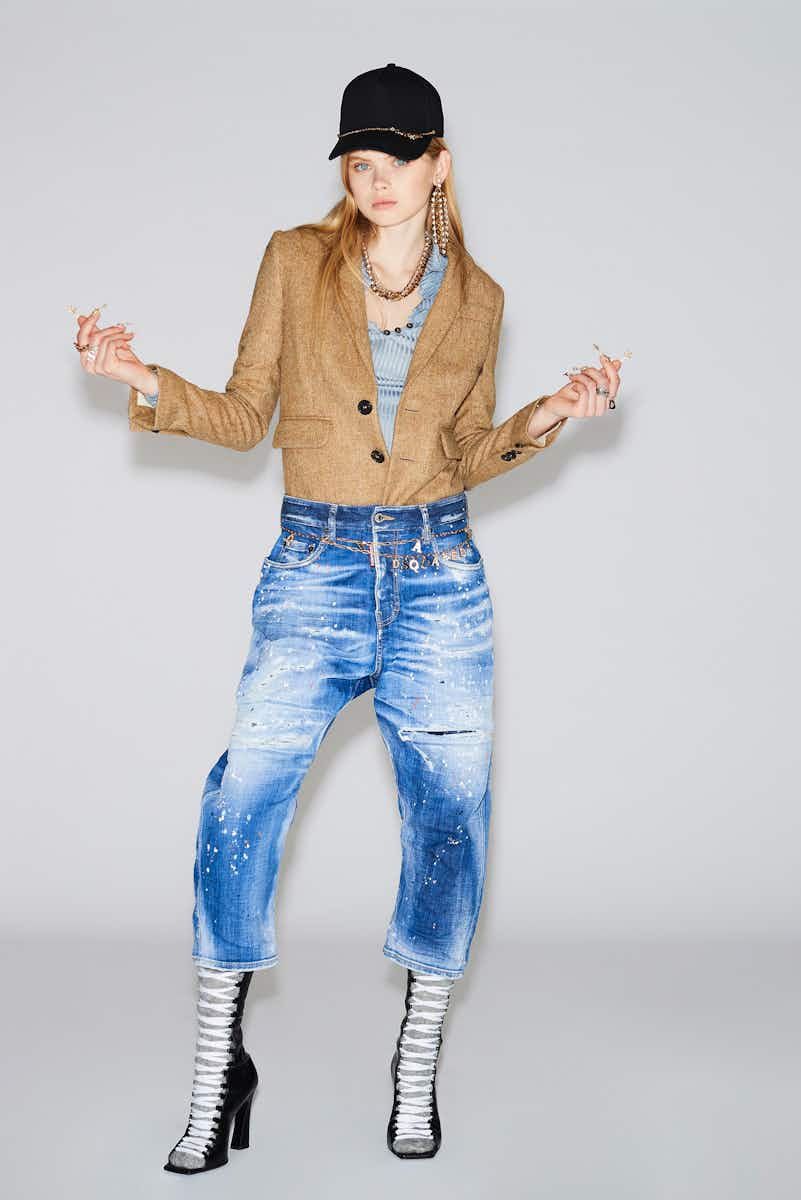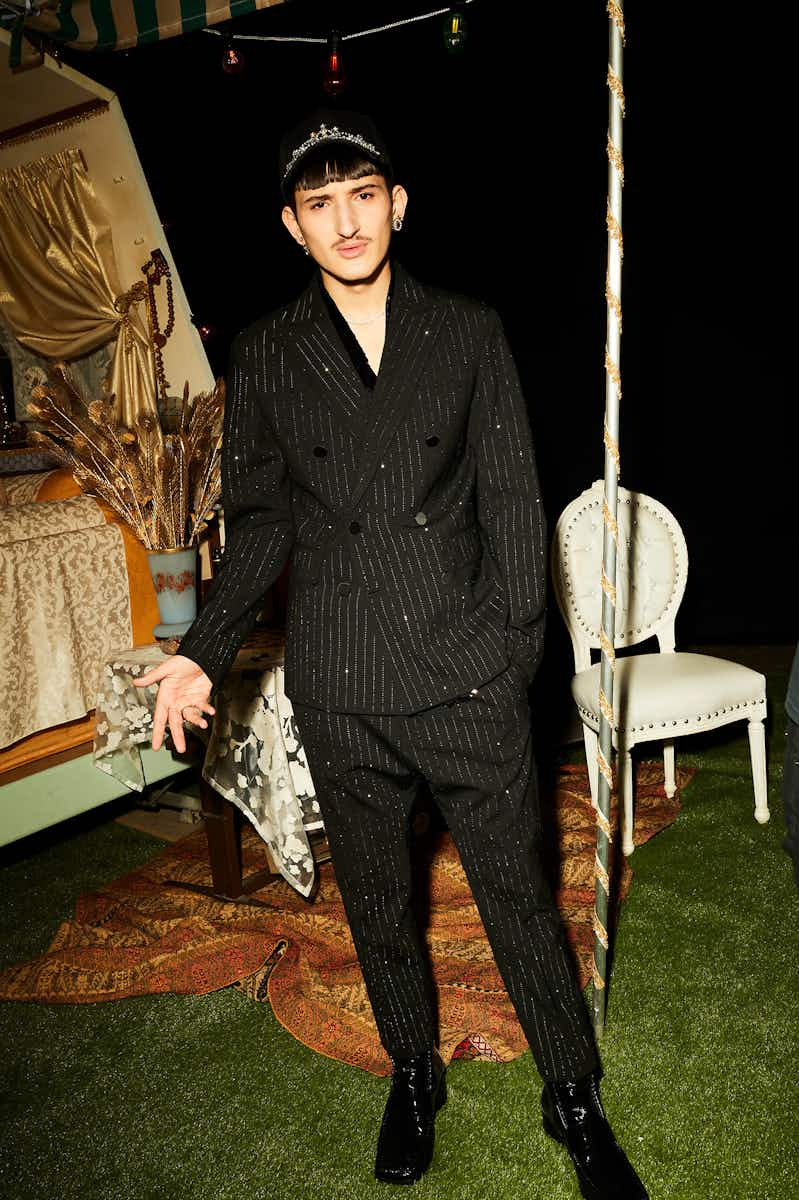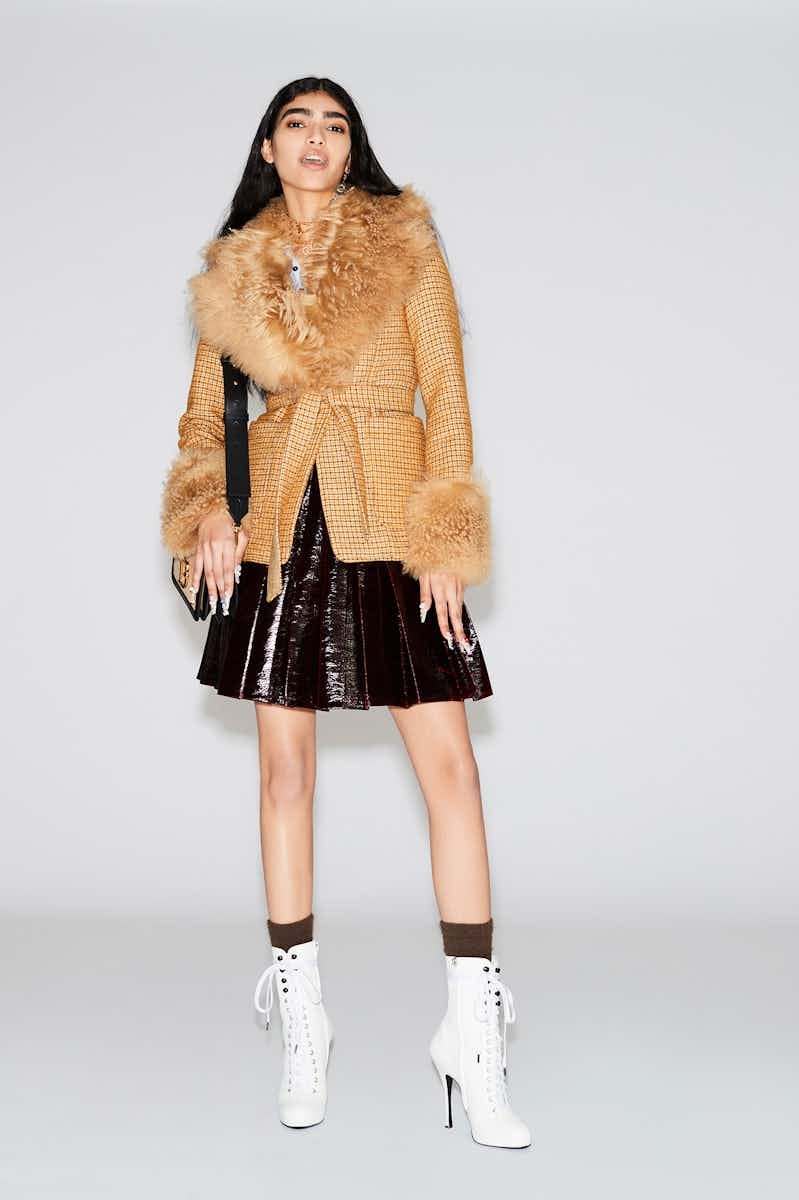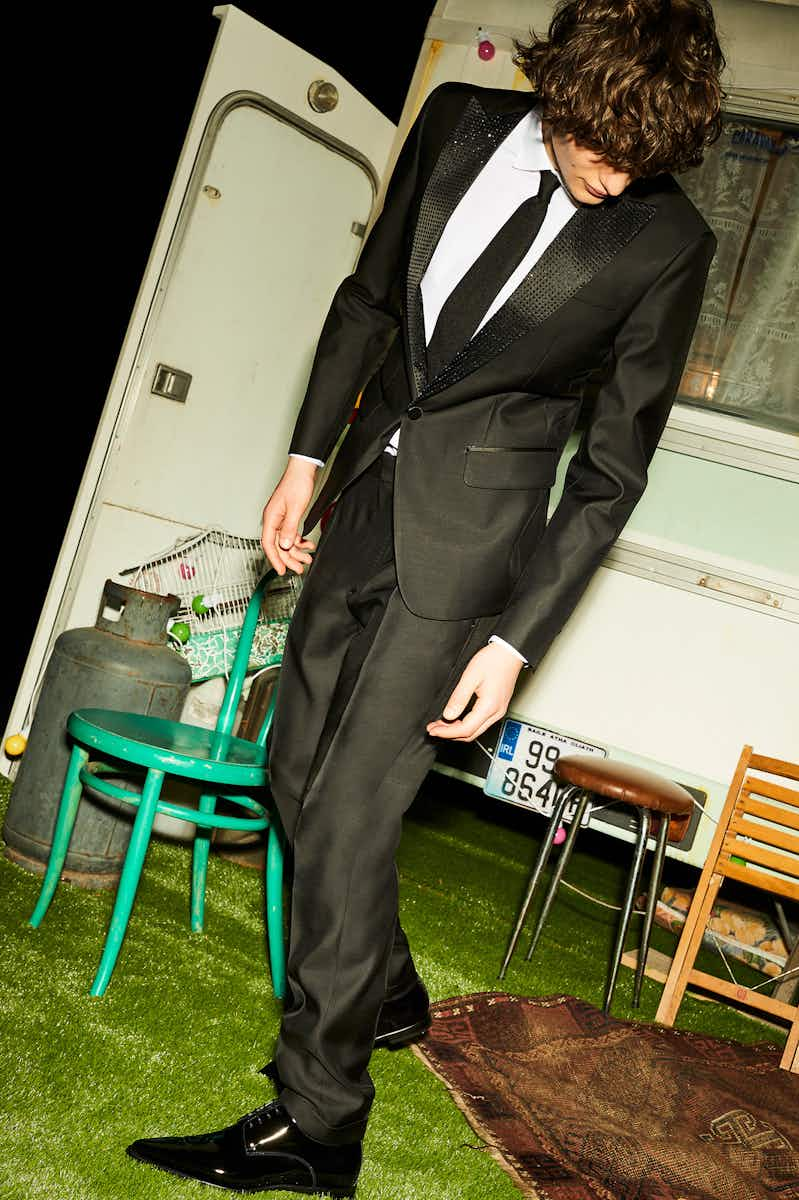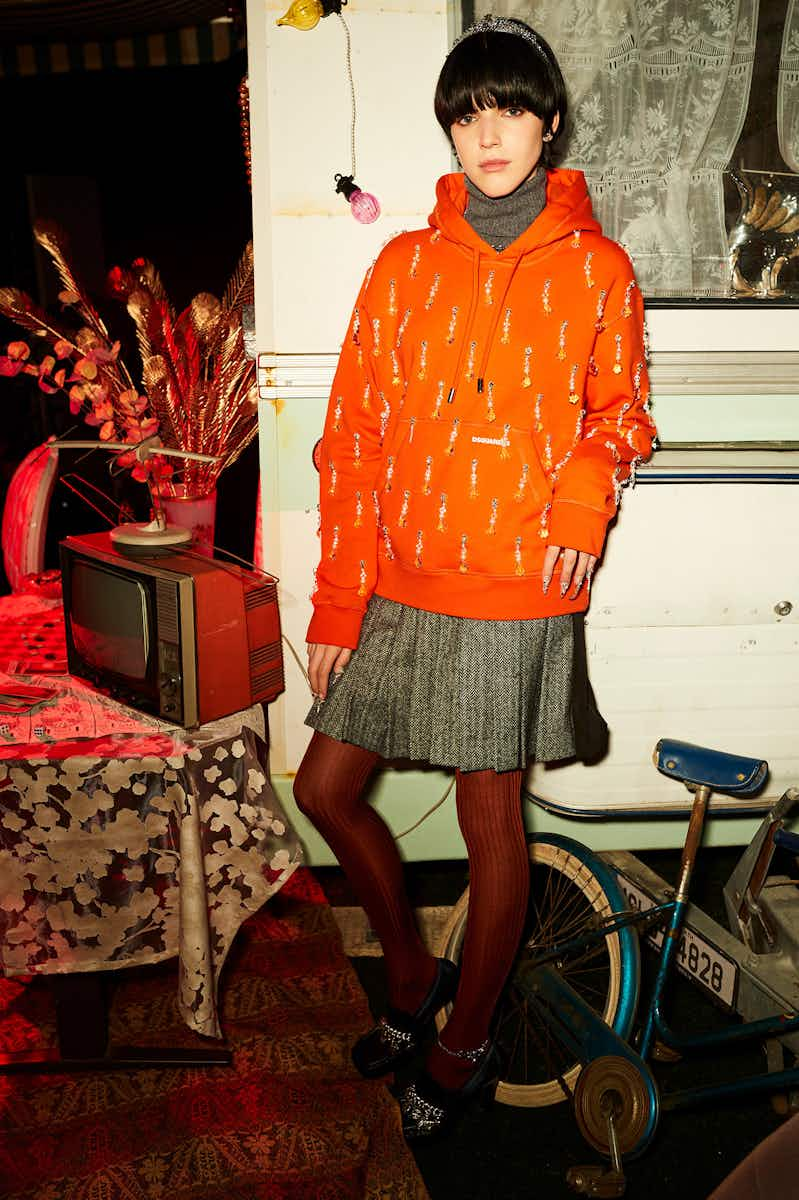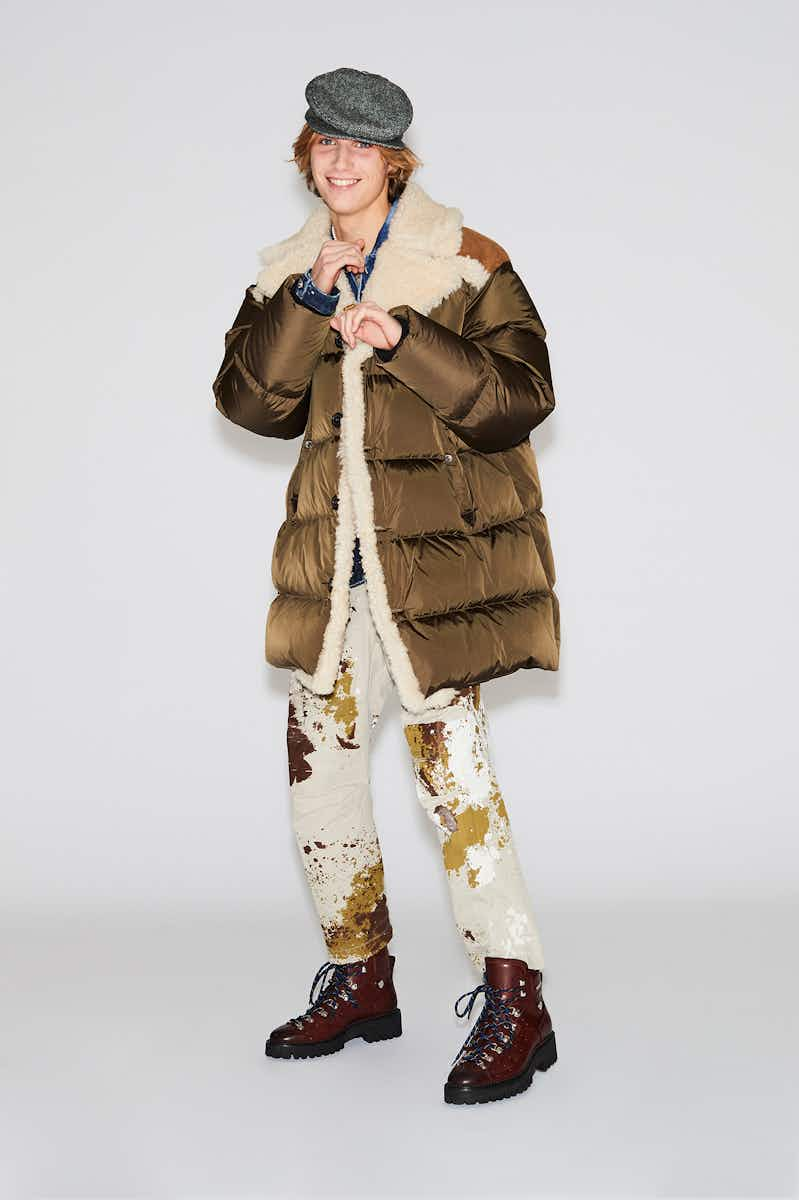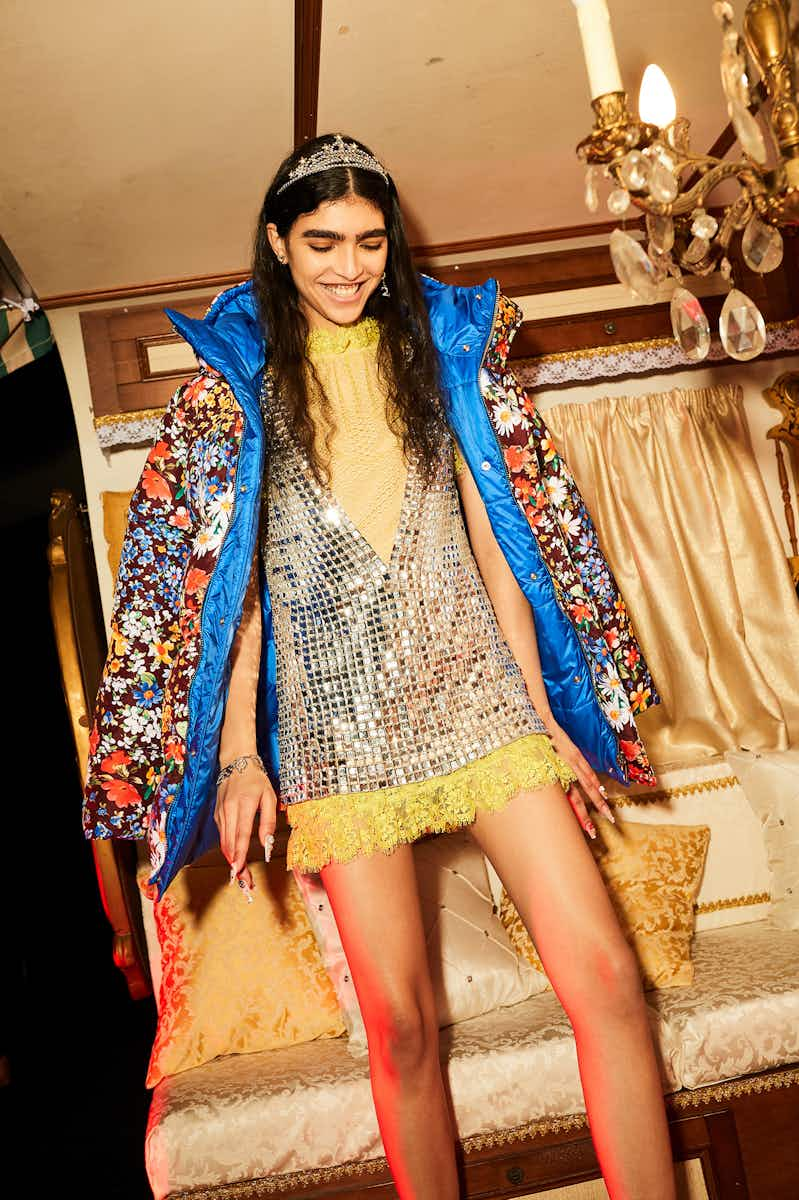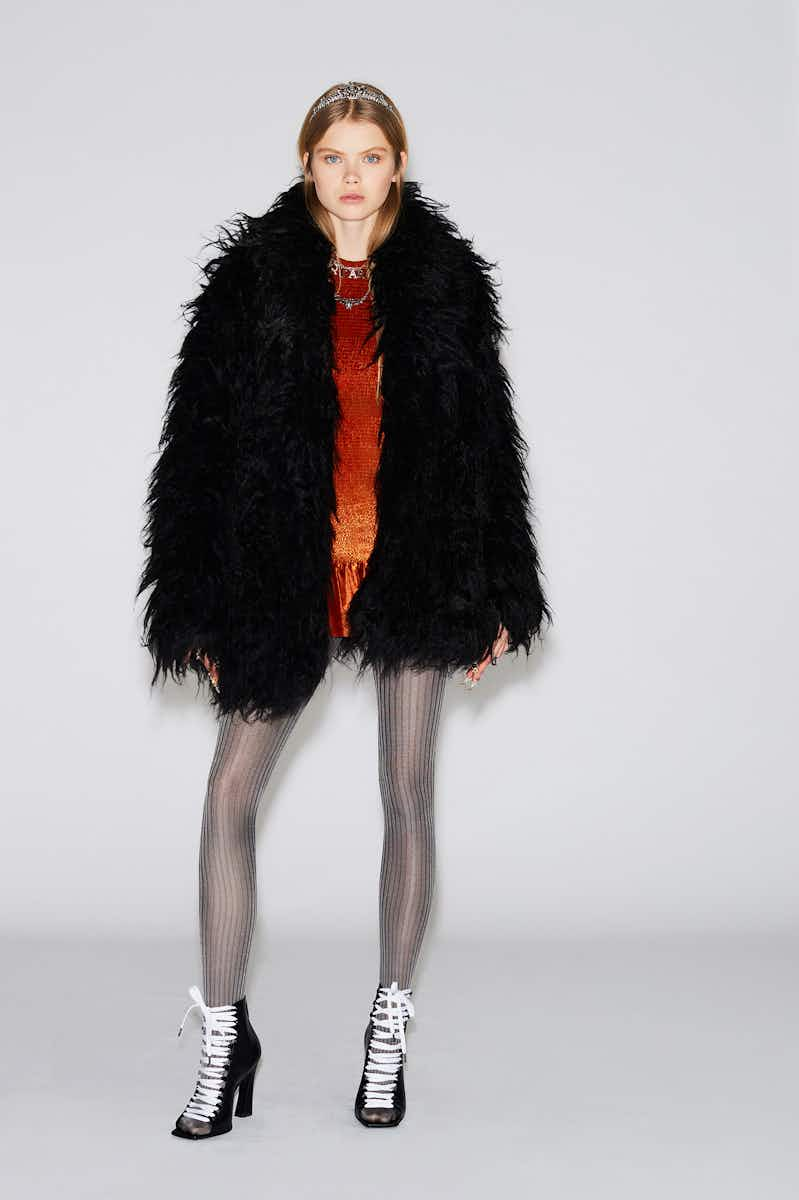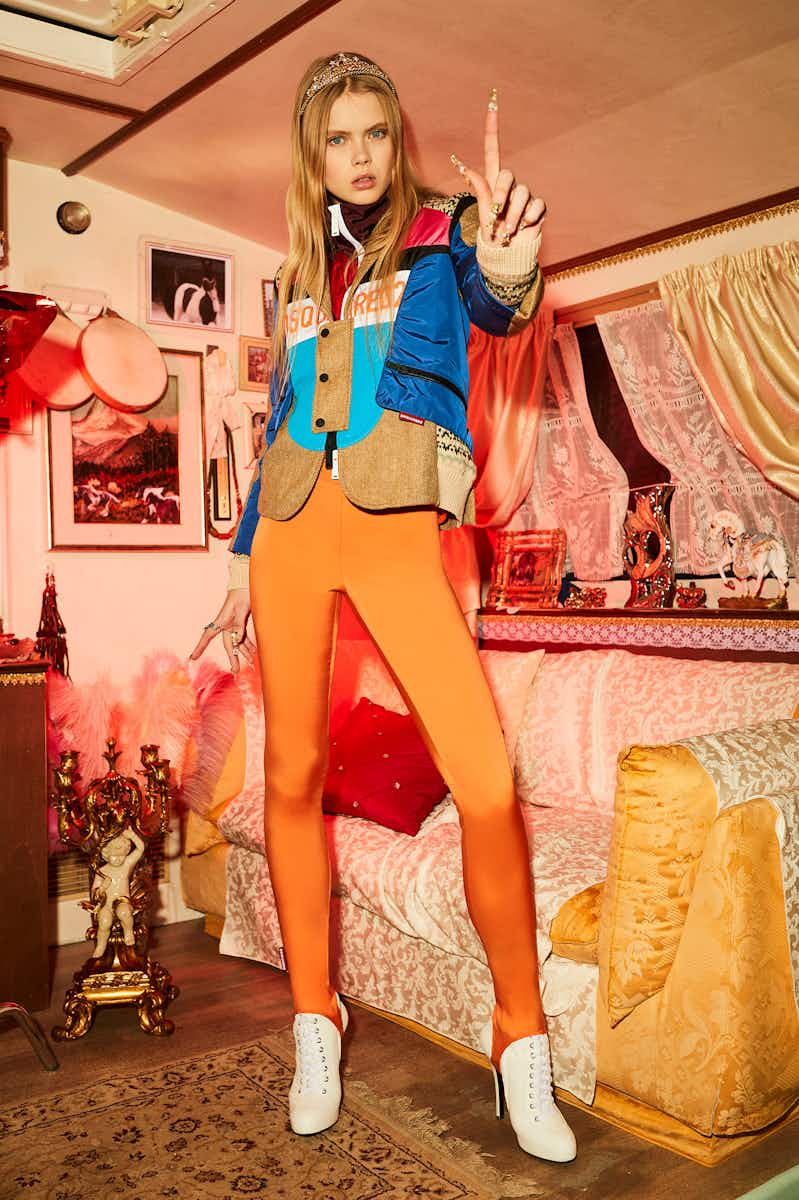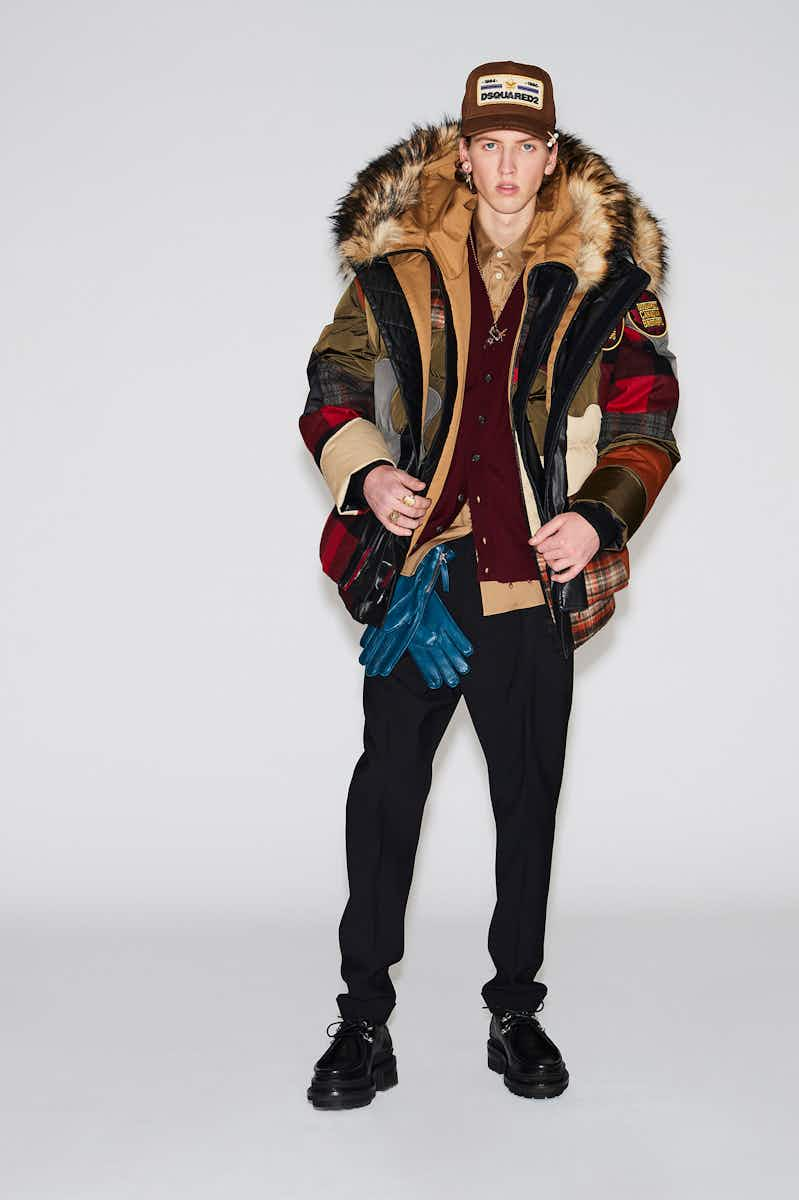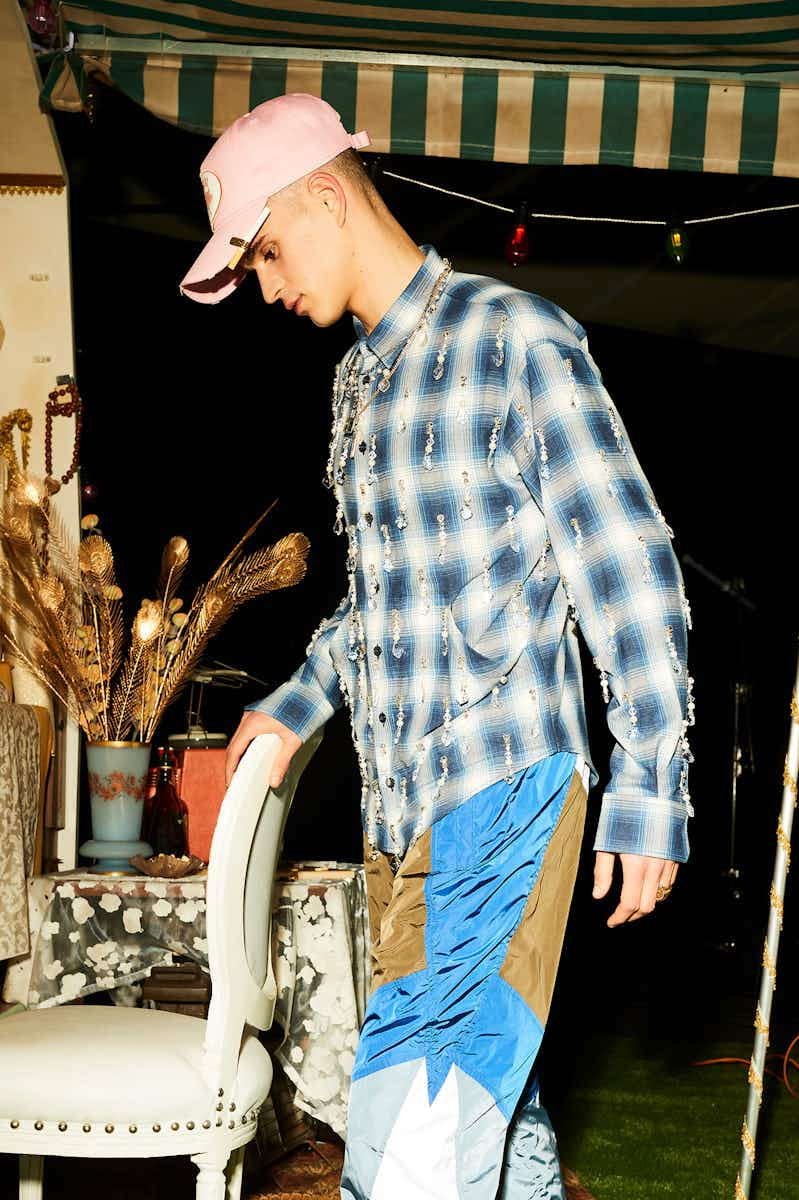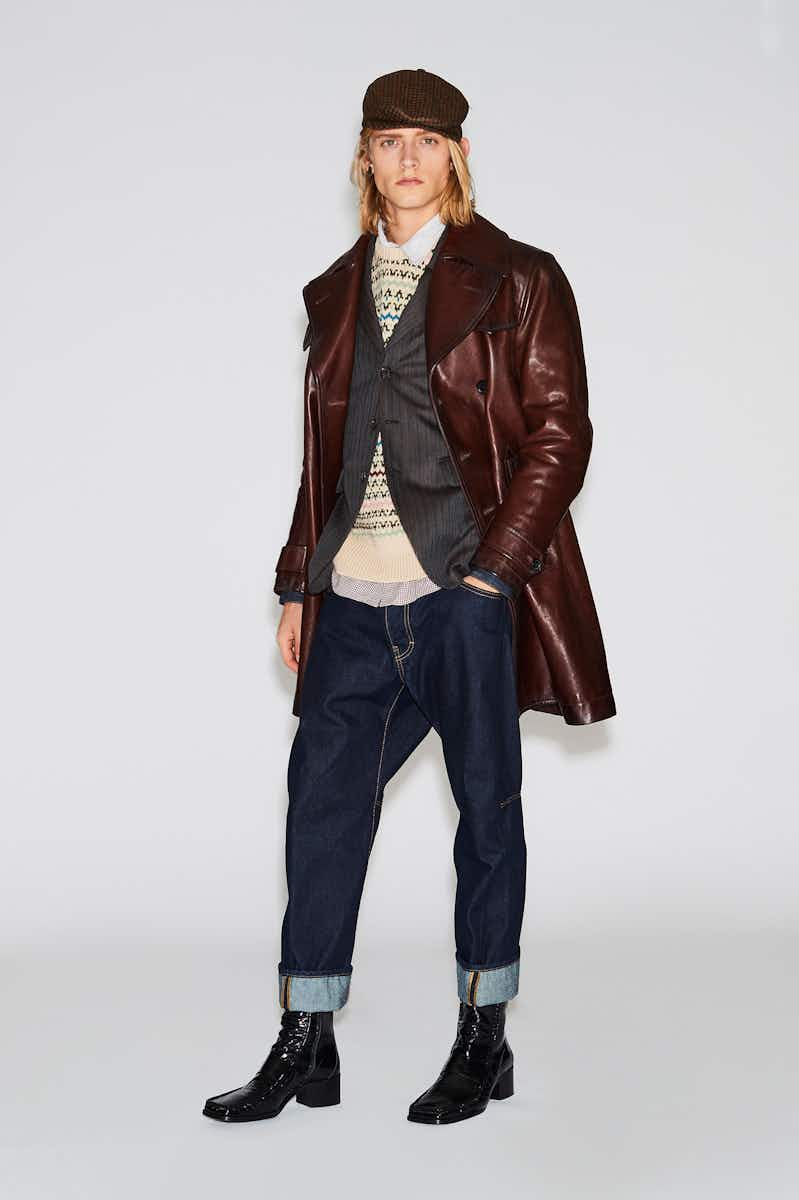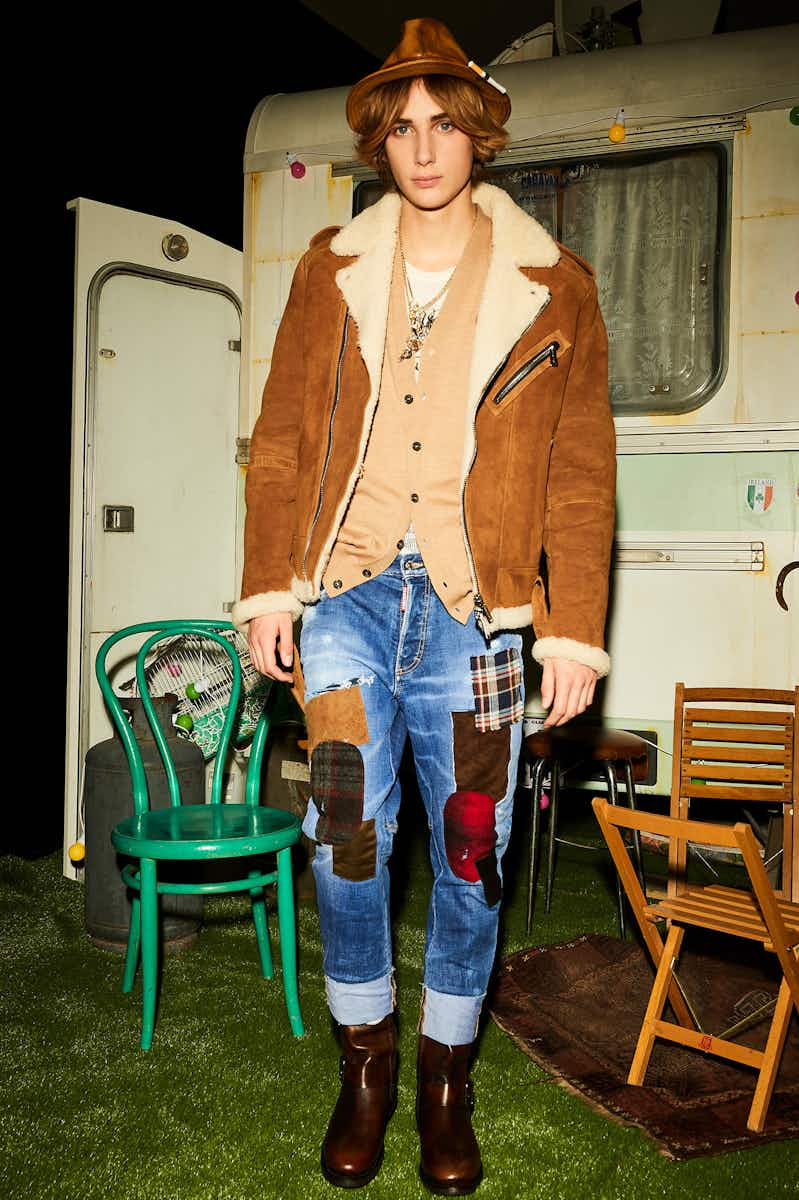 And so a cosmopolitan utopia is born, where the party is merely a conduit to lose yourself a little bit, have fun, dance and slap a smile on your face – irregardless of who's around. The womenswear is characteristically shiny but decidedly relaxed, finding a middle-ground between party-appropriate attire, and the need to slip into something slightly more comfortable. After the past year of ​'lax fits, it seems old habits won't die too quickly. Thick knitted sweaters, worn-in jeans and long check shirts (appliquéd with crystals) build a familiar, casual foundation for the brand's beginnings, subverted with generously collared jackets, a neon orange camo-print dress and a skirt suit in leather or mixed nylon.
A tiara headband and an all-over sequin drawstring bag gave a subtle reference to the school disco, interspersed with mature tailored jackets, tweed checks and wool and cashmere shirts. In another nostalgic nod, Patrick Cox restyled the celebrated Wannabe loafer – first launched in the ​'90s at the height of the shoe brand's popularity – as a heeled loafer with a mini platform, a high and thigh boot, and a lower ankle boot with a chunky heel.

Dsquared2's men were dressed for the outdoors, presented in warming, oversized coats with a built-in check shirt, paired with dancefloor-ready wide-legged pants and smarter patch pocket chinos. In a sportier flex, zippered, colour-blocked jersey tops were worn under a puffer jacket, or a biker merged with a blazer. And tuxes follow suit (ahem) complete with the brand's signature knack for denim details, while a cowboy shirt's sequin embellishments suitably light up the nightfall once the sun's gone down.
Shine on.

More like this