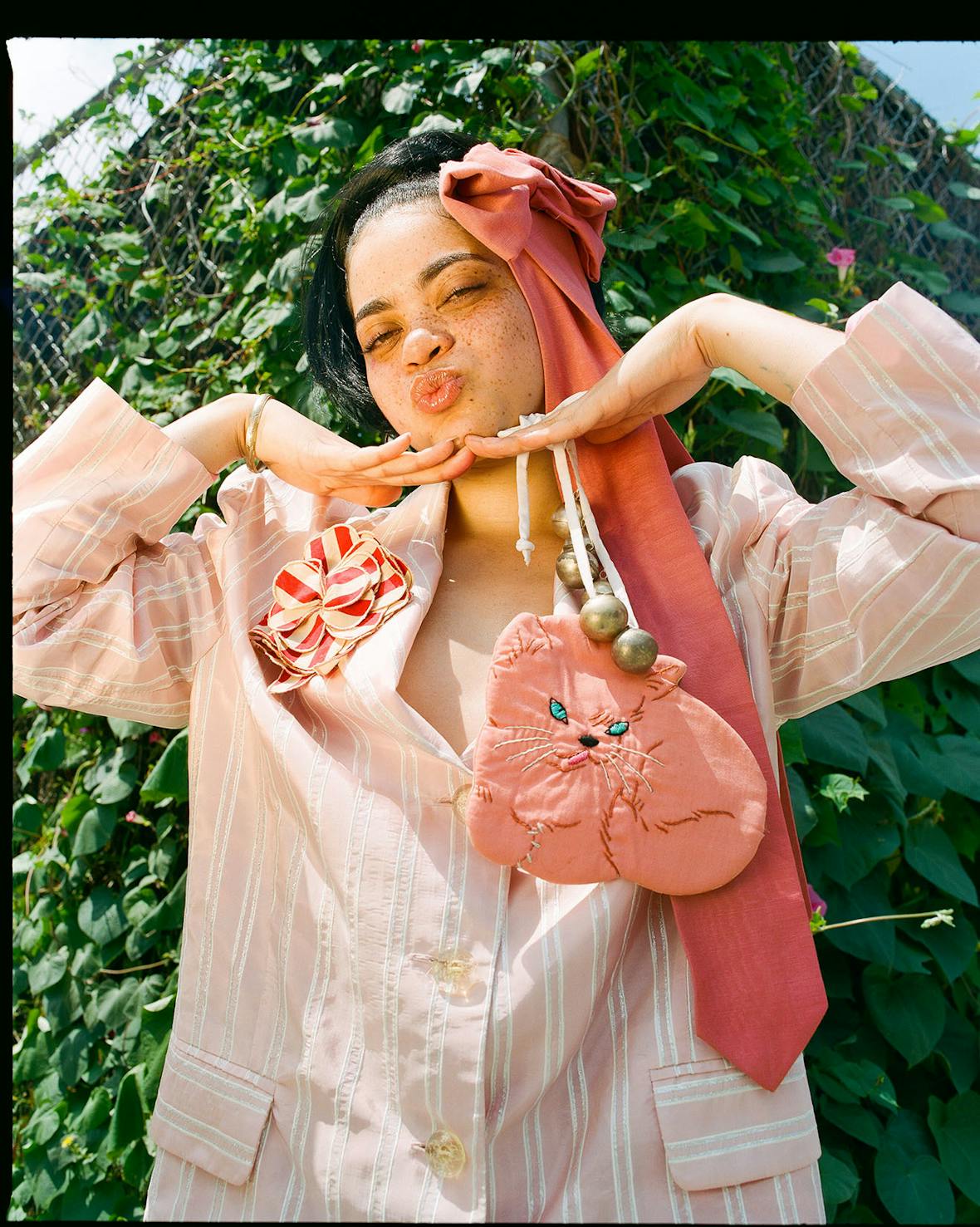 Let Lou be your fantasy
It was while study­ing at Rhode Island School of Design that Raf­fael­la Han­ley realised that her inter­ests had changed. At some point she had begun to feel unin­spired by for­mal art school edu­ca­tion; she found her­self in search of a clean slate. It was 2013 and like many an artis­tic New York­er before her, she turned to fashion.
That leap of faith paid off. Now five col­lec­tions deep, Han­ley is a final­ist for this year's Vogue/​CFDA Fash­ion Fund. Those who made the short­list were dubbed by Anna Win­tour as ​"a true reflec­tion of Amer­i­can fash­ion – and the world today – speak­ing to cre­ativ­i­ty, com­mu­ni­ty, and sustainability."
She has earned her place among the emerg­ing greats by cre­at­ing a label with metic­u­lous hand-crafts­man­ship, and an unmis­tak­able sense of place, at its core.
"Com­ing from a city like New York you're always try­ing to find a lit­tle escape in some­thing because it's so over­whelm­ing at times," says Han­ley.​"The city is almost like a movie set. It's so roman­tic in its archi­tec­ture and the sky­line is so icon­ic. It also plays into the idea that you're actu­al­ly in the film. It's such a cin­e­mat­ic city."
Her designs are influ­enced by film, too. Specif­i­cal­ly David Lynch, and the way in which his work simul­ta­ne­ous­ly strad­dles dreams and real­i­ty. In the pieces in her recent (and first) Resort col­lec­tion whim­si­cal frills were paired with Pep­to-Bis­mol pink, hair was preened to ​'50s Hol­ly­wood house­wife stan­dard and lay­ered knits were worn with dec­o­rat­ed tights (a Lou Dal­las sig­na­ture). All of which made for mod­els who looked like they'd walked straight out of a bed­time fairytale.
Mean­while, her com­mit­ment to sus­tain­abil­i­ty is worth not­ing. Uphol­stery fab­rics sourced from NYC's Gar­ment Dis­trict fea­tured in Resort 2020, while pre­vi­ous col­lec­tions have seen Han­ley re-use her mum's left-over fab­rics from the cos­tumes she makes. Hanley's designs are made for lay­er­ing – slashed tops may not be the most ​"wear­able", but pop a vest under­neath and bam, you have your­self a Lou Dal­las look. Ver­sa­tile, sur­re­al and quite sexy.
She's one of the most excit­ing tal­ents in New York at the moment so give your­self a sec­ond to take in Lou Dal­las' world – you might just find your­self day­dream­ing for longer than you intended…





So, Raffaella…where did the name Lou Dal­las come from?
I came up with the name before the brand even exist­ed! It was real­ly fun for me because I love names, so to cre­ate one seemed excit­ing. The movie The Fifth Ele­ment has always been an inspi­ra­tion and so I looked at the char­ac­ter Bruce Willis played – Corbin Dal­las. At first, I thought I could name the brand that, but then I thought it should be more orig­i­nal, so I added Lou – I thought it was good and androgynous-sounding.
How do you ensure each col­lec­tion is as fresh as the last?
I real­ly do try to cre­ate a nar­ra­tive to stick to. Orig­i­nal­ly I start­ed Lou Dal­las because I was feel­ing very frus­trat­ed look­ing at a lot of designer's col­lec­tions. They'd say​'oh my ref­er­ences are X Y and Z' and then I'm look­ing at the col­lec­tion won­der­ing where those ref­er­ences are. I real­ly want­ed the clothes to have a story.
What's one film you've been inspired by?
David Lynch's Wild at Heart has always been a ref­er­ence point. I love how he mix­es in the sur­re­al, the dream… and then there's the real­i­ty. He does that very well.
What's the best thing about being a design­er in New York?
It's a real­ly great city and I like how many peo­ple I see on a dai­ly basis whether I'm on the sub­way or walk­ing – there's so much inspi­ra­tion from all the peo­ple I see every day on the street. I also love that it's a walk­a­ble city.
Your col­lec­tions have been shown in the Ukrain­ian Nation­al Home, a light­ing store and your mum's friend's apartment…
I usu­al­ly try to find the loca­tion I can get for the cheap­est or free. Show­ing in New York is so expen­sive, that's the downfall.
What's the sup­port like for young design­ers in New York?
It's very con­fus­ing, espe­cial­ly hav­ing not gone to fash­ion school. The biggest hur­dle I've had to over­come has been the pro­duc­tion – it was so over­whelm­ing. Now I got into the CFDA Vogue Fund, I'm very curi­ous to see what that will do. I feel like that's the only thing here to apply to that might help up-and-com­ing brands. Thank god for that!
Describe your dream customer.
It's the kind of girl who thinks her life is a movie. She's quite bohemi­an, dishev­elled, maybe a lit­tle crum­pled. But I hope to infil­trate Hol­ly­wood. I think my whole idea, Lou Dal­las, is a very potent look, so I think the major­i­ty of my con­sumers can buy a hand­ful or small amount of it to wear on top of dress­es or jack­ets to add a lit­tle flair, but they don't have to be head-to-toe Lou Dallas.
If you could only wear one out­fit for the rest of your life what would it be?
I love wear­ing tights, low rise pants and prob­a­bly some kind of mesh top. I'd live in that.
Describe Lou Dal­las in three words.
Roman­tic, sus­tain­able and otherworldly.
---