Everything going down at Paris Fashion Week SS20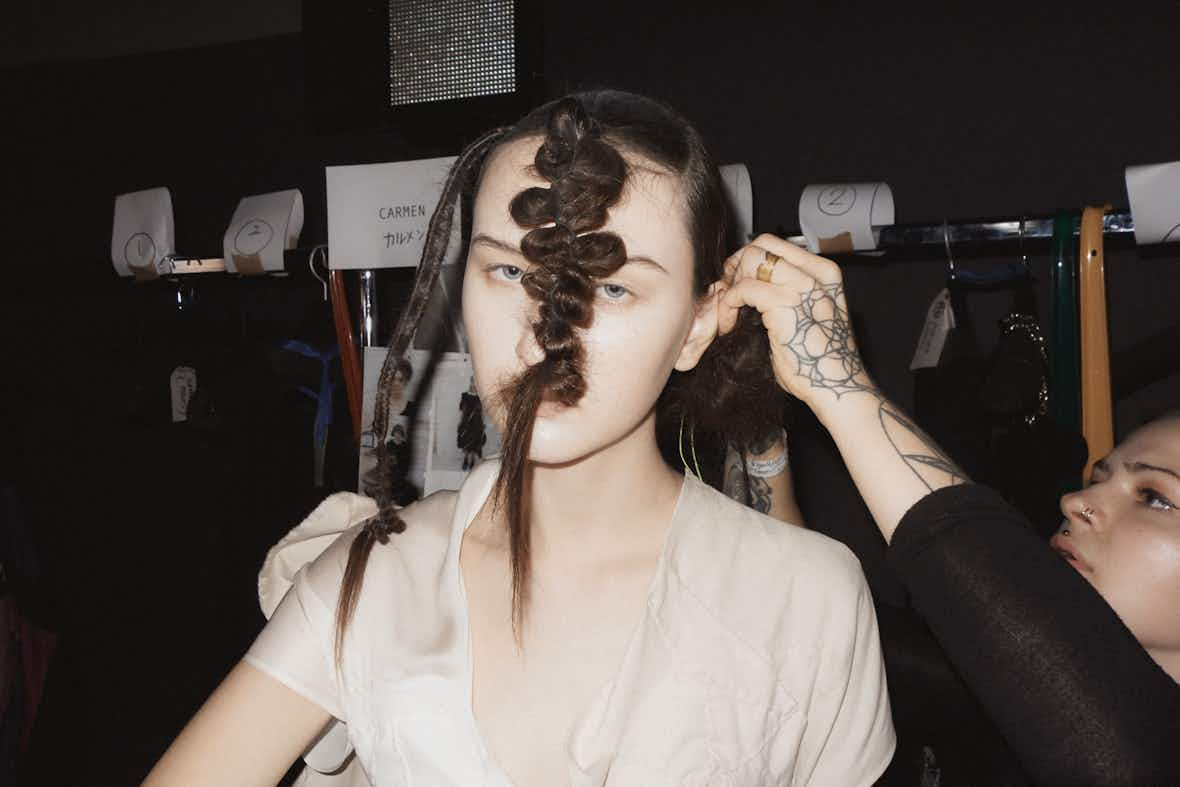 Marine Serre, Ottolinger, Koché, Saint Laurent, Margiela, Y/Project, Off-White, Celine, Vivienne Westwood, Yang Li, Chanel, Lacoste, Miu Miu, Louis Vuitton...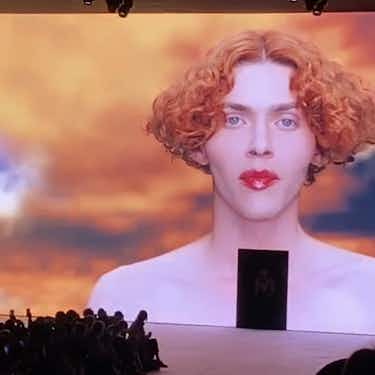 Listen now:

The sound of Louis Vuitton SS20
LACOSTE SS20
Lacoste took its mixed men's and women's show back to its spiritual home: the tennis courts of the French Open at Roland Garros. Julien Benneteau, captain of the French Federation Cup team, and ​'Petit Croco' Tiago Pirès knocked up on the Simonne Mathieu court before the models strode out.

The collection itself showed how sportswear was once more of a collective look and far less super-defined between disciplines than it is today. So the thick, fallen-down socks nodded the rugby and the V‑neck knits felt like cousins to the cricket. Pleats were taken away from tennis mini-skirts and presented as Suzanne Lenglen-length classics instead. Proportions were purposefully playful: Creative Director Louise Trotter wanted some things to look like you'd grown out of them, and others to look like they had plenty of room to grow in.

What did it look like?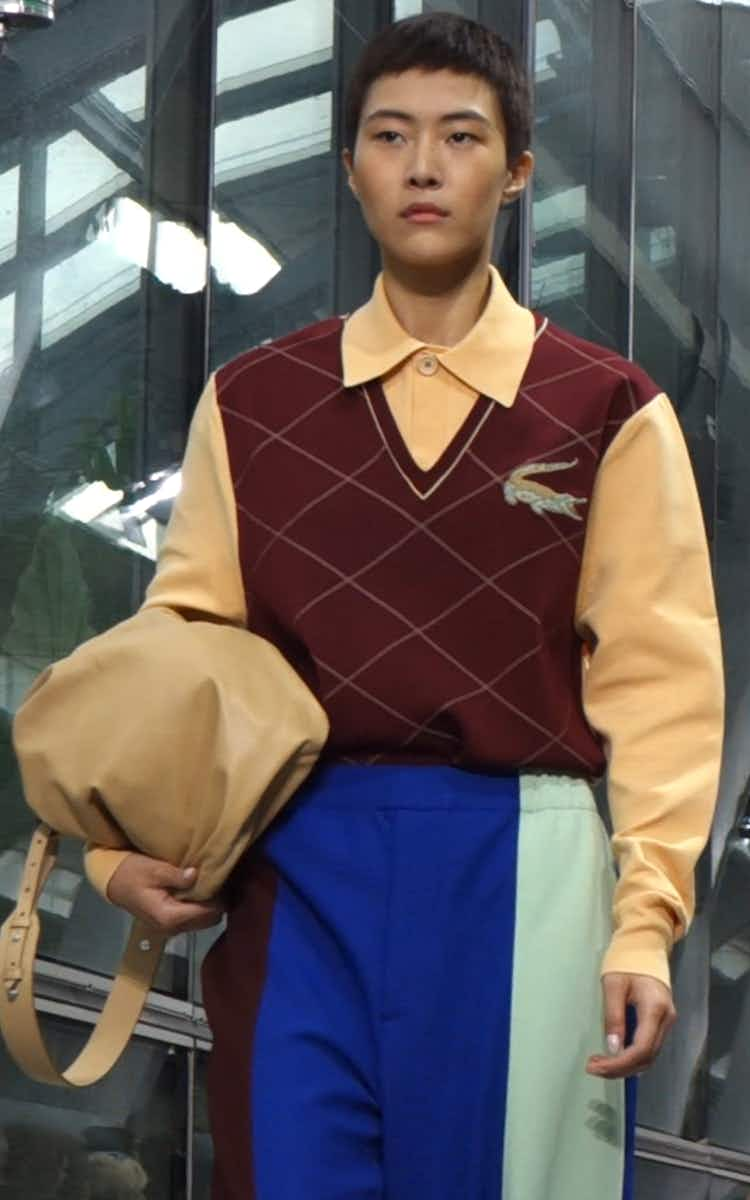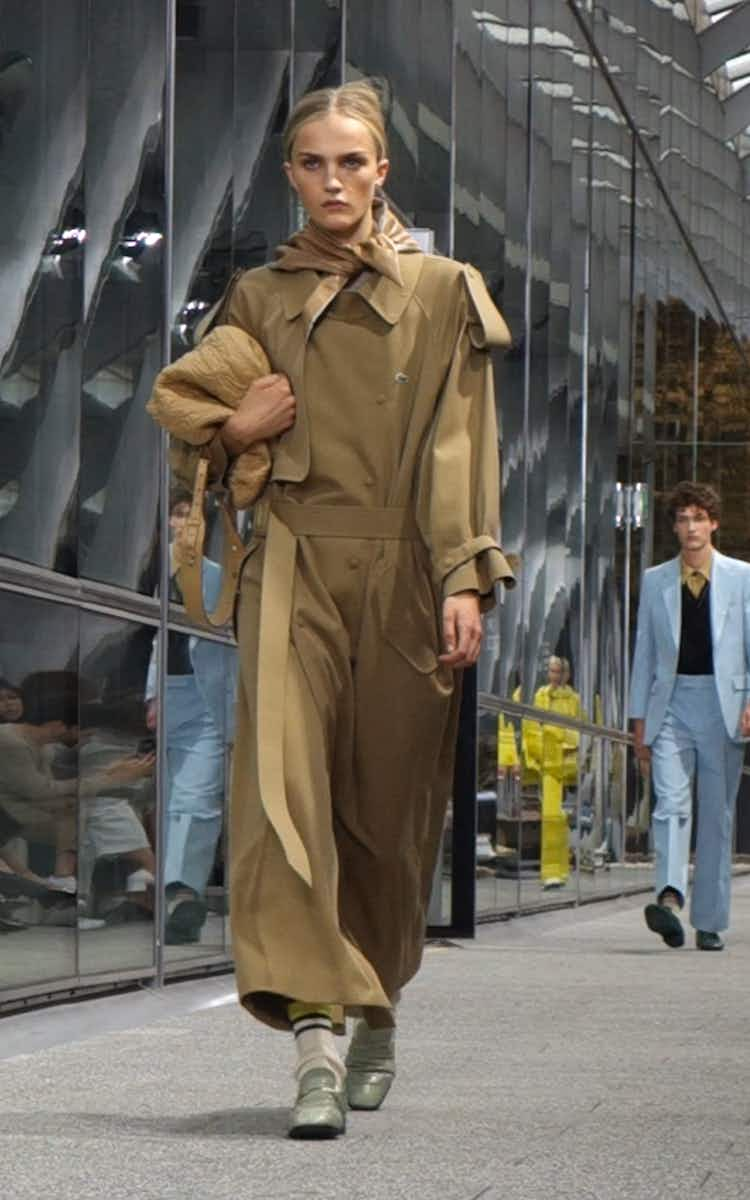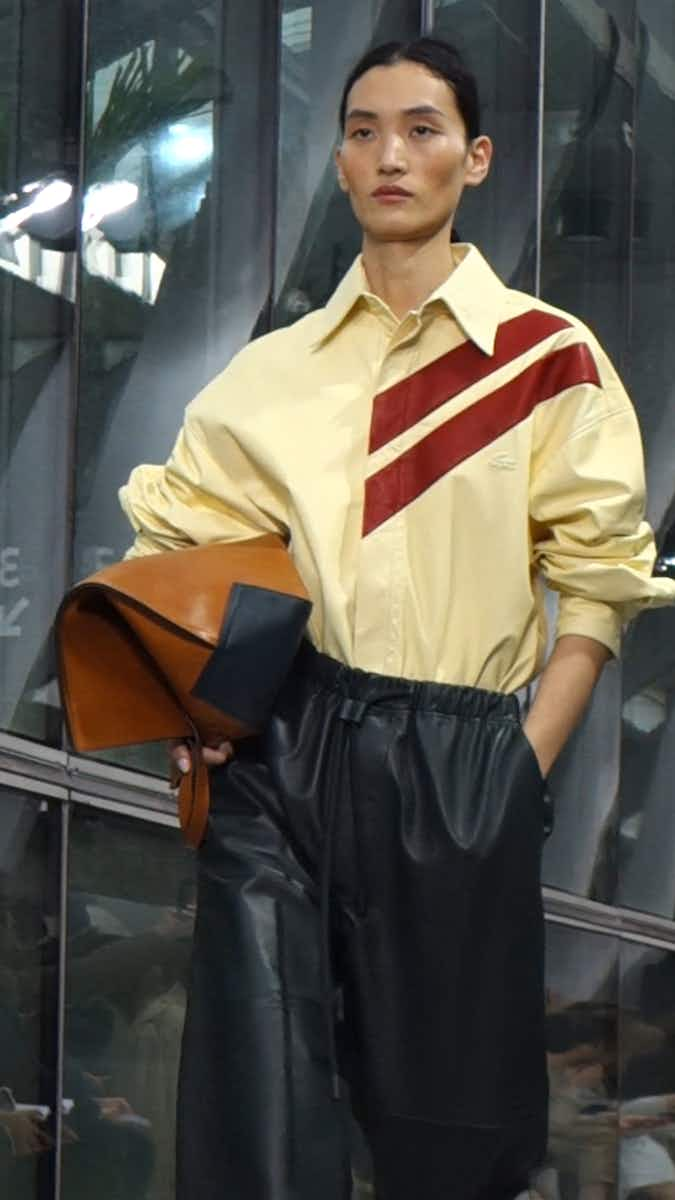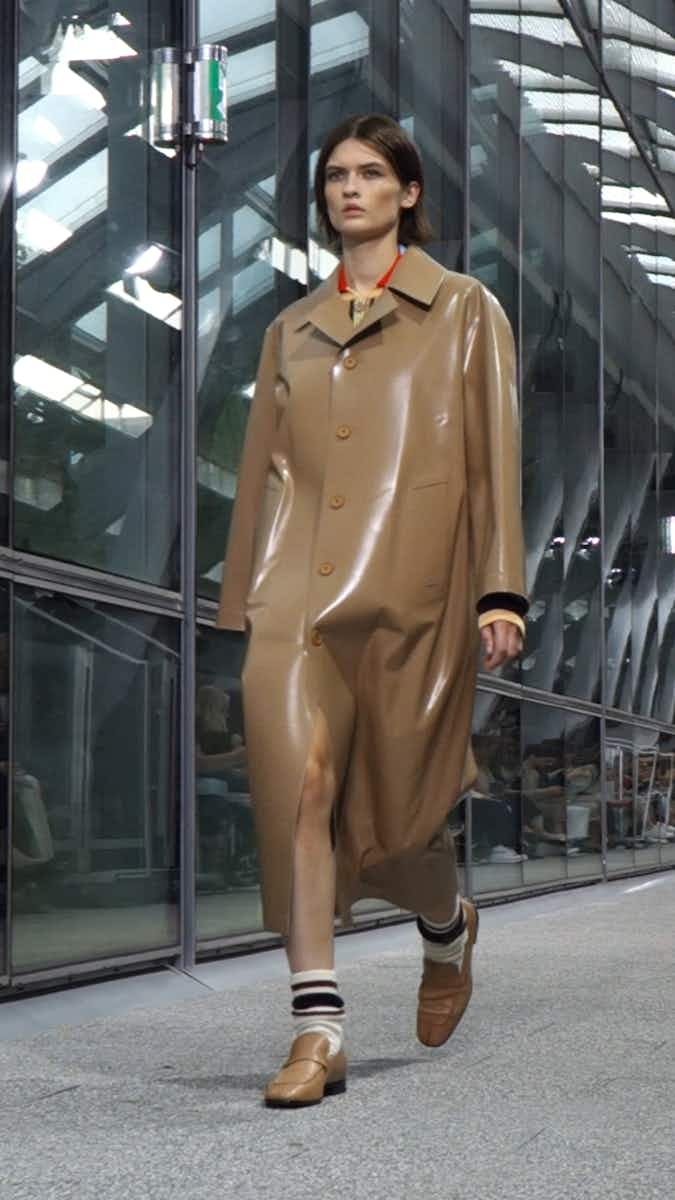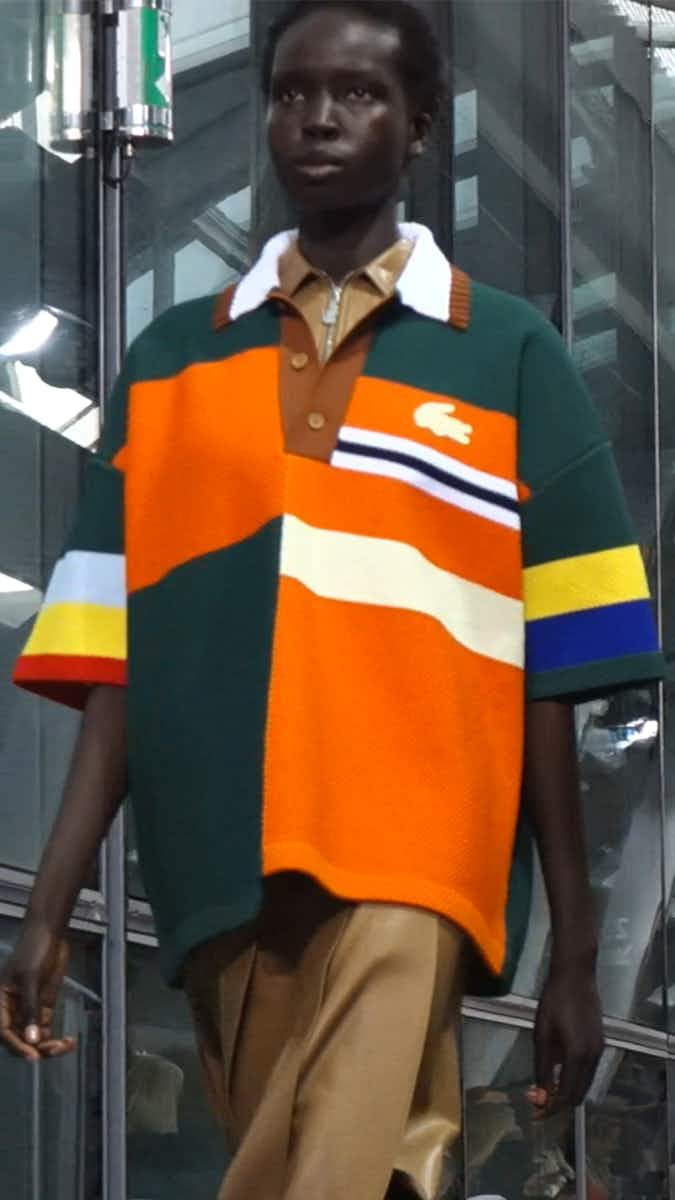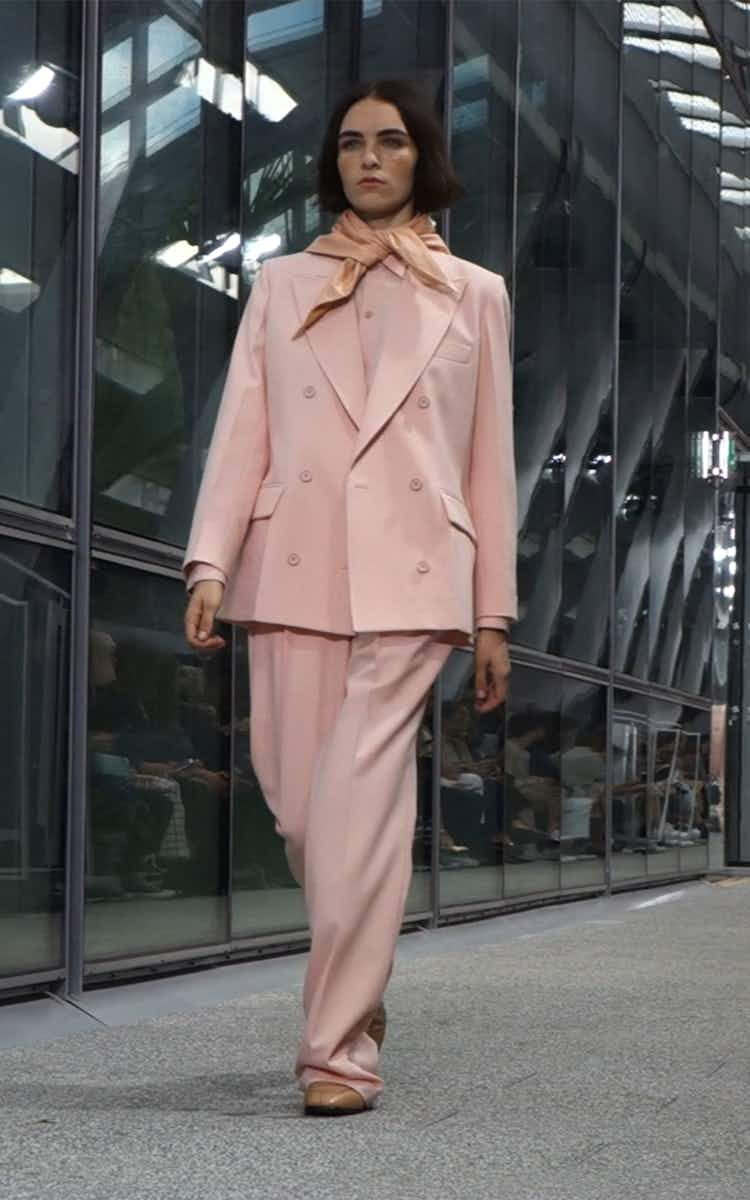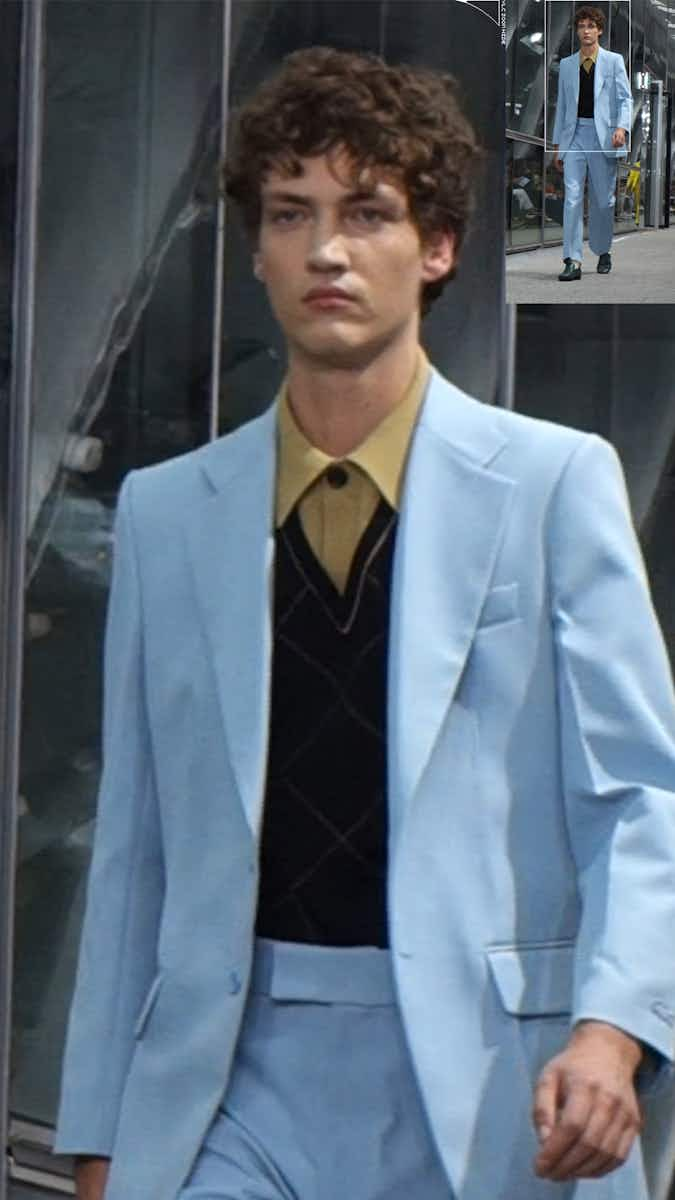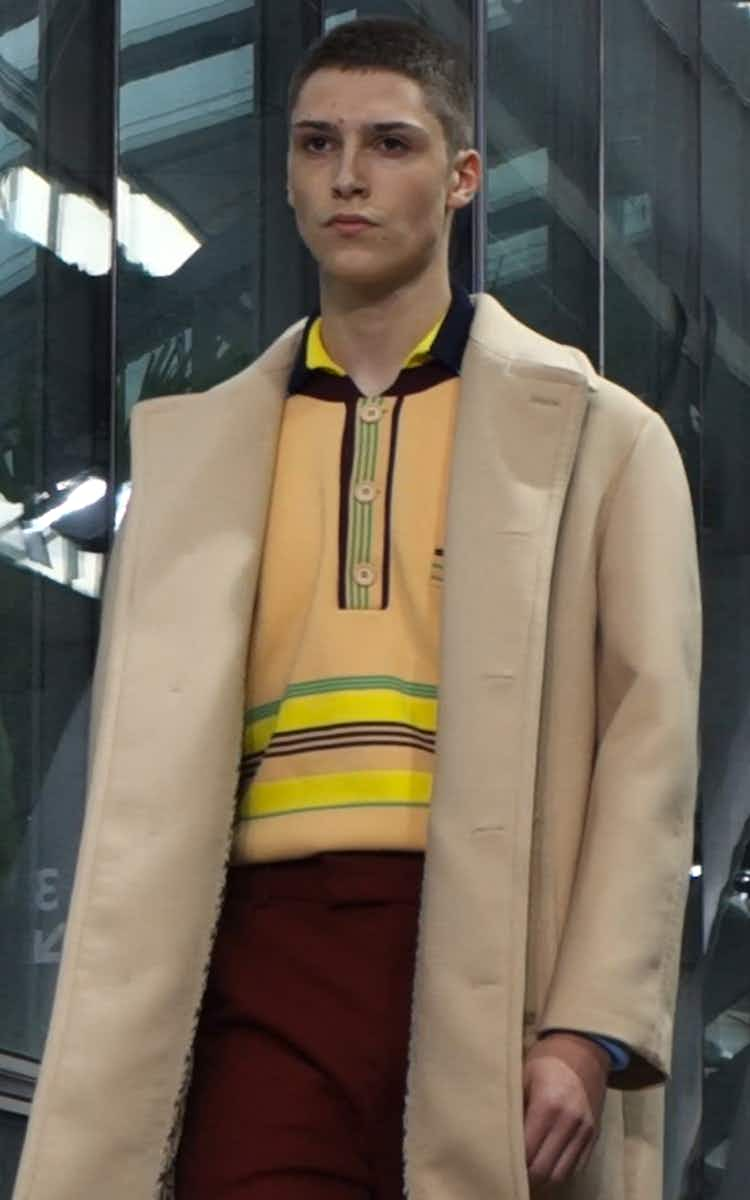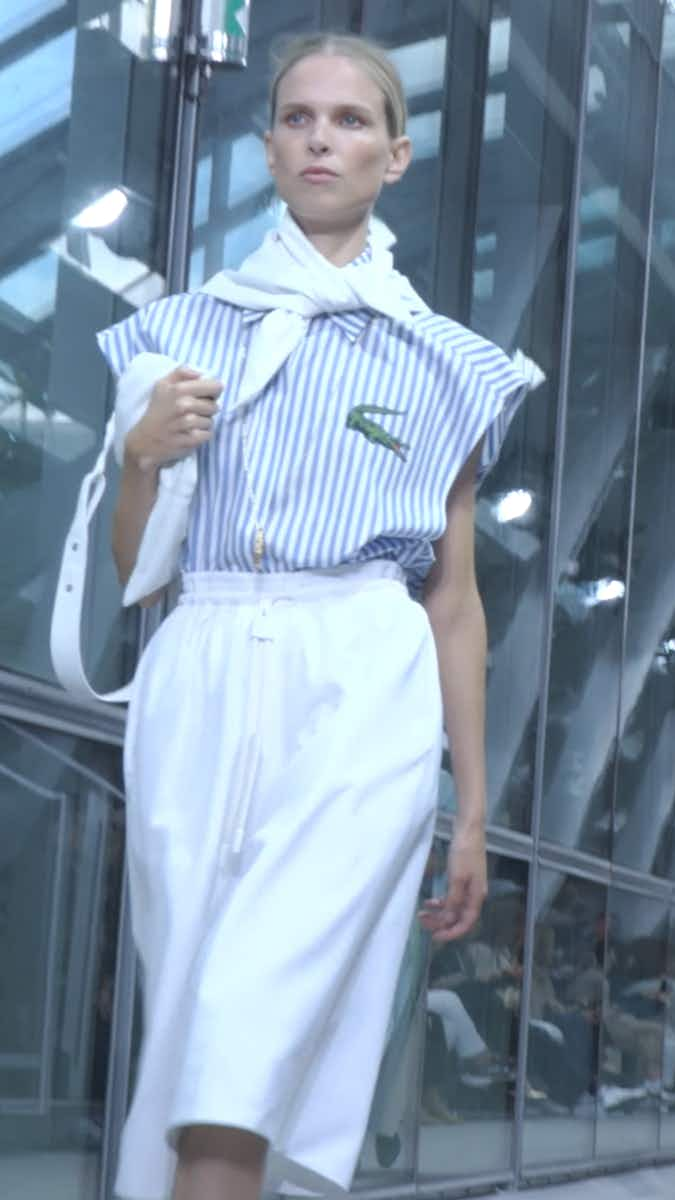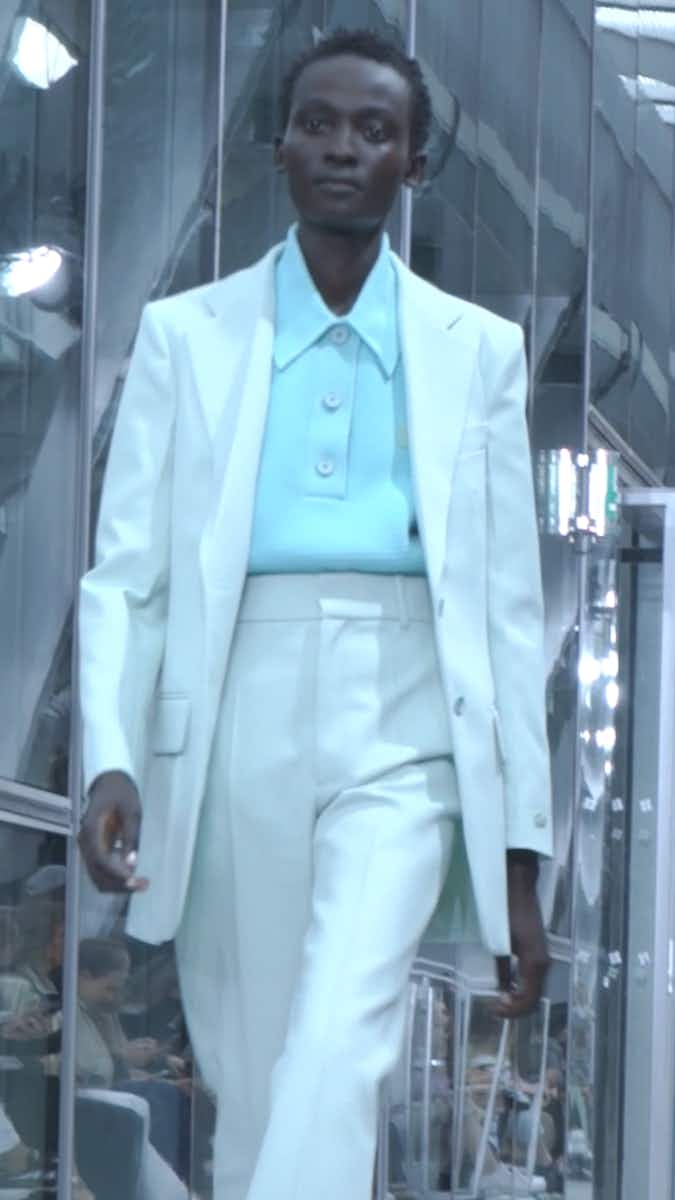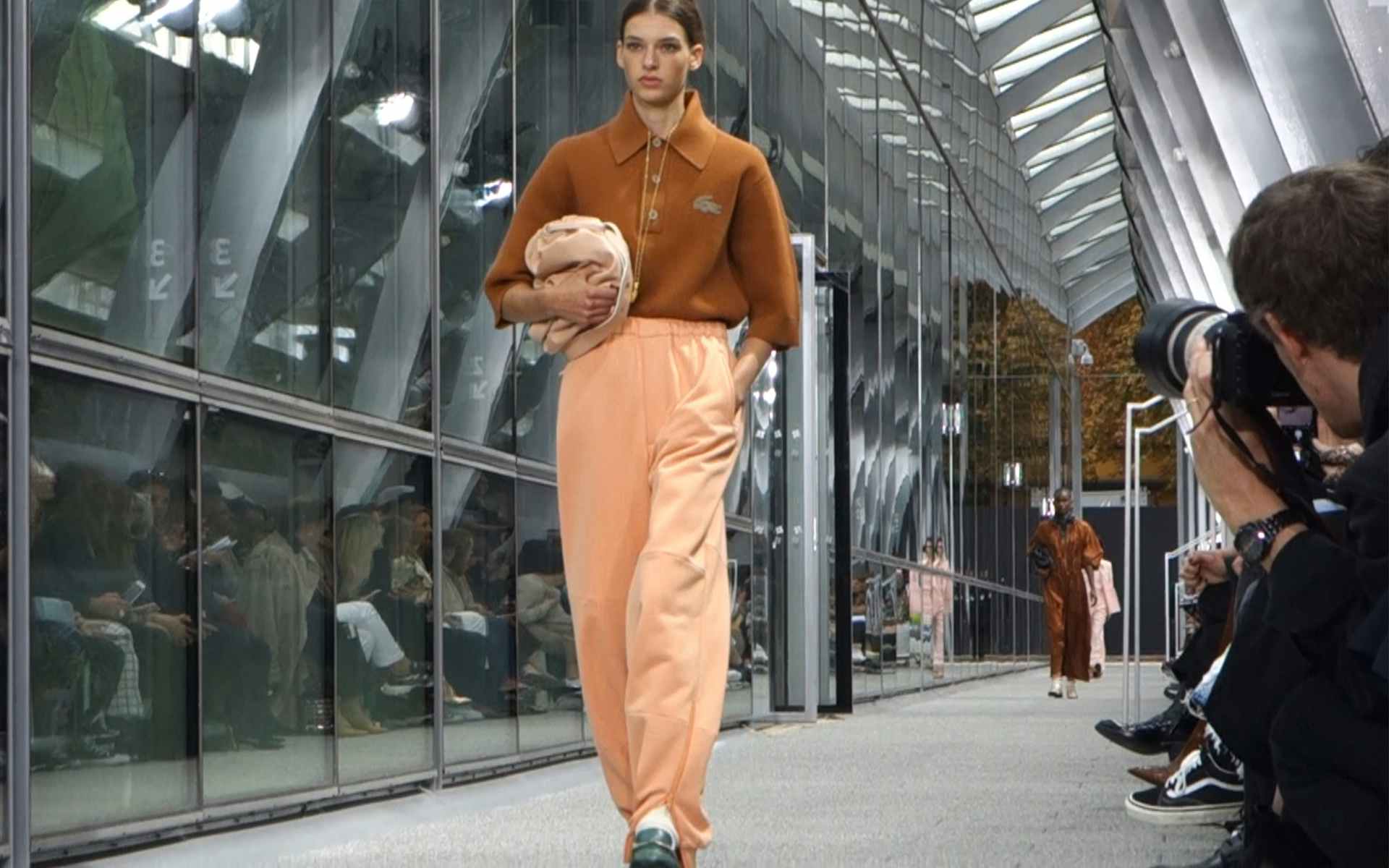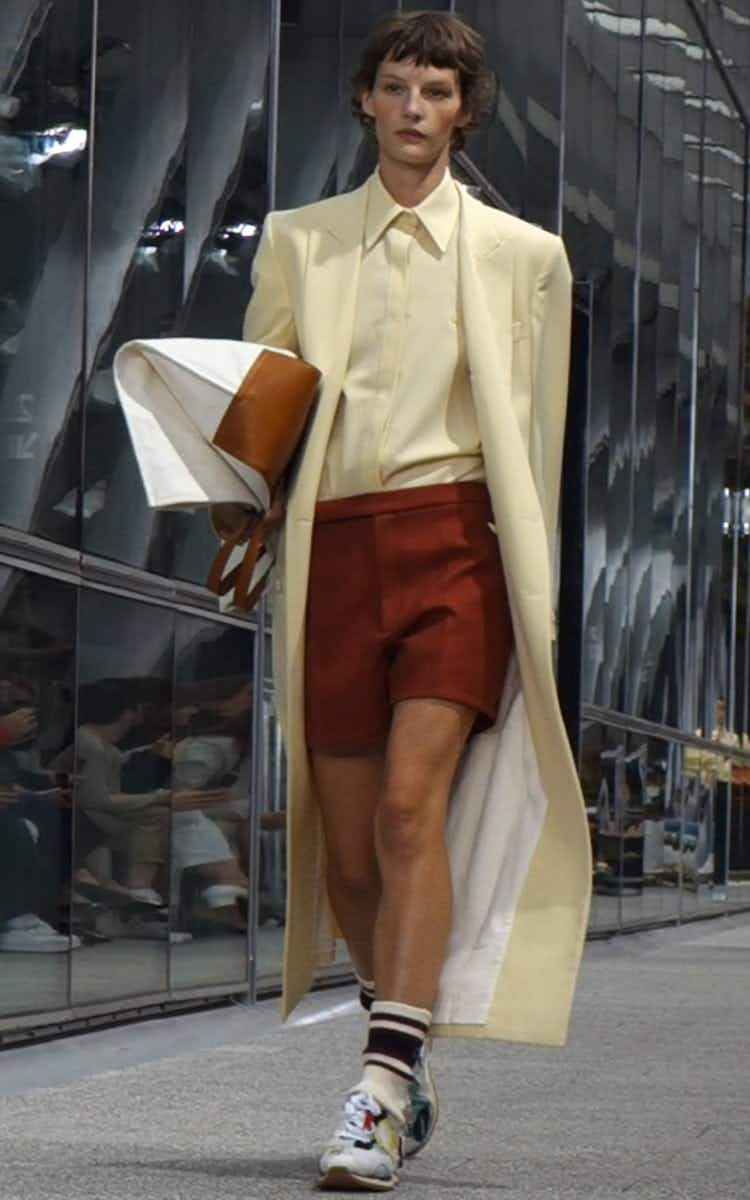 What were the highlights?
The colour combos were killer: maroon mixing with peach and deep electric blues panelled with mint greens. Meanwhile suits came in saturated pastels, but also in base shades of white and beige.
What about le crocodile?
The croc was maximised and minimised across the collection and was most desirable when monogrammed on loafers and slouchy, lounge-ready pyjama trousers.
CHANEL SS20
With its former head of studio Virginie Viard at the helm, today the legendary Parisian house that is Chanel artfully twisted its own classics. Her first ready-to-wear show since the passing of Karl Lagerfeld opened with signature tweed – in a red and white weave on rompersuits, minidresses, shorts and a matching bustier – while the little black dress was complete with a double-breasted top and a sharp collar that evoked the maison's taste for androgynous lines.
Shown on a set that resembled typical Parisian rooftops – an apt choice for a collection that played out as something of a ​"How to dress like a Parisian" handbook – the SS20 show was all going to plan until French comedian and performer Marie Sinfiltre gatecrashed the runway during the finale in an attempt to disrupt the show. Help was at hand, Chanel's resident bouncer. Or wait, is that Gigi Hadid ushering a Nanny McFee impersonator down from the roof?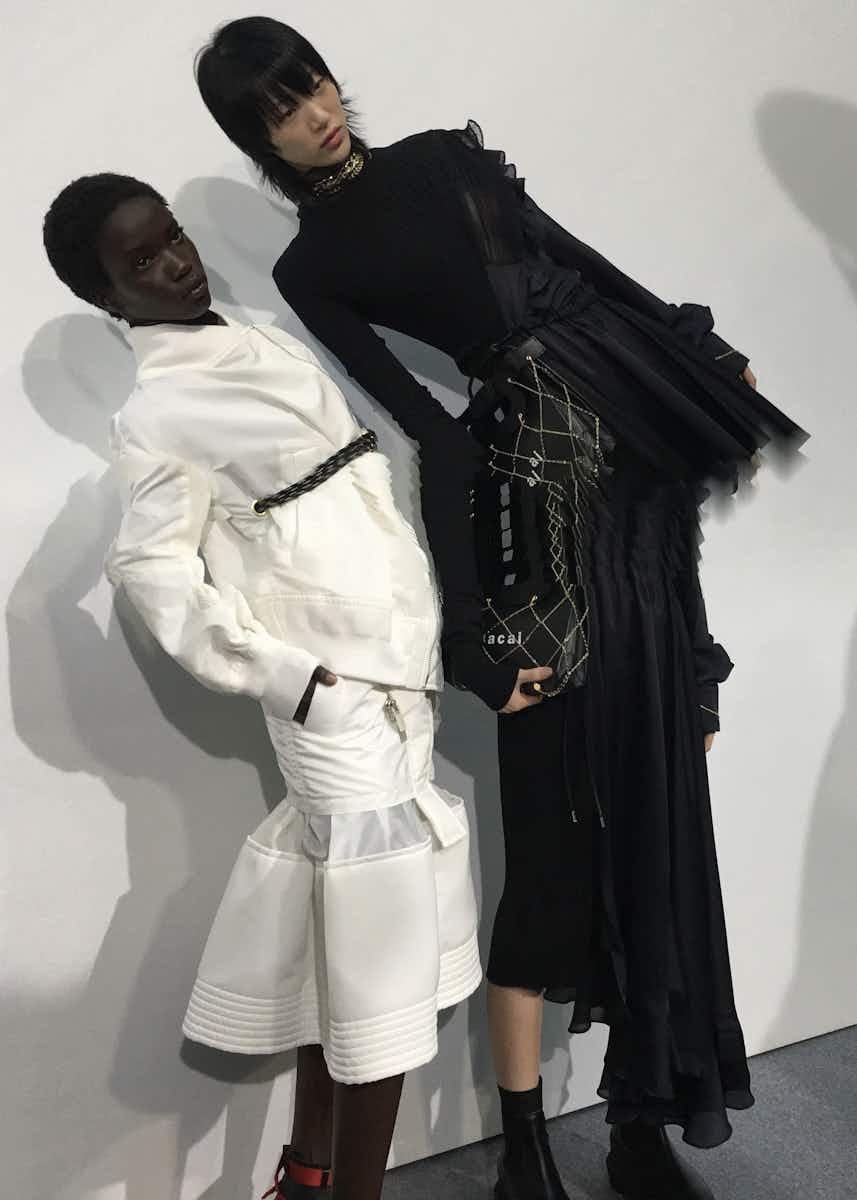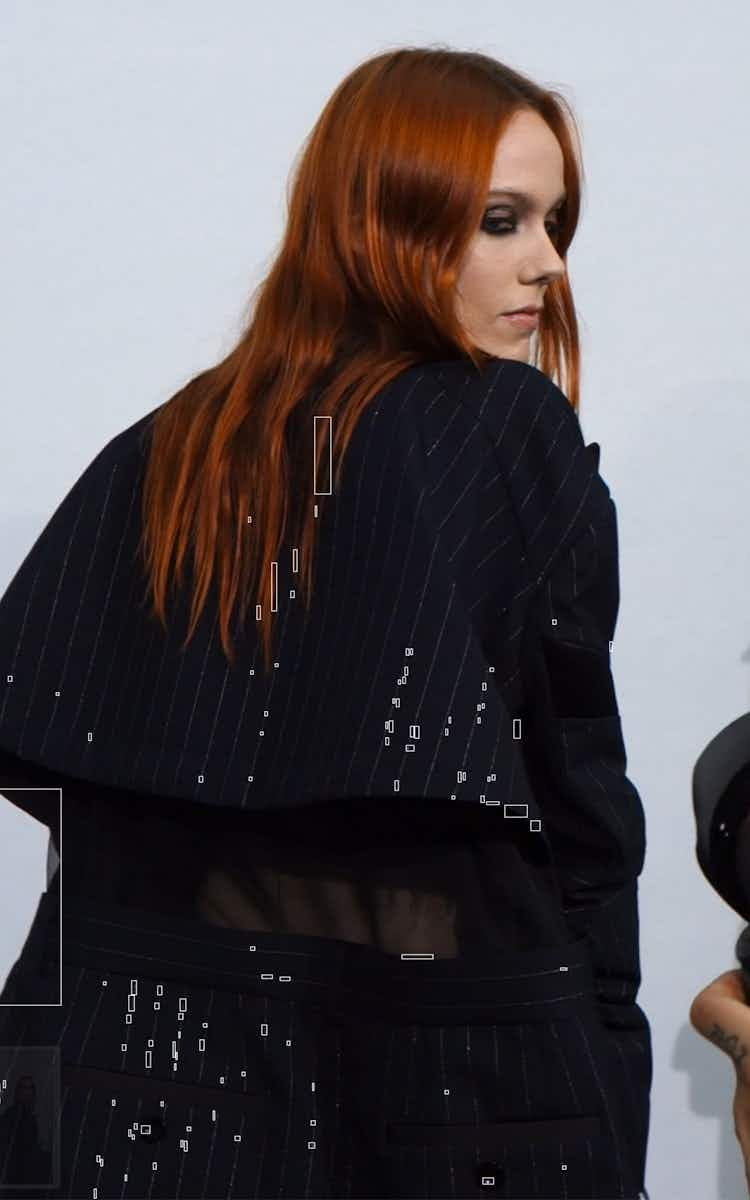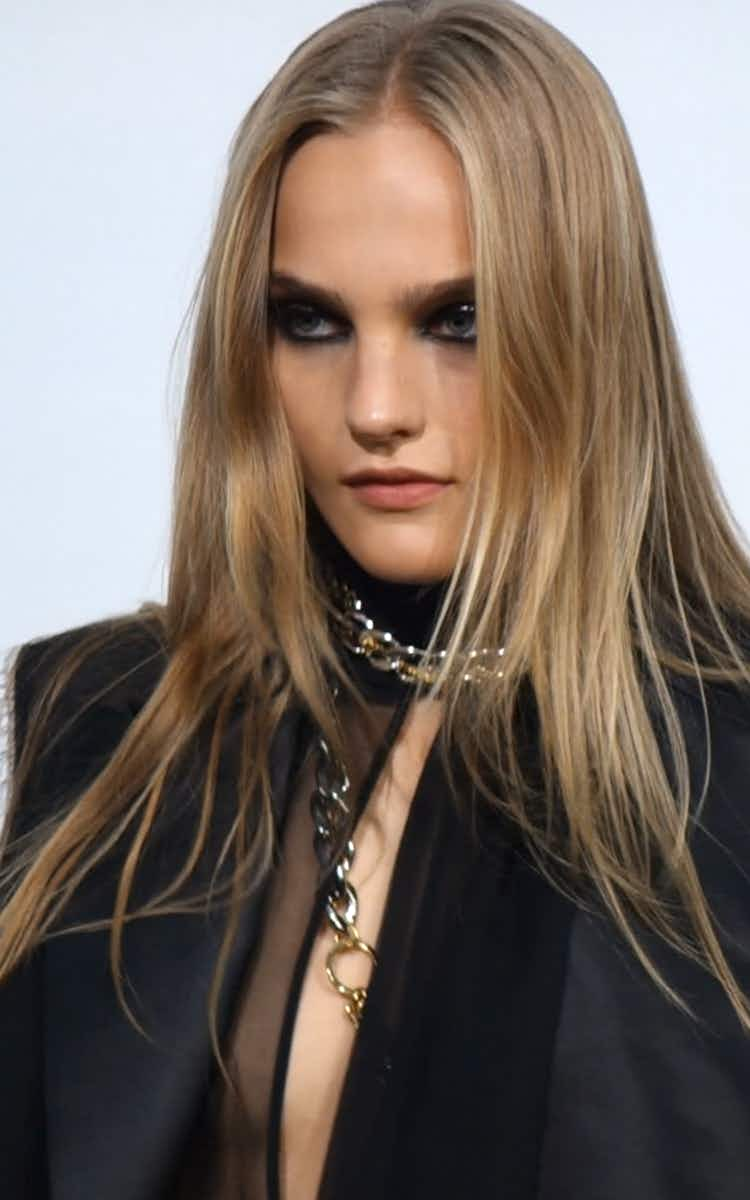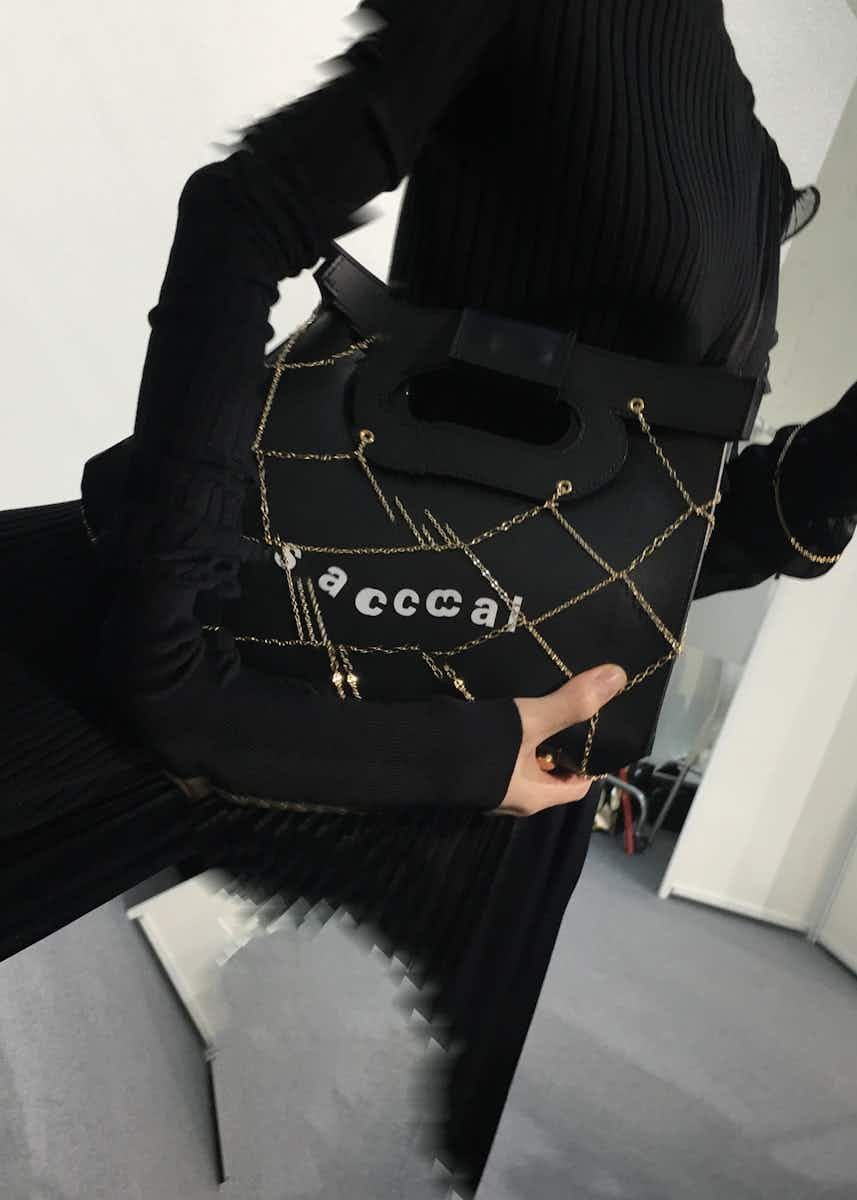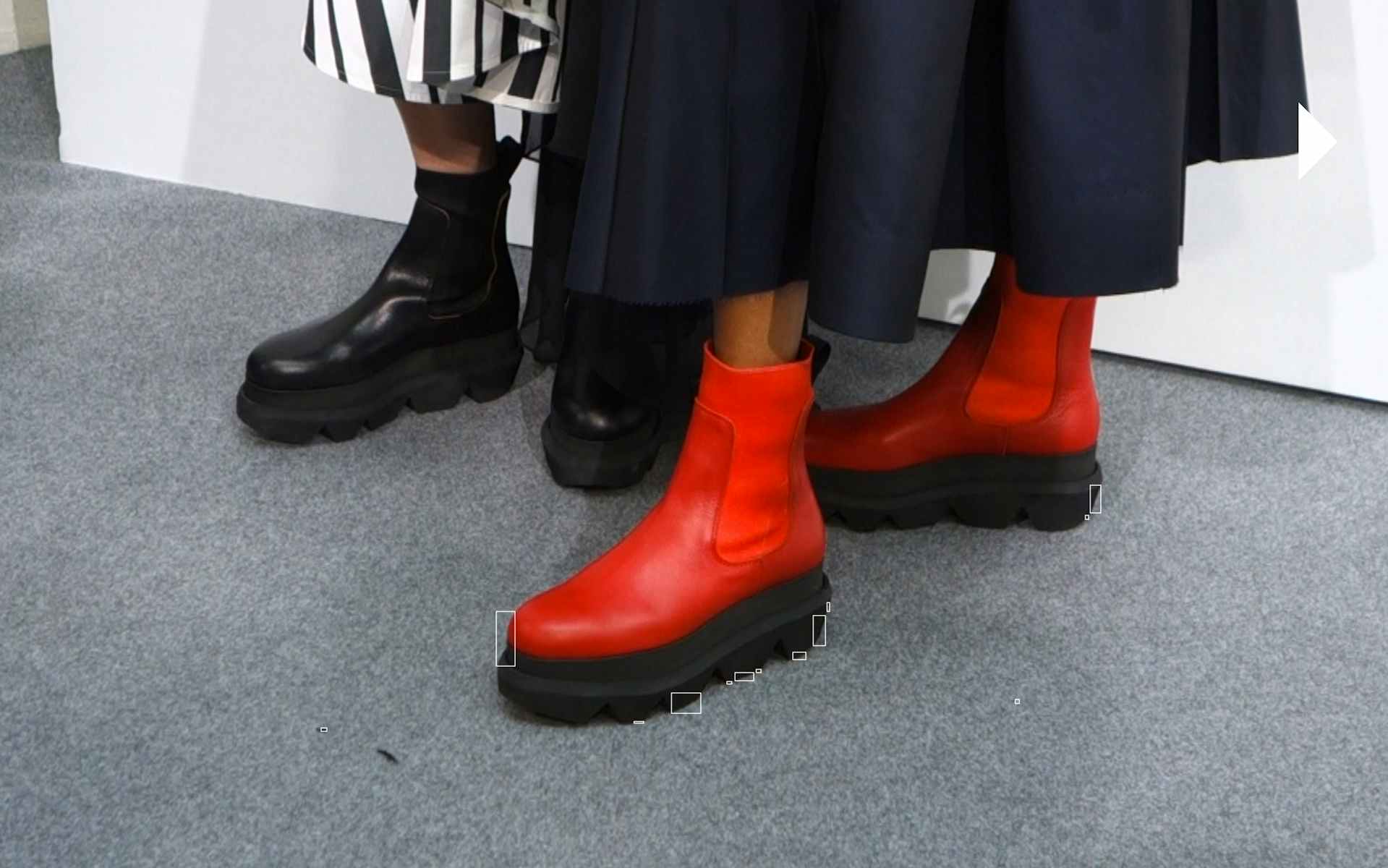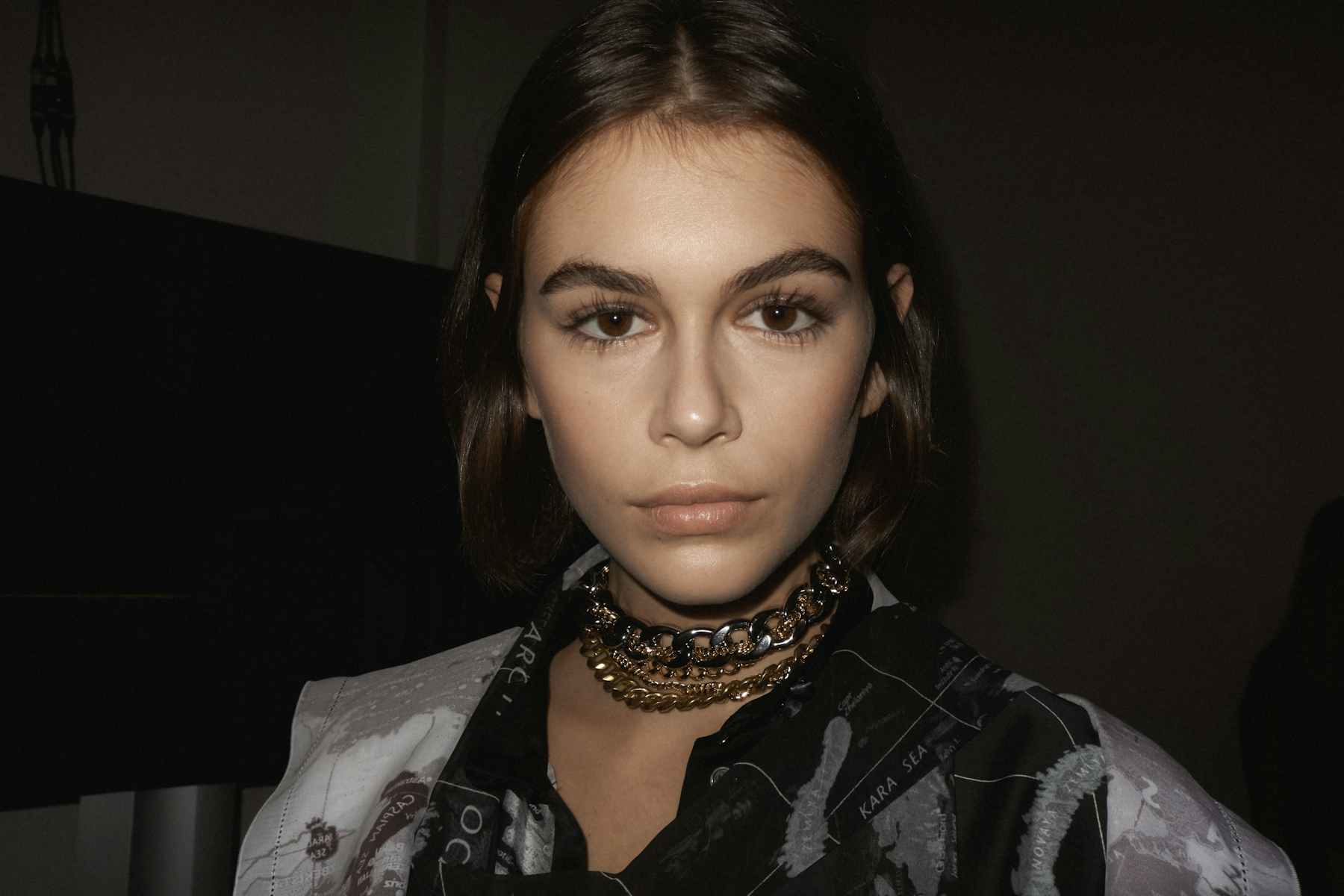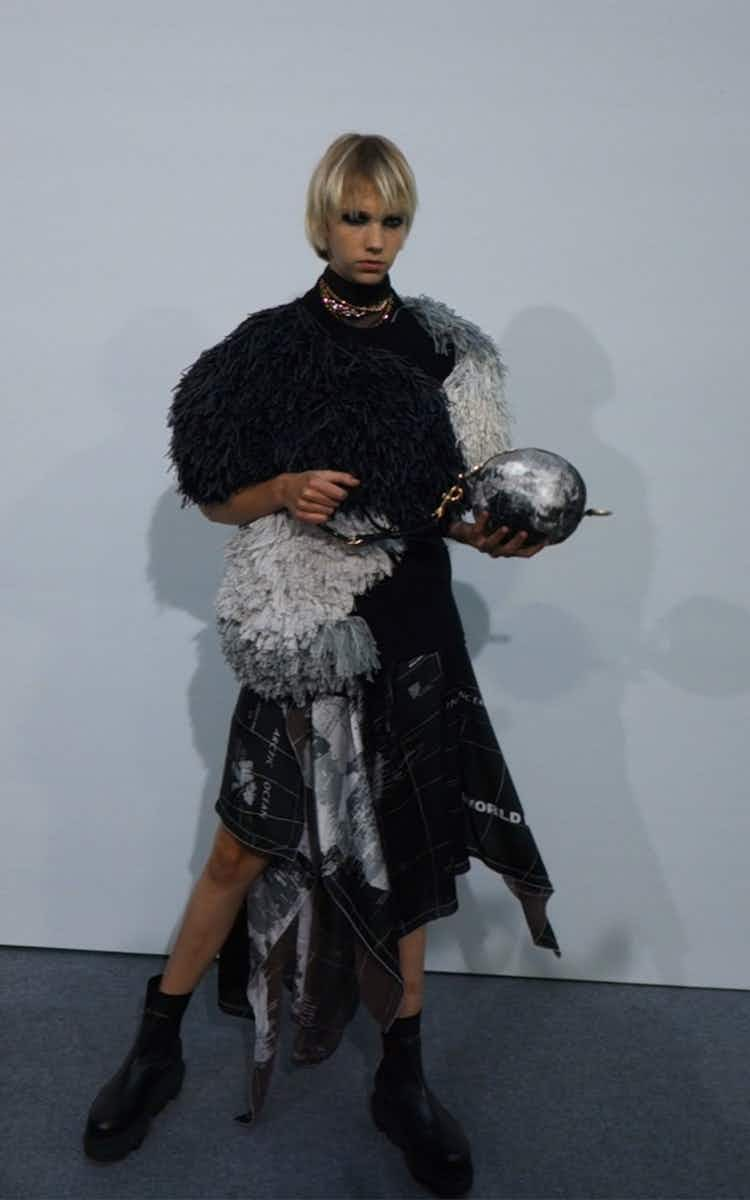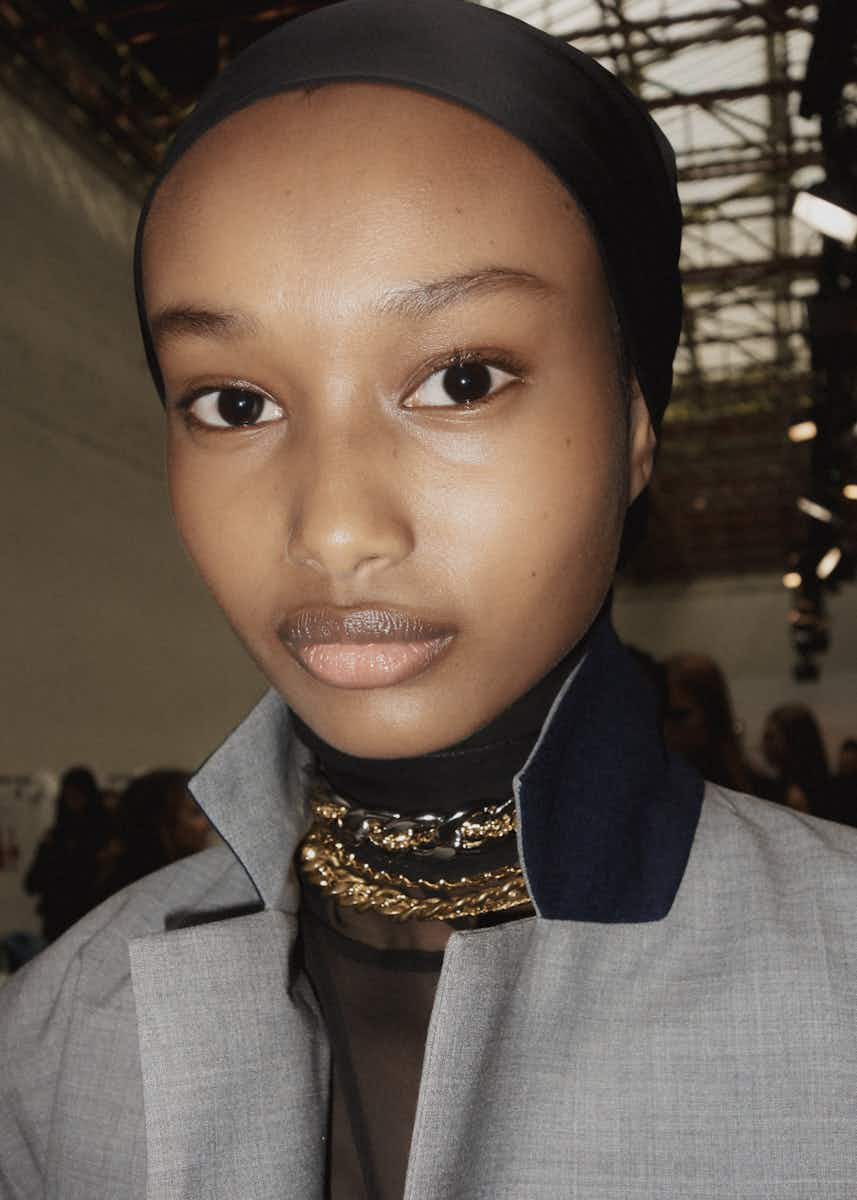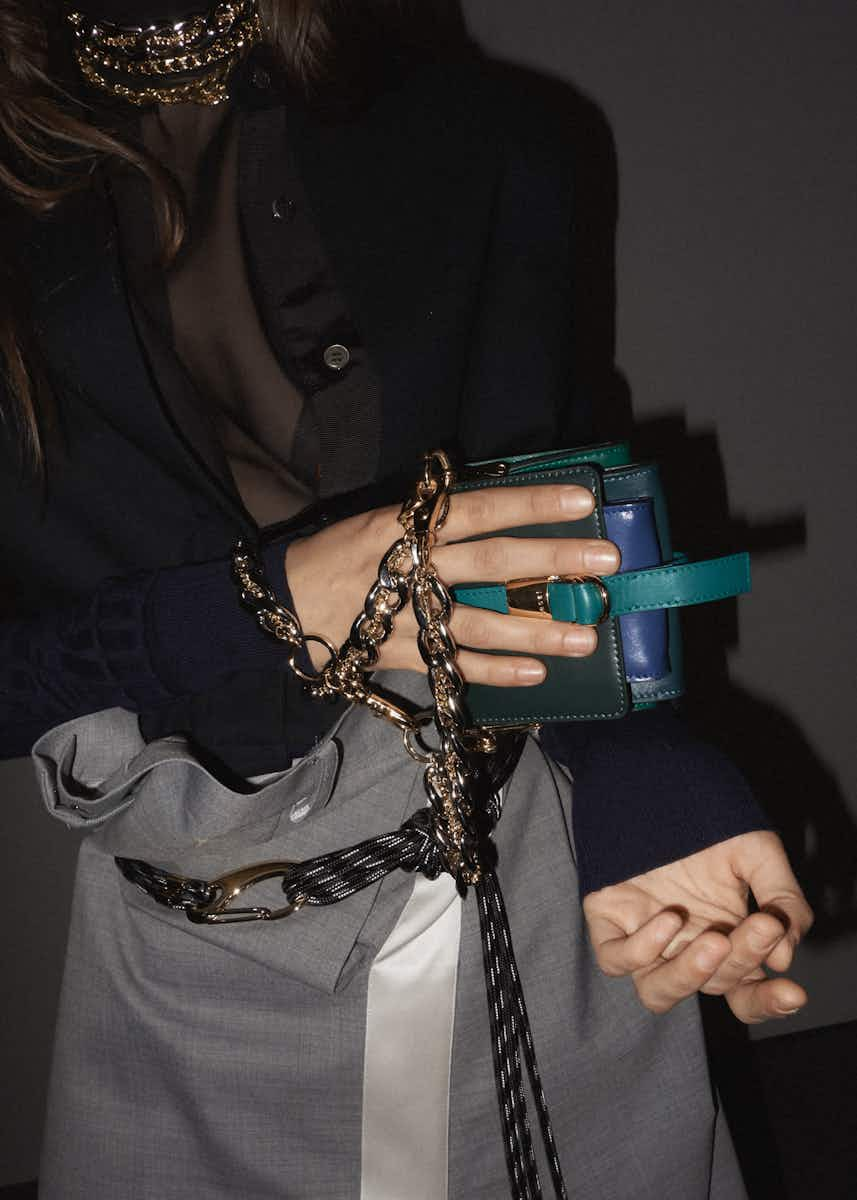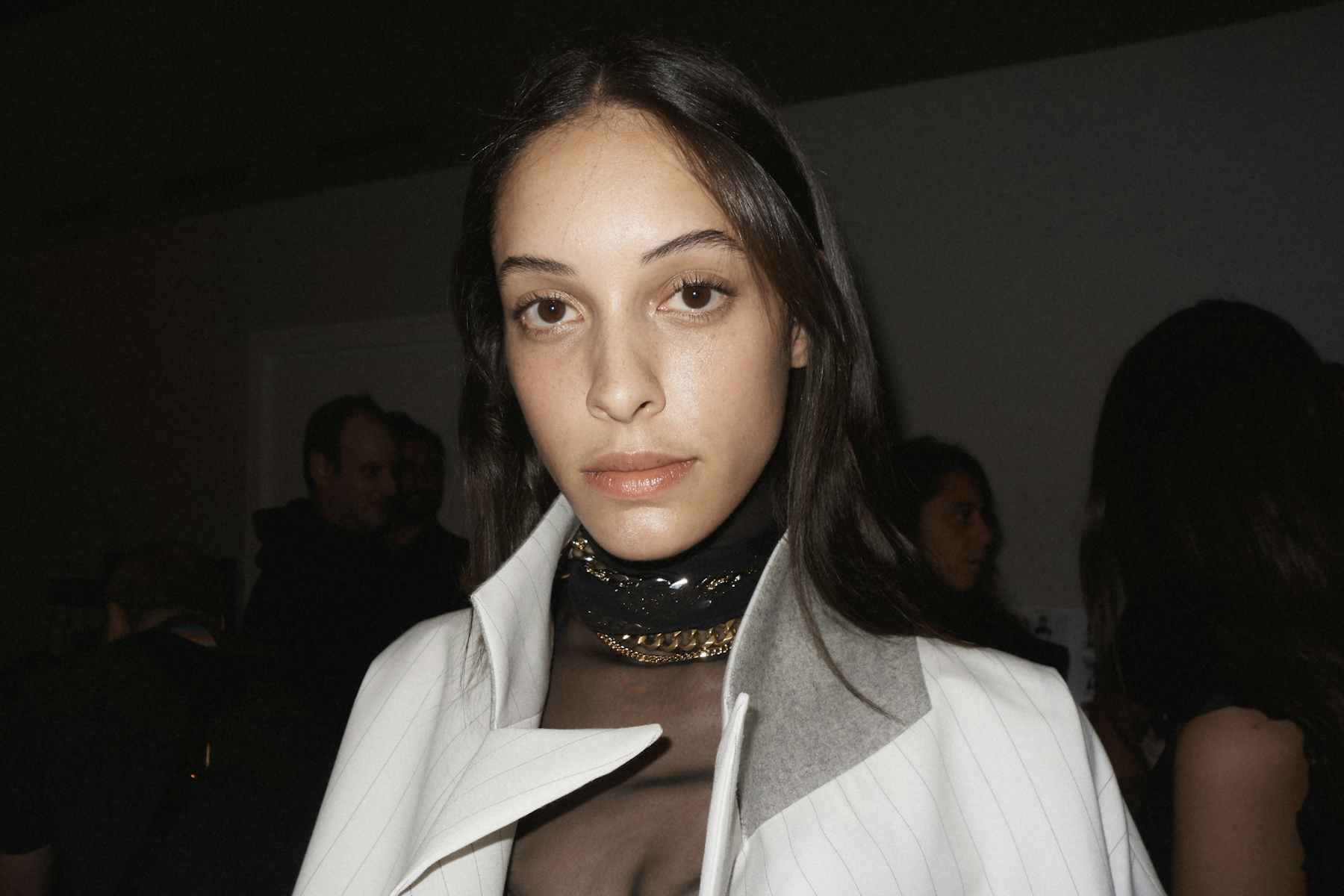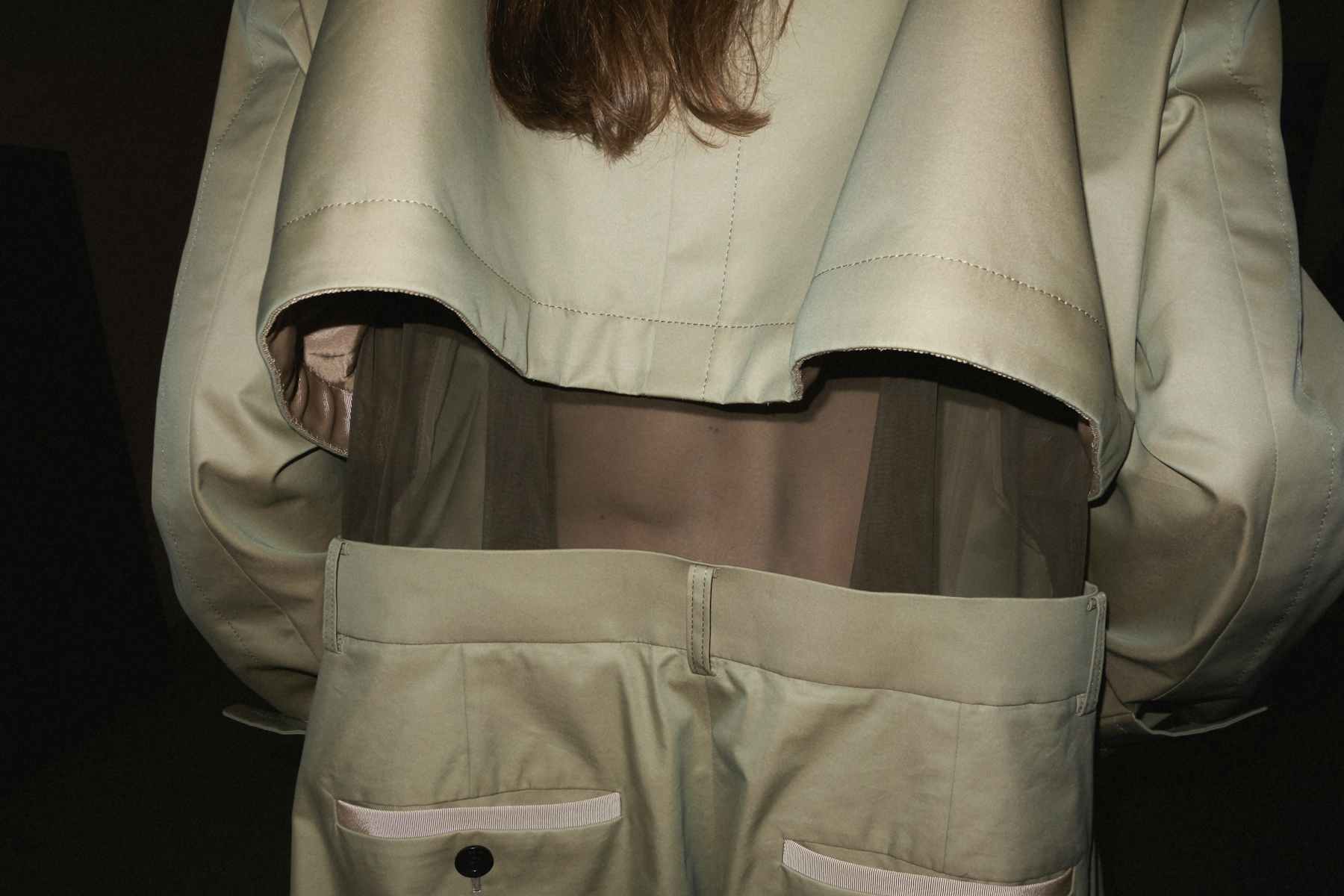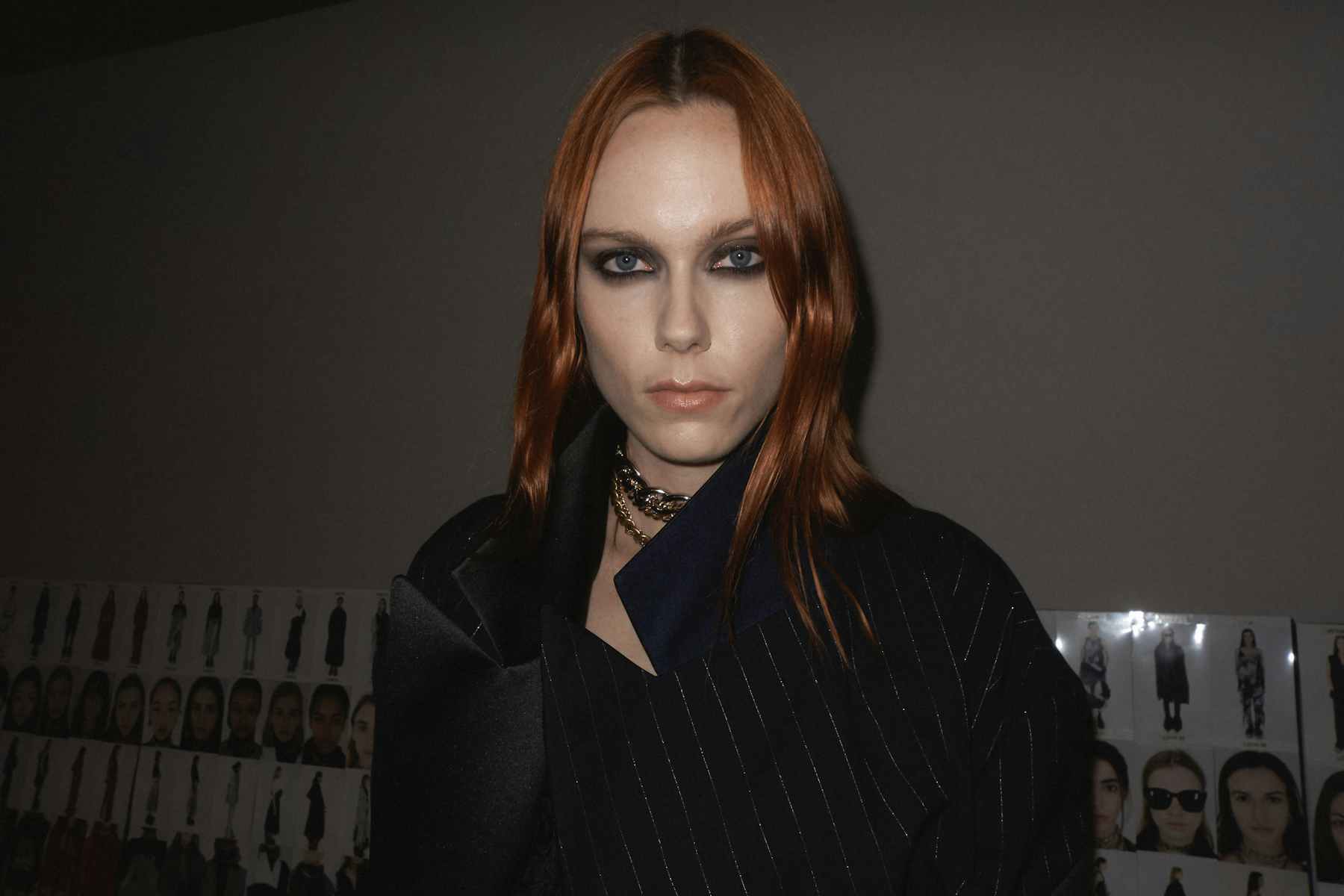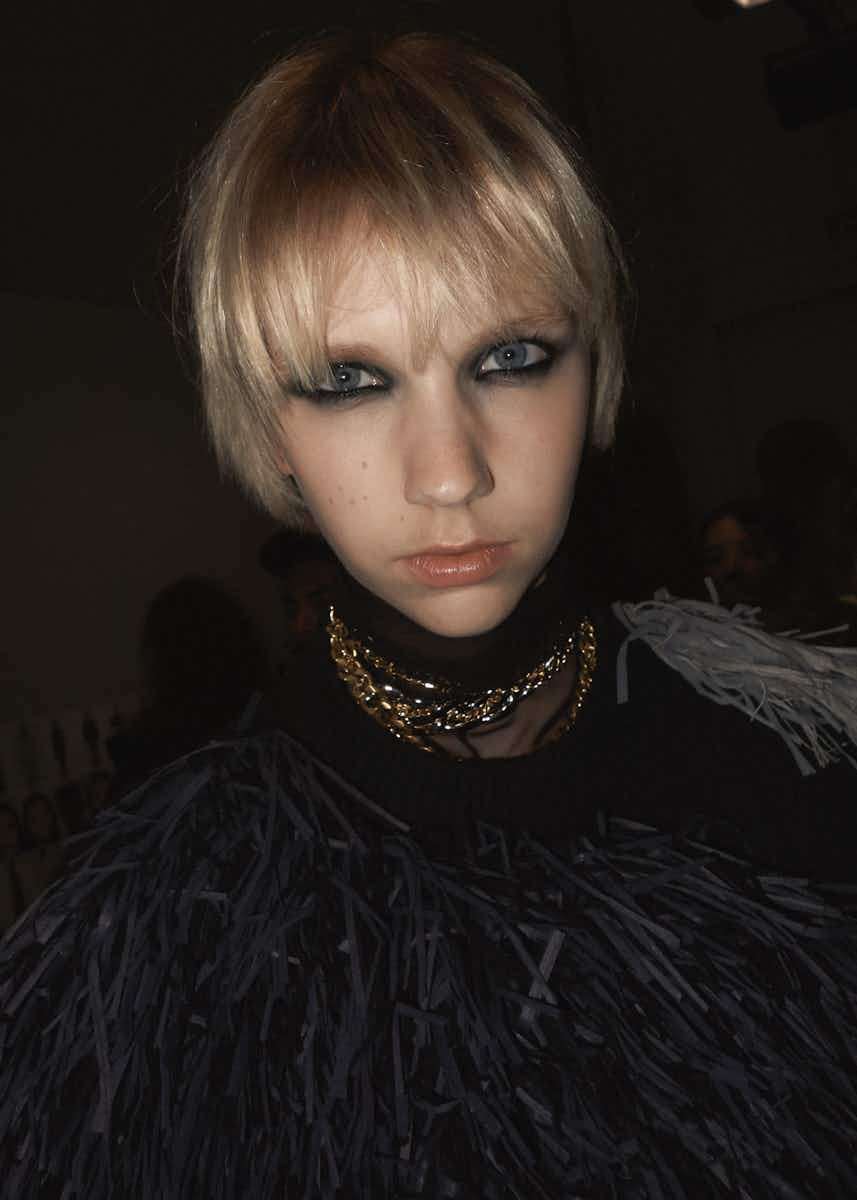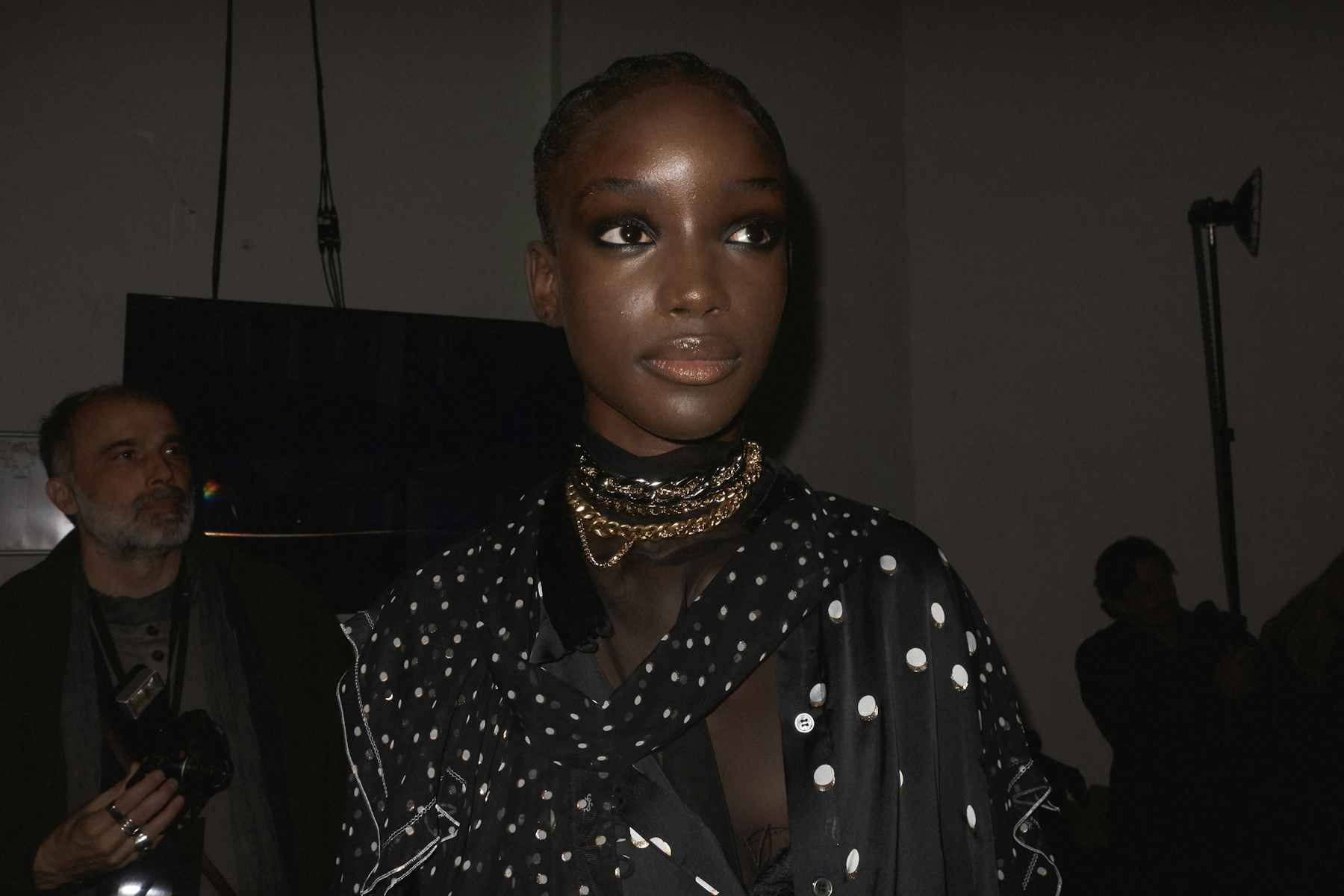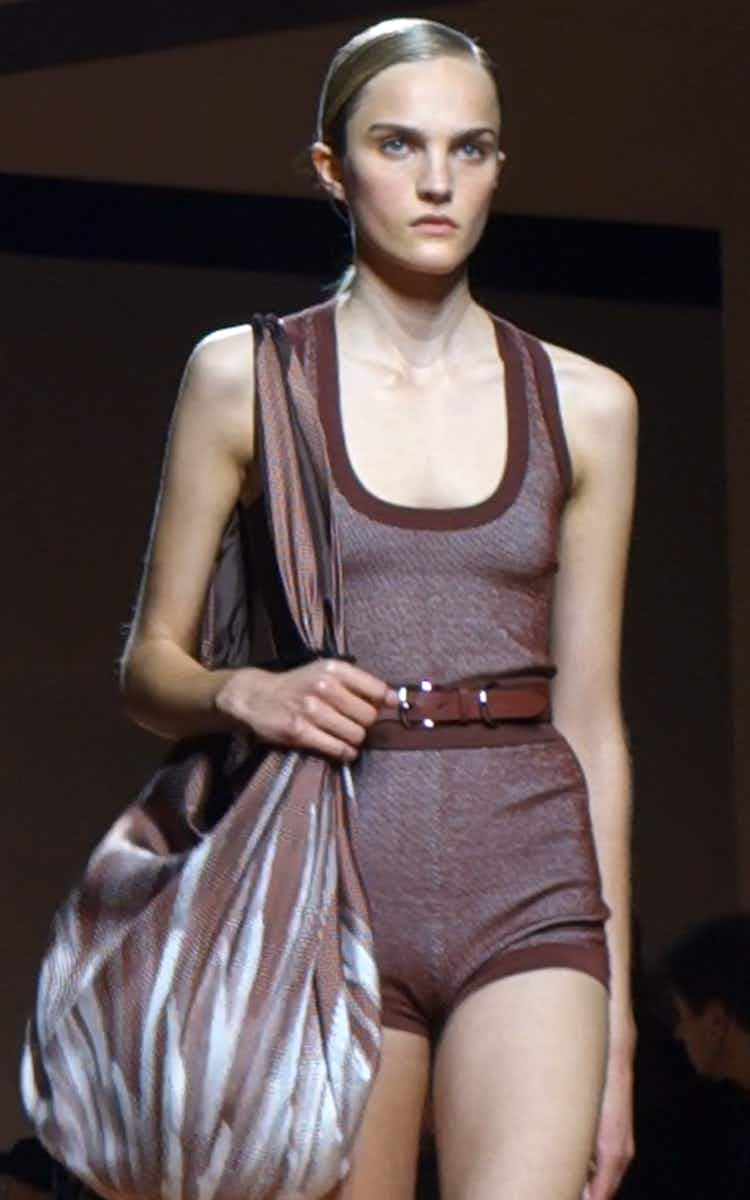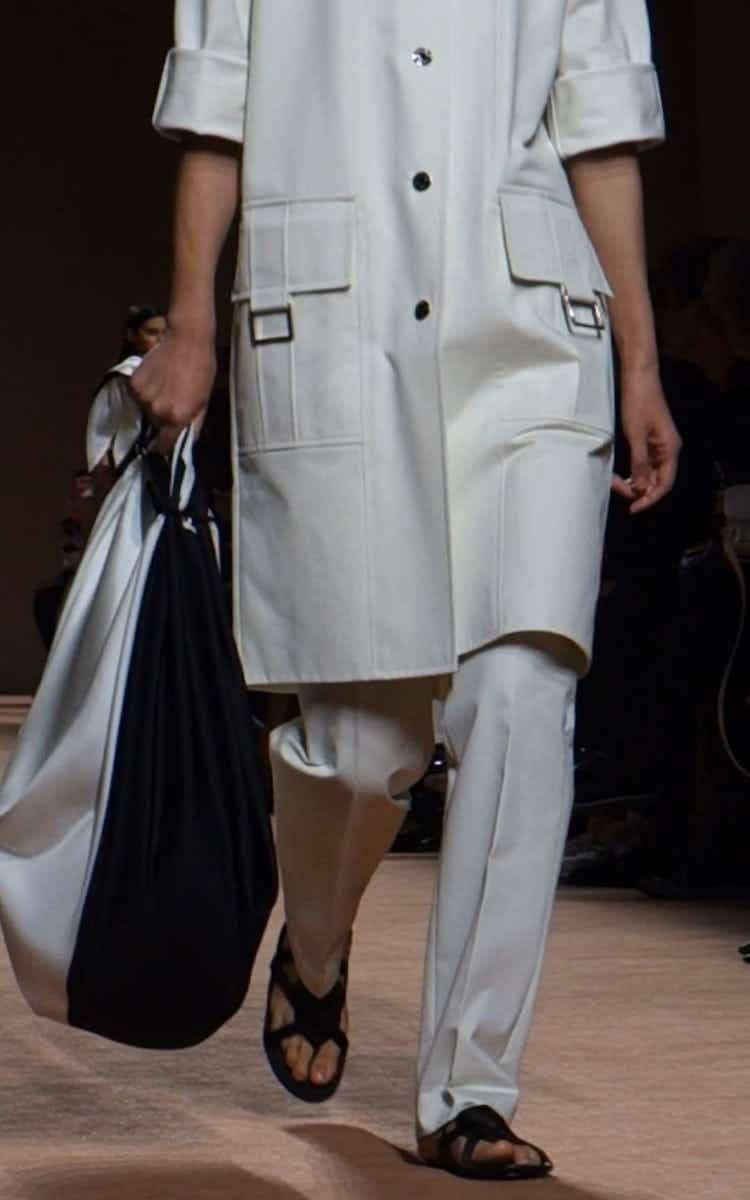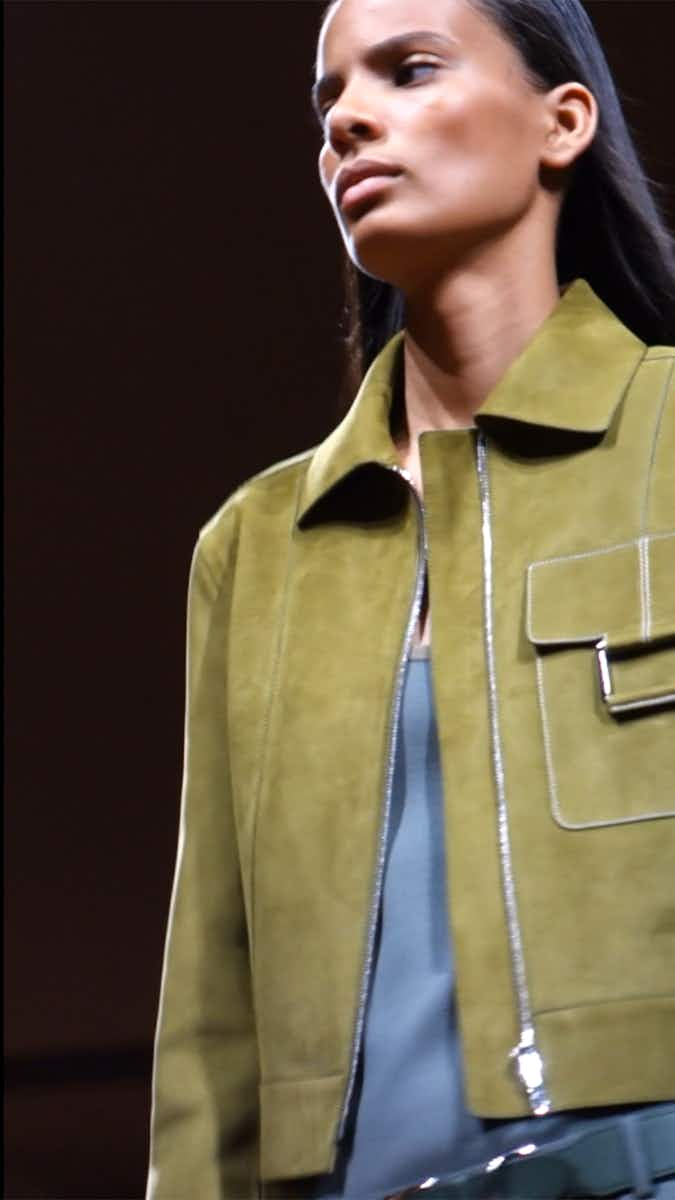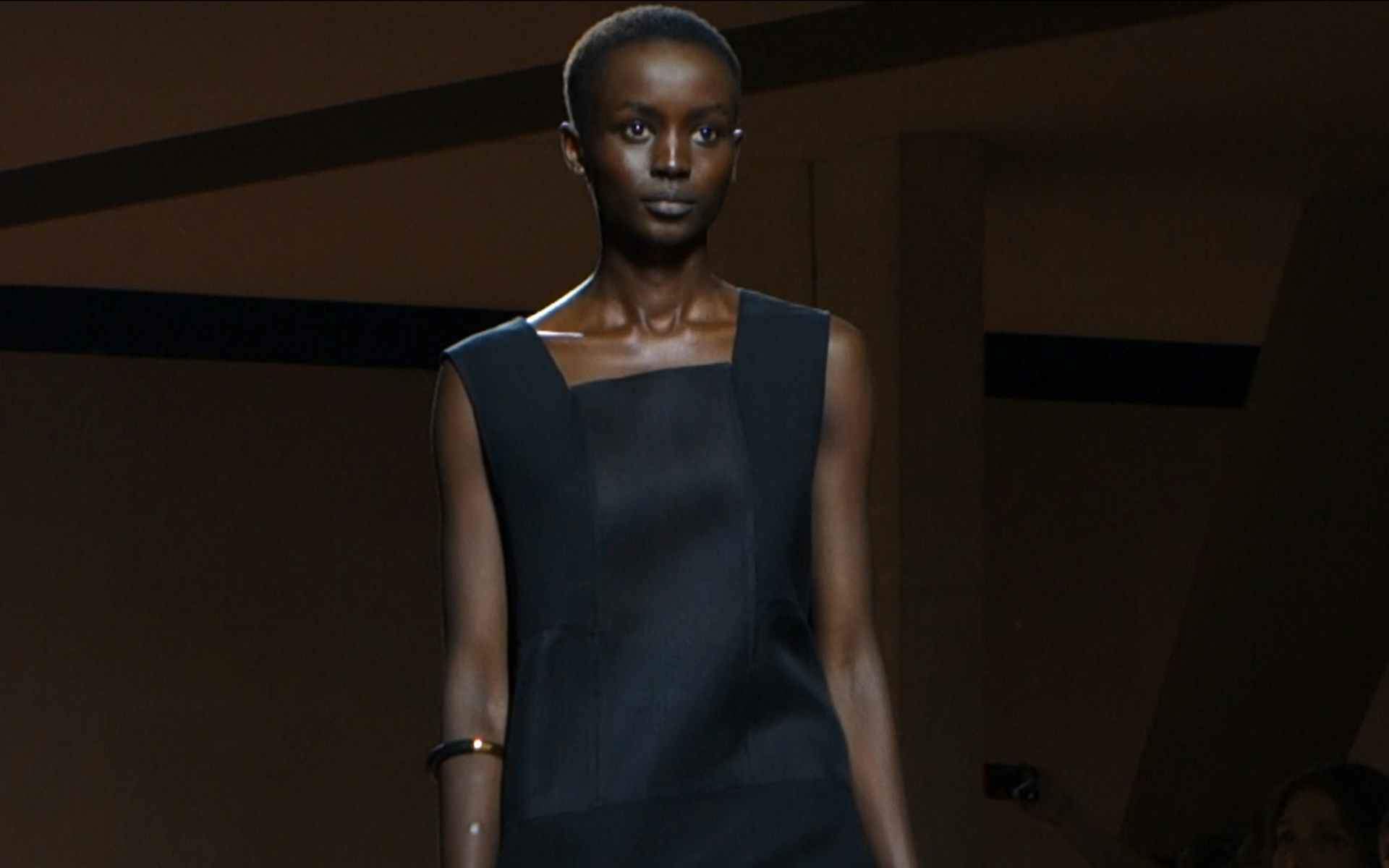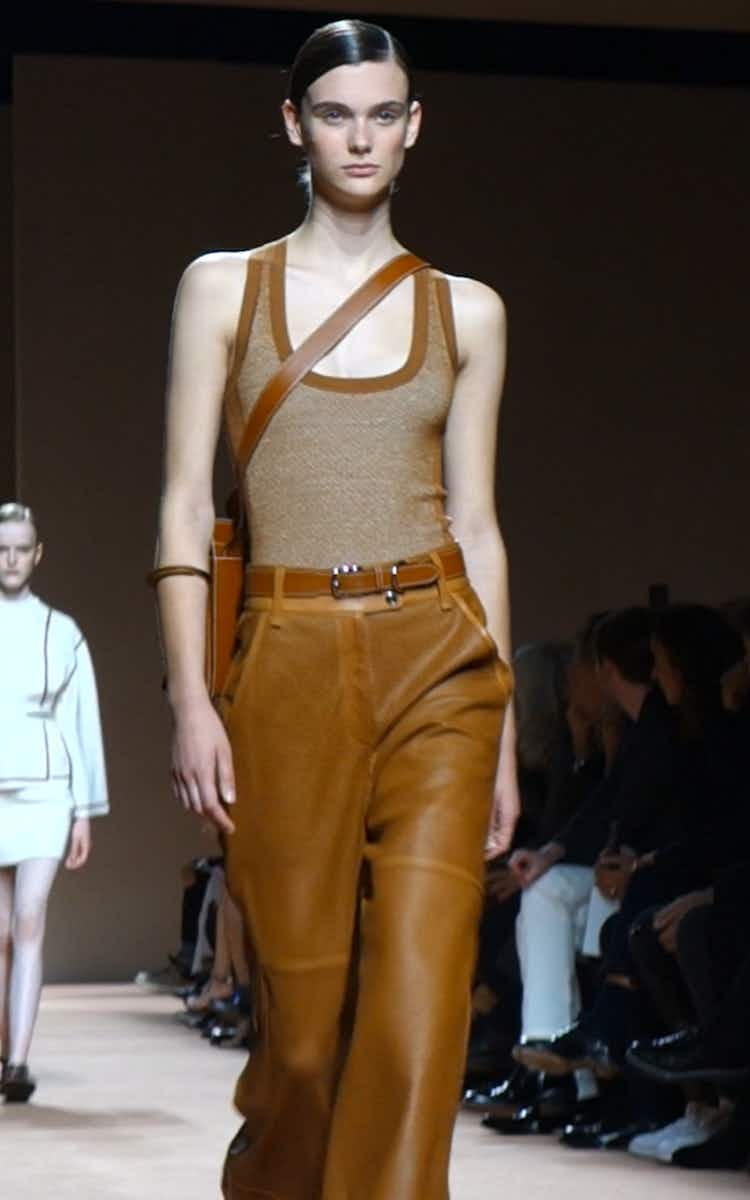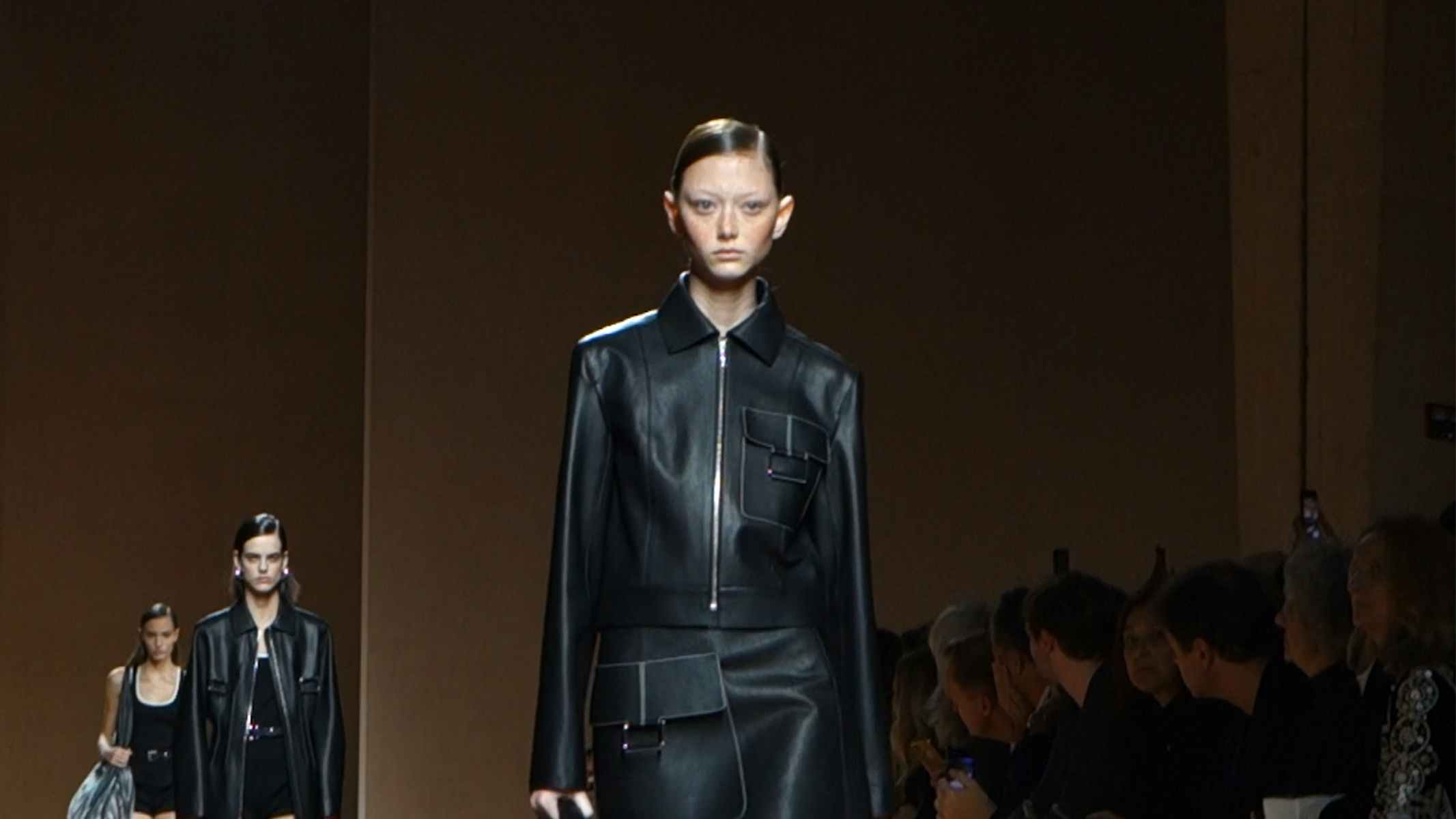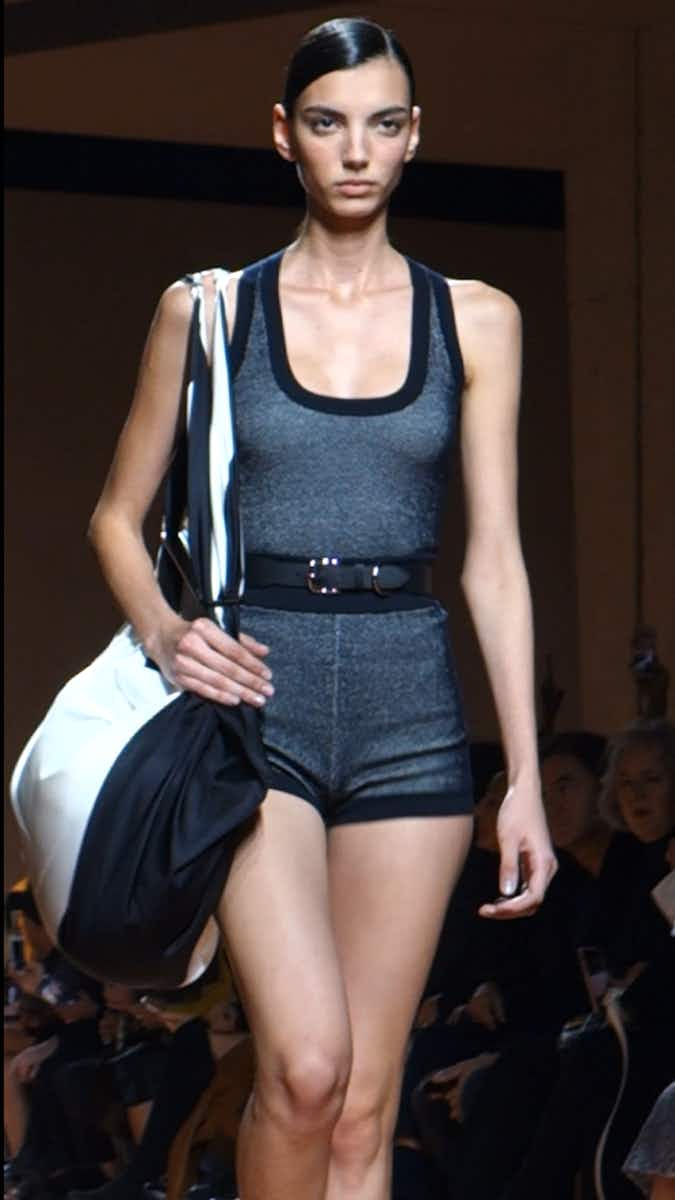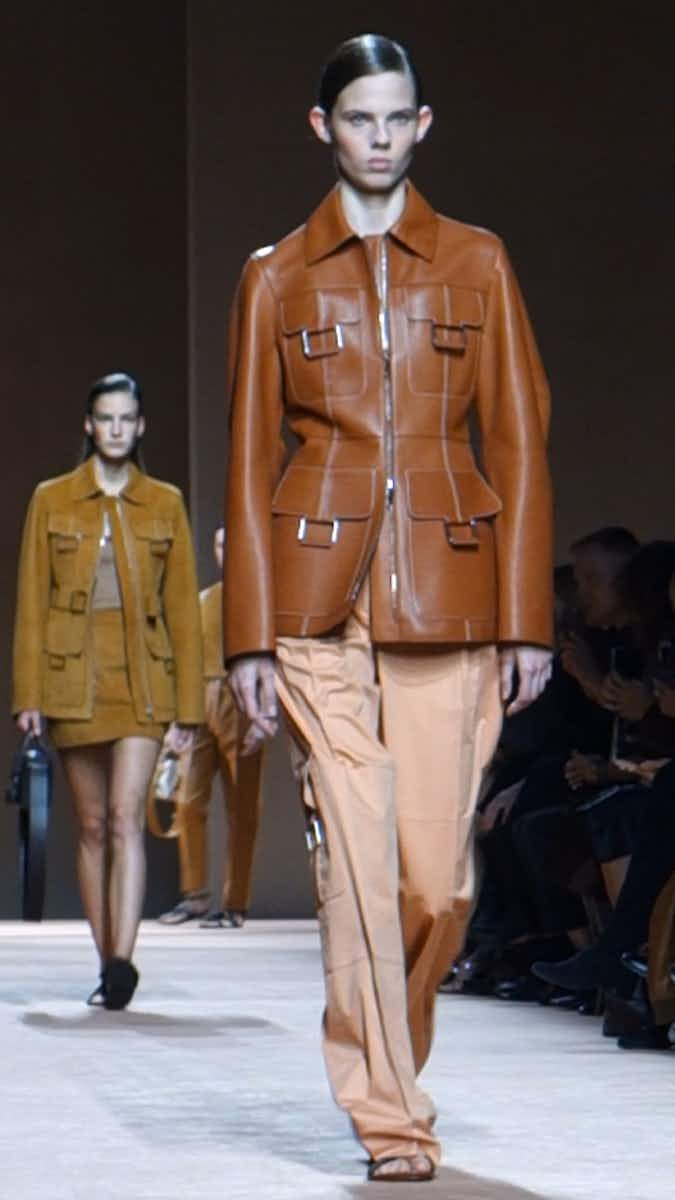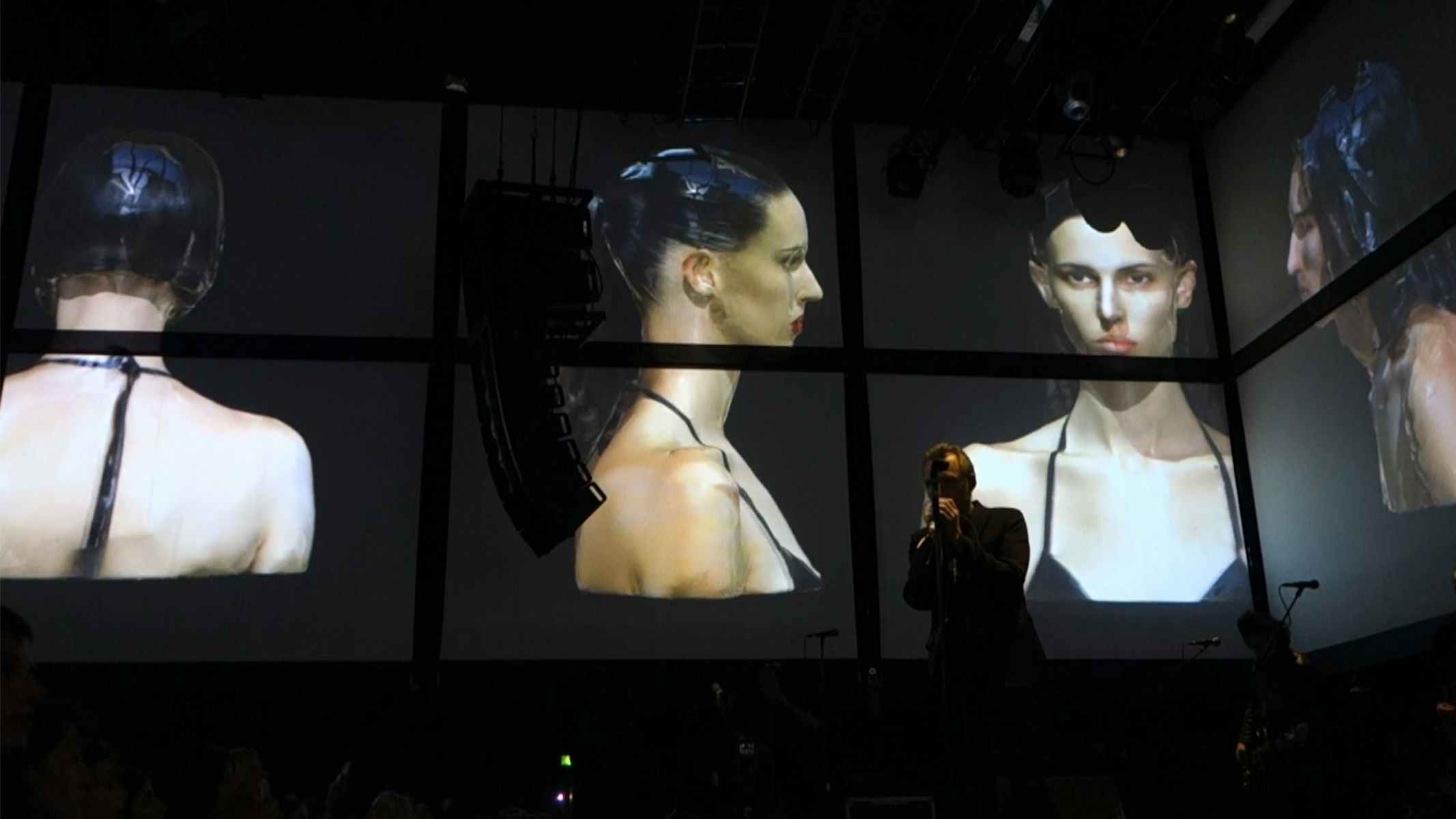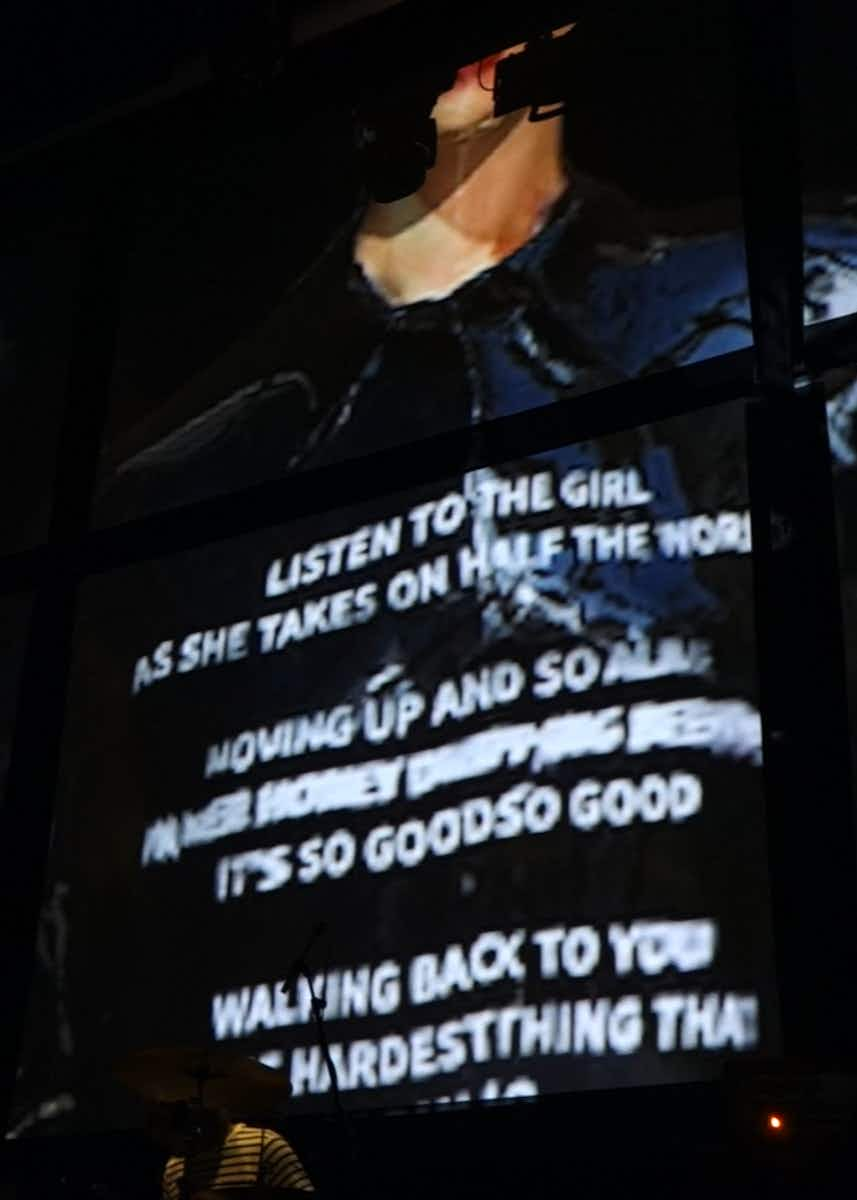 Titled Greatest Hits: Automatic Show II Yang Li's SS20 collection was a continuation of the designer's ​"automatic" concept, first launched for AW19, whereby creative control of the collection's presentation is handed over to a string of collaborators who share the imagery, positioning the wearer at the centre of the conversation.
For SS20, Li has curated the most iconic patterns from his archive (2012 to 2018) and invited several artists (some of whom are previous collaborators) to ​"imprint" their ideas on these designs to render them new. This season, the individuals selected to wear the collection came together in one venue for a show that combined digital artwork and live music, thanks to a headline performance from The Jesus and Mary Chain (Li's newest collaborators). Meanwhile, the collection itself was filtered through the lens of Agusta Yr (in collaboration with SHOWstudio) who presented the looks on digital 3D-scanned models projected onto a screen.
ANDREAS KRONTHALER FOR VIVIENNE WESTWOOD SS20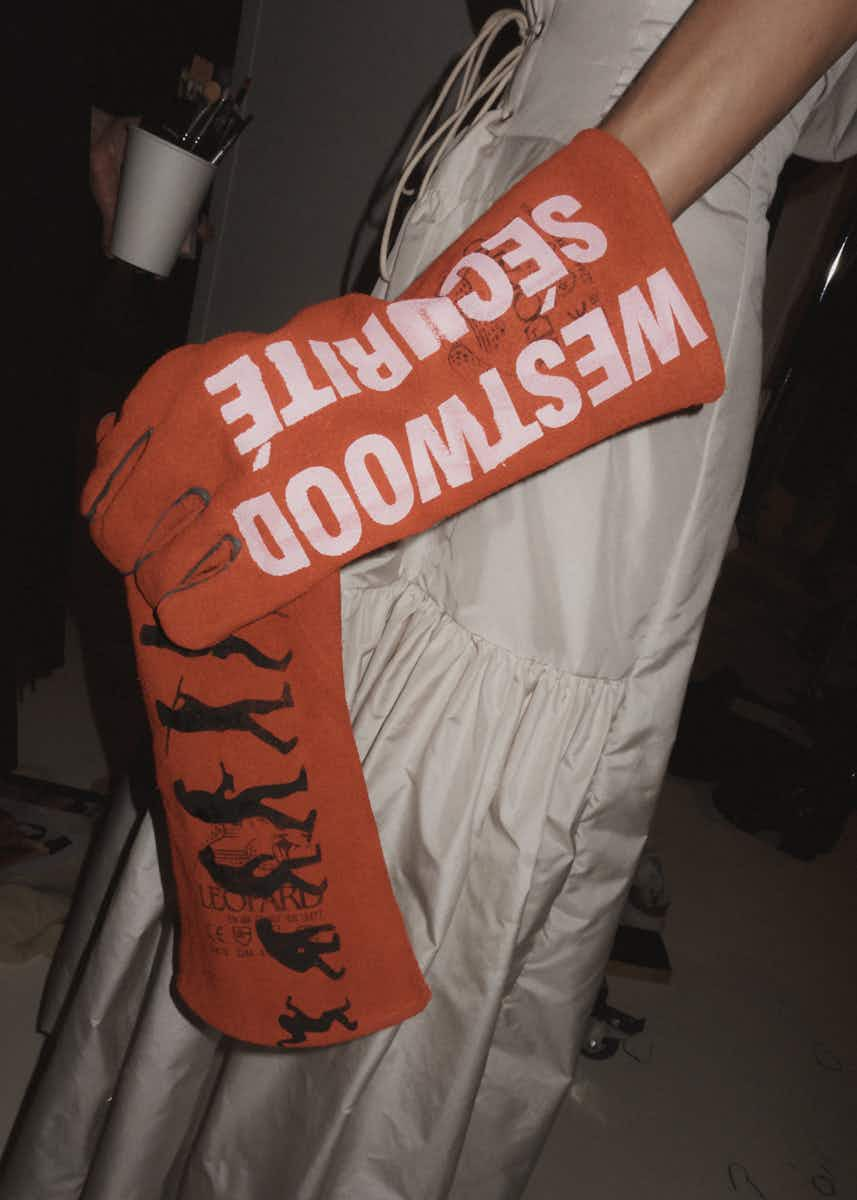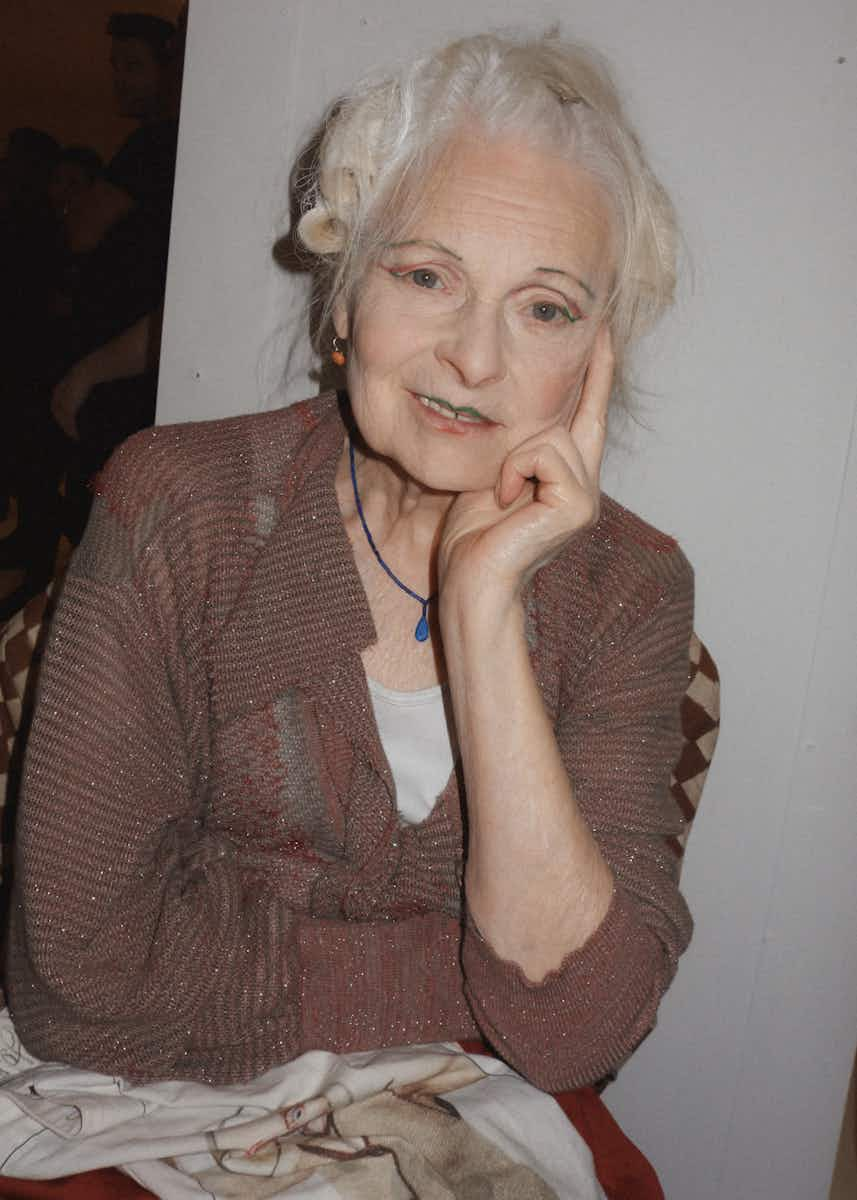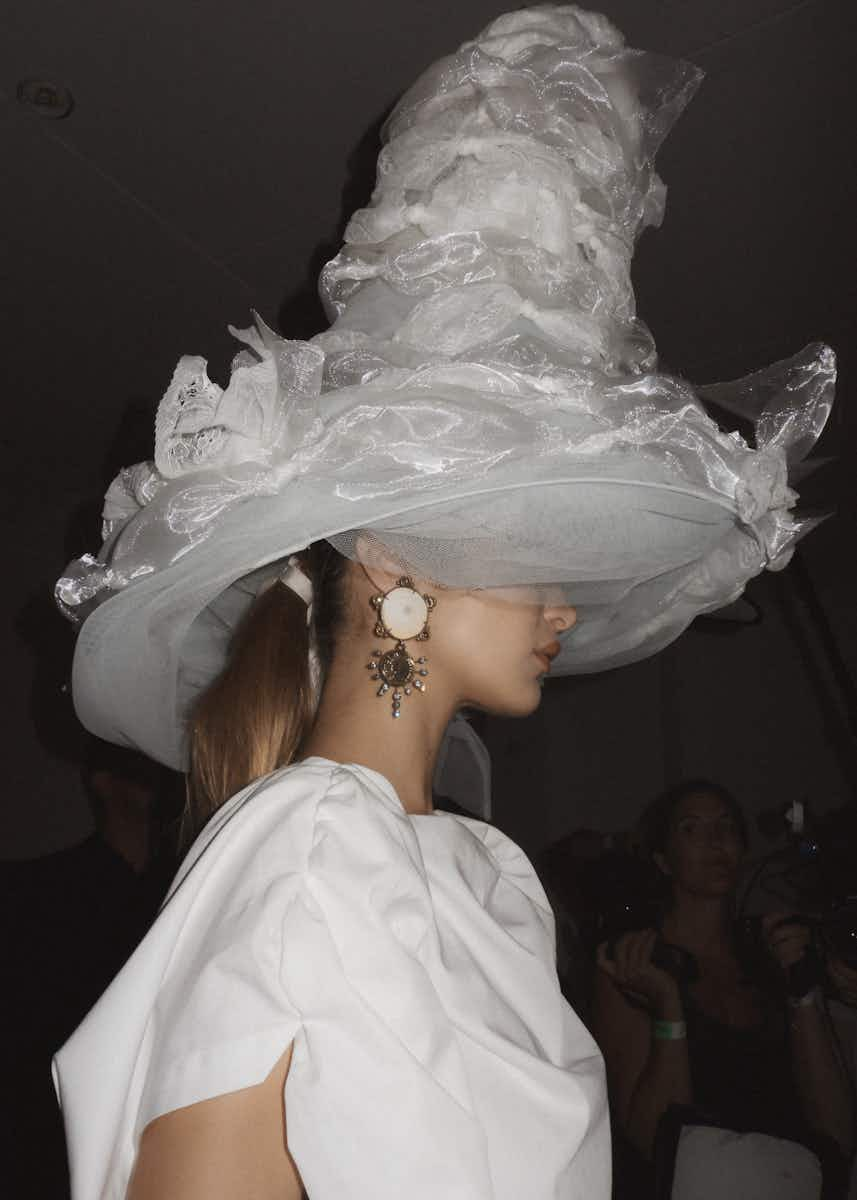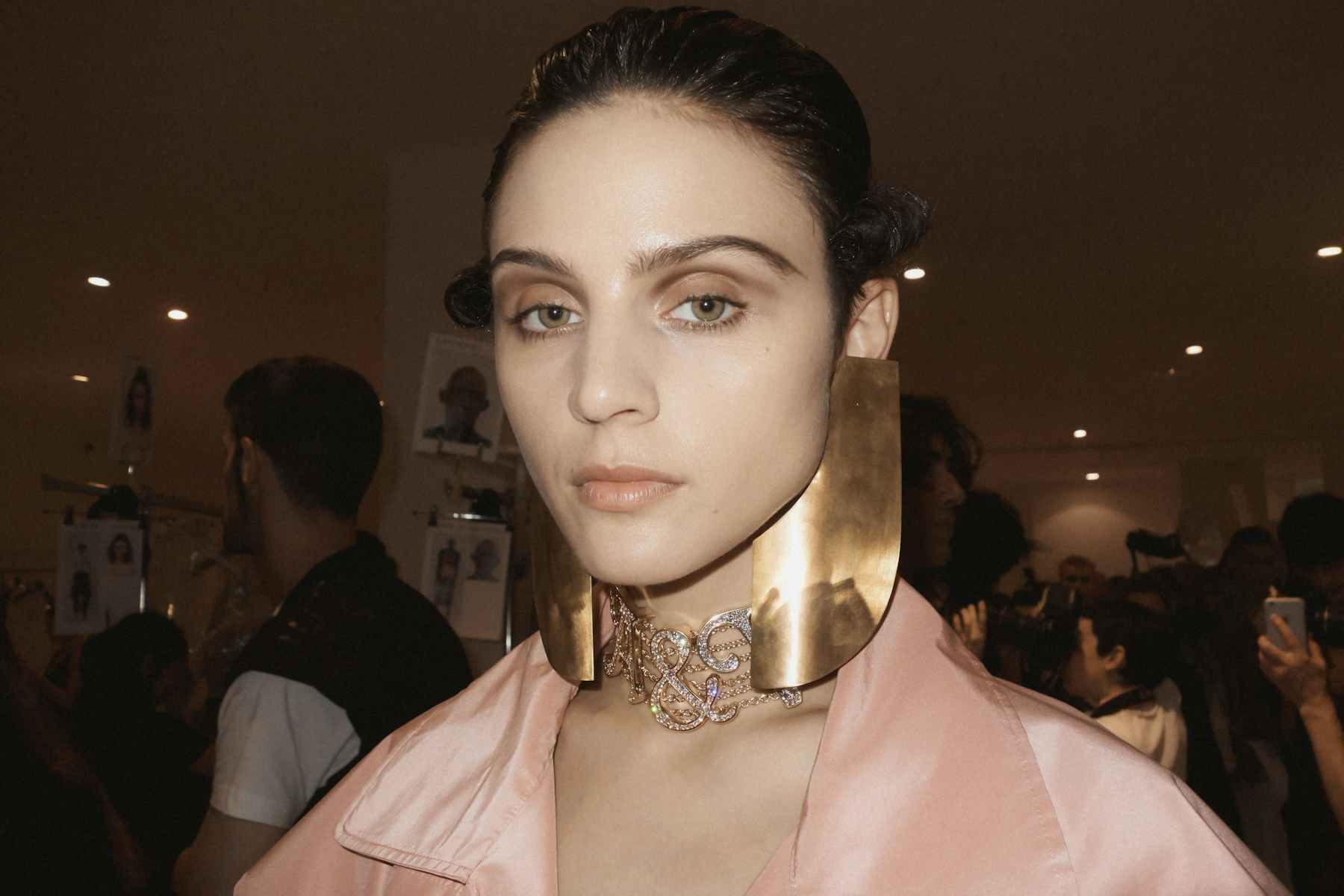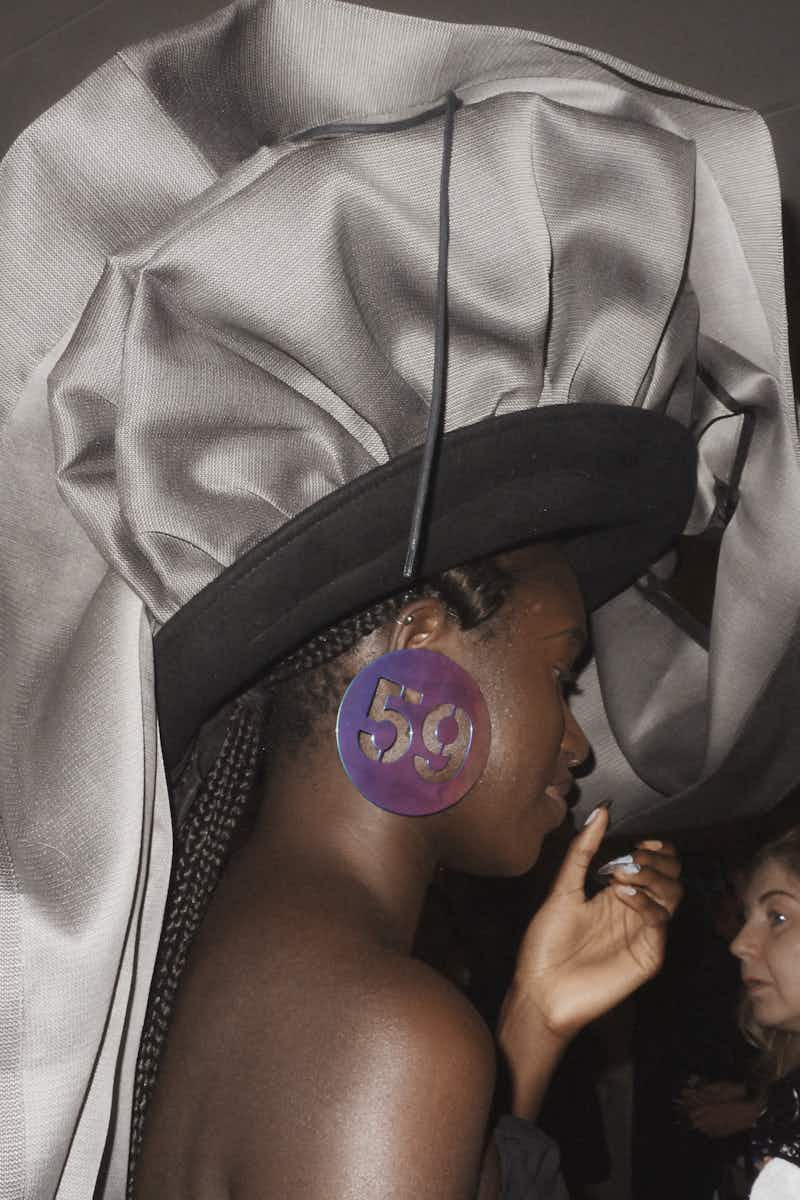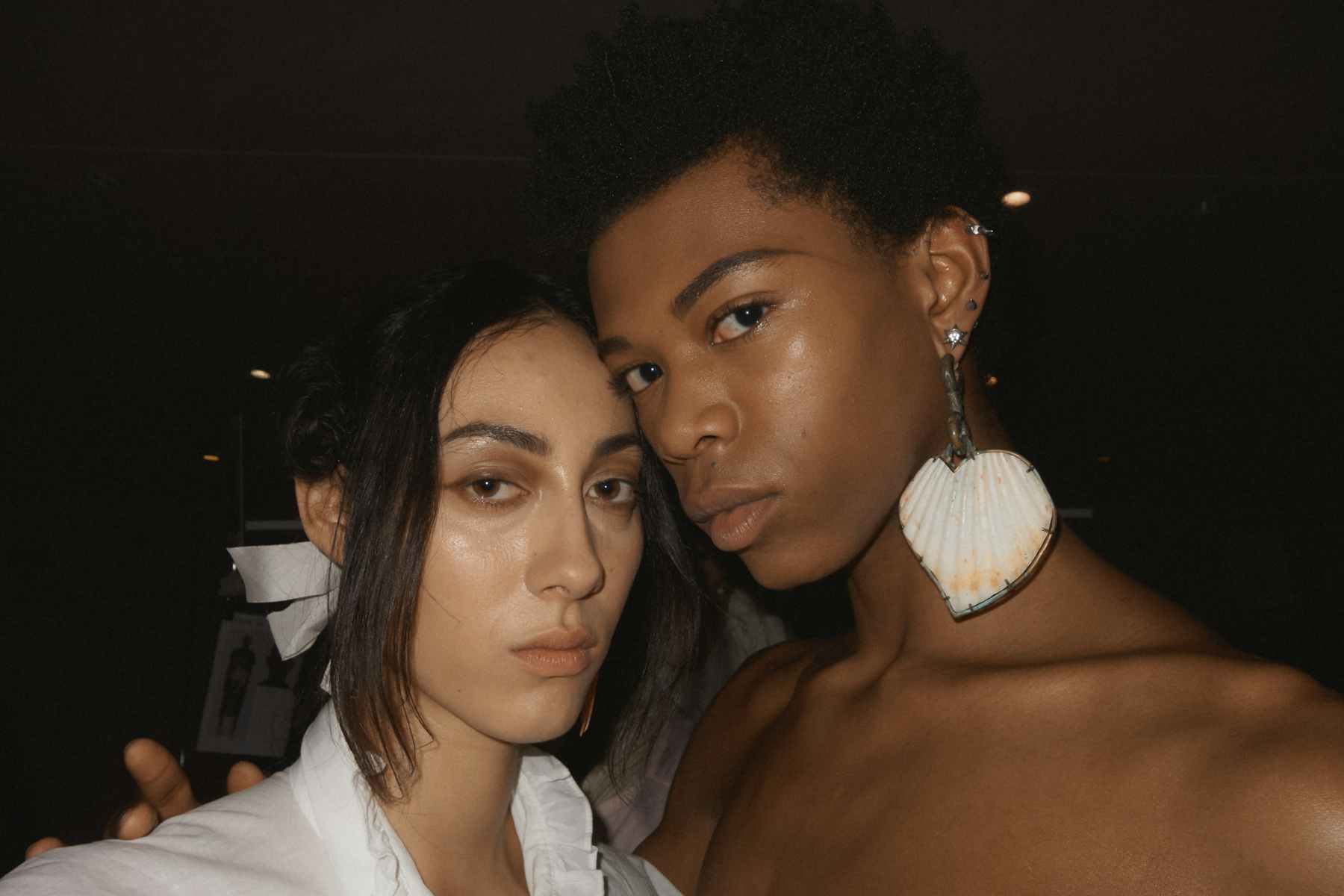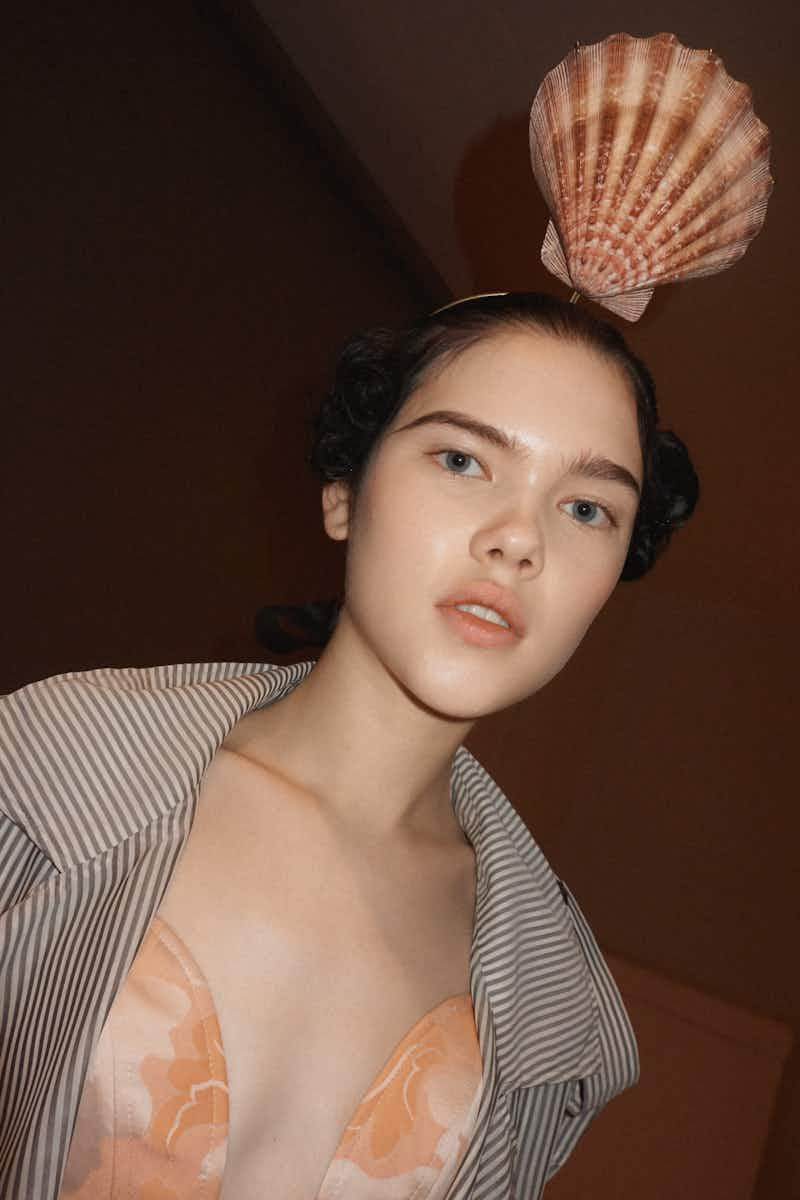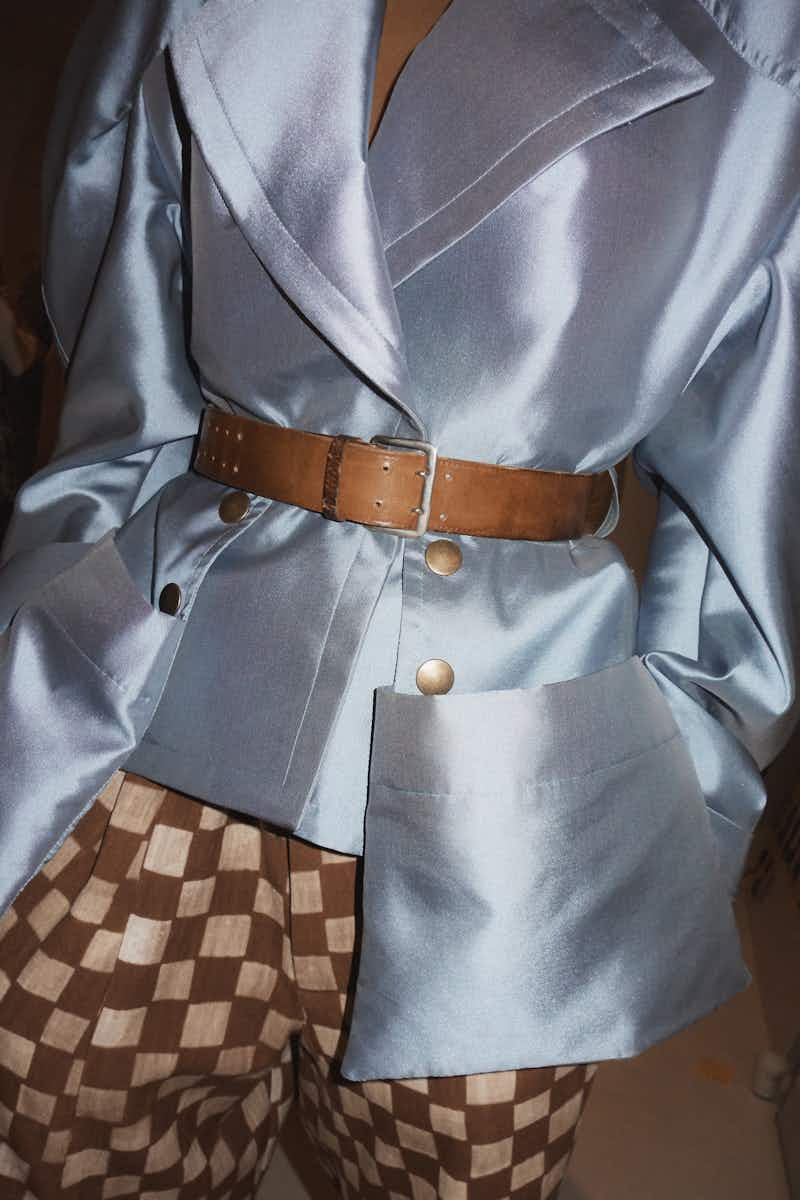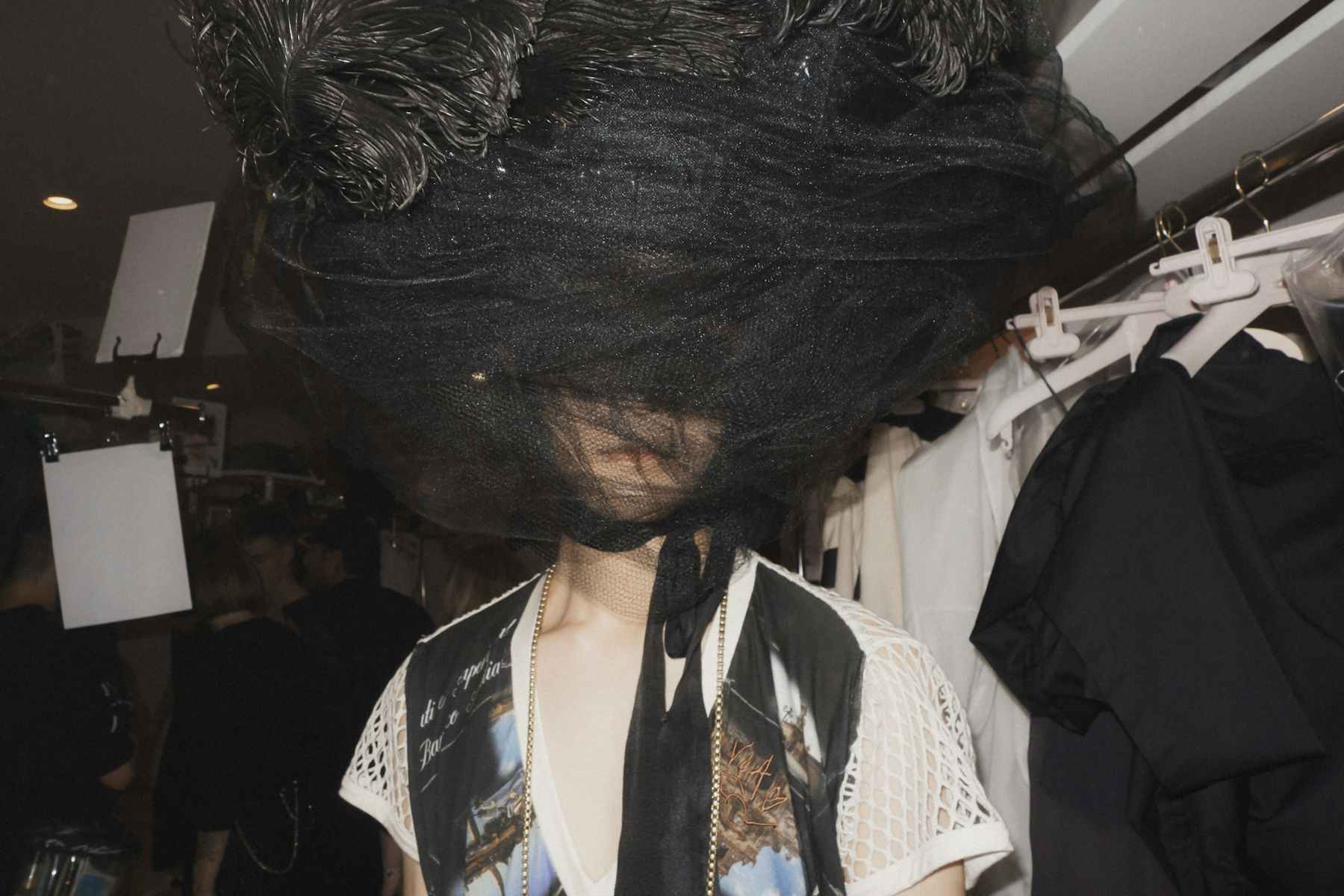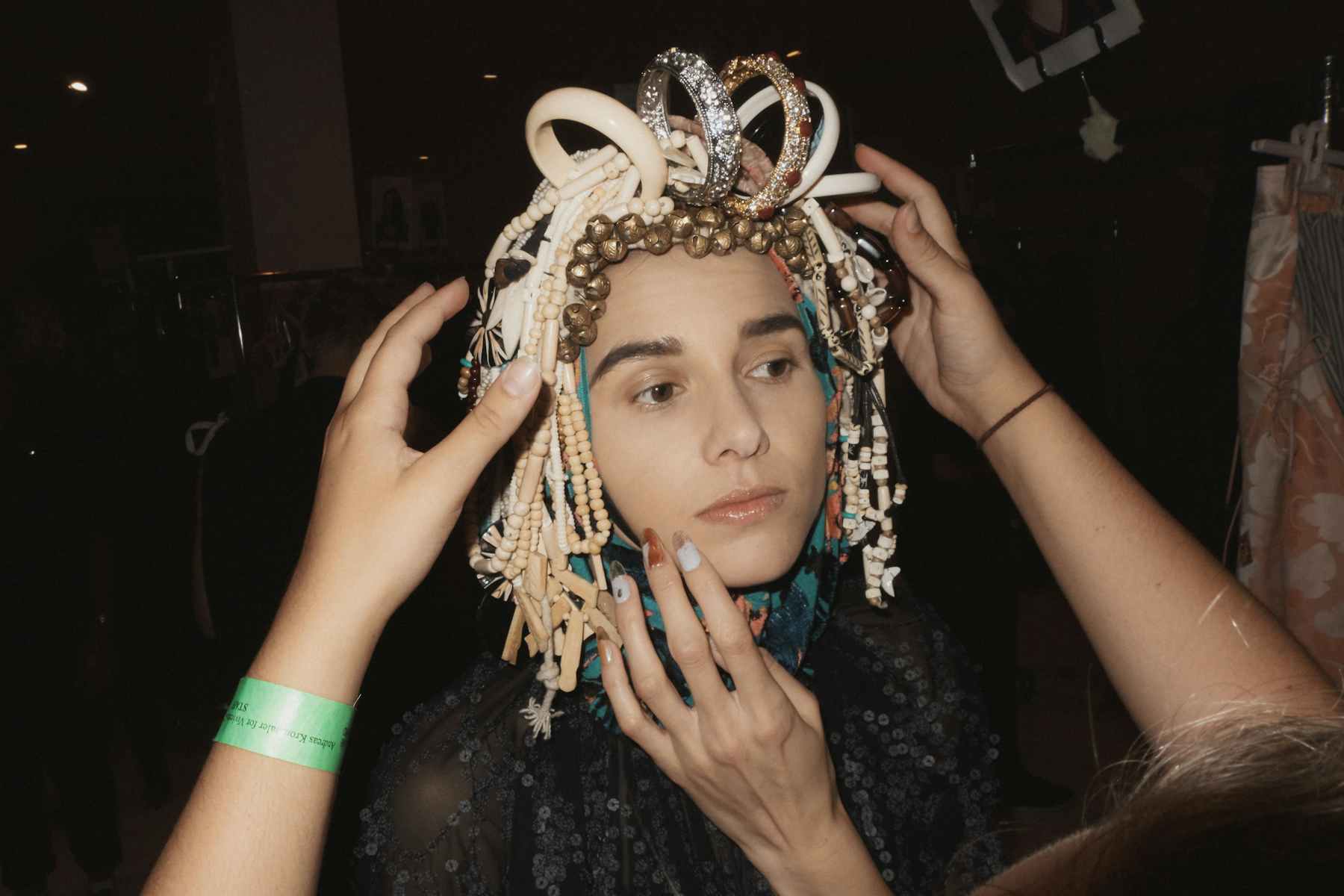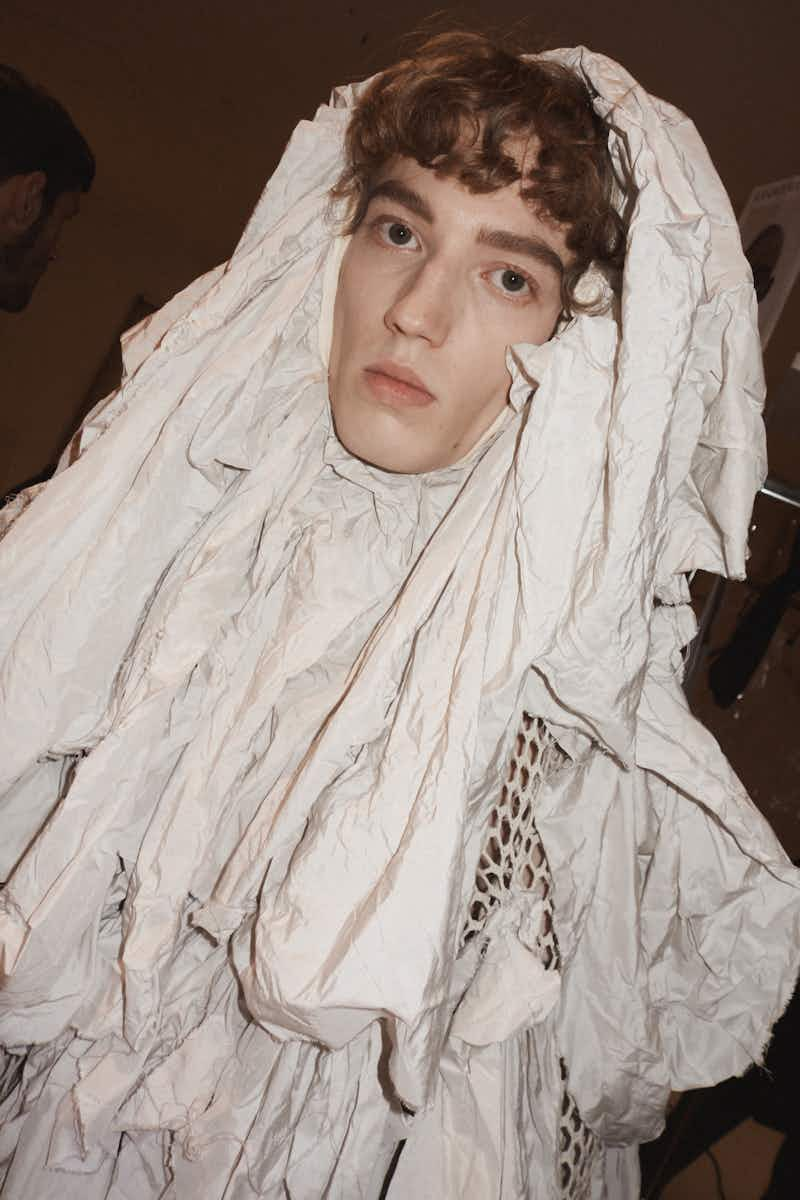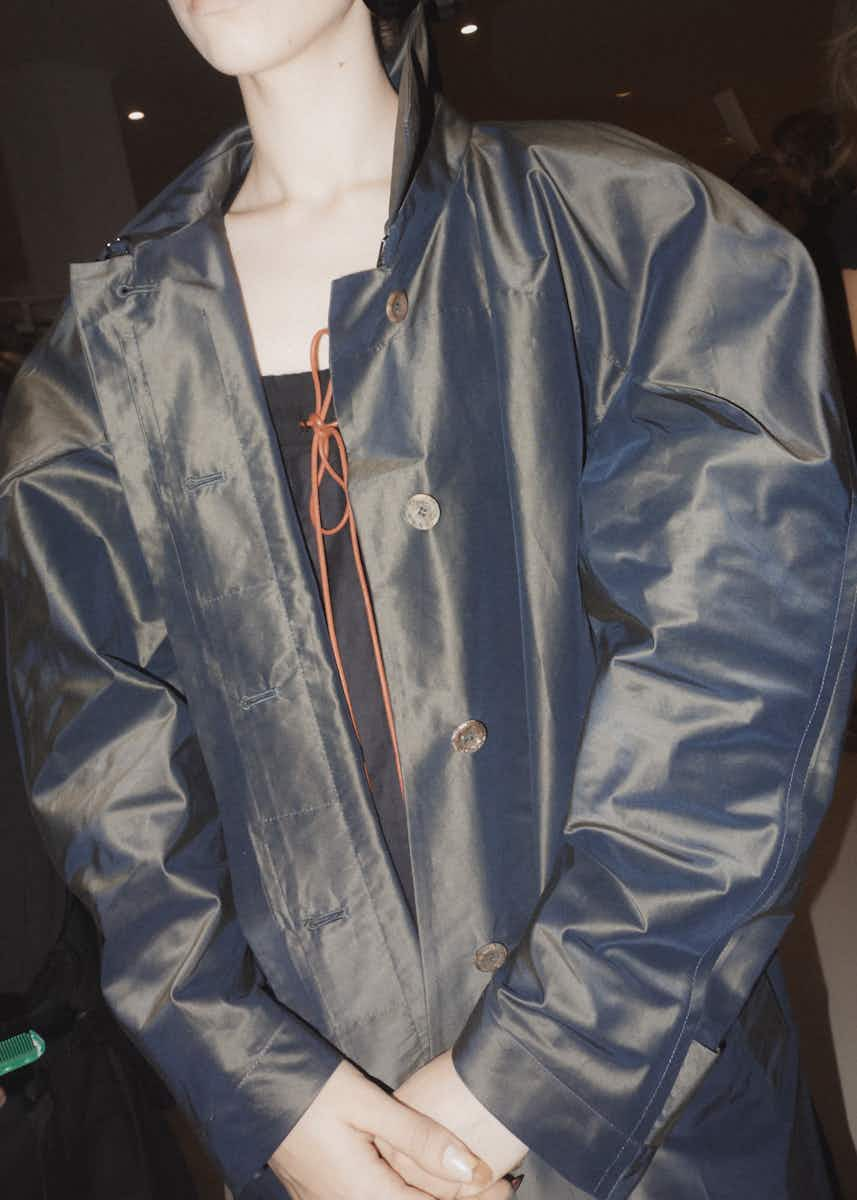 CELINE SS20
For those in search of a ​'70s-adjacent wardrobe, Hedi Slimane's SS20 Celine collection is the one for you. Having subtly nodded to the era with his AW19 offering – by reimagining the original Celine archives that informed the wardrobes of French bourgeois women back then – this season he's diving in head first. Of course it's familiar territory for the designer, meaning that every single piece performed; from blazers, bootcut jeans and pussy bow dresses, to a fur-trimmed paisley waistcoat and a gold lamé prairie dress with a Parisian edge. The collection is a wardrobe that works together, but its beauty lies in the fact that it's sure to be dissected and worked into wardrobes high and low worldwide.

What did it look like?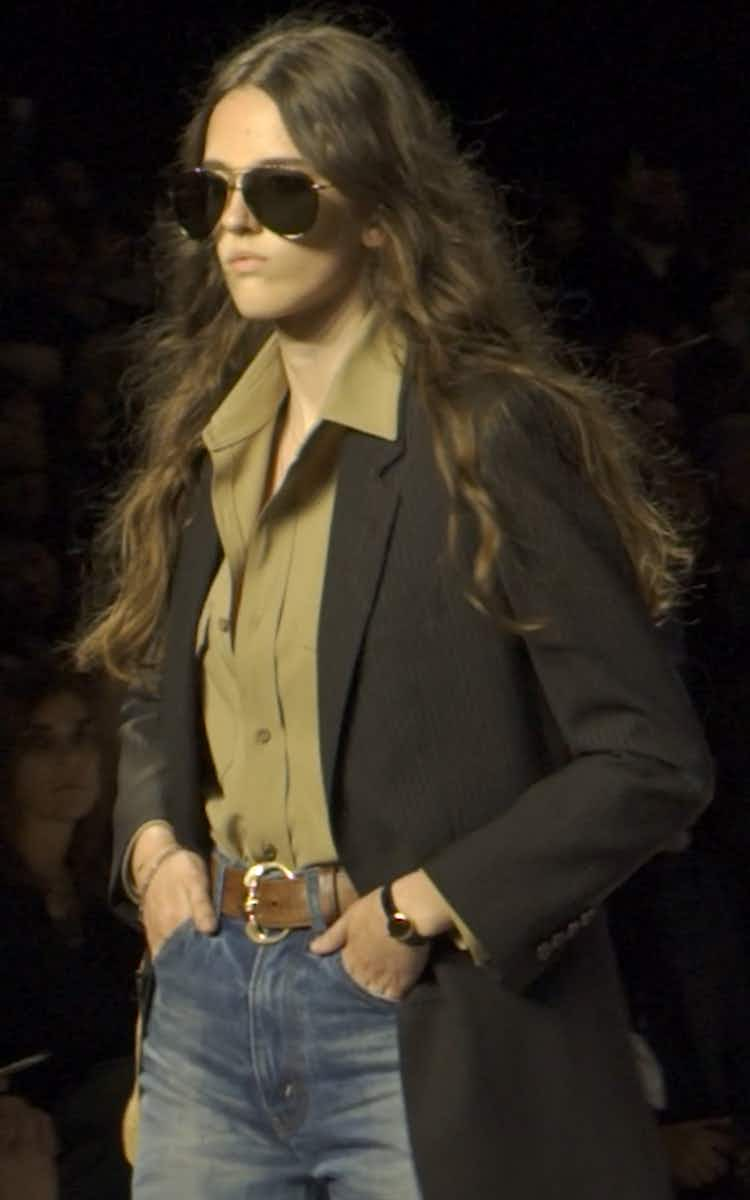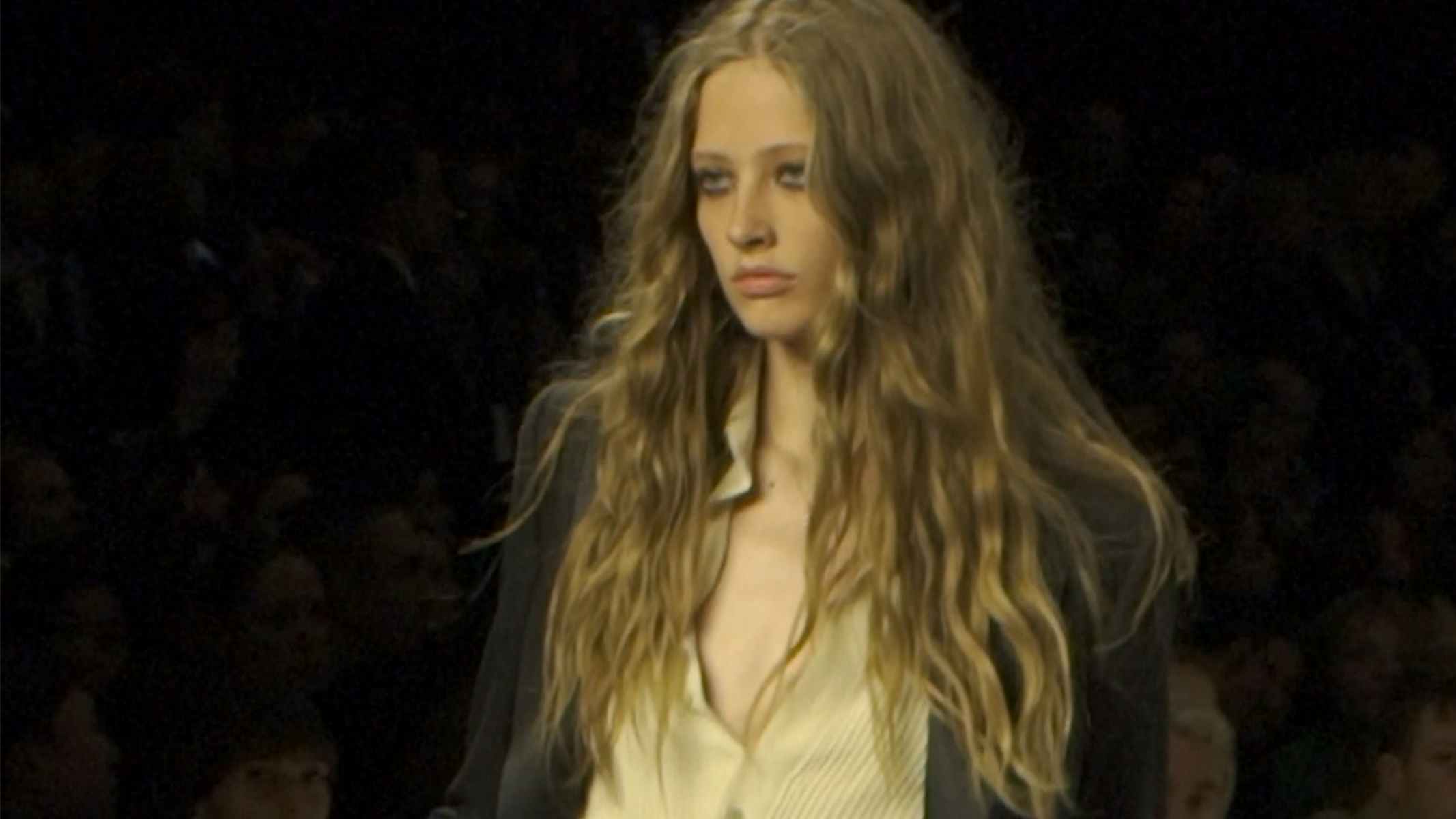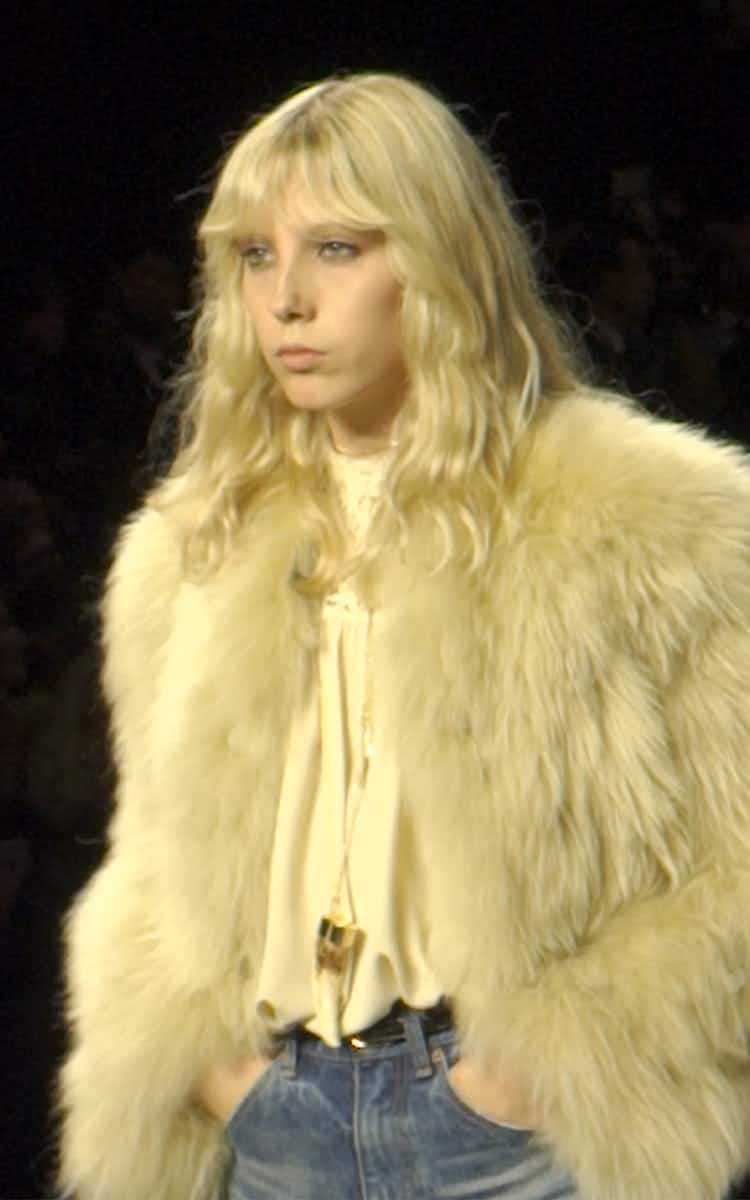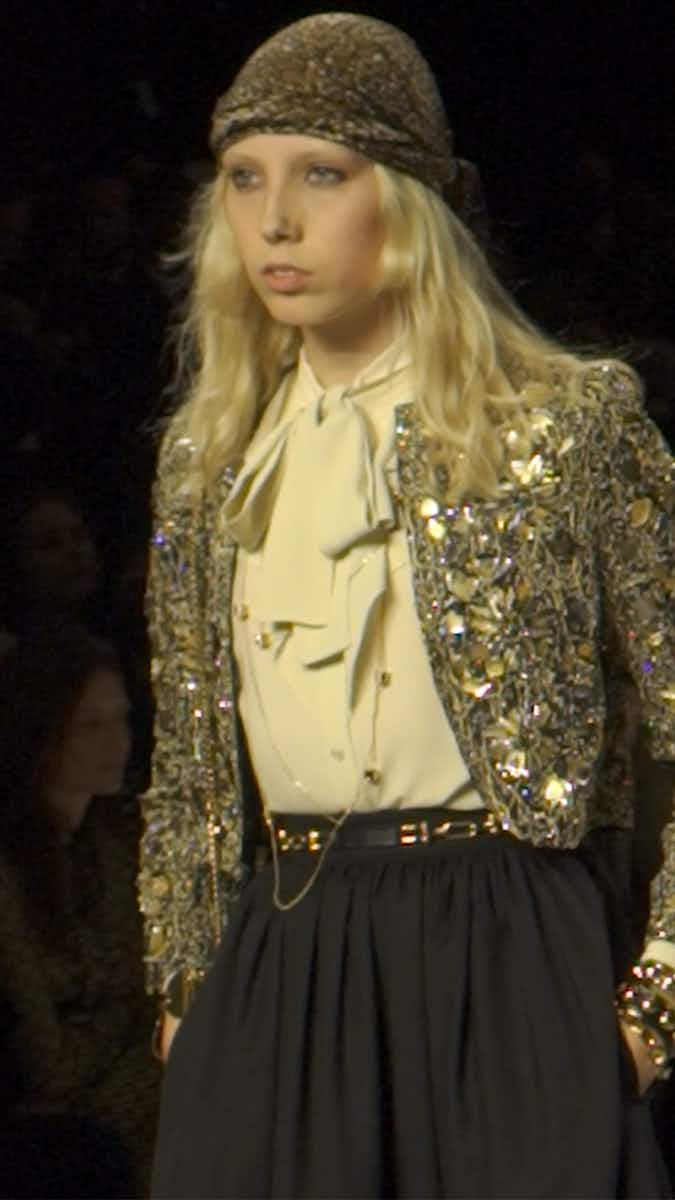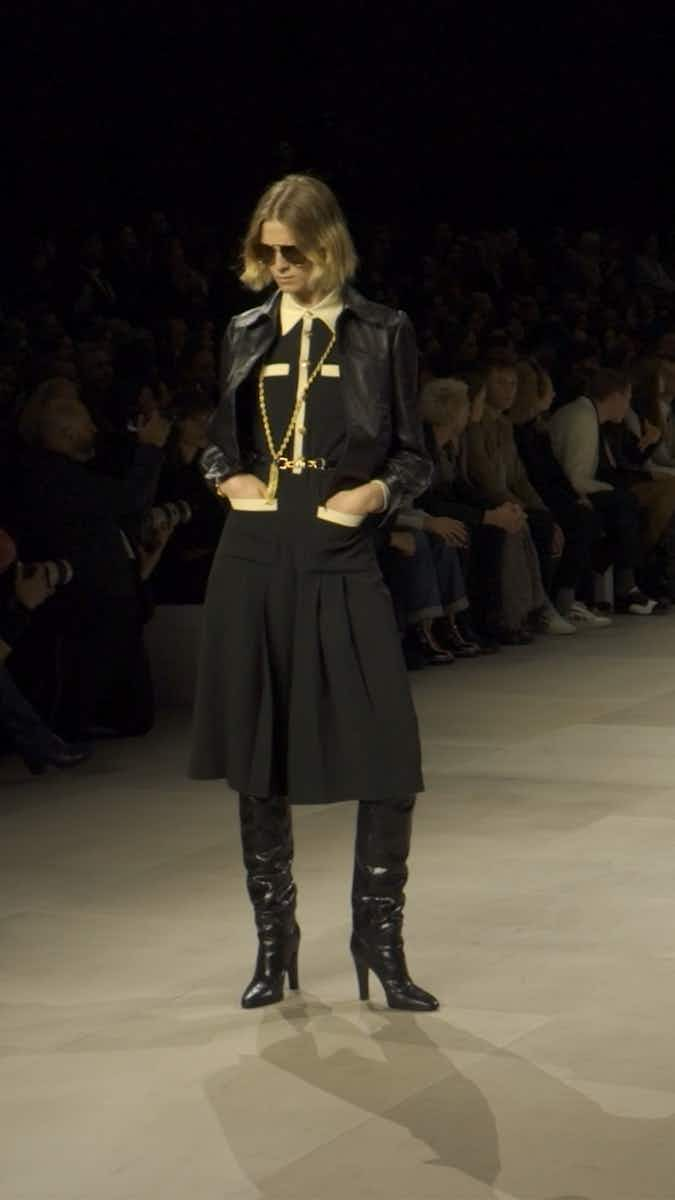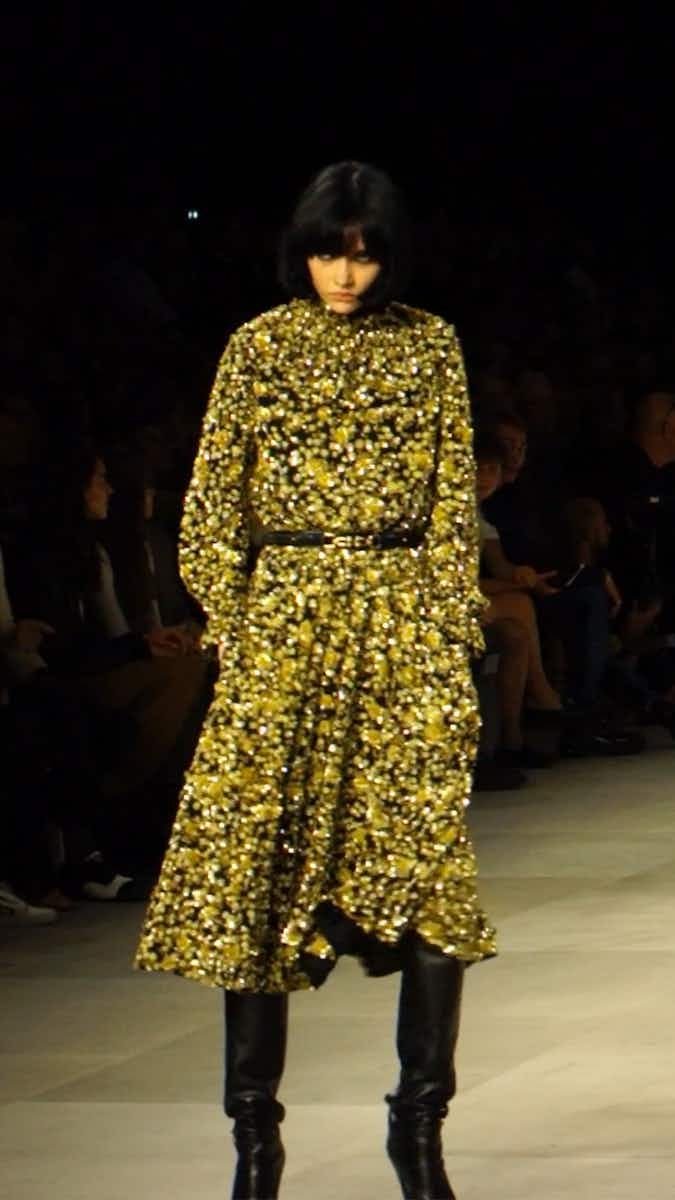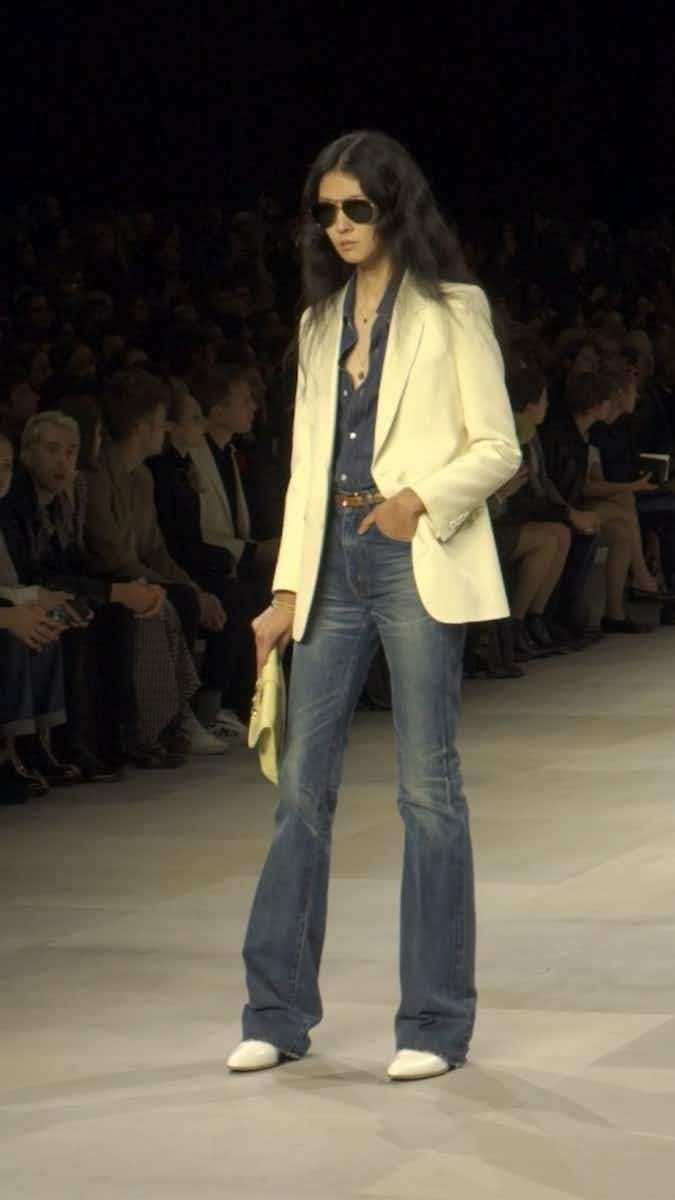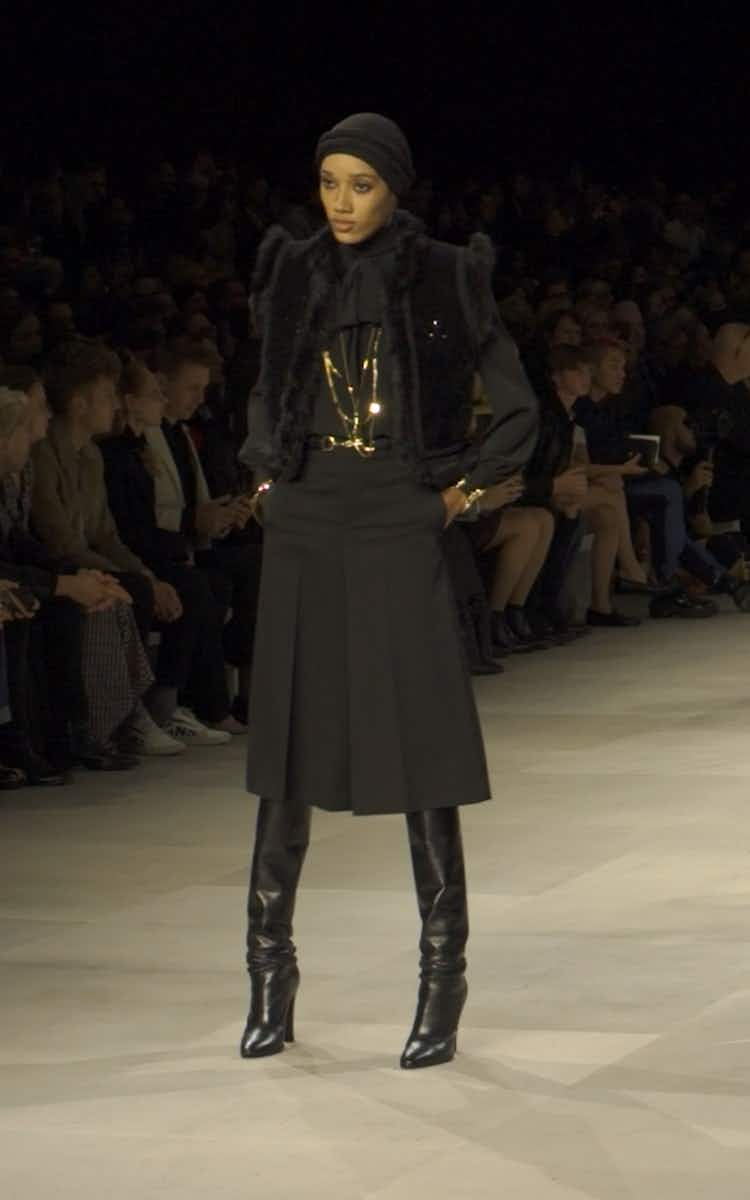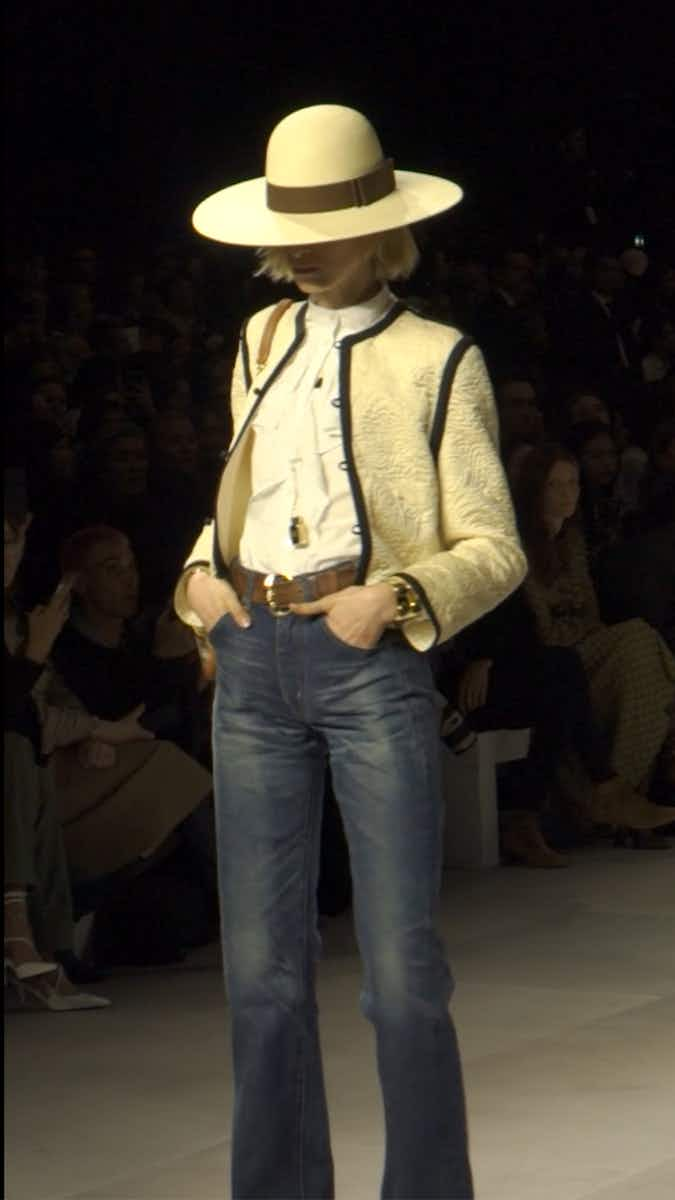 Was there a stand out piece?
An Afghan coat just like the one worn by Almost Famous' Penny Lane.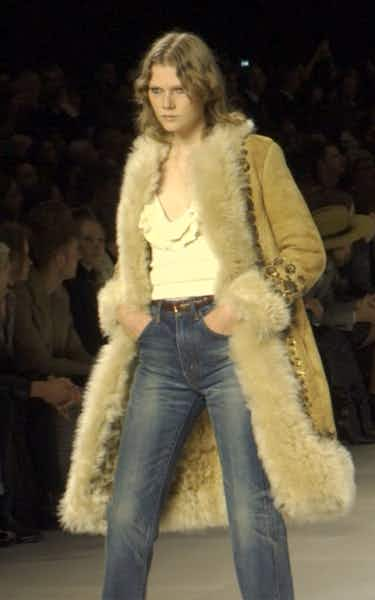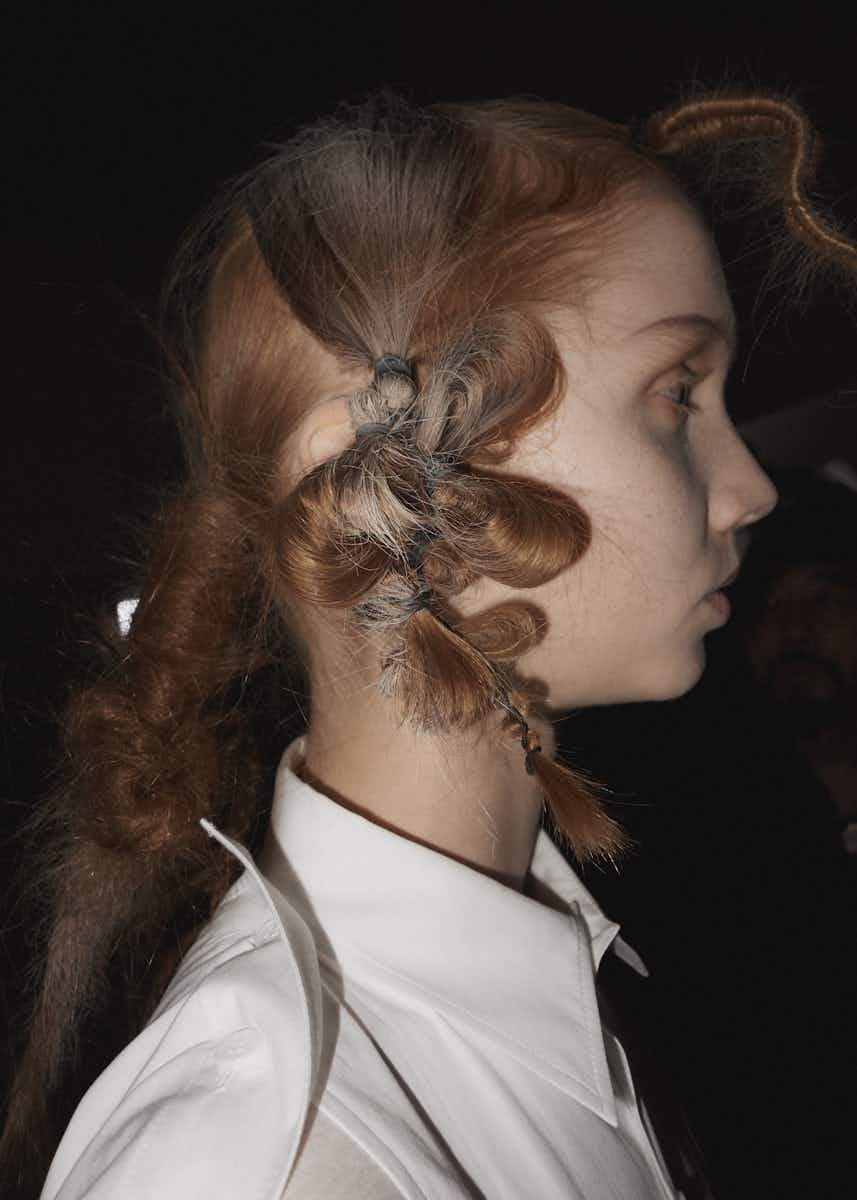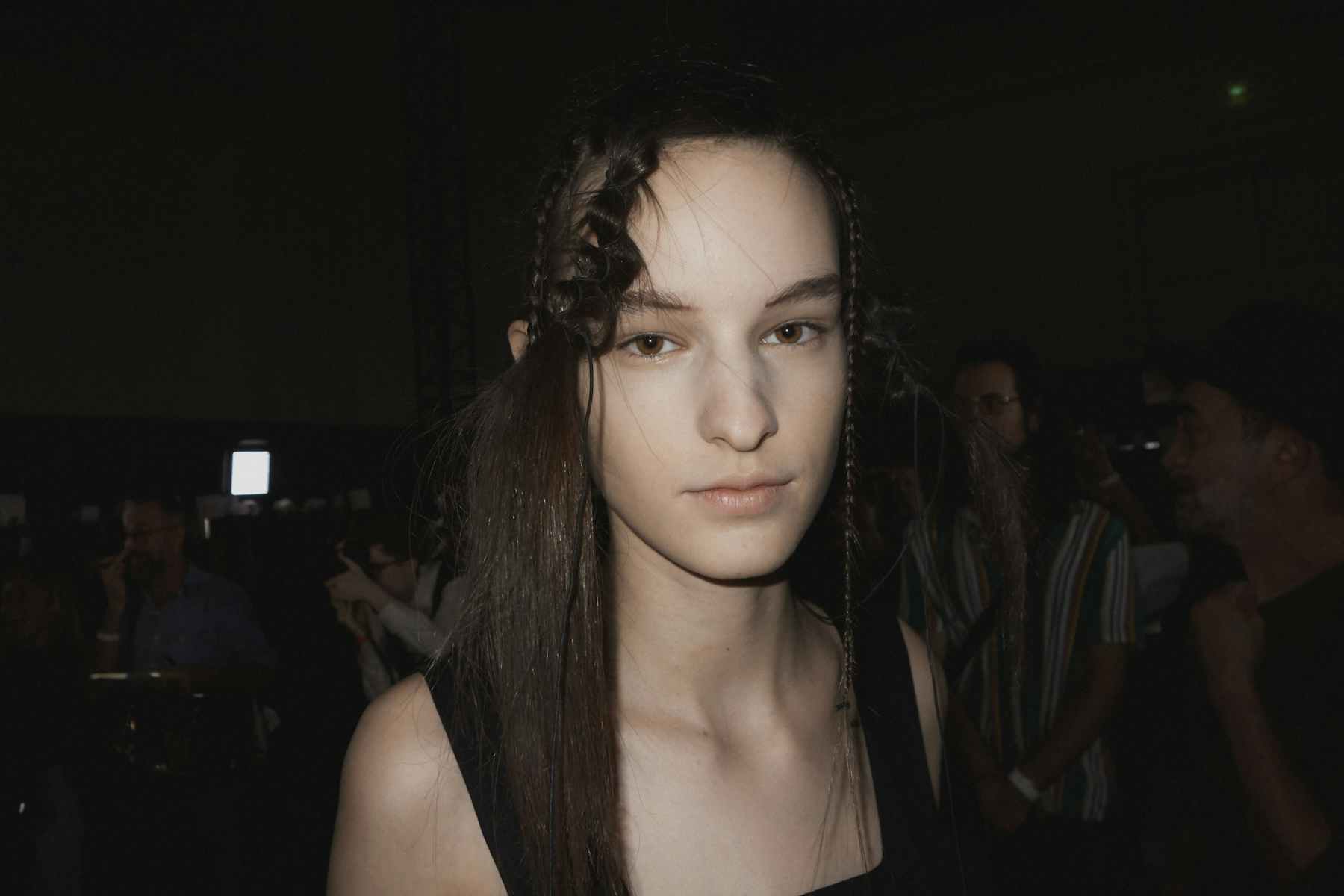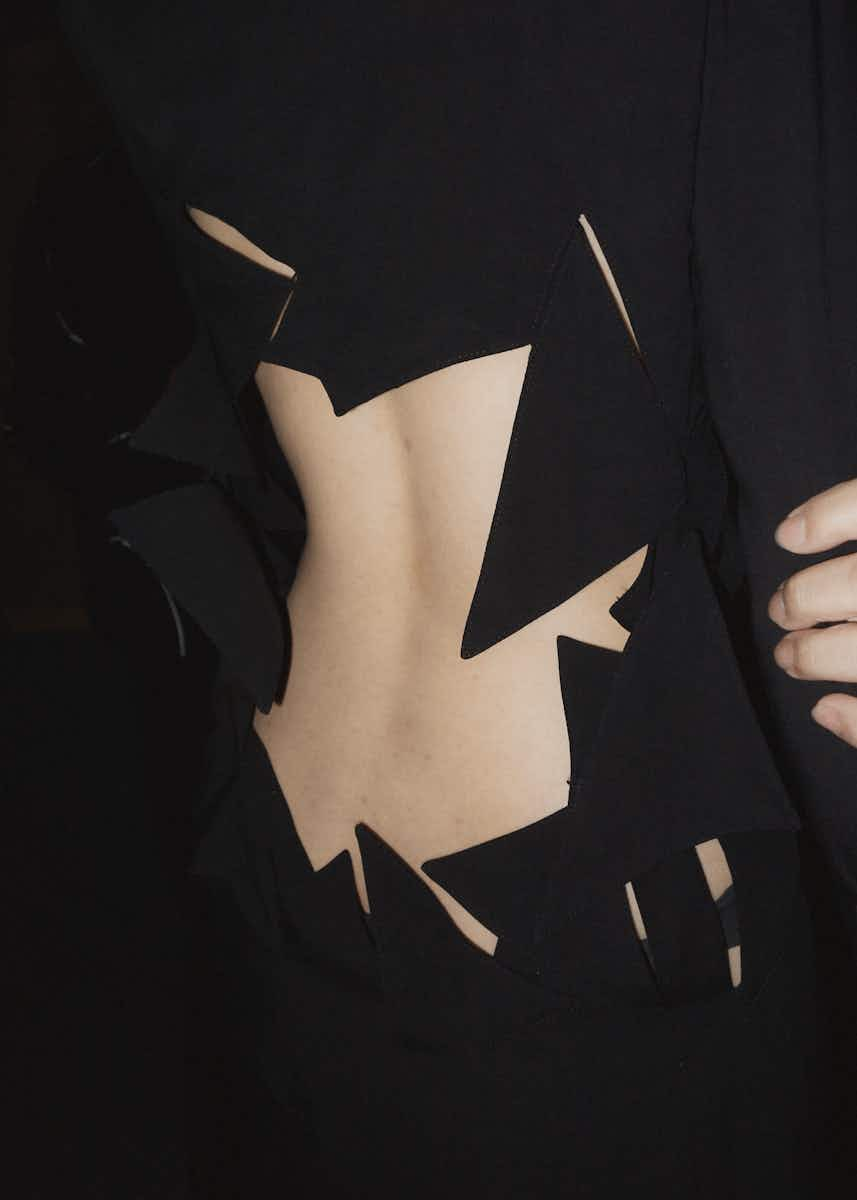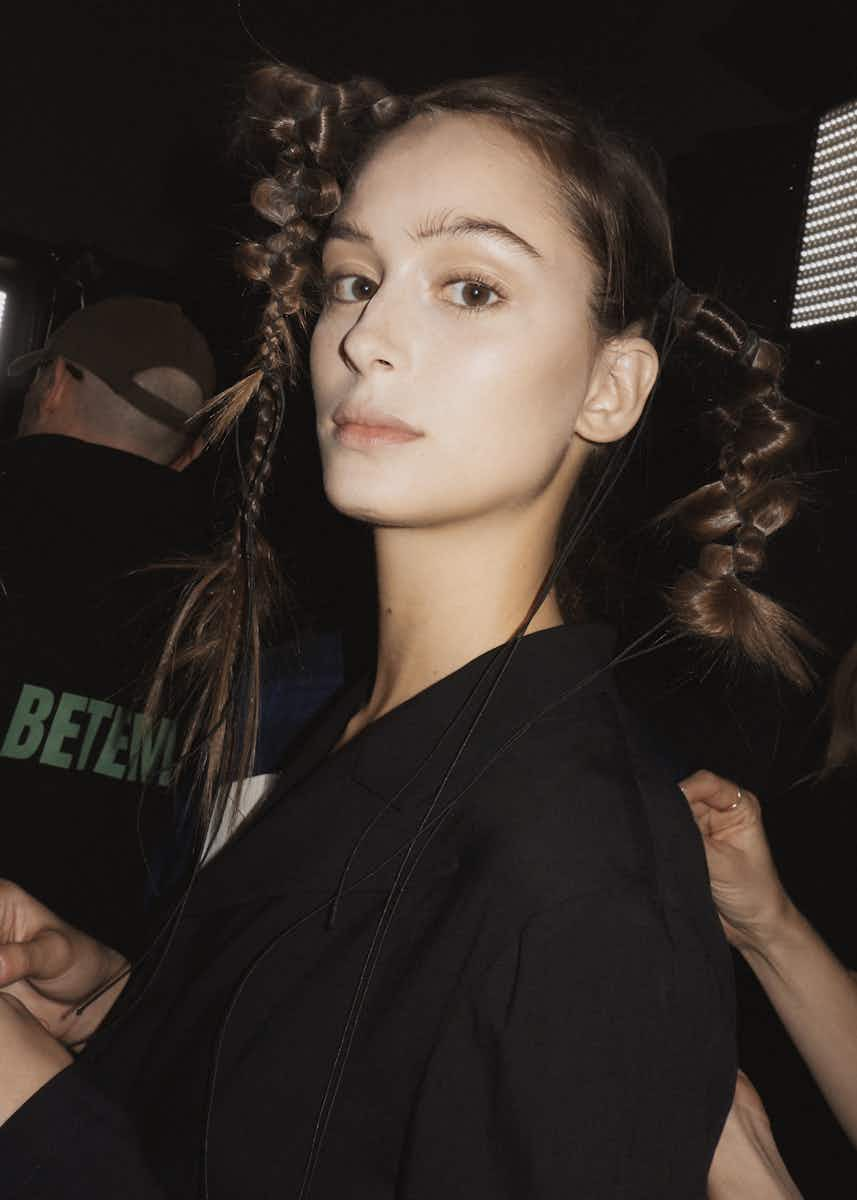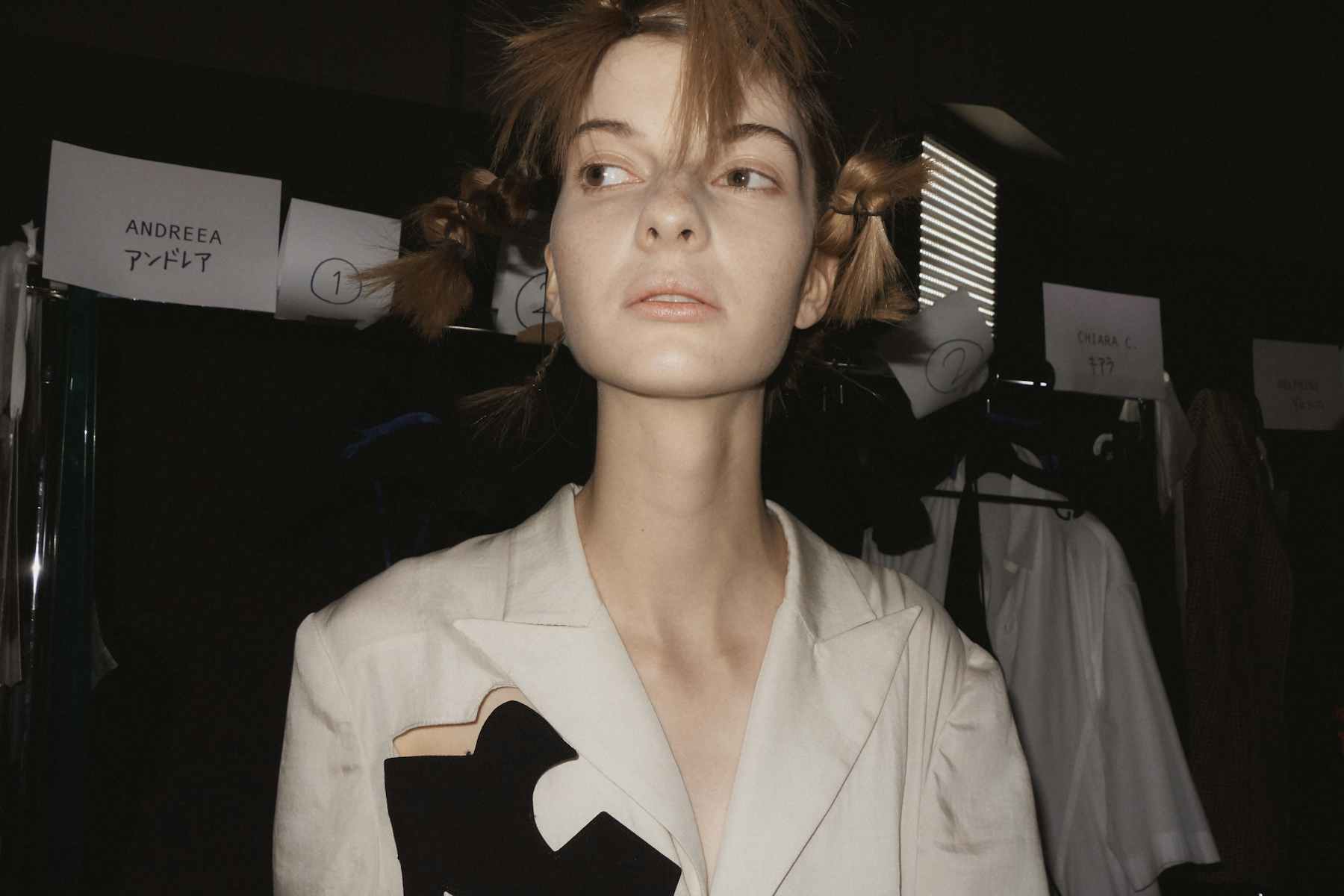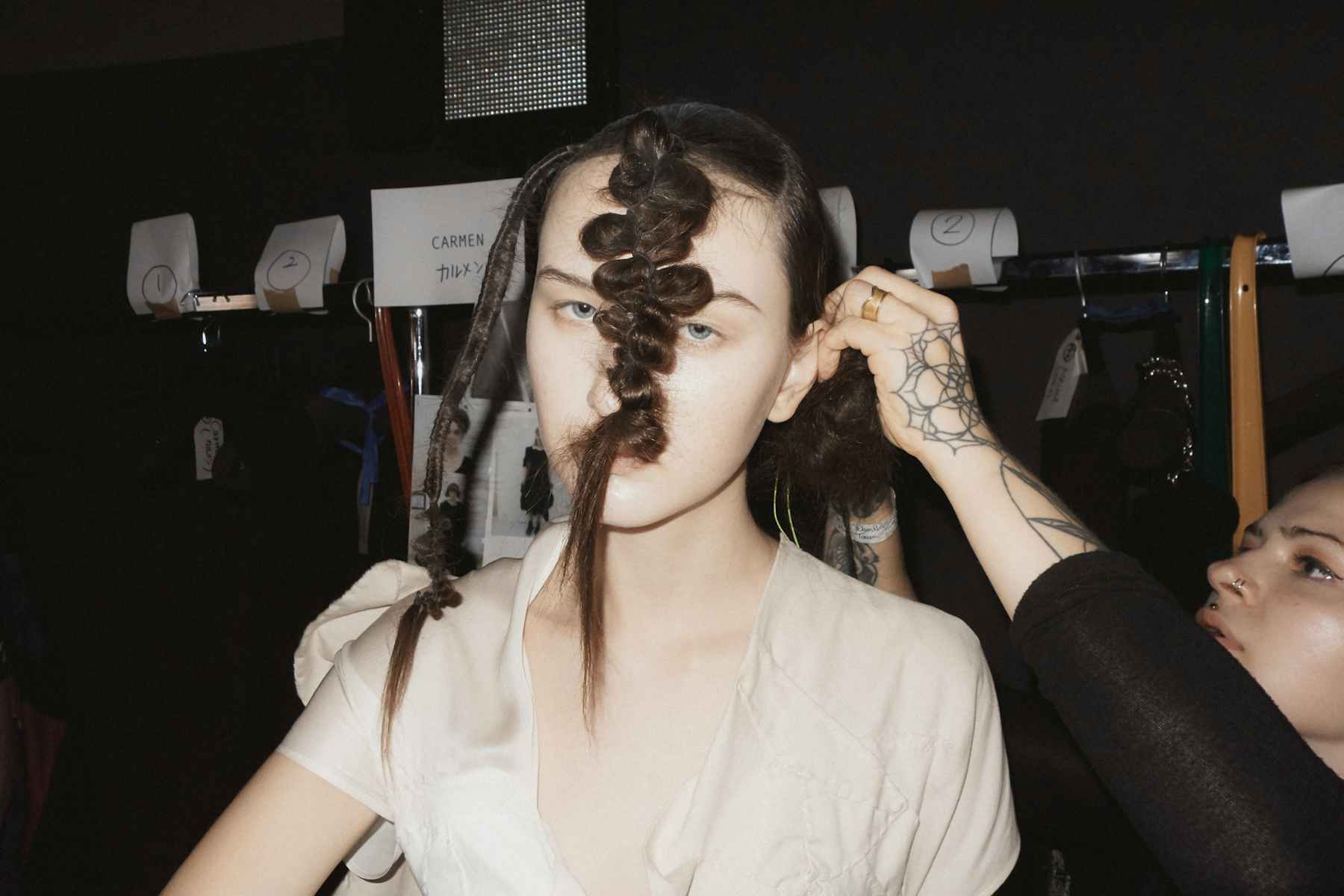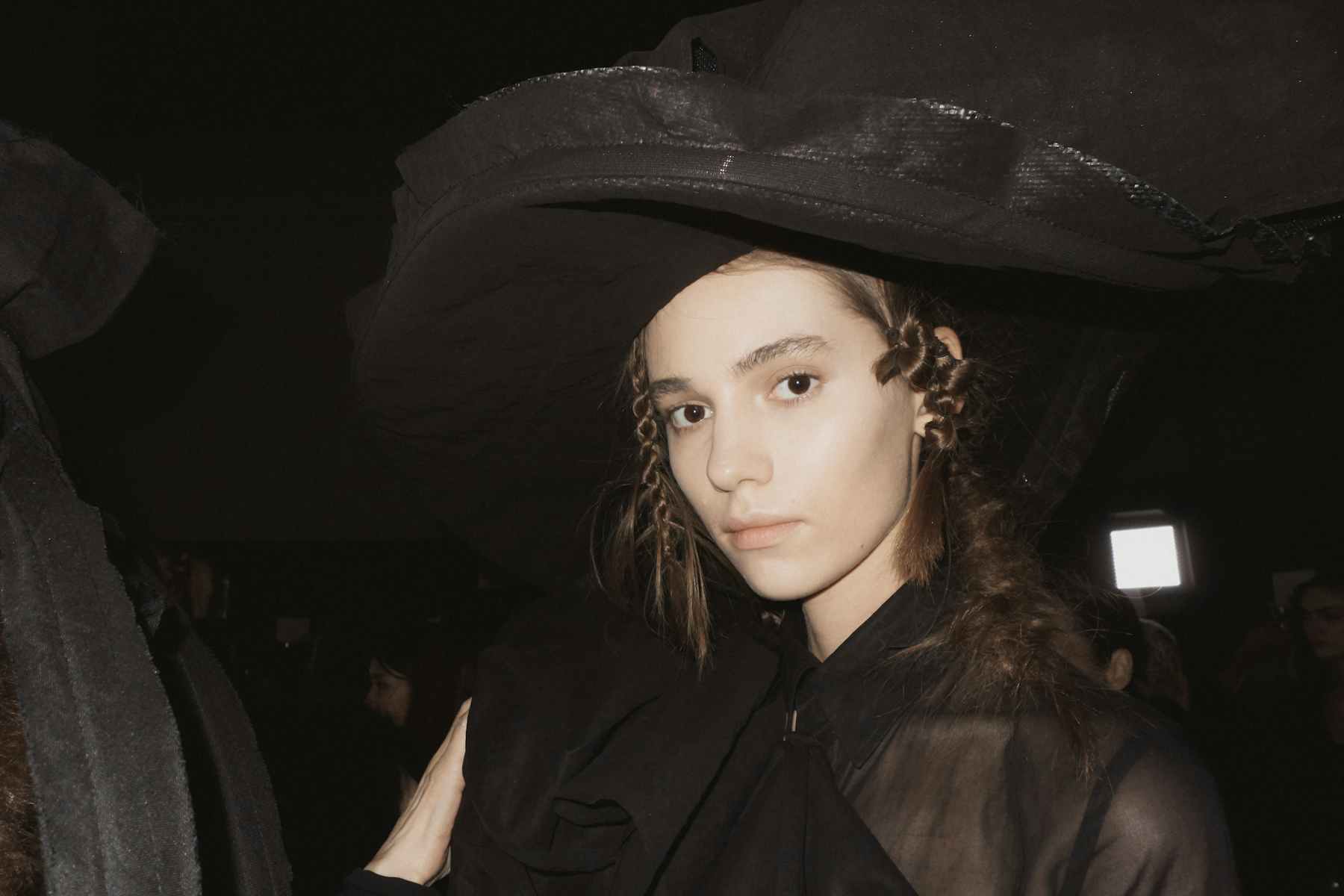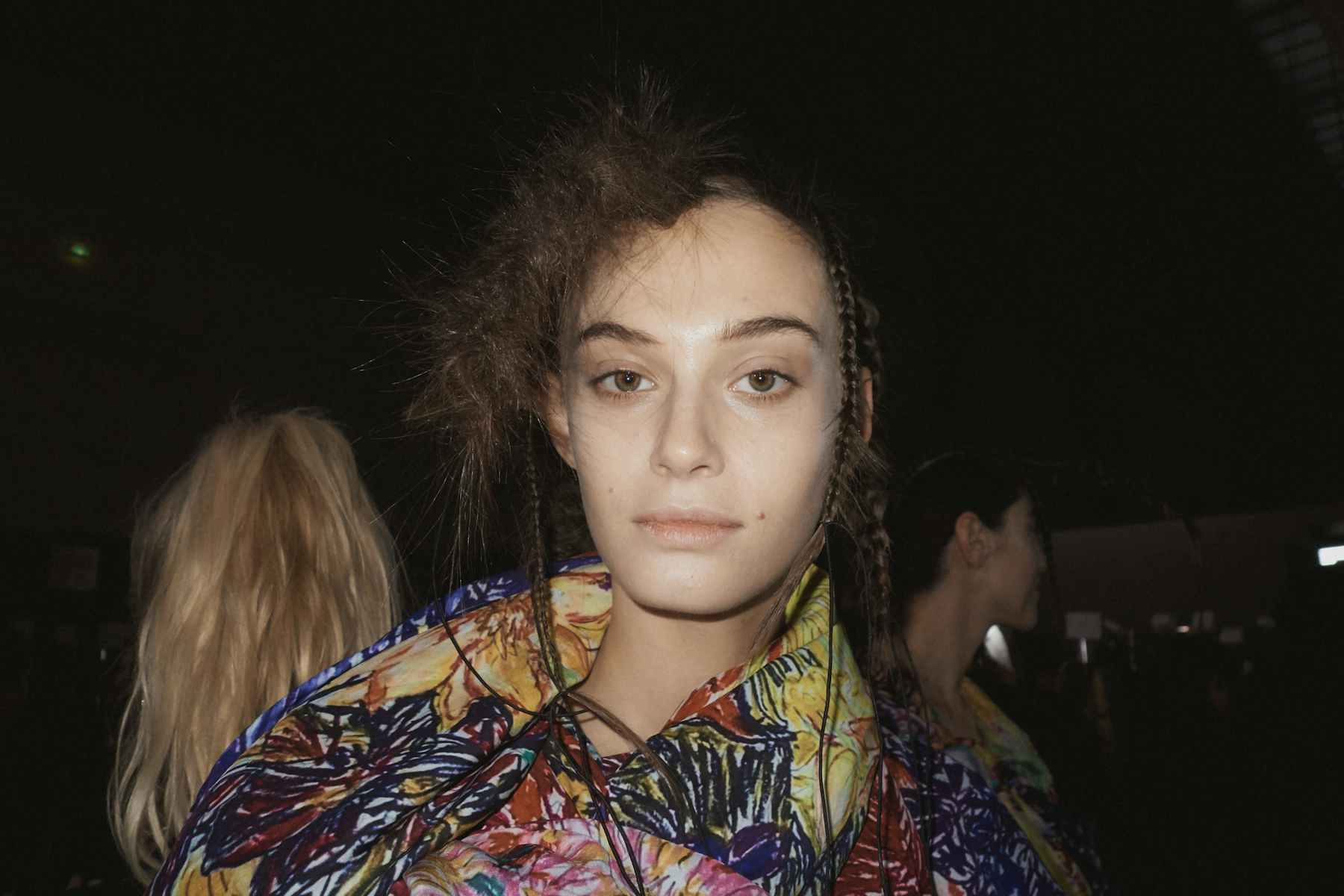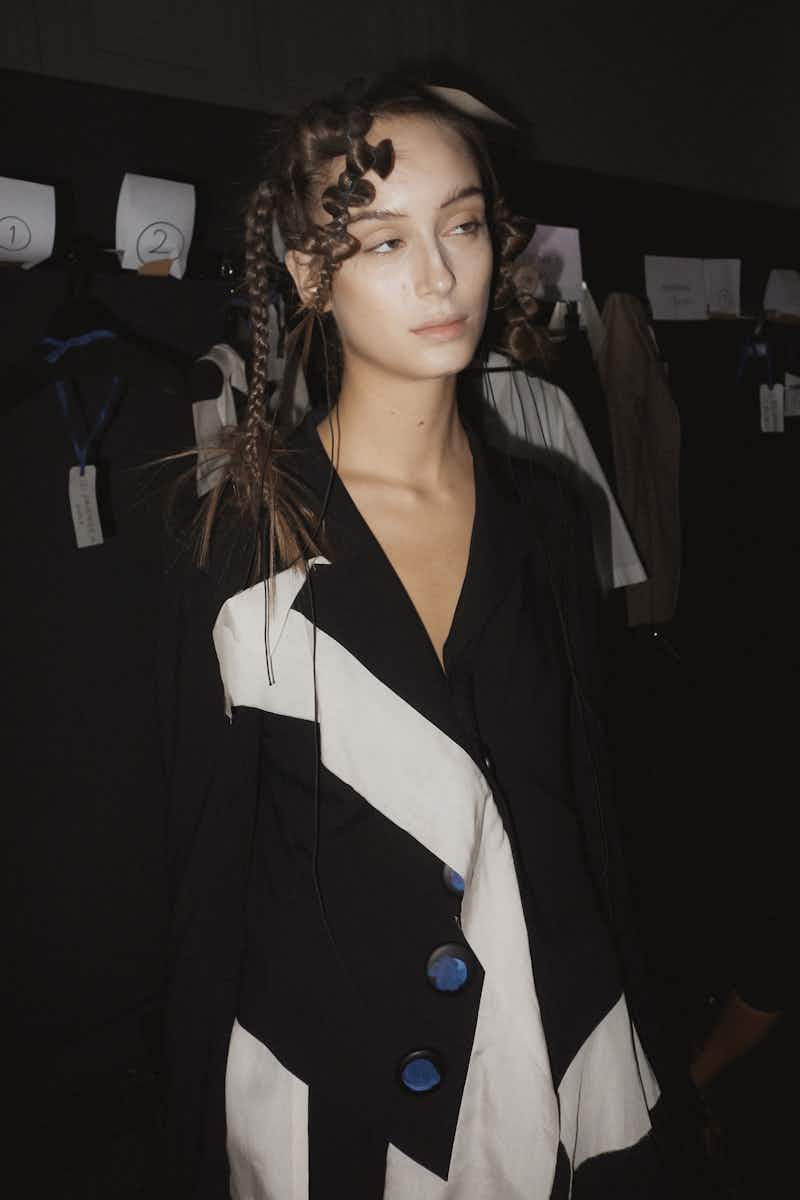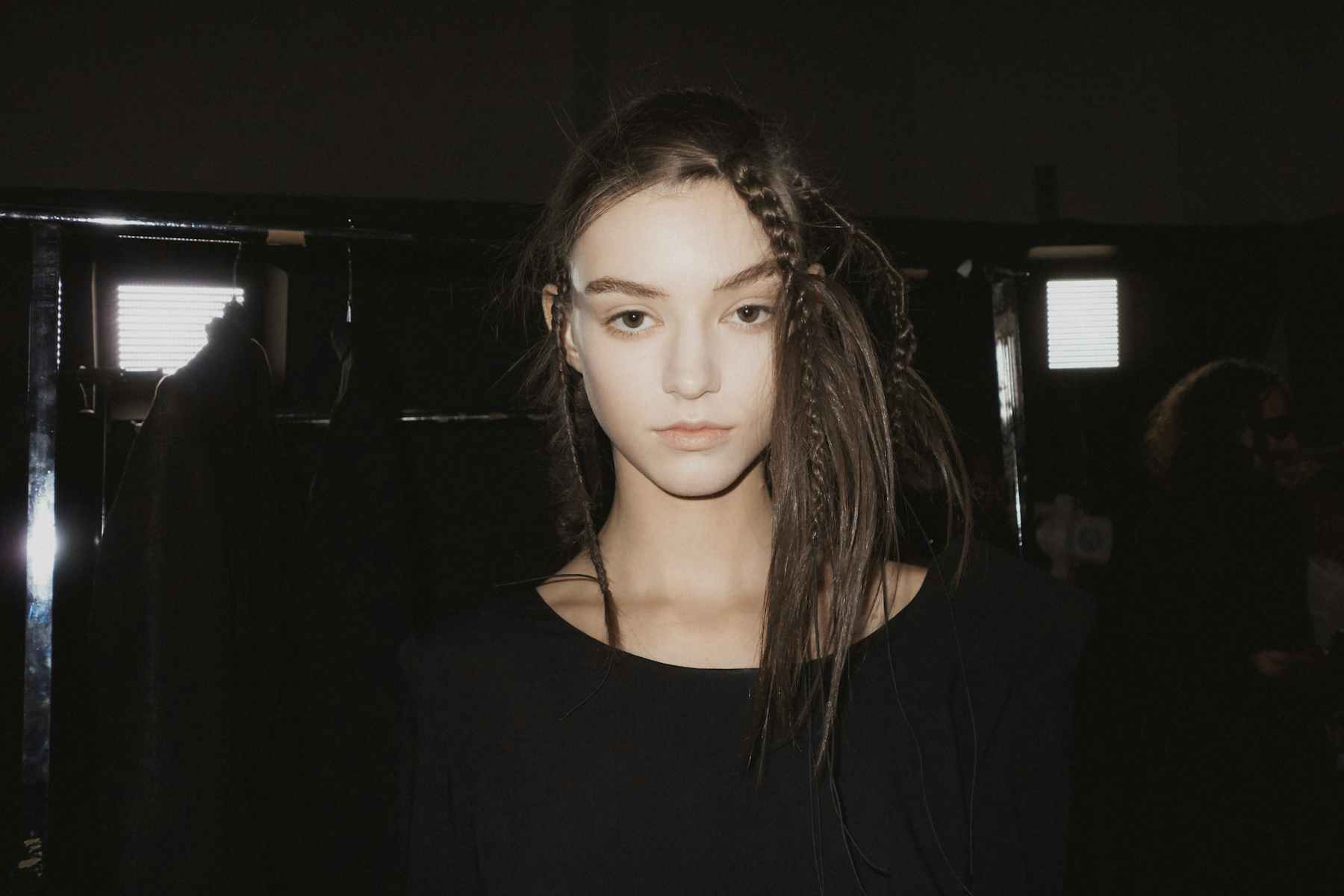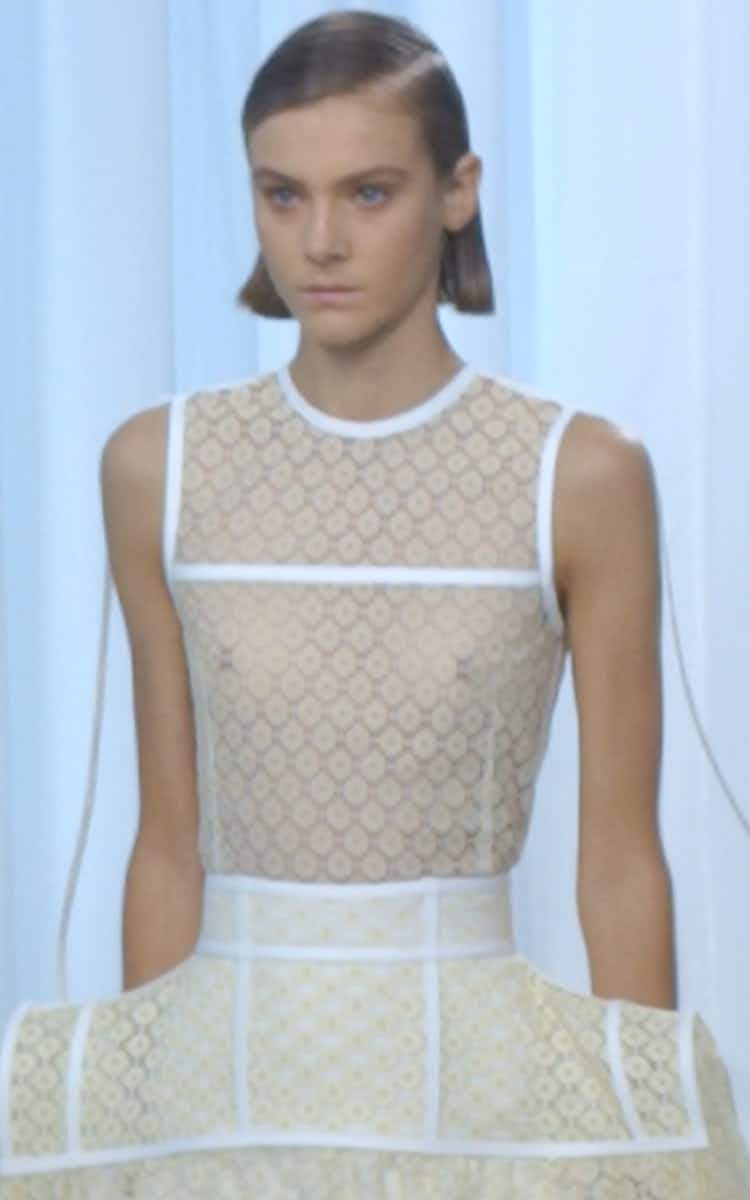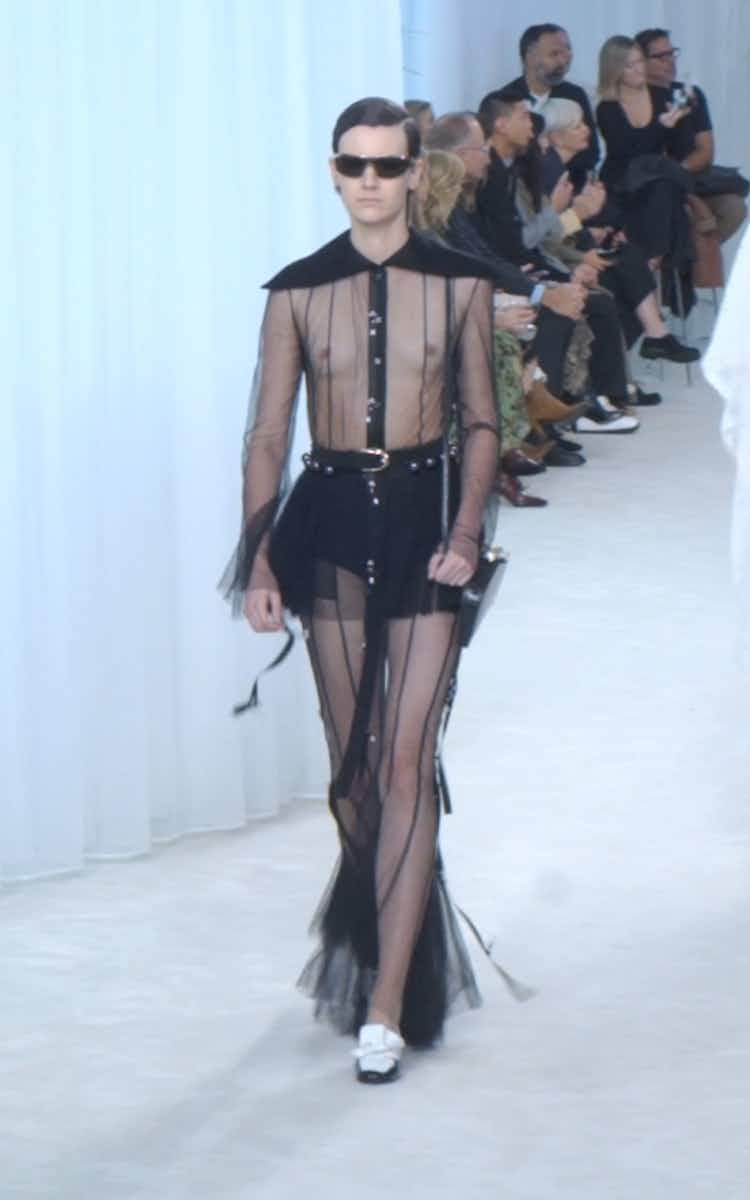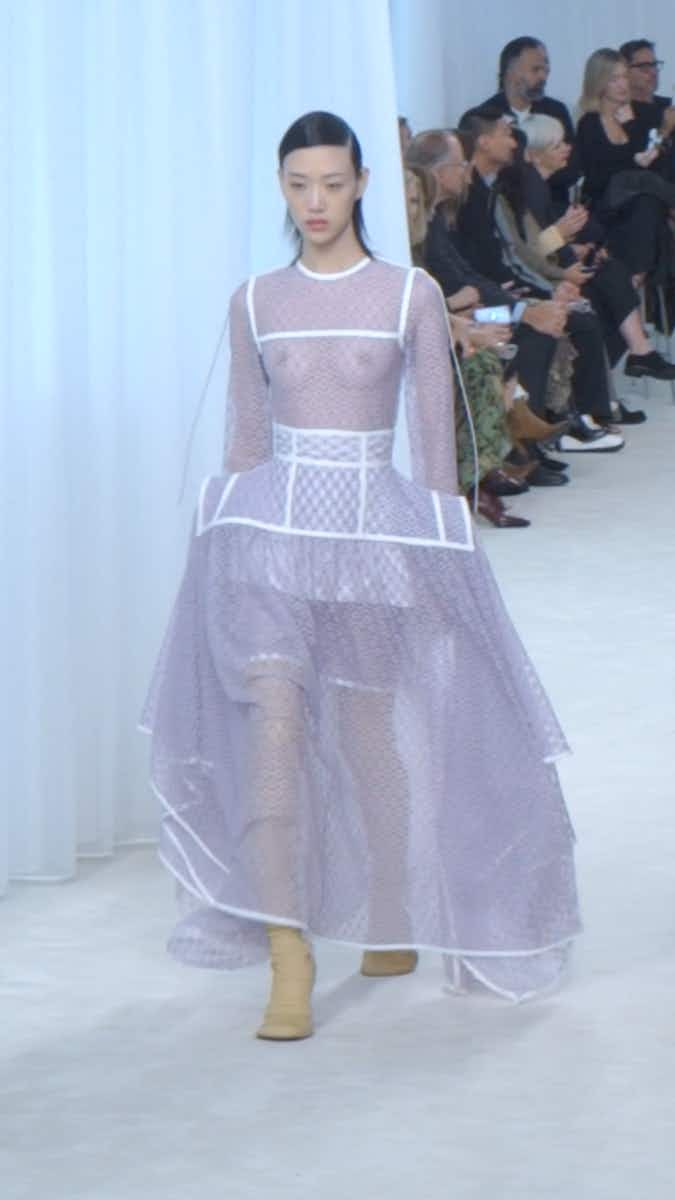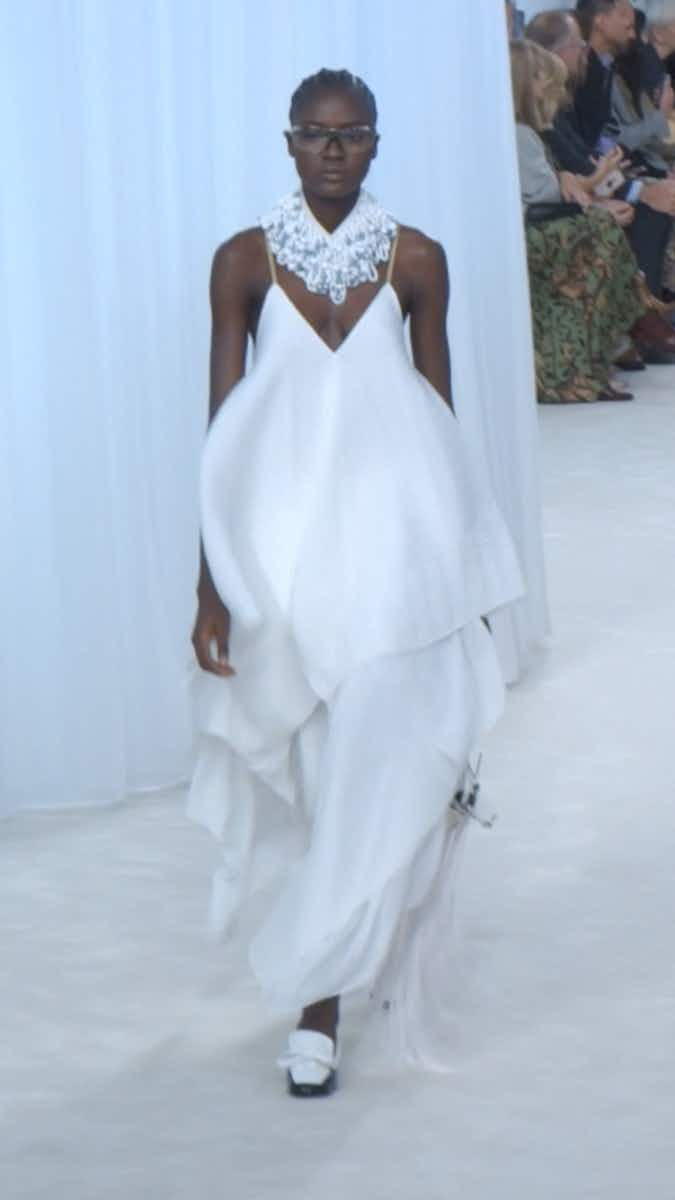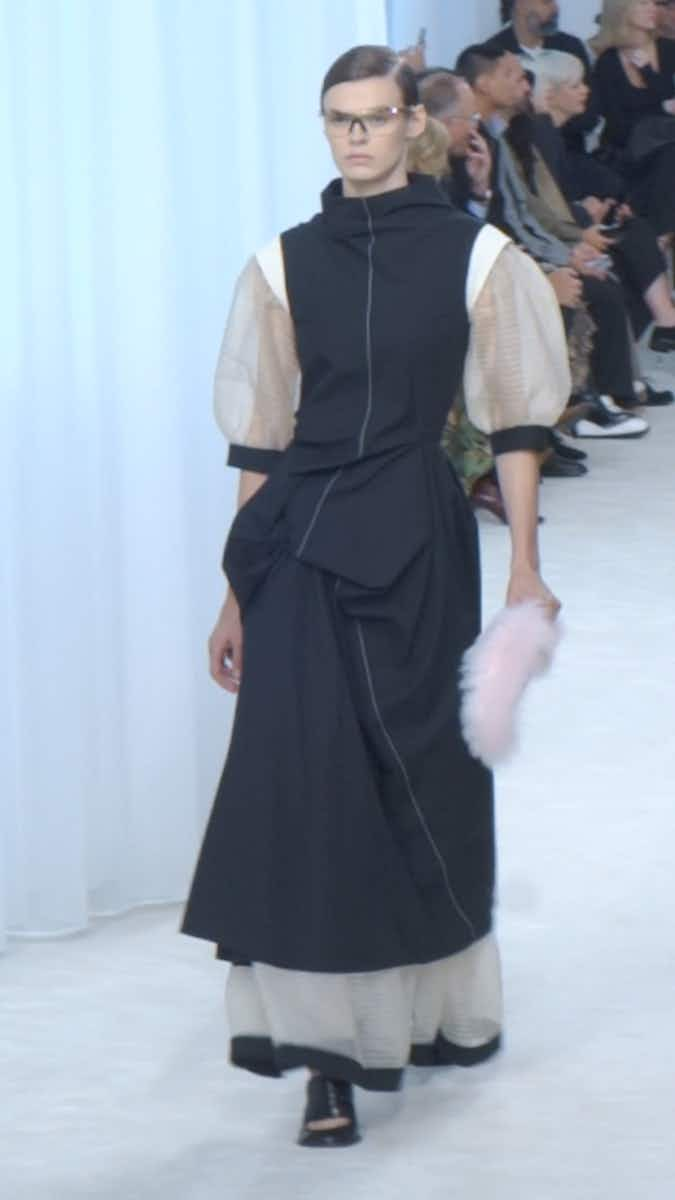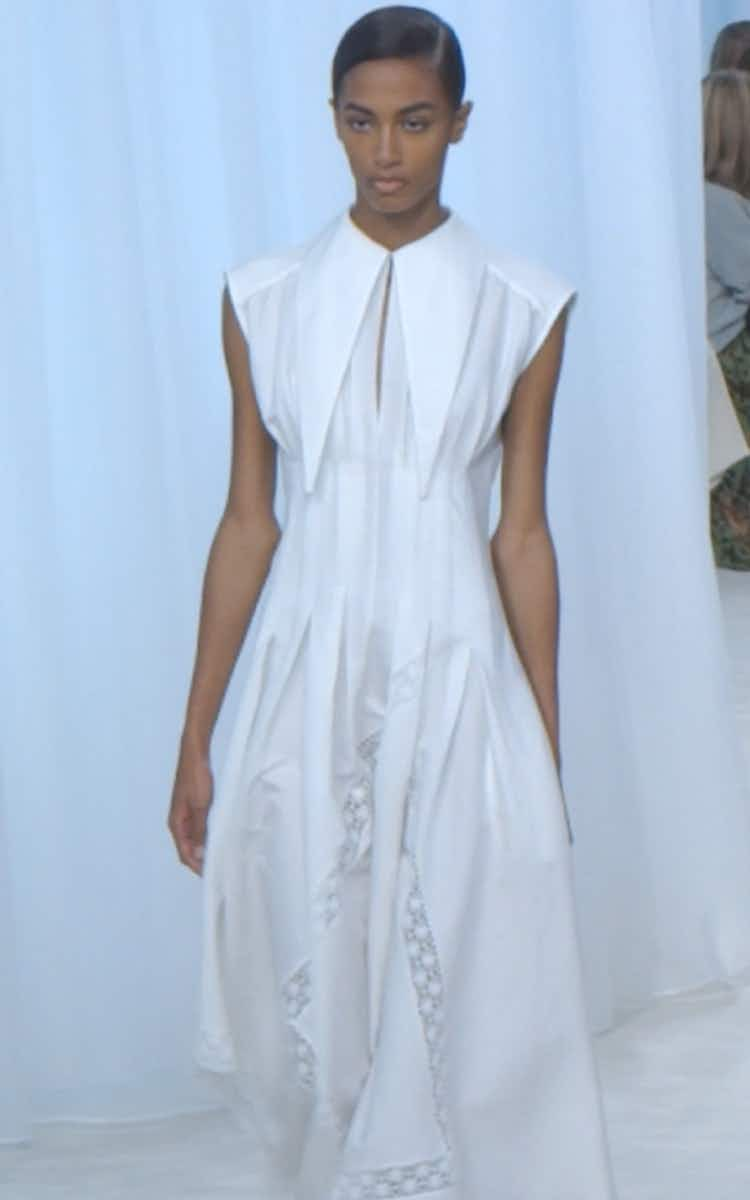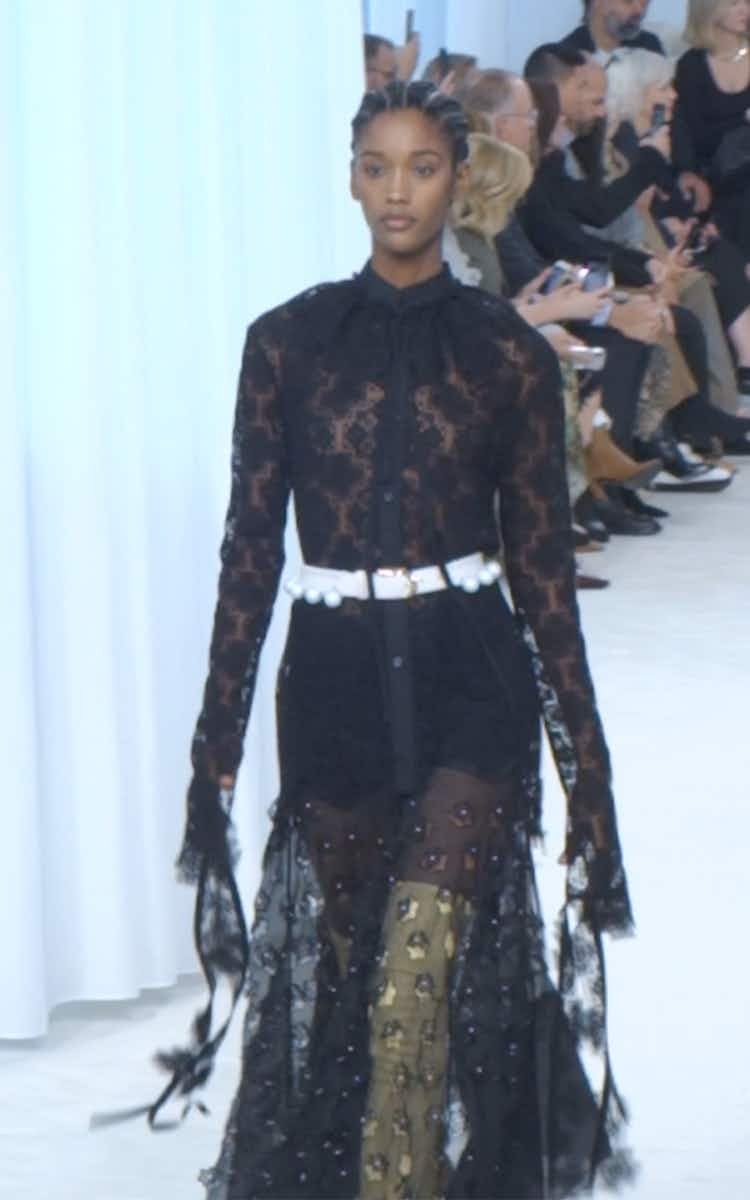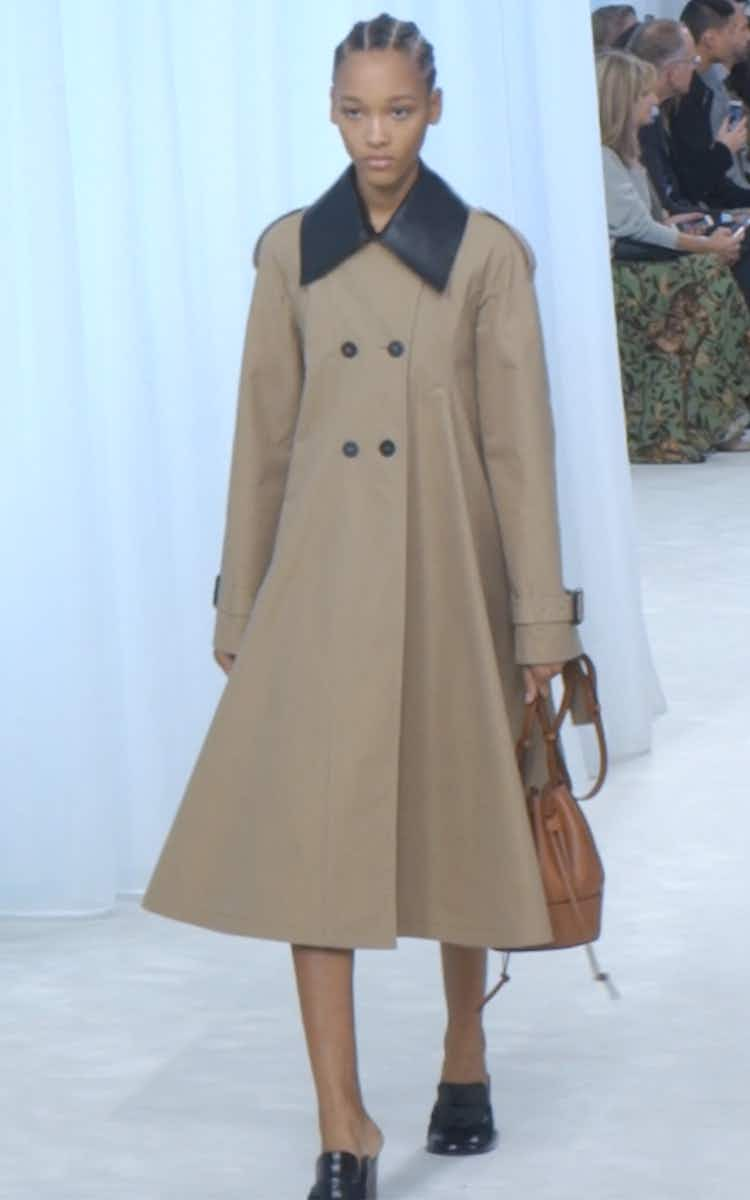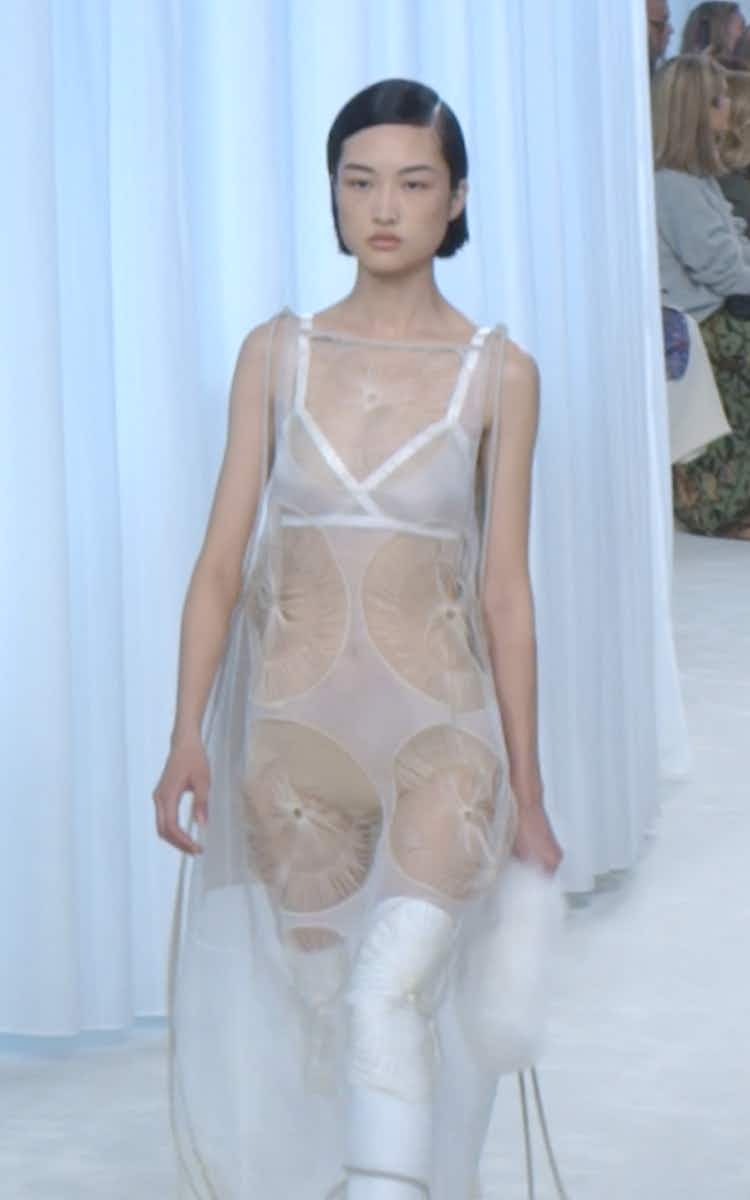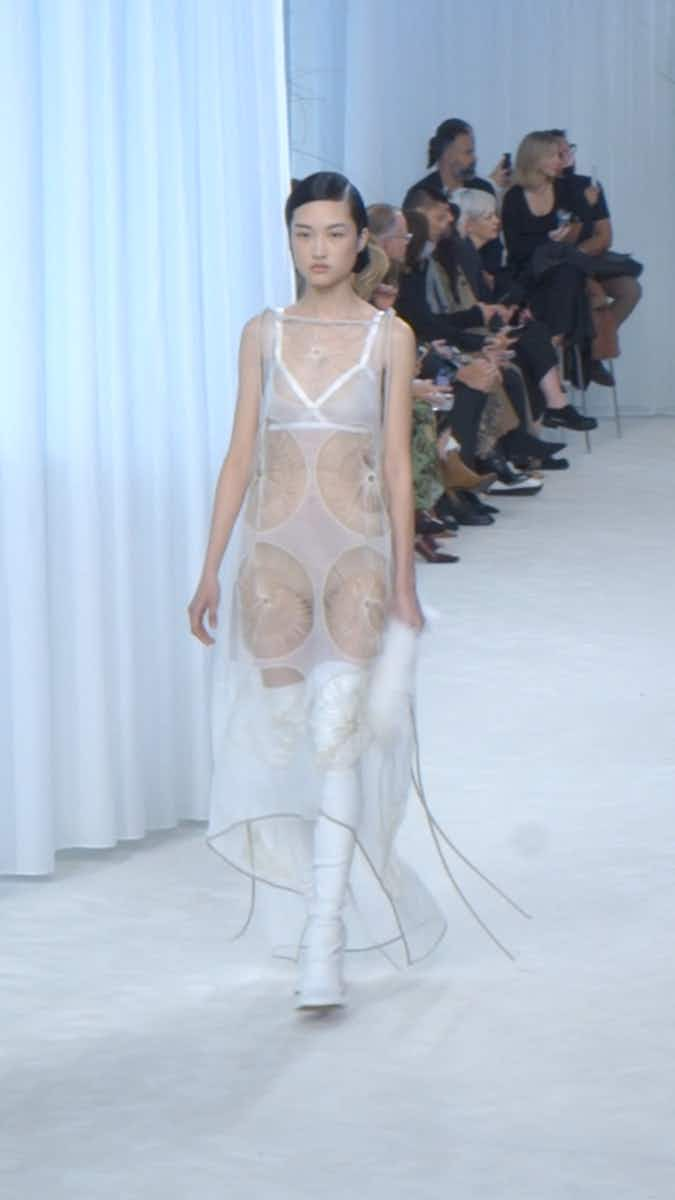 OFF-WHITE SS20
Virgil Abloh stripped things back at Off-White for SS20 serving his take on ​'90s minimalism. Taking place in a car park at the Centre Pompidou, the show opened to a recording of American engineer, physician, and former NASA astronaut Dr. Mae C. Jemison's voice (the first black woman to travel in space as a mission specialist aboard the space shuttle Endeavour) discussing the merits of creativity in science and the arts with school girls. The collection was aptly titled ​"Meteor Shower" and there were tongue-in-cheek nods to the title throughout. Think: high neck cotton sheath dresses worn with hold-punched gloves, cut-out track pants, parachute dresses (as seen on Bella Hadid), oversized woven handbags and a white vest with a hole punched out (the result of a falling meteorite, no doubt).
What did it look like?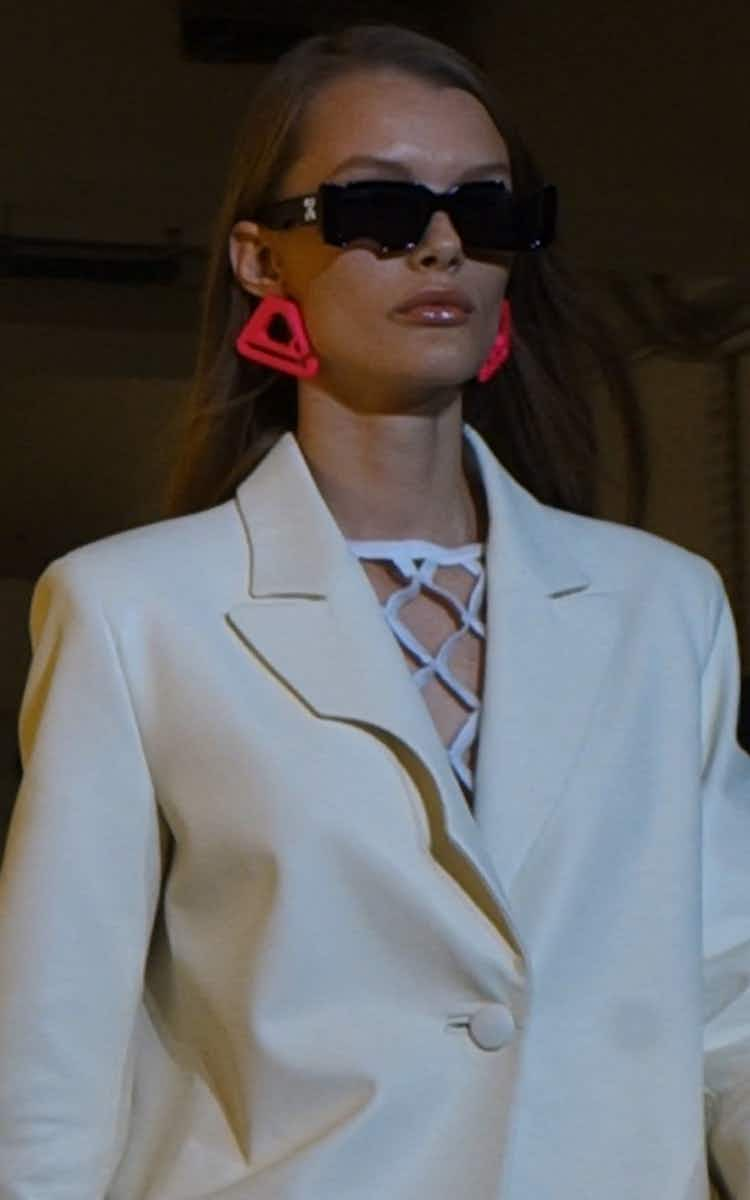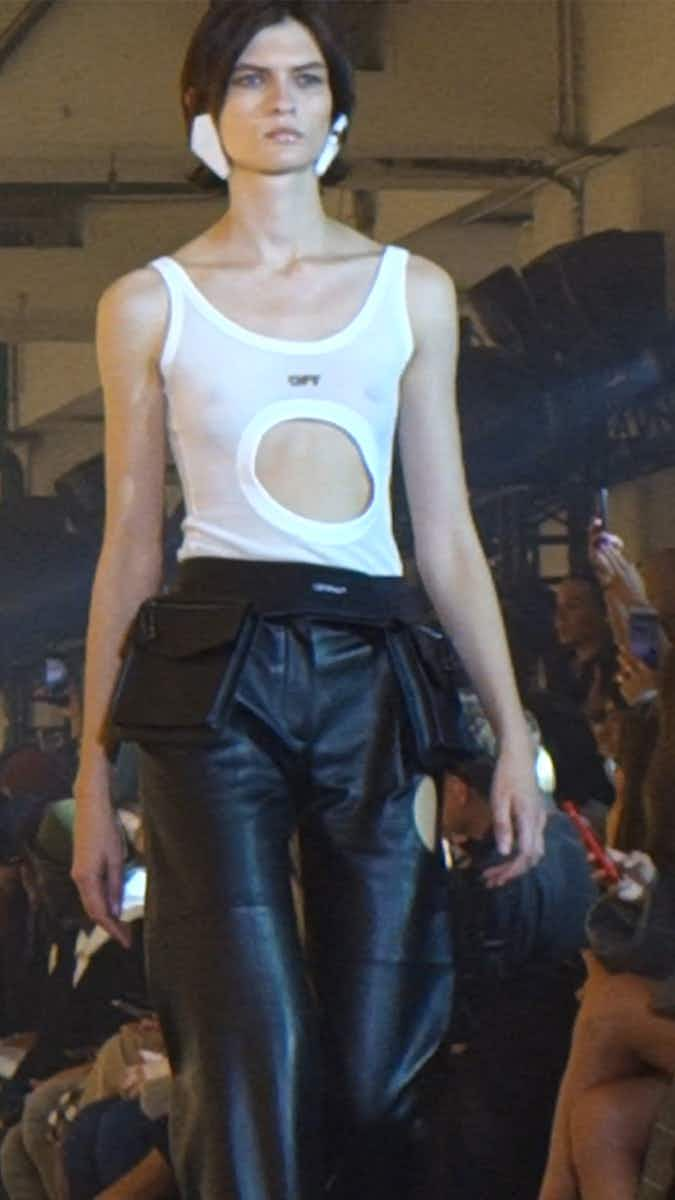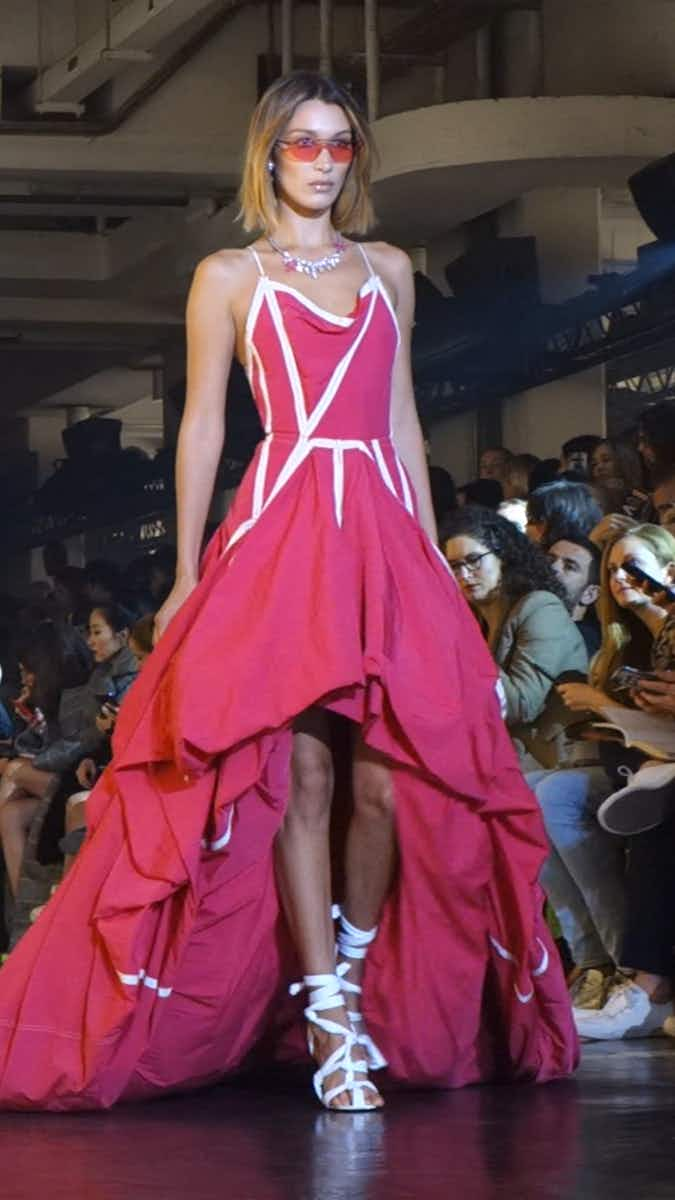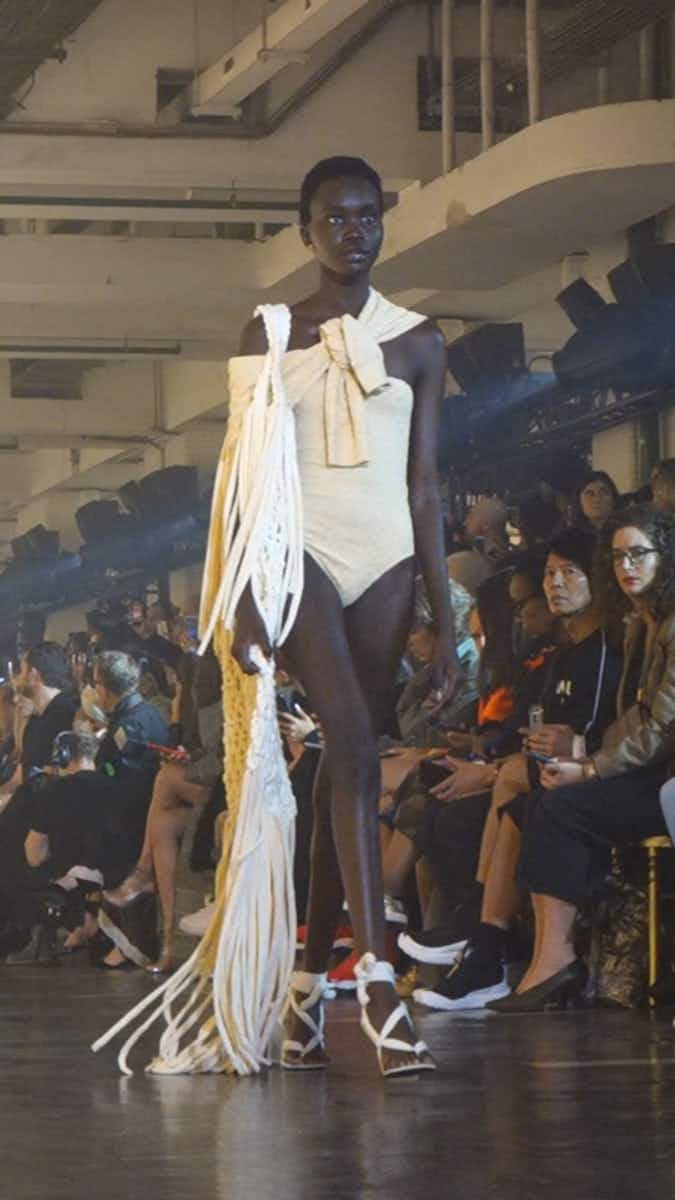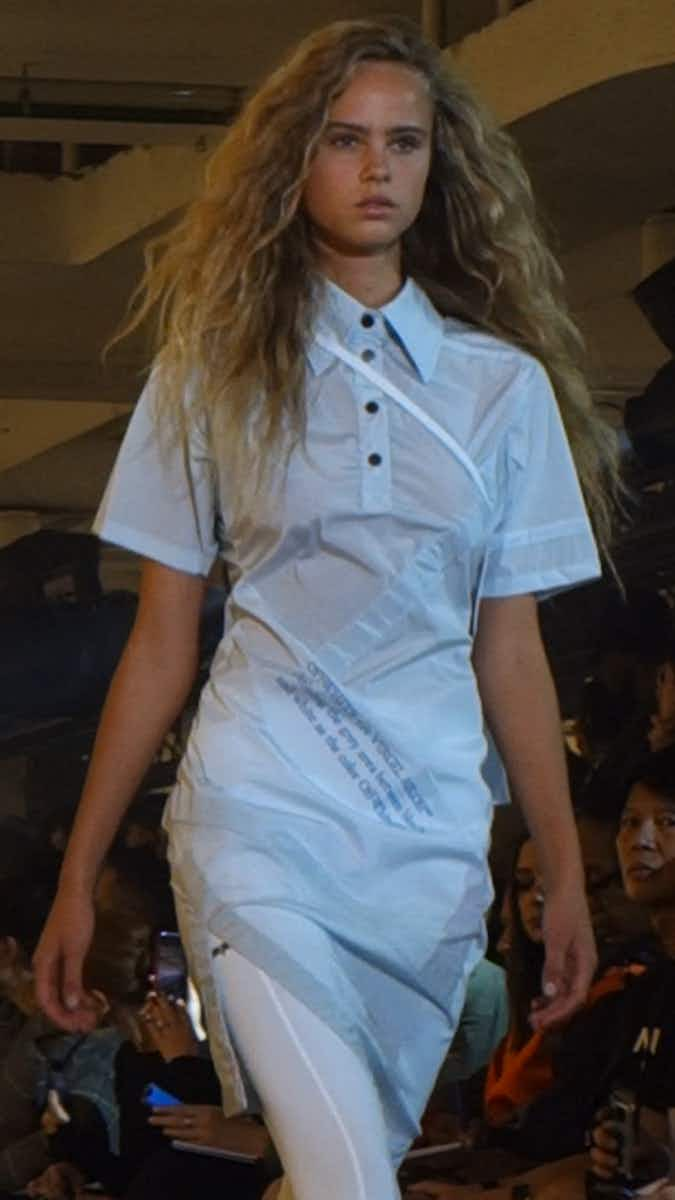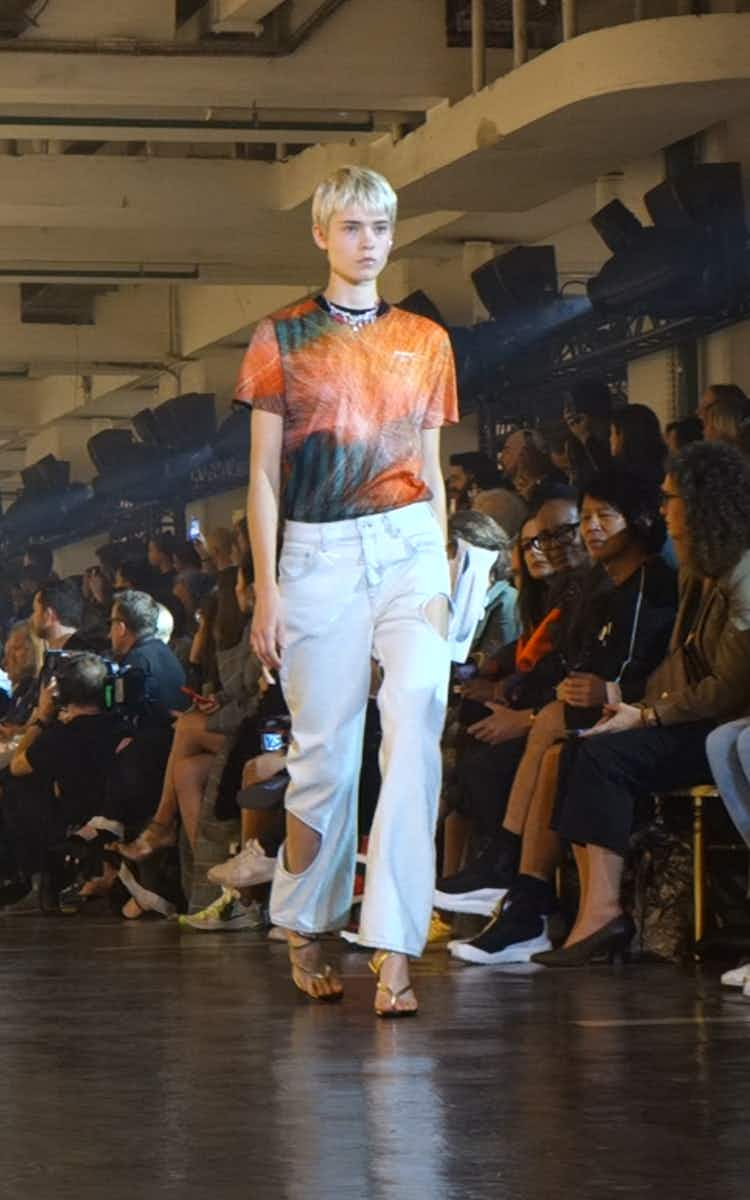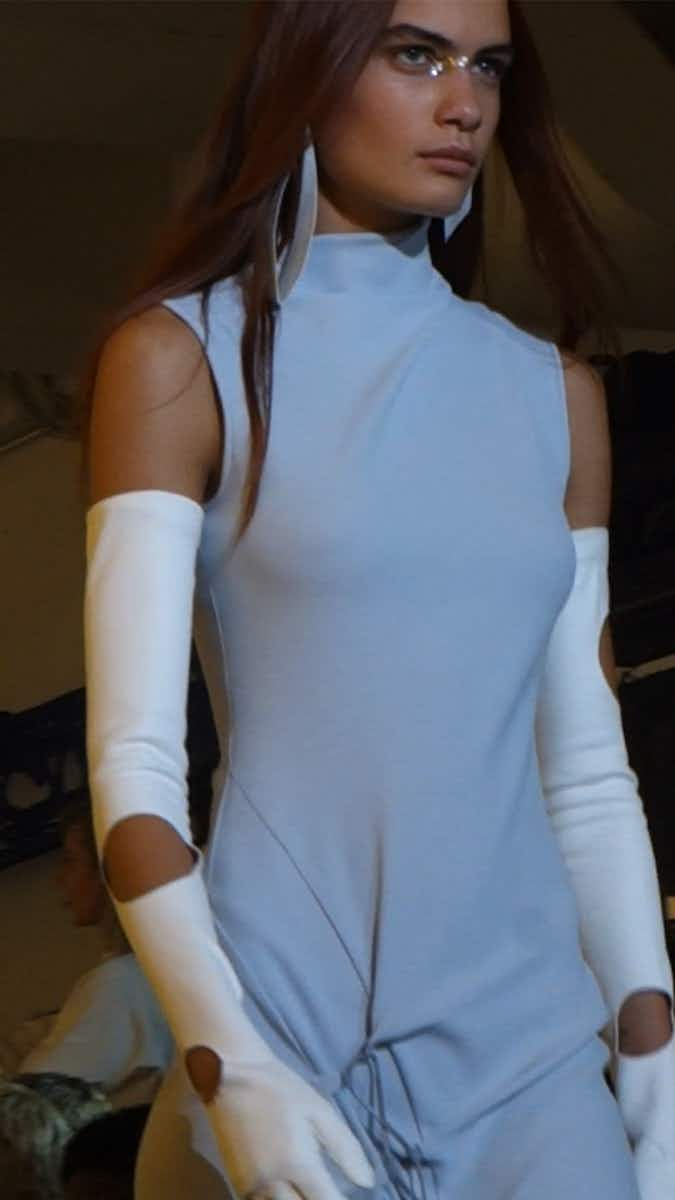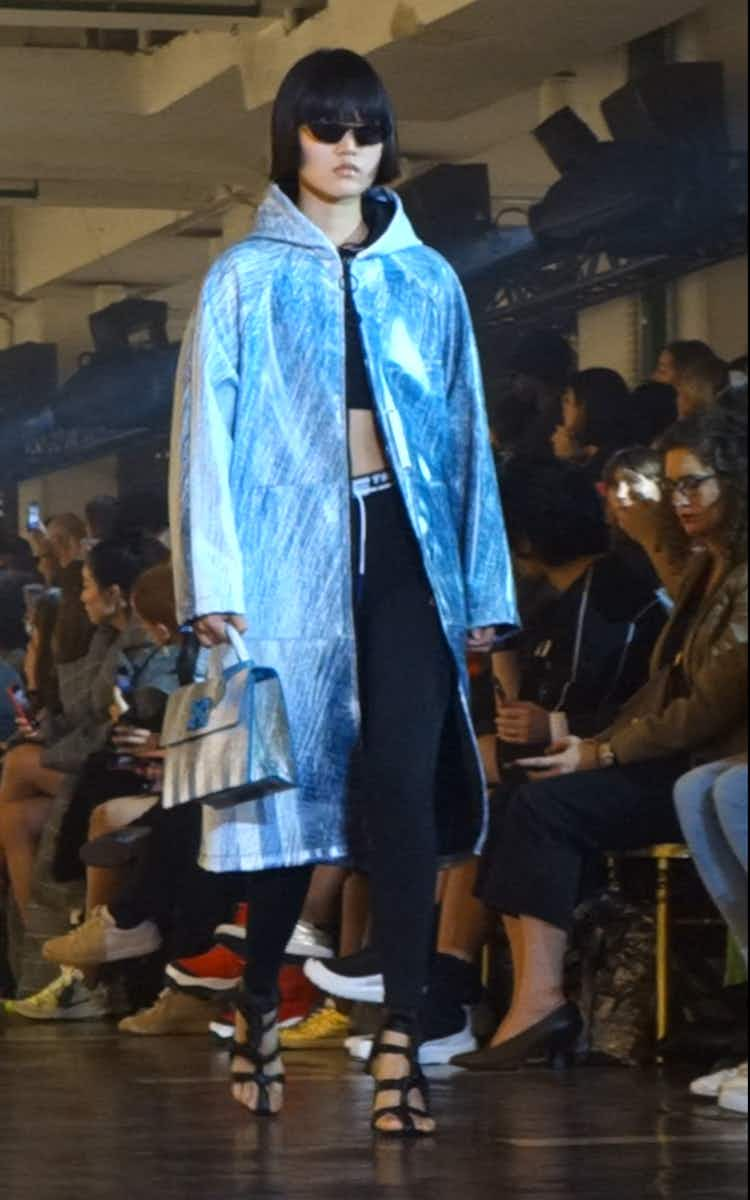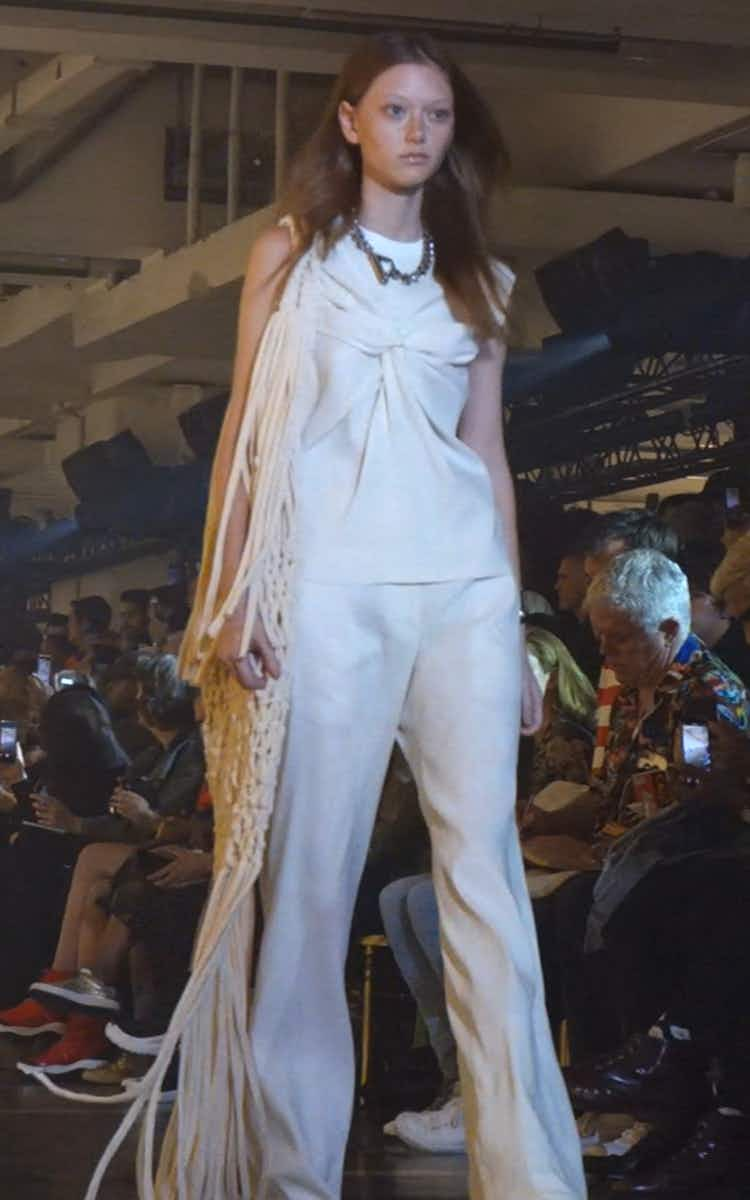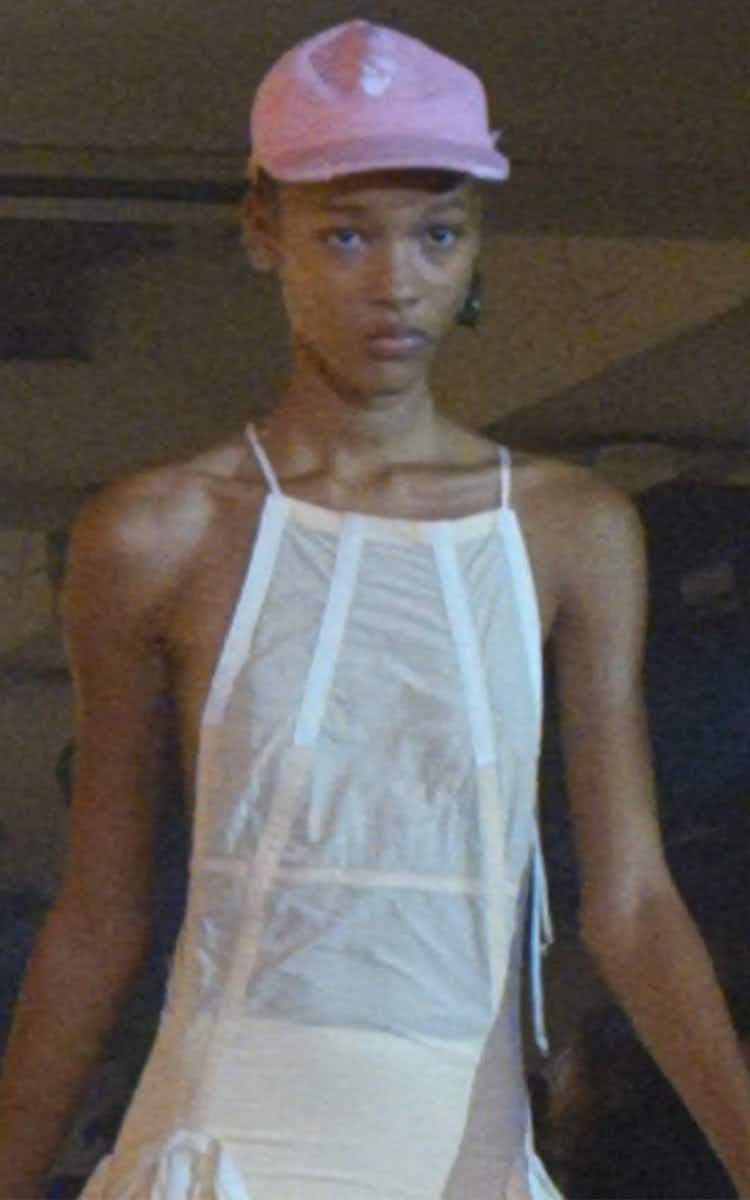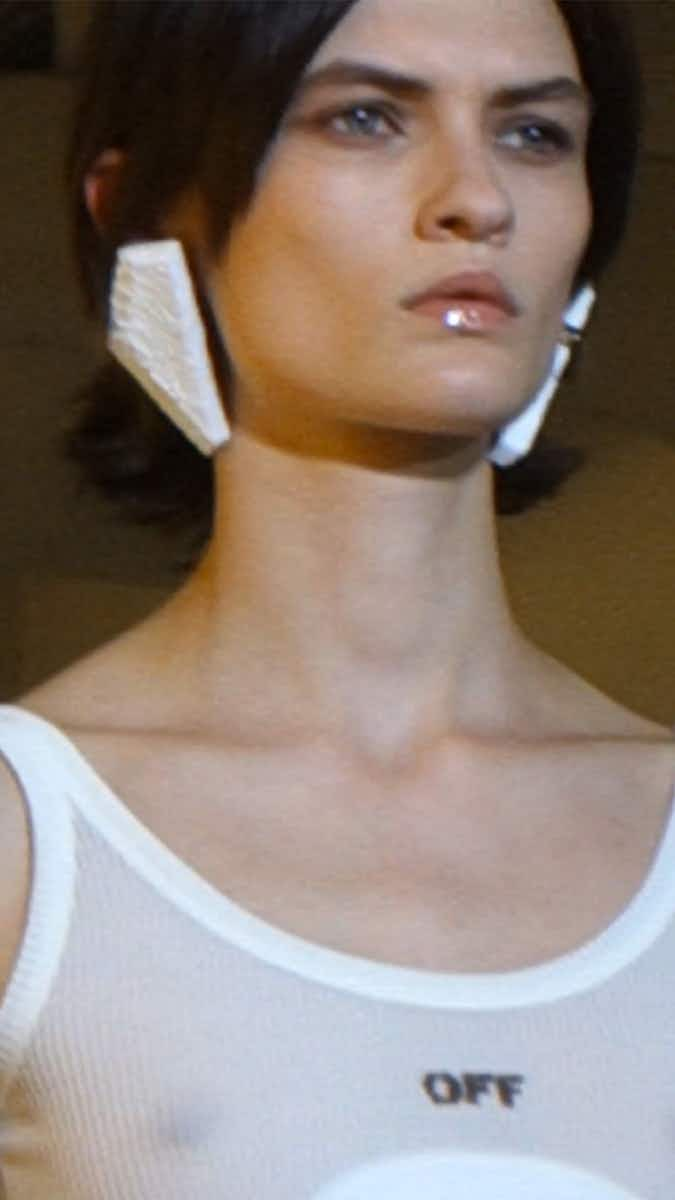 What were the stand out pieces?
A series of oversized handbags punctuated with circular depressions. Impractical, yet no less impressive.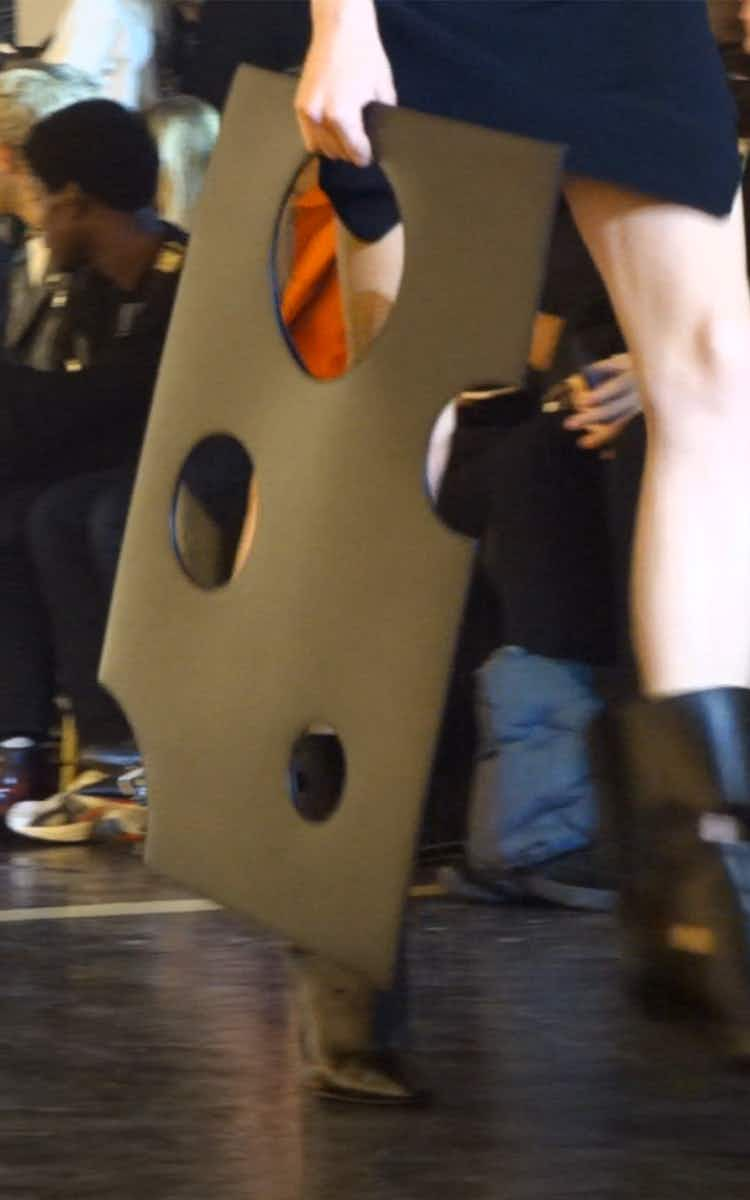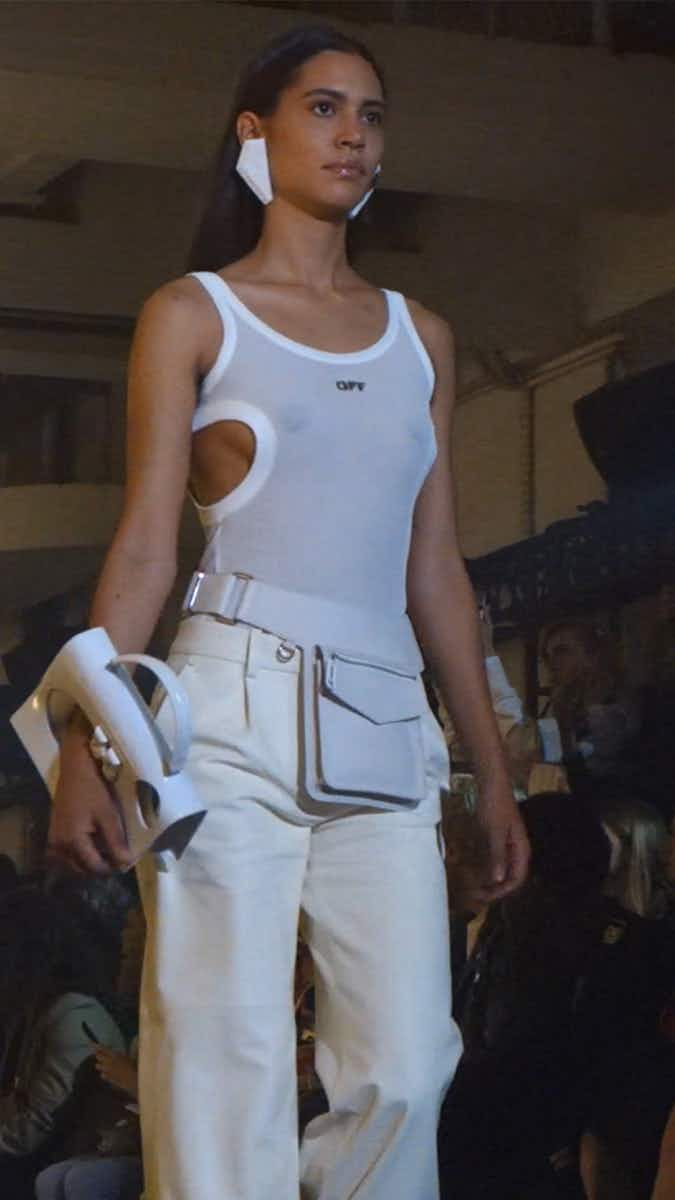 Y/​PROJECT SS20
From thigh high boots to janties – or jean panties – Glenn Martens, the creative brain behind Y/​Project, is best known for his ability to question notions of good and bad taste, and for the way he masterfully mixes crisp tailoring with everyday references.
Today, he reworked feminine classics into strong, power pieces. Think an XL pistachio-green satin blazer, sculptural trench coats and a prim-and-proper cardigan worn off the shoulder over a deconstructed polo dress.
Candy-coloured stripes made an appearance in the shape of ruffled, figure-hugging evening dresses, woollen jumpers were artfully morphed into scarves and aprons were turned into wrap-around miniskirts.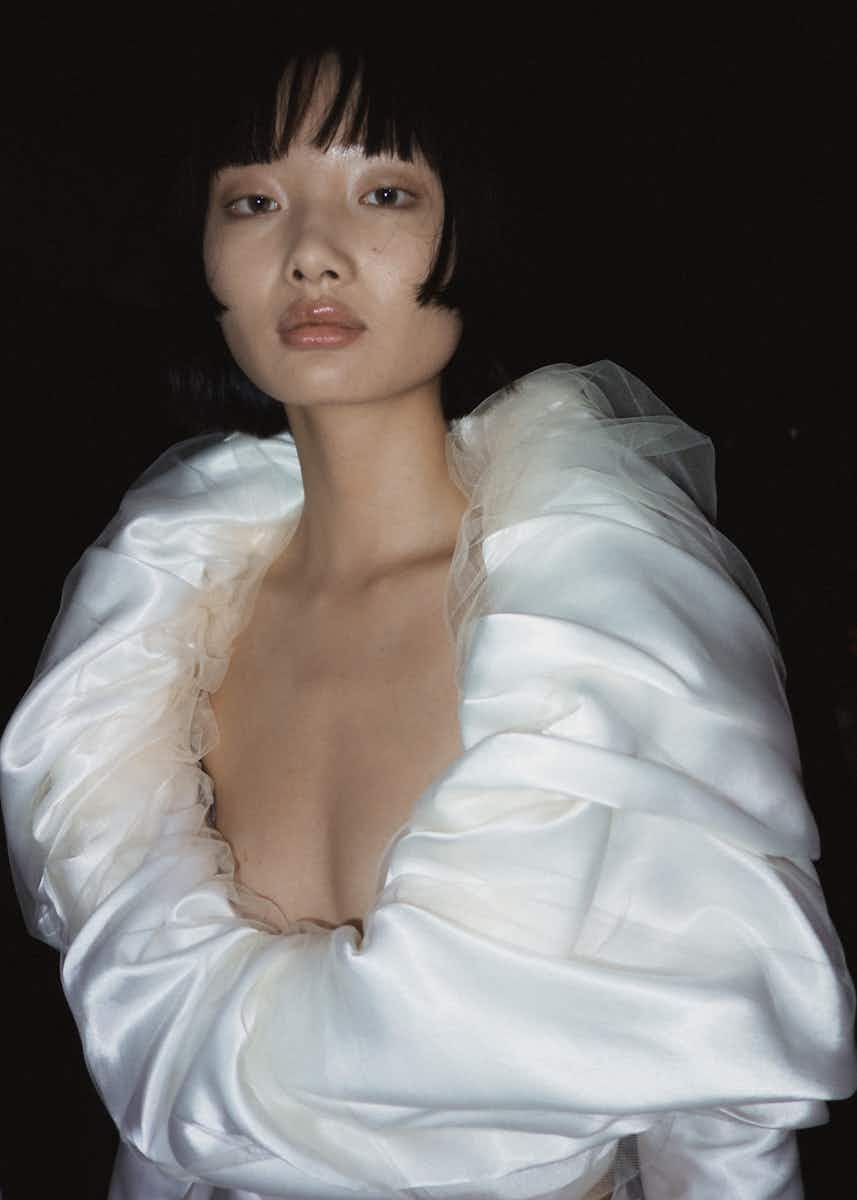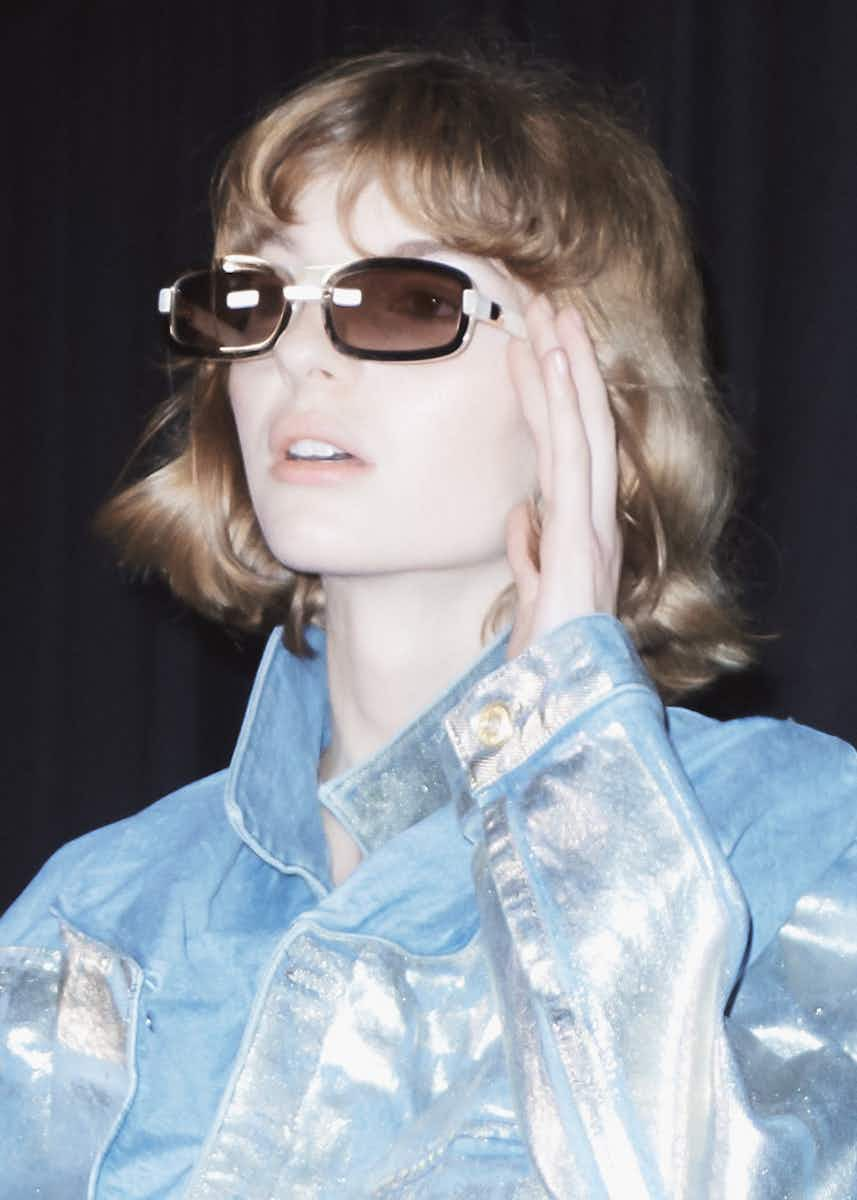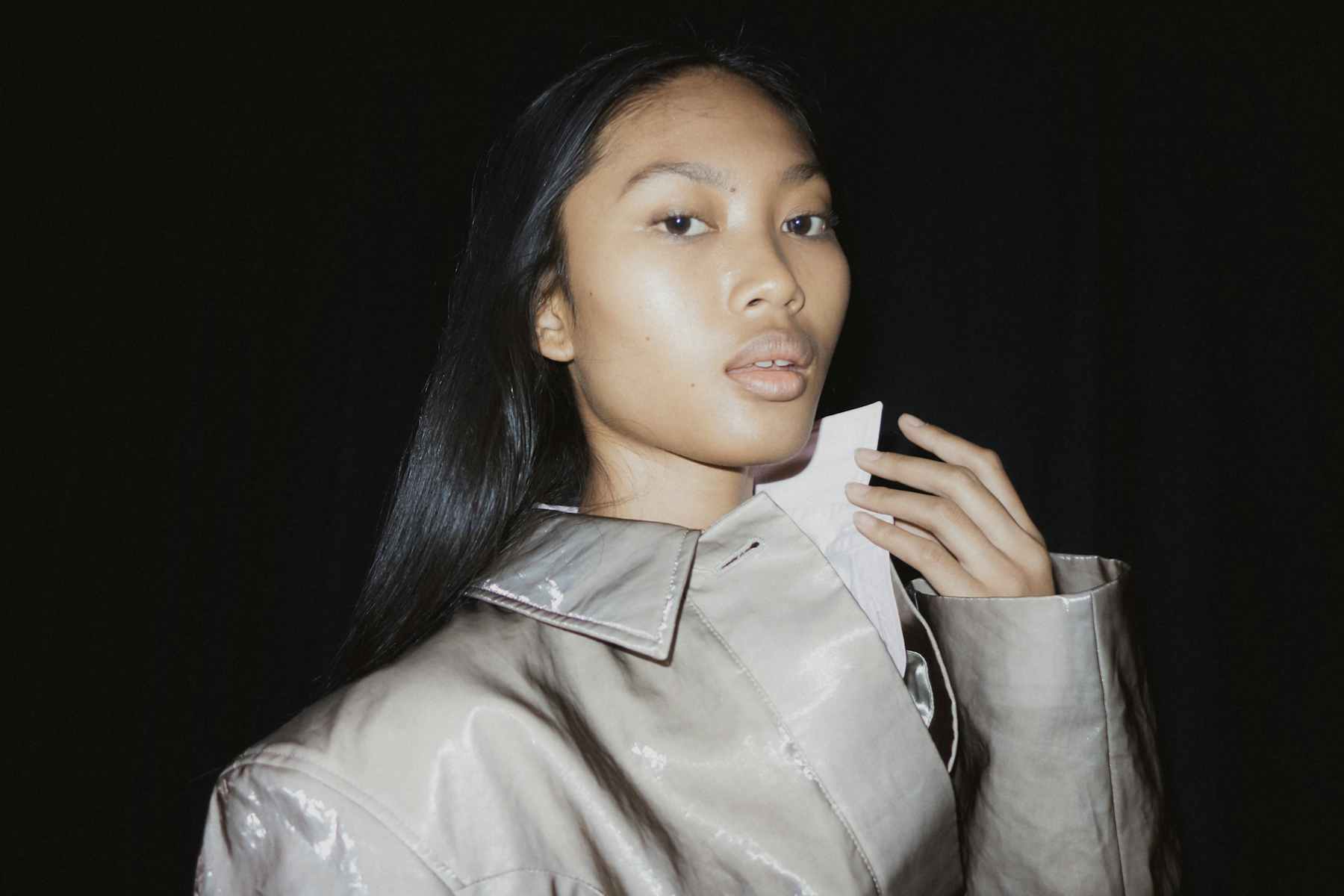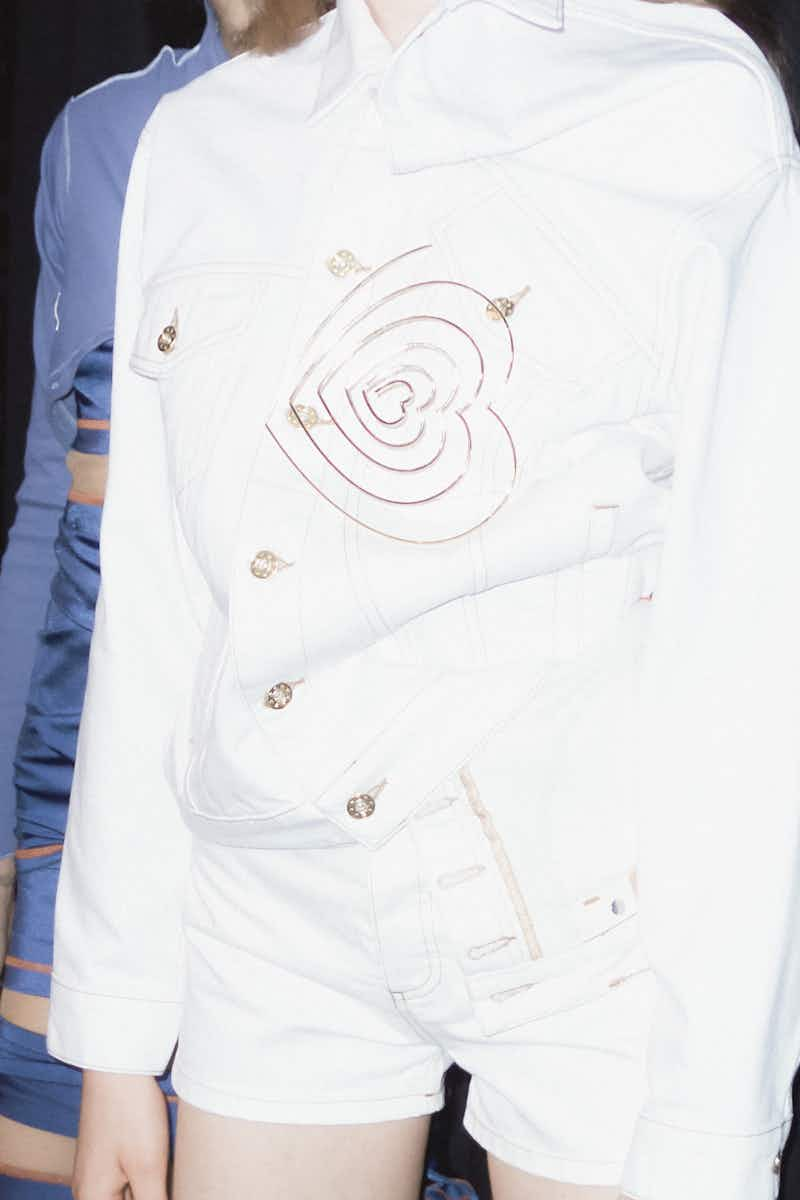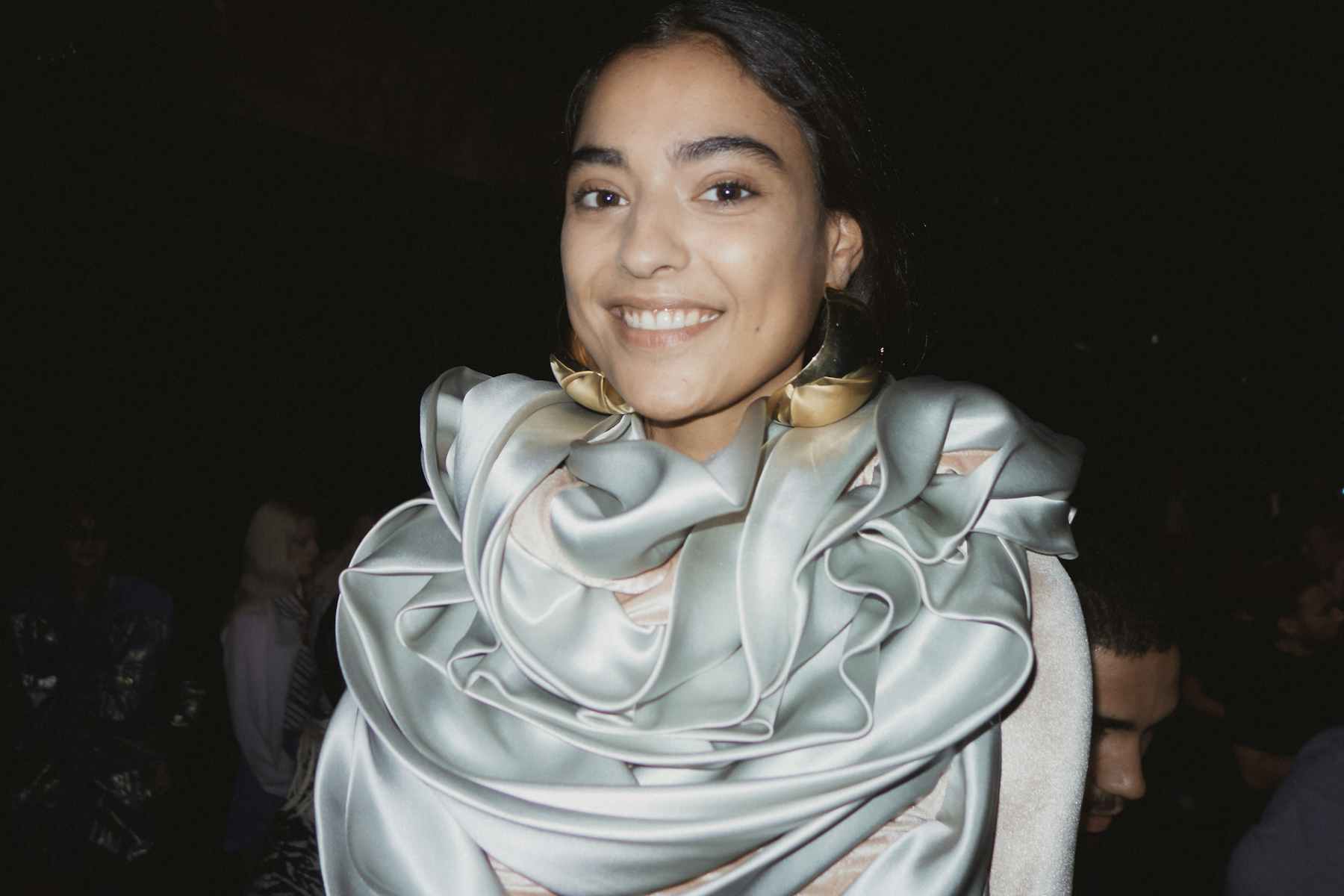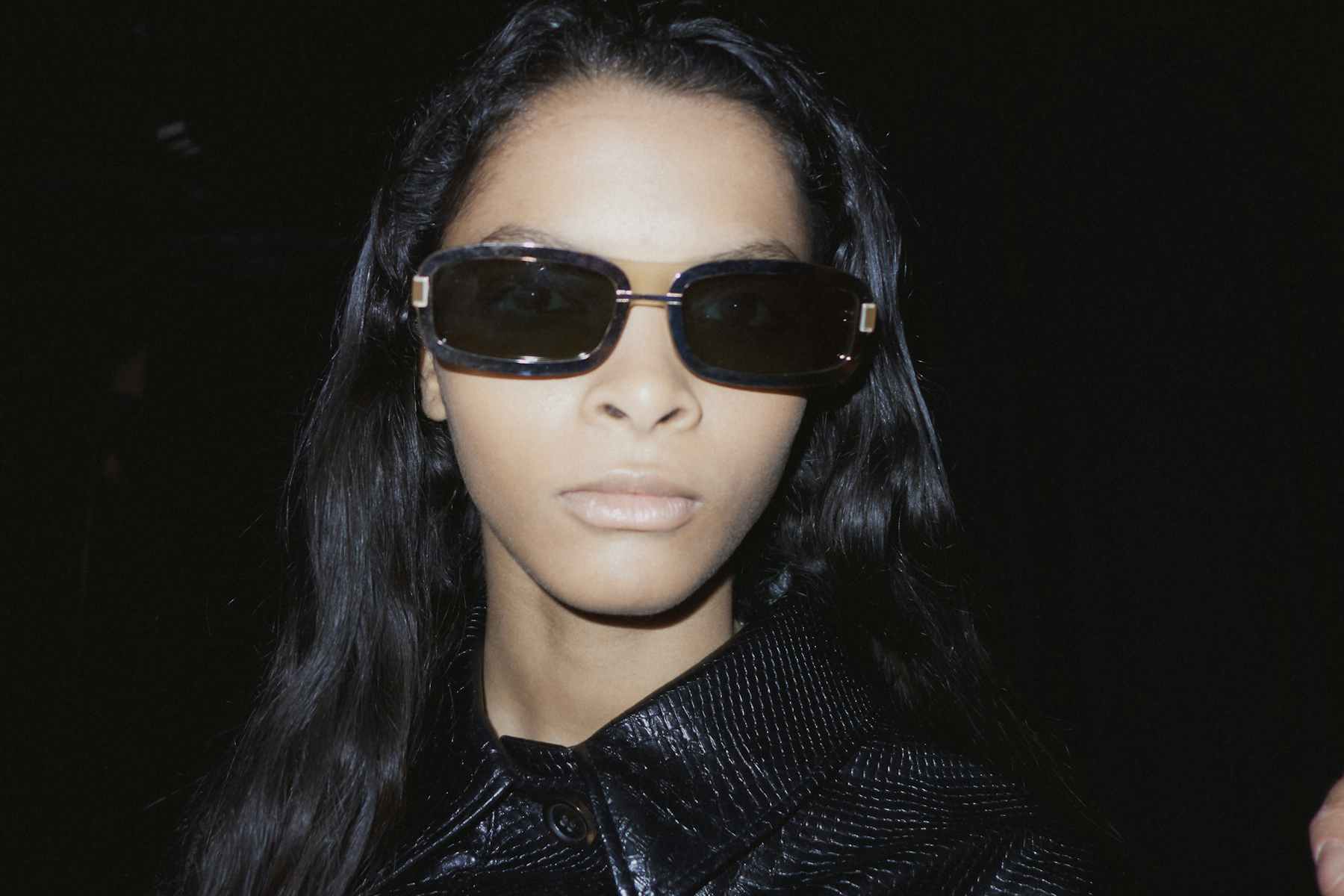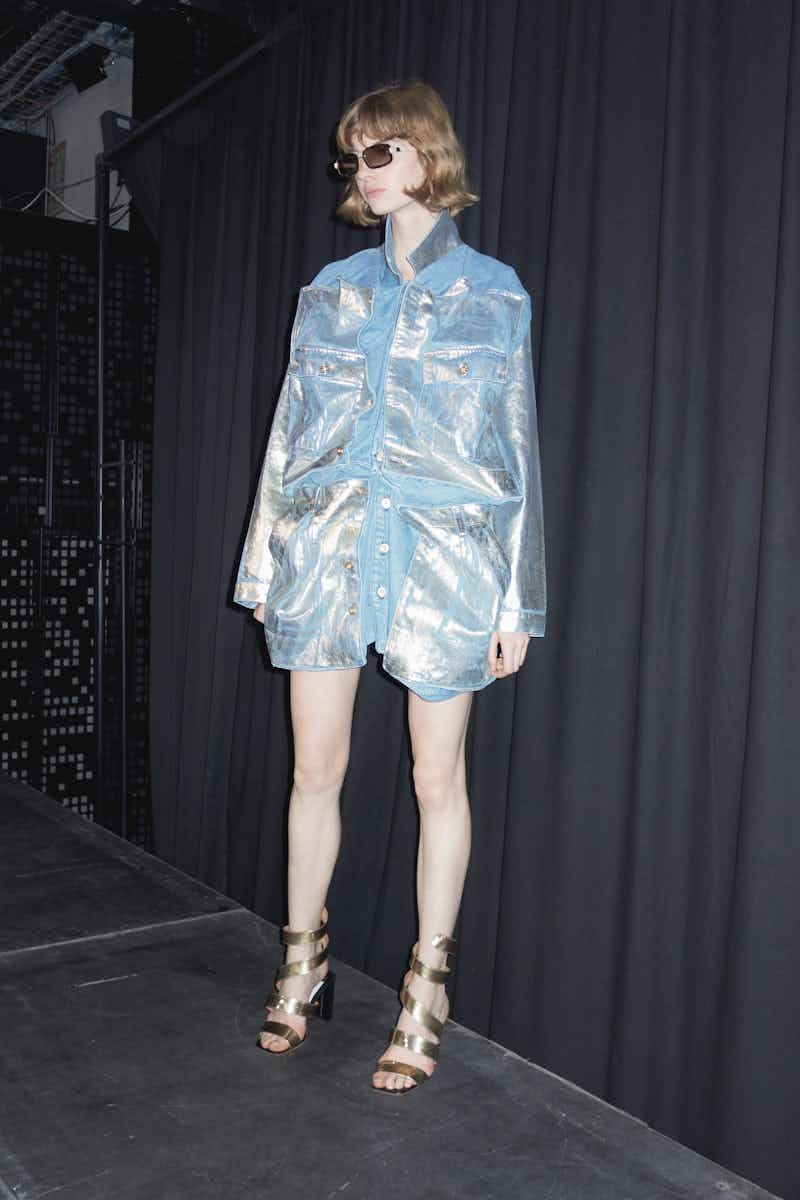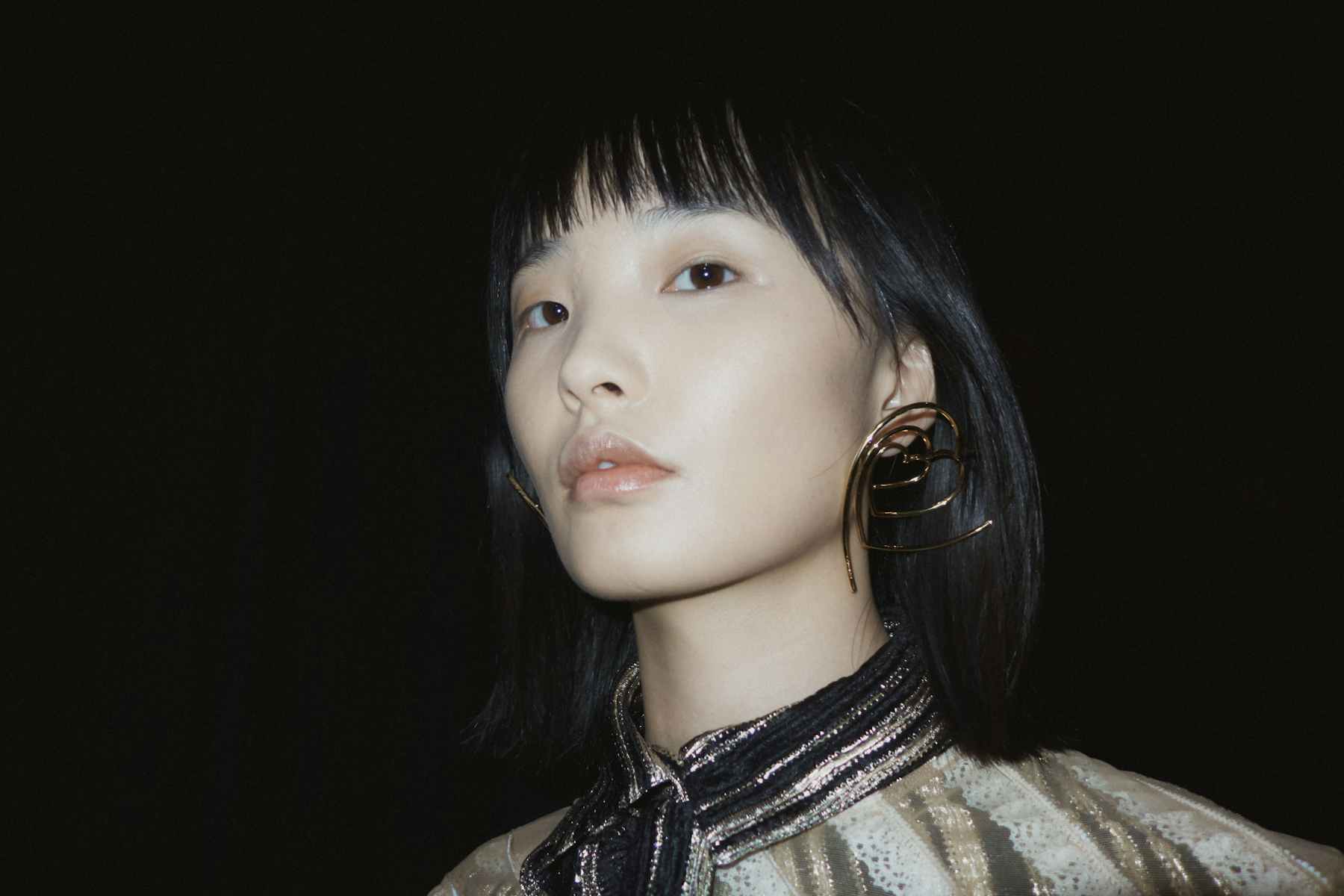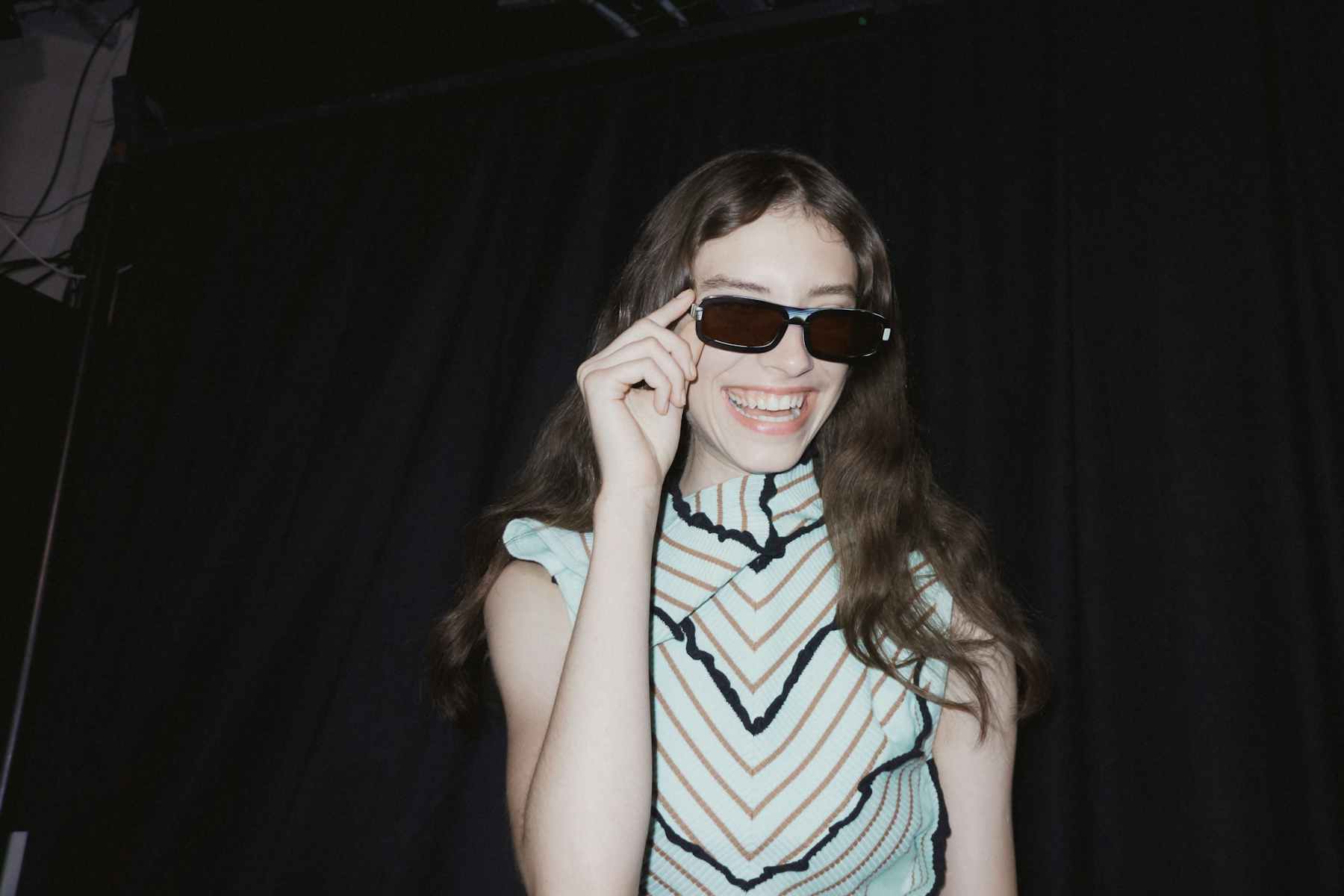 Where was the show ?
In a dark cavernous space under the bridge Pont Alexandre III.
What stood out?
An accordion-shaped handbag and a series of surrealist heart-shaped brooches.
MAISON MARGIELA SS20
John Galliano lived up to his reputation as a master tailor and interpreter of history for Maison Margiela's SS20 collection, an ode to the World Wars entitled ​'Defilé' Co-ed. In a podcast that accompanied the show, Galliano mentions remembrance and liberation as references, values that have little to do with our current democracy but make for a solid fashion show. The clothes were distinctly uniform and utilitarian: some coats were made of heavy wool, others were perforated or pinstriped – all were accessorised with nursing caps, army helmets, and even a nun's habit. A muted colour palette dominated the catwalk with splashes of blue and purple cutting across silk playsuits, while deconstructed jackets and blazers stayed true to Margiela's DNA.
What did it sound like?
The Rose of No Man's Land by Henry Burr served as the show's opener, a song first performed in 1916 and written as a tribute to the Red Cross nurses who served during the First World War. The rest of the show alternated between Walker Royce's Rave Grave and Marie Davidson's Work it (Soulwax Remix) – both perfect soundtracks for model Leon Dame to stomp the show to a close.
What did it look like?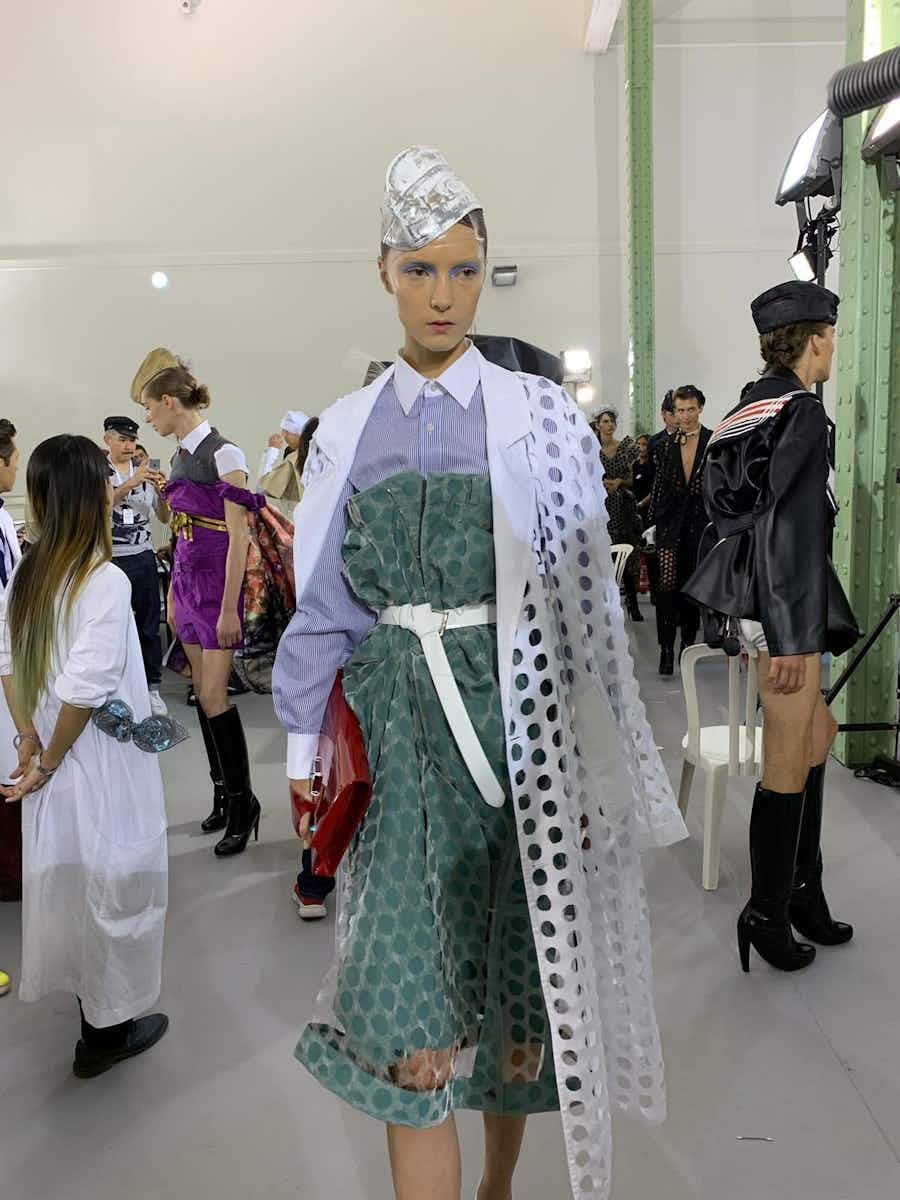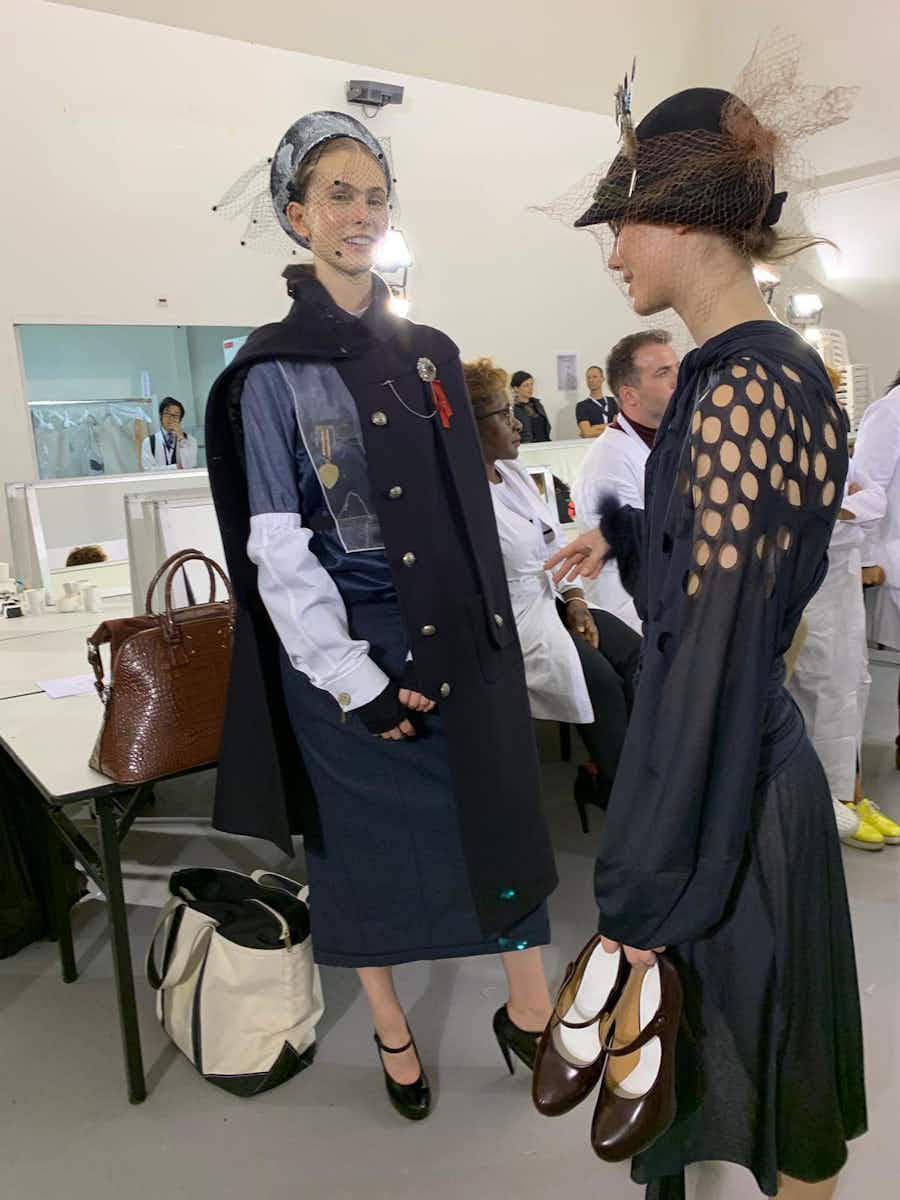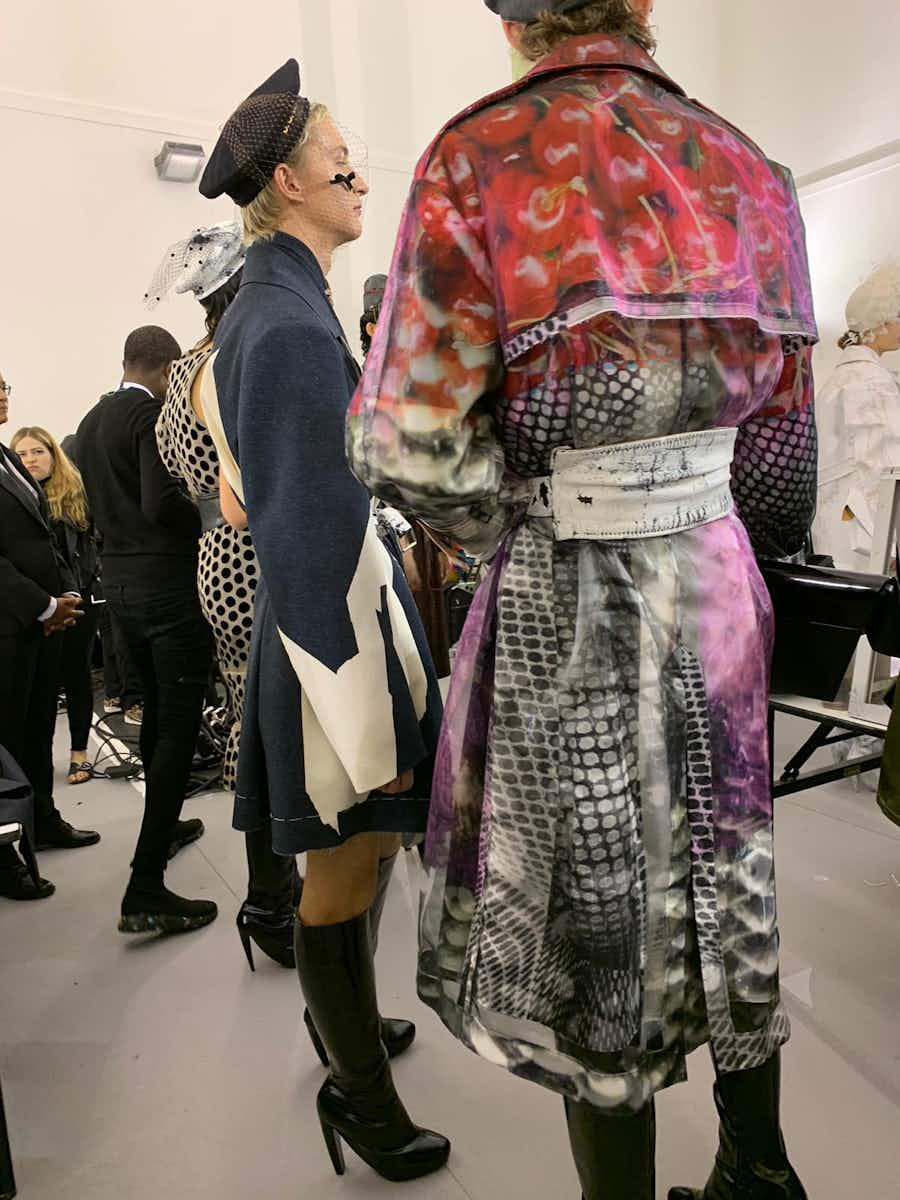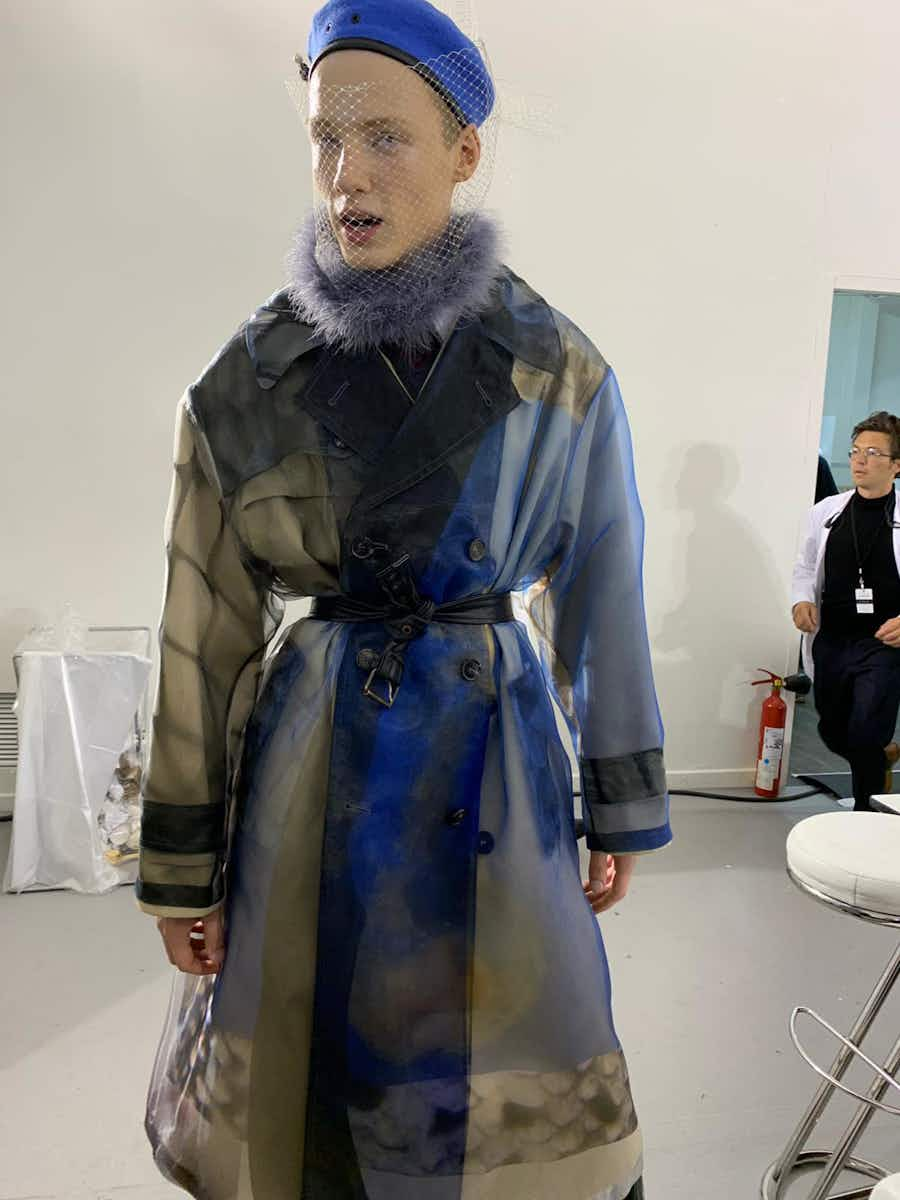 SAINT LAURENT SS20
Anthony Vaccarello's SS20 show for Saint Laurent played into Paris' nickname: the ​"City of Light". Shining almost as bright as the Eiffel Tower, synchronised beams illuminated the runway for Vaccarello's 11th collection as creative director. In typical fashion, silhouettes were sleek and sexy: the designer cited nautical references for the first half of the show, where shorts and shorter shorts were matched with tan knee-high boots, velour blazers, wide set collars and shirts unbuttoned as low as they'll go.
As the show progressed, so did the references to ​'70s bohemia. Shirts, dresses and head wraps were embroidered in black and gold, complemented by boots of the same colour. And to balance out all the smock silhouettes, Vaccarello was sure to include dresses that Hedi Slimane made staples of the Saint Laurent catwalk: black, structured and mini.
The show ended with Vaccarello's bid to recontextualise Yves Saint Laurent's era defining Le Smoking jacket. Heavy on mesh, shoulders and sequins, the signature suit was reimagined in every way possible in anticipation of the show's climax: Naomi Campbell closing in a glistening double-breasted jacket and ankle grazing suit trousers, which will mark her first time walking for the house in over ten years.

What did it look like?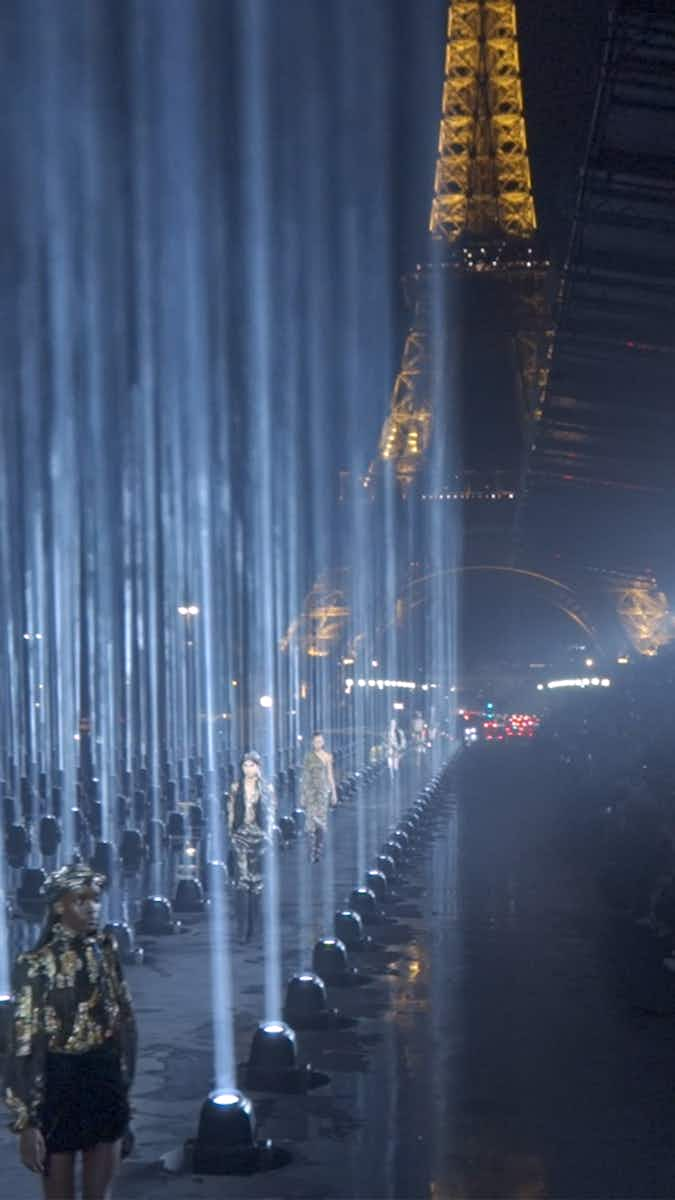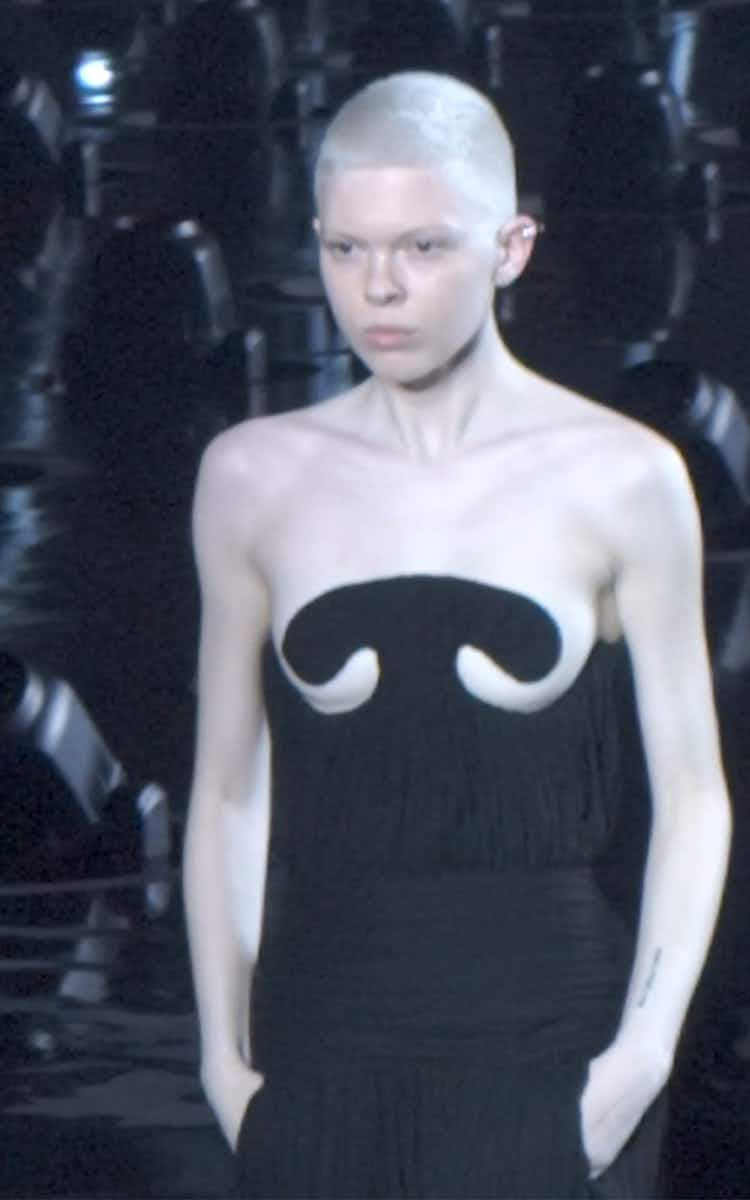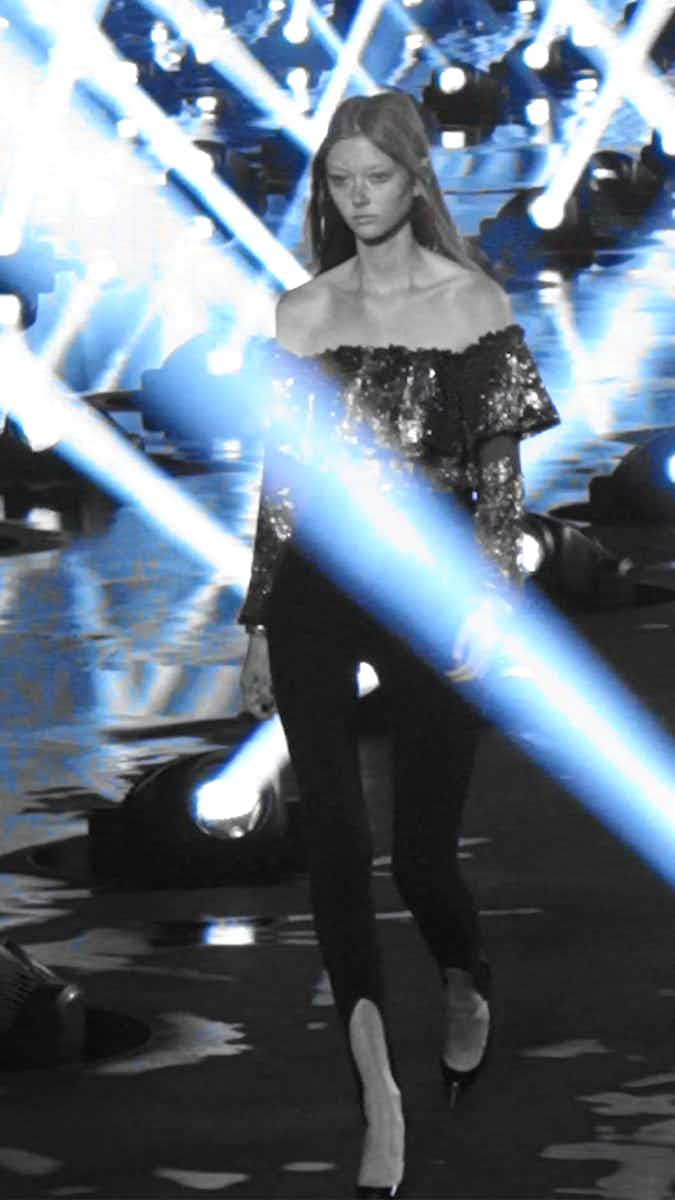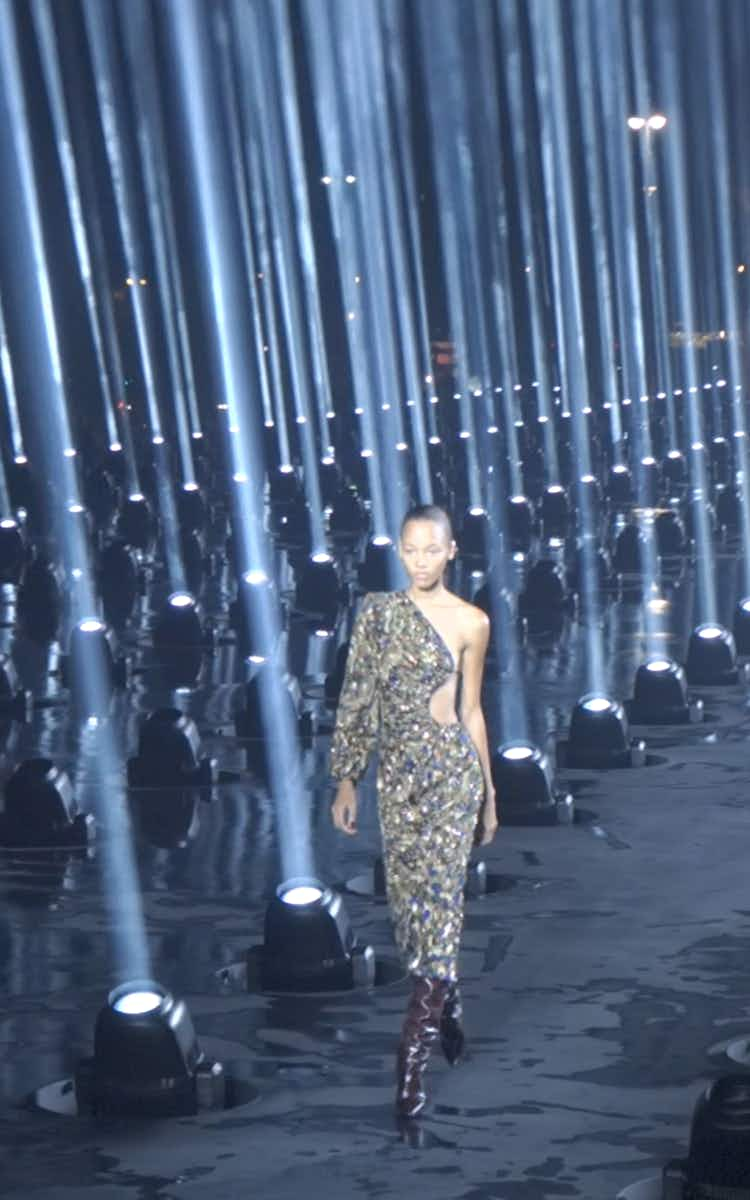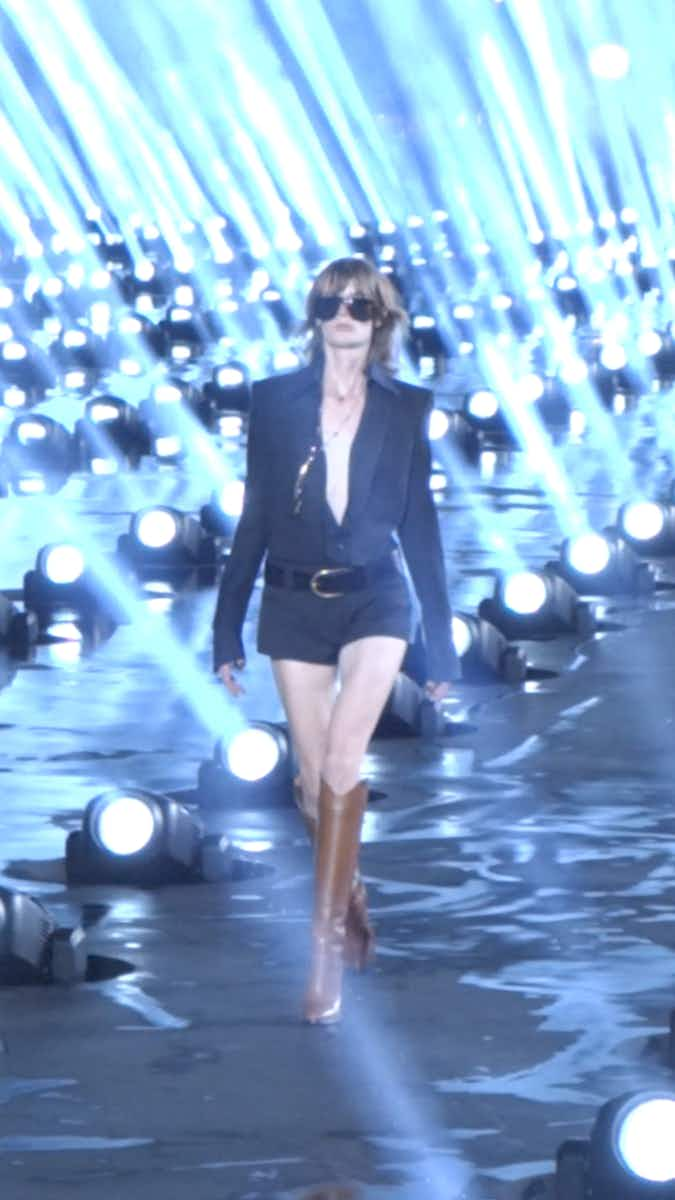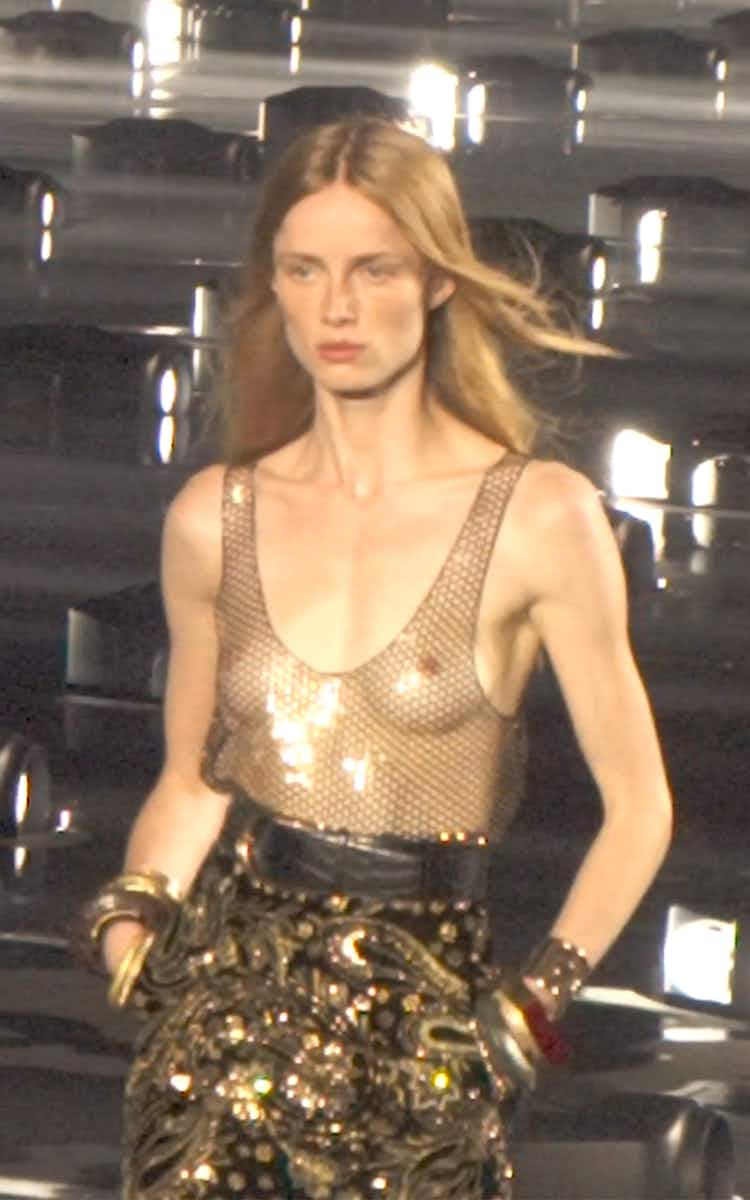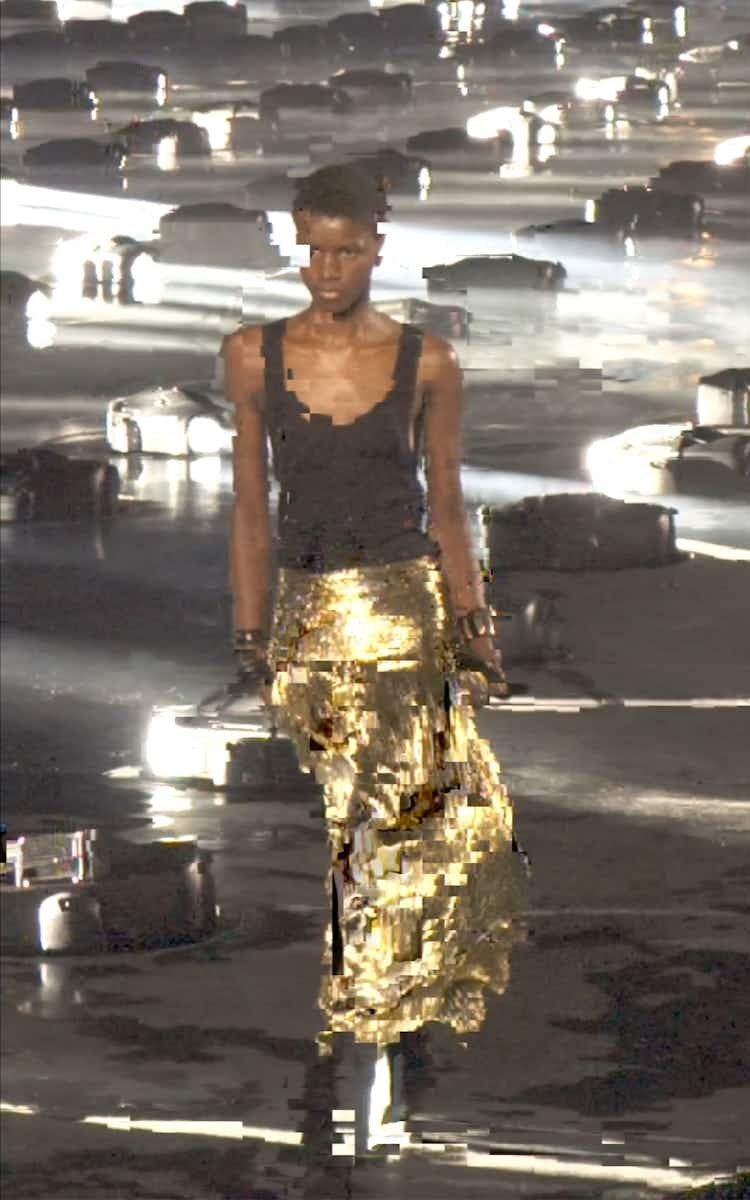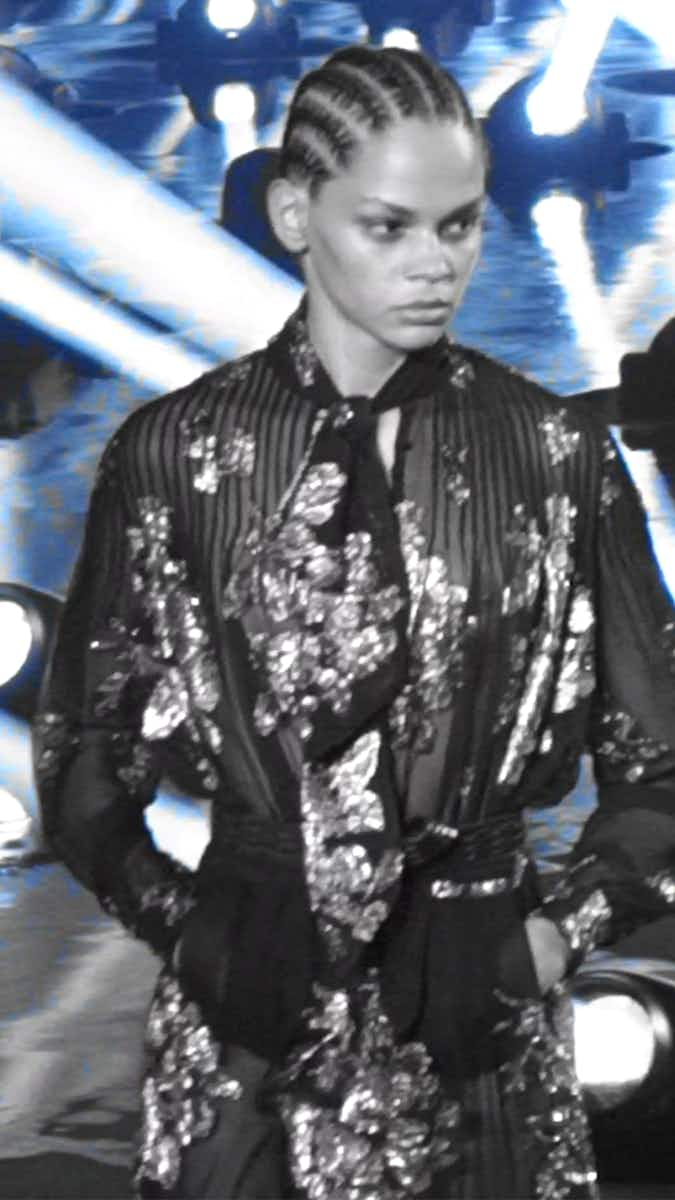 What did it sound like?
Dark, seductive and reminiscent of a sci-fi movie thanks to SebastiAn, a French musician and DJ who operates under label Ed Banger records and has been working with on original scores for Vaccarello since he joined Saint Laurent.
Who was there?
Naomi Campbell, Kaia Gerber and Adut Akech walked, Charlotte Gainsbourg and Blackpink's Rosé sat front row.

KOCHÉ SS20
I got The Guide to Measuring Time. Others received The History of Communism or The History of Math…
Bear with me. This season, Parisian label Koché held its show inside the Centre Pompidou's public library, and greeted attendees with a volume of the Que Sais-Je? (Literally: What Do I Know?) collection. A staple in French publishing, the series of books published since the forties by the vaunted Presses Universitaires de France, provides people with condensed information on a seemingly endless array of topics – all written by scientists. Inside each copy at the event, a note explained (if need be) that Que Sais-Je? reminded the designer Christelle Kocher ​"of the infinite richness of the human knowledge".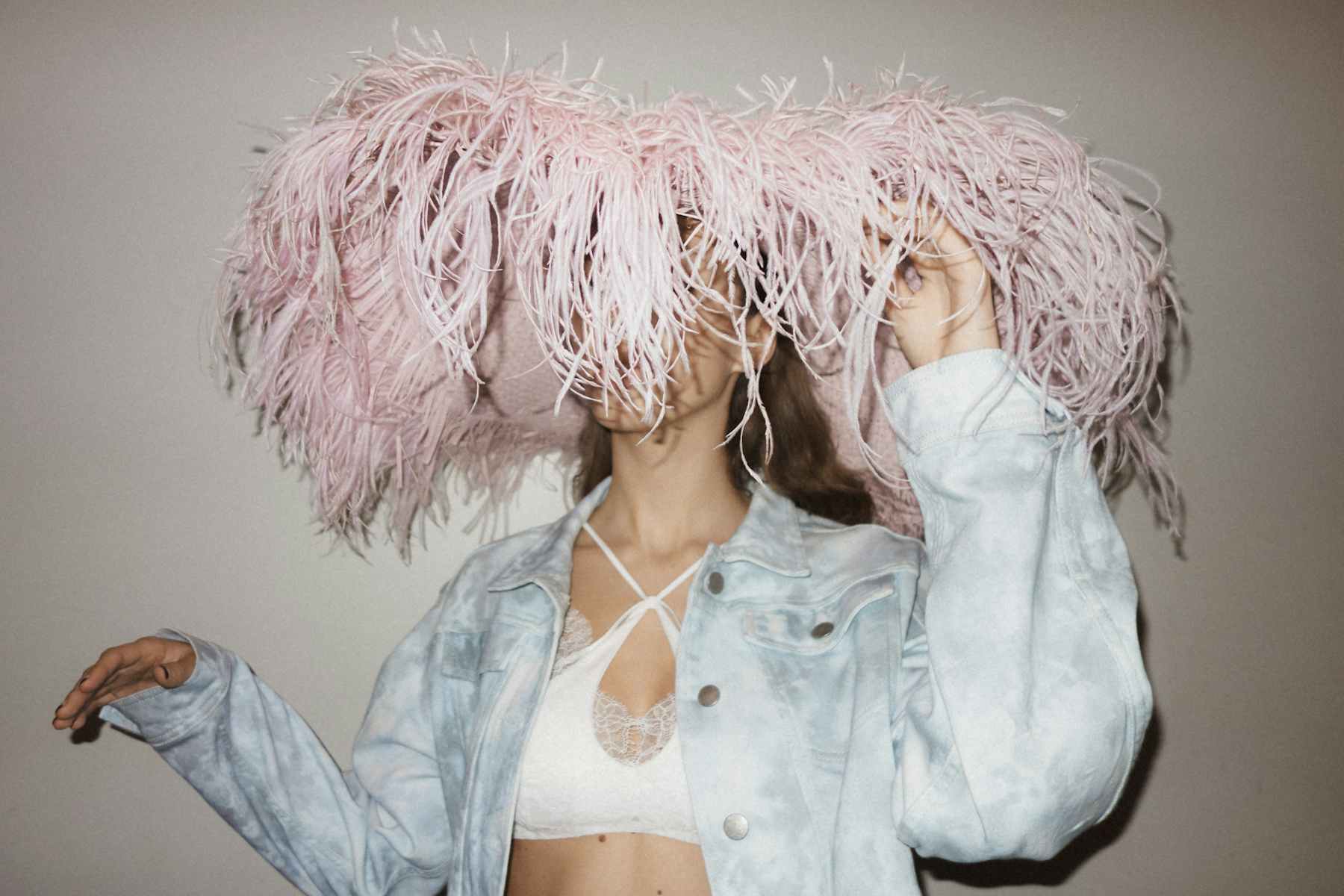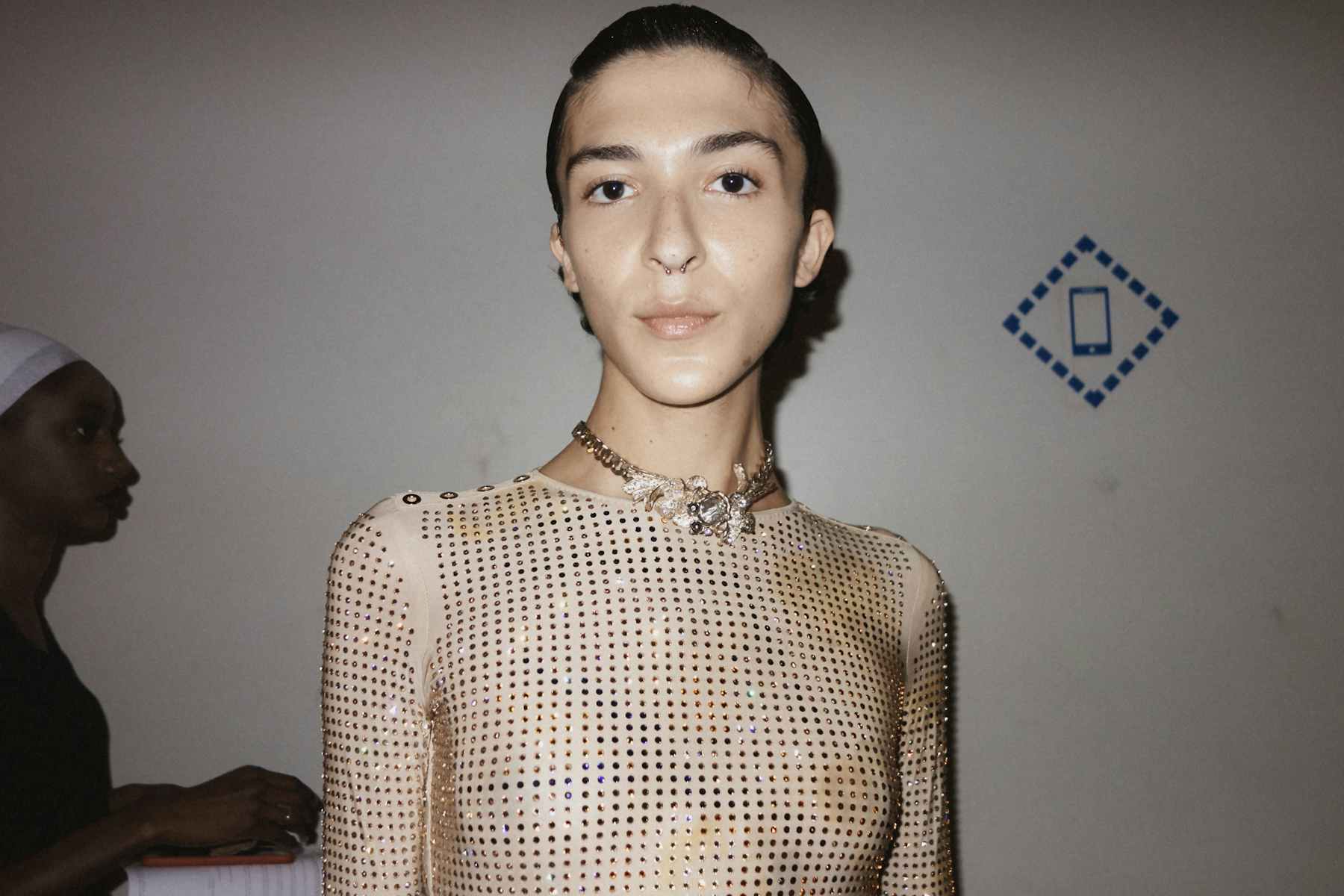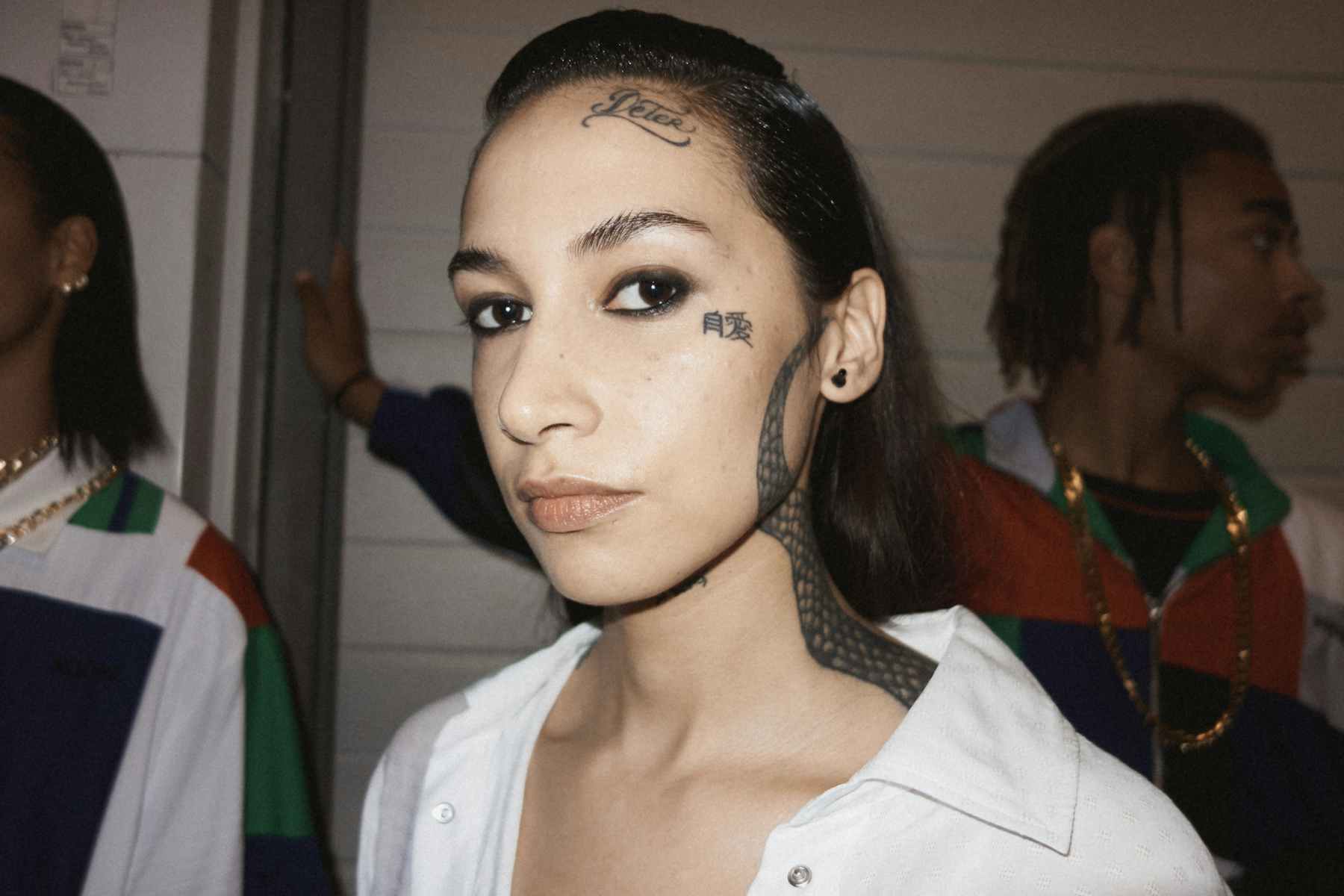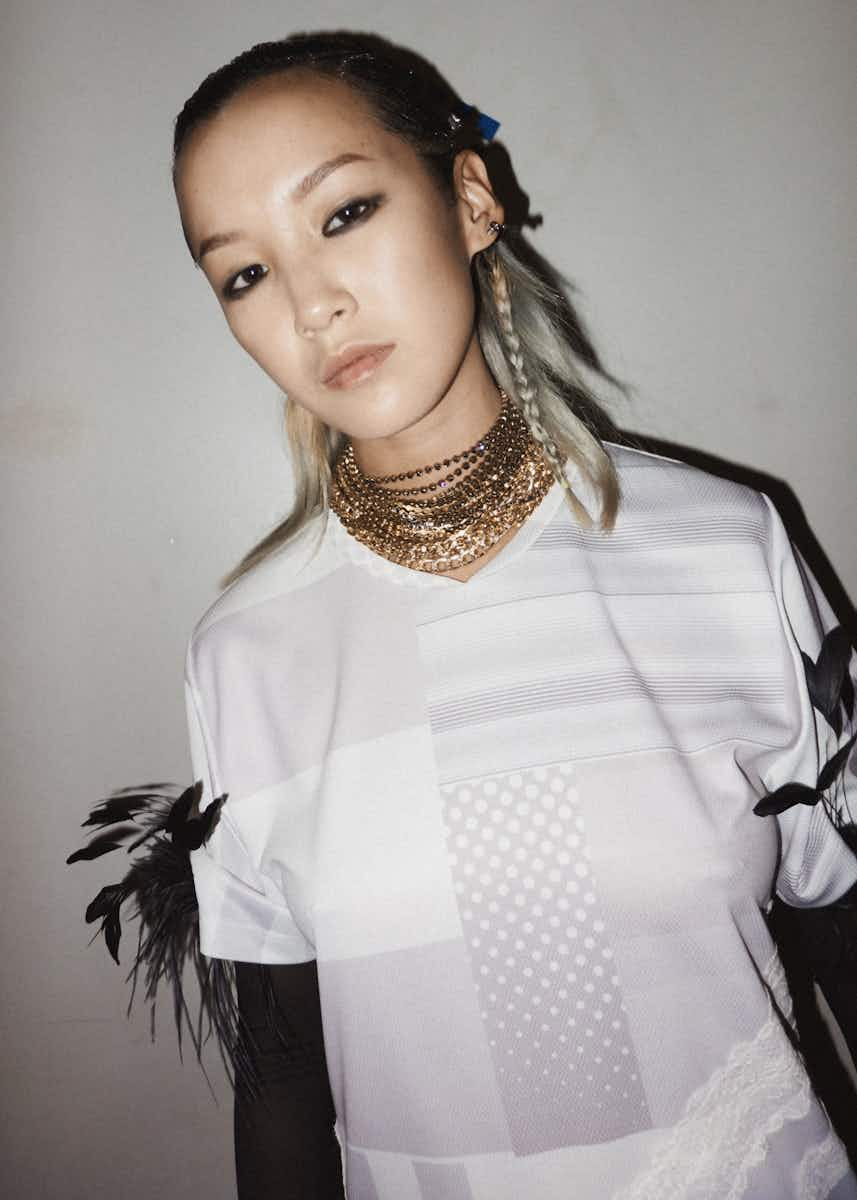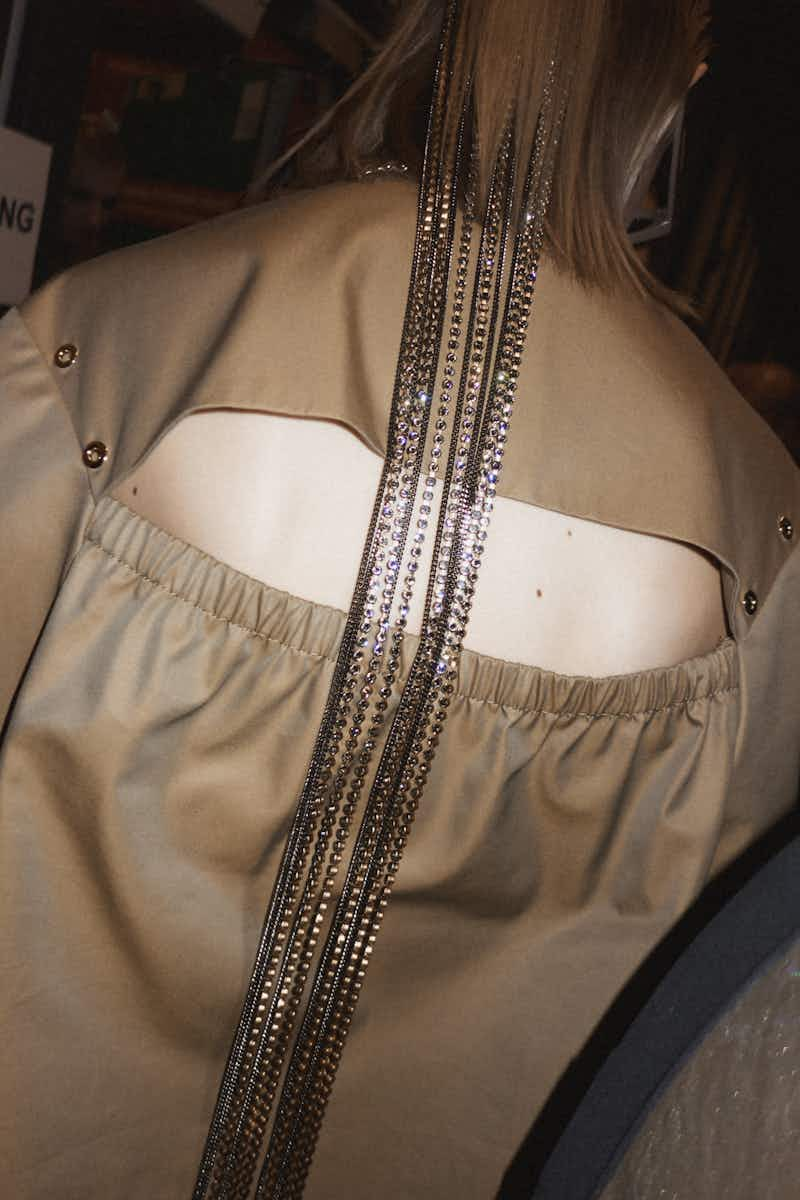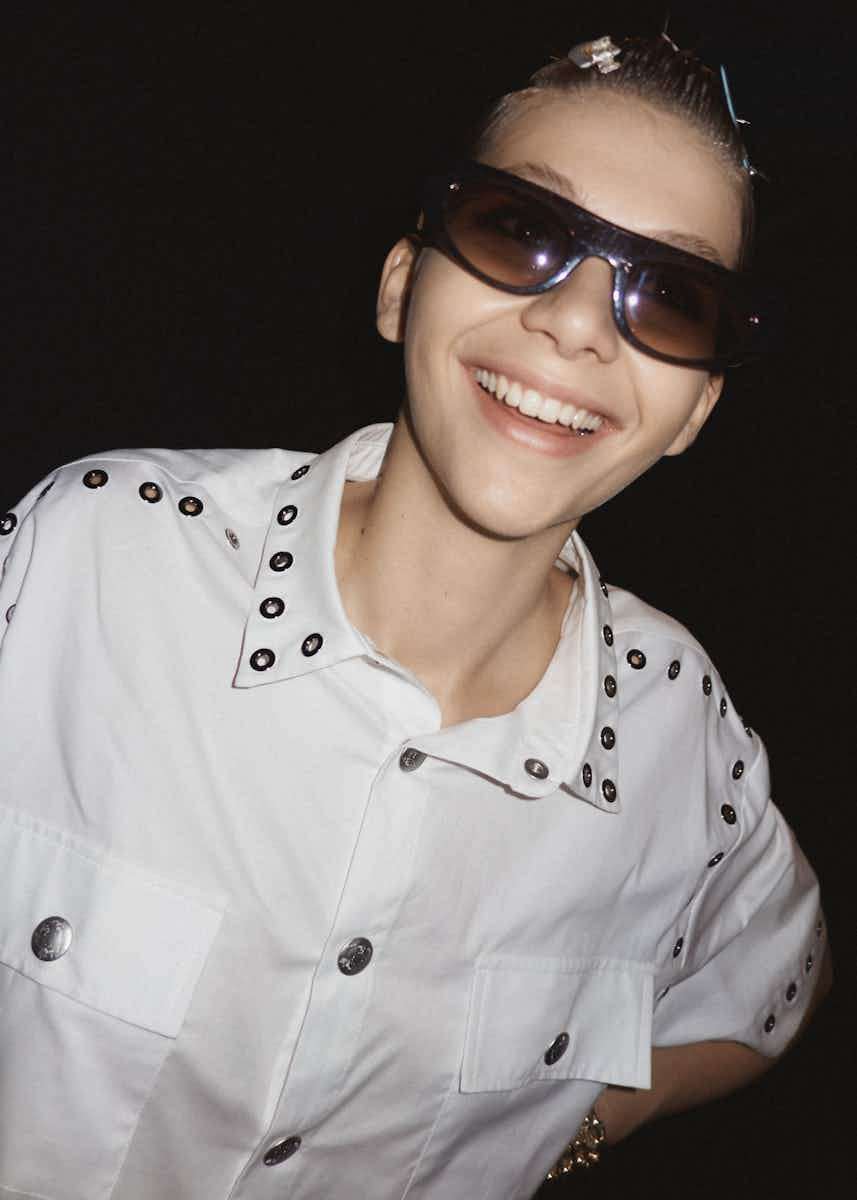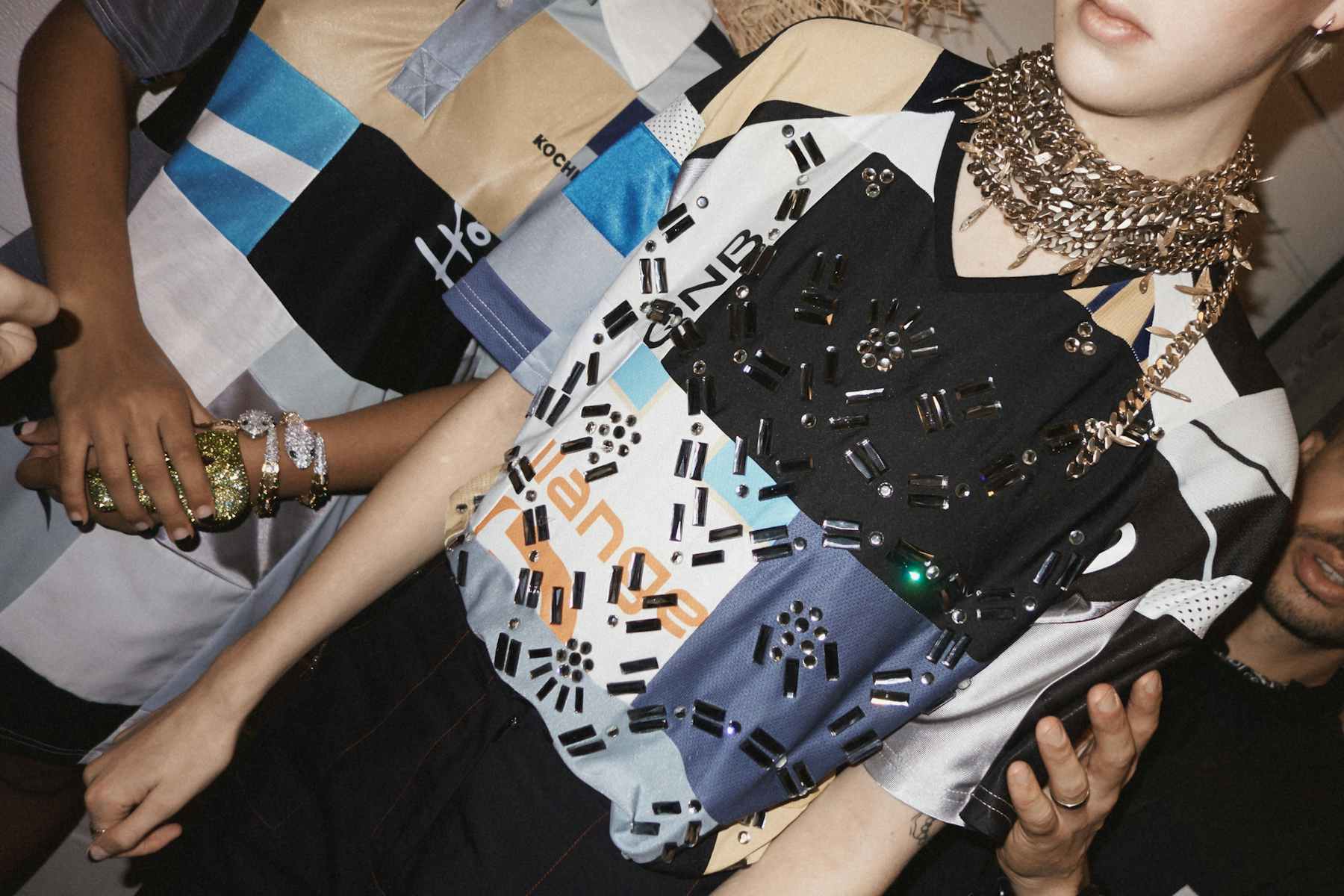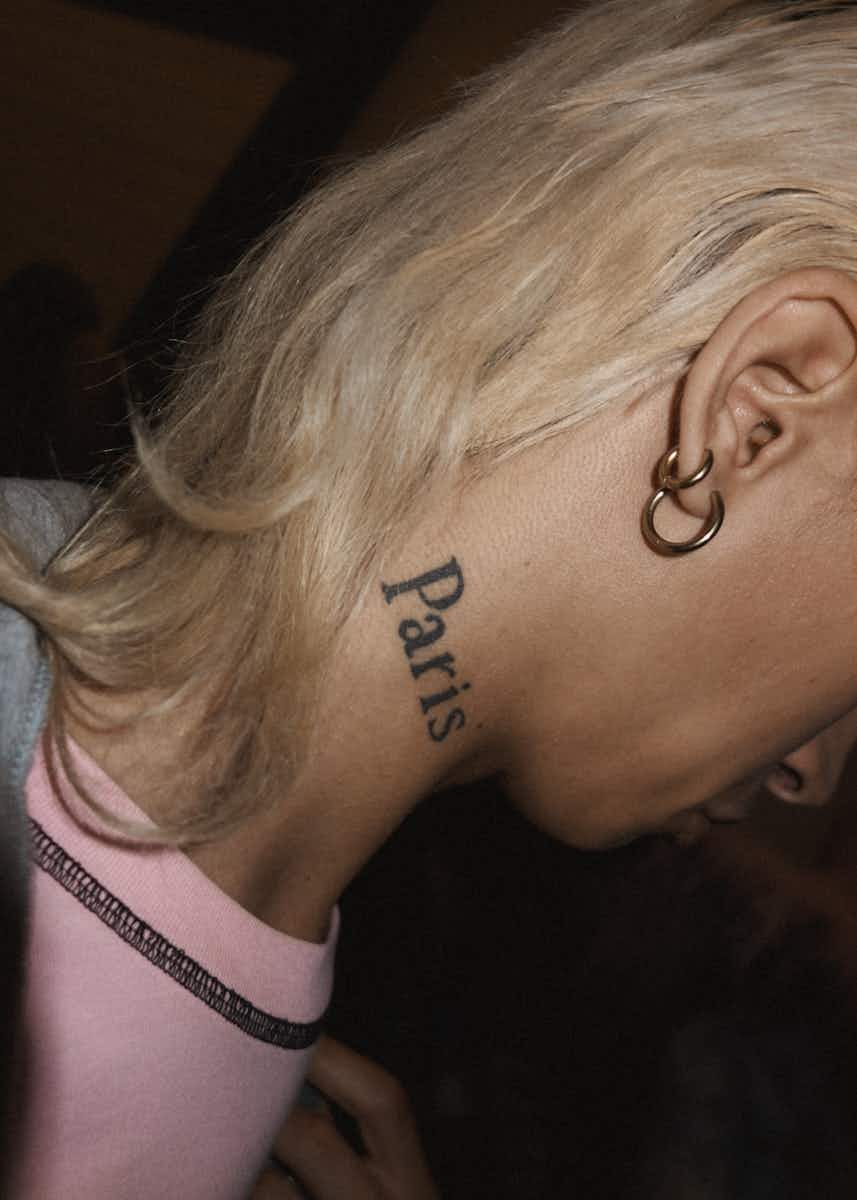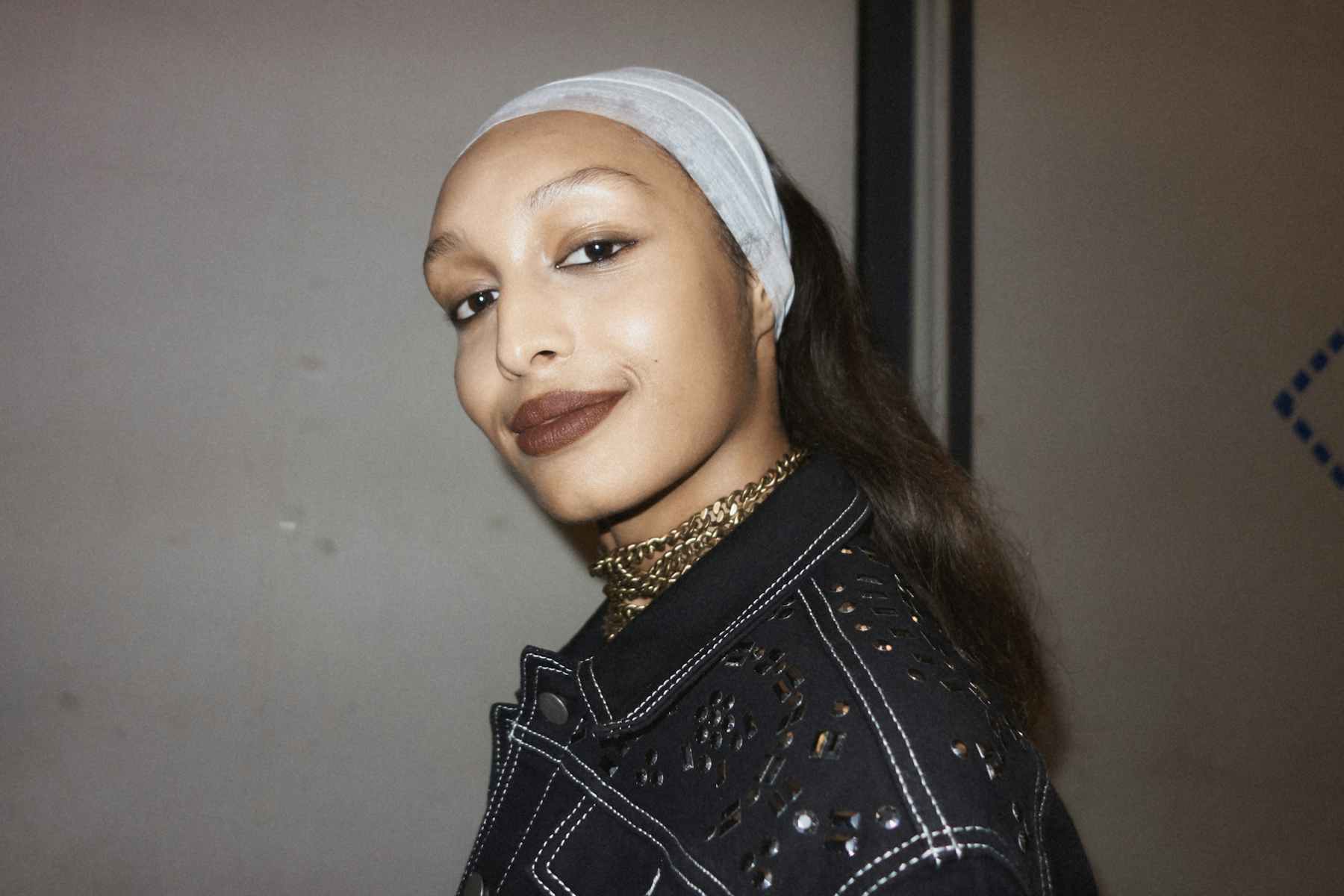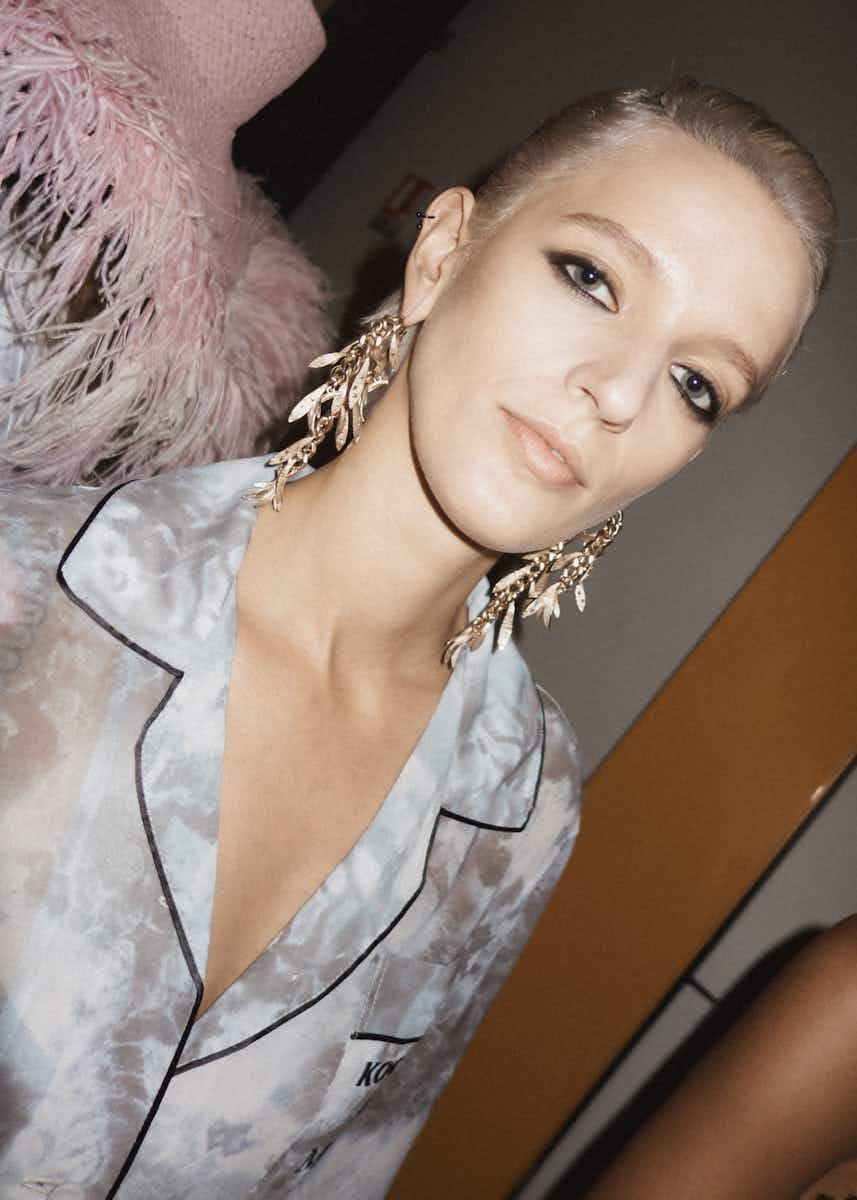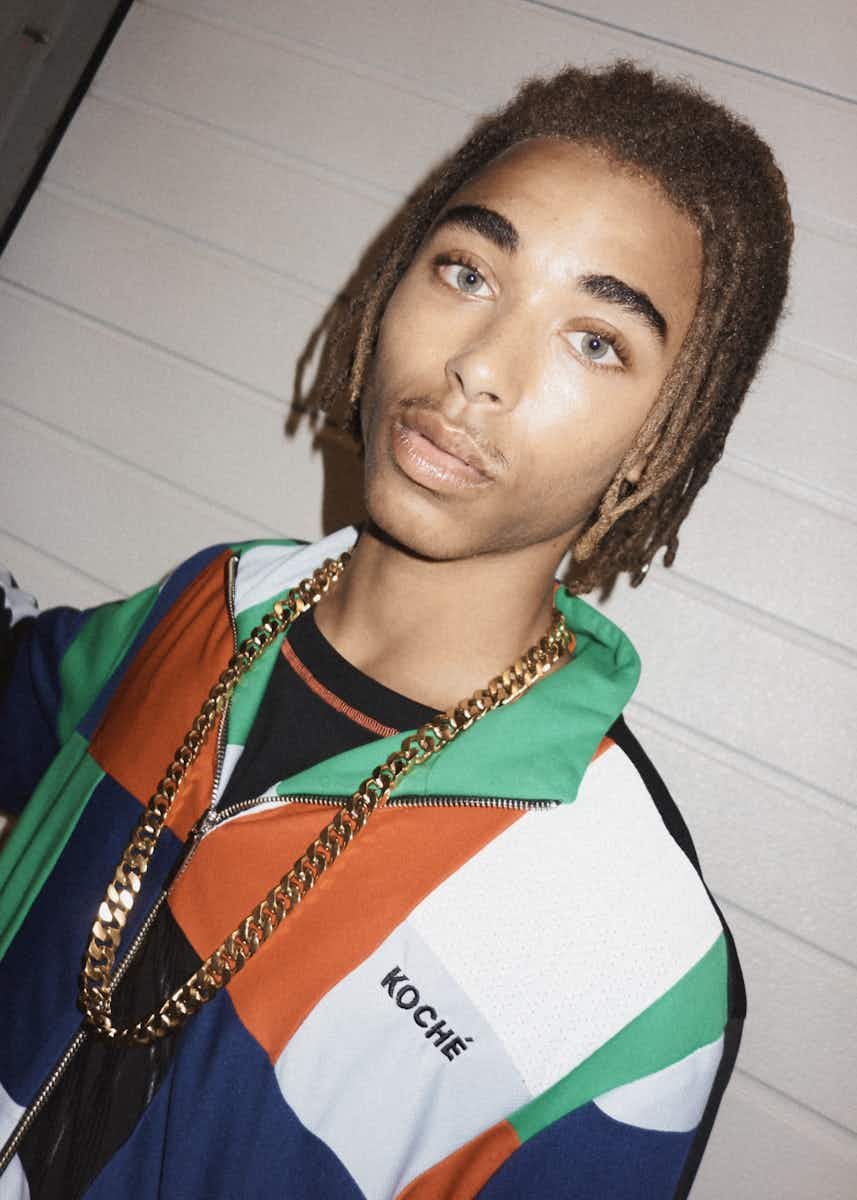 What did it sound like?
The powerful voice of Spanish singer Rosalia emanated from the speakers, layered with the sound of pages flicking by guests and models alike.
What were the stand out looks?
Textures and pieces as distant from luxury tropes as possible were given a couture treatment. Think: deconstructed football jerseys reworked into bias cut skirts with lace finishings, and figure hugging cocktail dresses. The classic tracksuit was reinvented as an oversized, kimono-like ensemble.
All gingerly questioning (one might assume) the notion of aristocratic elegance in Paris. It is worth pointing out that Christelle Kocher is also at the head of Maison Lemarié, an atelier owned by Chanel, specialising in feathers and flowers. Through her work, Kocher has been aggregating couture standard embellishment with her personal vision of a more diverse and multicultural Parisian chic. Today was no exception.

OTTOLINGER SS20
It's week three of fashion month, and Berlin-based design duo Ottolinger wanted to inject PFW with a sense of calm (ahhh). The invite included a vile of CBD oil from KannaSwiss, and guests were seated to the sound of a gong bath (albeit over the usual seat-mate chatter).
Keeping in line with their sci-fi DNA, the twenty-five look collection represents an interview between a train engineer and a reporter, ​"passing through the space-time continuum". In practice this meant performance-wear reimagined, tailored or toggled at the ankles – while dresses and cut-out bodysuits were off-kilter with the brand's usual puzzle of straps stretched across the body.
A more muted, yet sophisticated, start than previous seasons, the first looks consisted of draped and ruched pieces in shades of white and oatmeal, accented with dangling straps and string belts for that essential vile of CBD (naturally). Later, muted tones gave way to purple and green photo prints from German Artist Lucie Stahl on liberally layered trousers, skirts and tunics. Ginghams and tomato prints were provided by painter Georgia Gardiner Grey. The highlight? Hand-painted metallic denim fashioned into a short suit or drop waist jeans, tied around the hips in a bow – perfect for a journey through time and space.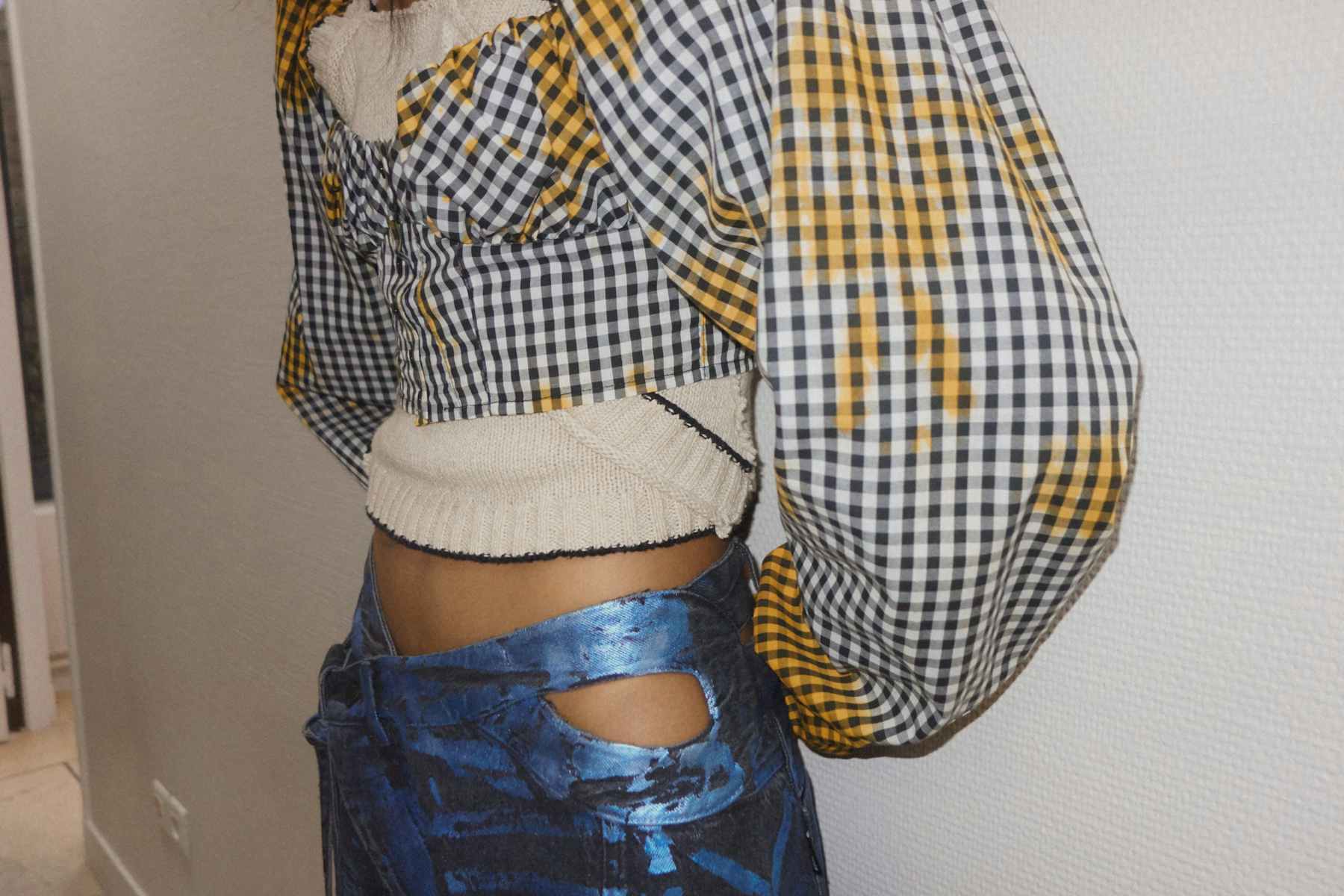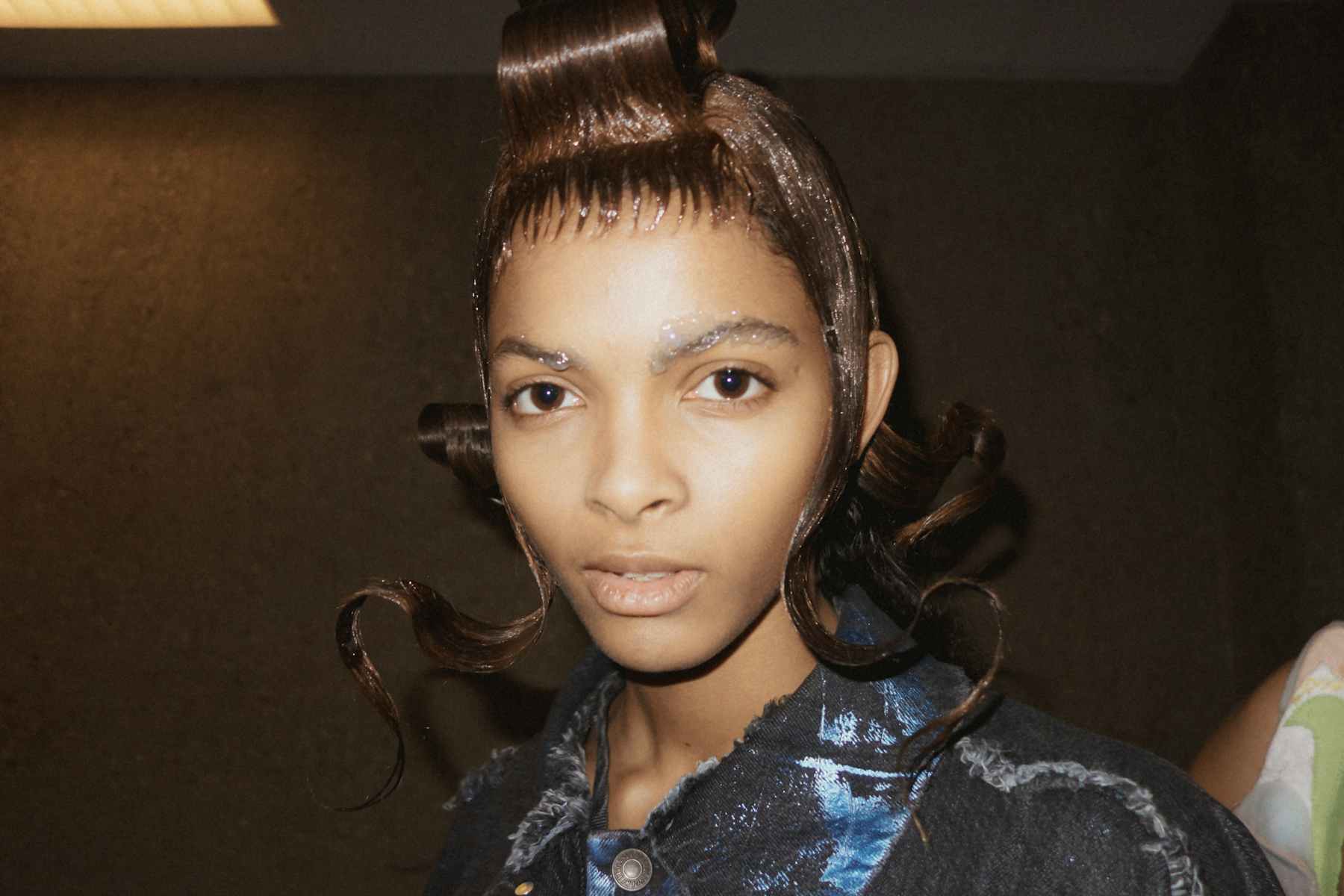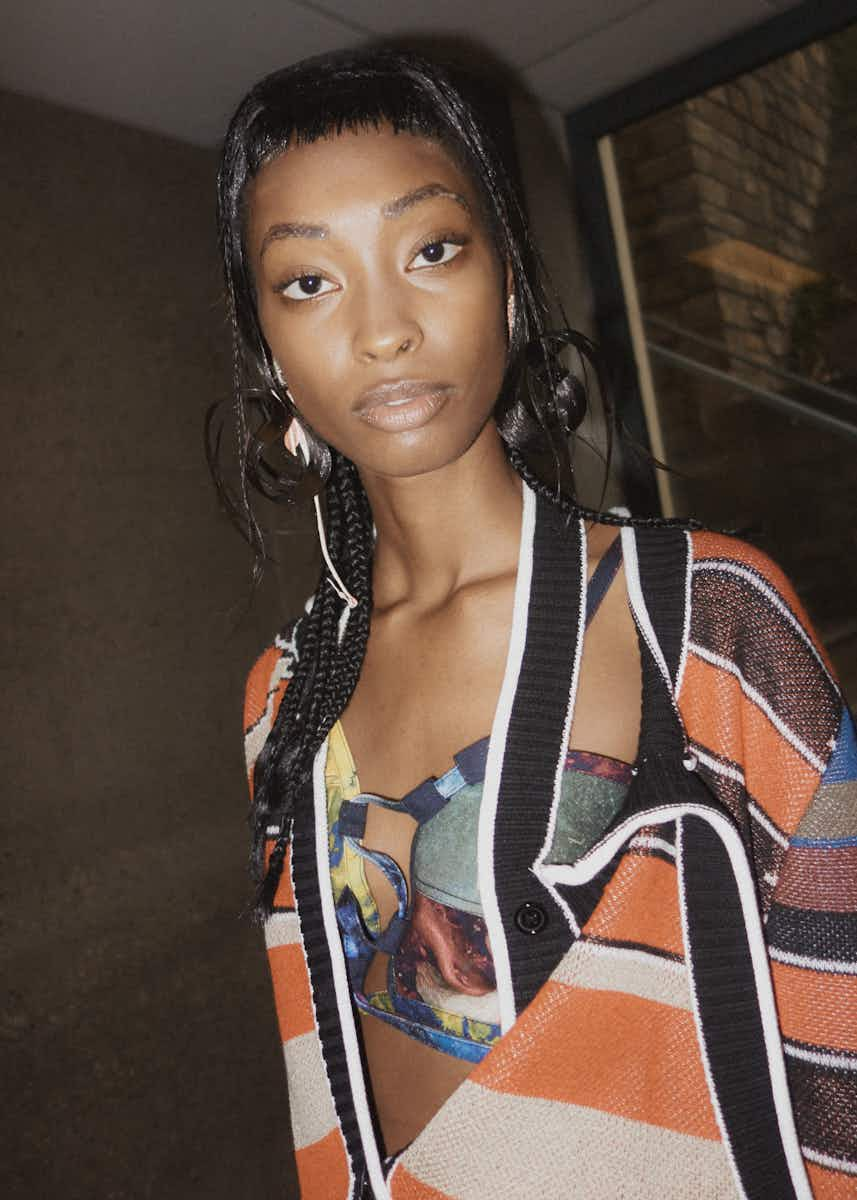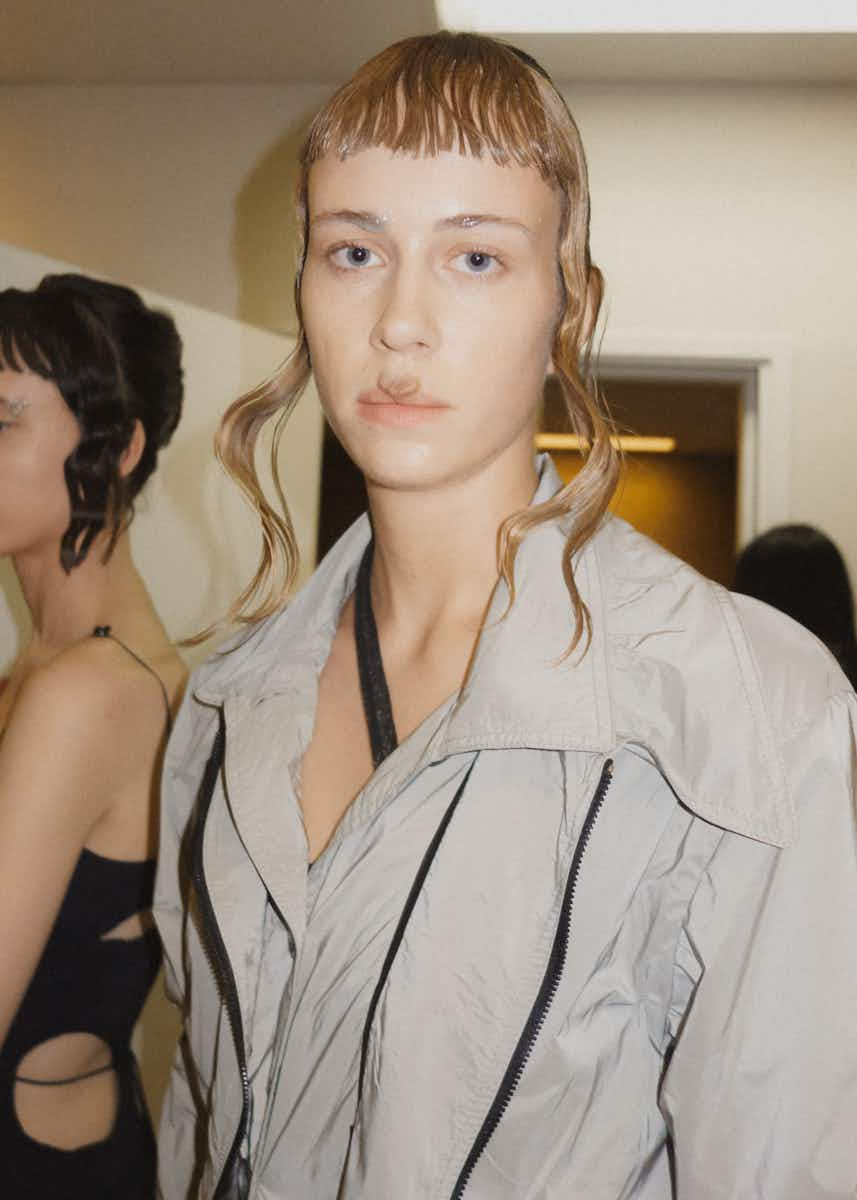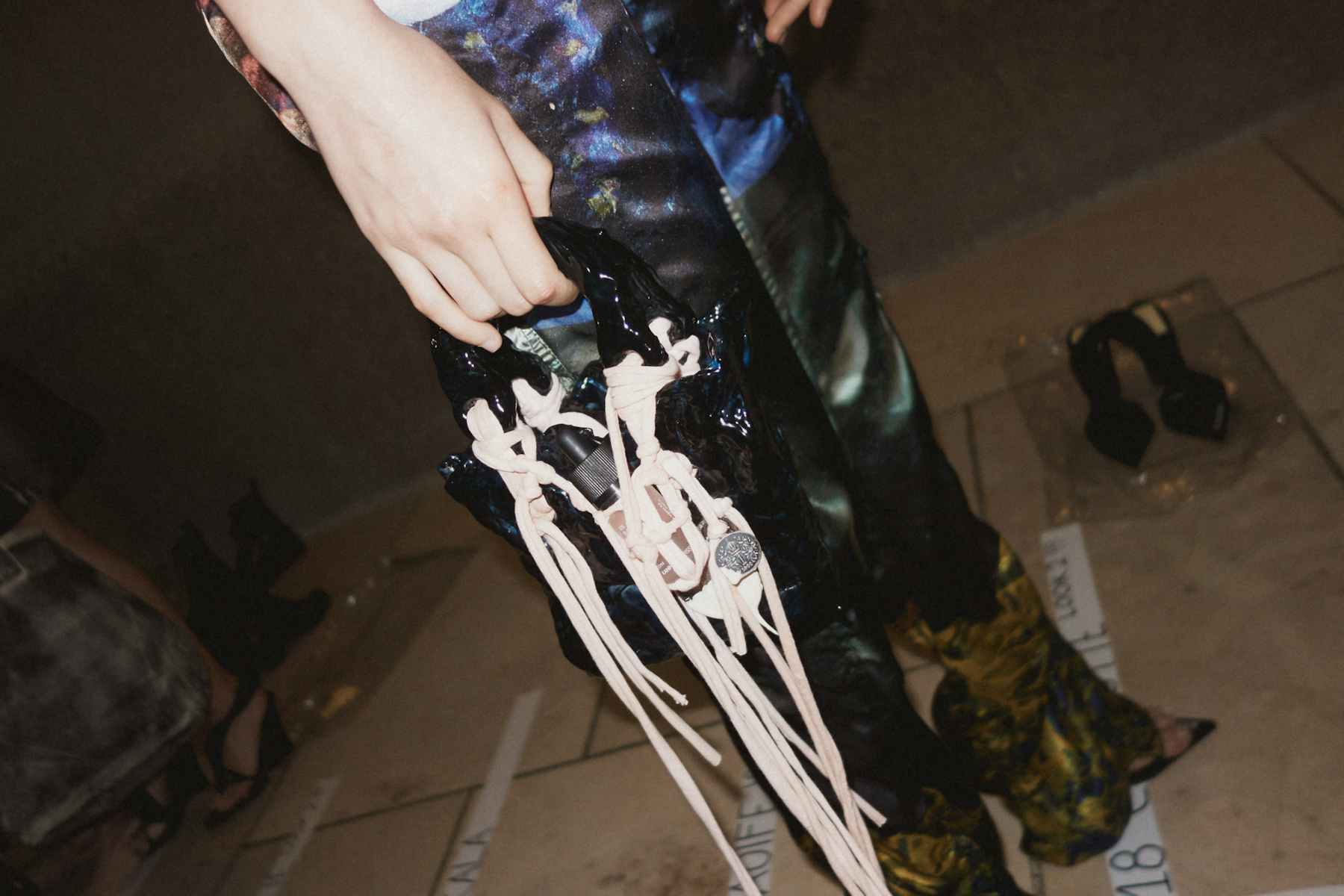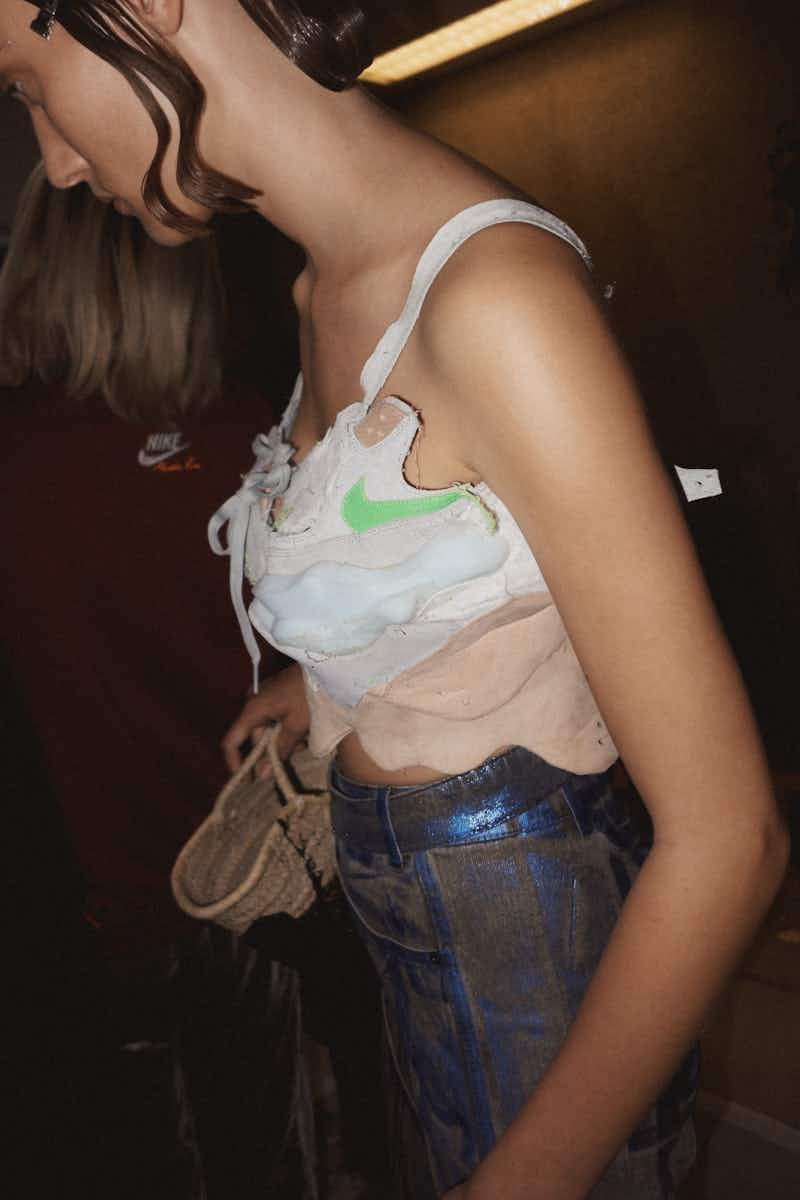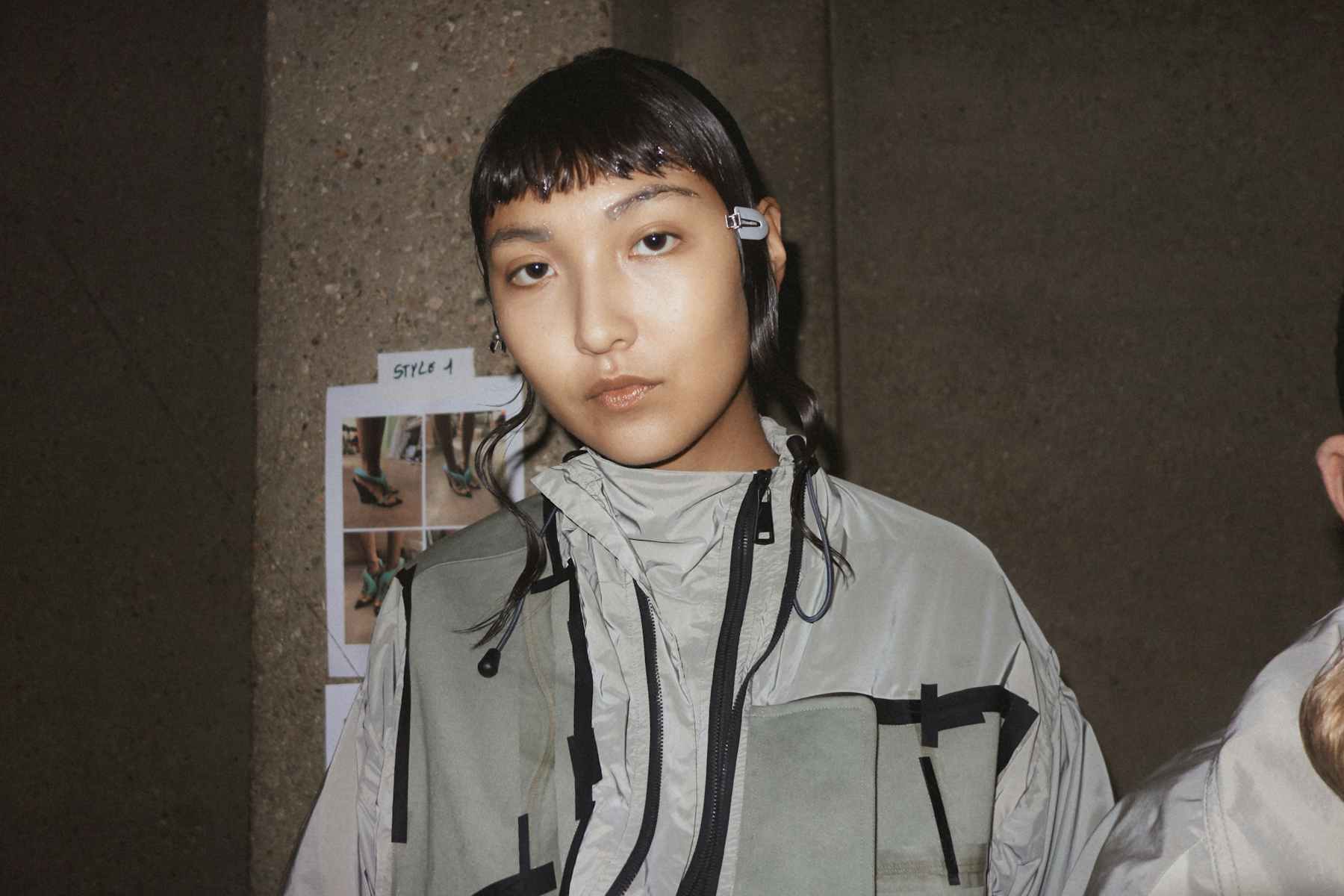 Where was the show?
At Catholic church Paroisse Notre Dame de Grace in the 16th Arrondissement.
What about the accessories?
The ​"ceramic bags" looked like they'd been dipped in molten lava, with metallic or raffia basket bags partially encased in red or black clay. Models wore reworked Nike Air Max ​'90s on their feet, completely transformed into soft heels that proved a challenge for those advancing the runway.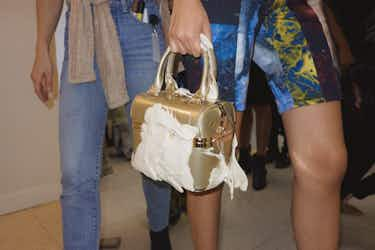 What about the beauty?
Hair was slicked into a ponytail, leaving a blunt micro-fringe and long singular curls at the ears, while muted makeup from Isamaya Ffrench was laced with CBD in the form of KannaSwiss lipstick.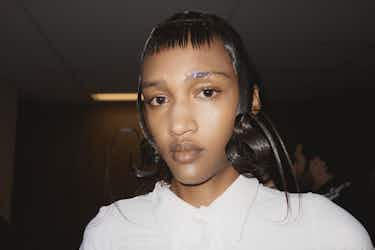 Where did people go next?
The scrum for cars to zip across the arrondissement to Dior was a sight to behold.
TELFAR SS20
Having only ever shown in New York to date, Telfar came to Paris for SS20. And it wasn't just the label's new collection that was unveiled. Models walked in front of a large-scale screen that debuted The World Isn't Everything, a film created by brand founder Telfar Clemens in collaboration with Ashton Sanders, Petra Collins and Jeremy O. As for the collection itself, think high-waisted denim that nods to the ​'70s, deconstructed tracksuits and denim-meets-cargo hybrid pants.


More like this