Everything you need to know about AW22 at Milan Fashion Week
After the buzz of London, we greet our friends in Italy: Diesel, Fendi, Prada, Blumarine, Moschino, JW Anderson, GCDS, Palm Angels, Marni and Bottega Veneta. Get involved!
MILAN!

MILAN!

MILAN!

MILAN!

MILAN!

MILAN!

MILAN!

MILAN!

MILAN!

MILAN!

MILAN!

MILAN!

MILAN!

MILAN!

MILAN!

MILAN!

MILAN!

MILAN!

MILAN!

MILAN!
For every collection steaming ahead into the future, there's another more concerned with slowing down and taking in the view. The vibe at Dsquared2 this season was very summer of love, but in more expensive knitwear. Dean and Dan Caten went full hippy throttle in their messaging about peace and love, throwing plenty of crystals and beads in for good measure. As we continue to rake over the Noughties, there have been rumblings about whether we might see the return of boho. Sightings here of those ubiquitous round, studded belts everyone wore so low on the hips they were practically falling off may well fuel the noise, but ultimately this is a more sophisticated free spirit than her 2005 ancestor. More practical too. In a dash of pure contemporary pragmatism, here the paisleys and corduroys were given a hiker update: backpacks, puffers and moon boots suggesting a freewheeling wanderer who's still very well equipped to travel.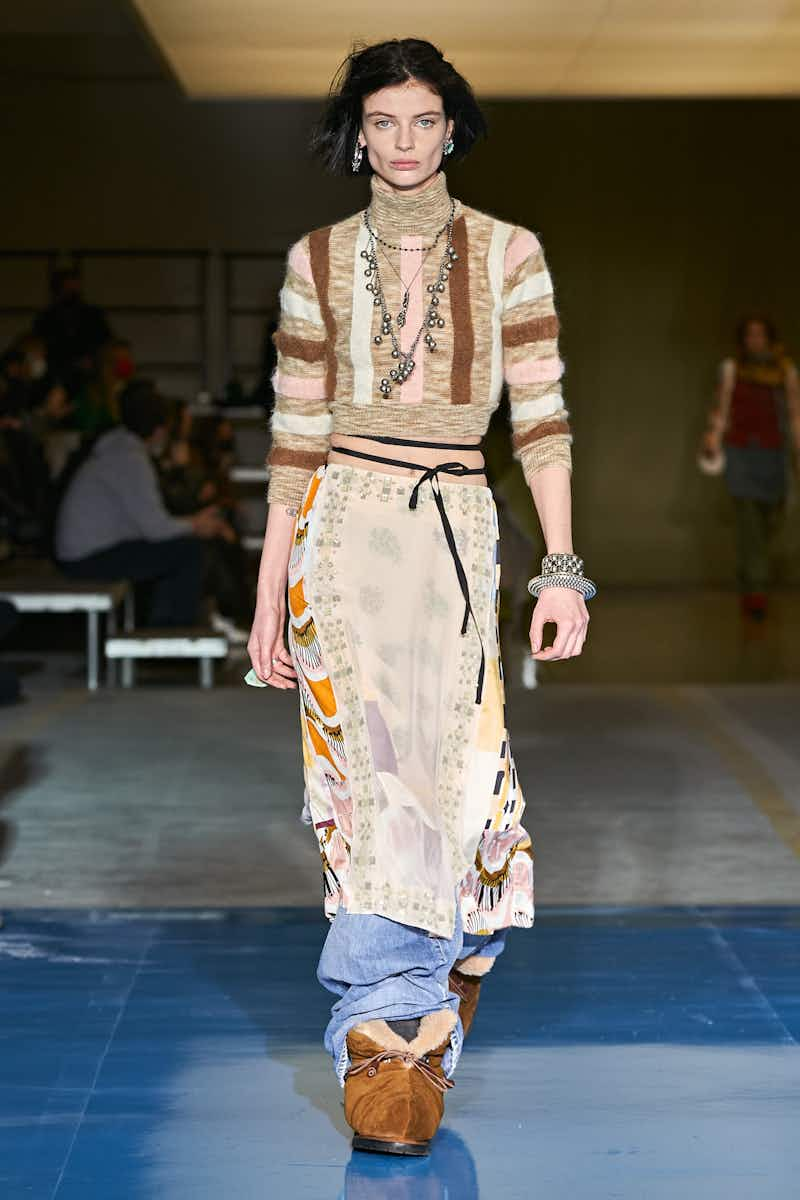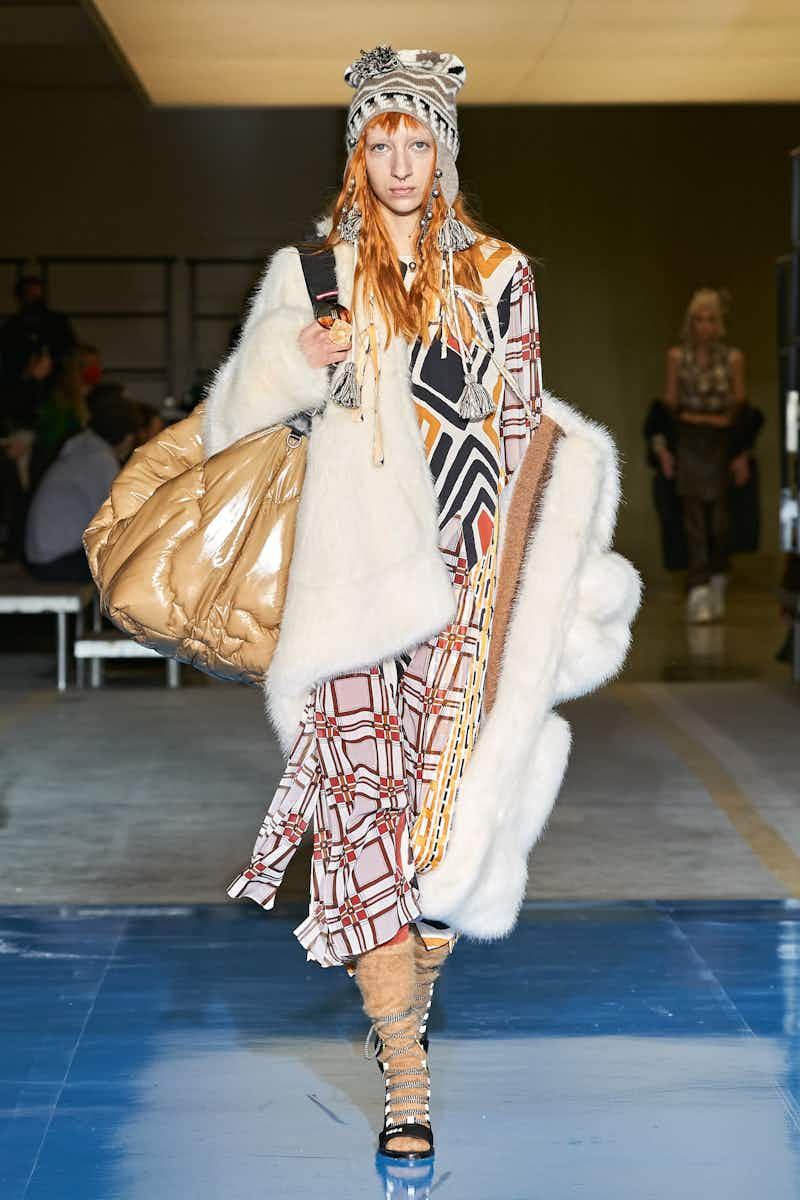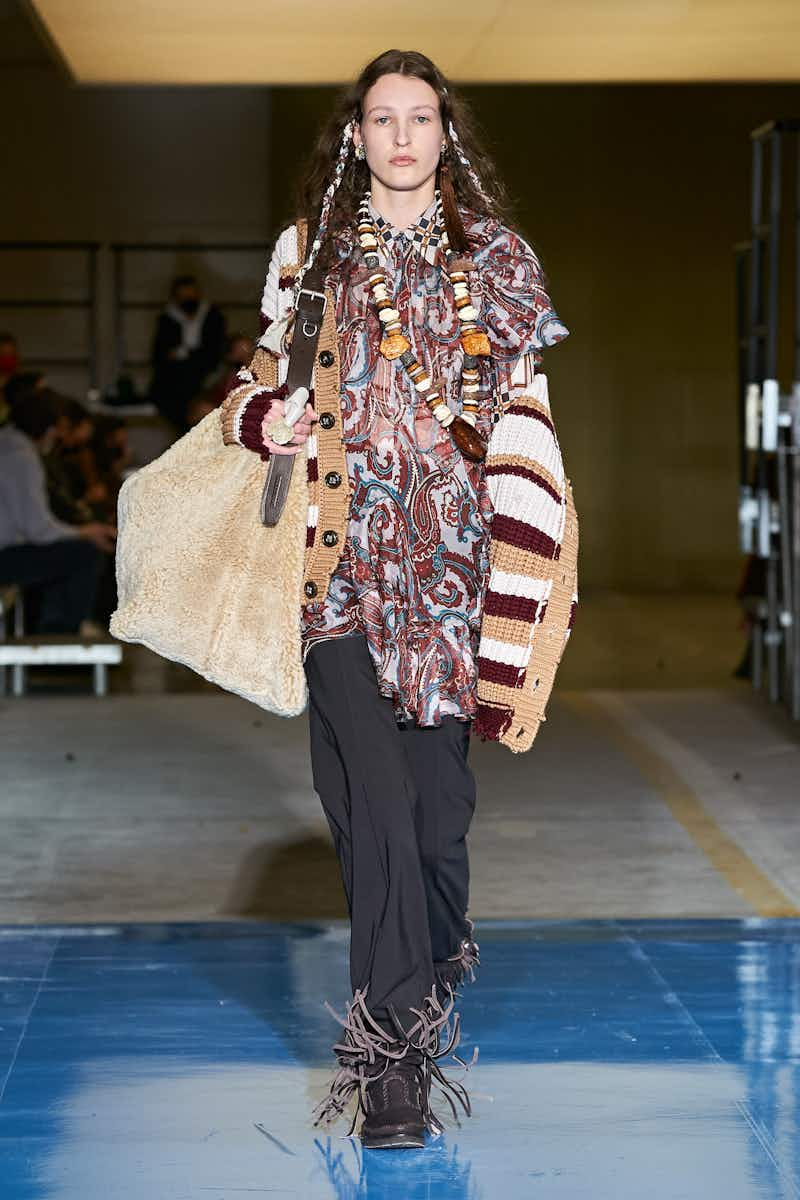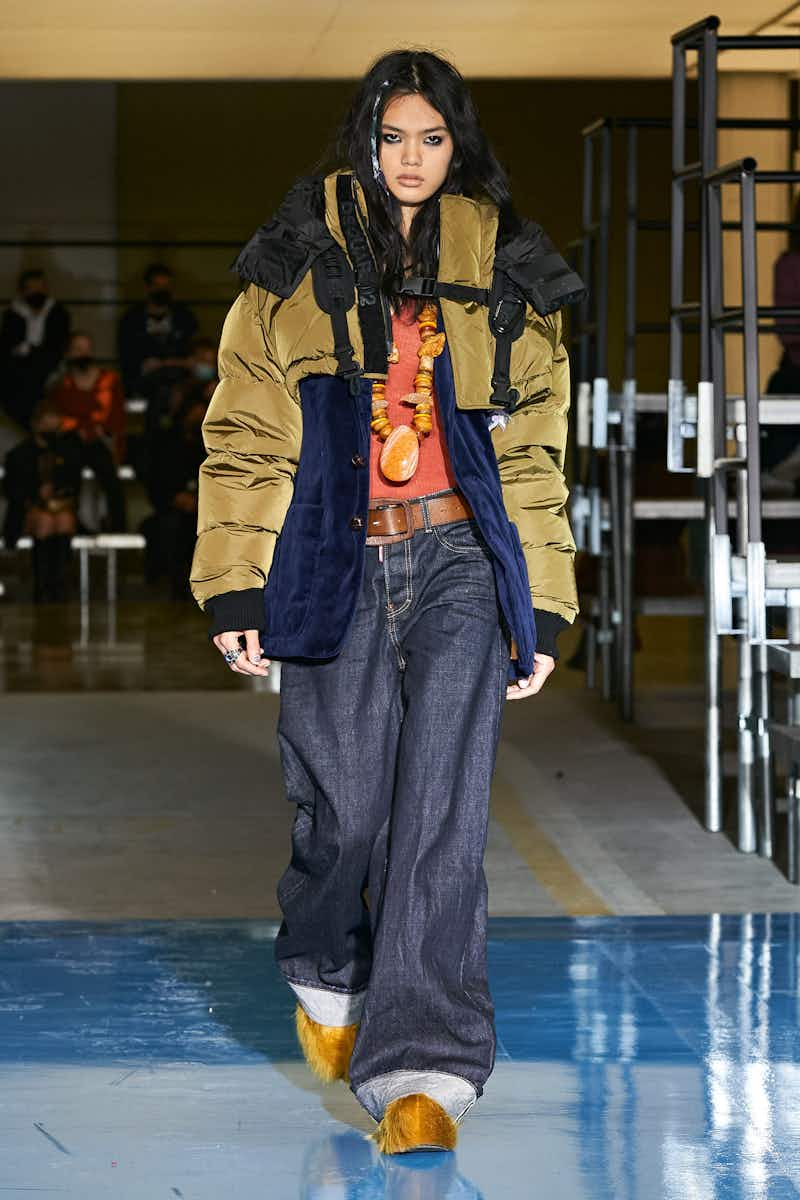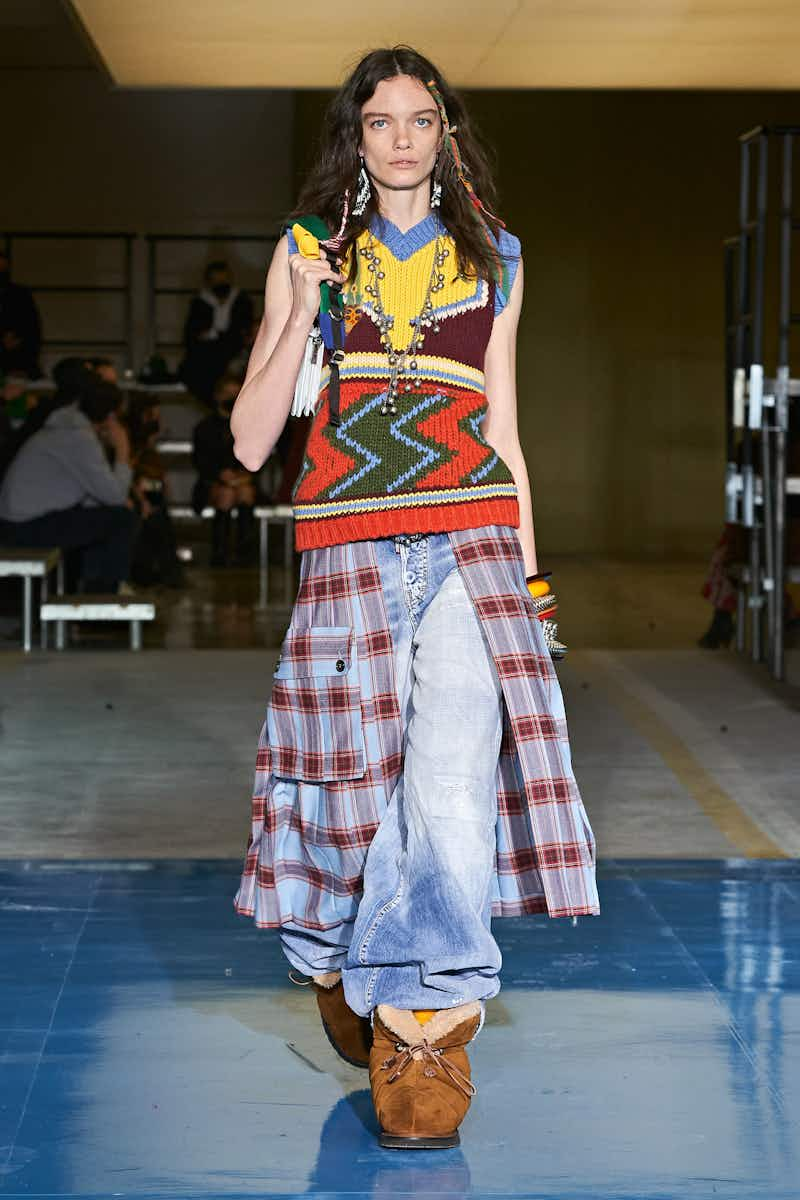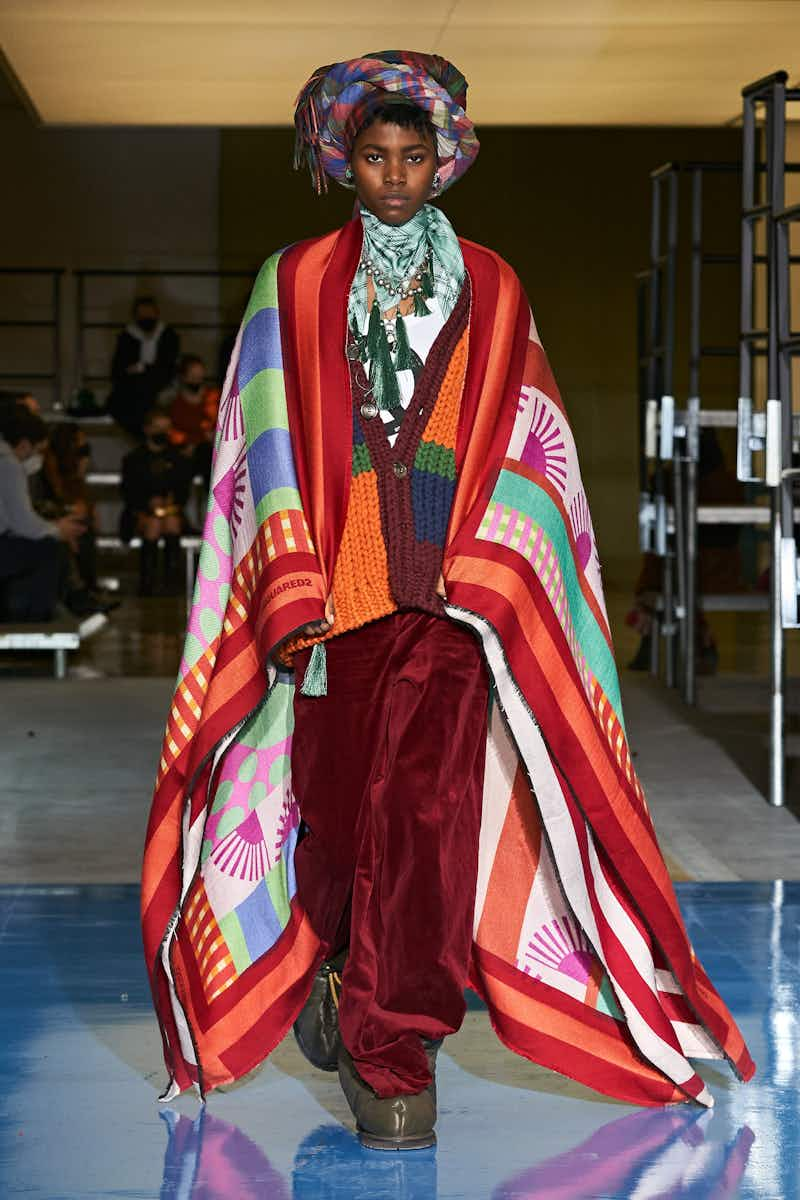 Francesco Risso's approach to fashion is both tactile and talismanic. It's a vision of exposed seams and mended tears; a story of garments imbued with meaning through time, experience, and intimate memory; an understanding of clothes as the focal point for community and creative experimentation. At Risso's show on Sunday, these various preoccupations were brought together in raucous fashion. The models, many of them friends and peers (style icon Michelle Elie brought along her whole family), as well as Risso himself, paraded through a dark warehouse in pairs, lighting each other up via hand-held torches, before finally leading the gathered audience outside for a banquet in the light. The clothes had a touch of Where the Wild Things Are about them too, not least in the spiked boots and bags. Vests were inverted into skirts. Dresses looked like they'd been shredded by overenthusiastic claws. Hems trailed and heads were crowned with leaves or swathed in knitted fabric. As wild rumpuses went, this one was a joy.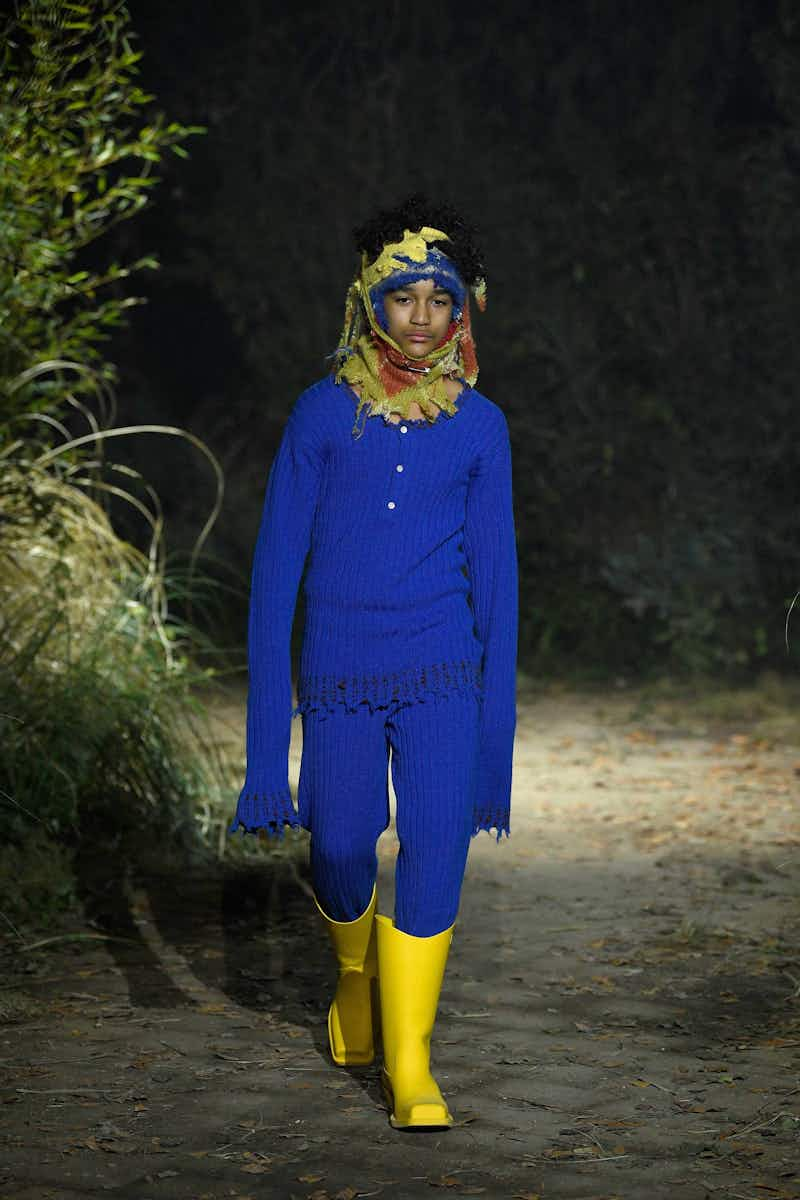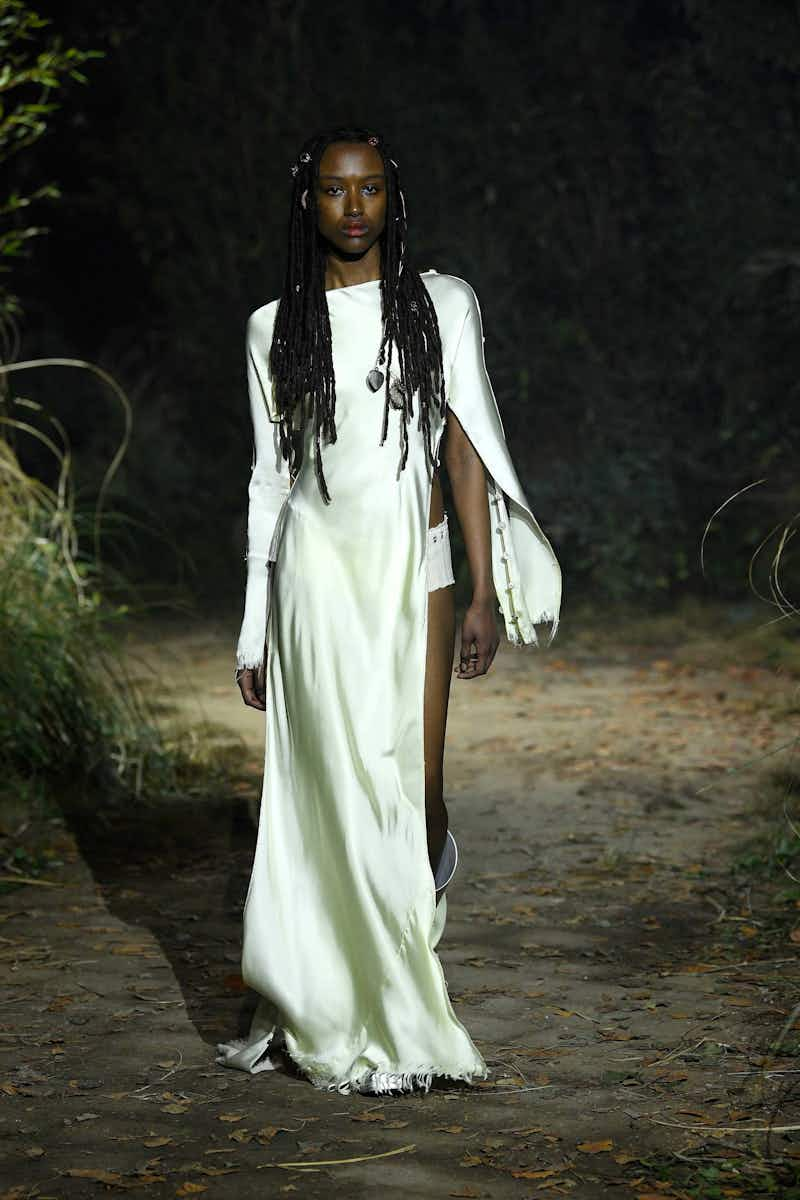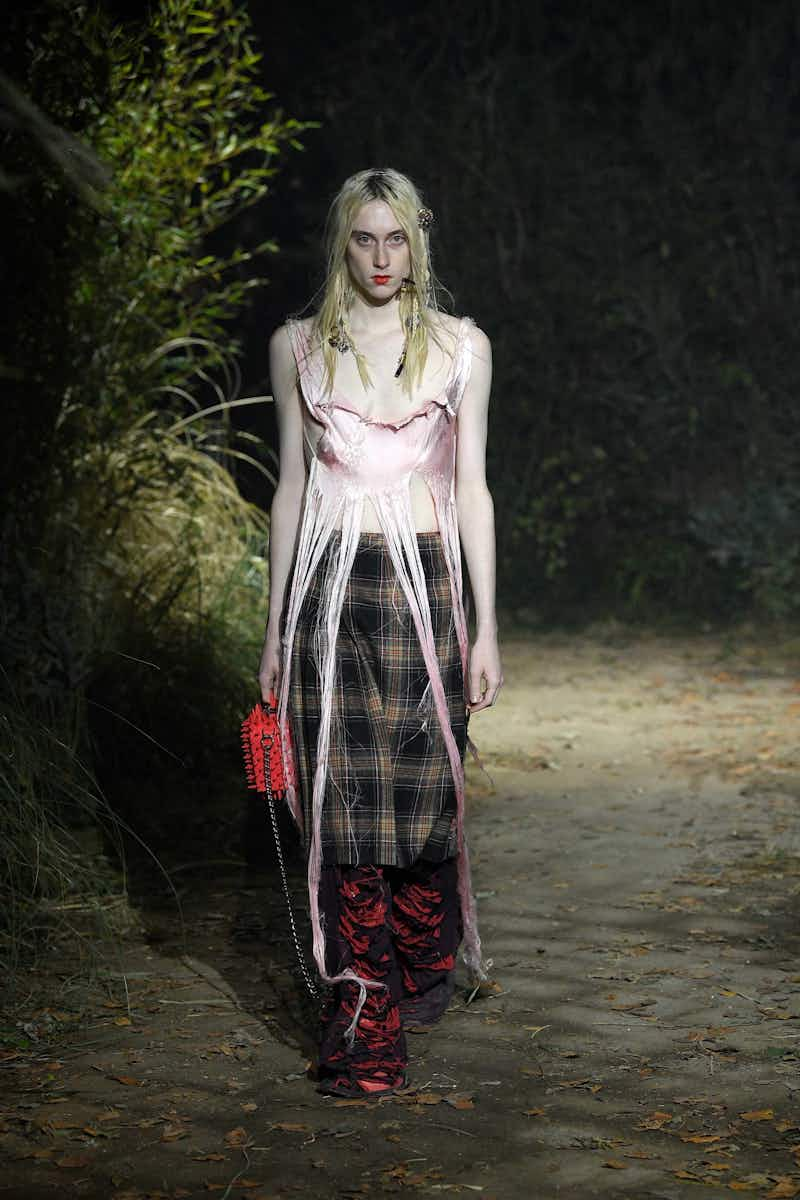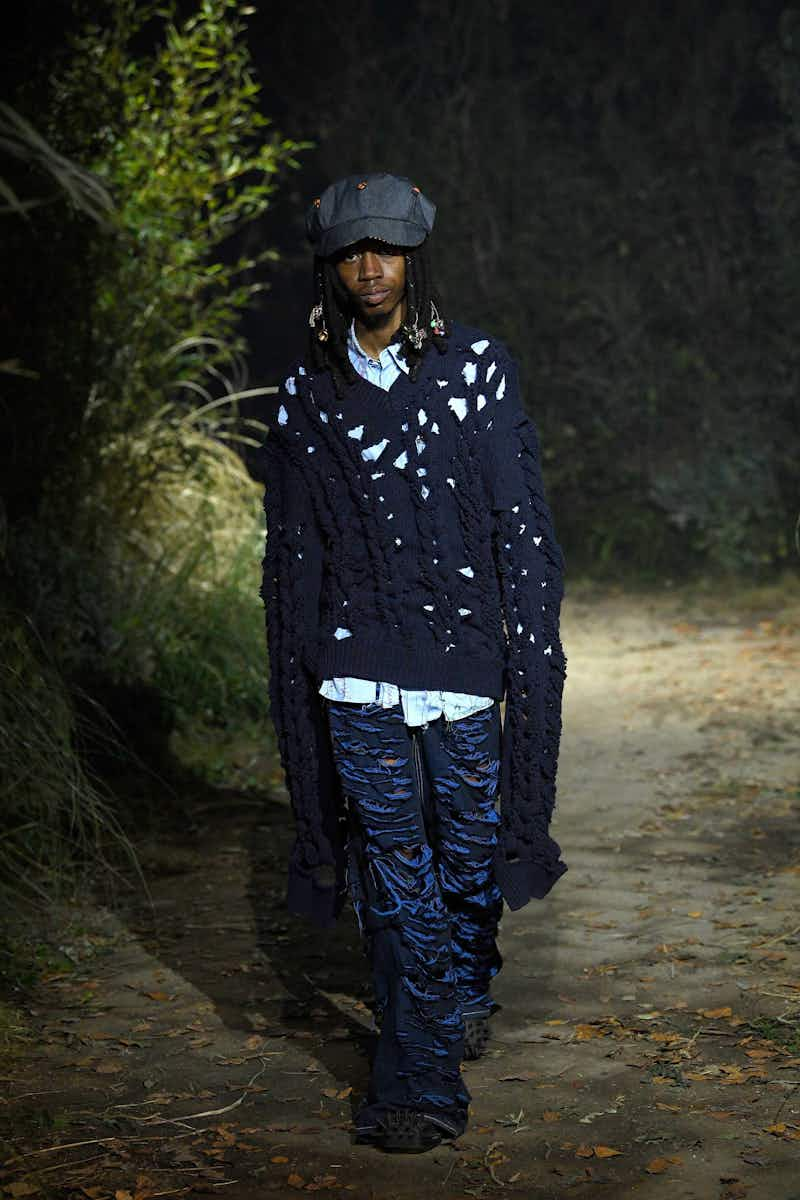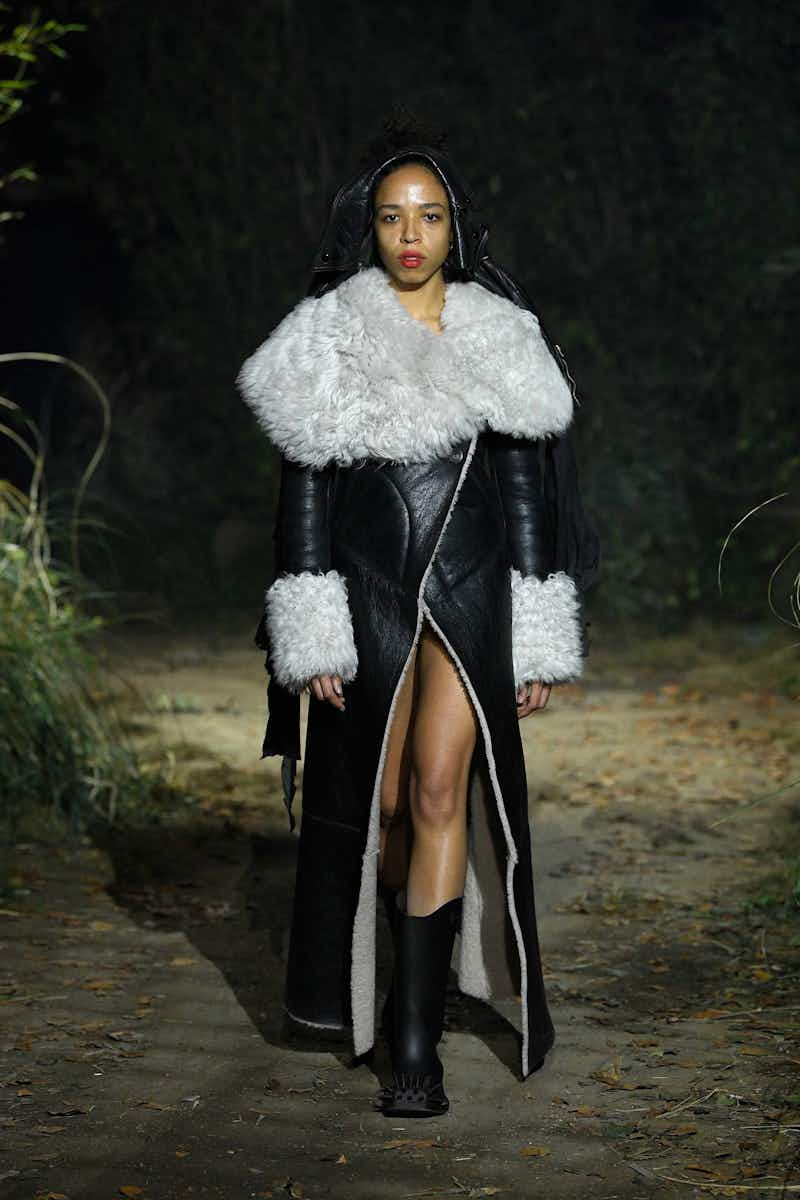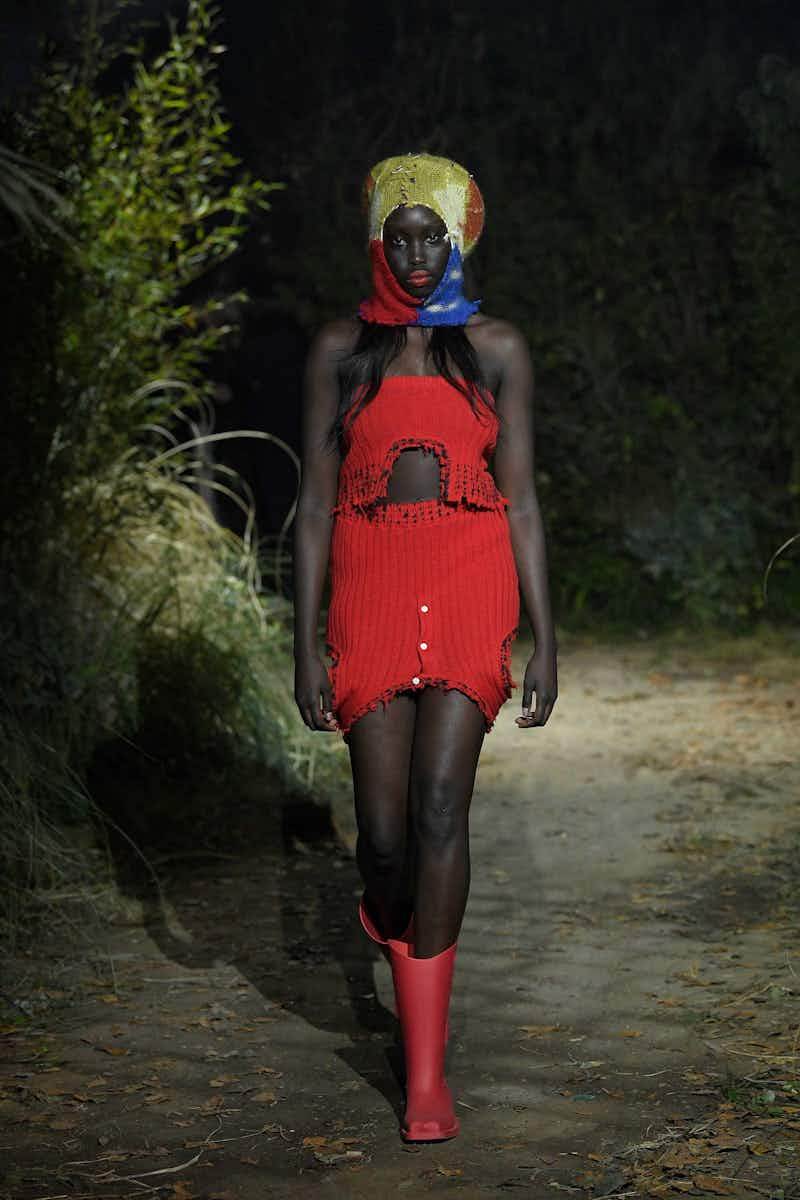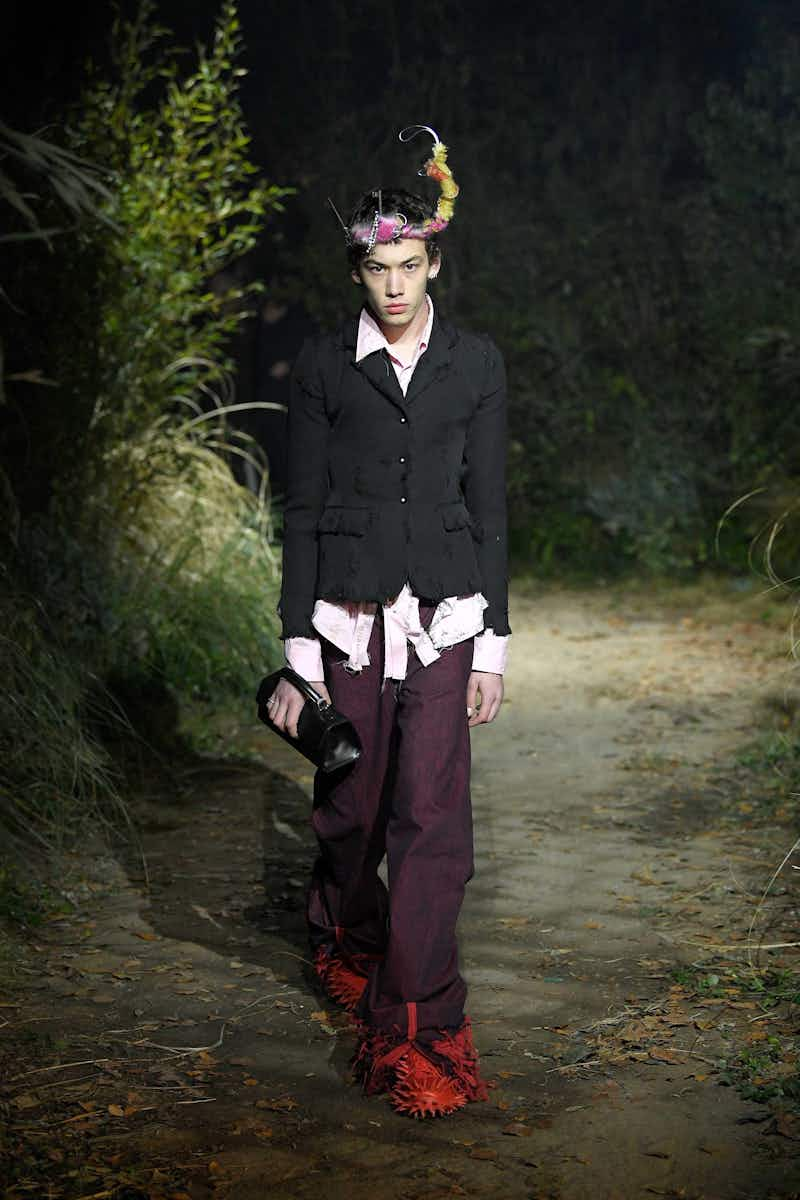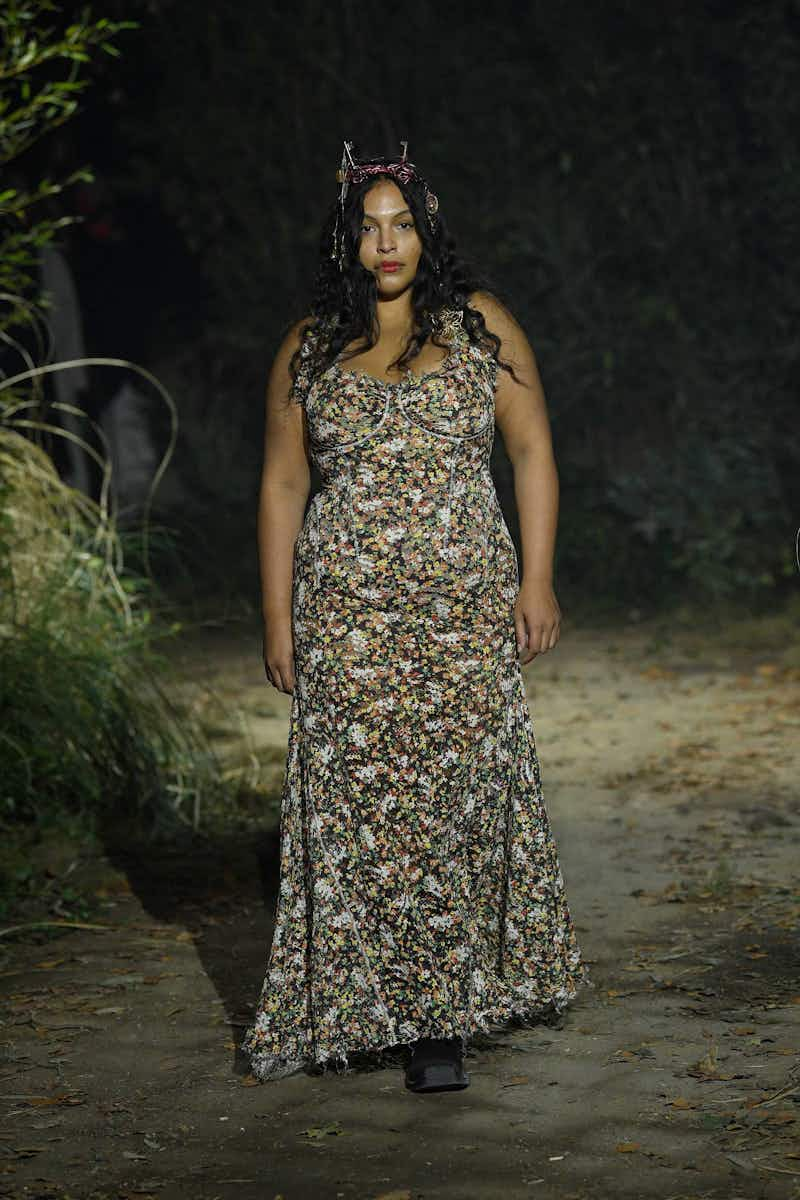 What on earth has fashion got to do with the metaverse? The scramble to figure out the question of digital fashion has yielded some interesting answers so far, thanks to all sorts of excursions into the worlds of gaming, NFTs and fully virtual shows. But what's the balance between genuine innovation, and brands hedging their bets to make sure they don't get left behind? This season, Dolce & Gabbana decided to offer up the best of both worlds by presenting a collection that blended the virtual and the IRL. Avatars strutted through a neon cityscape, met by their physical counterparts who took to the catwalk in an array of Blade Runner style get ups. The shapes were exaggerated, the surfaces shiny, and the sunglasses more like VR headsets. There was lingerie (of course) and a lot of black. But for all the talk of brand new technologies, this felt more like old school futurism: a 1980s infused vision of clothing as armour, designed for a shining urban landscape of glass and steel.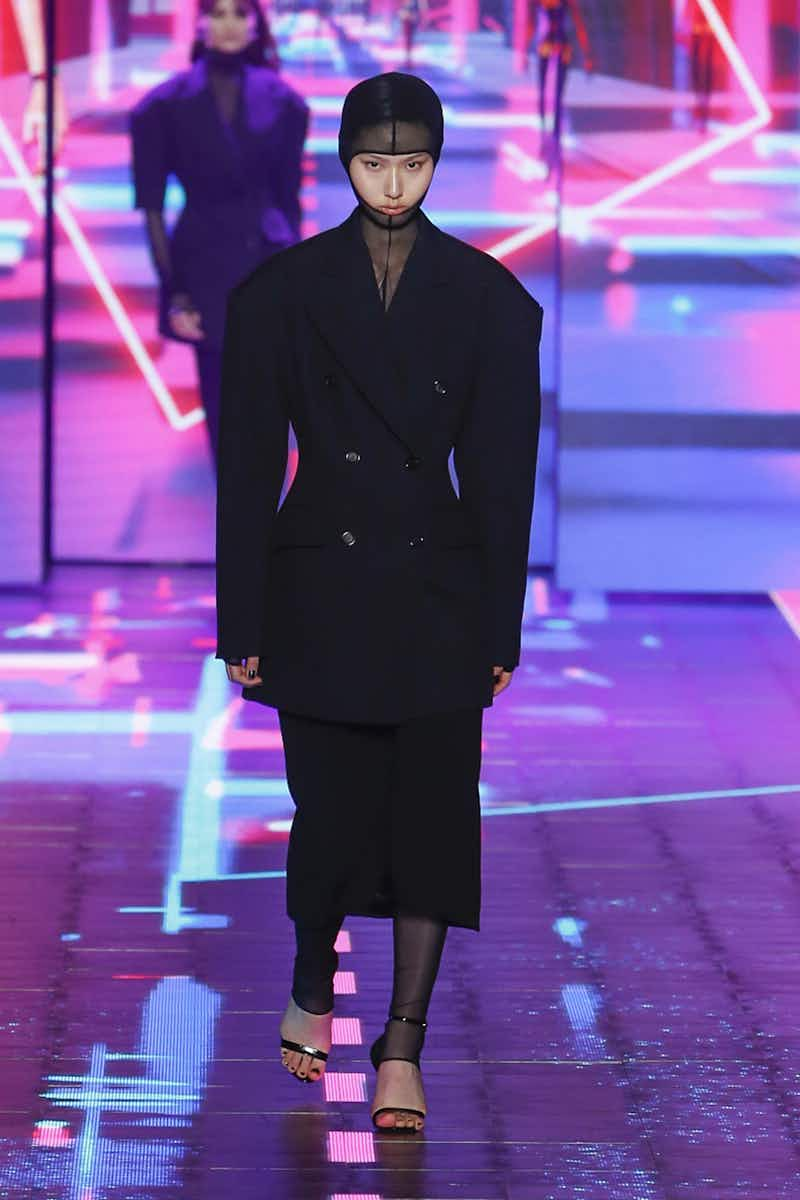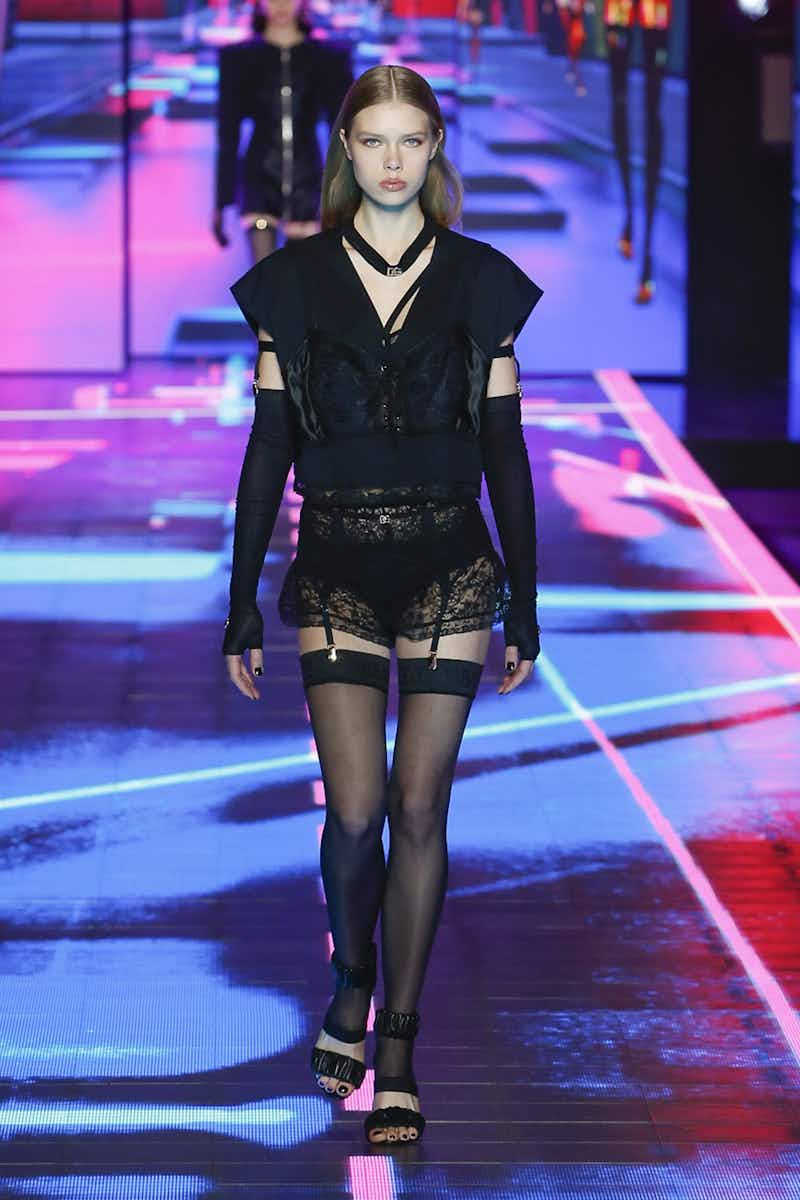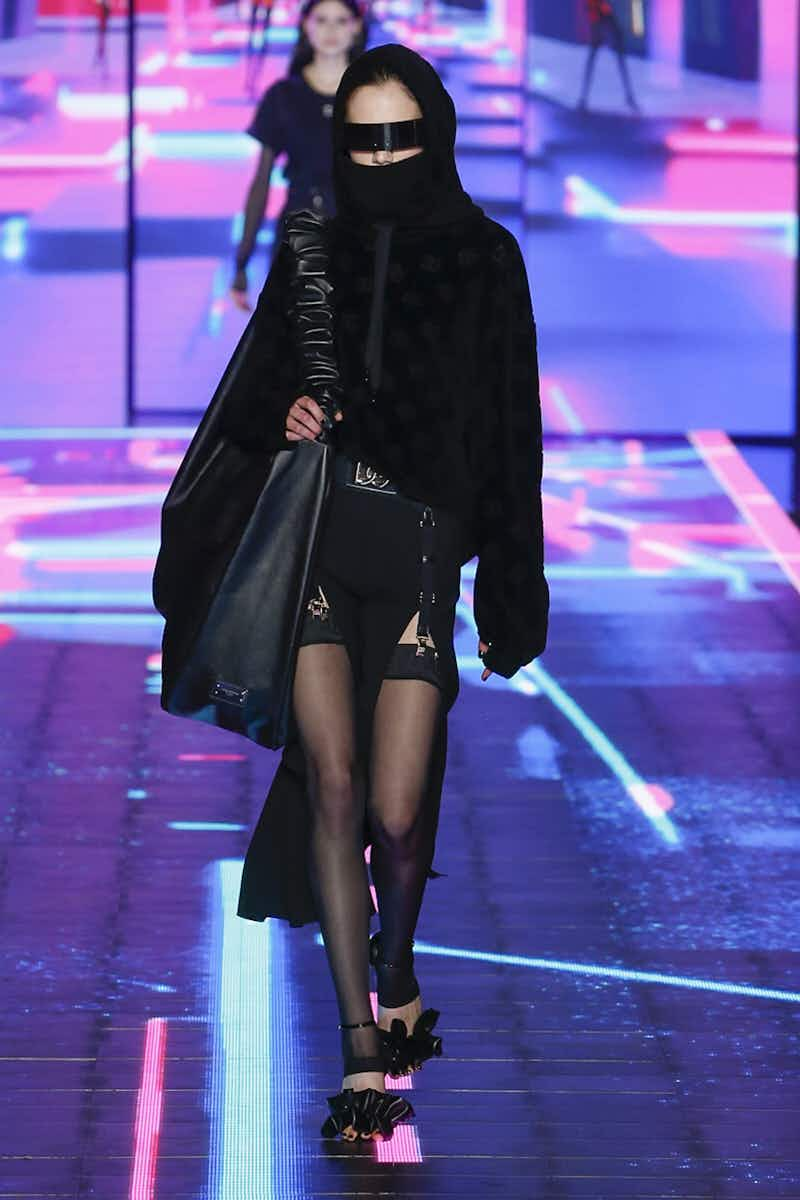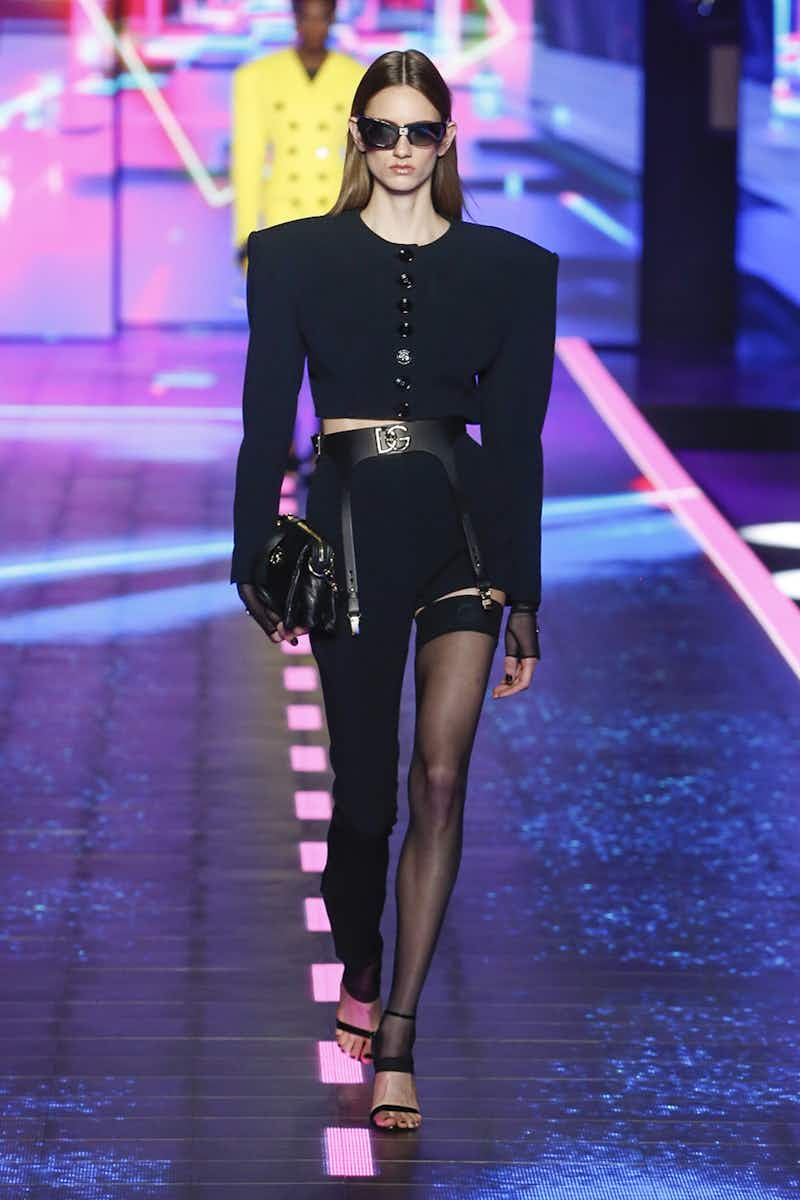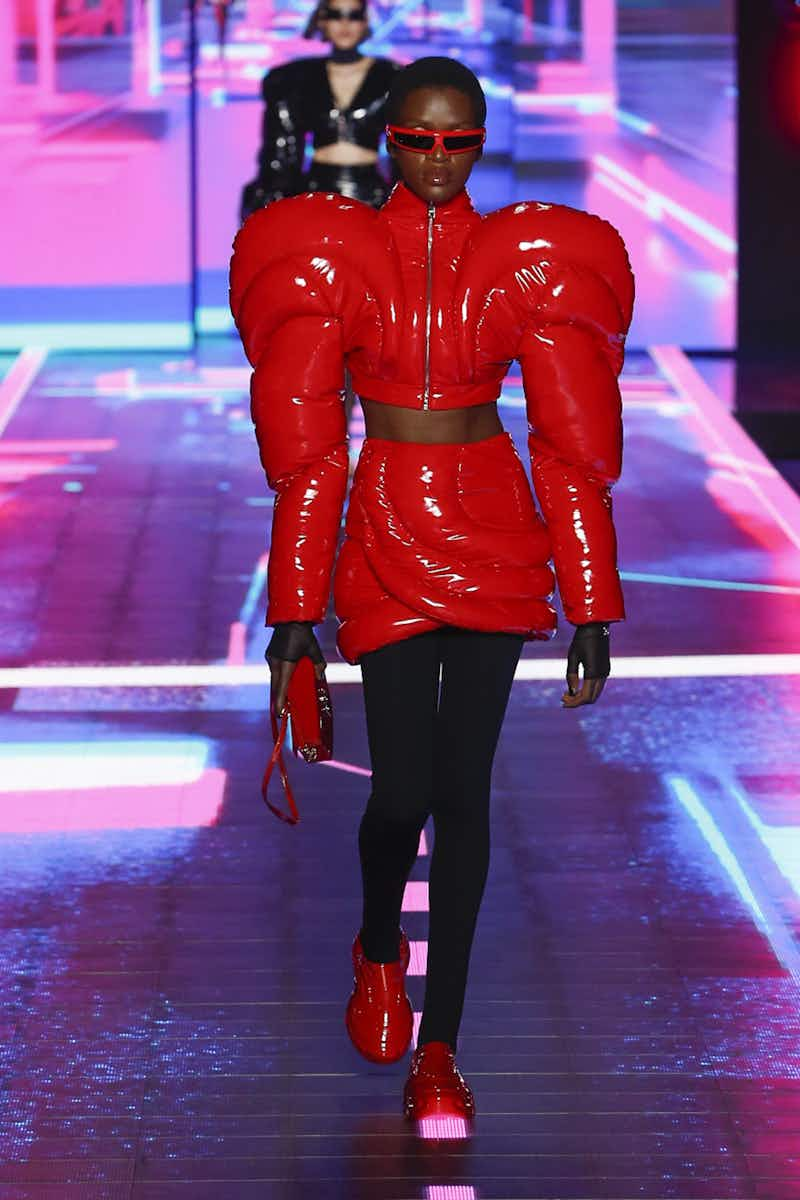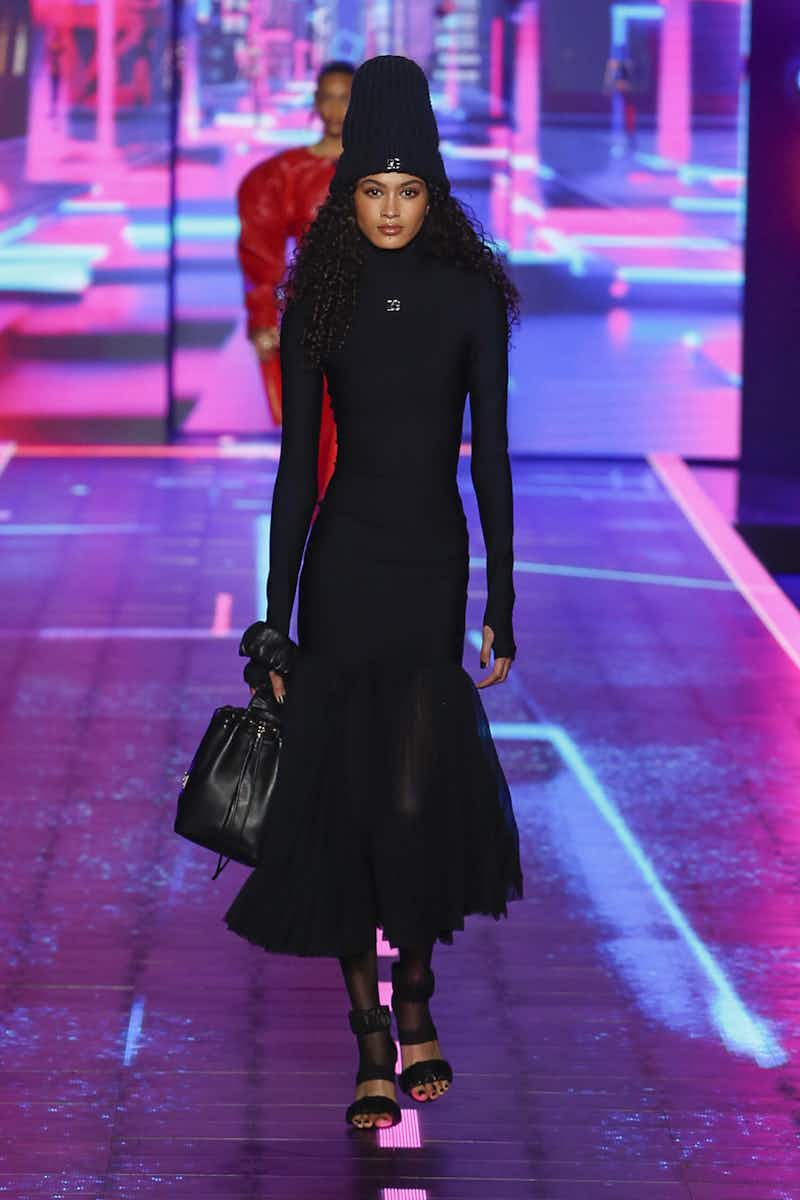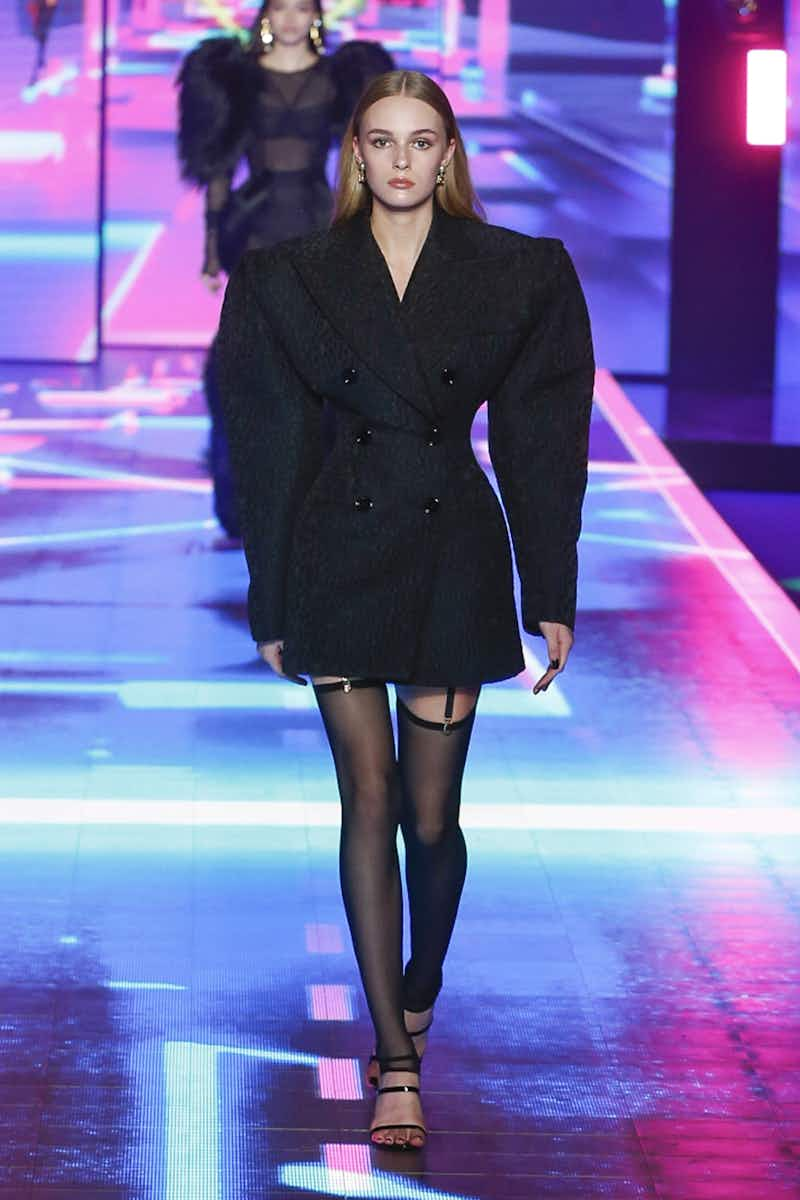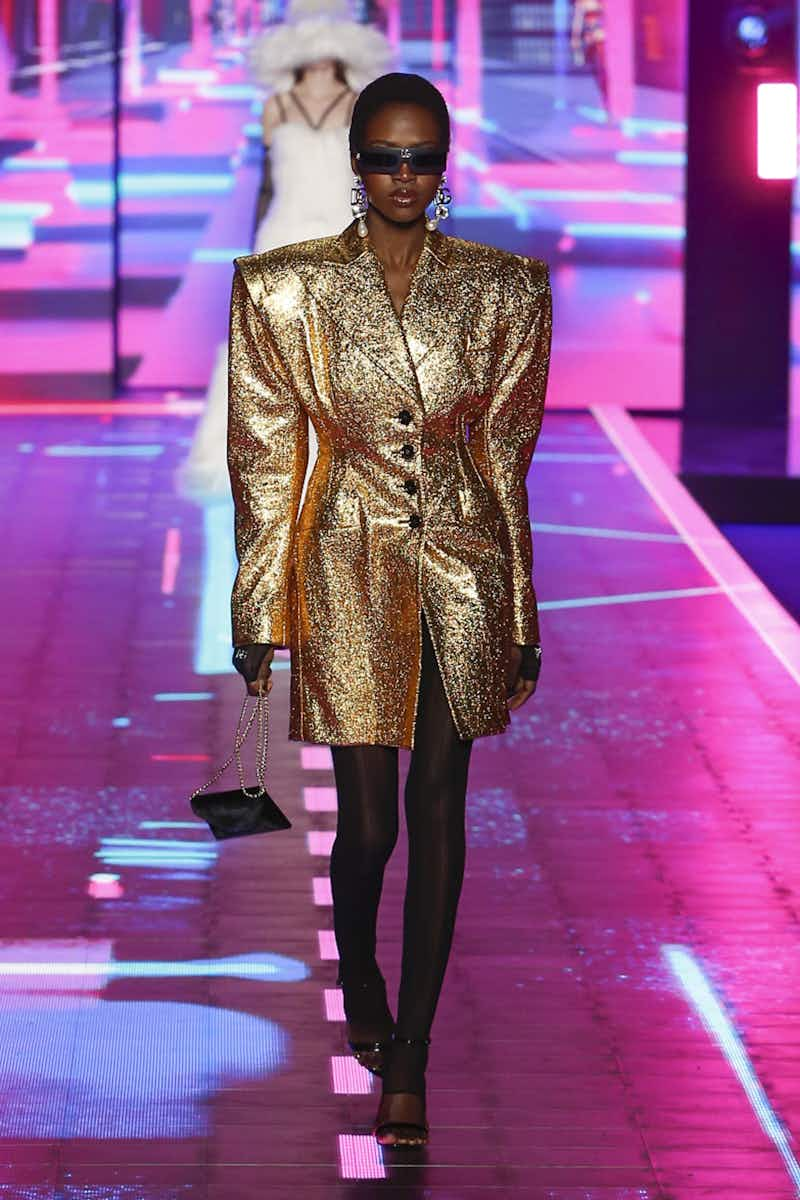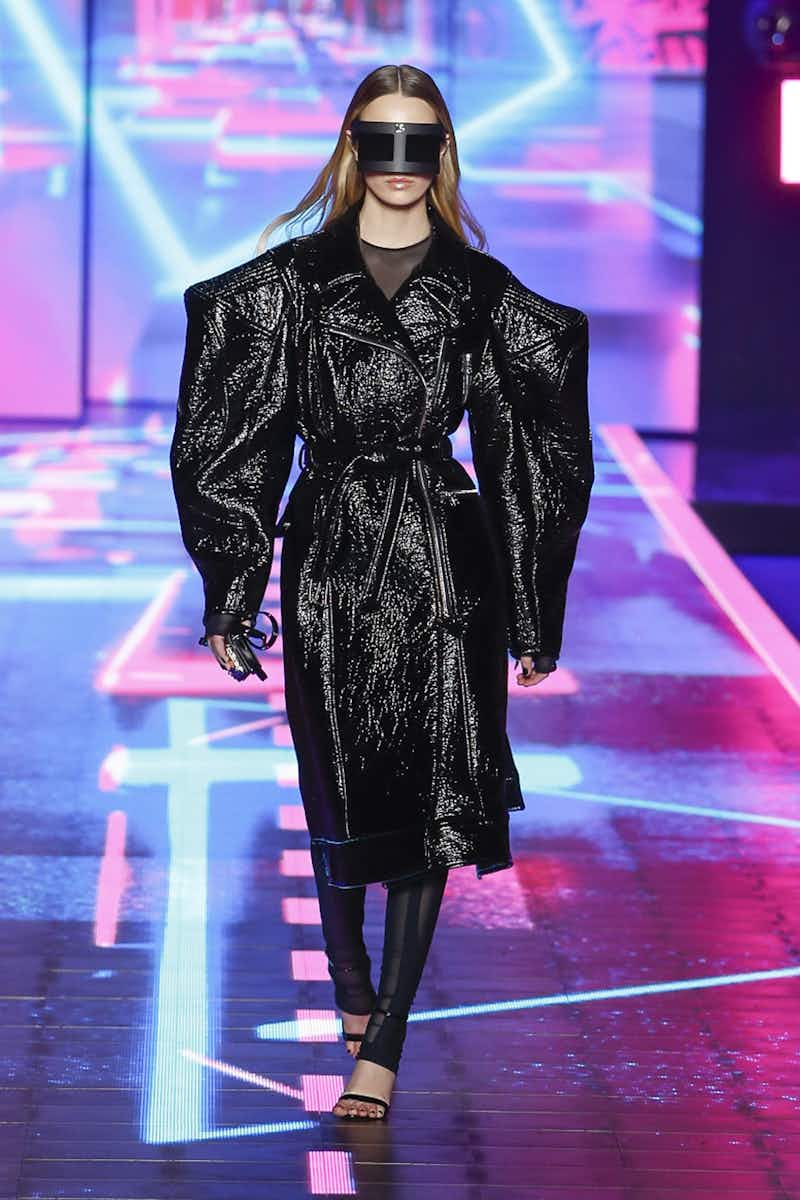 Question: When are denim jeans not denim jeans? Answer: When they're a pair of leather trousers. Matthieu Blazy's much-anticipated debut at Bottega Veneta after Daniel Lee's surprise exit in November was a feast of visual tricks and thoughtful craftsmanship. The opening look – a simple enough combination of white vest and blue jeans – was turned on its head by the revelation that both garments were made from soft nubuck. Elsewhere, Blazy showcased the brand's leather specialism in the form of clean-lined suits, intreccio bags of all shapes and sizes, and stunning swing skirts hitched up at the front to reveal a rhythmic mass of fringing beneath. Blazy's promise of ​"quiet power" delivered. There were pieces here that could ascend to that same ​"it" status Lee brought to the brand (particularly when it came to the footwear and accessories), but these looked like clothes made for life rather than a single season. A good shirt; a characterful shrunken knit; an elegant coat tied tight at the waist, ready to be worn come rain or shine.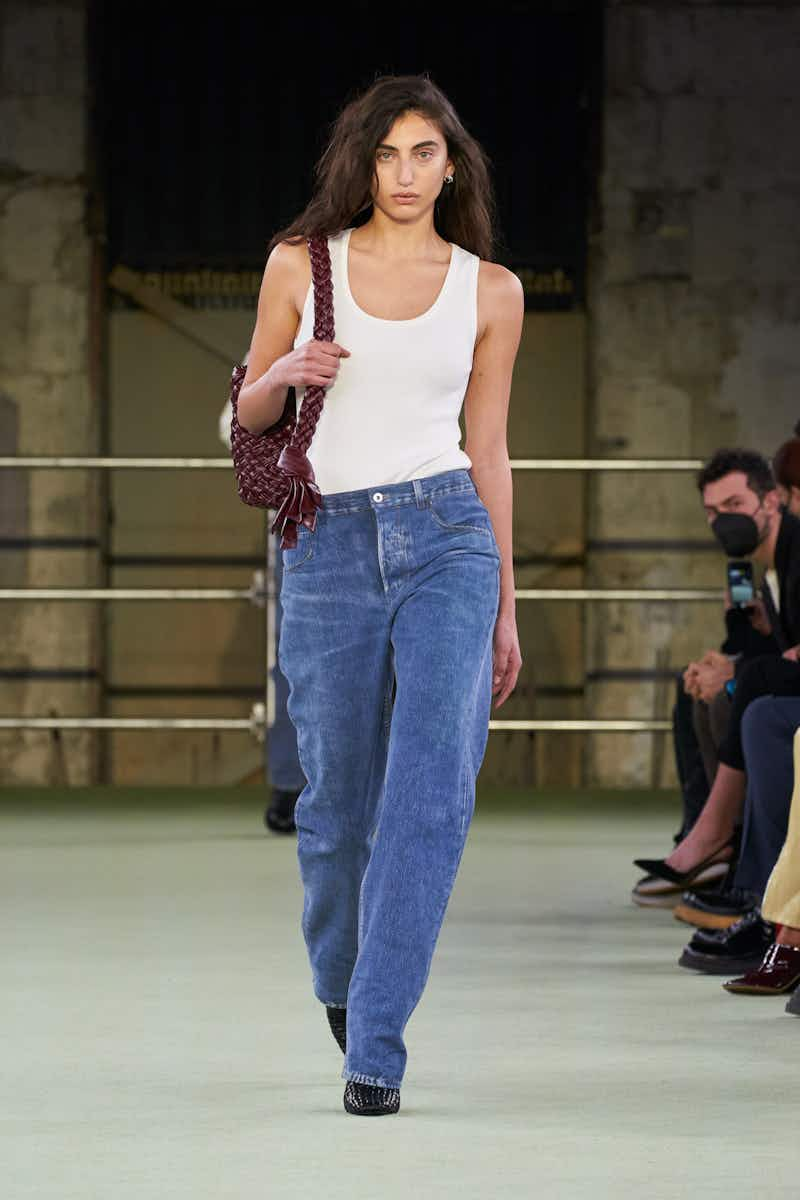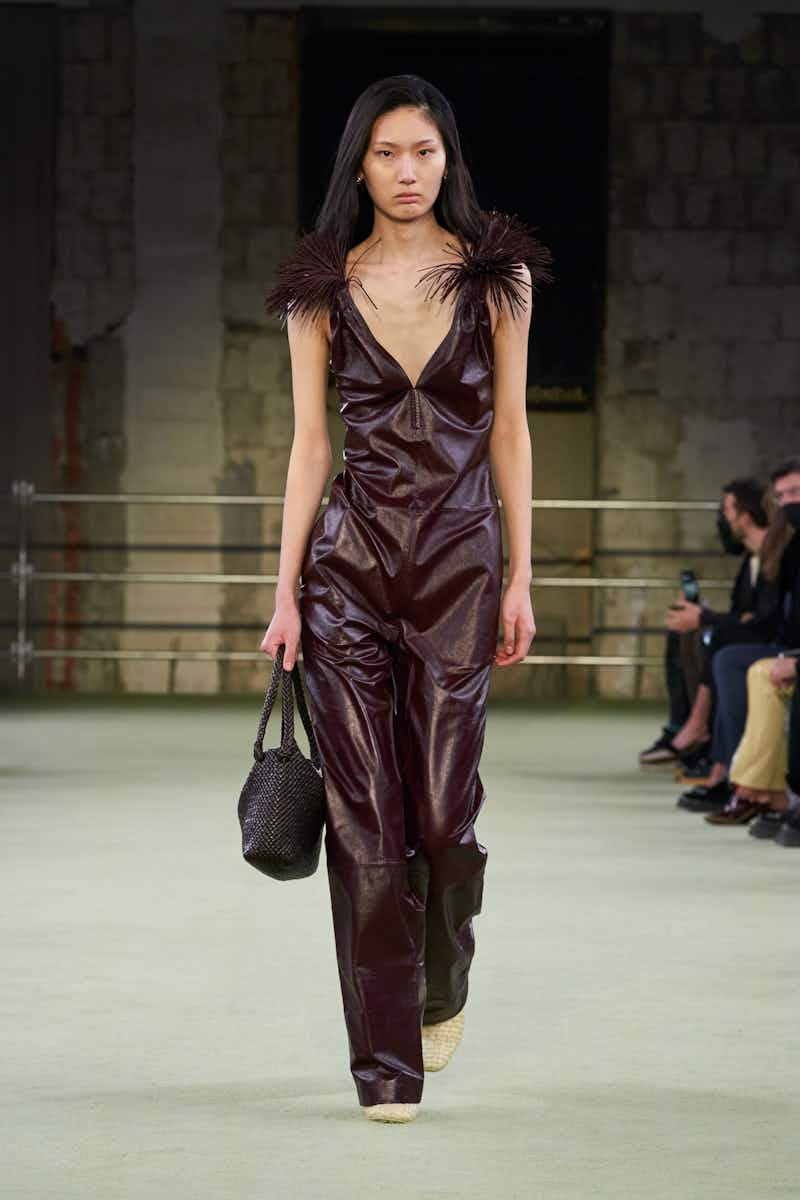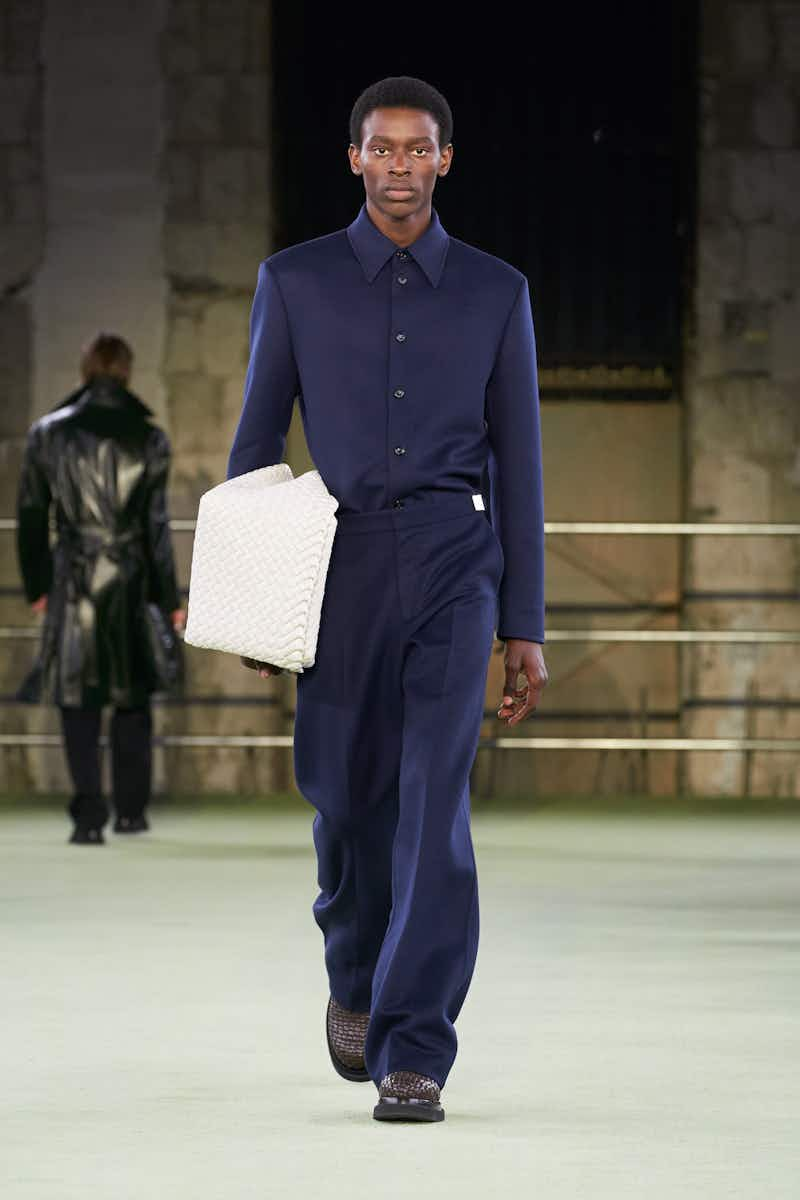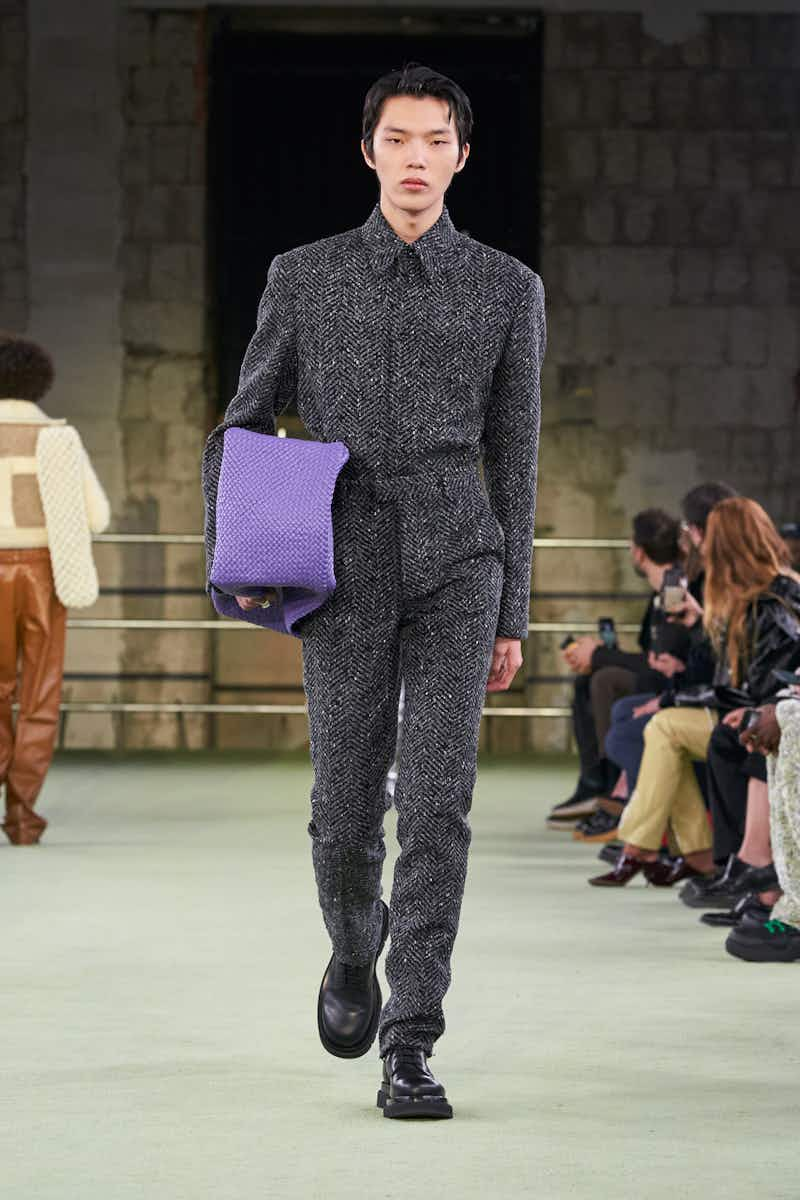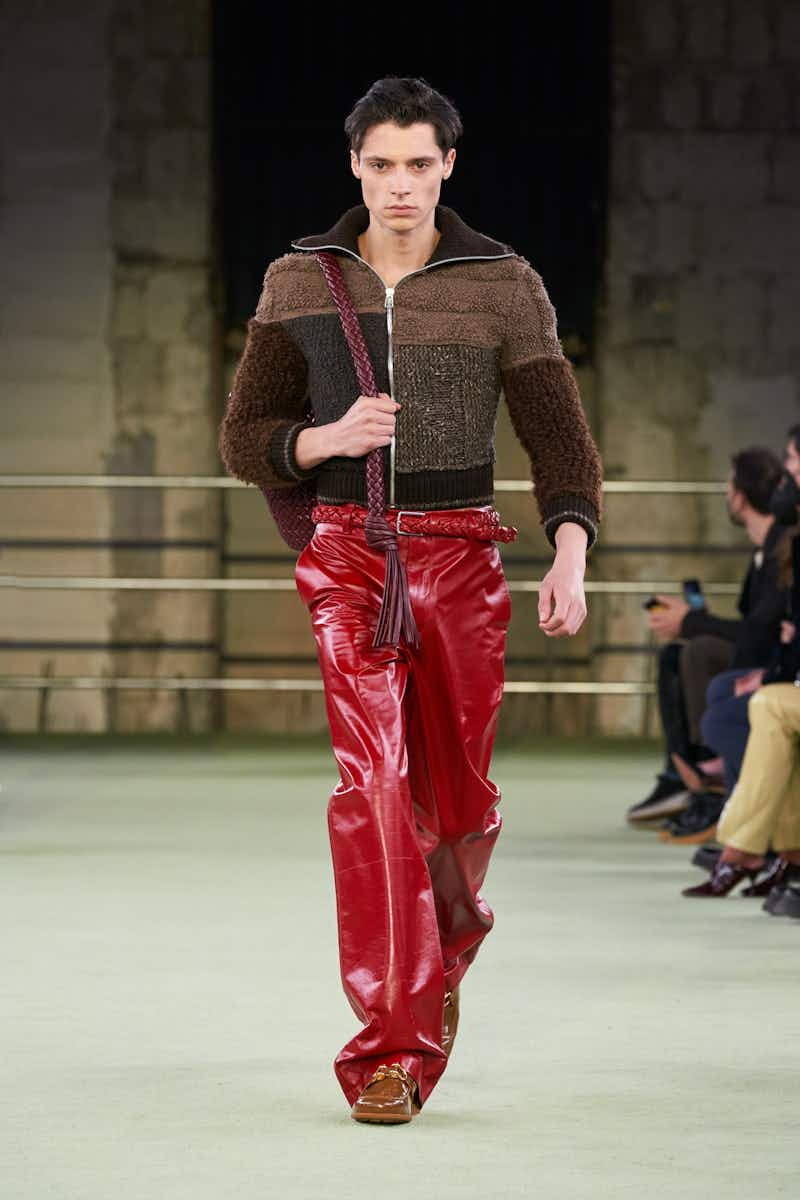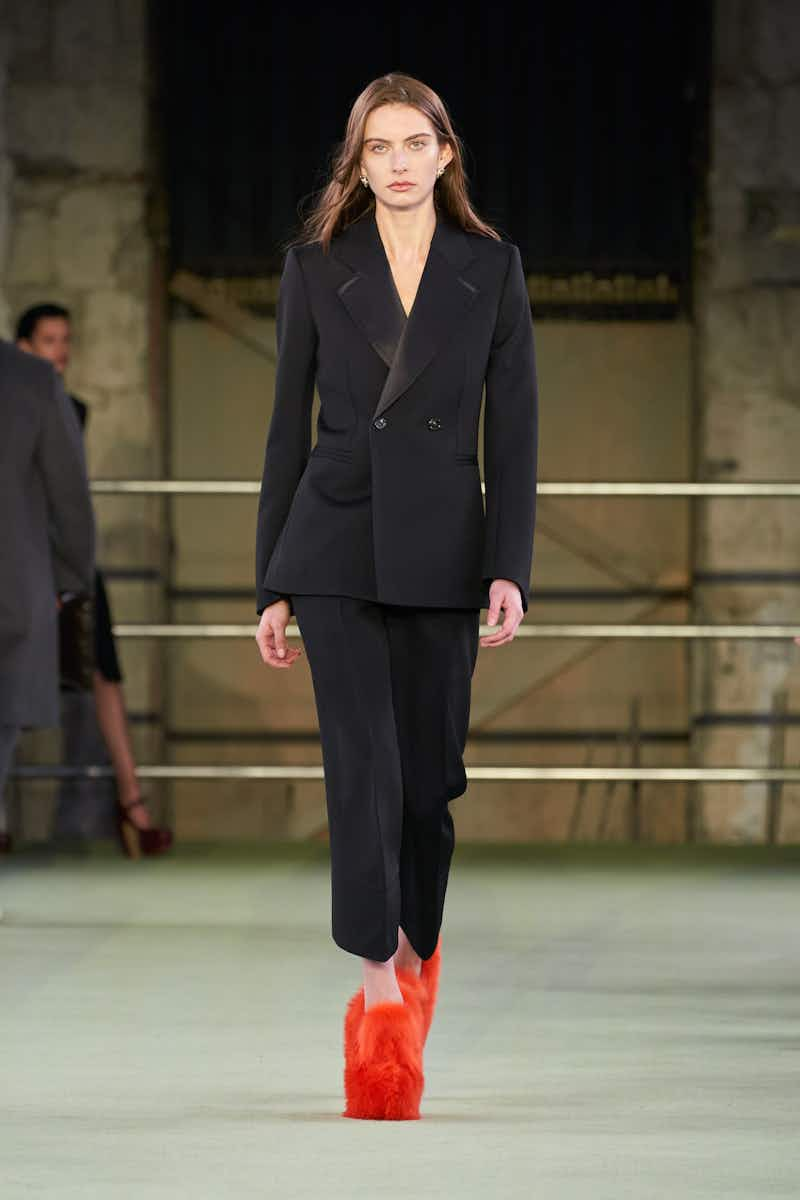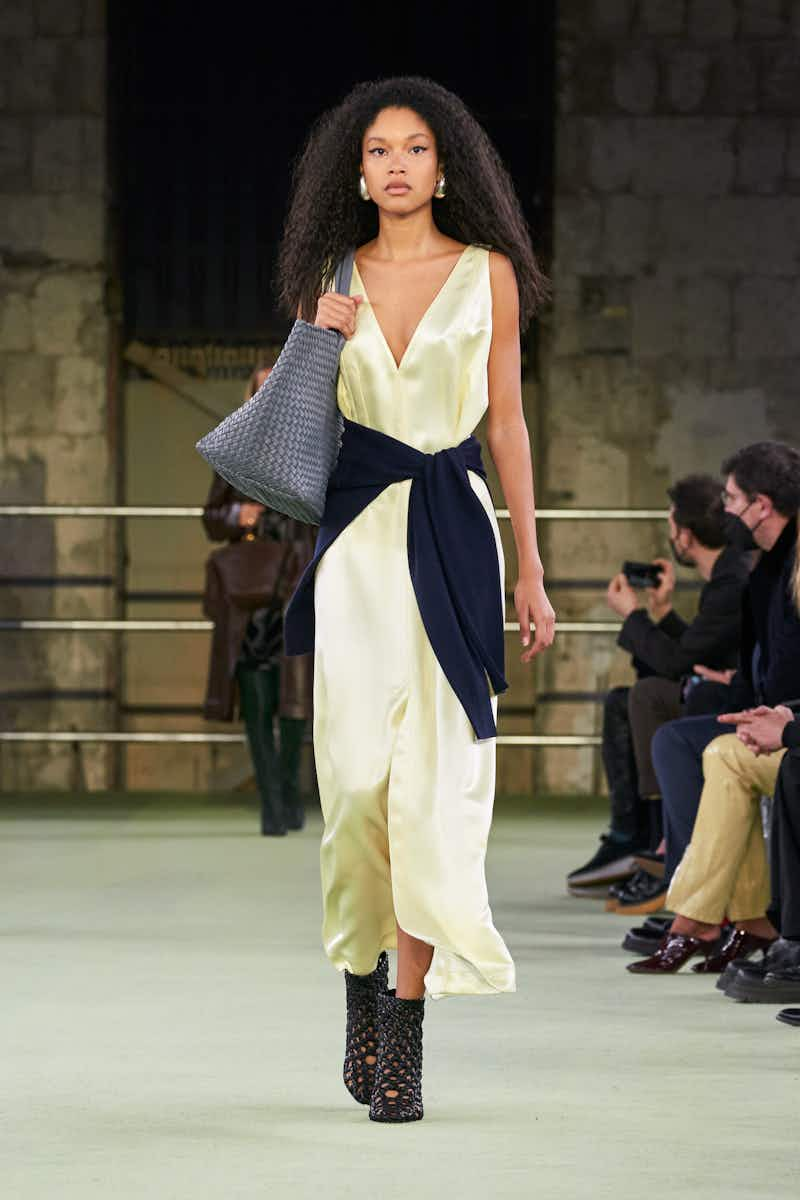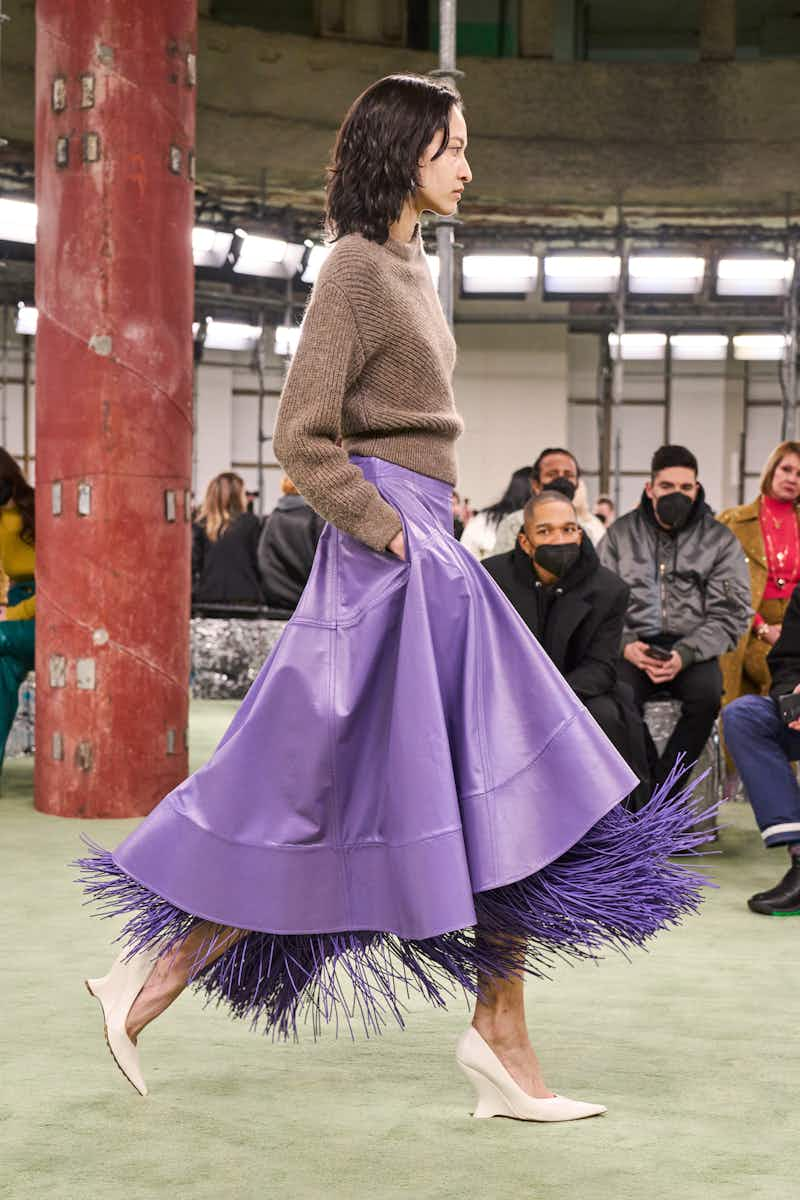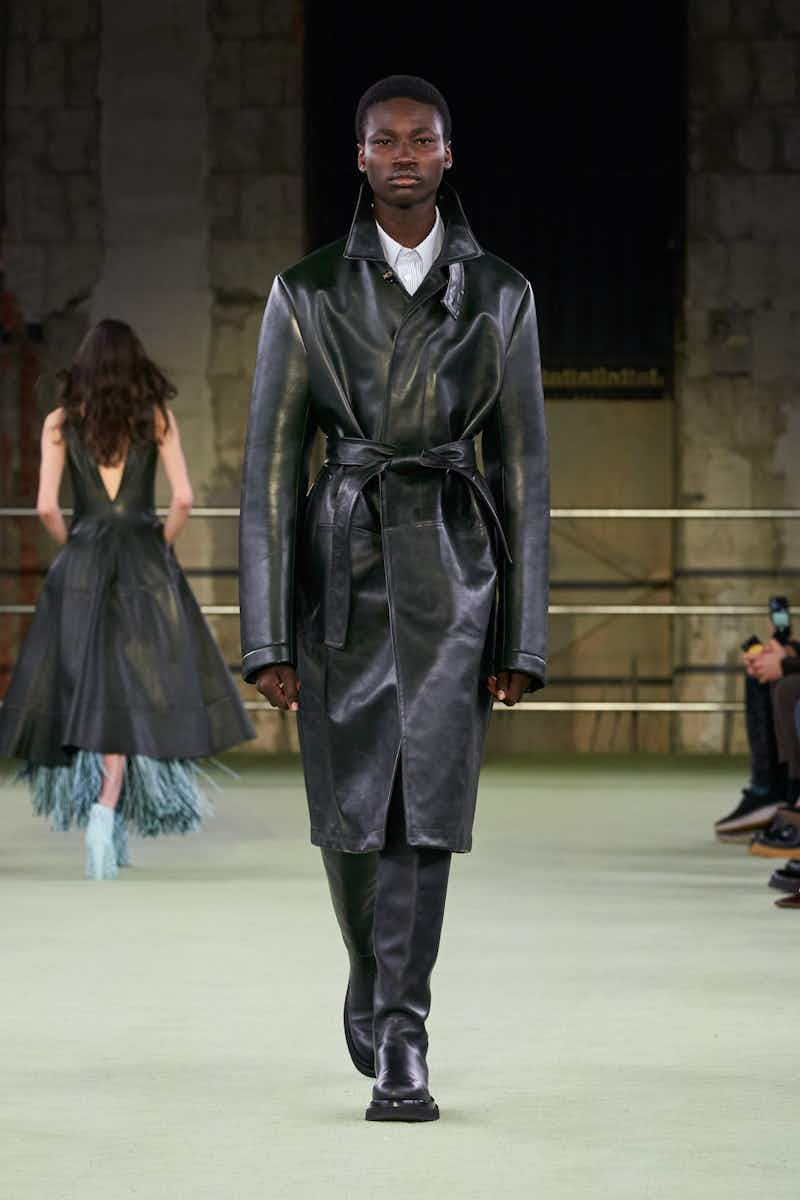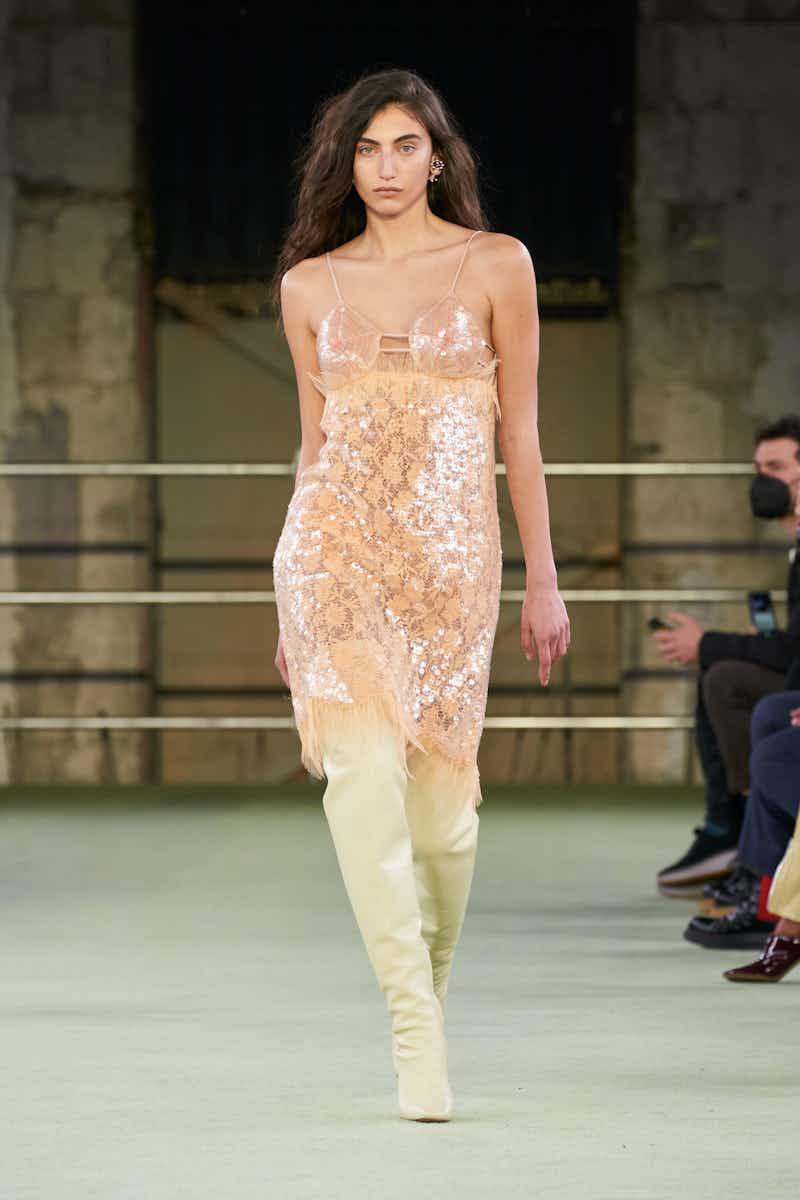 The corset has been an inescapable item in fashion these past few years. From Bridgerton frills to Vivienne Westwoo's timeless, and much coveted, works of art, bodices and bustiers that cinch, structure, and cantilever have become ubiquitous. It's unsurprising to see them feature so heavily at Versace, too. Donatella understands the power of a respectful nod to her brother Gianni (in recent seasons she's also resurrected his sparkling starfish and safety pins), so a return to his BDSM-lite, va va voom corseting makes perfect sense. Here they appeared in every shade and pattern from chartreuse to houndstooth and denim, worn under massive blazers and visible suspenders – something of a theme in Milan – or complimented by acres of latex. The Hadid sisters wore theirs in the form of scarlet dresses with in-built boning. Emily Ratajkowski's was hidden beneath a thicket of gold chains. There's no point saying anything about sex being back at Versace because, if anything, it's a vital part of the brand's underpinnings. But sexy is definitely the word of the week.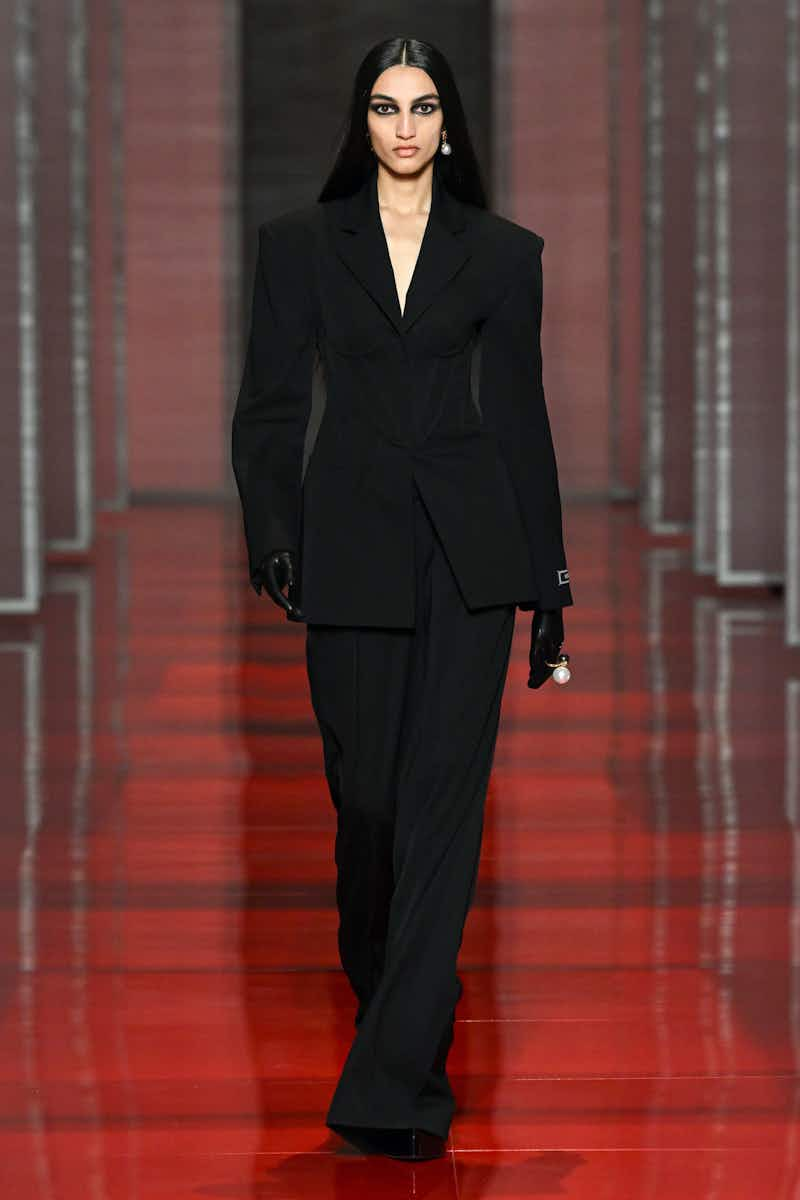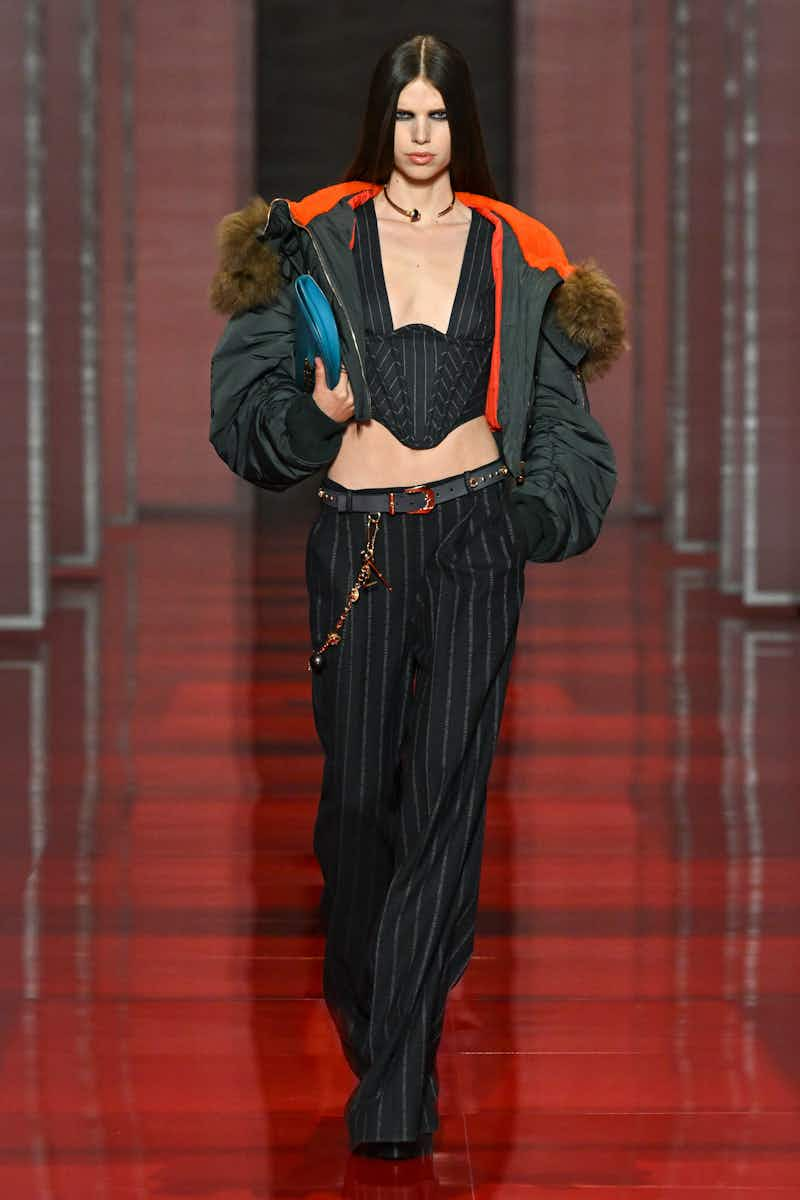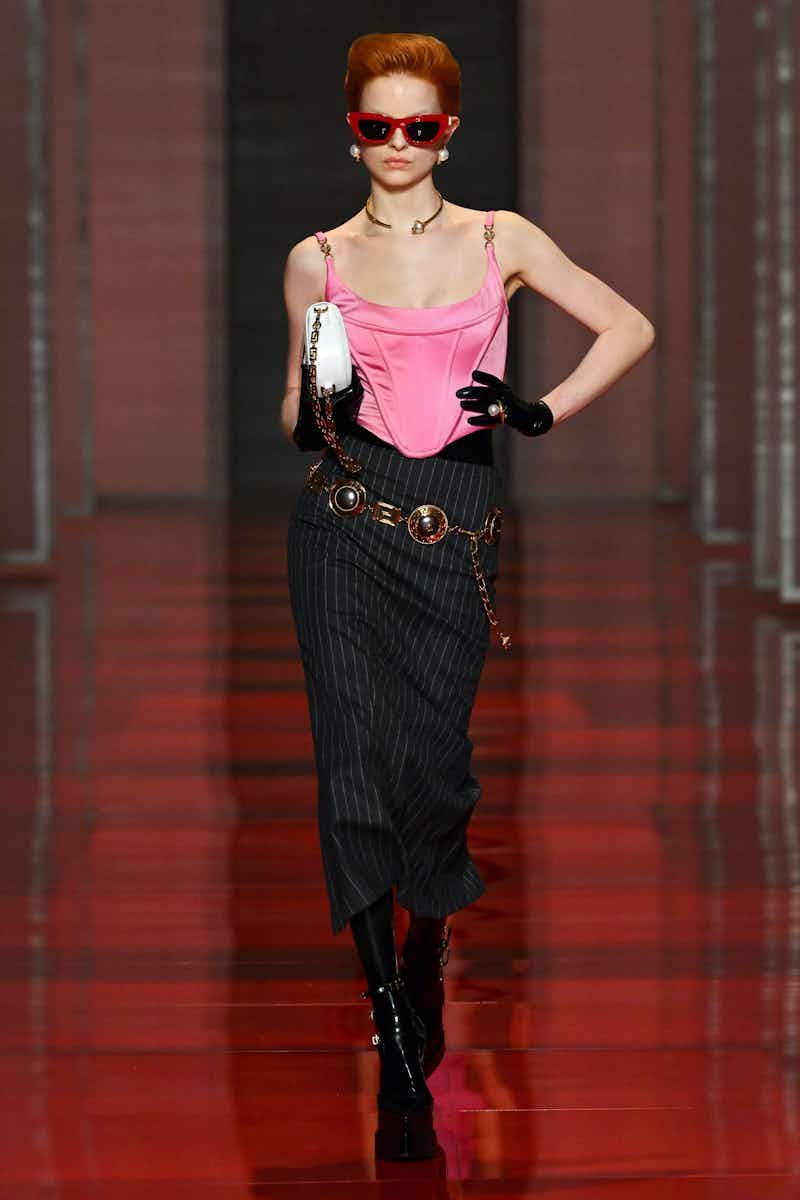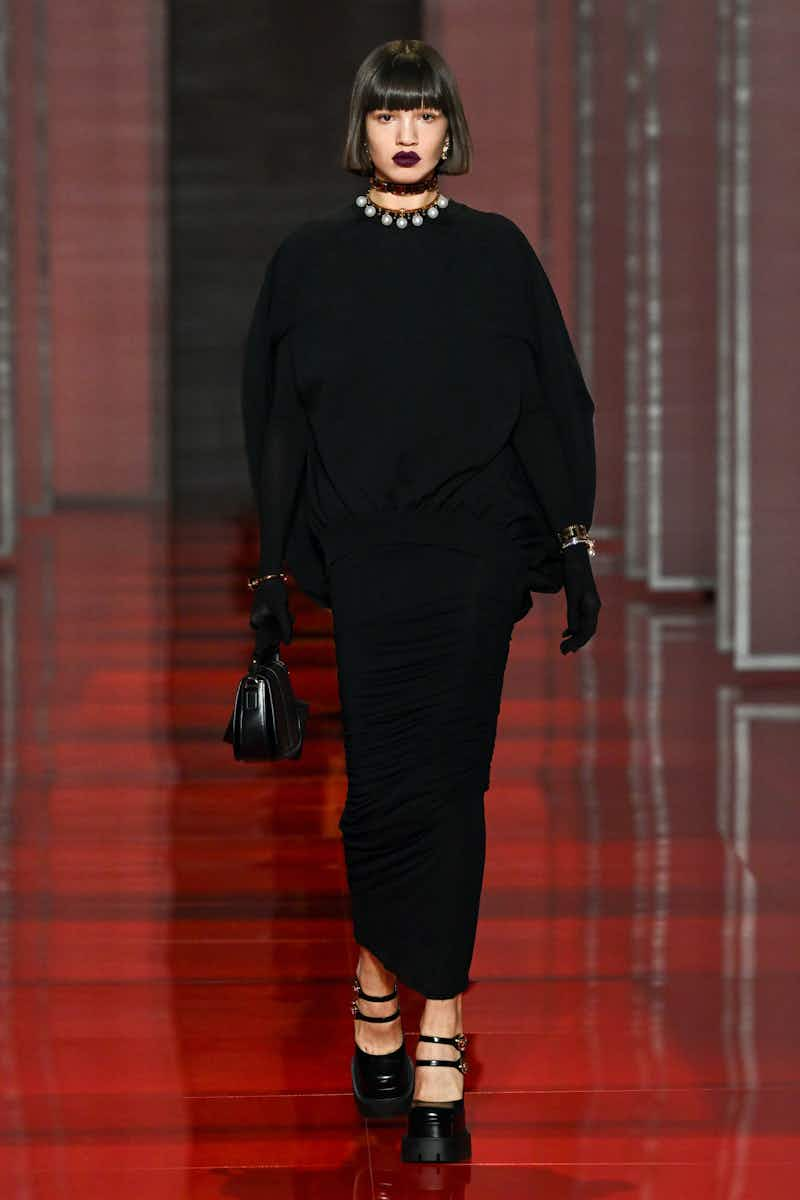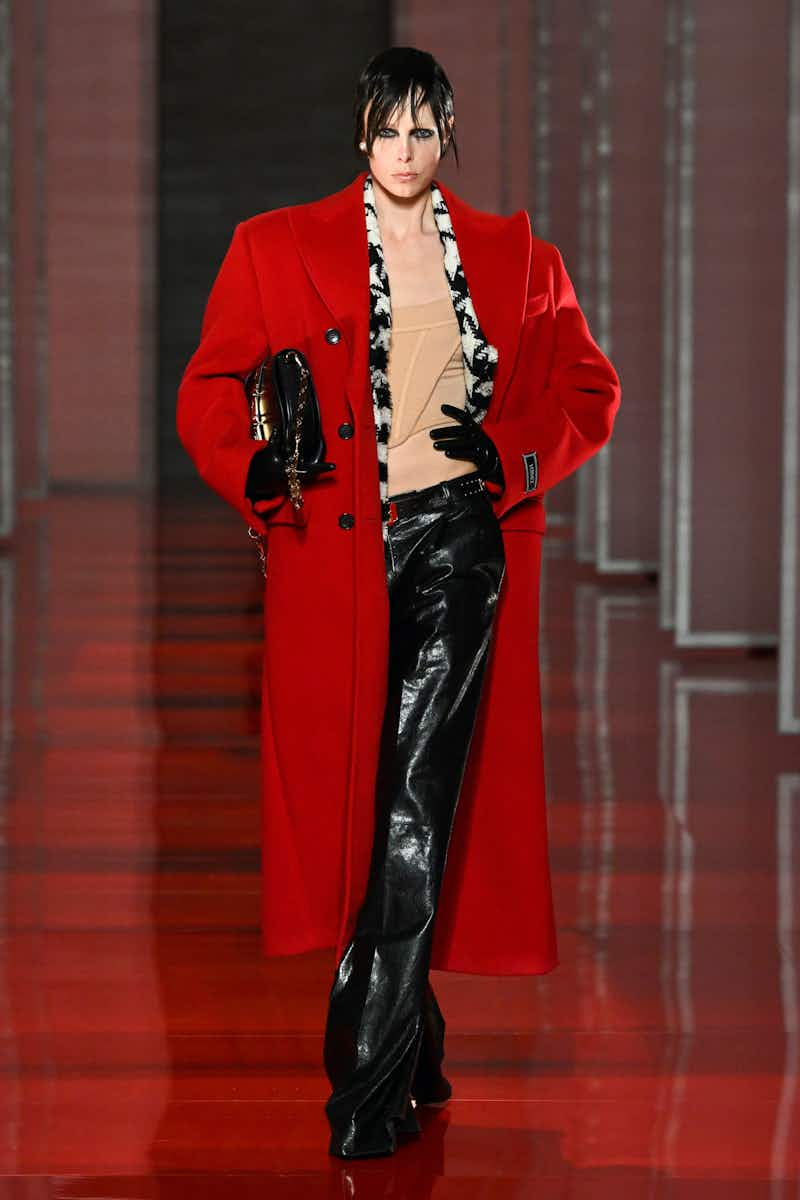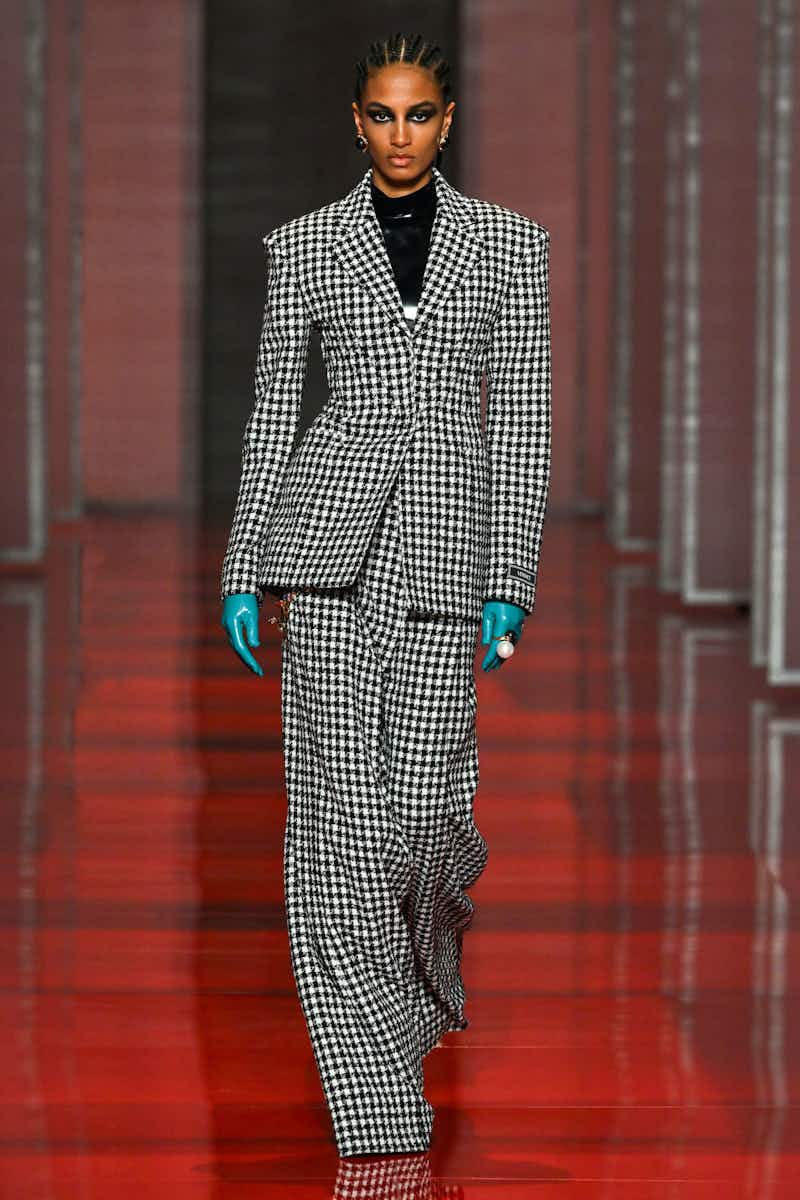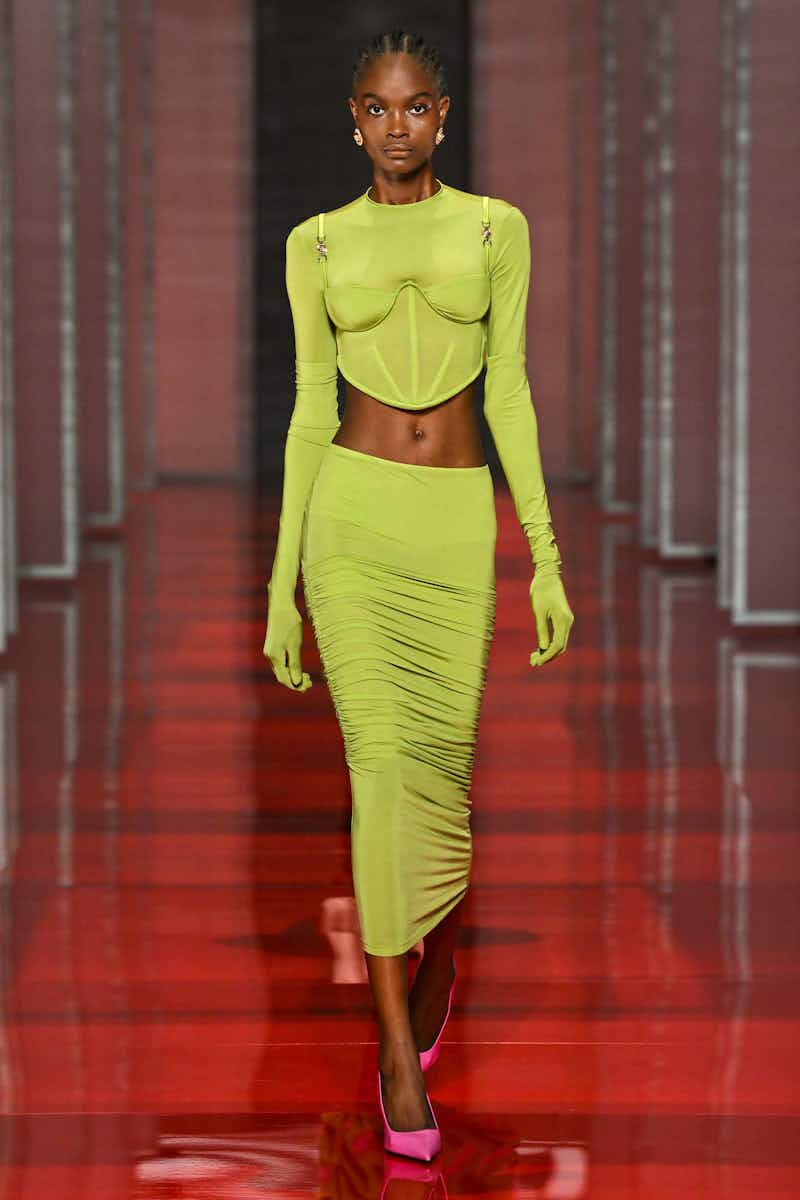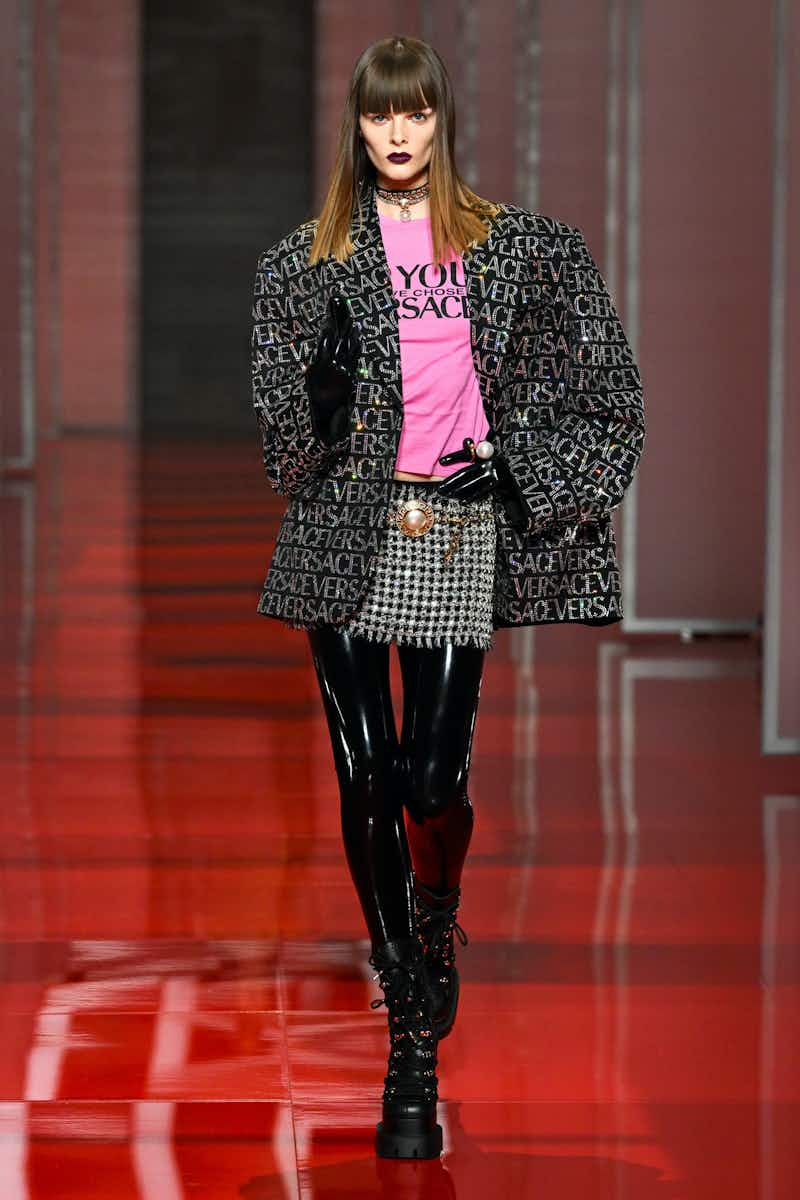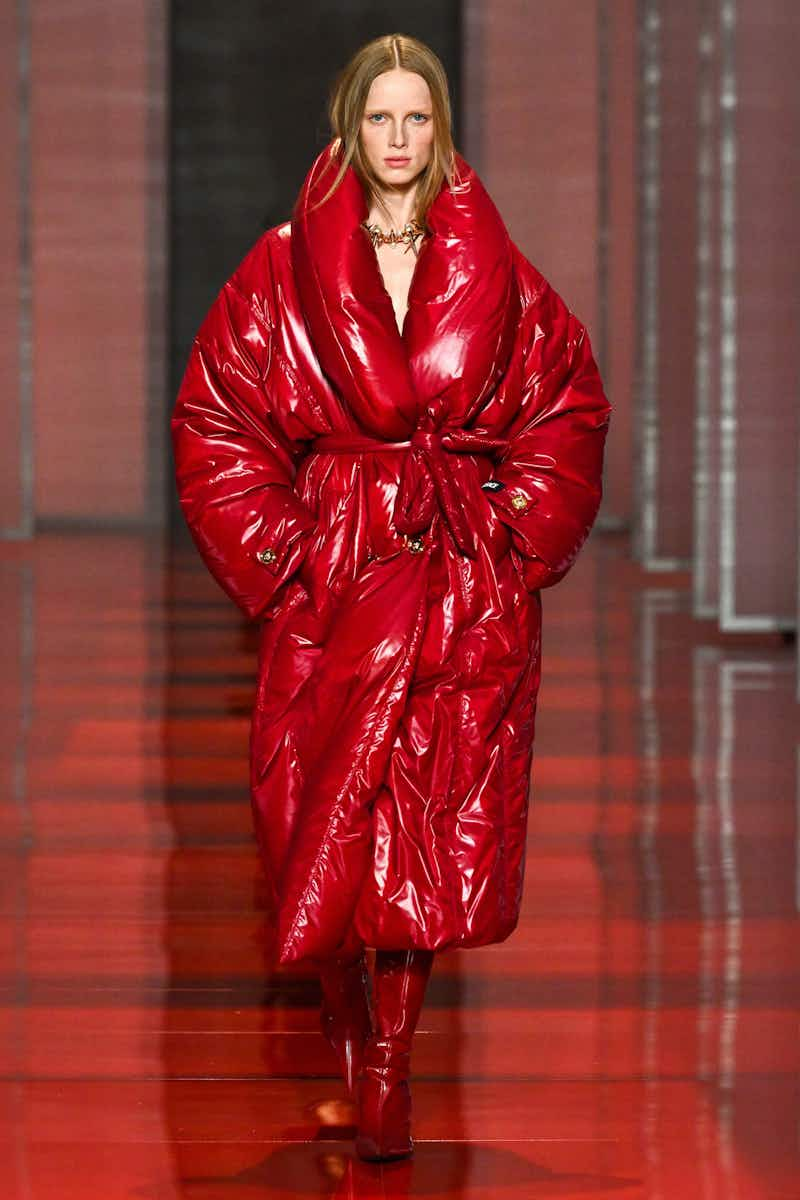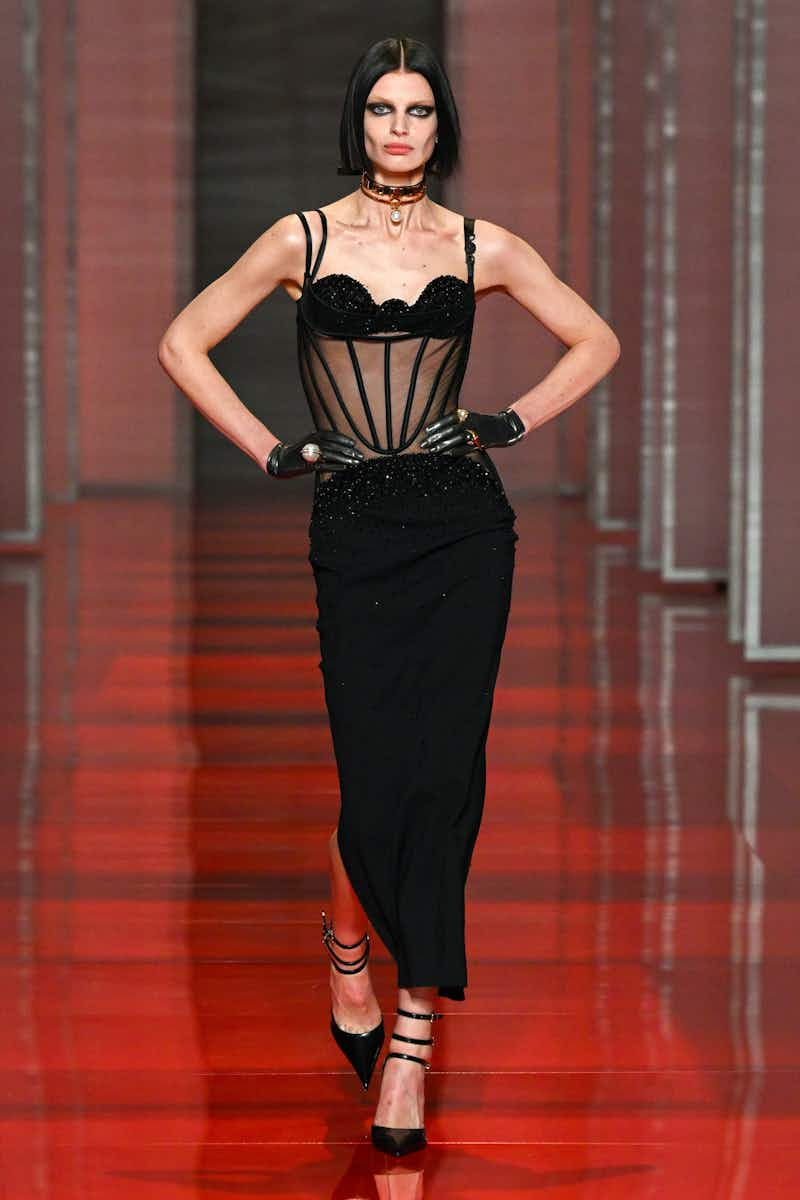 Never one to go the conventional route, JW Anderson took to ​"the power of the random act" for a shape-shifting take on AW22 rooted in cinematic glam. On Monday, the British brand revealed huge ad-vans driven around Milan during fashion week, turning its back on the physical show format once again. Starring actress and model Hari Nef, the ad space revelled in a collection steeped in party-wear: glitter, sparkly bits and super-bright shades on fluffy tops, ballooned and fringed trousers, chandelier tops (and matching earrings), silk fabrics and an anime-printed mini dress. Shot by Juergen Teller, Nef interprets various cinematic characters in an accompanying film, flipping her hair to change personas in the process, shaking hands with creative director Jonathan Anderson's chameleonic take on dressing up this season. Pink lycra one day, a shirt and trouser combo with a 1976 film poster of Carrie printed across it another day. Guess it's all in the random act, eh?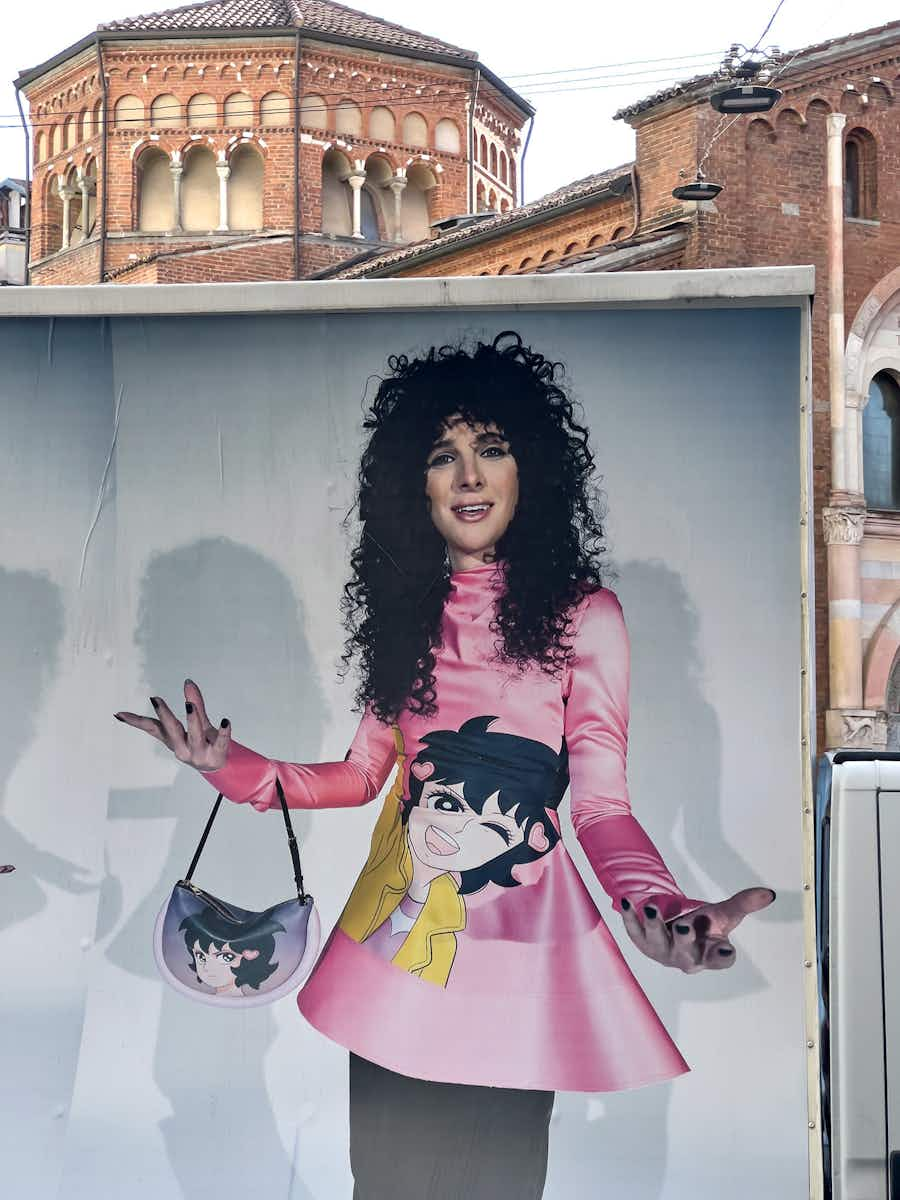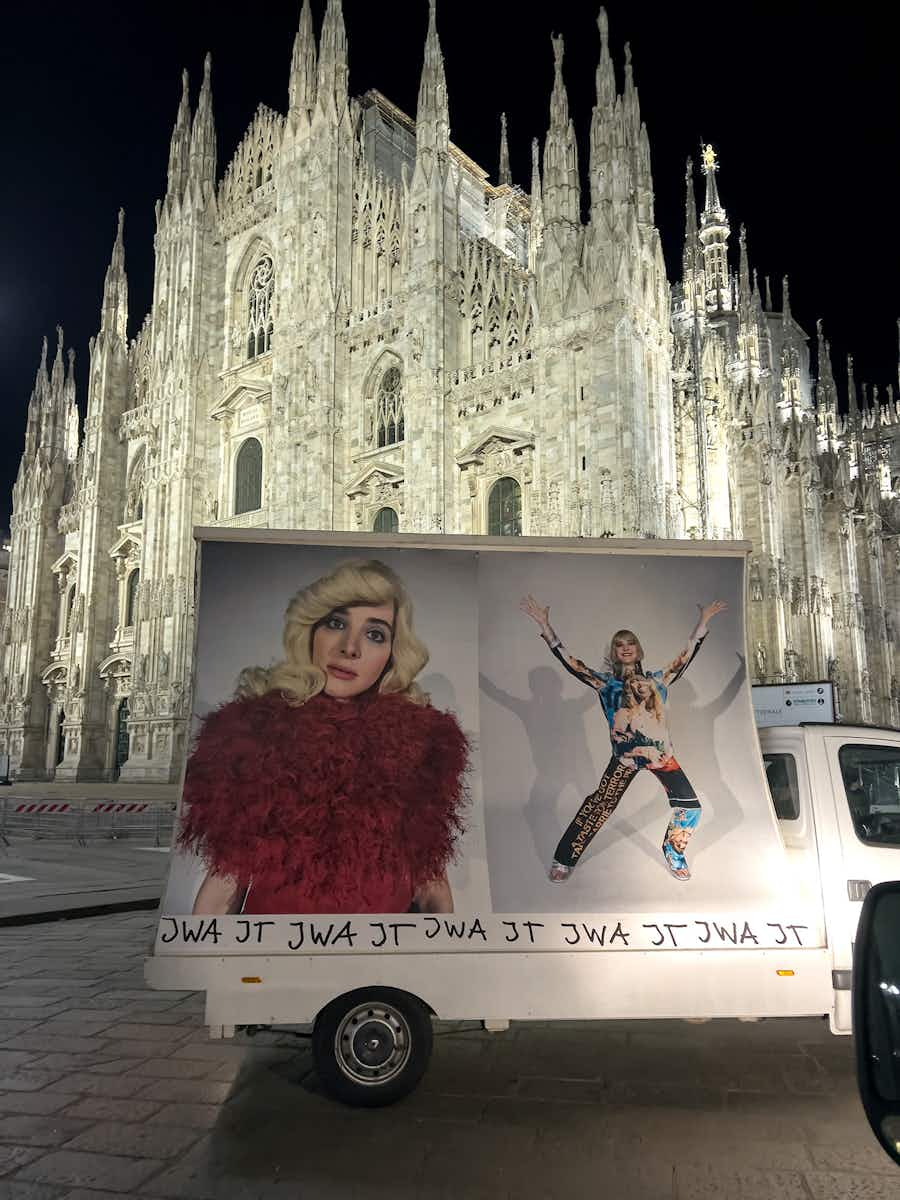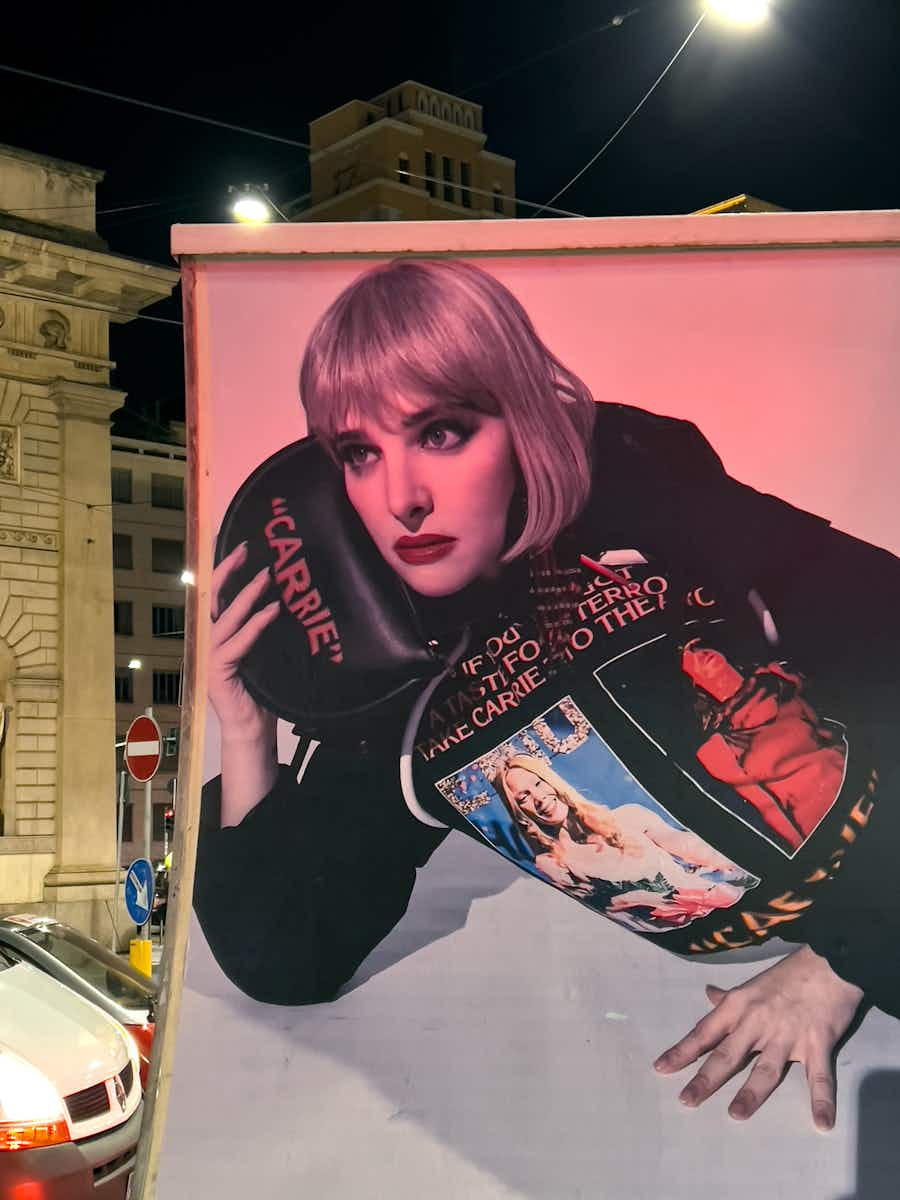 How much of fashion is about storytelling? Often designers alight on a key idea – an artist, a motif, a historic time period, a childhood memory – to lead the new season's way. At Palm Angels though, Francesco Ragazzi seemed to have no such narrative desires. Instead, it was all about letting the clothes speak for themselves. They were predictable Palm Angels fare: luxe, comfortable, very Los Angeles skater. The palm trees were knitted and worn as necklaces. The low-slung animal print trousers (all the better to see that Palm Angels branded boxer line) styled with hoodies and glittery bombers invoked an image of someone nipping out the shops in their pyjamas the night after a party – complete with obligatory sunglasses to stave off the hangover. These were clothes that aimed for a certain, layered artlessness: flung on without fuss, rather than endlessly deliberated over.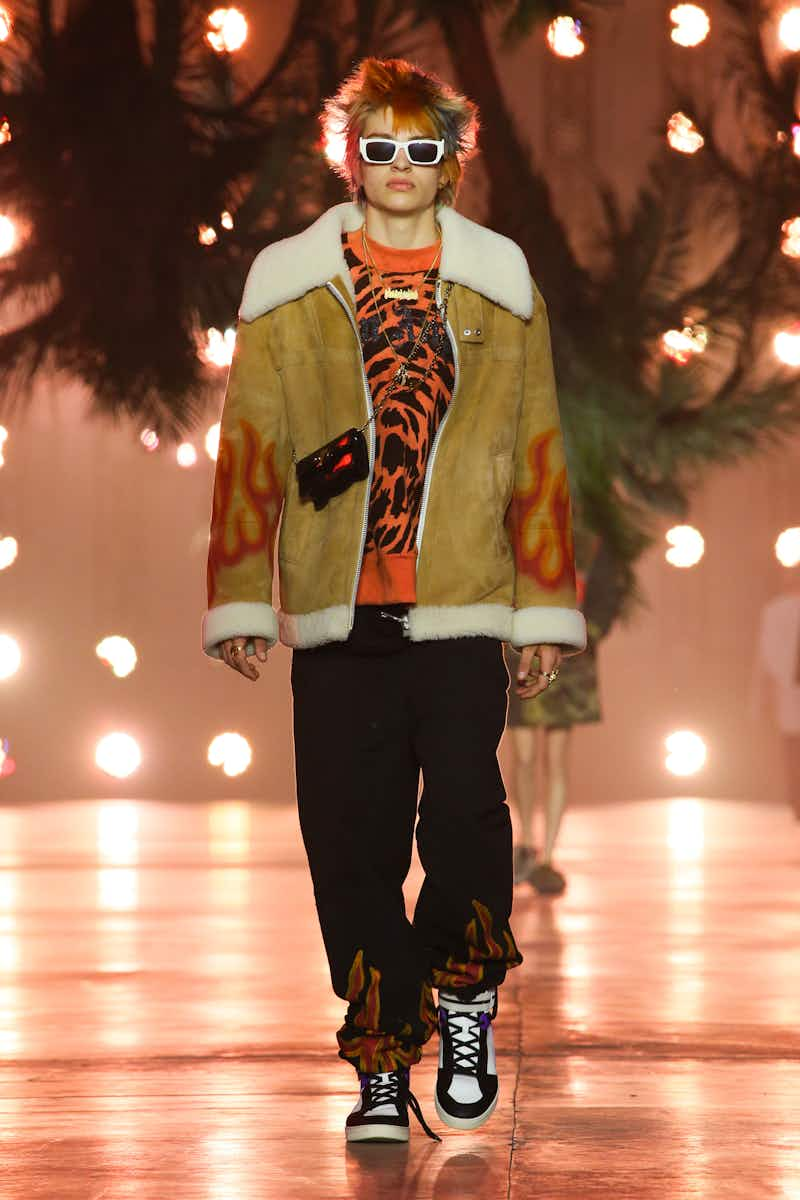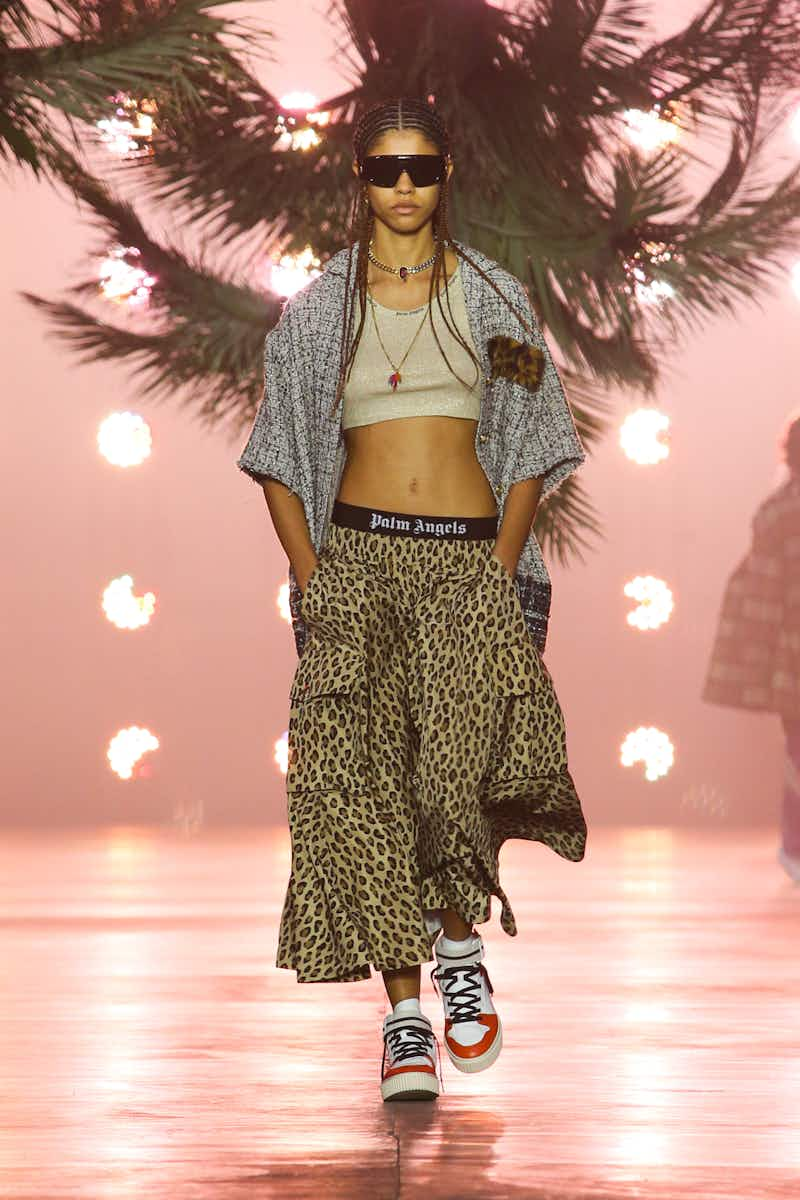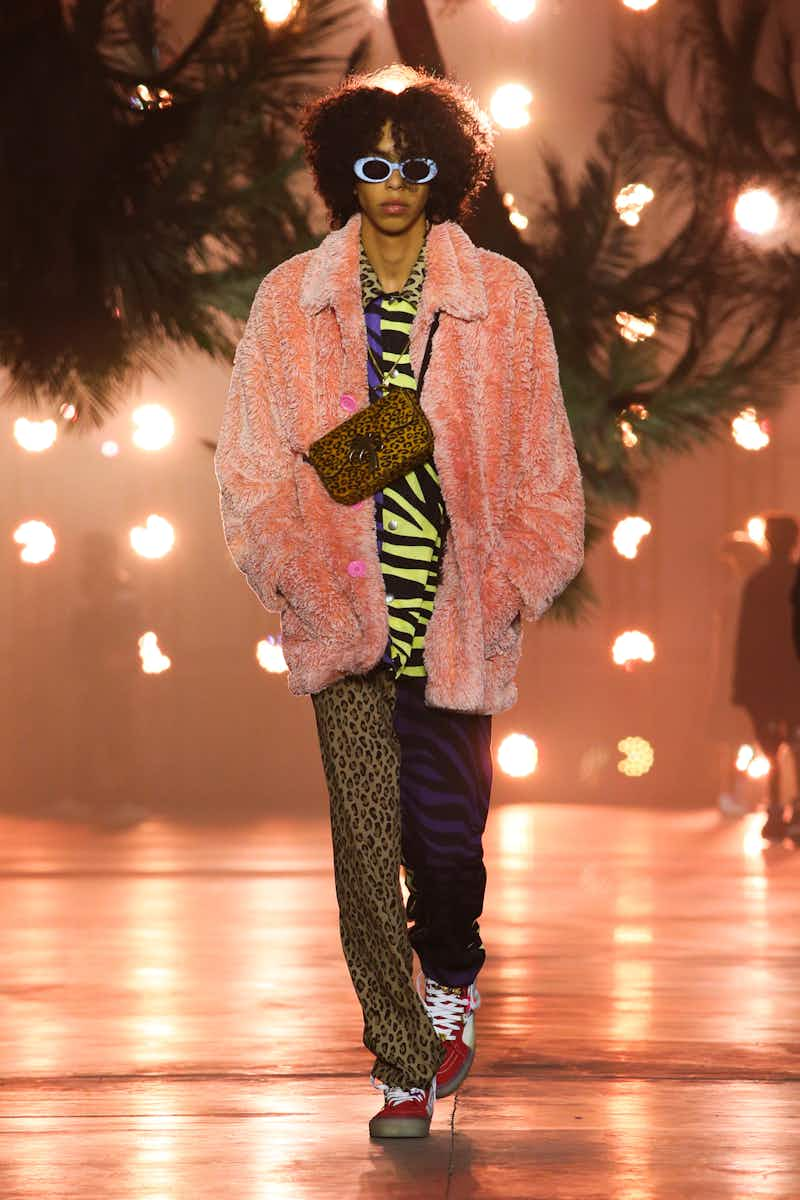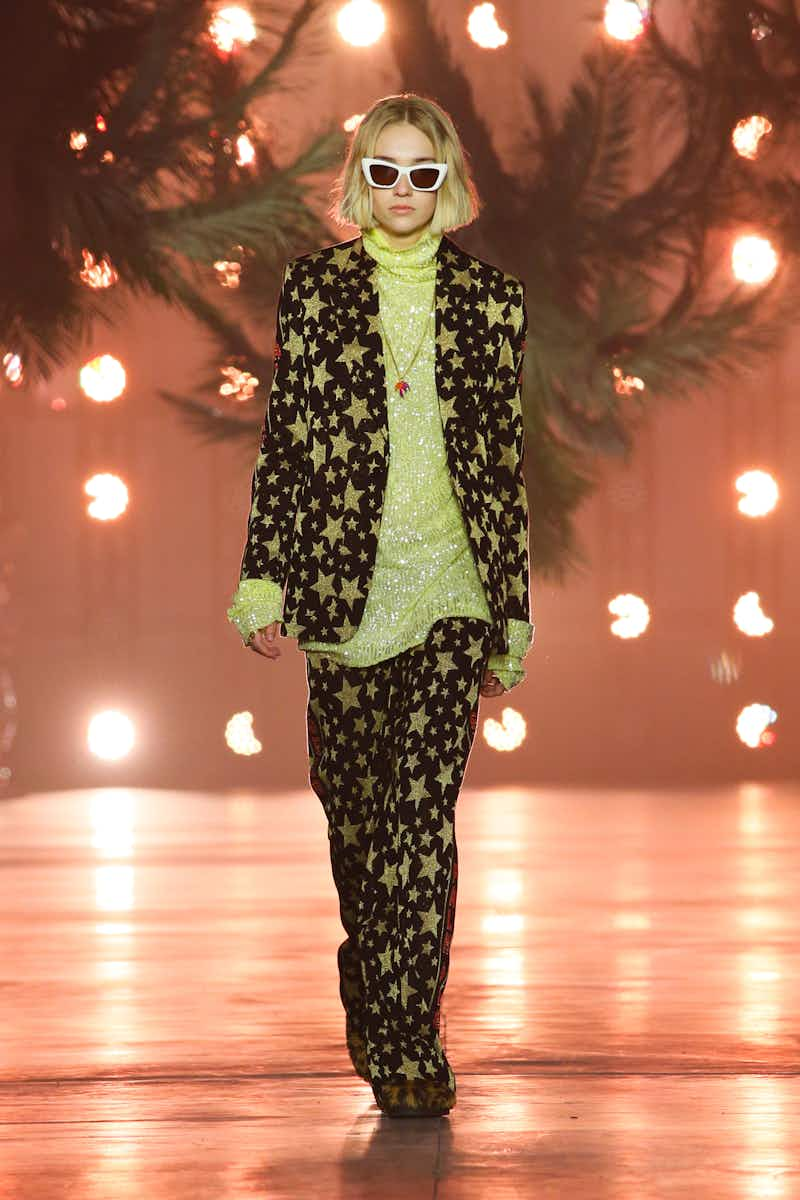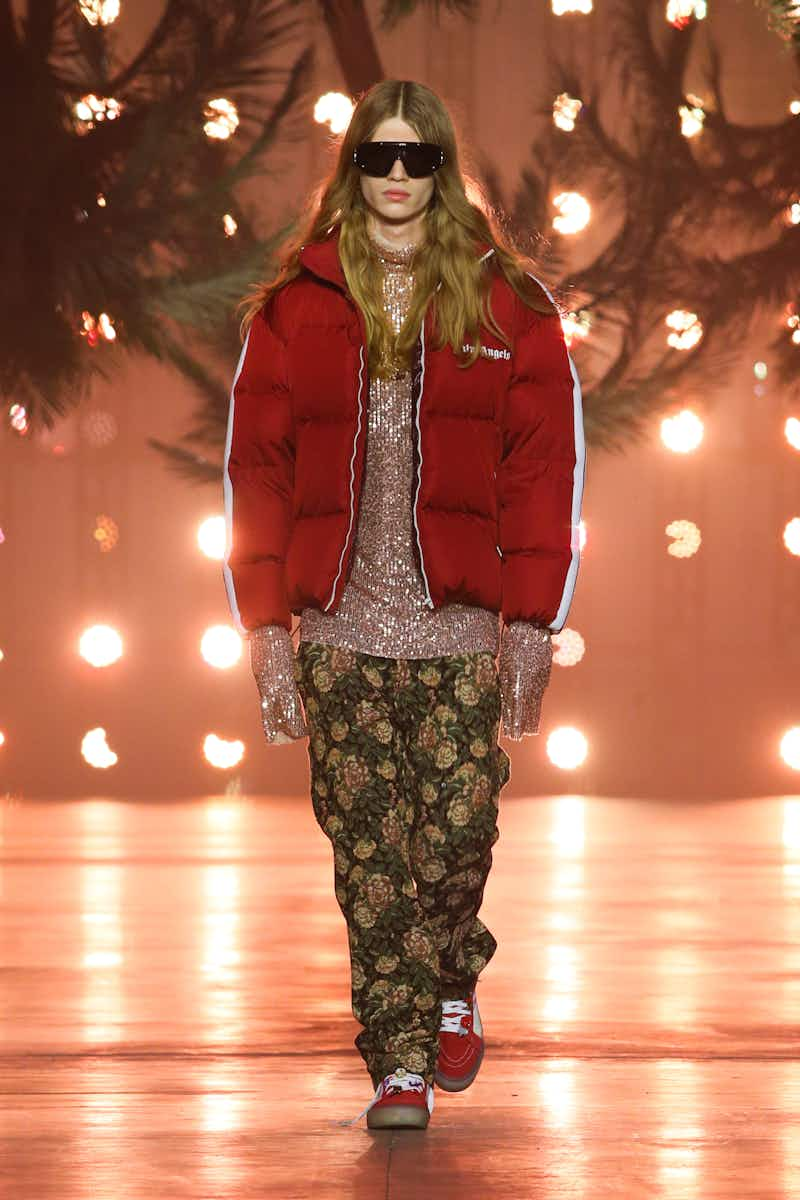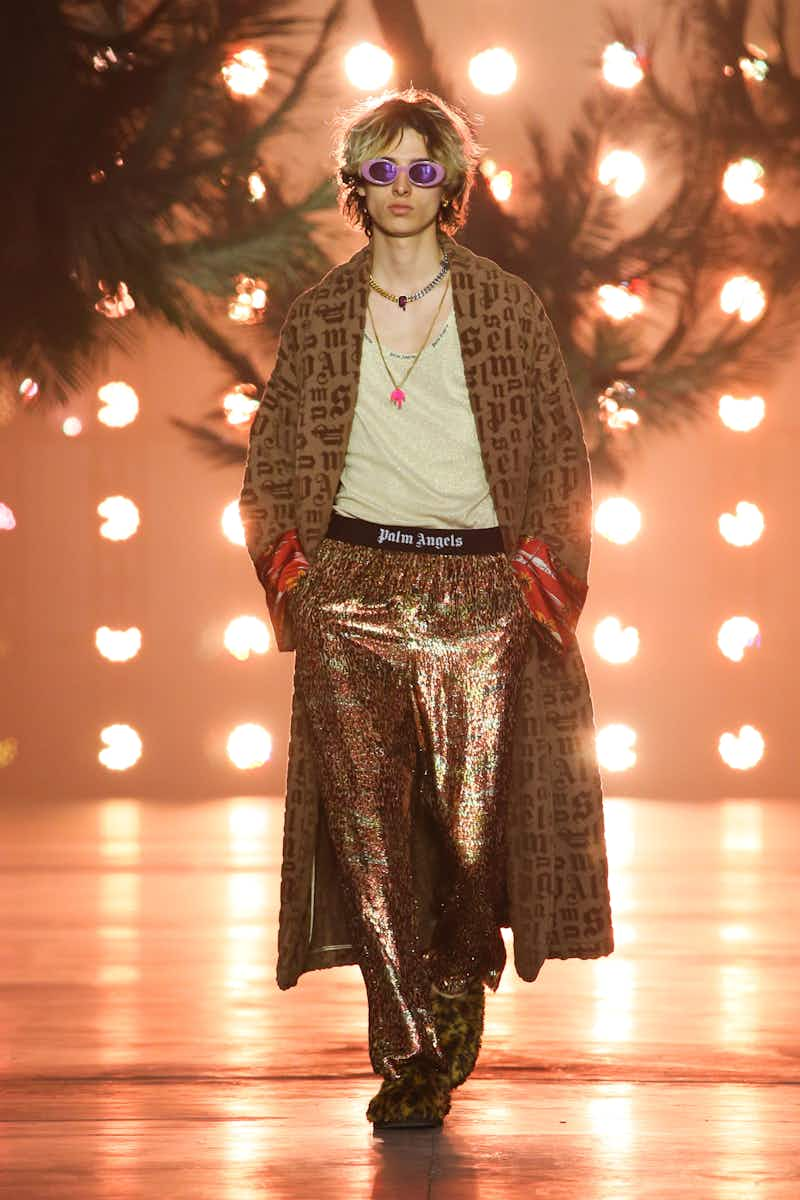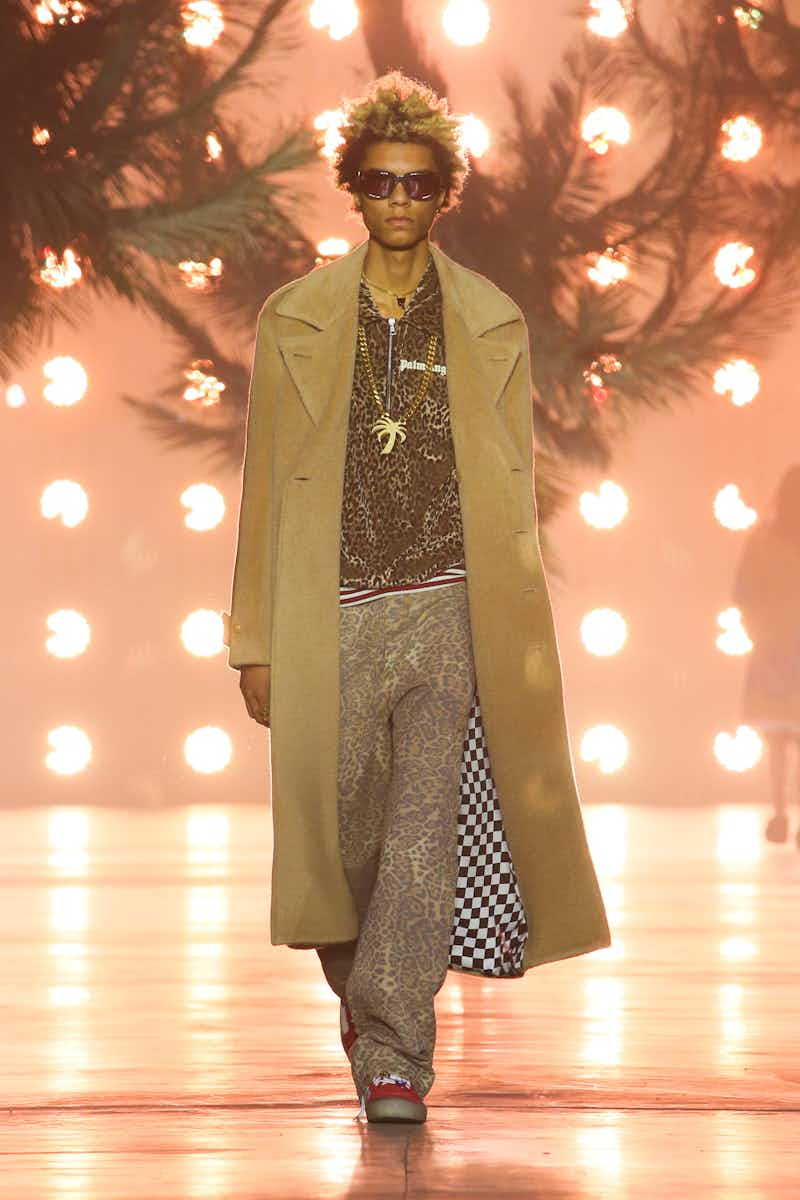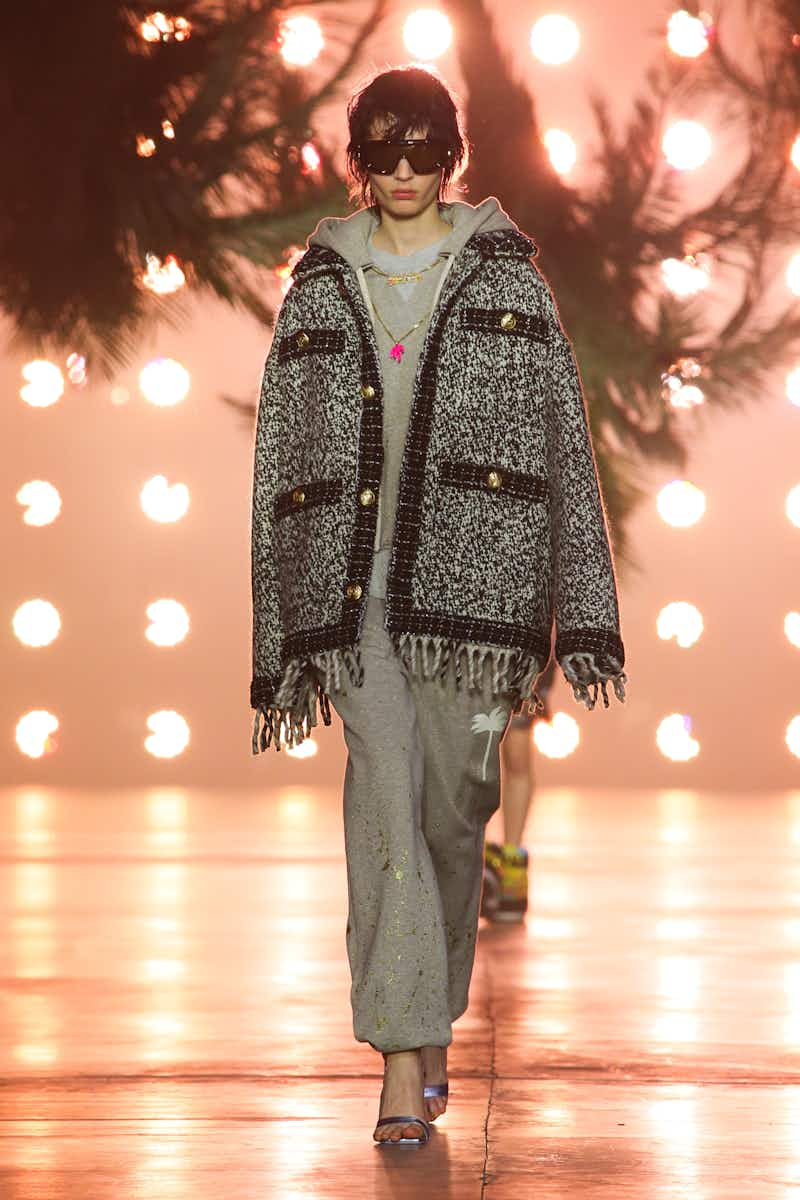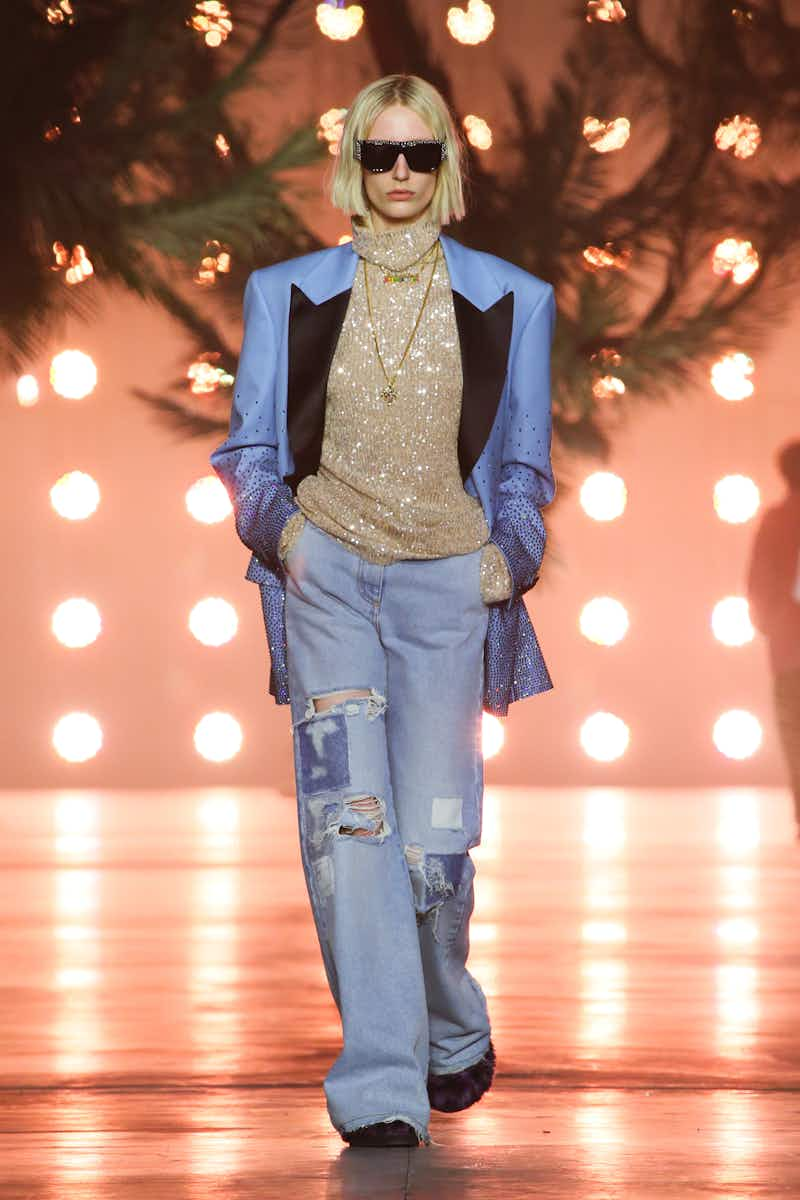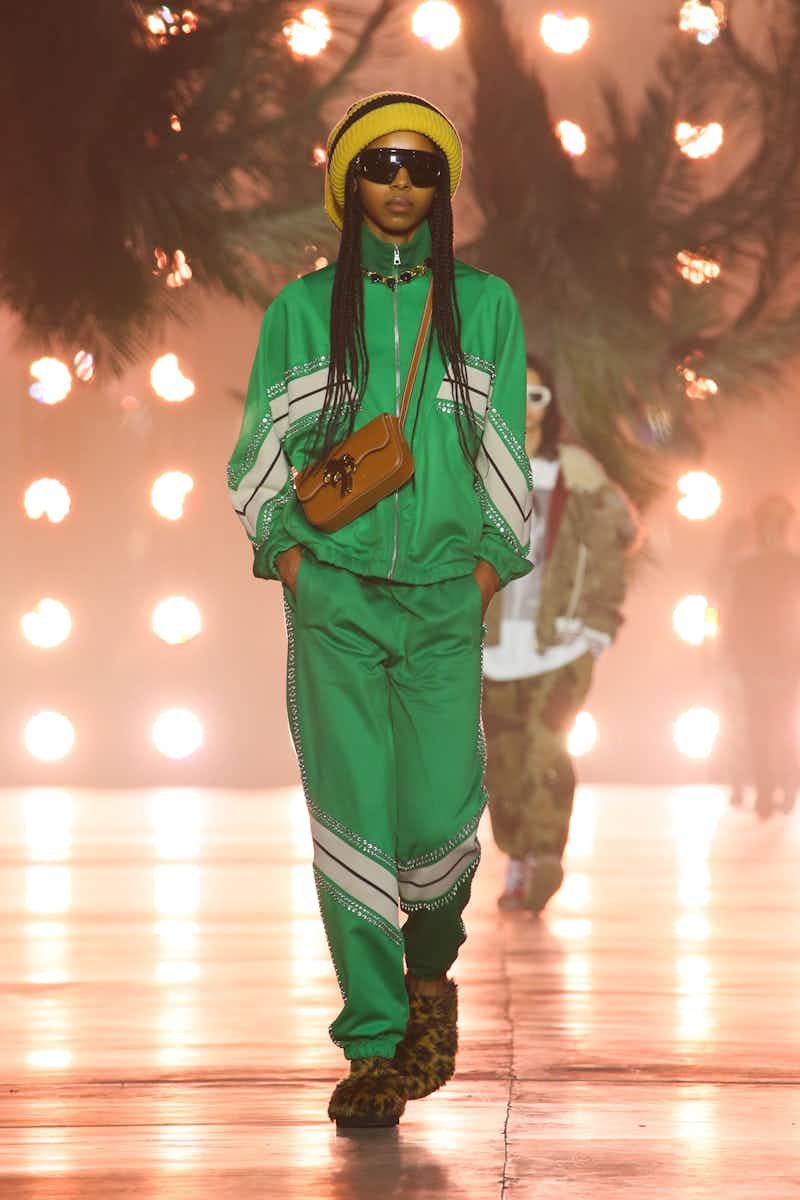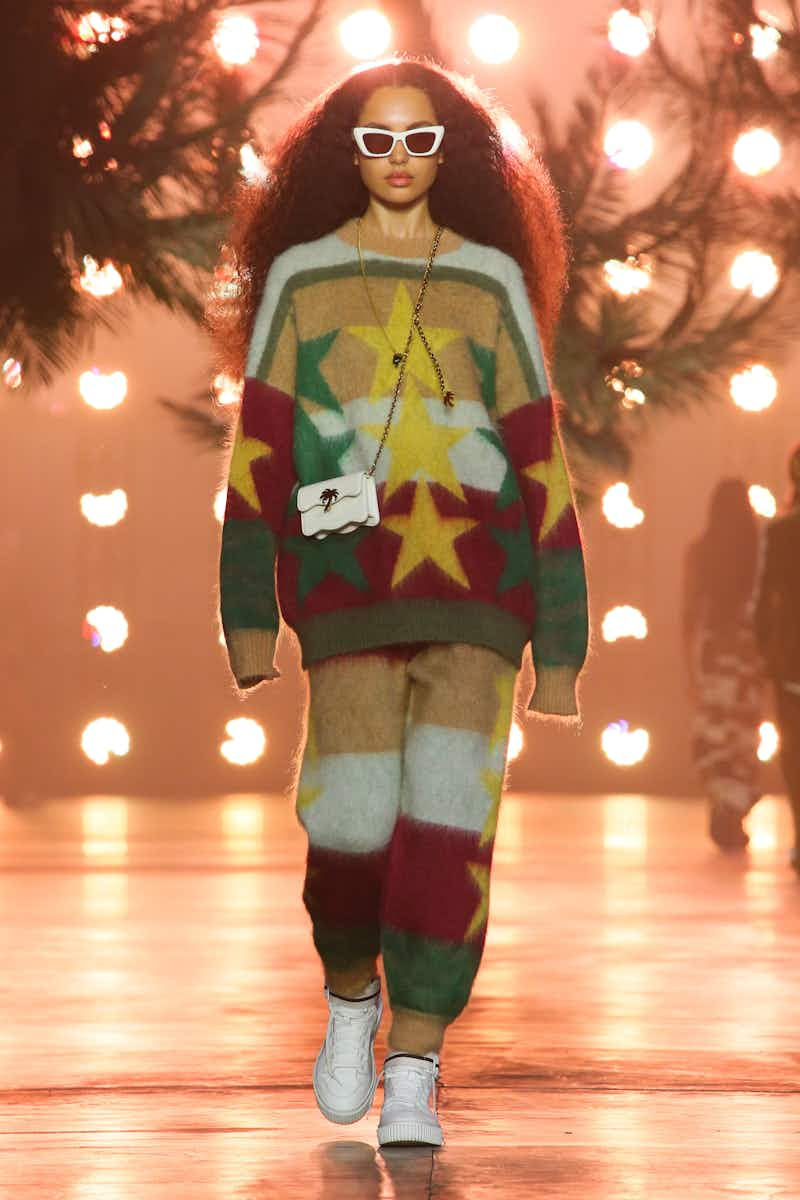 It's safe to say that 2021 was the year of the super collaboration. And here we are in 2022, post Gucci X Balenciaga ​"hack", and Alessandro Michele is back with another killer collab. This season his chosen partner is adidas – a current fashion favourite. One can see a natural affinity between adidas's immediately recognisable triple stripe and Gucci's red and green one, but here the Adidas X Gucci branding exercise played second fiddle to Michele's whole-hearted embrace of the suit. Princely purple, checked and furred, heavy on ​'80s shoulders and double-breasted drama: in every guise, they stole the show. Michele invoked the image of a mirror in his accompanying notes, not as something that reveals the truth but as a tool that can be used to conjure illusions and magic tricks: a metaphor for the kind of dress that allows us to ​"cross a transformative threshold where we become something else". Michele wants to ​"re-enchant" dressing by making us see familiar things anew. Here, with the Exquisite Gucci collection, he has absolutely pulled it off.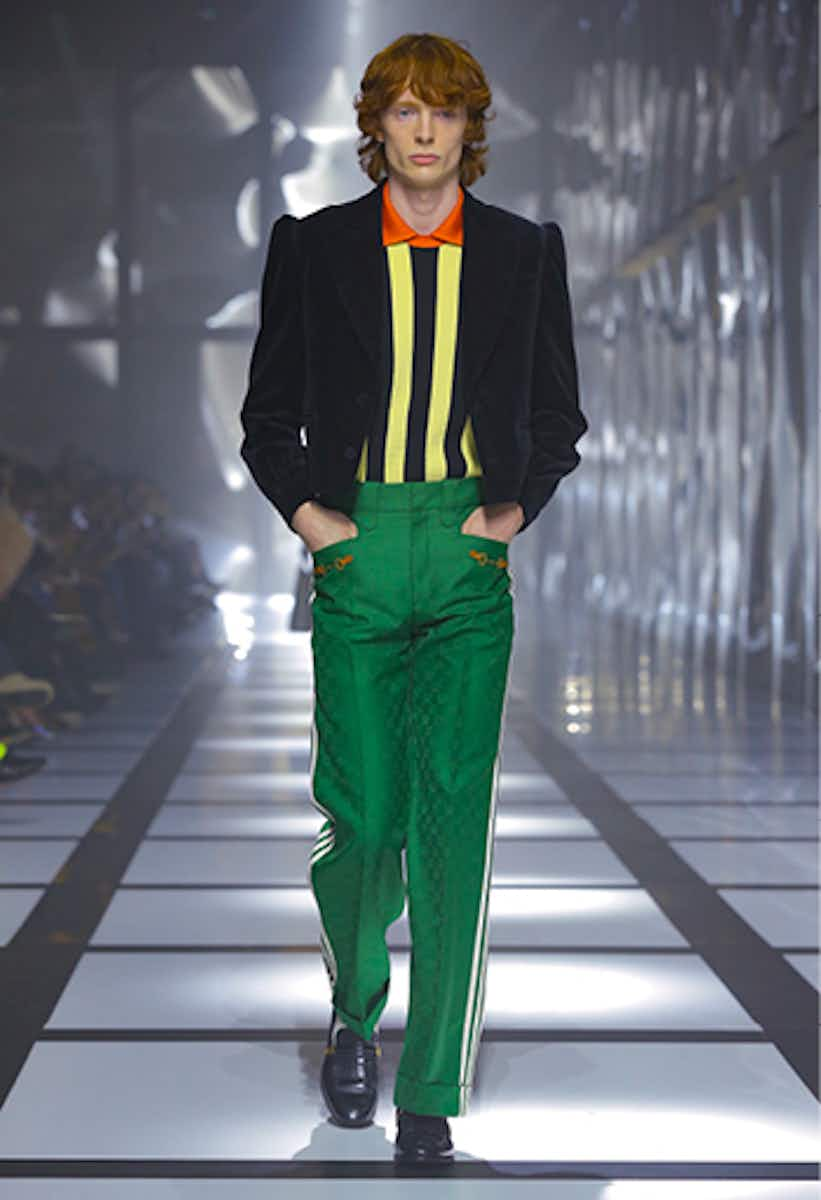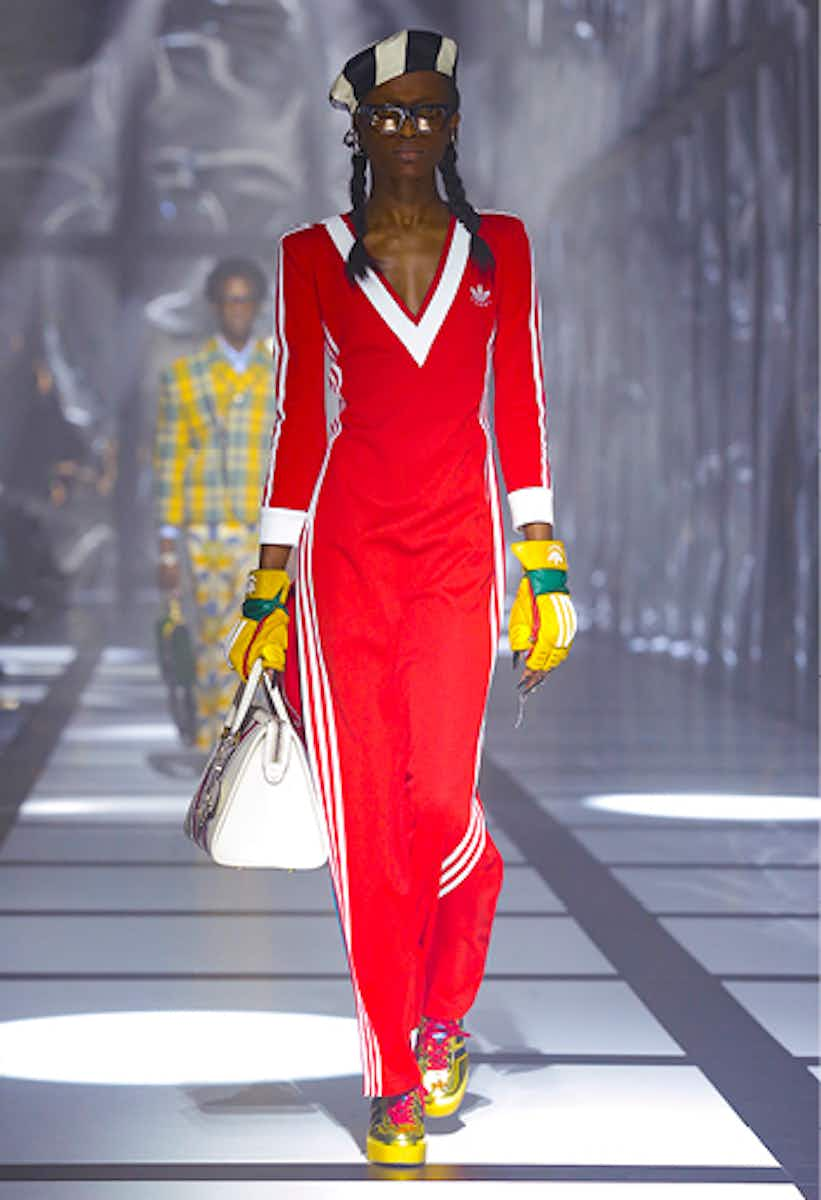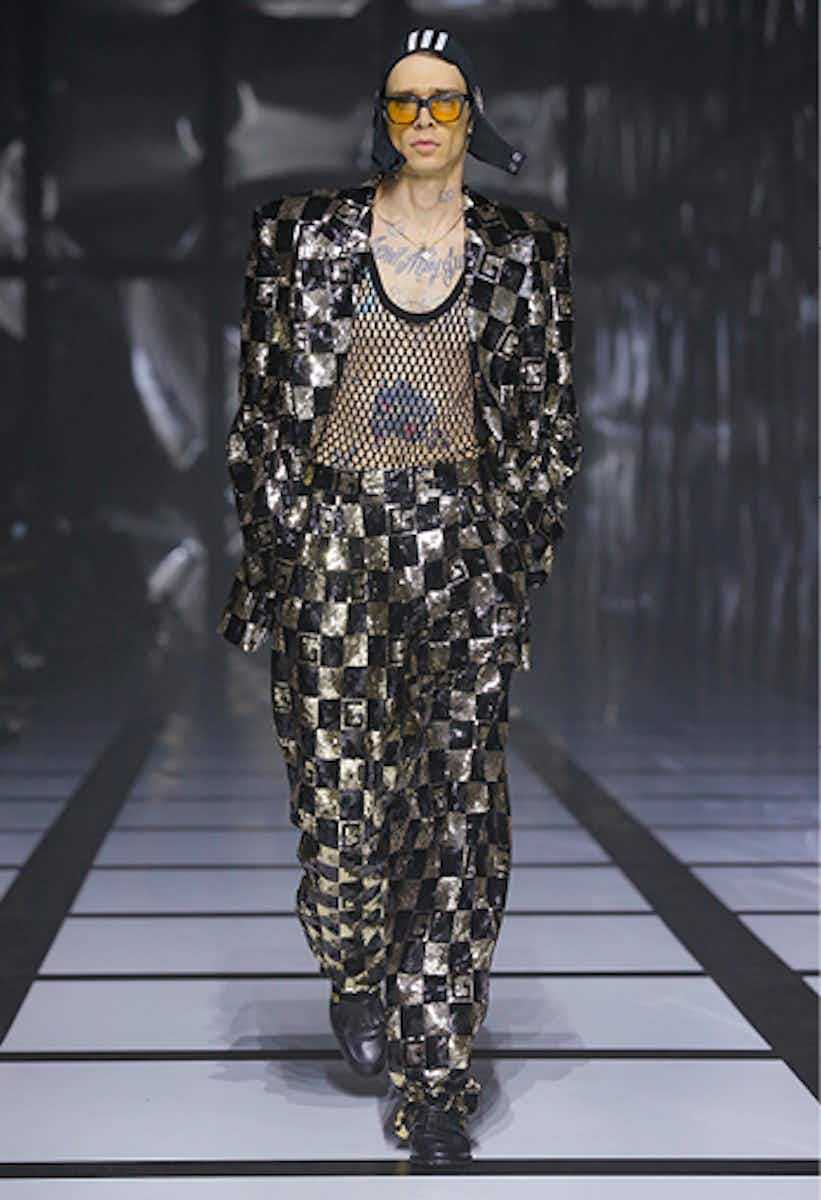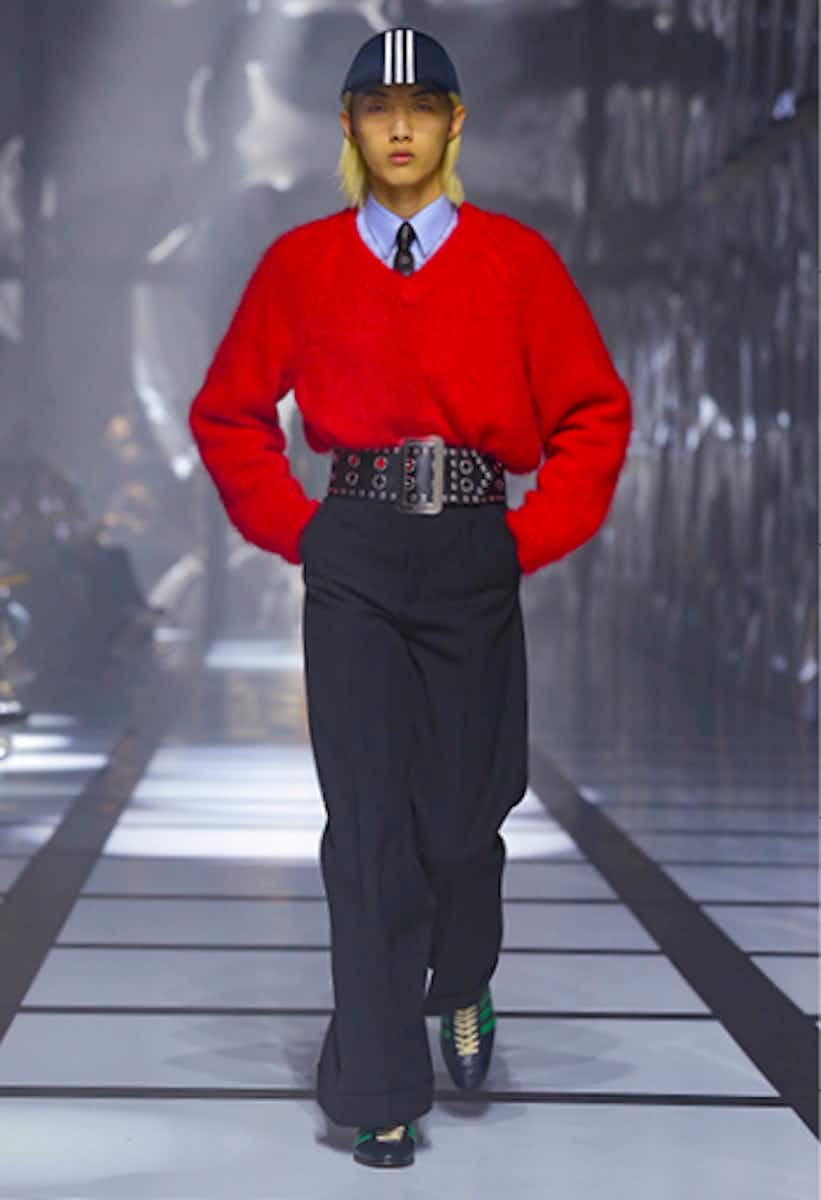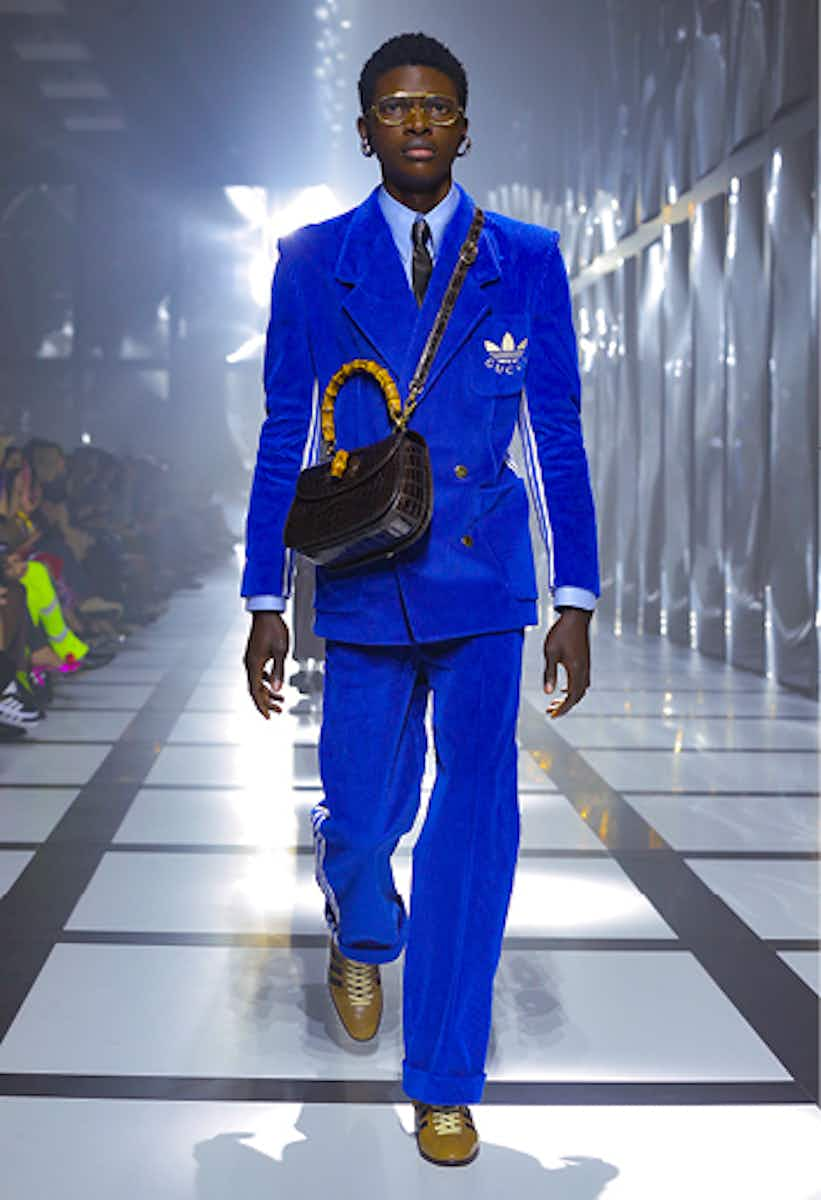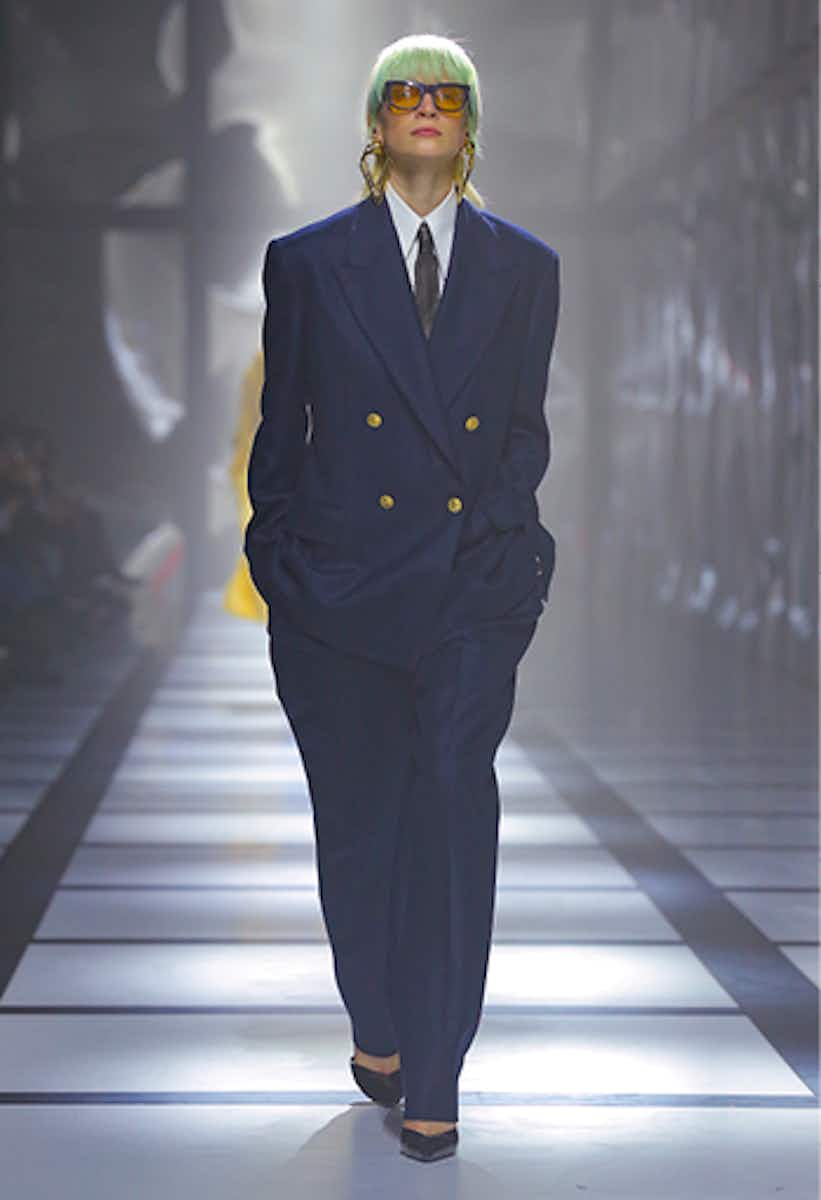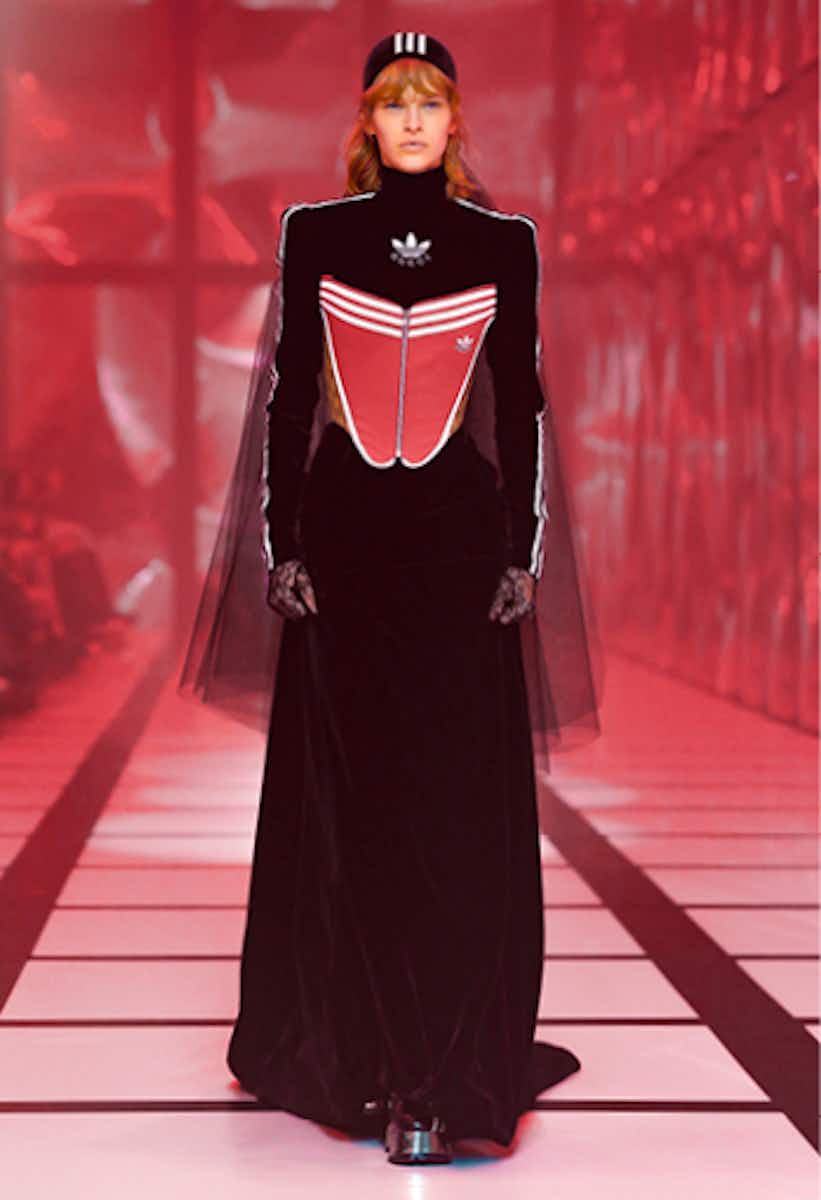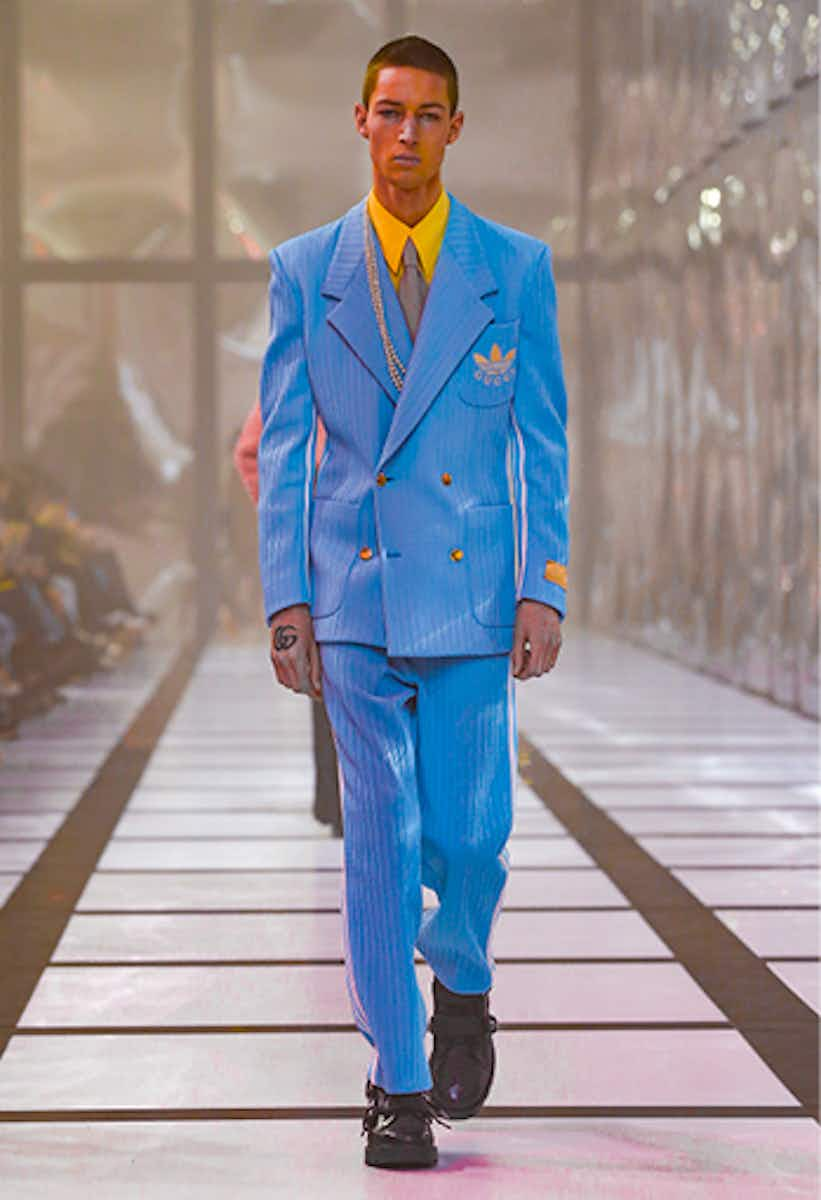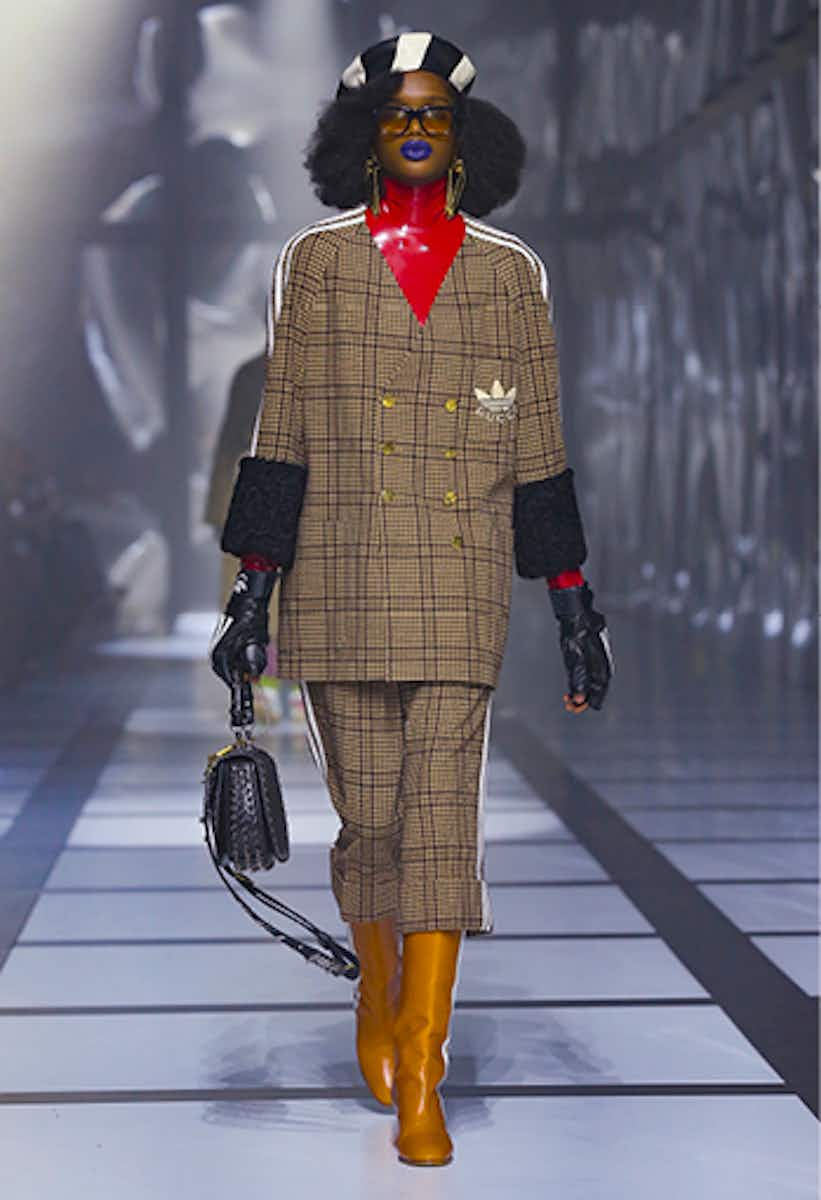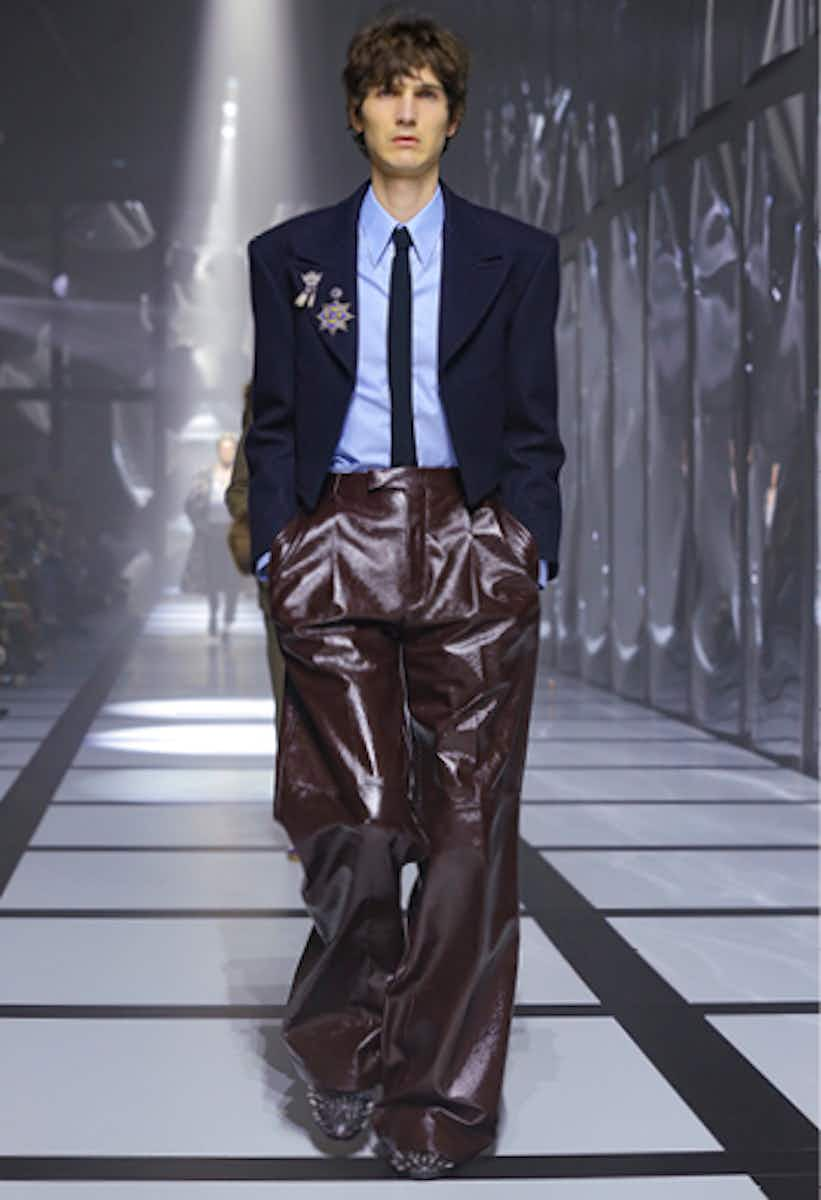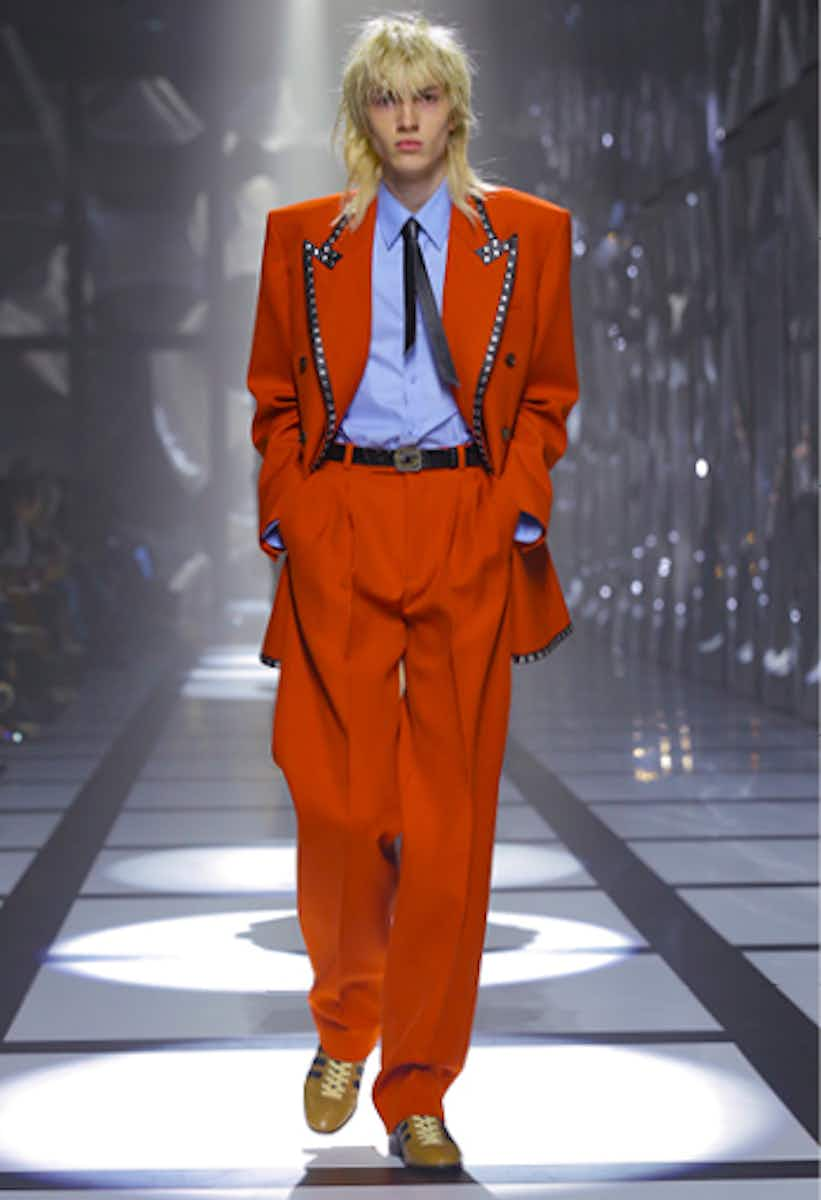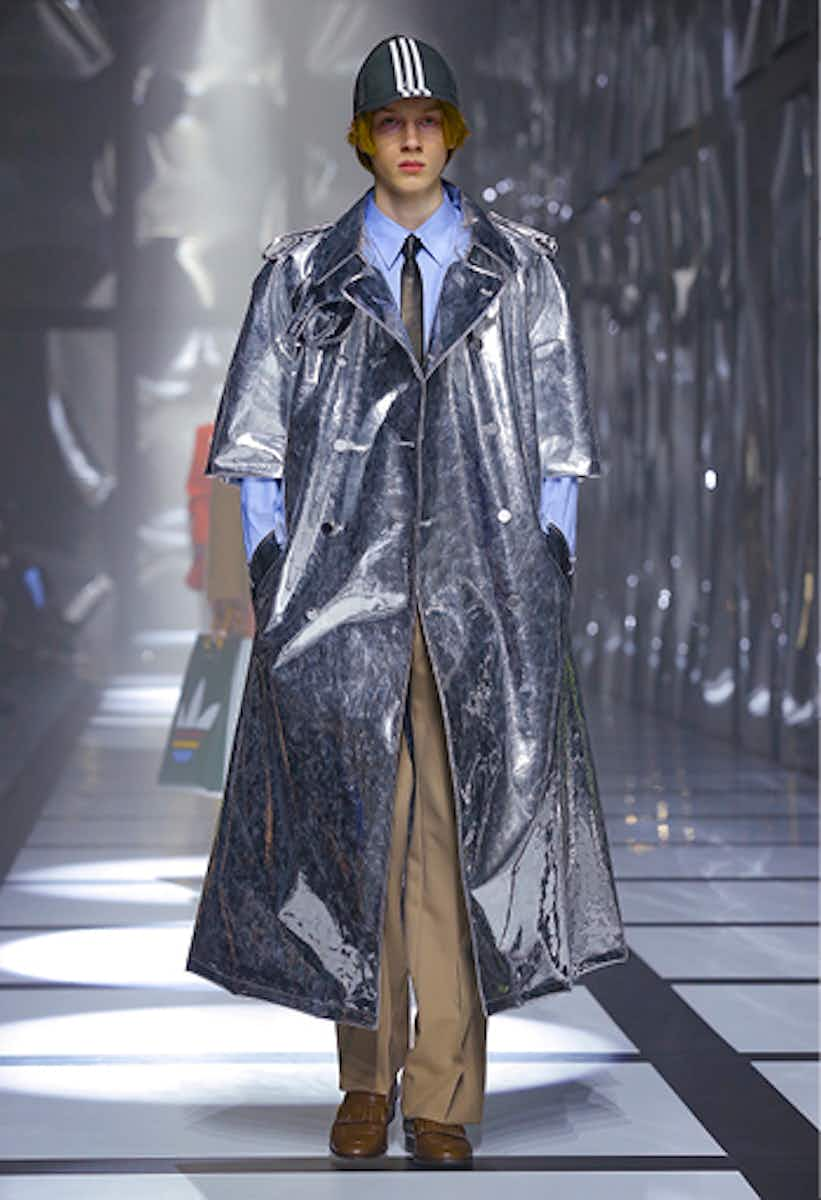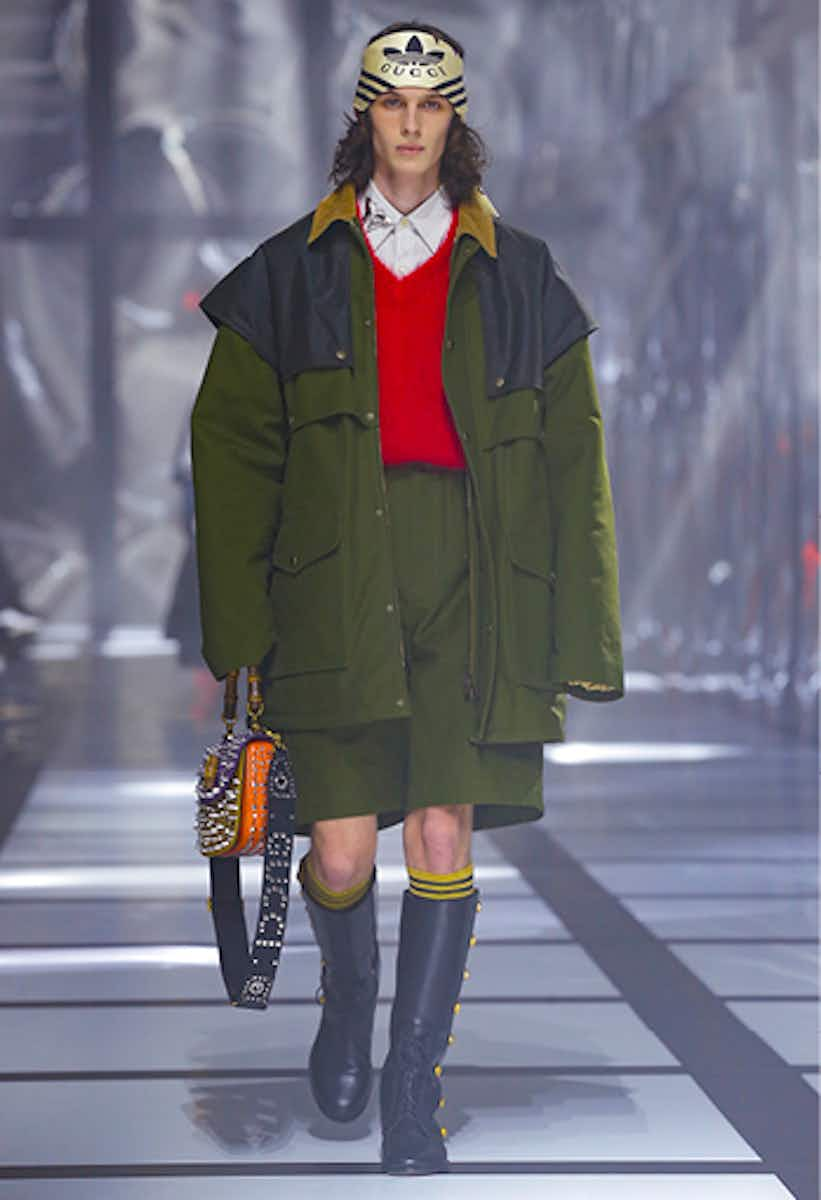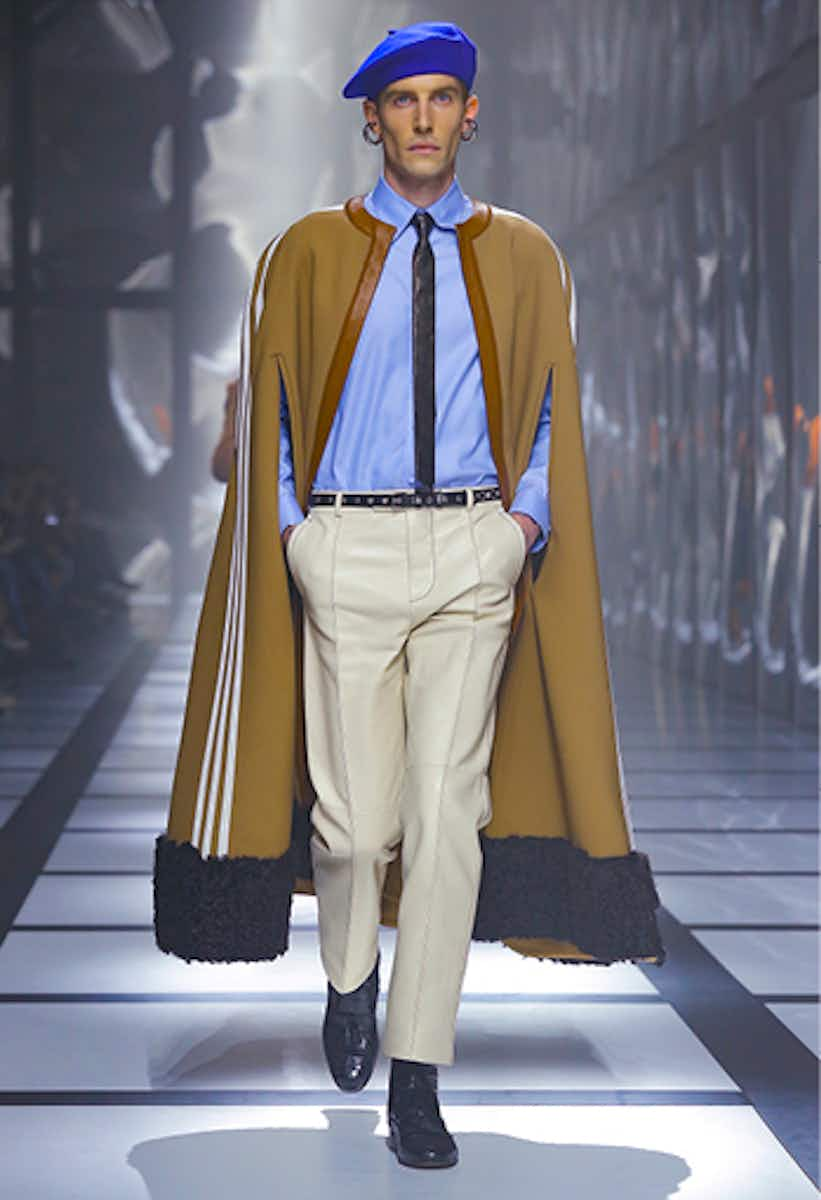 Horror has always been a rich wellspring for the fashion world. Frankenstein has inspired plenty of roughly patchworked garments, while many a ghostly bride has been called on to close the show. The gothic imagination, with its hidden secrets, its breaking of taboos, its heightened sense of intensity and anxiety about fundamental questions of body and soul, offers a lot of creativity when it comes to clothes. This season GCDS decided to do away with the darkness and offer a lighter version of that other horror staple: the vampire. Bram Stoker's bloodsucking nightmare was tamed and rendered in bubblegum shades of pink. There were a couple of more gothic touches – the Byron-esque frilled shirts, the spider-webbed knits, the latex boots with toothy heels, the obligatory rose and thorns – but largely the mood was buoyant. Not dressed to kill so much as dressed to have a good time. Whether such a defanging removes something fundamental is up for debate, but GCDS would argue that the message here is about defusing fear: ​"what scares you, in the end, turns into a wonderful, jolly creature."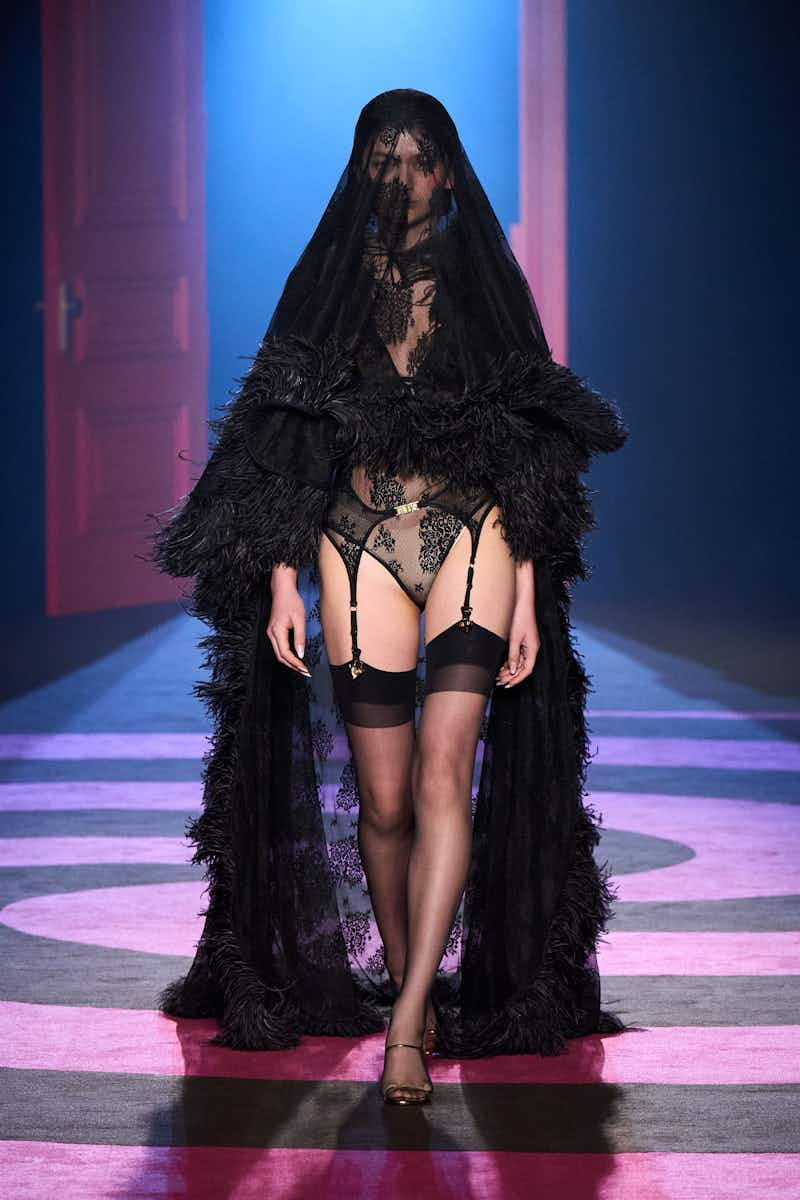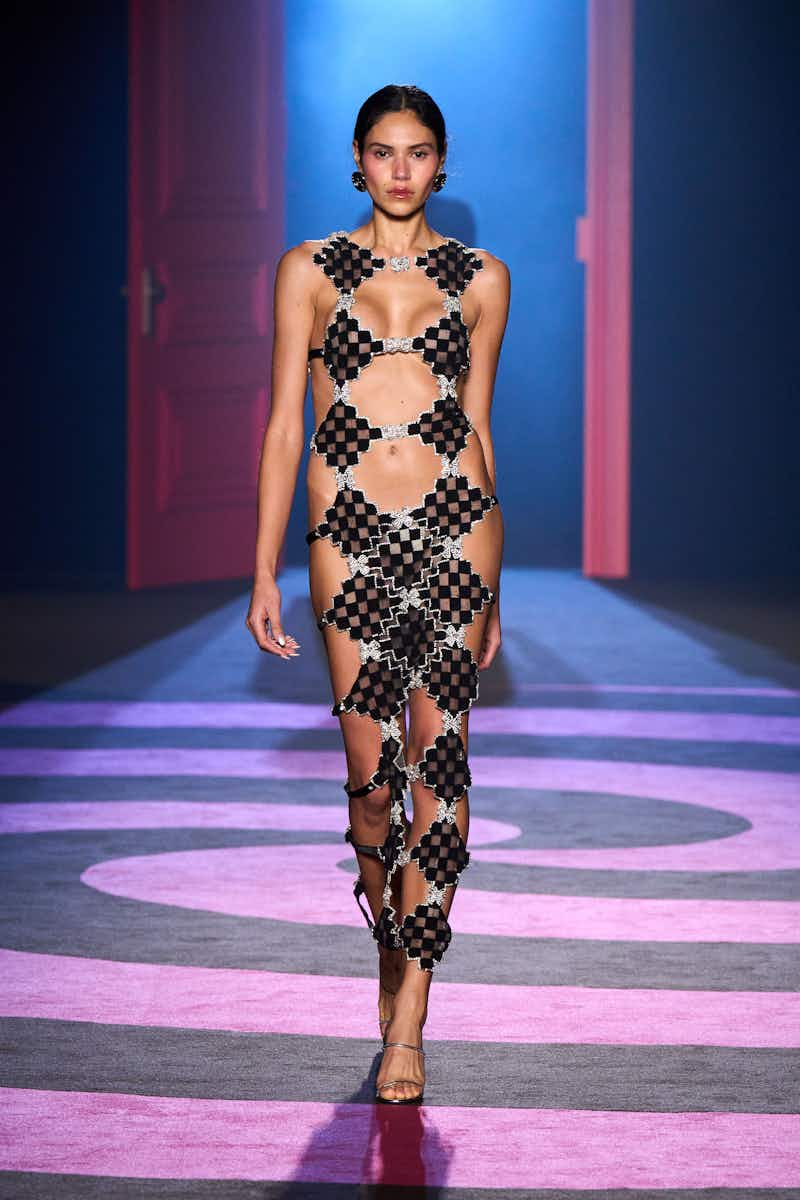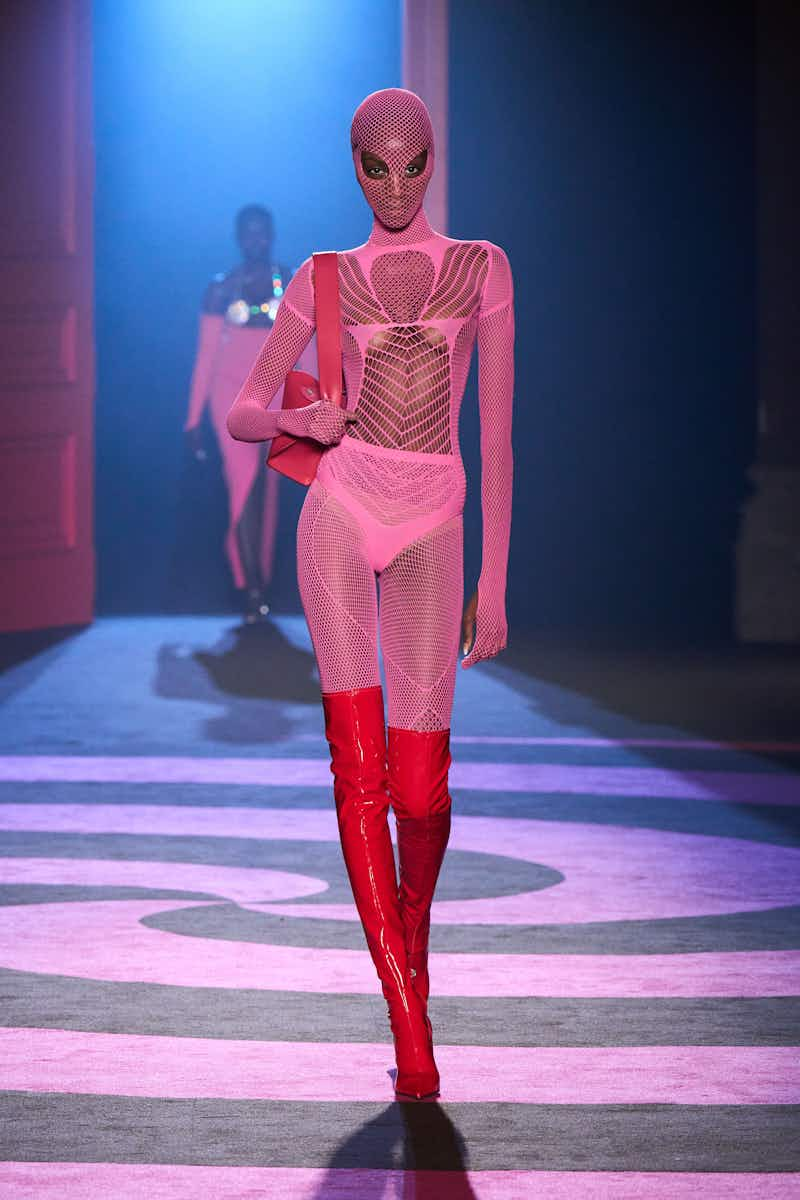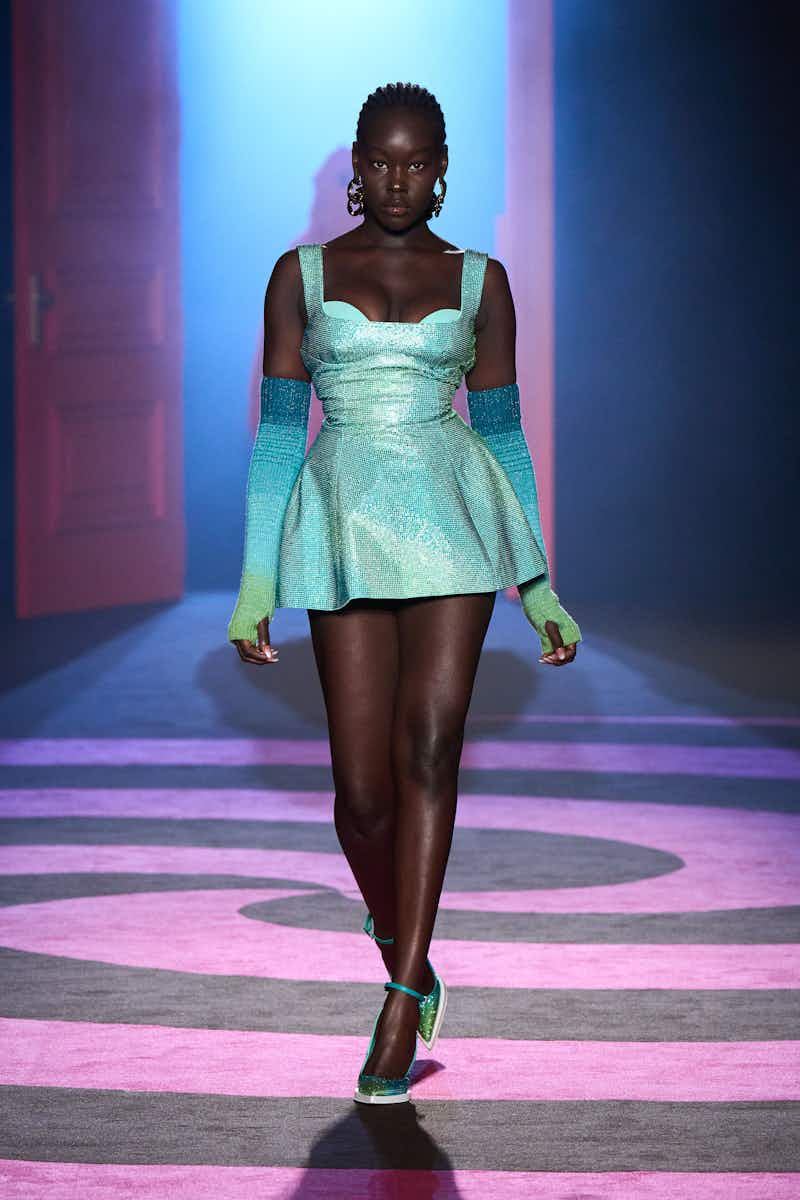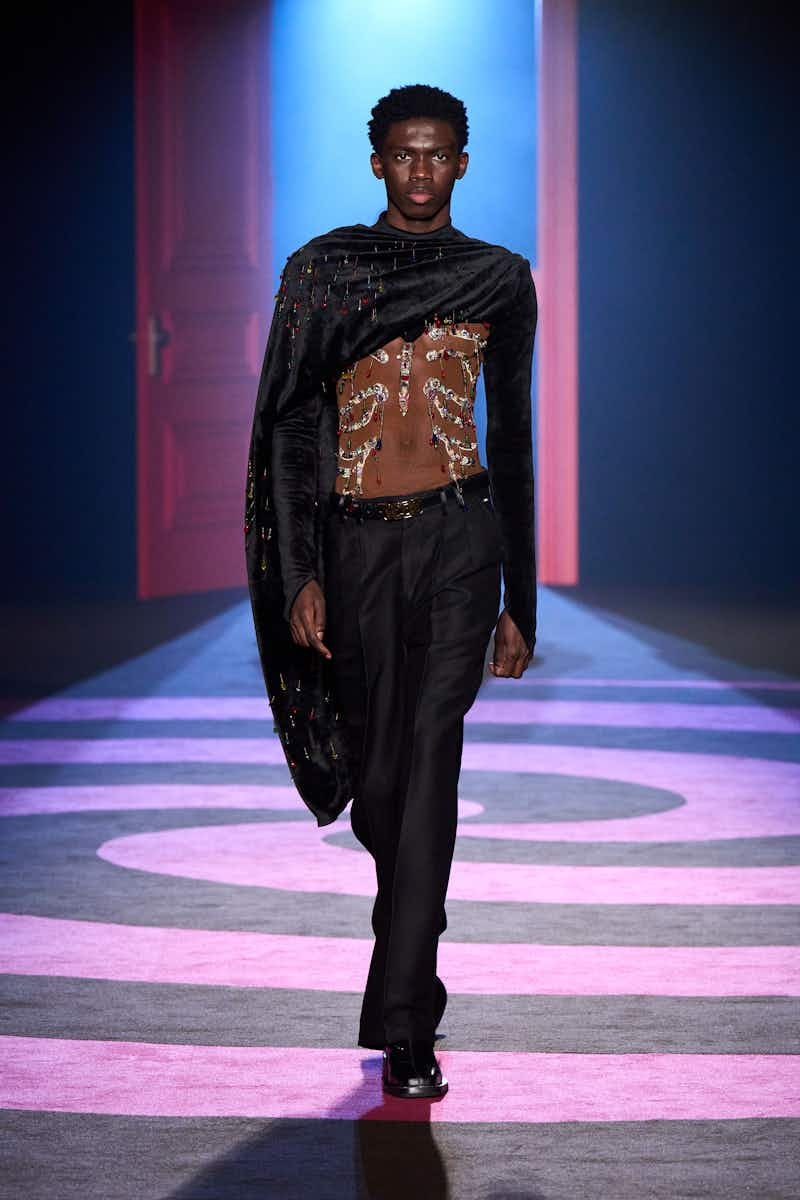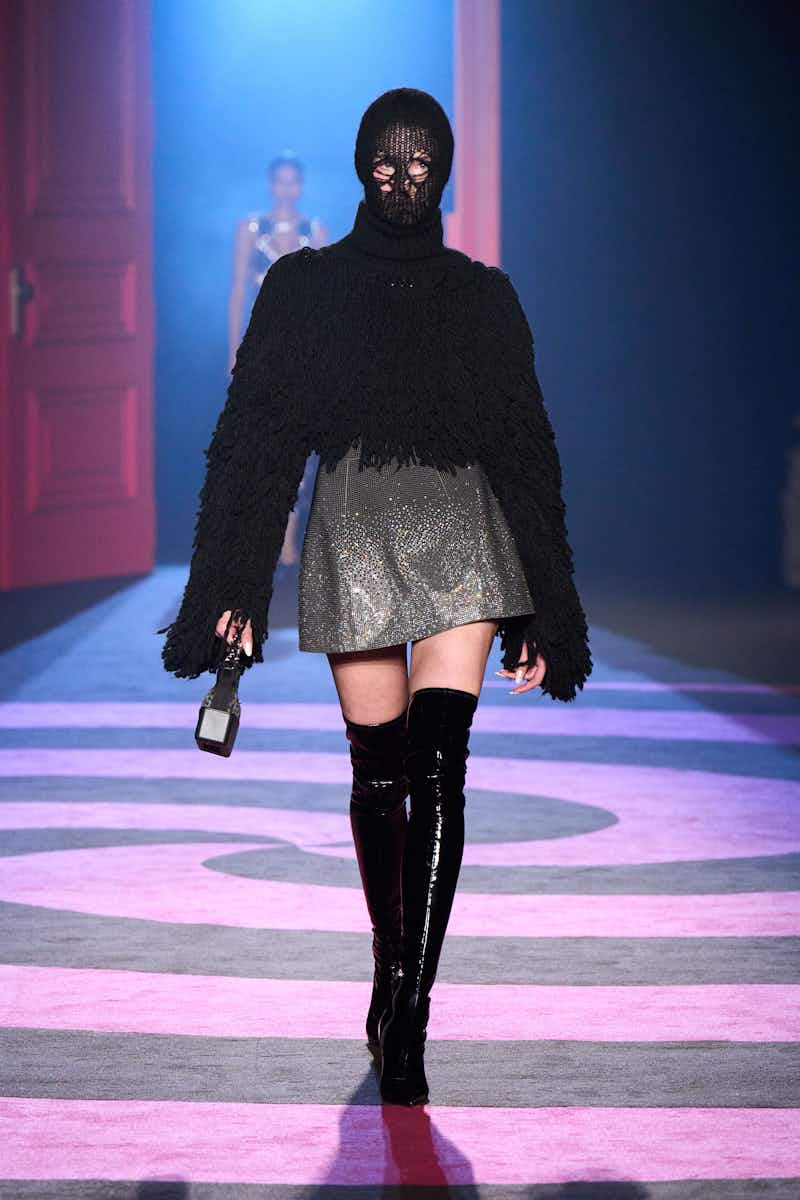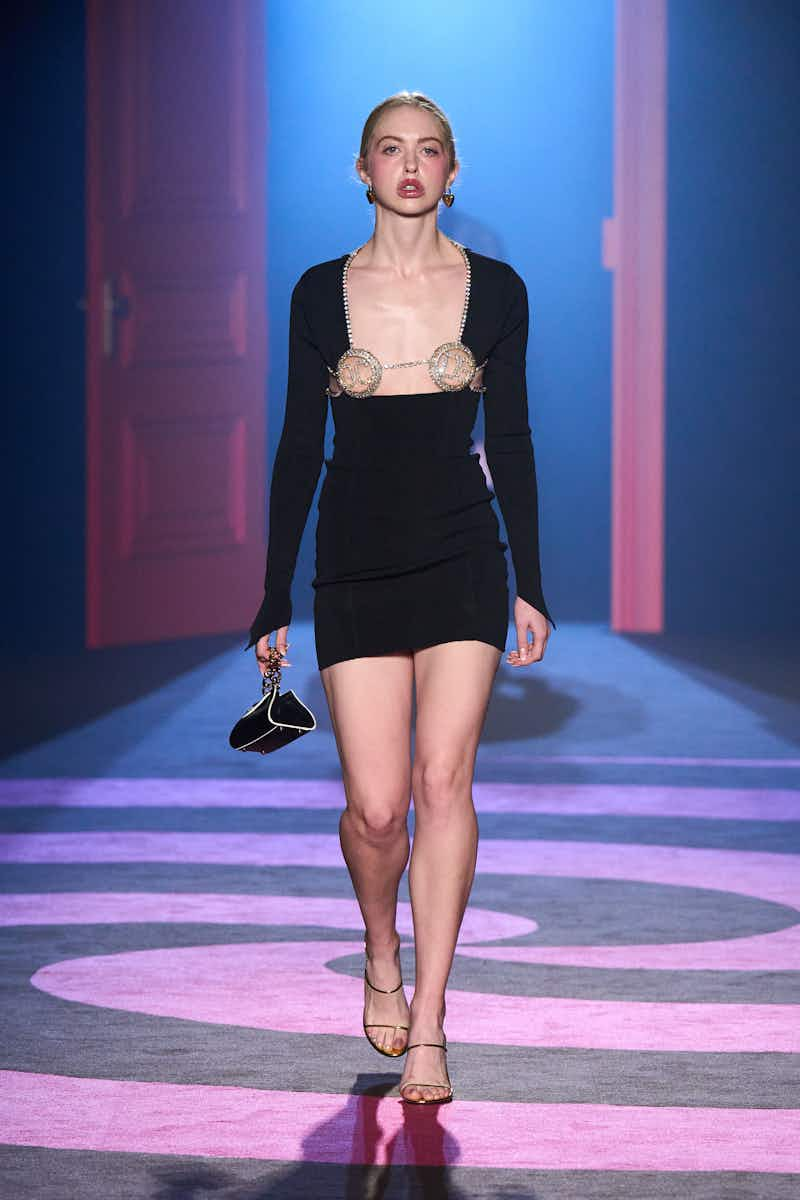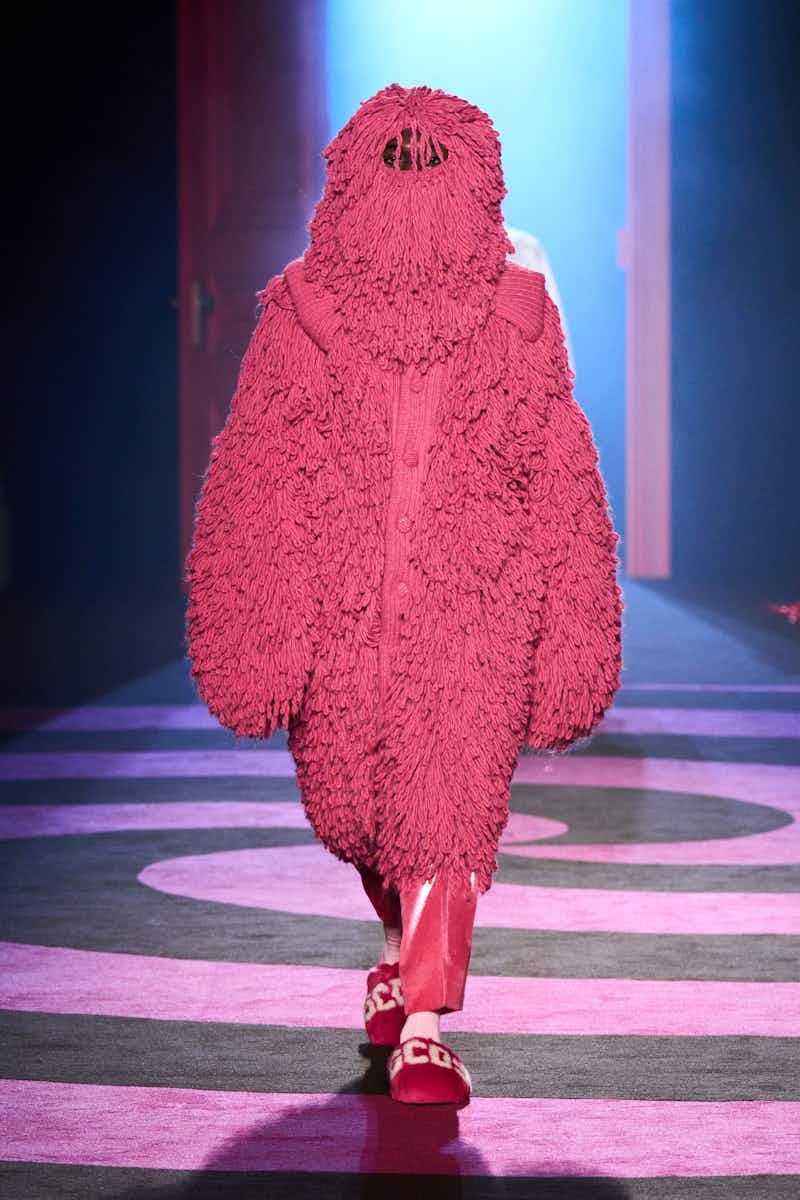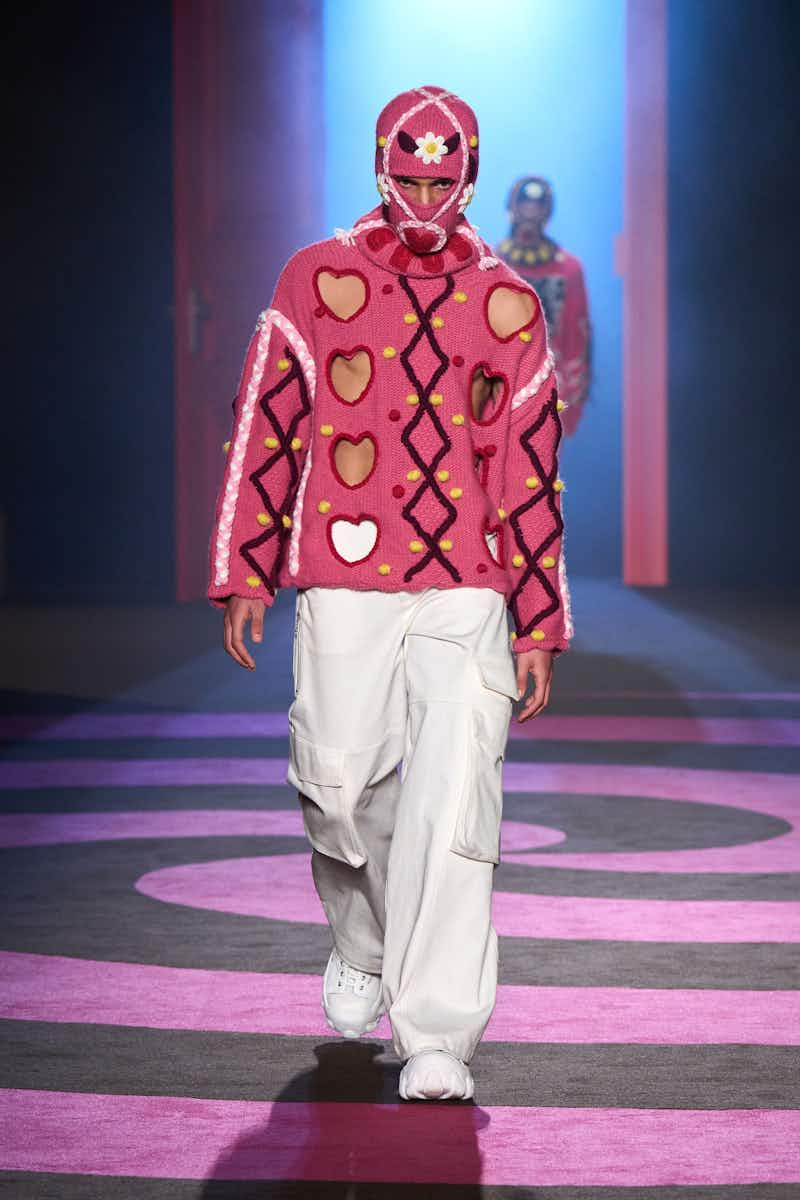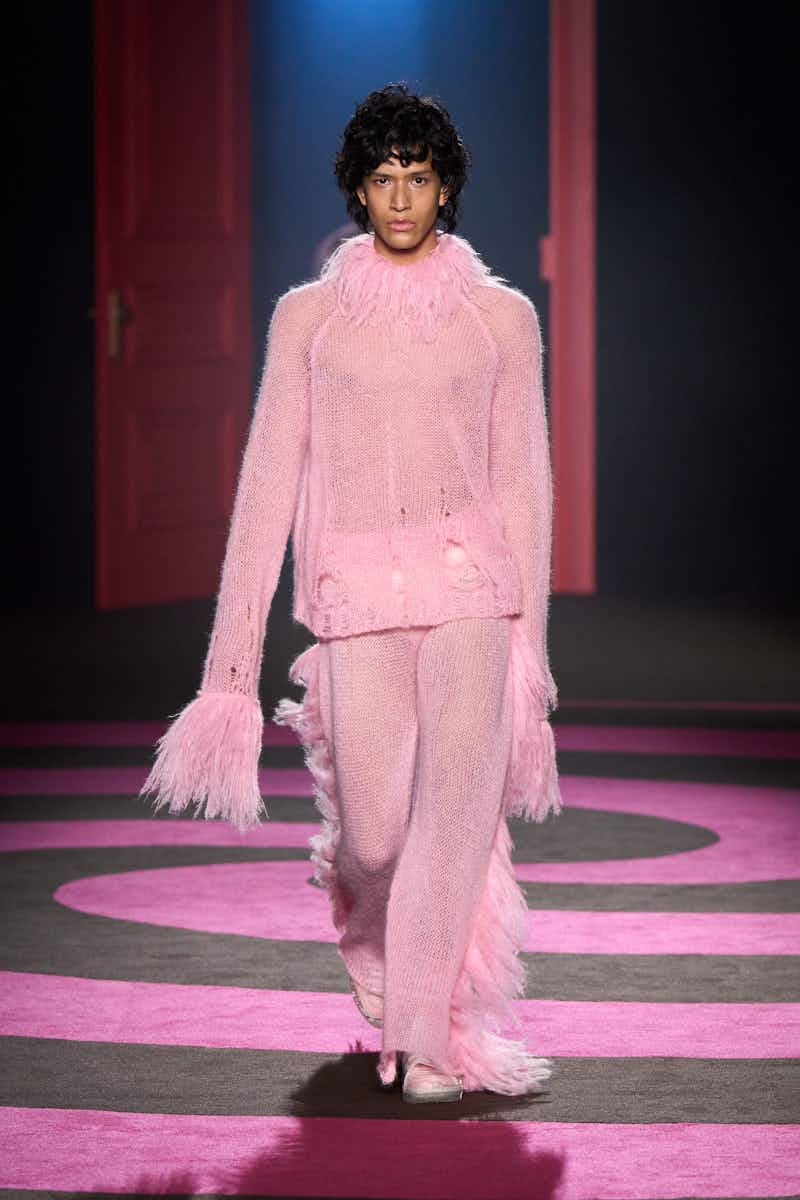 It's a tale as old as time… Jeremy Scott, who loves nothing more than a cartoonish gesture, went full Beauty and the Beast this season at Moschino, imagining ​"indulgence-gilt without guilt" as he presented a collection inspired by a very flouncy set of interiors. Taking his starting point from Franco Moschino's own experiments in 1989 and 1990, with brooches in the shape of cutlery and tap handles as accessorising details, Scott devised Louis XVI dresser suits, grandfather clock gowns, headpieces in the shape of desk lamps, feather dusters and pots (with the help of Stephen Jones), and a sweeping gold dress that revealed itself to be the pillar of a huge, glittering harp. Keyhole cuts were, well, actual keyholes. A soup tureen became abstracted body armour. Bringing inanimate objects into the world of luxury design is the kind of joke the fashion world loves. See, too, the smashed egg heels at Loewe last season. Such experiments are firmly within Scott's wheelhouse. Nothing is beyond his reach: chandeliers, bubble wrap, loo roll, trash cans, and shower curtains have all been given the Moschino treatment before. Is it good taste? Is it bad taste? Is it incredibly fun to look at? Absolutely.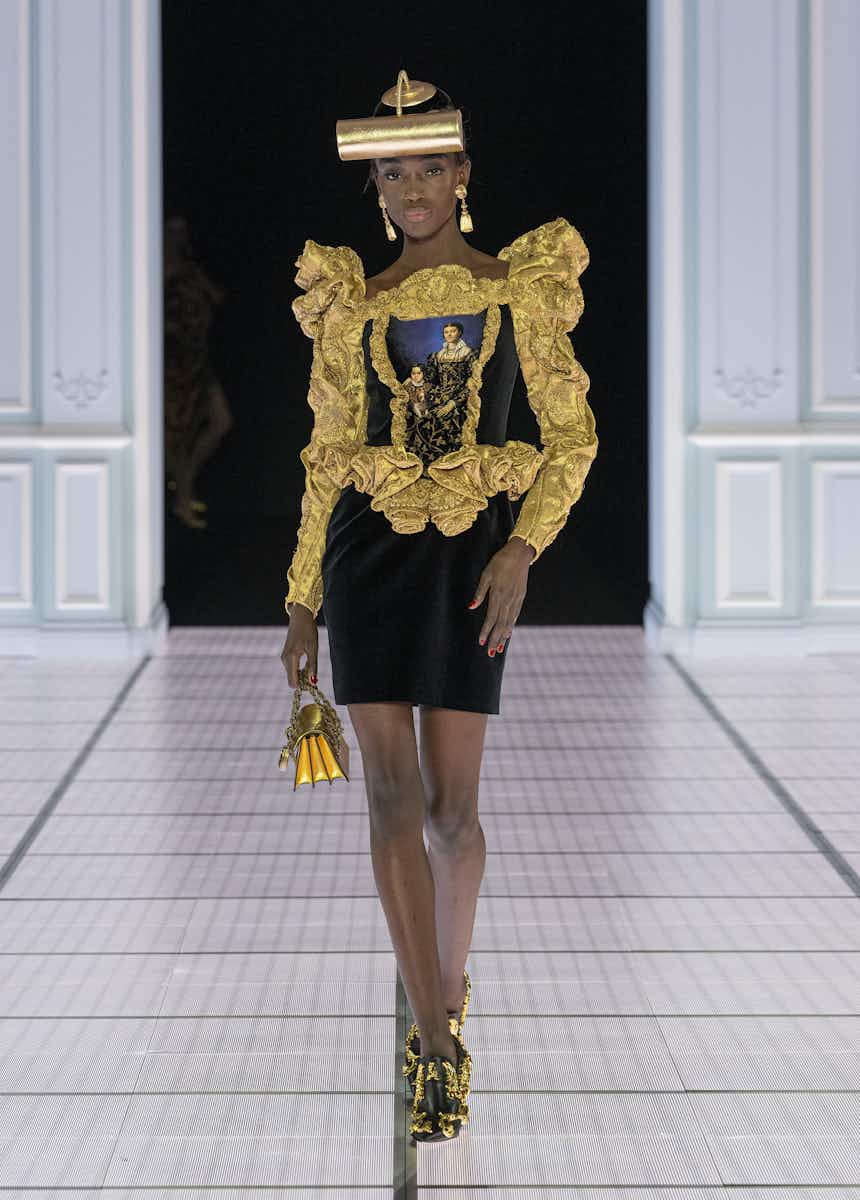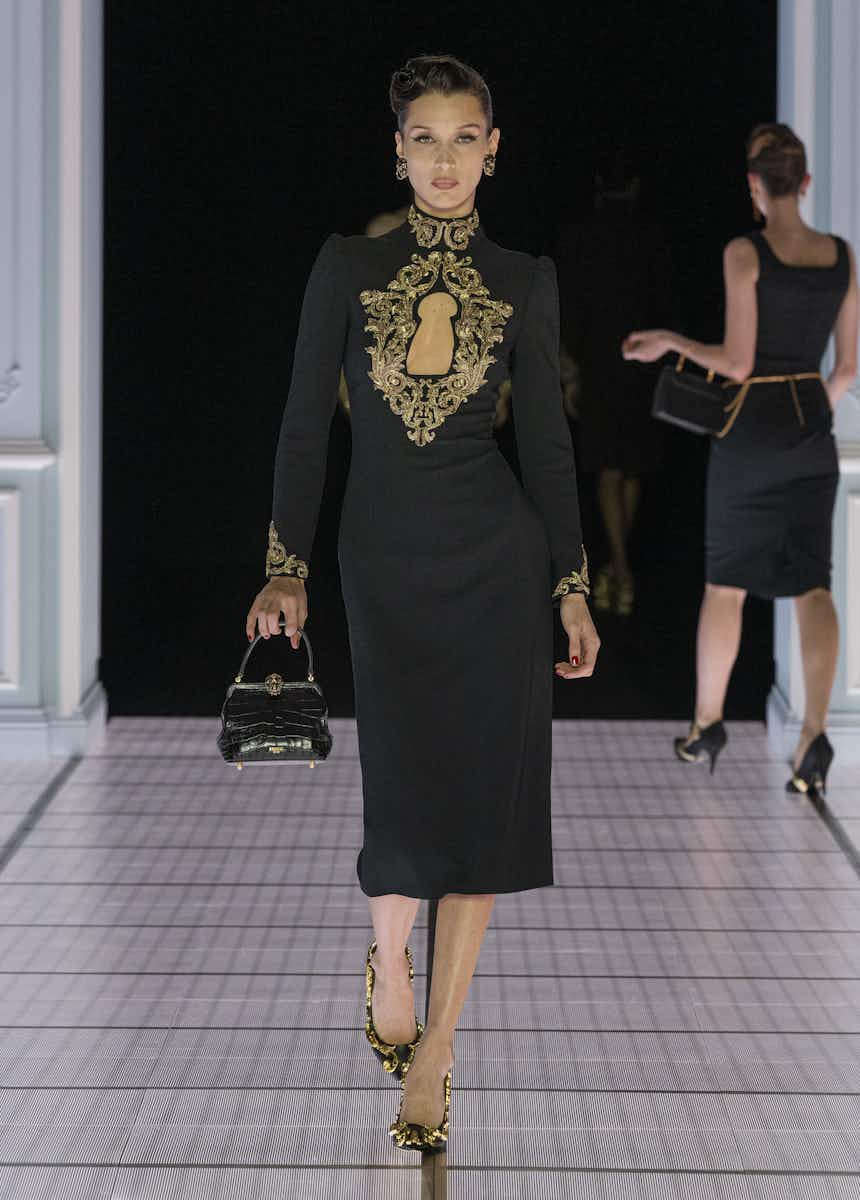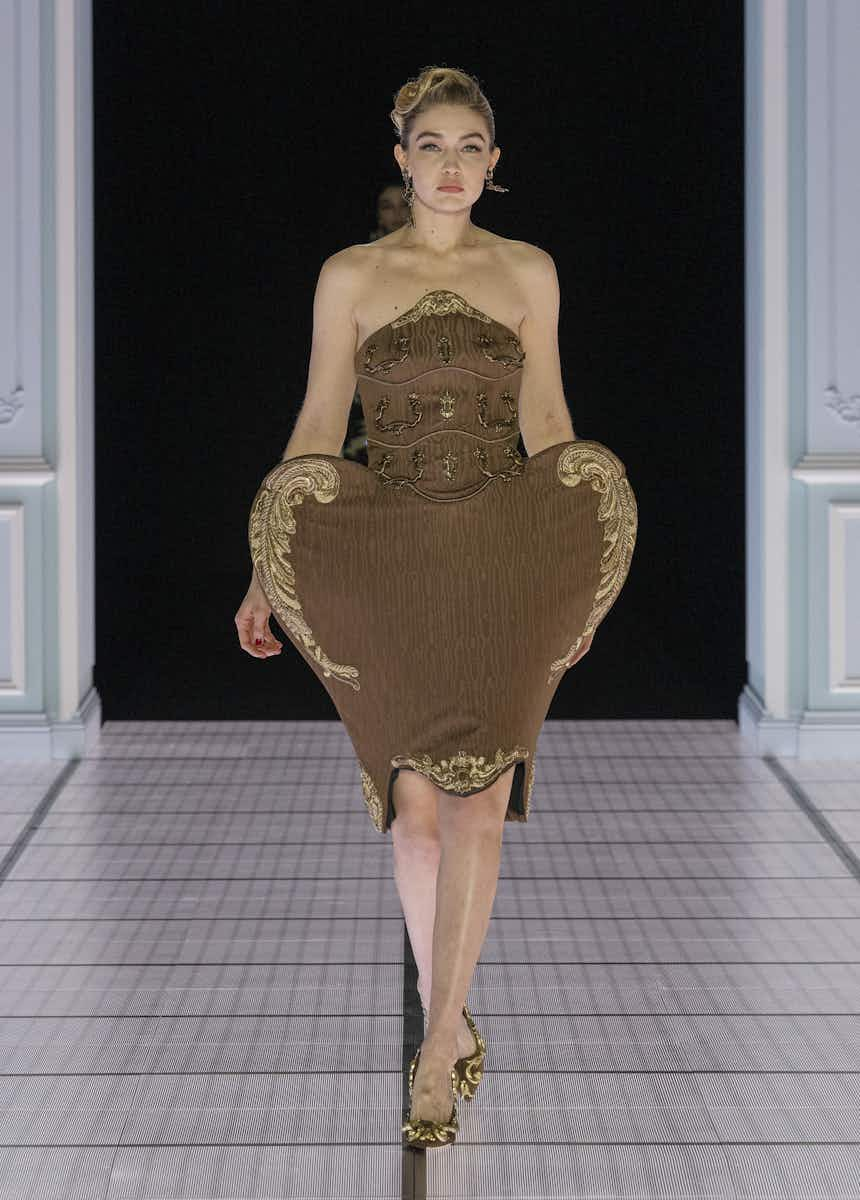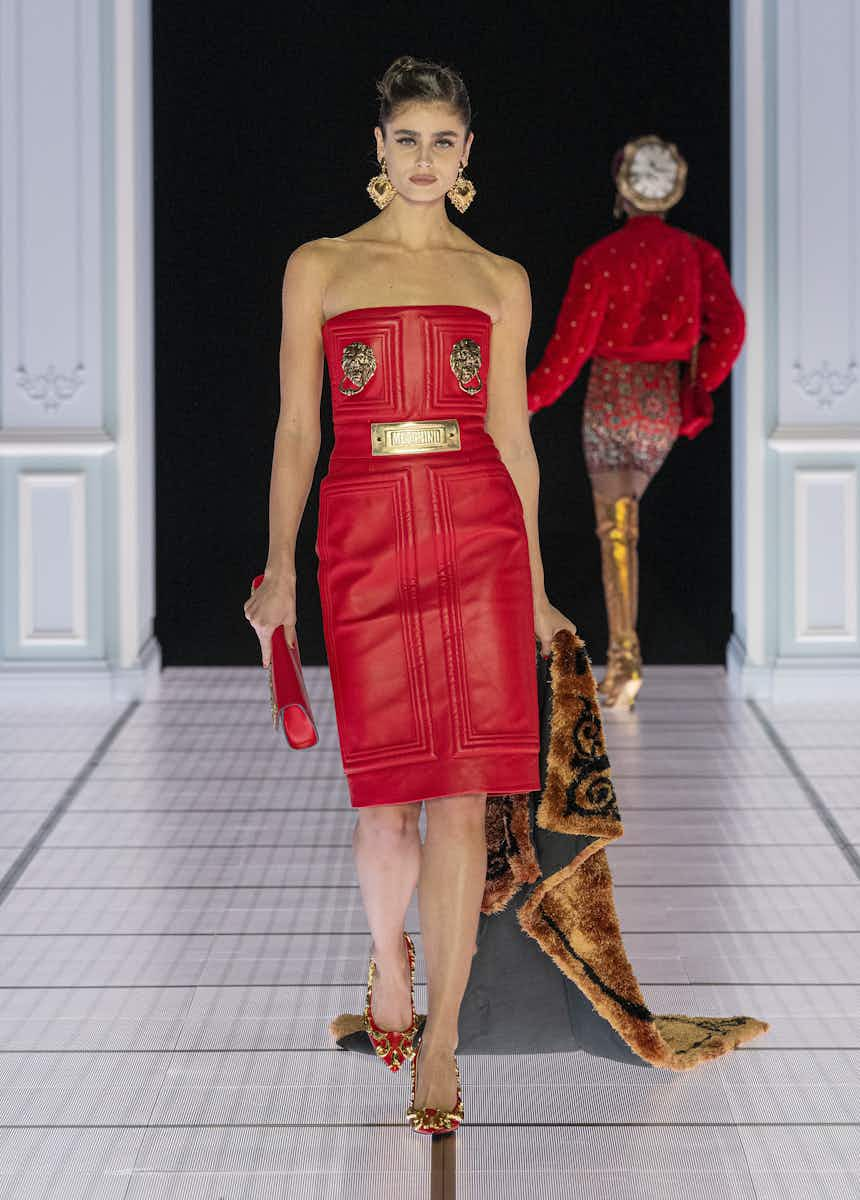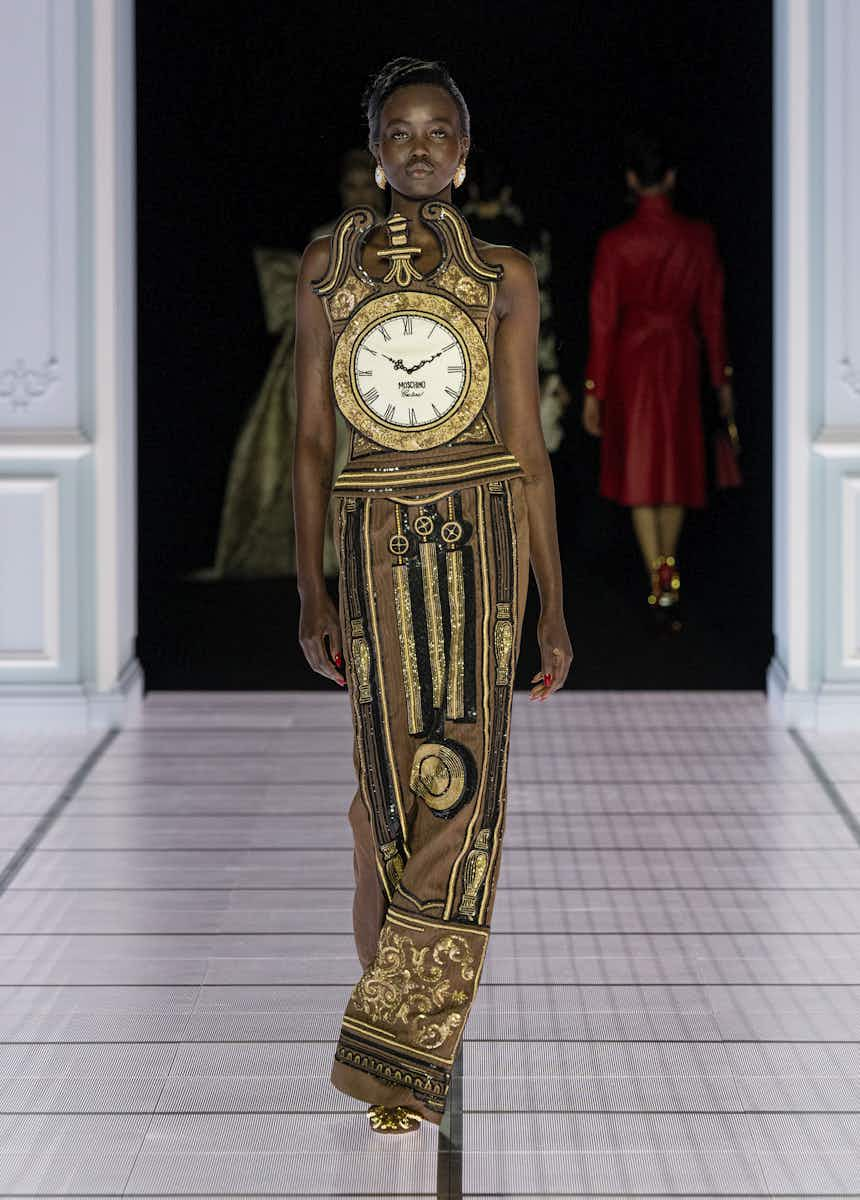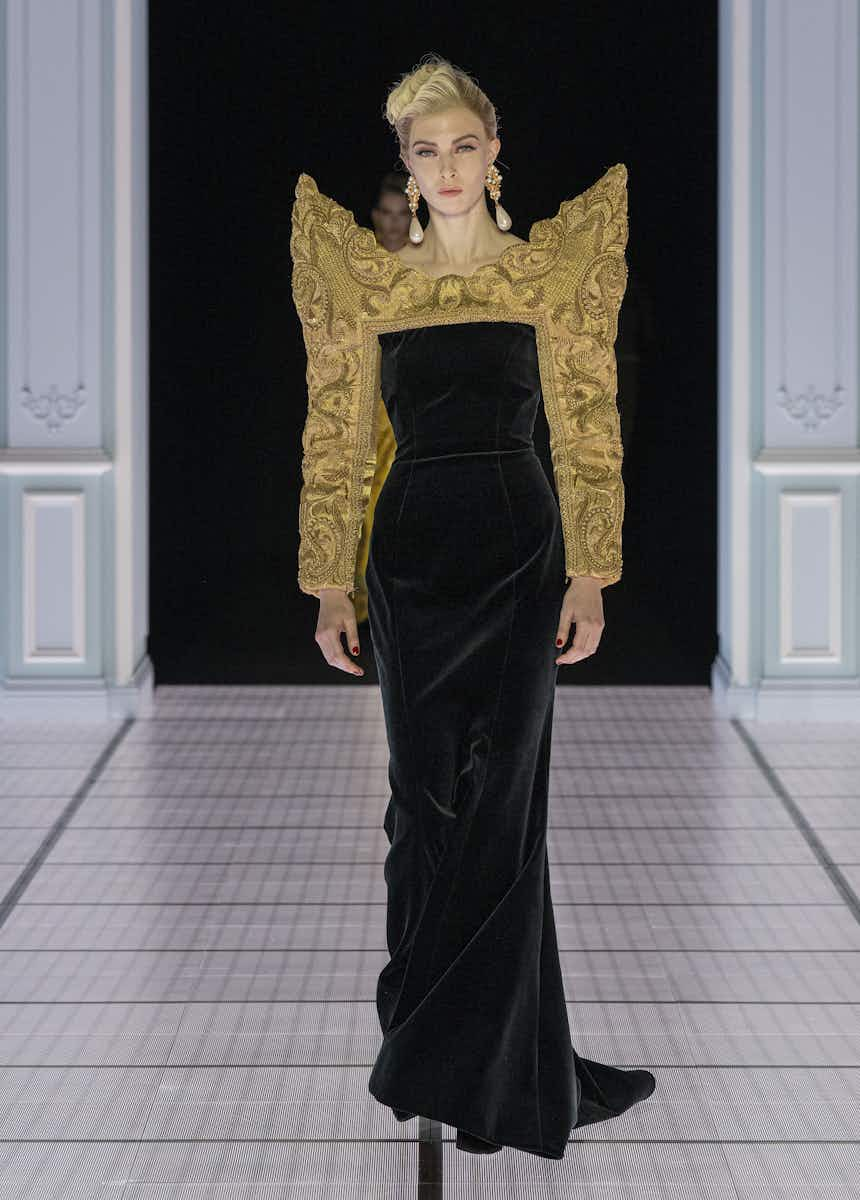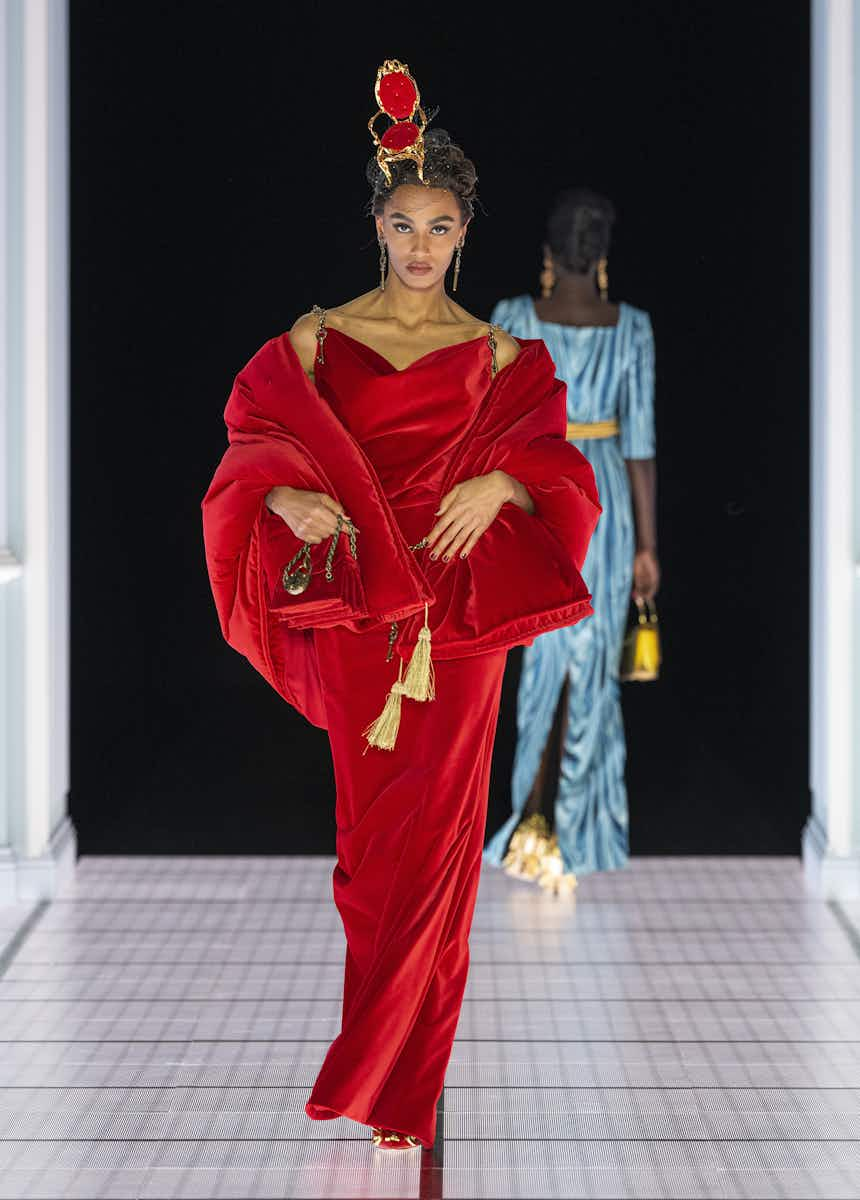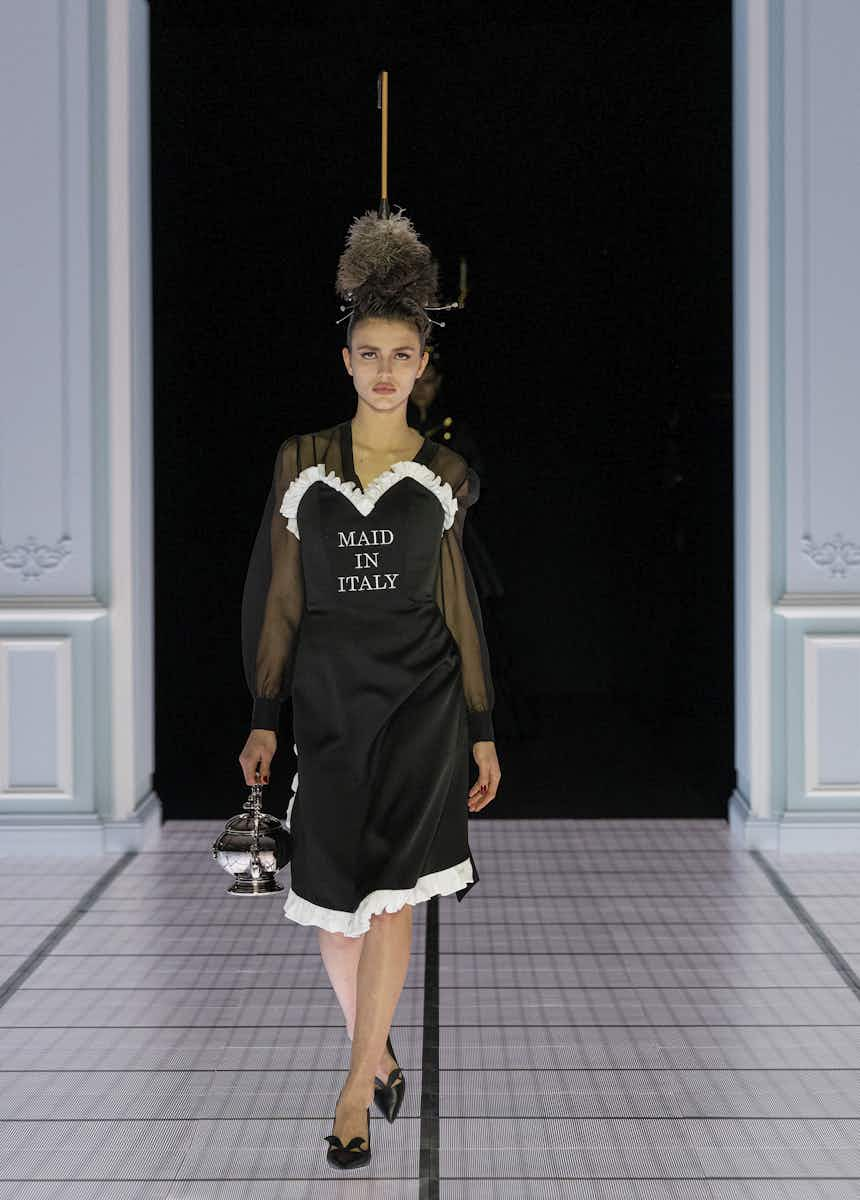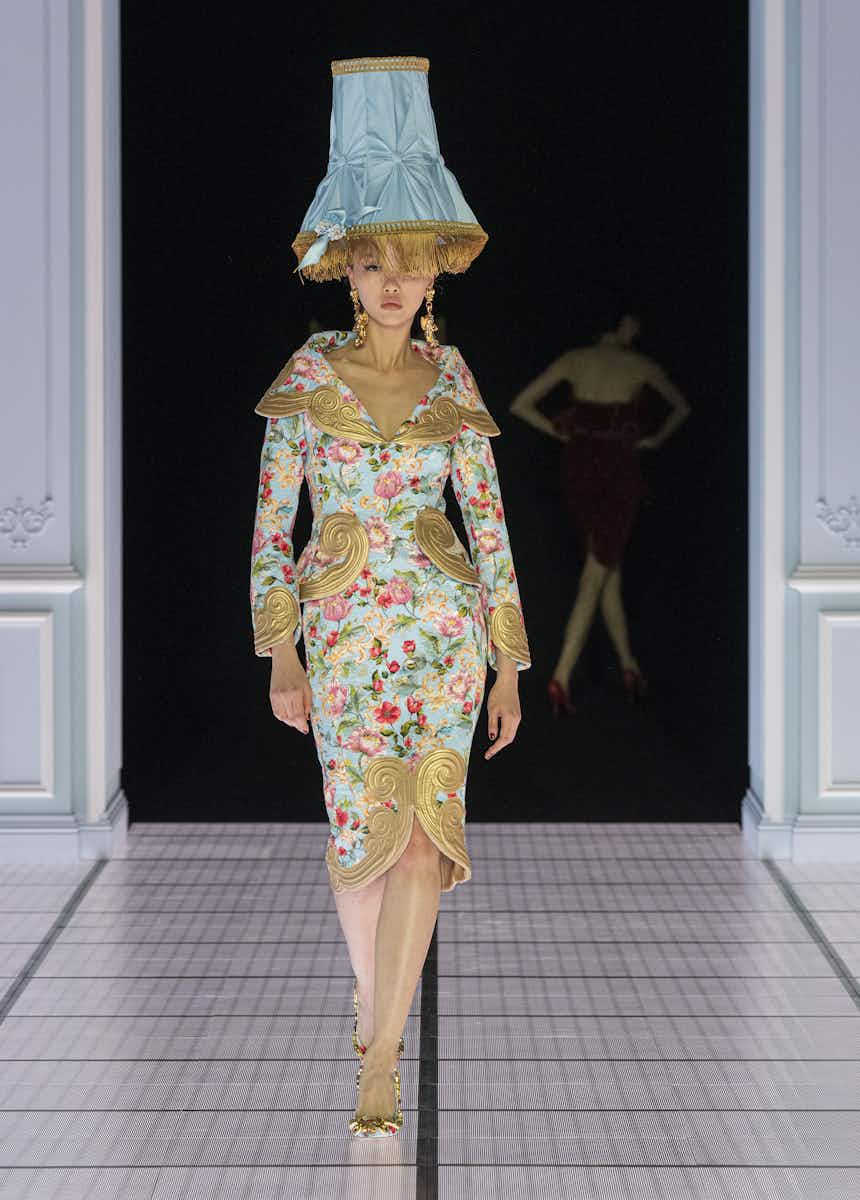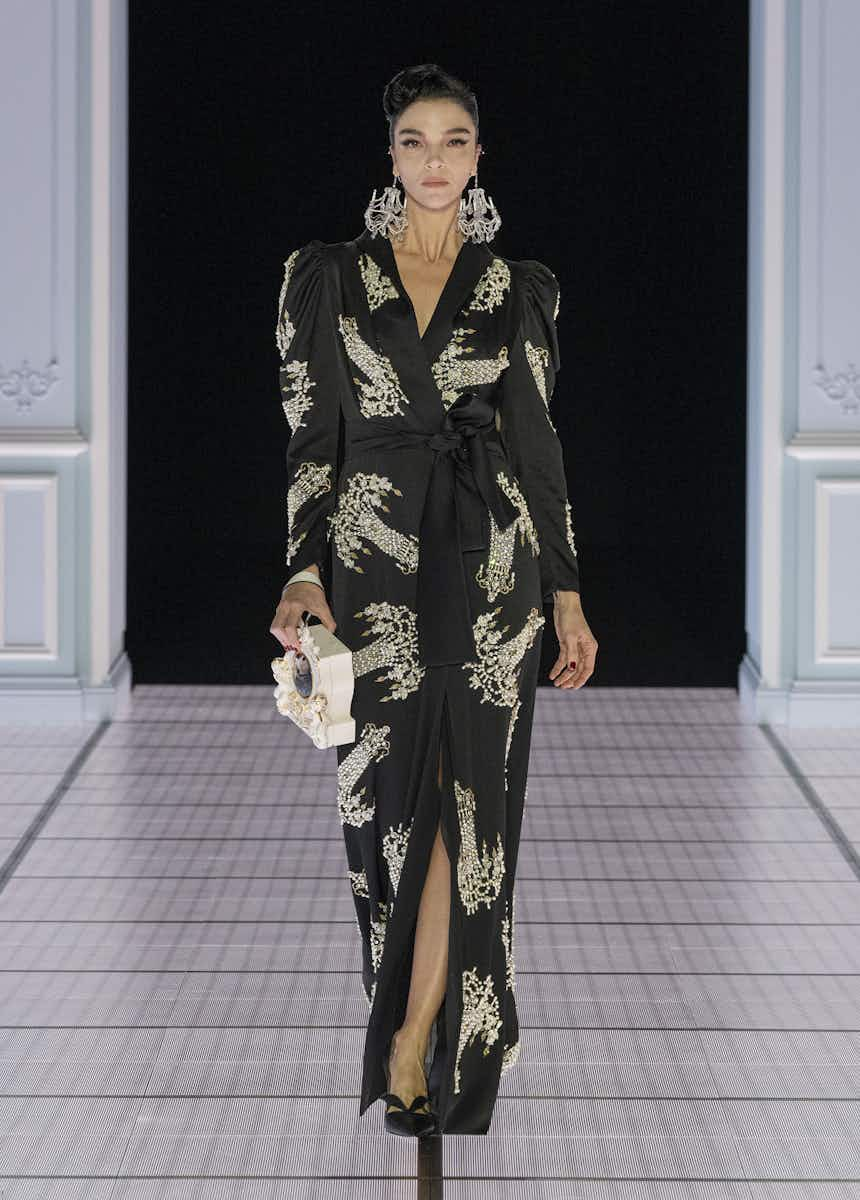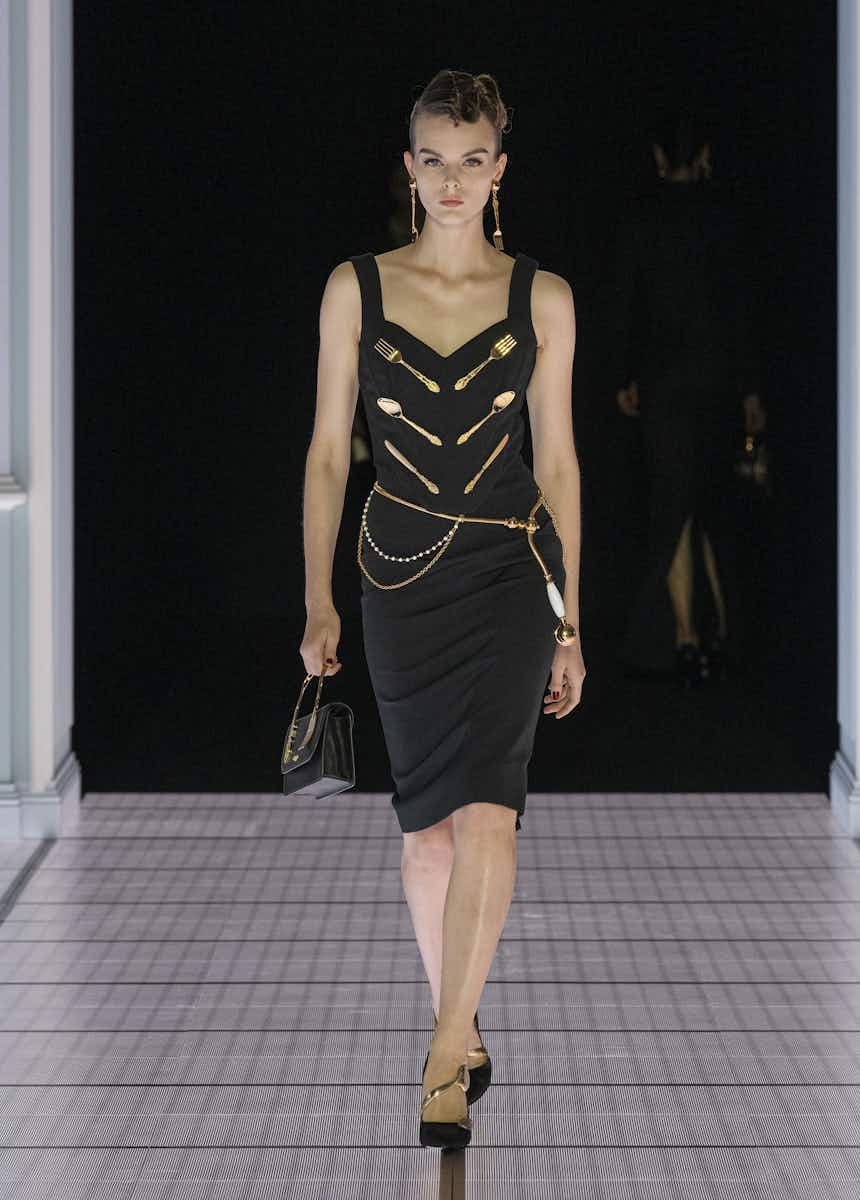 At Blumarine, it's all roses and peek-a-boo candy-coloured stockings. Among the many brands vying to stake their claim to the noughties, Blumarine has risen swiftly to the top – largely by wearing its references to Paris Hilton, Britney Spears, and Mariah Carey et al very literally – butterfly tops, baggy trousers and all. This season creative director Nicola Brognano cited a new muse: the Helmut Newton woman. Newton shot a number of Blumarine's campaigns in the ​'90s, so it's a canny reference point. Those ad campaigns are great. Classic Newton, they are sexy and spiky and offer hard-edged glamour in spades. But they're funny too. The models camp it up, gesticulating at the camera. Maybe this needed an added injection of humour. For all the leather and satin, it channeled the energy of a young girl playing dress up with adult allure. Still, Blumarine knows how to make a splash. Euphoria's Chloe Cherry walking the runway was a real talking point, while the inclusion of Eva Herzigova – who appeared in some of those original ads – provided a properly show-stopping moment.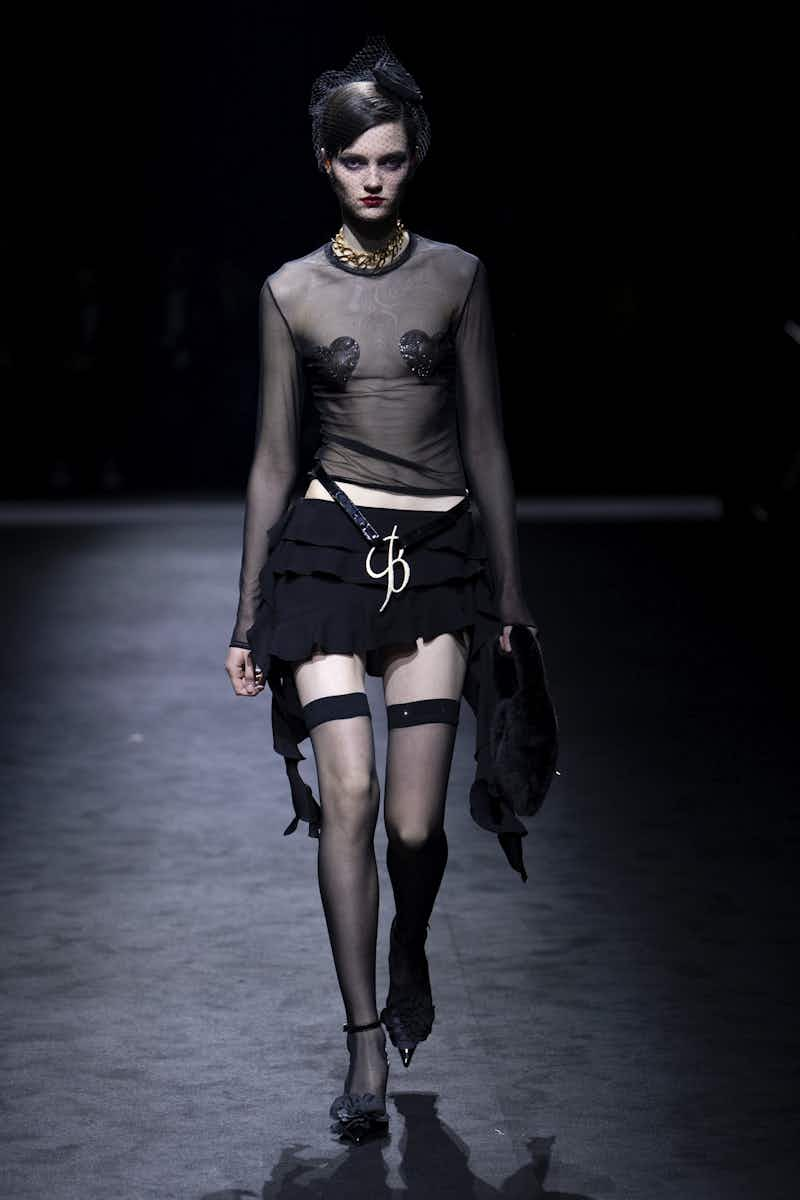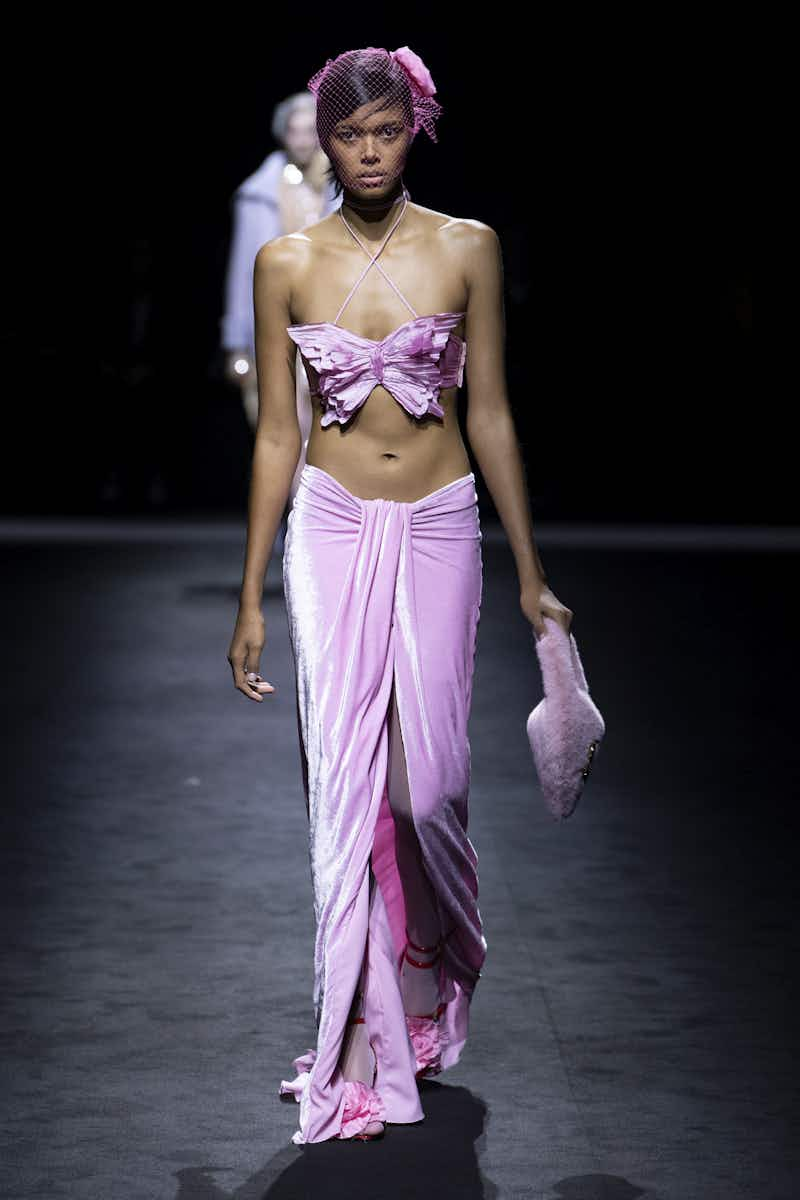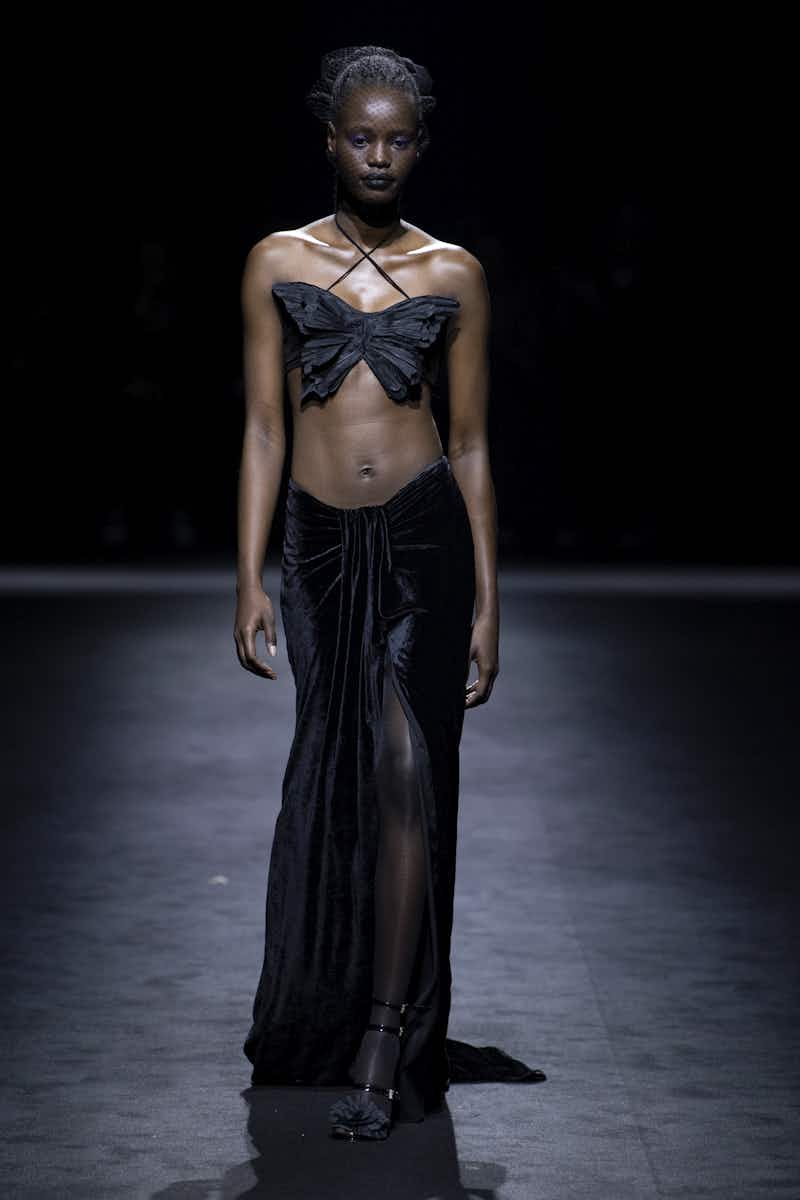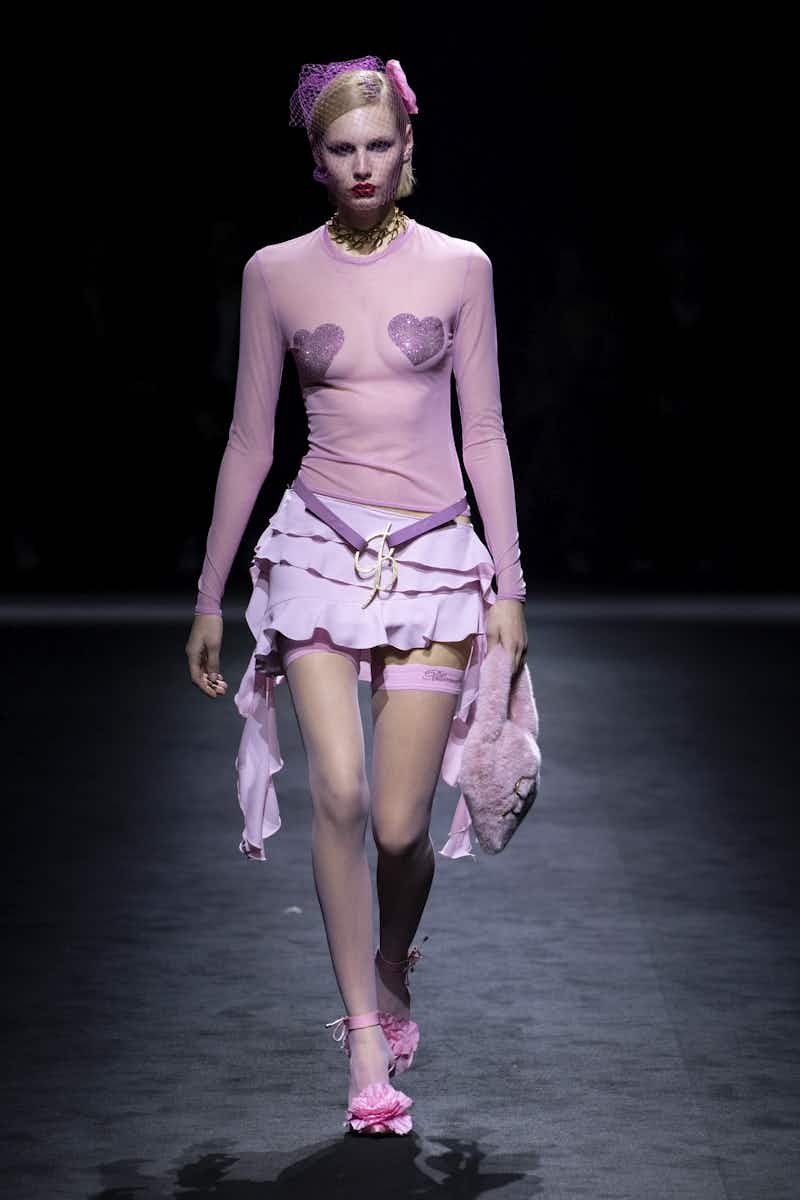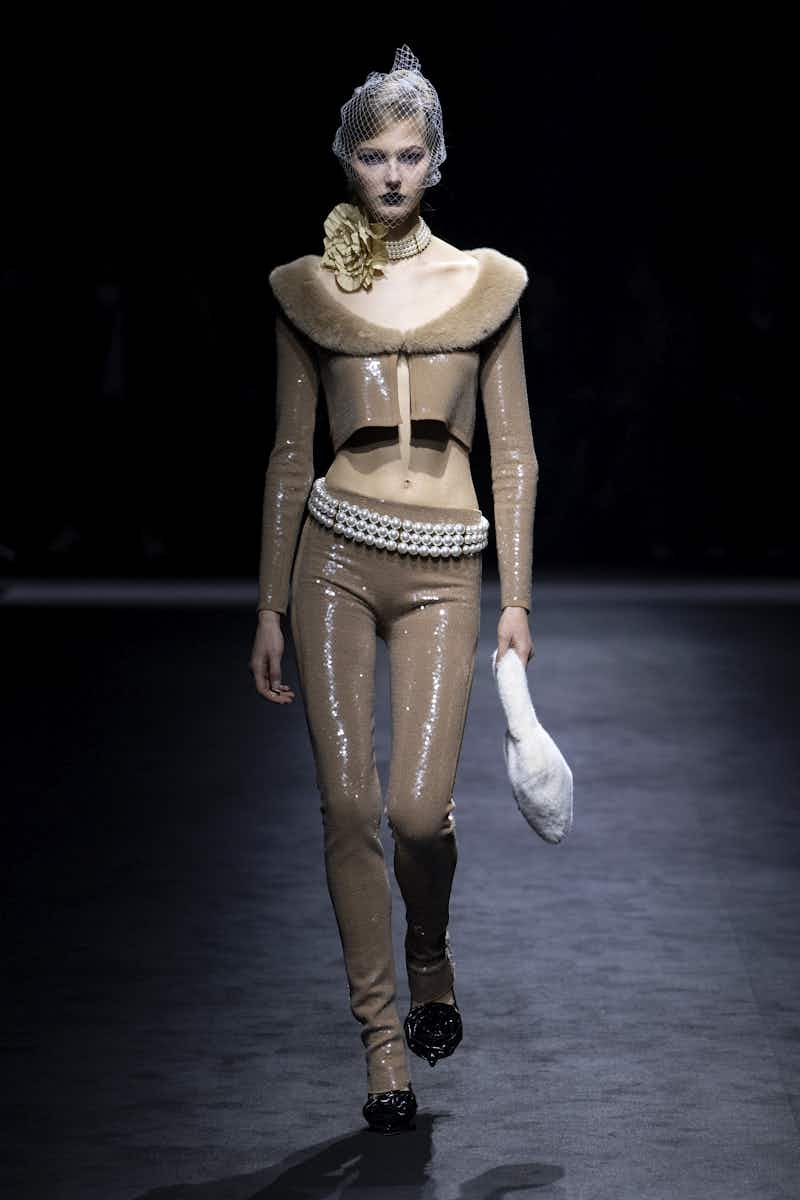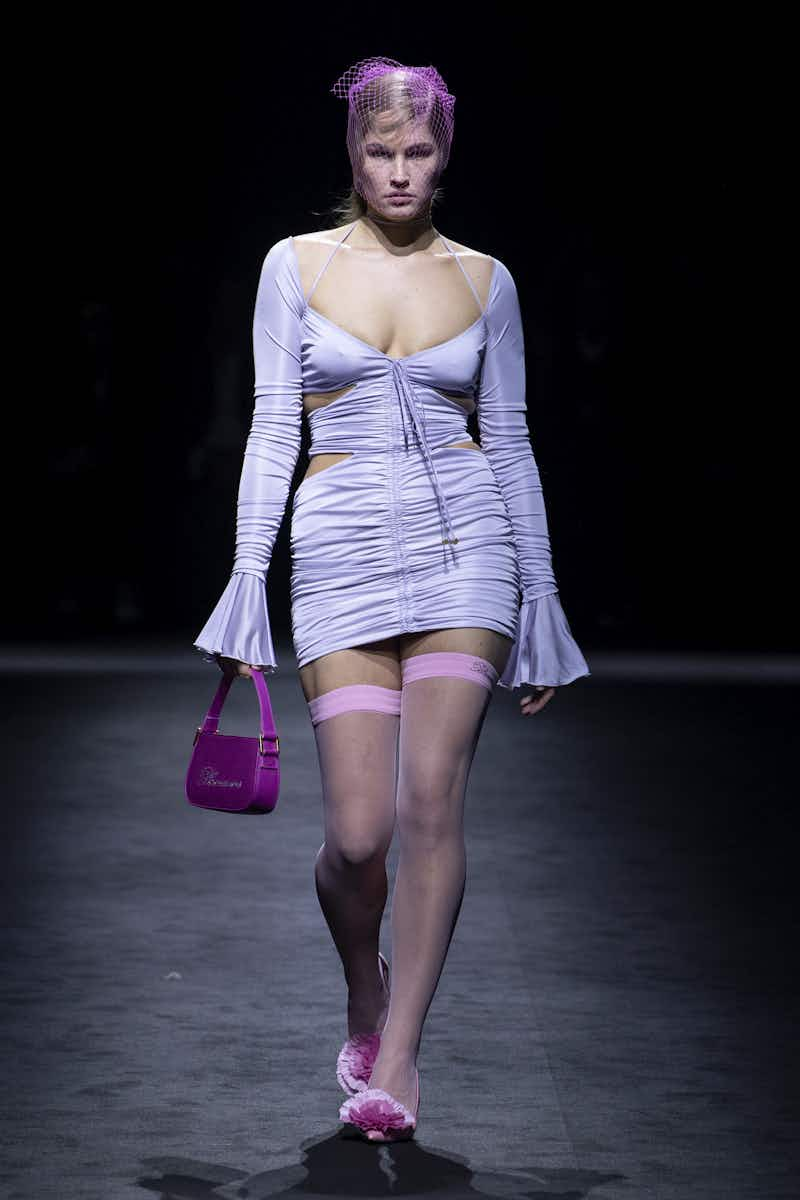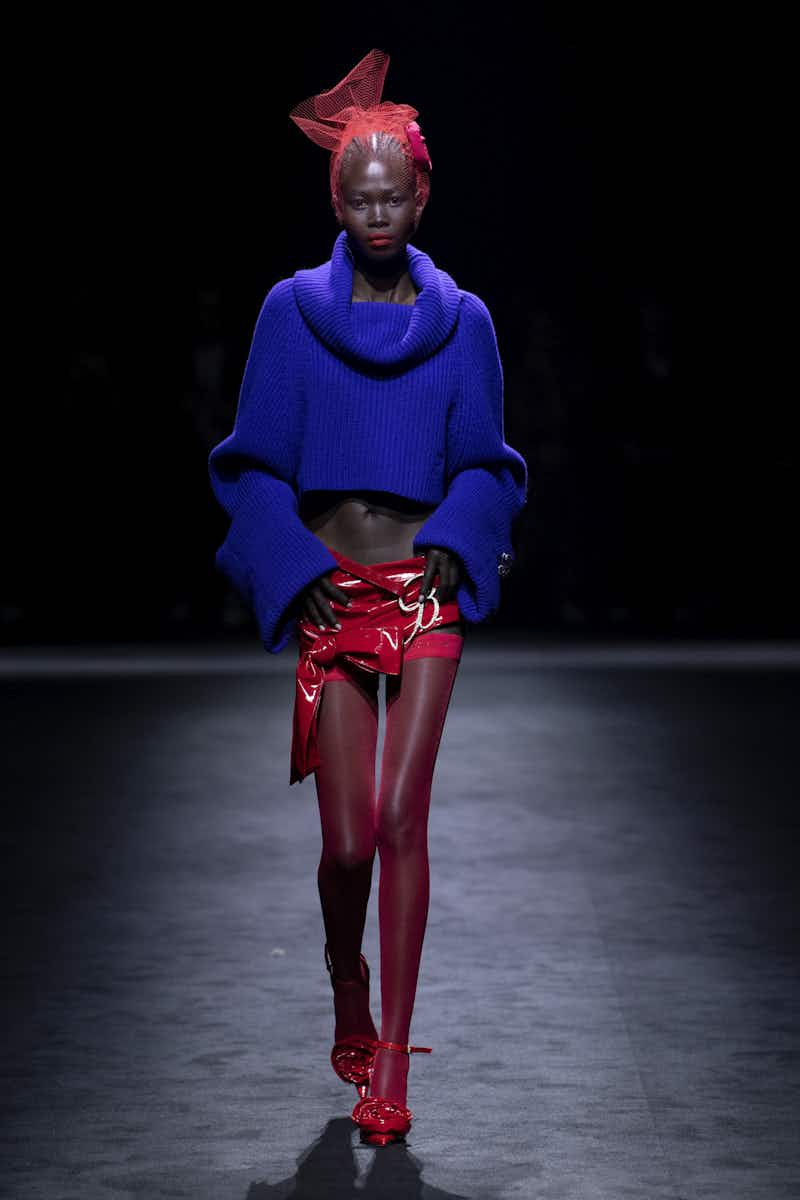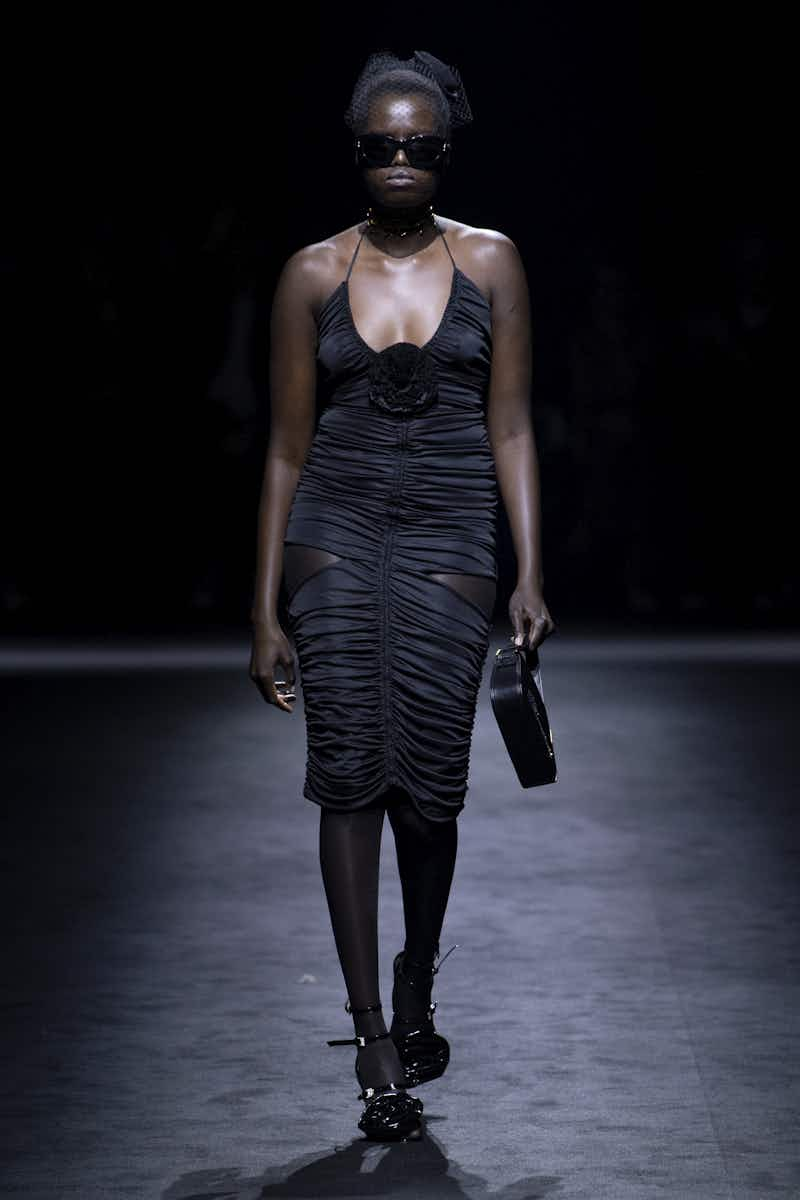 This season Prada's show notes described an ambition to create ​"a history, a history of women". It's an apt summary of Mrs. Prada's endeavours – constantly reinterrogating and negotiating her understanding not just of femininity, but what women want from and say with their clothes. This season's outing with Raf Simons suggested a comfortably grown-up, vaguely irreverent woman. One who's happy to wear her leather jacket three sizes too big and her pragmatic white vest layered beneath a delicate, almost gossamer-like dress. Also figuring as ​"an archaeology of Prada", we got various re-hashings of blocky tailoring, sensible skirts (alongside shimmering sheer ones), and some of those famous ​"ugly" ​'90s geometric prints. Sprays of faux fur and scatterings of paillettes kept it from being too serious, while the array of models from Prada stalwarts Erin O'Connor and Hannelore Knuts to young up and comers like Euphoria's Hunter Schafer and Kaia Gerber made for a welcome cast of women.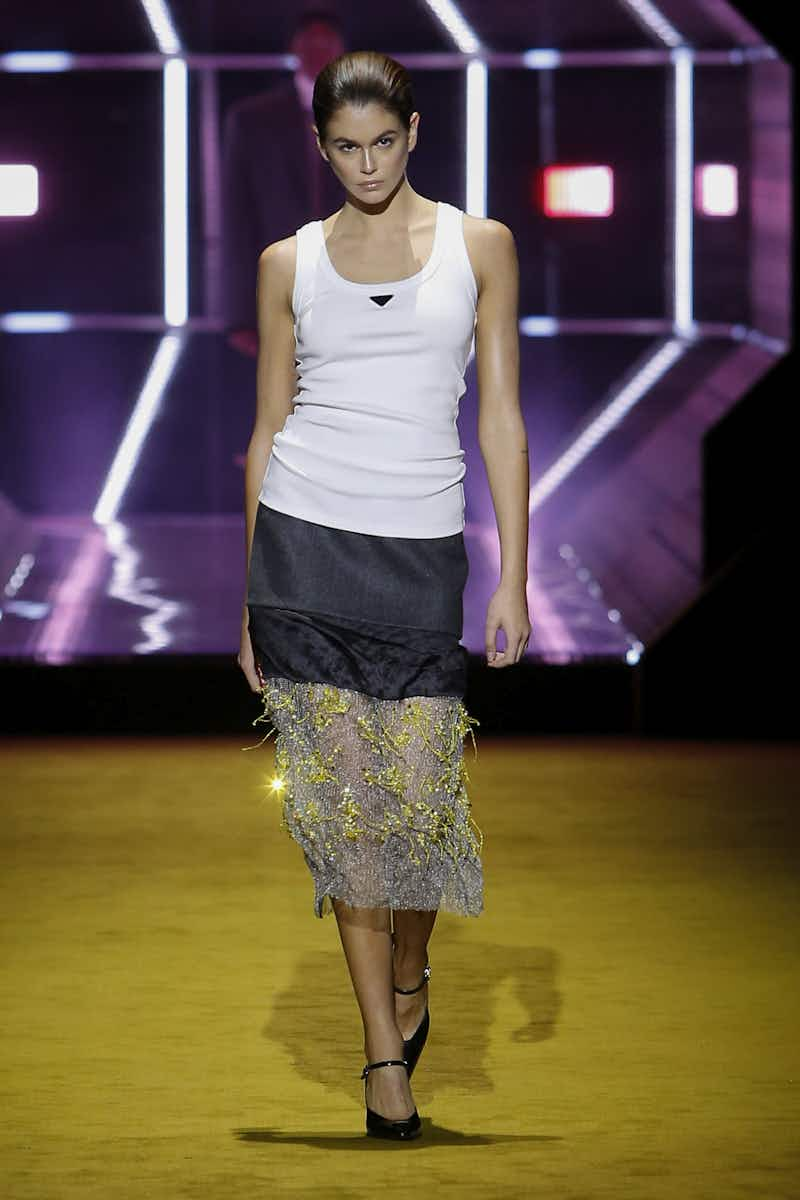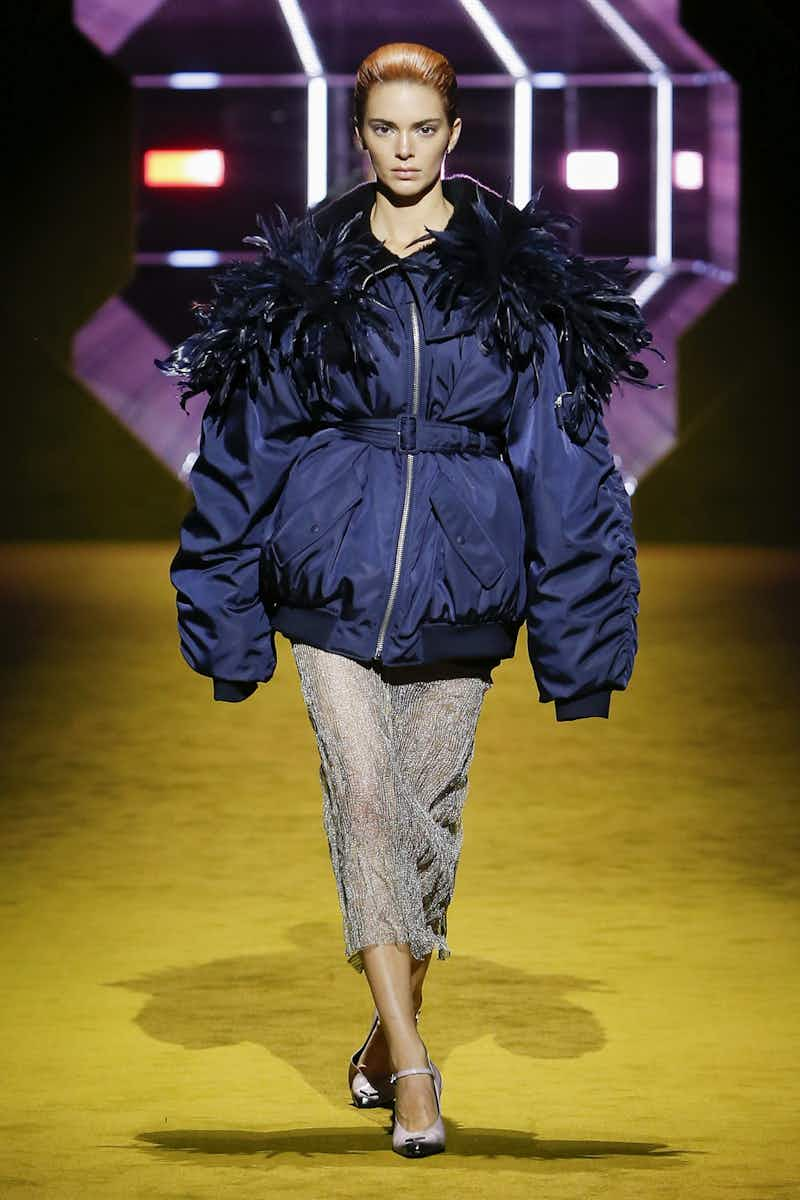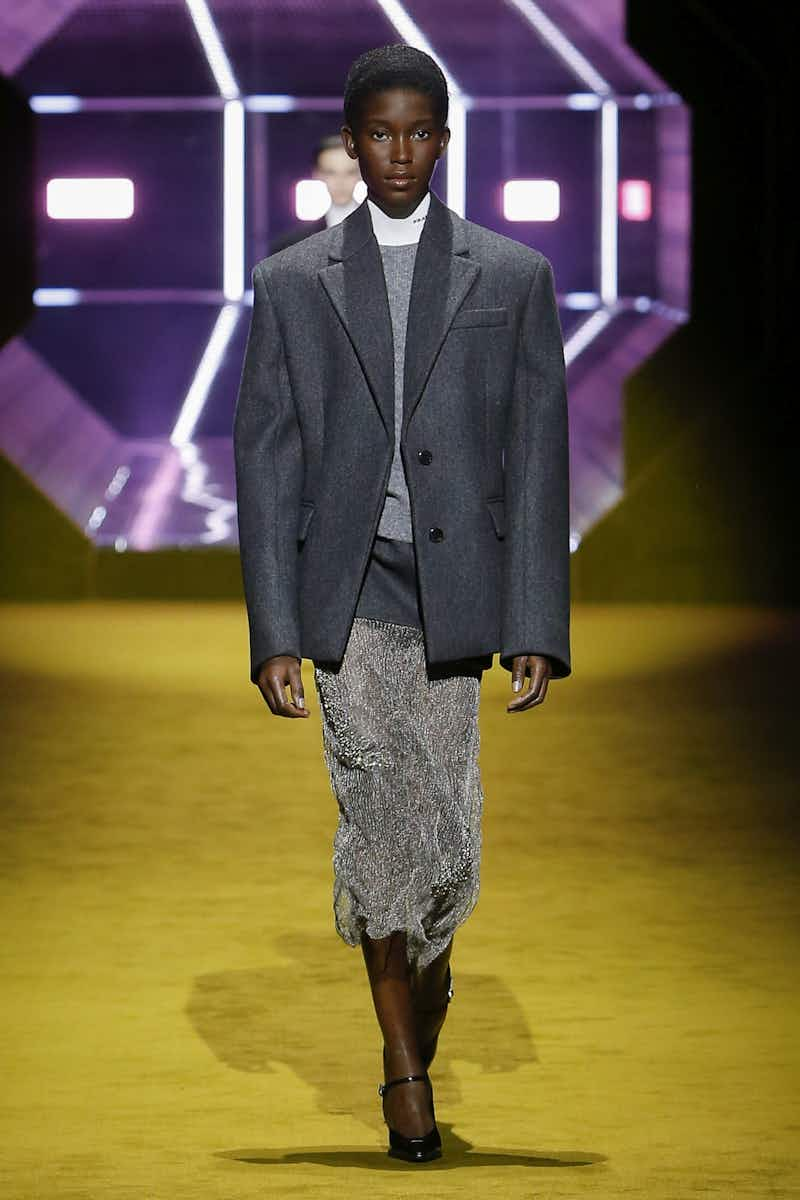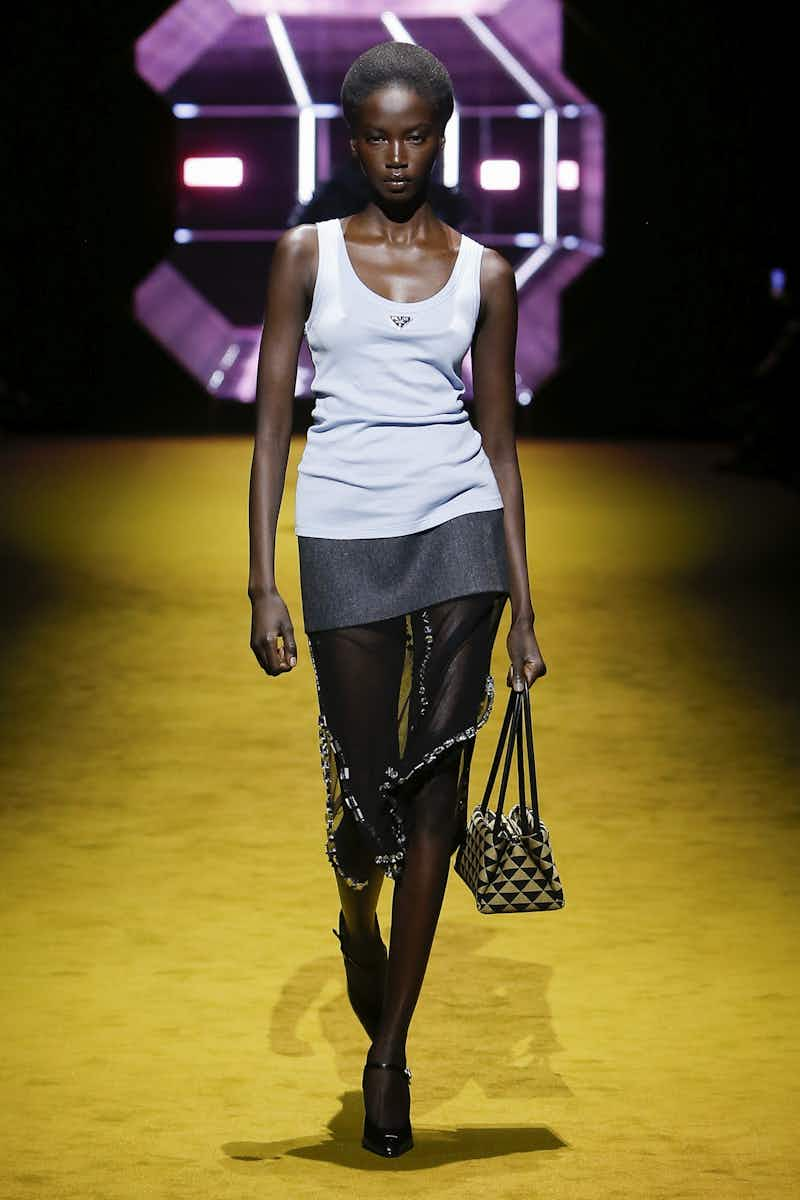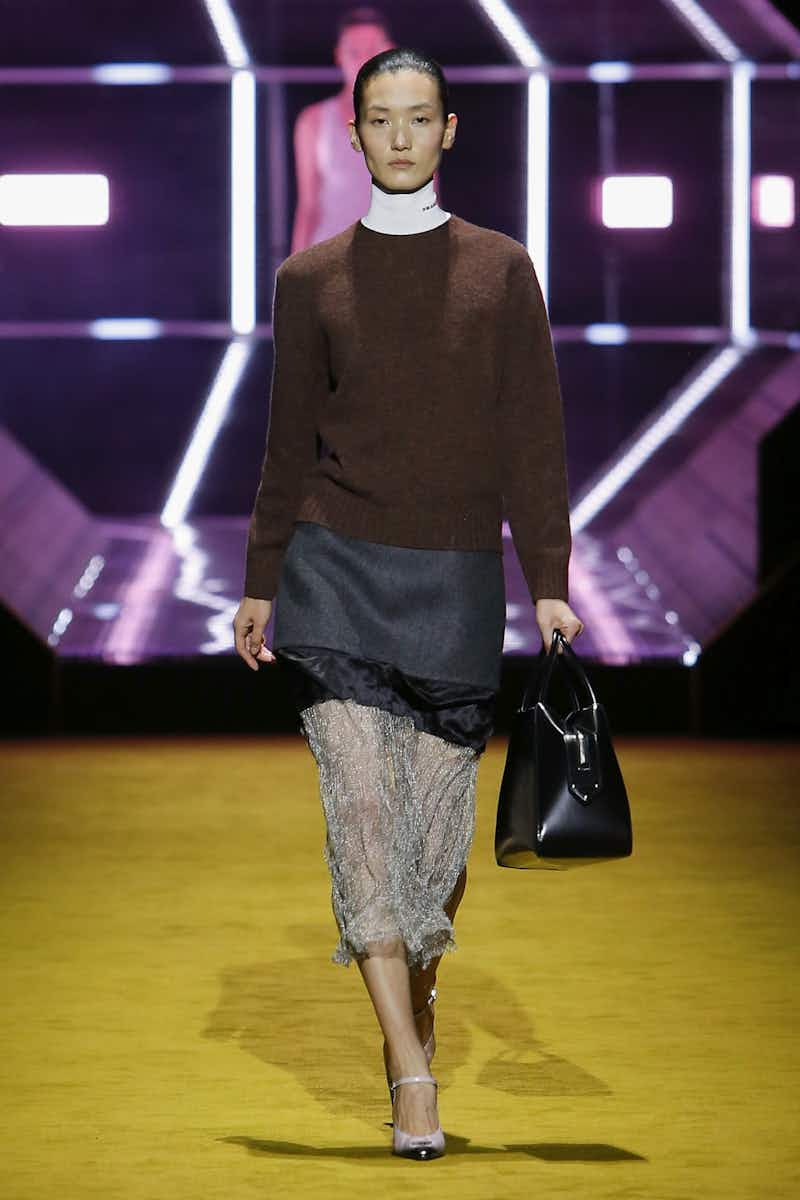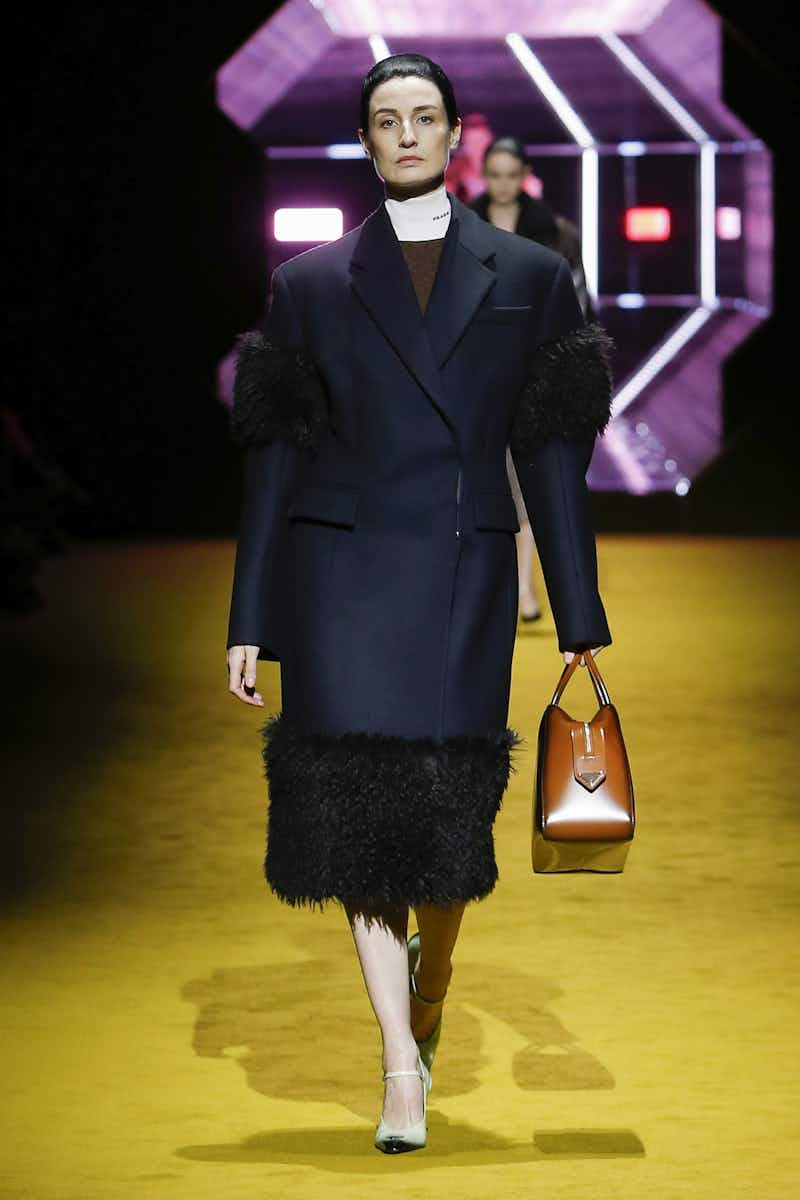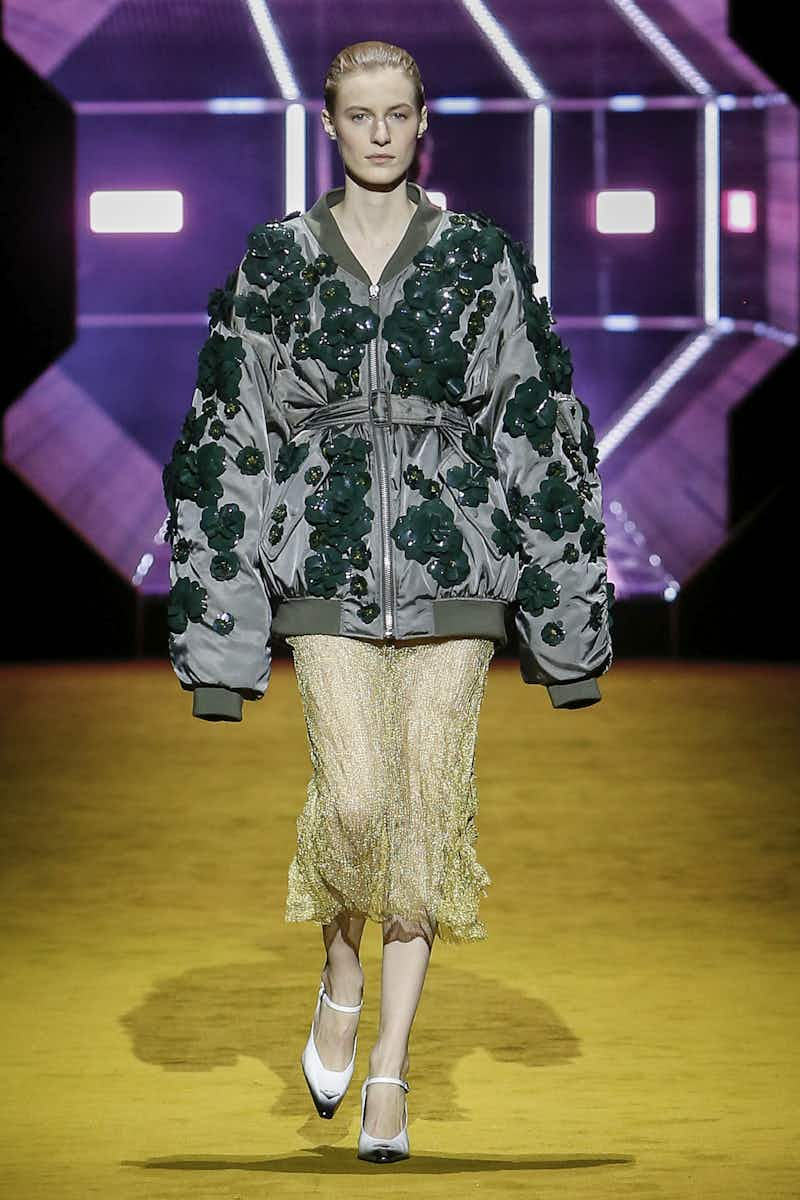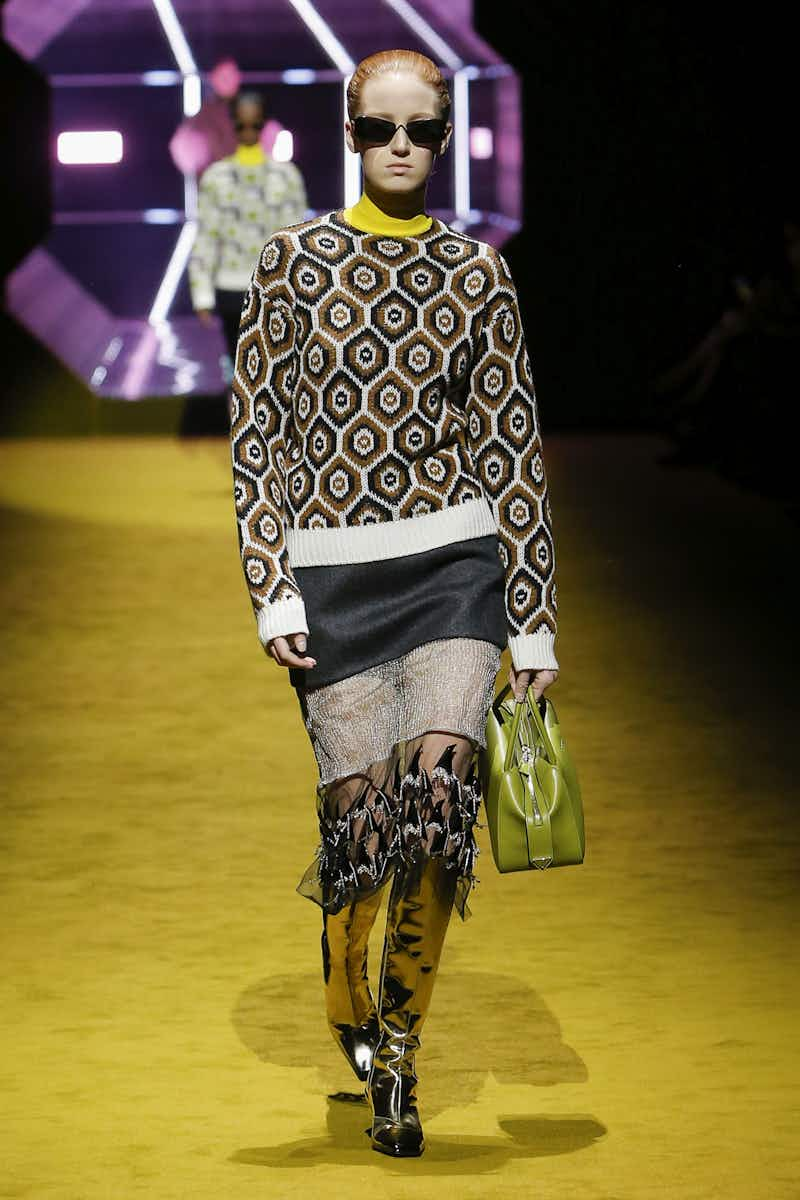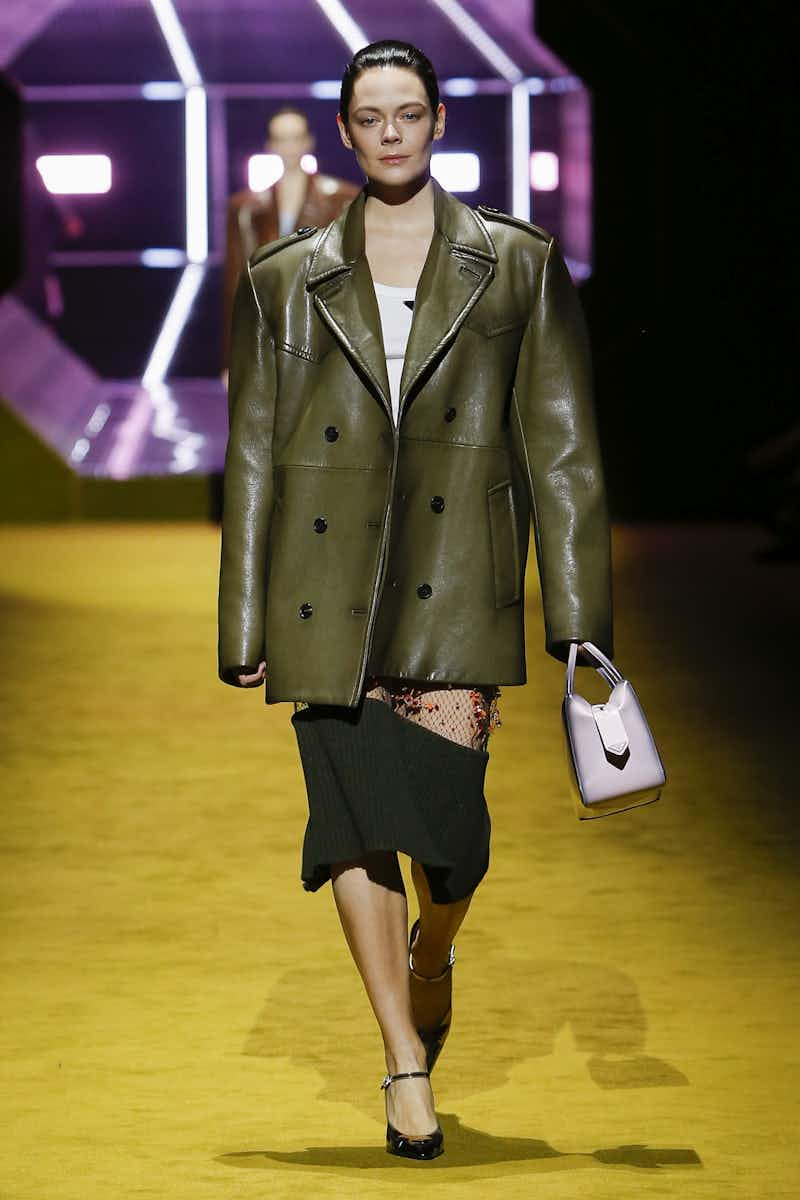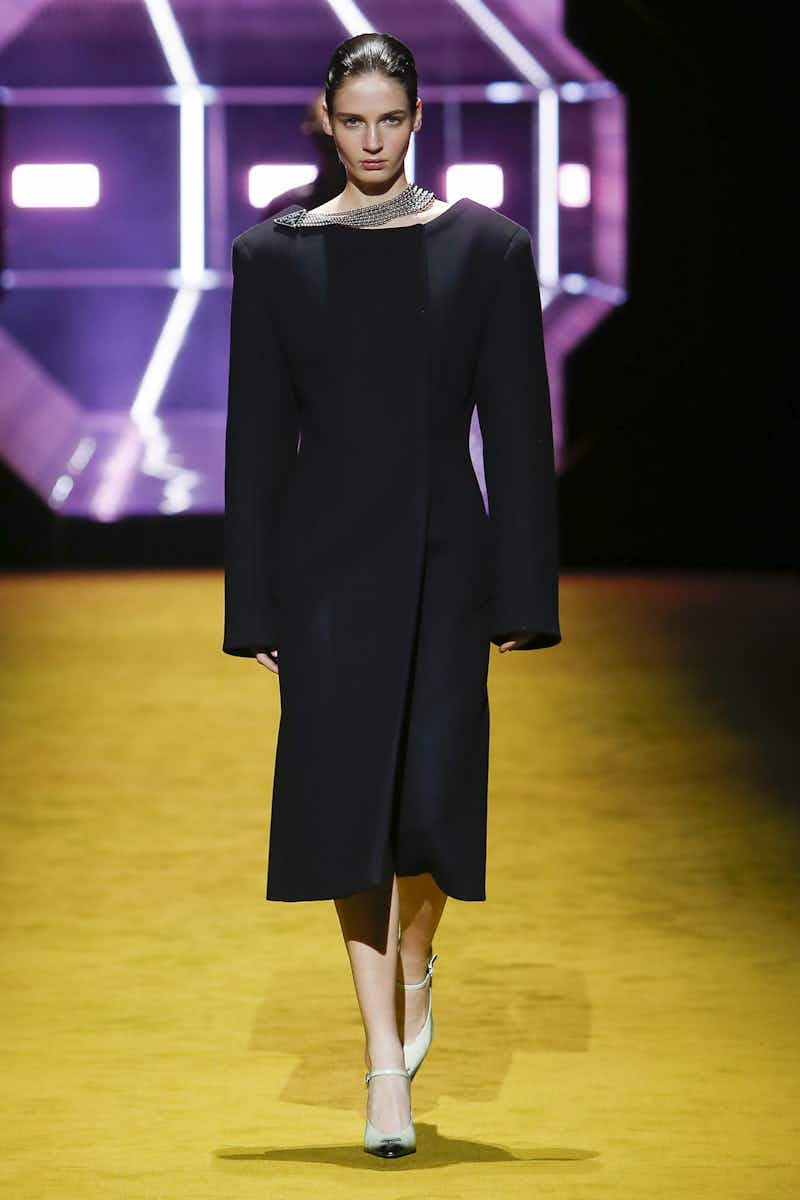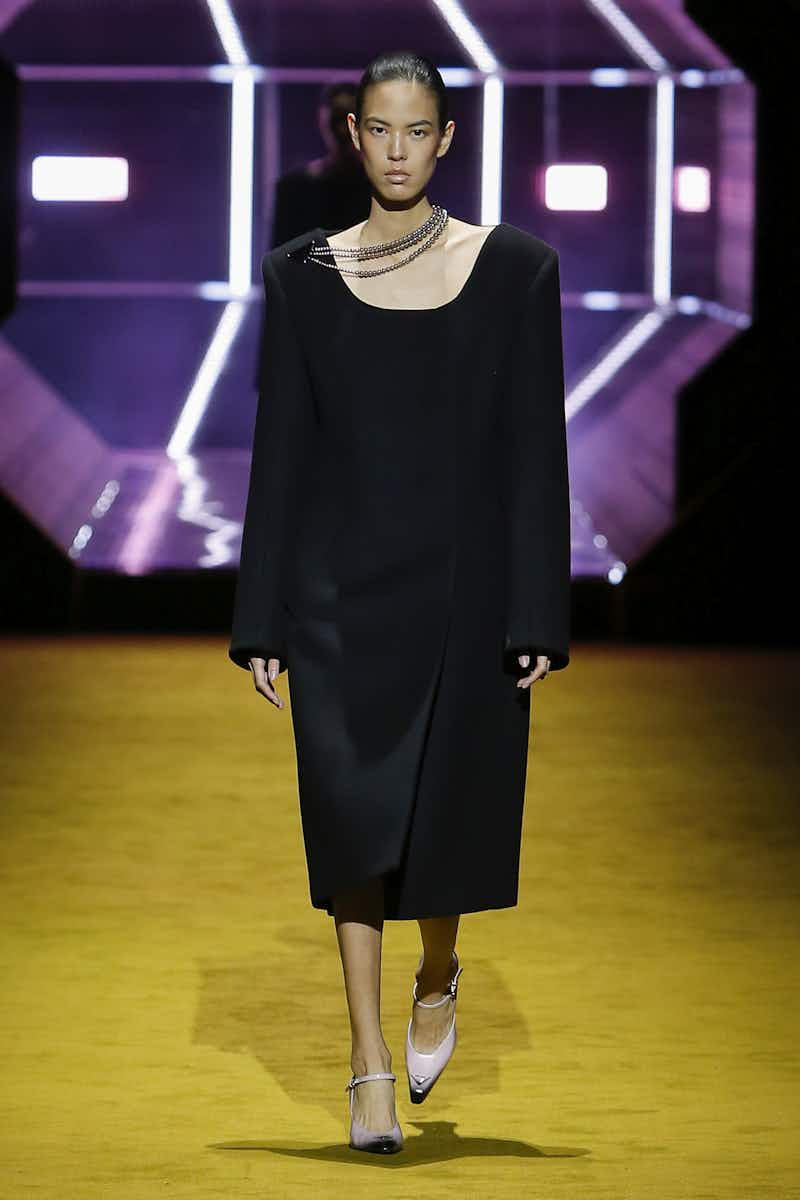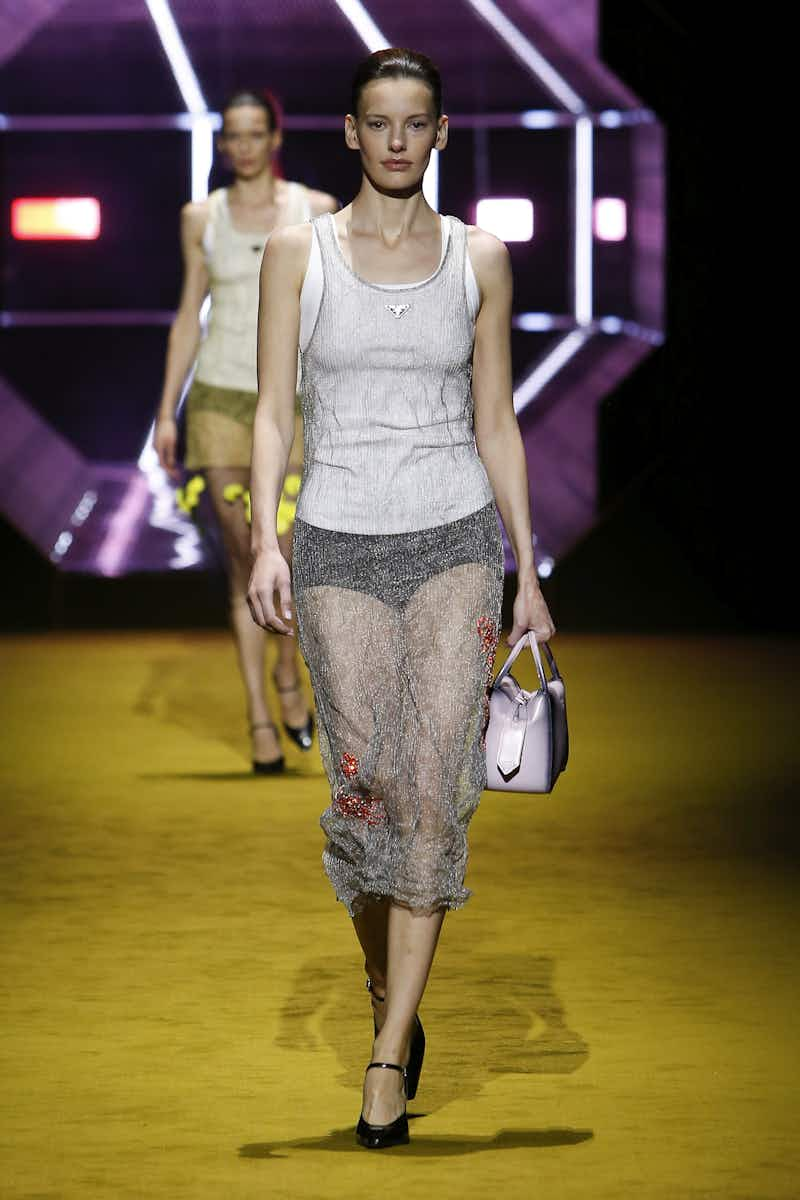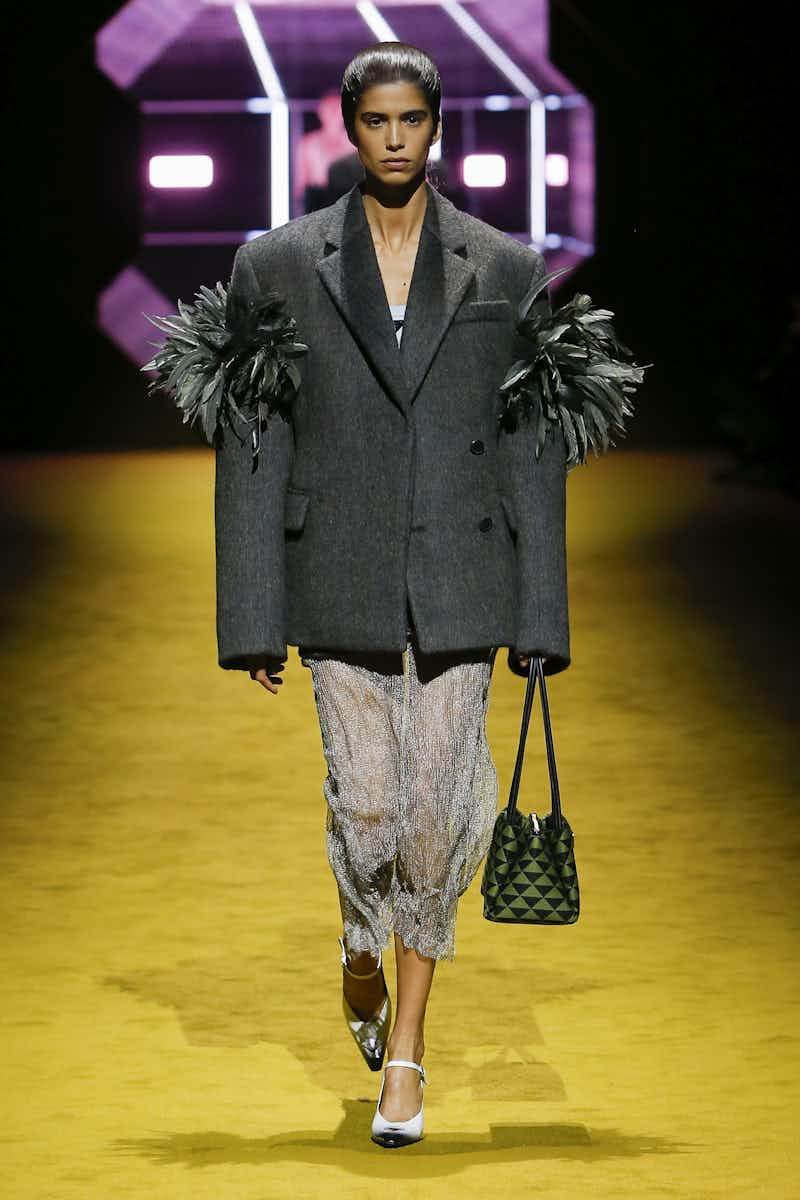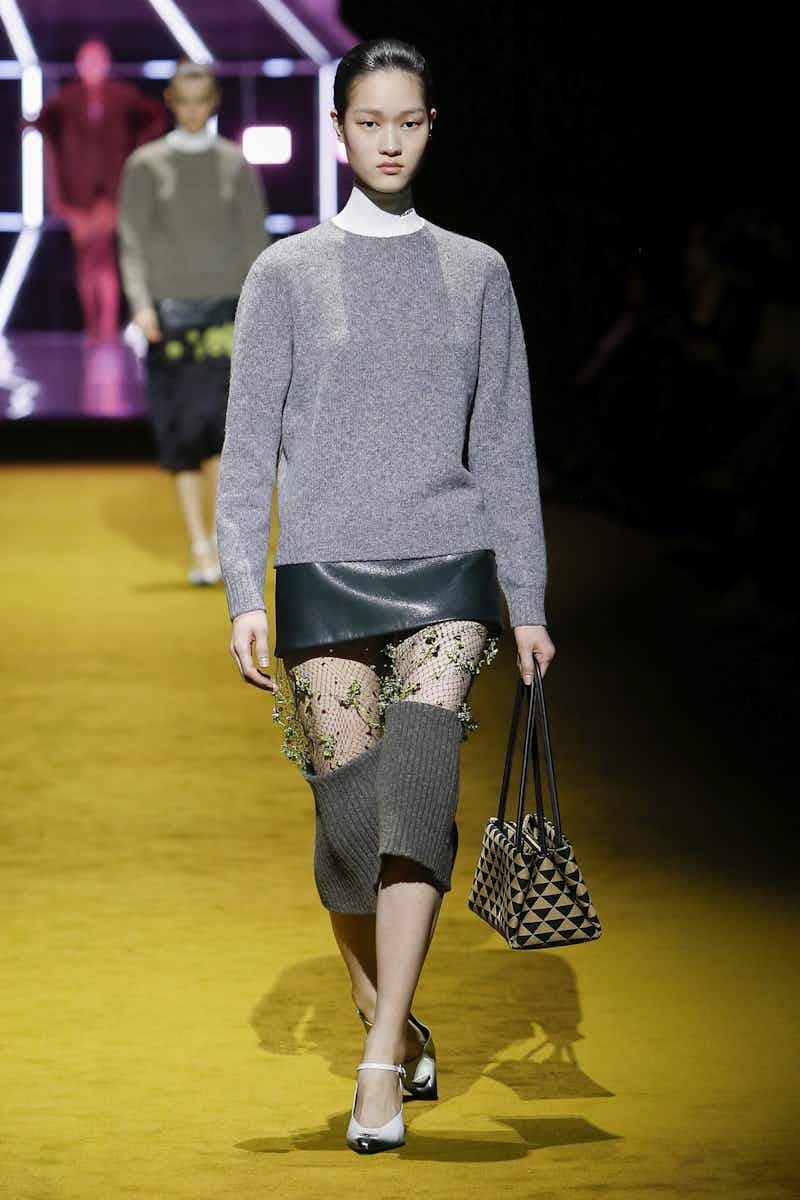 It's been a good year for Glenn Martens – and we're only in February. Last month he delivered two smash hits: his trompe l'oeil nude prints at Y/​Project and voluminous gowns in collaboration with Jean Paul Gaultier (think couture cabbage-style swathes of taffeta and dresses spiked with plastic coral) both indicative of a designer who's unafraid of cutting, splicing and reinventing his references to properly arresting effect. Now, at Diesel, he's done it again. It's exciting to have a signature house style or fabric to really go to town with, especially when it's something as malleable as denim. Staged in the midst of giant inflatable babes decked out in skin-tight jeans and the shortest of short shorts, Martens sent his models down the runway in huge, shaggy coats made of hand-shredded denim and mini-skirts held together by giant buckles that recalled the noughties not only in style but also in the collective memory of a generation of young women being told: ​"you're not going out in that, it's basically a belt." Like other designers currently dabbling in this iteration of Y2K sex appeal, the results feel rather tongue-in-cheek – almost a parody of sexiness, albeit complemented by refined levels of craftsmanship and big, ambitious silhouettes.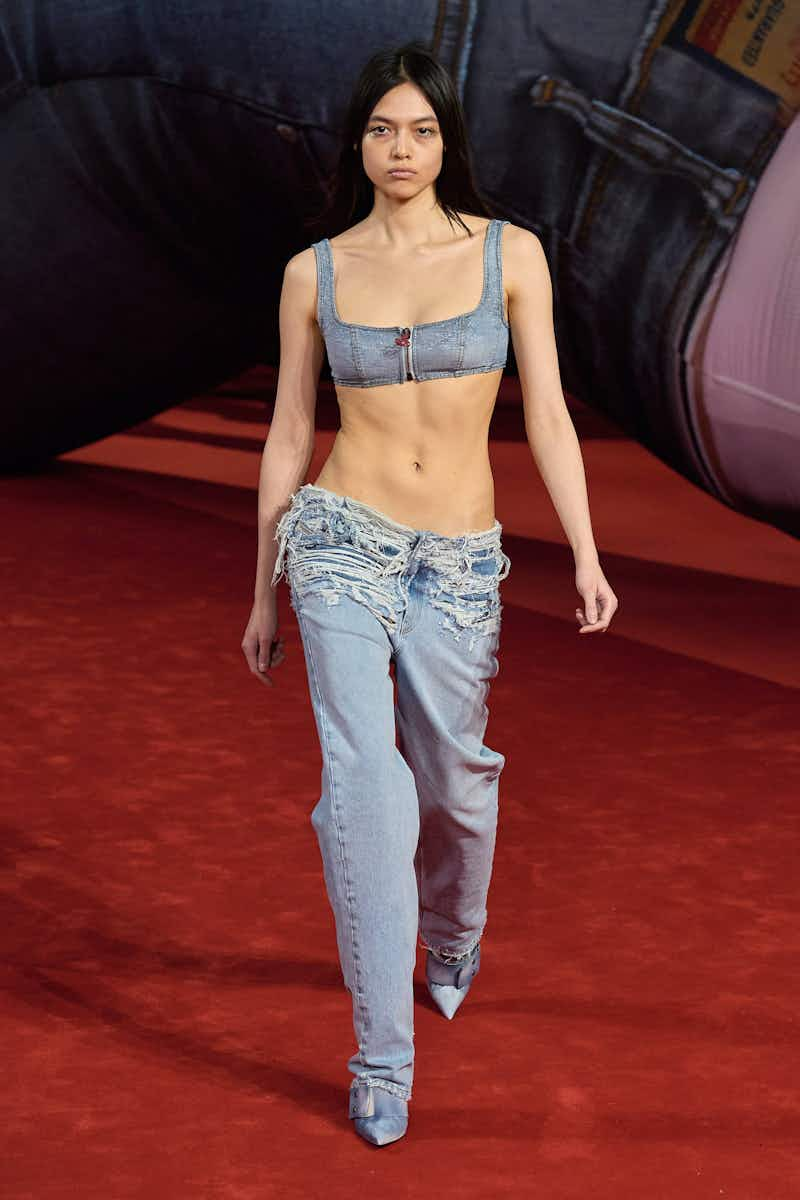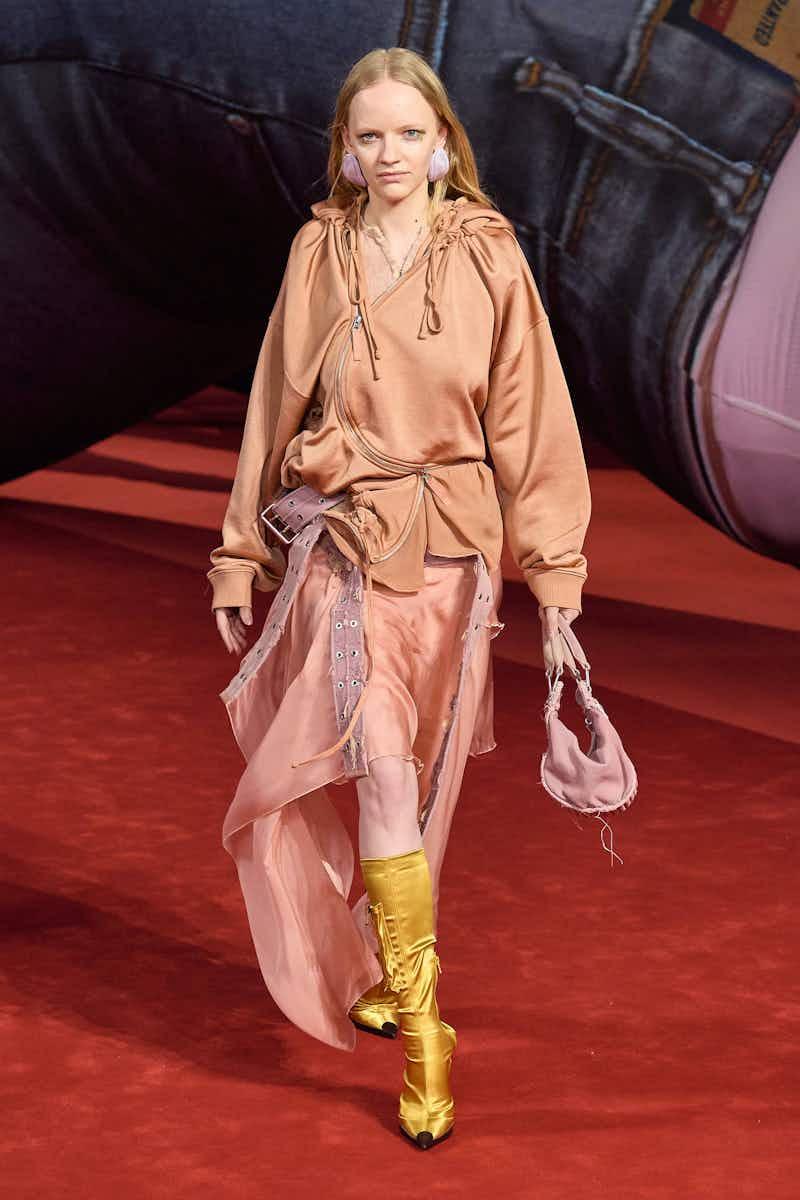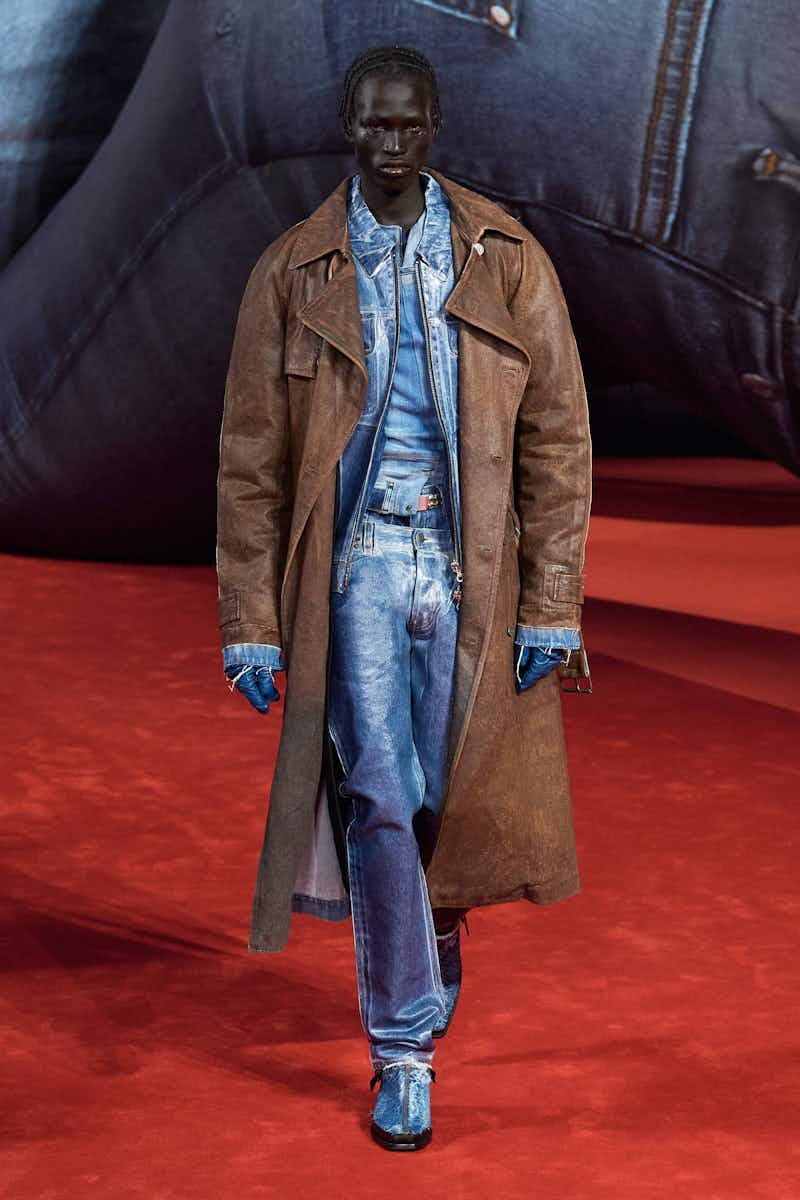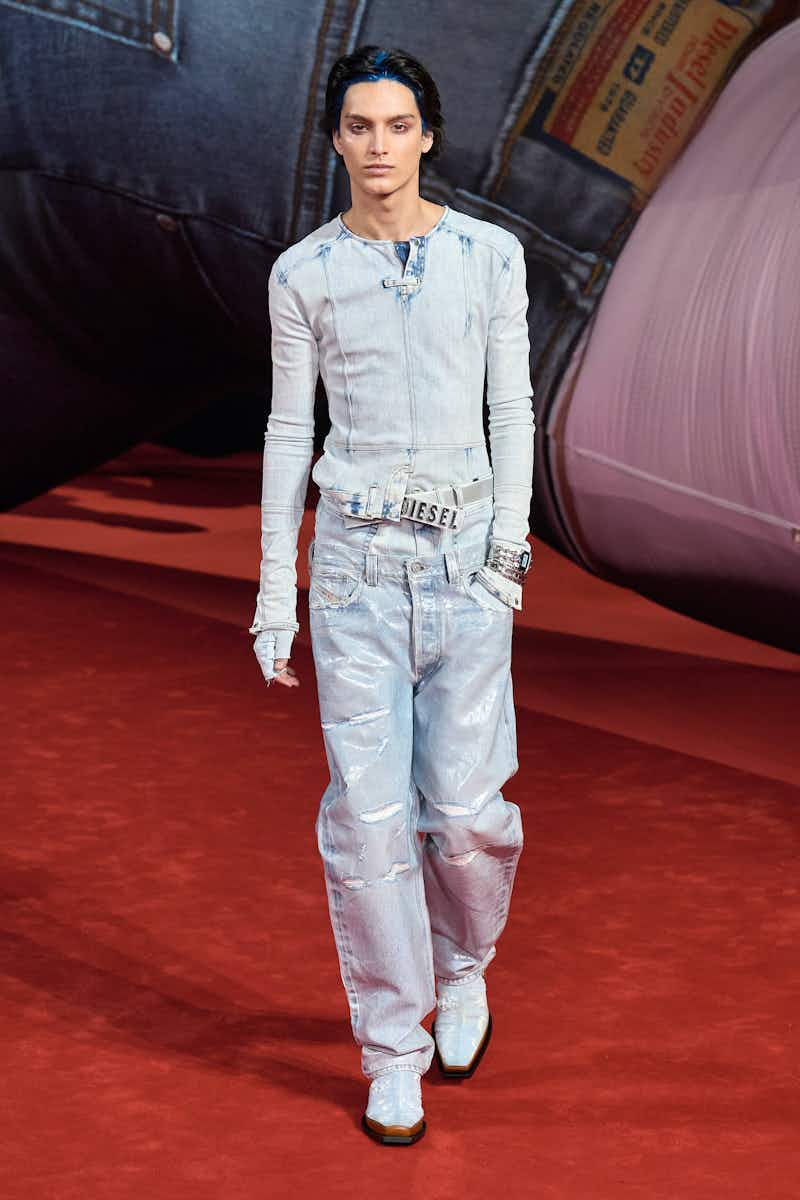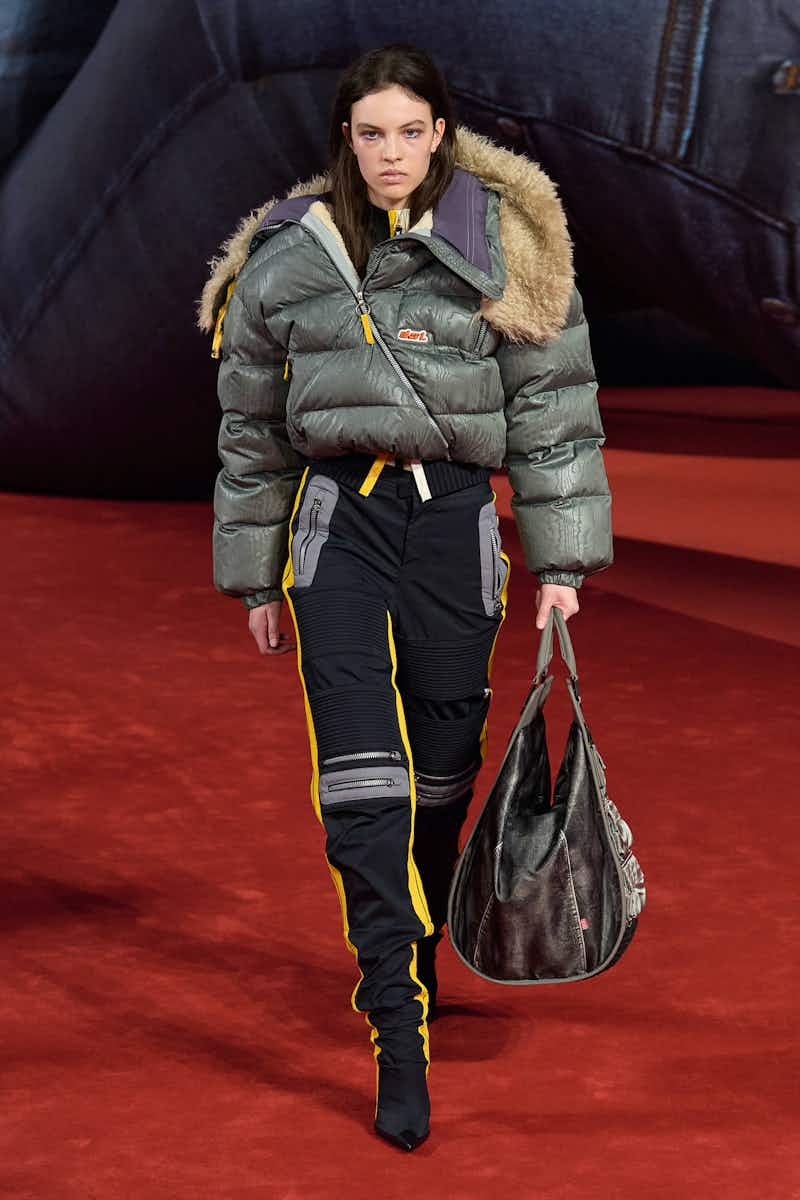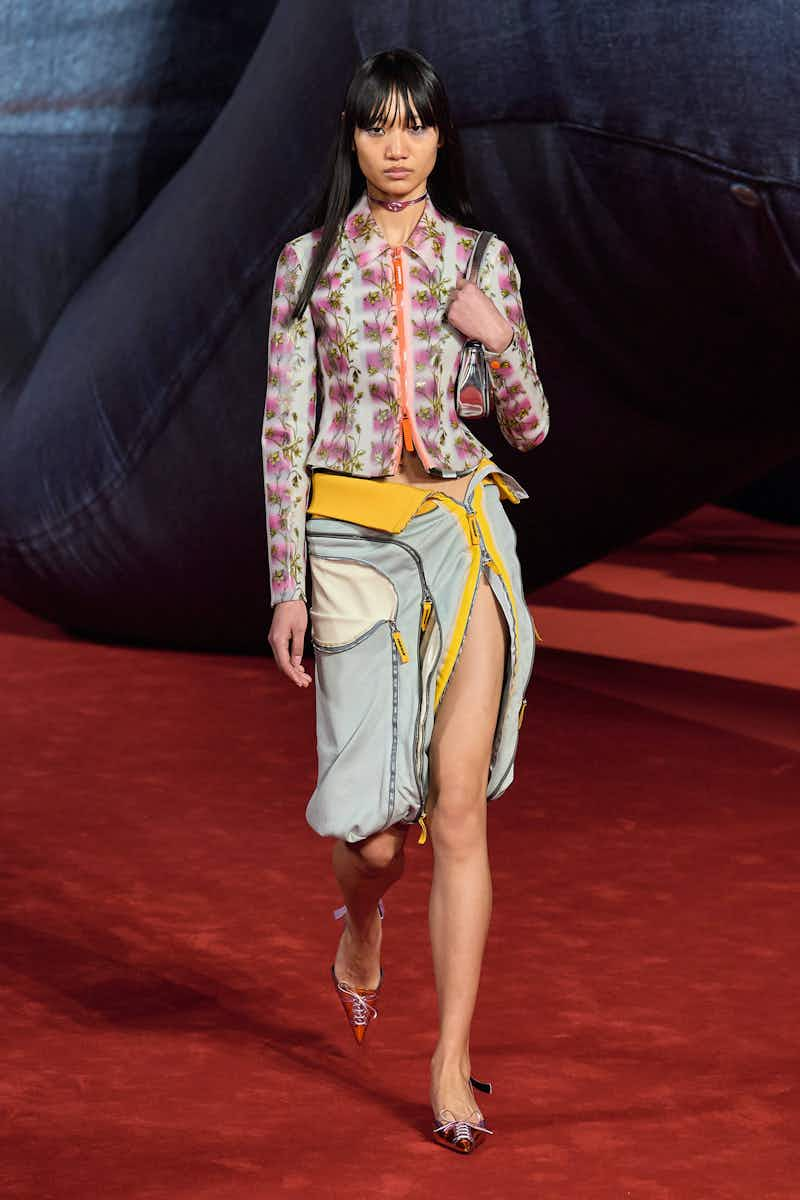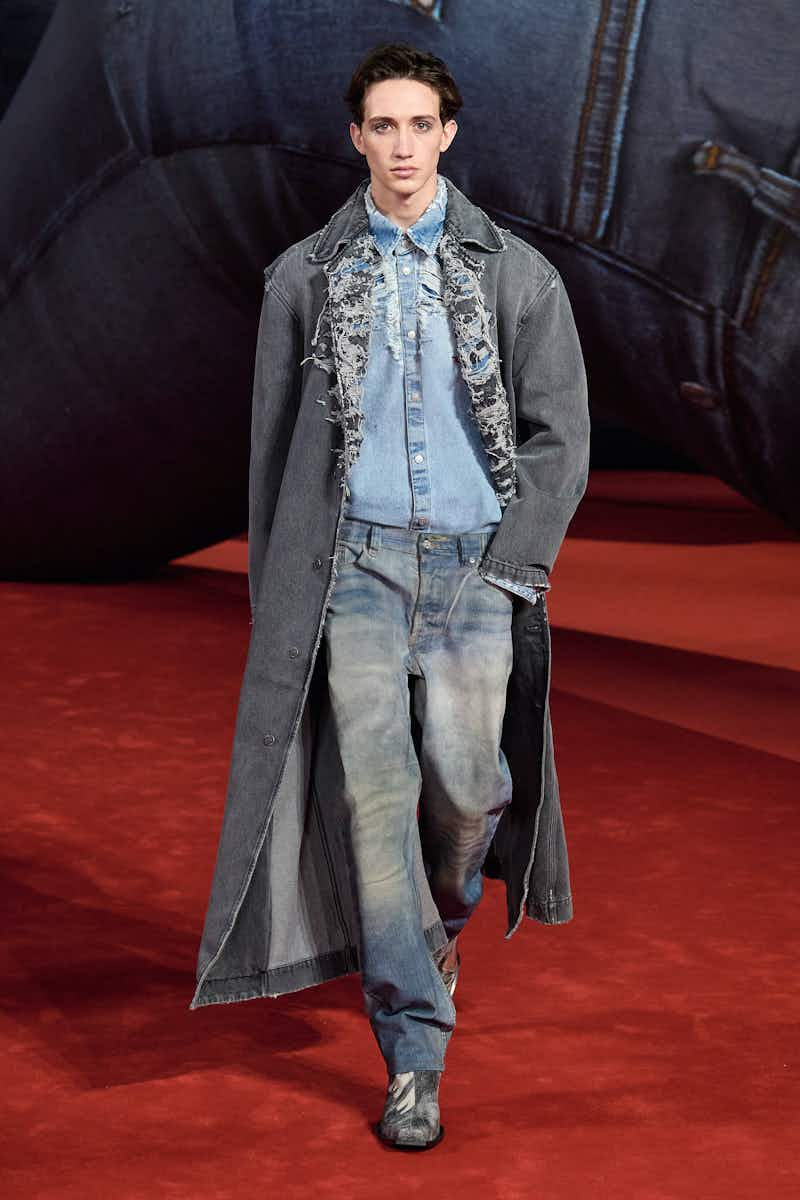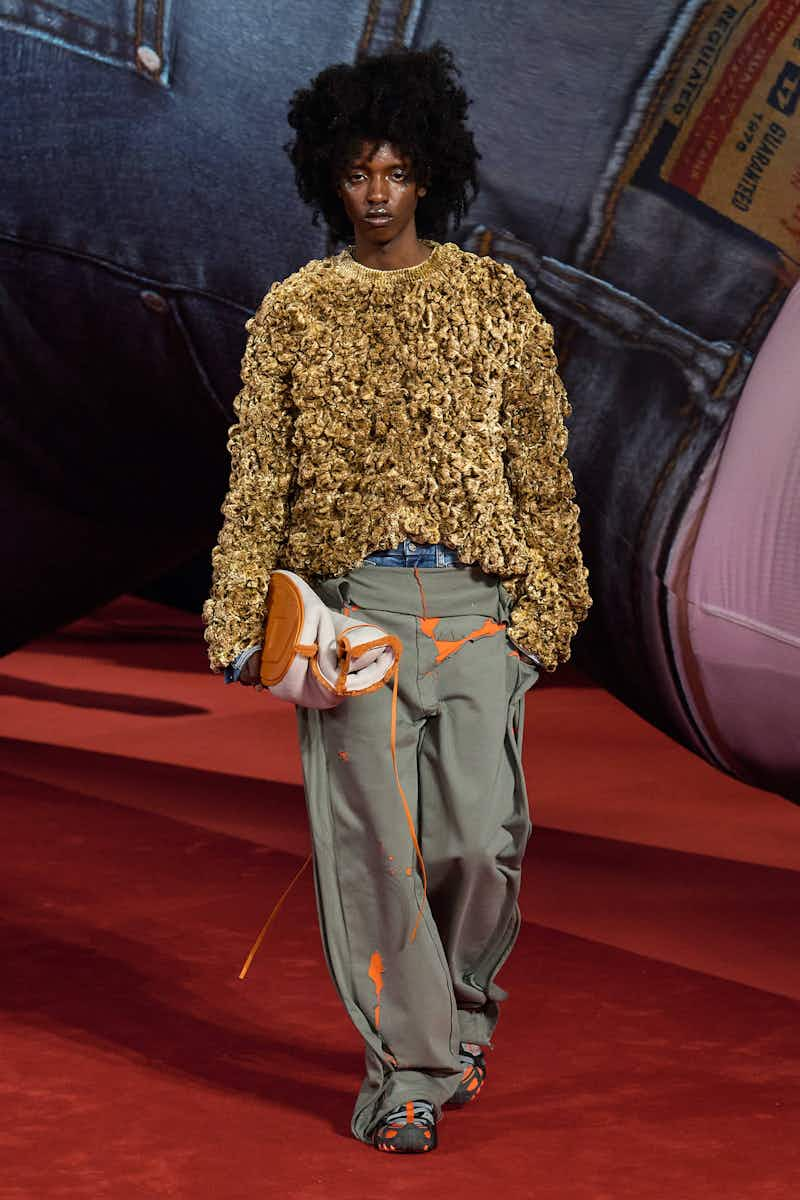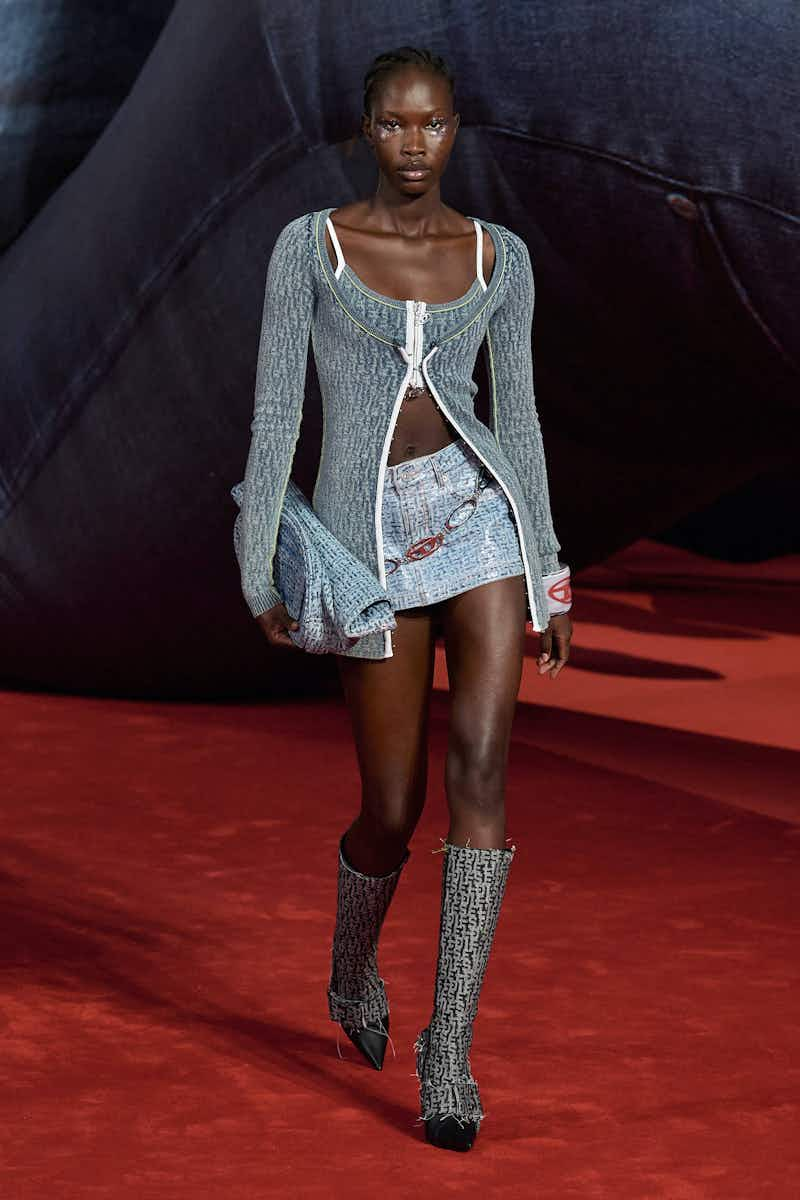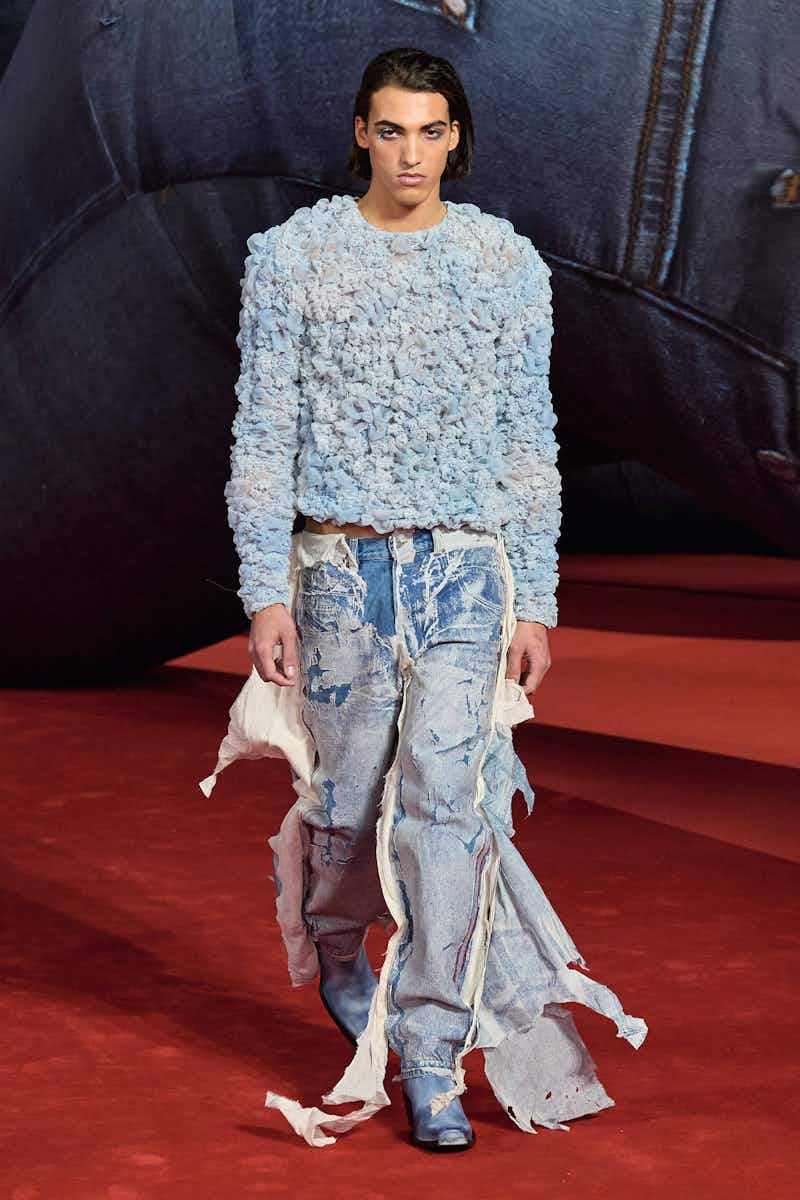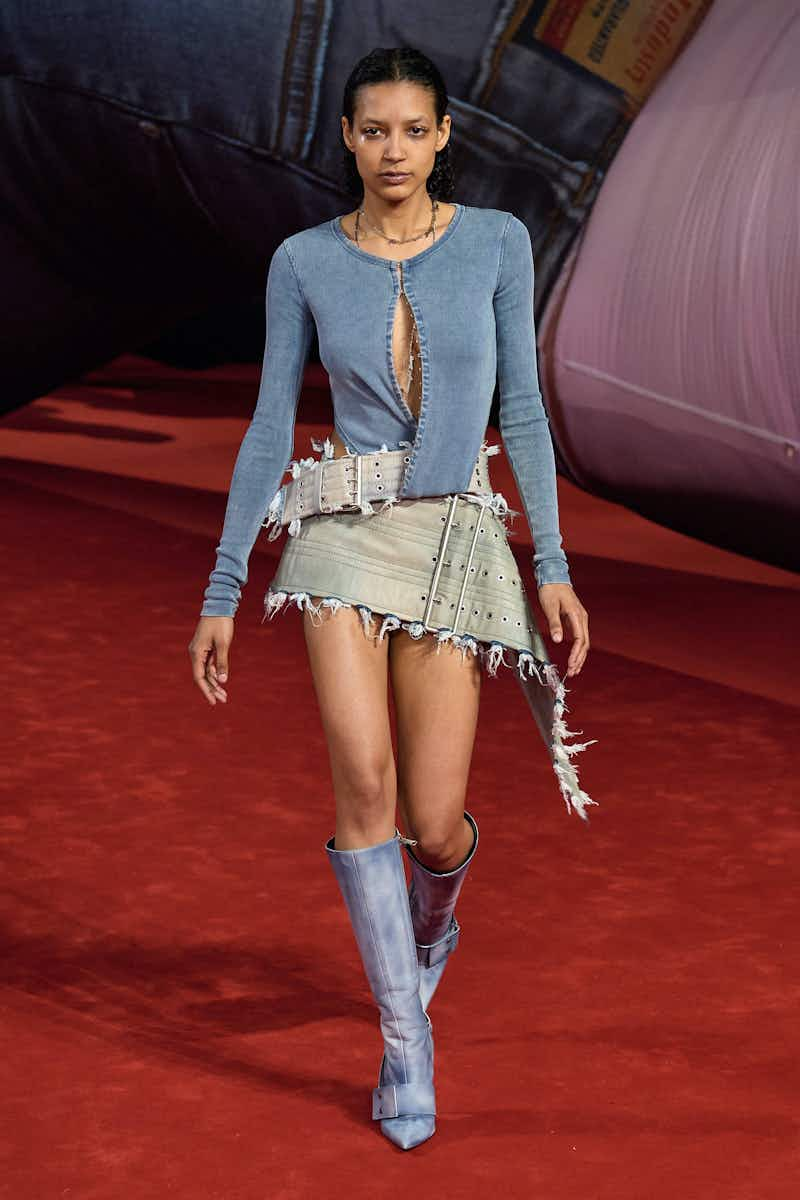 When you have such a long history behind you as the Fendi archive, how much should you lean on it? This season Kim Jones chose to embrace the past in full. This backwards-looking focus came from a moment of happenstance: Delfina Delettrez Fendi walking into the headquarters in a blouse from the Spring Summer 1986 collection, pilfered from her mother's wardrobe. This sent Jones on an odyssey through Karl Lagerfeld's extraordinarily long tenure at the label, which also saw him alighting on a collection from 2000 featuring little wispy tops and skirts that revealed about as much skin as they covered. This time around the chiffon came with extra flounce, and a deliciously ​'30s-ish palette of pale salmons and greens (with some welcome hits of red). Elsewhere the leather and velvety tweed felt very grown-up, while a repeat asymmetric design motif combining belt and pocket pulled the whole collection together. Half sweet, half sleek, here it felt like Jones' vision for the label had properly cohered.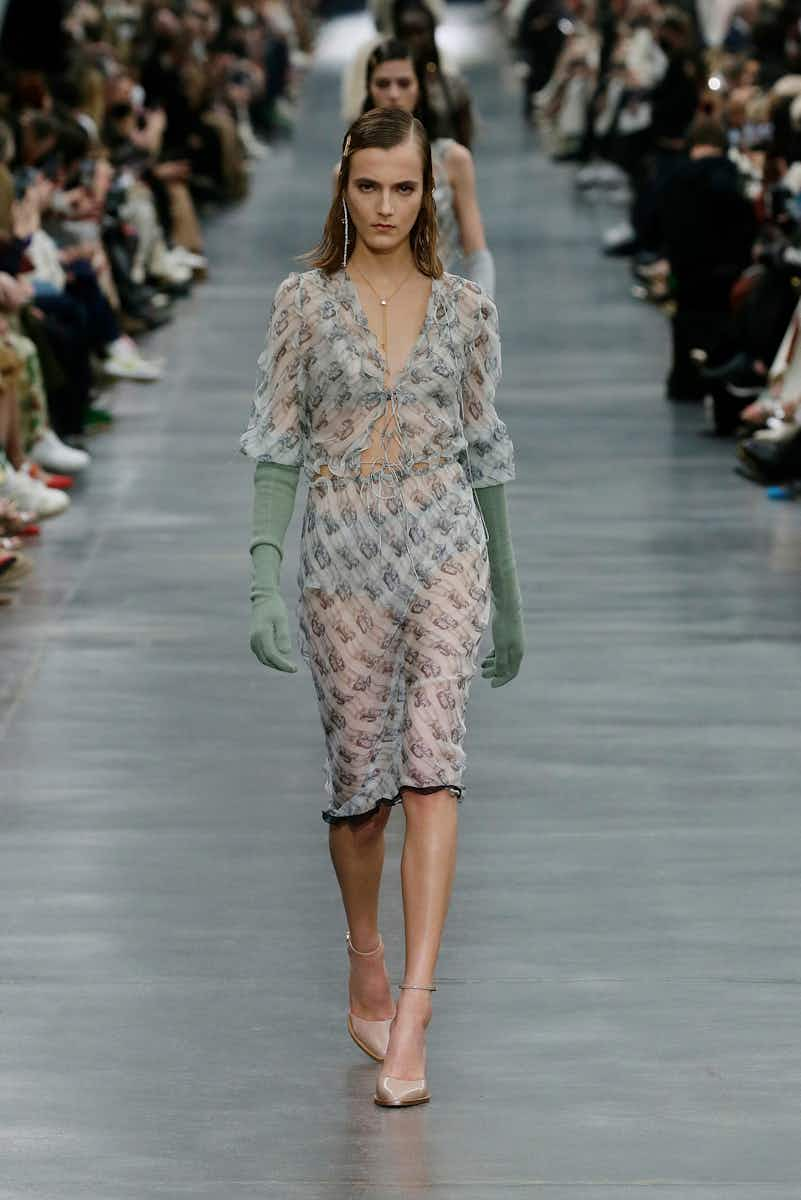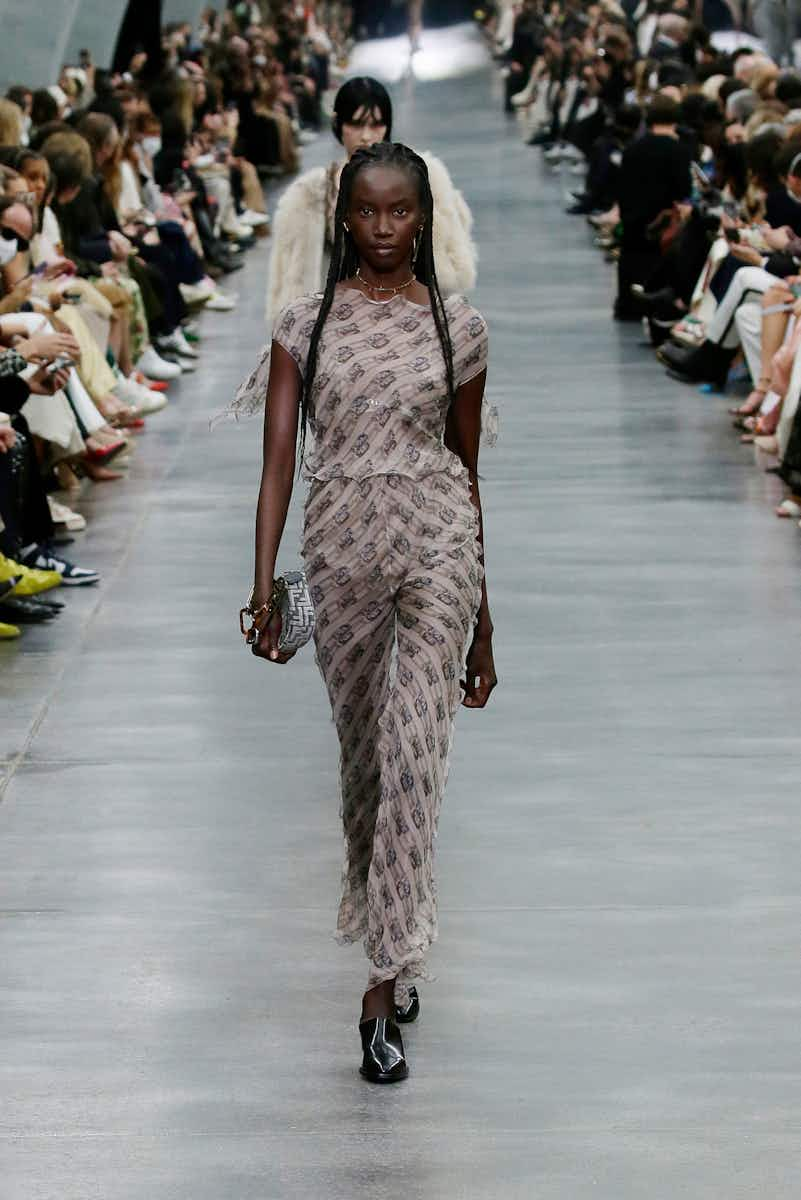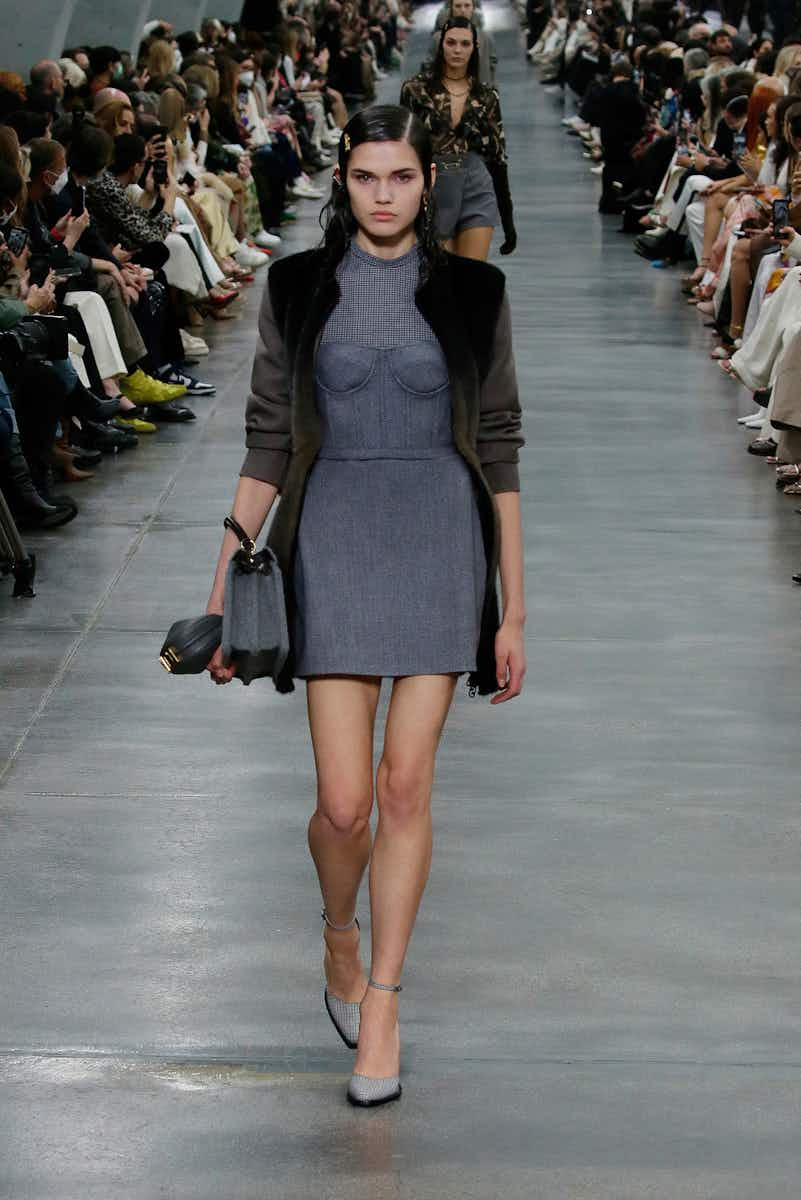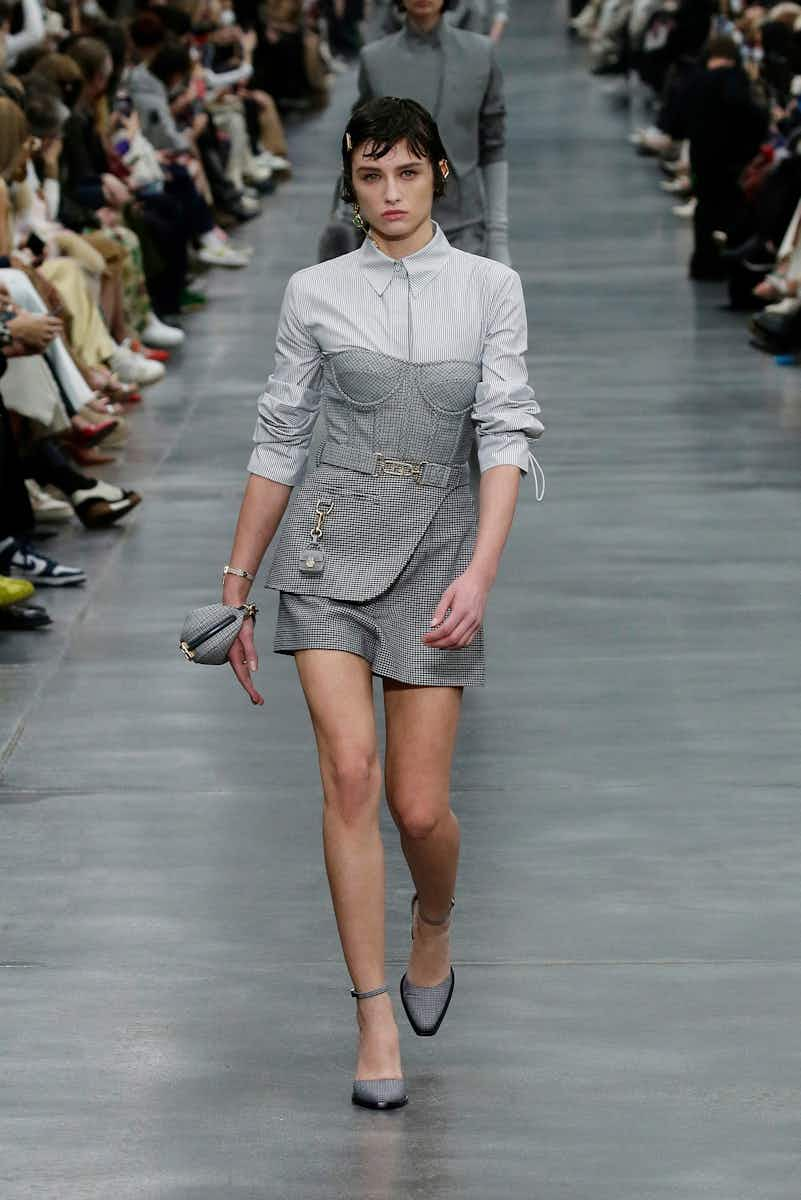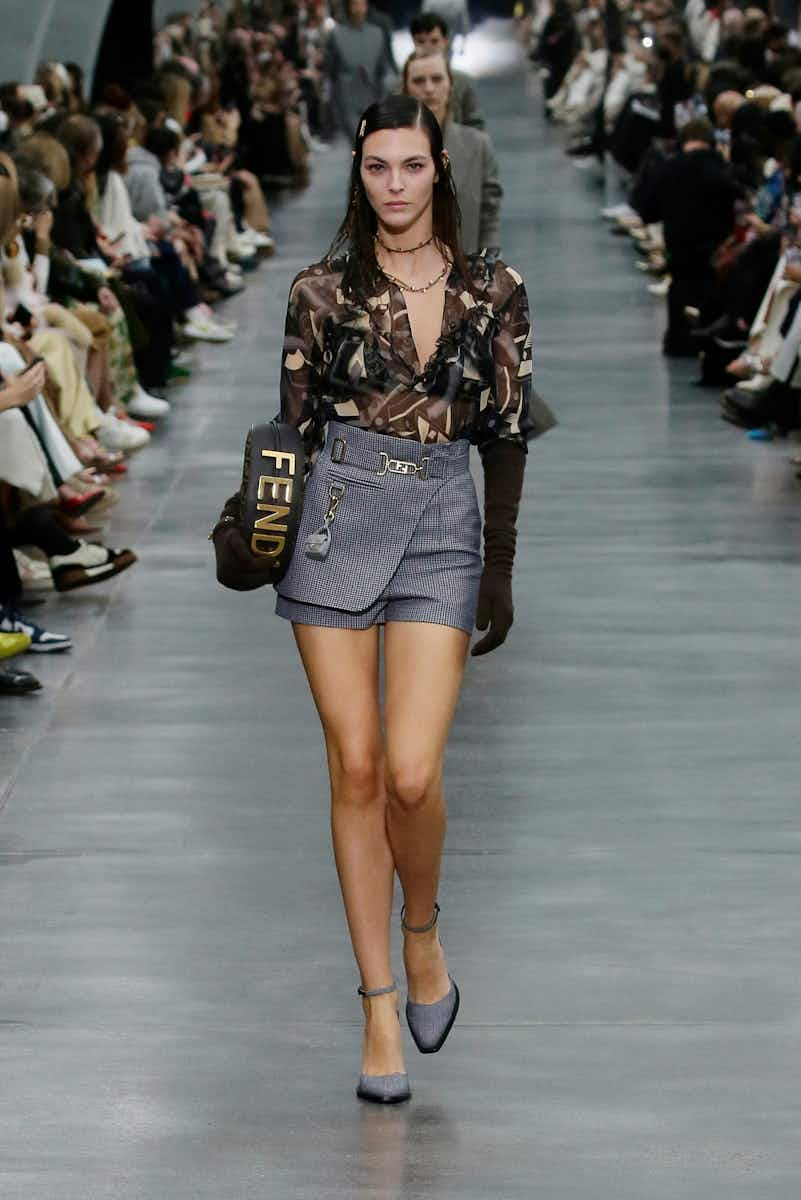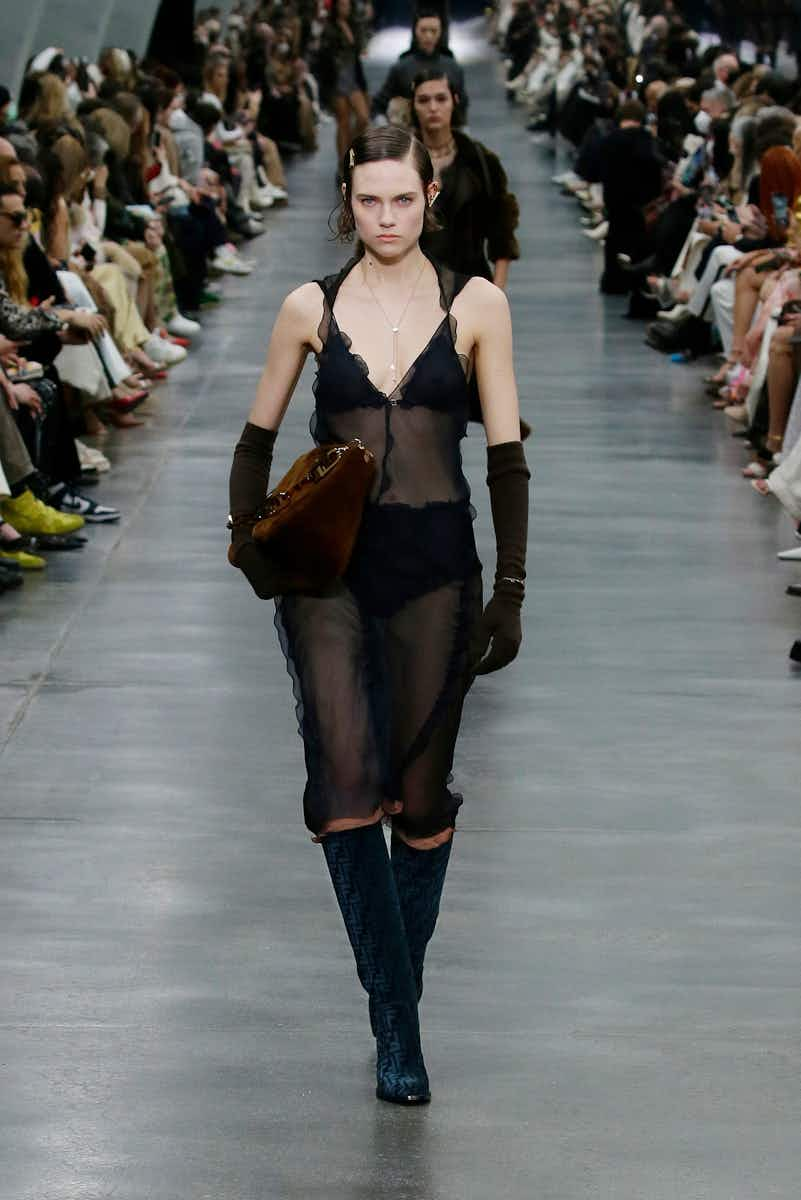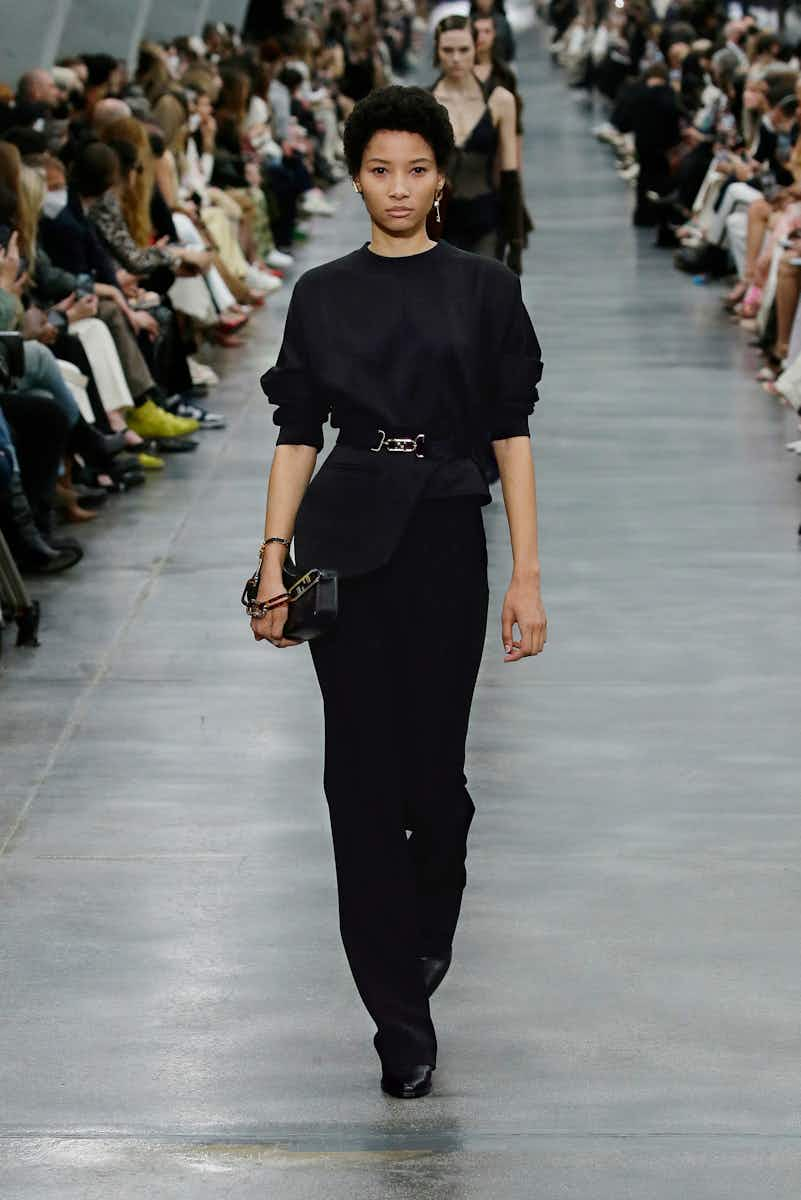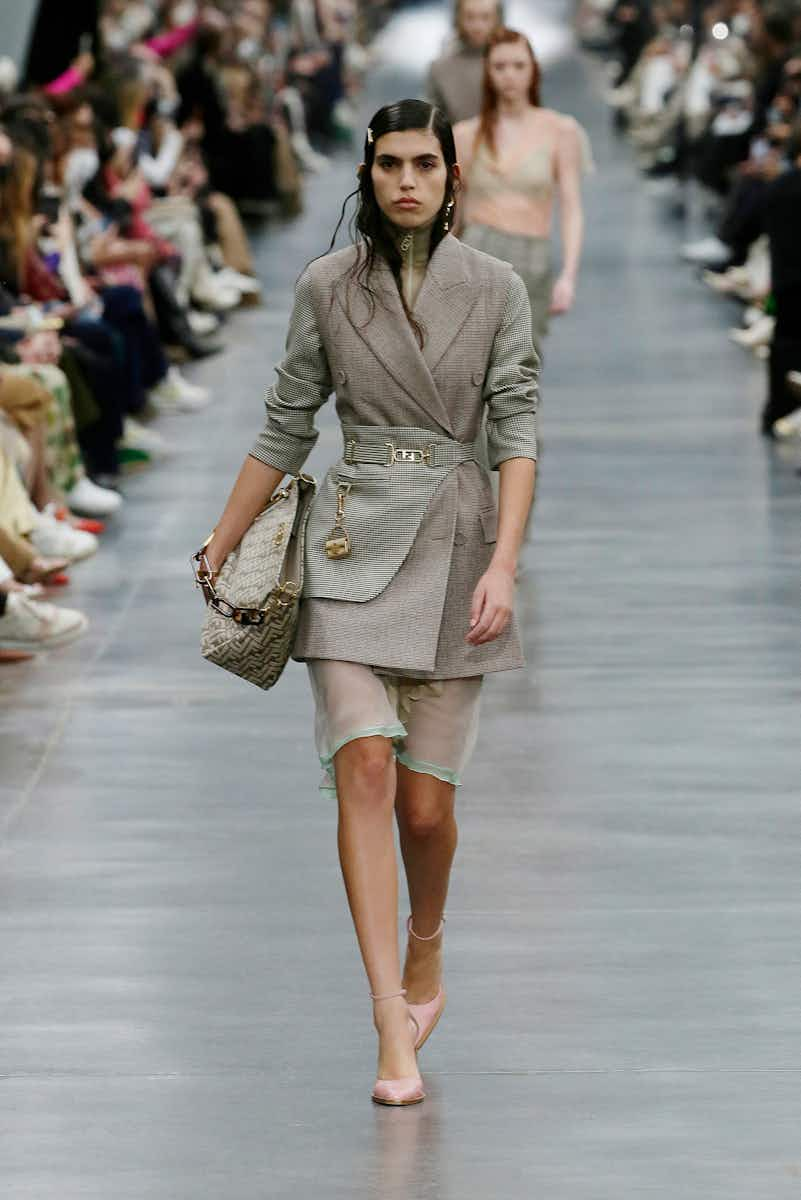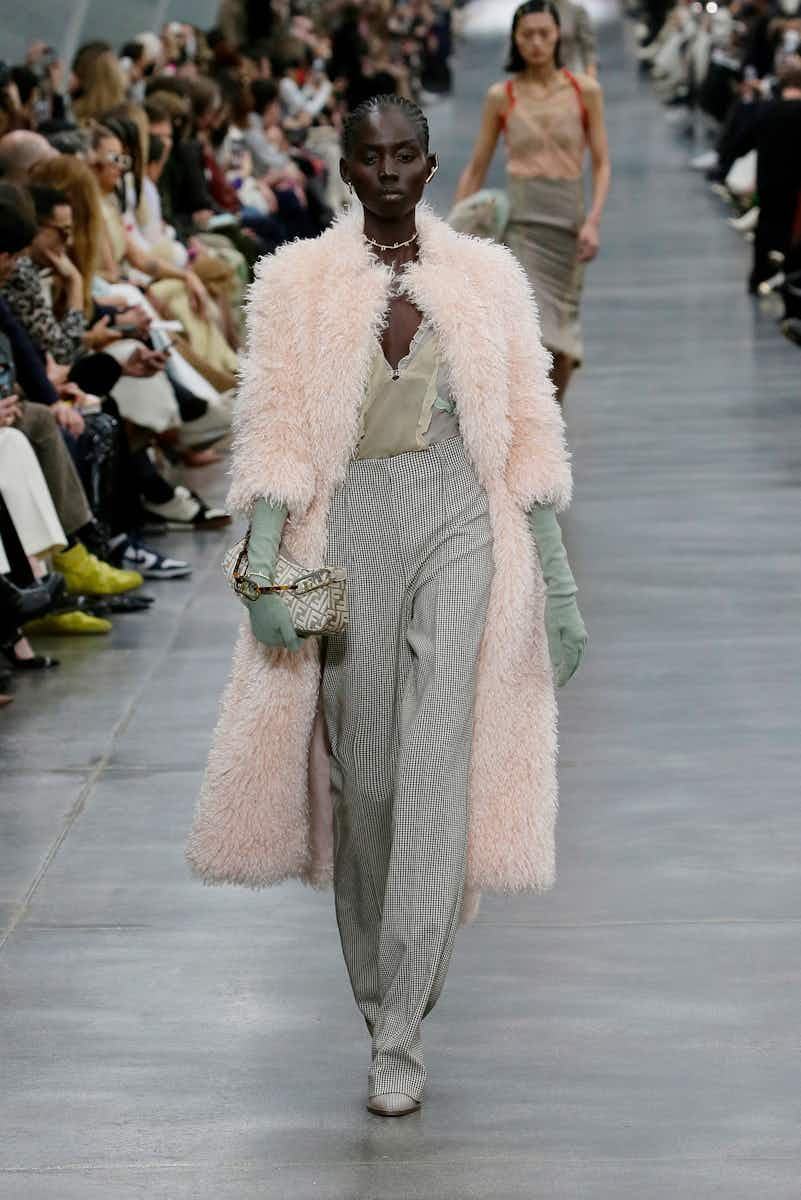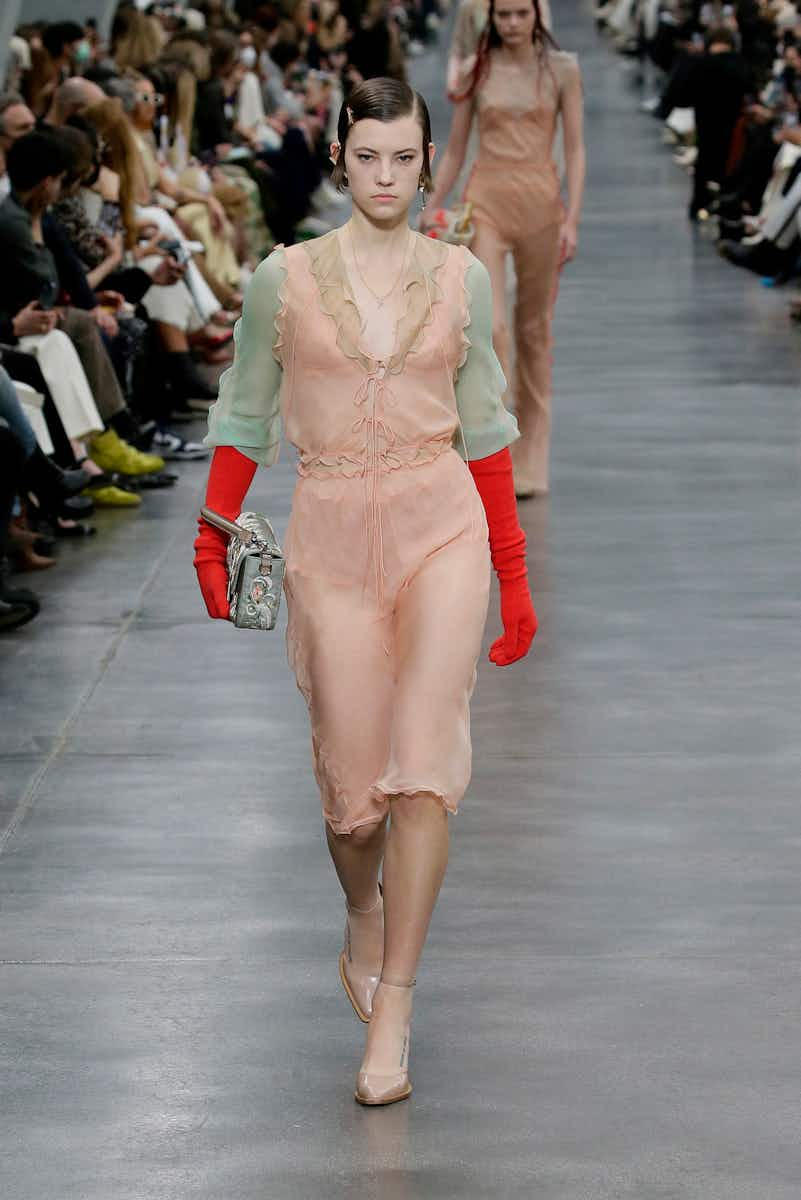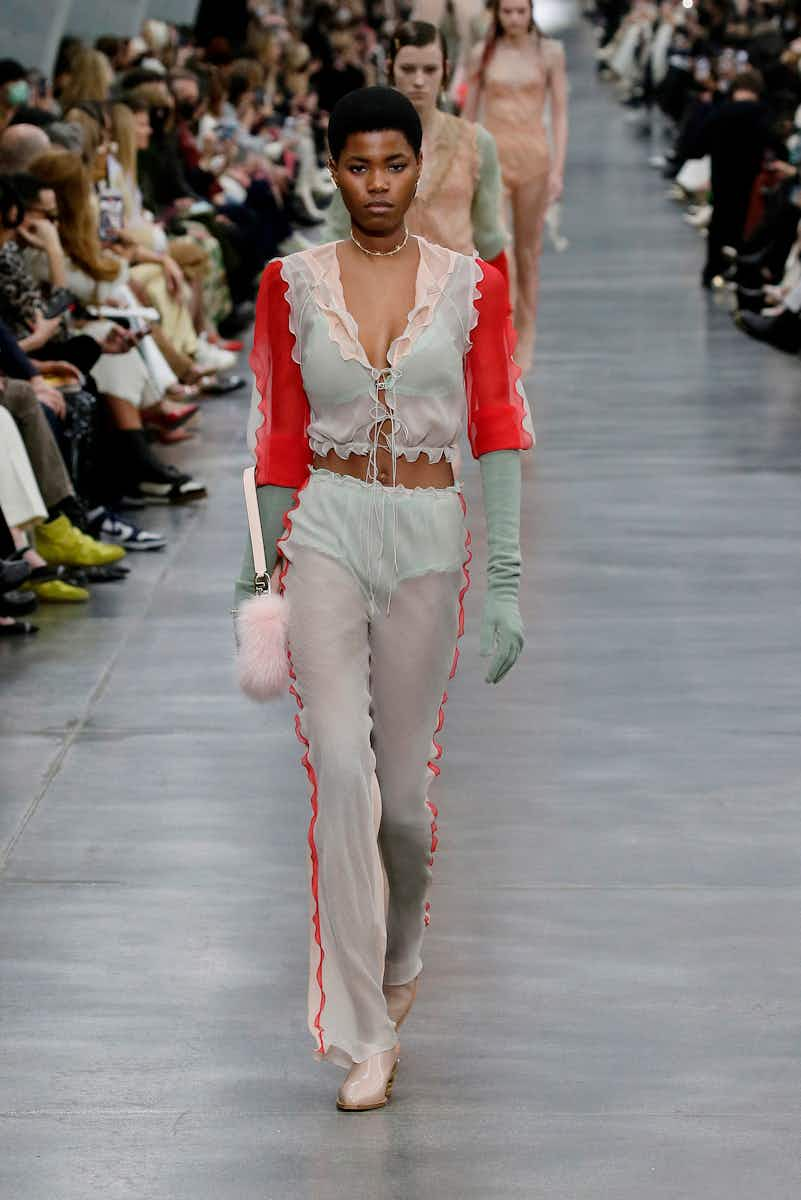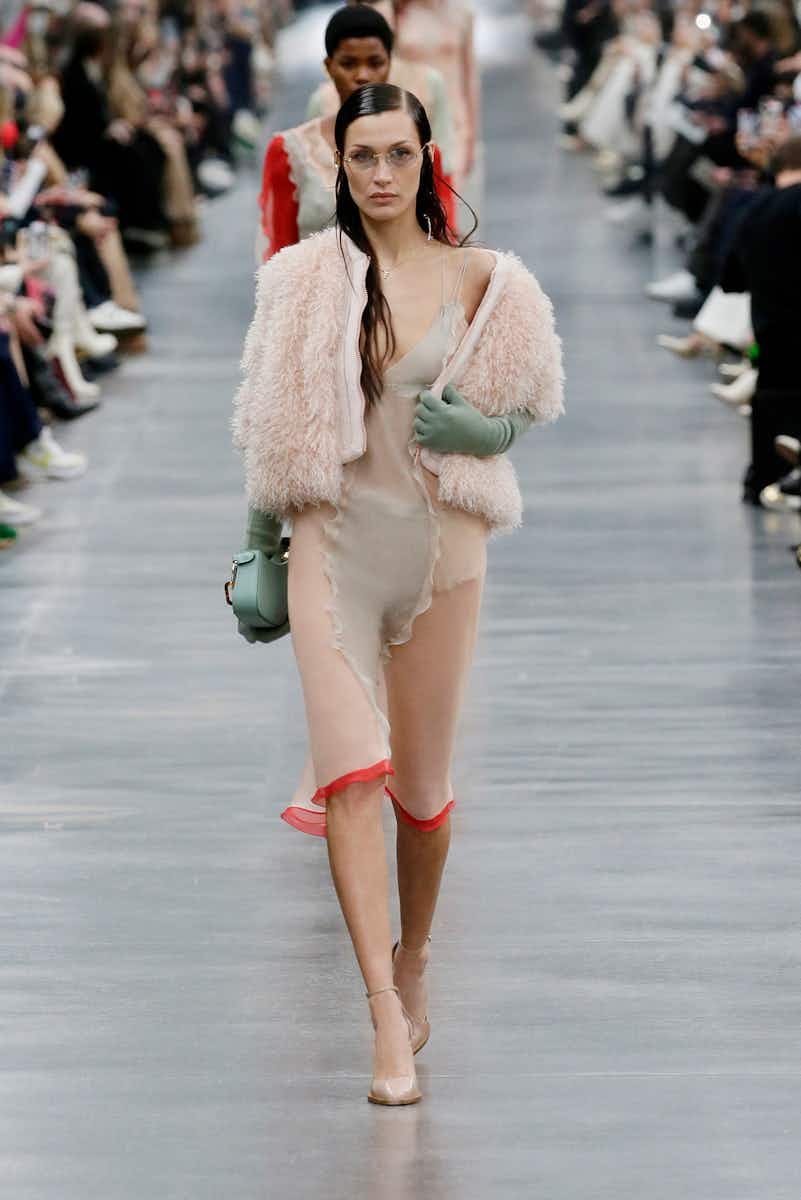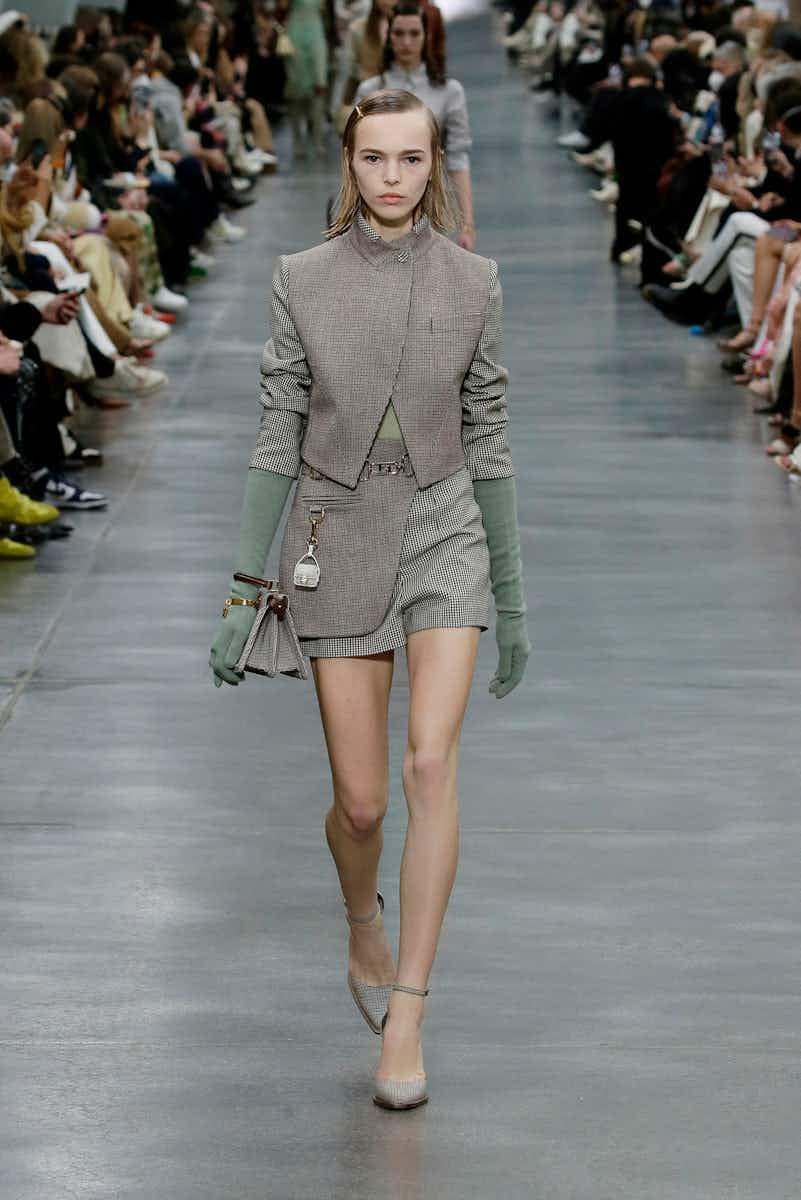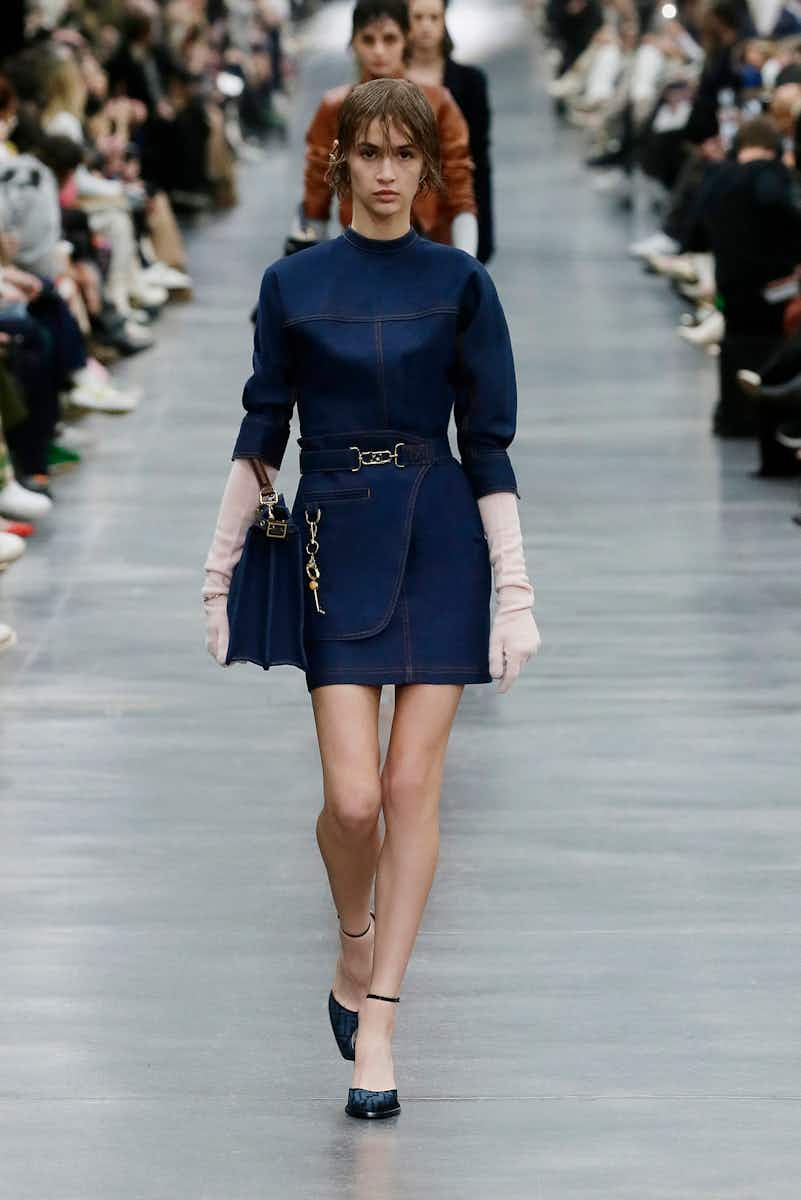 More like this