Fashion is best at its most resilient
Recently, Balenciaga, Comme des Garçons and Rick Owens have shown strength, courage and resistance in the face of war and destruction.
Disaster is not a trend, nor should it ever be. But fashion is at its very best when it responds to the political happenings of the here and now, however difficult.
When Balenciaga presented its AW22 collection on Monday 7th March, the internet spiralled. It wasn't just the clothes per se, however rich in fantasy. It was the sombre, quickly-reactive messaging from Demna Gvasalia. After questioning whether to present a show at all, the French house's creative director dedicated it to the crisis in Ukraine.
Before the show started, t‑shirts printed with the blue and yellow Ukrainian flag were laid onto guests' seats. It was clear from the get-go that Gvasalia's aim was to cut through the fashion and open up a conversation on the atrocities happening only a three-hour flight from Paris.
The best kind of fashion: with a purpose.
Fashion has always responded to the times. That's not to say fashion changes the world. But a collection rooted in the here and now opens conversation, emotion and human connection. The terror attacks of 9/​11 led to designers like Hussein Chalayan (SS02), John Galliano (SS01) and Raf Simons (SS02) responding, in varying degrees, through camo evening dresses, balaclava-like hoods, Soviet-style army jackets and even cultish models walking down runways holding flares, conjuring images of strength and resilience in the face of atrocity.
In 2014, amidst growing unease around the world as terrorist attacks exploded across Europe, Rei Kawakubo – who would never admit to a collection being remotely political – presented a Comme des Garçons collection made almost entirely of red lashings fashioned into dresses draping the body, as though bleeding from the skin.

Read from that what you will, but it's difficult to imagine this collection not being a response to the atrocities happening globally. It was sobering and sombre in its execution – there's nothing easy about seeing models with blood-like fabric hanging from their bodies.
Back at last month's Balenciaga show, a snowstorm erupted in a glass dome, as models battled the ​"winds" while manhandling luxury binliners and shielding from the harsh conditions with a pair of oversized Butterfly Sunglasses. Set against a backdrop of heavy techno, it was an uneasy watch, with thin bodies struggling to walk, grabbing onto faux-fur coats for extra warmth.
Then again, Gvasalia never has been a people pleaser – and rightfully so. Whether for Vetements or Balenciaga, he's a designer who created a riotous cult of shaven-headed boys and commented on Britain's departure from the EU through a shockingly beautiful Post-Soviet style. It's what he does best. This time, it was political commentary in its greatest form: sombre, anxiety-inducing and affecting.
The original show was actually intended to be a comment on the climate crisis. But with Gvasalia having fled Georgia in 1993 – along with 250,000 displaced Georgians forced from their homes during the civil war that followed the collapse of the Soviet Union – the recent events in Ukraine, as he wrote in the show notes, ​"triggered the pain of a past trauma I have carried in me".
So, out of bravery and determination, the show went on, with the foregrounding of the Ukrainian flag demonstrating from the off how Gvasalia was pinning his colours to the mast. ​"Cancelling the show would mean giving in, surrendering to the evil that has already hurt me so much for almost 30 years," Gvasalia wrote. ​"I decided that I can no longer sacrifice parts of me to that senseless, heartless war of ego."
Cue an urgent and pointed recalibration of the show's staging.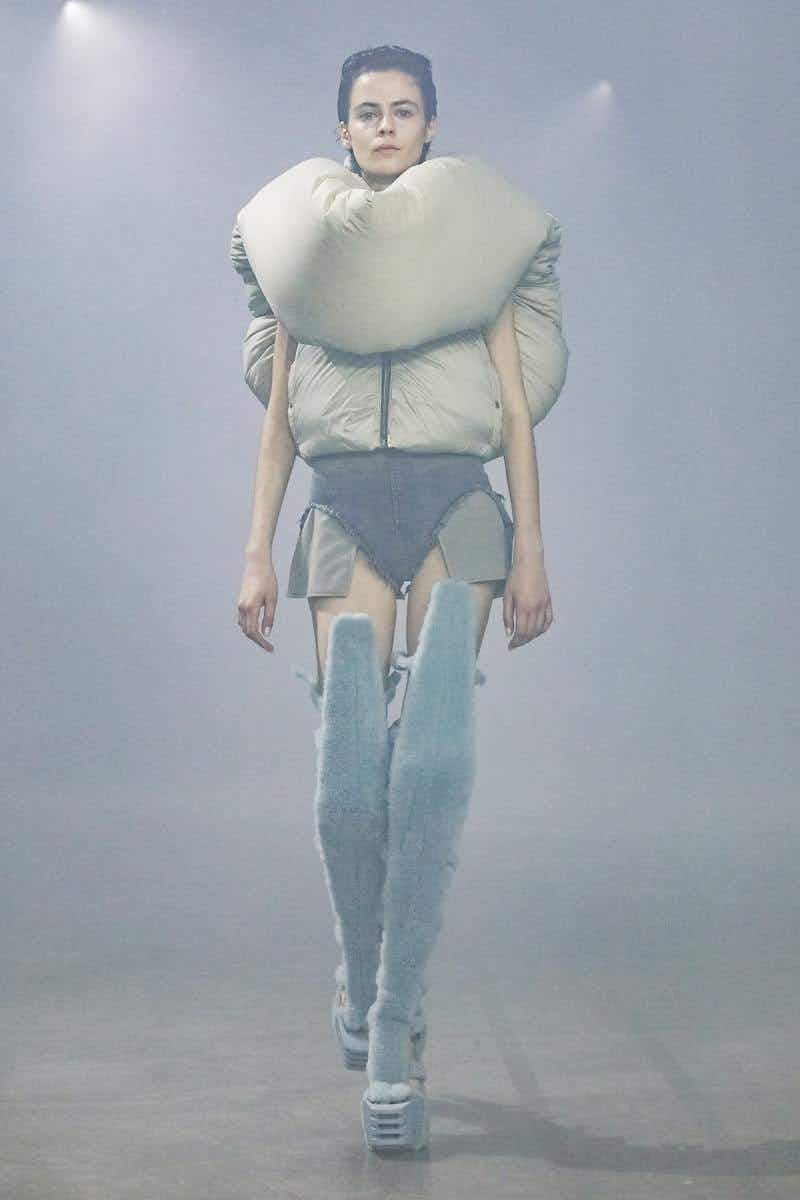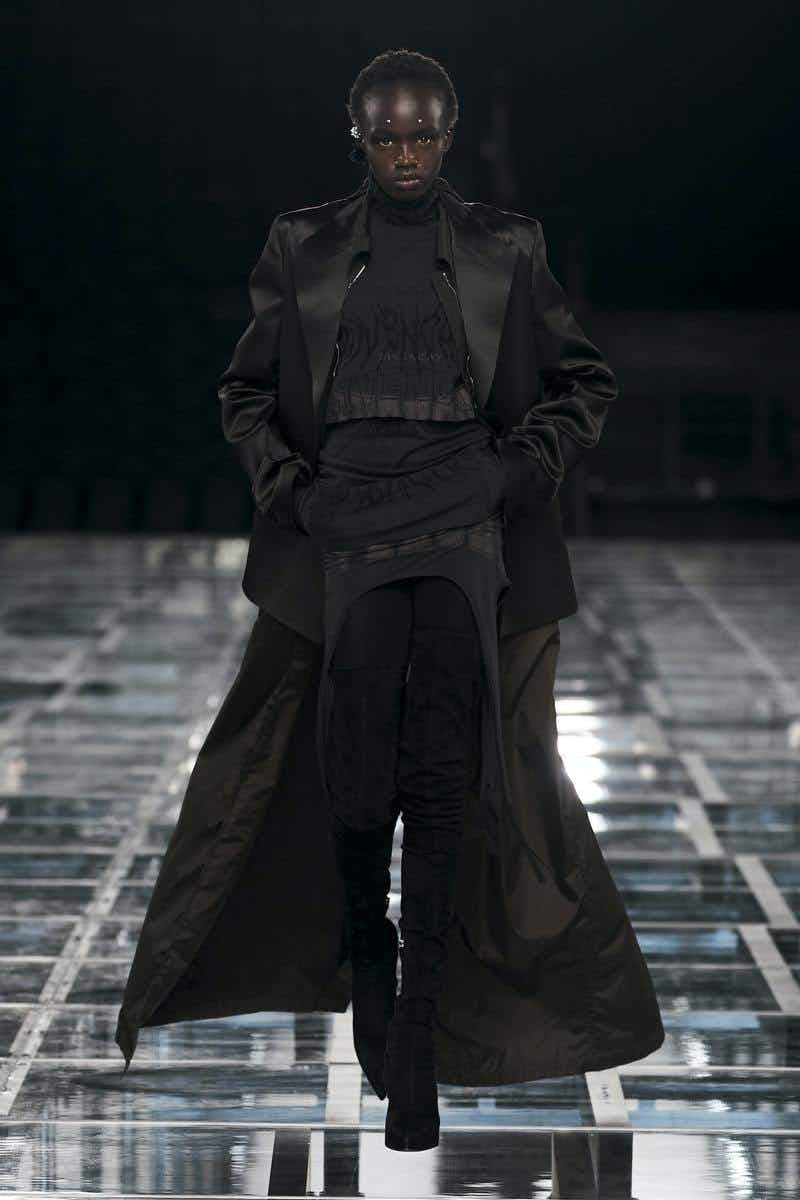 Then there's Rei Kawakubo. ​"For me, the dark beauty of the black rose symbolises course, resistance, and freedom," wrote the designer alongside photos of her AW22 Comme des Garçons show, held in Tokyo. The elusive designer has never mentioned war, politics or current affairs in her previous collections. She wasn't about to change now. But instead, the black rose, an insignia of resistance against 20th-century British imperialism in Ireland, went hand in hand with the show's soundtrack by Irish singer Ciaran Carlin, who sung Roisin Dubh – an Irish resistance song translating to ​"little black rose". Kawakubo's collection was fraught with resilience, with models almost bandaged up in thick, monochrome fabrics or zebra prints, as though to ward off invaders, seemingly referencing the invasion of countries over the years, be it Palestine, Syria or, most recently, Ukraine.
Elsewhere in the new collections, Givenchy's models were made for battle, forming a cult in layered black jumpers, leather trousers and boxy black t‑shirts with gothic letters stretched across – and the occasional balaclava. And Rick Owens' show – where he spoke of how ​"during times of heartbreak, beauty can be one of the ways to maintain faith" in the accompanying show notes – the often anarchic edge was replaced with a heady romance. While he presented zipped-up hoods and lamp helmets for the house's men's show in January, the womenswear was almost romantic in comparison, with angelic figures in intricately detailed gowns, capes and the ultimate warrior footwear: the stacked, shinpad-like Kiss boot, stretched to the thigh.
The pandemic led to designers opting for high-octane, optimistic takes on clothes. There was colour, sparkly things, shorter hemlines, underwear as outerwear and the lure of a good night out in the hopes of sparking joy. It's still there, but amongst it is the realisation that life isn't quite back to normal just yet – and, in fact, may be lurching towards an altogether more hideous reality.


More like this