Fashion East: love in a family dose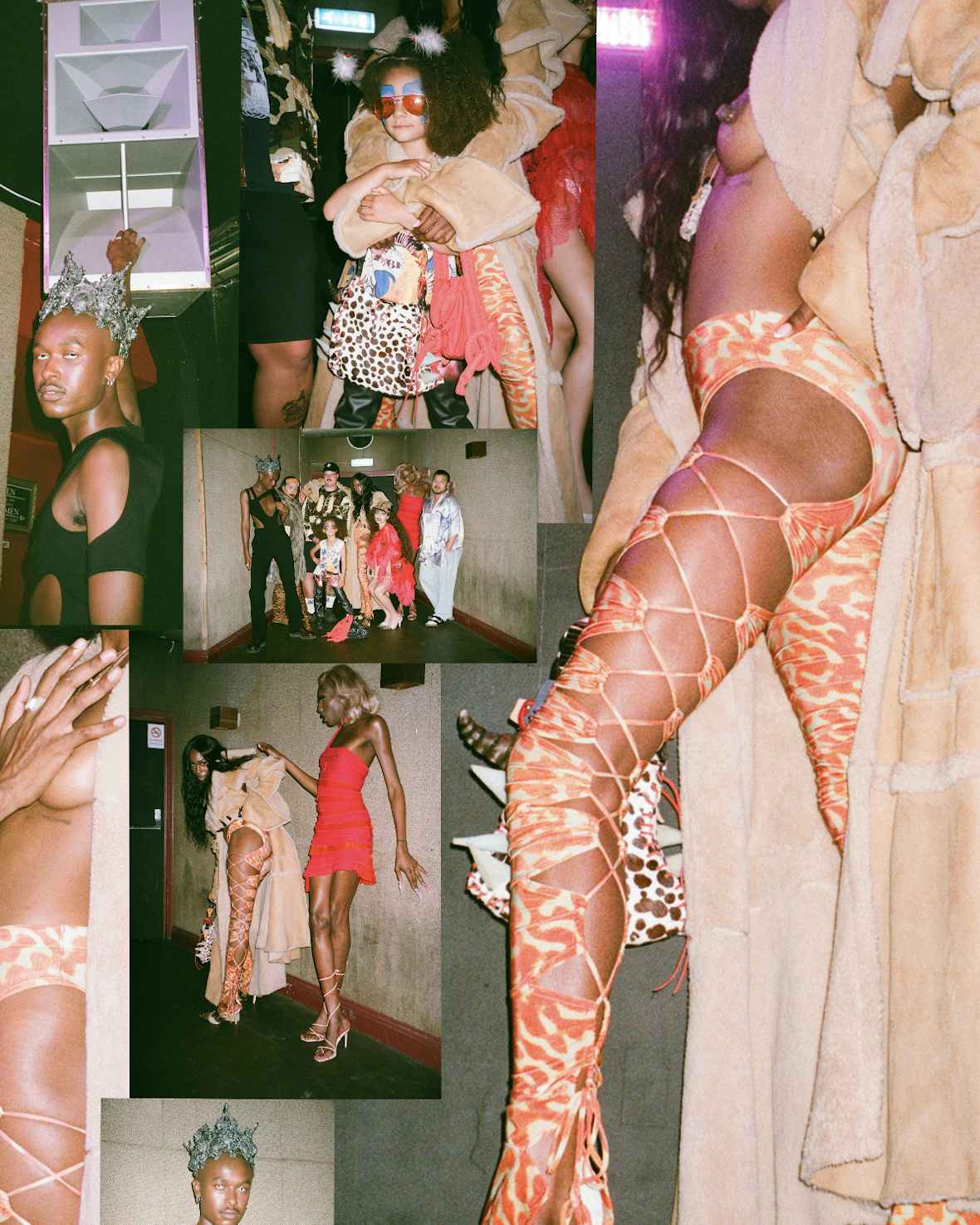 From Naples nightclubs to the birth of London's modern menswear, and from early Martine Rose shows to the emergence of Mowalola, Brooke McCord sketches out 20 years of Lulu Kennedy's glorious Fashion East family.
Arti­cle tak­en from The Face Vol­ume 4 Issue 004. Order your copy here.
It's 10am on a Saturday morning and Miss Jason, of YouTube show Jason's Closet, has his dress bunched around his waist while make-up maestro Terry Barber moisturises his bum cheeks. He's flashing a white thong at self-described ​"London It Girl" and designer Harry Freegard, who's feeling himself in a red and black Gareth Pugh coat previously worn by Christina Aguilera. ​"It makes sense that it fits, she's put on the pounds," he quips.
We're standing two metres apart in a nightclub, not because the lights have lifted to reveal us as the final stragglers waiting to be kicked off a sticky dancefloor, but because we're using the space to celebrate Fashion East's 20th year as the true soul of London Fashion Week, with designers past and present turning up to party in its honour
It's less pandemonium, more pandemic – even if mega-energy and late-night stamina are prerequisites for anyone joining Lulu Kennedy's Fashion East family. Work hard, party harder. Stay up all night but never miss the show.
For two decades Kennedy's incubator for nascent Britain-based talent has platformed an impressive tally of 144 designers, from Kim Jones, Martine Rose, Roksanda Ilincic, Jonathan Anderson and Simone Rocha, to Mowalola, Matty Bovan, Ashley Williams, Grace Wales Bonner, Charles Jeffrey and Craig Green. Venues have taken guests on a whistle-stop tour of London, from the shadowy vaults of Somerset House (2010), to The Tanks at the Tate Modern (2013). The jam-packed front row has hosted Harry Styles, Pixie Geldof and Marc Jacobs (who showed up to watch his former design assistant AV Robertson's debut). While models who have treaded the Fashion East boards include Adwoa Aboah, Edie Campbell and Hayley Bieber (who had her eyebrows bleached for a Matty Bovan show in 2016).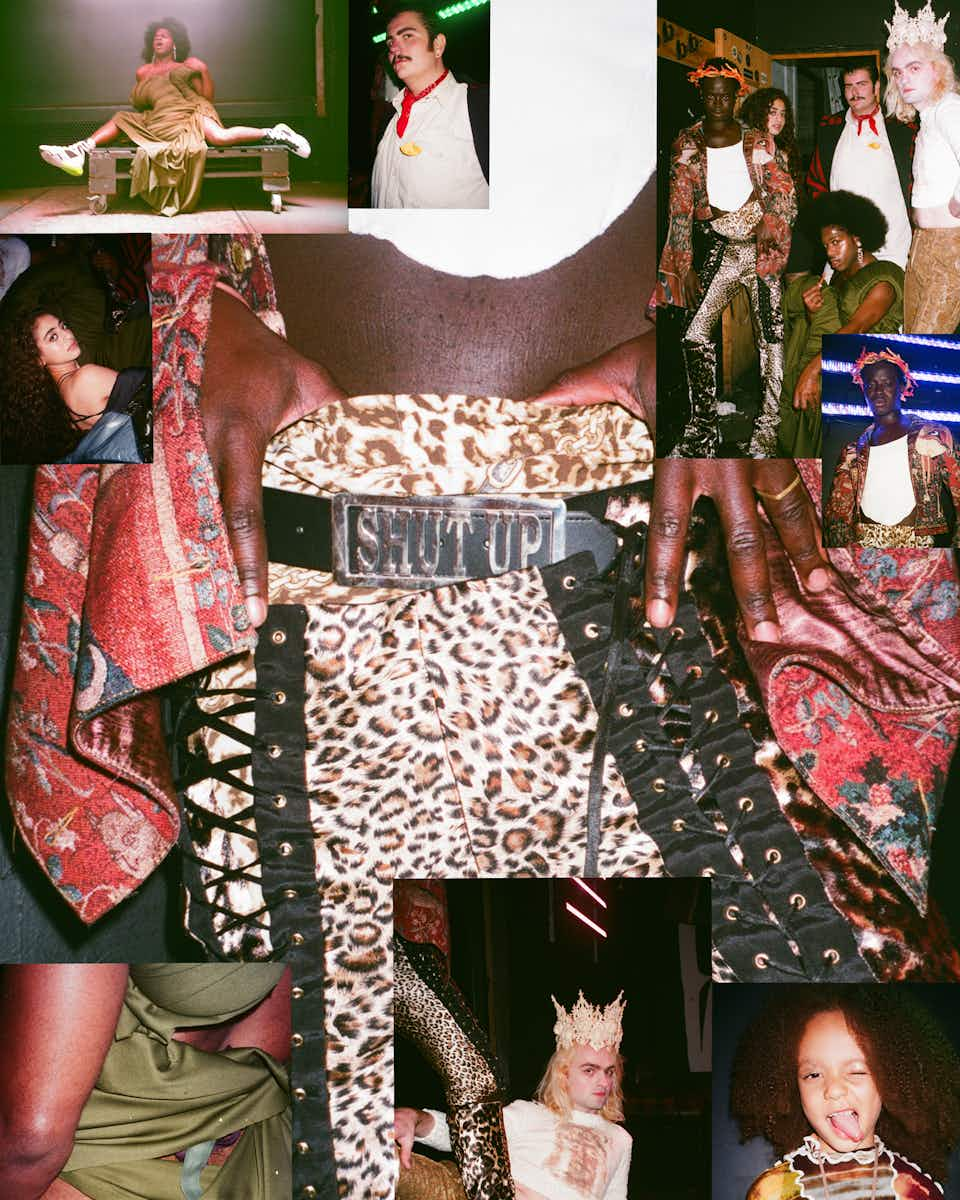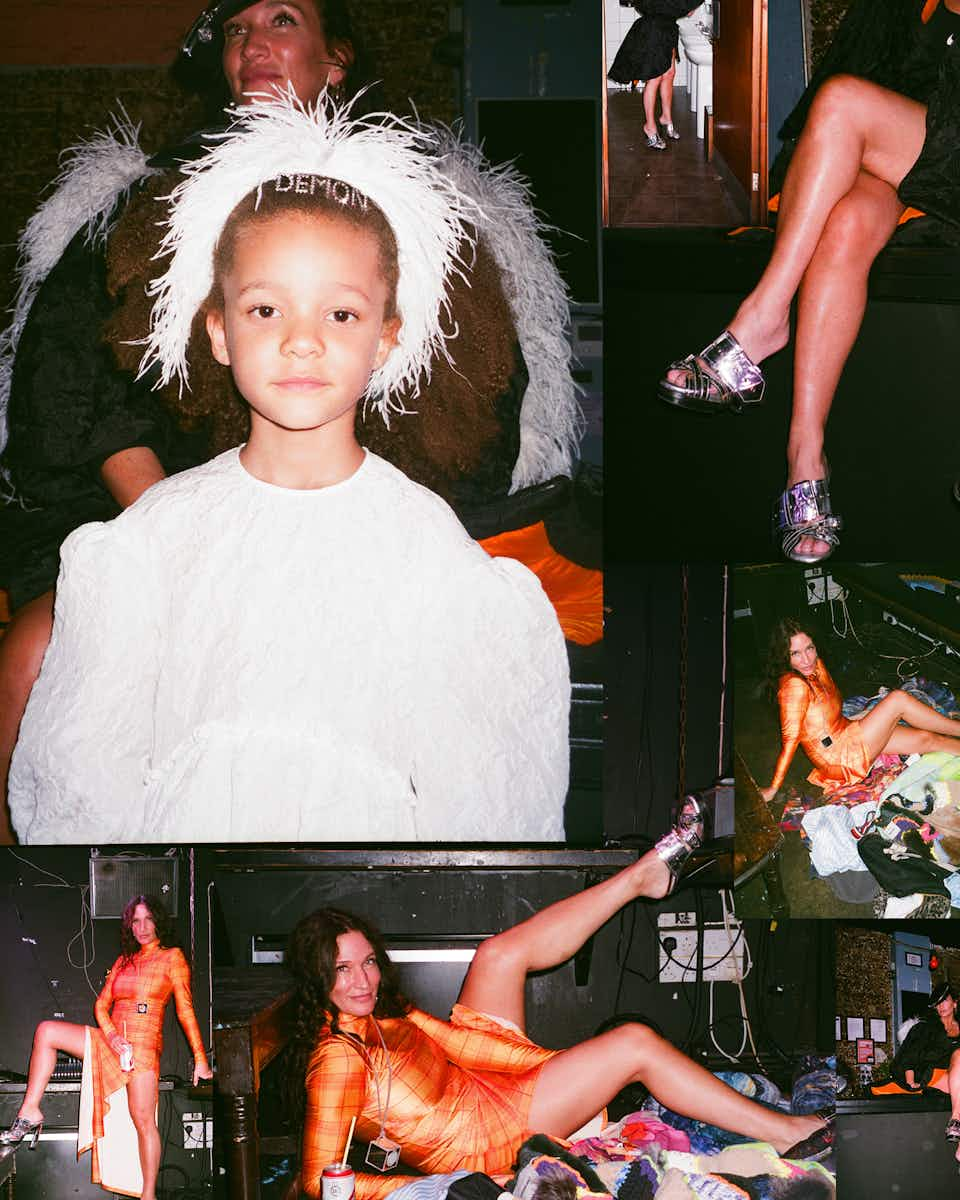 But it was never the fanfare of high-fashion that drew Kennedy into the game. She spent her formative years immersed in Bristol's soundsystem culture, hanging out with The Wild Bunch, later Massive Attack, and attending late-1980s and early-1990s mega-raves. ​"Raindance was the best," she recalls wistfully of the legendary event organisers who put on Britain's first legal all-nighter in London in 1989. ​"I had the time of my life."
Kennedy upped and moved to London for a course in contemporary cultural studies at Middlesex University, aged 18, before transferring to Naples for a term. ​"I was still there three-and-a-half years later," she says, laughing. ​"I fell in love with the city the minute I saw it from the plane. I saw the bay … Oh my God, my heart started to go wild."
Naples was transitioning from a period of disco to hard house. Naturally, Kennedy found a party crew who needed an English-speaker to book international DJs. First up: iconic new romantic turned club scene mainstay Princess Julia ("I'll never forget her tottering off the plane in a massive full look"). Soon she found herself booking Masters at Work for the opening of a nightclub in a disused supermarket.
"I couldn't believe they'd actually agreed to come," Kennedy remembers, still in genuine disbelief. ​"These huge American DJs had flown across the Atlantic to an empty supermarket." The 3,000-strong crowd went wild. Next came parties in ​"castles, beaches and villas", before the Camorra ran Kennedy back to London.
In the English capital, where fashion and nightlife have long gone hand-in-hand, it's not surprising that those who surround Kennedy are deeply ingrained in the city's club scene.
"Moving back to London, I really struggled to find the family I had in Naples. I never found a scene I liked until New Year's Eve 2016, when I walked into PDA," she says of the much-loved club night frequented by the queer/non-binary PoC community. ​"The minute I walked down the stairs, even past the girls on the door who were looking fierce, I felt deeply at home. I was emotional. I was so glad I found all those people."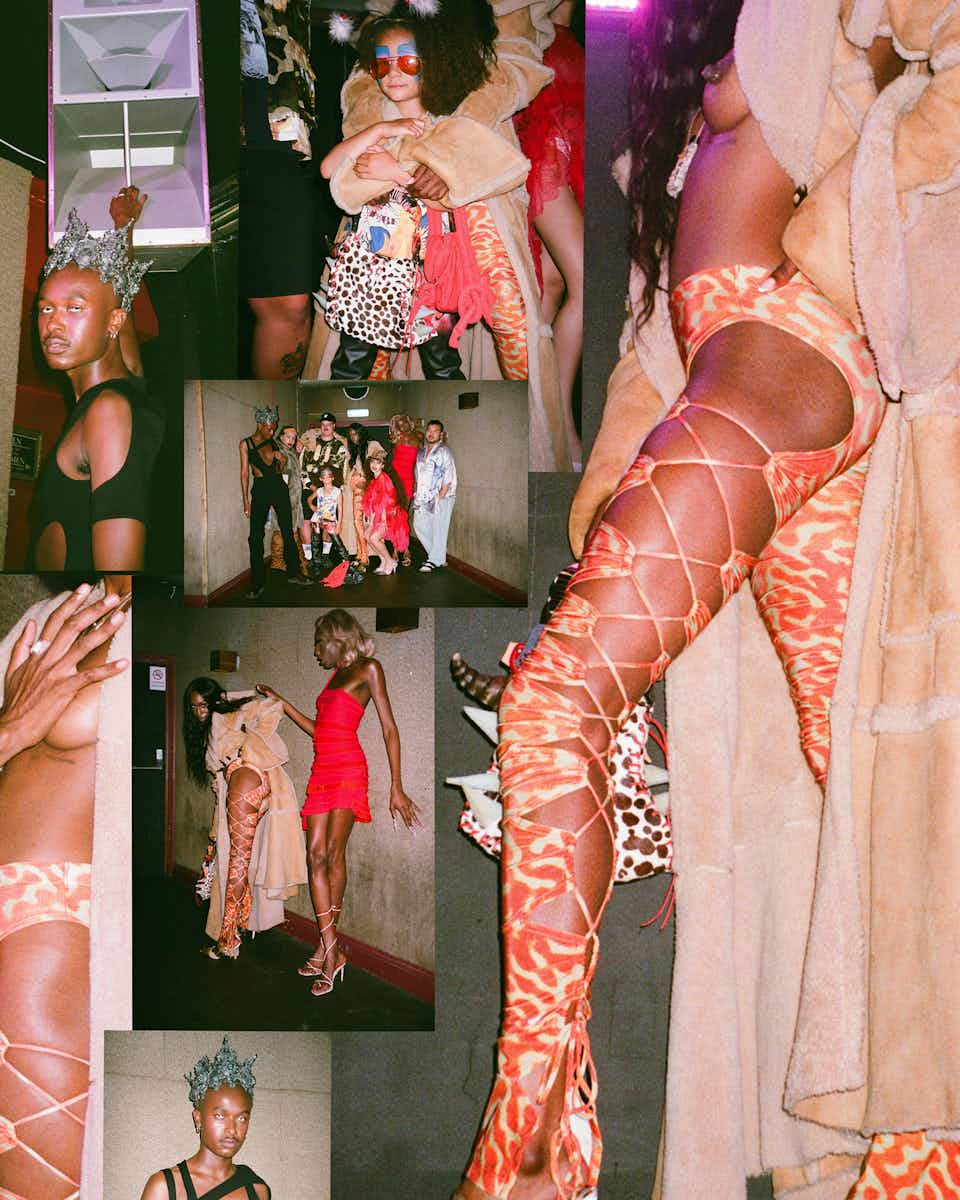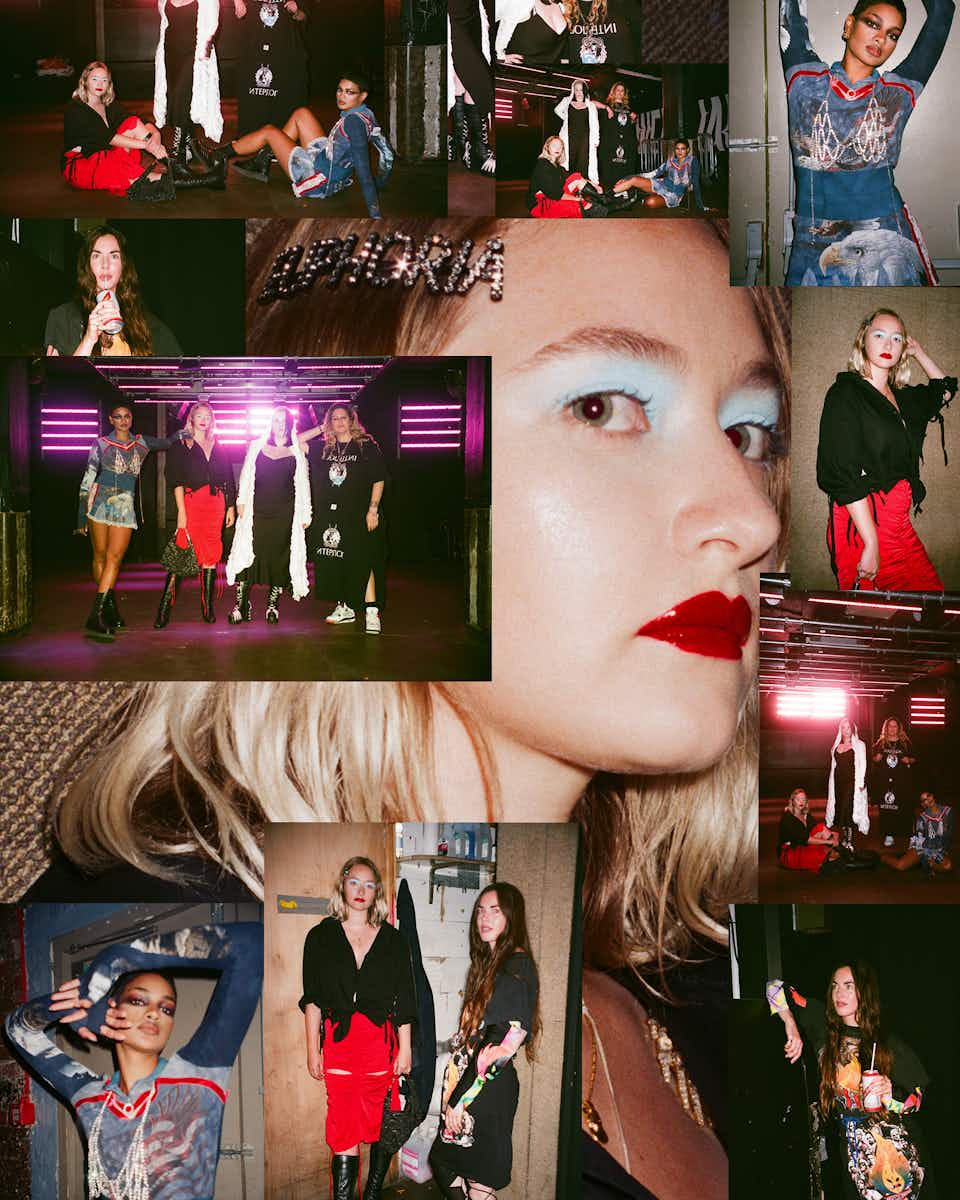 It was at PDA that Kennedy met Nigerian-British designer Mowalola Ogunlesi, who's recently been made design director of Kanye West's multi-million-dollar Yeezy deal with American retailer Gap. ​"It's just one of those things. In my early years you met everyone at The Bricklayers!" she laughs, referring to the legendary YBA-frequented Shoreditch pub.
Kennedy's initiation into the fashion industry came out of the blue. In 1996 she met the owner of the Old Truman Brewery on East London's Brick Lane (where her studio remains today). He enlisted the then-barmaid to turn his warehouses into a creative hub for the area's designers, artists and photographers. A couple of years in, Kennedy blagged a warehouse for a show by House of Jazz design duo Hazel Robinson and Pablo Flack. She soon found herself helping other young designers, like future MBE-awarded designer Hussein Chalayan, and her non-profit Fashion East initiative blossomed from there.
Kennedy's position as a fashion industry outsider made it possible for her to dissolve its hard-edged superficiality, instead providing a physical space where raw creativity and unconventional ideas could reign supreme.
"I didn't come from a fashion background, I wasn't trying to tick boxes," she explains. ​"I wasn't worried about it being glossy. It was an empty warehouse, a soundsystem and cheap seating. Backstage was a bit like a party. I didn't know there was such a thing as a seating plan!" Thankfully PR guru Mandi Lennard was on hand to help. ​"I can't underestimate what an important influence she has been on me. Mandi always encouraged me to do things my way – and to throw my weight around when I needed to!"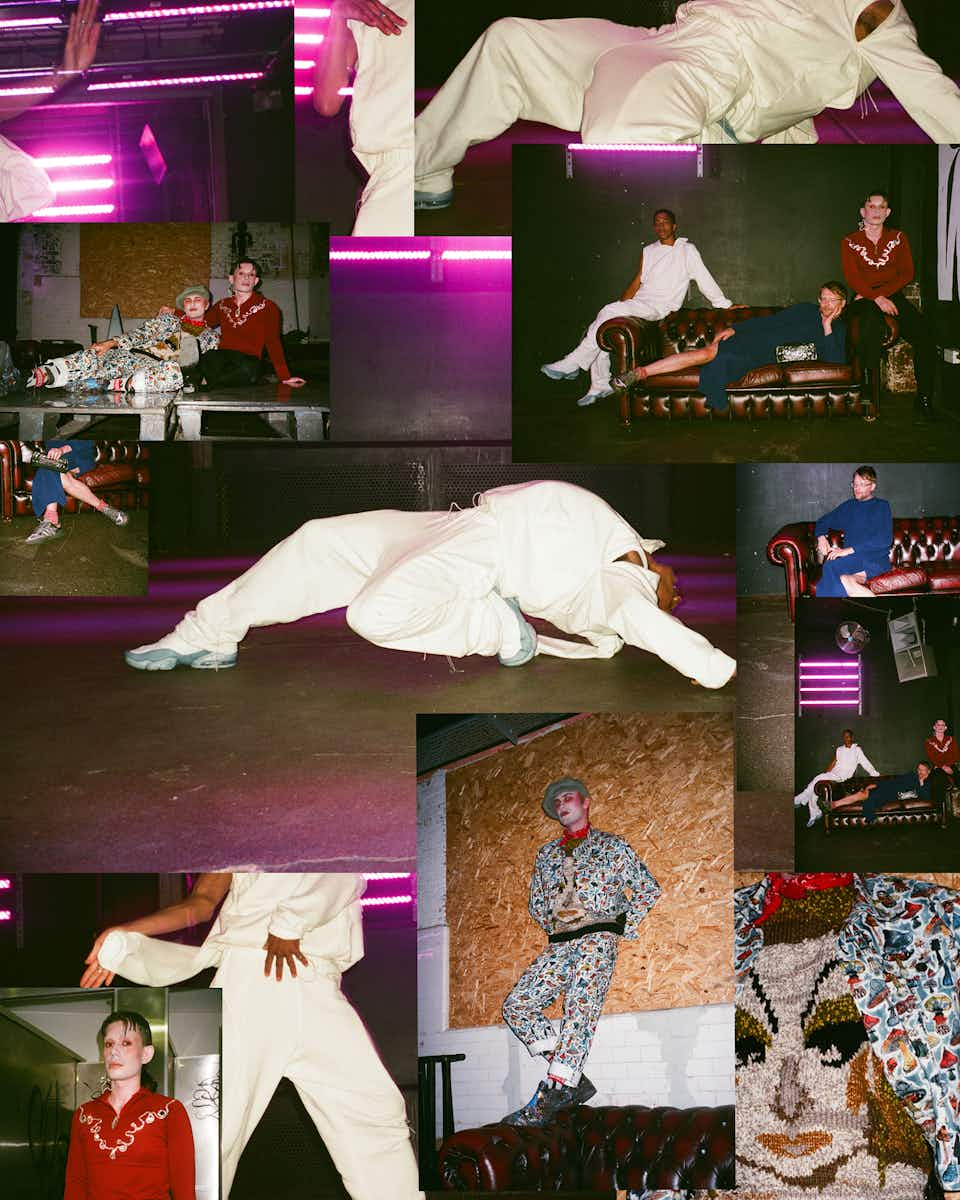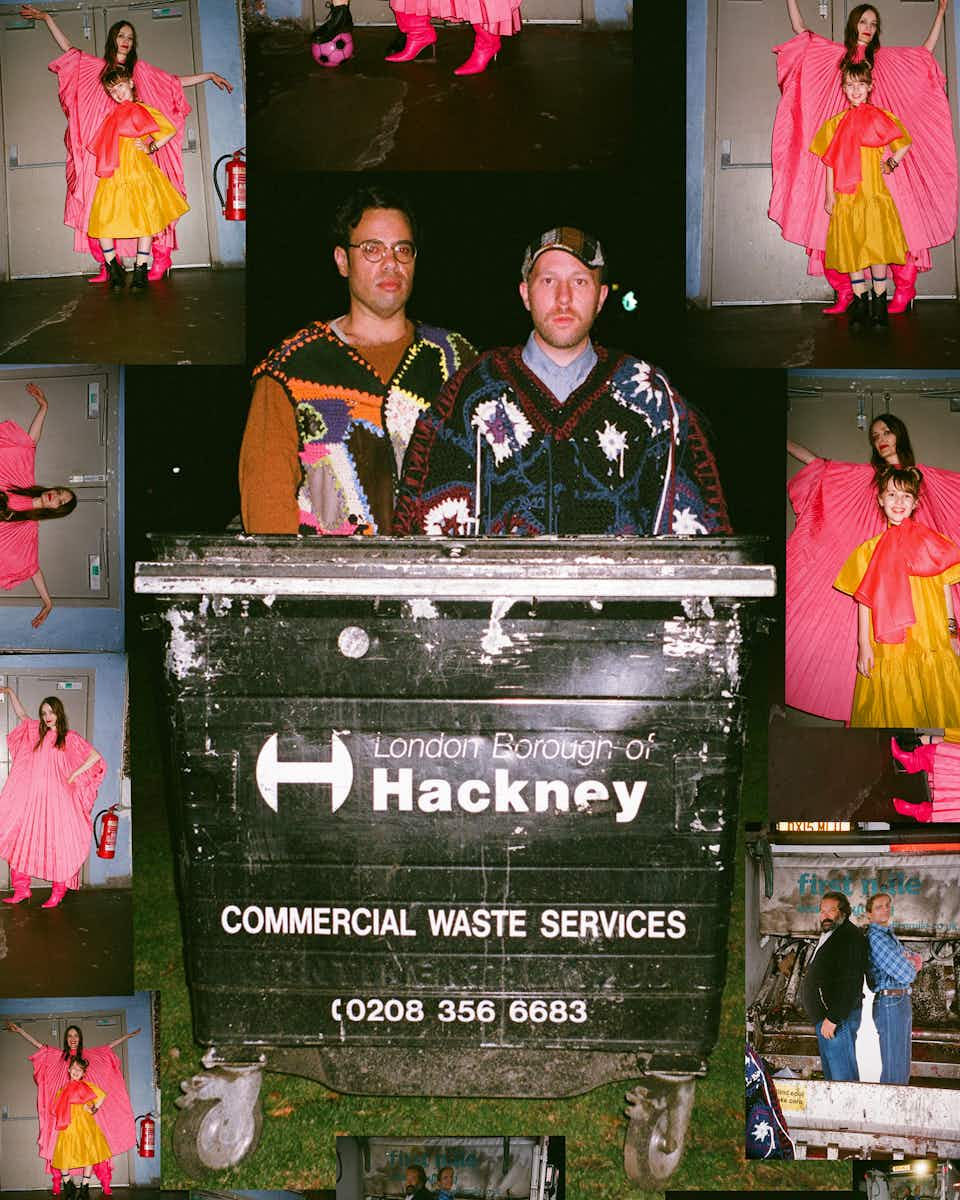 Kennedy's way works. In 2005 she met future Dior artistic director Kim Jones, having been tipped off by the late Central Saint Martins fashion MA course director Louise Wilson – just don't ask her where.
"It was at The Bricklayers, or The George & Dragon, or it might have been outside The Joiners," she frowns, scrolling through her mental list of East London boozers. ​"They all meld into one fabulous night!" Fifteen years on, ​"Kim is very much there for me on a personal or work level and his advice is super-wise. He's also my go-to for a really silly giggle."
It was around the time of their first meeting that Kennedy noticed a handful of London-based menswear talents without any platform to show their work.
"There was no contemporary idea of menswear at that time," says journalist and Fashion East selection panellist Charlie Porter (would-be Fashion East designers go through a rigorous selection process led by a panel of fashion bigwigs).
"Famously, Kim Jones wasn't able to show on the fashion week catwalk unless he showed womenswear. It was really specific to London because other cities like Paris or Milan had an idea of menswear that had gone on for so long. I'd grown up reading THE FACE and i‑D, and I had this idea of what fashion could be for both sexes. But when I came to London in 1992 it wasn't here. It had disappeared for many reasons: the Aids crisis, financial turmoil… There wasn't a cool young mentor in London in the 1990s in any real way."
That's where Kennedy stepped in. Without overthinking it she set up MAN, a support scheme sponsored by Topman that was responsible for London's changing of the guard. Porter played a pivotal role, says Kennedy. ​"Charlie makes everything kind of feel right," she says with palpable warmth. ​"The minute something good or bad happens he's the person I'll phone. He gives really good advice."
Many of the designers Kennedy worked with during this era shaped London's position as a world-leading menswear authority. Take the proportion-twisting Martine Rose. ​"Her work is like womenswear but it's got a vibe," she says.
Their relationship dates back to 2011, when Kennedy went to see Rose's debut installation at Blacks Club in Soho. ​"Lulu was late and we'd packed up," recalls Rose. ​"She was sprinting down Dean Street in heels. She was out of breath and I just remember thinking: ​'Fucking hell!' She came in like it was the most important event, like she was missing a fucking Dior show or something. From that point on, I was like: ​'I love this woman.'"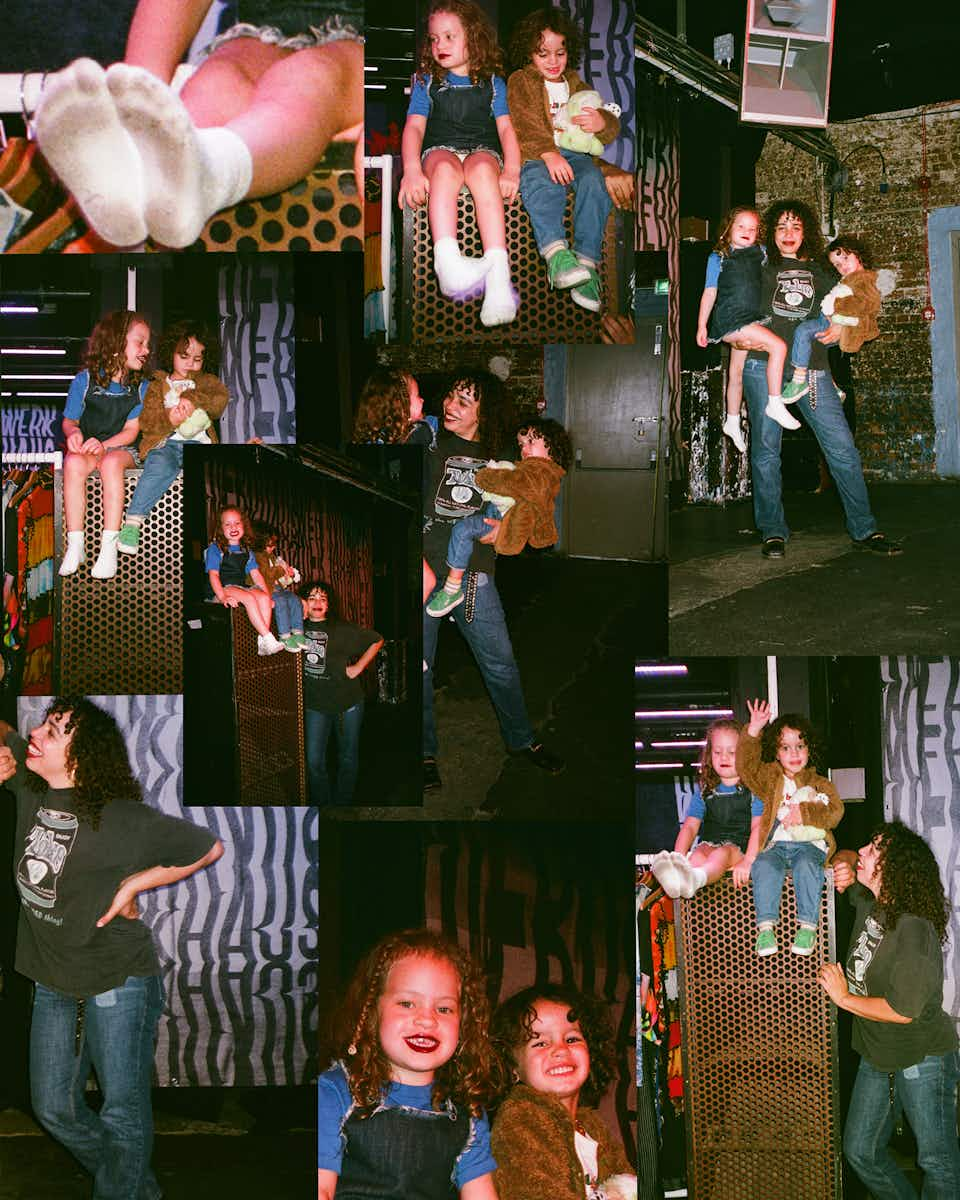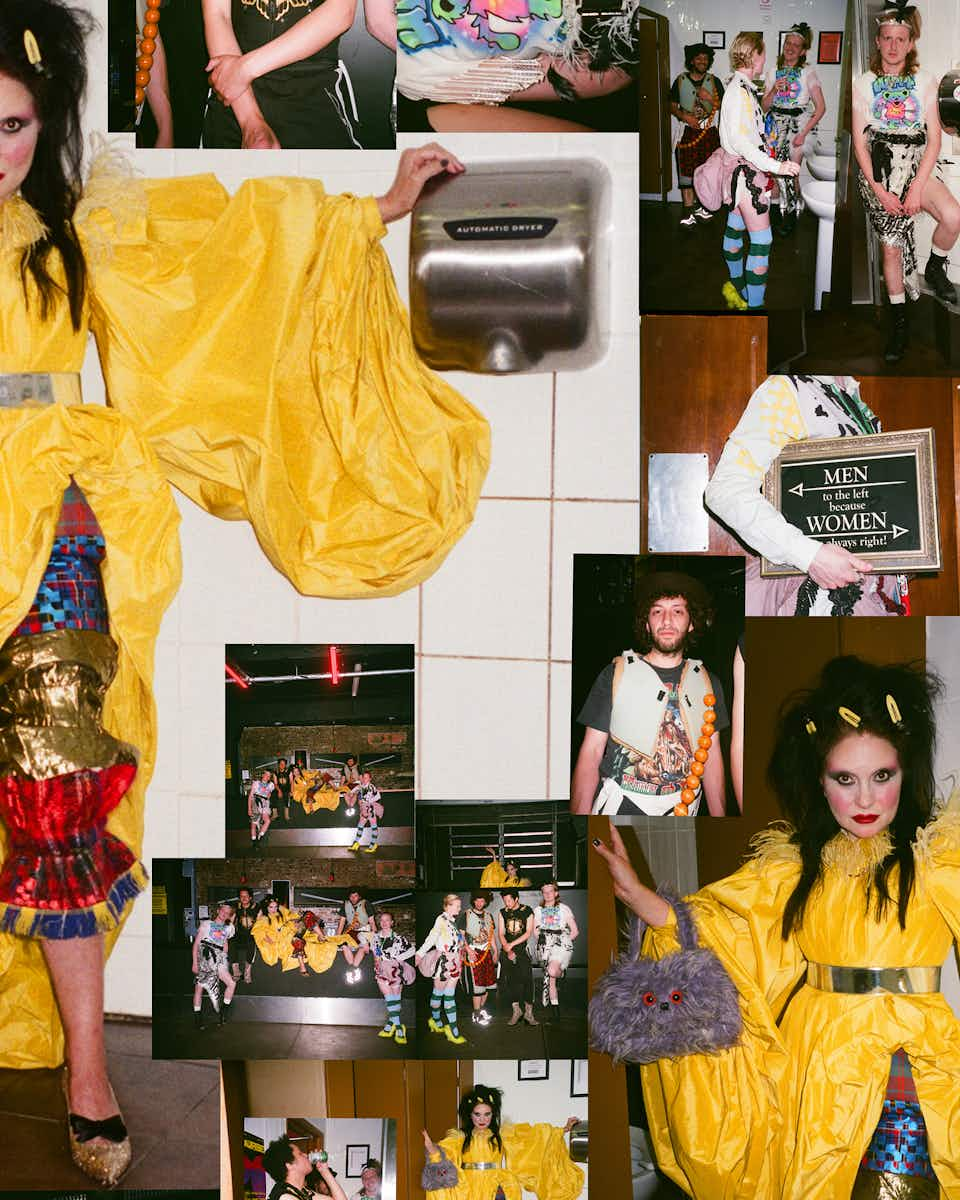 That was then and this is now. At THE FACE's celebration of two decades of Lulu Kennedy's baby, blue lights flash and the sounds of Shygirl have everyone in the room yearning for long-lost nights out.
Casting director and stylist Mischa Notcutt is working a fur-and-patchwork Martine Rose coat, while trippy menswear designer Liam Hodges (whose ​"hangover is just kicking in") is fronting a bleached camo jacket. Rainbow, Kennedy's six-year-old daughter, is running around in an ASAI Hot Wok top – the one that launched a thousand selfies when it became Instagram's look du jour a couple of years back – with a butterfly painted on her face.
Ms Carrie Stacks, DJ, producer and co-founder of PDA, is dressed to kill in a cherry-red bandage dress, also from ASAI, the label by British-Chinese-Vietnamese designer A Sai Ta. Keash Braids founder Taiba Akhuetie is wearing rave-ready, lace-up Lycra leggings by Charlotte Knowles and a long suede coat (she's topless beneath and has already accidentally given an eyeful to the weekend punters outside).
There's no need for a cloakroom but there is a clothes rail packed with pieces by some of Fashion East's alumni: frayed and slashed denim from the Portuguese masters at Marques'Almeida (Fashion East debut 2011); otherworldly silks hand-painted by Claire Barrow (2012); whimsical florals by the ethereal Yuhan Wang (2018); an archive silk slip dress by iconoclastic design duo Meadham Kirchhoff (2005); a pair of leopard-print trousers by East London's tiara-appreciating maximalist Ed Marler (2014).
Stylist of the moment Ib Kamara has slipped them on and finished the look with off-the-wall Gareth Wrighton's autumn/​winter 2020 Flamin' Hot Chipotle Ranch Cheetos crown. Talk about a fashion riot!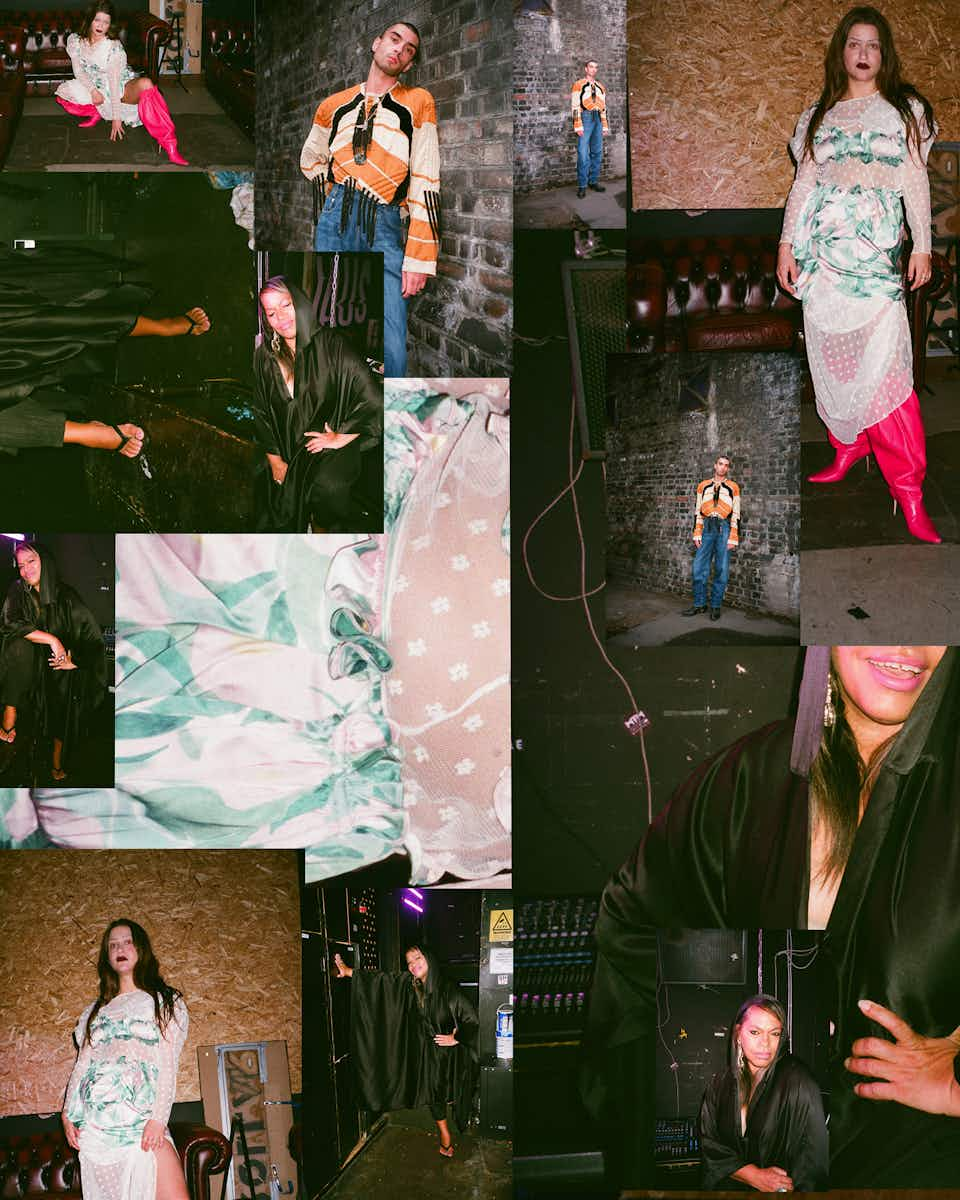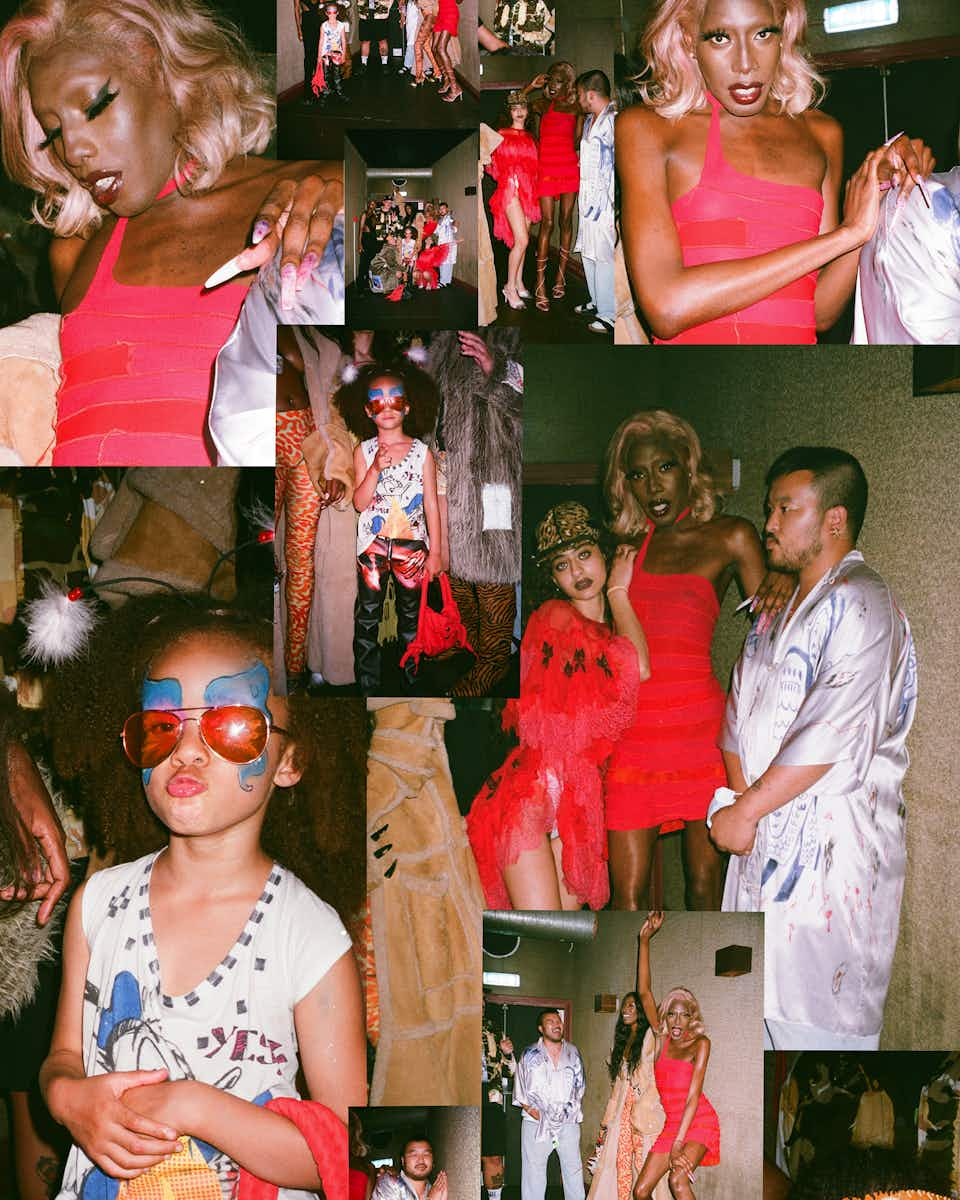 There are notable reasons why Kennedy's approach to creativity resonates as richly as it does. In a world in which designers are pushed towards financial success or touted as the new so-and-so, the woman from the west country is all about free-flowing creativity. ​"The thing about Fashion East is that it always resets to zero," Porter says. ​"It always allows someone new to come in and find their own way."
Equally, when speaking to the Fashion East community, one word crops up in every single conversation: family.
"Without being cheesy or anything, it's a community, a little gang of outsiders," Rose reflects. ​"It's punk, a hodge-podge of people. It's flexible, agile, and it fits everyone. "
For all who know her, Kennedy's magnetism isn't hard to unravel. She's charismatic, intelligent, rigorously supportive and doesn't possess an iota of fear. She's devoted her self-taught career to making the impossible, well, possible for all those lucky enough to have stepped through Fashion East's doors.
As to the future, Lulu Kennedy is clear: it's about the designers, first, last and always.
"It's not so much about my next step. It's always about listening to them, what they need, what they want to do, what excites them. We're in the background. I don't want Fashion East's 20th birthday to feel like it's all about us. It's not. It's all about them."
Memories, moments and musings on what makes Fashion East so magical according to the Fashion East family
MARTINE ROSE

"Without being cheesy or anything, it's a community, a little gang of outsiders. It's punk, a hodge-podge of people. It's flexible, agile, and it fits everyone. It doesn't funnel everyone through in one way. It's purpose built and then it's broken down and rebuilt again for the next designer, and then it's broken down and built again, you know?"
MATTHEW JOSEPHS
"I've styled quite a few Fashion East /​MAN shows and the energy backstage isn't like any other fashion show. You have that tension and a little stress; but it's kind of like a party. Fashion East is like a community, the designers really lift each other up, it's not competitive or anything like that, it's really a celebration of everyone's talents."
LOUISE GRAY
"Fashion East has always felt like it's outside of the system which is nice. The system is boring, it doesn't work and everyone knows that."
CHARLIE PORTER
"The thing about Fashion East is that it always resets to zero. It always allows someone new to come in and find their own way. It never presumes that someone will be the next this and the next that. Someone may graduate – like Charles Jeffrey, Gareth Pugh or Rottingdean, all these people who have graduated with this kind of reputation – and whoever takes their place never assumes they're gonna be the next them. They're allowed to find their own space, and that's what keeps things new. The interest is in that new person rather than the next ​"this". That language has been in fashion a long time. I remember in the late ​'90s, when McQueen happened and Chalayan happened in London, and then there was the expectation for everyone else to be the next McQueen. It caused so many people so much damage, it was just before Lulu started Fashion East, and it allowed for newness to happen in London that wasn't happening because of this assumption. So it's really important what Lulu has done in creating this reset to zero space."
RAPHAELLE MOORE
"Fashion East means family. I feel so lucky to help support and nurture these incredible designers and watch them grow and learn from each other. As well as having a bloody laugh. What Lulu has created is so special. Long live Fashion East."
KAREN BINNS
"You know what, Lulu is a pioneer. She has supported so much when it comes to representing what the UK has to offer to the industry globally. I think she's fought for so long to support kids that never would have gotten a chance. These kids now are grown ups, they are established designers, and they are global. There's Roksanda, who is an absolute princess. When you have the Obamas wearing your looks… That's the icing on the cake. Martine Rose, do we need to talk about it? She's murdering the industry right now. Richard Malone, another breakthrough. Today, I'm wearing Art School a non-binary label – one of the first on the planet. This is an endless way of showing talent. I've just given you three completely different categories."2

SOPHIE JEWES
"All Fashion East shows are special, but there was something about Charles Jeffrey's first runway show. If I play it back in my head, I can feel my feet touch the floor, it's very primal and physical. Sometimes there's a weird sense of time at play with the Fashion East show because it's so synonymous and talked about as this beacon of the future. There are some designers where you see the clothes on the runway, you see the audience members' expressions, you almost get a little flicker of the next 10 years as a very defined thing. That always feels really exciting. What's magic about how Lulu runs Fashion East is that it retains this very guerrilla sensibility."
NATASHA BOOTH
"Fashion East represents freedom. We really want to champion people for who they are so that they can carve out their own paths. We're not heavy handed with advice to designers to force them down a path. It's about creativity, and freedom. It's a safe space for a lot of people and it does feel like a family, as cheesy as that is. We all look out for each other, it's not a typical nine to five job, we're talking to people all the time and we're all genuinely friends and we hang out."


EDEN LOWETH

​"Getting into Fashion East was a really life changing thing for me. I met Lulu through working for Grace Wales Bonner. I was her styling manager. When I got a call to interview for Fashion East it was quite a surreal process because I hadn't finished my degree yet. I knew that I was doing Fashion East halfway through my final year. It was quite an intense couple of years. When we did the first show, it really was such an electric atmosphere, and the next day it was on the landing page for American Vogue and it's kind of spiralled from there. I owe Lulu everything, she's like a mother to me. I couldn't imagine my life without her in it."
LIAM HODGES
"The first presentation I did was an early morning thing, and Lulu was like, ​"let's get some Red Stripes, it'll be fine!" I went with a couple of my mates, and then everyone just sat on the sofa and got absolutely wasted. Lulu's always like, if we're gonna do it, let's make it fun."

PRINCESS JULIA
"Fashion East represents an ever-changing environment of looks and style and it embraces a social climate that allows fashion to be political. It represents a form of activism and pro-activism. There's a sense of family too and support. Because it's pretty tough in the fashion world, isn't it?"
SAUL NASH

"Fashion is difficult, so it's so nice to have people around you that you can rely on. I will never forget this journey."
MANDI LENNARD
"Lulu is a very big unifying thread in our London lives and it's amazing the people we've met through the Fashion East portal. I've been on a lot of Fashion East trips and to events and so many of these kids are proper friends. You really feel the sense of community. My most memorable show was one that brought us back to the Truman Brewery, where Lulu used a space she'd not used before. It was a bit like post-pandemic as there was a one-way system to get through it and every guest left with dandruff – the feeling was crumbling! That was so Fashion East. That won't make sense to many people, but to Lulu it will."
MADELEINE ØSTLIE
"Fashion East is family. It's community, support and also a collective sense of togetherness in what everyone stands for. It's very sincere. Being part of the Fashion East community is a very real existence. We all love each other very much so it's quite intense! The first show Lulu took me to was Meadham Kirchhoff when they rolled out the red carpet so to speak. And I sat on Lulu's lap and it was the first show I went to. I always sat on her lap after that. She really took me under her wing. I dived straight into the family."
ASAI

"Joining Fashion East was really special, really magical. It was nice to start in safe hands. I feel really proud and really grateful for the support."

MISS JASON

"Lulu was the first person on the bigger fashion scale that gave me my start to do the Jason's Closet fashion show. It's just meant the world to me. Now, people take me seriously. It means everything! It's a family that supports each other and I love that sense of community. [Whispers] I love Fashion East, forever."
GARETH WRIGHTON

"I remember being so in awe of Fashion East – it's such an important part of the London Fashion Week schedule that you don't get in other cities. That was at a time when I didn't even know I was into making clothes. A few years later when I started making my stuff, I wanted to reconnect. I'm so grateful Lulu gave me that platform."
HARRY FREEGARD

"Fashion East means amazing parties, of course. But it's another family. I feel honoured to have been inducted into the Fashion East family (for no real reason!). I walked for Rottingdean Bazaar for three seasons, but for some reason you just know everyone anyway. Everyone's so welcoming and so warm. I'm on the peripheries but I still feel like I'm part of the group. It's just cute."
IB KAMARA

"Fashion East is a family that supports each other and really pushes each other to create the best. But it's also good to be part of community that really shows compassion and love, not just work wise, but also outside of work. It's great to see young designers – that we are all friends with now – rise to the top."
Starring: Lulu and Rainbow Kennedy, Madeleine Østlie, Roksanda and Mia Illincic, Martine, Valentine and Reuben Rose, Louise Gray, Nasir Mazhar, Mandi Lennard, Asai, Karen Binns, Raphaelle Moore, Eden Loweth, Charles Jeffrey, Taiba, Ib Kamara, Gareth Wrighton, Miss Jason, Saul Nash, Liam Hodges, Mischa Notcutt, Ms Carrie Stacks, Harrie Bradshaw, Ed Marler, Matthew Josephs, Charlie Porter, Princess Julia, Sophie Jewes, Maximilian, Natasha Booth, Rottingdean Bazaar, Craig Green, Deba and Thara
Hair Takuya Uchiyama. Make-up Terry Barber at MAC Cosmetics. Casting Madeleine Østlie at AAMØ Casting. PR agency Sophie Jewes at We Are Raven Agency. Make-up assistants Dominic Hogg, Coco Tina Hirani, Bow and Carla Nunes de Aguiar. Production assistant Grace Snellock. Casting assistant Emma Matell at AAMØ Casting. Catering We Are Planted. Thanks to Cafe 1001

More like this