Buy a T‑shirt, feed the youth, bun the Tories

Like baked beans, banging slogans and donating to a good cause? Then this graphic tee giving 50 per cent of its proceeds to food banks around London is for you.
On 21st October, Londoner and long-term chef Bella Andrewartha reached boiling point. That day, the UK government had voted against footballer Marcus Rashford​'s bid to extend free school meals over the half-term. For a 26-year-old who had spent her whole life on the Telford housing estate in Woodford, East London, the campaign to stop children going hungry was a matter close to home – and one she wanted to fight for.
"In 2020 we're really giving up on the government," she says, ​"from no justice for Grenfell, to Windrush papers being destroyed, right through to clapping for the NHS, but not giving them a pay rise… Rashford is saying let's help these kids in need and the MPs just gave him an MBE to shut him up. For me it was the last straw."
Andrewartha has spent years working in kitchens around London, witnessing obscene amounts of food waste. As a keen five‑a side footballer for Victoria Park Vixens, she often campaigns for charity. Then, after losing her job due to the pandemic, she found herself seeking self-development – and, in a visceral reaction to the free school meals campaign, she started creating.
"Each day I set myself a task – I'm not somebody who can do nothing. I made this design on Photoshop and I was like: ​'OK, this is kind of cool. It's too cool not to be seen'.
Honing in on something iconically British, Andrewartha had mocked up a Heinz bean homage onto a cotton T‑shirt with the tagline: ​"Feed the Youth, Bun the Tories".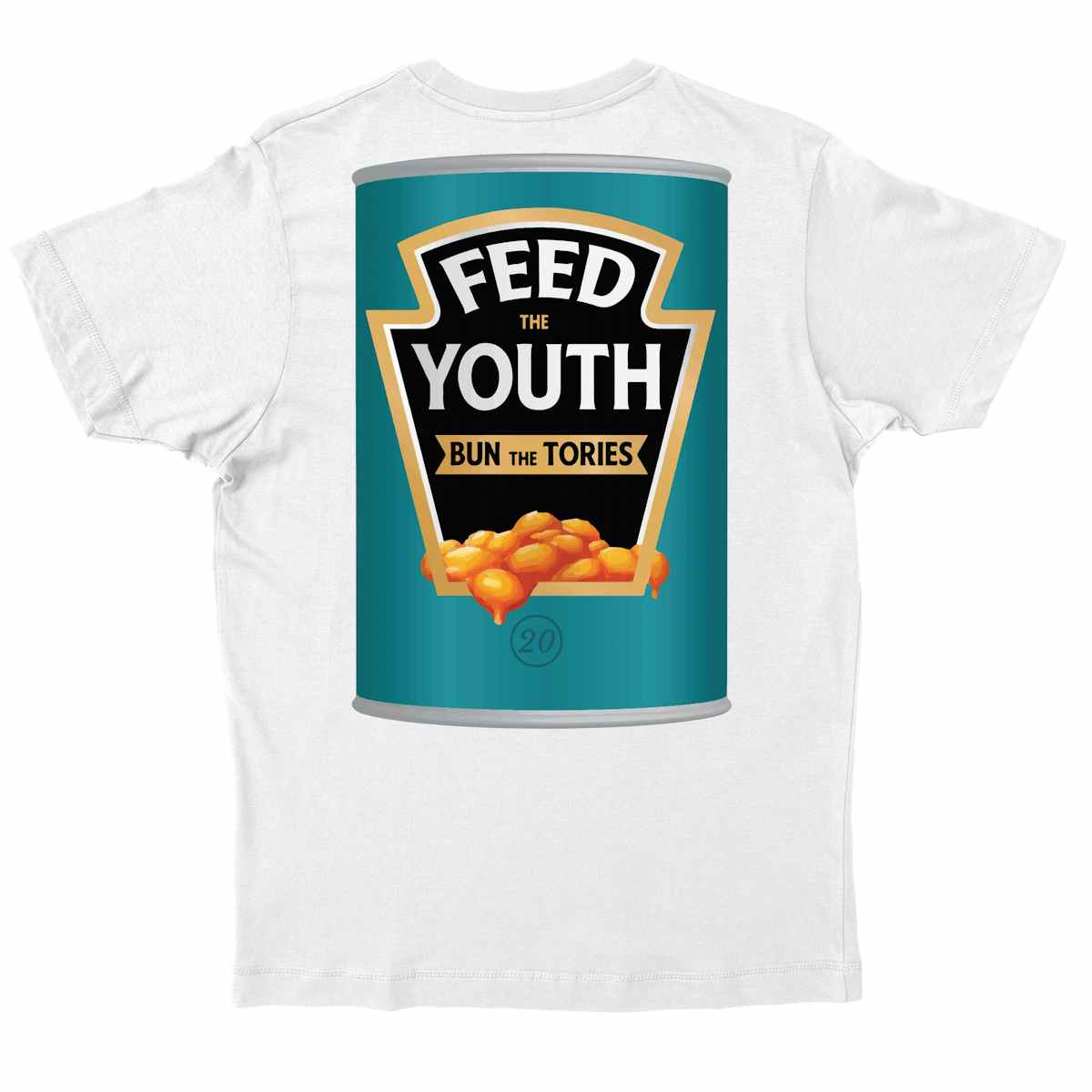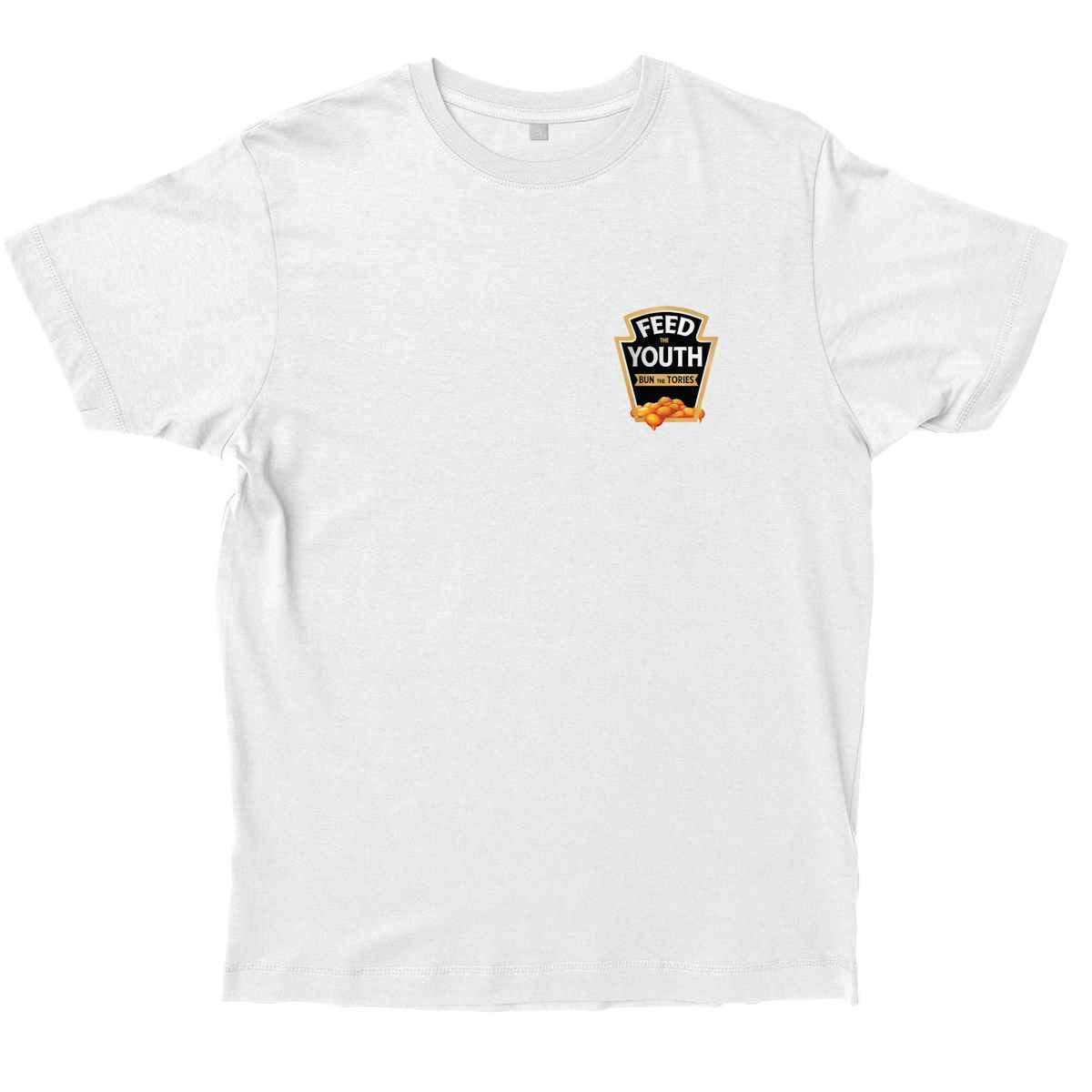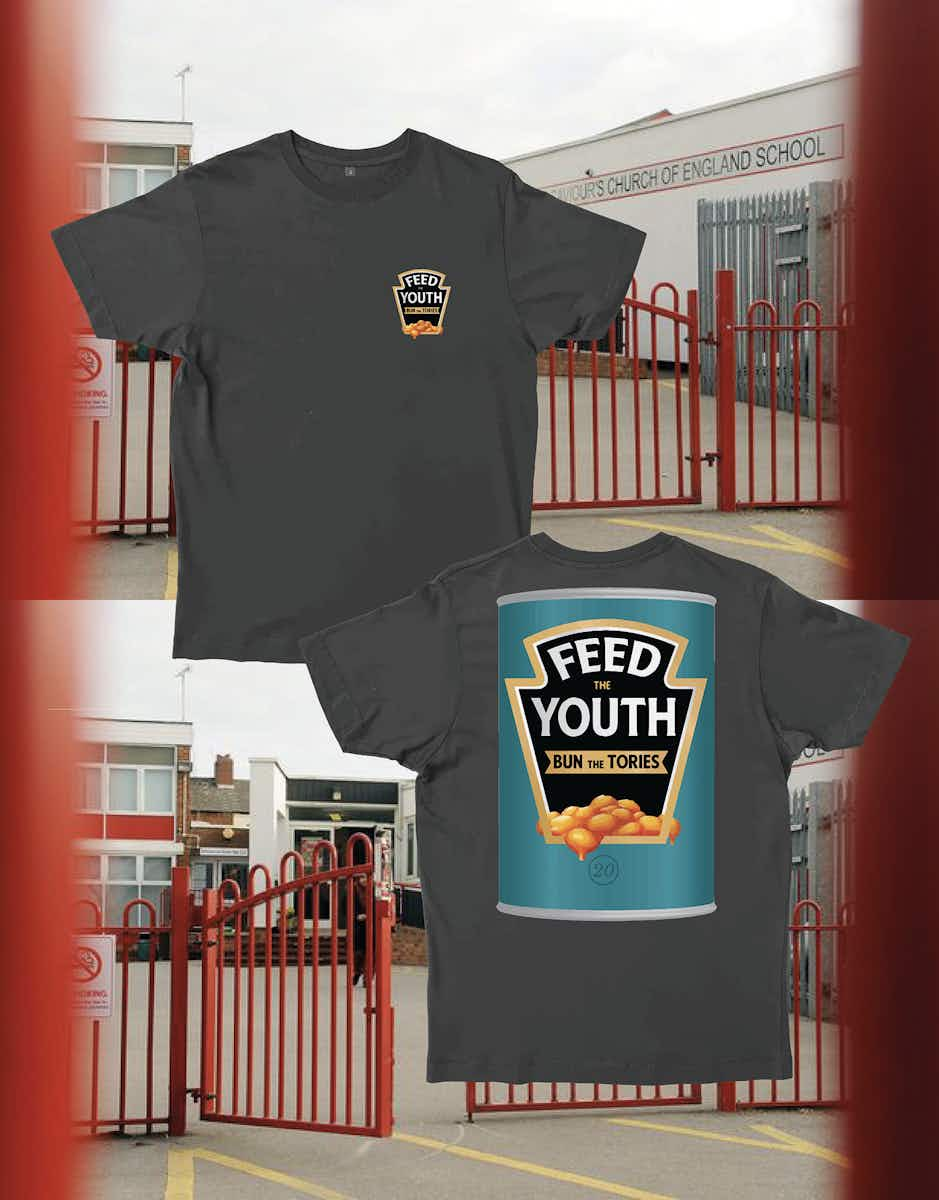 "I couldn't do anything more working class and straight to the point," she reflects. ​"I wanted it to send the right message. It's fuel for kids and it's what I eat a lot. I was going to post on Instagram, but I thought: let's go one better. There's a message behind this – let's put it on a T‑shirt and see what we can do."
Andrewartha is now producing a select line of ethical tees and long sleeves in collaboration with Tee Mill, an on-demand store that supports political campaigns. On top of that, for every tee [made], they plant a tree. Not bad. For every product sold (prices range from £25 to £30), 50 per cent of the proceeds go to food charity The Felix Project. They collect food waste from restaurants and distribute it to provide healthy meals for society's most vulnerable.
"Rashford has no involvement in politics as a footballer and he just really rallied this campaign," Andrewartha notes approvingly of the footballer's self-starting activism. ​"I don't have a massive following on social media, but people know me because of the things I've done through football. I didn't put the similarities together," she clarifies, ​"I just think it's a good cause."
More broadly, it's Andrewartha's mission to create change, no matter how small, to help support her community. ​"We pay taxes, and a lot of us, we struggle," she says. ​"And those taxes go towards MPs who earn a lot of money. It's cliché but children are our future and we need to invest in them."
On 7th November after petitions, public outcry and a personal phone call from Boris Johnson to Rashford, the government made a £400 million u‑turn. Now free school meals will be provided to disadvantaged children over holiday periods right up until Christmas 2021. Feed the youth, bun the Tories, Rashford for Prime Minister.

More like this