It's a (Fendi) family affair

Kim Jones' debut Fendi couture show as creative director saw him merge British romanticism with the ornate origins of the Italian house, with deeply historical references feeling ever more contemporary.
Last night, Kim Jones joined the celebrated, long-standing legacy of British designers once at the helm of couture houses: Alexander McQueen at Givenchy and, more recently, Clare Waight Keller. And John Galliano, also at Givenchy, followed by an illustrious tenure at Dior, now currently heading Maison Margiela.
Debuting his first Fendi couture collection, Jones made a breathtaking ode to the rich tapestries of the Bloomsbury Group, a bohemian set of writers, poets, intellectuals, philosophers and artists living and working between London and Charleston, East Sussex. A personal nod, with the country home of the Group located in Jones' quaint childhood village of Firle, also in East Sussex. It was here that the Group, which included writer Virginia Woolf and painter Vanessa Bell, would retreat from city life – a meeting place of secluded sanctuary filled with influential art, blossoming ideas and future pioneers.
Jones, who is currently artistic director of Dior Men's, was announced as creative director of the Italian house last September. He focused on the freedom, artistry and tight-knit community of the group, his collection weaving British romanticism and eccentricity through an ornately Italian approach. Included in the collection's show notes is a short passage from Virginia Woolf, taken from her 1928 novel, Orlando: A Biography:
"Vain trifles as they seem,
clothes have, they say,
more important offices than
to merely keep up warm.
They change our view
of the world and
the world's view of us"
Jones delved into the enduring allure of the Group's radical social liberation, taking gender-blurring statements along with him for a future-facing perspective. A light mint green gown draped on a male figure is indicative of the designer's attentive approach, as is a ruby red lip, feeding off the here and now while addressing the direction of contemporary political attitudes – even in the often tightly-sealed rulebooks of couturiers.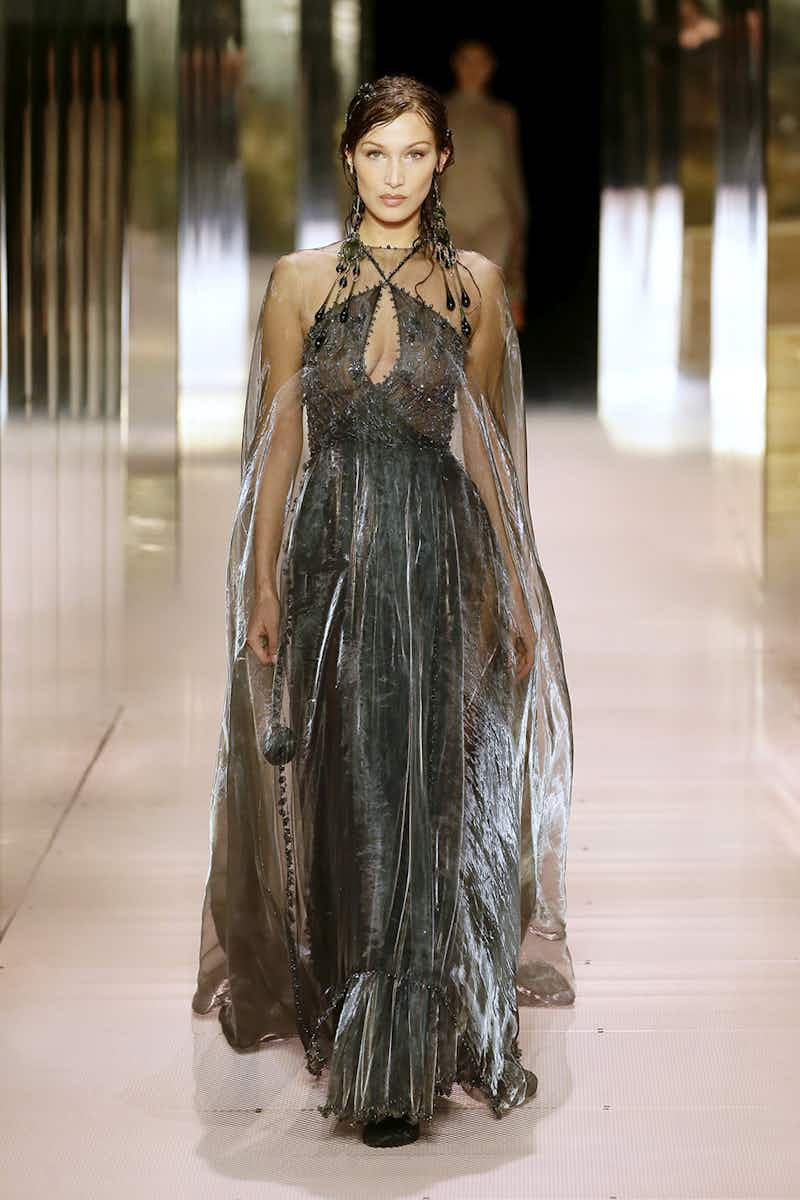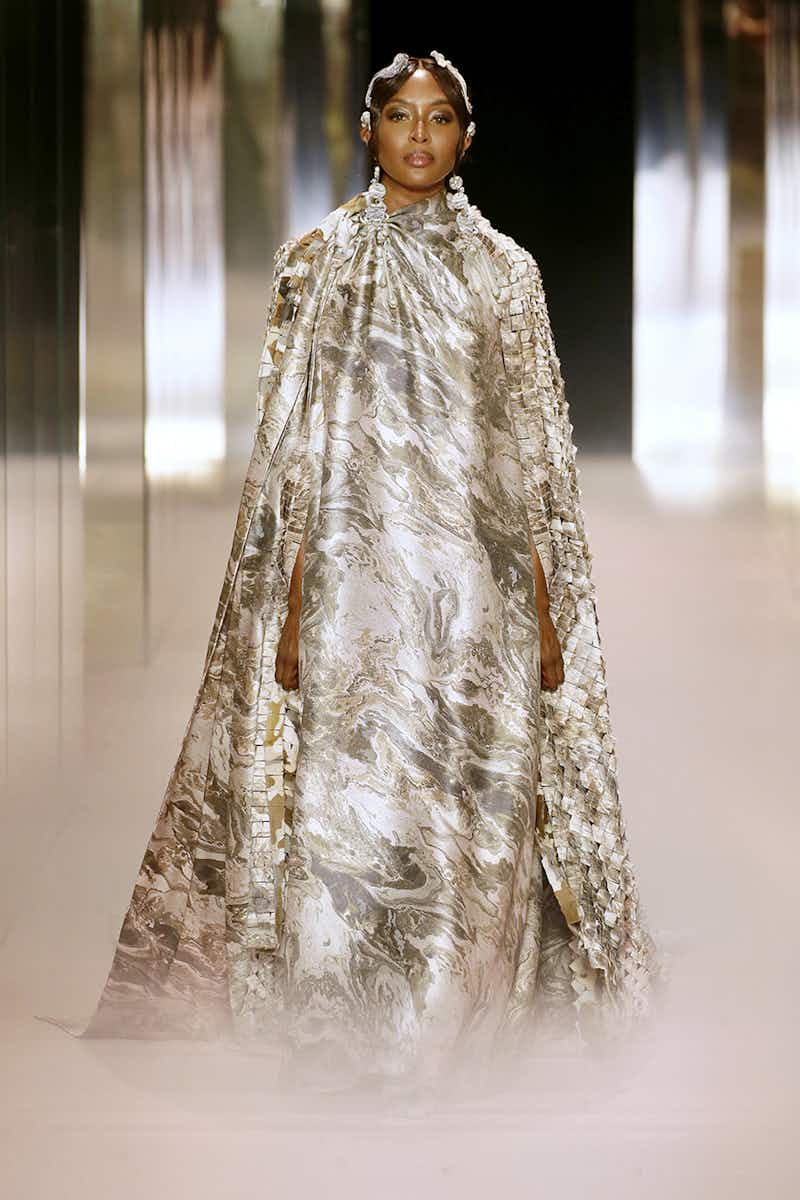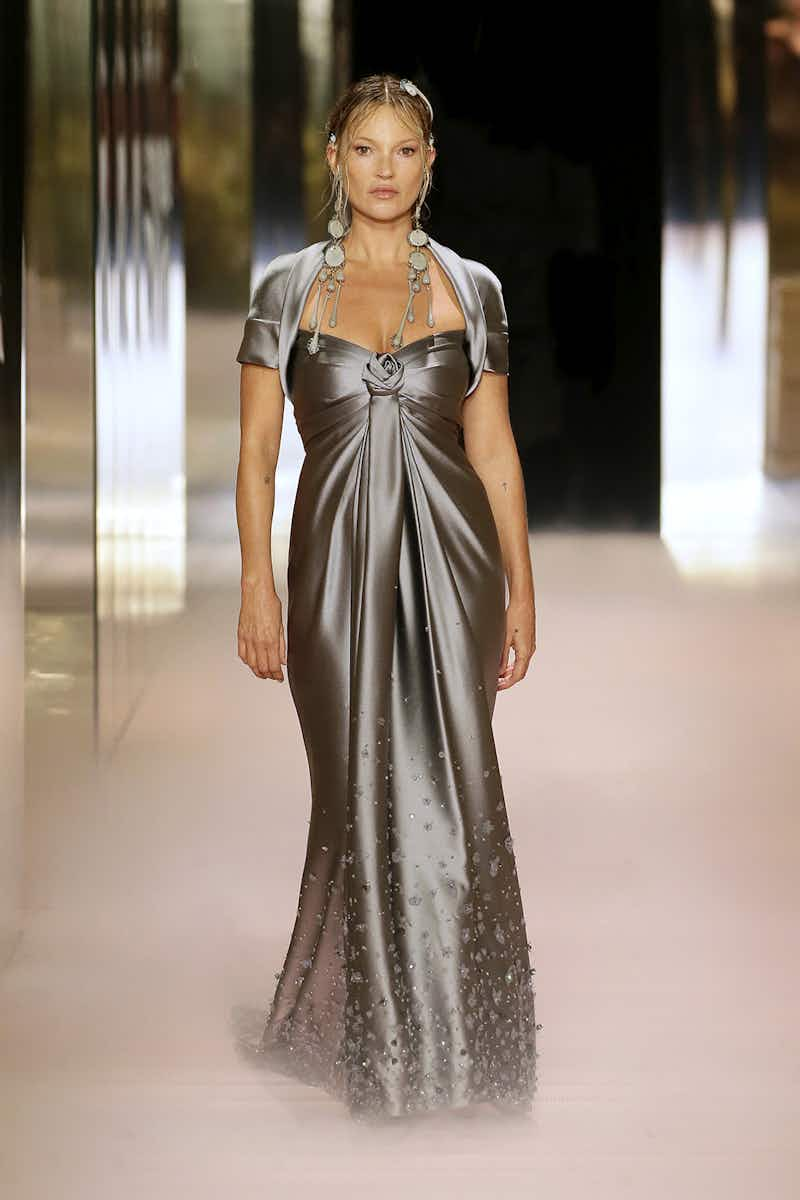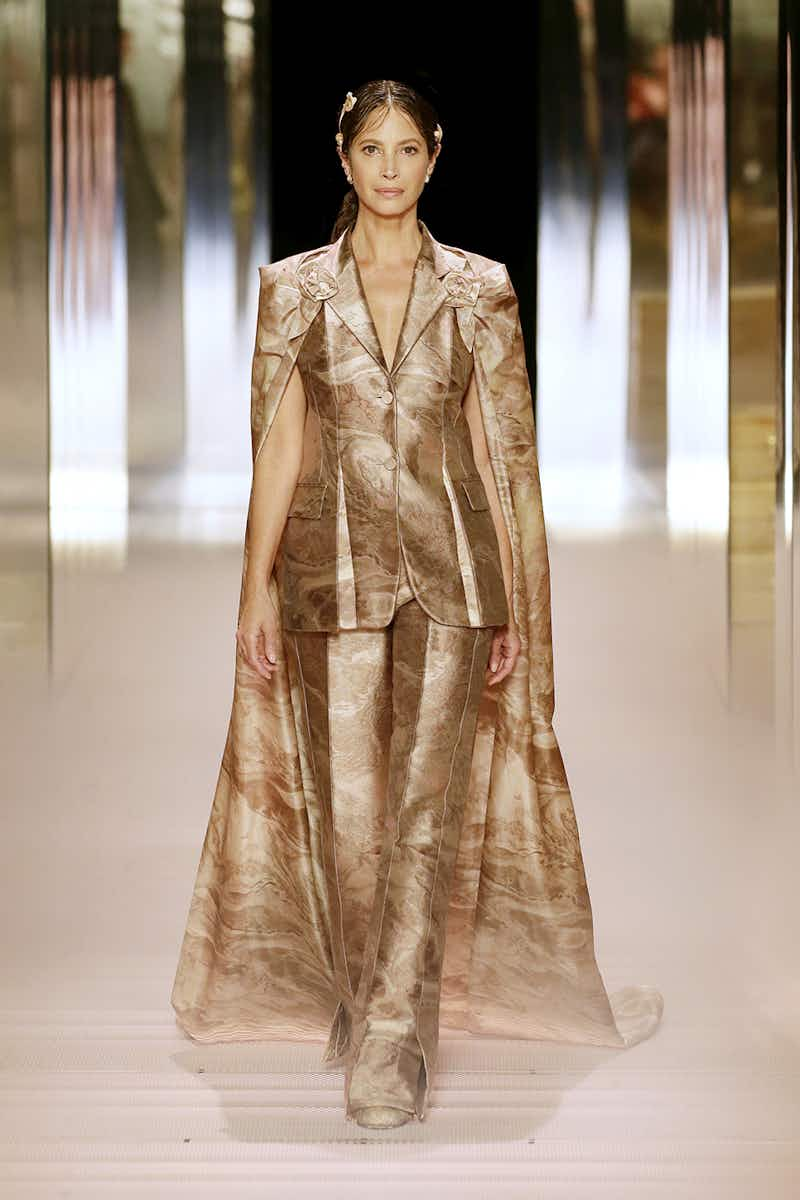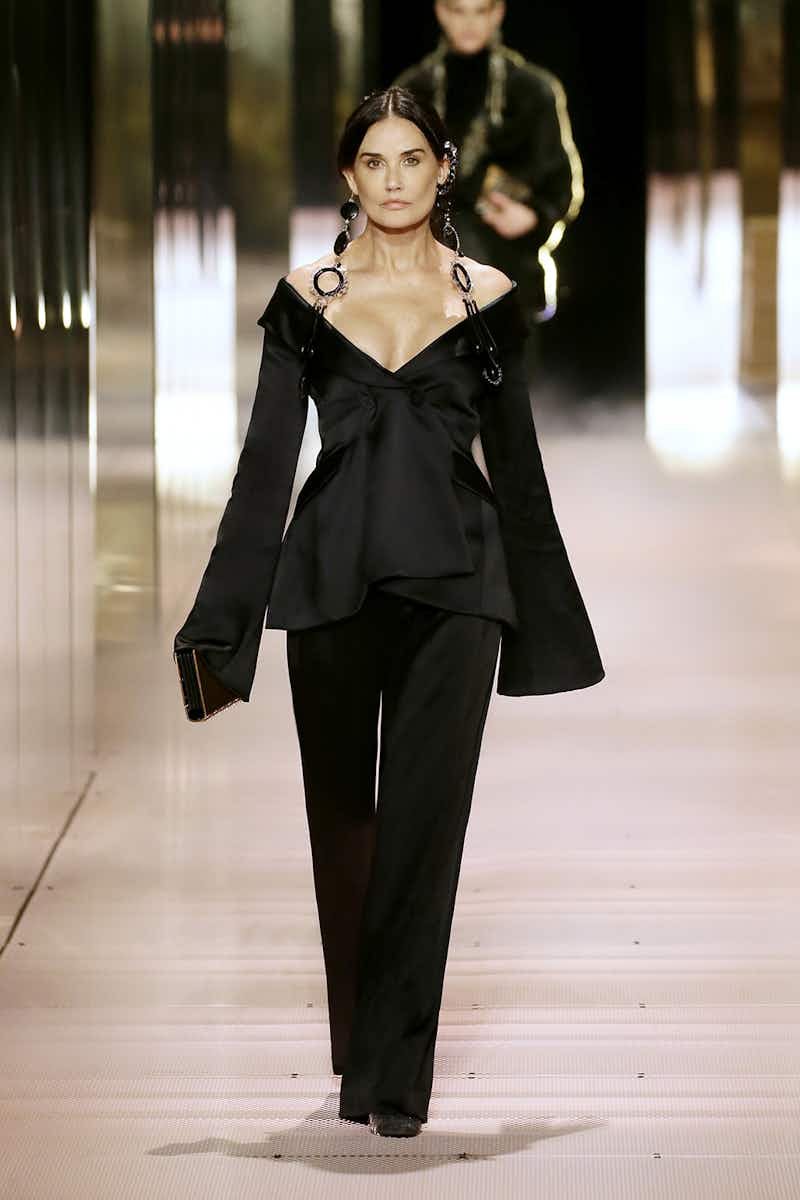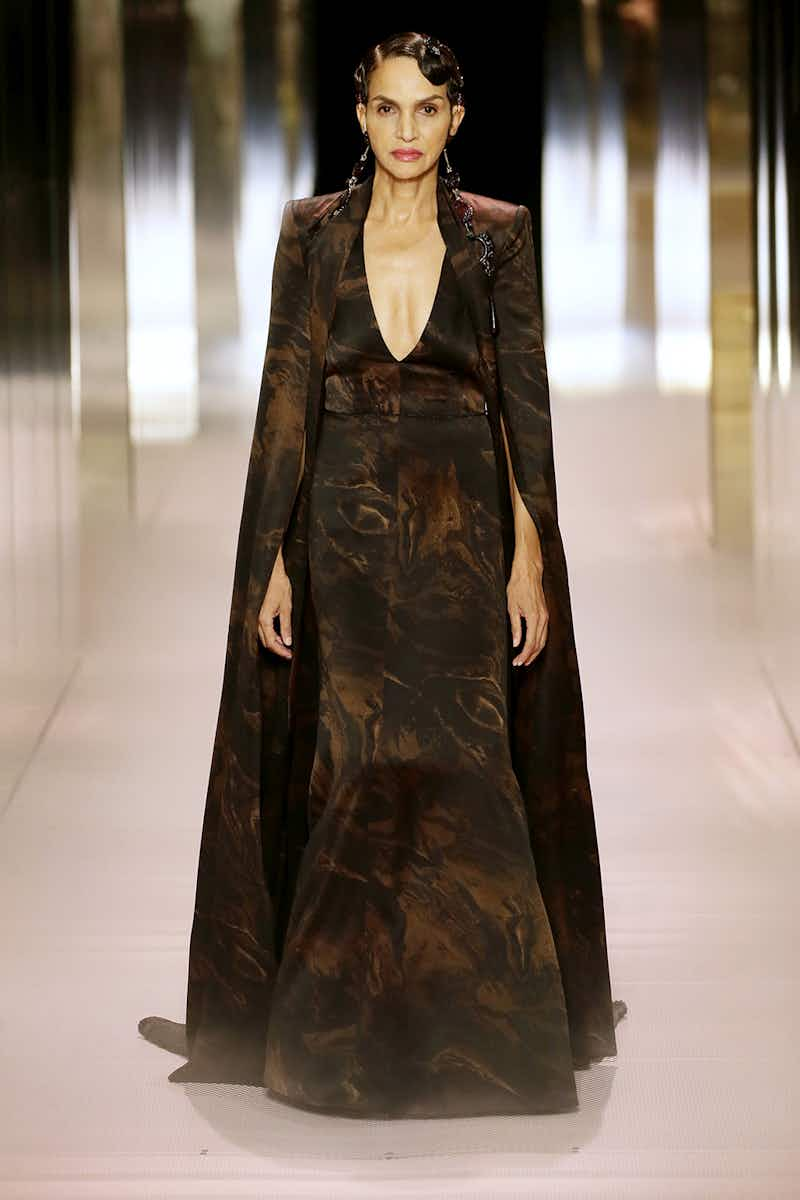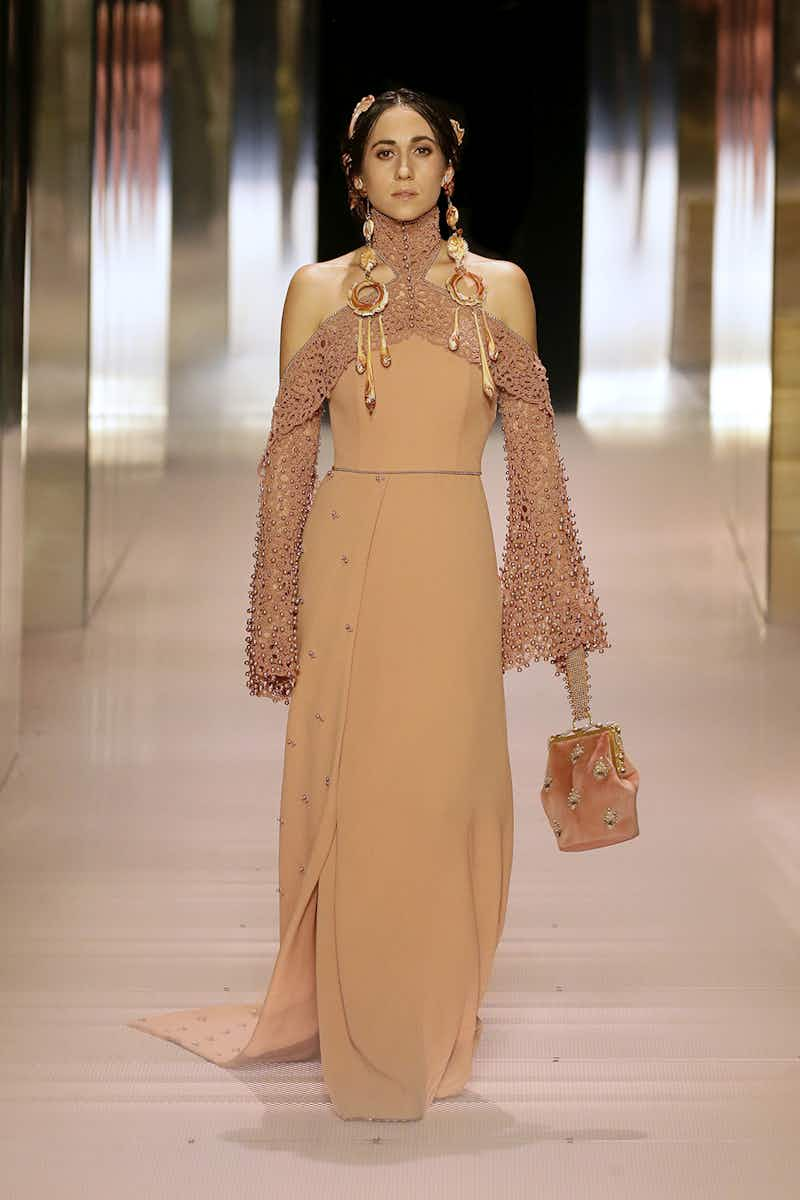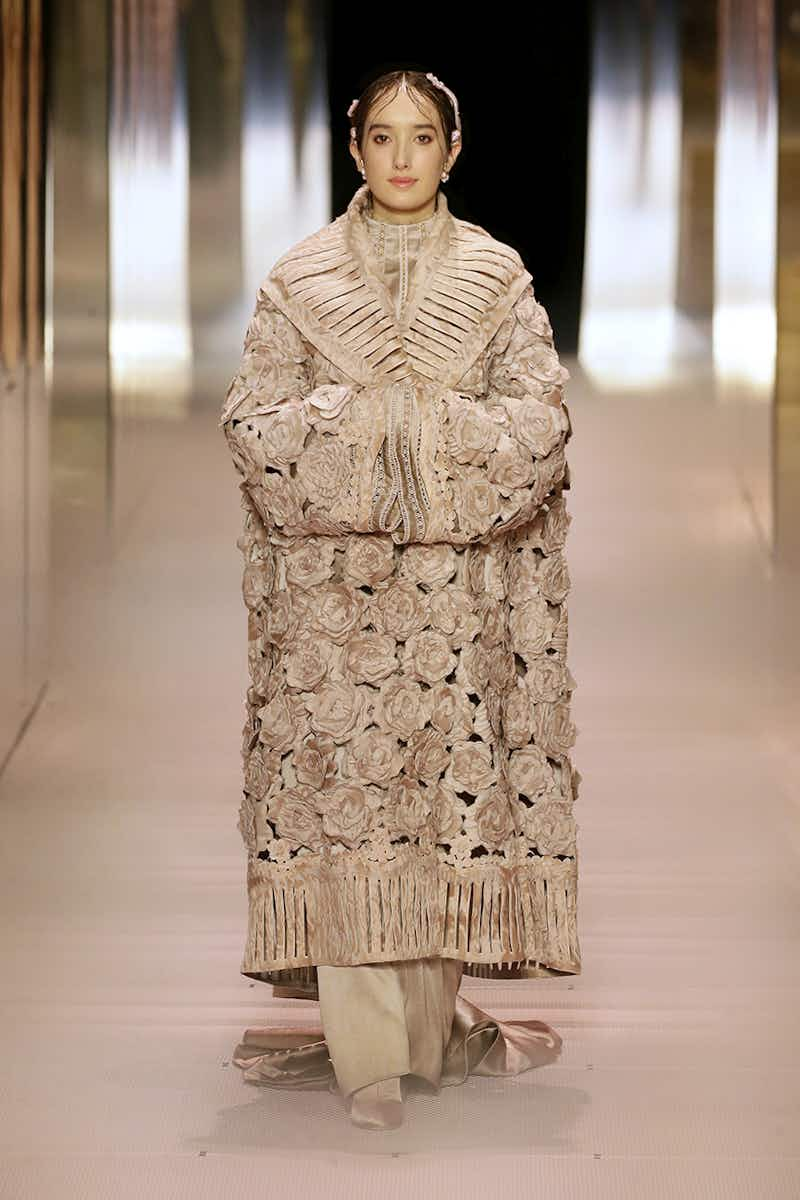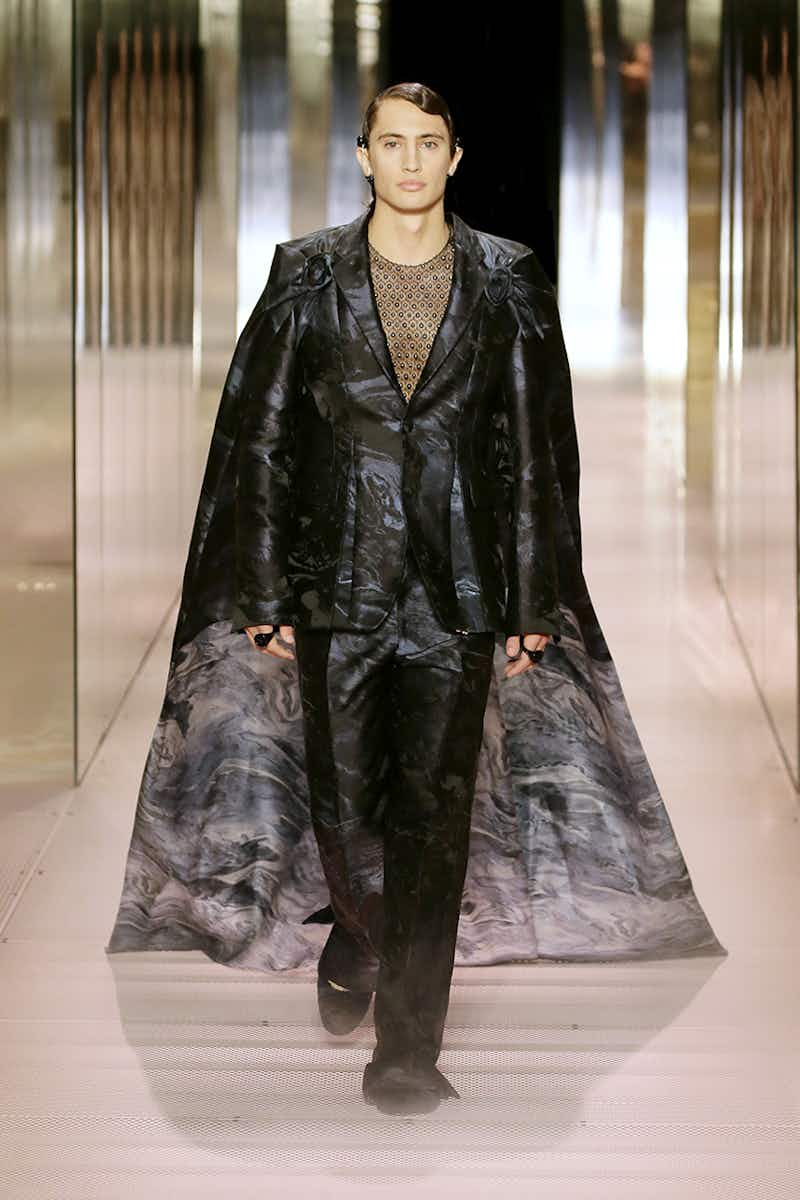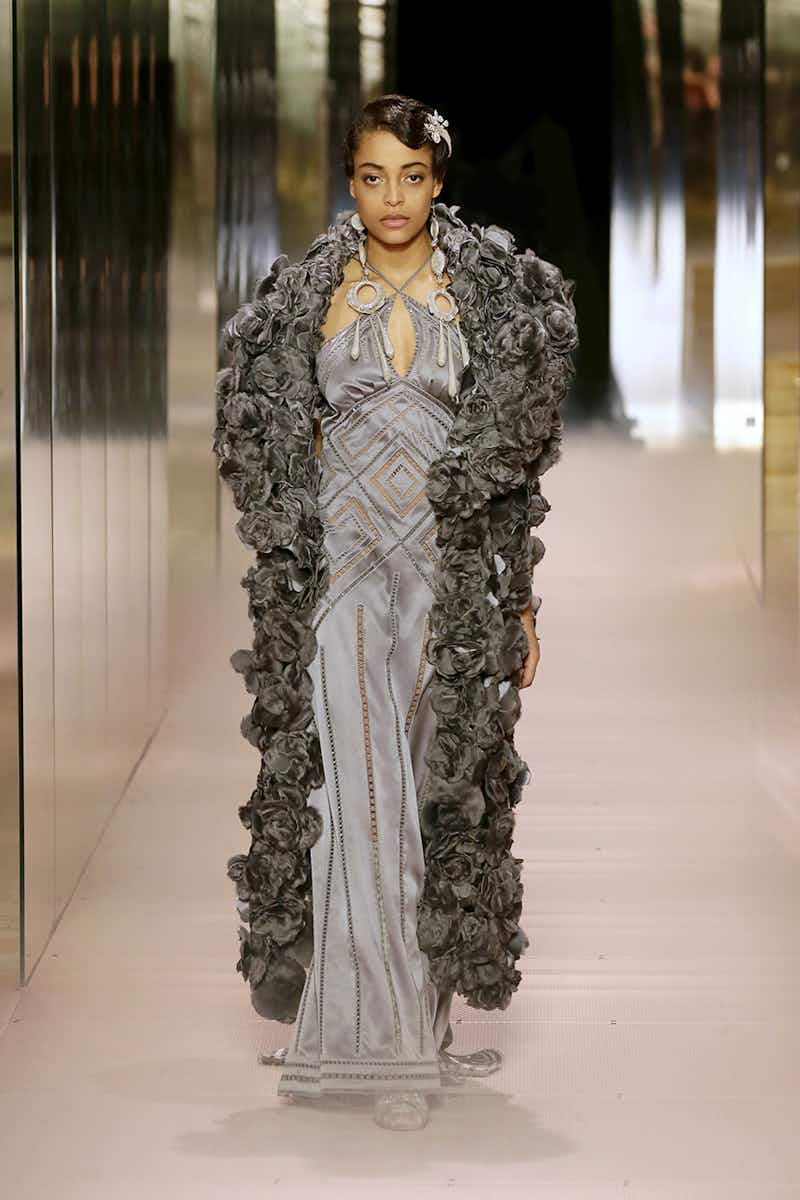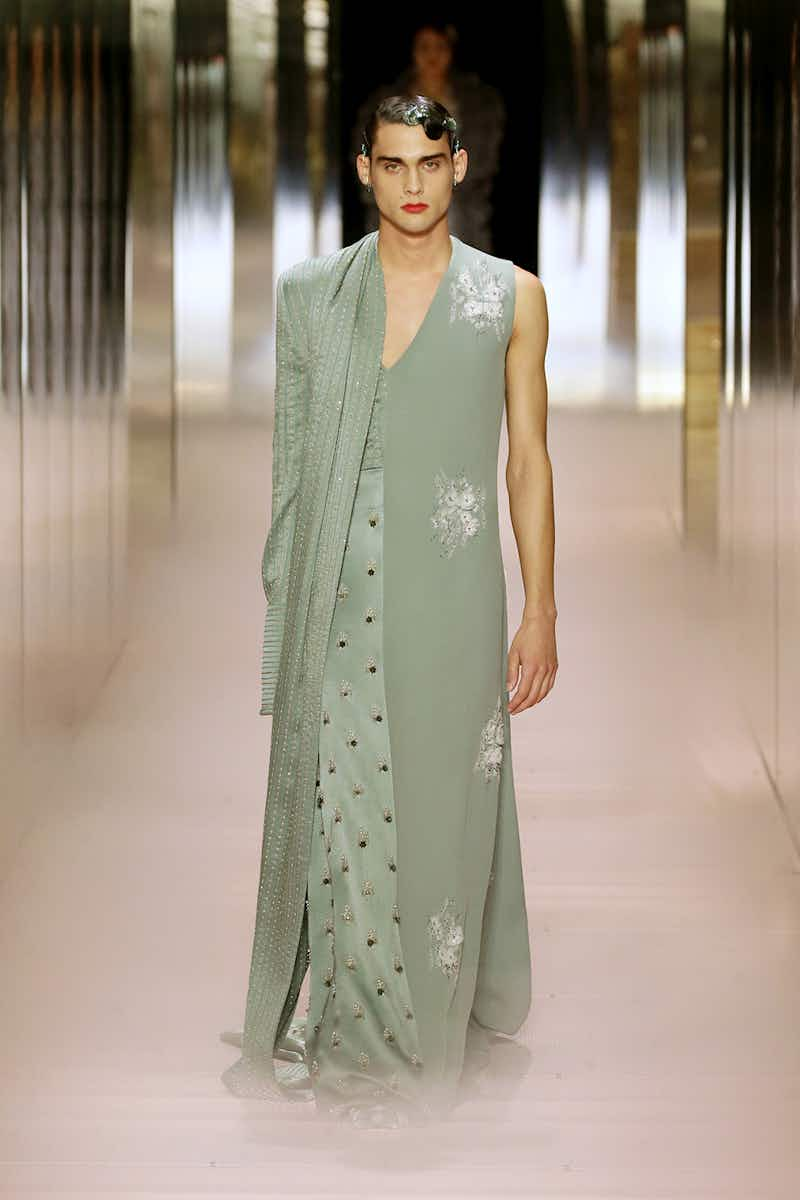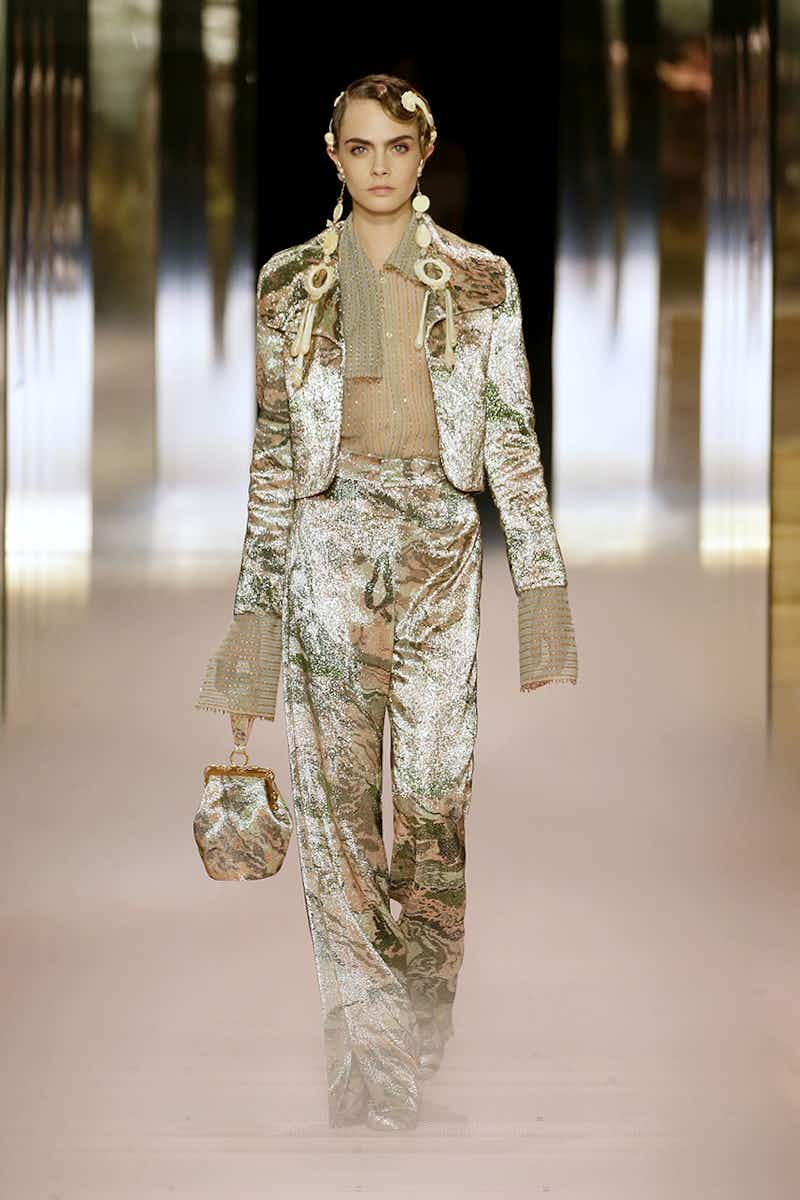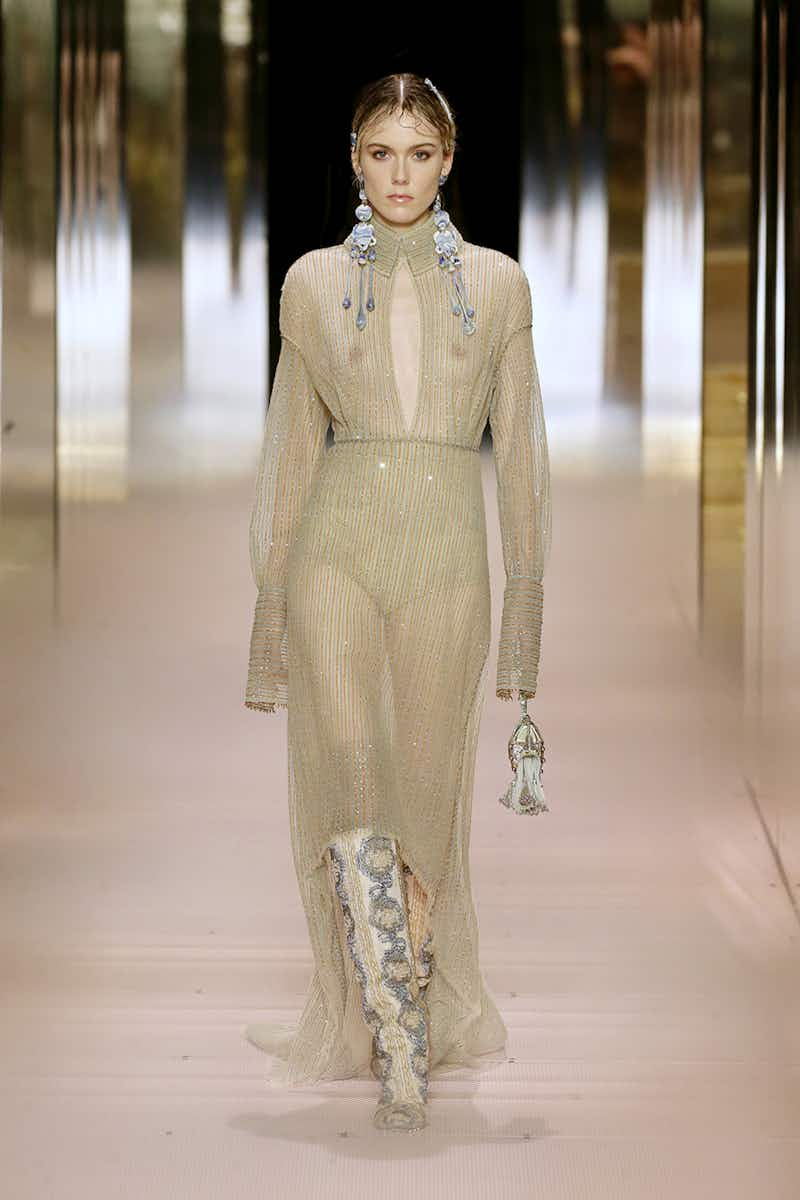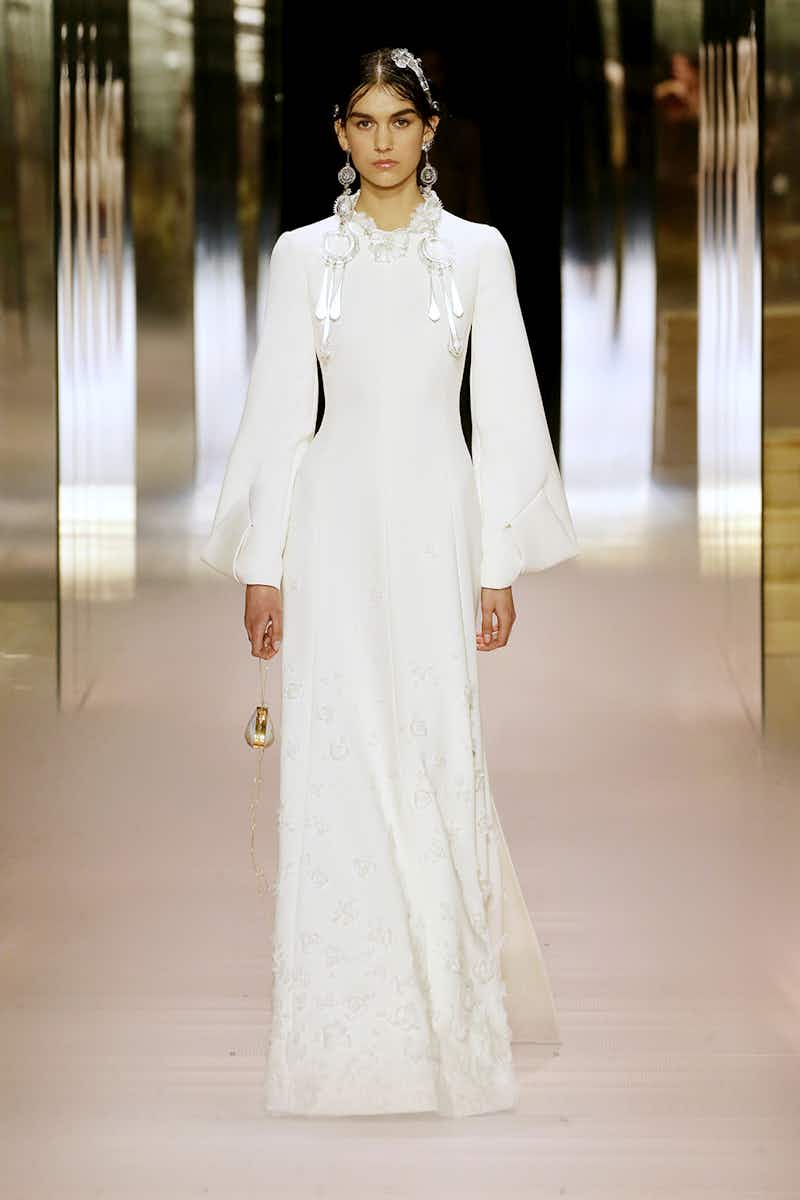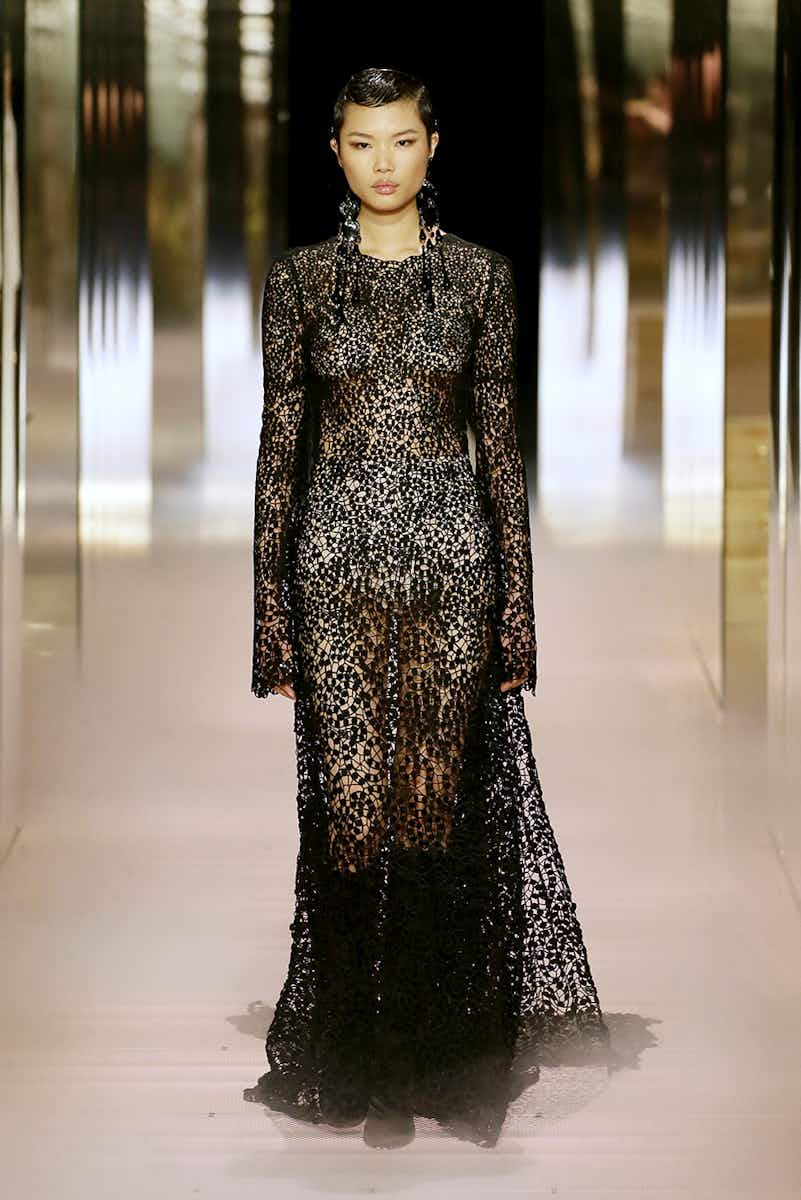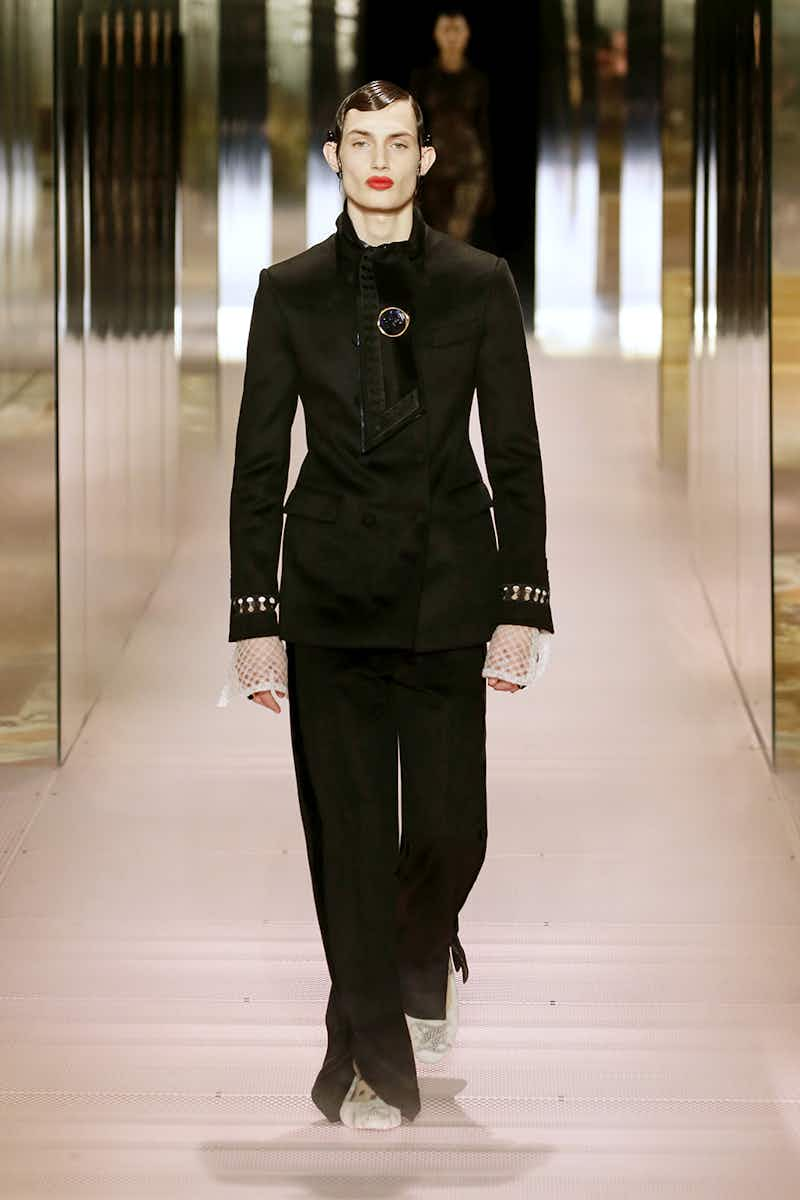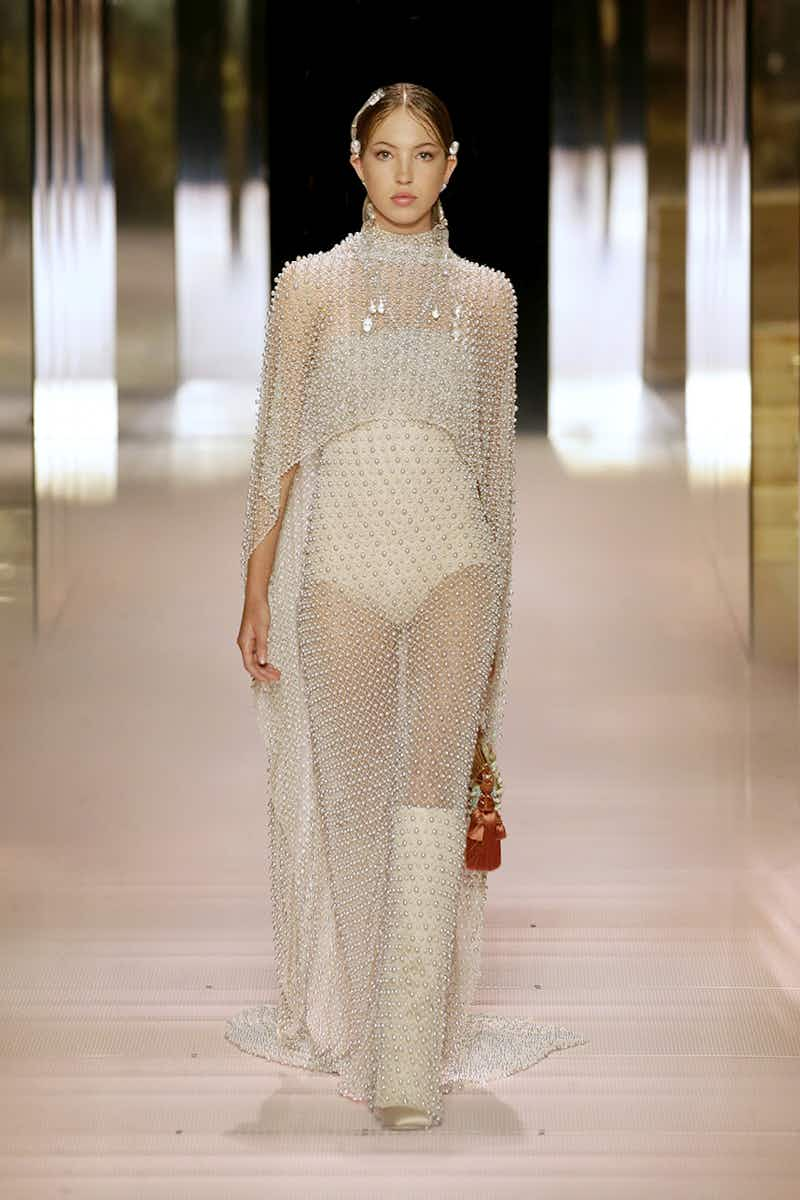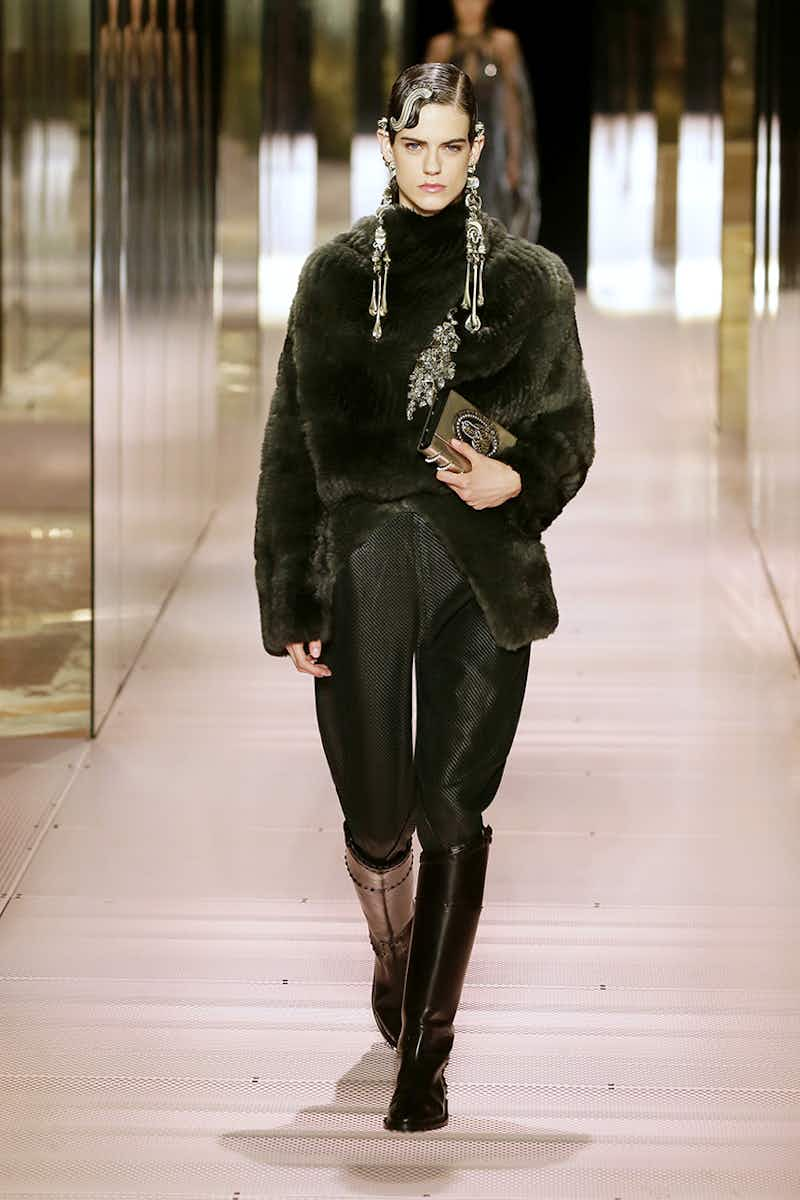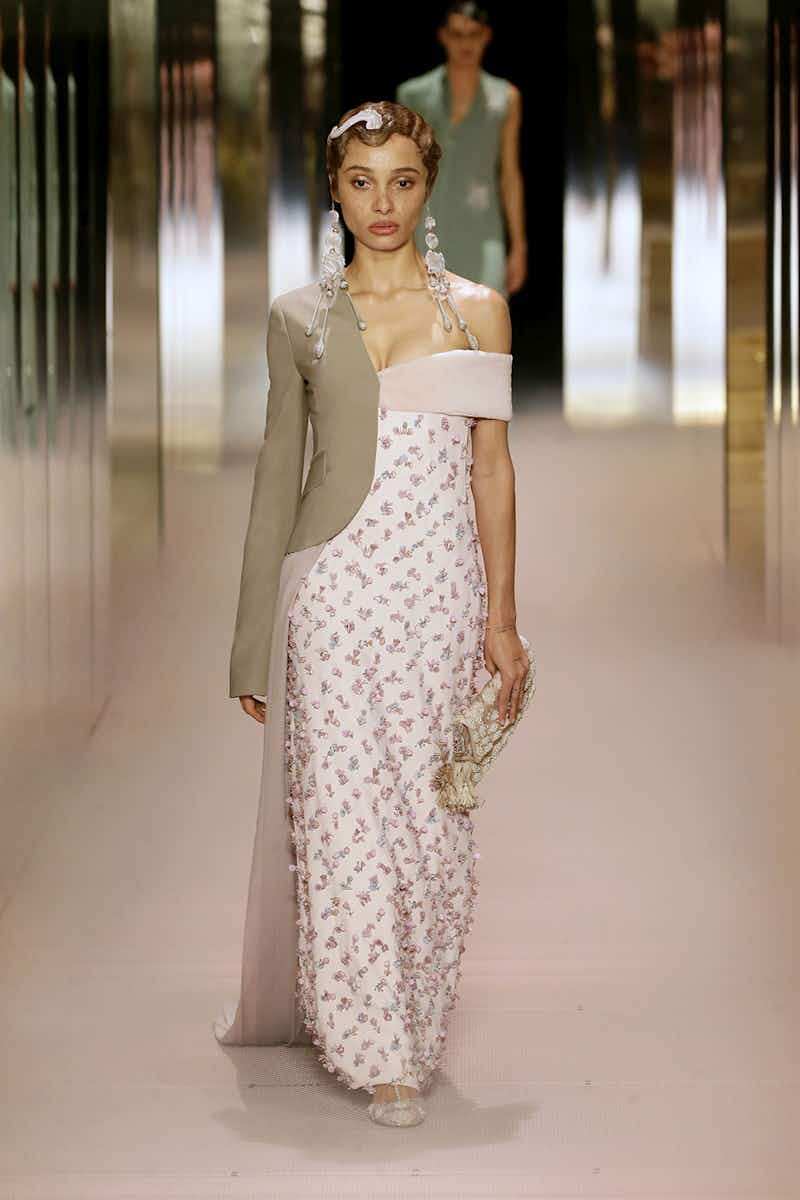 Still, Jones appreciates the long-standing history of Fendi by keeping it in the family, approaching his very own chosen family for the show: pioneering female figures throughout his design career. The designer mentioned in his show notes that the intention of the selective casting was to mirror the core values of Fendi's family. ​"It is in its third generation with Fendi at its helm," he wrote. ​"Here, I am surrounded by strong, powerful women who I love and respect, and want to bring their energy into what I do."
Making their way down a mirrored maze scattered with flowers, and over a moving soundtrack composed by Max Richter, was Kate Moss, along with her daughter, Lila. Then, Adwoa Aboah, followed by her sister, Kesewa. Christy Turlington was accompanied by her nephew, James, and Cara Delevingne and Bella Hadid walked before Naomi Campbell dramatically closed the show, finishing with an intricately printed silver cape sweeping the floor.

In his typically conceptual approach, Jones accentuated the decorative motifs he discovered at the Charleston farmhouse on one of many excavating research trips. In an effort to revive and re-contextualise, boots are ornately beaded and hand-painted, adapting the soft furnishings within the house. Quick paintings by Vanessa Bell and Duncan Grant that were plastered on walls in various rooms were adapted into embroidered embellishments on gowns, complementing the marble print on swathes of silk taken from the hand-printed, marble-bound books published by Virginia and Leonard Woolf.
Sweeping necklines and off-the-shoulder cuts indicated Jones' appreciation for Italian classicism, but the details, like the use of Murano glass to produce droplets, ethereal organza, and hand-sewn wildflower motifs harmonised the contrasting approaches to romanticism throughout the collection.
It's a seismic shift for Fendi's couture codes – but one that revels in the deep history of an Italian house modelled on family. Similarly to McQueen and Galliano's shape-shifting virtues in couture, Jones has the ability to create bold, contemporary statements through a freeing lens.

More like this