Kim Jones retreats to Rome for his Fendi ready-to-wear debut

Almost a month ago, the Italian house's creative director presented his first couture collection with a focal lens on Great British bohemianism. This time round, he's fully immersed in the Fendi family's ancestral roots.

It may feel like just days ago that Kim Jones was making his womenswear debut with his first couture collection for Fendi – and that's because, well, it was (28 days, to be precise). Yet the maverick designer is back with a flash for his first ready-to-wear collection for the storied Italian house, kicking off Milan Fashion Week earlier this afternoon with a welcome dose of unabashed luxury.
While the couture collection looked largely to Jones's native England for inspiration, referencing Virginia Woolf's Orlando and the louche bohemianism of the Bloomsbury Group (albeit with a nod to Fendi's hometown of Rome via prints referencing the marbled patinas of Bernini sculptures) this time round, Jones paid a more direct tribute to Italy's eternal city. The maze of perspex, F‑shaped screens from the couture show returned, arranged askew to create the disorientating effect of a funhouse mirror maze, with crumbling columns and the broken body parts of classical sculptures as a nod to the ruins of Rome's ancient forum.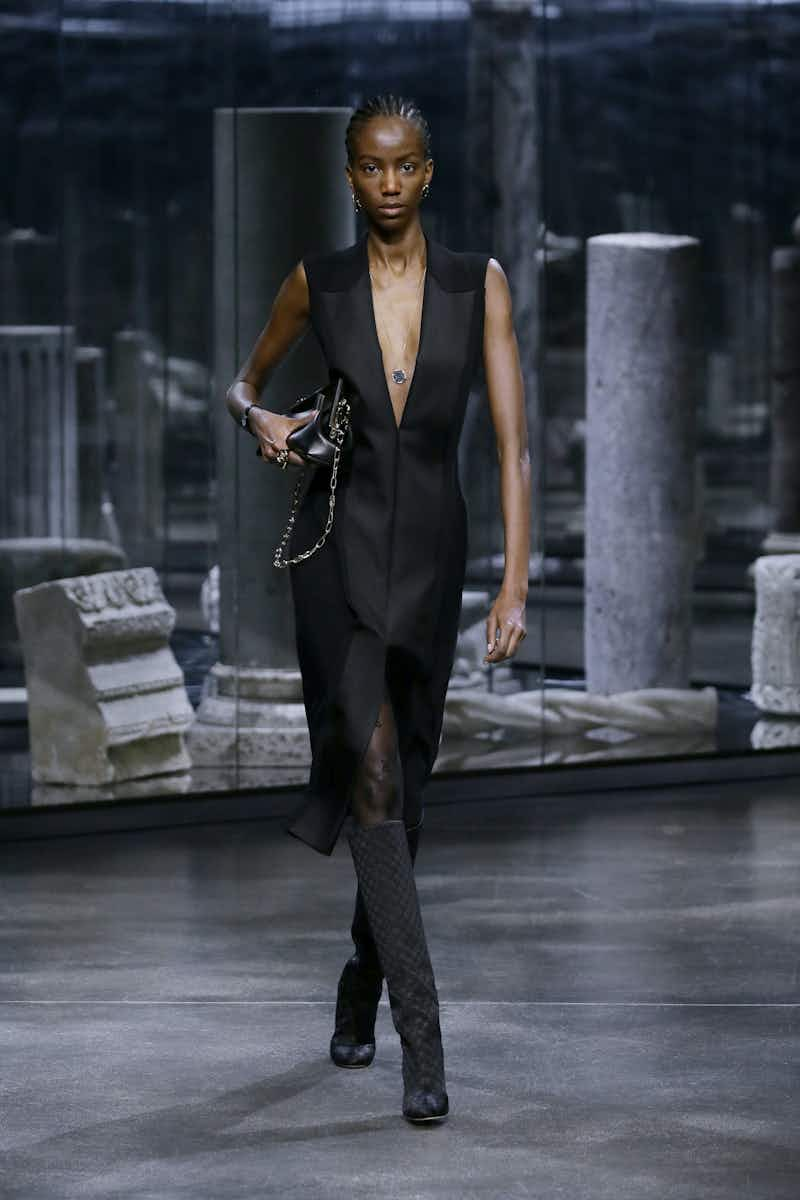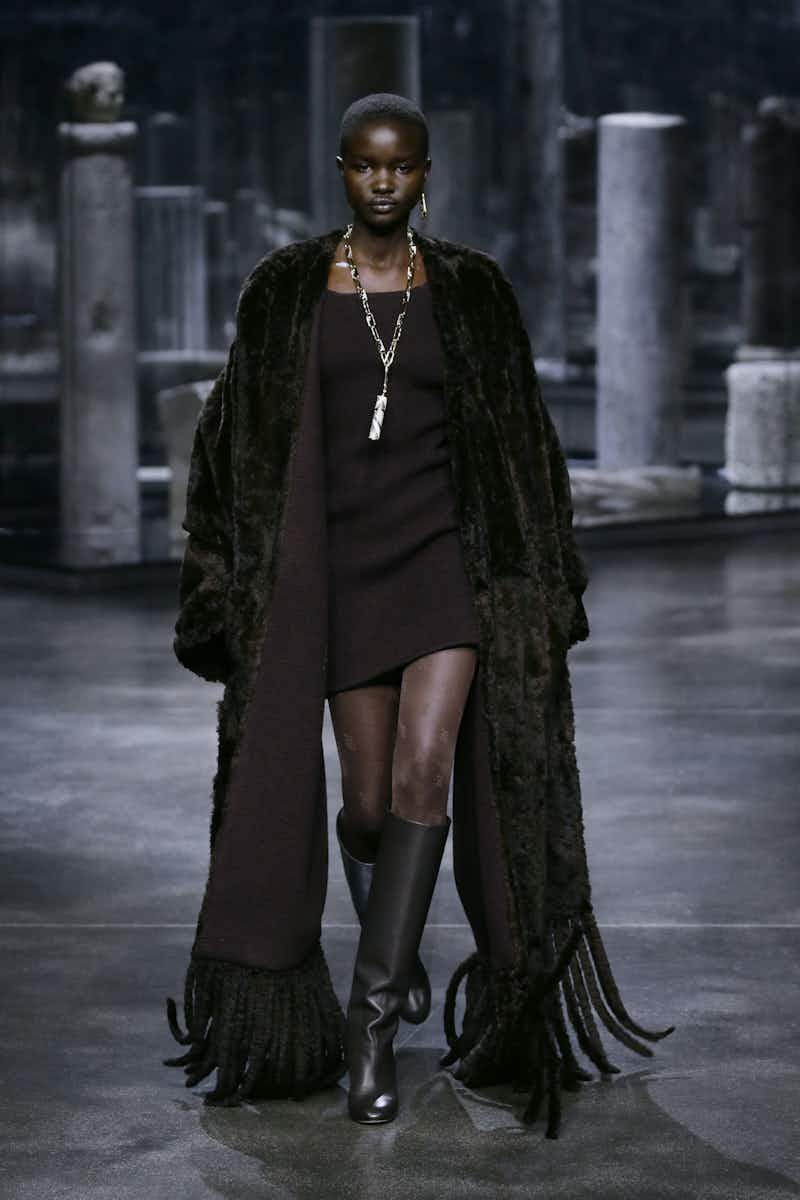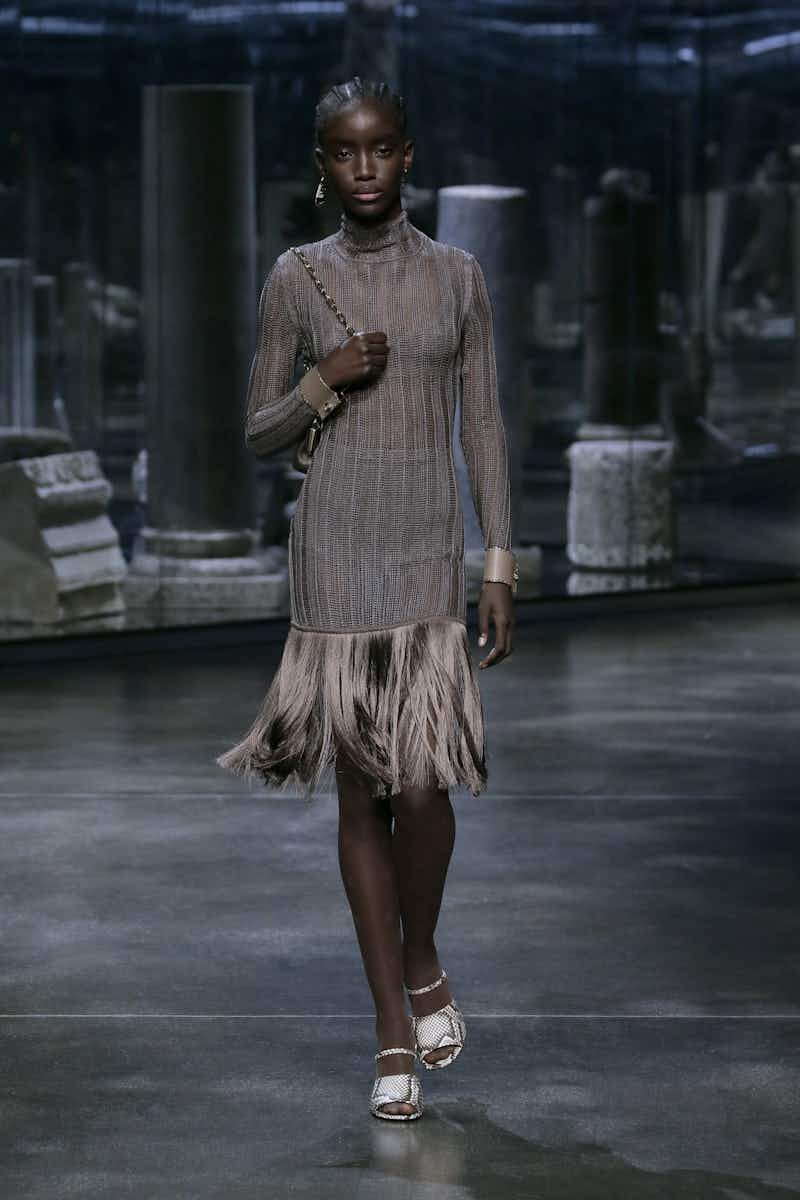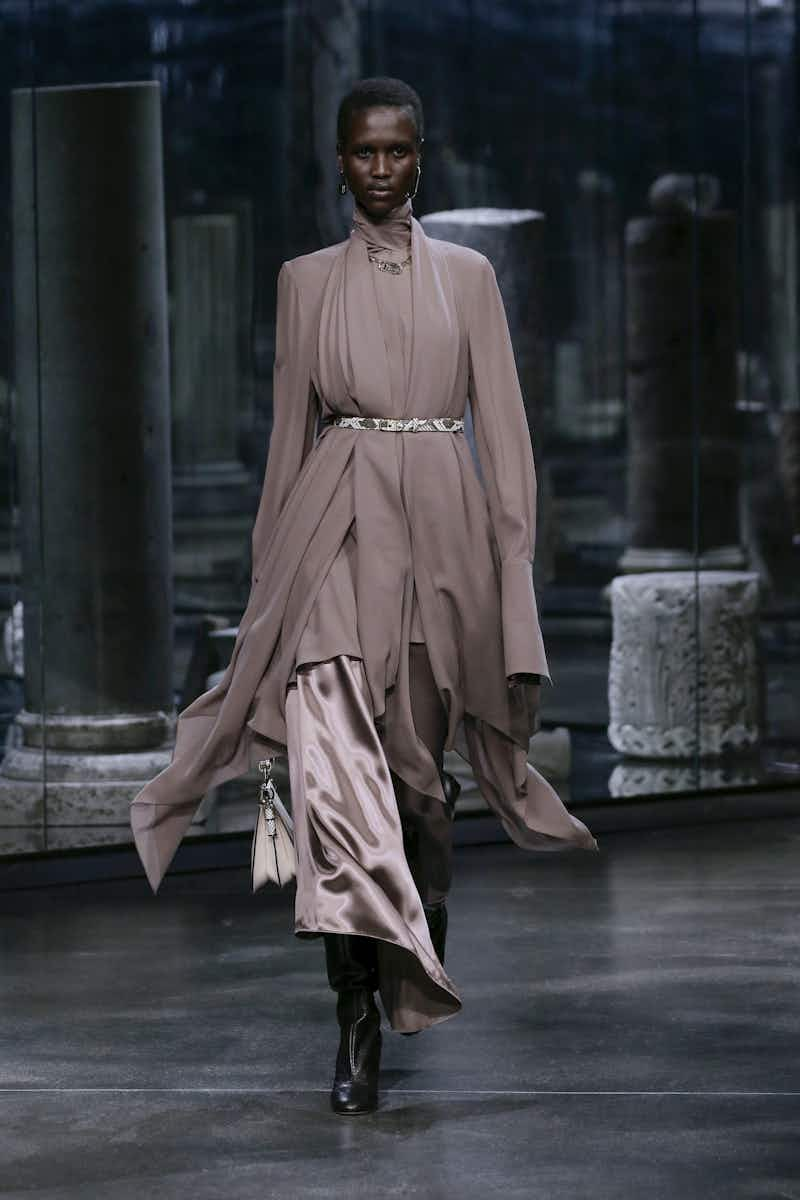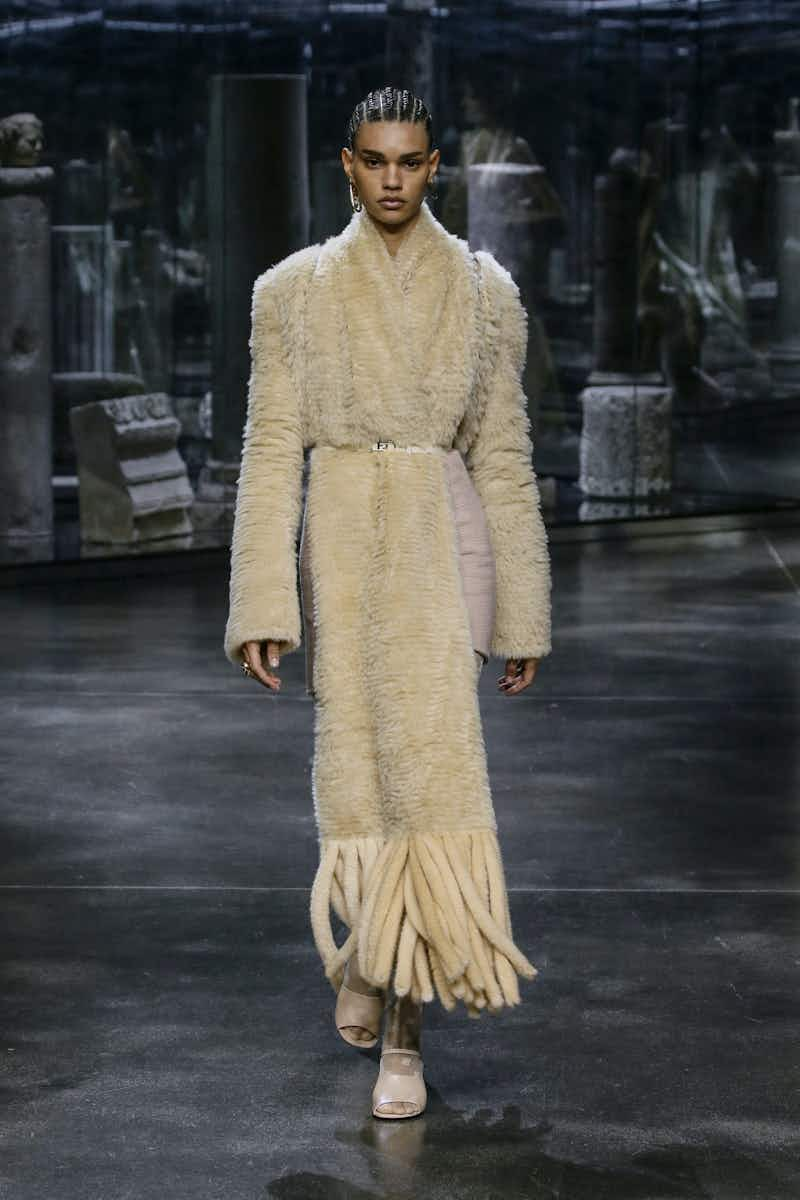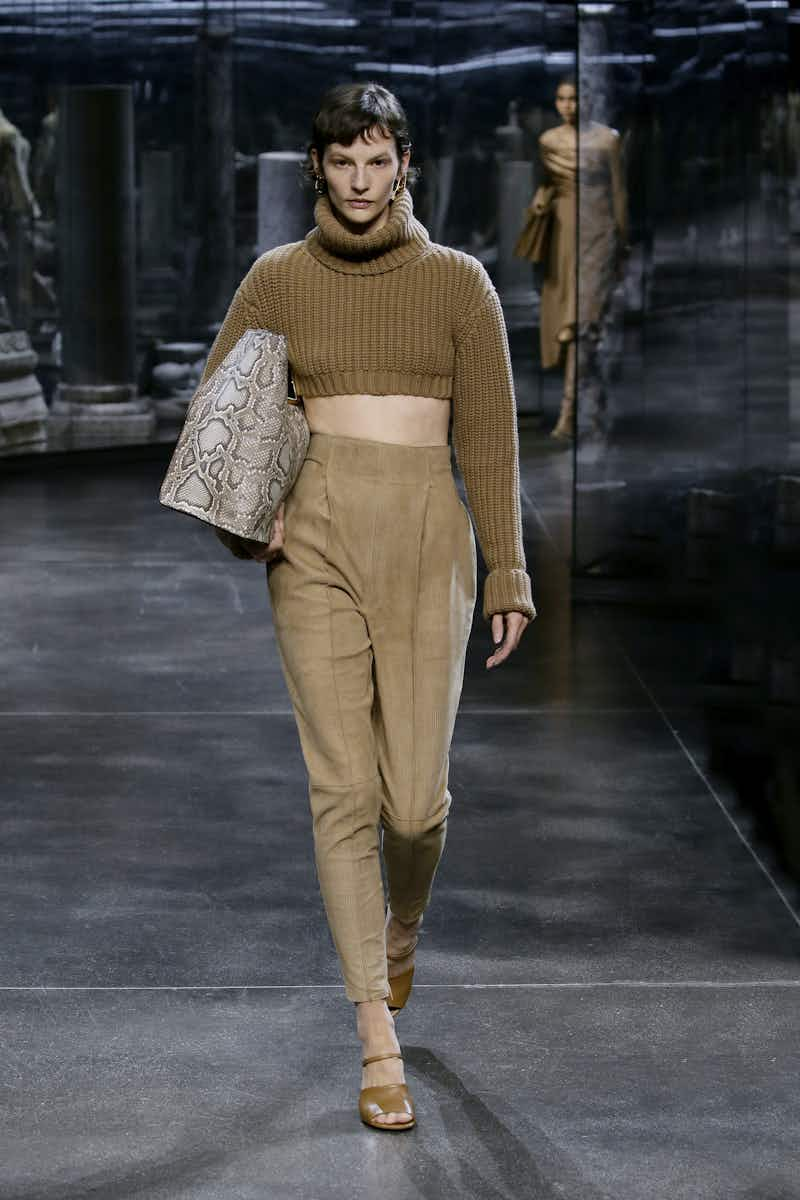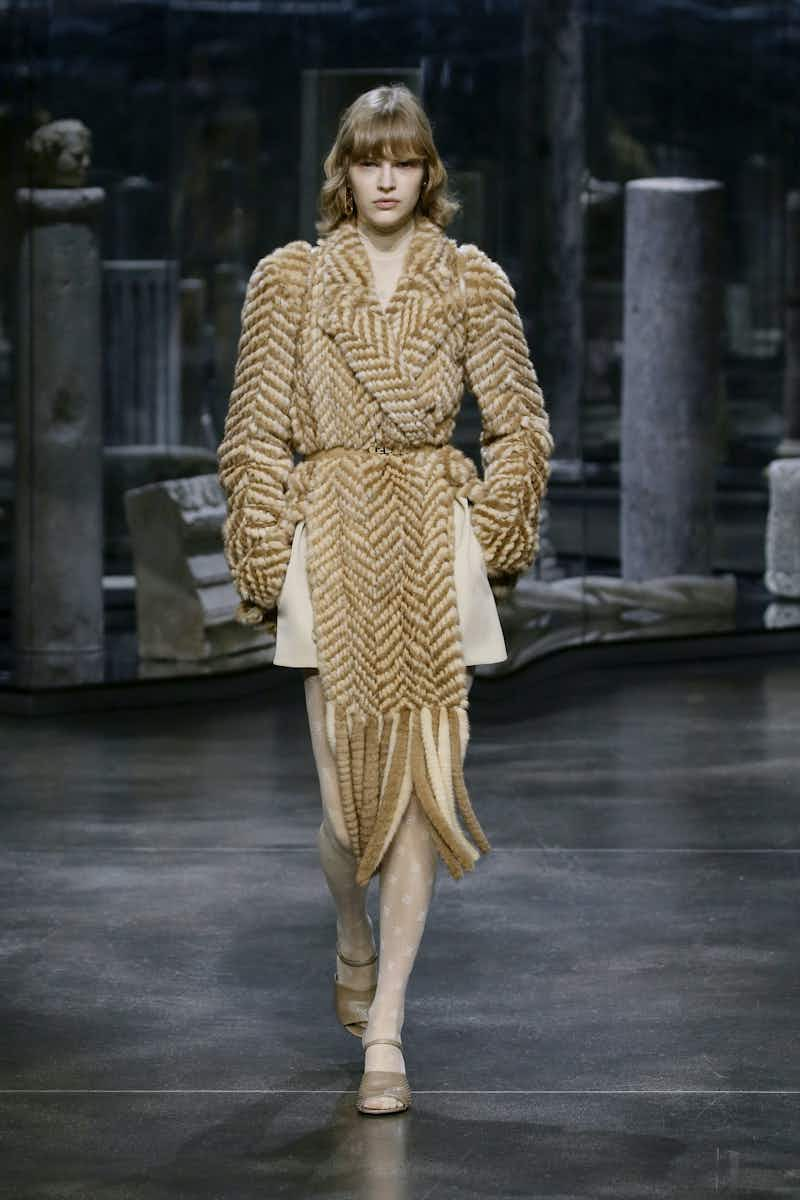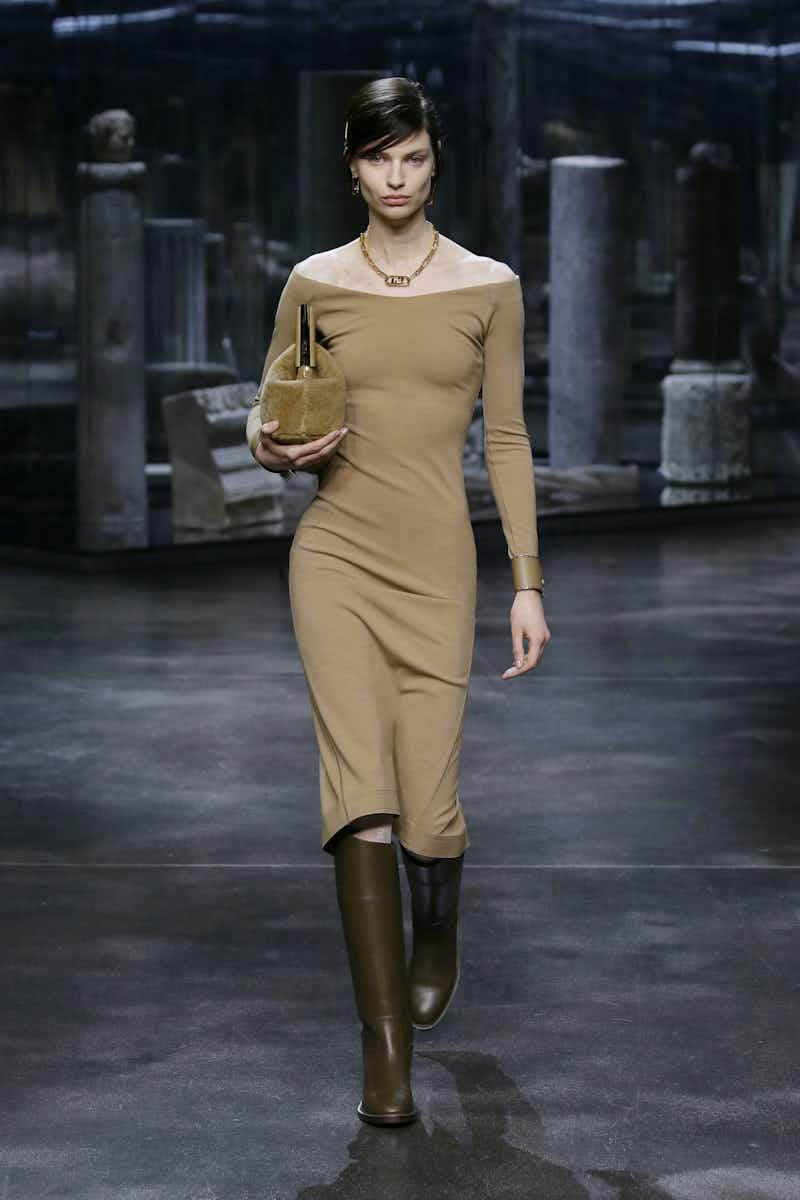 Also worth noting was that in lieu of Jones's typically starry line-up of models, the show was populated almost entirely by unknown or up-and-coming faces, ensuring all the attention was firmly fixed on the clothes. And across a spectrum of off-whites, tans, neutrals, and blacks – with the occasional pop of animal print or an embossed detail of the Fendi logo pattern to add a little oomph – there was something for everyone. The eclecticism of the collection makes sense when viewed in light of Jones's source of inspiration, which lay partly in the wardrobes of the five Fendi sisters. ​"The Fendi family are women of intellect who work hard, and that's what I wanted to celebrate," said Jones. ​"A powerful dynasty."
Appropriately, then, the clothes ran the full gamut from buttoned-up woollen trench coats and knee-length fur gilets for the more mature, long-term customer, all the way up to a number of swishy, silken mini dresses and artfully knotted cropped shirts perfect for any younger members of the Fendi dynasty to wear on their first post-lockdown night out at the discoteca.

Jones's eye for an immediately desirable ​'it' accessory was also very much present and correct: highlights included backpacks and lunch box-sized bags covered in shearlings and furs, elongated micro bags to be tucked under the arm, and a series of leather carryalls with oversized gold clasps in the shape of the signature double‑F house logo.

So too did his ongoing collaboration with Delfina Delettrez Fendi – one of the previously mentioned sisters from which he drew initial inspiration for the collection – offering up a number of fanciful details, including carabiners crafted with the classic Fendi monogram, as well as wax seal pendants stamped with the alternate logo hand-drawn by Karl Lagerfeld to serve as a quiet nod to Jones's predecessor.
It affirmed that Jones's vision for Fendi is one of palpable luxury firmly rooted in the brand's heritage, serving as an interesting counterpoint to the bold iconoclasm of his artist collaborations and infusions of streetwear codes at Dior Men, offering a family-first, intergenerational vision of Fendi's future that is now fully ready to launch.

More like this